Quick take: Although it's a legacy carrier, United's economy cabins aboard some of the Boeing 737 MAX 9s lack standard amenities like seatback entertainment and Wi-Fi access over the ocean, but the airline has a relatively efficient check-in process and flight attendants were diligent.
Pros:
An efficient check-in experience in Los Angeles
Enormous overhead bins capable of accommodating every passenger's carry-on bags
Several complimentary snack options
Cons:
Even though I was flying on a new aircraft, it did not have seatback entertainment or fully functioning Wi-Fi.
Worn-out power outlets might require using international plugs in order to charge your devices.
United Airlines has been making strides in upgrading its fleet Airbus A319 and Boeing 737 MAX fleet with the United Next interior, which includes features like inflight entertainment screens with Bluetooth audio capability and larger overhead bins. However, on a recent trip to Kona International Airport (KOA), I wanted to experience flying on one of United's newer jets from San Francisco International Airport (SFO) to see if these improvements were noticeable.
As it turns out, even United's newer planes lack many customer-friendly entertainment features, so you don't know what you'll get until you board your flight.
Here's what it's like flying United Airlines economy class from San Francisco to Kona on one of the airline's Boeing 737 MAX 9s.
How much does United Airlines economy class cost to book?
United mostly operates flights on the Boeing 737-900ER and the newer Boeing 737 MAX 9 from its California hubs of San Francisco (SFO) and Los Angeles (LAX) to Kona. The airline sometimes operates flights on the larger Boeing 757-300 and Boeing 777-200 on peak travel dates, too.
United sells two types of economy-class fares on this route, regardless of the plane you fly, though. Here are the inclusions for the two fares:
| | | | | |
| --- | --- | --- | --- | --- |
| Fare type | Change fees | Checked bag fees | Seat selection | Boarding group |
| Basic economy | No changes allowed | $35 for the first checked bag | Pay between $15 for a standard economy seat to $57 for a preferred seat toward the front of the plane, even for elite members (or United will randomly assign seats at no charge) | Group 5 |
| Economy | No change fees (difference in ticket price may apply) | $35 for the first checked bag | Choose a standard seat at no charge (or from $46 for a seat with a preferred location and up to $215 to select an Economy Plus seat) | Group 3 or 4 |
You can't bring a full-size carry-on bag if you're ticketed in basic economy. Standard economy passengers, however, can bring a full-size carry-on in addition to a personal item like a backpack or briefcase.
United calculates ticket costs using dynamic pricing, so award rates vary and correspond somewhat to cash fares — meaning if airfares are high, you can expect to redeem more miles for a ticket. If you're a Premier elite member or hold an eligible United MileagePlus credit card, you have access to special member pricing on award tickets, which can significantly reduce the number of miles you need to redeem for tickets on United-operated flights.
Here's what you can expect to spend for a nonstop itinerary between San Francisco and Kona over the next year at current prices.
| | | | |
| --- | --- | --- | --- |
| | Basic economy | Economy | First class |
| Cash price (round-trip) | $197-$572 | $277-$2,040 | $1,107-$3,280 |
| United MileagePlus miles (round-trip) | N/A | 19,600-190,000 (plus $11.20 in taxes and fees) | 100,000-492,000 (plus $11.20 in taxes and fees) |
TPG paid $287.71 for my one-way ticket, which would have required 42,200 United MileagePlus miles had we redeemed them for an award. Although United devalued its frequent-flyer program earlier this year, I'm still saving my hard-earned rewards for non-U.S. premium cabin flights.
If you're looking to stock up on United MileagePlus miles, here are some of the top credit cards for United flyers, including cards with points that you can transfer to the program:
As a United Premier 1K elite, I could select an Economy Plus seat when booking for no extra charge. I took advantage of that opportunity for a little more legroom (though no extra amenities compared to flyers in regular economy seats).
Checking in to and boarding economy on United Airlines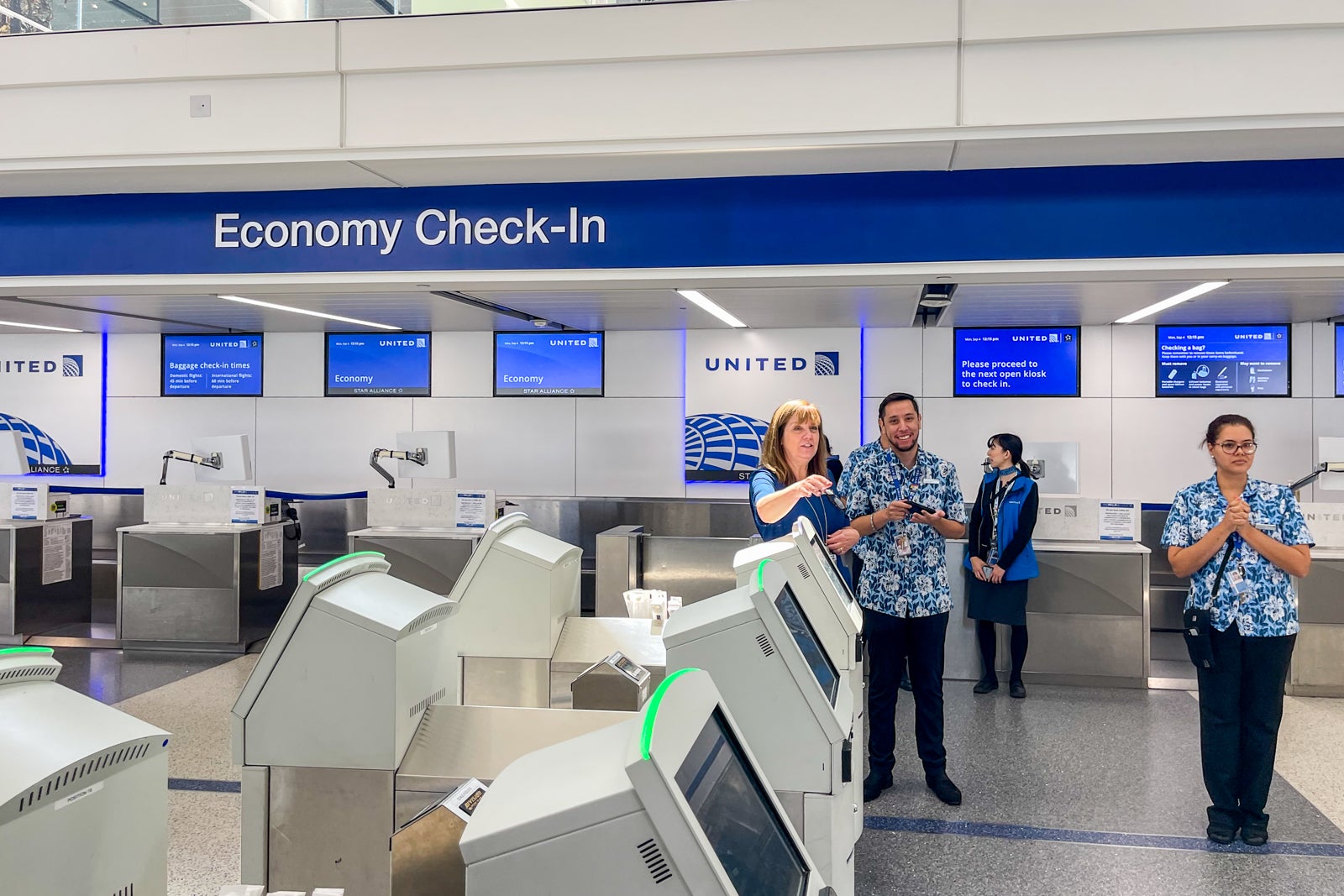 Twenty-four hours before my flight, I checked in on the United Airlines mobile app, which also allows you to pay for checked luggage if you need to. Customers checking luggage can print their bag tags at the self-service kiosks at the airport and bring them to the belt.
My itinerary started in Los Angeles on a quiet Labor Day. I arrived at LAX about two hours before my flight, and the economy check-in line was shorter than the line for elite passengers and those flying in premium cabins. As I reviewed my flight itinerary on the self-service kiosk, a friendly agent asked if I needed any help. I declined and printed out my boarding pass. From there, it only took me about 3 minutes to get through security thanks to TSA PreCheck.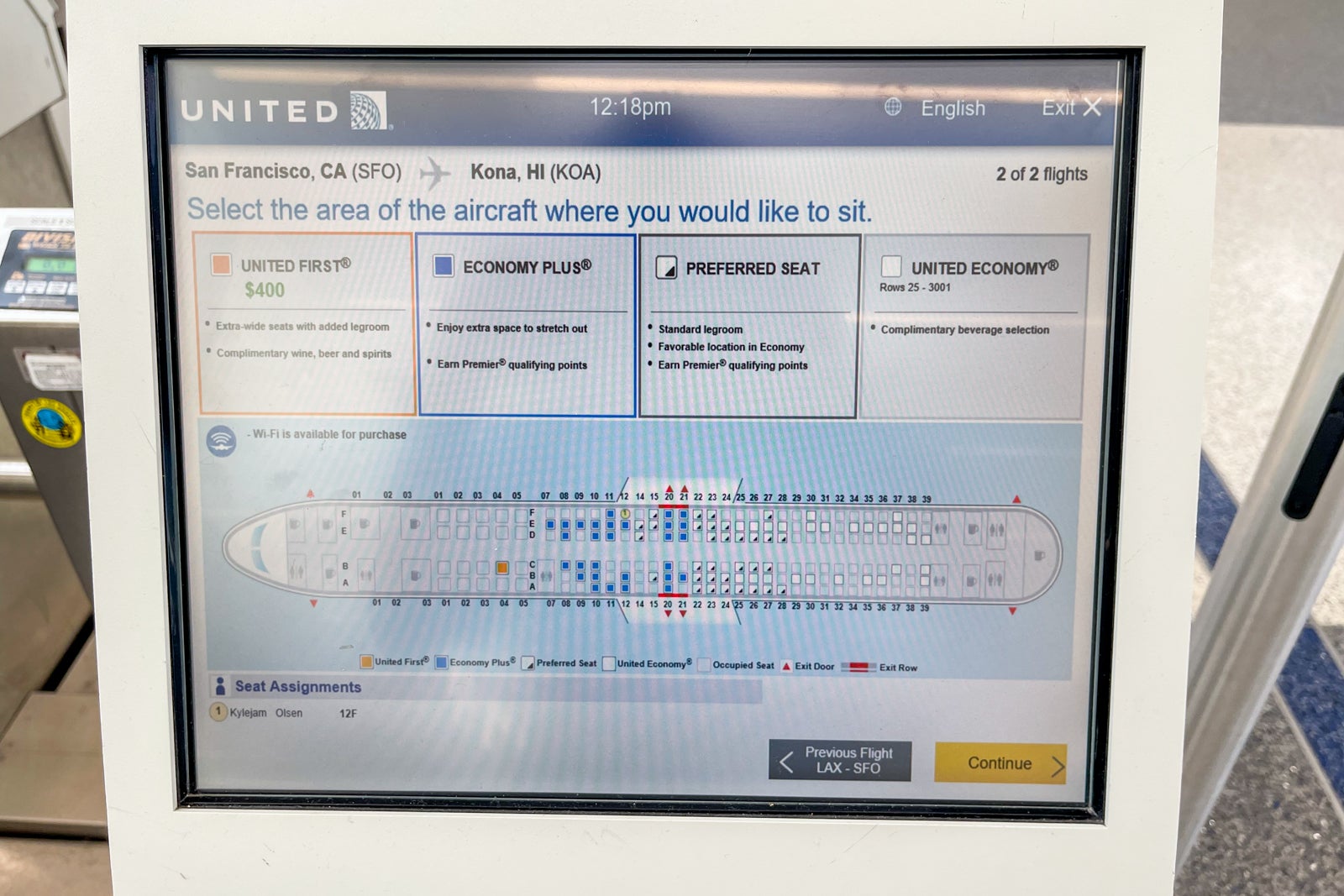 There was also an option to purchase an upgrade from San Francisco to Kona for $400, though I later learned from the gate agent that all Premier 1K and Platinum members who were on the flight had their upgrades cleared into first class. I had preemptively removed myself from the upgrade list since I wanted to check out United's service offering on this route.
Economy tickets on United don't come with lounge access, but if you have Premier Gold, Platinum or 1K status (Star Alliance Gold), you can access Air Canada Maple Leaf lounges even on domestic economy United tickets. In both Los Angeles and San Francisco, the Air Canada Maple Leaf lounges are about a 5- to 10-minute walk inside security from the United gates.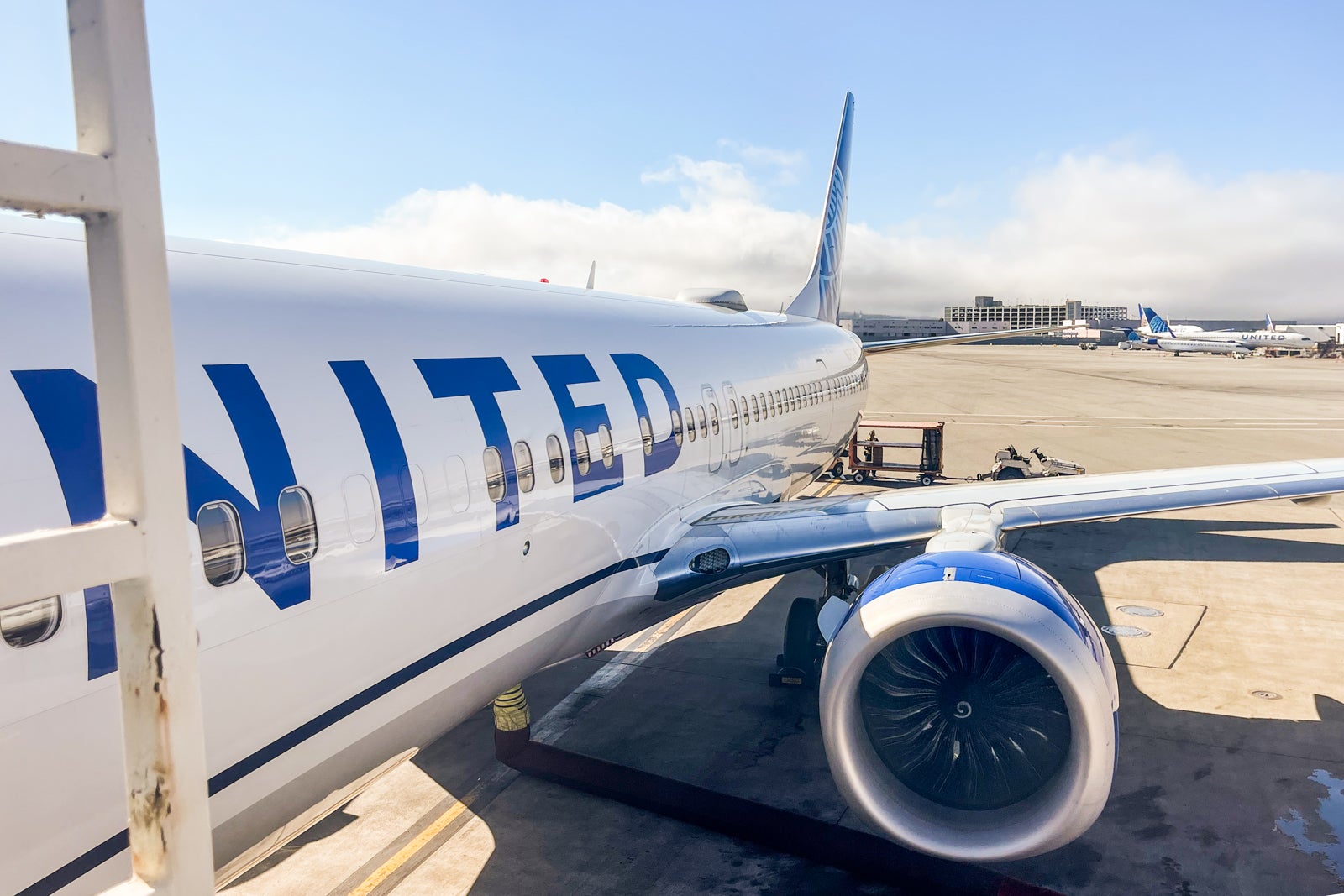 United has five boarding groups. Economy-class passengers board in groups 3 to 5, though I was able to preboard thanks to my elite status. Boarding began on time at 4:15 p.m., 40 minutes before departure, and was orderly, taking around 20 minutes to complete since the plane was only about two-thirds full.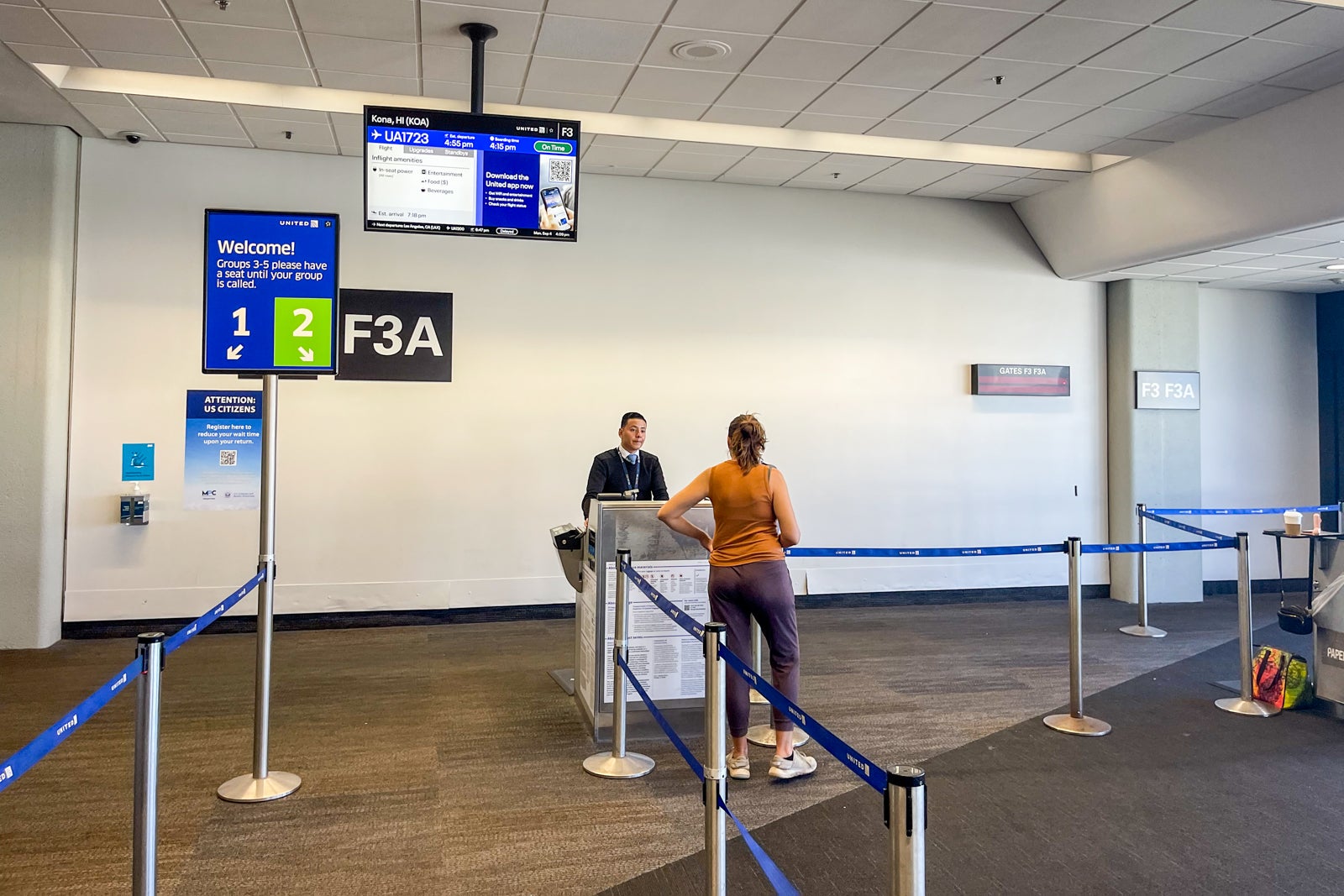 The Boeing 737 MAX features spacious overhead bins similar to what you expect on wide-body aircraft. This meant you could place a typical roller bag on its side so that more passengers could fit theirs in. As a result, we pushed back on time, in part because no bags needed to be gate-checked due to full overhead bins.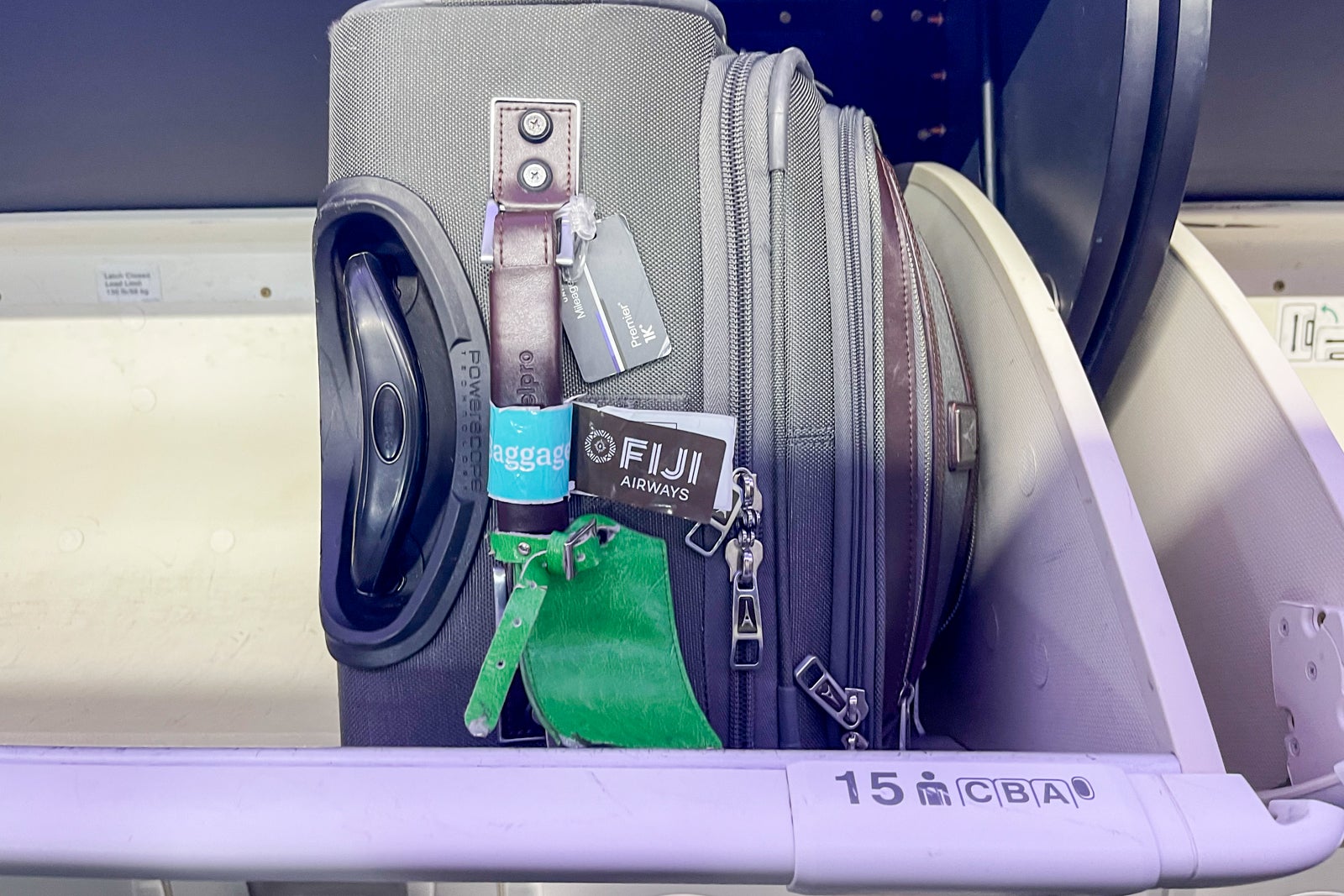 How comfortable was United Airlines economy class?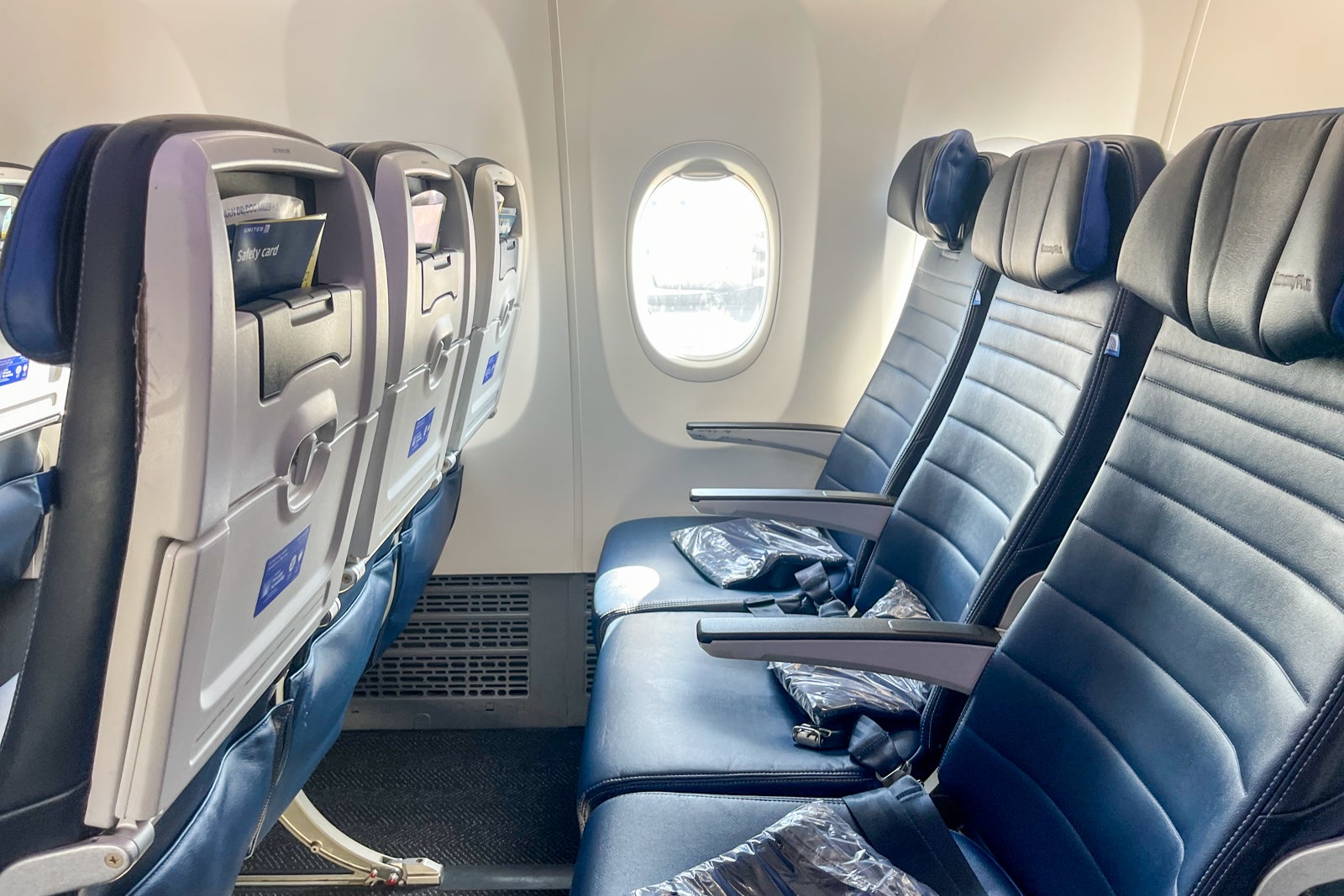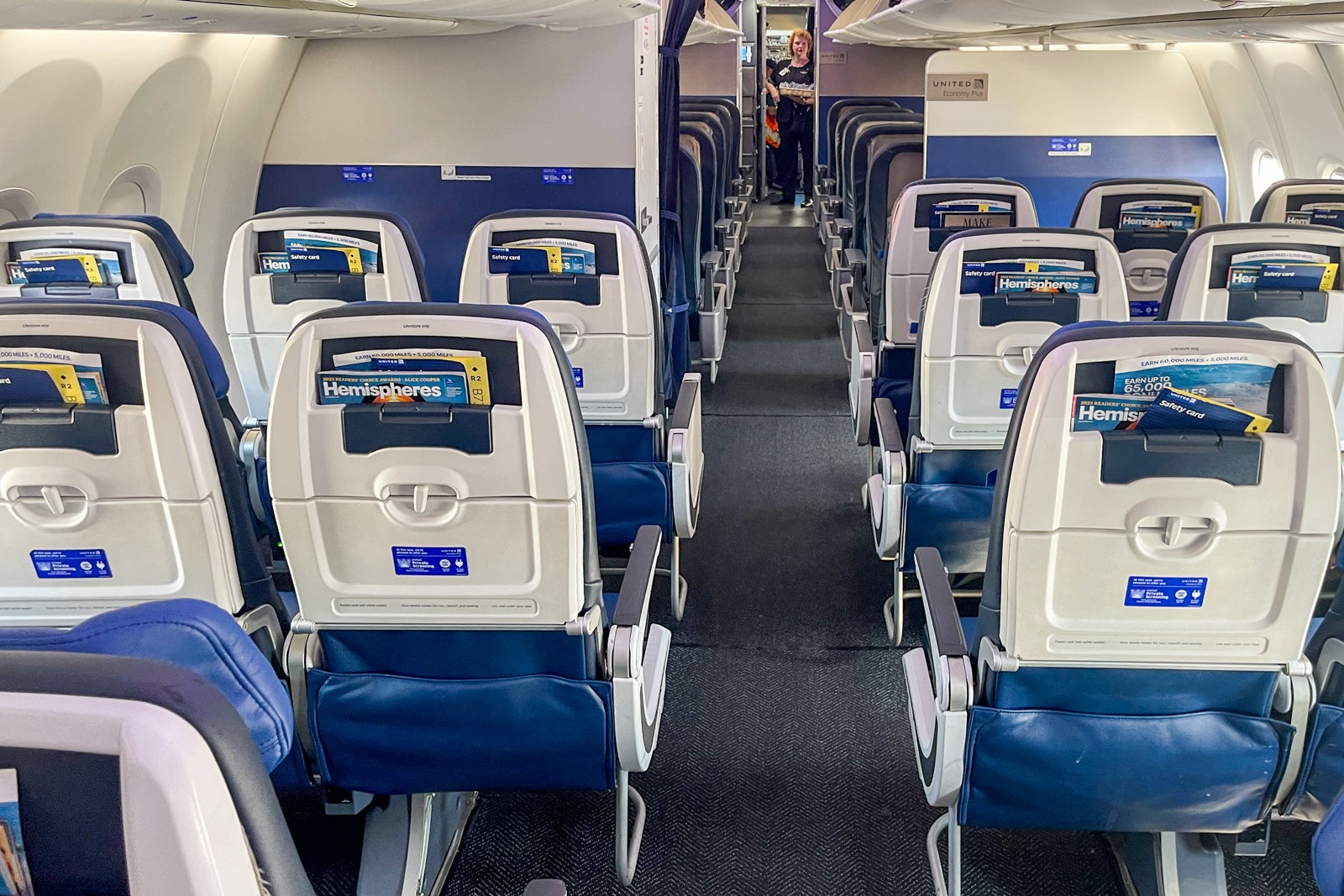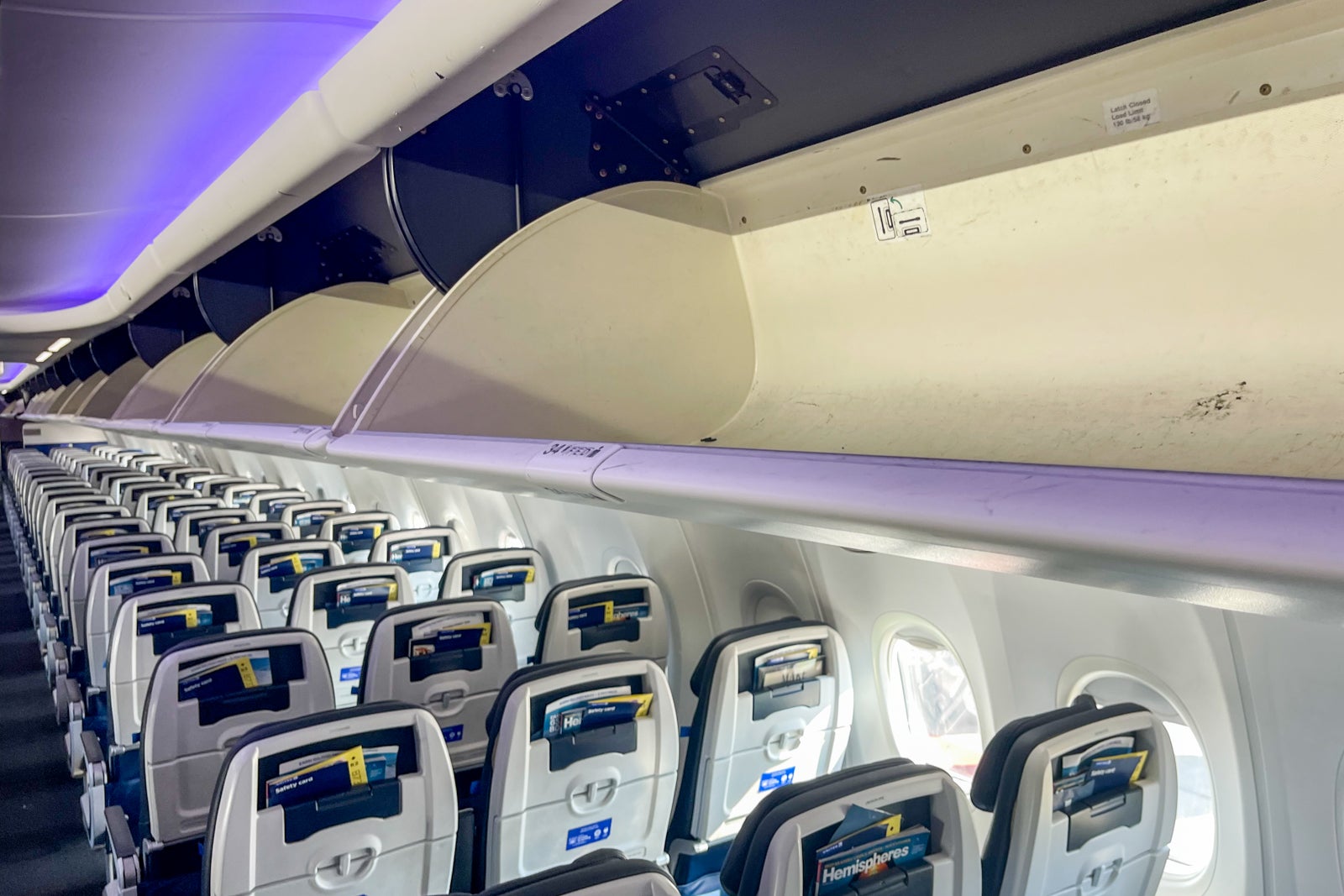 The aircraft for my flight was a Boeing 737 MAX 9 with the following seat count and layout.
| | |
| --- | --- |
| Number of seats | 159 (economy class and Economy Plus) |
| Cabin layout | 3-3 |
| Seat pitch | 30 to 31 inches (Economy Plus offers 35 to 40 inches) |
| Seat recline | 2 inches (Economy Plus offers 3 inches) |
| Seat width | 17 to 17.5 inches |
For my flight, I selected a window seat, 12F, which is far enough away from the lavatory at Row 7 not to hear flushes. Ordinarily, I would have selected a seat in Row 21 (the second exit row with recline) for additional legroom, but I've often found United runs out of some of its hot meal options by the time the flight attendants reach the end of the Economy Plus cabin. Since rows 11 and 12 have missing windows, I'd recommend an option in rows 9 or 10, which seem to be the ideal balance between being far enough from the lavatory and not being too far back so the flight attendants run out of meal selections.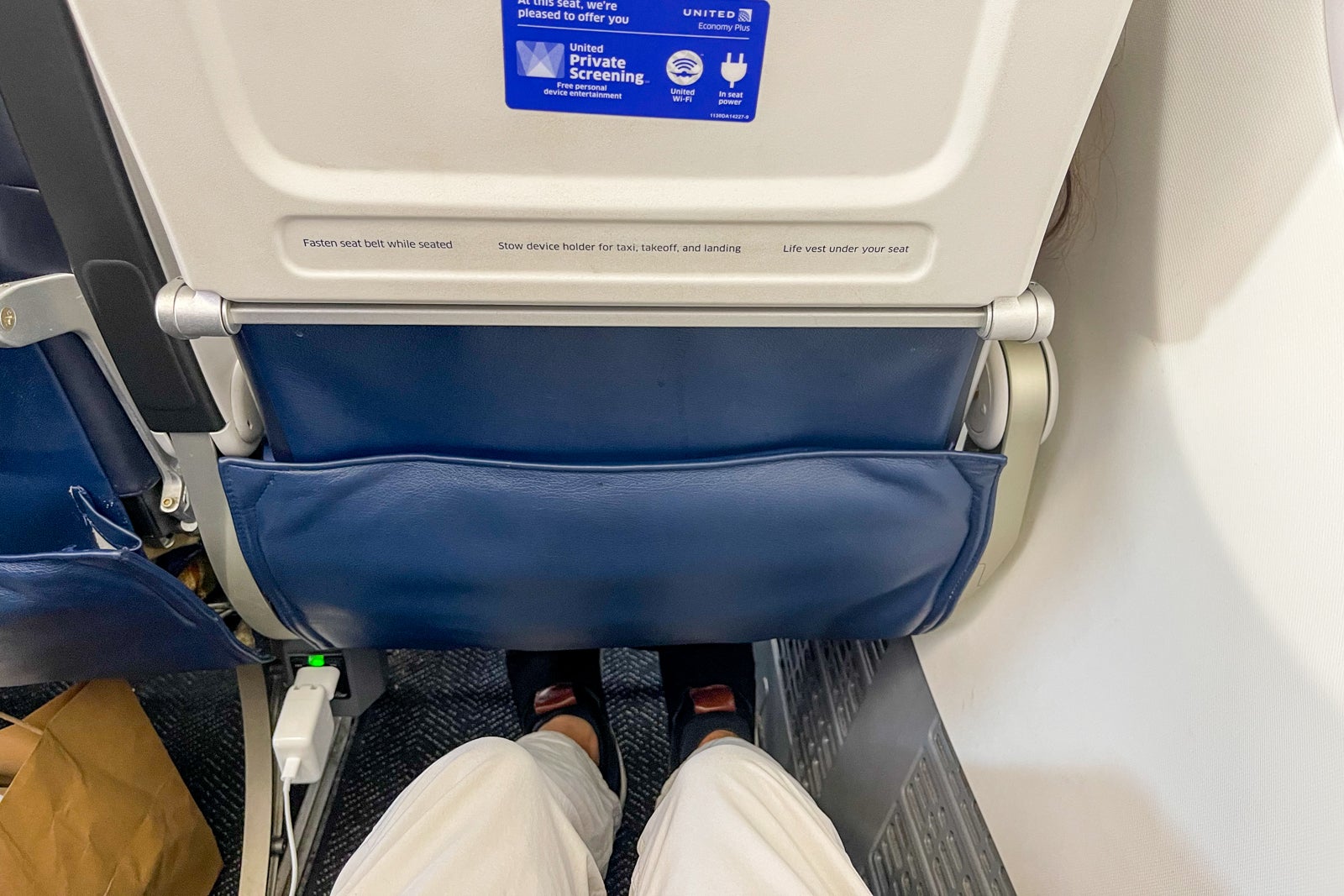 Seats have four-way moving headrests with curling wings to cradle your head. The seat cushioning was supportive and conducive to dozing, though not especially padded, as you can see from the slimline design.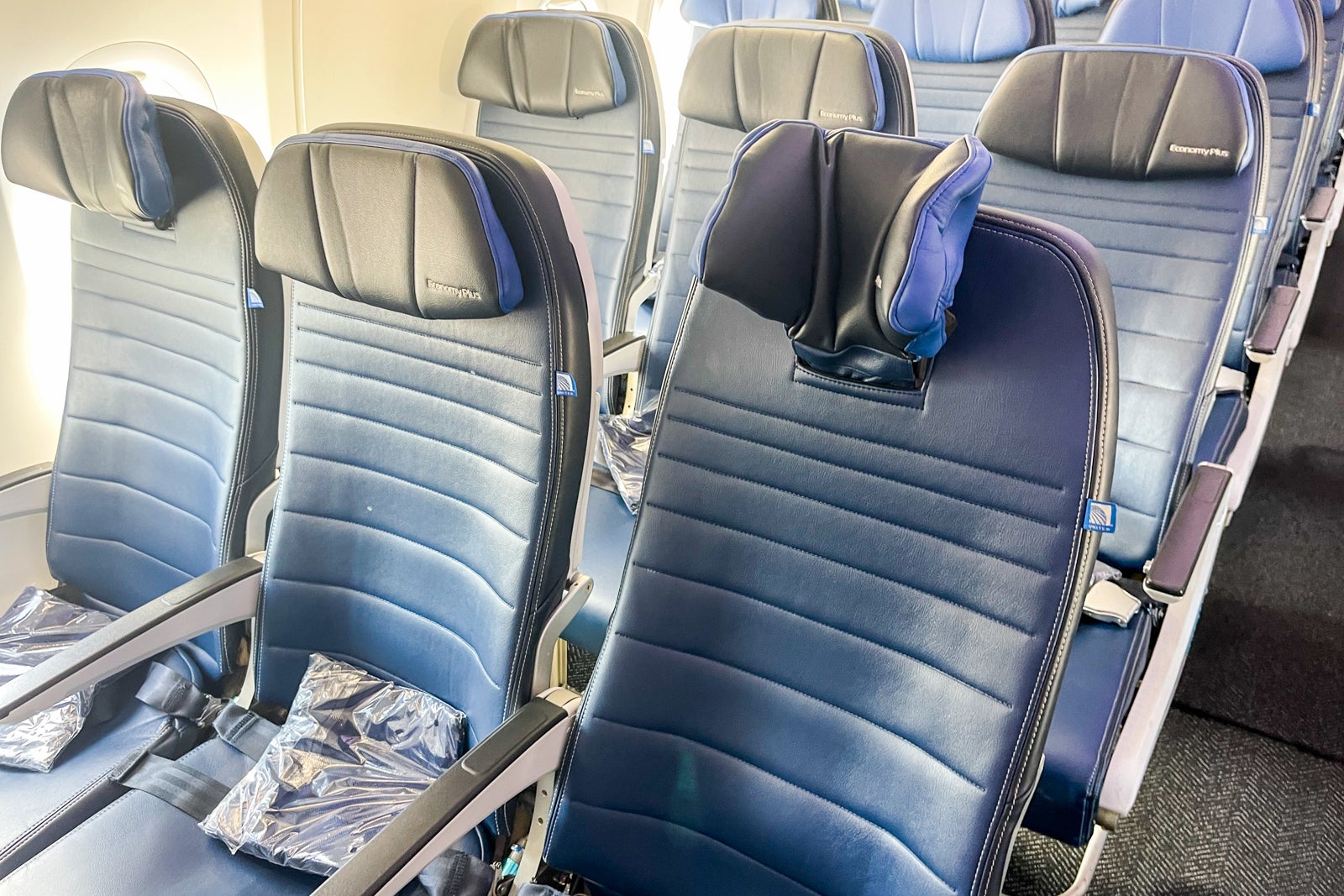 Each row has two AC power outlets at the bottom of the seats in front, meaning there are two for every three passengers. Since my seatmate and I didn't have anyone between us, we each had our own outlet. That said, I couldn't get my phone to charge without holding my plug in place. Luckily, I had a European-pronged power adapter with me. By plugging the power adapter into the power outlet, my phone charged up without a problem, so it seems like the U.S. plugs are starting to get worn out by overuse.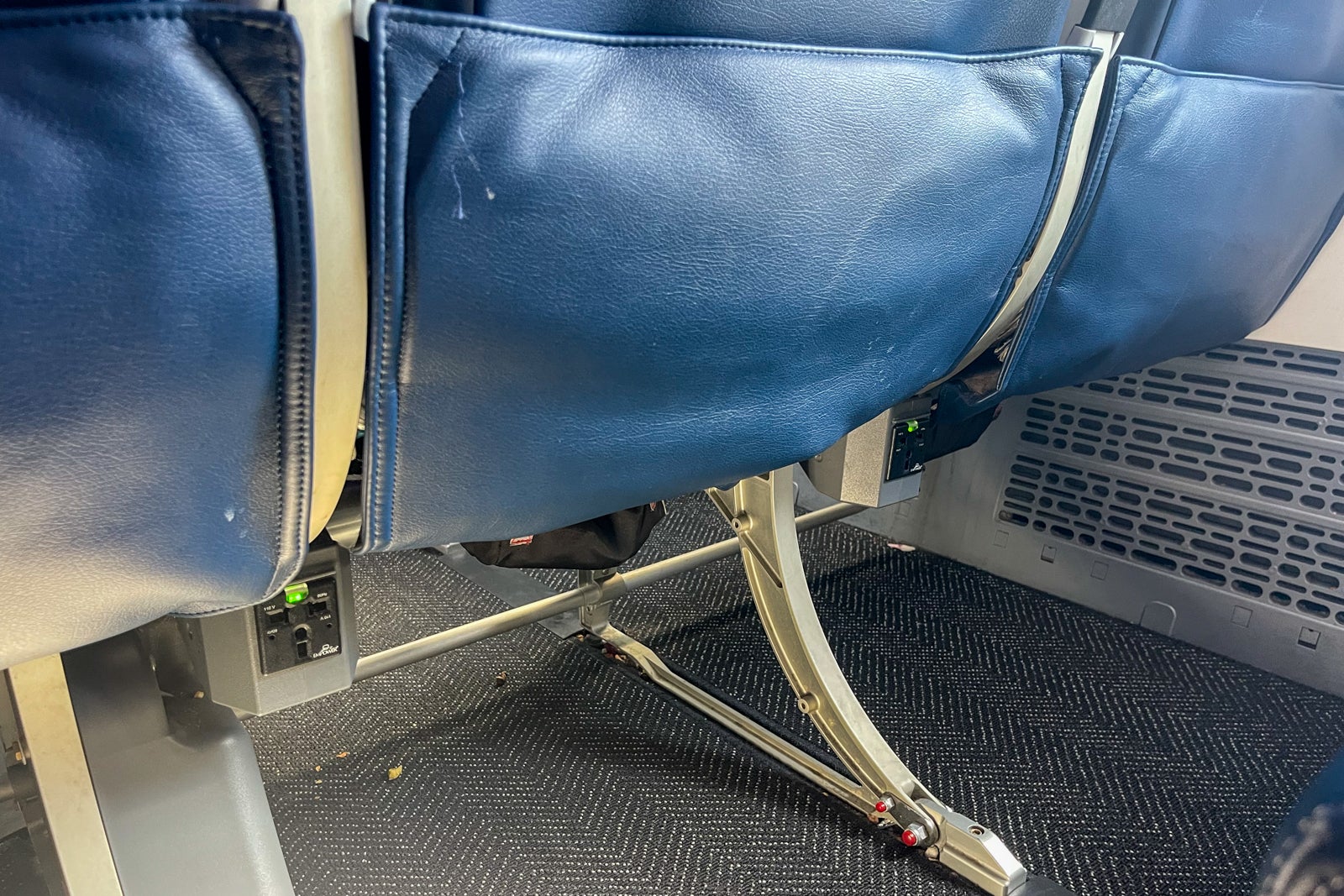 I was pleasantly surprised to see the tray tables, which you could slide forward and back a few inches, are large enough for my 16-inch laptop. Although no one was sitting in front of me, if they had reclined their seat, it wouldn't have prevented me from working on my laptop thanks to the extra inches of legroom in Economy Plus.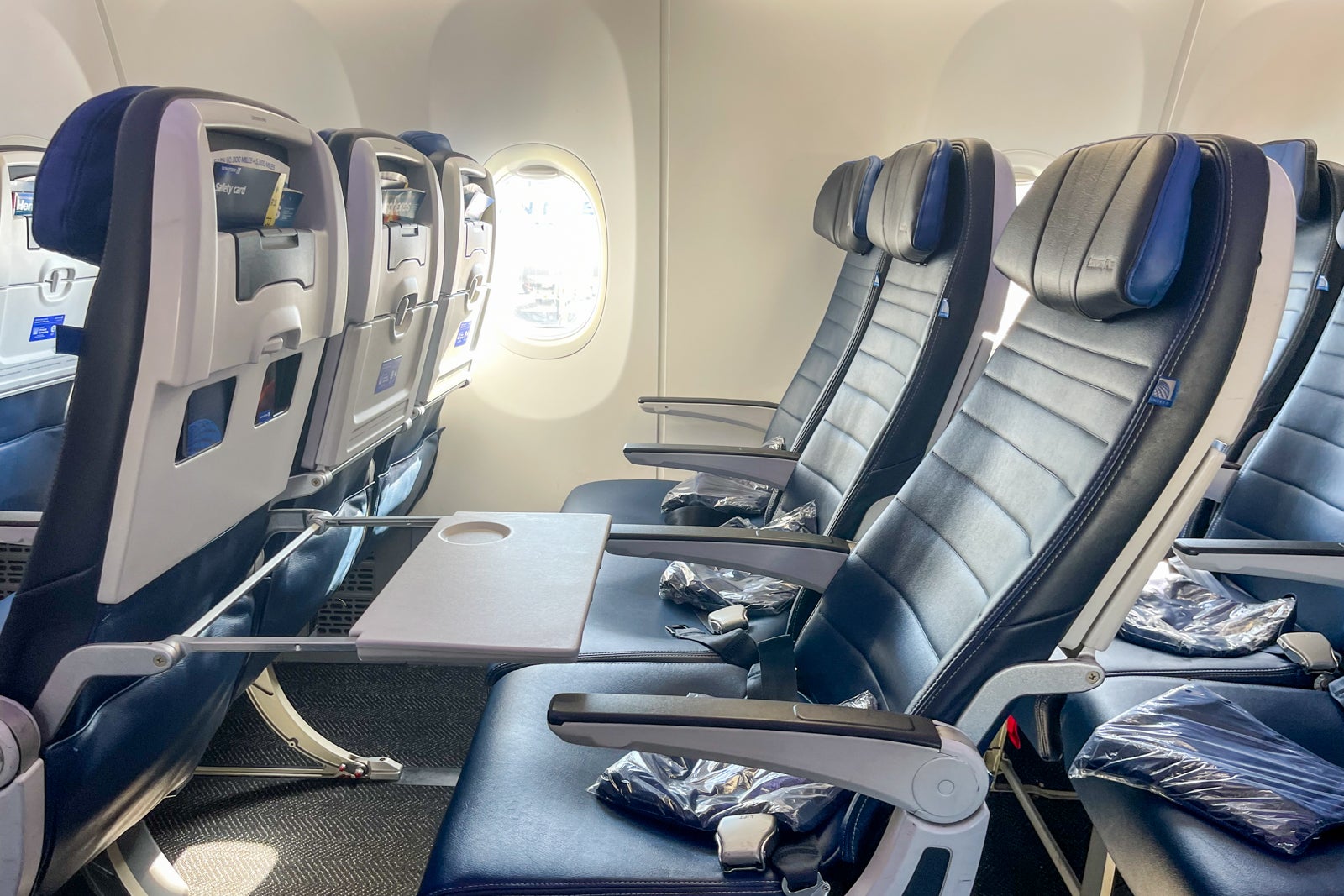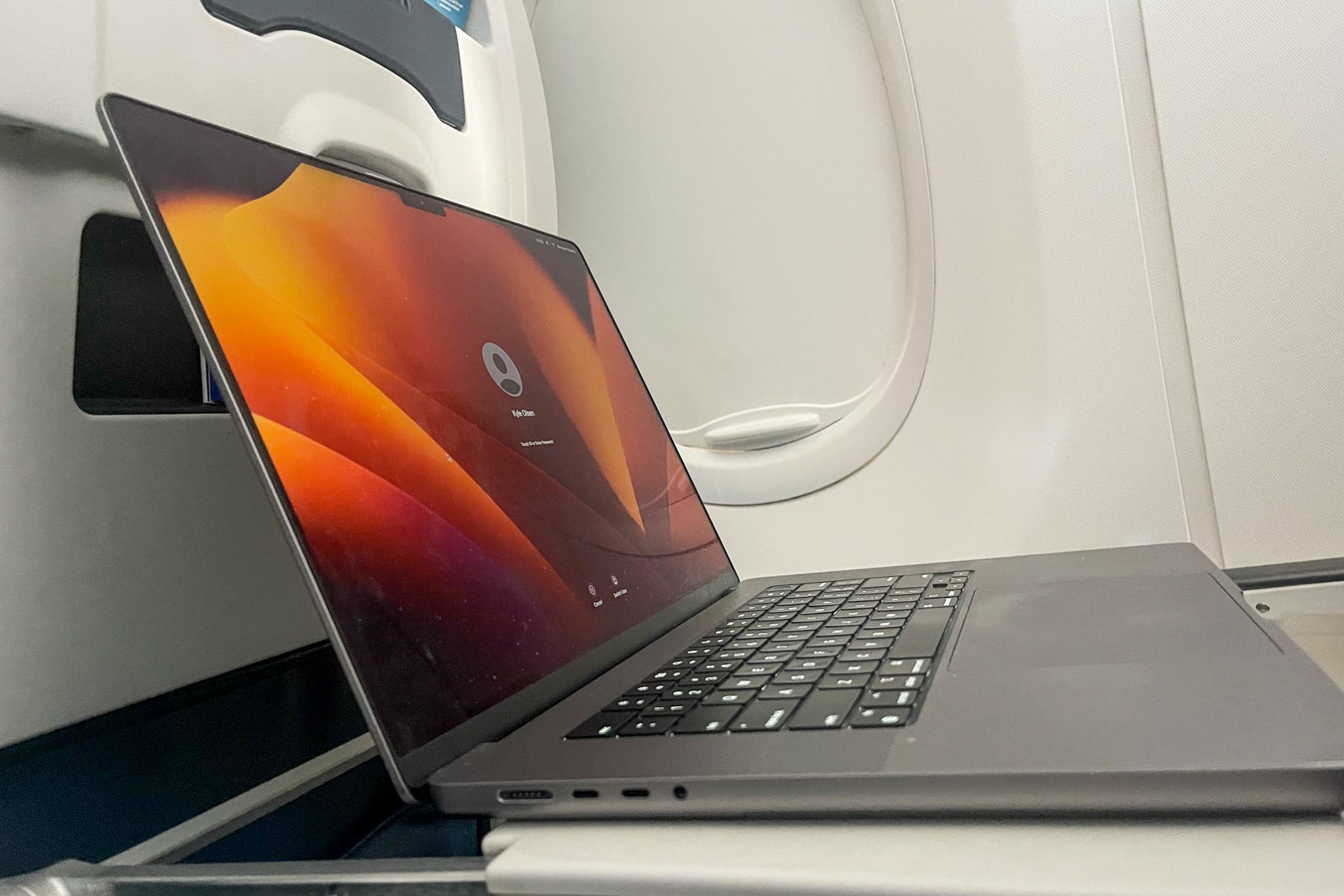 Each seat also has a small, movable personal device holder at eye level. It's suitable for smartphones and small tablets.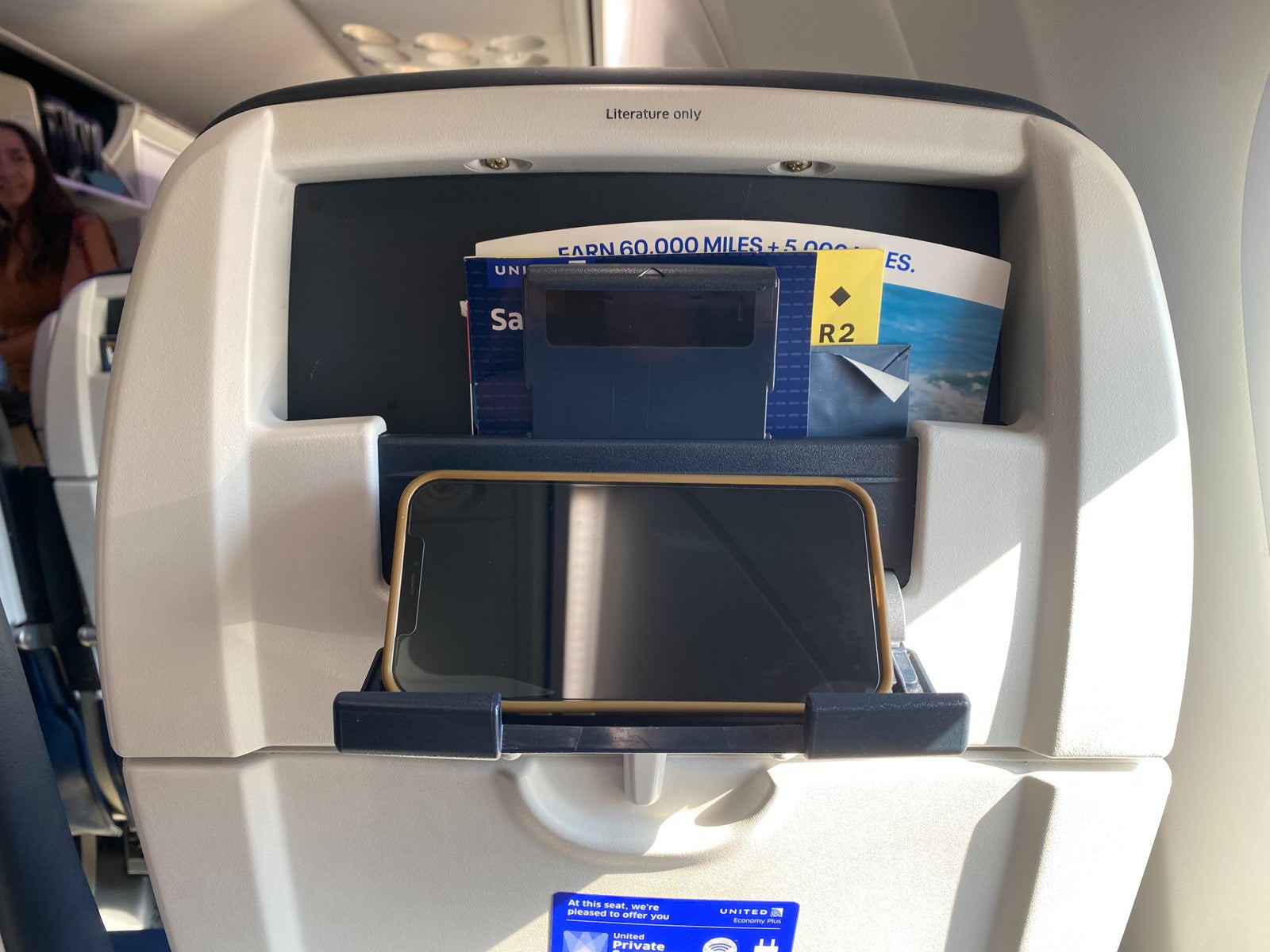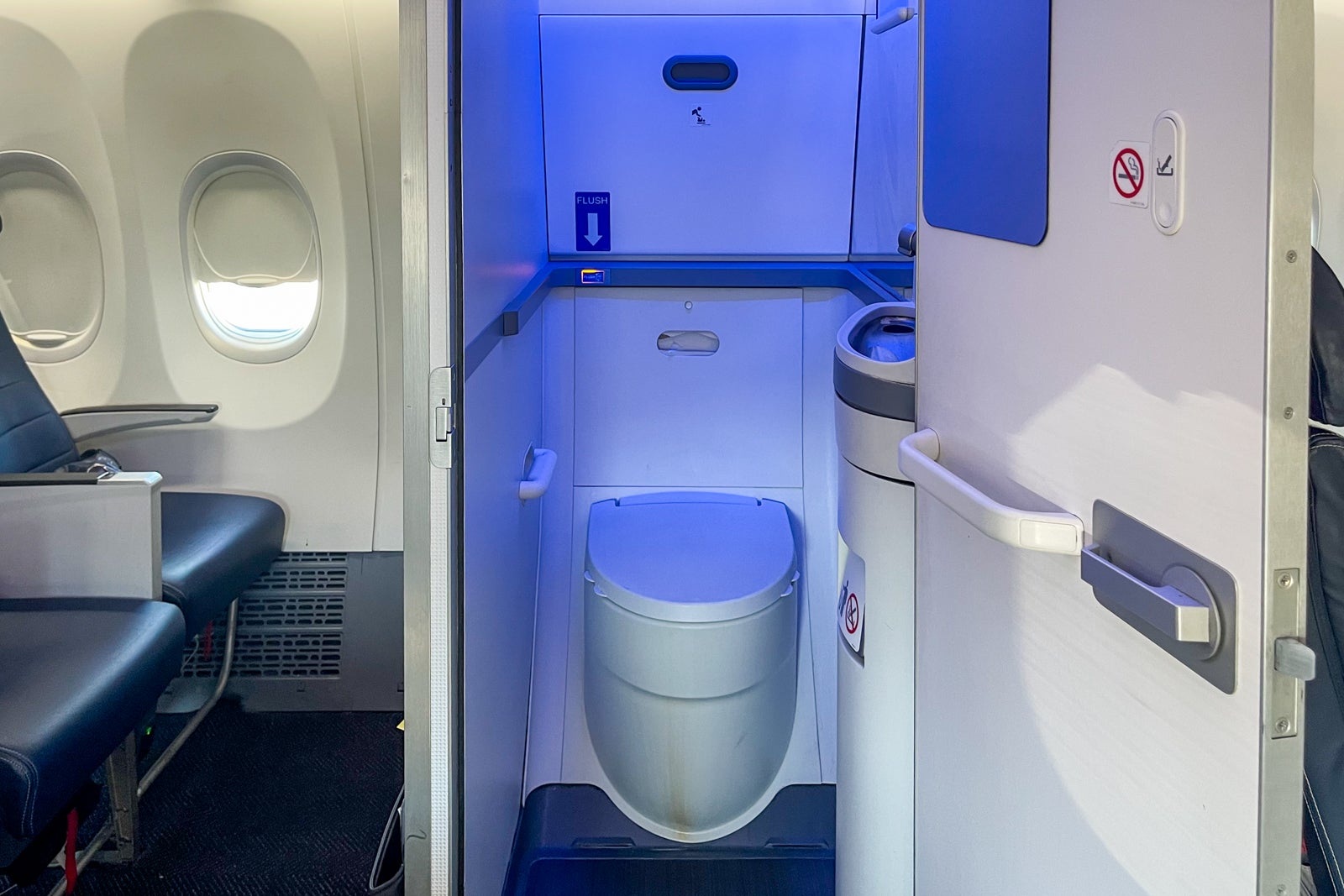 The check-in process in Los Angeles couldn't have been faster, and the flight attendants kept passengers hydrated if not very well fed, though my 1K status got me more things to nibble on than the non-elites on board.
United could improve the travel experience on its 737 MAX flights to Hawaii by offering Wi-Fi and seatback entertainment rather than expecting folks to stream content on their own devices. Additionally, United could follow Hawaiian Airlines' standard of still offering a complimentary hot meal to economy-class passengers traveling between the mainland and Hawaii since these are pretty long flights. While perhaps picky, it might have been nice to have some Hawaiian boarding music or mai tais on the beverage list to get passengers into the aloha spirit, too.