If you plan on traveling by train this winter, this flash sale from Amtrak is for you.
Through Nov. 15, Amtrak is offering discounted fares across all its routes for travel from December through mid-March.
Even though the sale is advertised as being across the Amtrak network, the cheapest one-way coach fares, which start at $4, are for travel along the Northeast Corridor. Routes in the Midwest start at $34, and West Coast fares are available on the low end at $22.
Deal basics

What: Amtrak
Routes: Across the Amtrak network
How to book: Directly through Amtrak or via the Amtrak app
Travel dates: Dec. 4, 2023, to March 15, 2024
Sample fares
The following one-way fares were priced as listed at the time of publication. We cannot guarantee they will be available when you book.
Washington, D.C.'s Union Station (WAS) to Baltimore's Penn Station (BAL), starting at $4 for coach and $14 for business class
Providence's Amtrak/MBTA Station (PVD) to Boston's South Station (BOS), starting at $4 for coach and $15 for business class
Philadelphia's William H. Gray III 30th Street Station (PHL) to BAL, starting at $4 for coach and $33 for business class
WAS to PHL, starting at $8 for coach and $41 for business class
New York's Moynihan Train Hall (NYP) to BAL, starting at $12 for coach and $55 for business class
PHL to NYP, starting at $16 for coach and $38 for business class
WAS to NYP, starting at $17 for coach and $59 for business class
Portland, Oregon's Union Station (PDX) to Seattle's King Street Station (SEA), starting at $22 for coach
NYP to BOS, starting at $25 for coach and $48 for business class
BOS to BAL, starting at $28 for coach and $62 for business class
WAS to BOS, starting at $29 for coach and $62 for business class
Chicago's Union Station (CHI) to St. Paul-Minneapolis' Union Depot (MSP), starting at $34 for coach
CHI to Denver's Union Station (DEN), starting at $58 for coach
MSP to SEA, starting at $83 for coach
Dallas' Eddie Bernice Johnson Union Station (DAL) to Los Angeles' Union Station (LAX), starting at $136 for coach
Seating is limited and may not be available on all trains at all times; fares are subject to availability.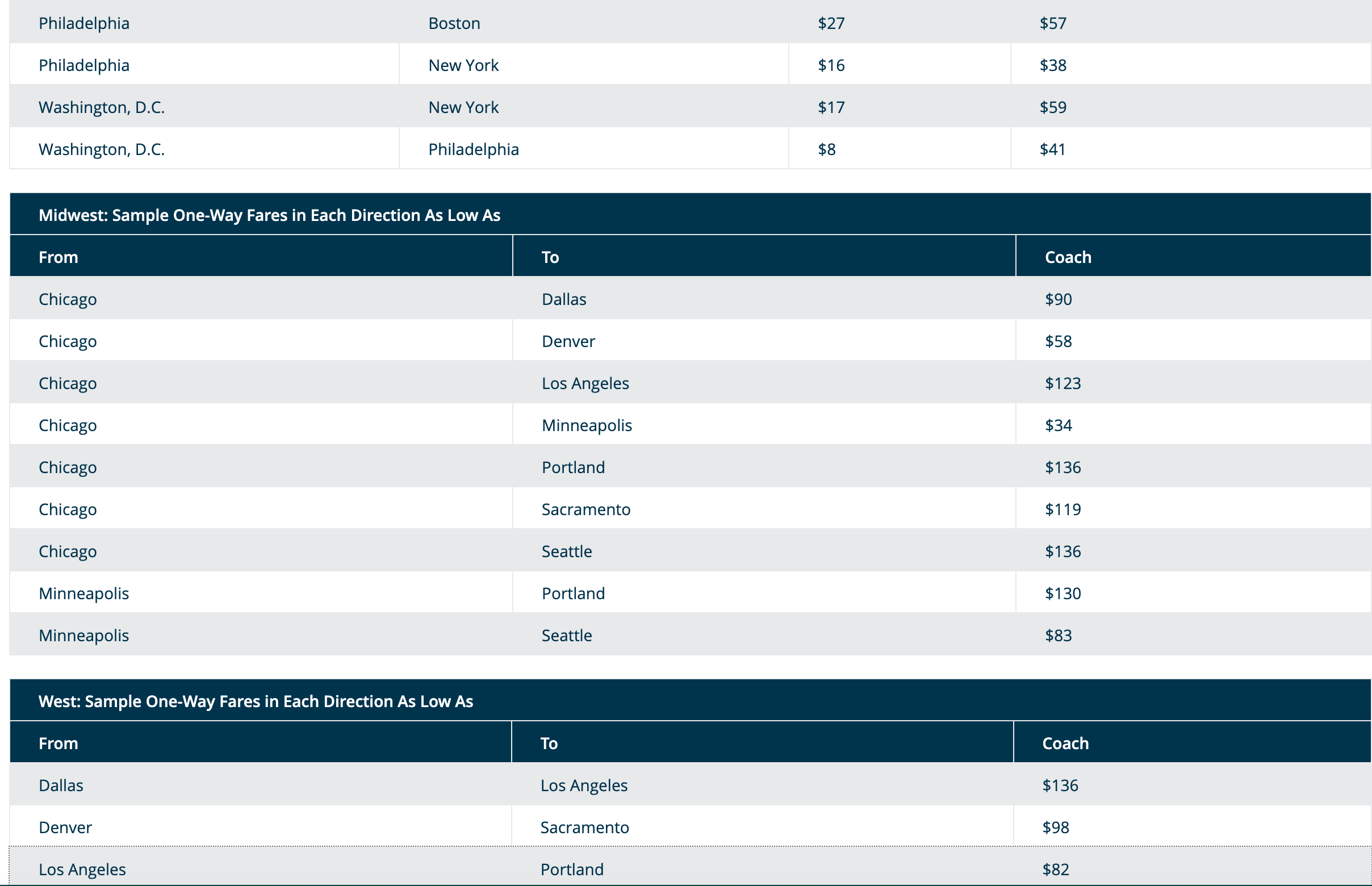 Though this sale advertises one-way fares, you may be able to find two discounted one-ways to make a round-trip journey. For example, based during a test search, I found a one-way from NYP to BOS for $16 (even lower than advertised) and a $25 fare on the way back. This brought my round-trip total to $41.


The sale fares are indicated in green with the word "Sale."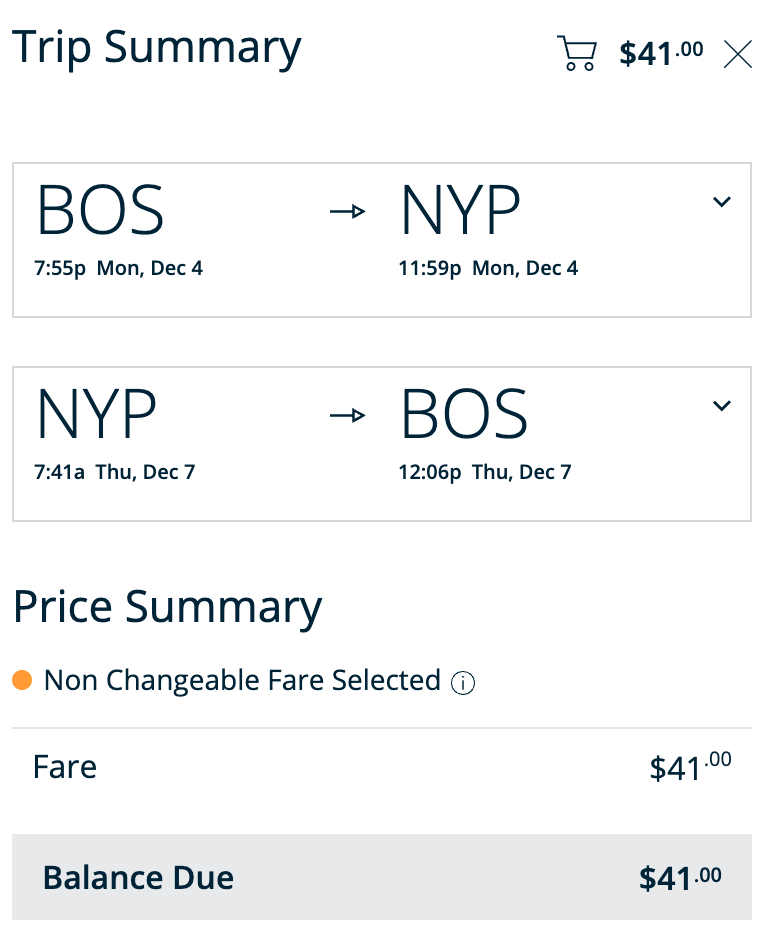 As part of Amtrak's newly announced simplified fare structure, sale fares incur a 50% cancellation fee if canceled before departure and cannot be modified.
You'll note that Value fares are slightly more expensive than the sale fares, though they still cost less than Flex fares. Value fares are non-changeable, but passengers can cancel before a trip and receive a 75% refund; this essentially amounts to a 25% cancellation penalty. Flex fares are fully refundable and changeable for free if canceled before departure.
Keep in mind that Amtrak has waived change fees until Dec. 31.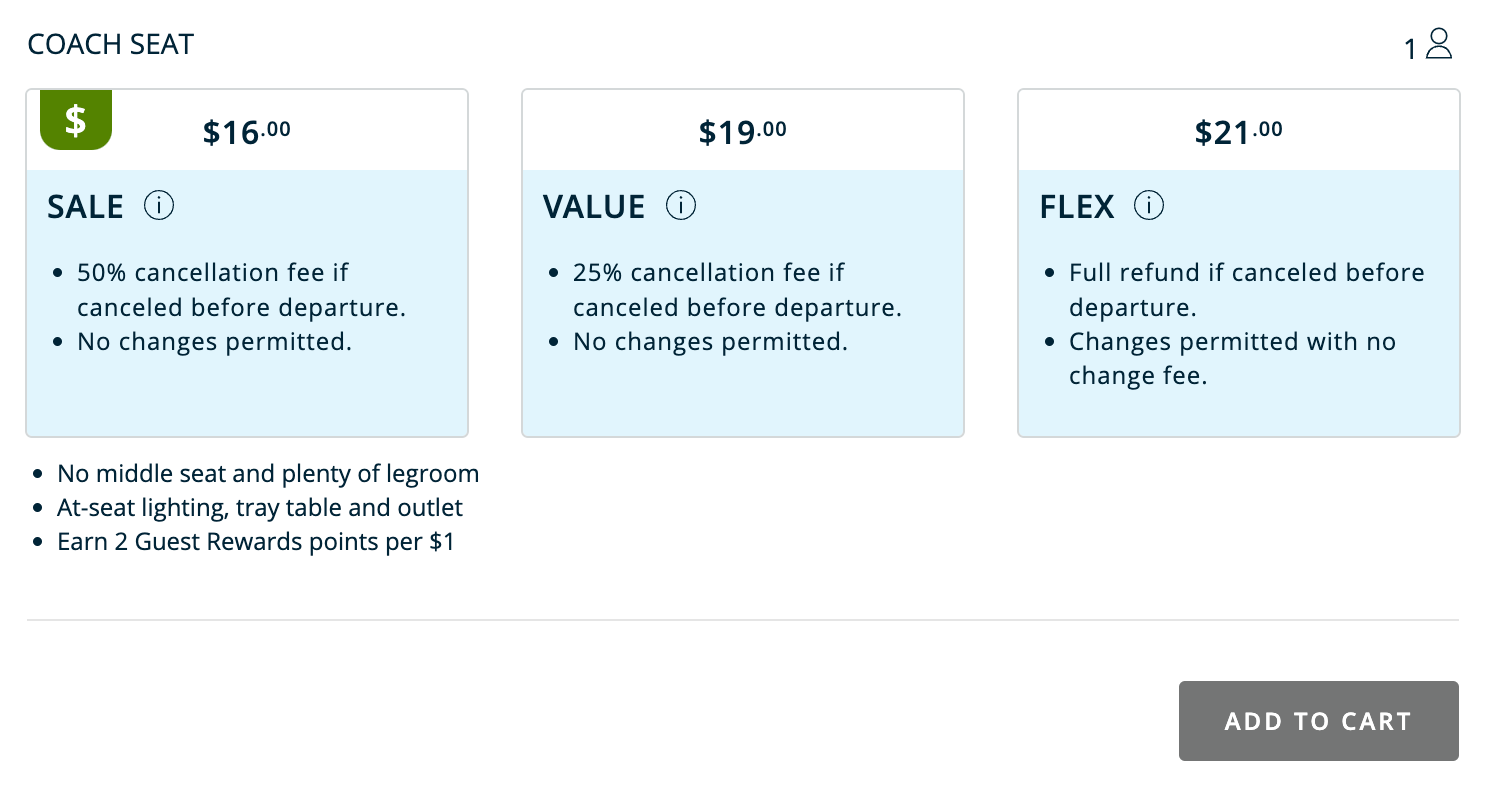 You can also book this sale using Amtrak Guest Rewards points. For example, the above route is bookable at its cheapest for 1,426 points round trip but requires returning on the 7:55 p.m. train.

Maximize your purchase
Be sure to use a credit card that earns bonus points on travel, such as:
The information for the American Express Green, Amtrak Guest Rewards and Amtrak Guest Rewards Preferred cards has been collected independently by The Points Guy. The card details on this page have not been reviewed or provided by the card issuer.
Bottom line
Depending on your desired travel dates and routes, you can book this deal for deeply discounted Amtrak travel. One-way fares range from $4 to $136 for coach travel through March 15, 2024.
Related reading: