Lately, international flying has become a pricey endeavor as everyone has flocked to Europe since pandemic-related restrictions were lifted. However, traveling to Europe doesn't have to cost you an arm and a leg in airfare.
Delta Air Lines has award availability for economy flights to London starting at 40,000 miles from a range of major U.S. cities. Delta rarely has good award availability, as a flight to London using Delta SkyMiles would otherwise cost more than 100,000 miles. So, these deals are worth nabbing if you're hoping to save some money and use all those miles you've accrued over the years.
This award availability is sure to be gone within the next couple of days, so book your flights as soon as possible.
Deal basics
Airline: Delta
Routes: From Atlanta, Boston, Chicago, Detroit, Los Angeles, Minneapolis, New York City, Salt Lake City, San Francisco, Seattle and Washington, D.C., to London
How to book: Directly on Delta's website
Travel dates: There is scattered availability from October through January
Book by: As soon as possible
Frequent Miler first reported this deal.
Sample flights
Once you find a good award deal, you should seize it immediately because they can be hard to come by. And currently, there isn't a ton of availability left on this deal. Some folks were able to find even lower rates starting at 34,000 miles, but those were scooped up quickly.
Your best bet for ensuring you find the 40,000-mile awards for a round trip to London is to book through the flexible-fare calendar because it still shows some dates priced anywhere from 40,000 to 60,000 miles. Otherwise, traveling to London on awards can cost at least 100,000 miles.
For example, if you're flying from Los Angeles International Airport (LAX) to Heathrow Airport (LHR), Delta's flexible-fare calendar has some availability left at 40,000 miles round-trip.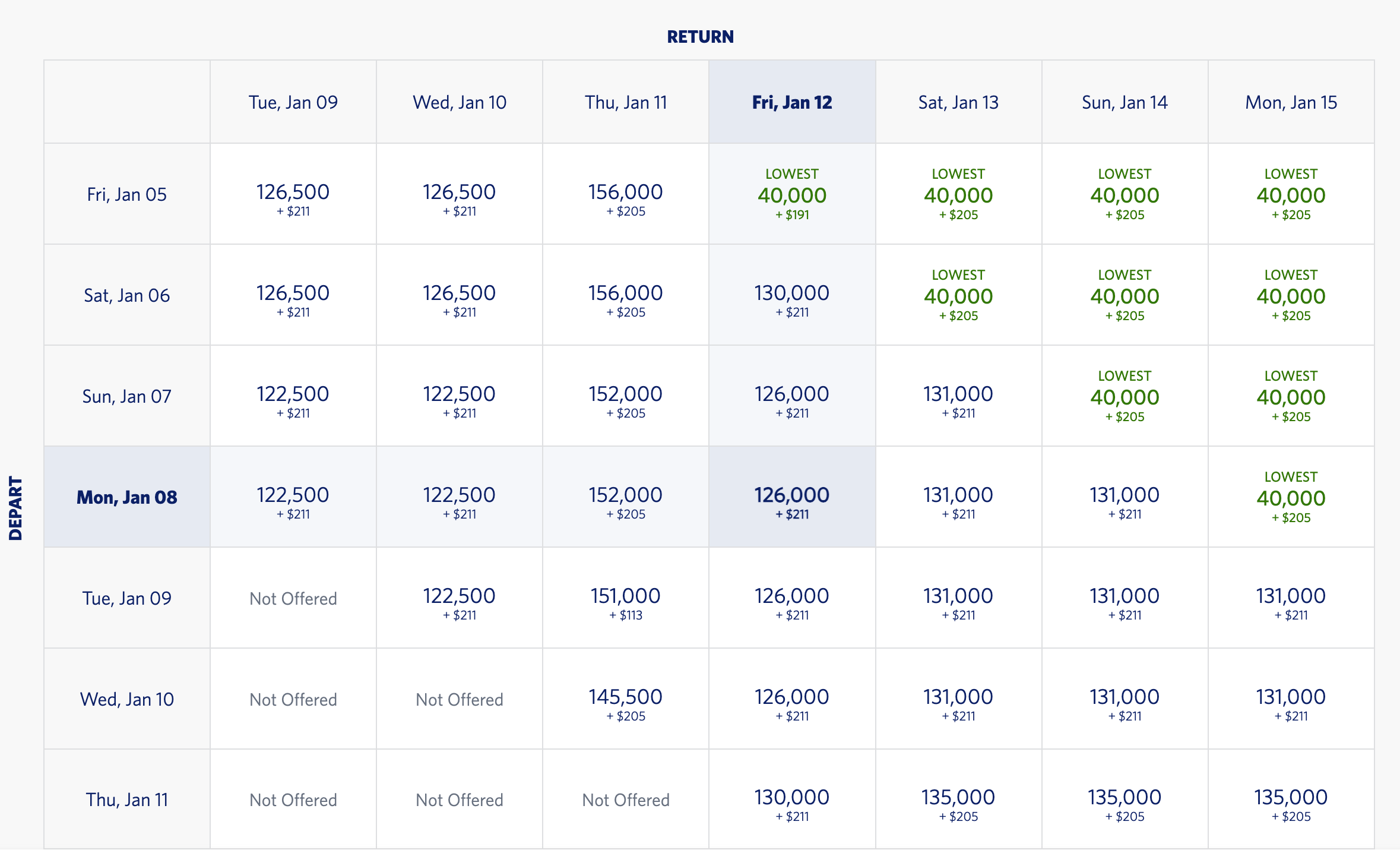 You'll pay the lowest number in miles for a weeklong trip to London by flying between Jan. 8 and Jan. 15.
However, these awards only apply to Delta's main economy cabin. It's not as restrictive as basic economy, but it also doesn't include any major perks, either. The main benefit is that flying to London can be expensive, whether you're paying with money or miles. So, getting a trip for 40,000 miles when it would otherwise cost at least 100,000 is a major steal.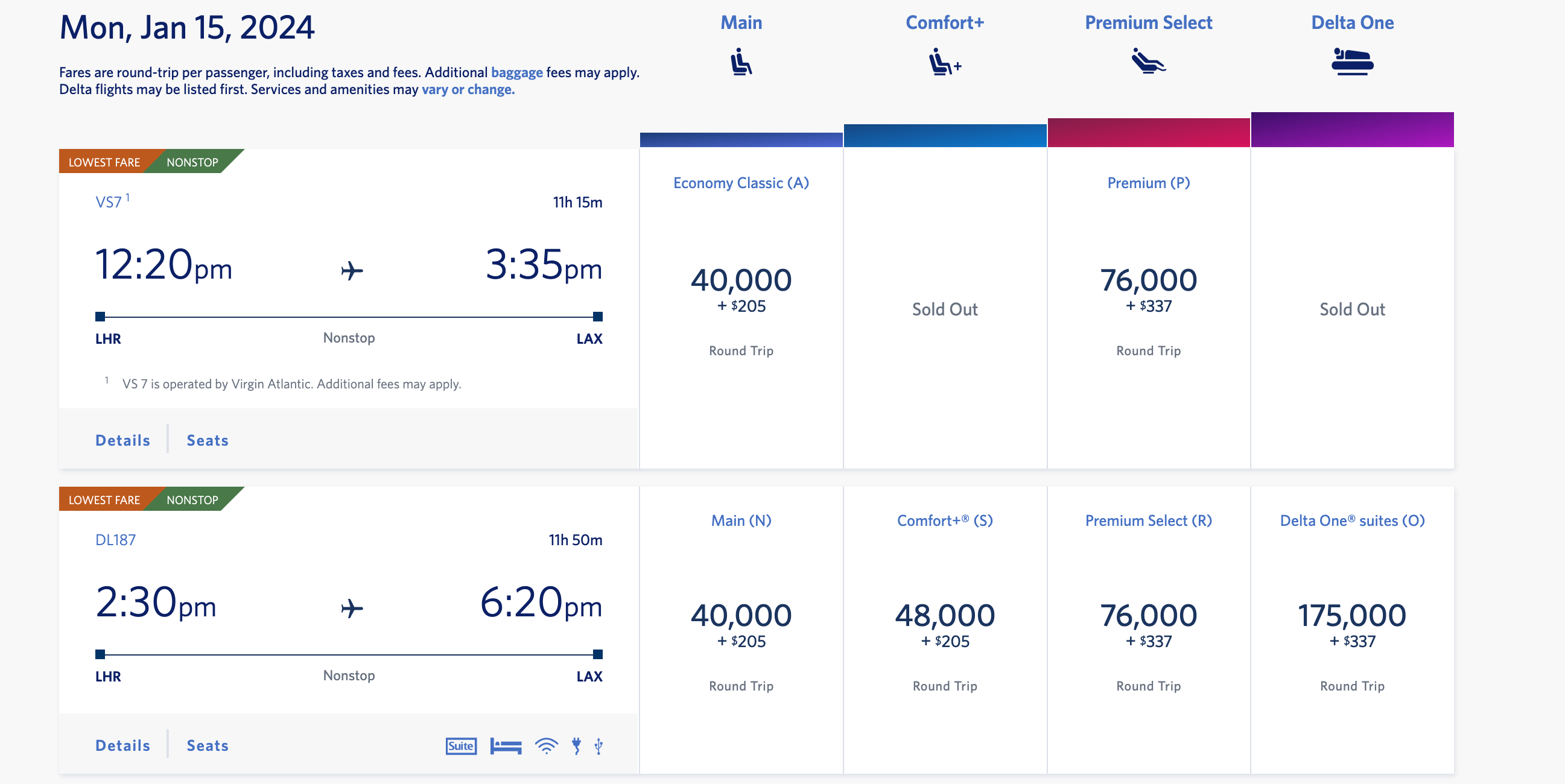 With the round trip costing only 40,000 miles, you end up paying $204 in taxes and additional fees to fly to London. However, sometimes the cash prices are the same as the awards, so make sure to check those when booking. In this case, a Delta fare to London costs around $638 for the same dates, which is not much of a difference compared to the 40,000 miles, according to Google Flights.
It's up to you whether to book with miles or cash, but this deal can be particularly good if you're just looking to use some miles, especially since accumulating a decent number of miles to book a round-trip flight can take awhile if you're not the most frequent traveler.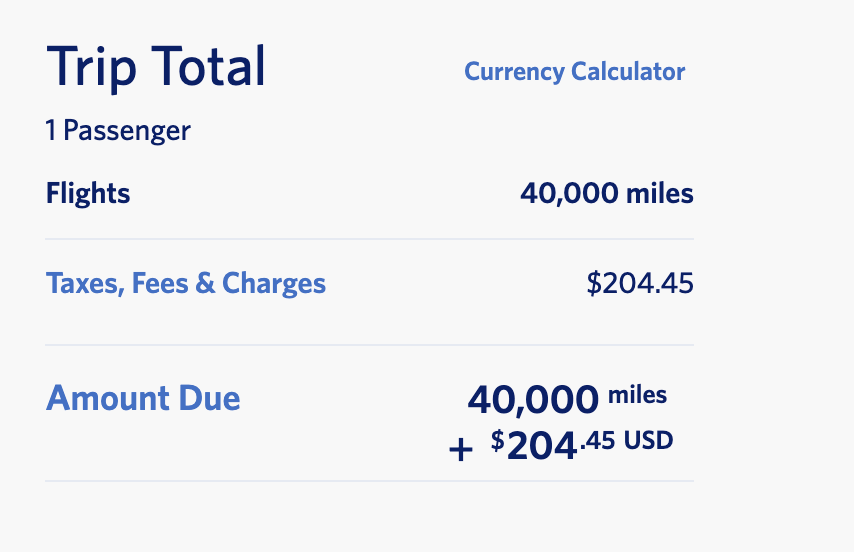 Maximize your purchase
Make sure to use cards that earn bonus points on airfare purchases, such as:
Bottom line
Flying to London can potentially cost thousands of dollars in airfare. However, paying just 40,000 miles is equivalent to $564 (without the additional fees), using TPG's valuations, which value Delta SkyMiles at 1.41 cents apiece.
Even though London is colder during these months, you'll get to experience the city without the crowds of tourists. Book these tickets fast because such award availability from Delta won't last long.