[circuit type=review circuit_id="9281″]
Located in Paris' upscale Opéra district, the 149-key Kimpton St Honoré Paris is an art nouveau jewel, combining emblematic original features with contemporary amenities and Parisian flair. Dating to 1917, the iconic building originally housed the second location of the famous La Samaritaine department store (once called Samaritaine de Luxe).
Since its debut as a boutique Kimpton hotel in 2021, this property has become something of a standard bearer for the brand's rapid expansion in Europe. Beyond its historic aura and true sense of place, this brand-true Kimpton stands out for its excellent amenities, including a gorgeous rooftop bar with sweeping views of the city's legendary landmarks, a luxurious spa and even a small swimming pool.
As one of TPG's favorite hotels in Paris, I was keen to see if it would live up to my lofty expectations. If you are considering a stay at this luxurious Kimpton property, here's what you need to know.
Quick take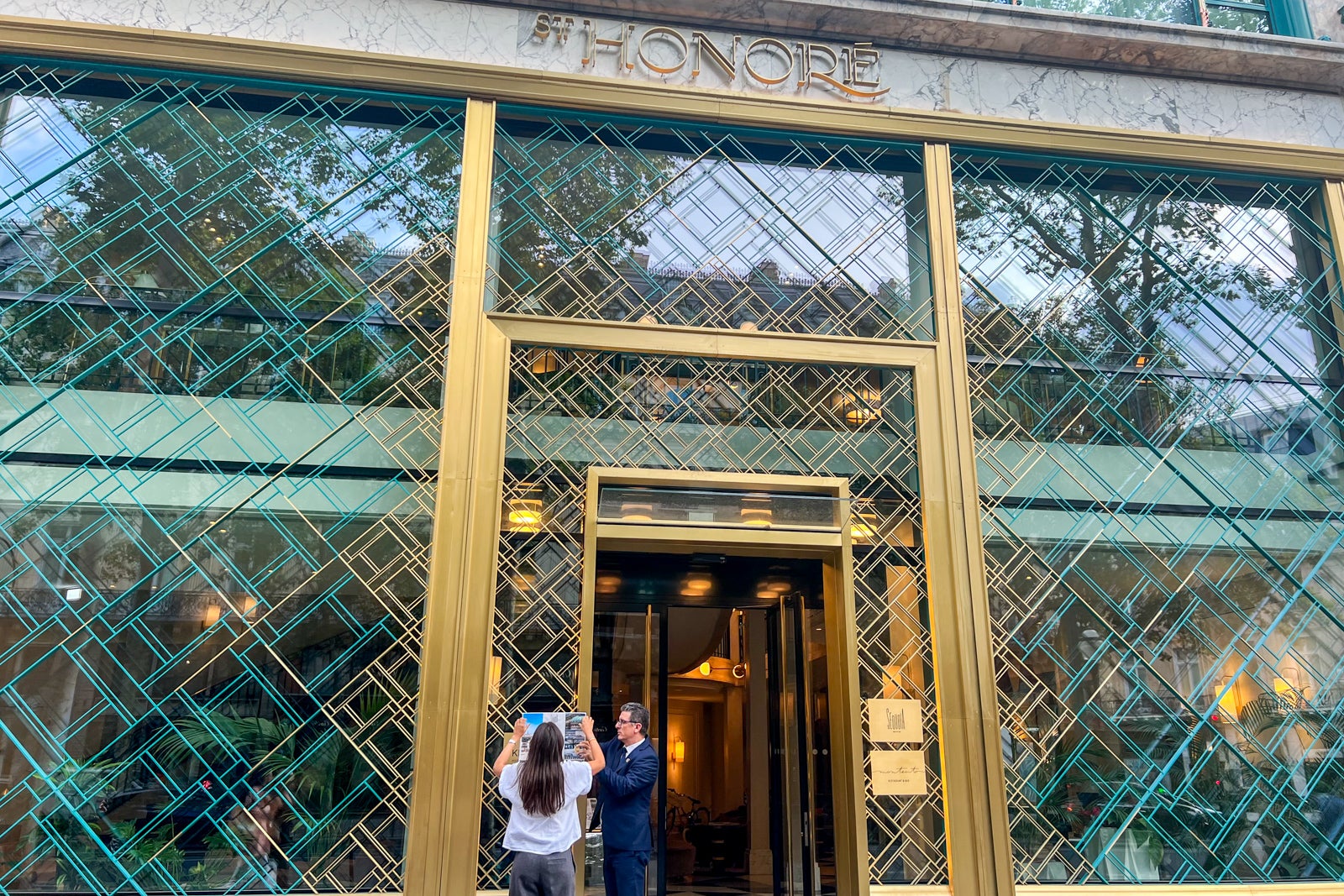 The Kimpton St Honoré Paris is a registered historic landmark designed by architect Frantz Jourdain. The exterior features the original curved facade trimmed with turquoise metal framework and decorated with floral patterns. You'll also see marble panels with copper and wrought iron all over. It's a stunning building.
Step inside the lobby and you'll find inviting gathering spots set among original wrought-iron elevators and grand staircases, while up in the light-filled guest rooms (more on those later) veteran interior designer Charles Zana — known for his clean lines, subtle color palette and classic 1930s influences — brings his distinctive Parisian aesthetic.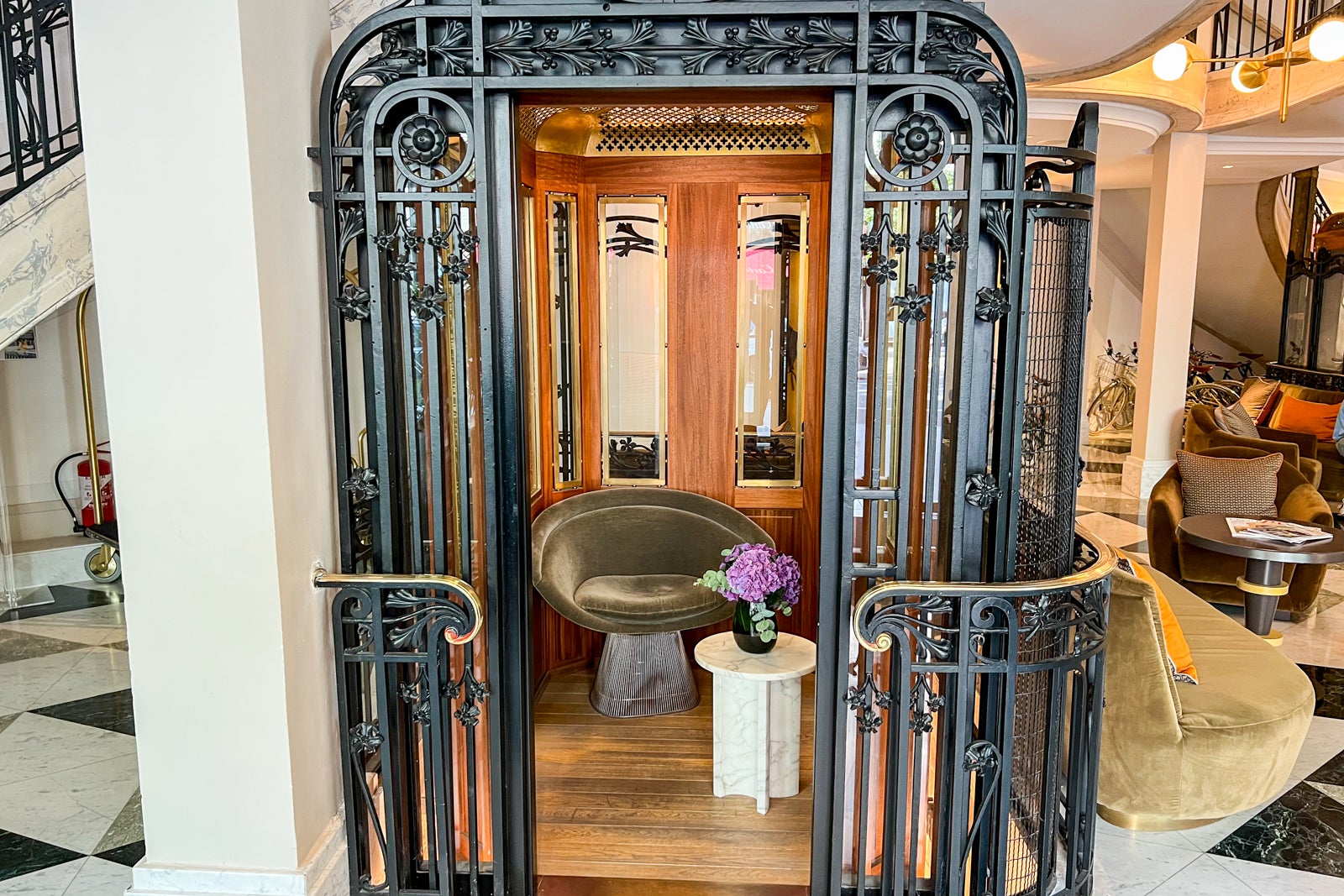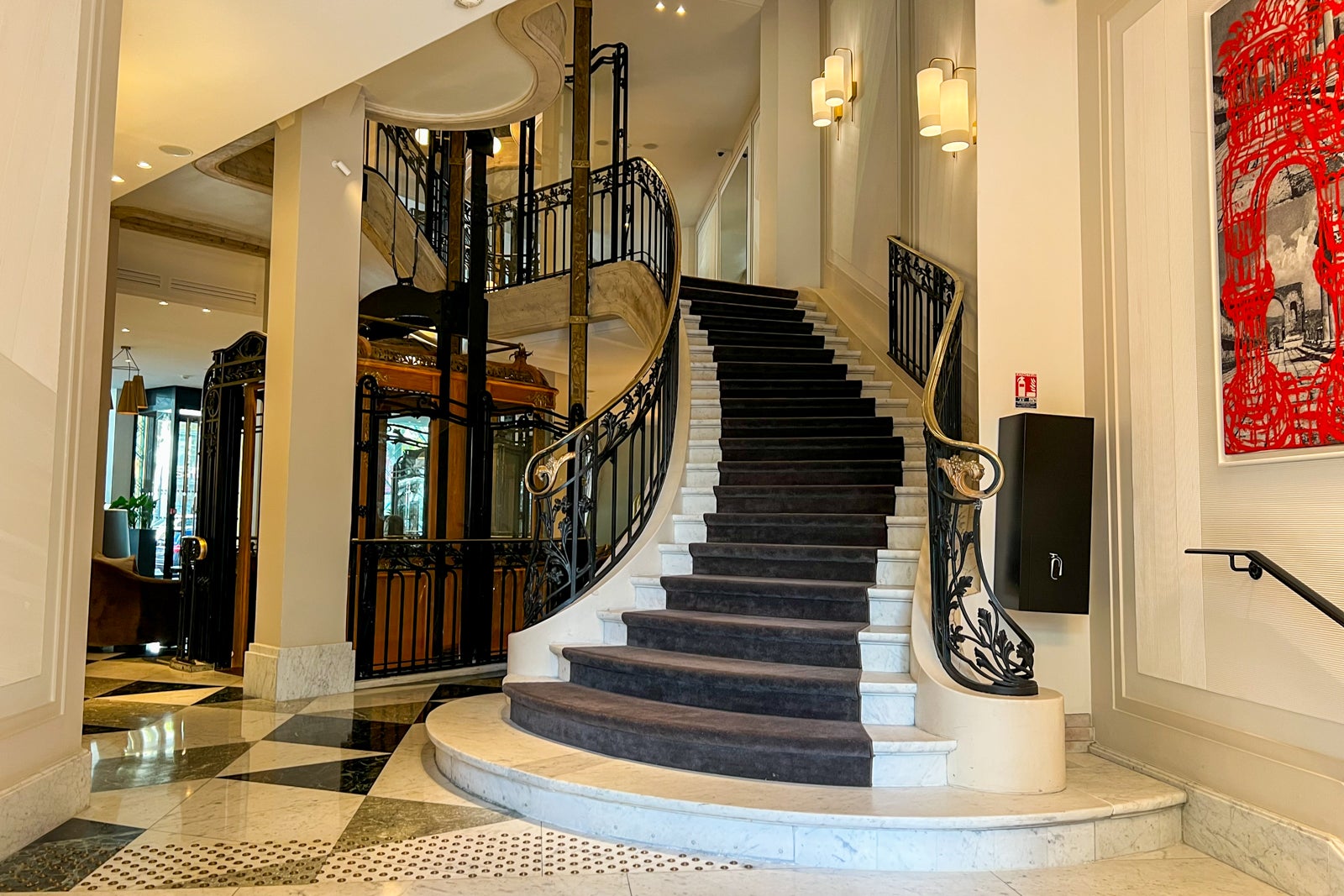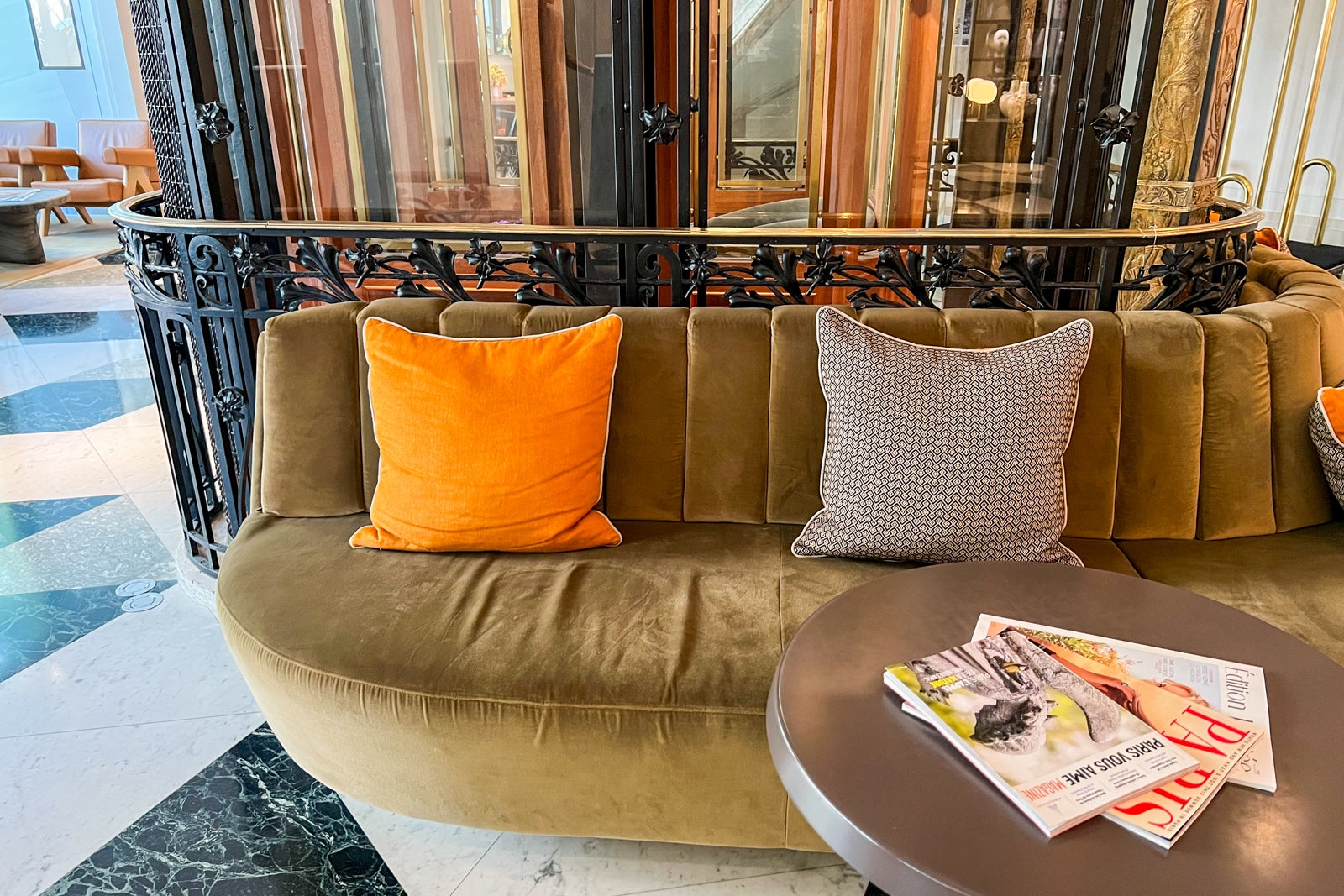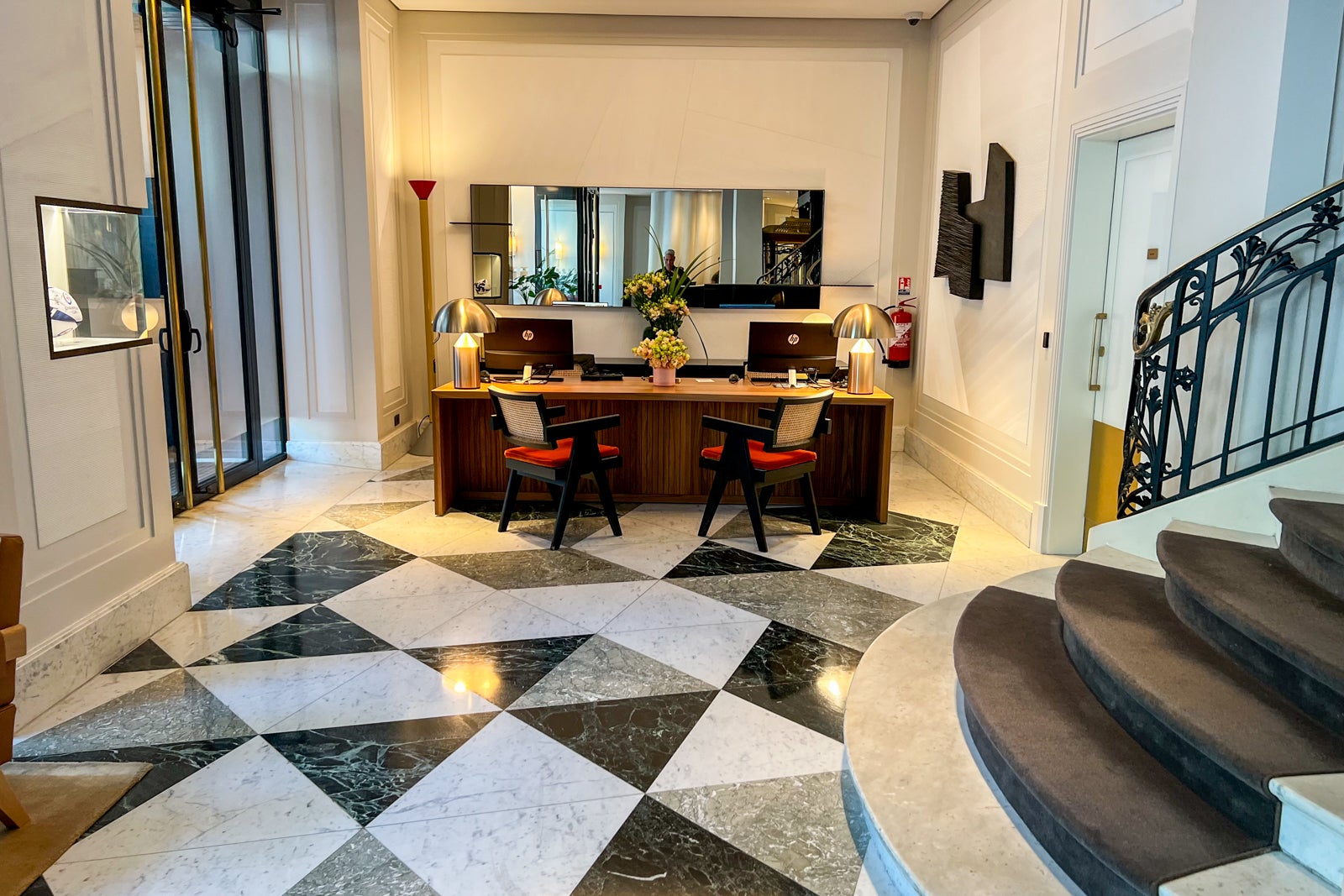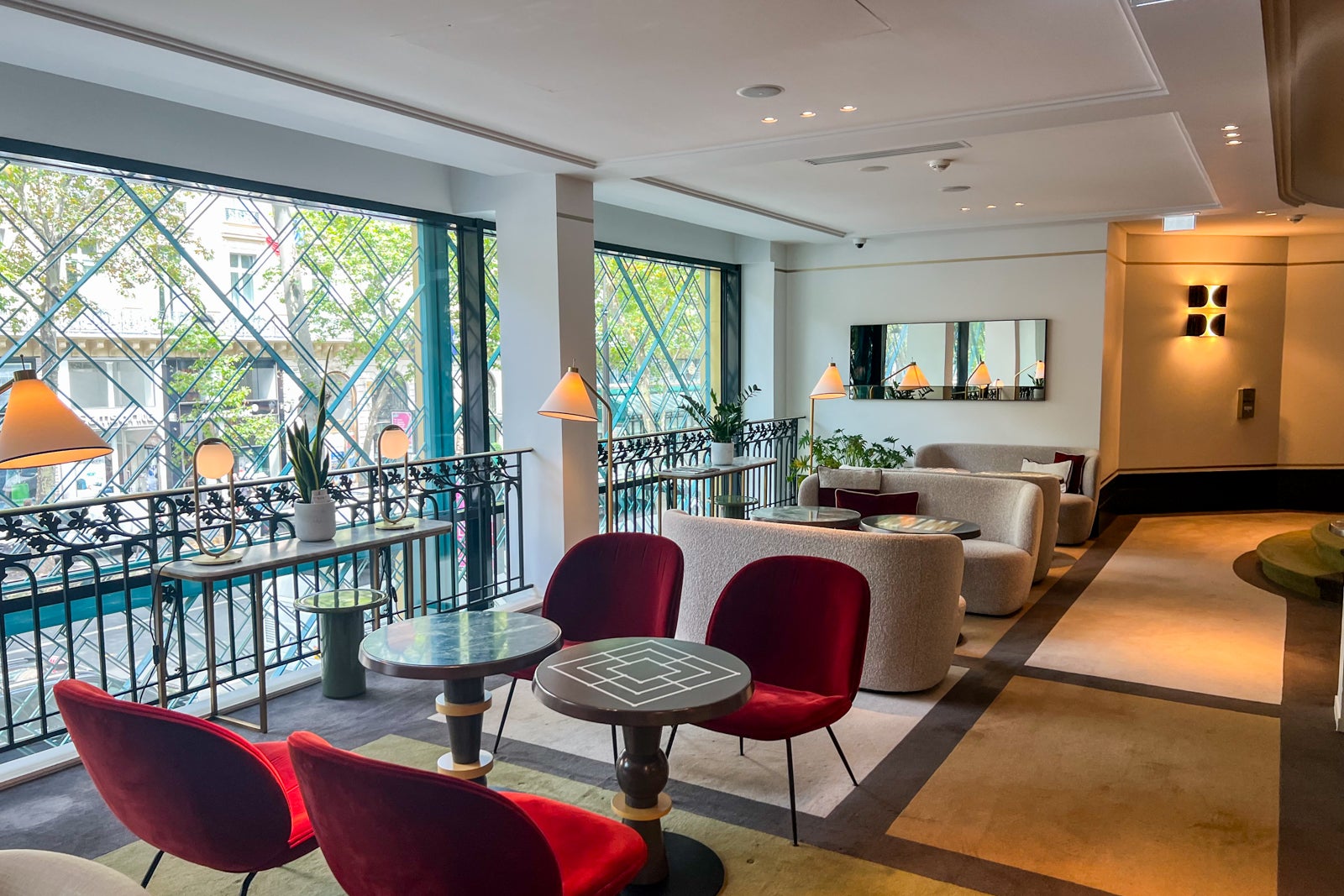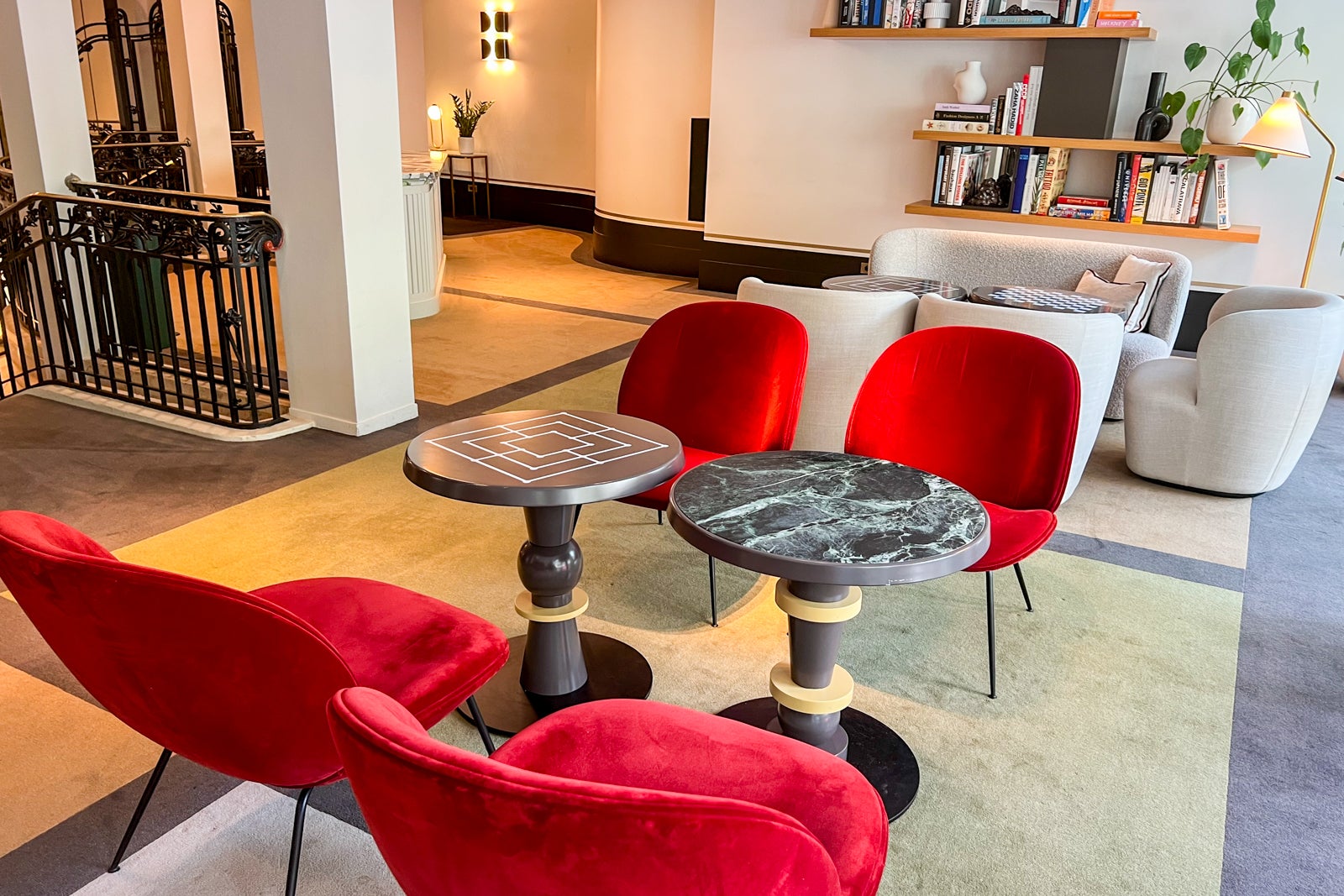 The renovated spaces opened to the public in 2021, so it still feels like a new property. The ground floor and mezzanine also feature areas known as the Living Room and the Library, but you'll find no shortage of little alcoves or spaces to plop down in. On the second floor, you'll also find an area where you can look out to the bustling street below.
How to book the Kimpton St Honoré Paris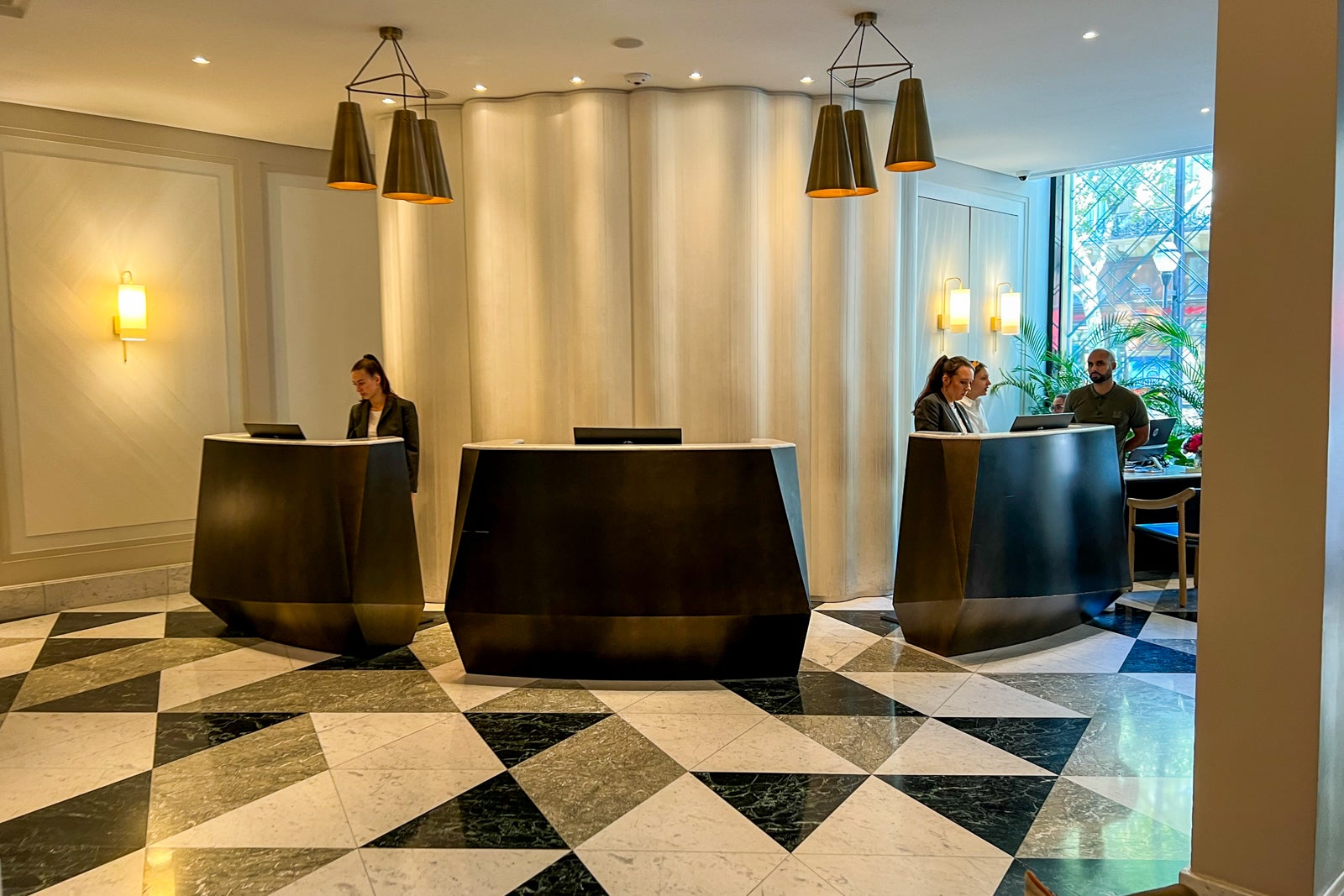 TPG booked the Kimpton St Honoré Paris using IHG One Rewards points. We spent a total of 209,000 IHG One Rewards points for two nights (or 105,000 points for the first night and 104,000 points for the second night).
TPG values IHG One Rewards points at 0.5 cents apiece, bringing the value of my stay to $1,045. The same nights booked with cash would have cost at least $1,248, so it was a decent redemption in this case. The cash rates at the hotel are usually much higher, and the award nights occasionally cost as little as 78,000 IHG One Rewards points per night (when there's availability), so it's possible to get even more value out of your stay by using points.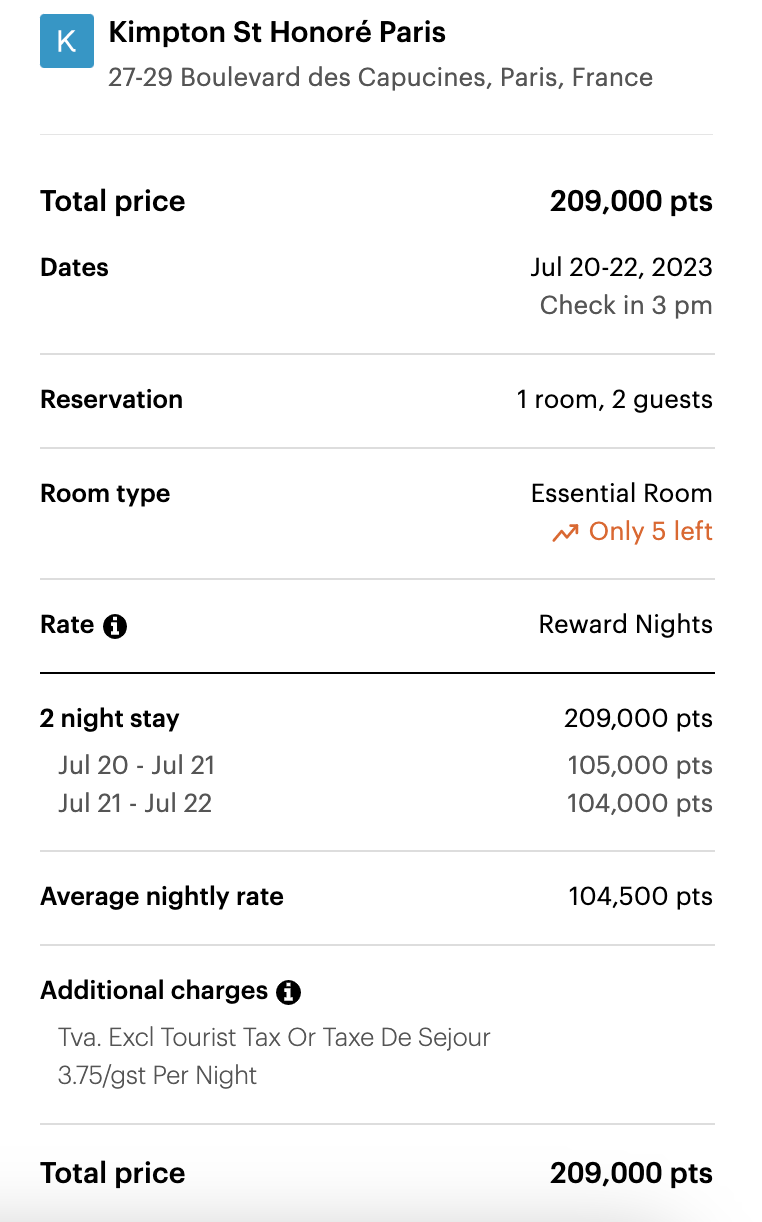 Because TPG booked my stay with points, I didn't earn points for the room booking. However, I did put my room charges on my IHG Rewards Club Select Card (no longer open to new applicants), so I earned 3,232 IHG One Rewards points (which TPG values at about $16). Had I stayed longer, I could've used the card to enjoy a fourth night free on award stays.
Related: New IHG card offers: Earn up to 140,000 points and a $100 statement credit
The information for the IHG Rewards Club Select Card has been collected independently by The Points Guy. The card details on this page have not been reviewed or provided by the card issuer.
Location of the Kimpton St Honoré Paris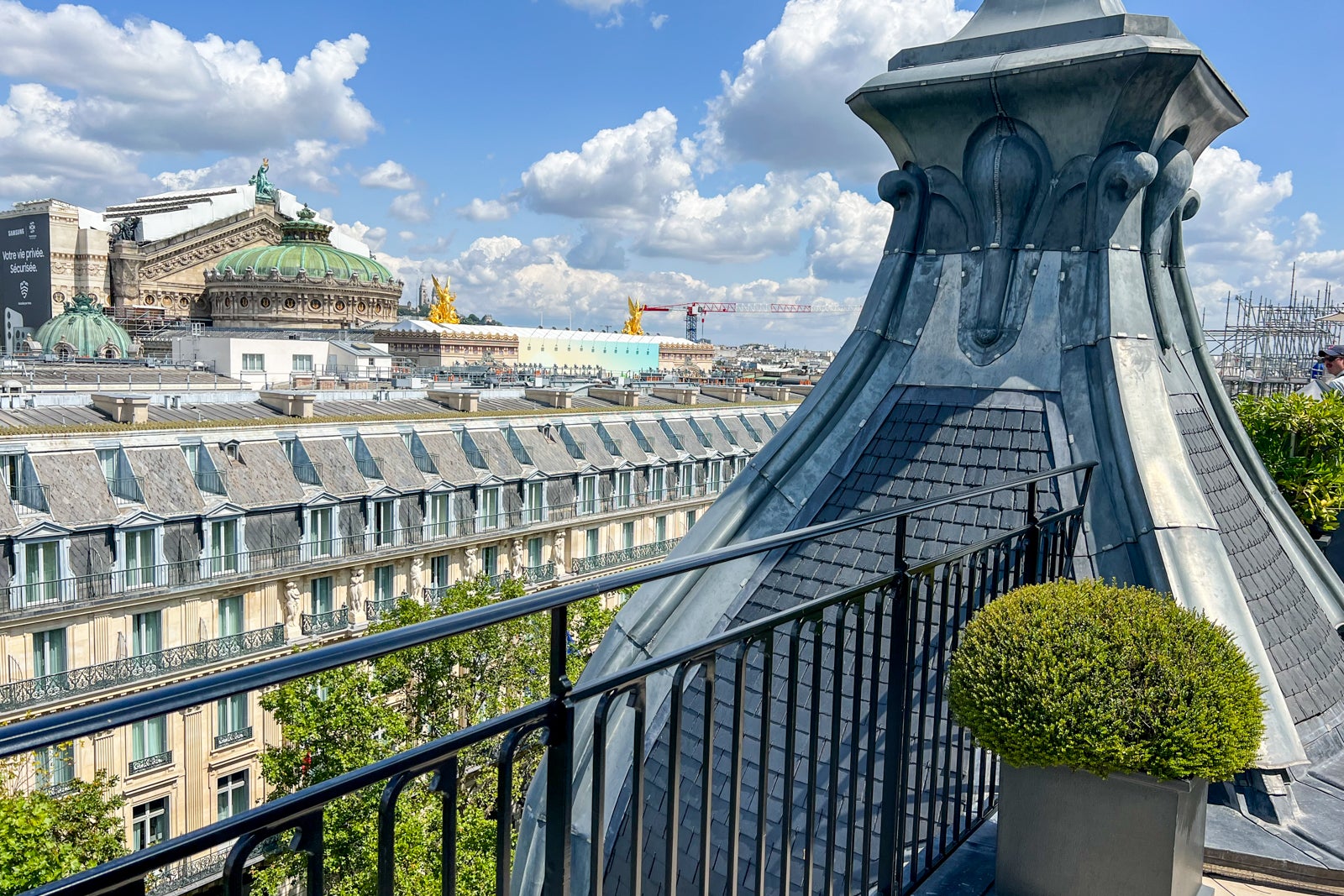 The Kimpton St Honoré Paris is in a super central part of town, just steps from the Palais Garnier opera house that you've undoubtedly seen in movies and TV shows. It's on Boulevard des Capucines directly across from the InterContinental Paris – Le Grand and just around the corner from another IHG property, the Hotel Indigo Paris – Opera.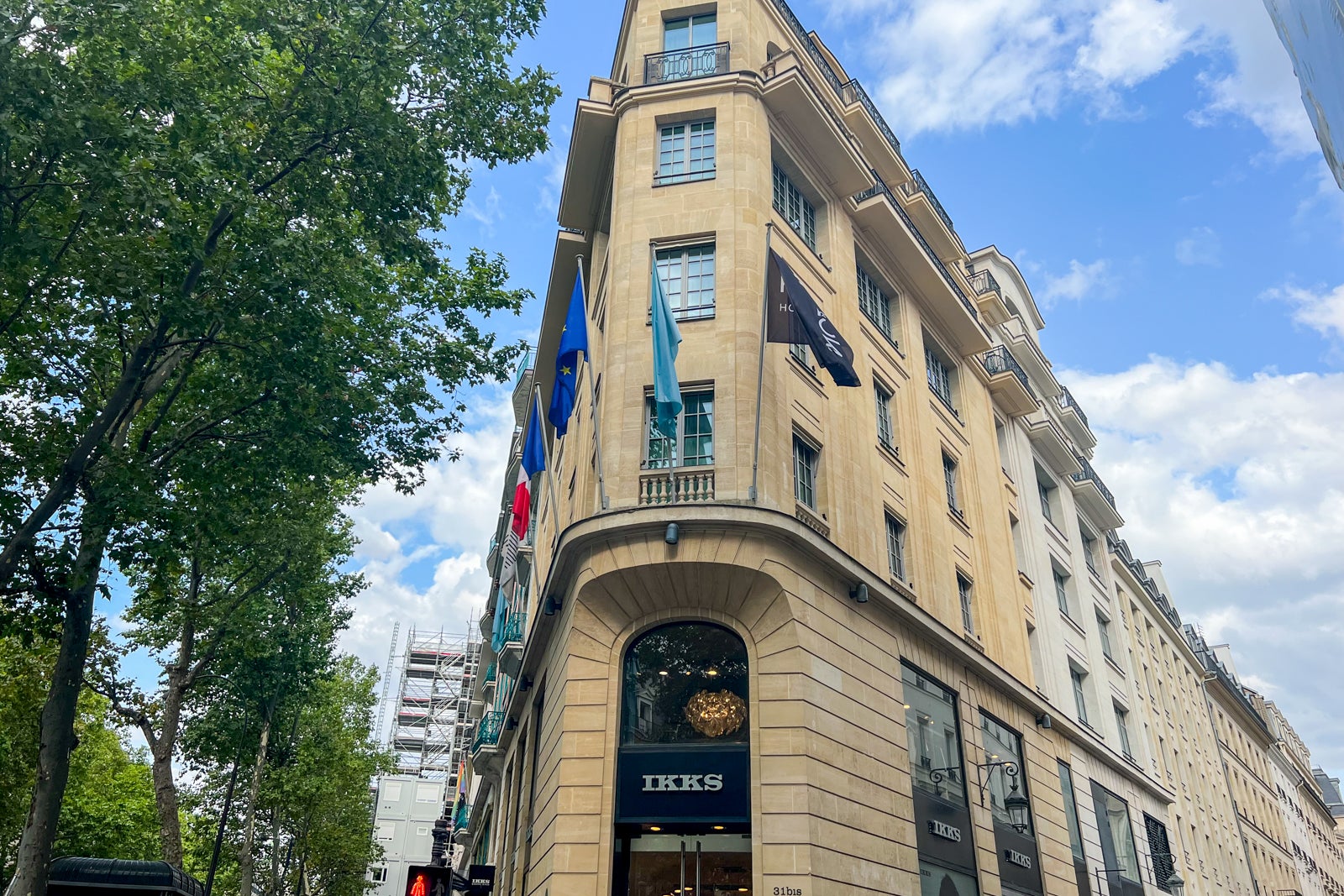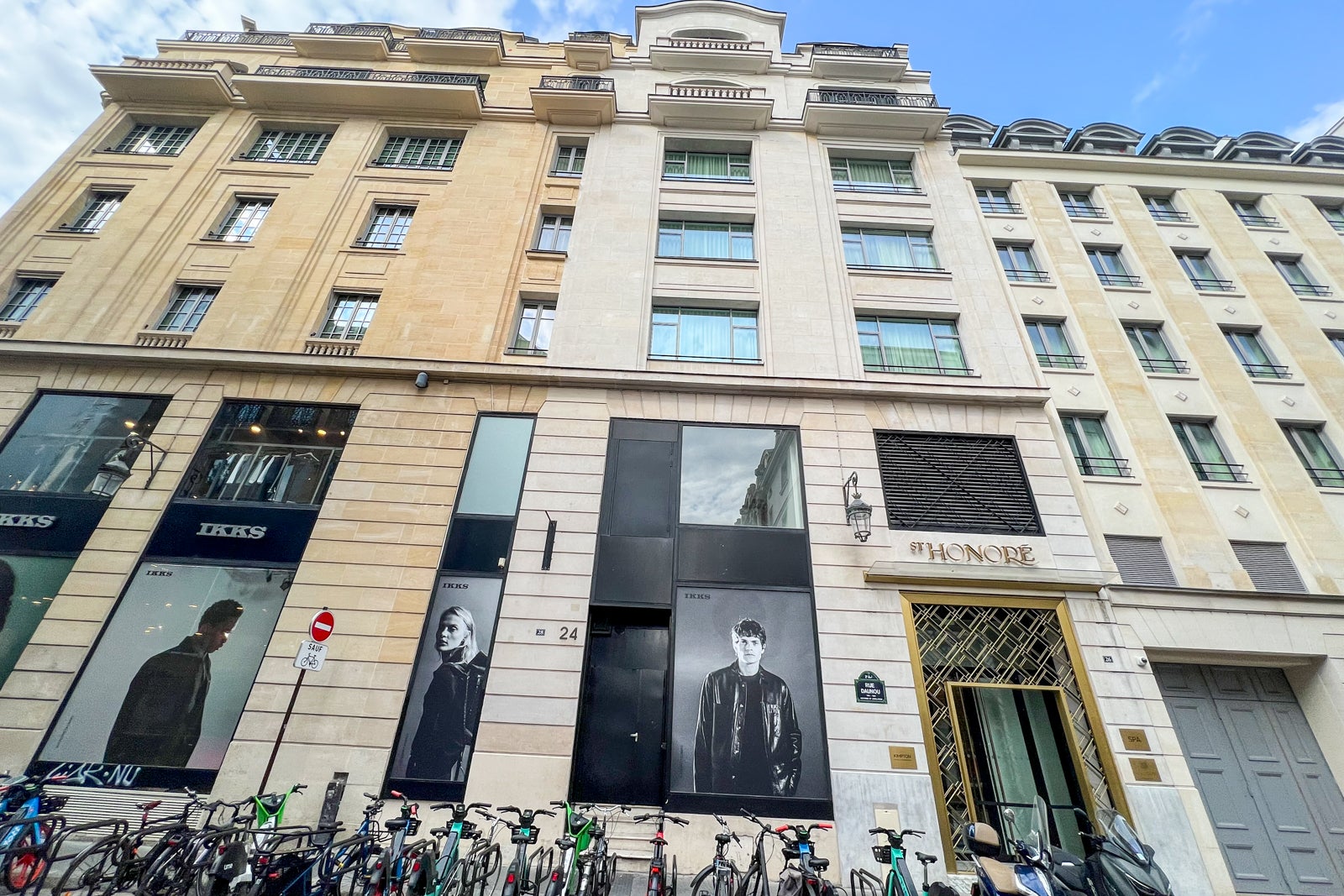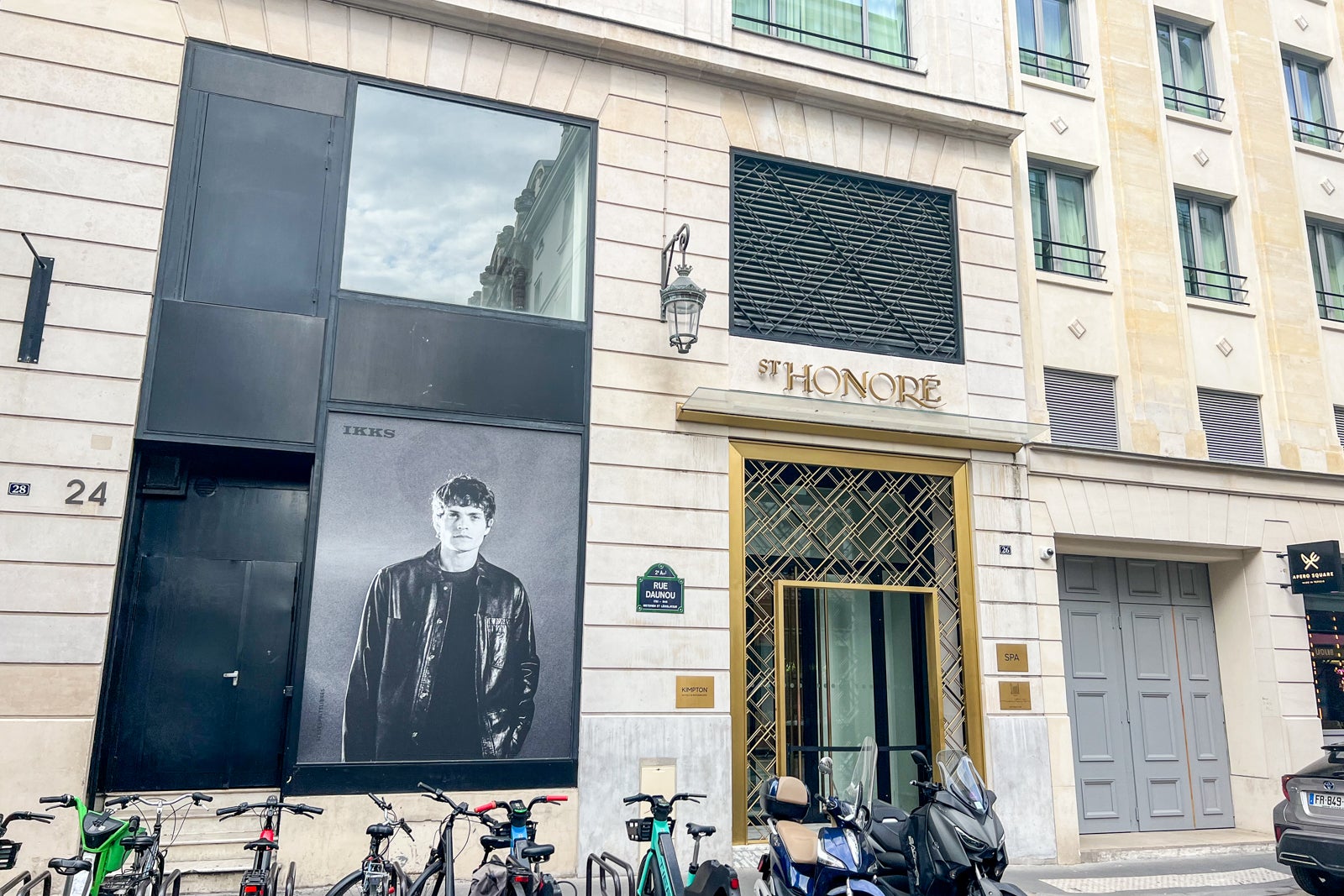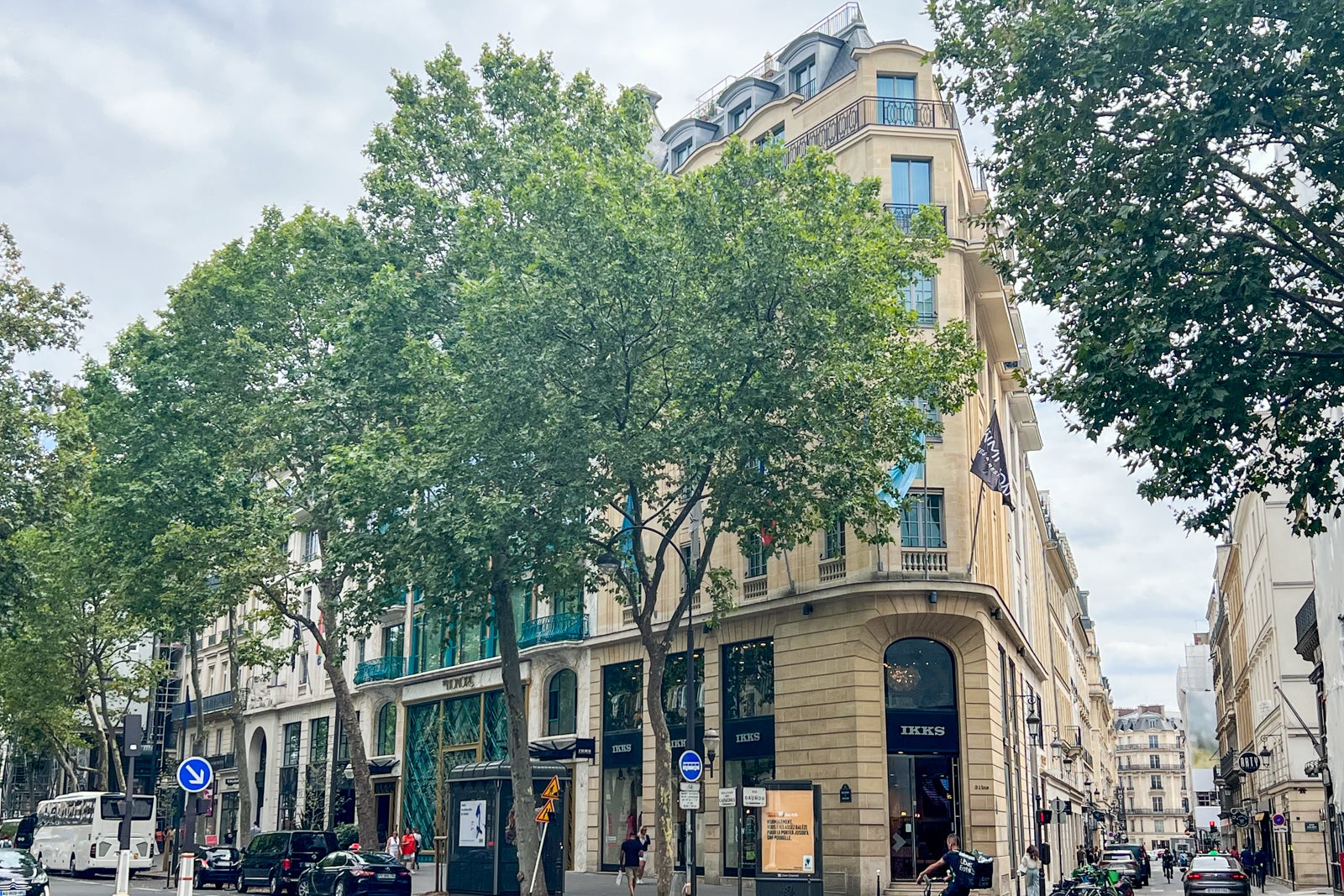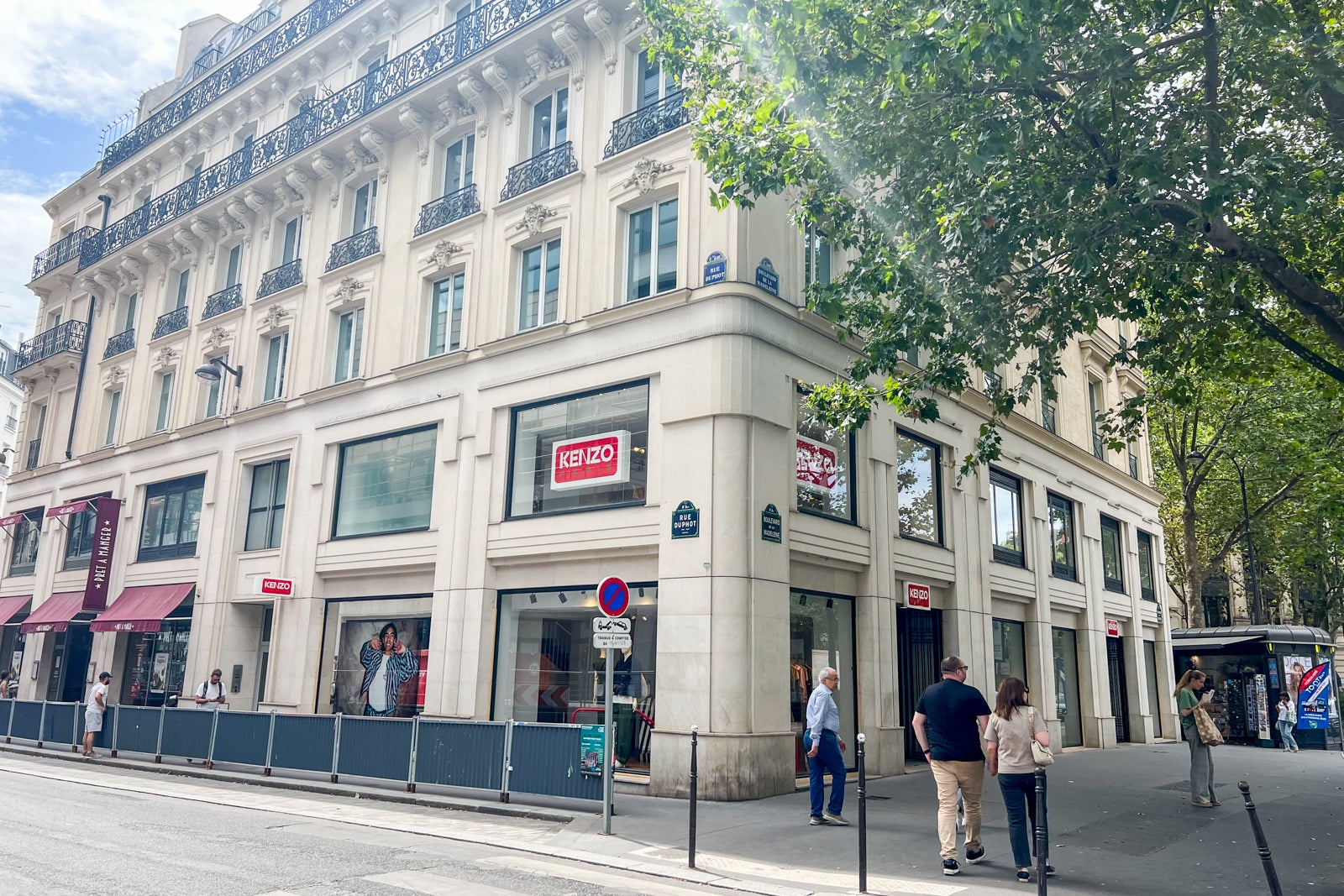 There is easy access to excellent shopping, including luxury French fashion house Kenzo down the boulevard and a Cartier boutique across the street. Plus, you can reach famous French department stores like Galeries Lafayette and Printemps on foot. Oh, there is also a giant Apple Store just down the street.
Some of the top attractions in Paris, including the Louvre, Place de la Concorde and the Tuileries Garden, are within a 20-minute walk as well.
Related: Paris Pocket Guide: What to see, do and eat in the City of Light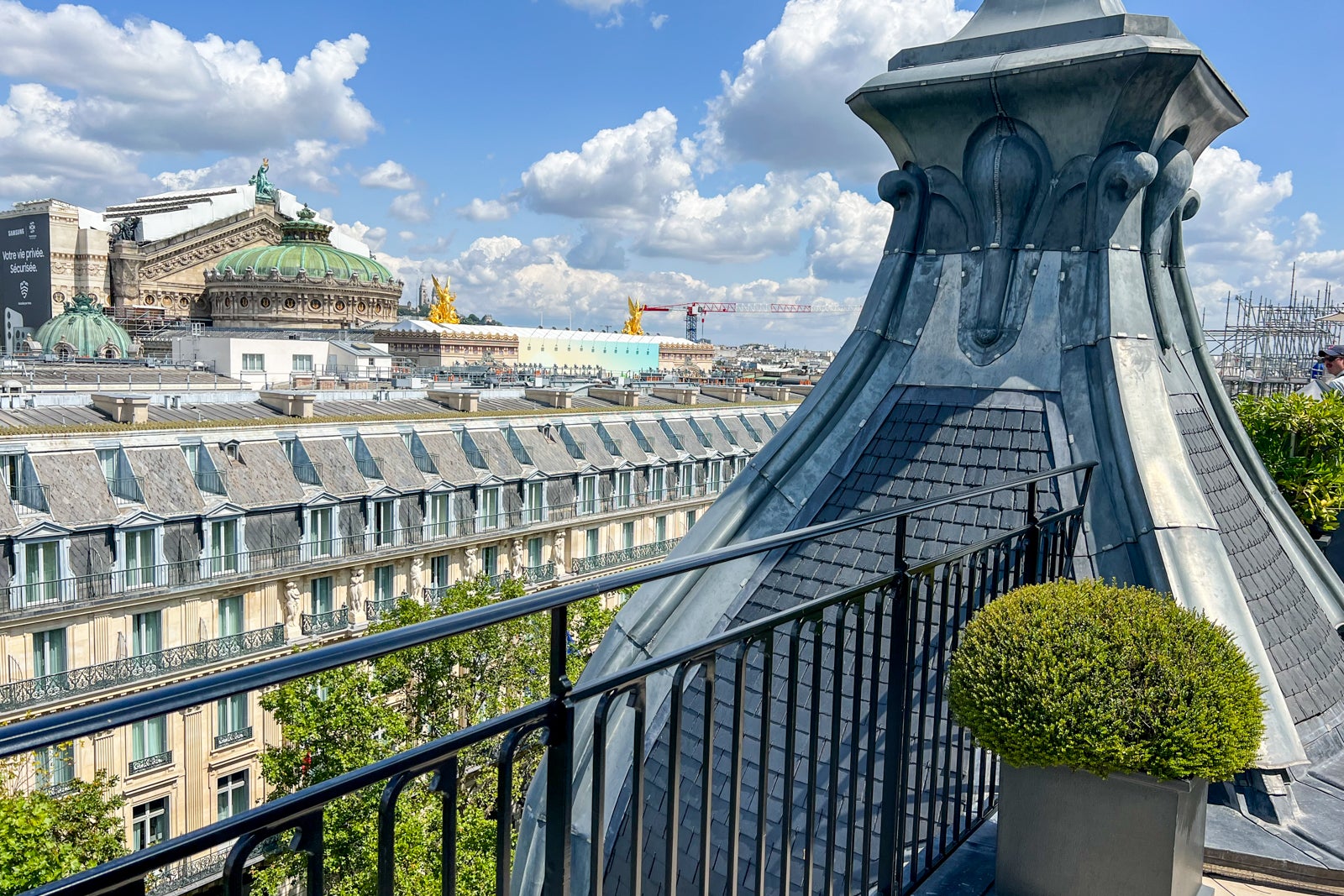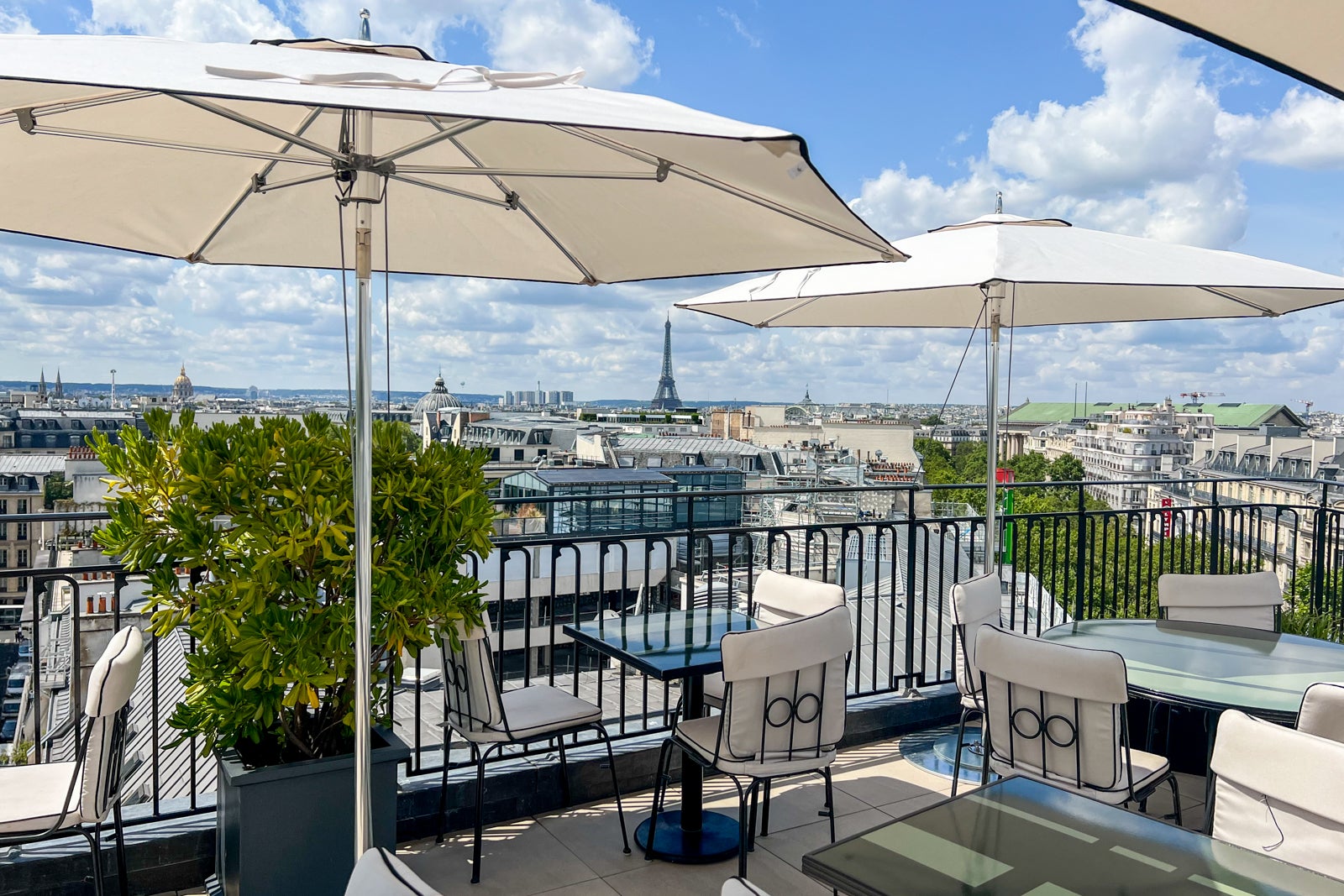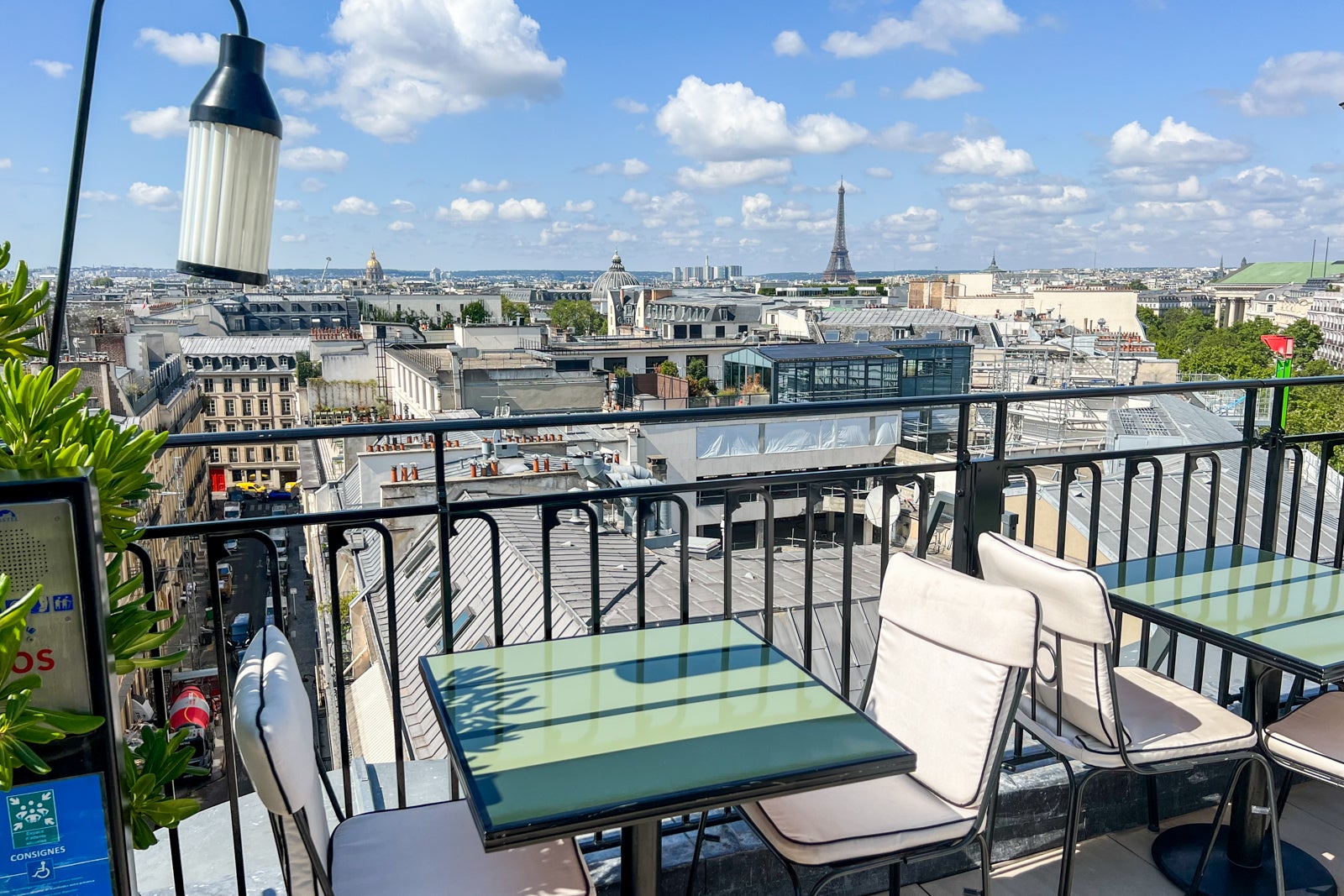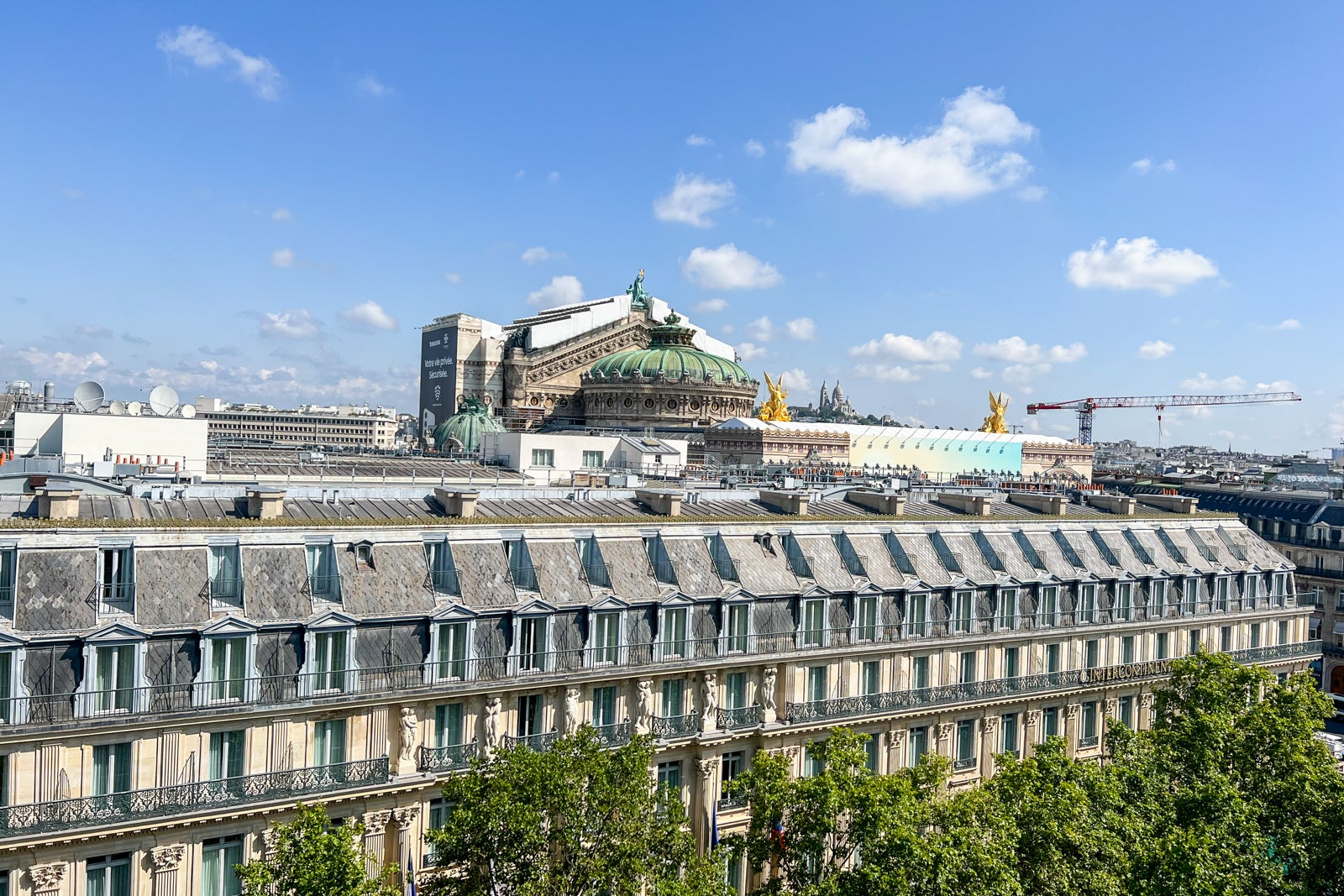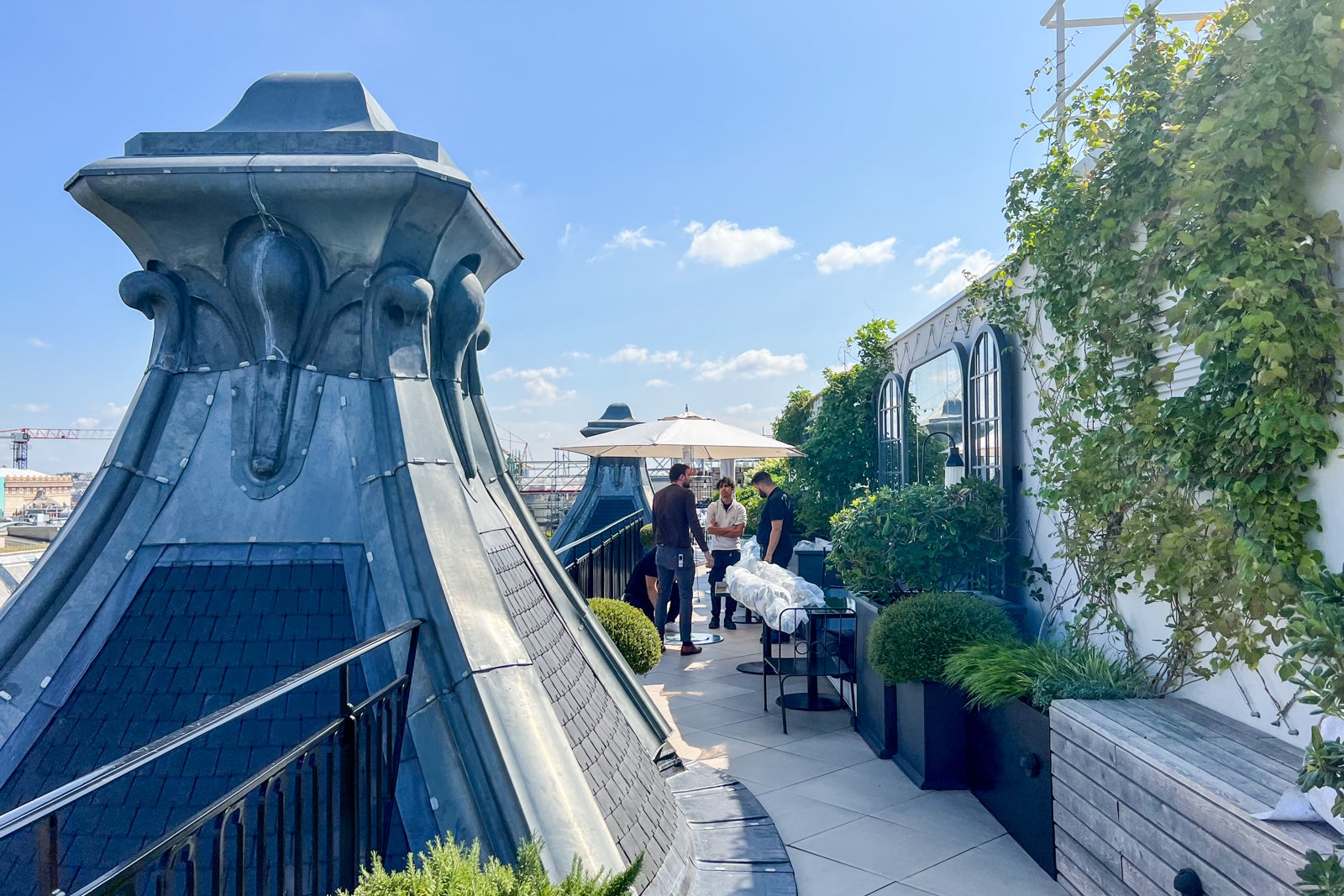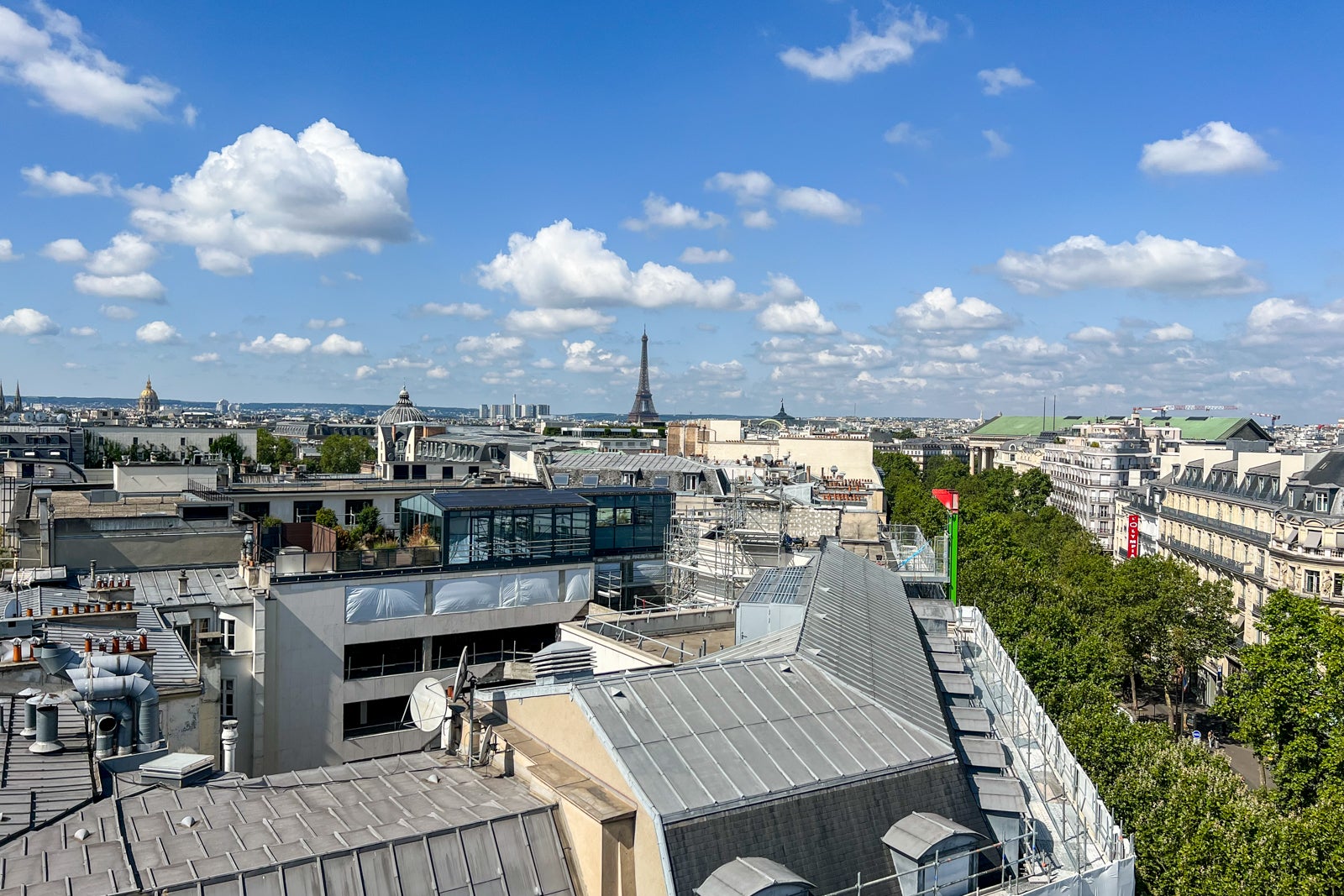 You can take the express RoissyBus shuttle (16.20 euros/$17.30 for 60 minutes) directly to Paris-Charles de Gaulle Airport (CDG) from the Opéra stop near the hotel. The property is just a few hundred feet from the Opéra metro station, too.
Modern rooms at the Kimpton St Honoré Paris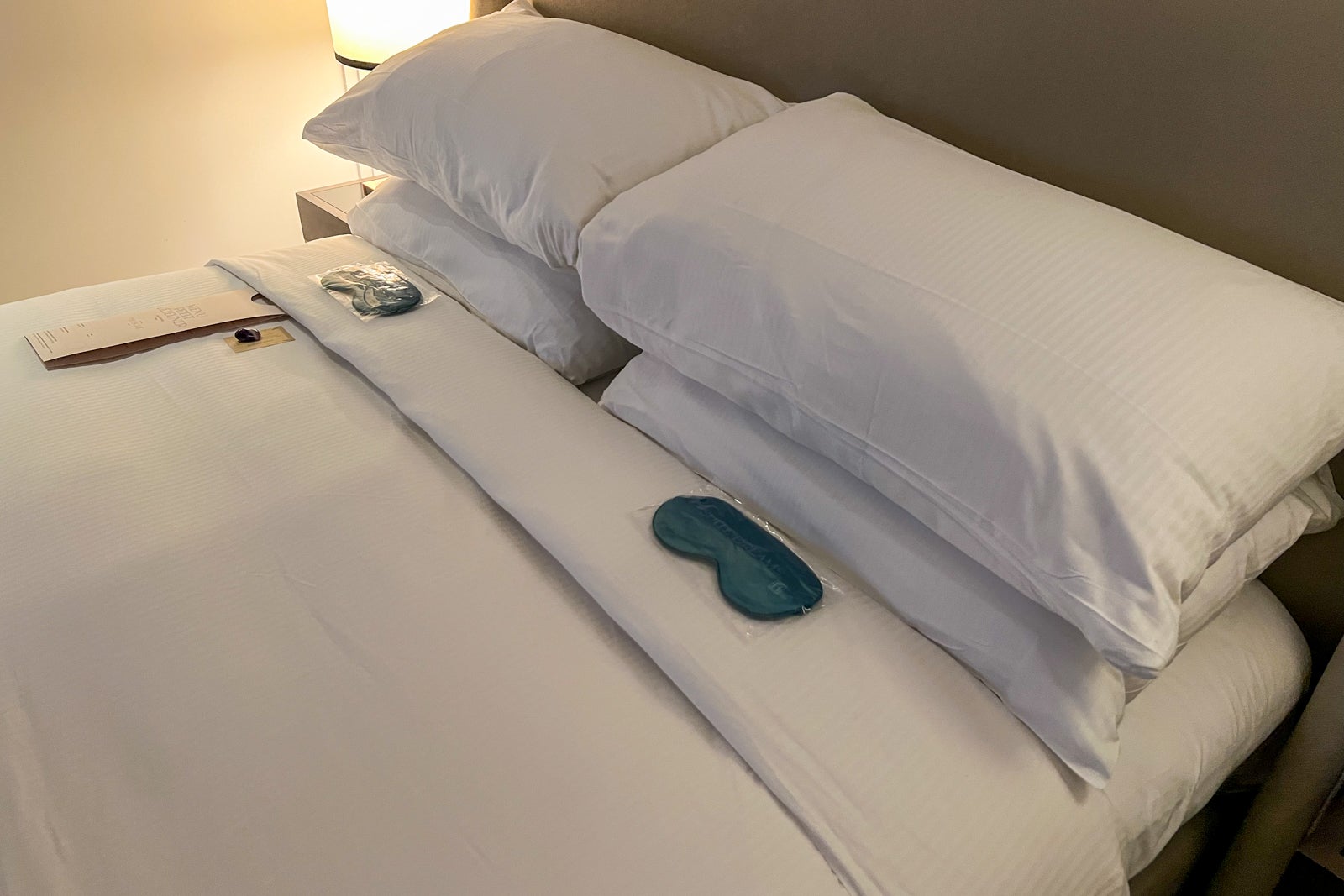 Stepping into these charming accommodations feels like entering your own Paris pied-a-terre, with floor-to-ceiling windows, custom artwork and other design components.
Paris hotel rooms are generally on the small side, and the Kimpton St Honoré Paris is no exception — rooms start at just 220 square feet. While there wasn't a lot of elbow room inside the room, my small balcony certainly helped add extra living space. Despite traveling with a plus one, I wasn't bothered by the lack of space.
In addition to the rooms, there are 26 suites to choose from, which offer a lot more space (ranging from 526 to 1,100 square feet) and start from around $1,300 per night.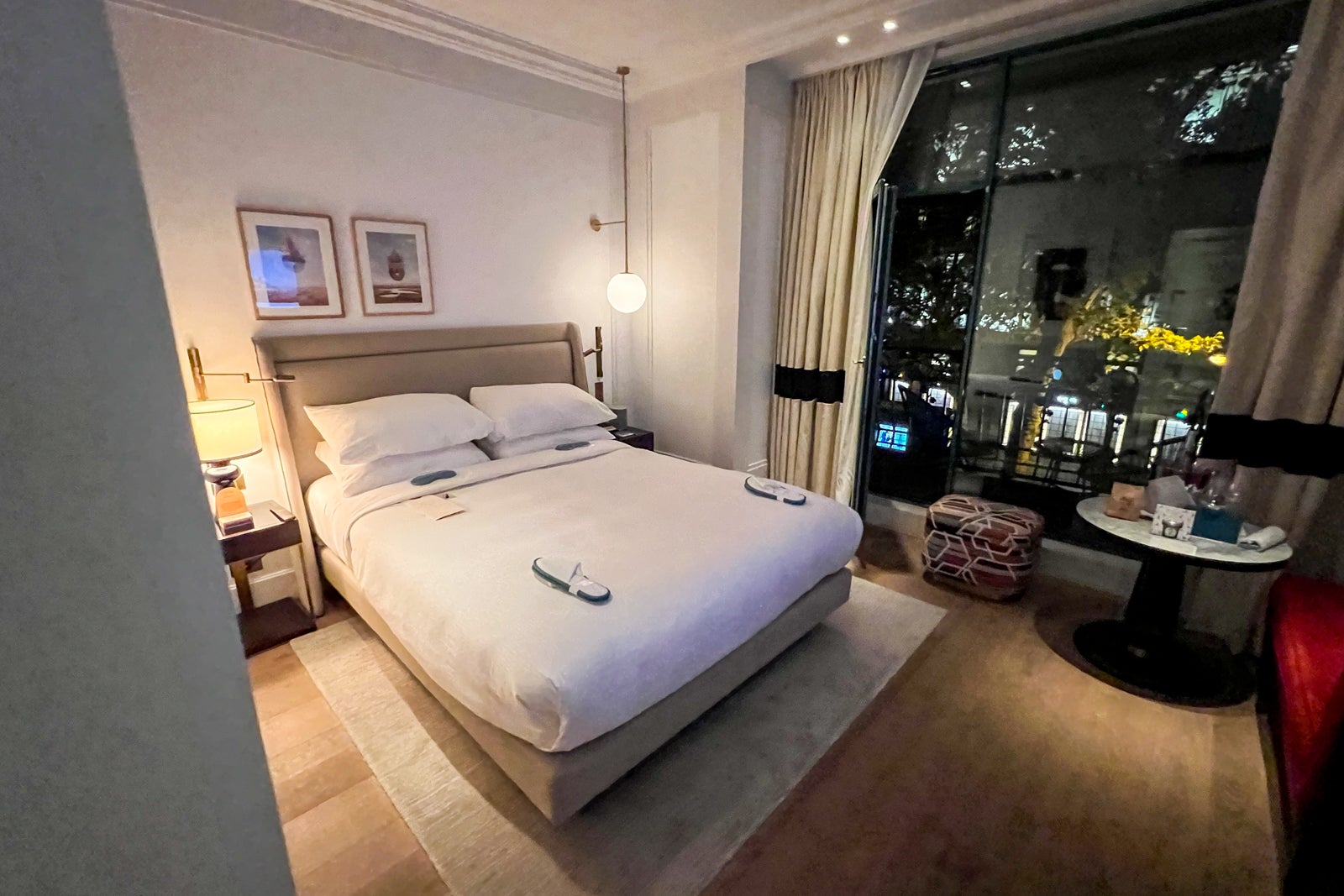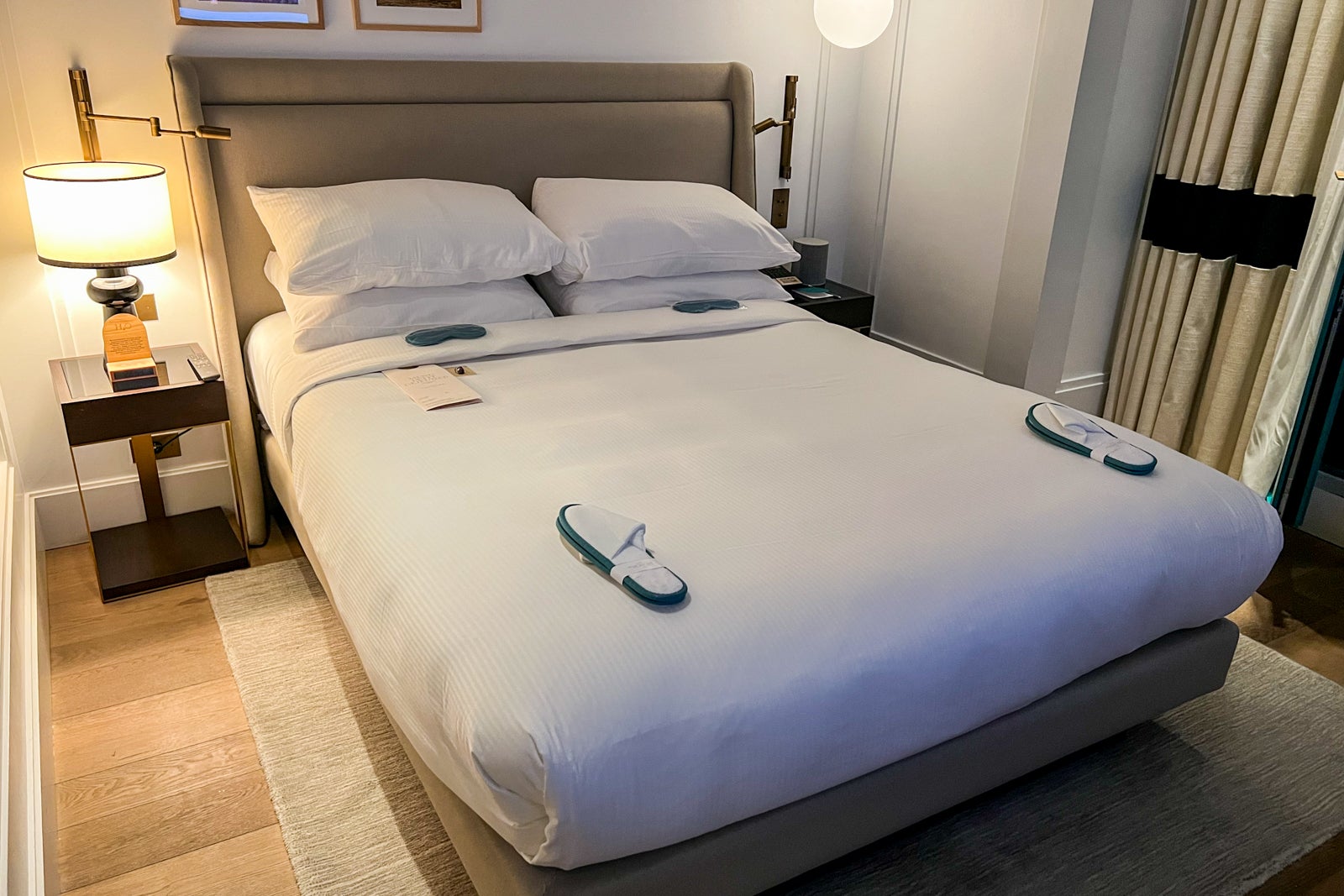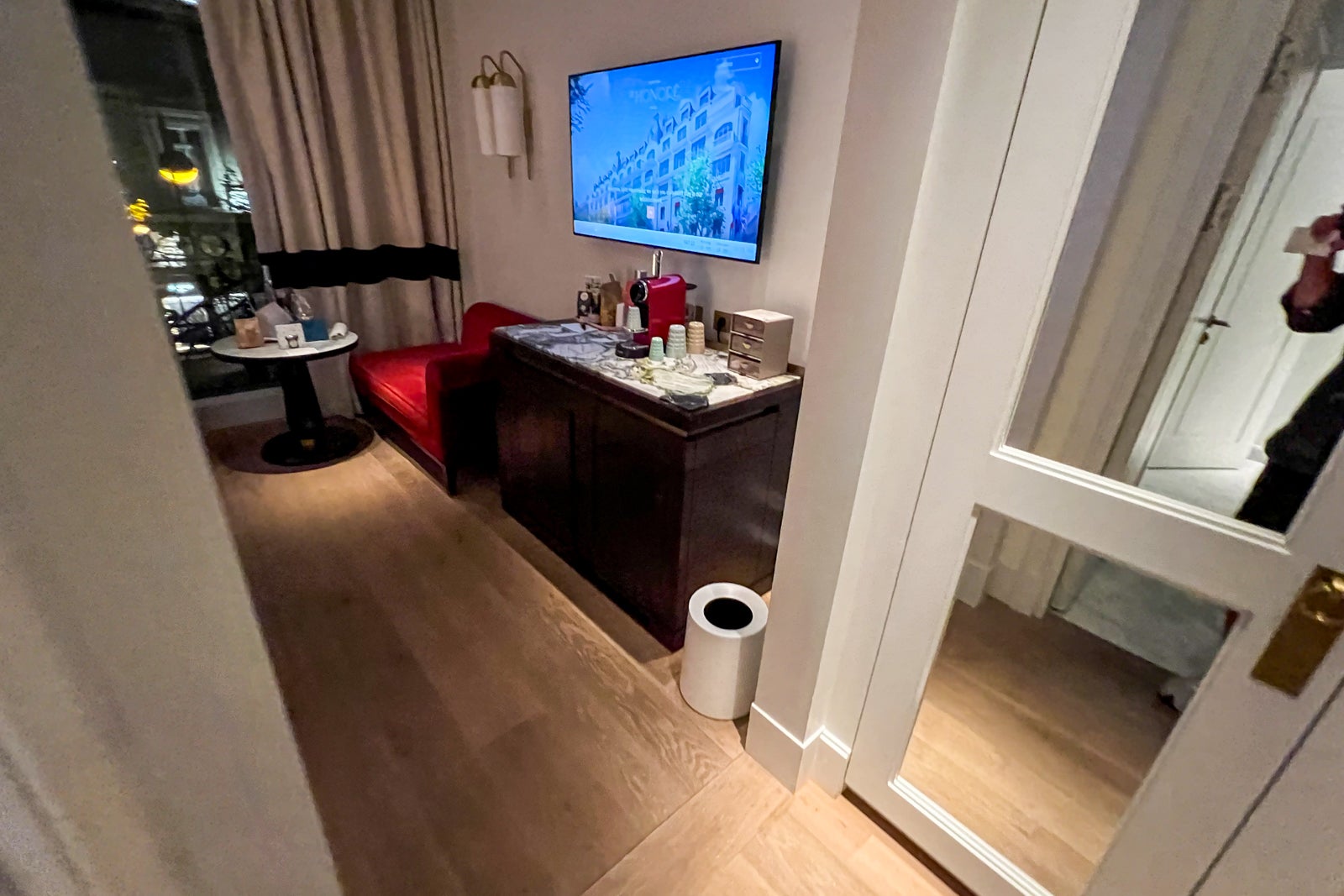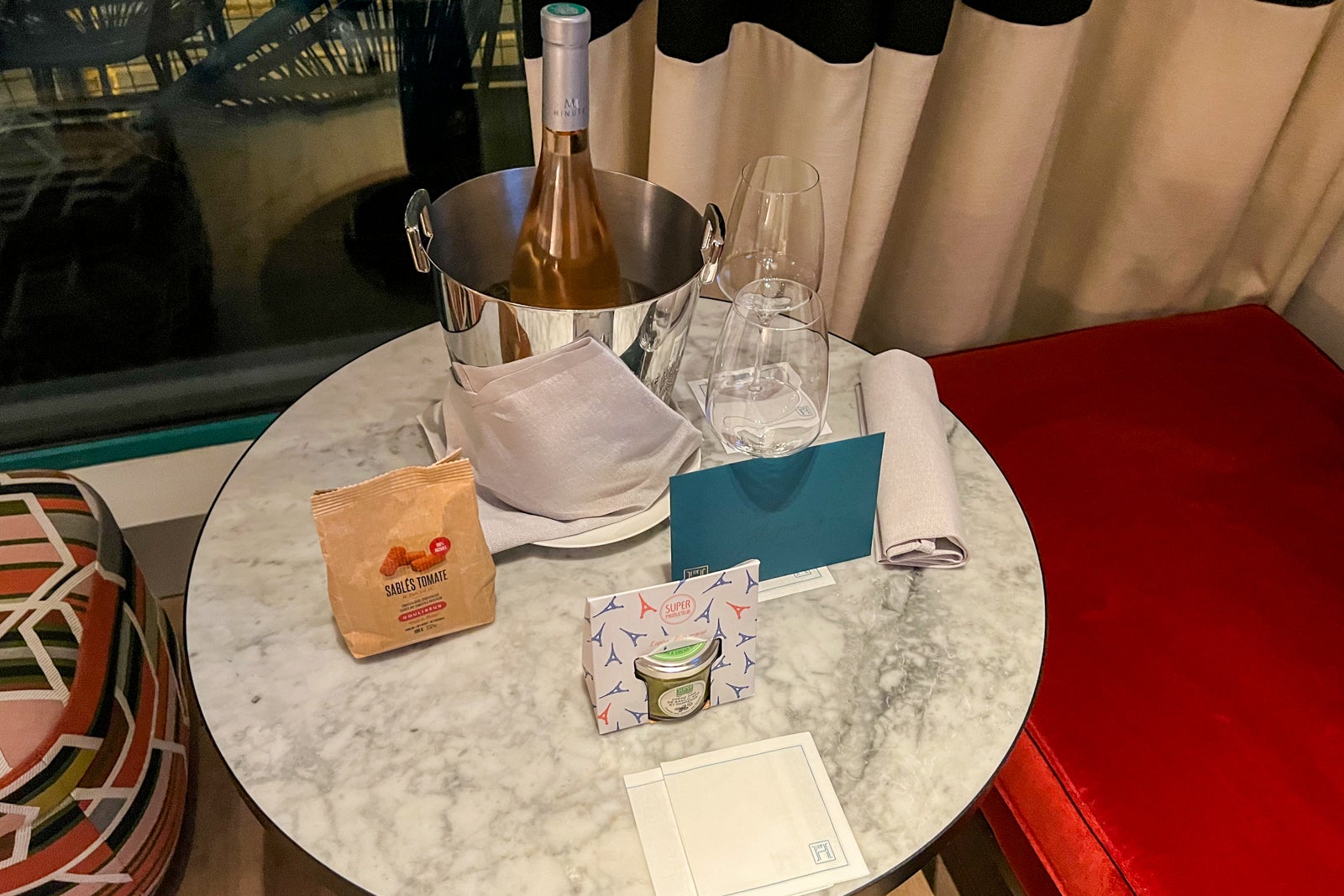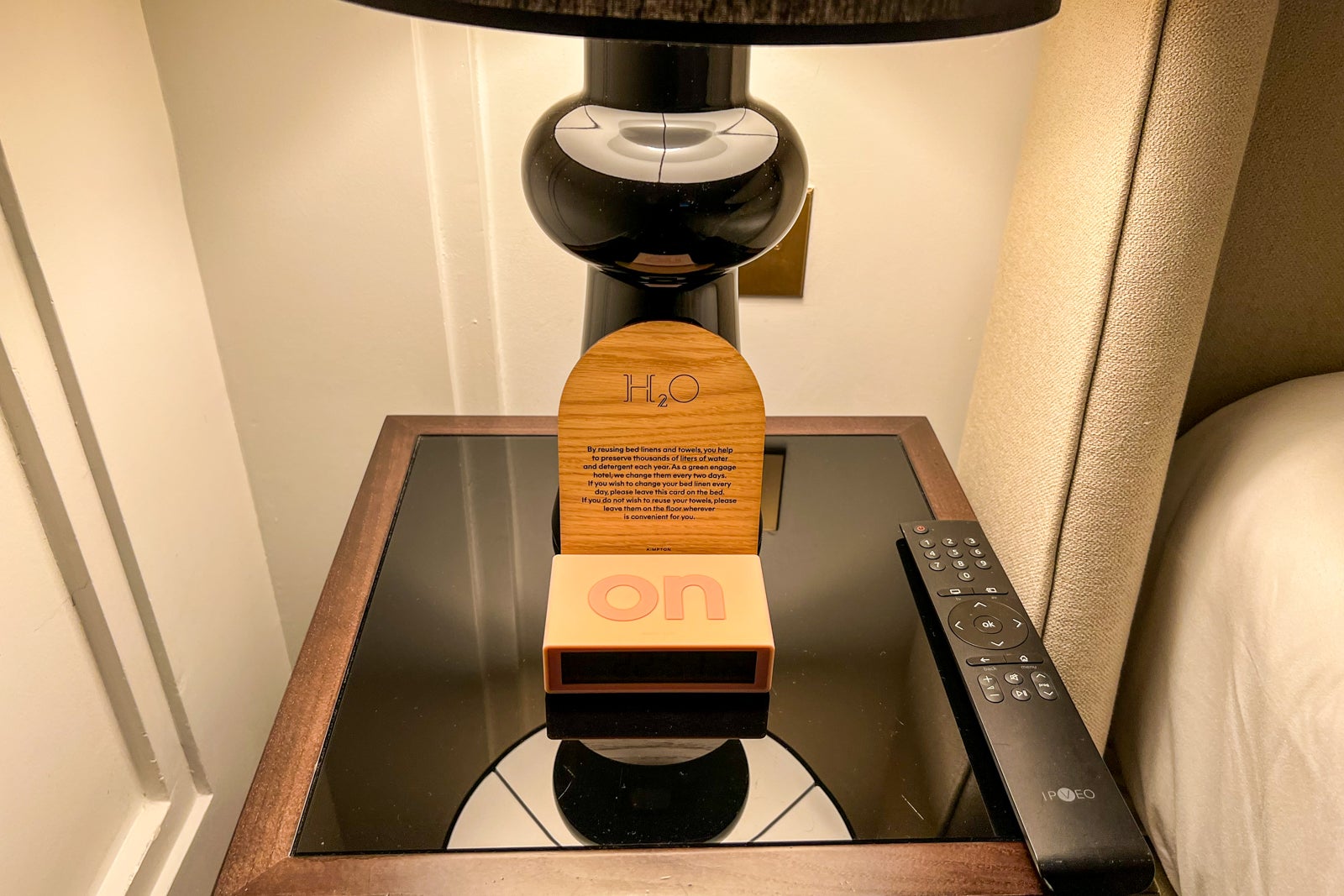 If you stick with a standard room, request one with a balcony. Thirty of the rooms have them, and the extra amenity adds a lot to the experience. Know, though, that you will need to pay around $100 more per night for the feature, depending on the season.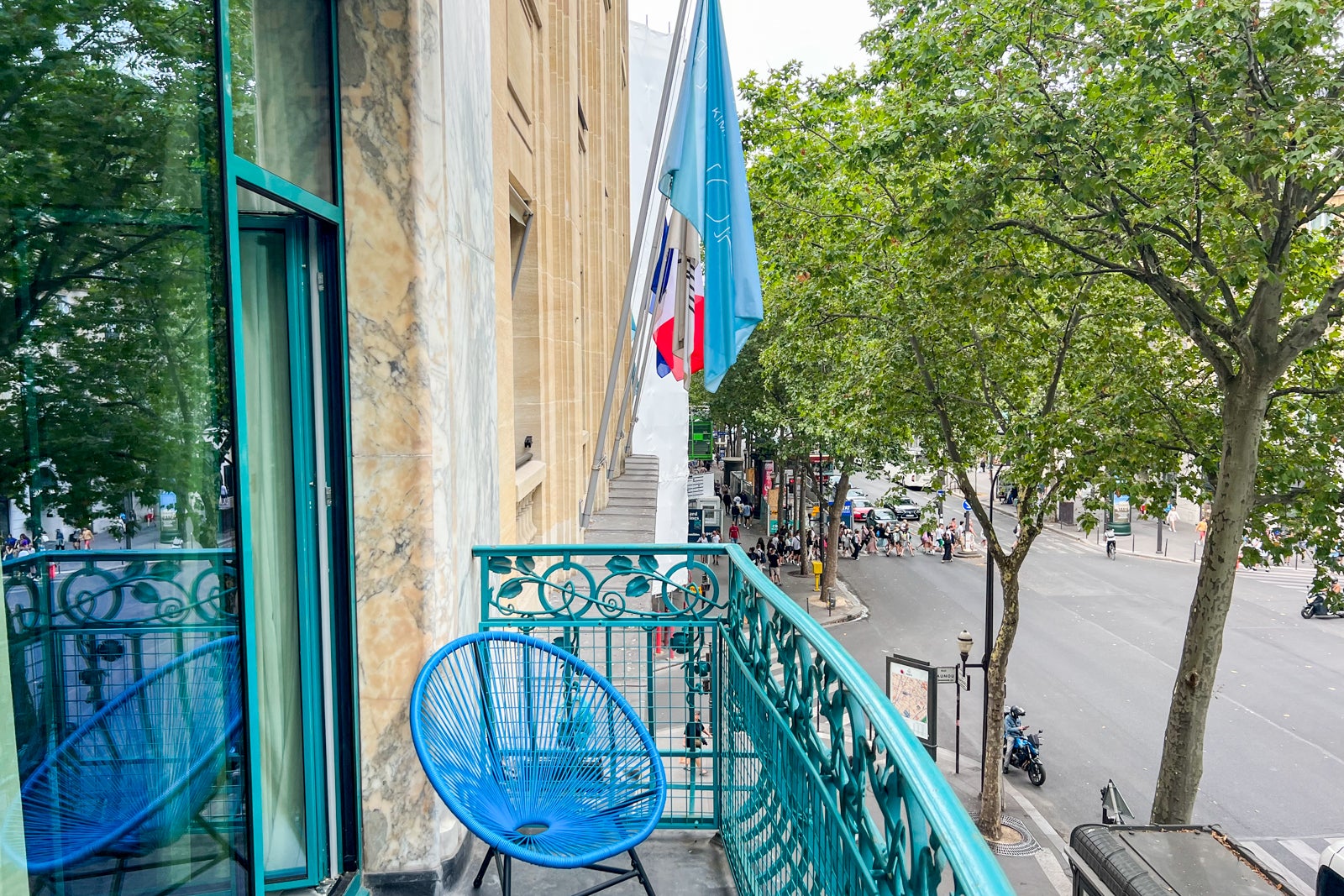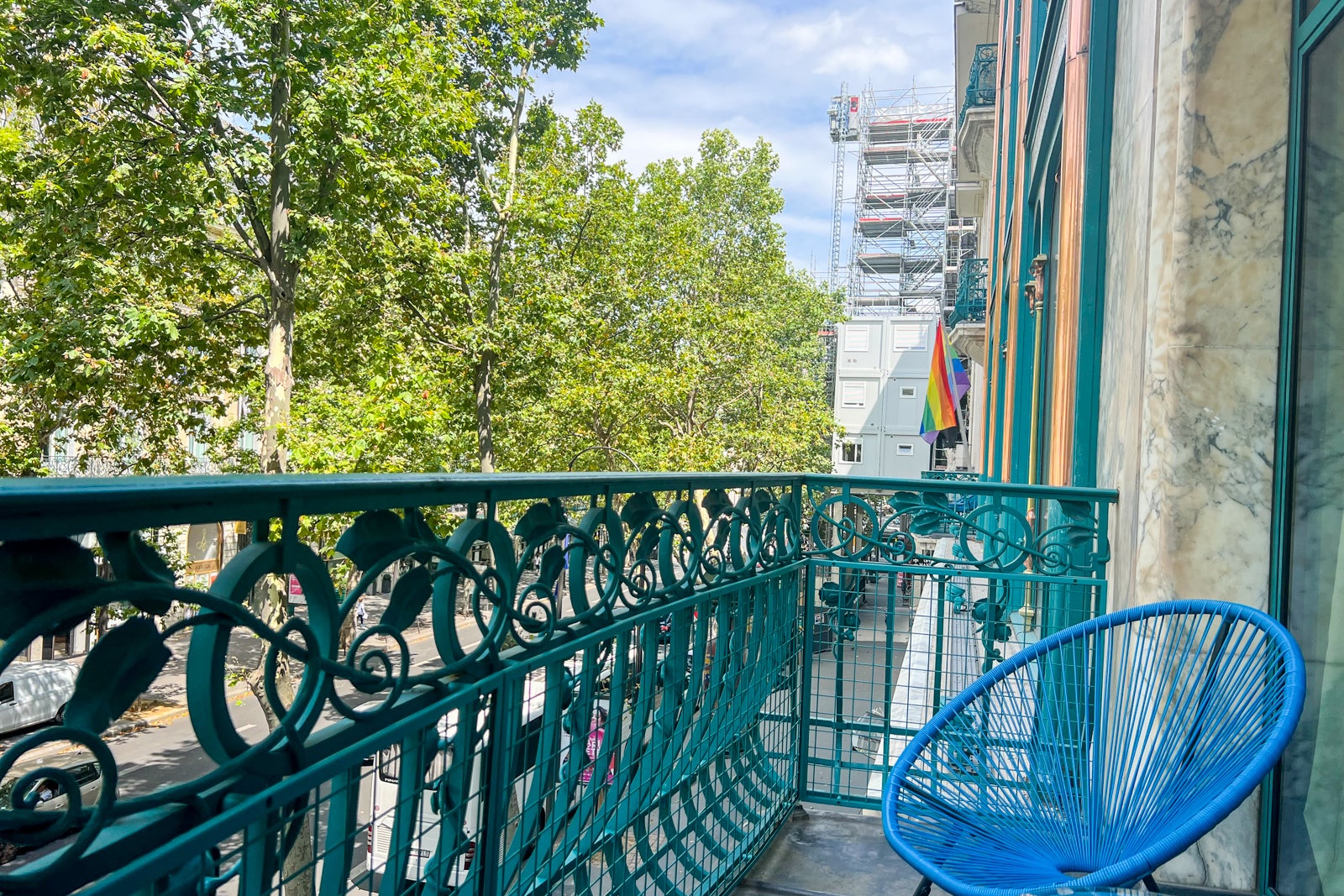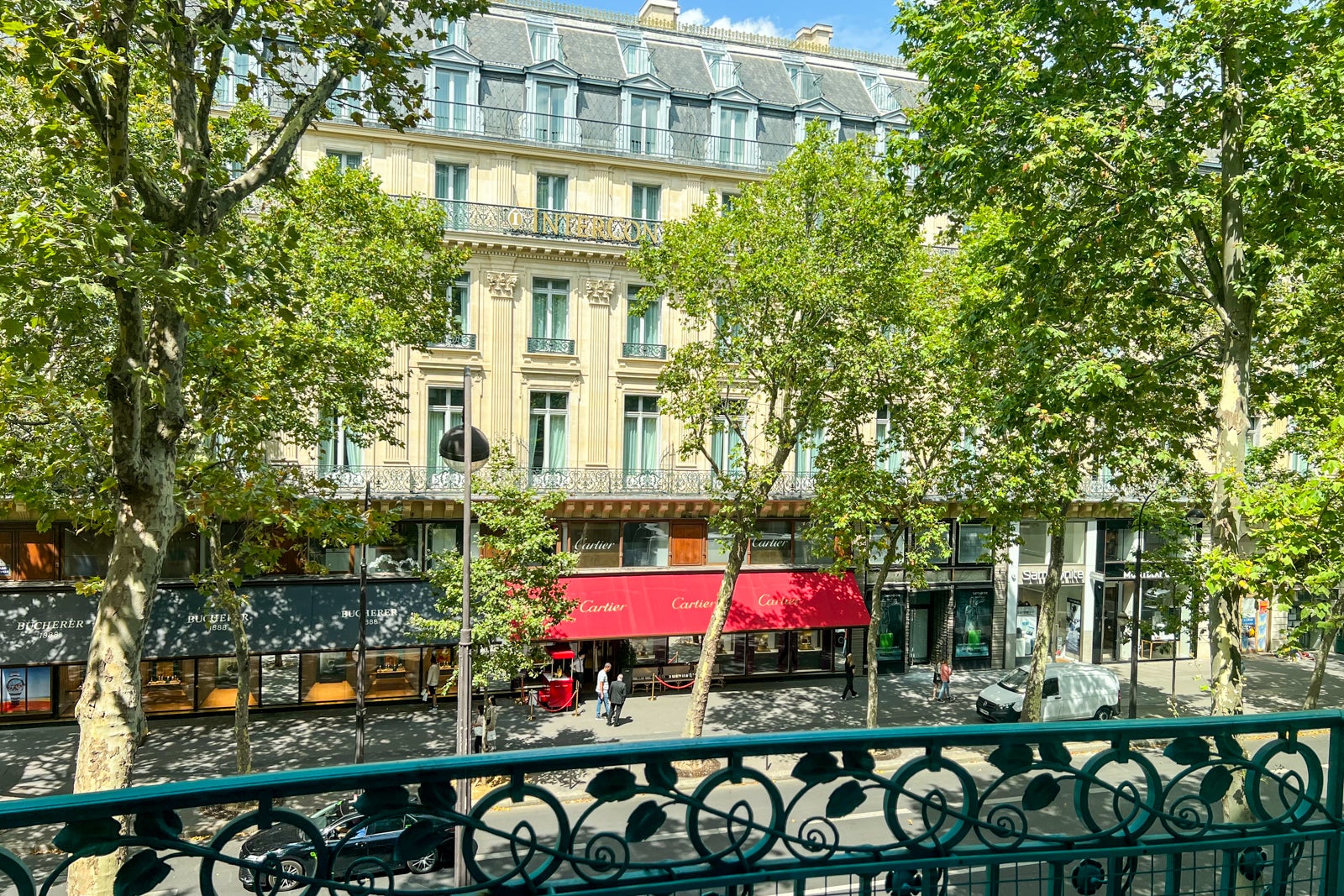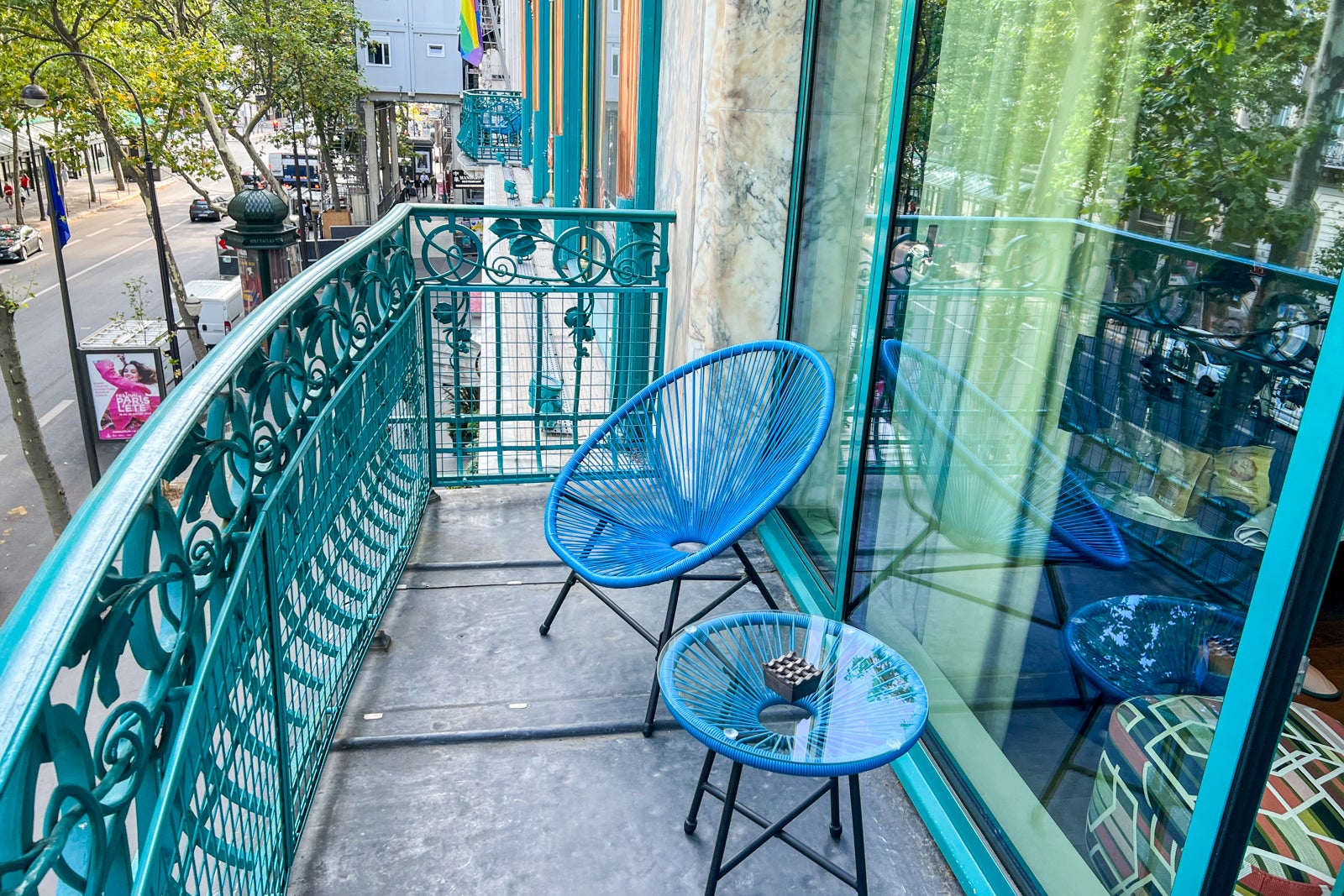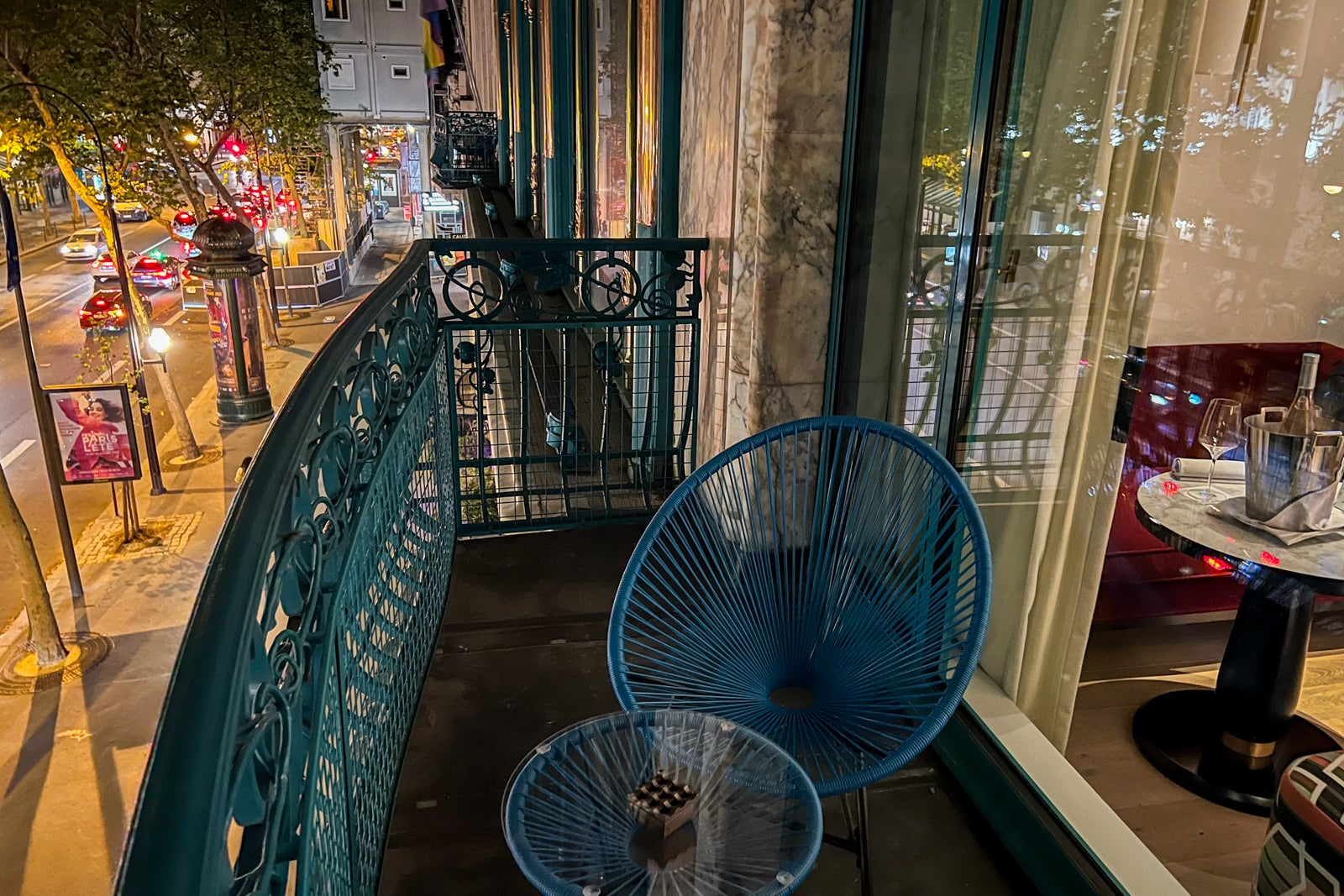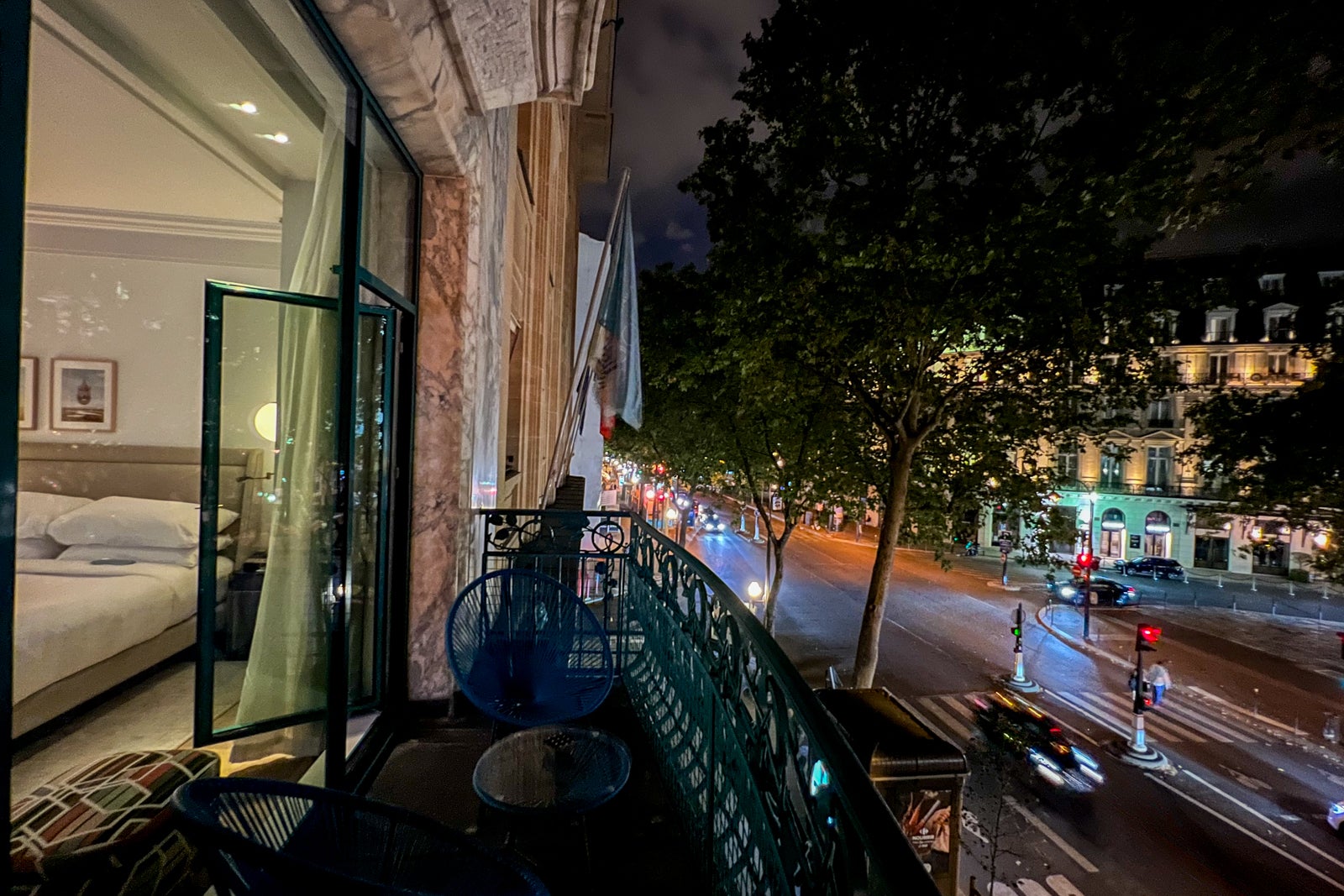 Bang & Olufsen Bluetooth speakers are positioned next to the beds, and there are plenty of electrical outlets. All rooms have espresso machines, electric tea kettles, bottled still and sparkling water, and minibars stocked with high-end spirits like gin and vodka from Distillerie de Paris. Extra coffee pods, sweeteners and creamers were delivered promptly during my stay.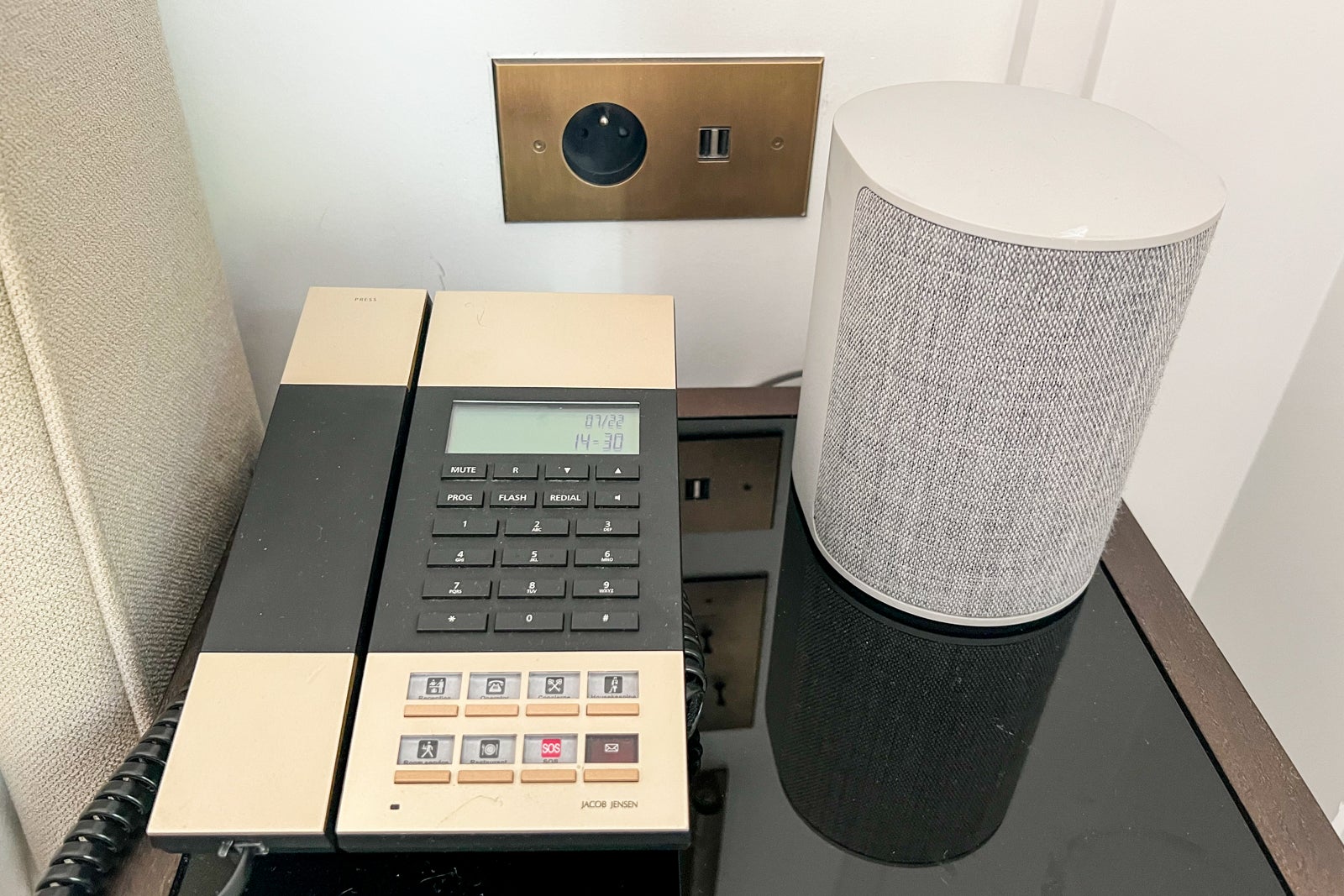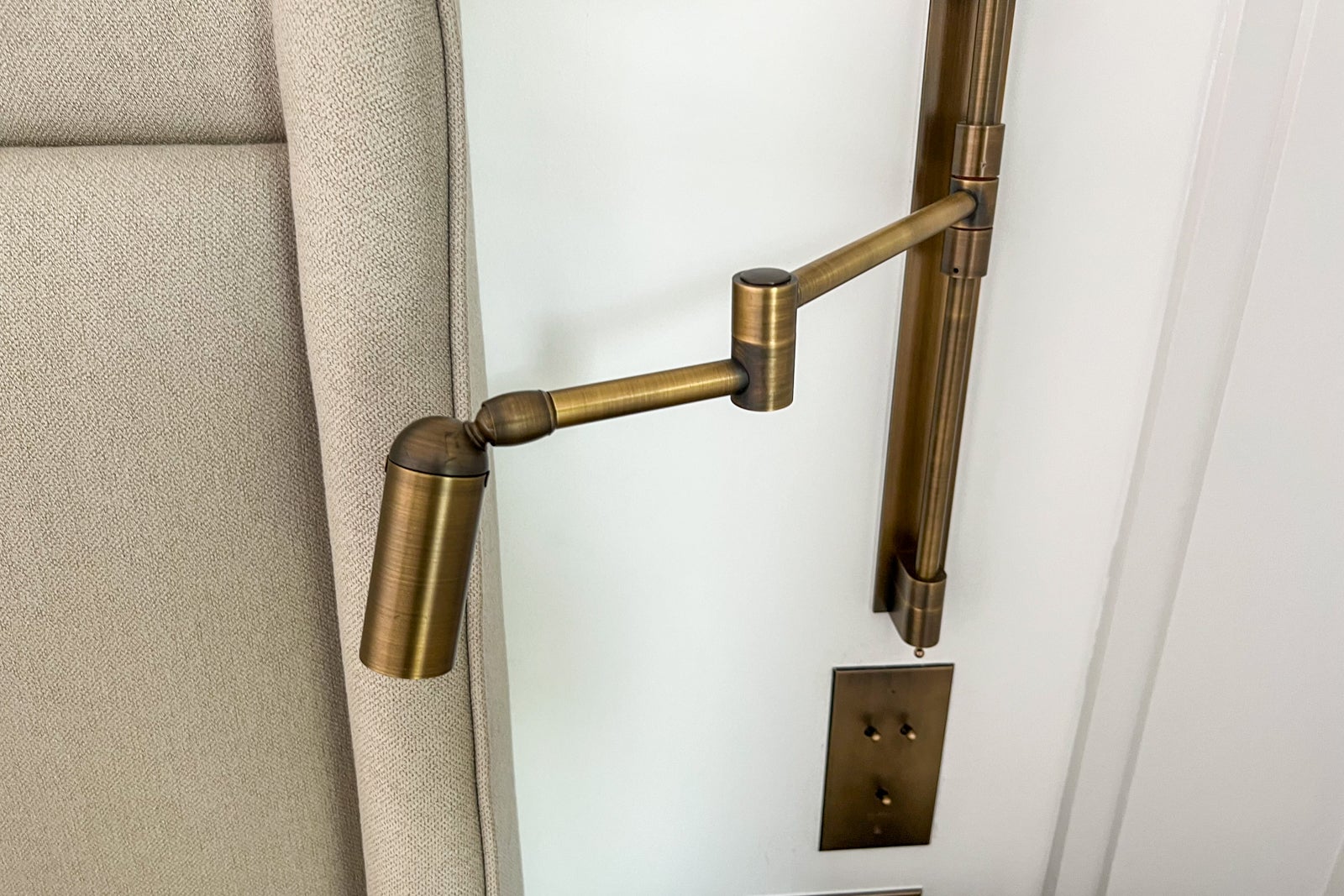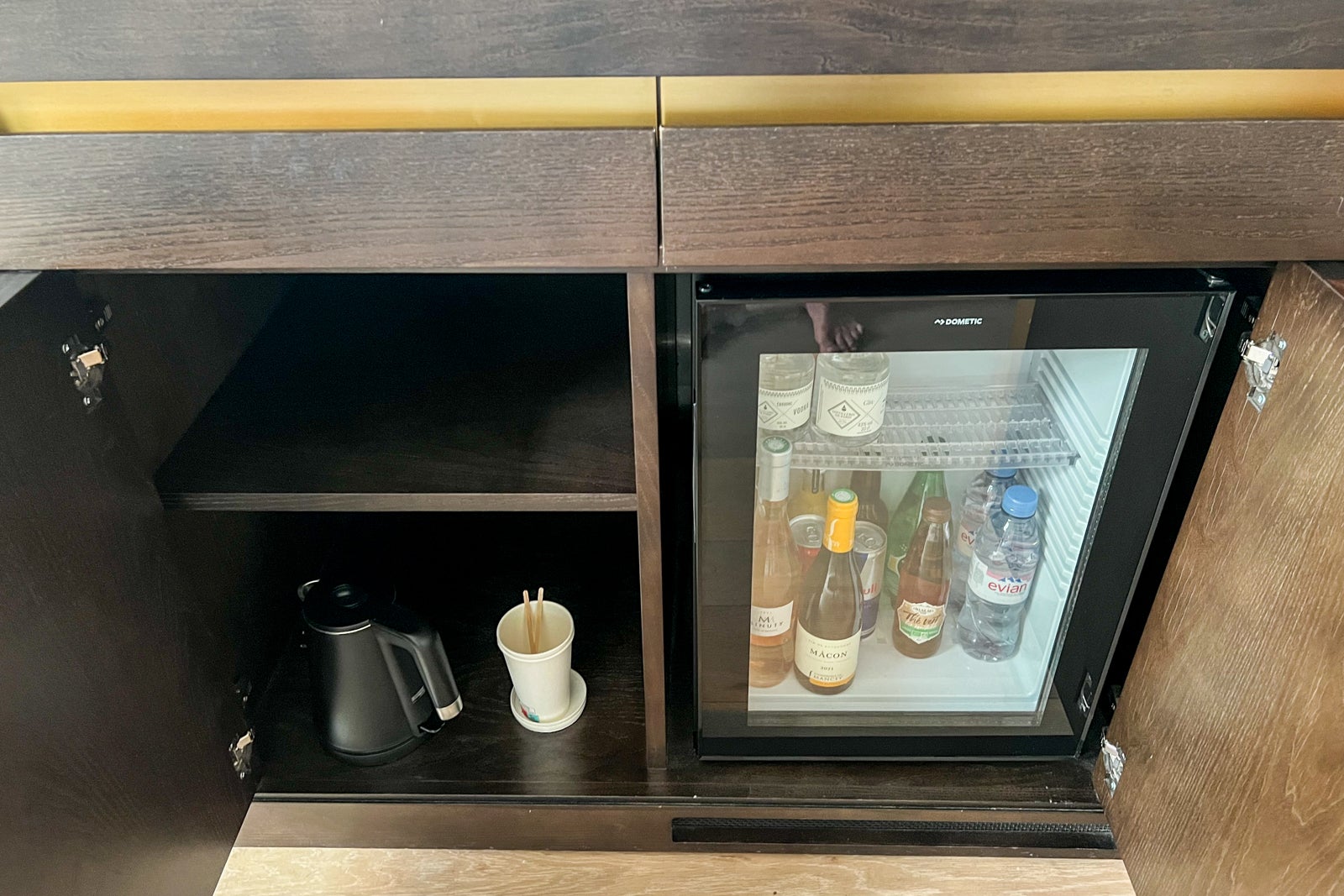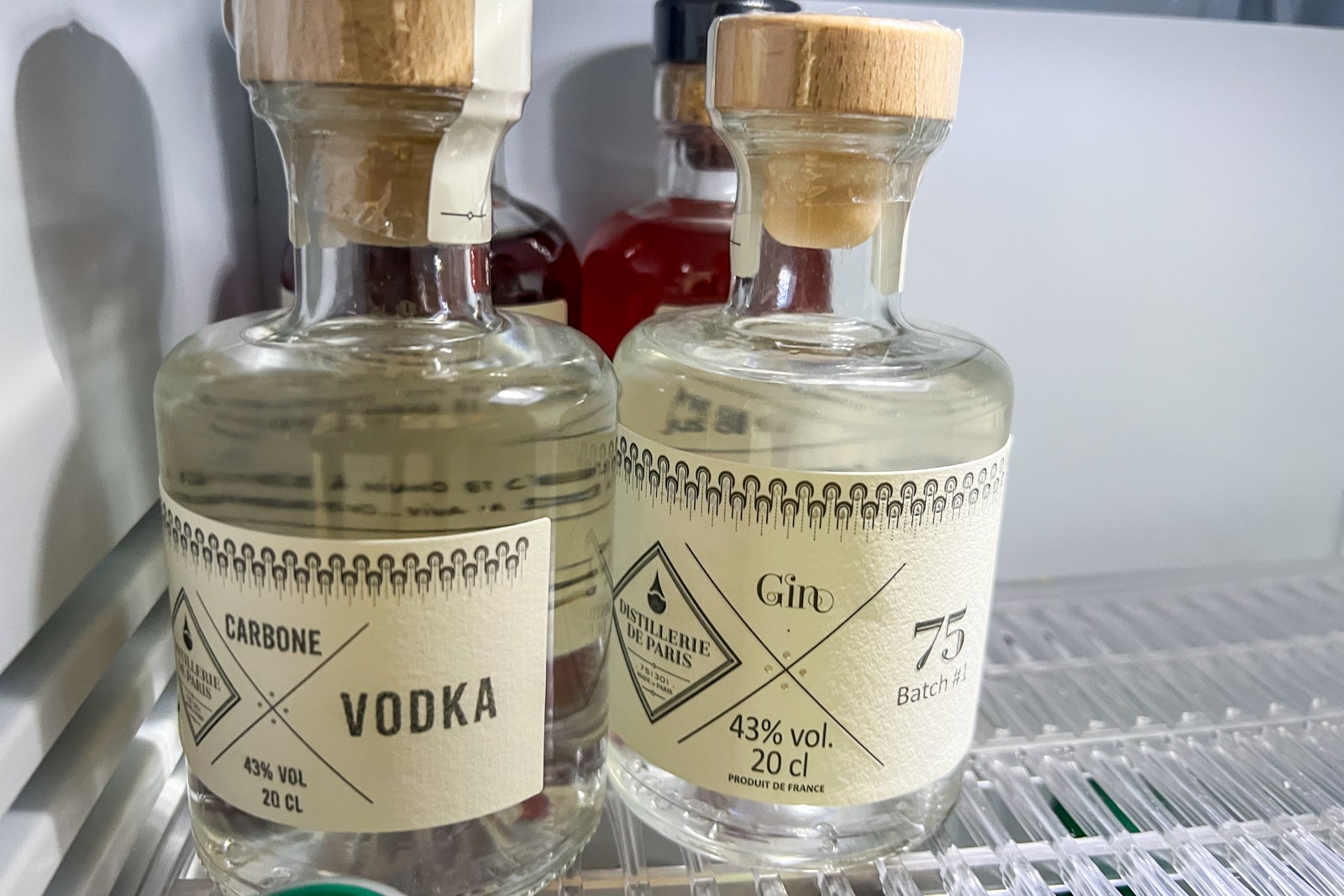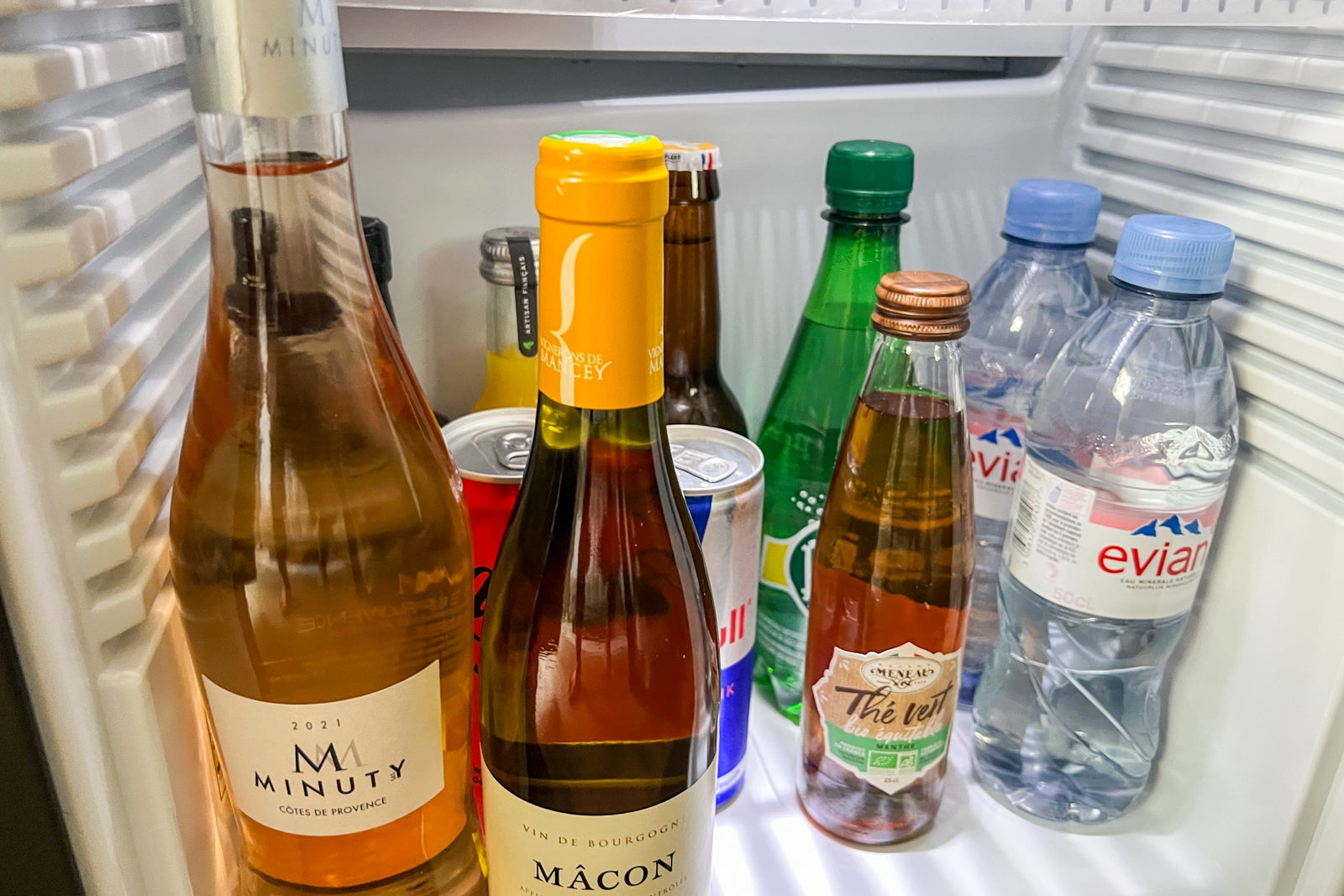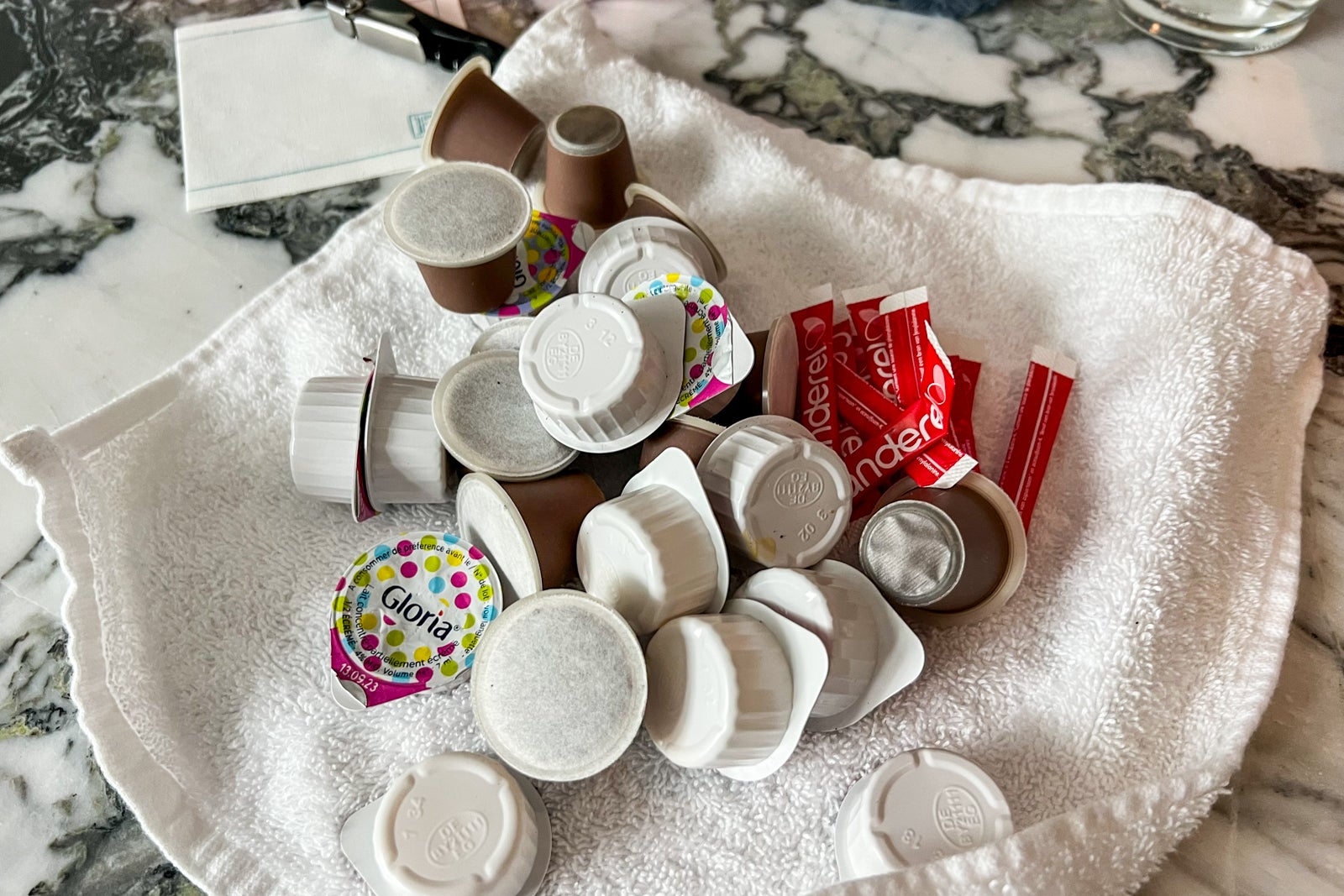 Additionally, you'll find some local treats like Superproducteur chips and Le Bonbon Francais jelly candies. My favorite was the chocolate wrapped in a box with the hotel's design on the packaging.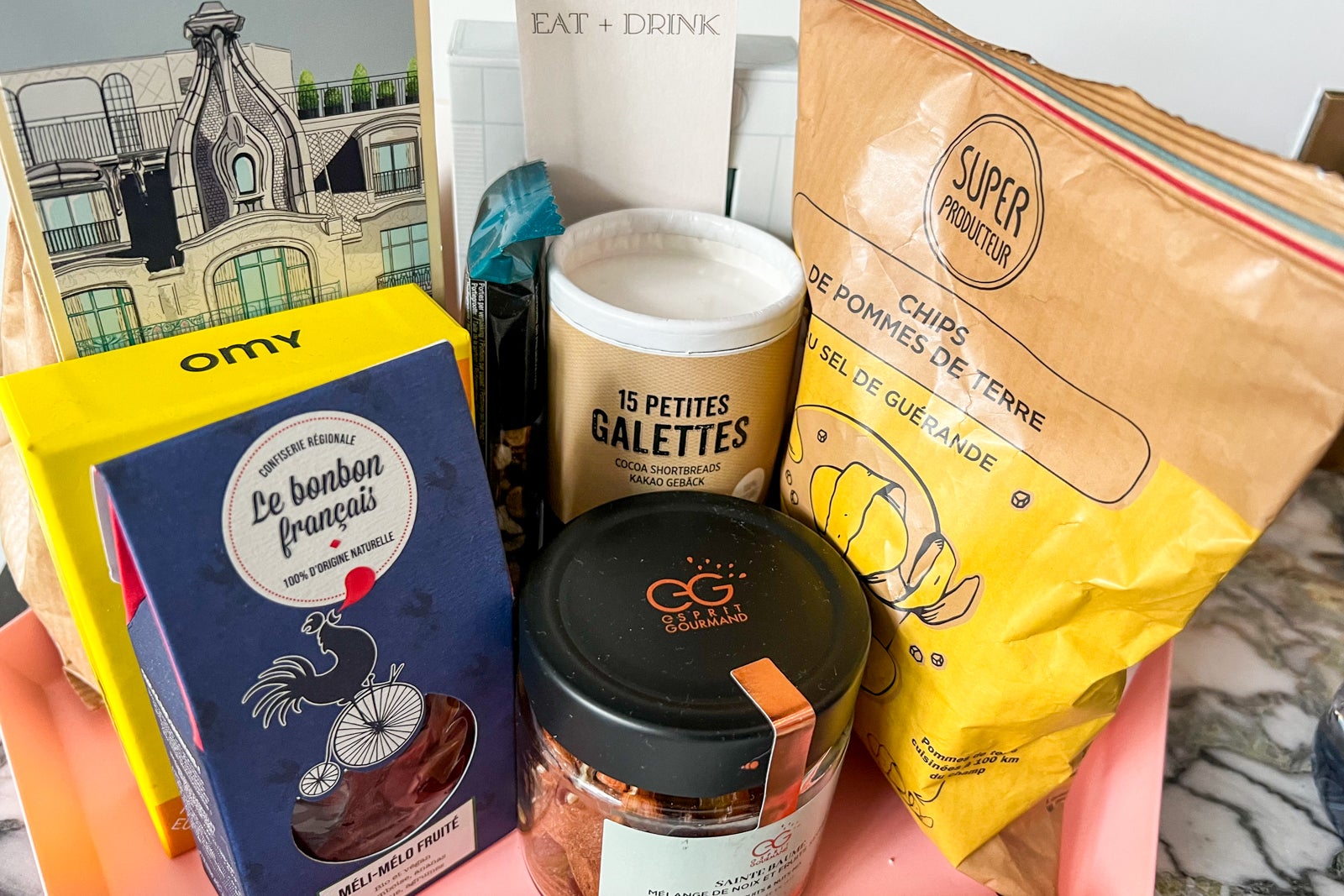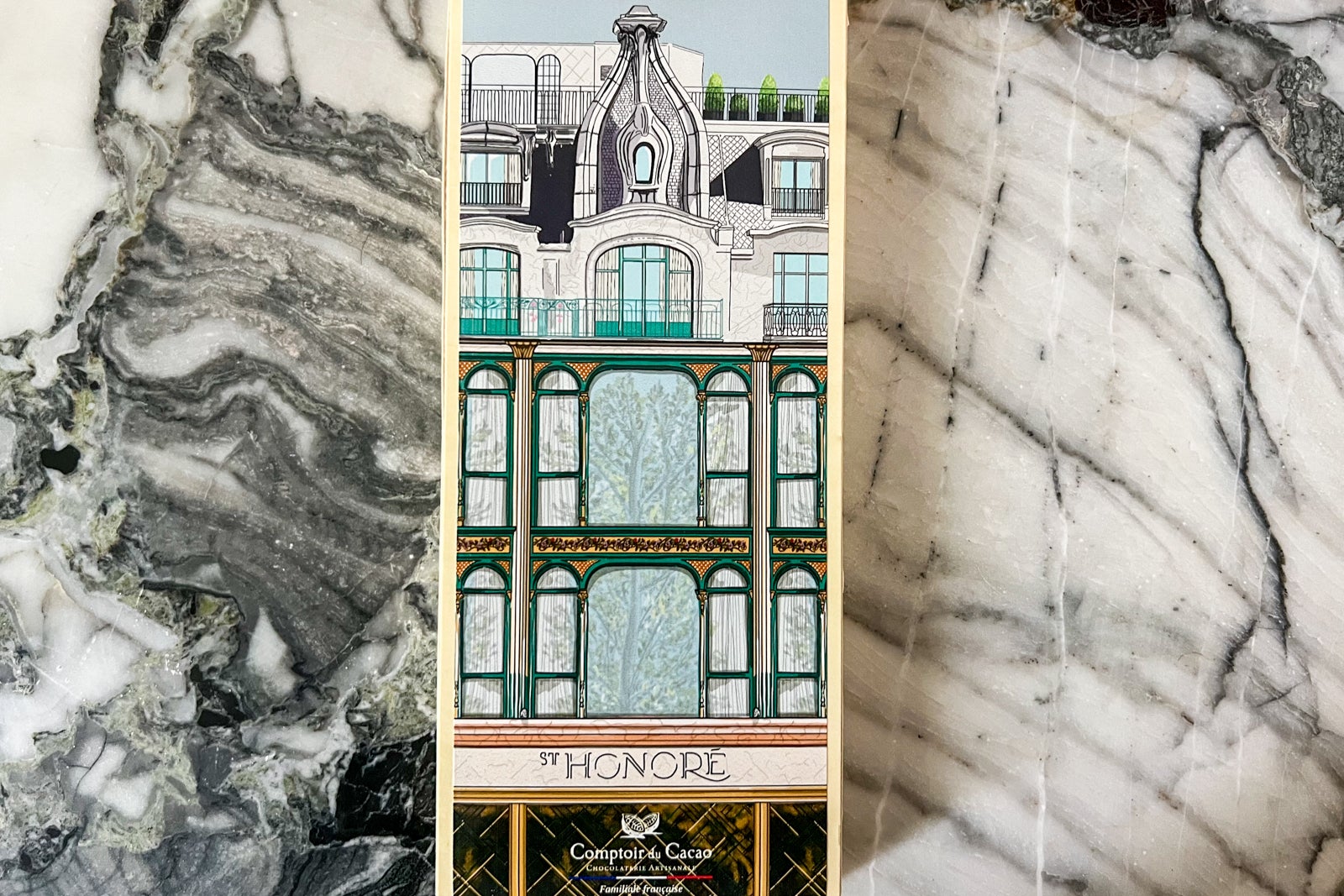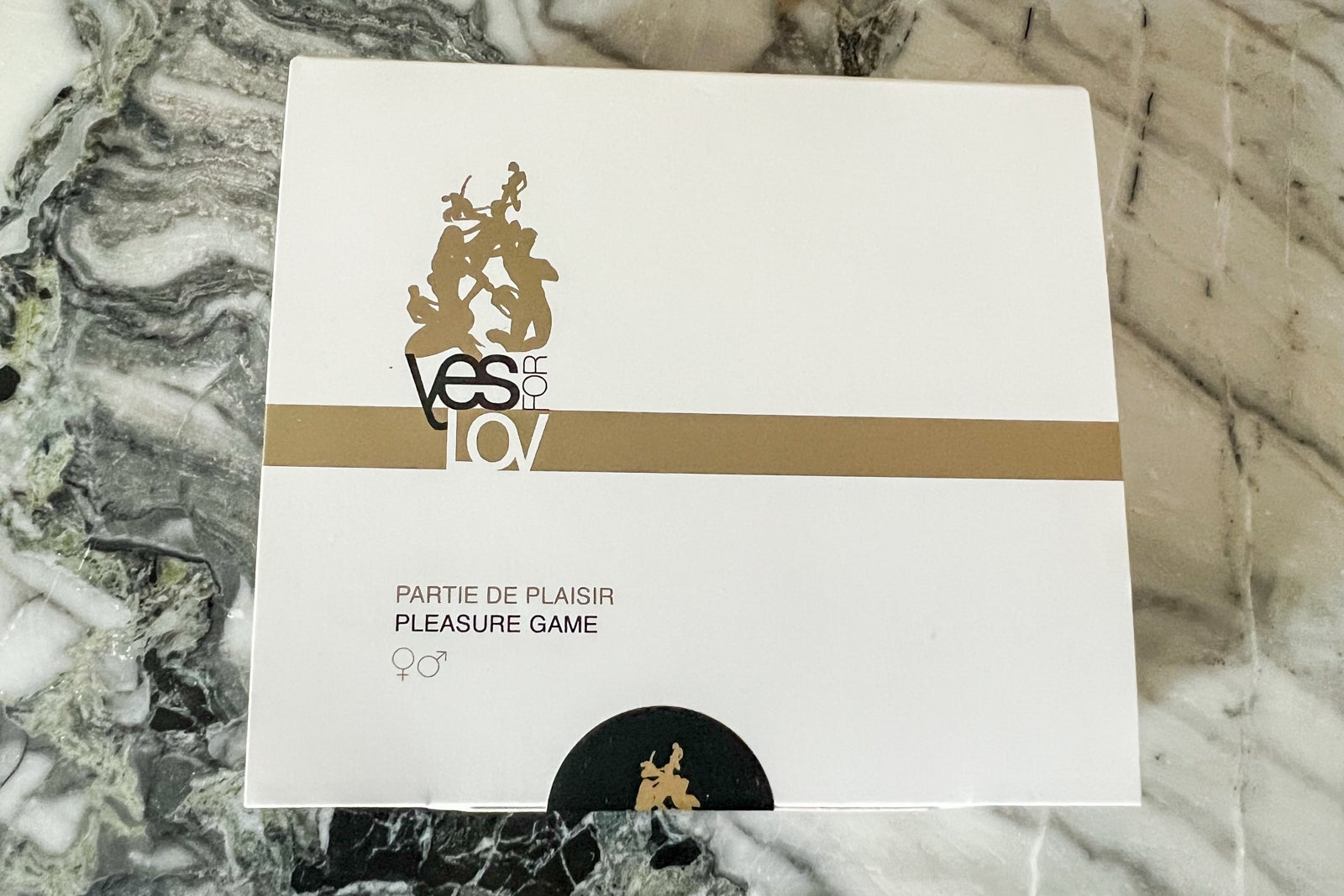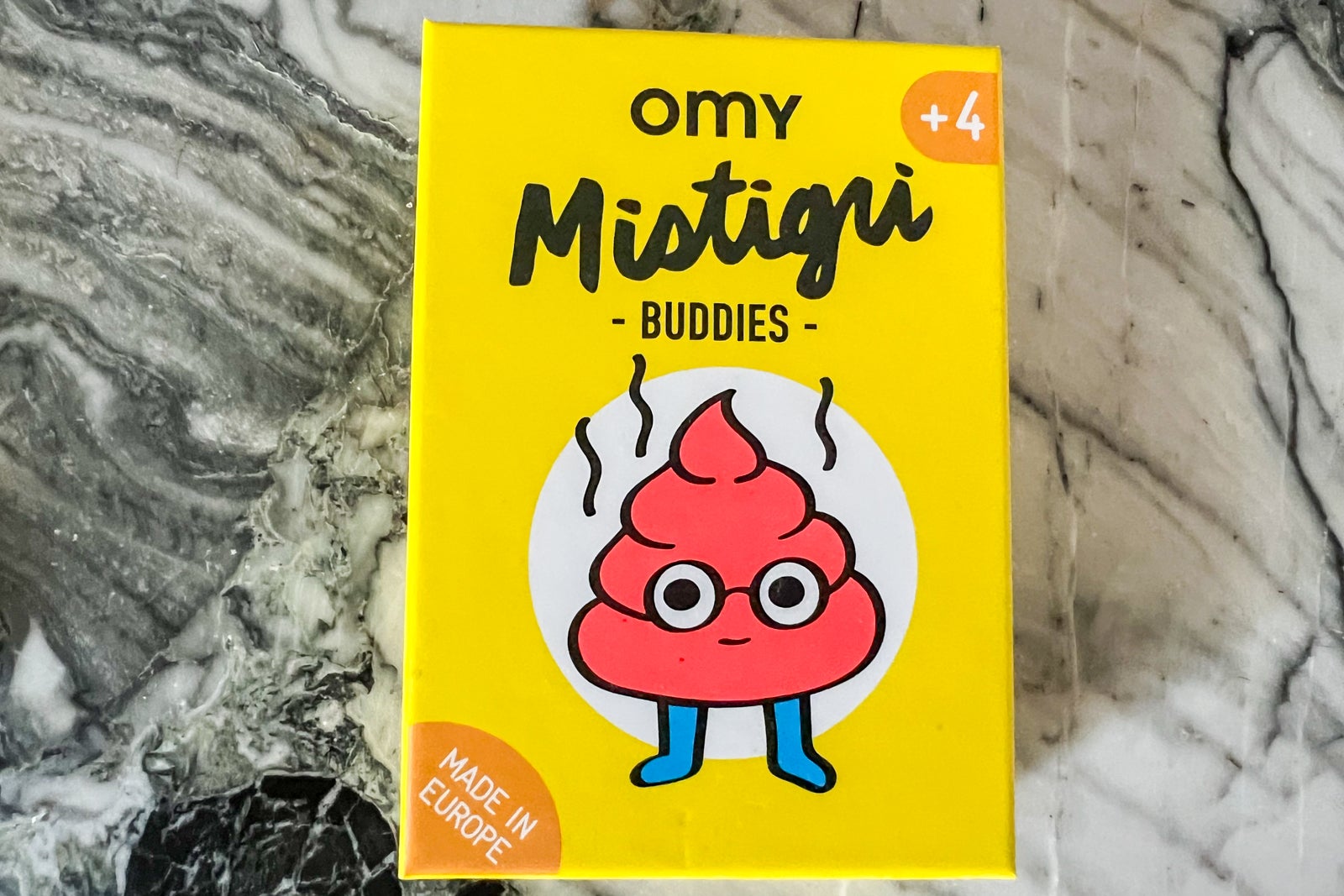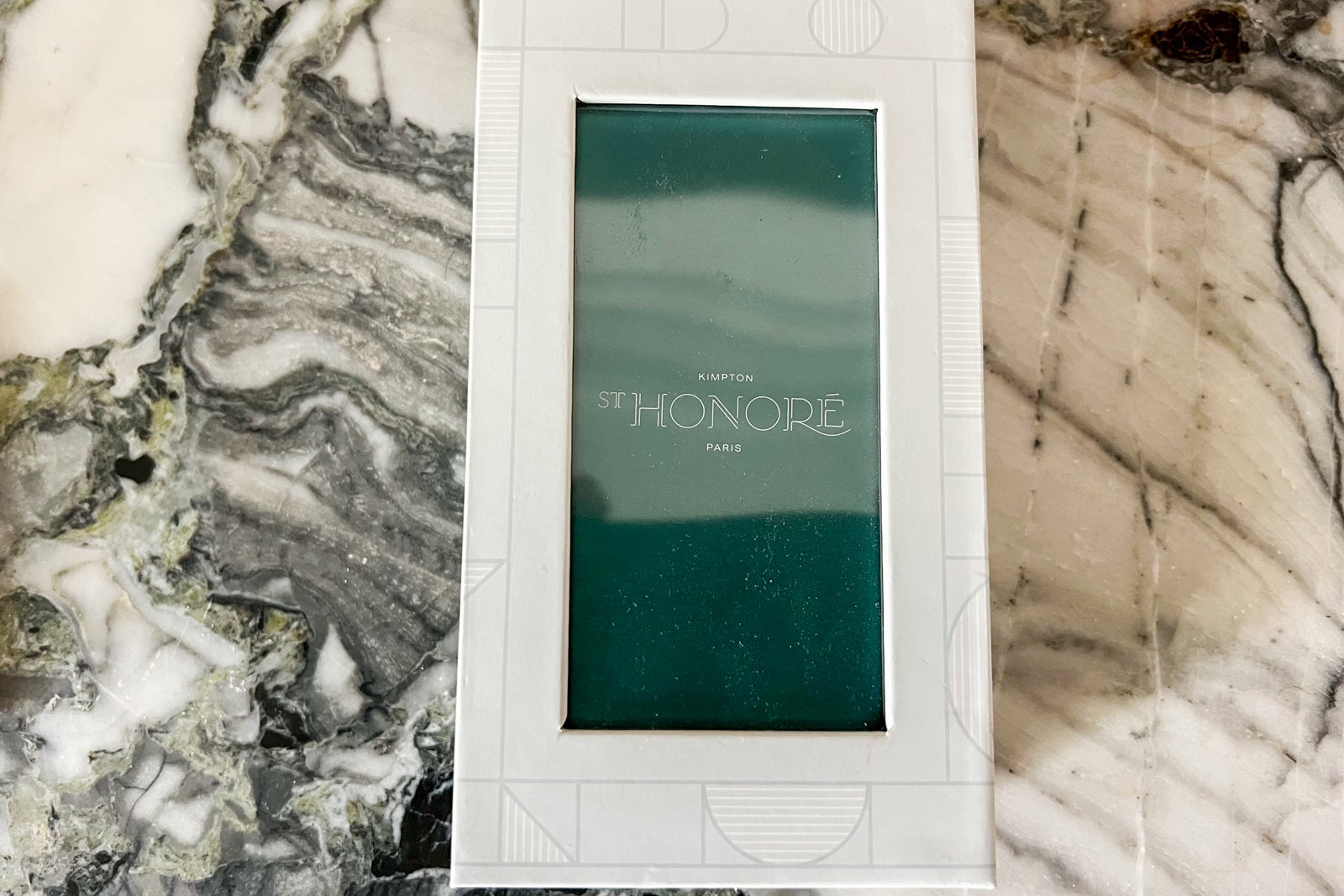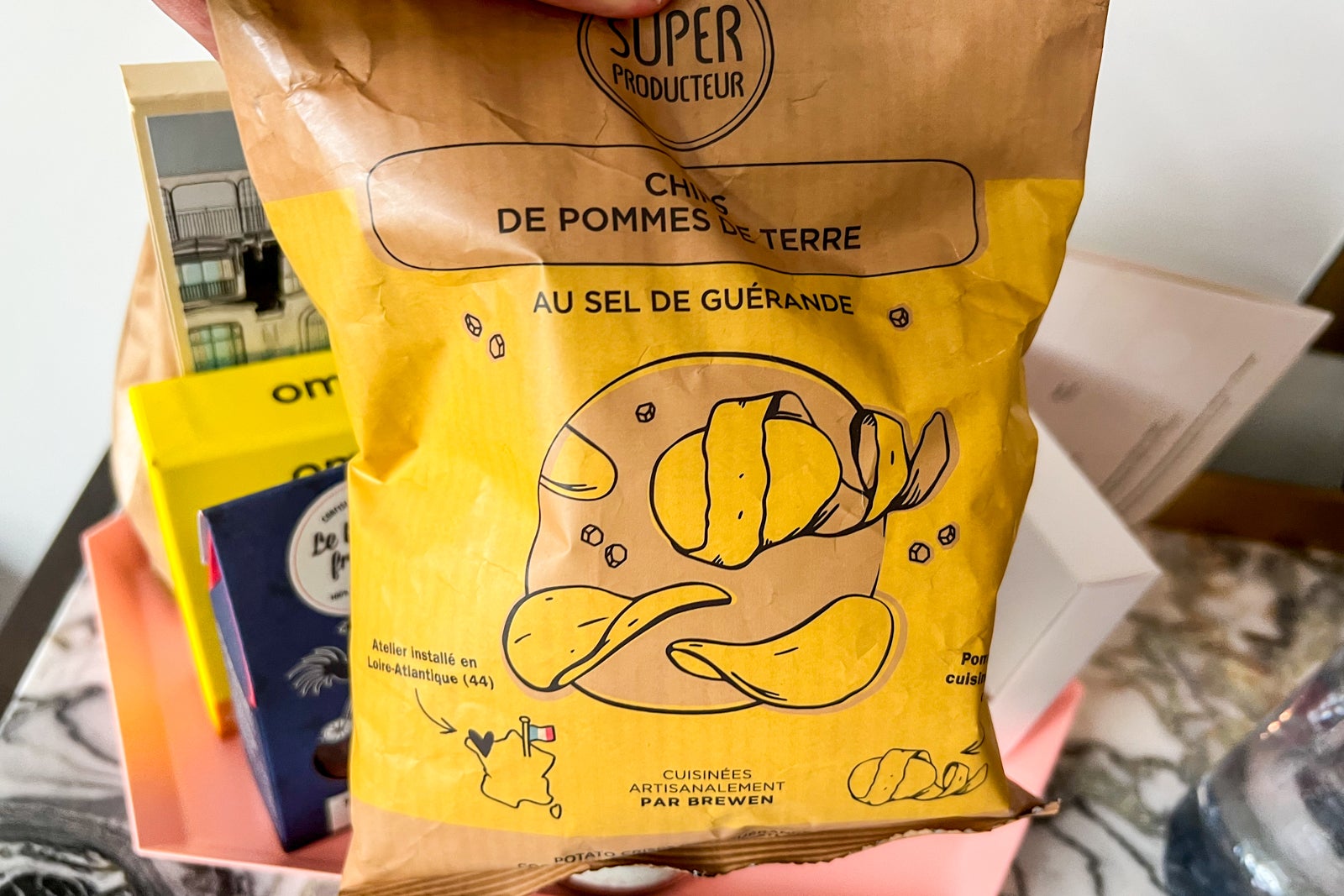 While the exterior of the hotel is all about art nouveau design, the interiors have more of an art deco flair, with designer Charles Zana incorporating his signature 1930s design elements into each room and suite's decor.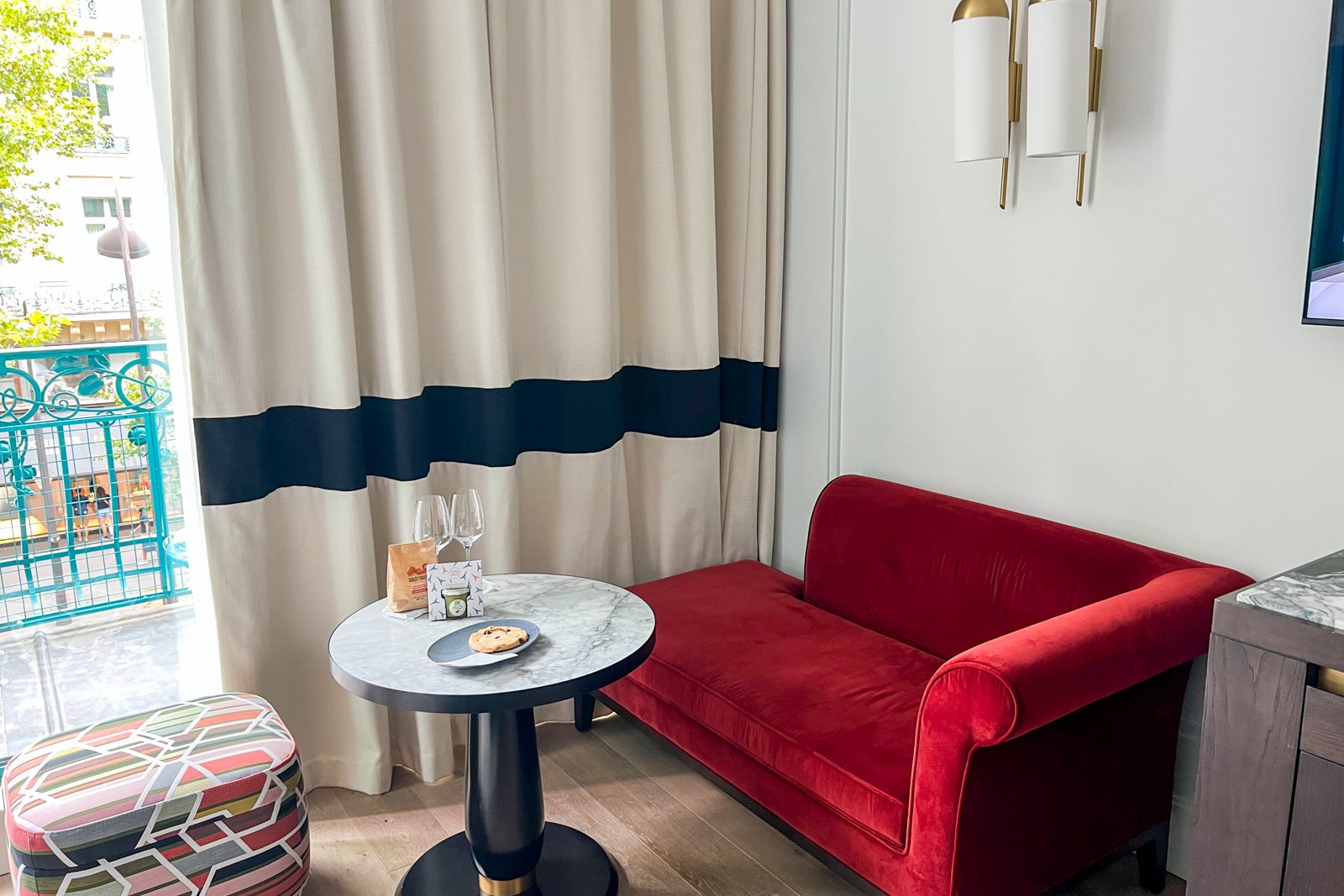 The designer also commissioned a who's who of French artistic houses for decorations, including Maison Lucien Gau for the lighting and Pierre Mesguich Mosaik for the ceramics.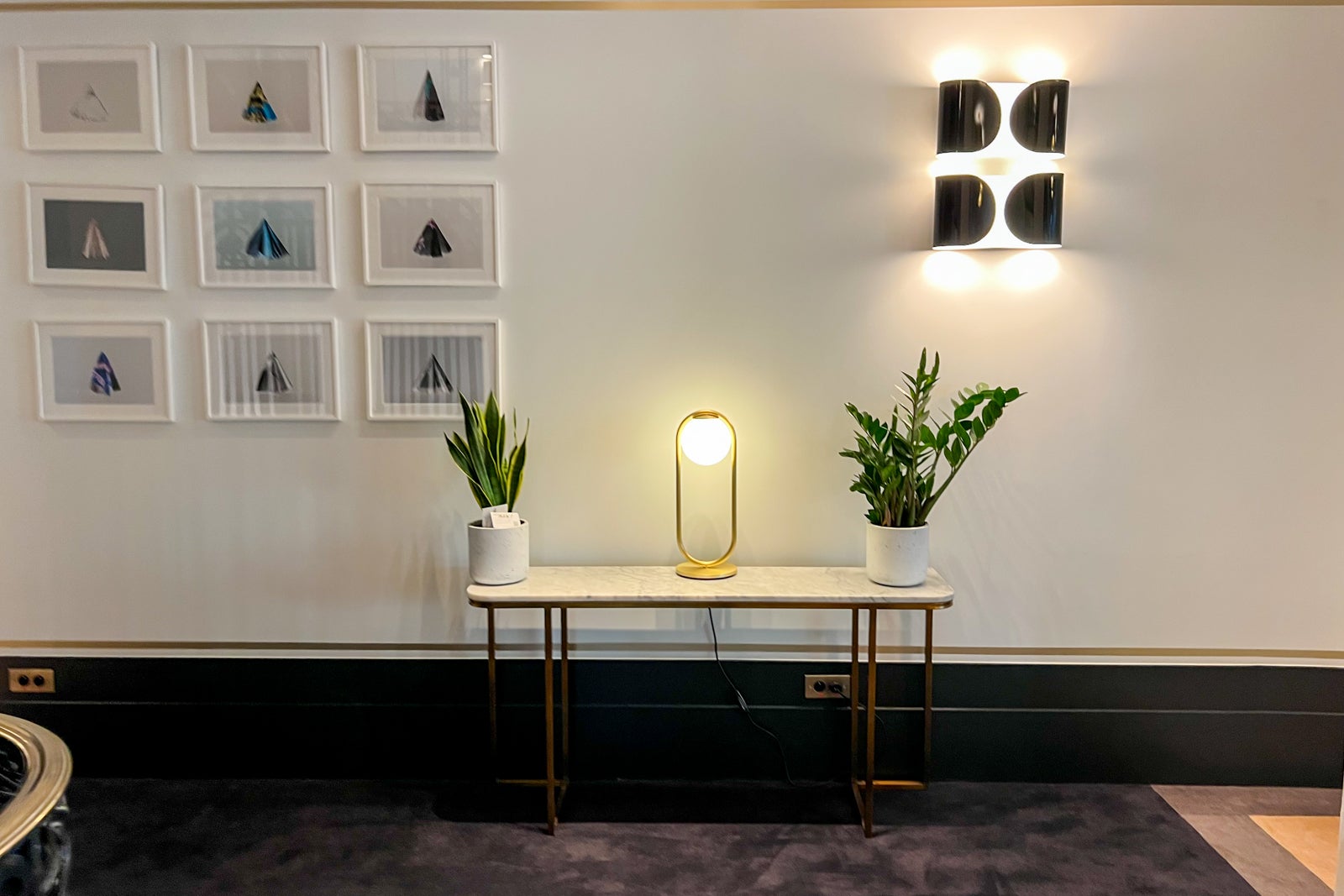 The common spaces and rooms feature artwork selected by Charles Zana with the help of Amelie du Chalard from the Marion d'art.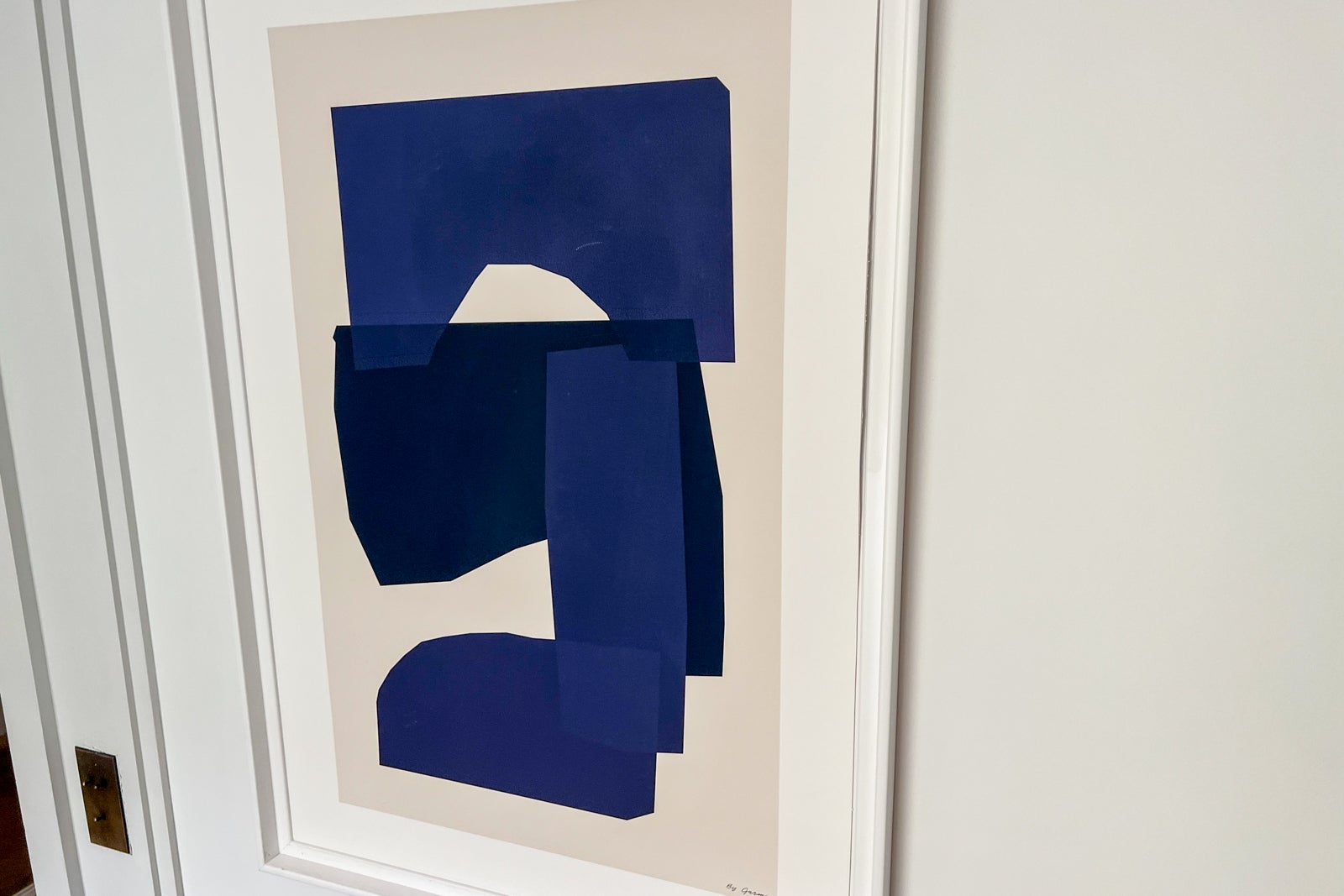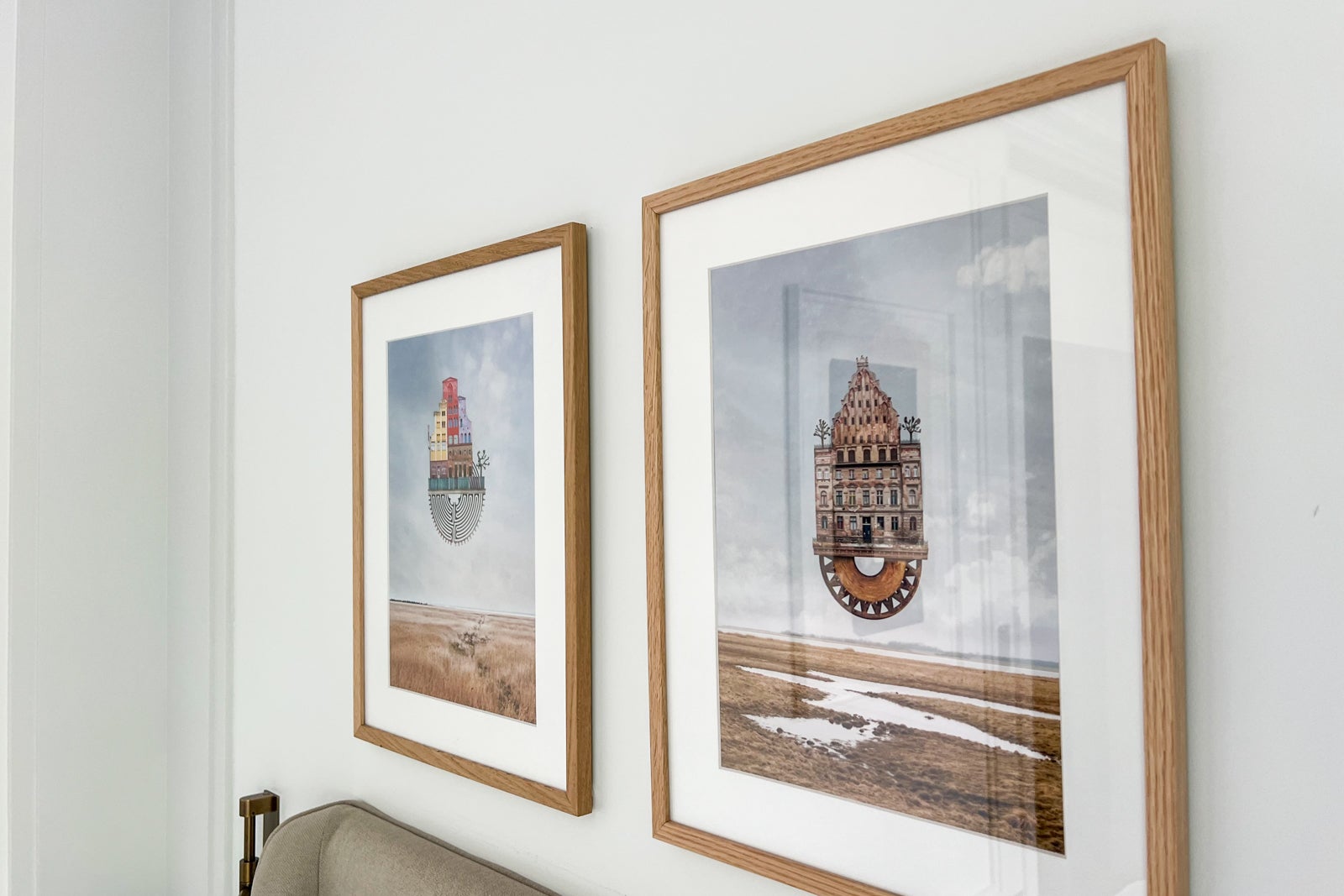 Black and white are the prominent colors in the rooms, with occasional pops of color like red and turquoise.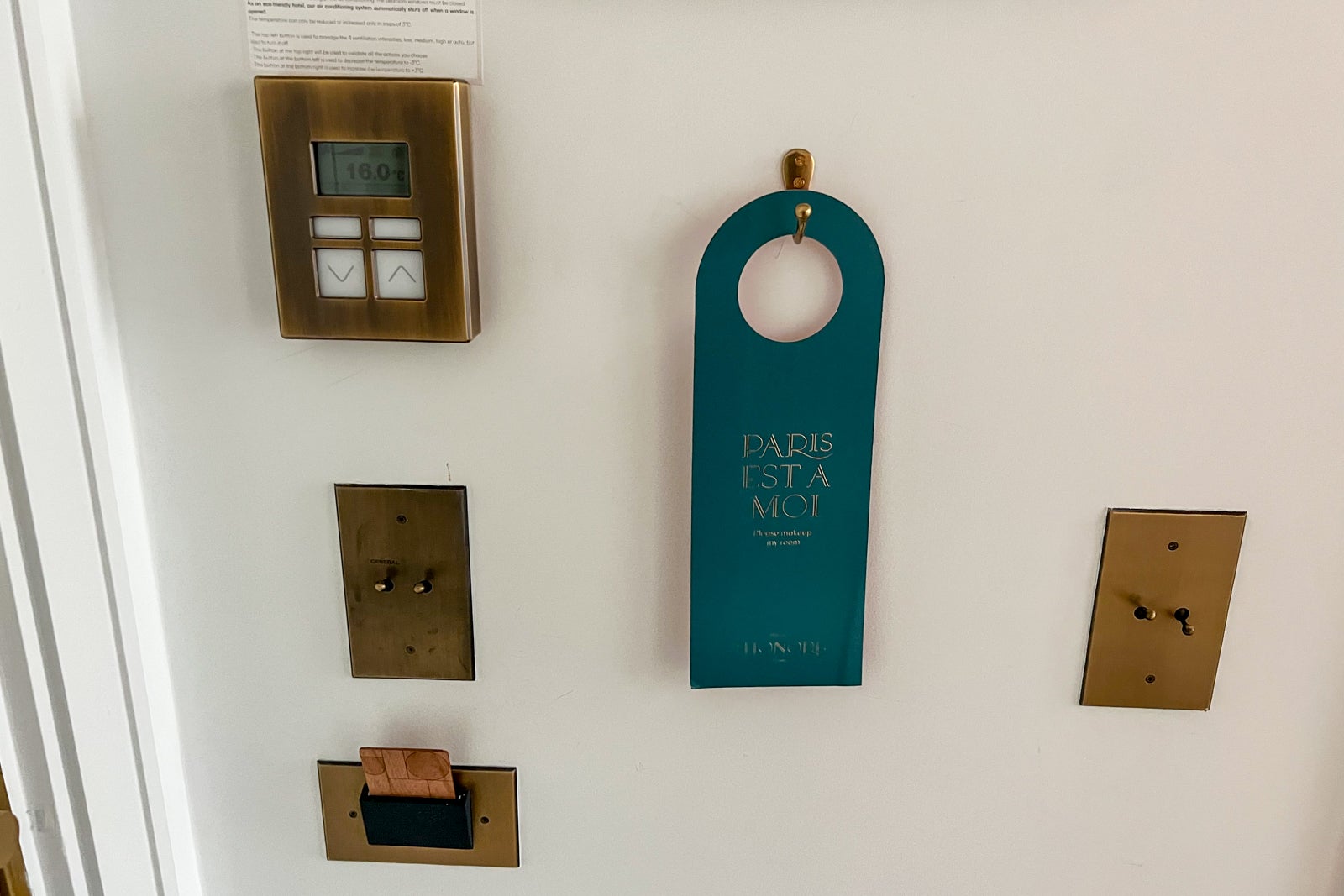 The bathrooms are luxuriously appointed with Carrara marble, black and white tiles, amenities by French spa company Codage, walk-in showers with great water pressure and separate water closets for the toilets. There was no bathtub in the little bathroom, but it was pretty nice nonetheless.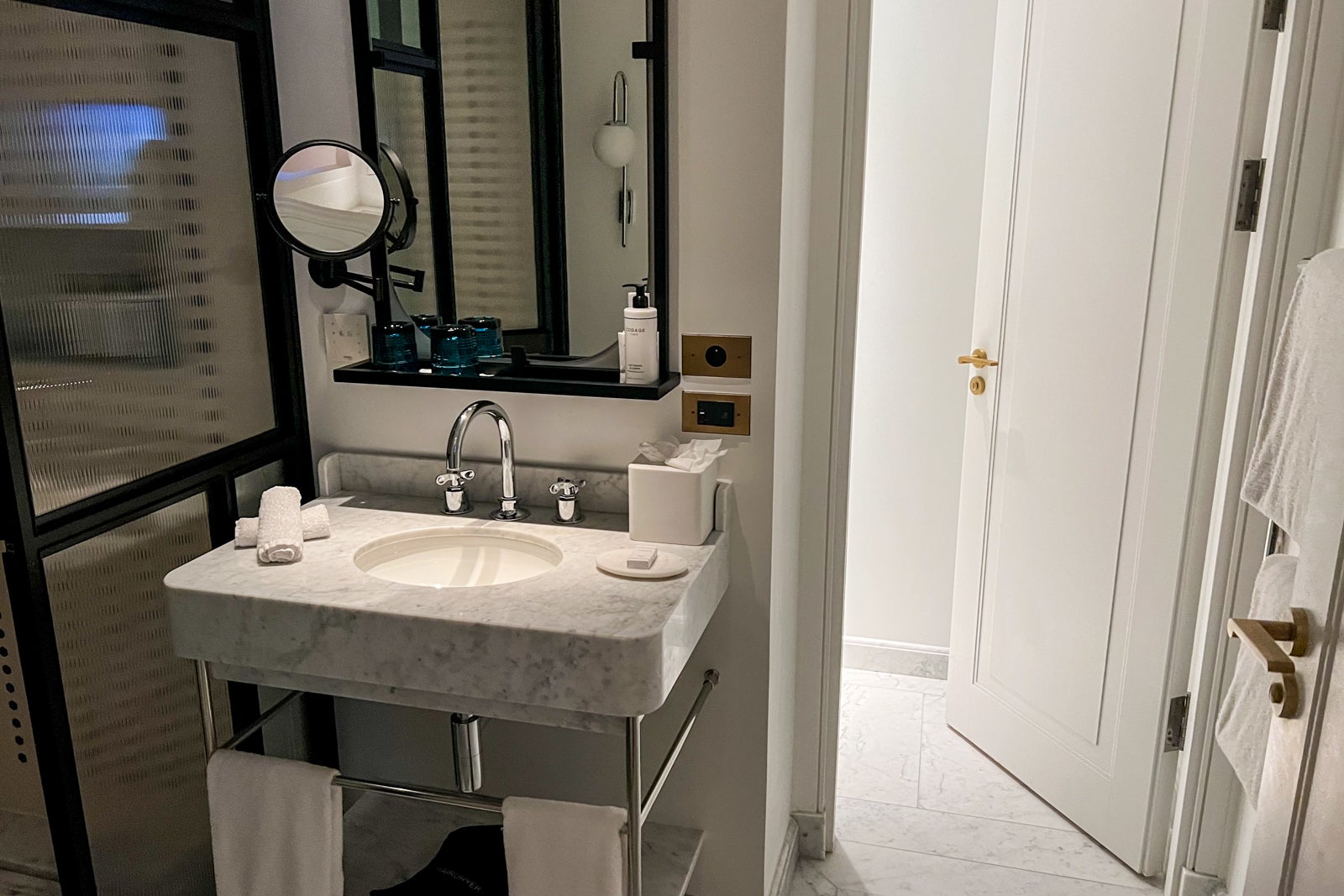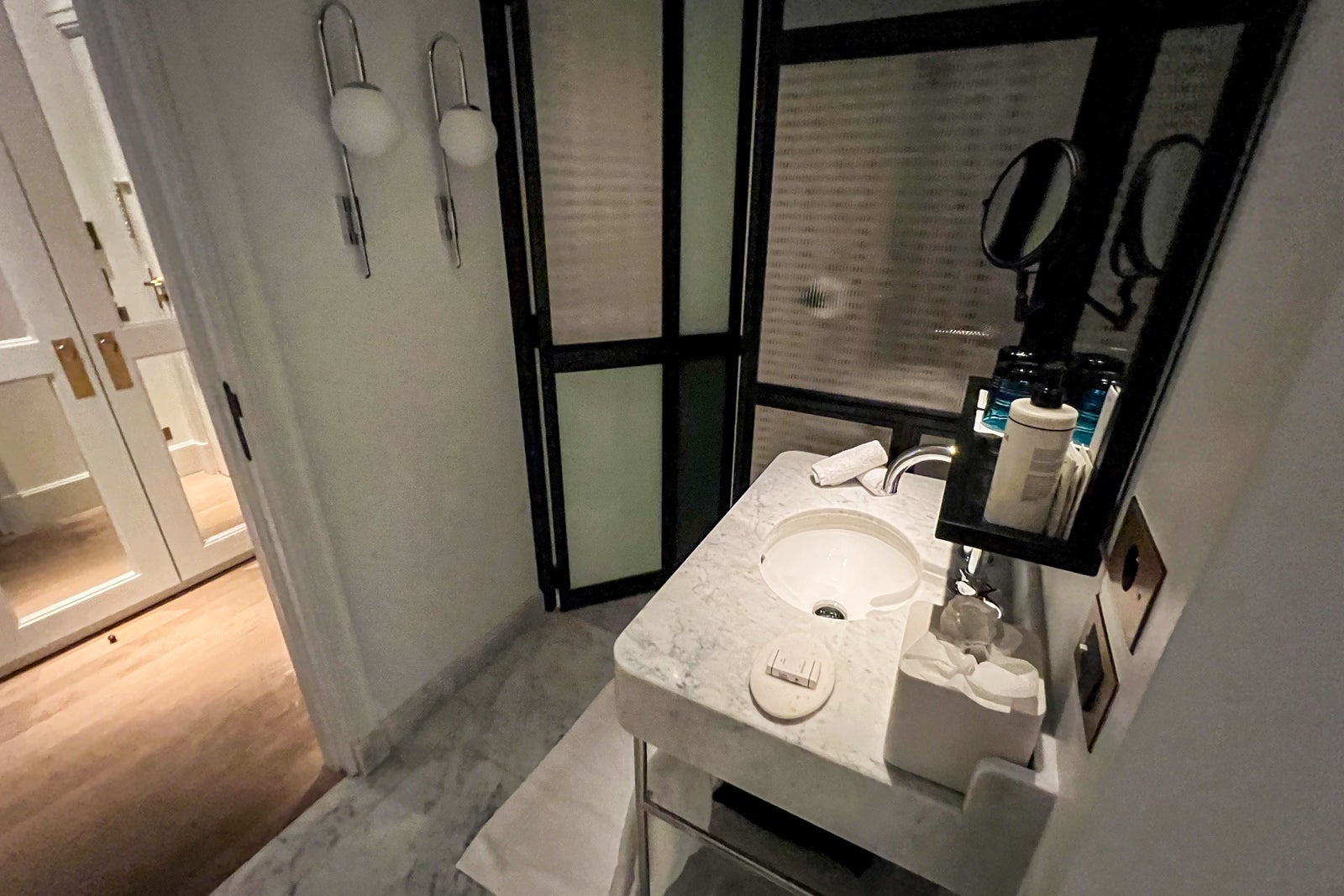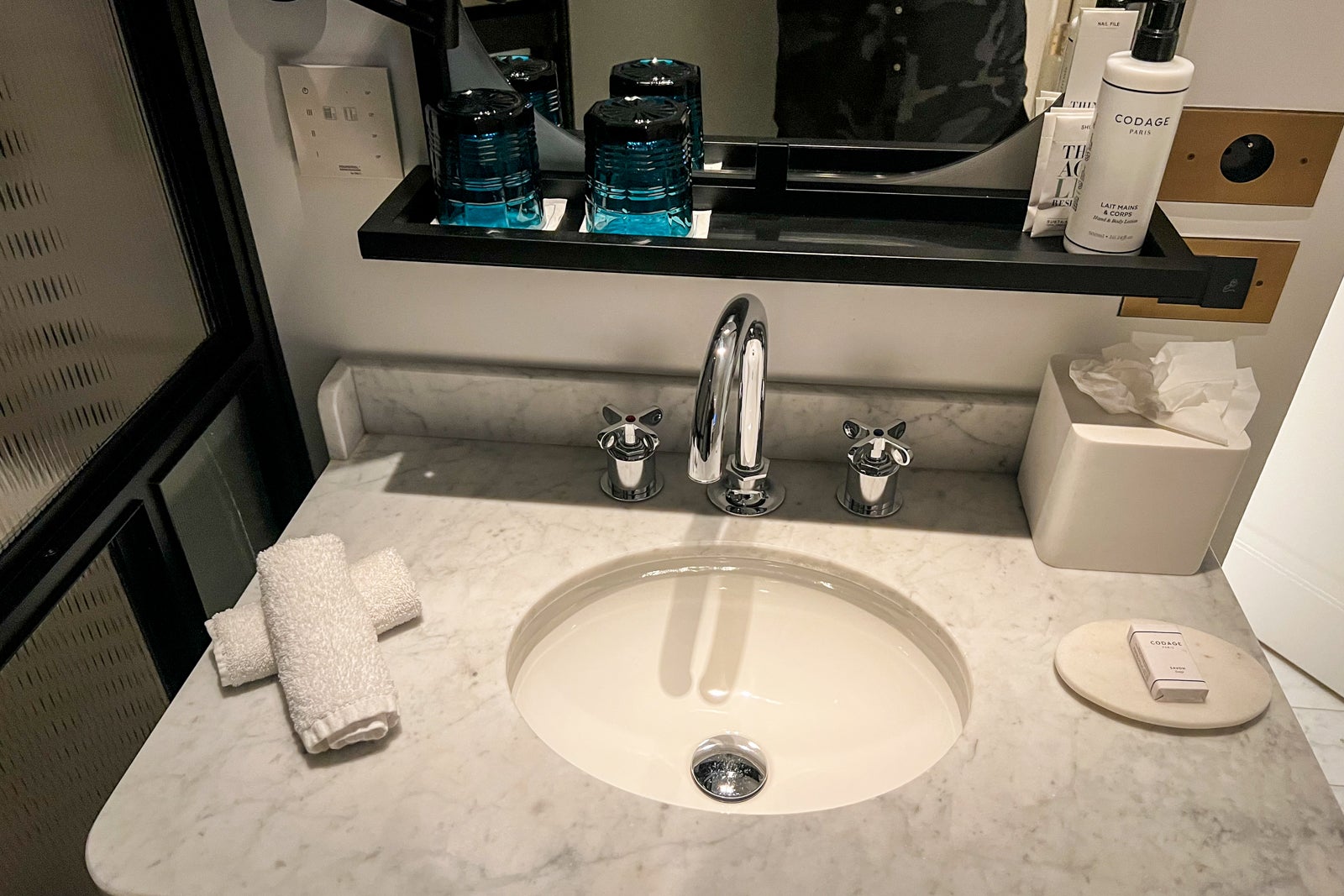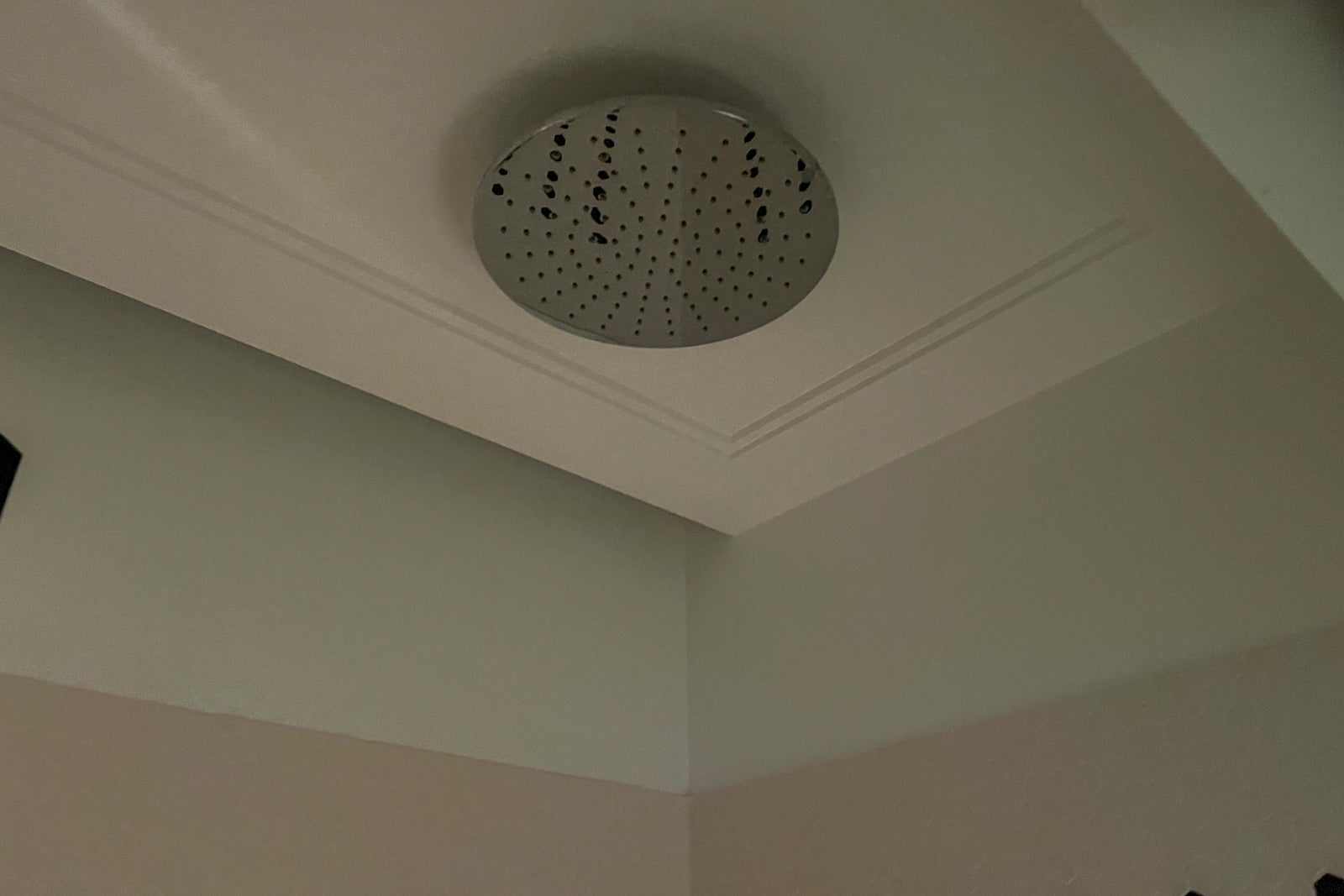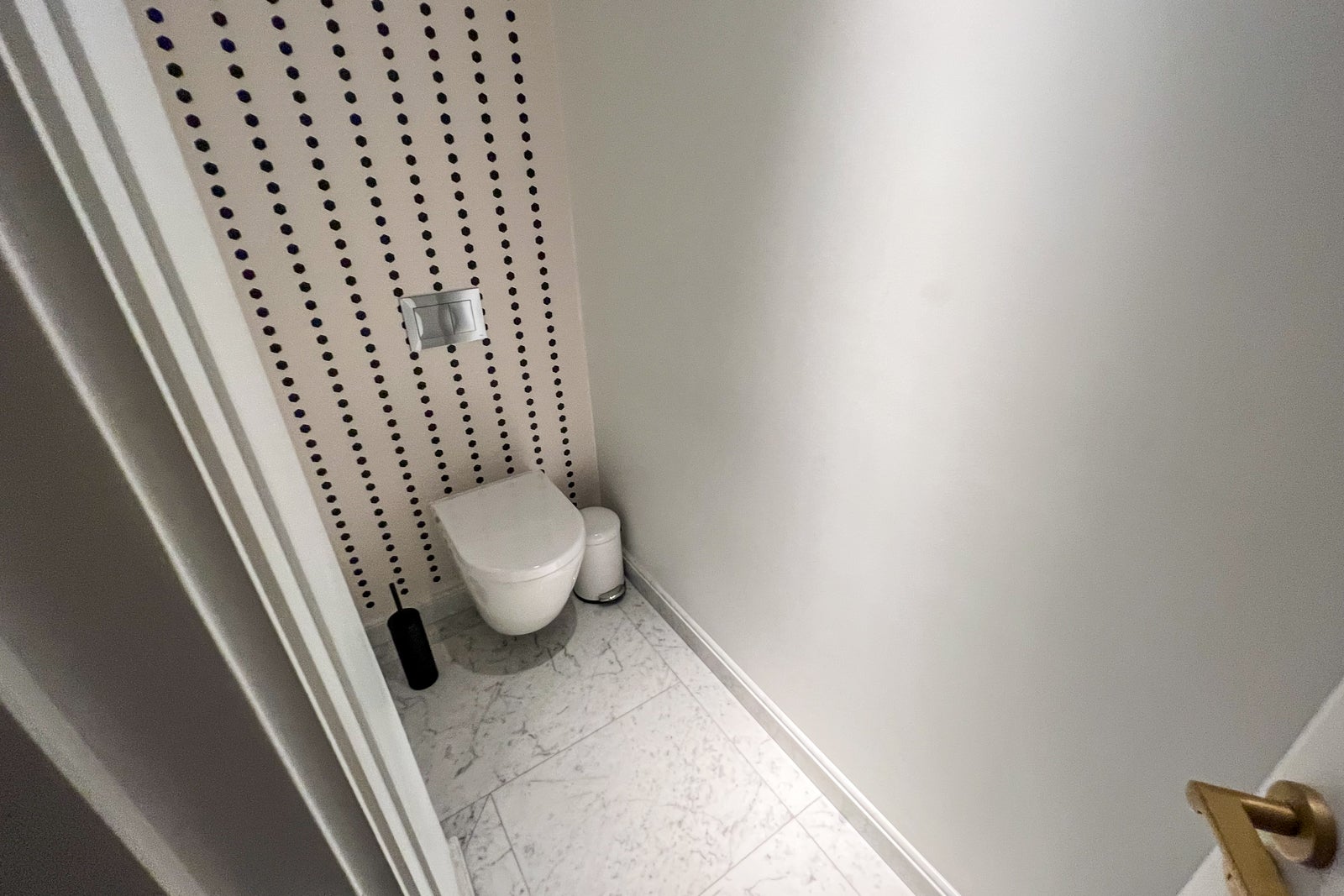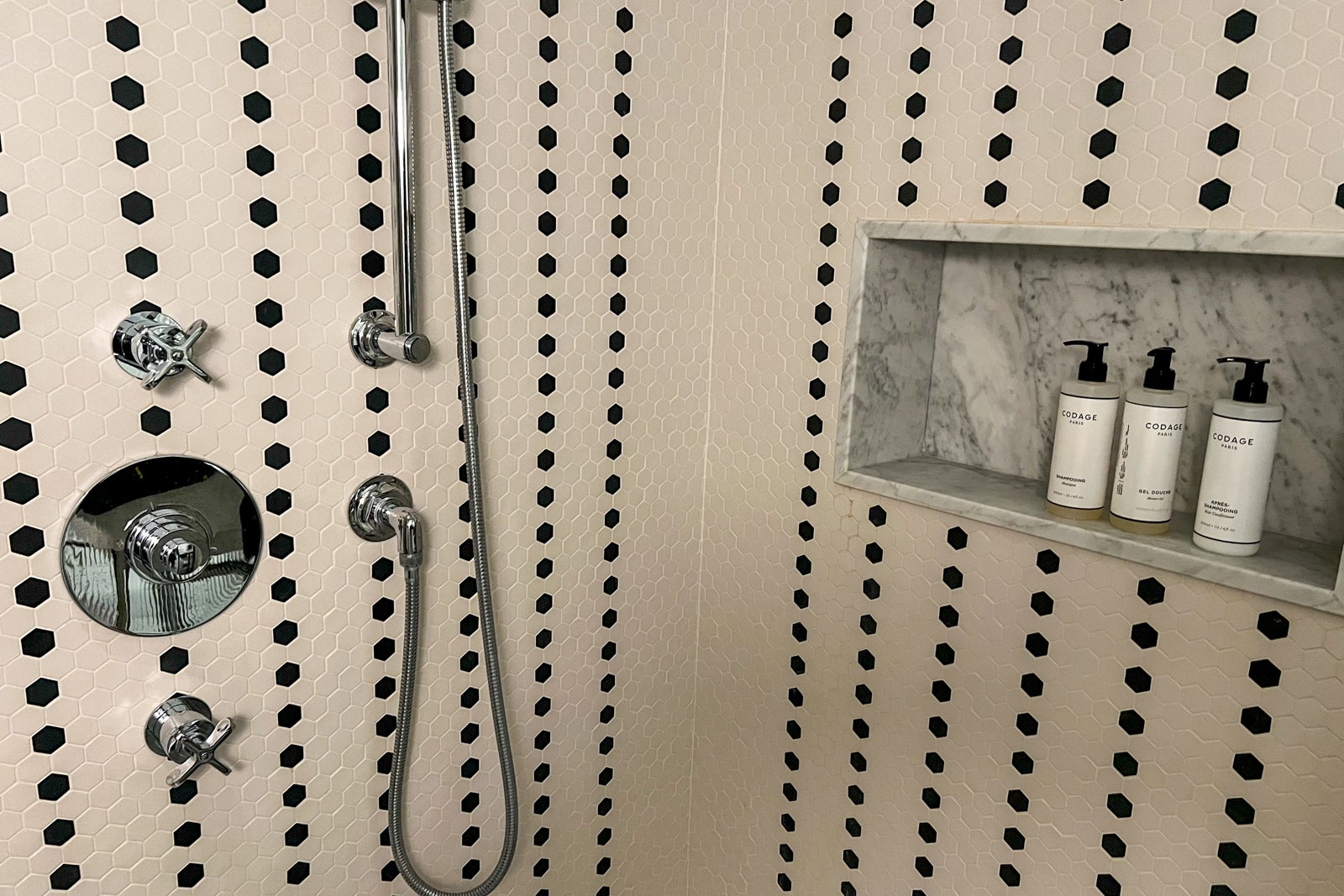 There were fluffy towels, a heated towel rack, heated floors and robes labeled as St Honoré.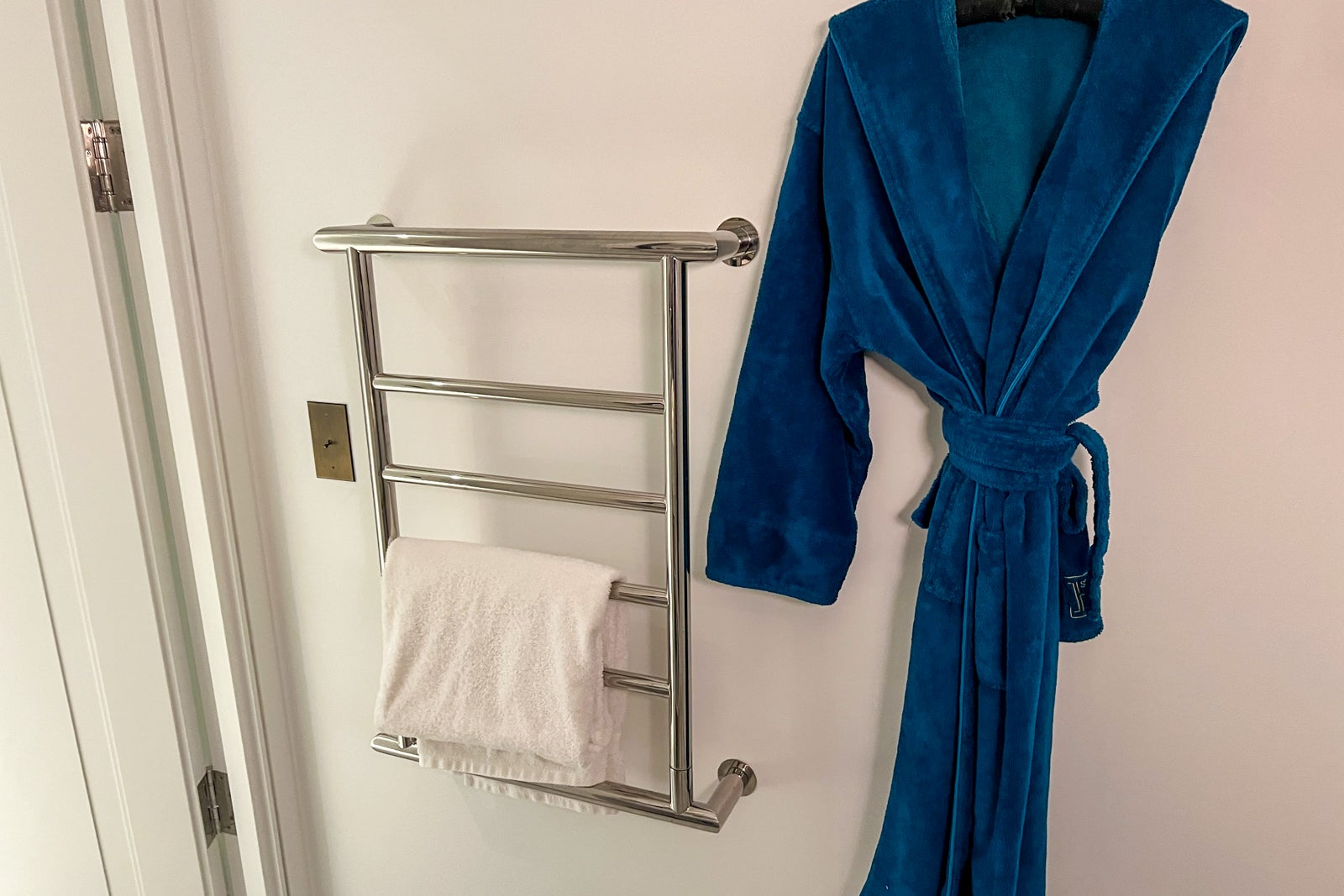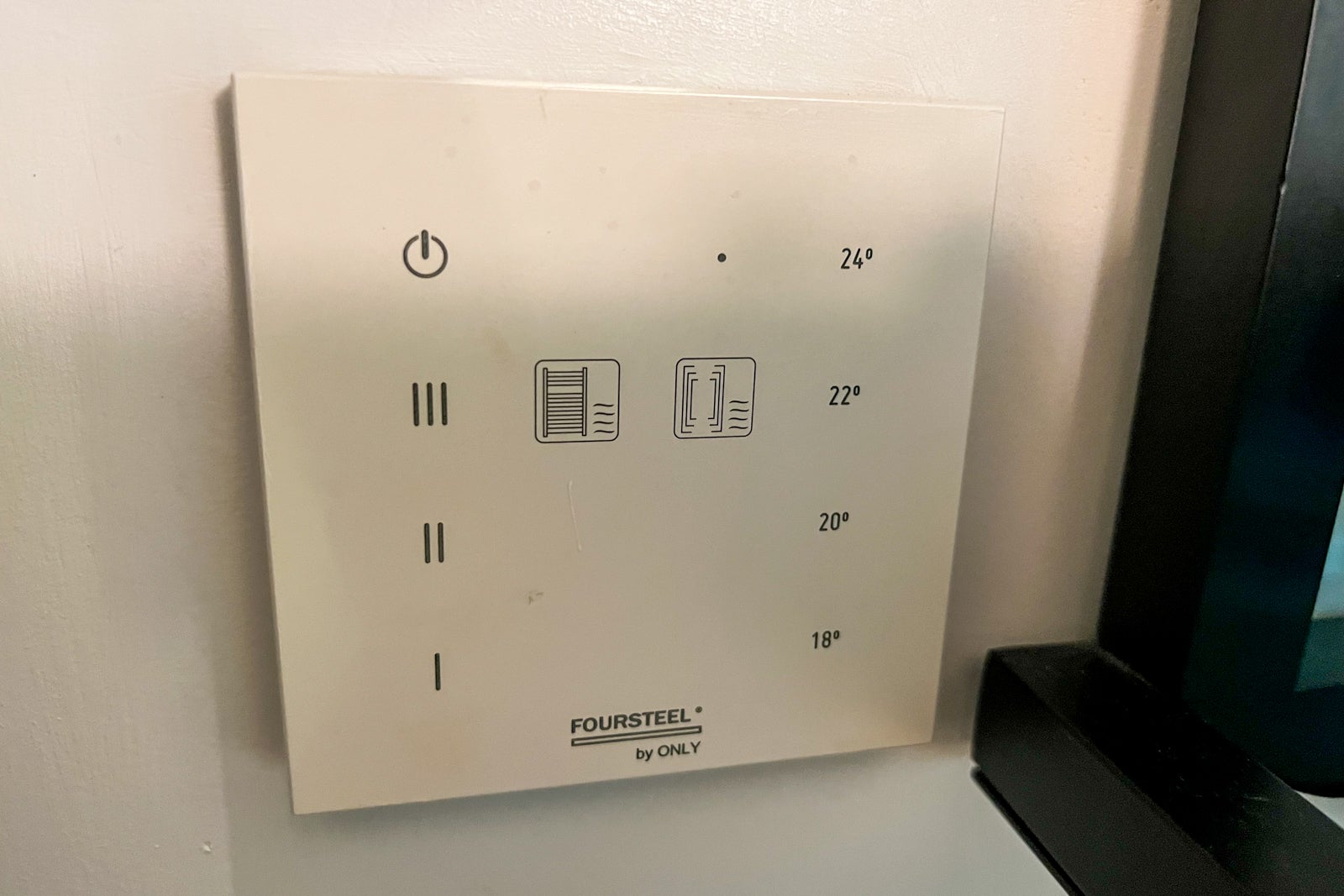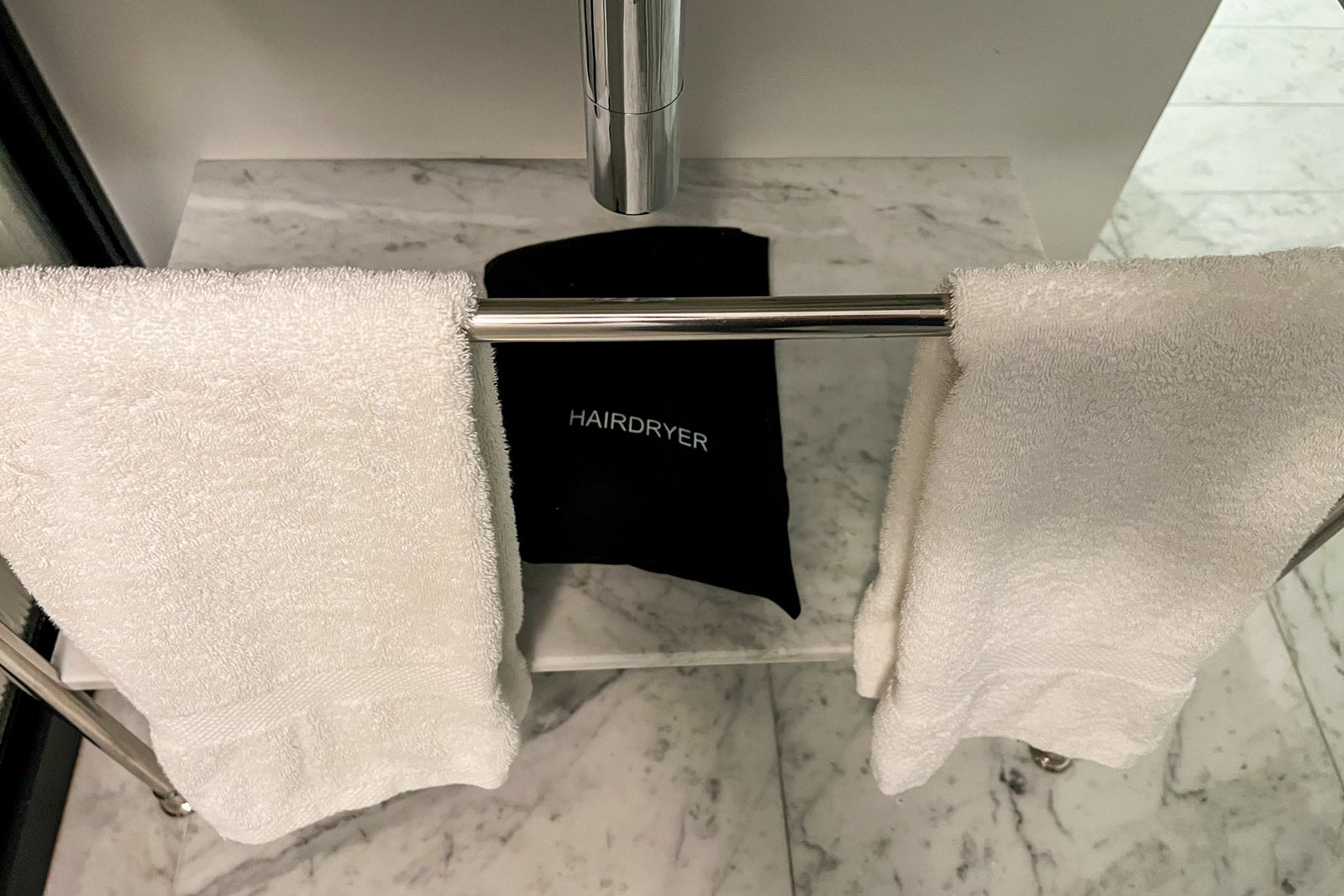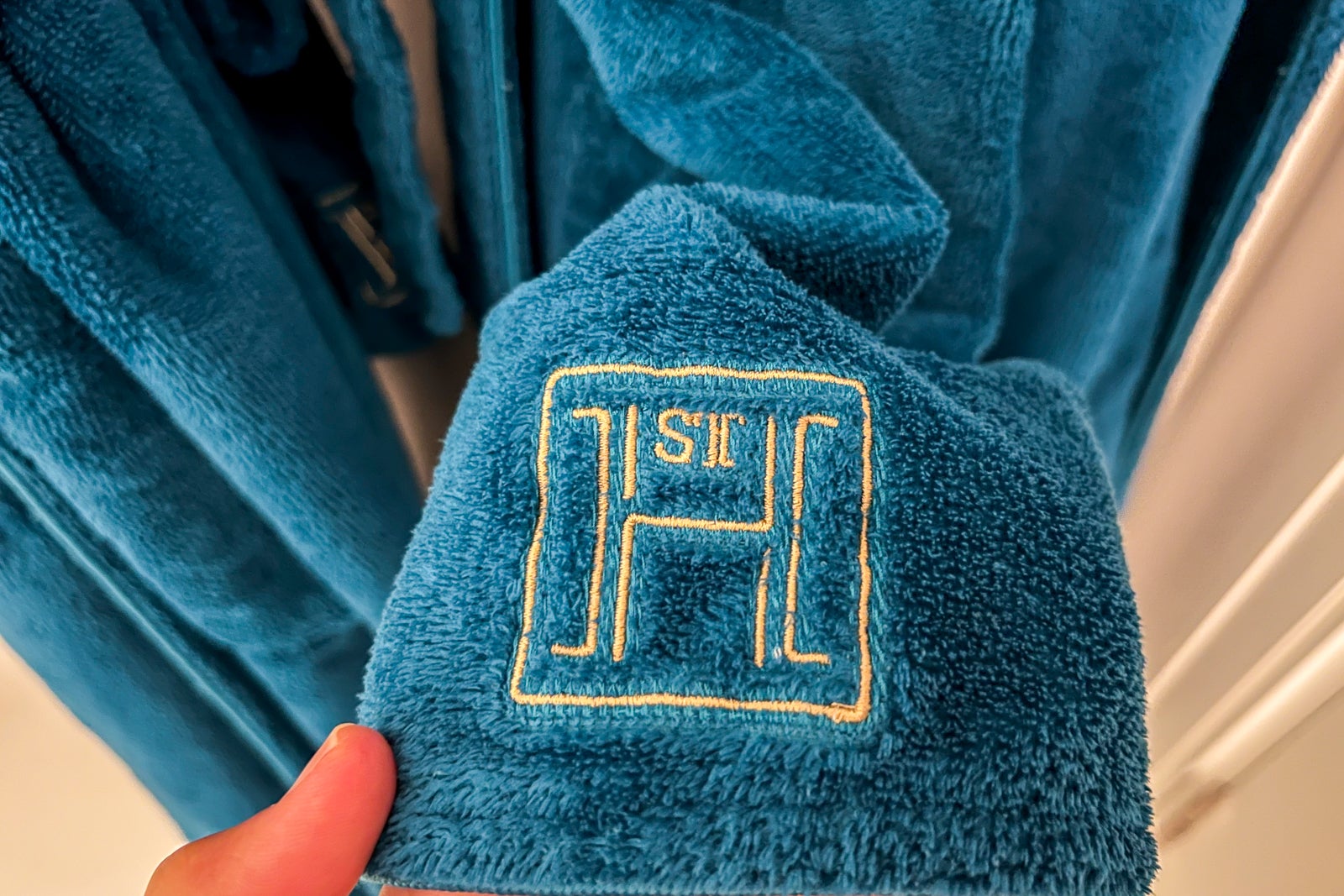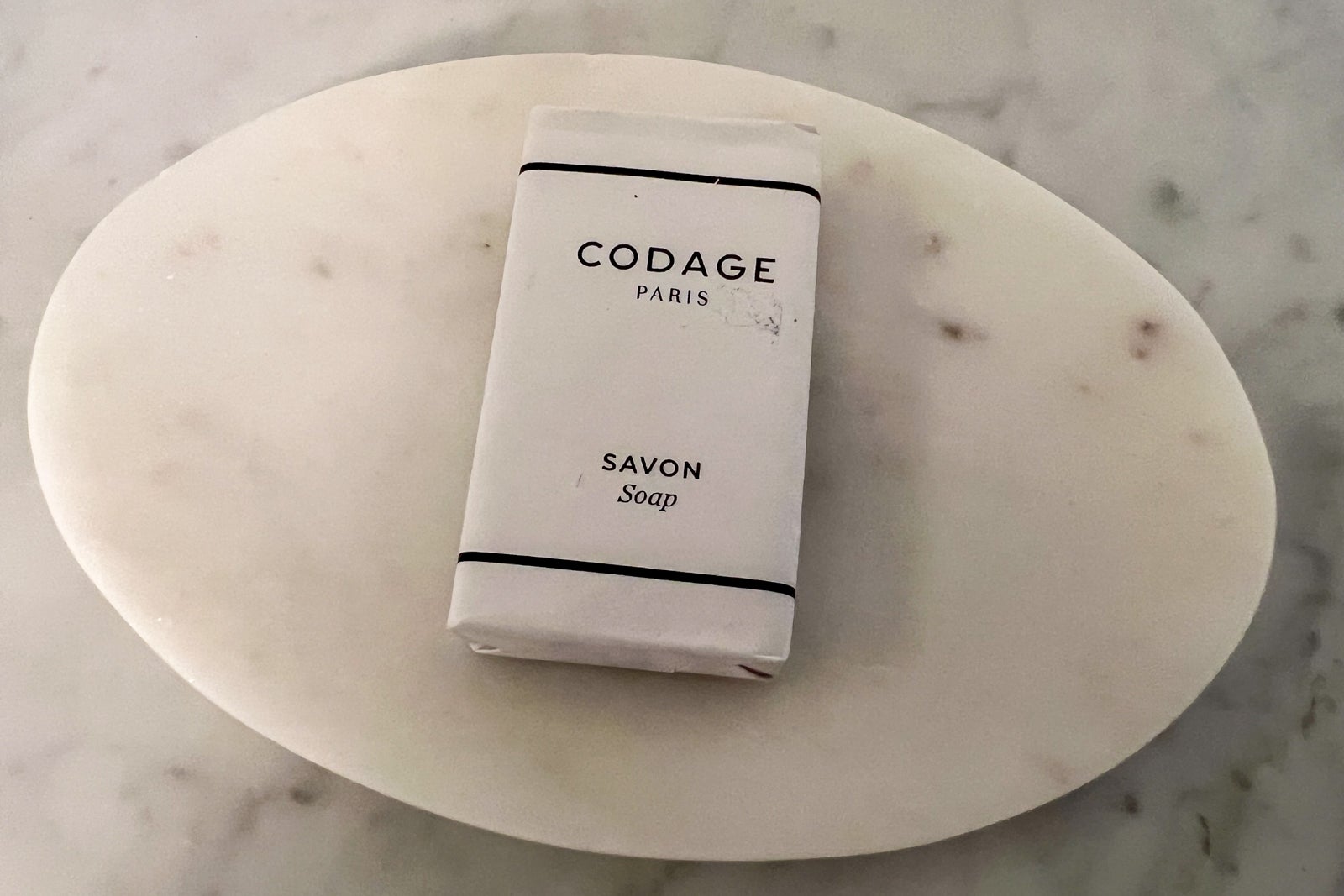 Overall, the room was well appointed and luxurious, if a little on the small side.
Food and beverage at the Kimpton St Honoré Paris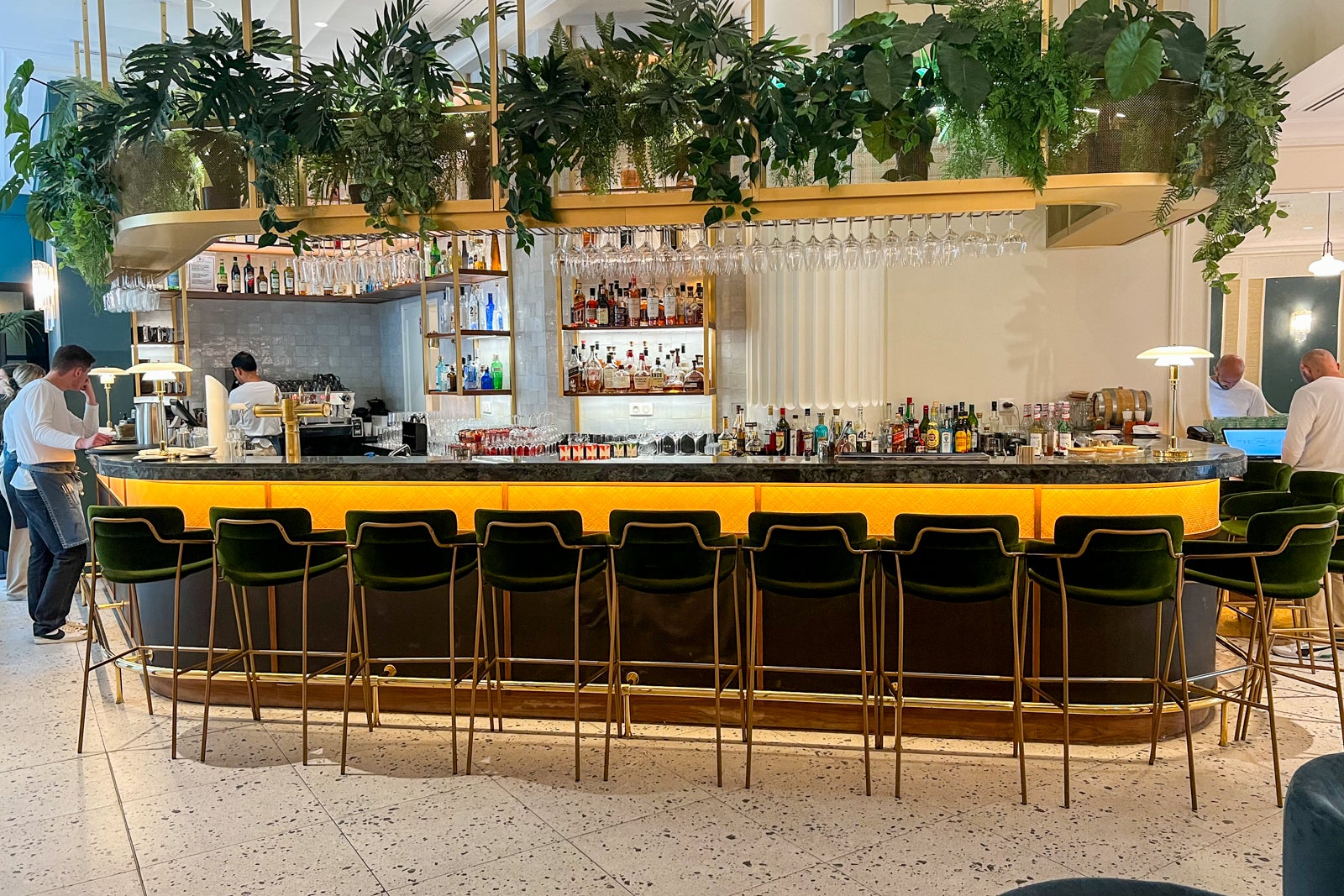 While this boutique hotel doesn't have a ton of food and beverage choices on-site, you're in the middle of Paris, so you're never far away from a good meal. The two on-site restaurants, however, are simply wonderful.
Sequoia
Whether you go for drinks or not, the rooftop bar Sequoia should be the first stop once you've checked into your room. There are spectacular views from every direction.
If you do go for food or drinks, know that there's a minimum spend requirement of 40 euros ($43) per person, but the venue is open from 3 p.m. until midnight (though I had no trouble showing up earlier in the day) if you just want to pop in for the views. Drinks are decently priced at around 14 euros ($15.21) for a glass of wine.
The outdoor space features tables and chairs arranged to provide 360-degree views of either the Eiffel Tower or the nearby Paris Garnier opera house. You can also see Montmartre, Notre-Dame Cathedral and the high-rises of La Défense, the city's business district. This rooftop view is that memorable, distinctive kind of feature that makes you want to return to a property again and again.
Montecito
California cuisine in Paris? Yes, please. I guess the California-themed parts of the hotel (Sequoia and Montecito) are a tribute to the Kimpton brand's founding in San Francisco. Montecito took its name from the city in Southern California and serves a fun mix of American and Mexican dishes.
Montecito is truly a destination restaurant unto itself. While you can access it from within the hotel, there's also a separate entrance off Boulevard des Capucines. I treated family friends from Los Angeles to dinner at the restaurant one night, and we all enjoyed the food. It's a glamorous setting with a DJ spinning tunes at night and a bustling bar. It's got a bit of Hollywood chic thrown in with the Parisian design by the architecture firm Humbert & Poyet.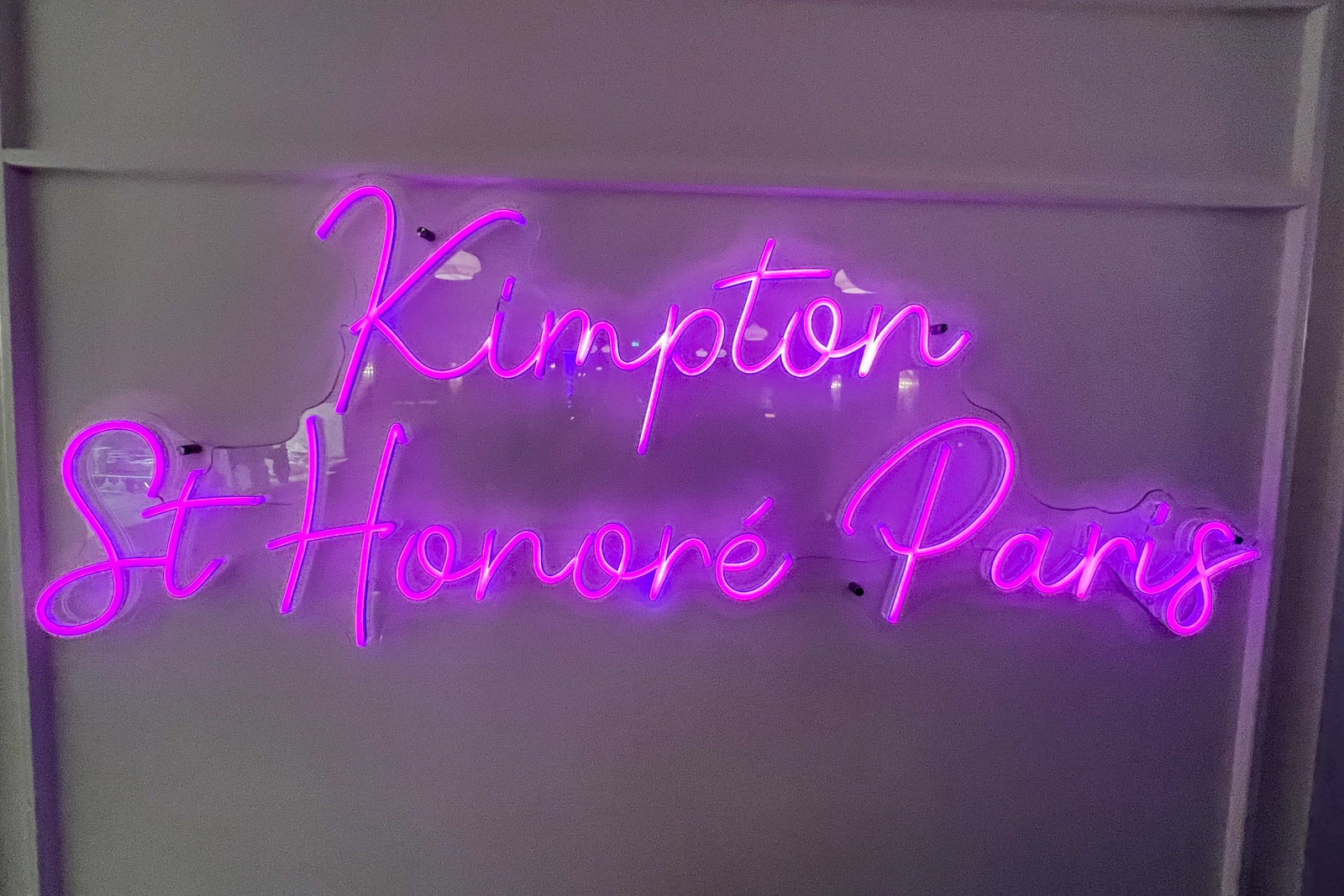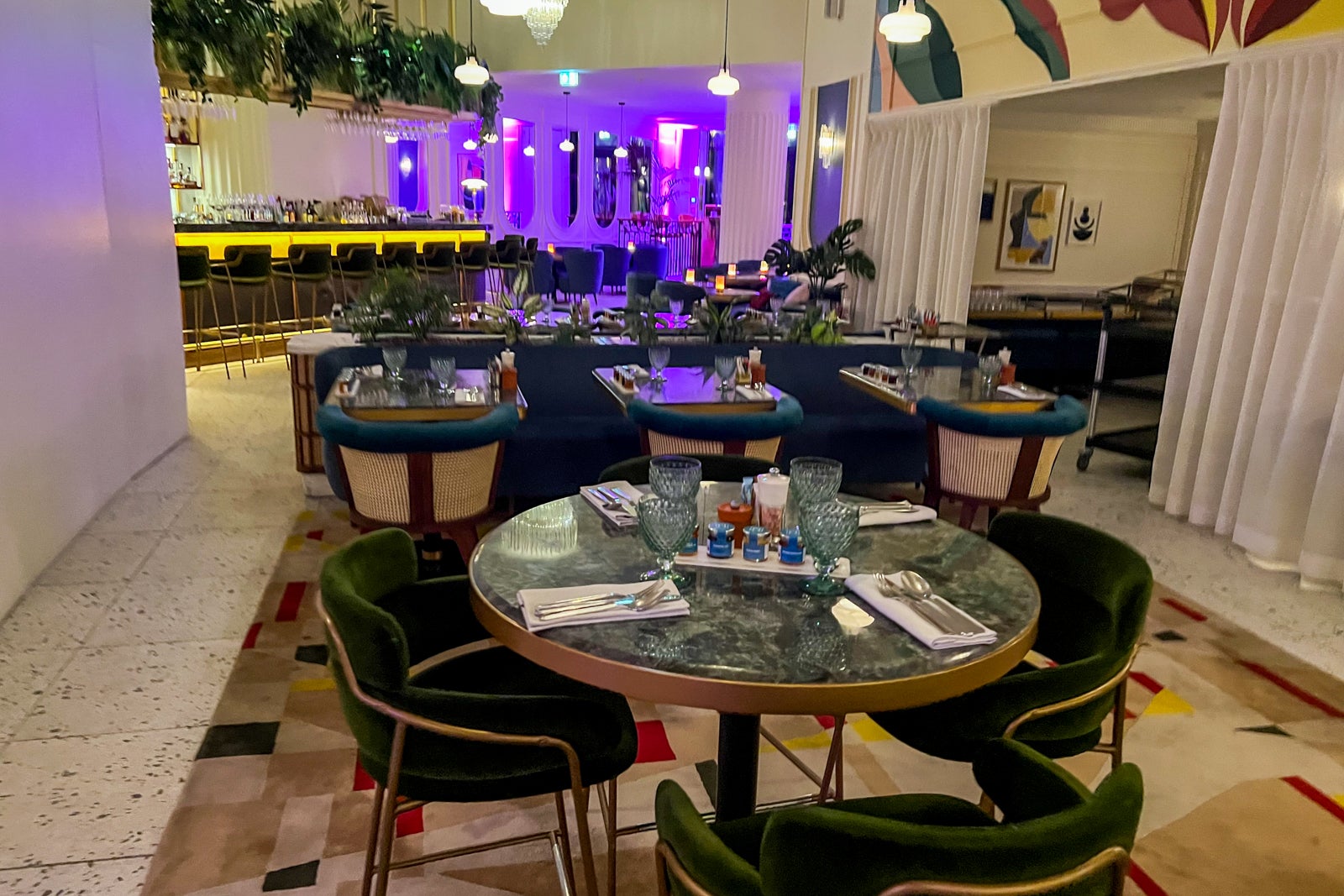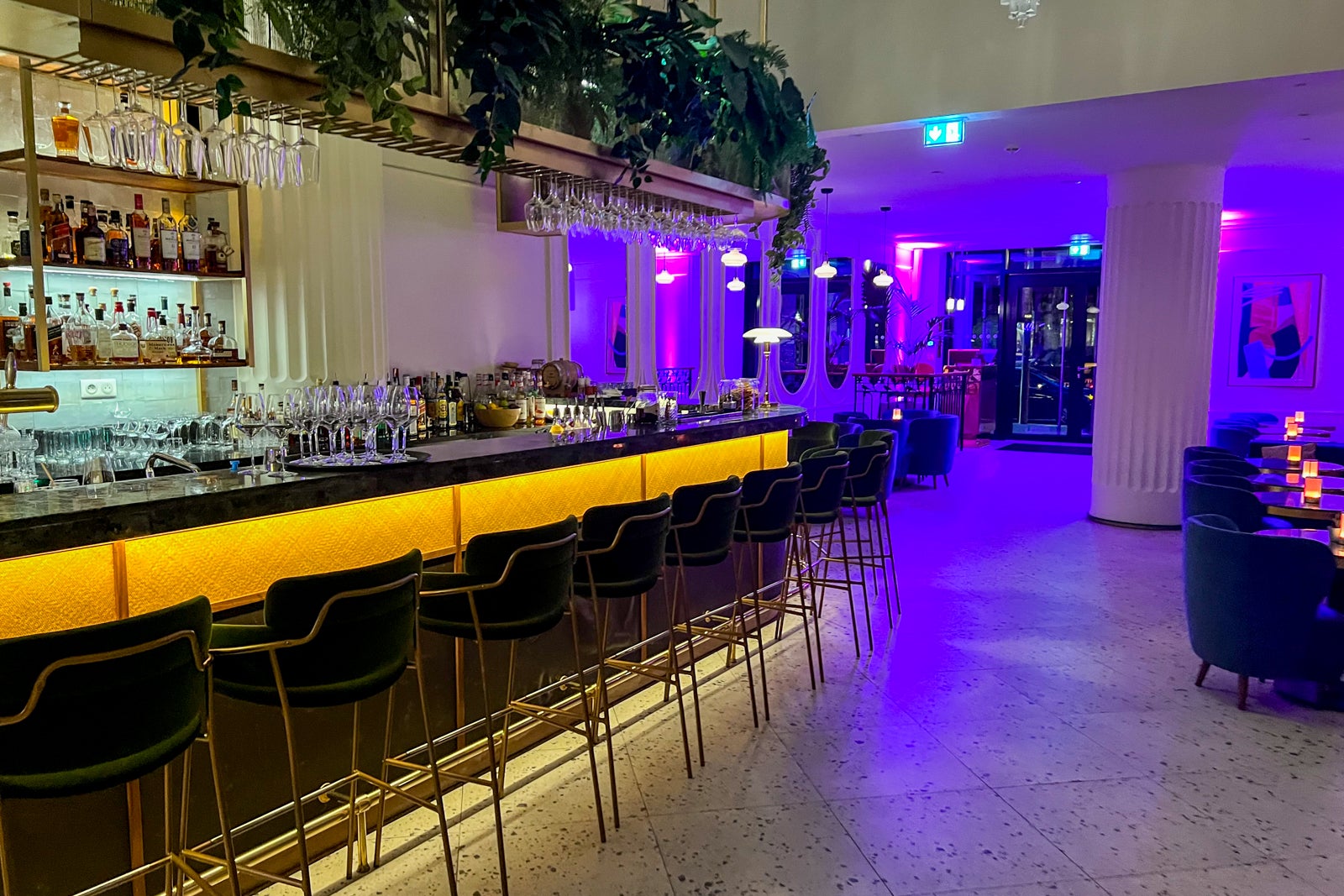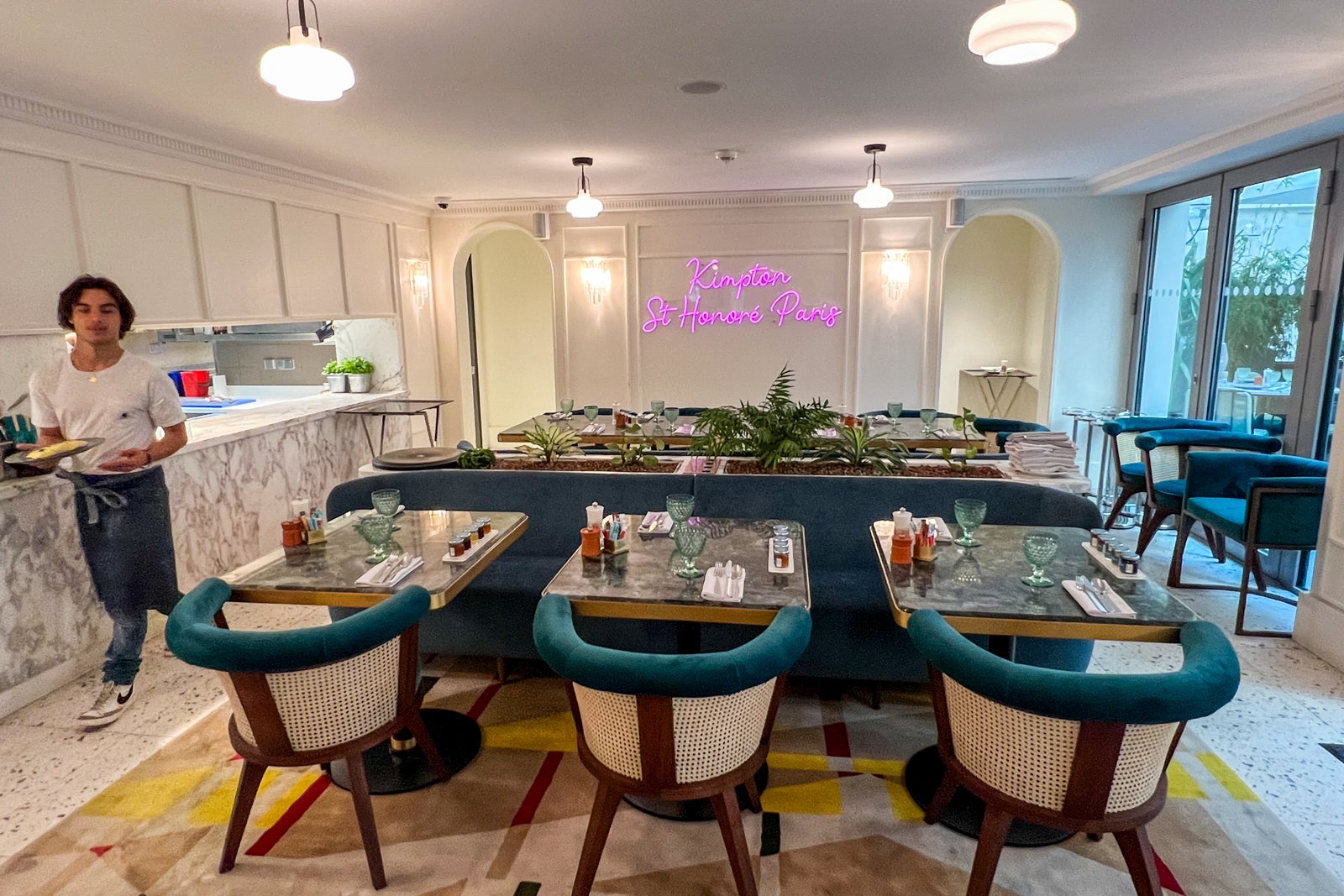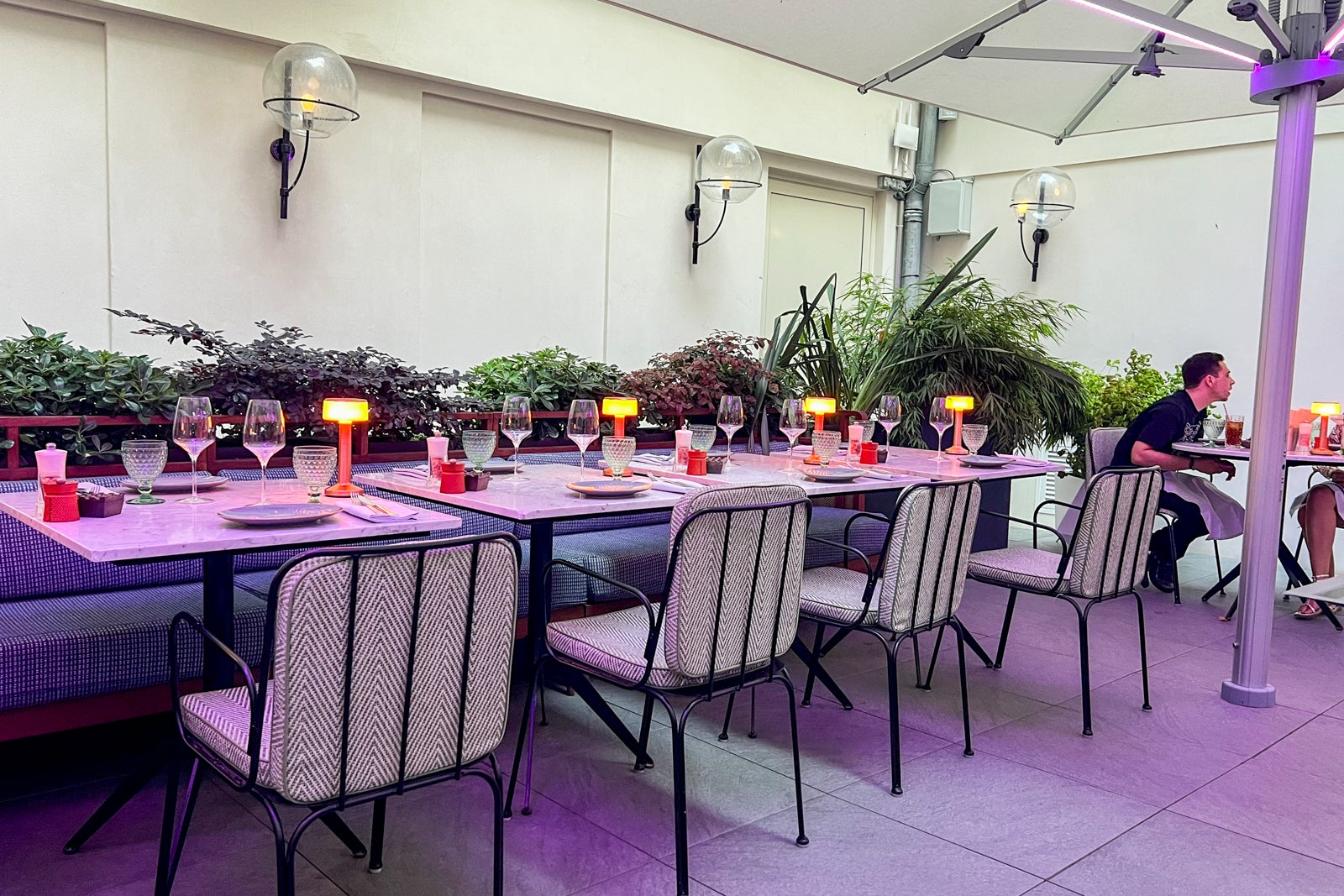 My friends and I tried several great dishes, including the guacamole and tortilla chips (more like Doritos), the pink hummus and pita bread (made with beetroot), stir-fried broccolini and the miniature macaroni and cheese. Yum.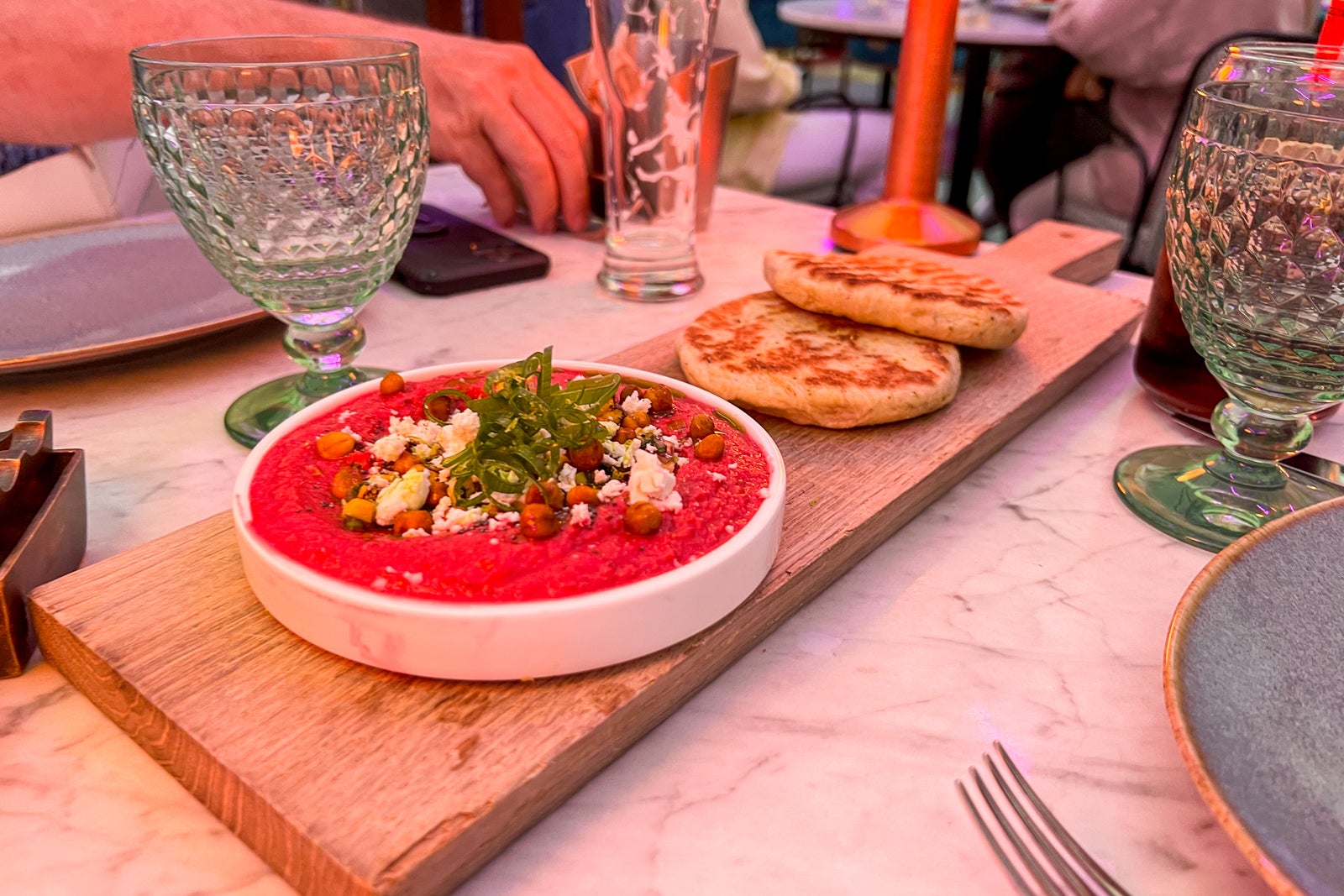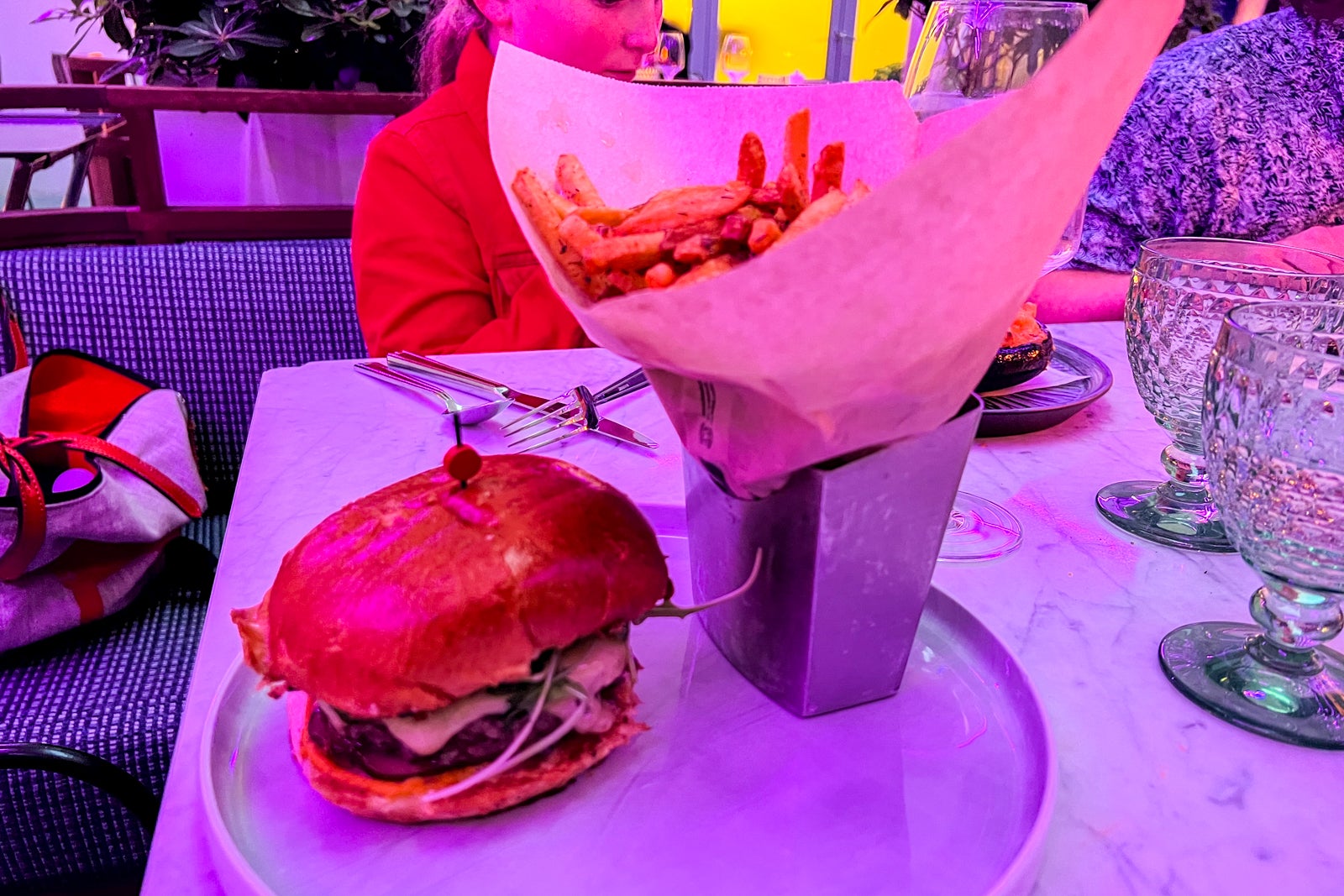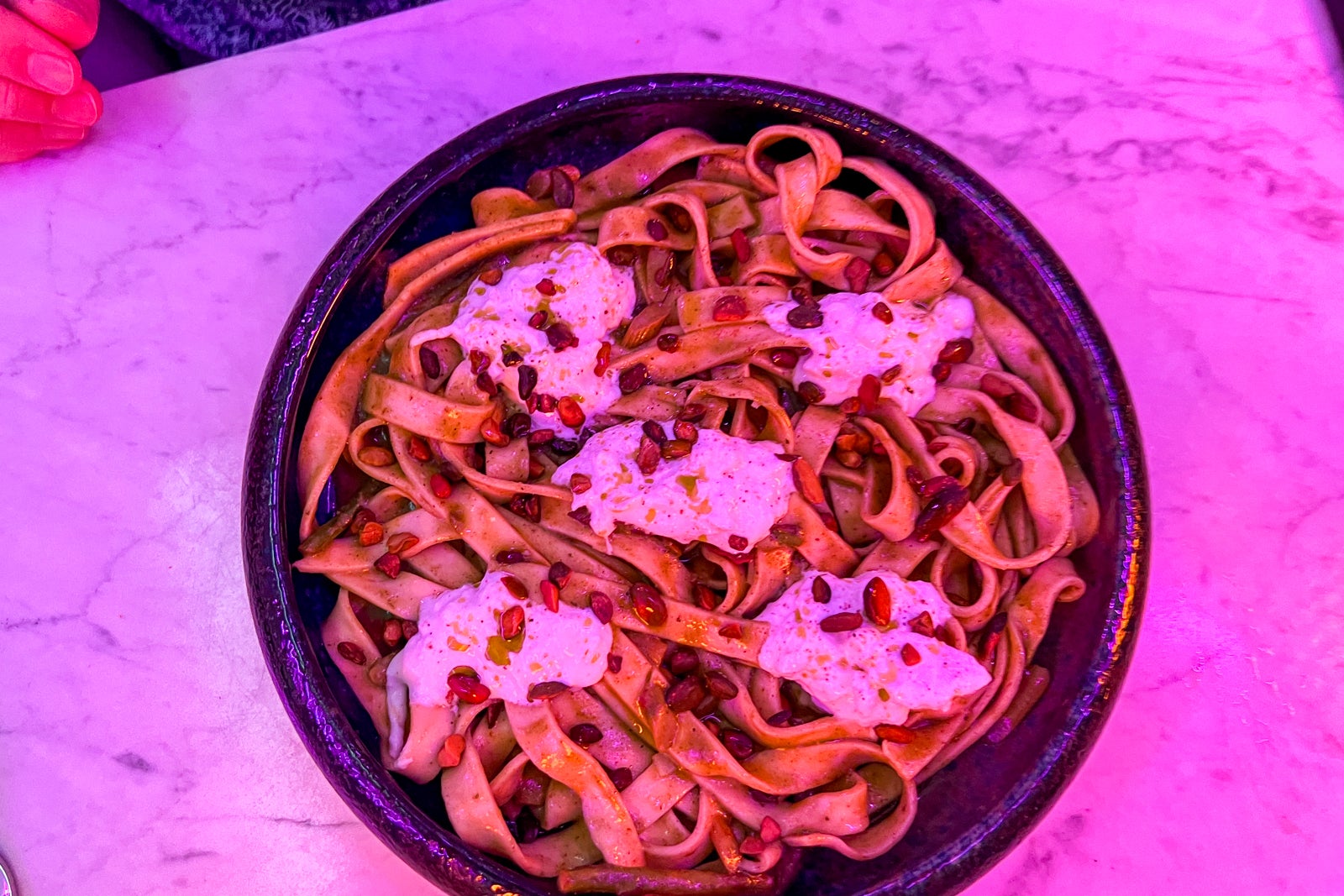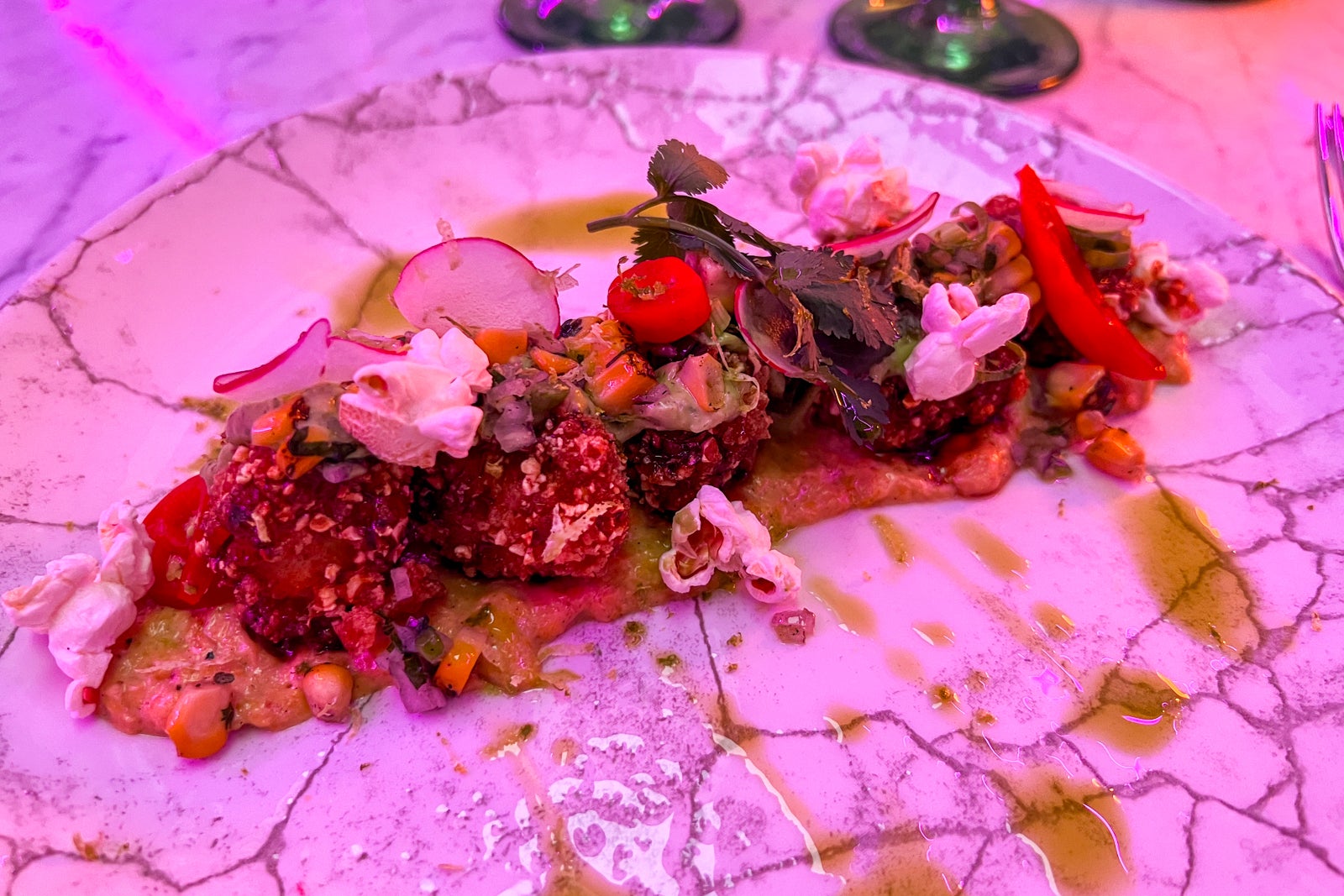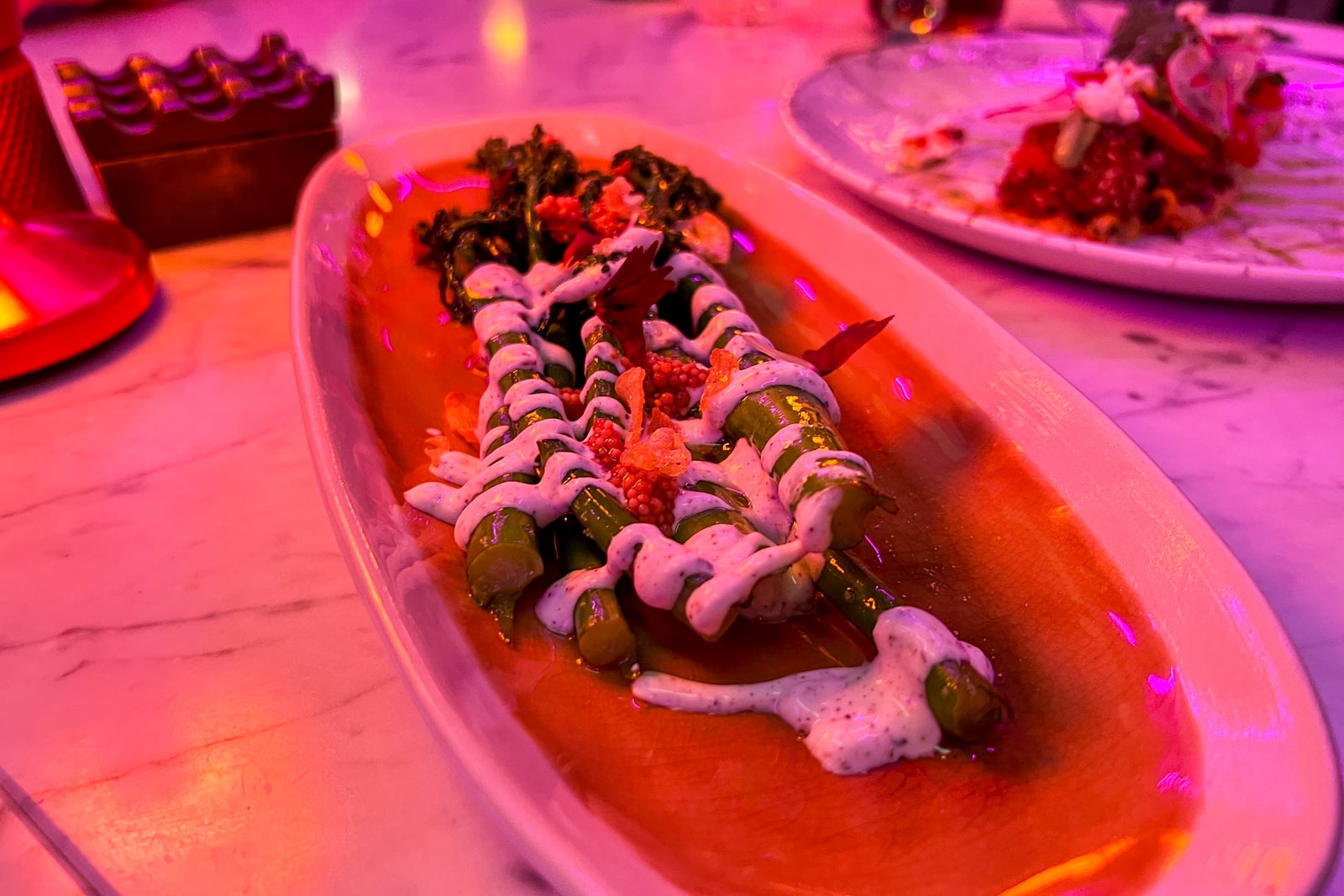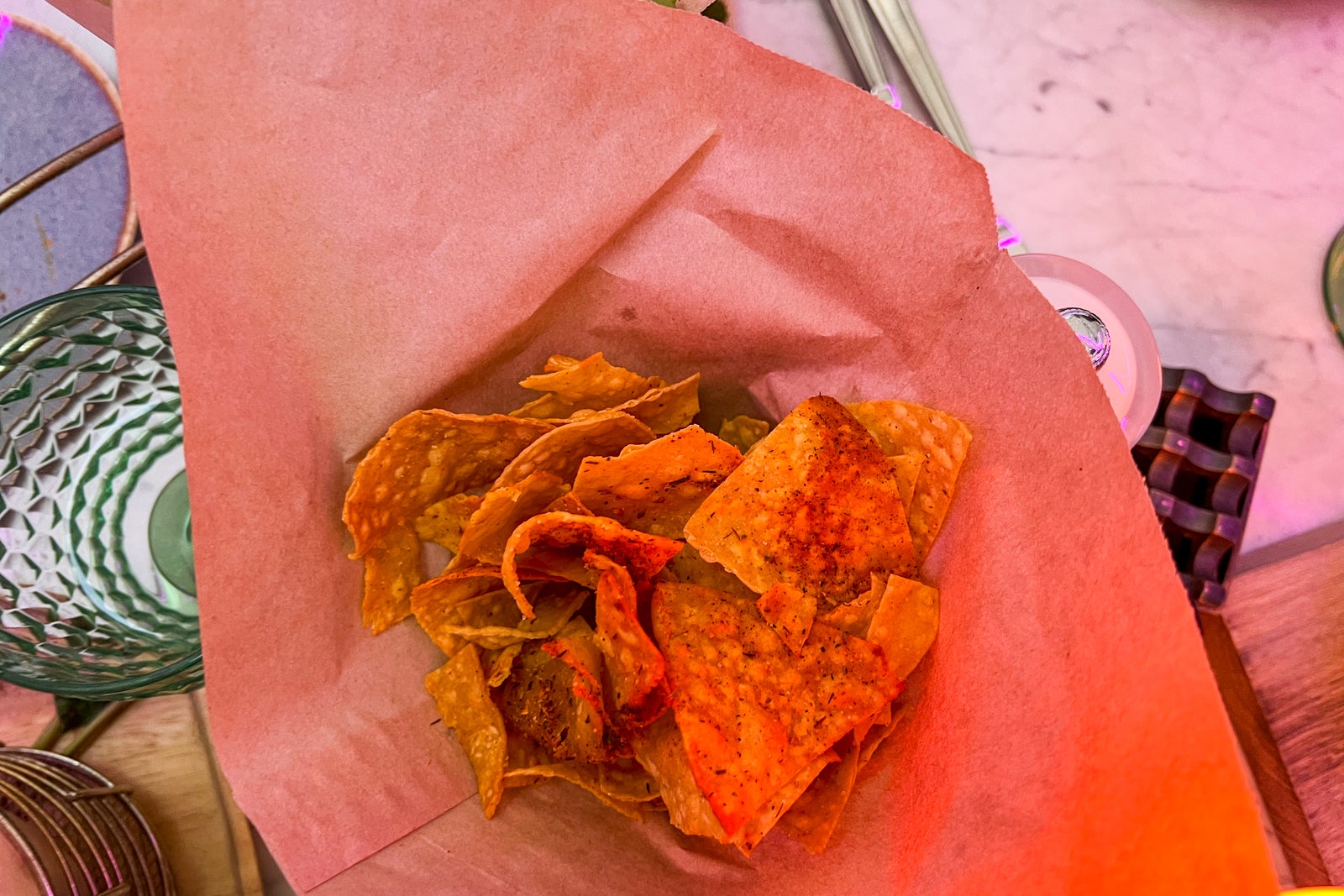 Daily breakfast is also served at Montecito, which my guest and I found excellent. Service was prompt and friendly, and there was an incredible selection of French pastries along with all the classic breakfast buffet items. Eggs were cooked to order or available at the buffet. In total, we spent 42 euros ($45) for breakfast, though the charge was waived since the booking was made with points by an IHG One Rewards member who holds top-tier Diamond Elite status.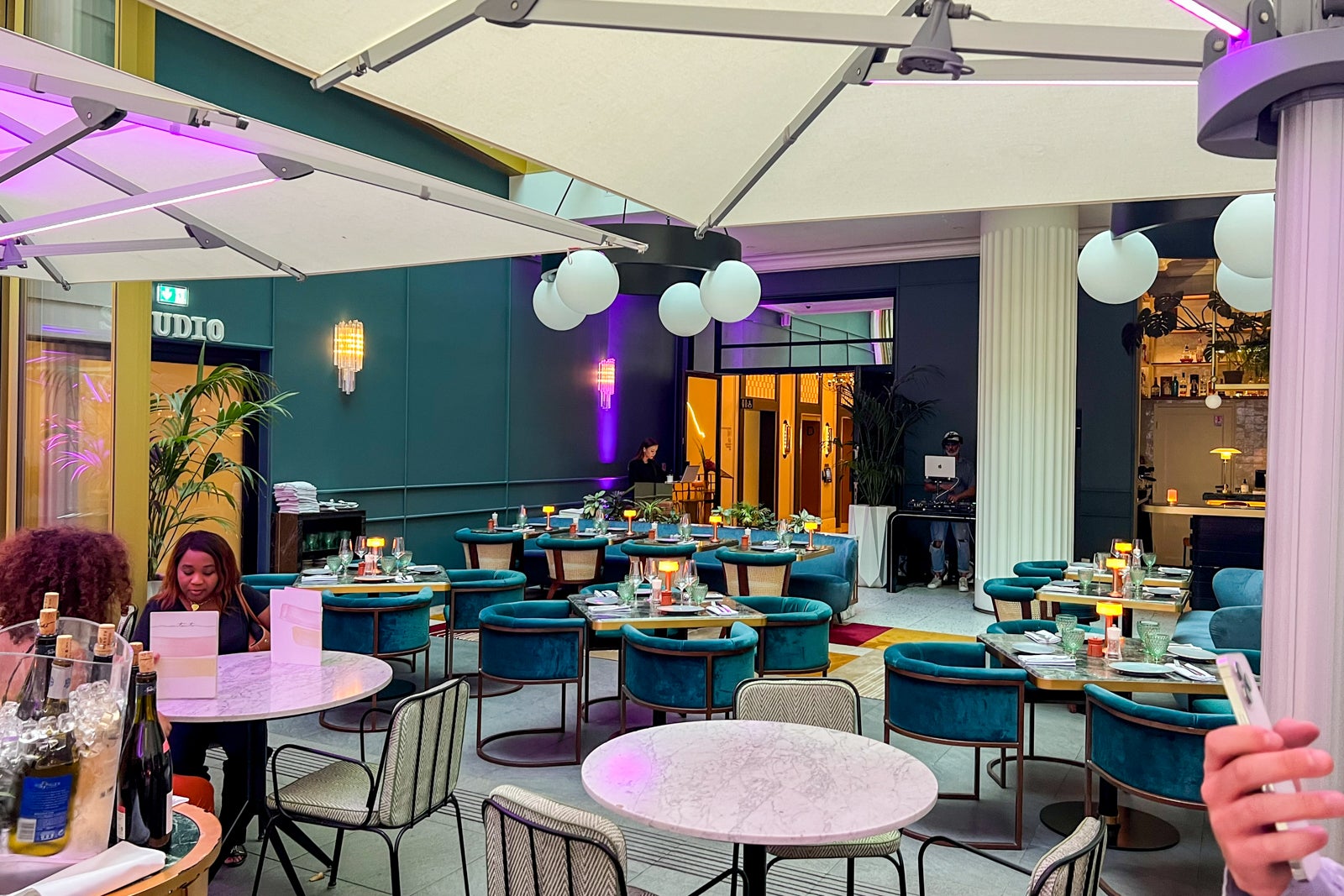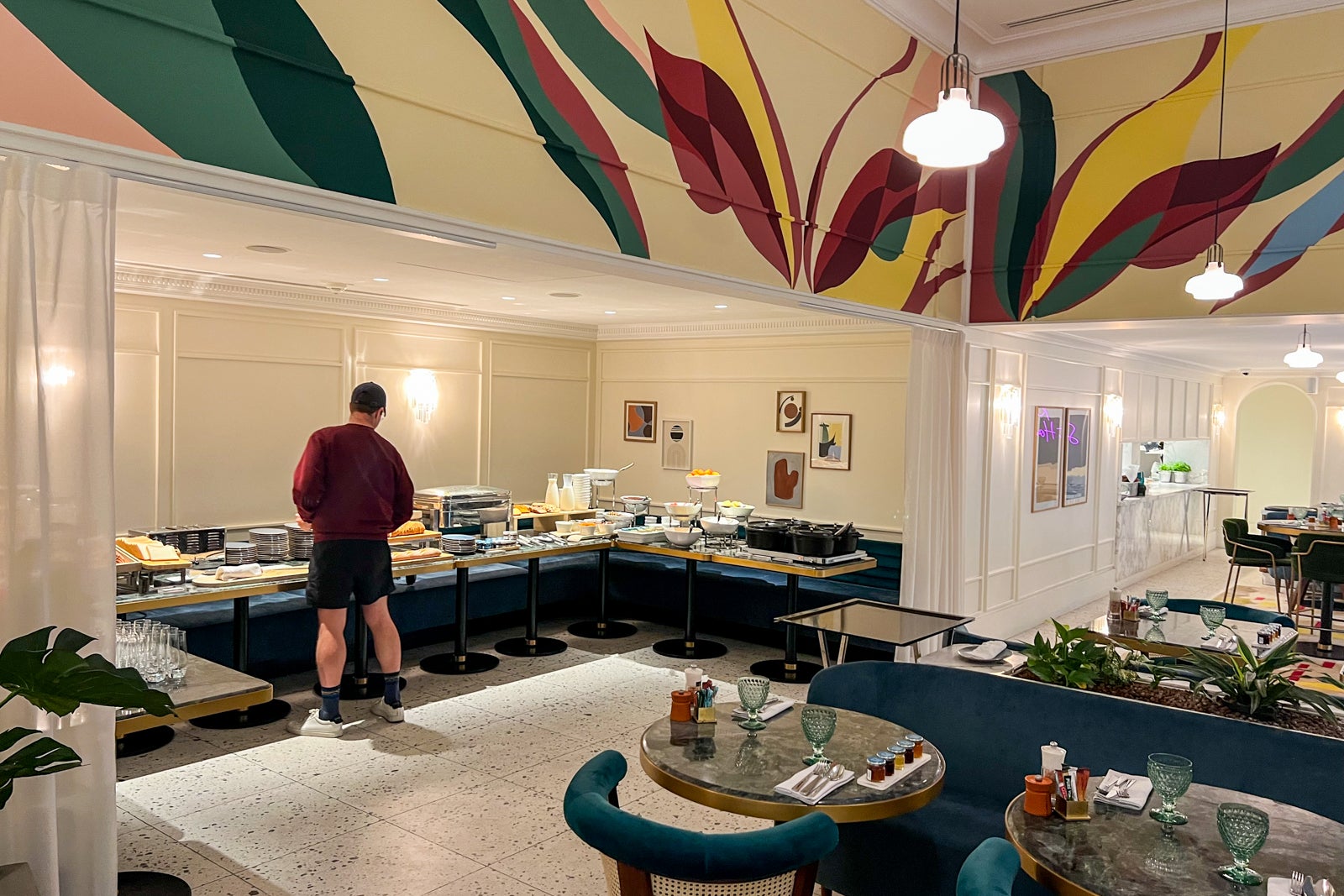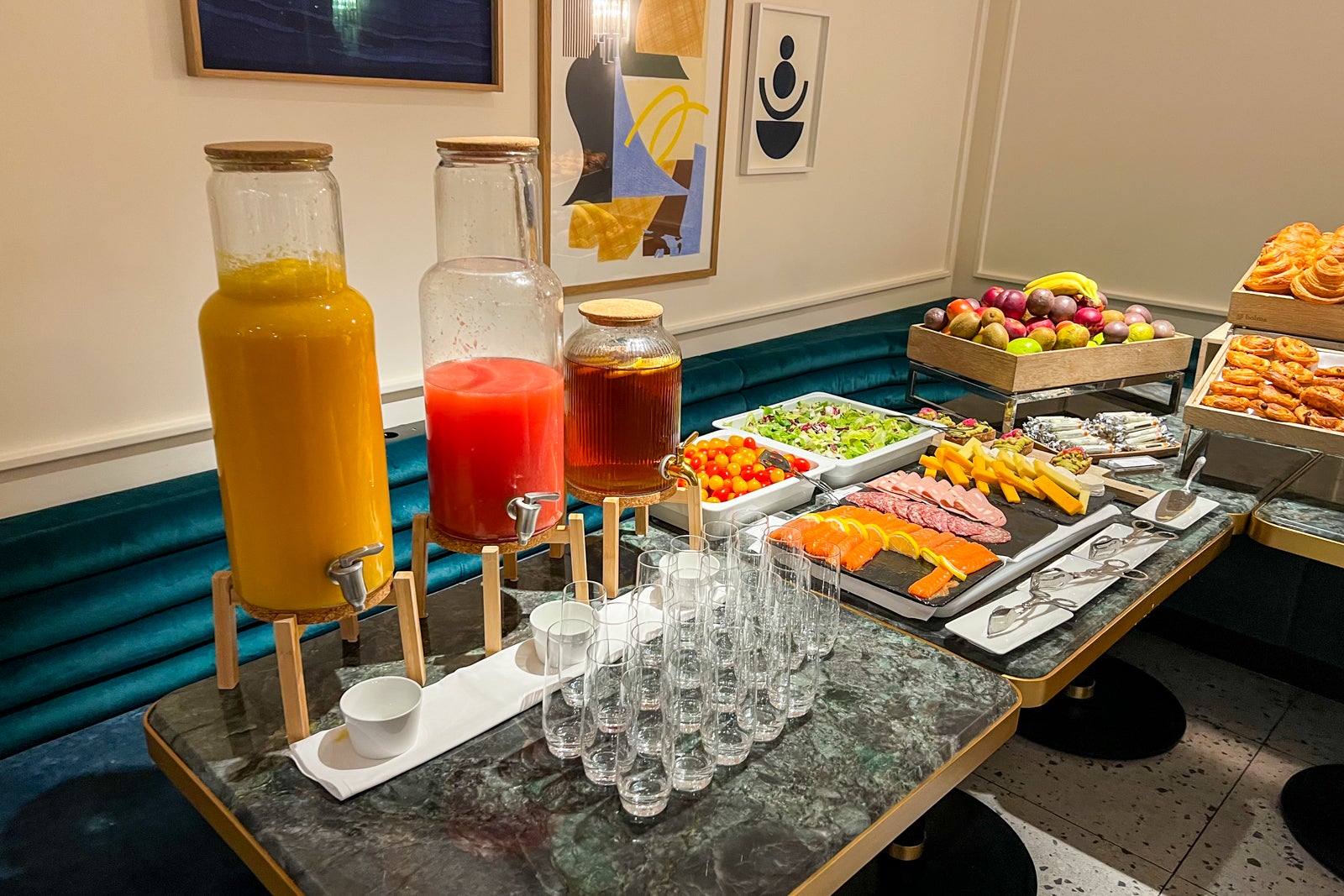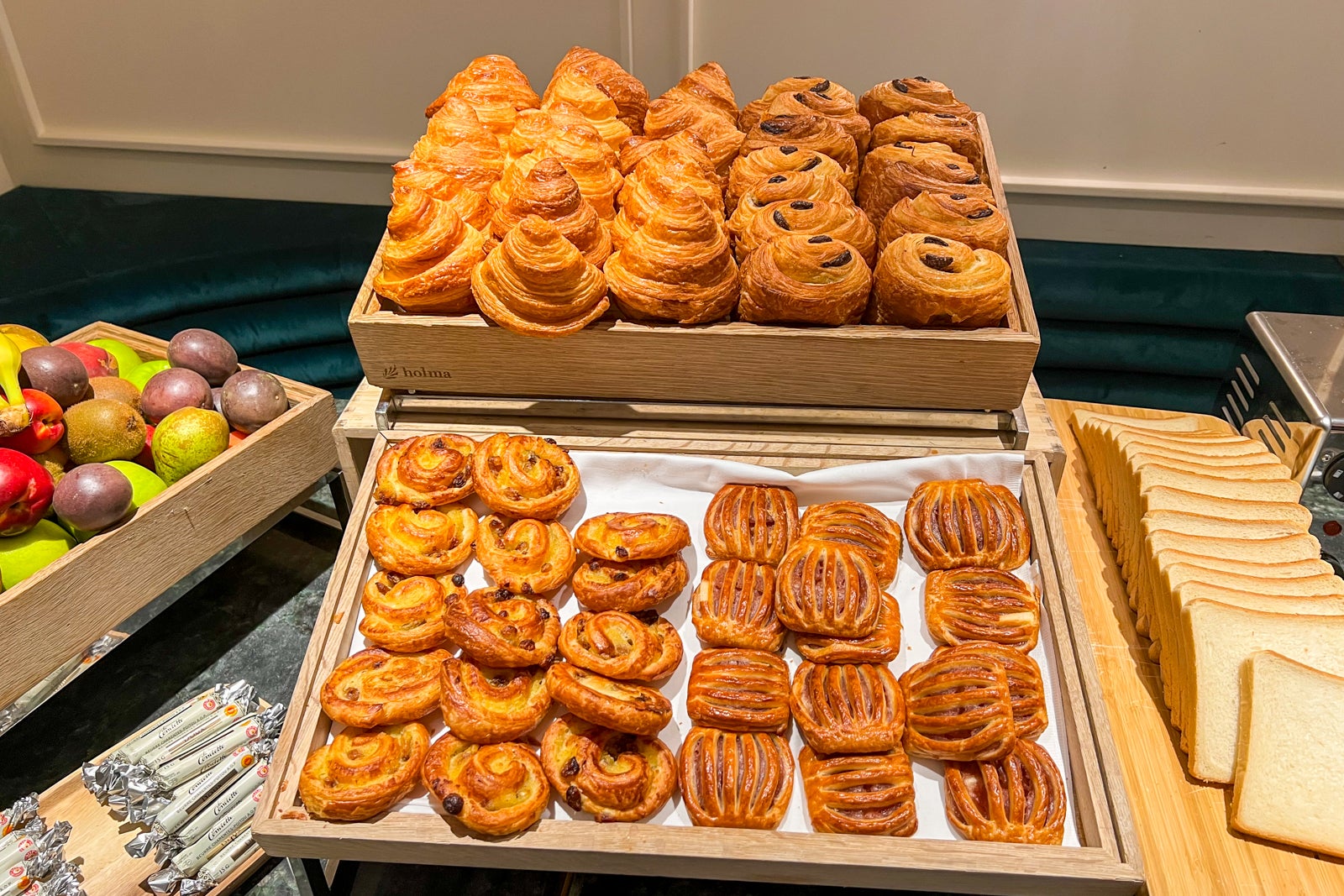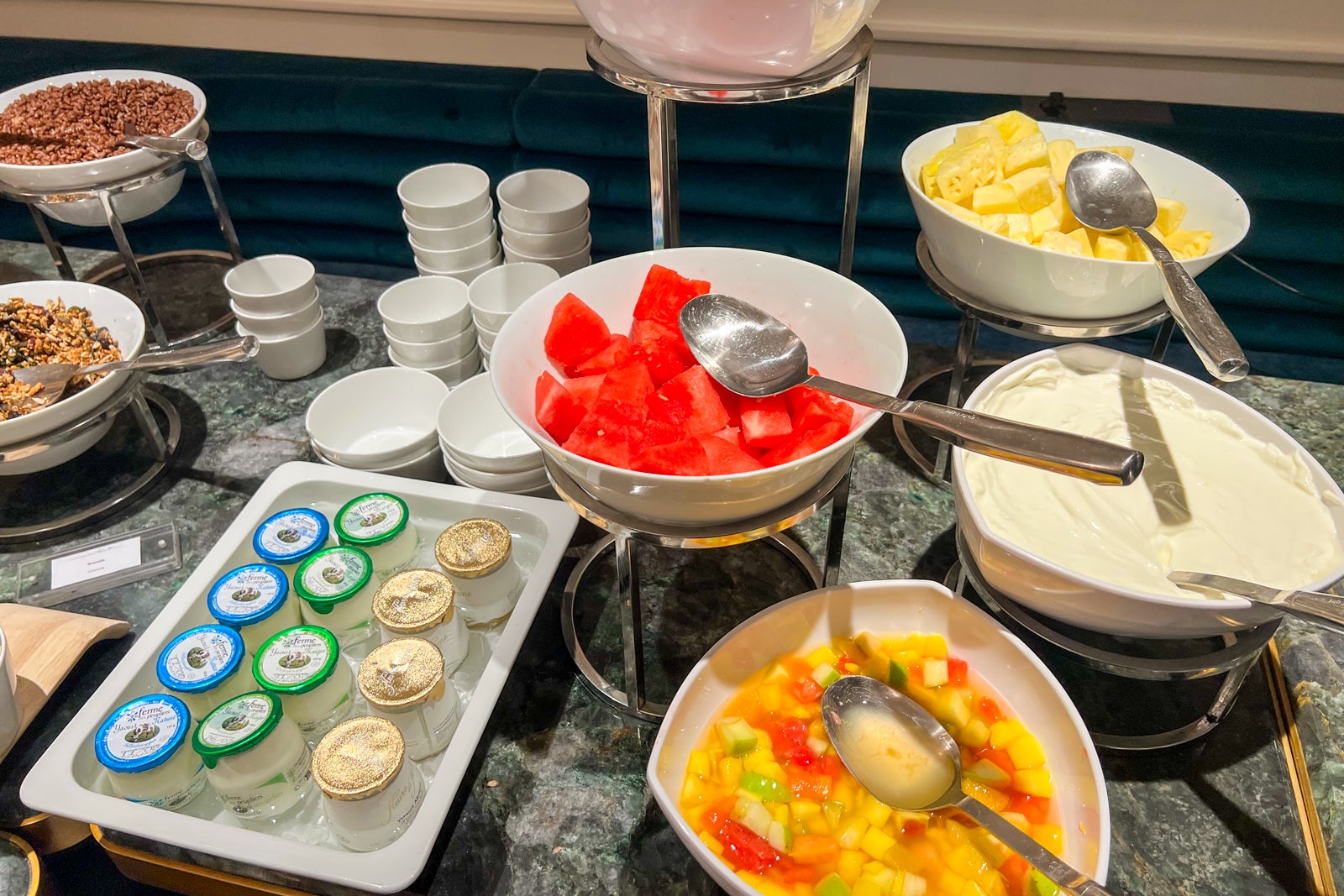 The restaurant also has a giant room service menu with food supplied by Montecito. One note, while there is late-night room service available, at 10 p.m., it switches to a limited menu that consists of heated-up jars of vegetarian food with bizarre options like veggie chili and vegetable curry. You're better off going next door to the giant outpost of Five Guys if hunger strikes late at night.
The incredible spa and pool at the Kimpton St Honoré Paris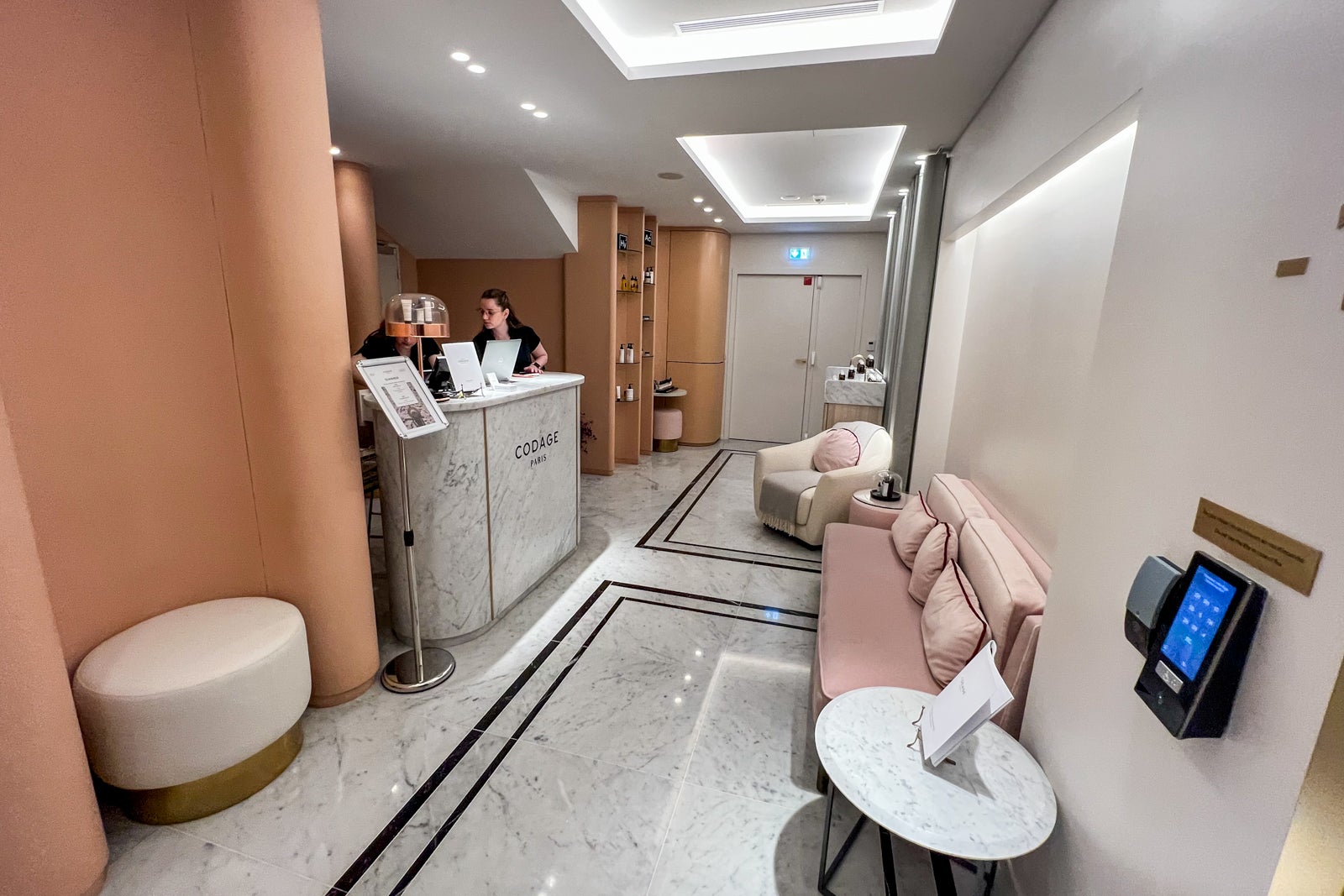 I am madly in love with the amenities at the Kimpton St Honoré Paris. I used the pool, sauna and steam room every day of my stay, and I would go back just for another chance to use these facilities.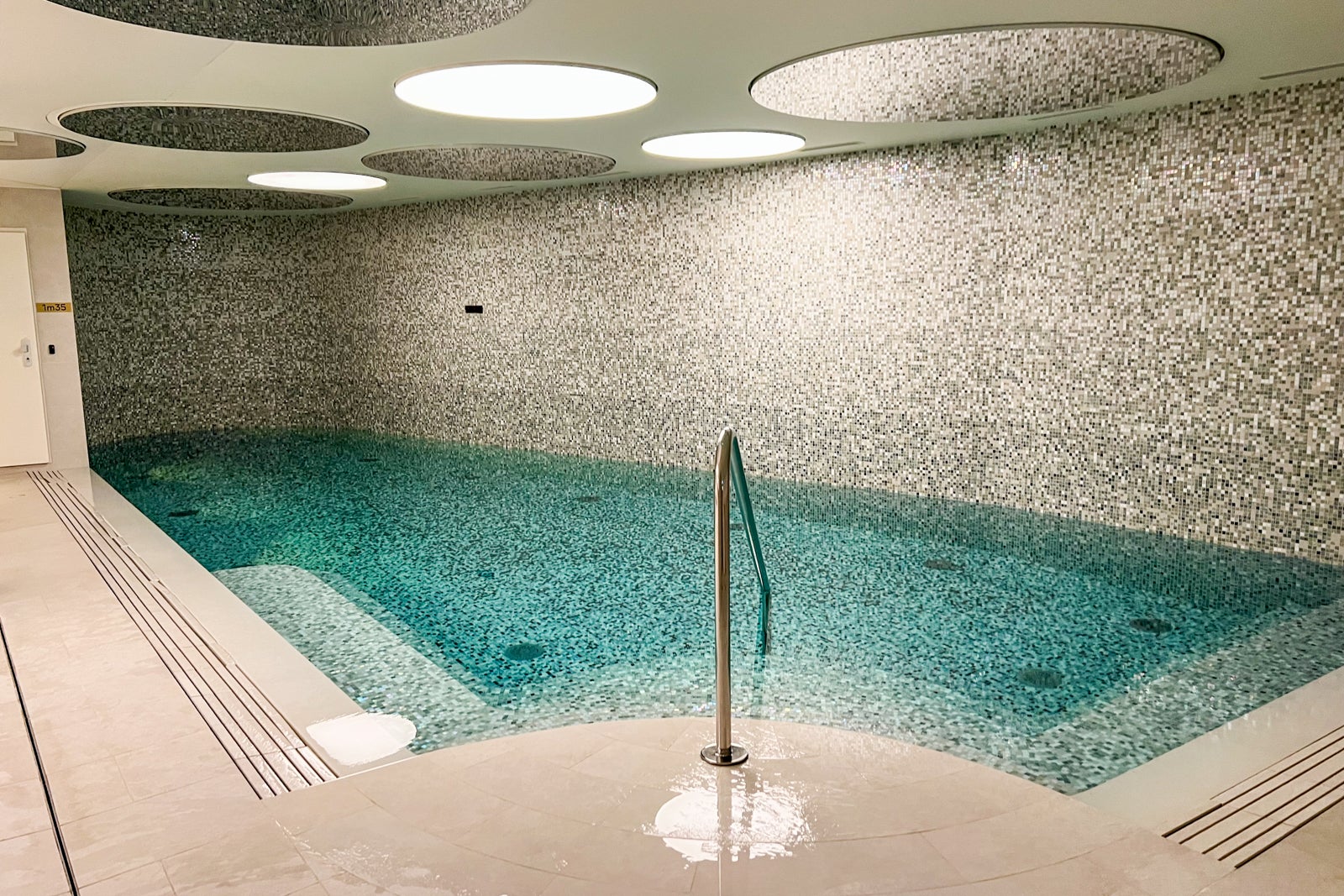 The Codage spa facilities are on the lower level of the hotel. There are wheelchair-friendly changing rooms and an accessible sauna and steam room along with a small pool. The swimming pool is large enough for doing laps, but it can get crowded if more than a few people are enjoying the facilities. While I was there, I mostly had it to myself.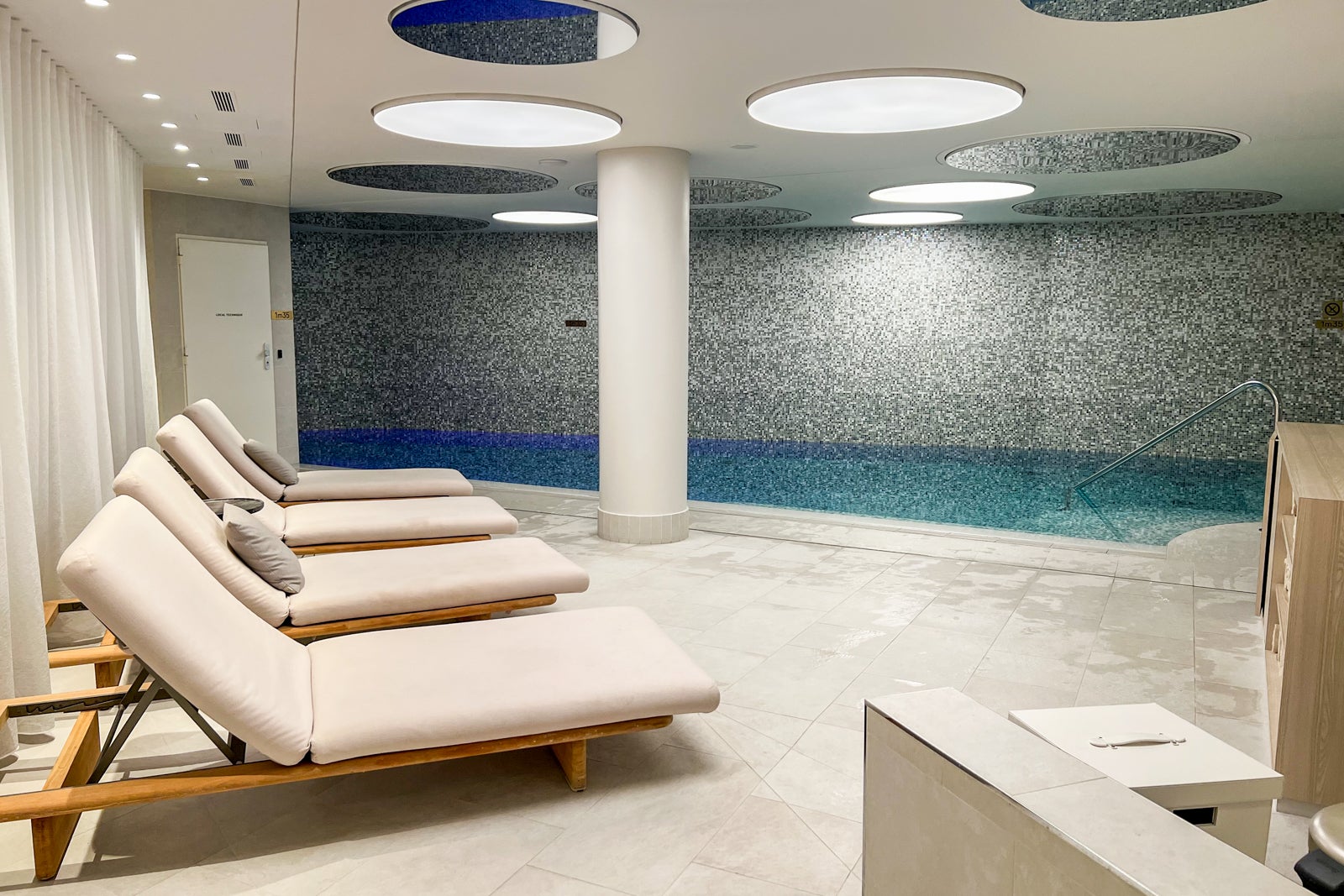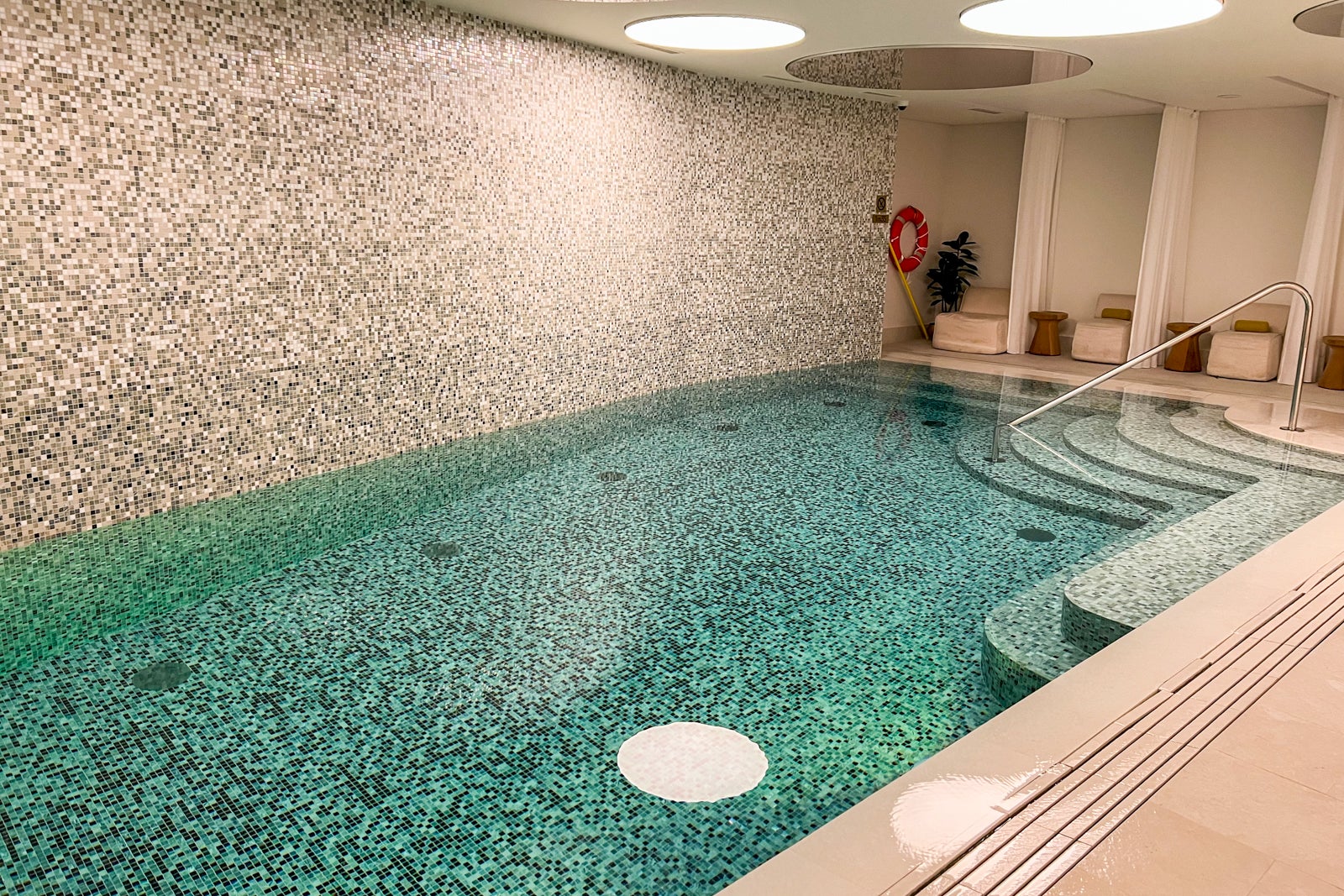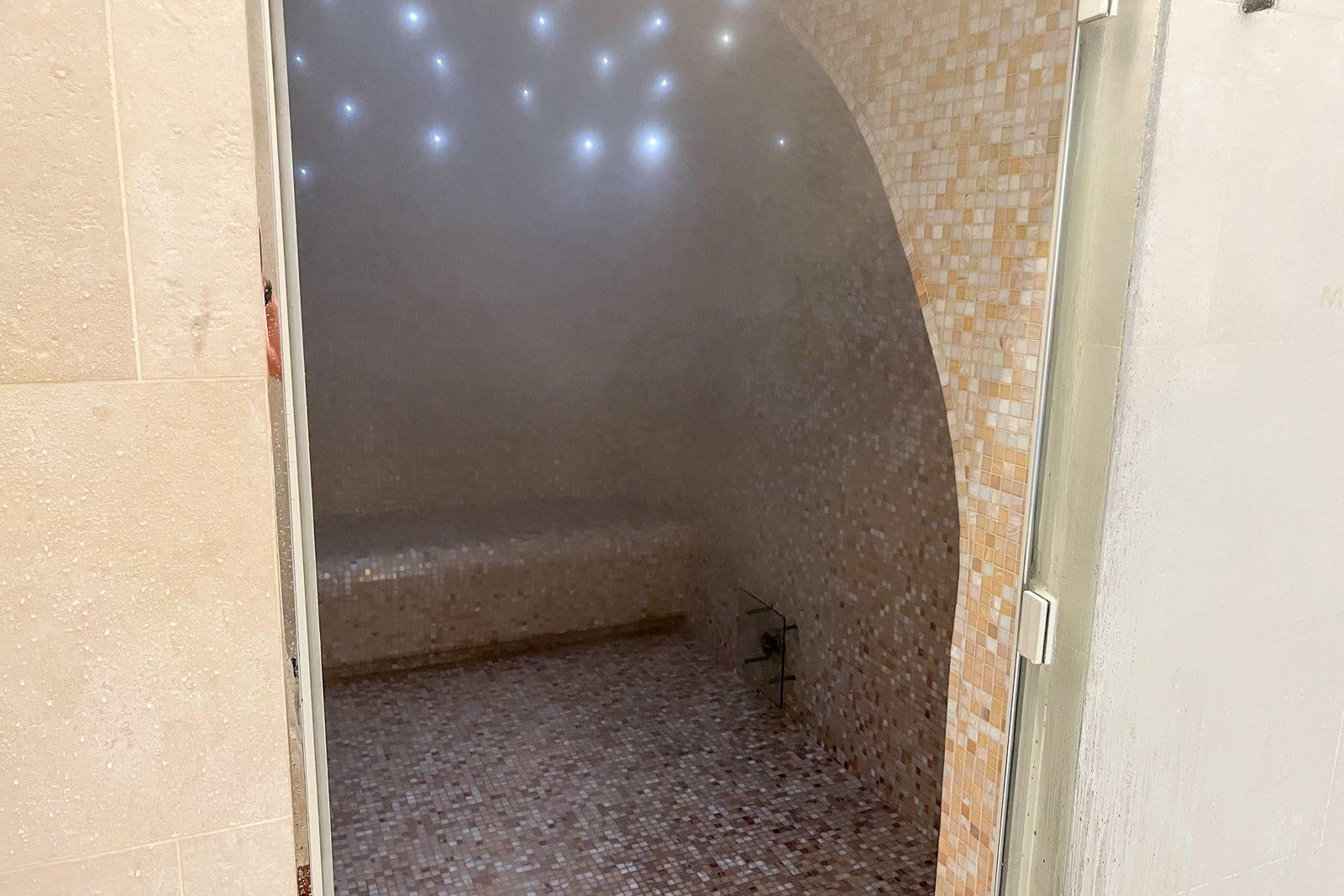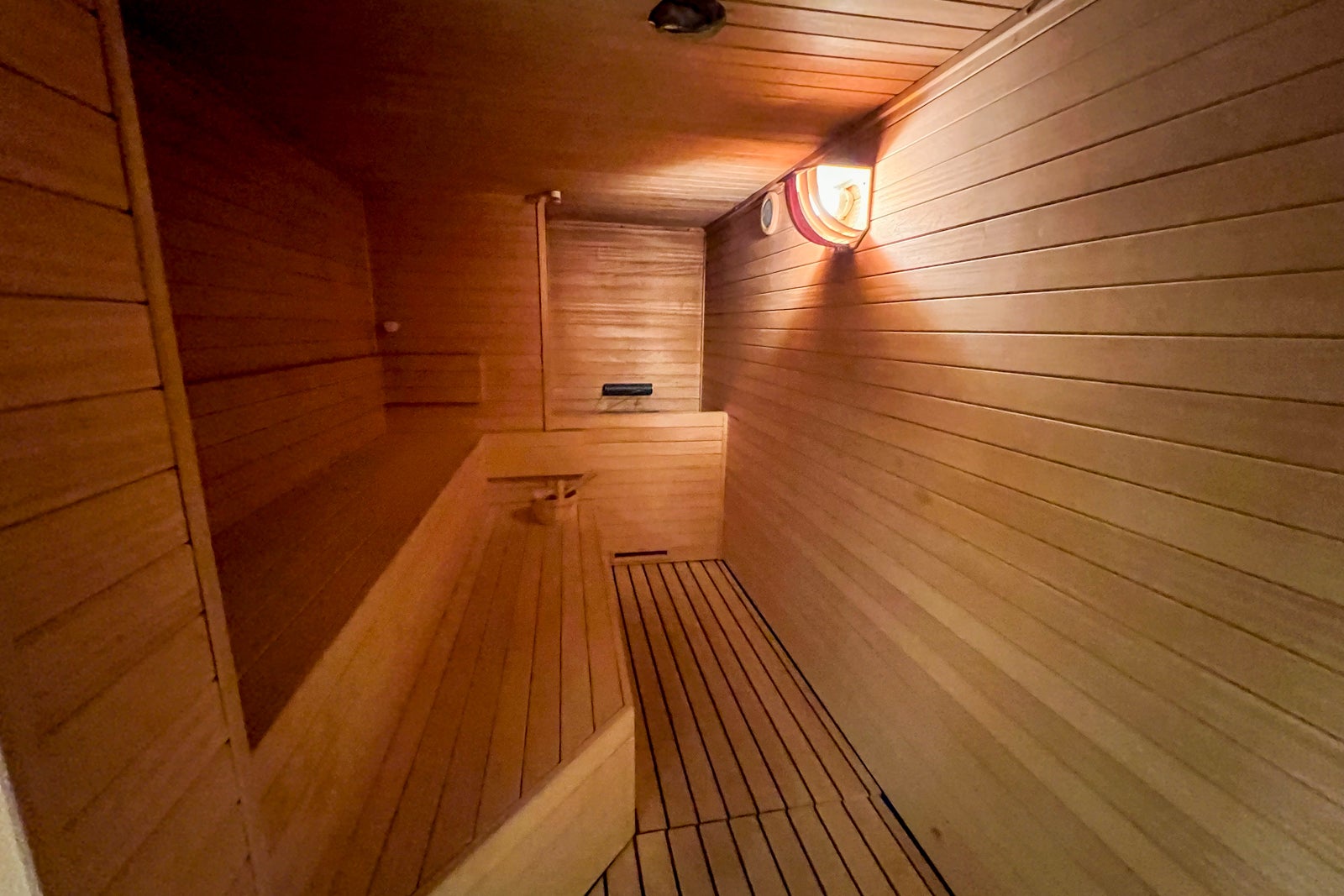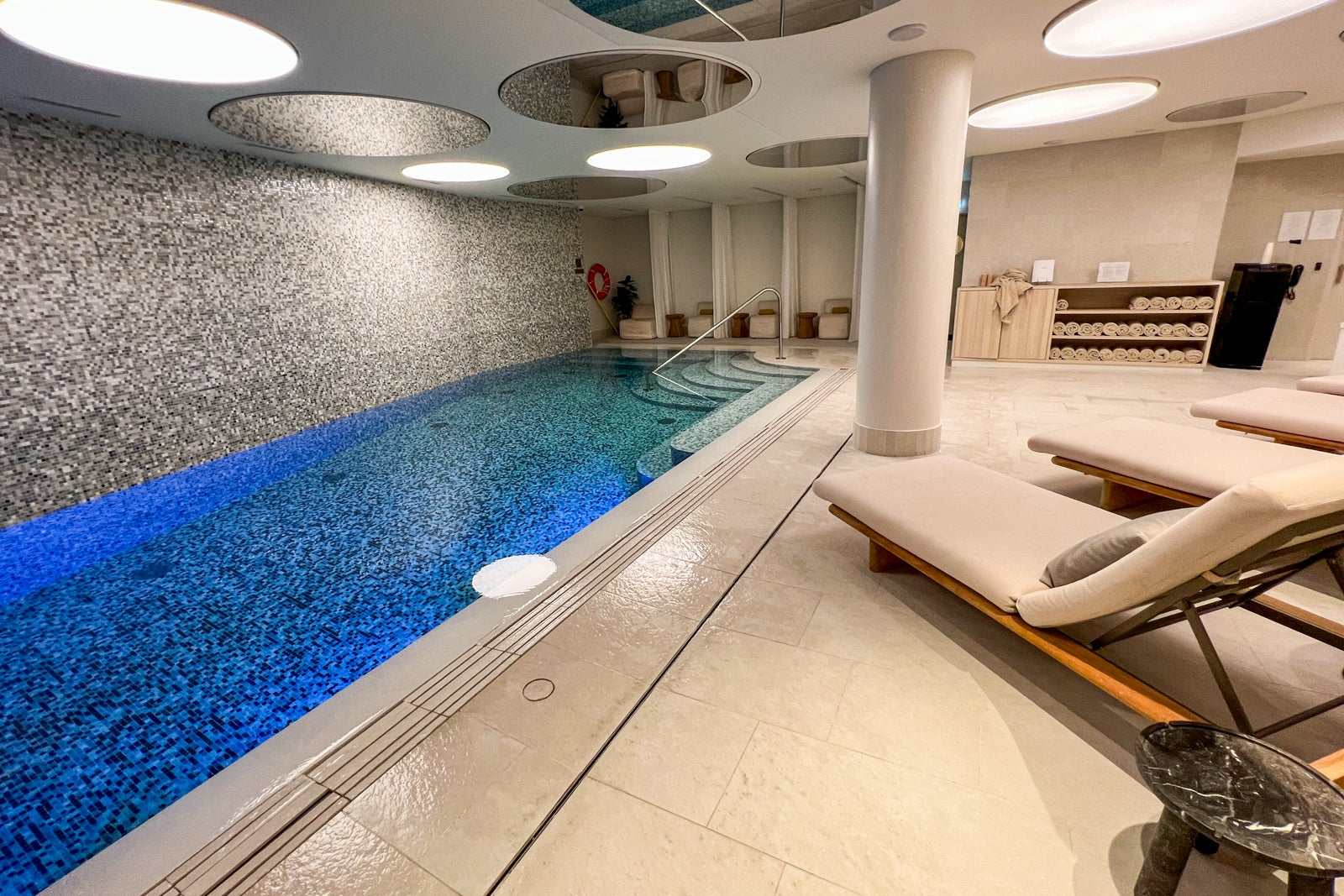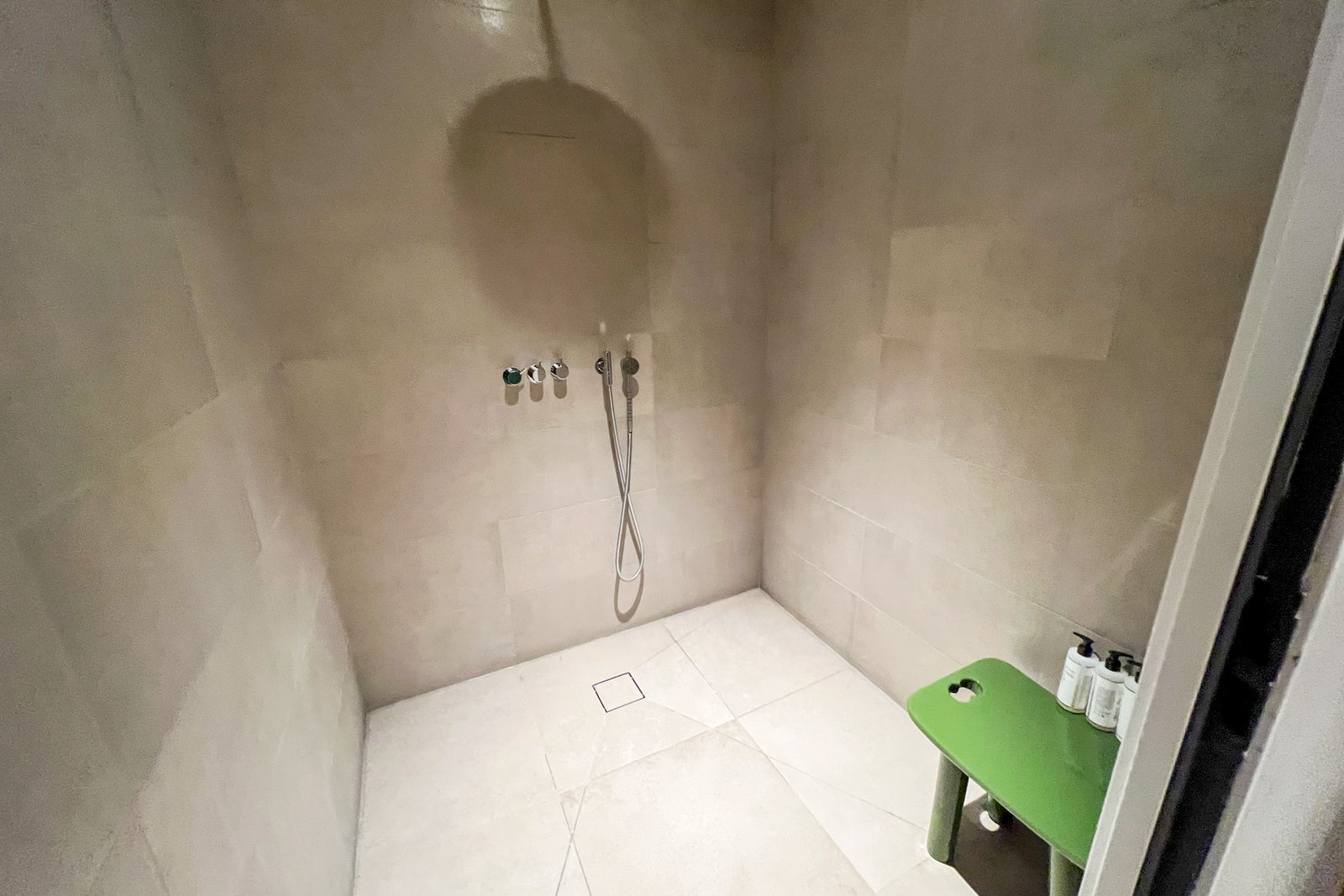 If you haven't heard of Codage, you will likely stumble upon it sometime in the future. The French firm formulates skin care products based on your skin type. In fact, they will create a special formula just for you when you visit.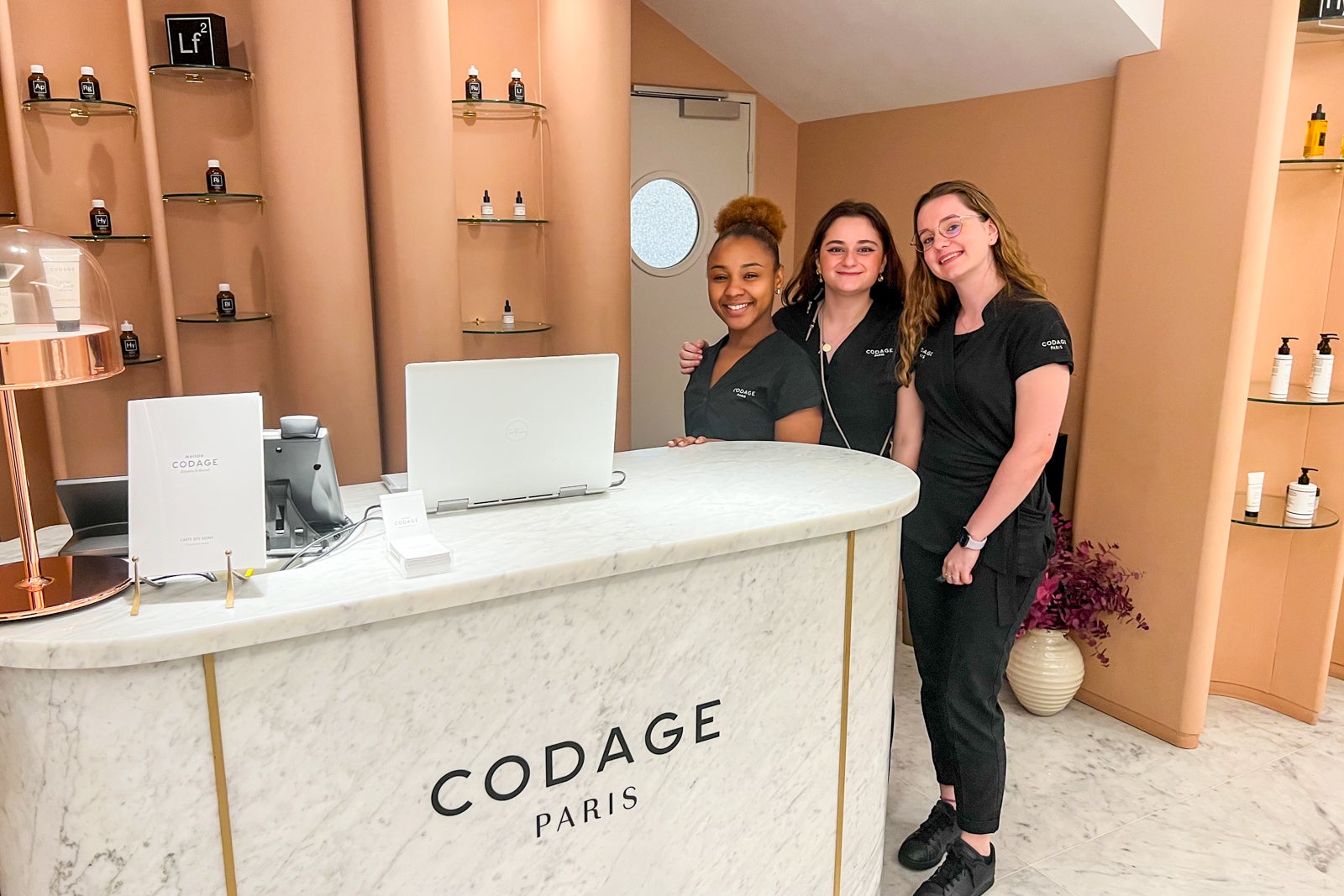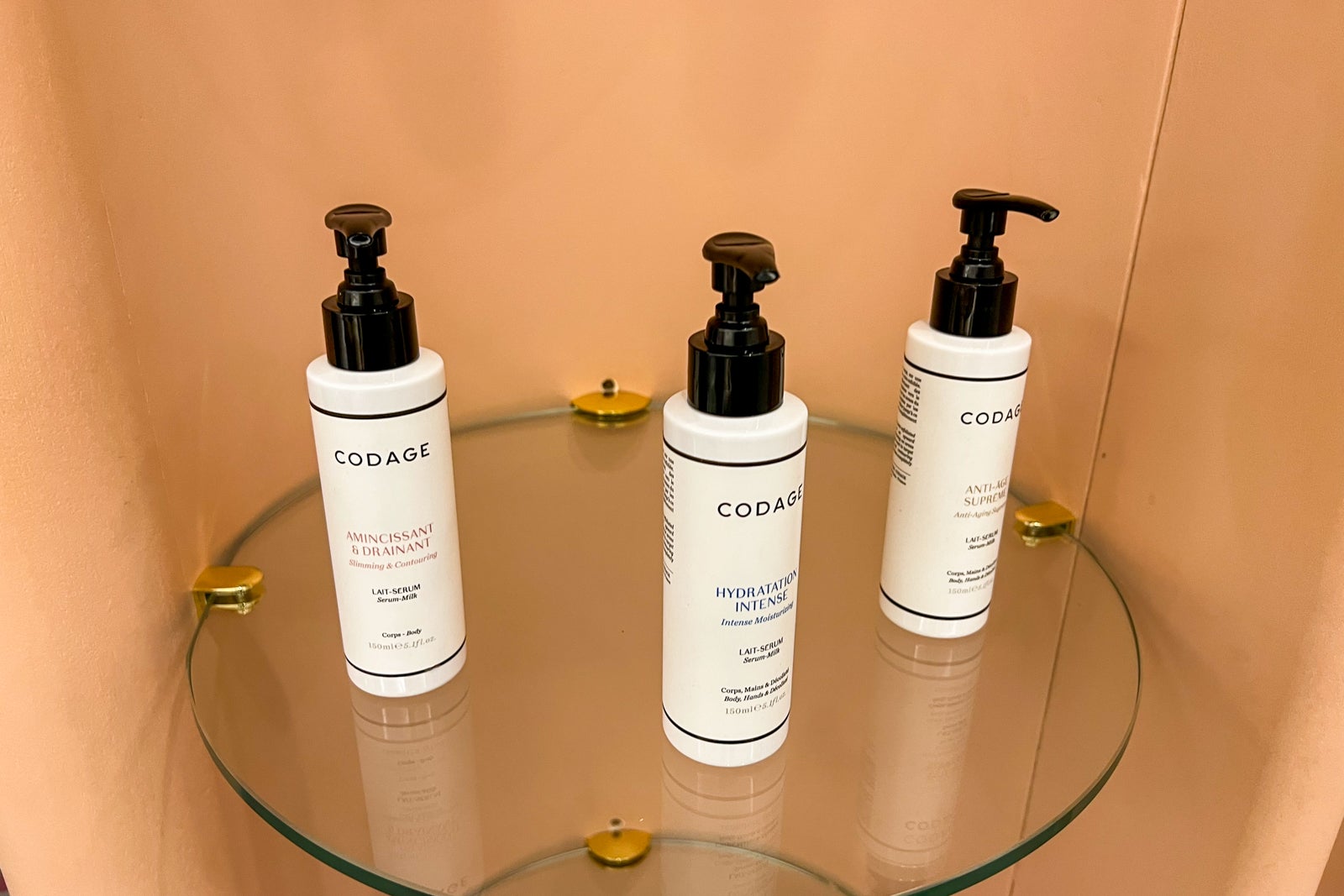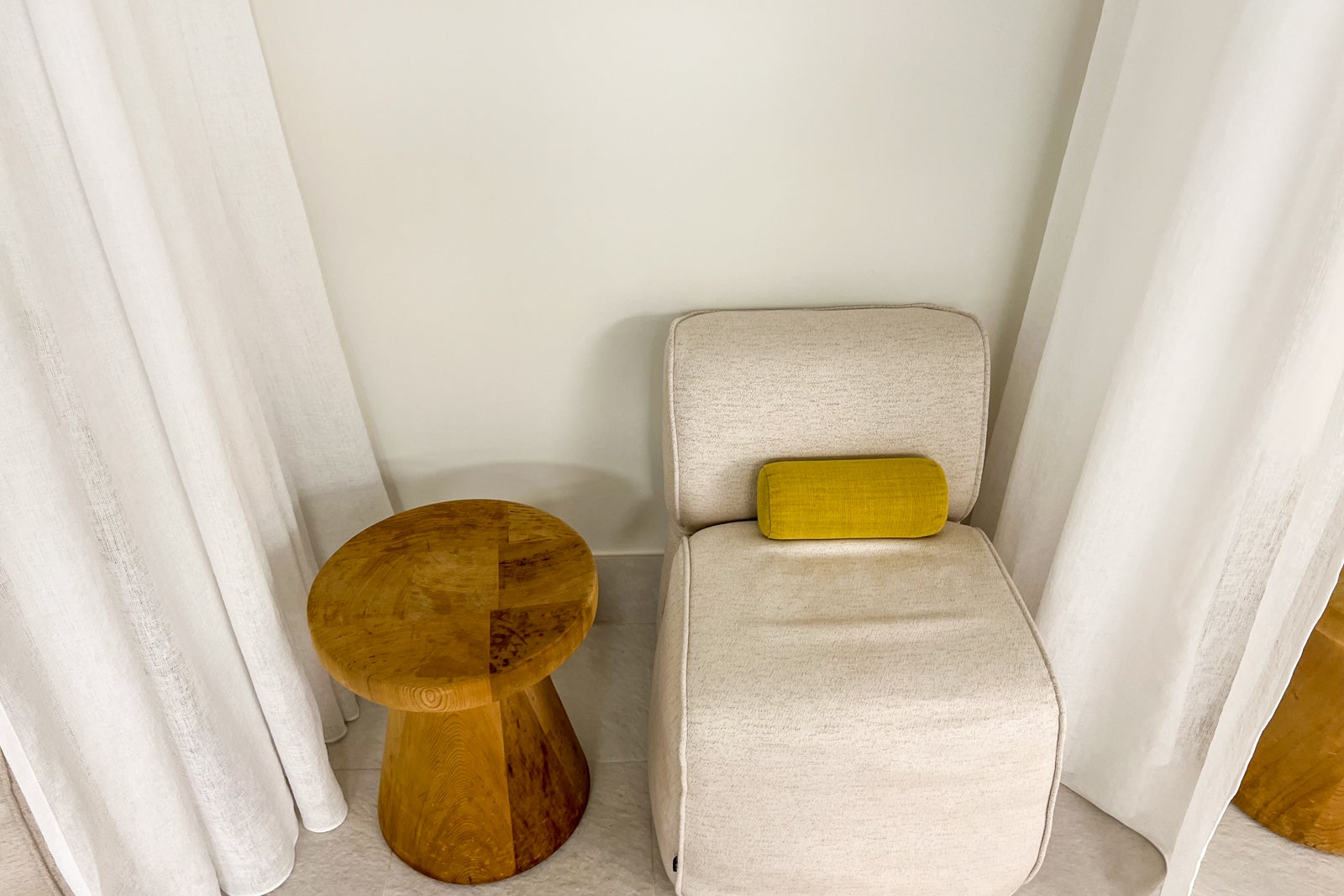 I treated myself to a one-hour deep muscle massage that cost me around 171 euros ($186, before tip). There are two relaxing treatment rooms with some of the spa's signature Codage lotions and oils used in the massages. The experience was lovely. While it felt a little pricey to me, that's pretty standard for a hotel massage these days.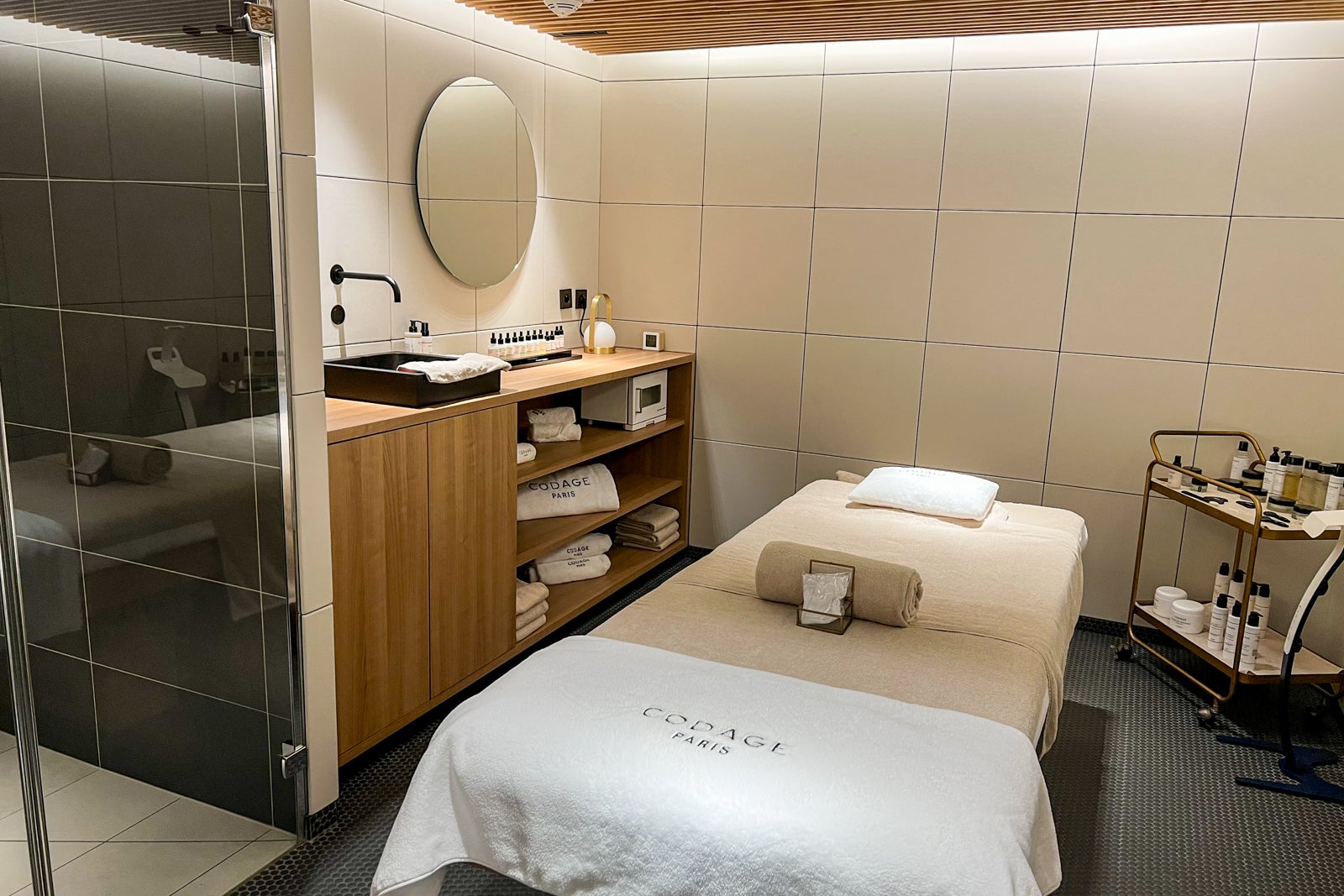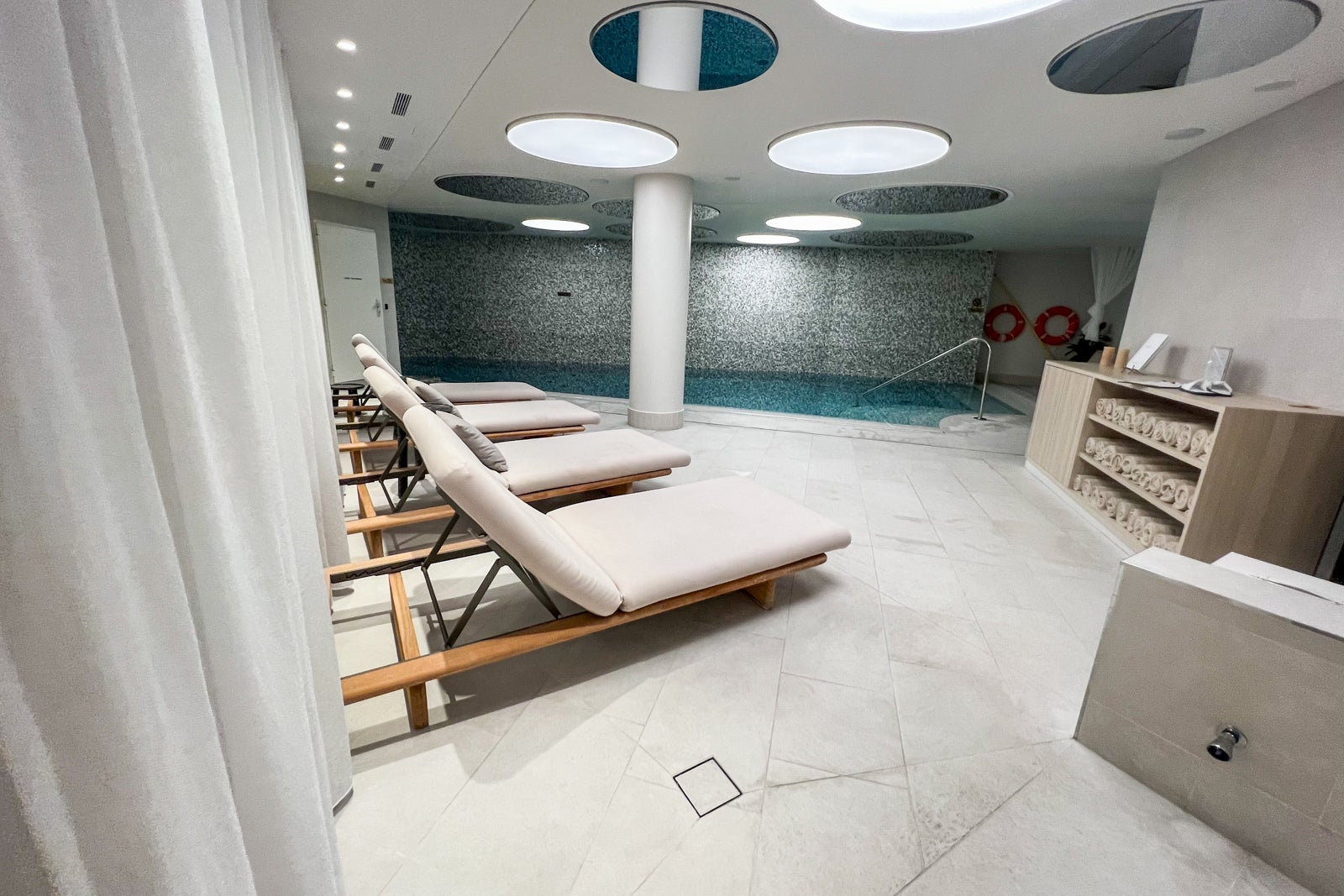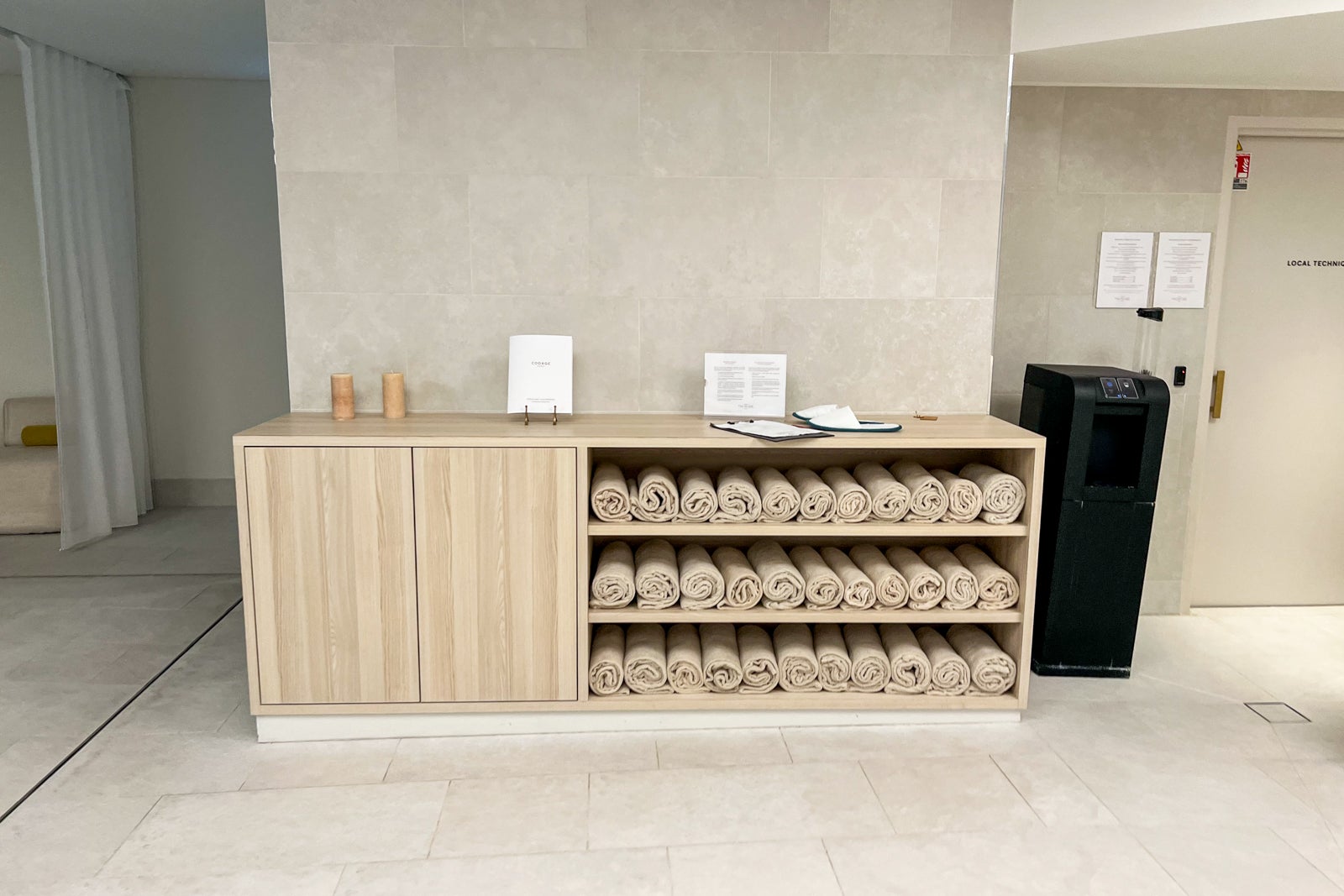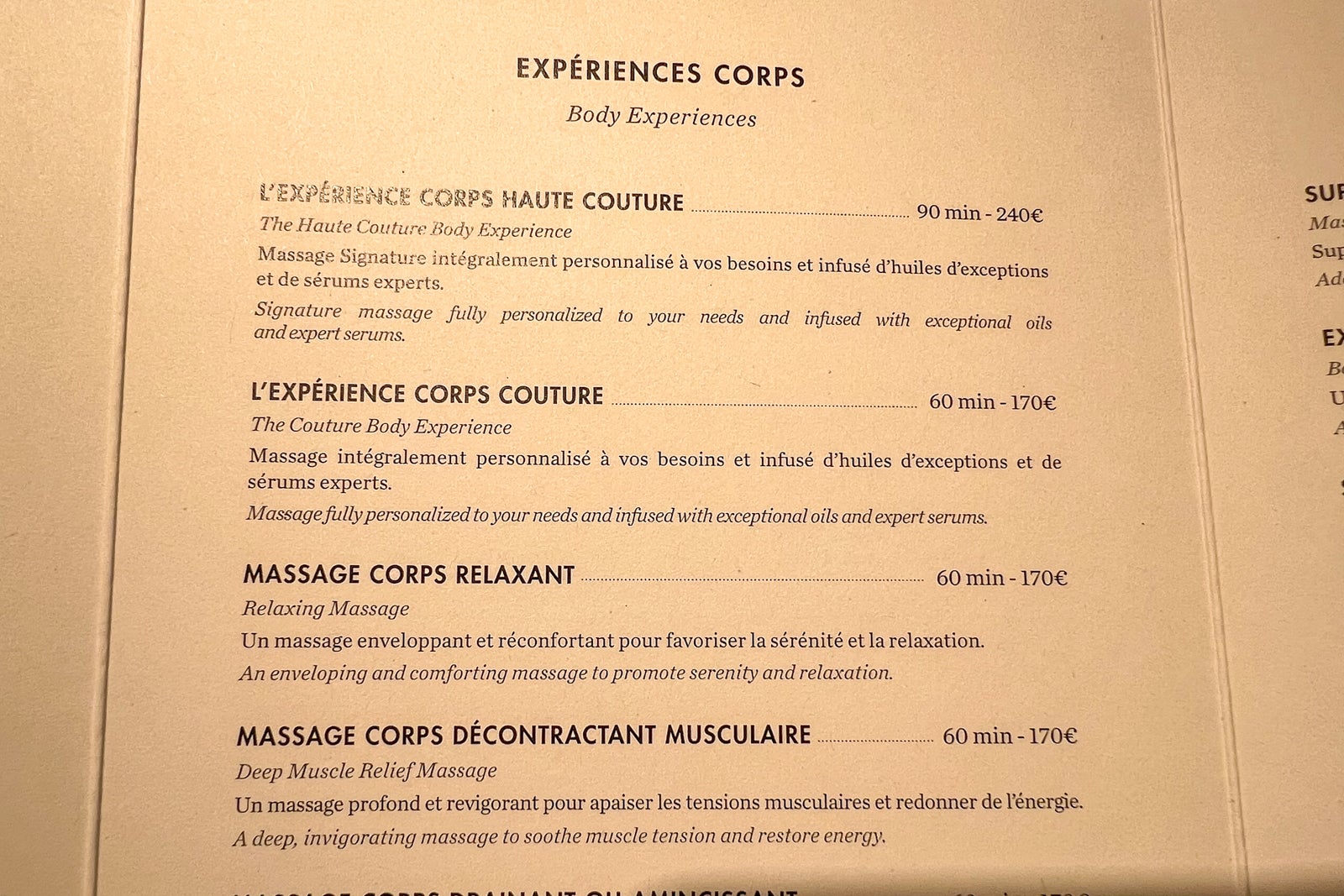 There is also a small workout room in the basement. Unlike the spa, it is open 24 hours a day, though you'll need your room key for access.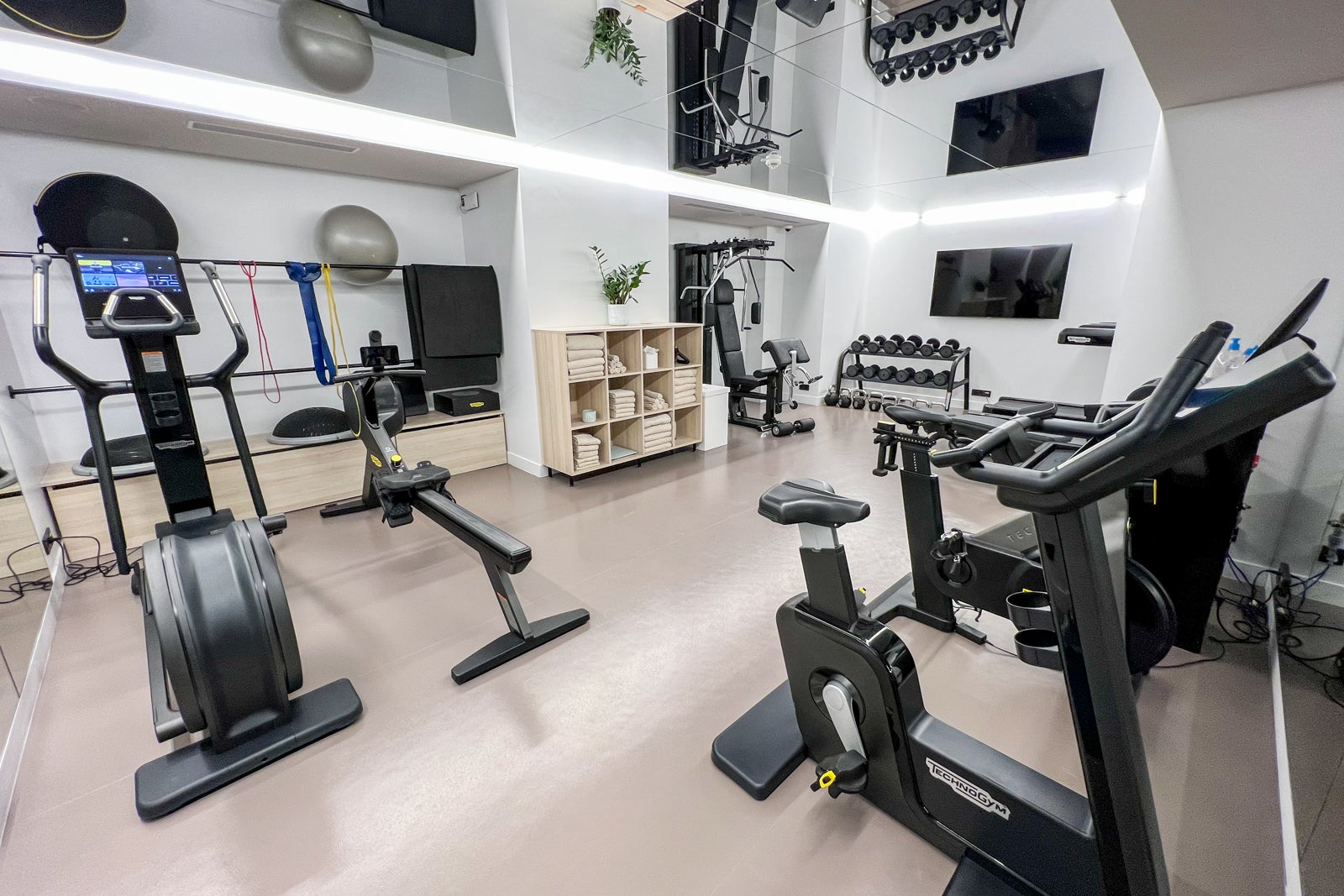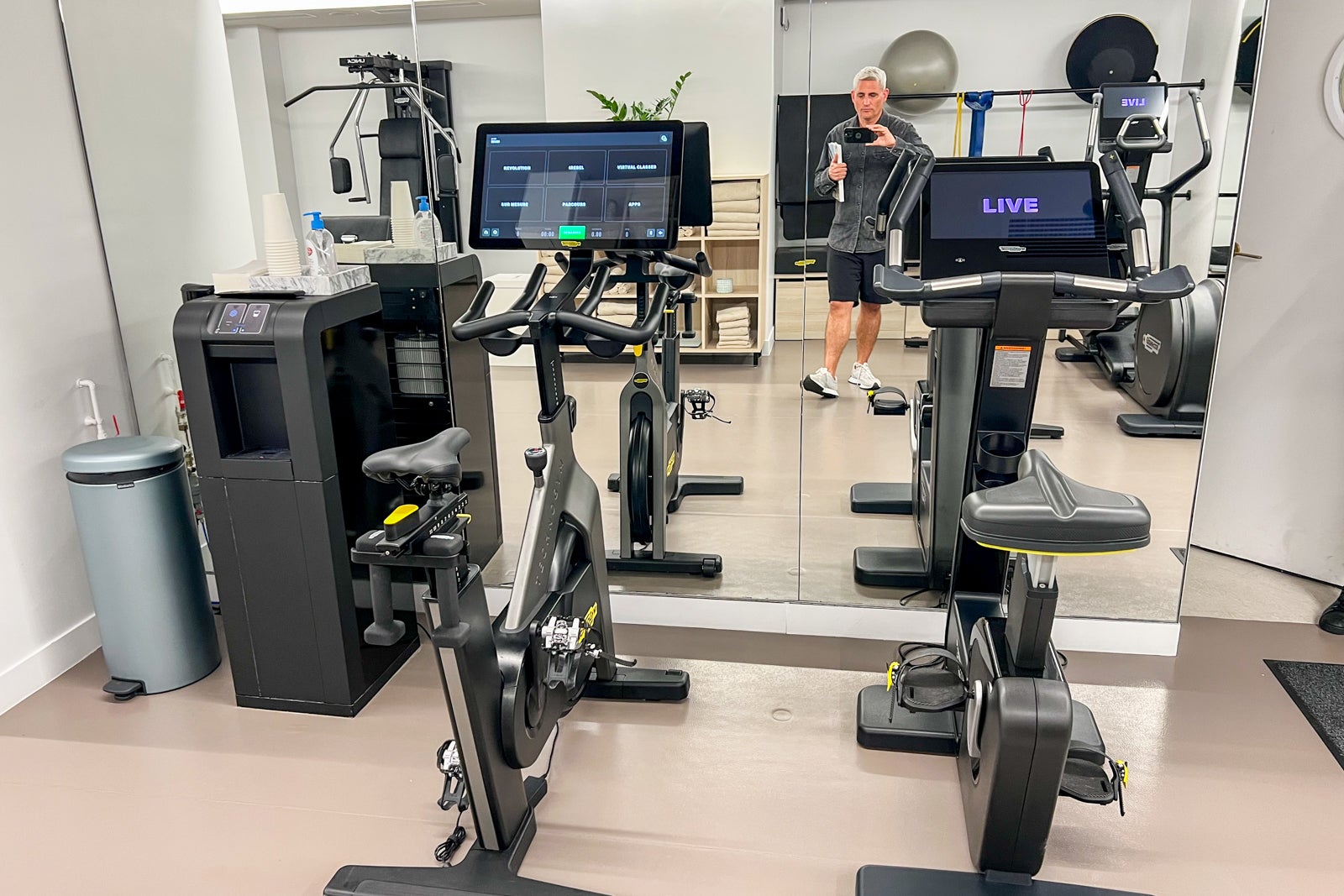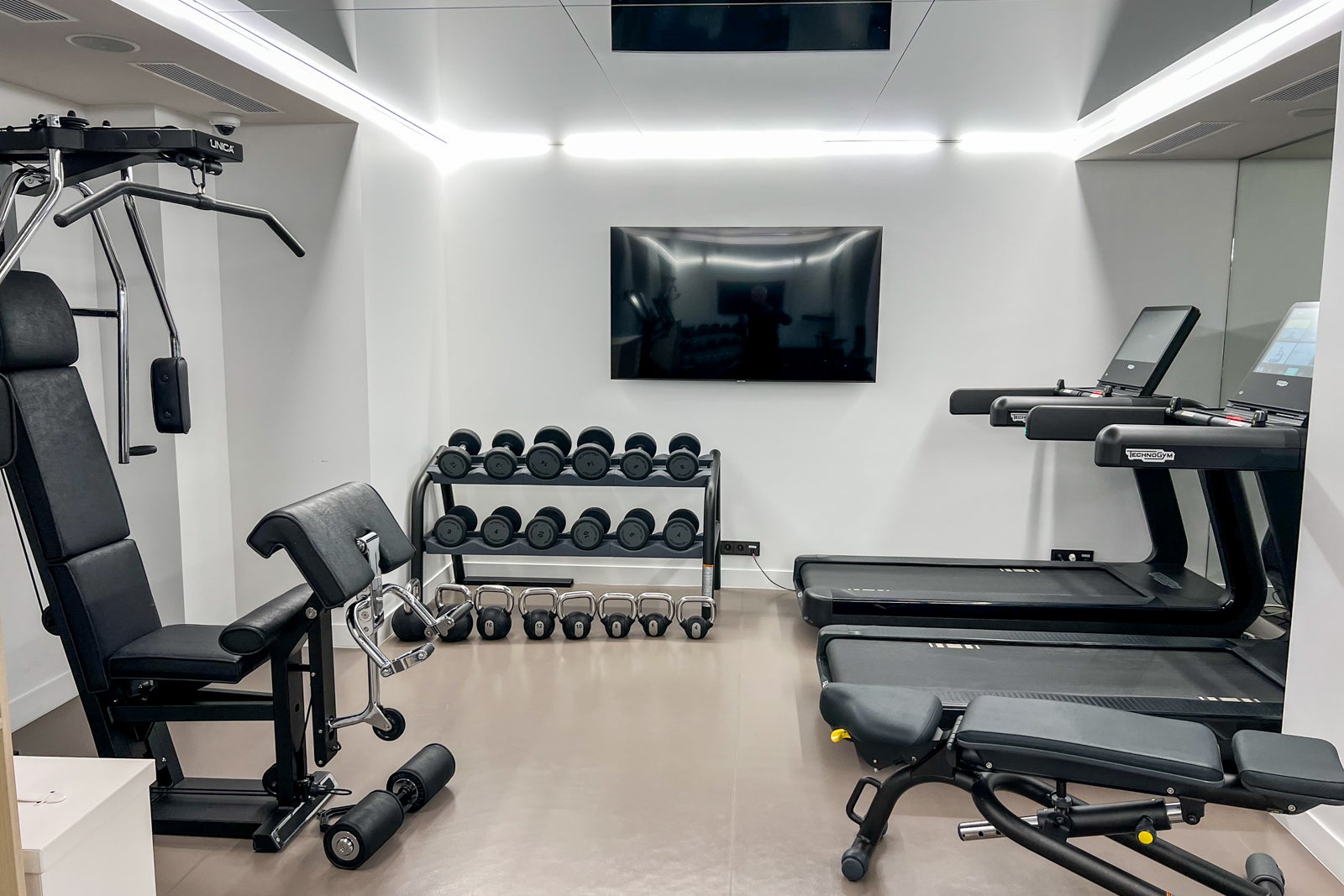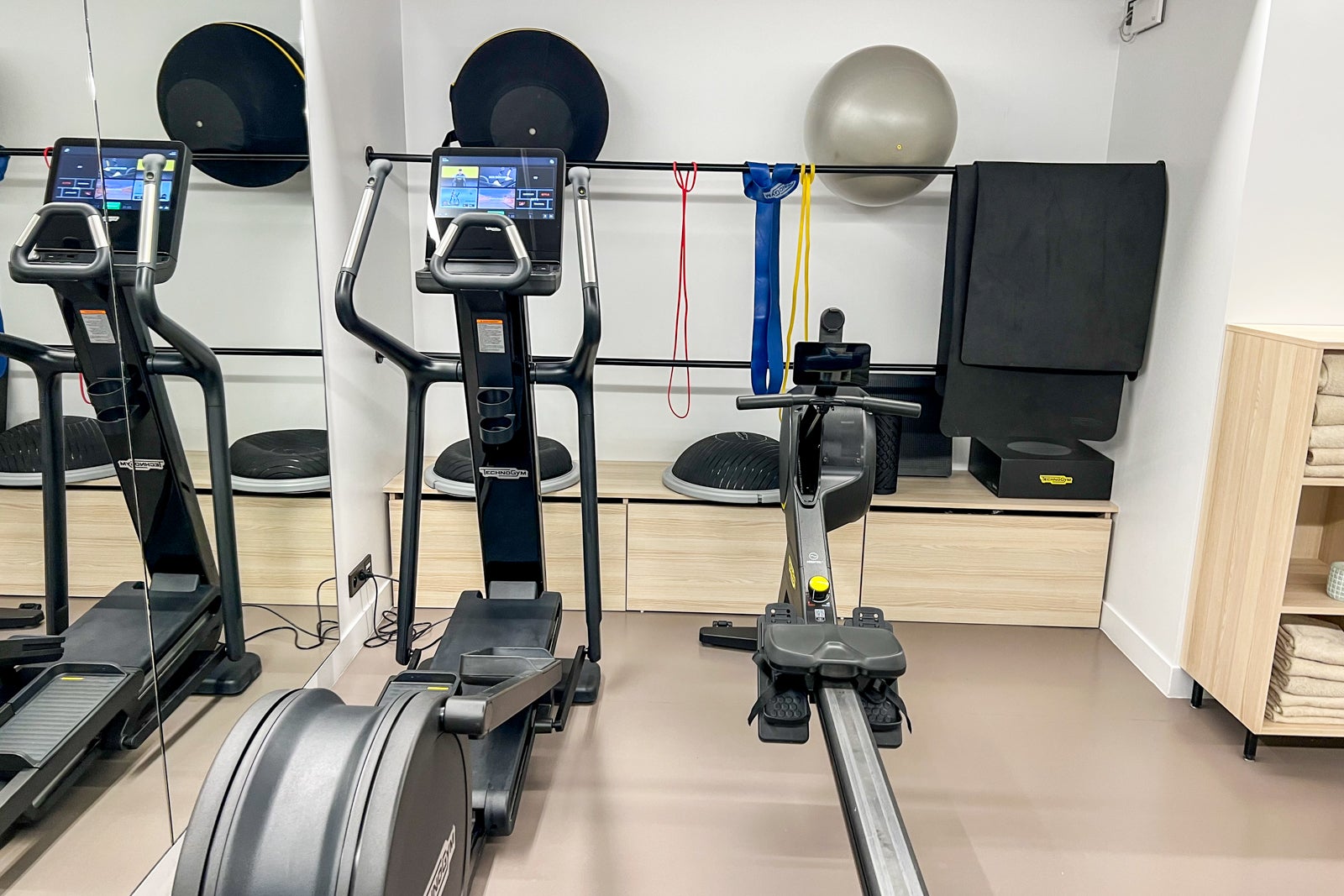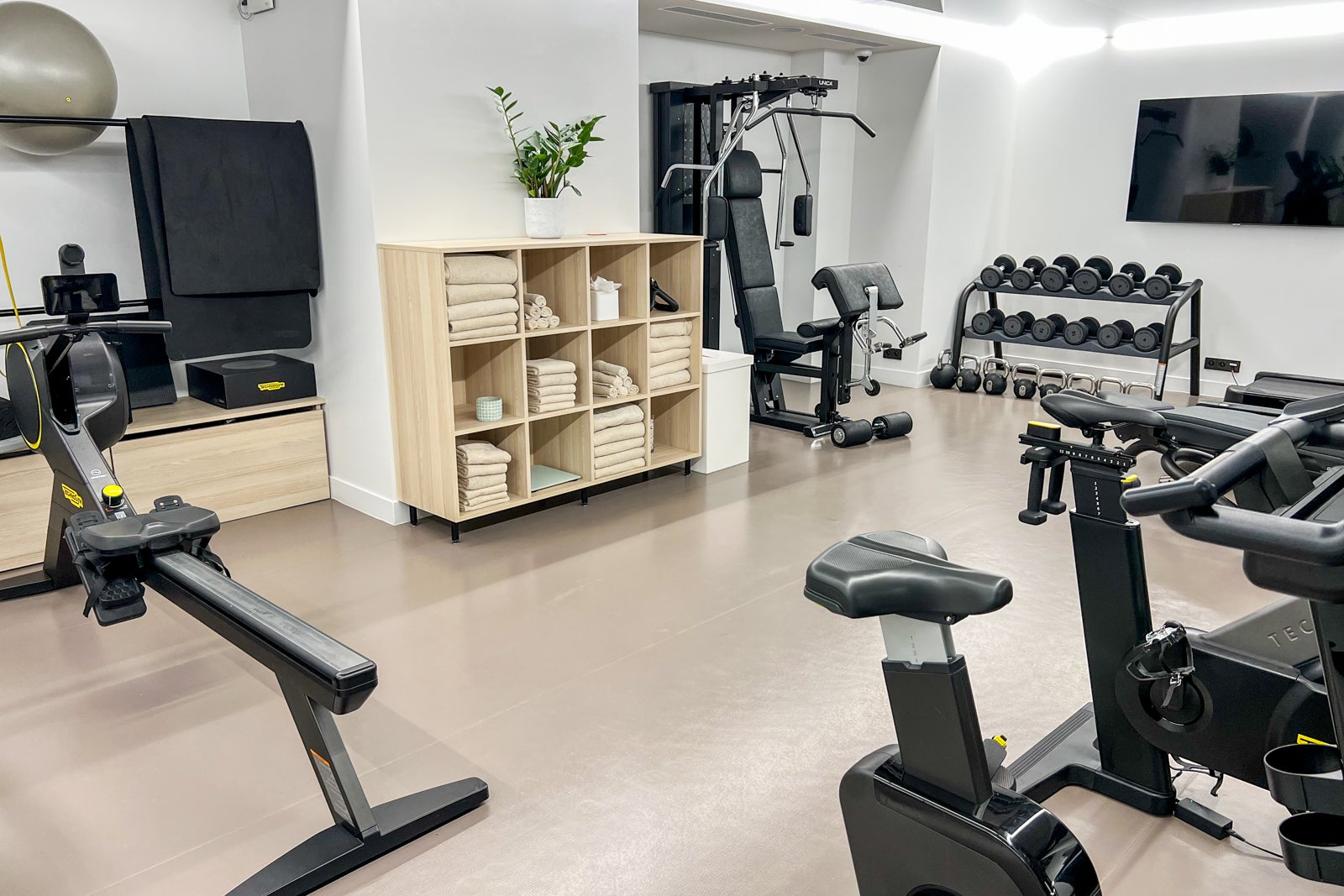 The other amenity I took advantage of was the complimentary bikes that you can borrow for a ride around Paris. The bikes come with helmets and bike locks, and I strongly recommend taking advantage of them, as the drivers in Paris can be … aggressive. My helmet may have elicited some giggles from observers, but it made me feel safer.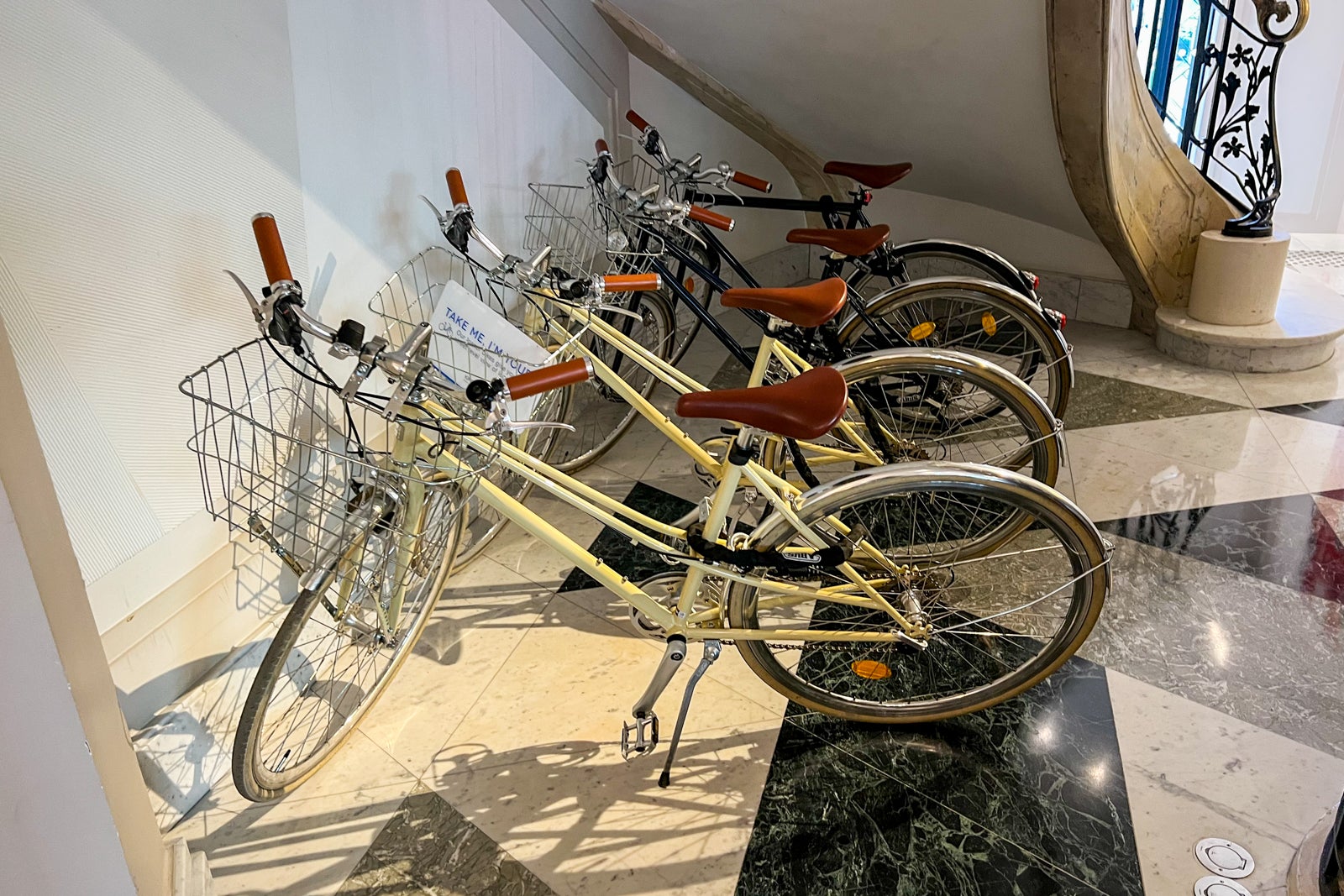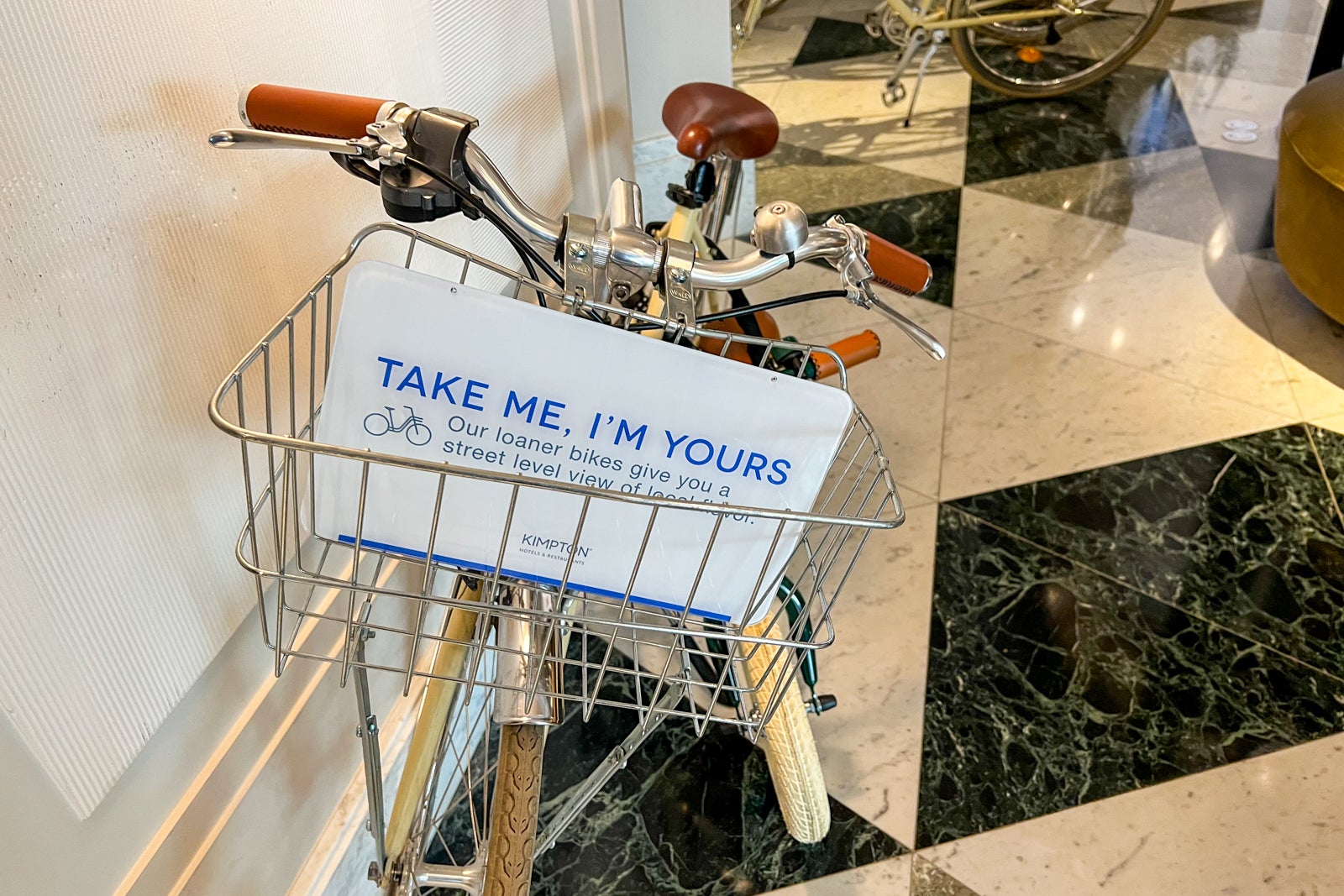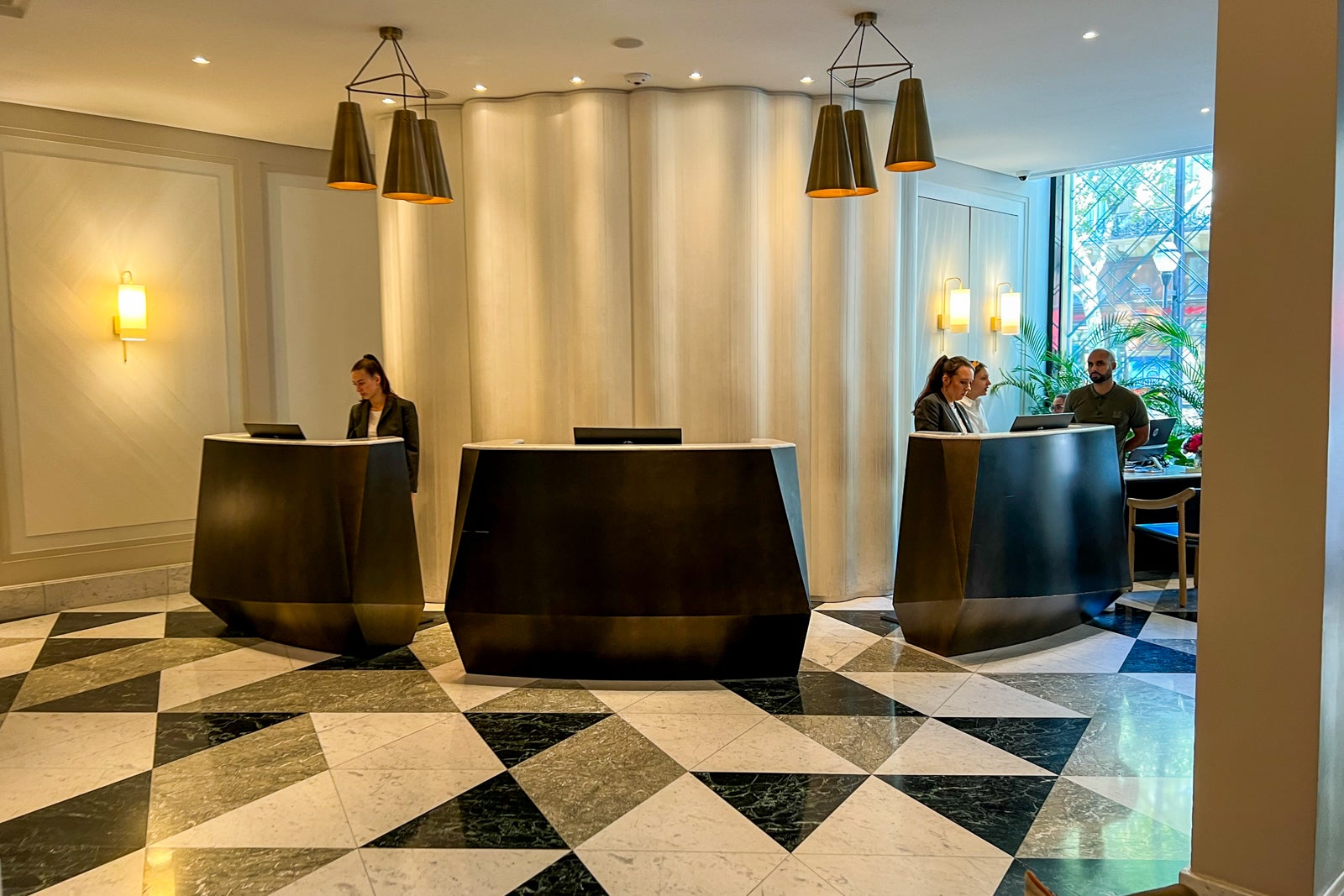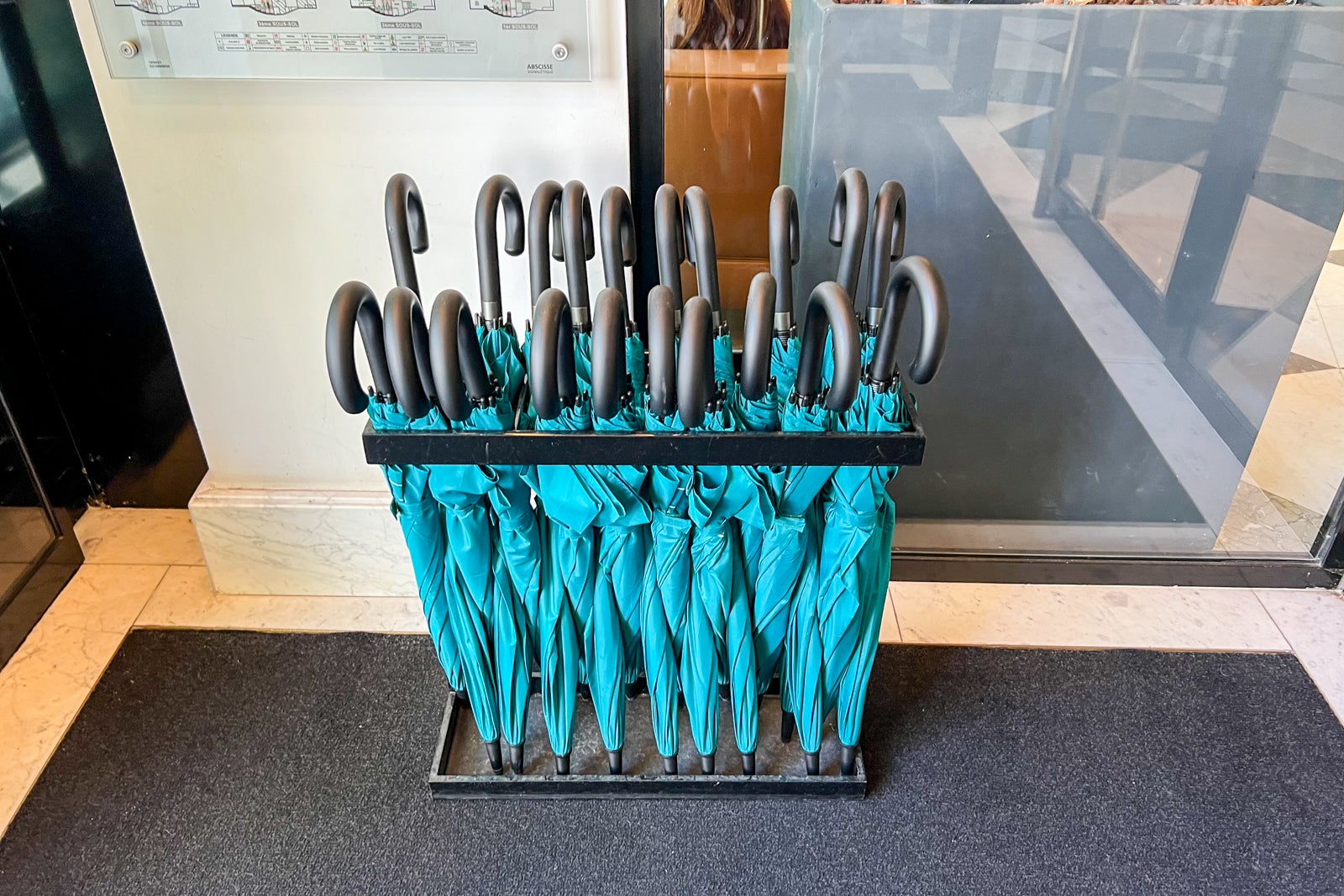 Why the Kimpton St Honoré Paris may not be for you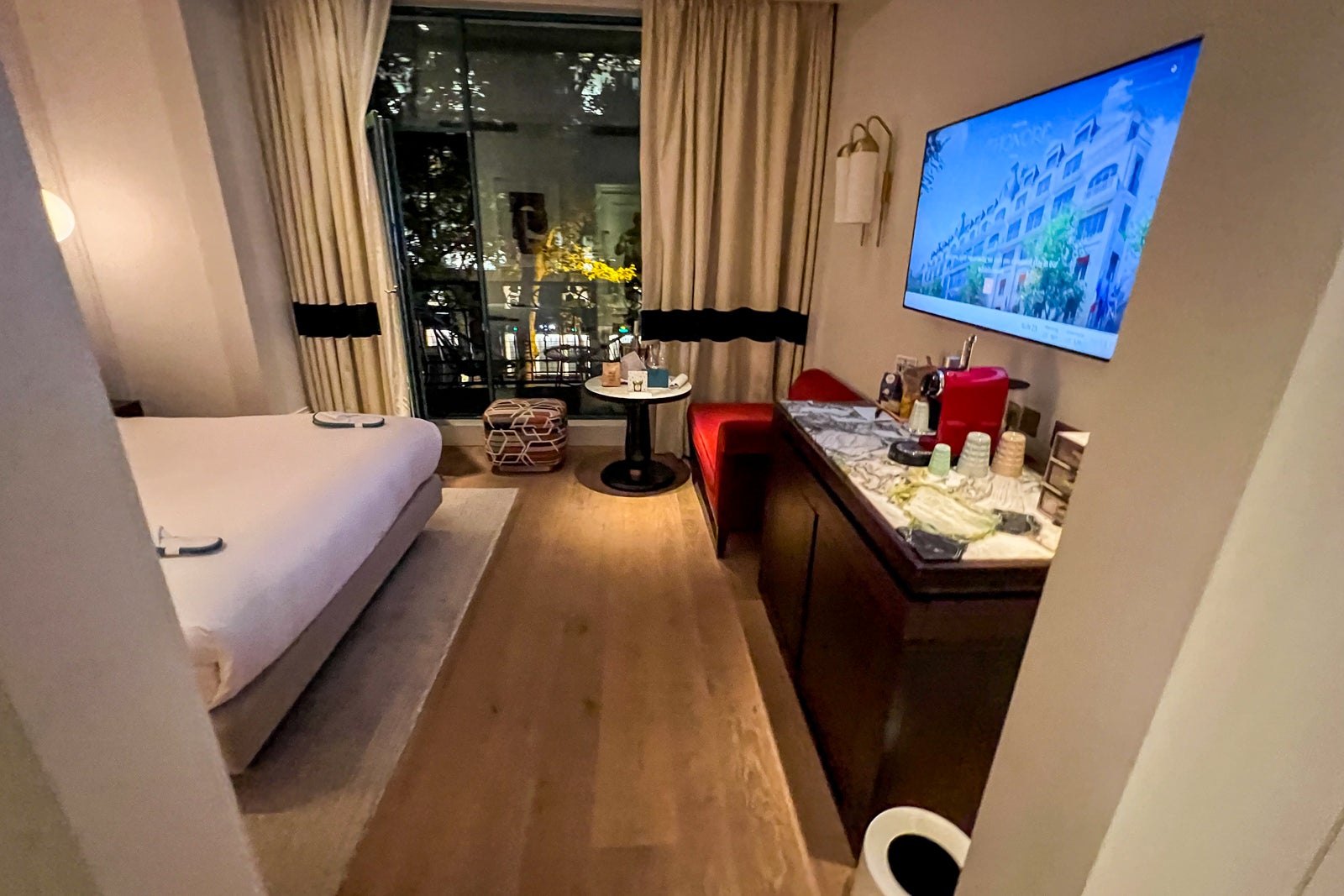 No hotel is perfect. While I enjoyed my time at the Kimpton St Honoré Paris, there are a few reasons why it may not be the hotel for you.
Like other Paris hotels, this one is expensive. You won't find many nights for less than $475, and while that's not outrageous for Paris, there are cheaper options out there.
Most of the rooms at the Kimpton St Honoré are on the petite side. Unless you are in a suite, you may find the rooms a bit cramped and even claustrophobic, though having a balcony does help if you choose a smaller room. There are many room types available, so know that your experience here will greatly vary depending on your assigned room. Higher floors will have better views.
The Kimpton St Honoré is on the casual side. That's actually a selling point for me, but I know some guests may not be as fond of the casualness of the staff. You won't find uniformed staff here, so look elsewhere if that's the Paris vibe you are after. This is a younger, cooler crowd with a more laid-back attitude (think: California living, not a grand hotel).
Accessibility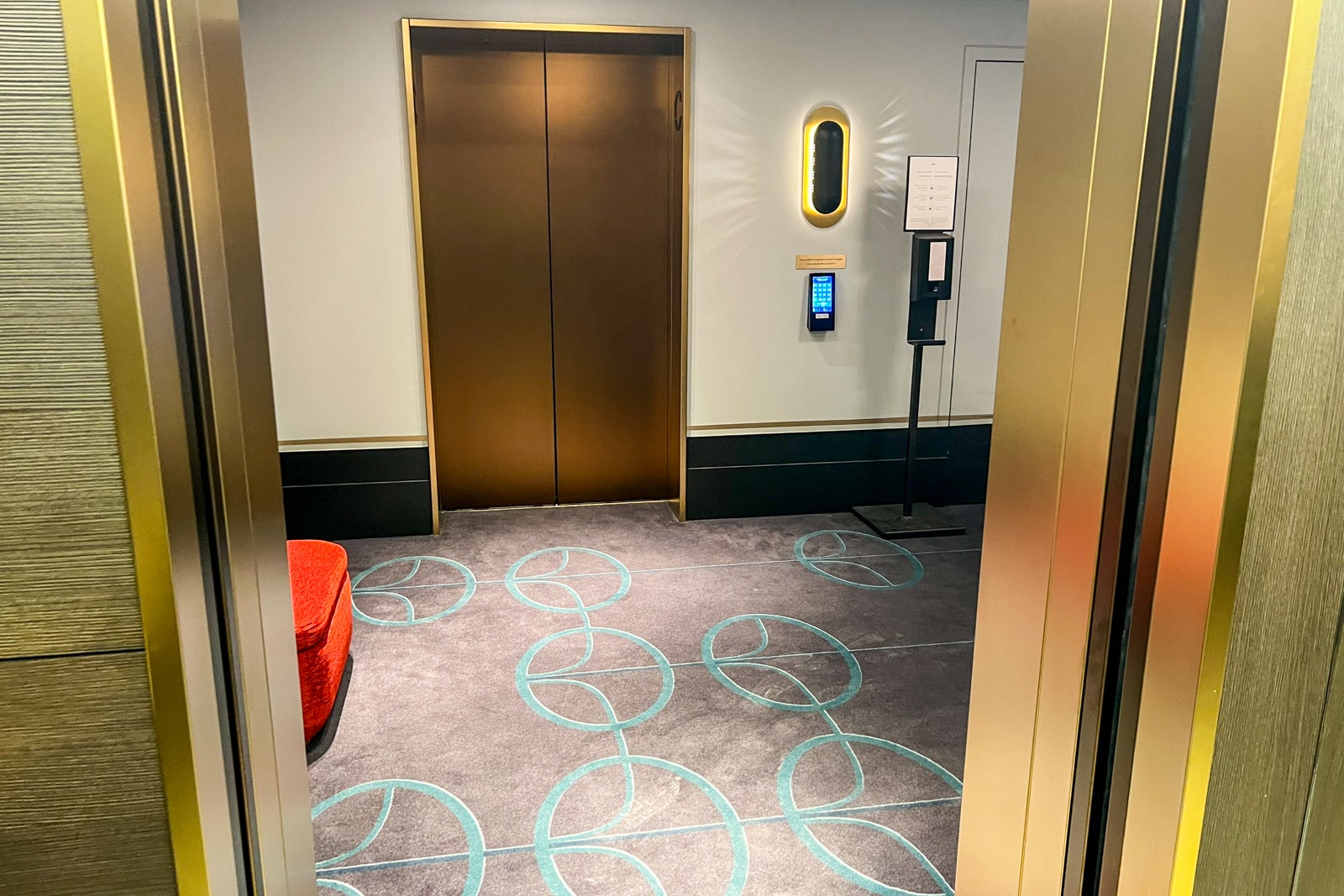 I was impressed with how accessible the Kimpton St Honoré Paris was for differently abled people. The hotel told me it has five rooms that are fully wheelchair accessible, including one king suite, one king premium room and three essential rooms.
Those rooms feature roll-in showers, grab bars, wide doorways and beds and tables that are easily reachable by anyone in a wheelchair. In fact, the hotel has a few sections on the website dedicated to customers who are differently abled.
Public restrooms are accessible and have grab bars installed as well. The same is true for the shower at the swimming pool in the basement.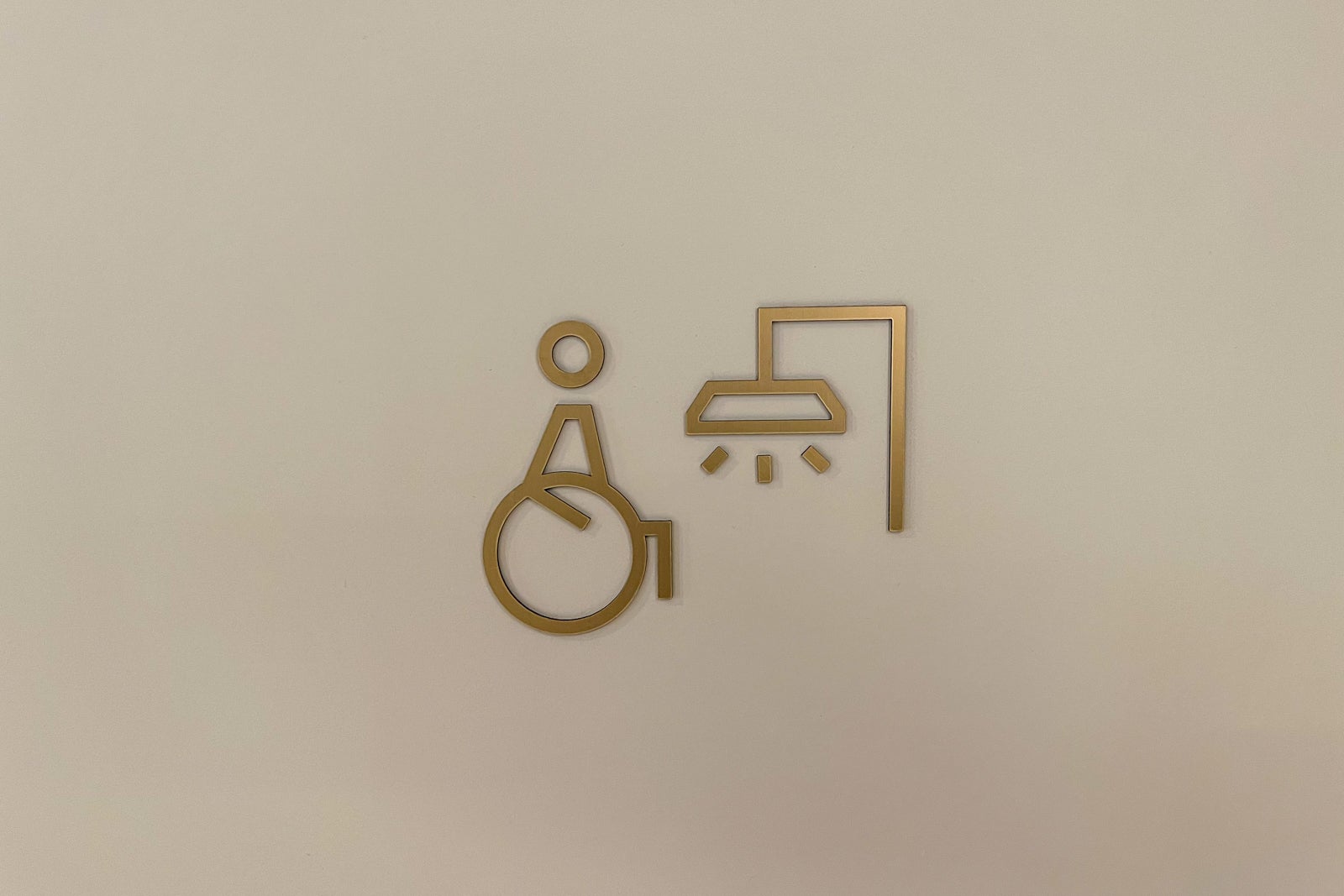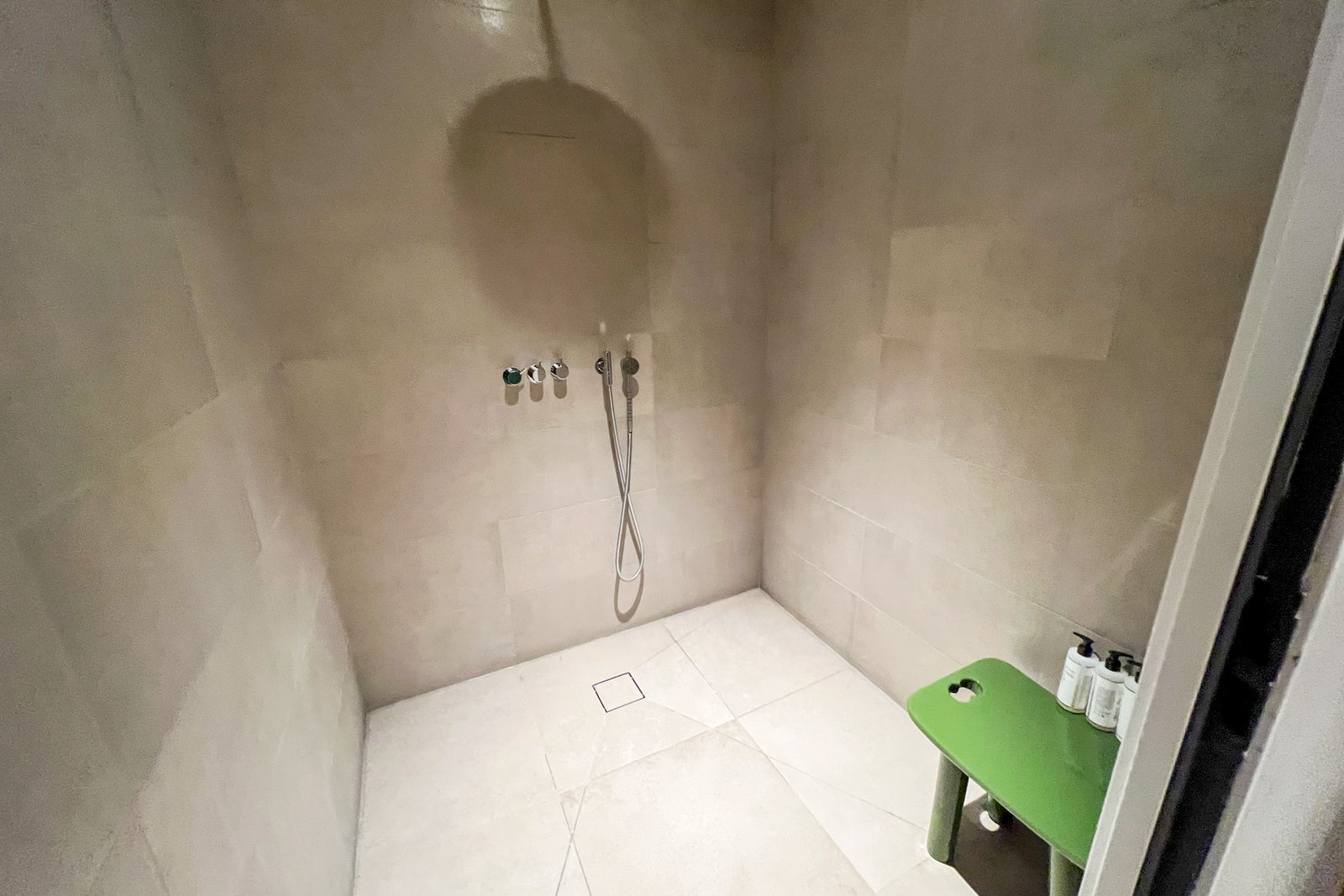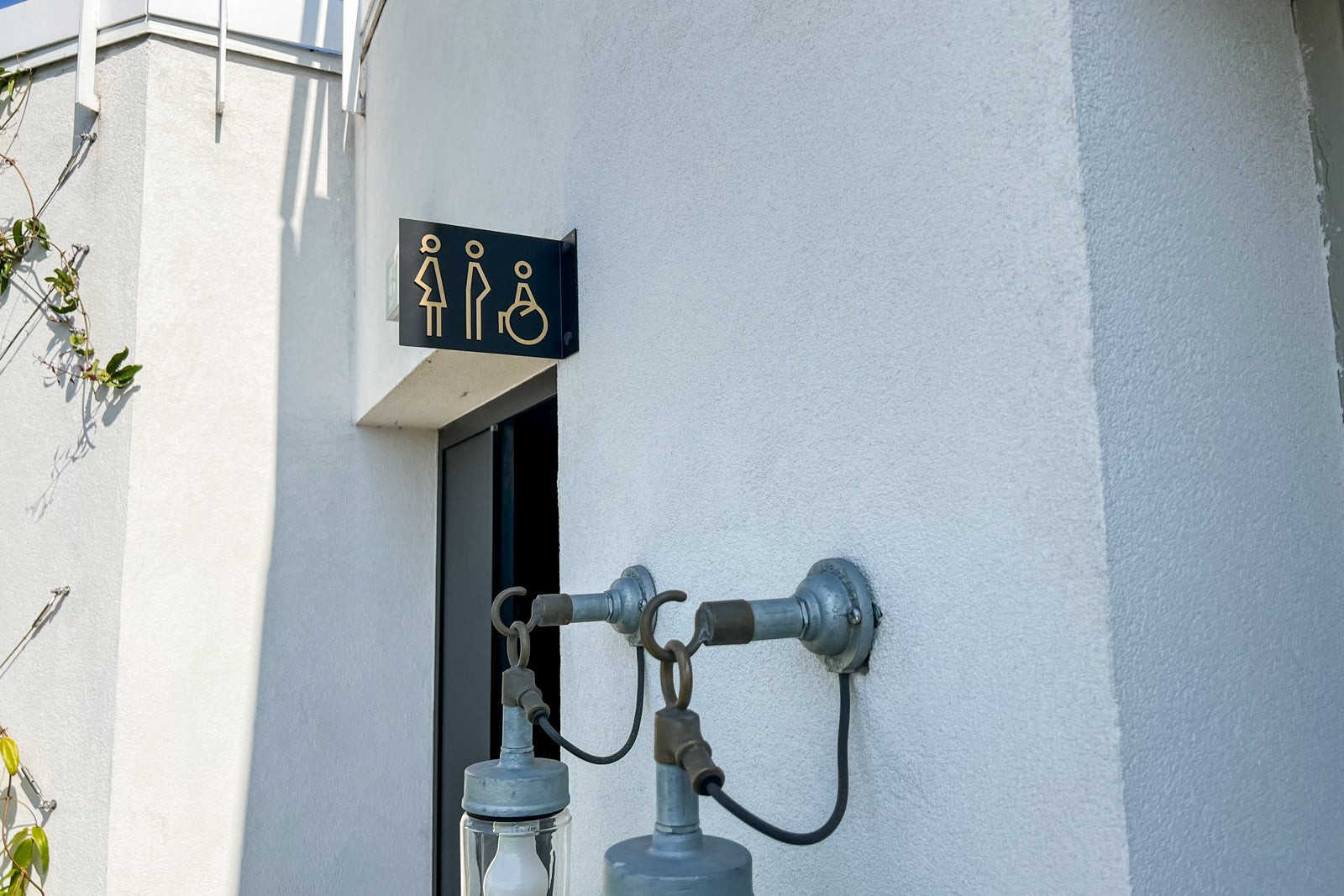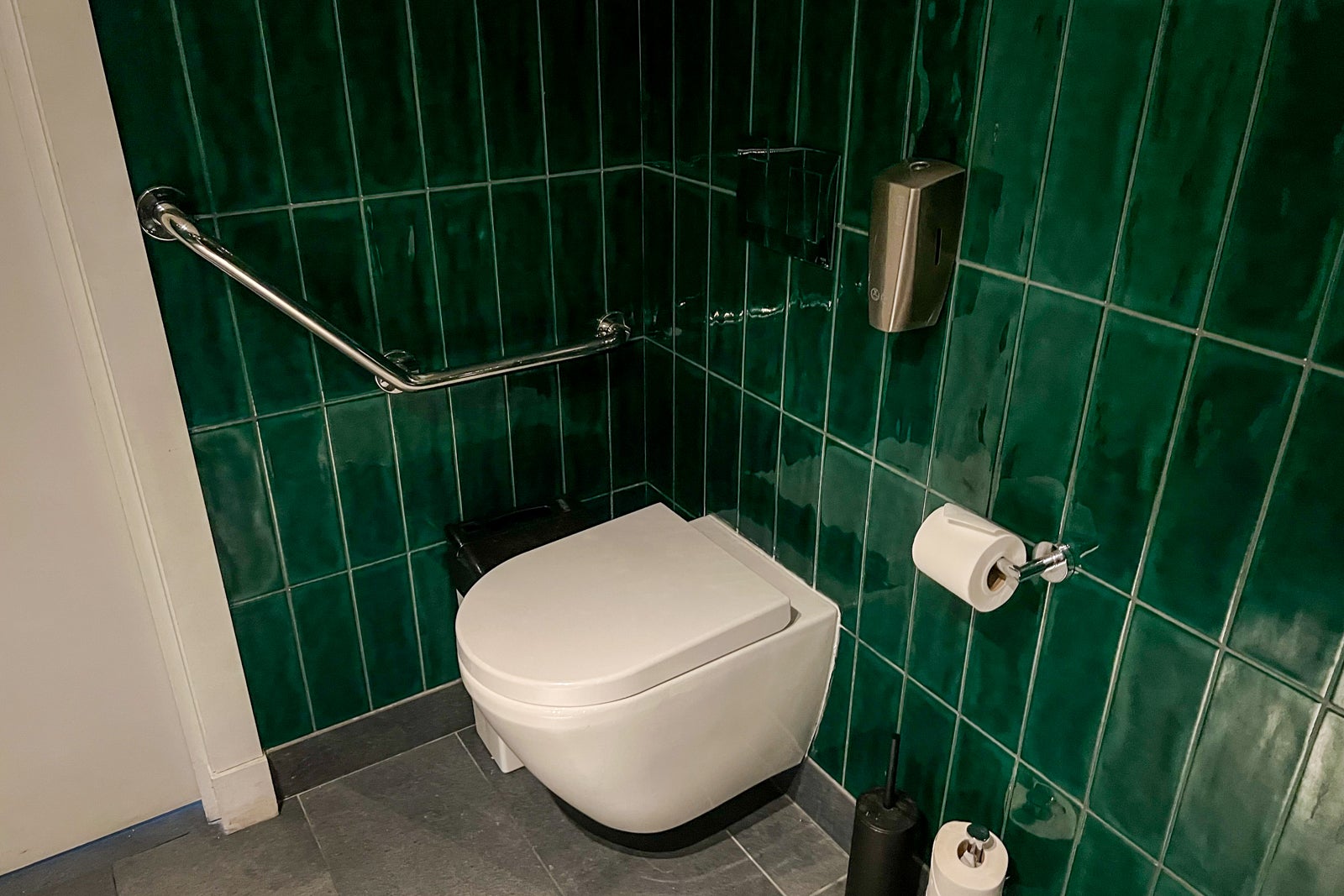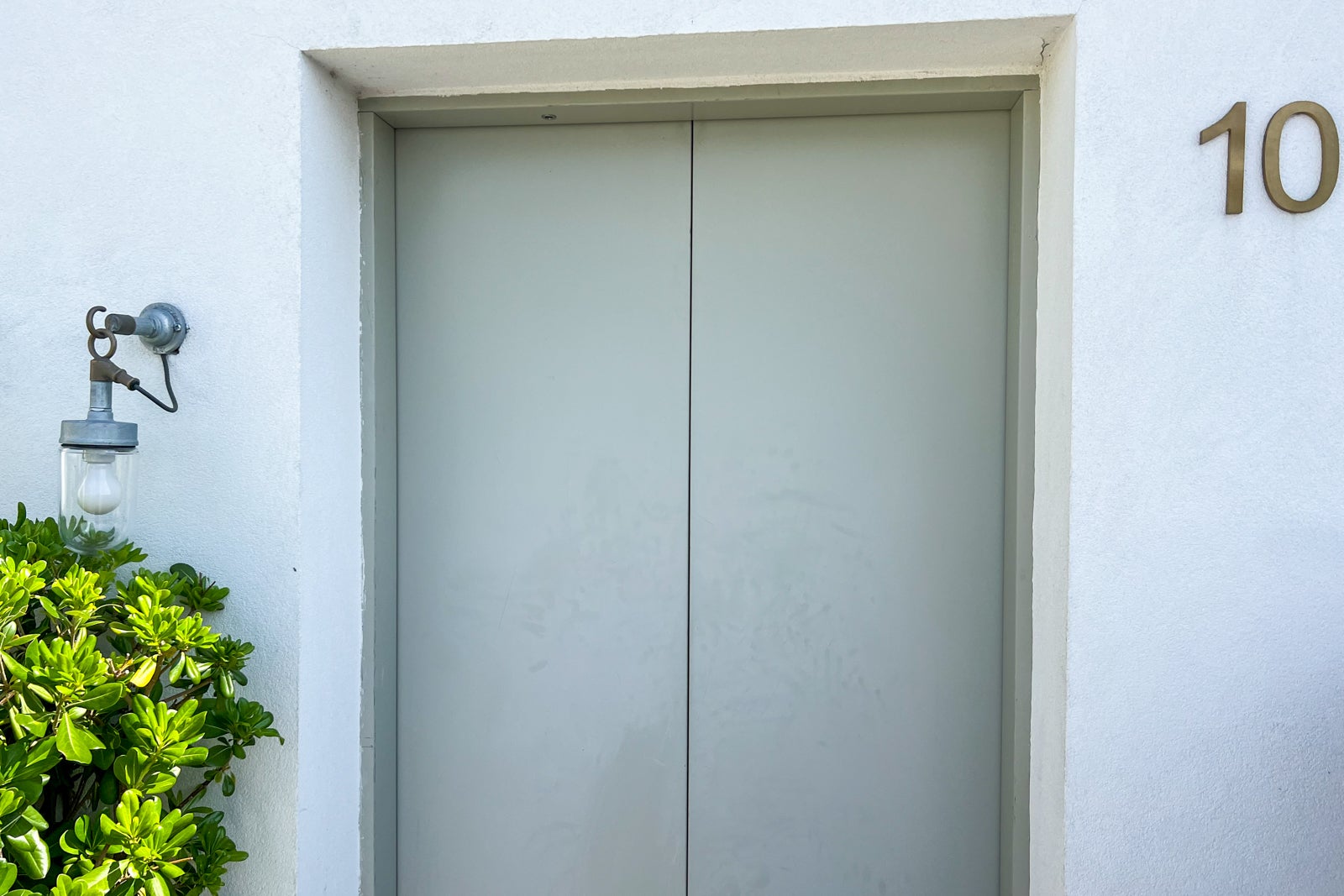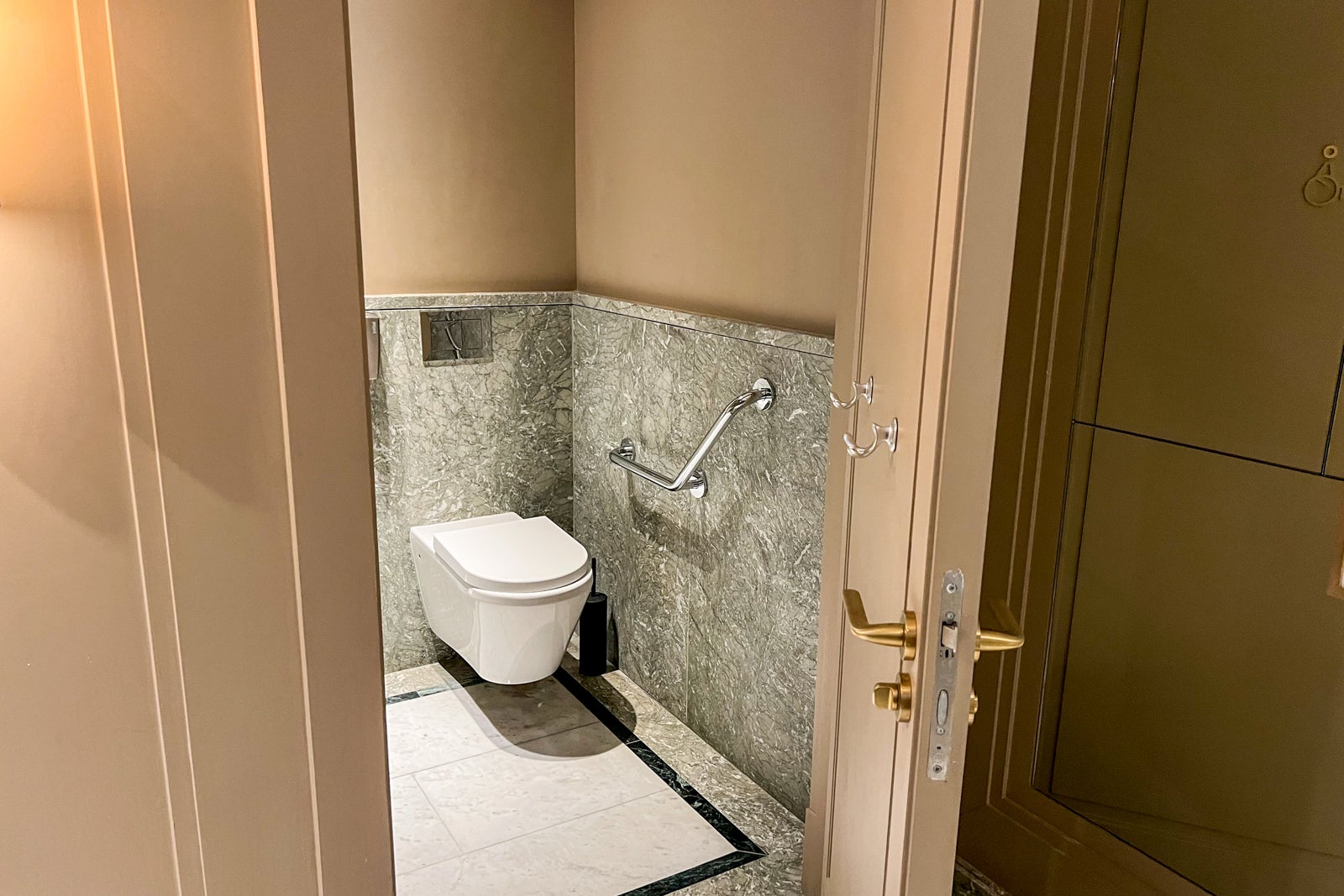 I found that even the regular facilities were wheelchair-friendly, with wide-open common areas and elevators that are wide enough for mobility assistance devices. However, remember that the hotel was fashioned from several buildings, so some floors are uneven, and you will find stairways in many parts of the property.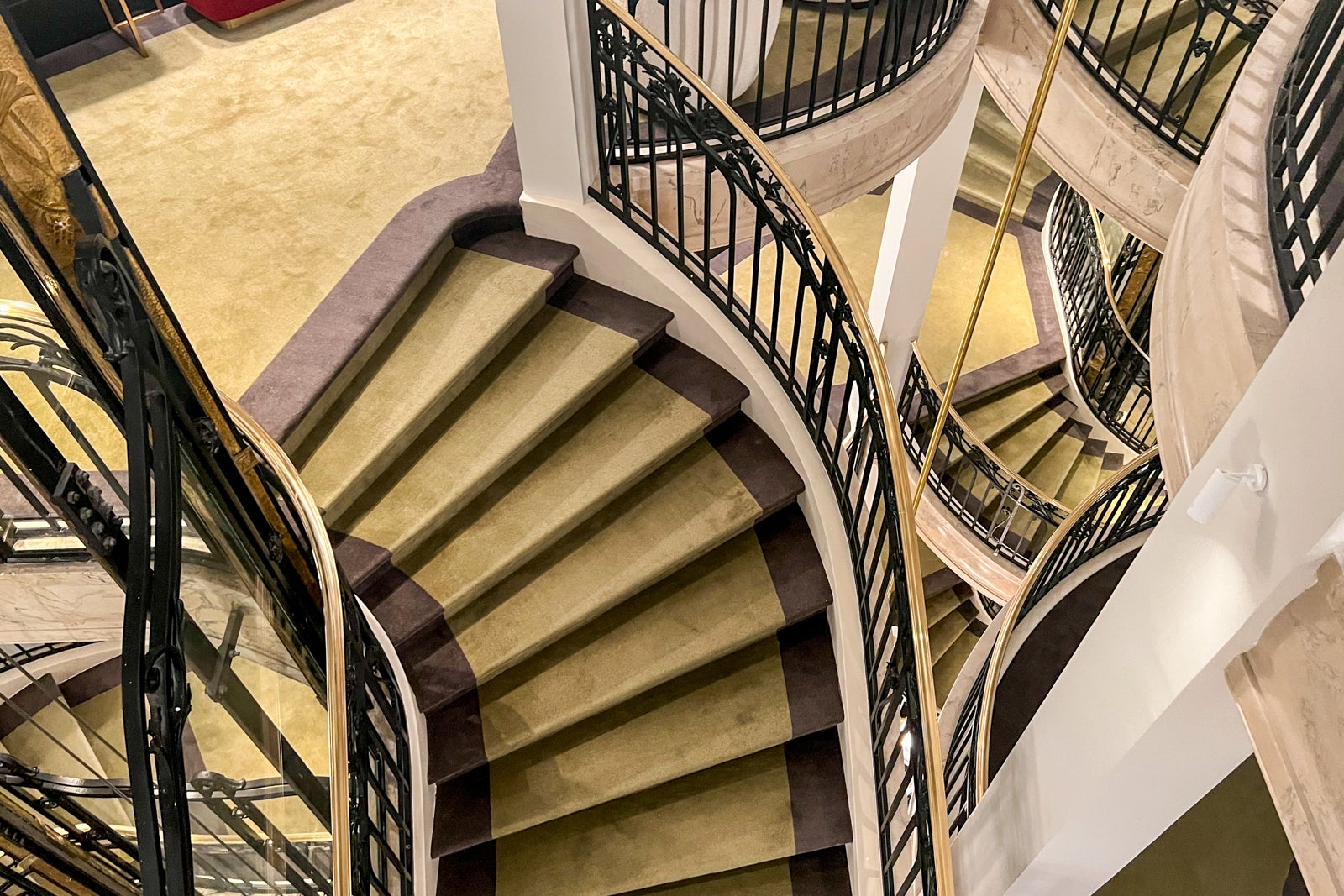 Related: How to make sure you get an accessible hotel room if you need one
Alternatives to the Kimpton St Honoré Paris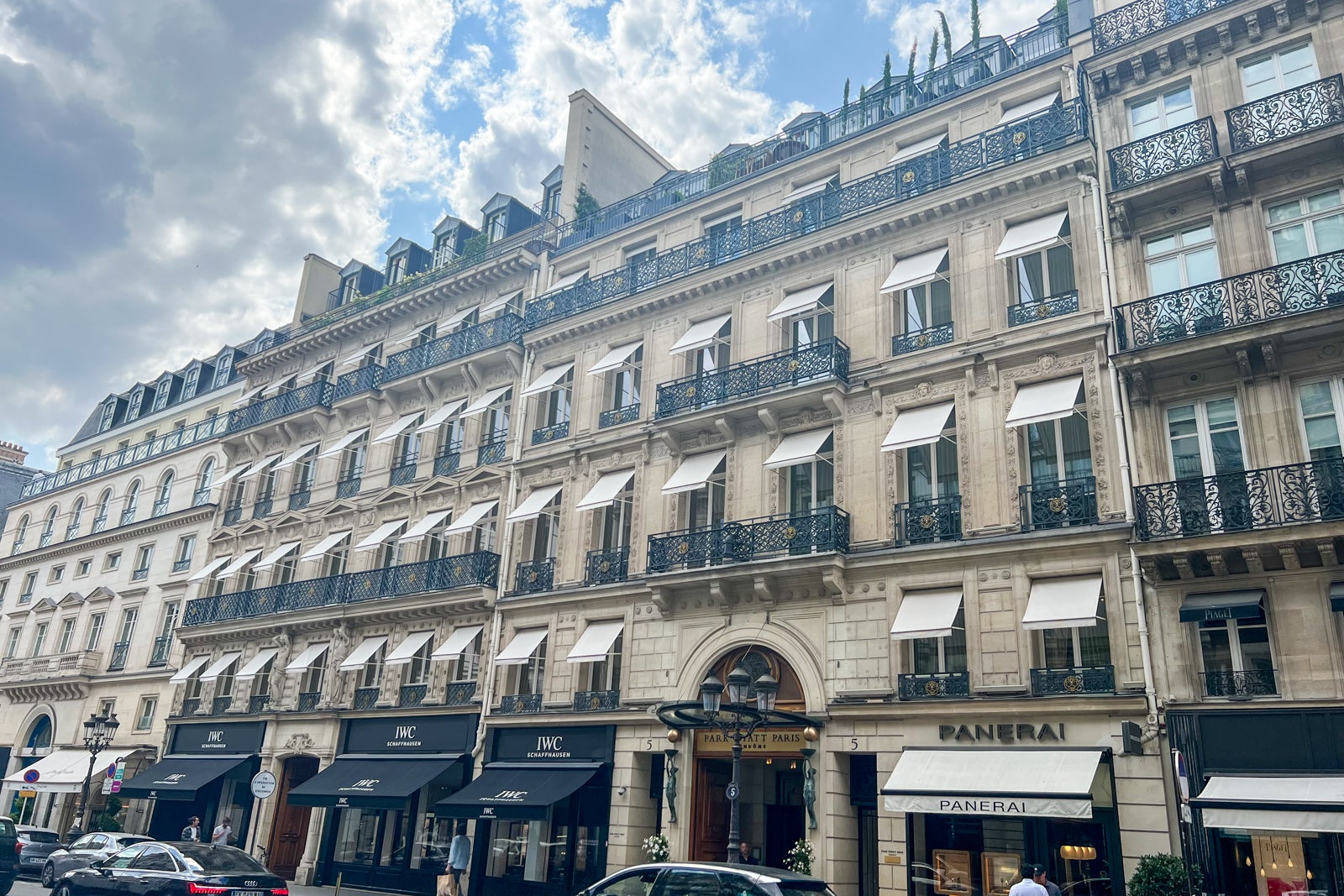 If the Kimpton St Honoré Paris doesn't sound quite right for you, there are plenty of other properties where you can take up residence while visiting the City of Light (like my favorite, the Park Hyatt Paris-Vendôme).
If you want another IHG option, the InterContinental Paris – Le Grand is literally across the street. The lovely rooms have recently been refreshed. The Hotel Indigo Paris – Opera is also close by, and the new Voco Paris Montparnasse has rooms starting at $150 a night, should you prefer something more affordable.
World of Hyatt members have a range of lovely options, too. To start, there's the Hyatt Regency Paris Étoile, plus the previously mentioned Park Hyatt. Other noteworthy options include the Hôtel du Louvre, the Hyatt Paris Madeleine and both a Hyatt House and a Hyatt Place near Paris-Charles de Gaulle Airport (CDG).
Hilton fans also have an array of properties to choose from. They include the Maison Astor Paris, Curio Collection by Hilton; the Hilton Paris Opera; the Canopy by Hilton Paris Trocadero; the Hilton Paris La Defense; and Le Belgrand Hotel Paris Champs Elysees, Tapestry Collection by Hilton. For a budget-friendly option, consider the Niepce Paris Hotel. It's a Curio Collection by Hilton, and while it's not in the best location, the price is right. It's roomy and chic inside.
Related: 10 of the best points hotels in France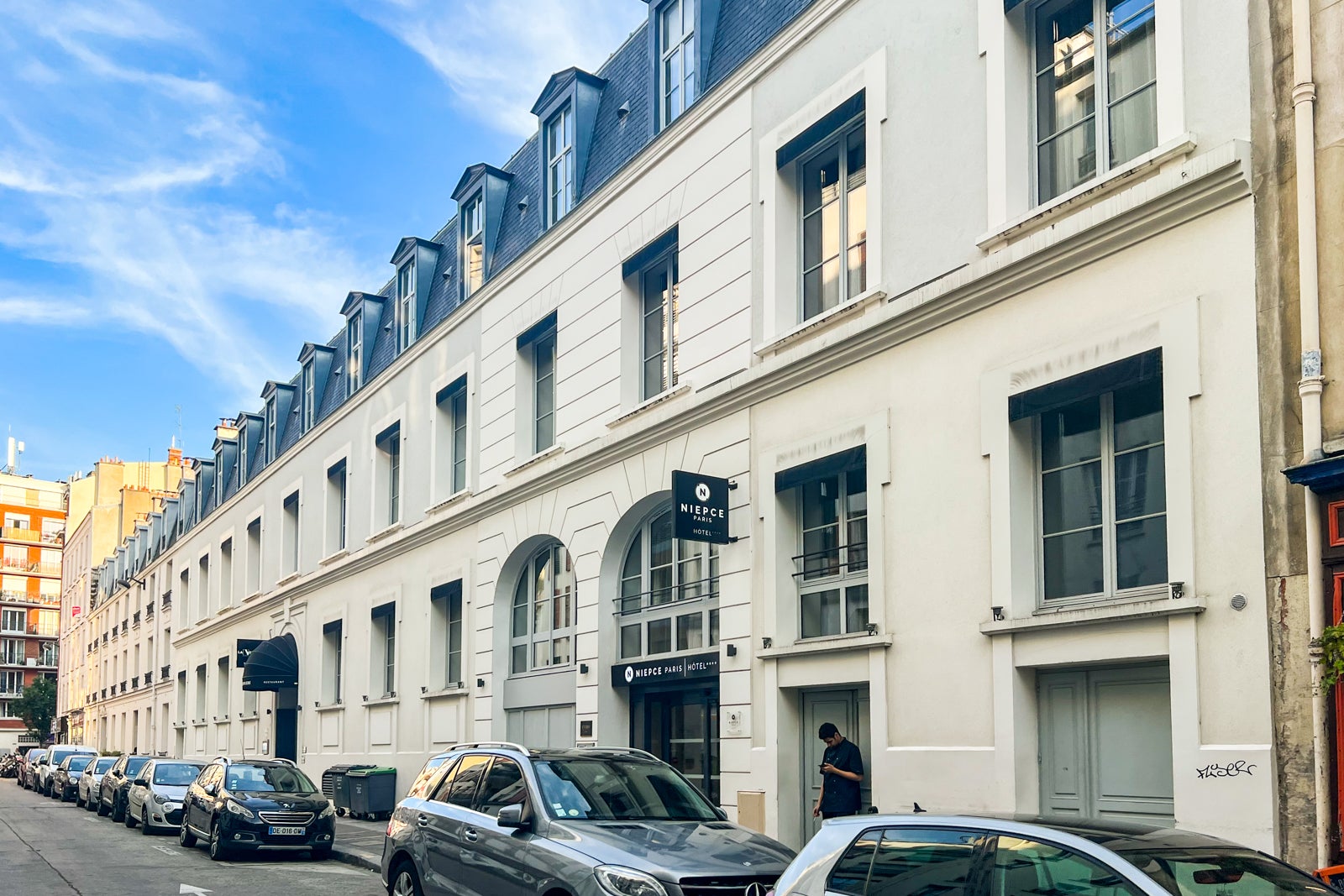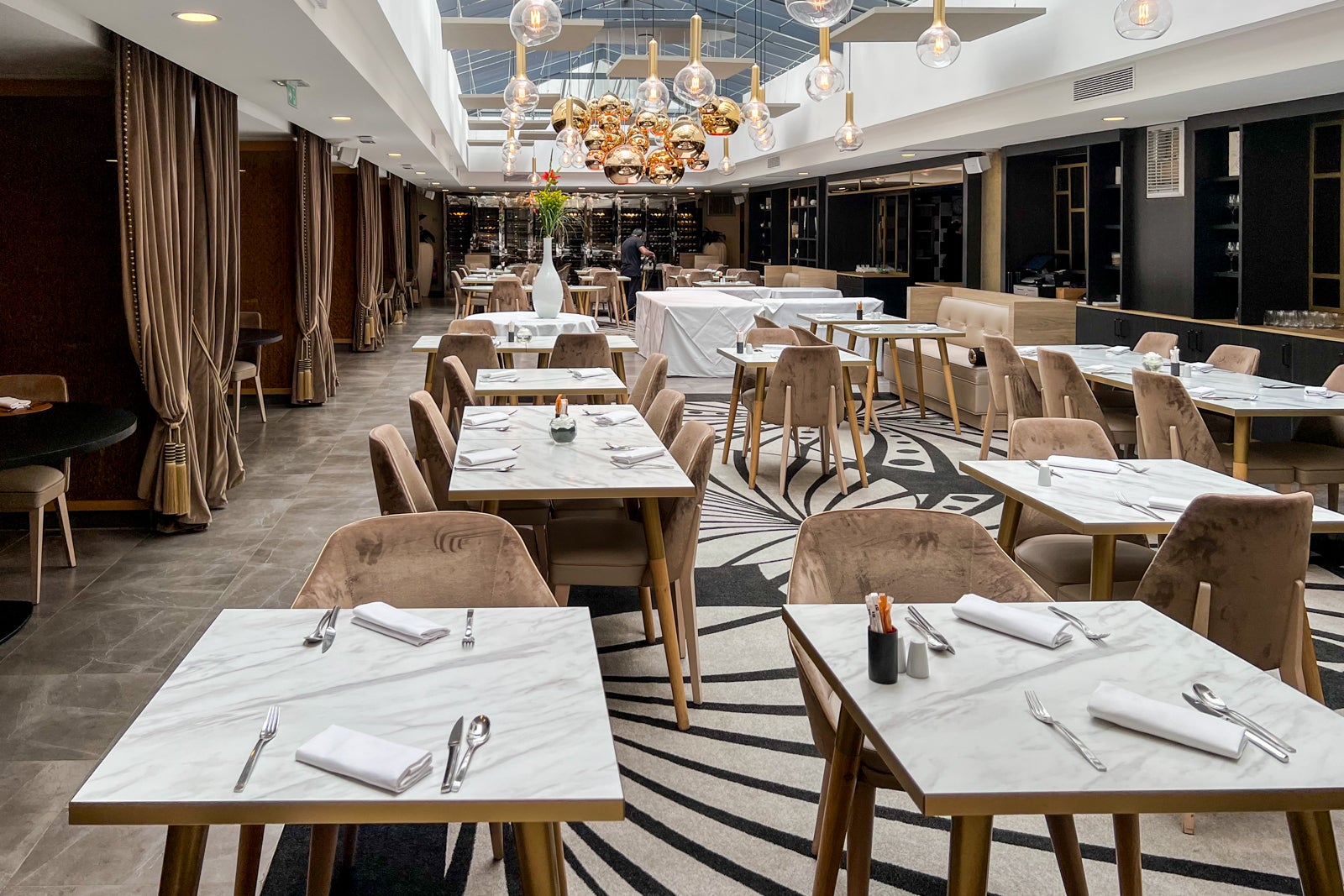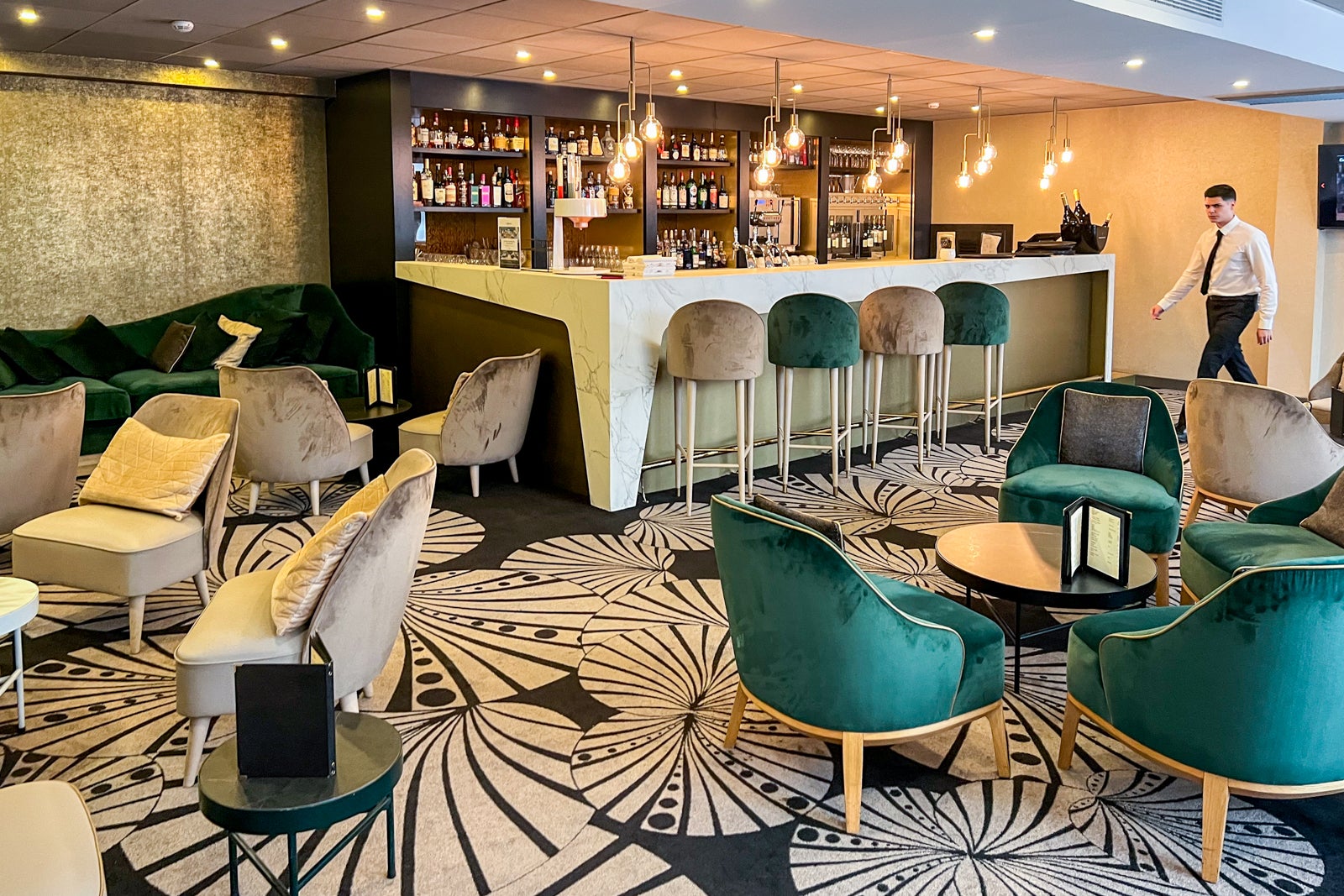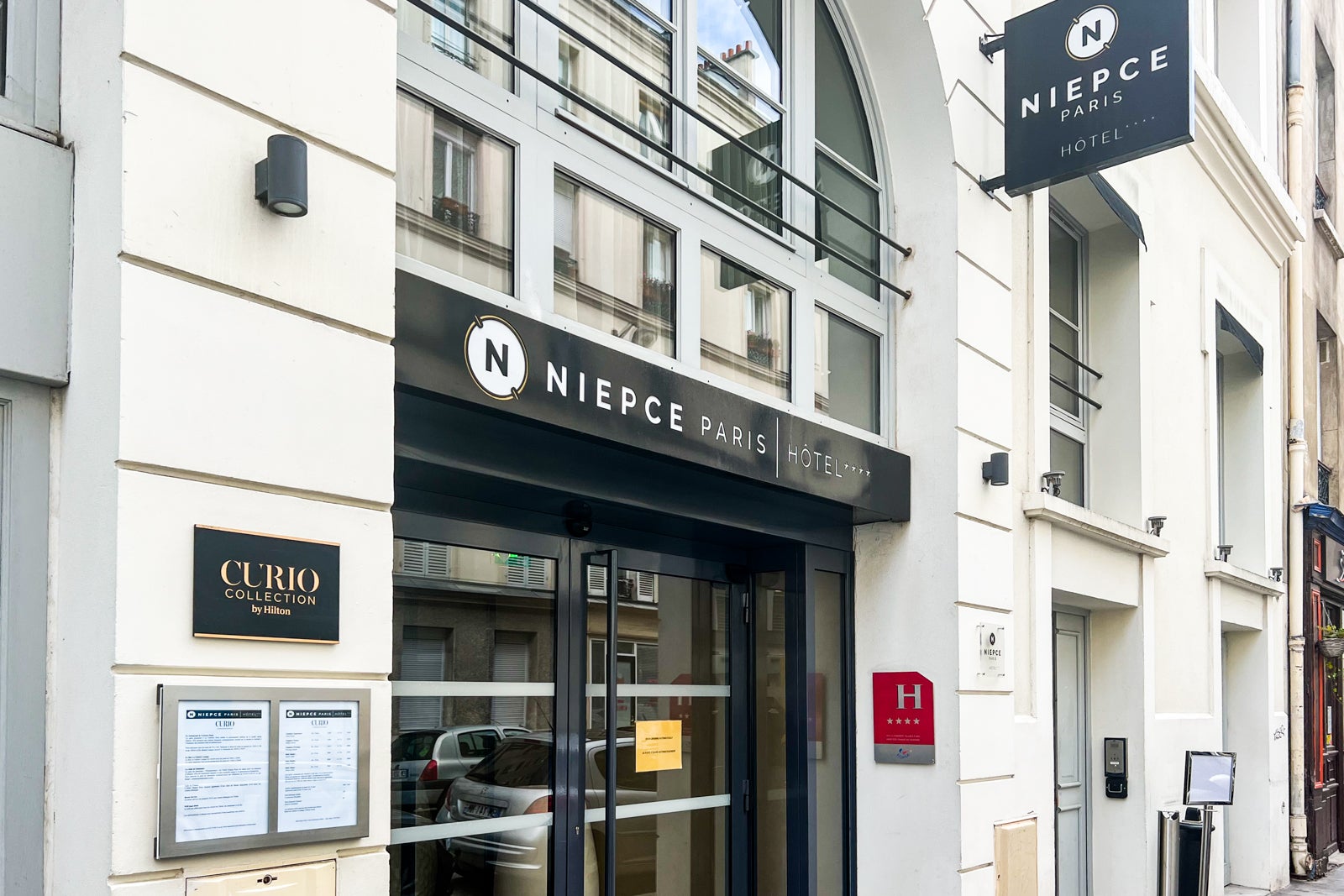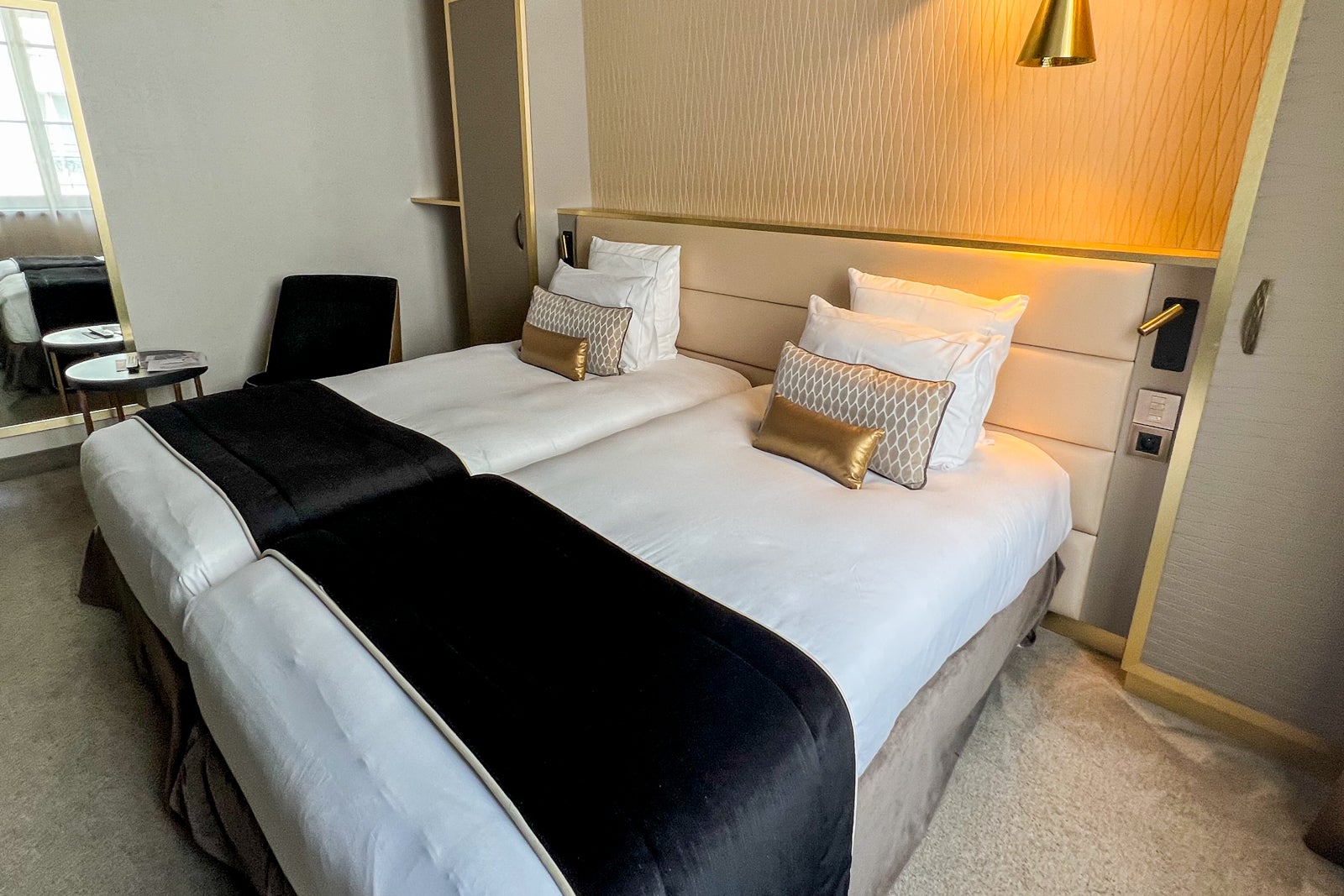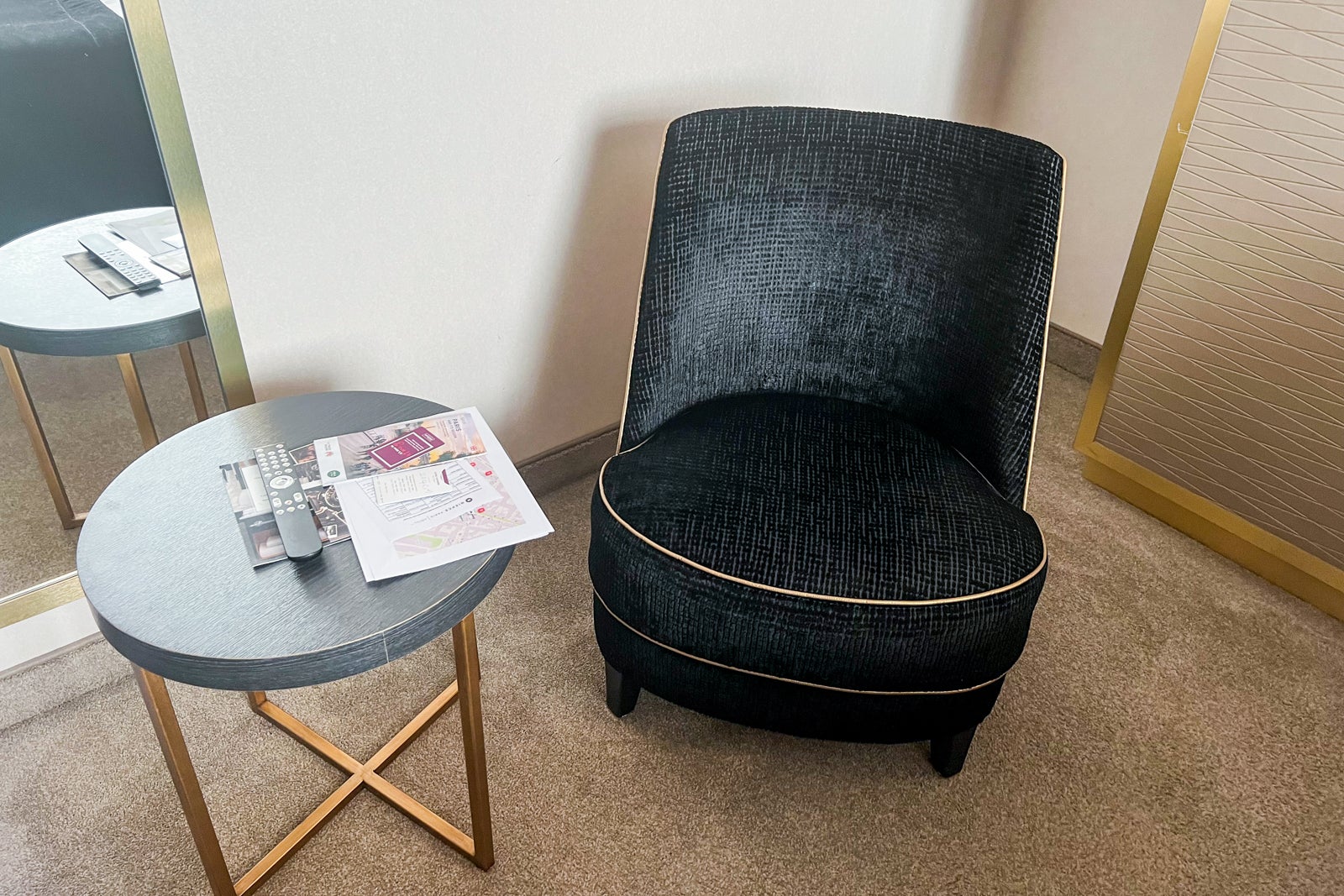 Finally, if you are in search of a Marriott Bonvoy property, there are quite a few glamorous choices in Paris. The Westin Paris – Vendôme is a go-to for many Marriott loyalists, as it has a central location and old-world Paris elegance. The Paris Marriott Opera Ambassador Hotel near the Kimpton St Honoré is another option, as is Le Roch Hotel & Spa from the Design Hotels group. The latter sits close to the Tuileries Garden (just like the Westin and the Park Hyatt) and gets high marks from recent guests.
Related: Book this, not that: Getting the most from your hotel points in Paris
Checking out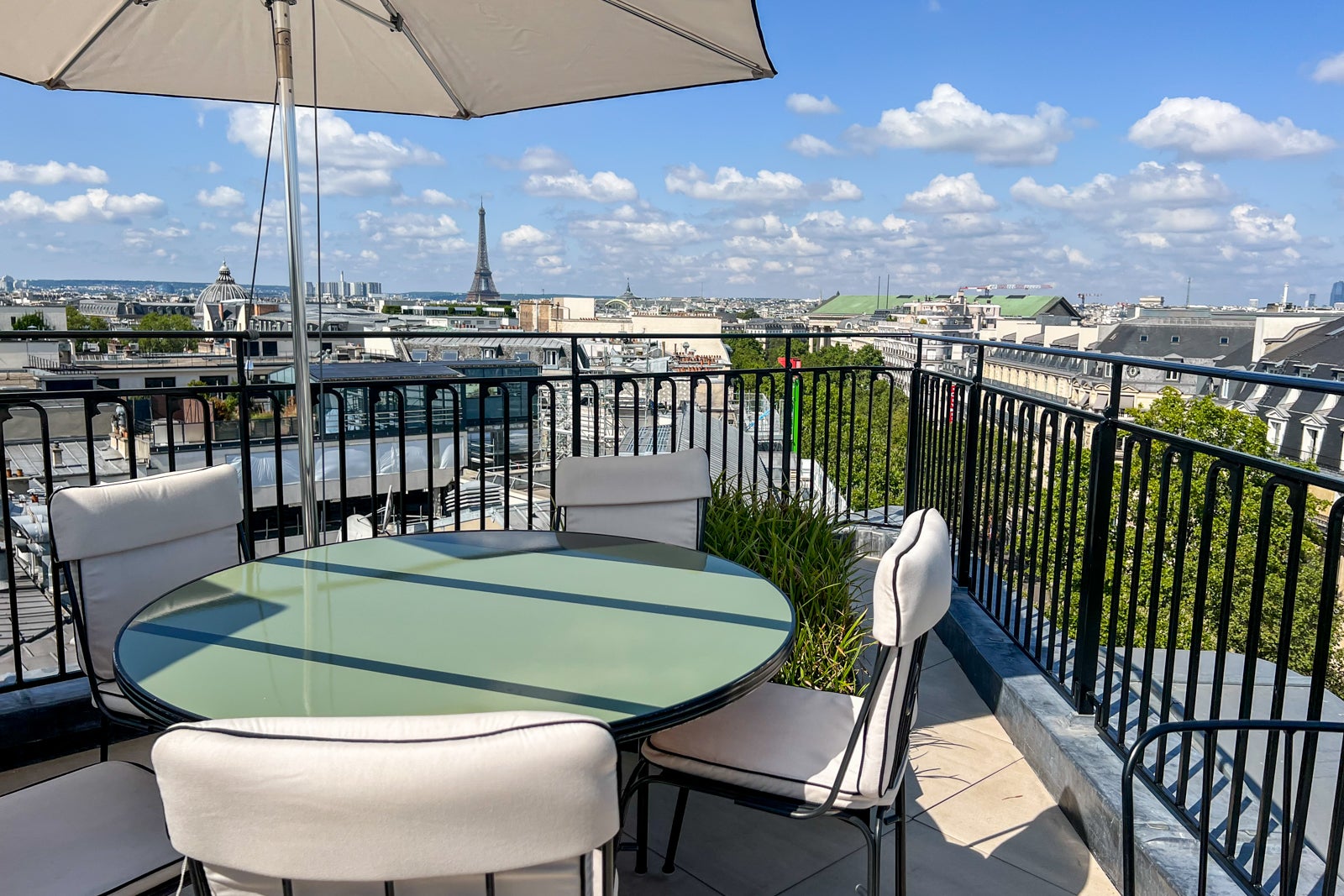 I absolutely loved my stay at the chic and quirky Kimpton St Honoré Paris and have no qualms about recommending it to others. In fact, I told a friend to book it for his upcoming trip to Paris over Thanksgiving.
The charming spa and swimming pool in the basement were major selling points, and the reimagined interiors and chic decorations set a glamorous tone for my stay. While my cozy room was a bit on the small side, the balcony added to the hotel's allure. The real highlight for me, though, was that incredible rooftop with panoramic views of some of Paris' most recognizable attractions. I'd book the hotel again for those views alone and can't wait to go back.
Related reading: