[circuit type=review circuit_id="9717″]
There was a lot riding on my decision to book the Andaz Vienna Am Belvedere for my family's summertime reunion. It would be the first time some of my nieces and nephews visited another country. It would be the first time in a few years that my cousins would all be together. And, it would probably be the last time all of us could get together at the same time — with the kids getting older and going their own ways (as they should).
I wanted this trip to be special. I wanted to pamper my family but also get some value from our stay. Booking and paying for rooms for 14 people in Europe isn't insignificant these days and I didn't want to regret my decision on any level.
The Andaz Vienna Am Belvedere proved to be an excellent choice for our Austrian getaway. From spot-on prearrival communications, to an authentic, warm welcome, to one of the best suites my husband and I have ever stayed in — this hotel and its staff delivered and made our family trip that much more special.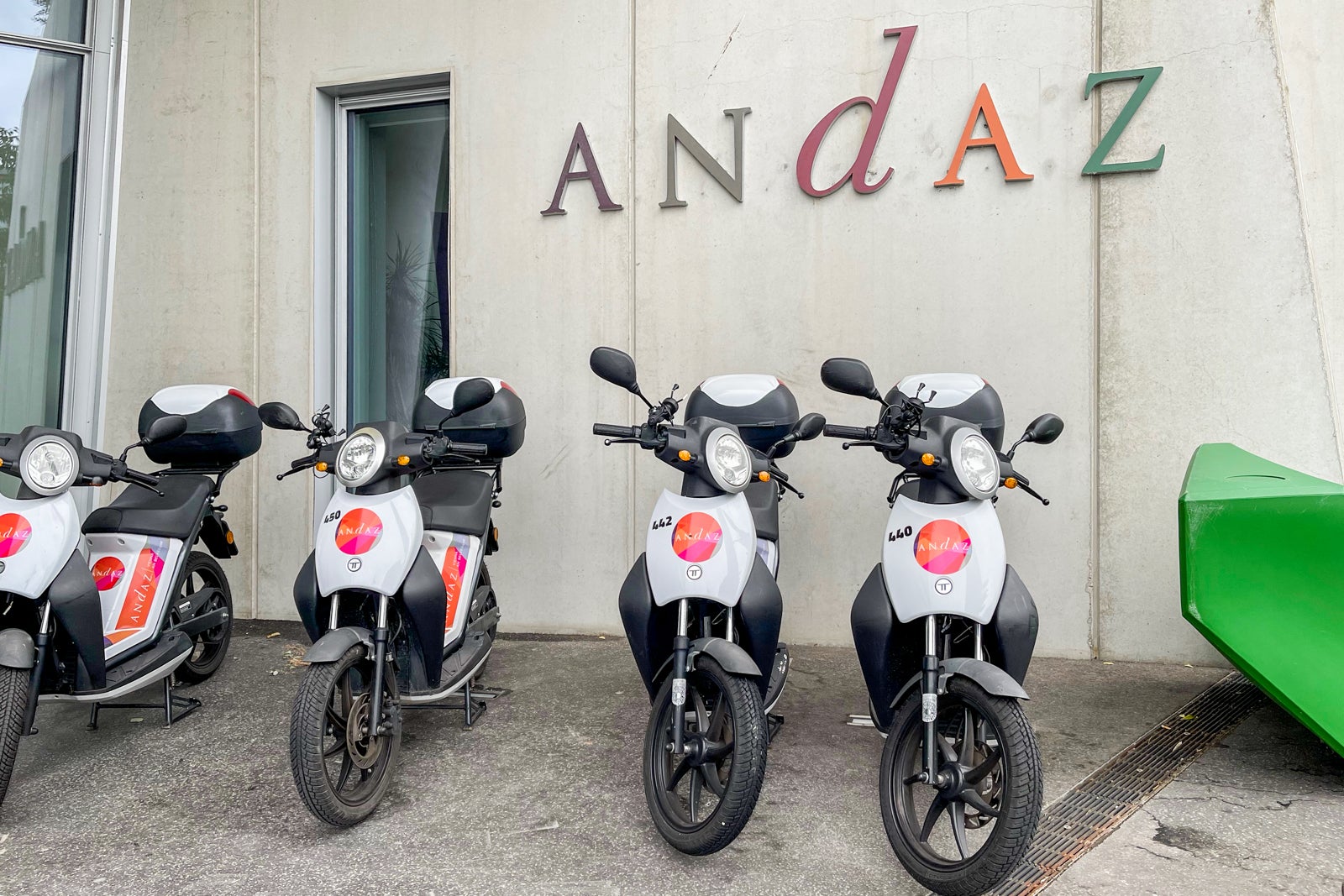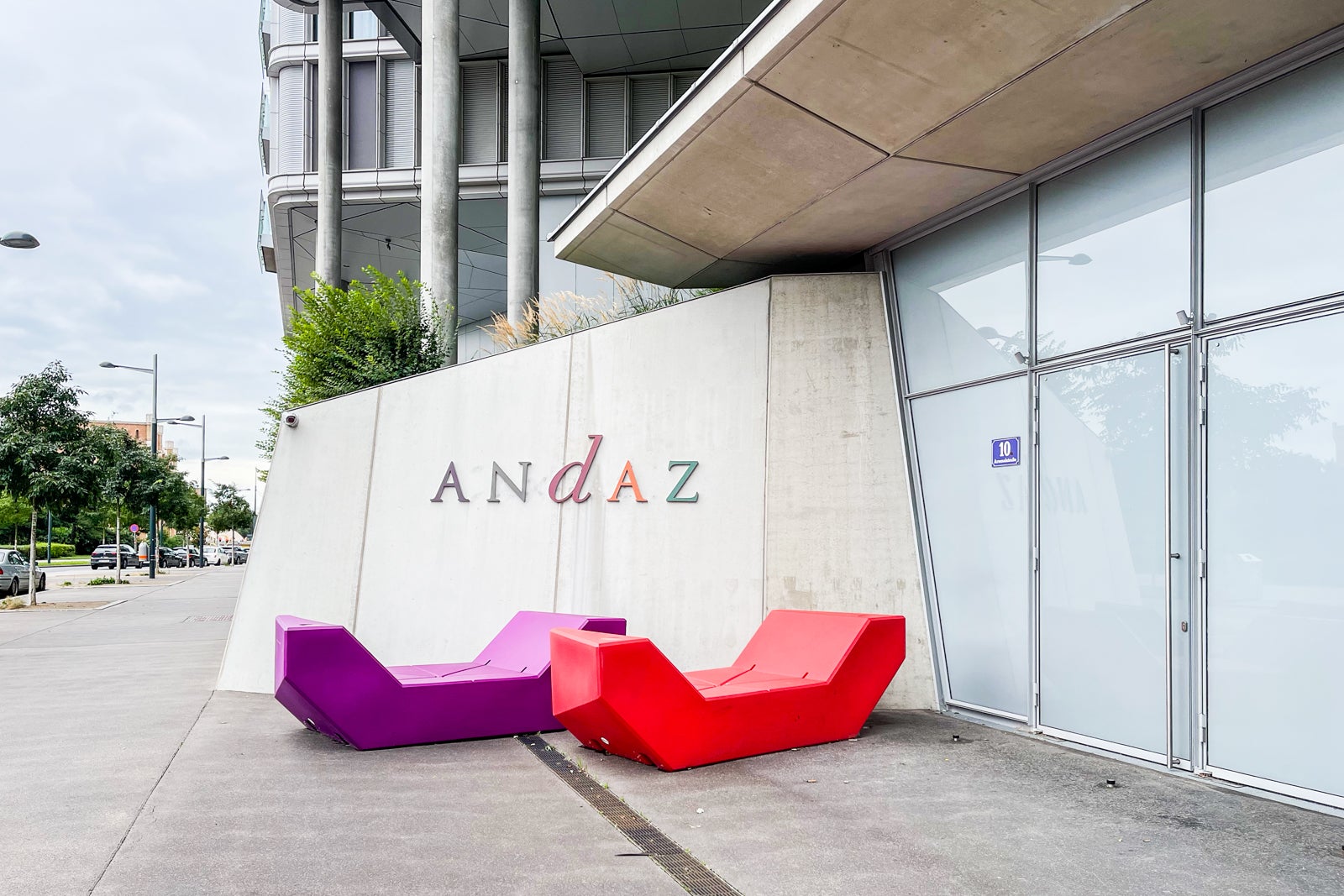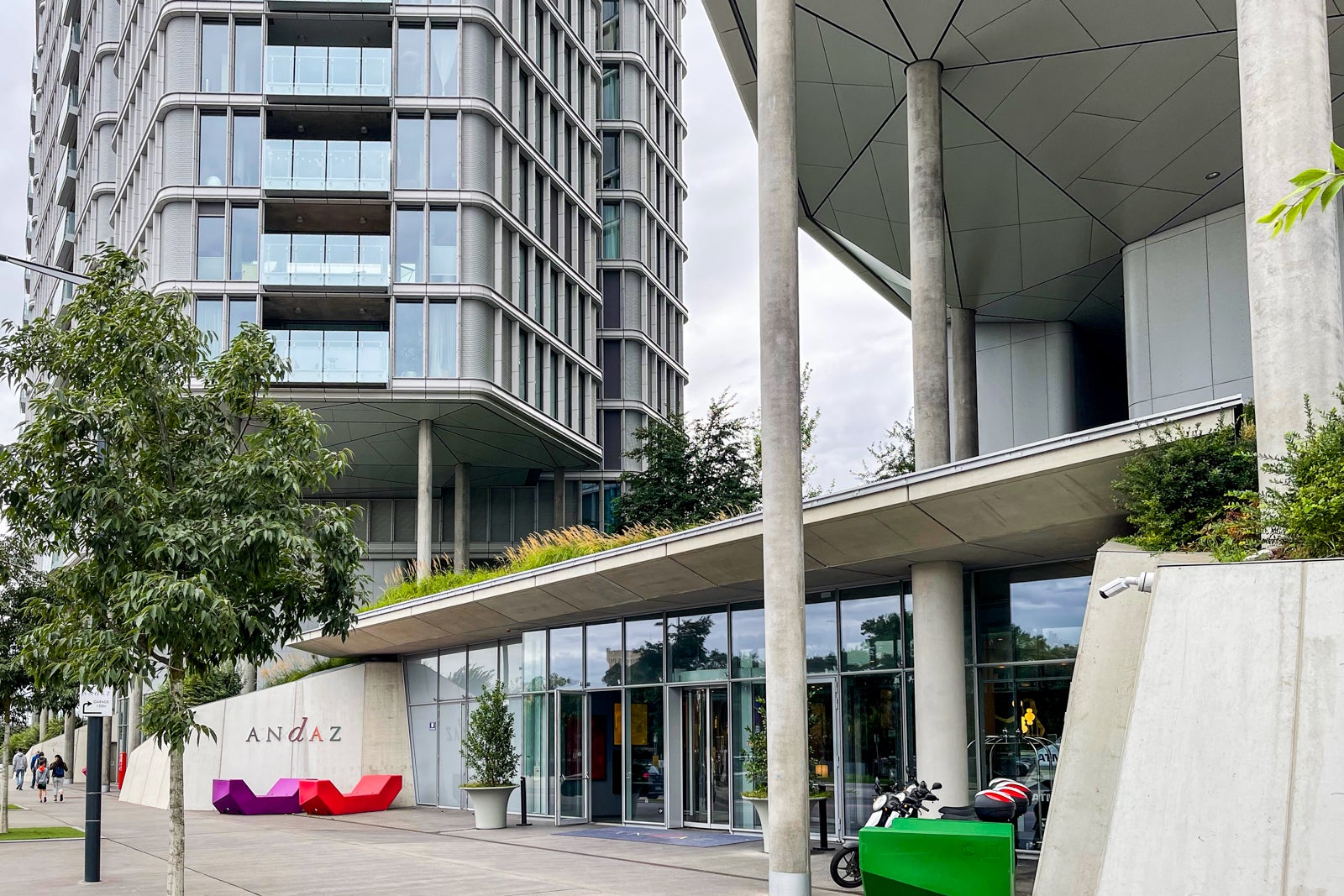 What is the Andaz Vienna Am Belvedere?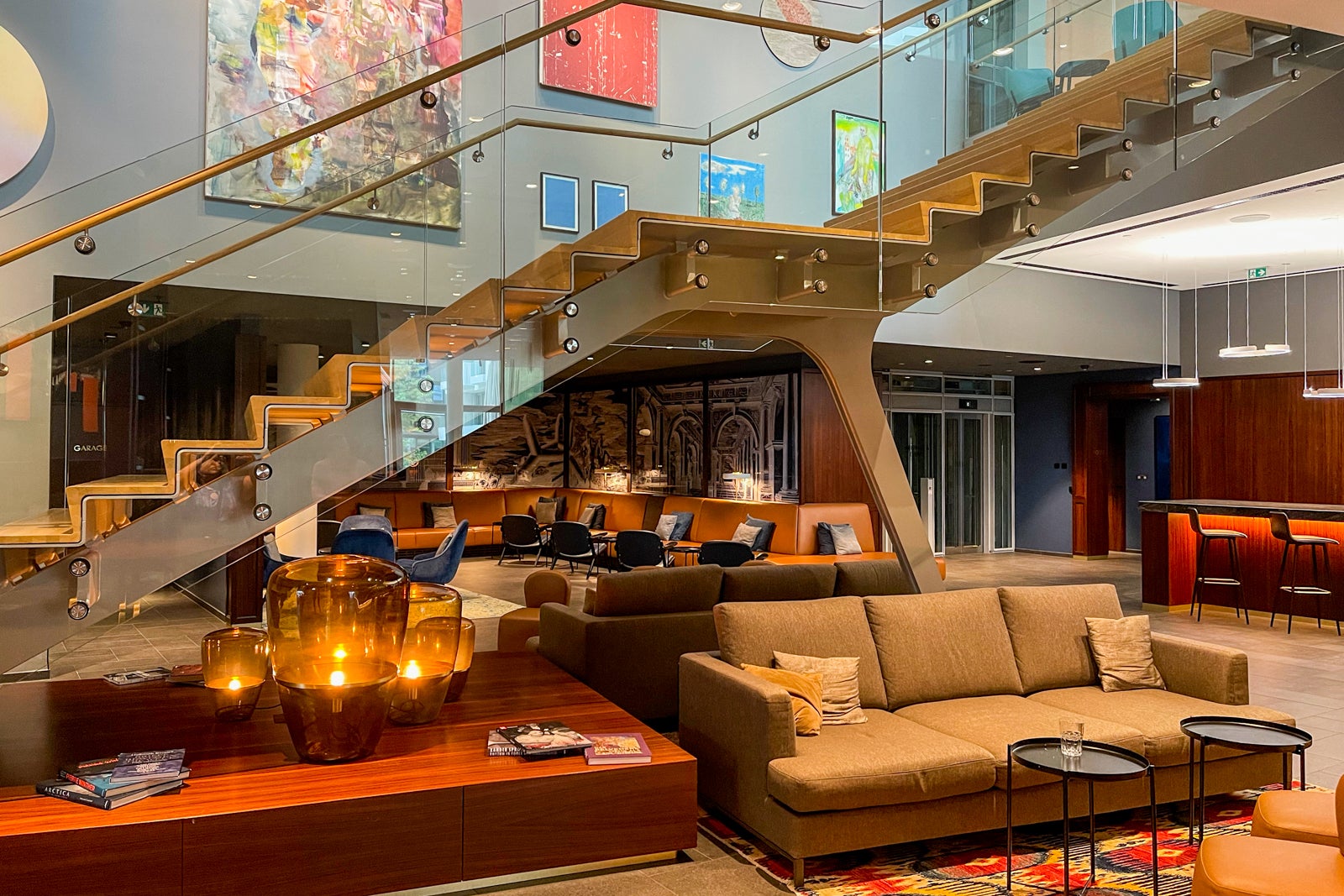 In April 2019, the Andaz Vienna Am Belvedere threw its doors open and it still feels incredibly fresh and new. Two buildings, connected by enclosed glass walkways, share the ground-floor lobby with a bar, restaurant and coffee shop. You'll find one of Vienna's most beautiful rooftop bars, Aurora, holding court on the 16th floor.
On the visual front, world-renowned architect Renzo Piano and interior designers Claudio Carbone and Gabriel Kacerovsky took inspiration from the life of Prince Eugene of Savoy, the 18th-century nobleman and visionary behind the building of Vienna's splendid, art-filled Belvedere Palace. In keeping with his design aesthetic, the hotel blends open spaces with works from artists such as Elisabeth Penker, Eva Beresin, Roland Puschitz, Barbara Mungenast and Oswald Oberhuber.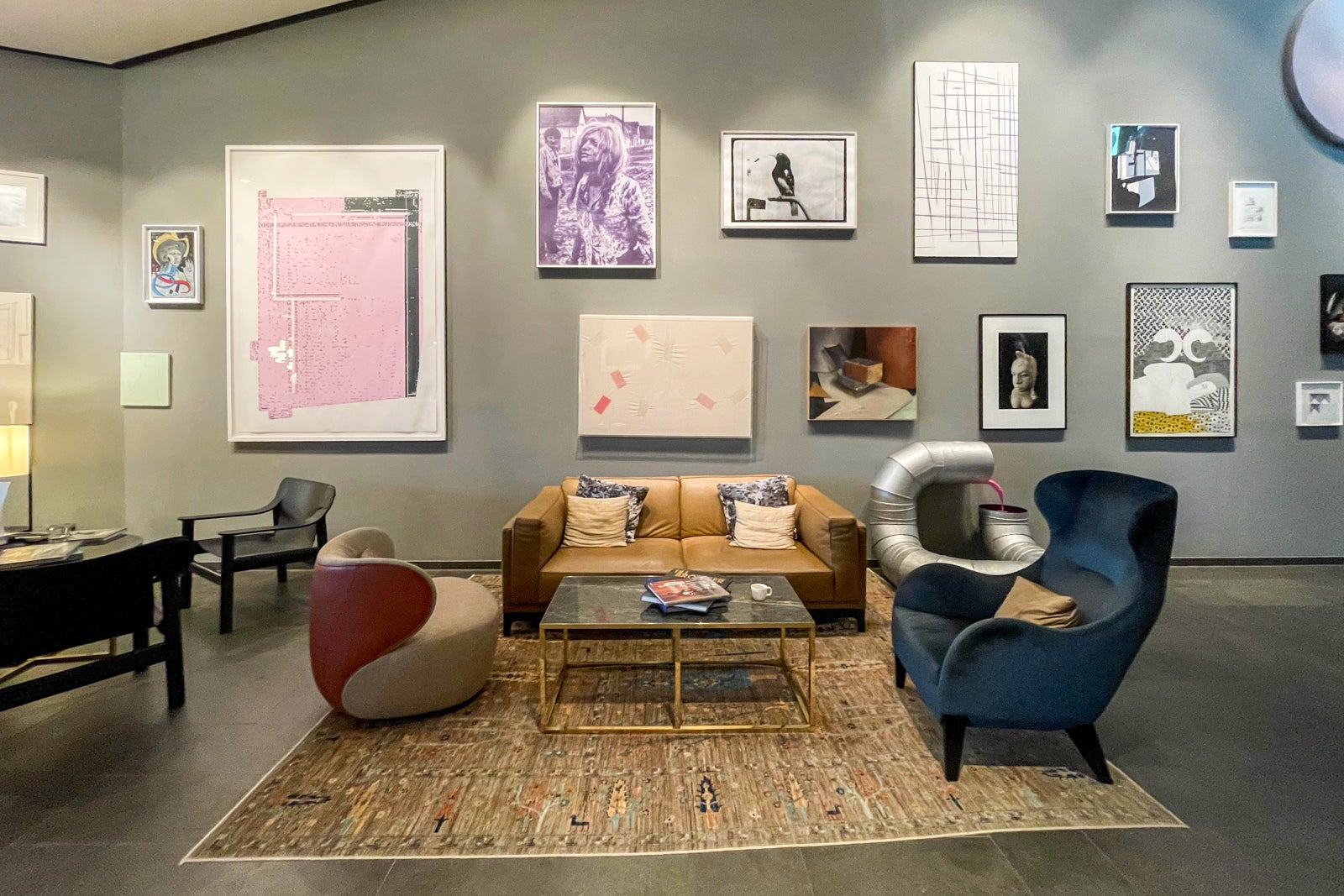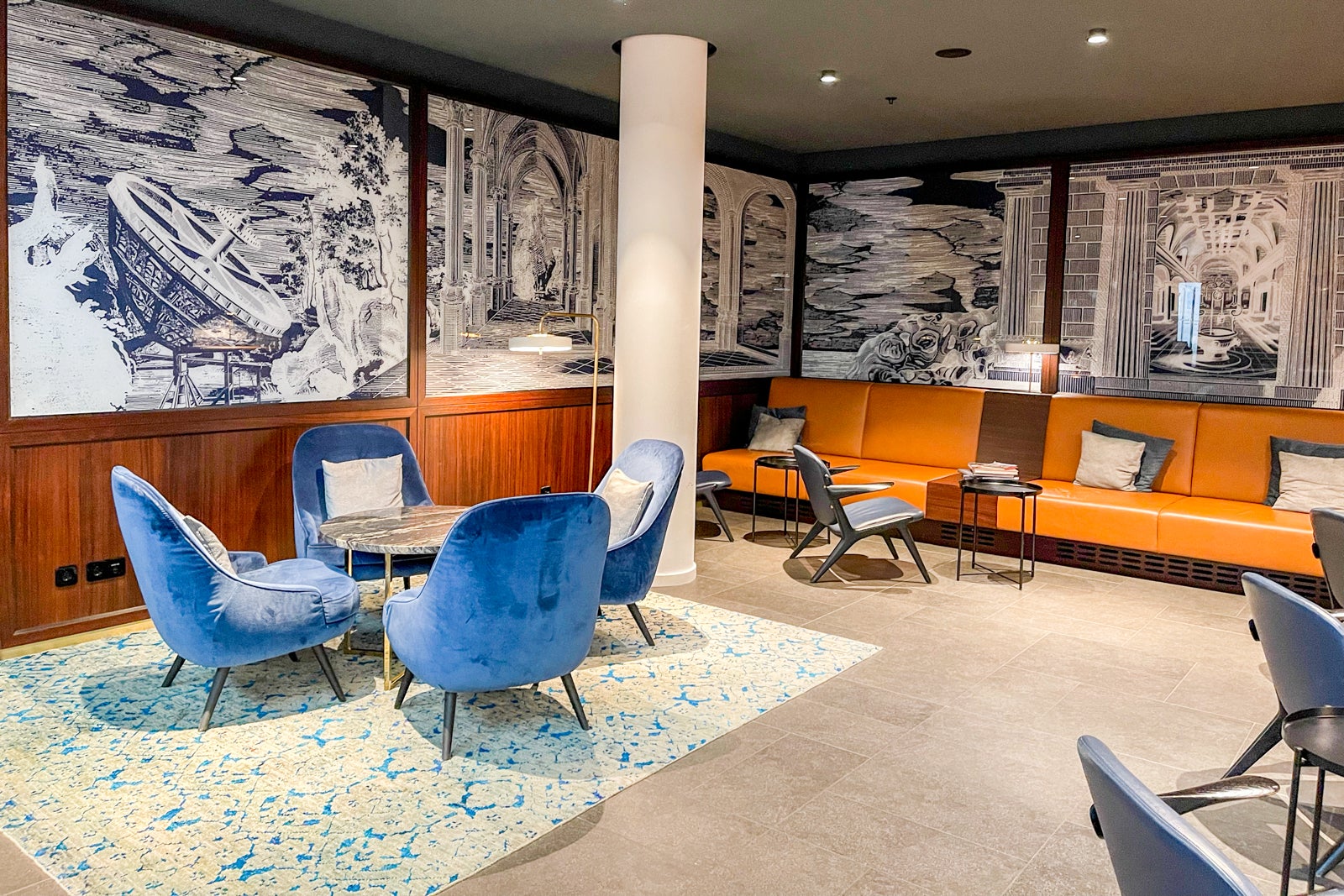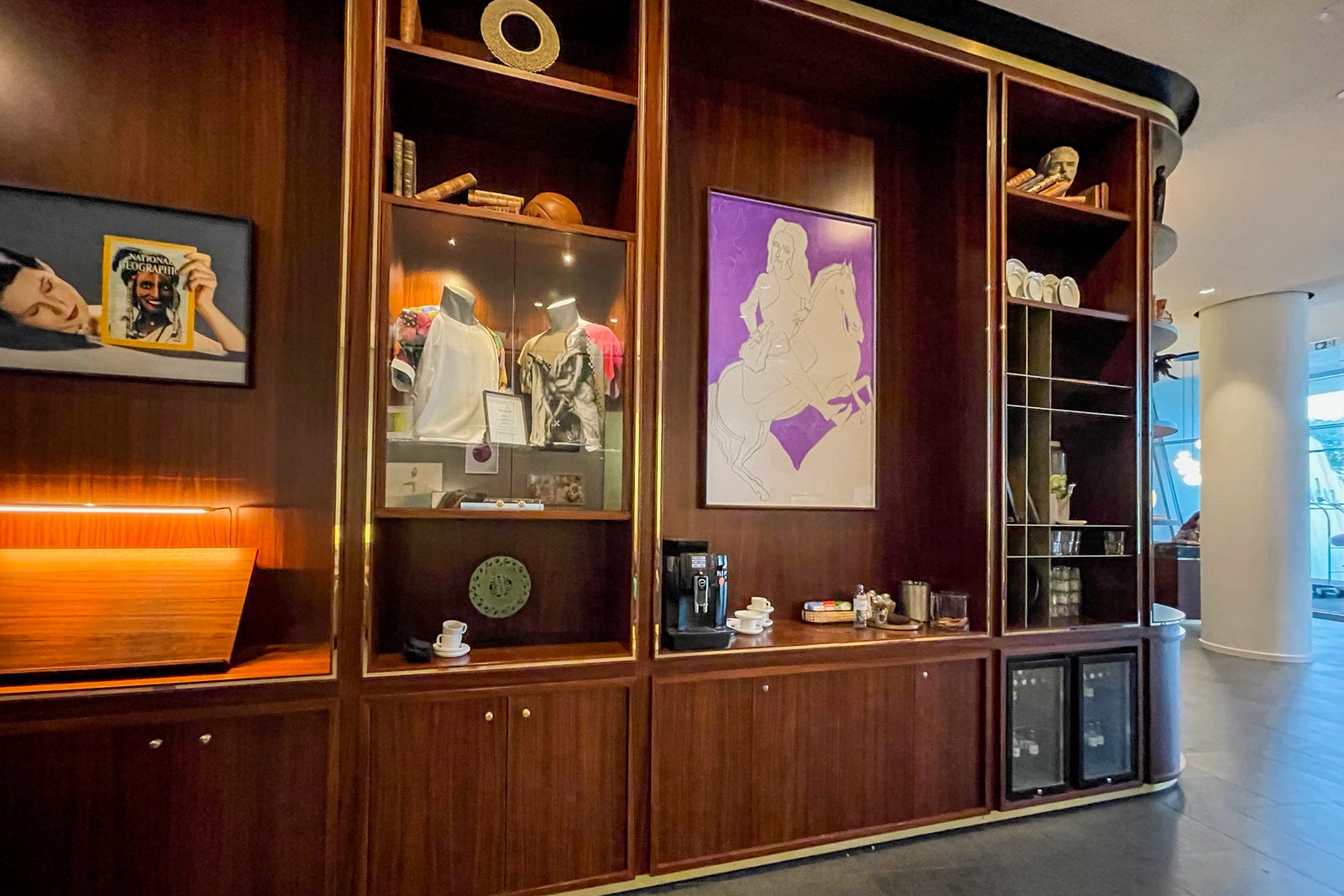 In short, the Andaz feels like both a breath of fresh air and an ode to the past in a city whose other high-end hotels tend to veer fusty and grand.
How to book the Andaz Vienna Am Belvedere
Andaz's Vienna outpost is one of the best points values in the Andaz brand's portfolio. It's the only World of Hyatt Category 3 Andaz hotel in Europe. (Andaz Munich is a Category 5 while Andaz Amsterdam, Andaz Prague and Andaz London Liverpool Street are all Category 6.) But don't book on points without first looking at the cash rates, which can be very reasonable.
Related: The most amazing Andaz hotels in the world
As a Category 3 property, you can book rooms here starting at 9,000 points (off-peak), 12,000 points on standard dates and 15,000 points during peak periods of the year.
Standard suites, such as the Andaz Suite, can be booked for 17,000,-23,000 points per night, while premium suites clock in at 18,000, 24,000 or 30,000 points per night, depending on your dates. Premium suites at the Andaz include the Andaz Deluxe Suite, Belvedere Park View Suite, Executive Suite and Penthouse Suite.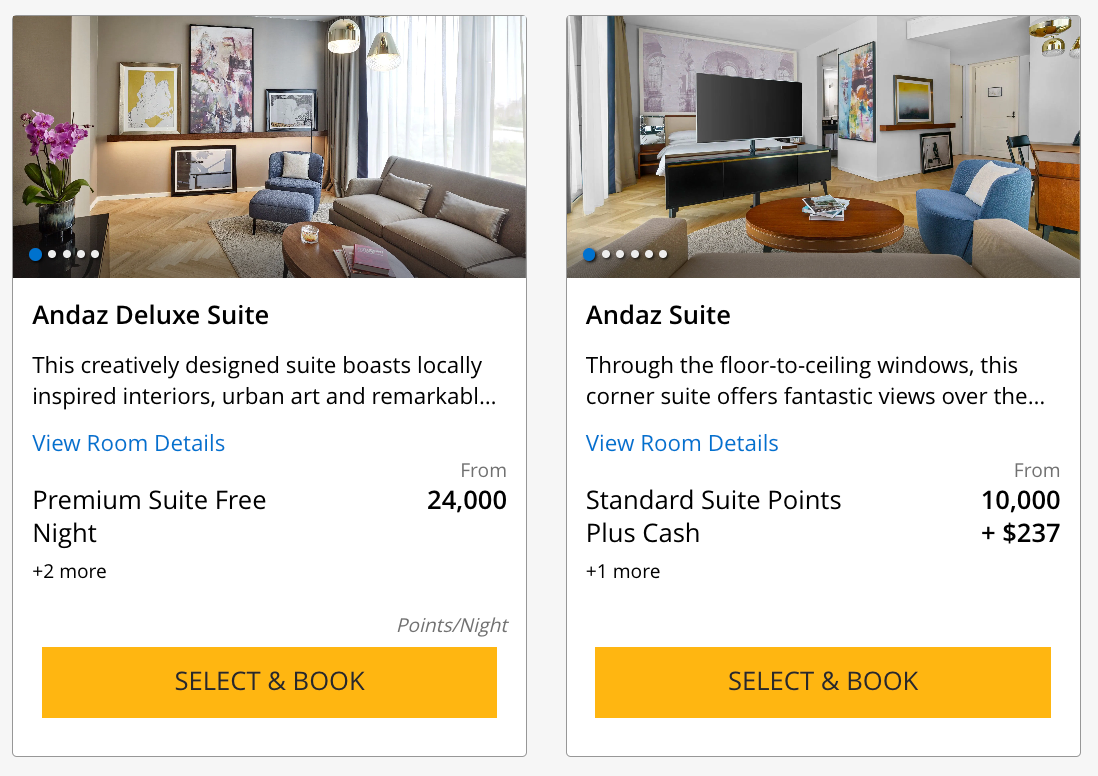 If you don't have enough Hyatt points in your account to book, you could transfer Chase Ultimate Rewards points to Hyatt instantly at a 1:1 ratio, and Bilt Rewards points transfer at a 1:1 rate as well.
If you're not a World of Hyatt Globalist elite who receives free breakfast with bookings, look into reserving your room via a Hyatt Prive travel agent. You'll receive all your World of Hyatt perks plus benefits including free breakfast, a one-category room upgrade when available, early check-in (when available), late checkout (when available) and a food and beverage credit. (We received a $75 food and beverage credit per room booked via Hyatt Prive.)
Related: 8 reasons frequent travelers love Hyatt Globalist elite status
These are similar benefits as you'll receive when booking a room via a high-end credit card travel portal such as American Express Fine Hotels + Resorts. Note that the Andaz Vienna isn't part of that program but sister hotel Park Hyatt Vienna is.
If I were using points for all the rooms during our stay, I would have made Guest of Honor bookings as a benefit of my Globalist status. However, since I was paying cash, I wanted a rate that conferred extra benefits to all rooms. Hyatt Prive rates during our stay were 172 euros ($184) per night for king rooms and twin rooms, 392 euros ($420) per night for an Andaz Suite, 542 euros ($582) for a Deluxe Andaz Suite (with a rollaway bed for a third guest) and 992 euros ($1,062) per night for the posh Executive Suite. We used Kristen Nix Travel to book since she's a Hyatt Prive expert and Jamie Haas of Luxe Travel Pro is also well-known in this space.
The location is central … enough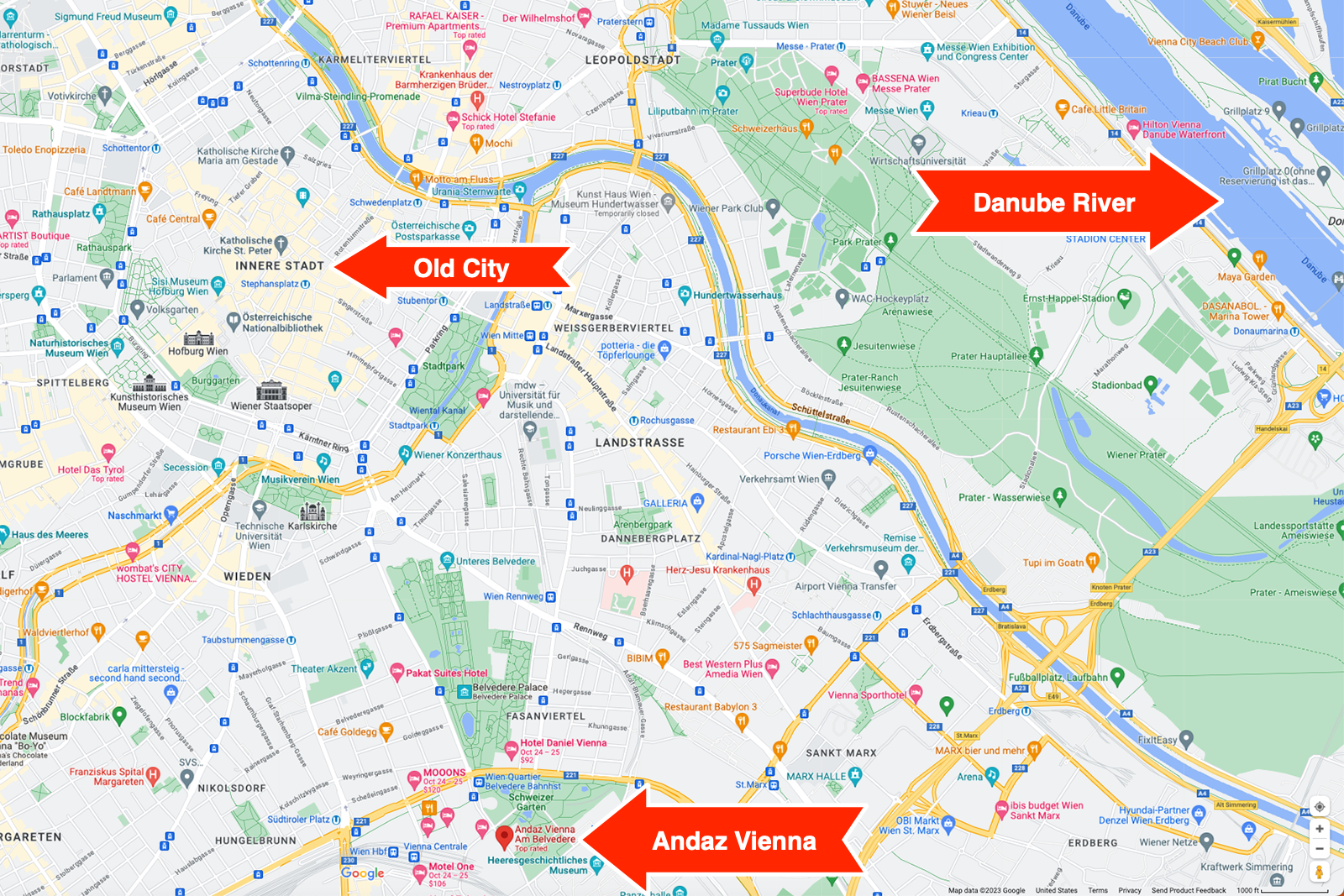 If you arrive by plane at Vienna International Airport (VIE), you can board a train and disembark at the city's central train station (Wien Hauptbahnhof). It's less than a 10-minute walk or 4-minute taxi ride to the Andaz Vienna Am Belvedere (Arsenalstrasse 10), which is in Quartier Belvedere.
I was already in the city staying at the Park Hyatt Vienna so it was a quick $15 Uber ride between the two properties. Other family members flying to Vienna decided to book transportation through the Andaz and it cost 55 euros ($59) for an SUV (for up to 3 passengers and luggage) and 80 euros ($86) for a minivan. You can also easily grab a taxi upon arrival at the airport and expect fares to be around $40.
While the Andaz isn't within Vienna's famed Ringstasse, a 3.3-mile "ring" road around the historic Innere Stadt area of the city, it is within walking distance (12 minutes) to the Belvedere Palace. The palace is a major tourist attraction, and the complex also includes several gardens and museums. (Hyatt's Lindner Hotel Vienna Am Belvedere, a JDV property, is even closer to the Belvedere Palace. Just a 5-minute walk.)
You can also take a metro line or tram to the historic part of Vienna. But Ubers and taxis are relatively inexpensive, so we relied on those as our method of transport.
There are a few restaurants within walking distance of the hotel. However, this is more of a business district so it's quite sleepy in the evenings. If you love to walk out your hotel door and be in the middle of everything, this is not the place for you. But, if you're looking for a fabulous hotel that's just a 20-minute commute to all the attractions you wish to visit, this is an ideal home base.
Note: If you're traveling to Vienna for the Christmas markets, there is one at the Belvedere Palace. Or, stay at the Park Hyatt Vienna in the old city, which is directly across from a market.
Contemporary but characterful rooms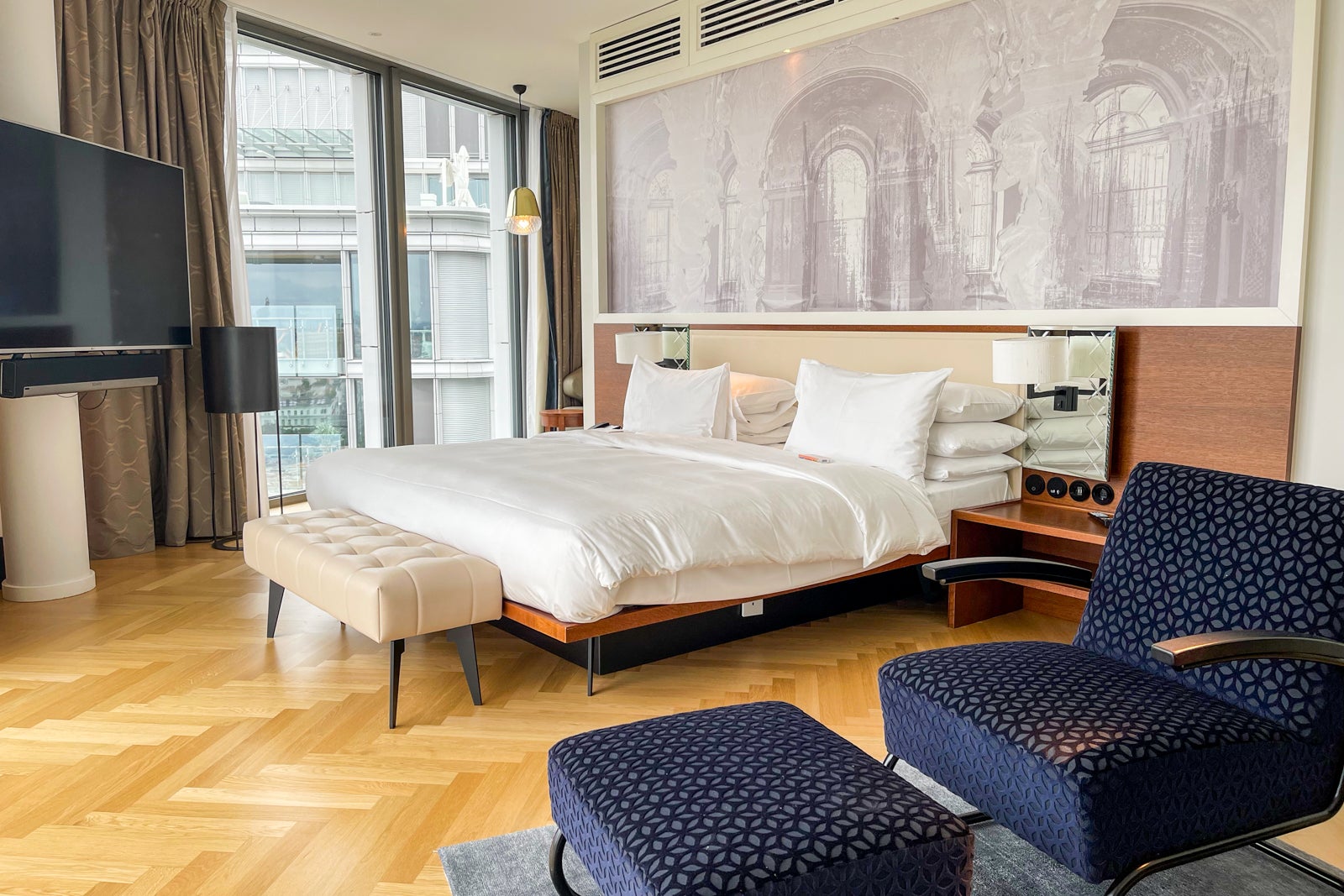 The Andaz Vienna Am Belvedere has 303 guest rooms and 44 suites. The high number of suites may partially explain why Globalists love this property: The chance of an upgrade is quite good, depending on your dates of stay and the capacity of the hotel.
All rooms have elegant fishbone-style parquet floors and are equipped with 55-inch flat-screen TVs, hair dryers, plush robes and slippers, blackout curtains, Illy coffee makers and electric kettles, irons and ironing boards and — a brand standard — complimentary minibar with local treats. The free drinks included water and Austrian Almdudler soda crafted from alpine herbs and beet sugar, as well as Manner chocolate wafer cookies.
Art hangs on the walls, sits on shelves and stands on the floor, giving all rooms and suites a very Bohemian but upscale vibe.
Guests may request daily newspaper delivery, cribs and rollaway beds (in certain rooms).
Rooms
City view entry-level rooms are 322 square feet and contain either a king bed or two twins. These rooms include an armchair and ottoman plus a small desk and one chair. You can see the Belvedere Palace from these rooms.
The next category up includes neighborhood view king- and twin-bedded rooms that are also 322 square feet but have the addition of soaring floor-to-ceiling windows.
If the view is important to you, pony up a few extra dollars for the Skyline View King Bed High Floor or 2 Twin Beds High Floor accommodations. The rooms are still just 322 square feet but they are on the 10th to 15th floors with enormous windows and have gorgeous views of Quartier Belvedere.
Those wishing for a bit more space should book the 355-square-foot King Bed Deluxe that adds a freestanding tub and separate walk-in shower into the mix.
If you're traveling with kids, consider the 645-square-foot Family Room, which is actually two connecting rooms: one has a double bed and the other two twin beds. Most parents will agree that having the extra room and two bathrooms can make or break a vacation with the kids.
Suites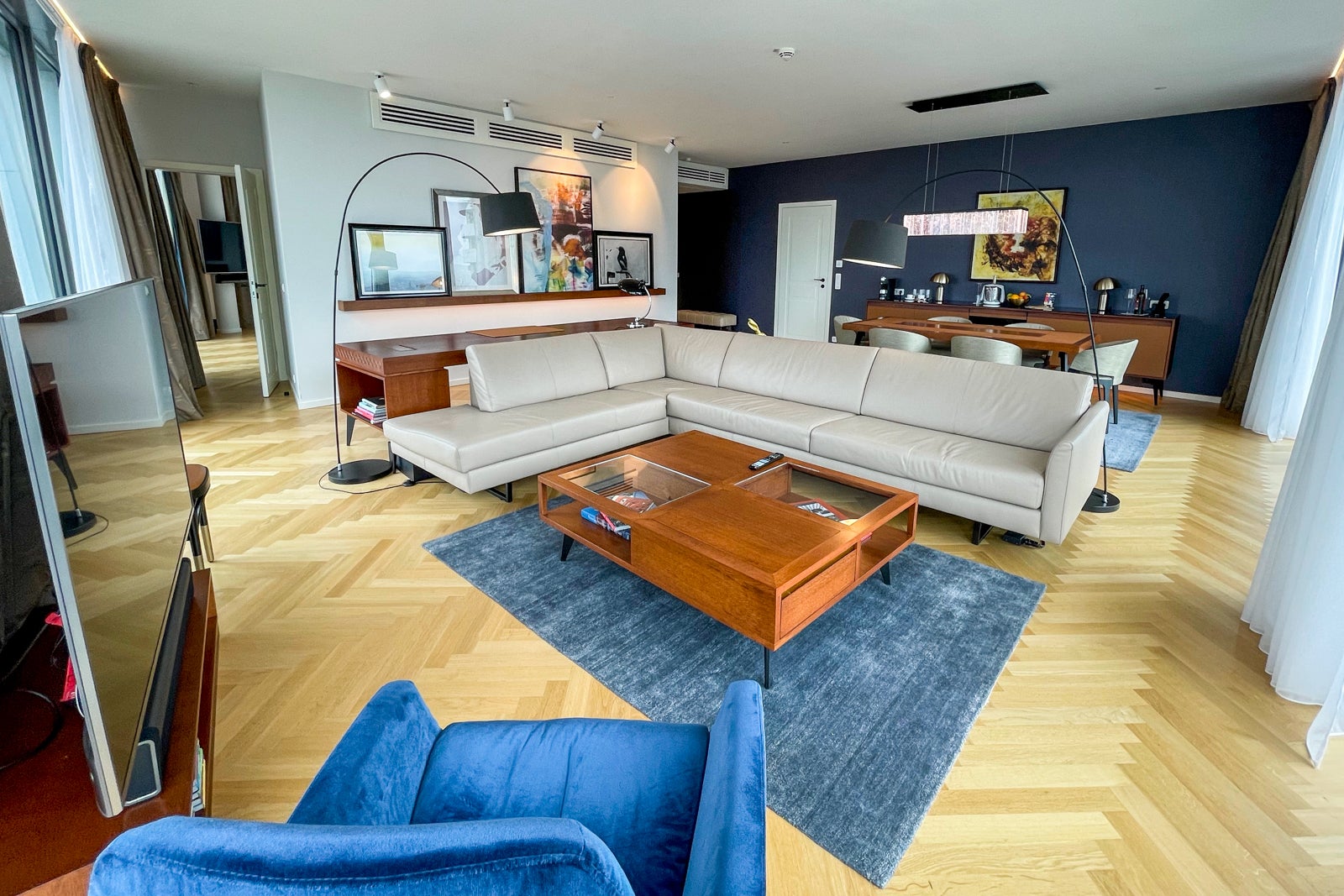 If you've ever wanted to splurge on a suite, the Andaz Vienna is the place to do it. You can often find good cash rates, or use your points (or points plus cash) to book a standard or premium suite.
Globalists can lock in an Andaz Suite by applying a Suite Night Award (SNA) to their reservation, pending availability. And, of course, sometimes Hyatt elites get bumped up to a suite here based on inventory, even without using an SNA.
Suites have the same look and feel as the hotel's rooms but have the added benefit of an upgraded Hyatt Grand king bed.
As Globalists booked on a Hyatt Prive rate, we received a welcome amenity that included some fun chocolates on an artist's palette, sparkling wine and fruit.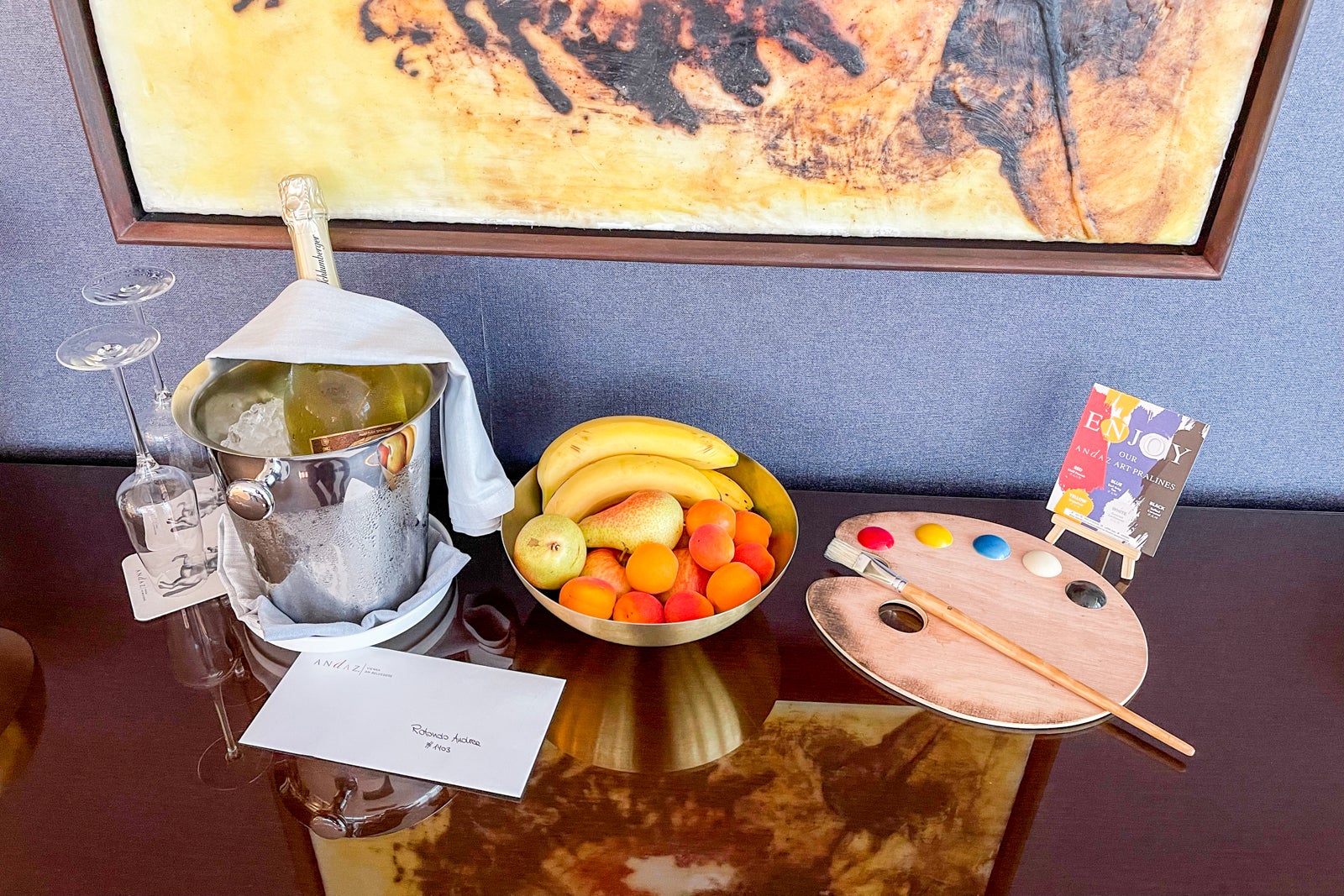 There are a few layouts for the Skyline View Andaz Suites, which range from 441 to 473 square feet. These are standard suites with a king bed, two chairs and coffee table and desk with one chair.
Andaz Deluxe Suites have park views and are 678 to 699 square feet. That extra space affords you a bathroom with double vanity, tub and separate rain shower; a half bath; plus a three-person sofa and a bigger desk. (You only get one armchair, though). This premium suite can be booked to connect to a king room.
The hotel added a rollaway bed to the living room so my three nieces could share an Andaz Deluxe Suite.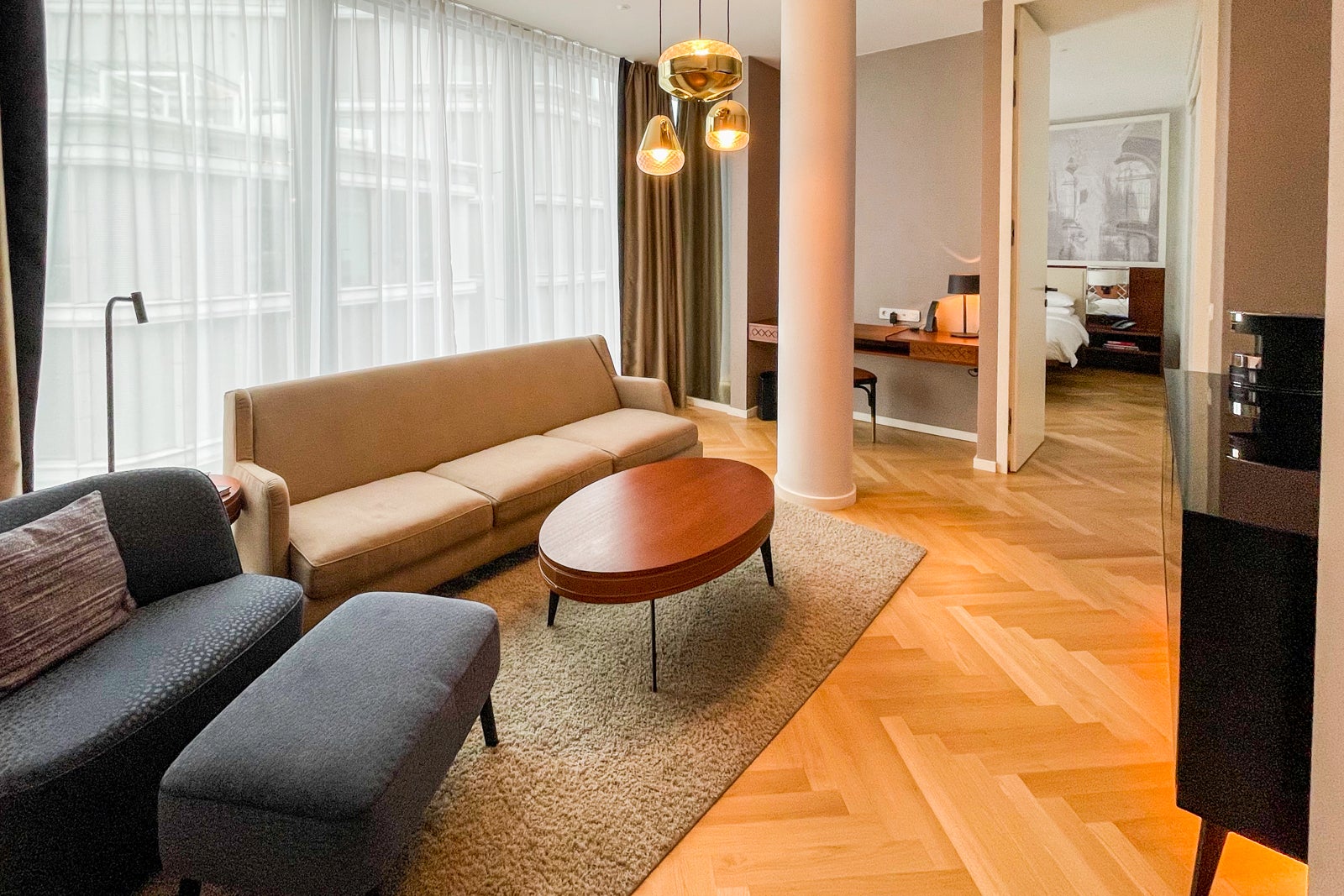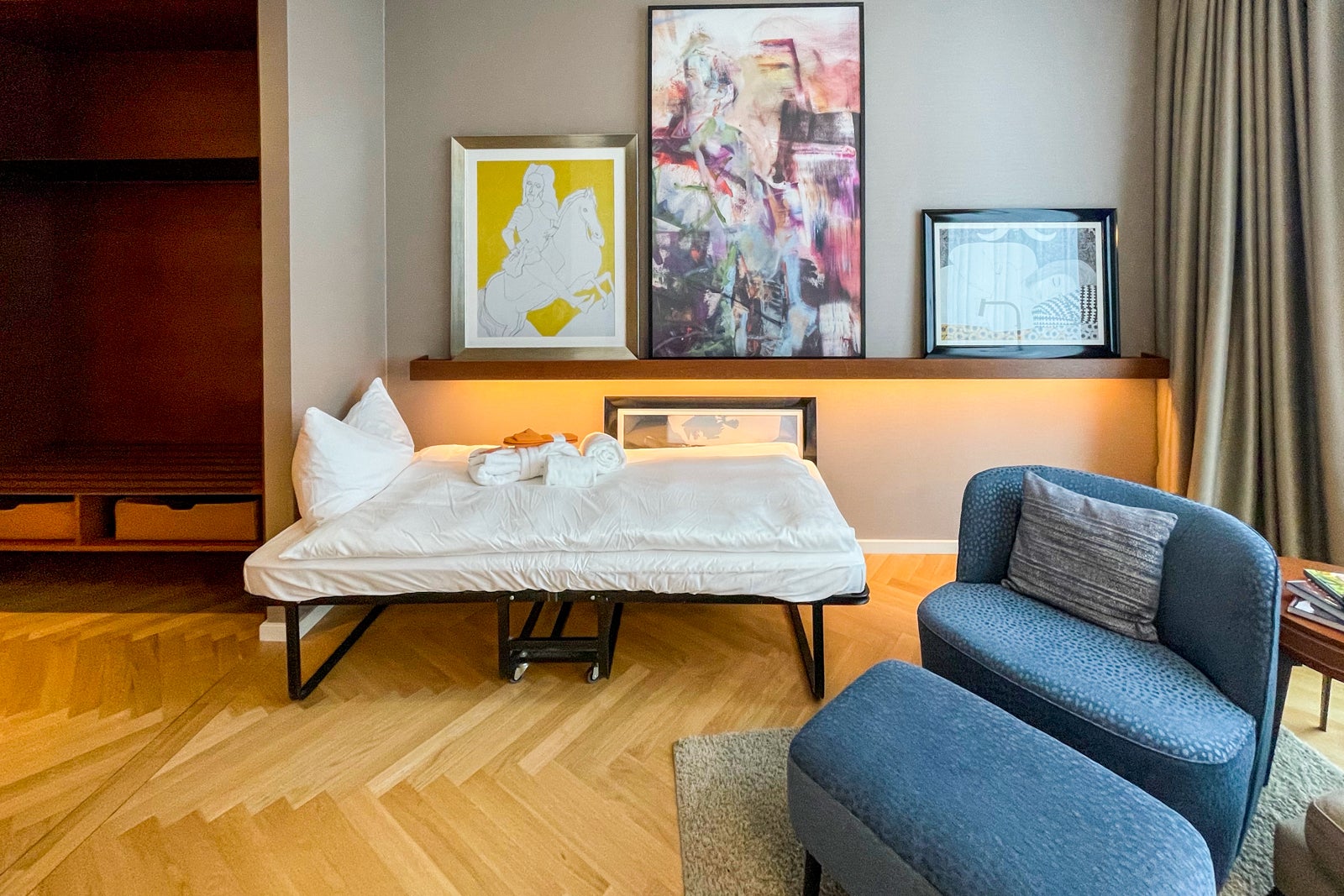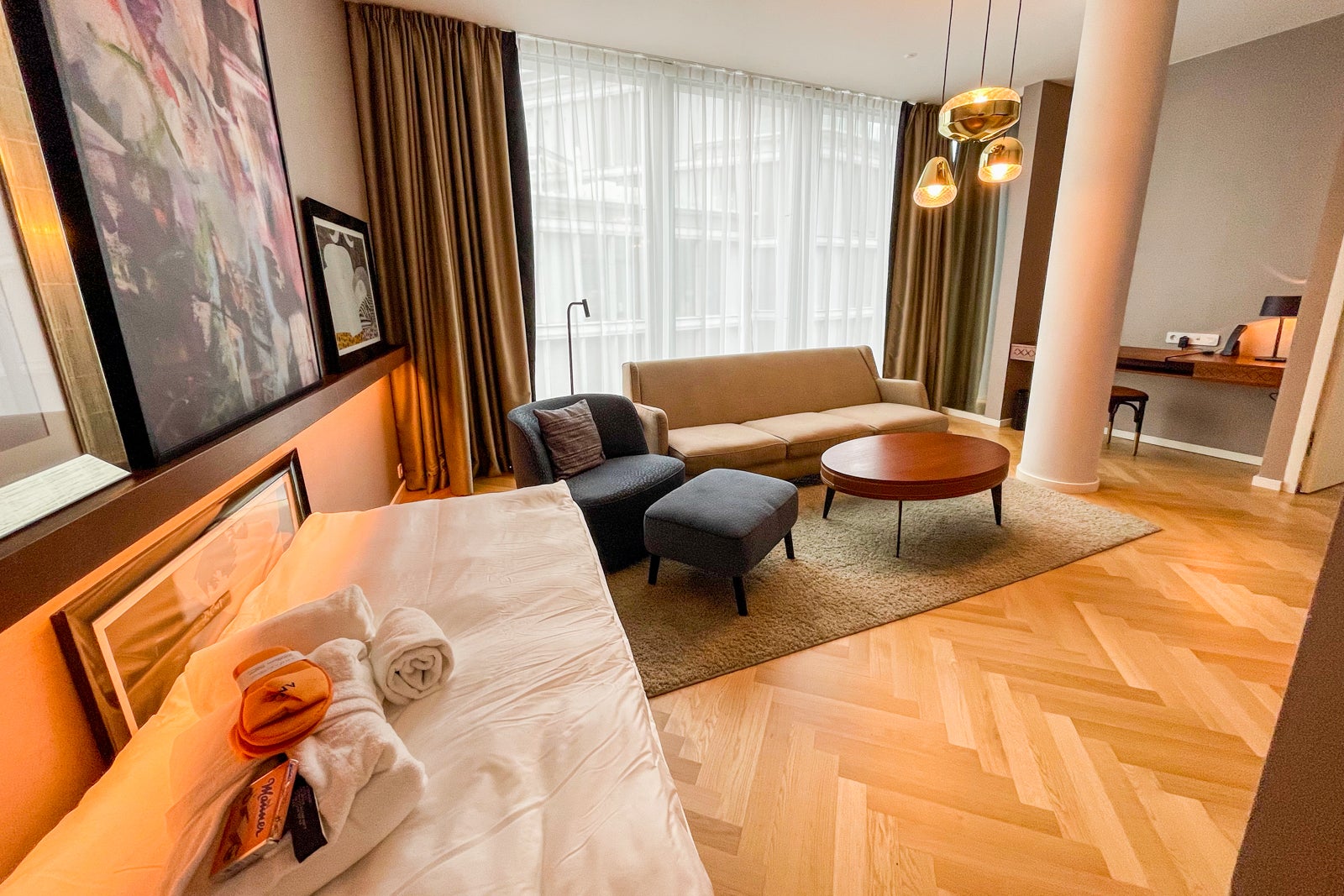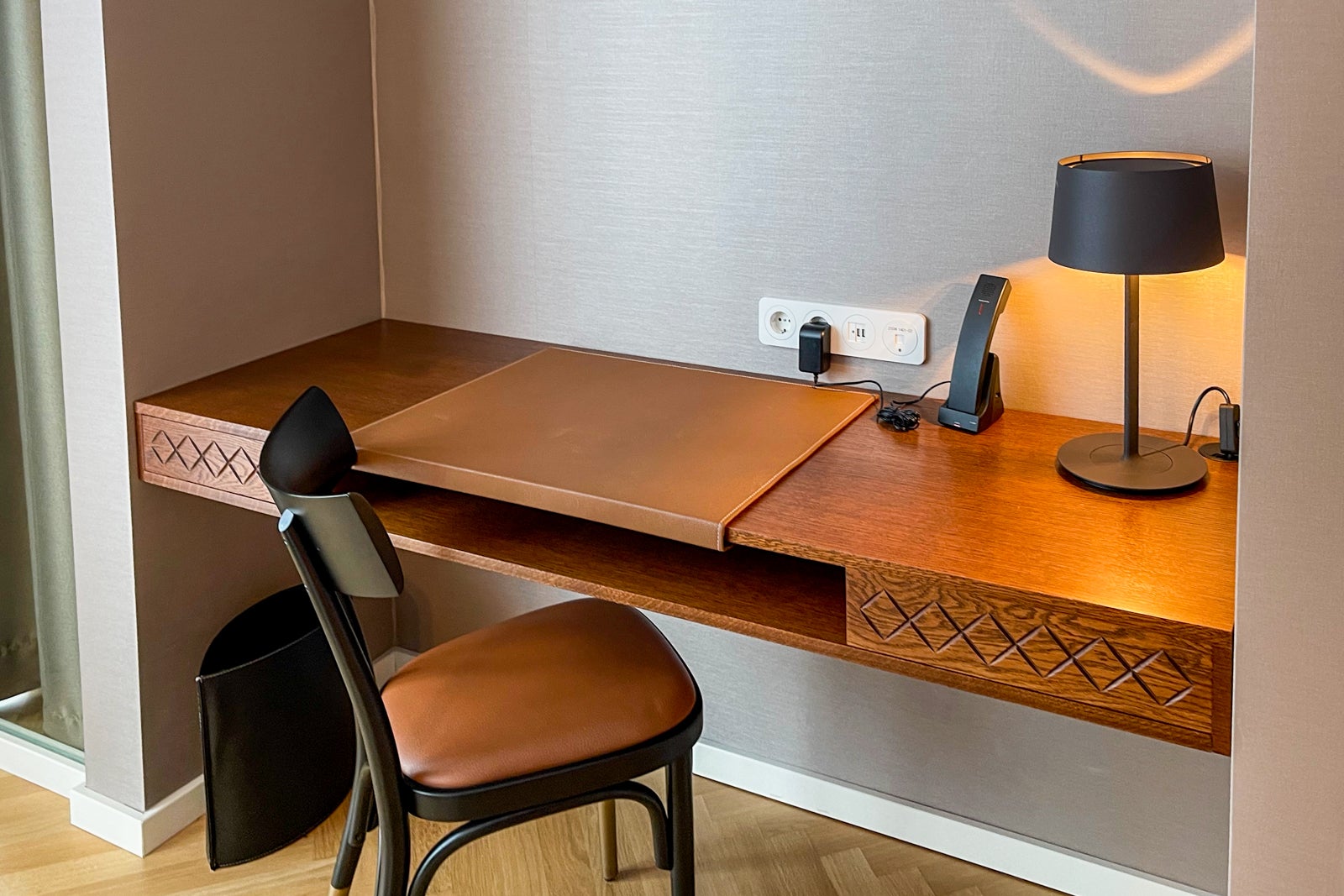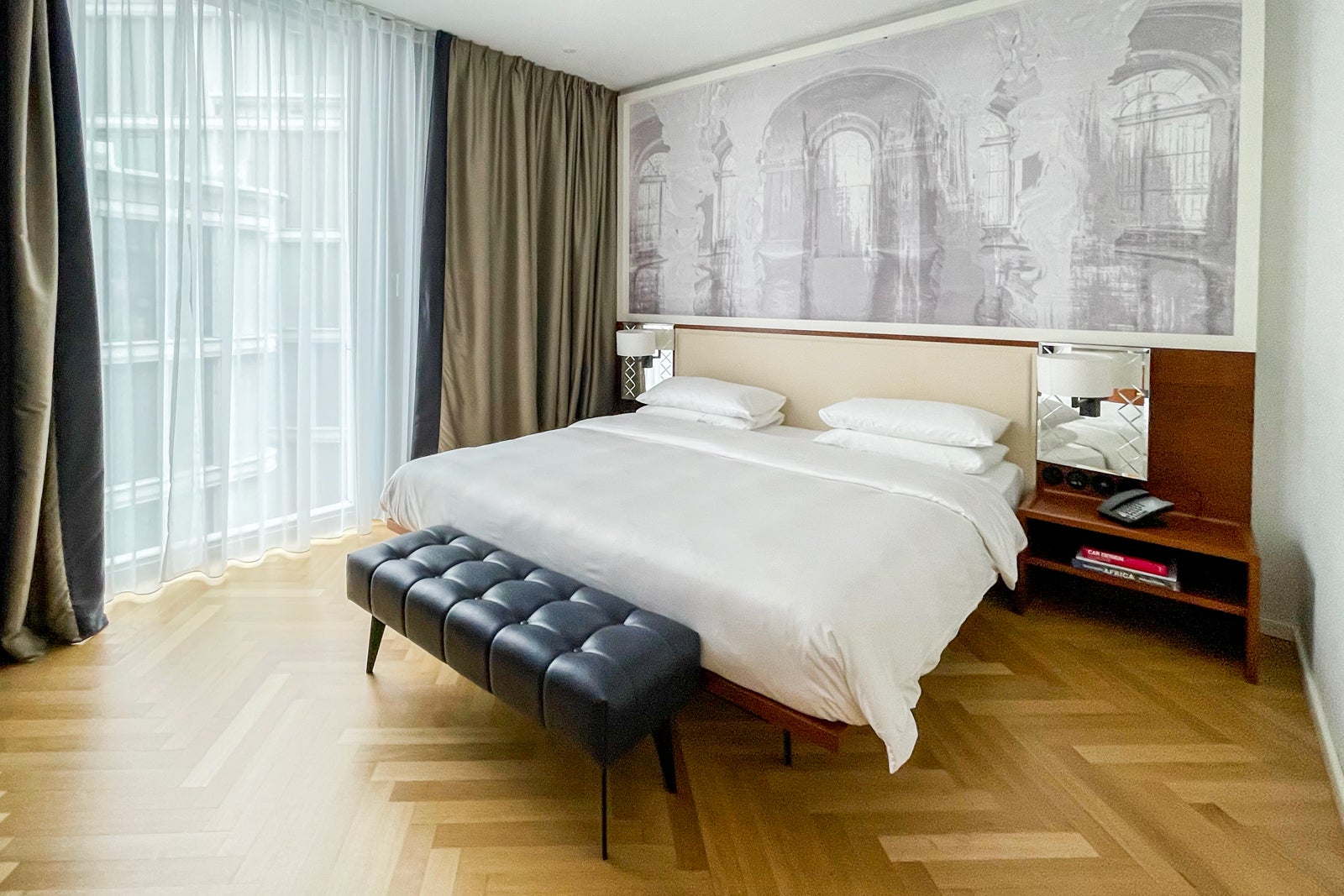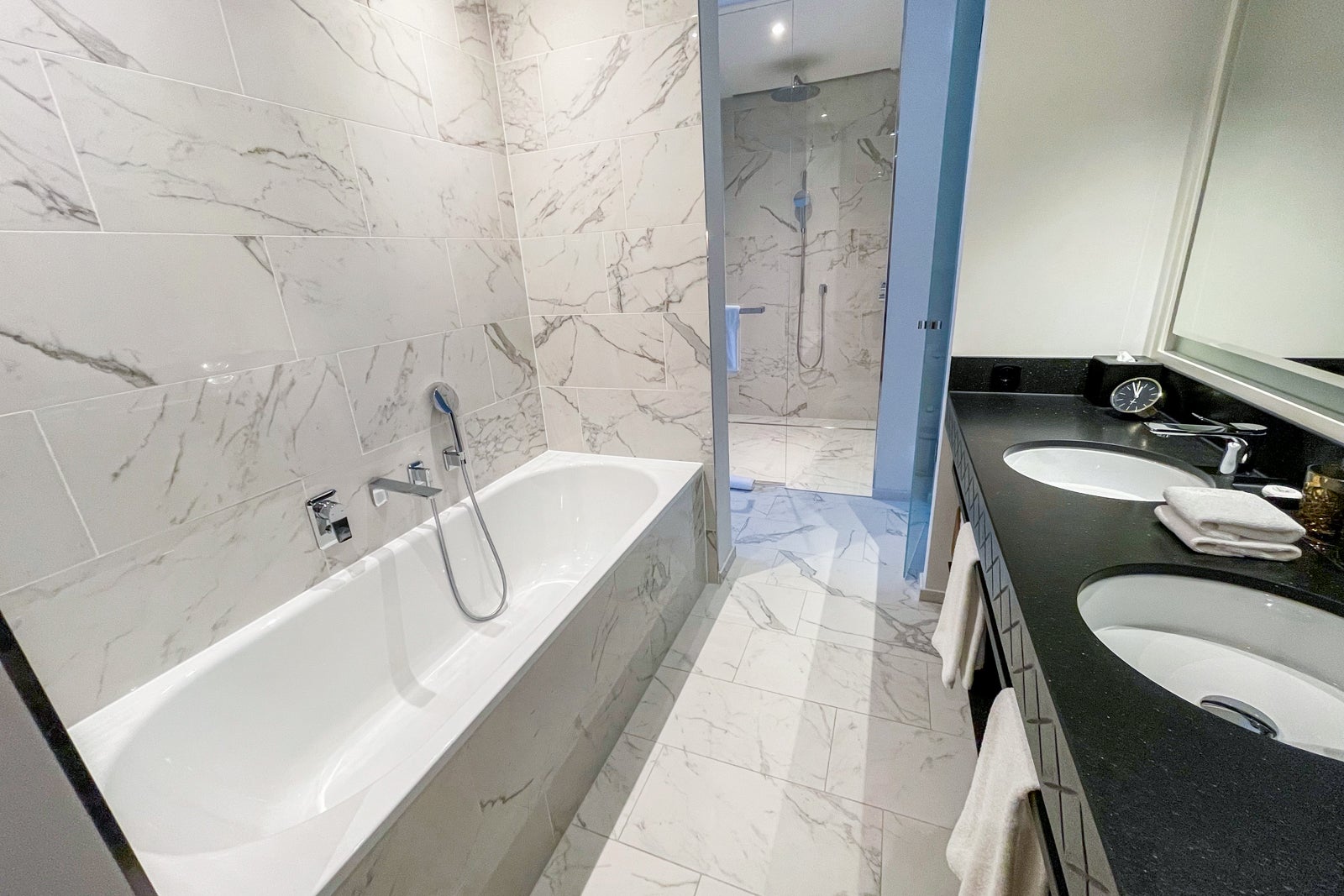 My husband and I selected the 1,162-square-foot Executive Suite with Park View. (These premium suites are found on the 13th and 14th floors of the hotel.) We loved the corner room with views in three directions from those floor-to-ceiling windows. We could watch people boarding the tram lines, look out at the Belvedere Palace and its gardens, see the Prater amusement park's Ferris wheel and attractions in the distance as well as the old city and St. Stephen's Cathedral. The views were simply stunning.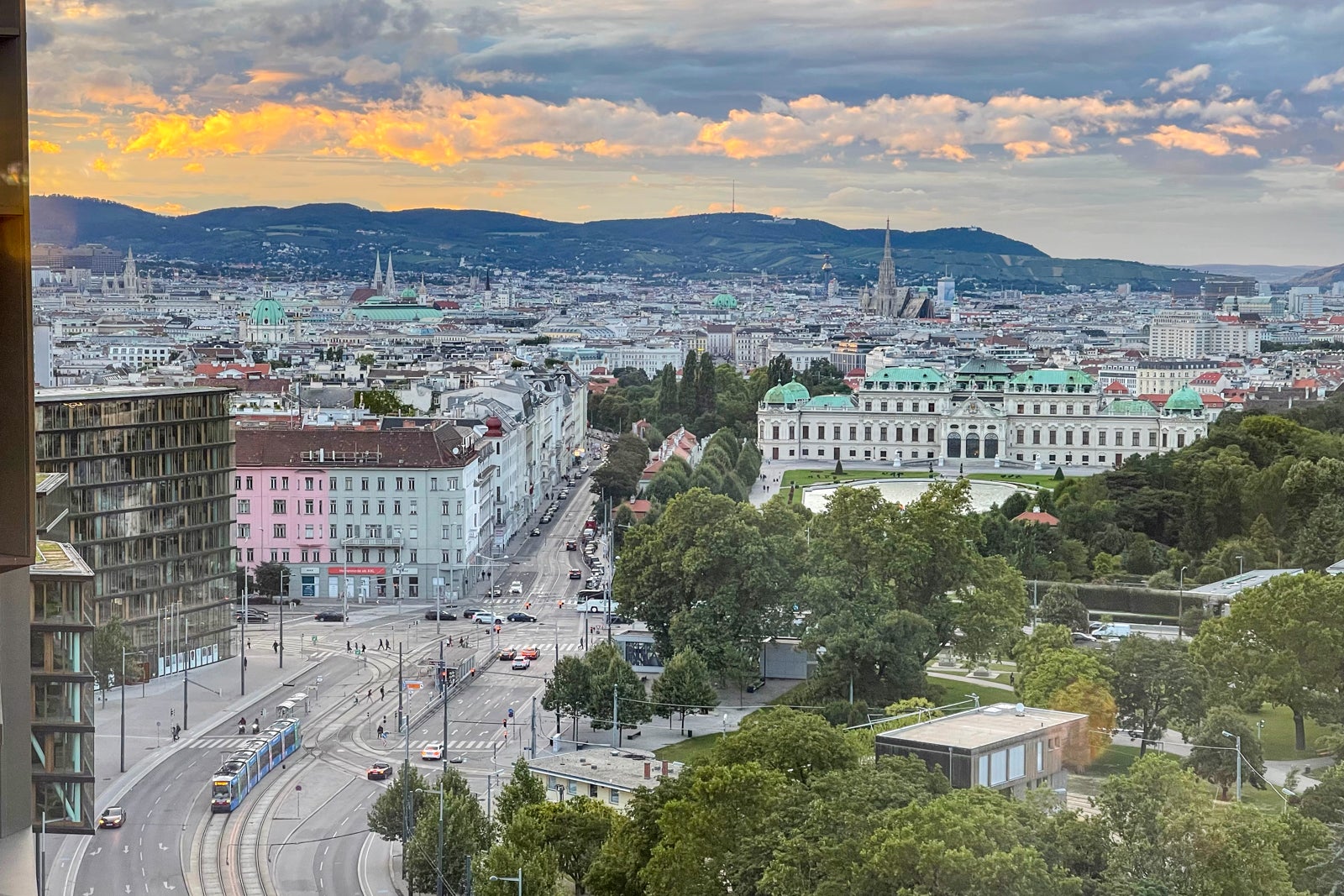 The dining and living areas were combined so we could comfortably assemble our group of 14 for drinks and even a full dinner.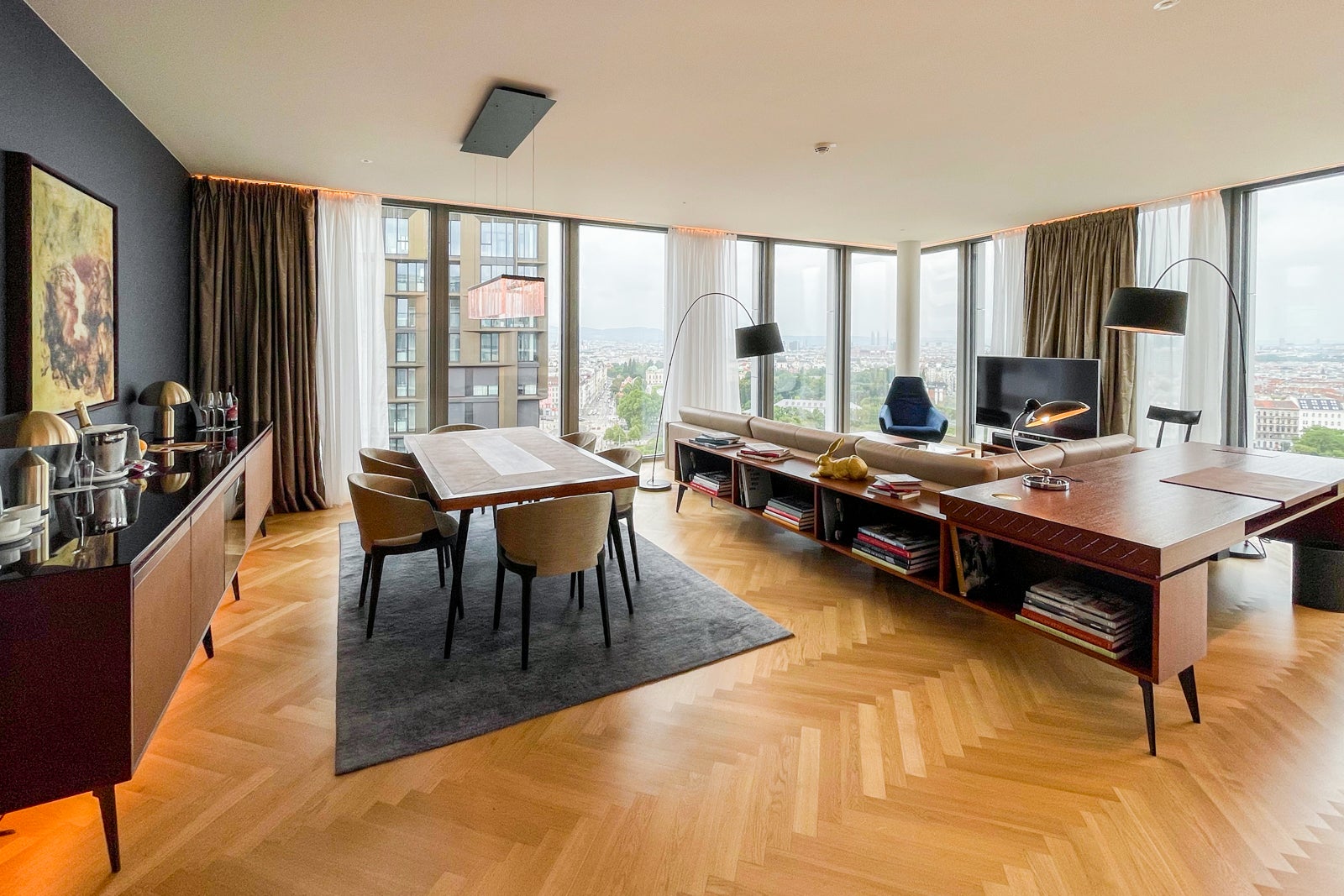 The dining table sat six, there was a spacious L-shaped sofa, plus two additional chairs and a desk and 65-inch flat-screen TV.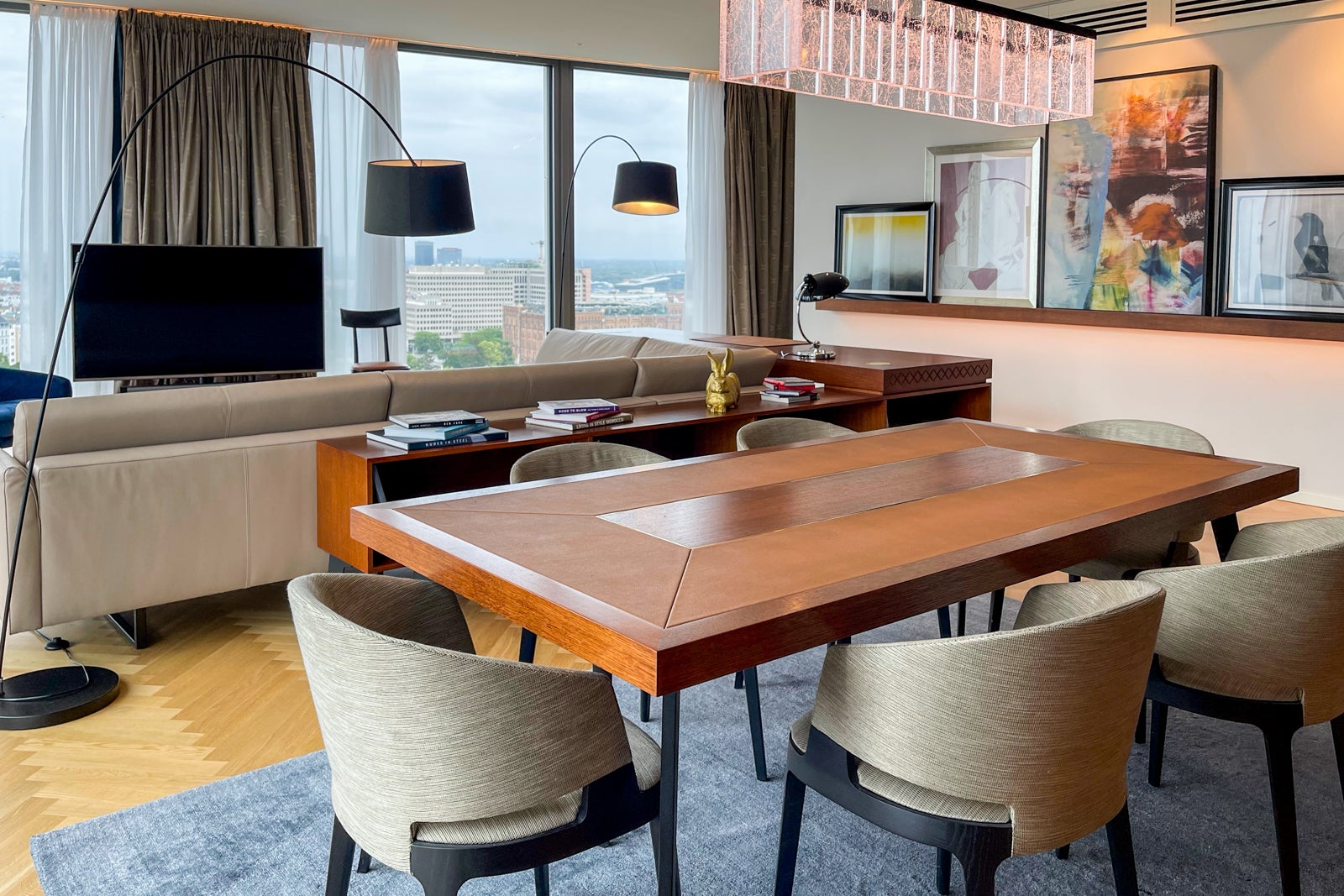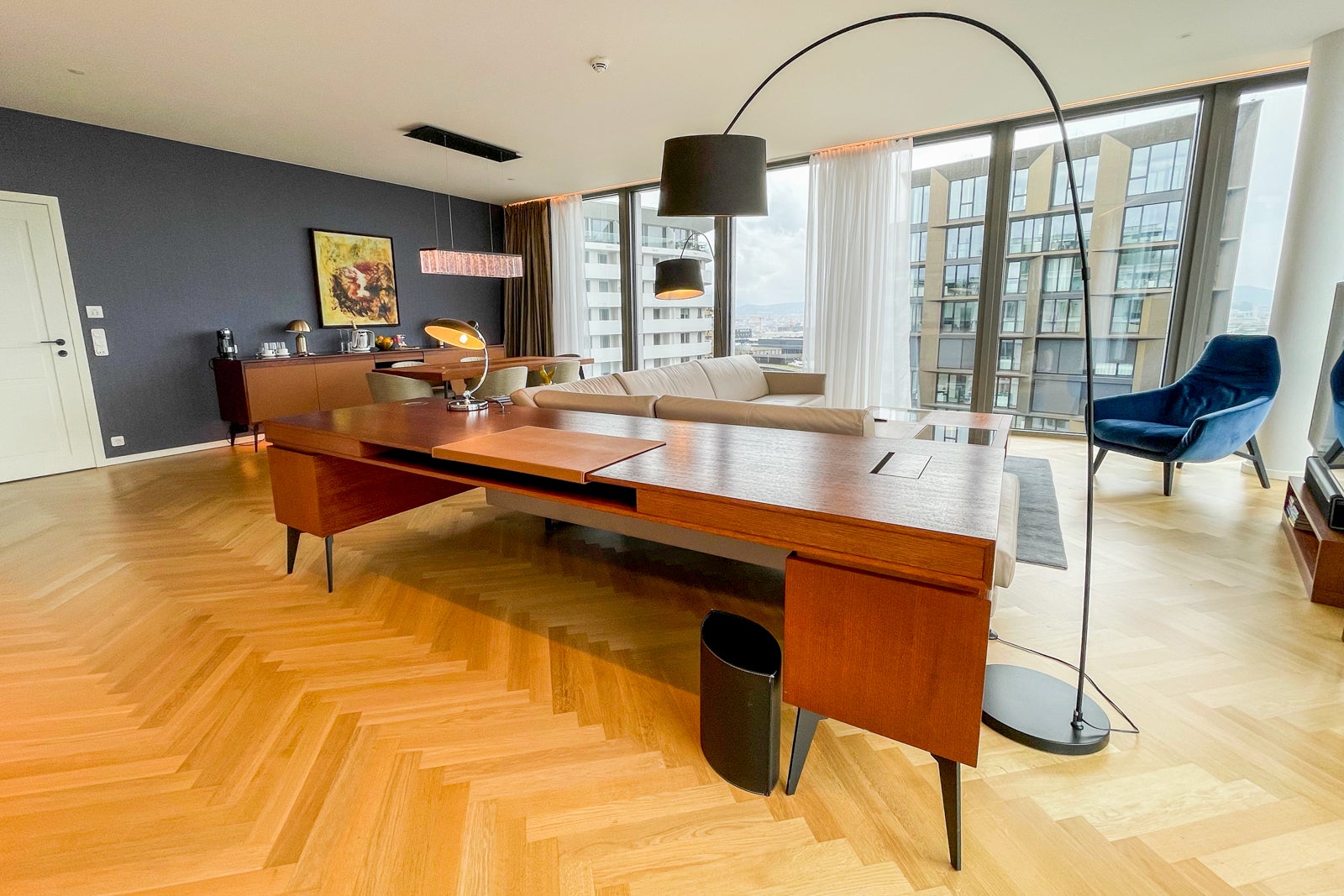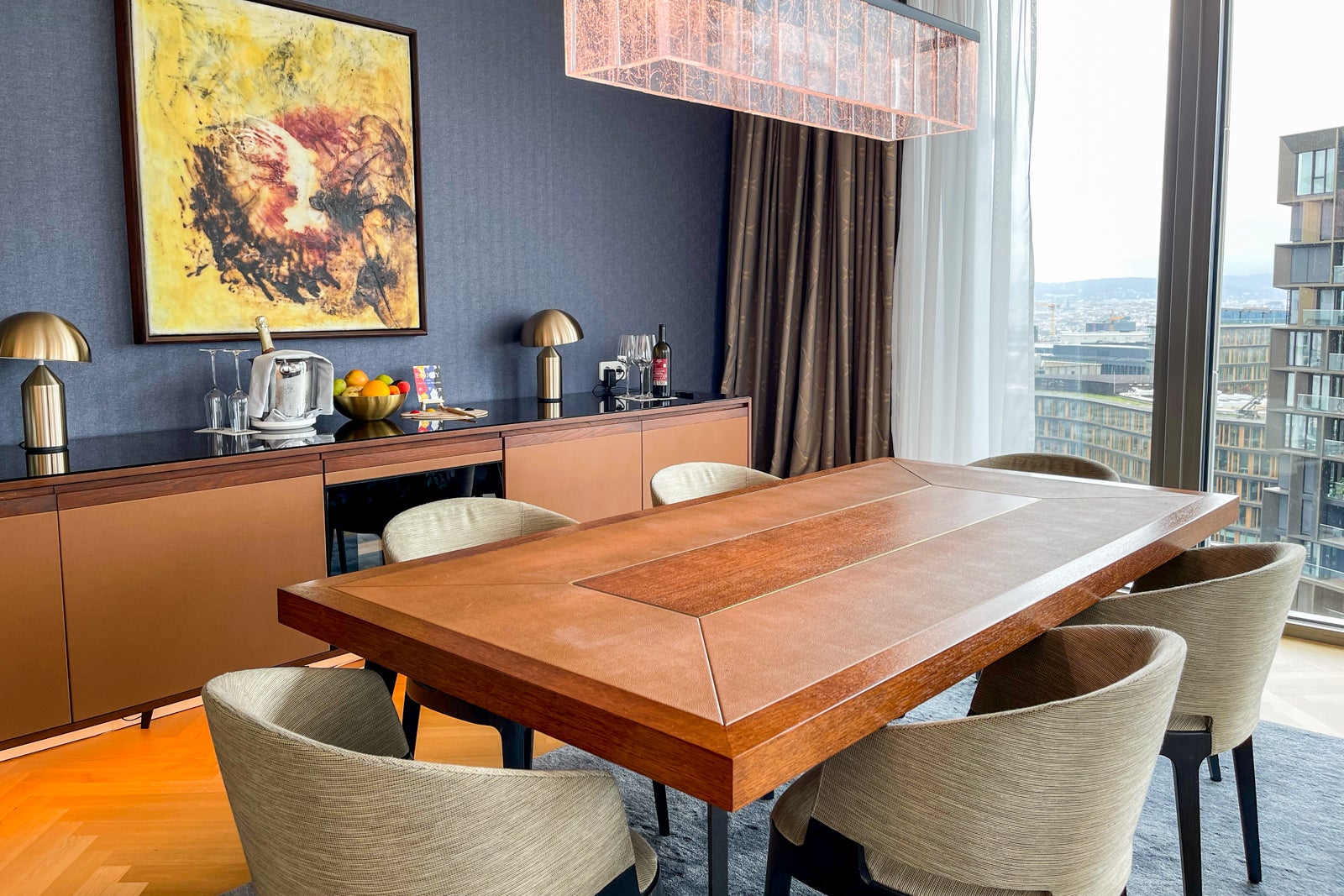 A tufted bench by the door — across from a clothes valet — was the perfect place to drop off jackets and handbags.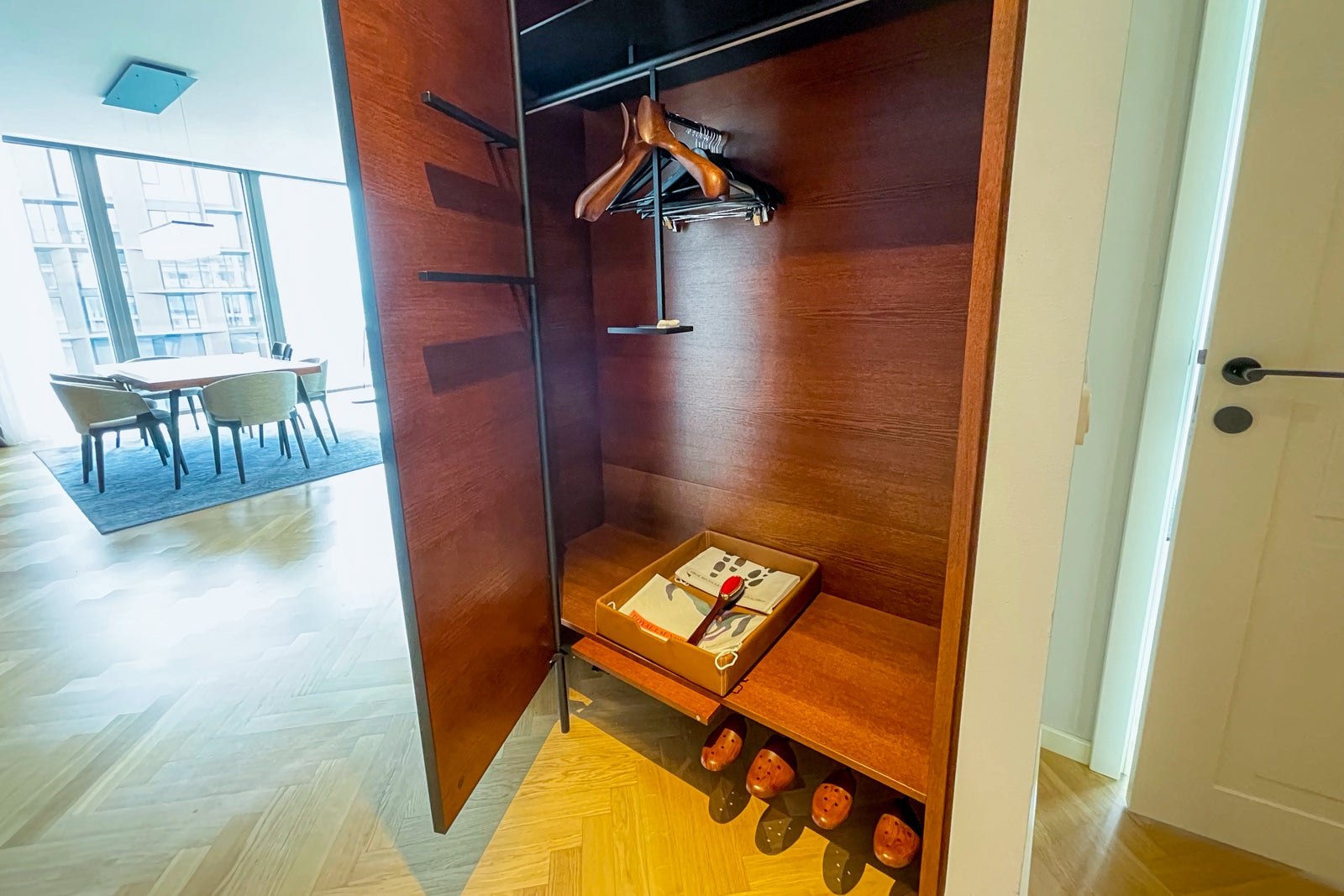 Two doors led to the bedroom, which was its own little haven with a chair, ottoman and reading lamp plus a second TV.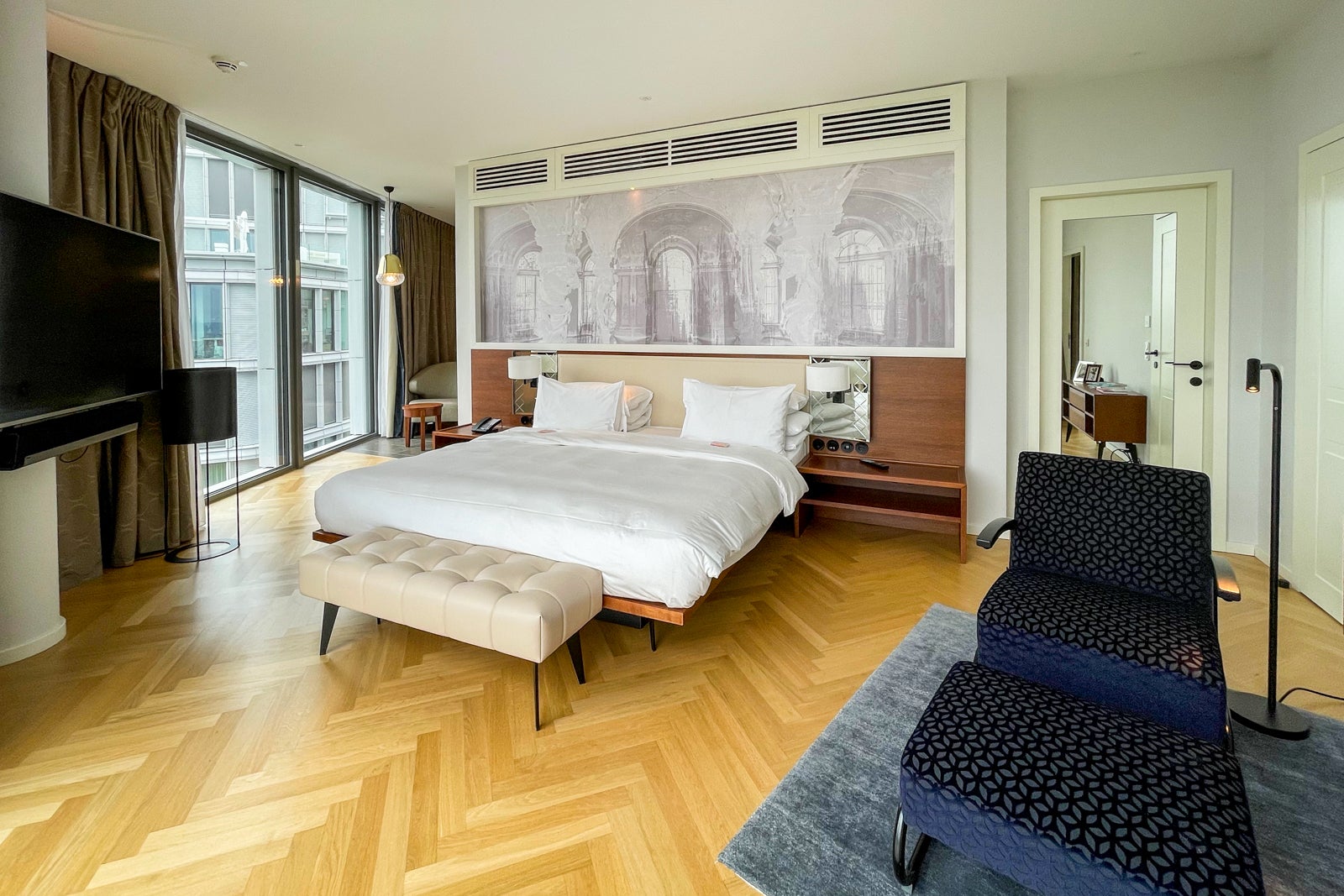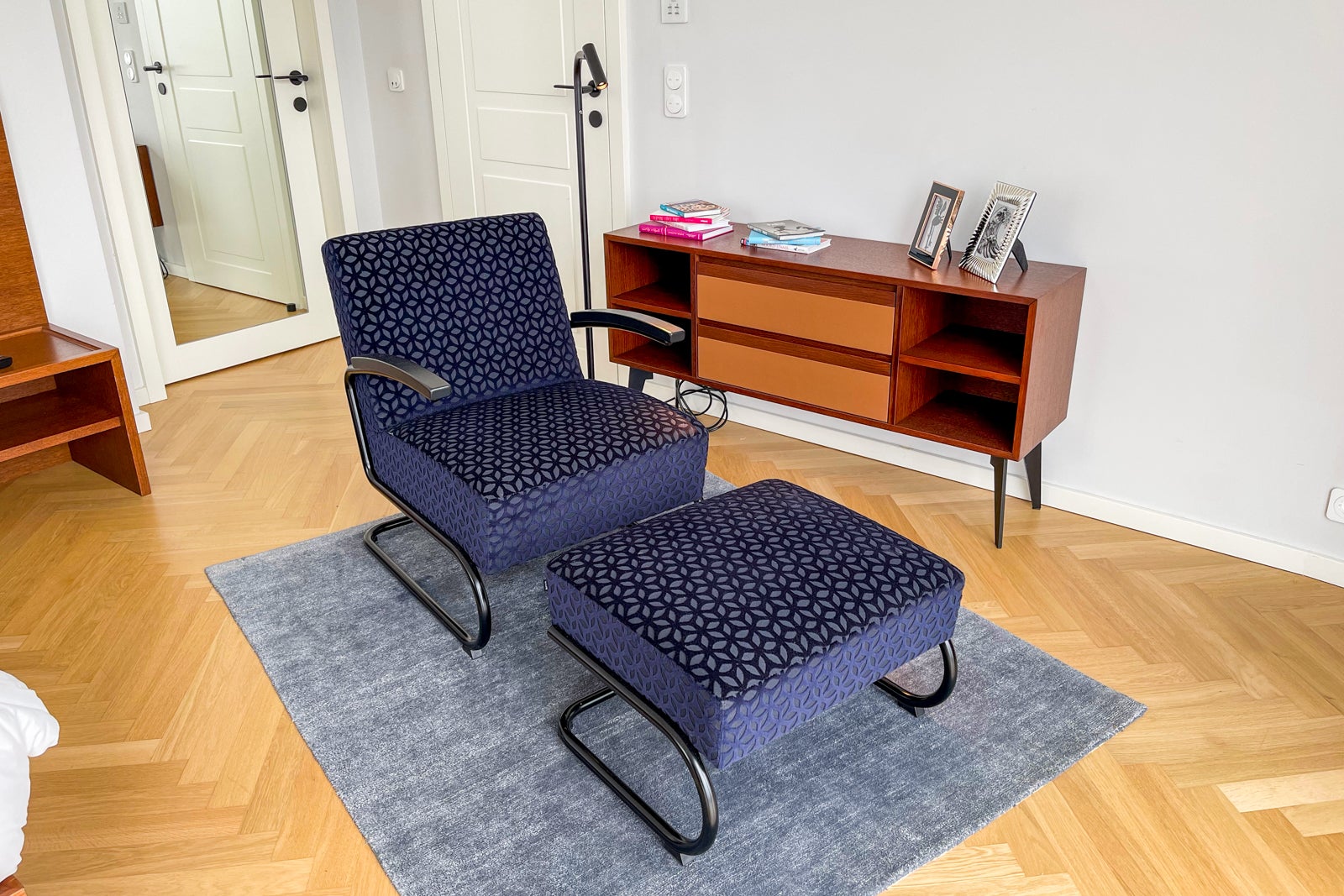 An armchair and low table placed right by the free-standing bathtub gave the bathroom a particularly decadent feel.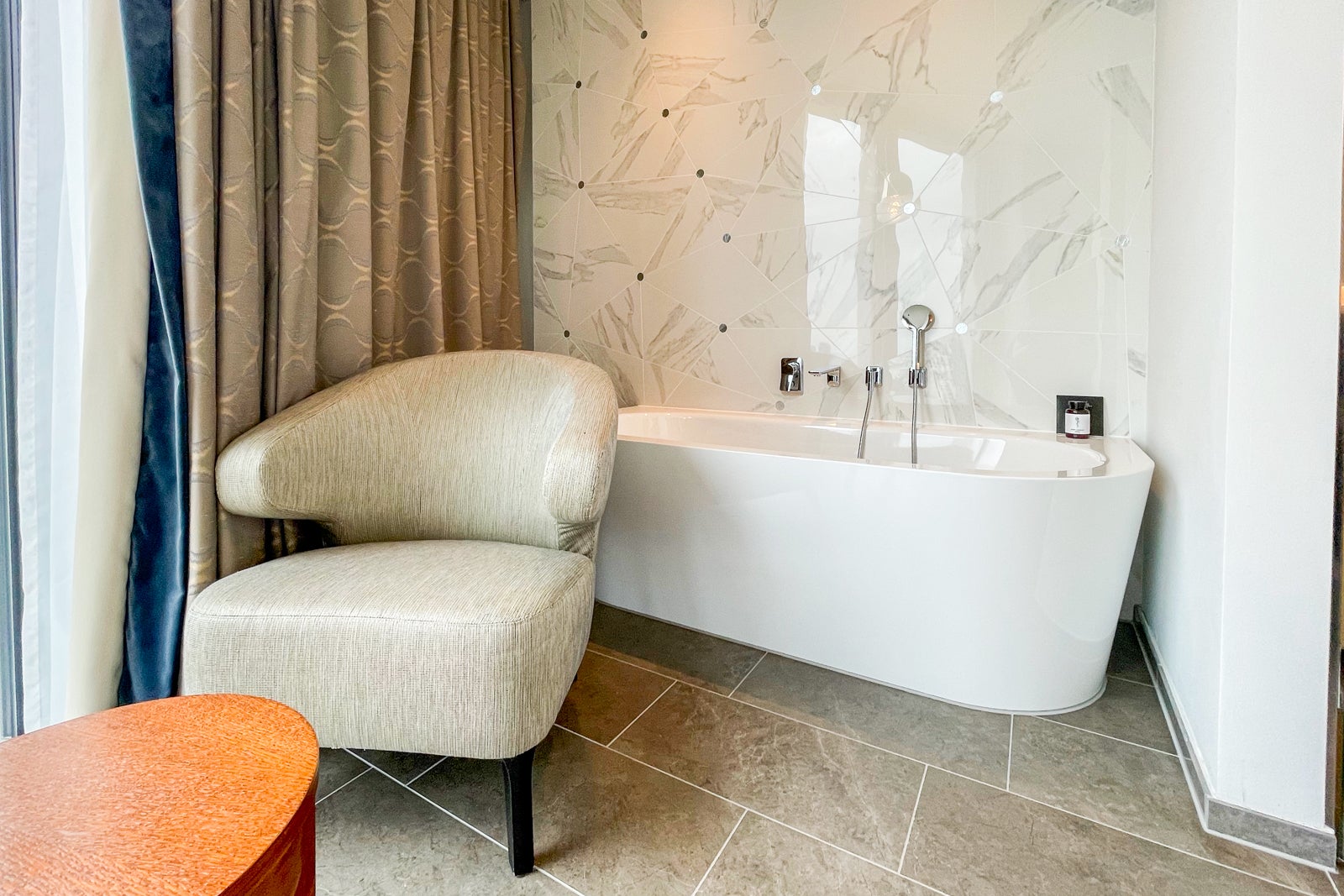 The separate shower was so big there was never a chance of bumping your elbows on the wall or glass door while washing your hair.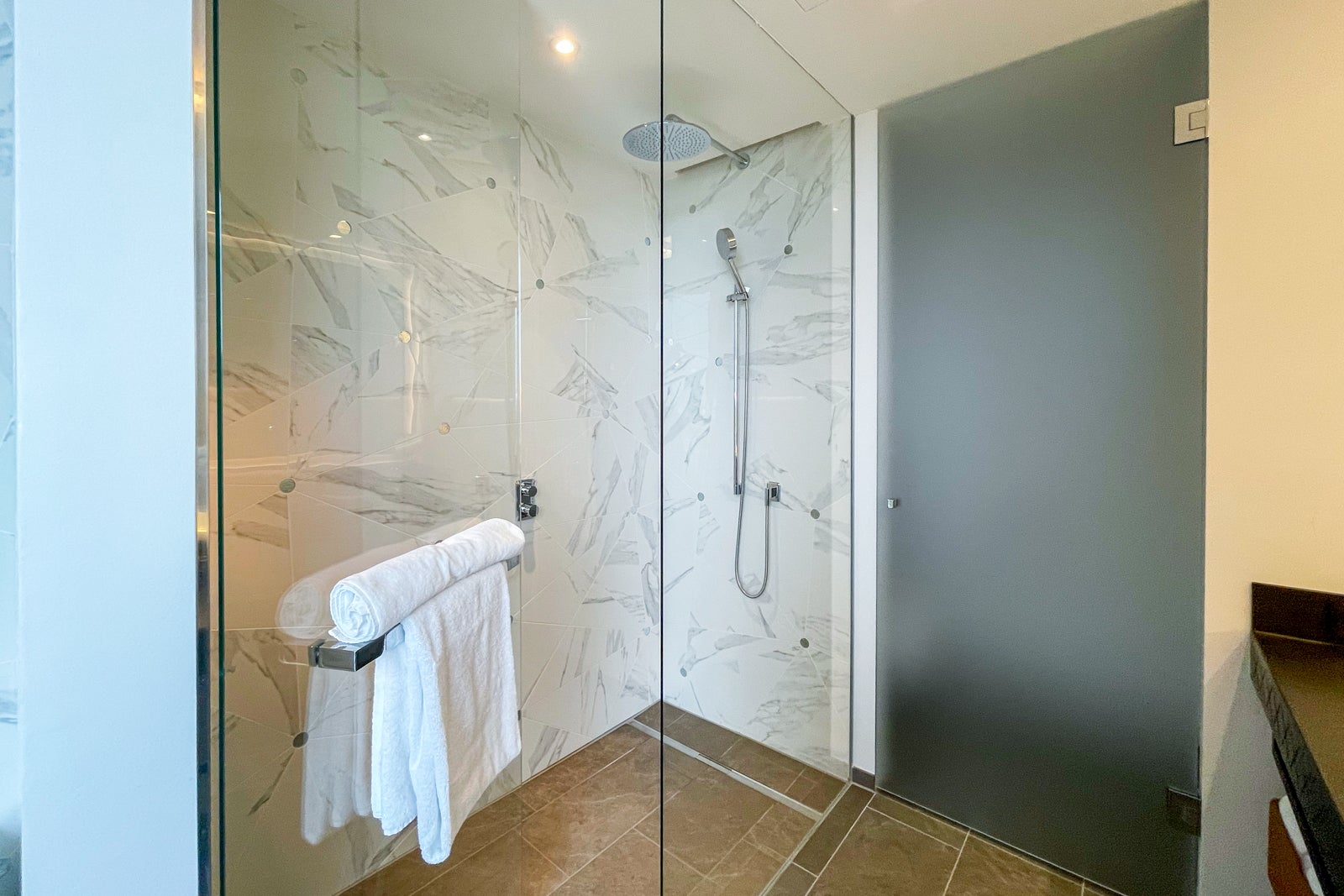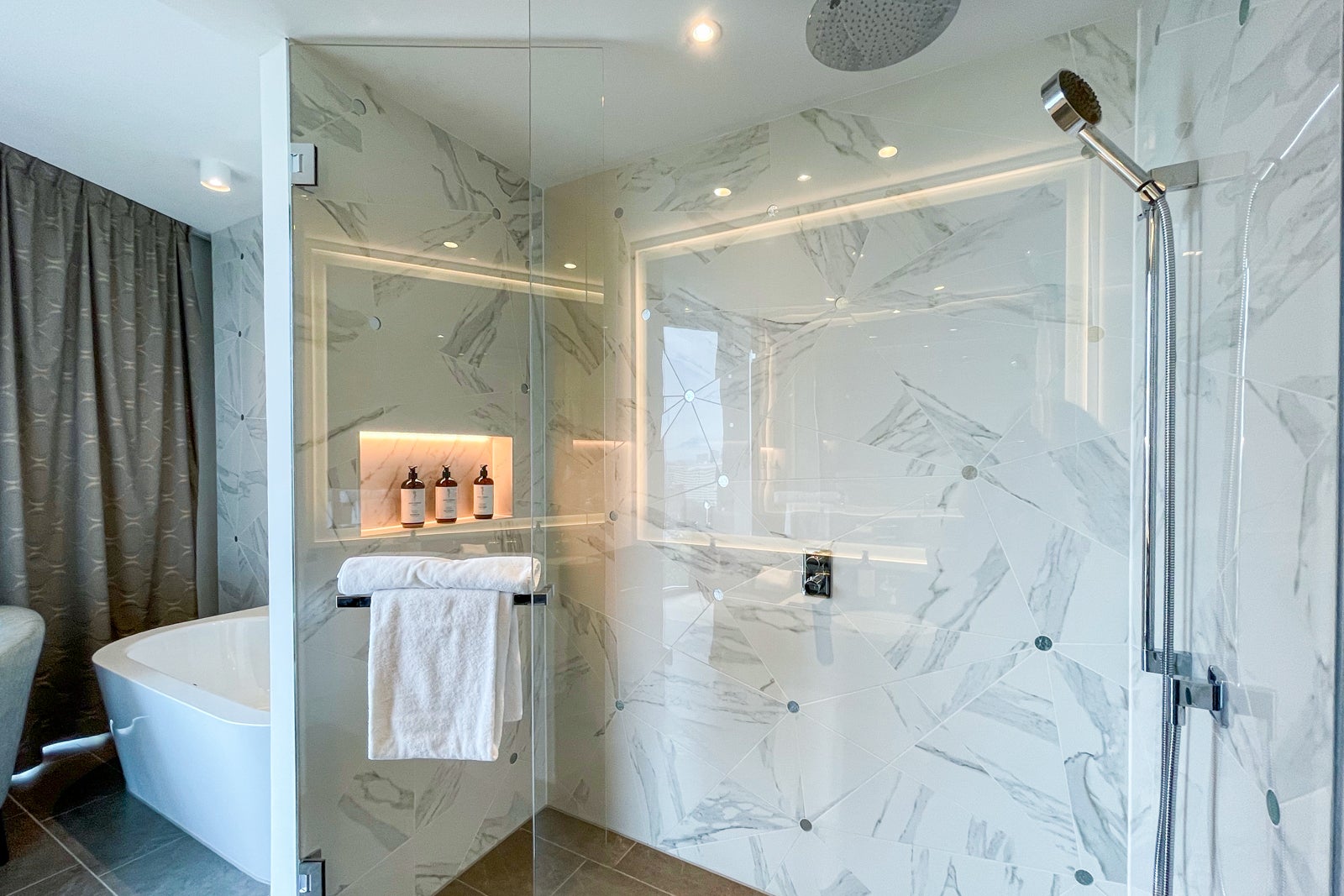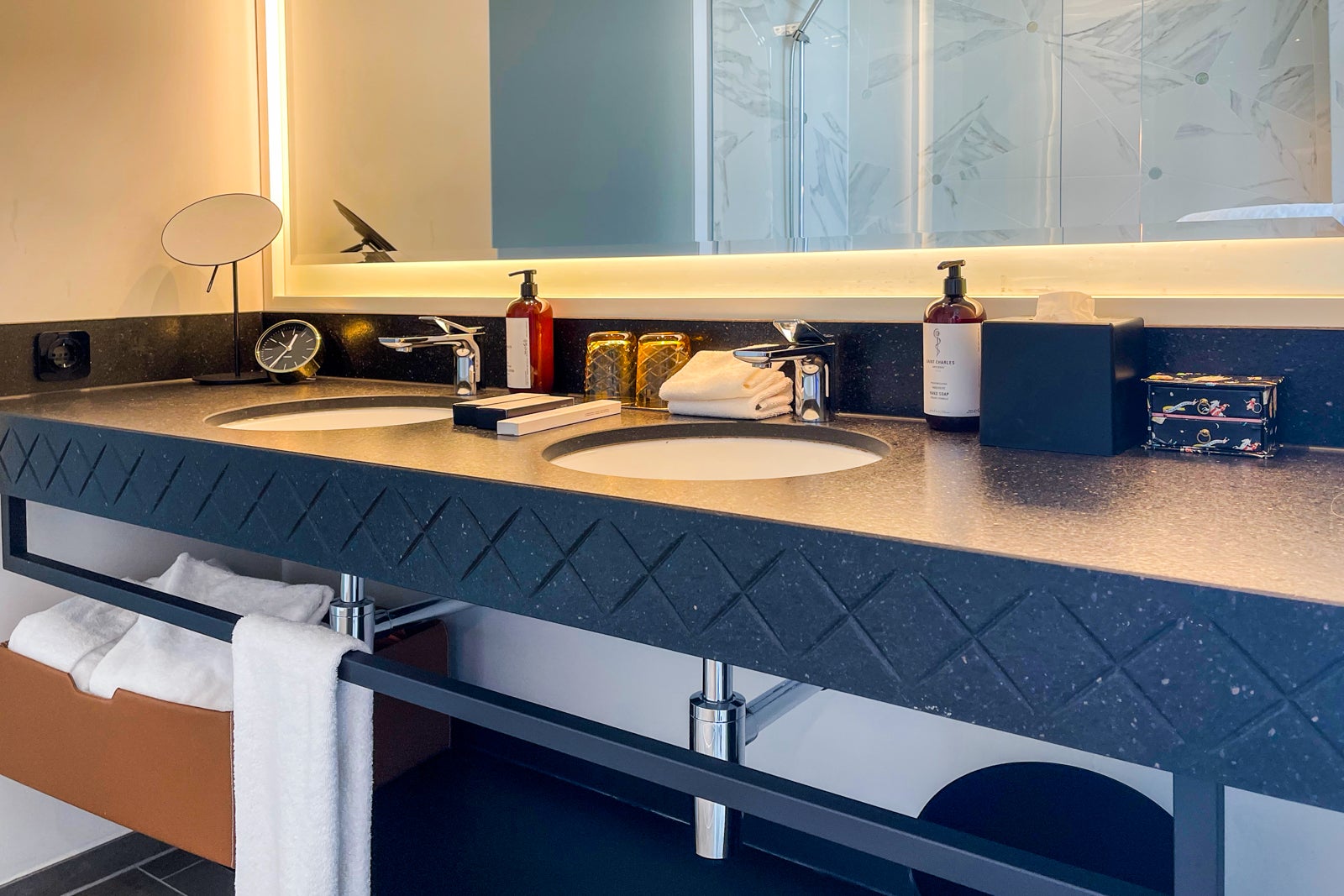 Now, my colleague Tanner Saunders, senior hotel reporter, will think what I'm about to say is blasphemy but … I could have done without the fancy Japanese Toto toilet in the master bath. I just don't need all those bells and whistles. (The half-bath had a standard-style toilet.)
Related story: Here's why my favorite hotel amenity is a heated toilet
The art in the suite, though, won us over — especially a golden bunny that held court on the credenza against the sofa. (Pro tip: You can buy the same bunny sculpture in gold and a variety of other colors at the Albertina Museum in the old city.) The room was also stocked with dozens of books, ranging from quirky picture books to art books to travel guides.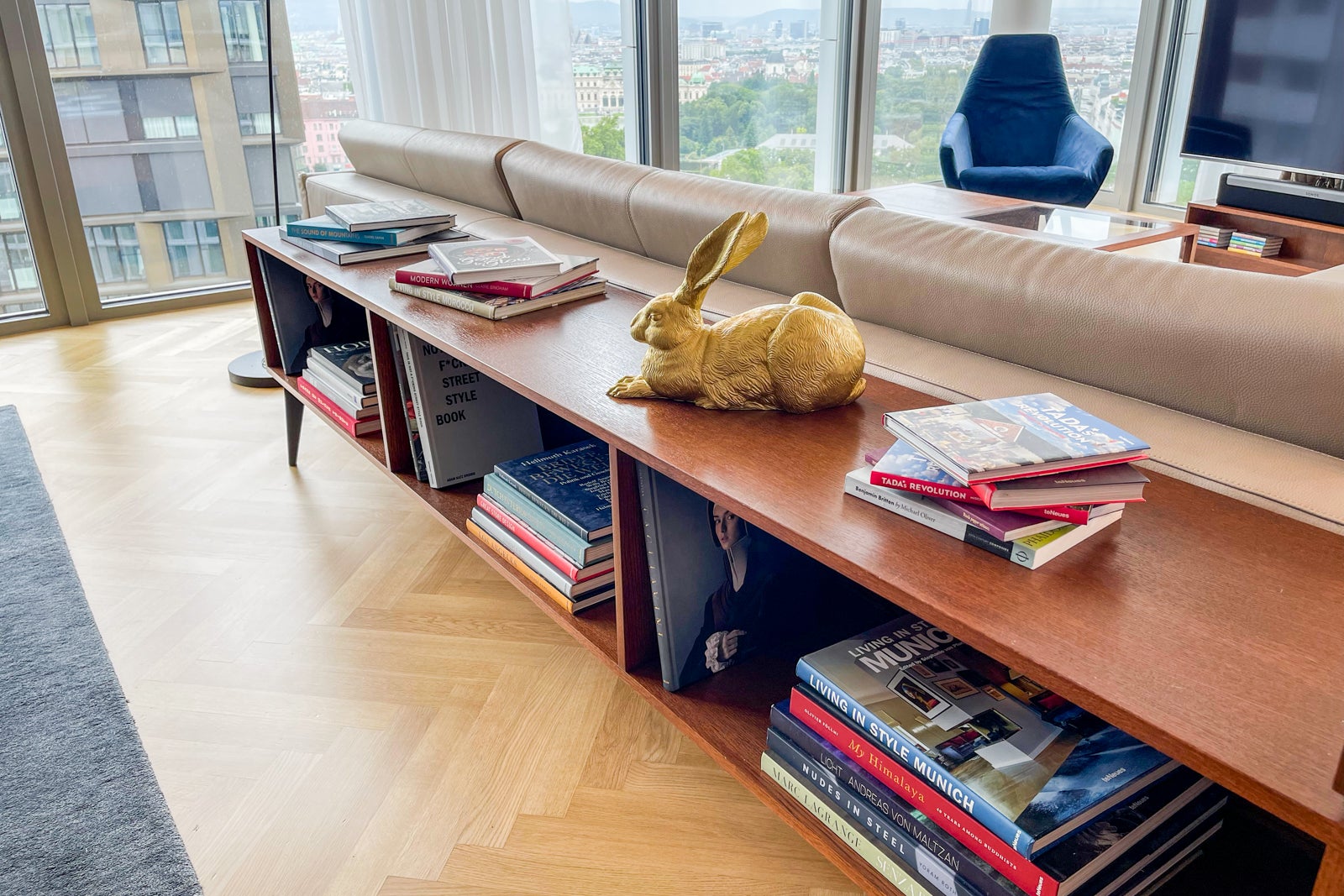 We would book the Executive Suite again, even if it were just the two of us traveling. We enjoyed it that much.
Additional bookable suites include:
Belvedere Park View Suite: Up to 656 square feet; can be connected to a Twin View Room)
Penthouse Suite: On the 15th floor with park view; 2,088 square feet; premium suite; can be connected to an Andaz Deluxe Suite and Twin Bed Room
2 Bedroom Suite: Park views; 1,000-1,021 square feet
3 Bedroom Suite: Prime city views; 1,270-1,323 square feet
The dining and drinking venues will make you want to stay in
The Andaz Vienna Am Belvedere has one sit-down restaurant called Eugen21 & Terrace, a coffee shop called Cyclist and two bars, one in the lobby and one on the rooftop.
Eugen21 & Terrace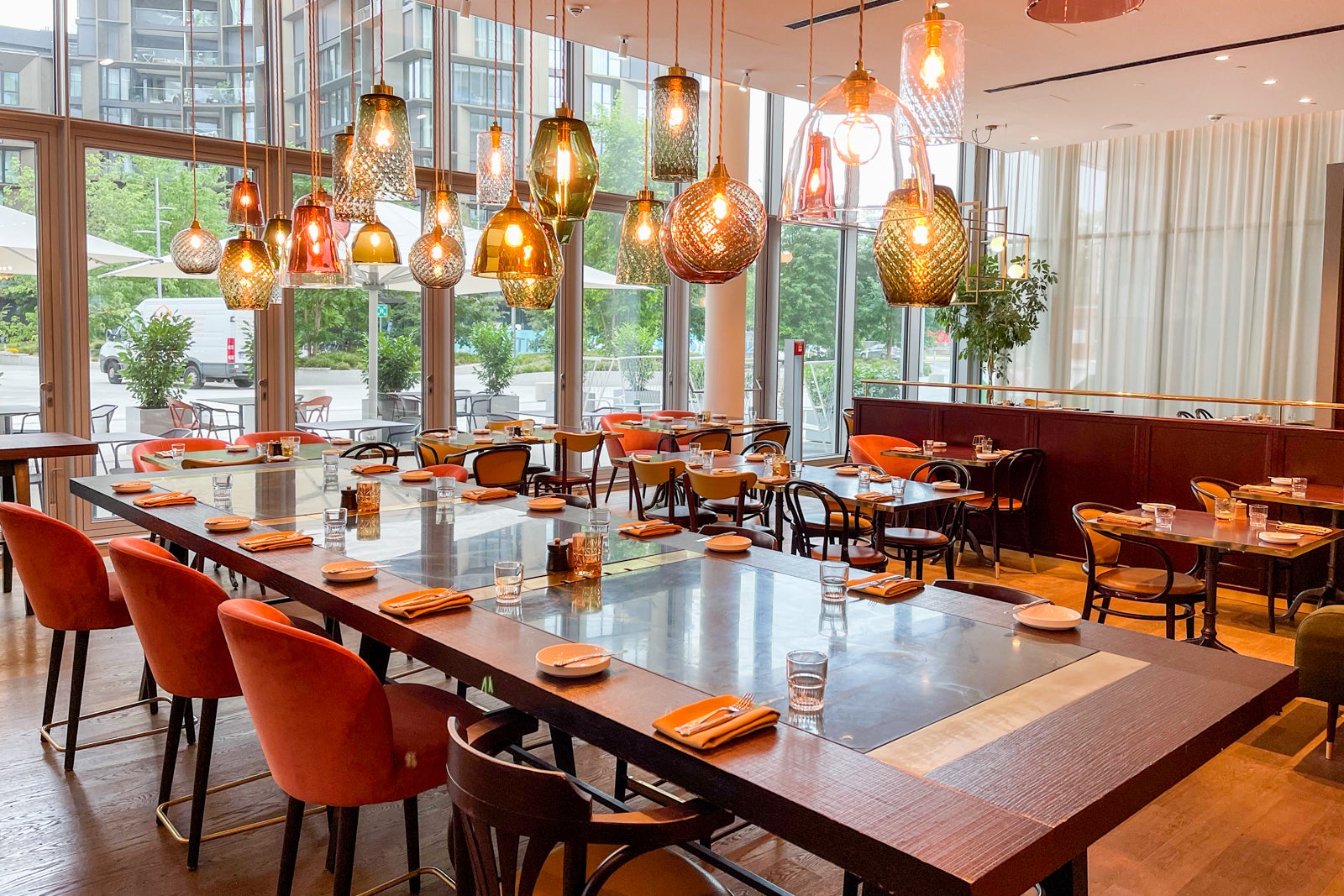 Eugen21 & Terrace is the main restaurant, serving breakfast daily and dinner Monday-Saturday. It's closed on Sundays (the one detail I had not anticipated or checked, and its closure did bite into our plans a bit).
Let's start with the most fun way to spend time at Eugen21: the complimentary (for guests) 4-6 p.m. happy hour. The timing was perfect for our group on a few days when we were getting back from sightseeing to change for dinner just as the Andaz was setting out its spread.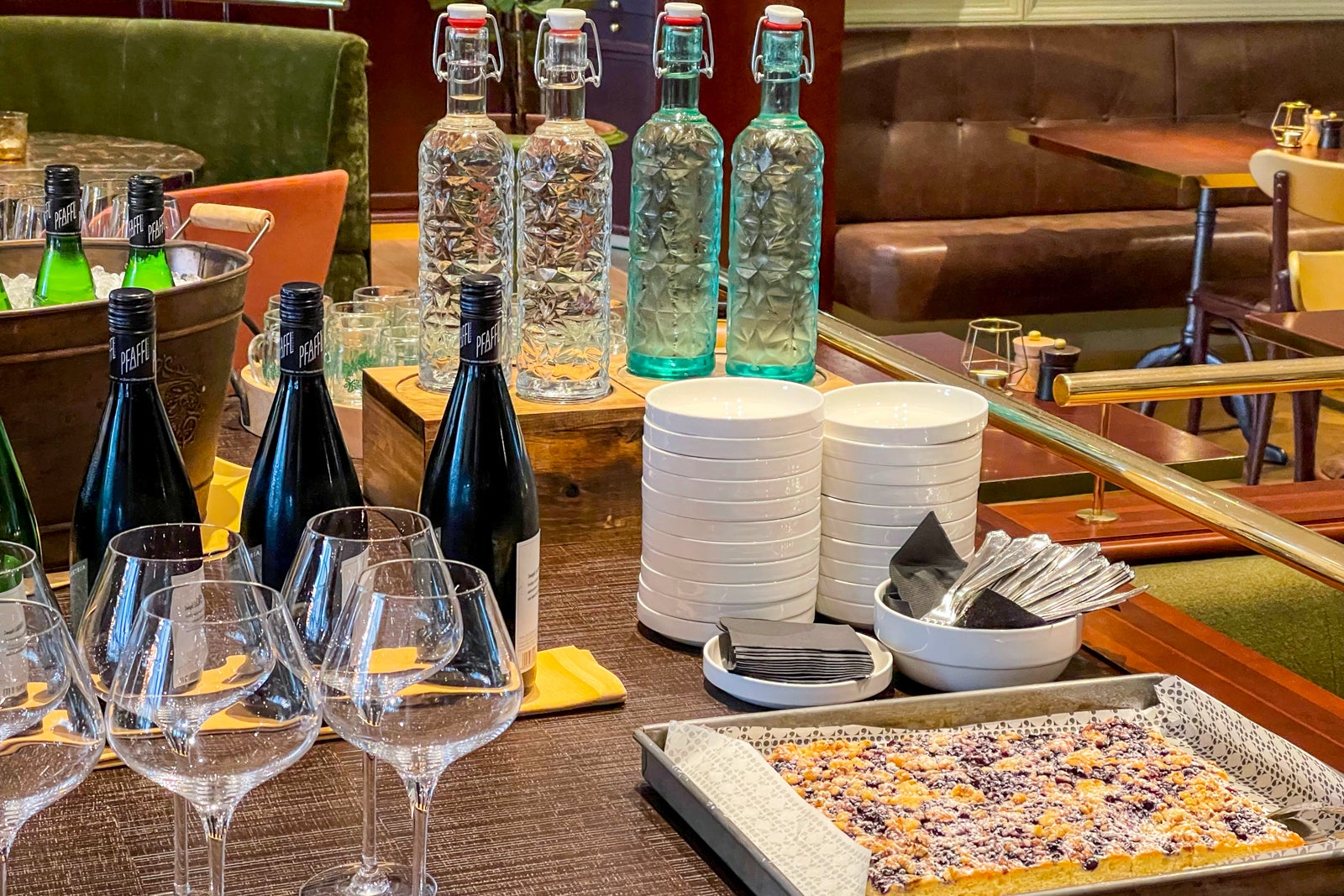 A red and white wine were served daily along with water. The snack selection could have been better, though. Each afternoon we visited, the same thing was served: a berry crumble cake.
I had seen other travelers' photos of pretzels and sausages and was hoping for more of that. But, even with the limited snack selection, it's a nice way to spend some time with friends. Seating is comfortable and most afternoons, we had the entire place to ourselves.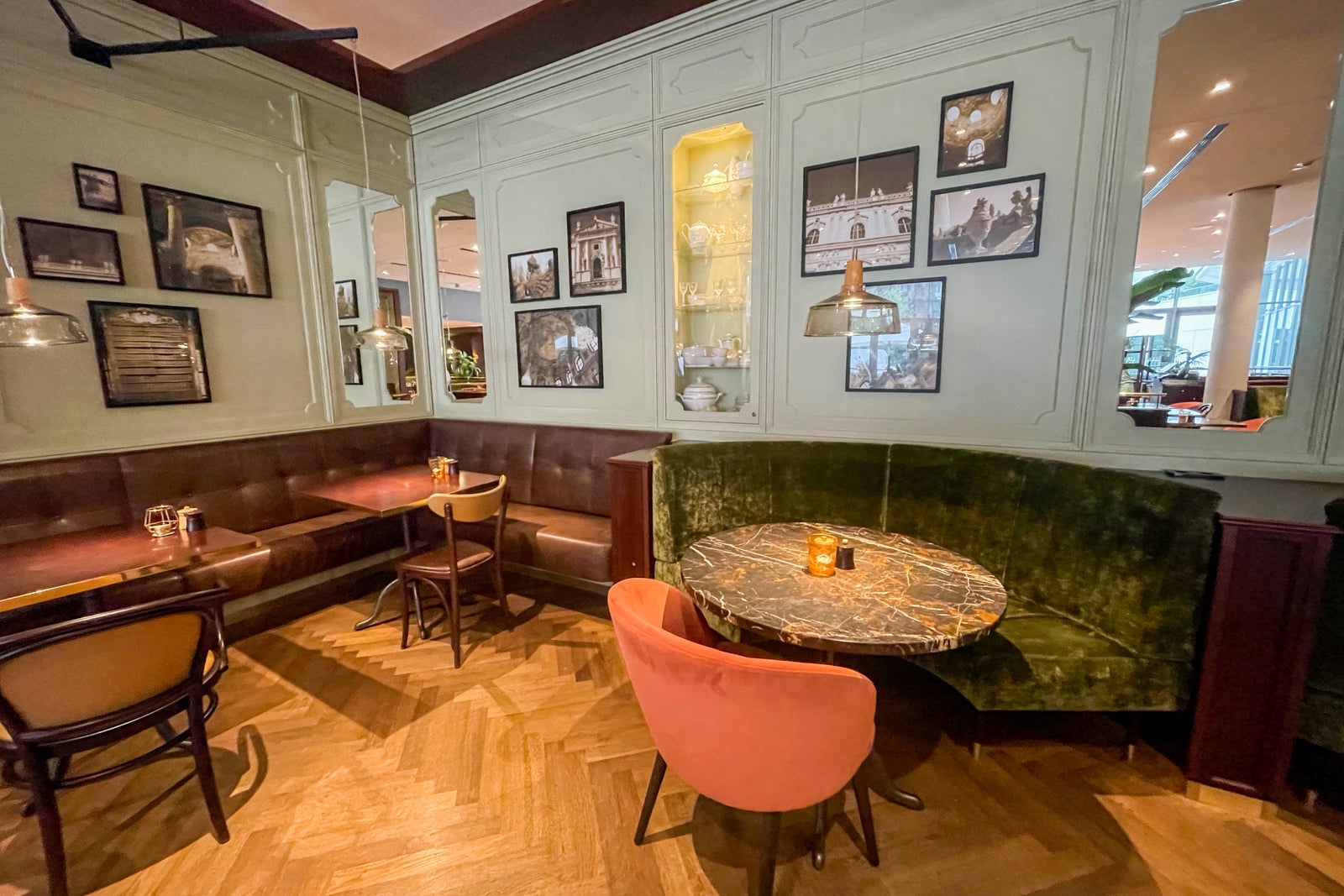 Breakfast is included for World of Hyatt Globalists or those booking an eligible rate (such as through Amex Fine Hotels + Resorts or Hyatt Prive). The buffet was solid and cost 31 euros ($33) per person if not included in your rate.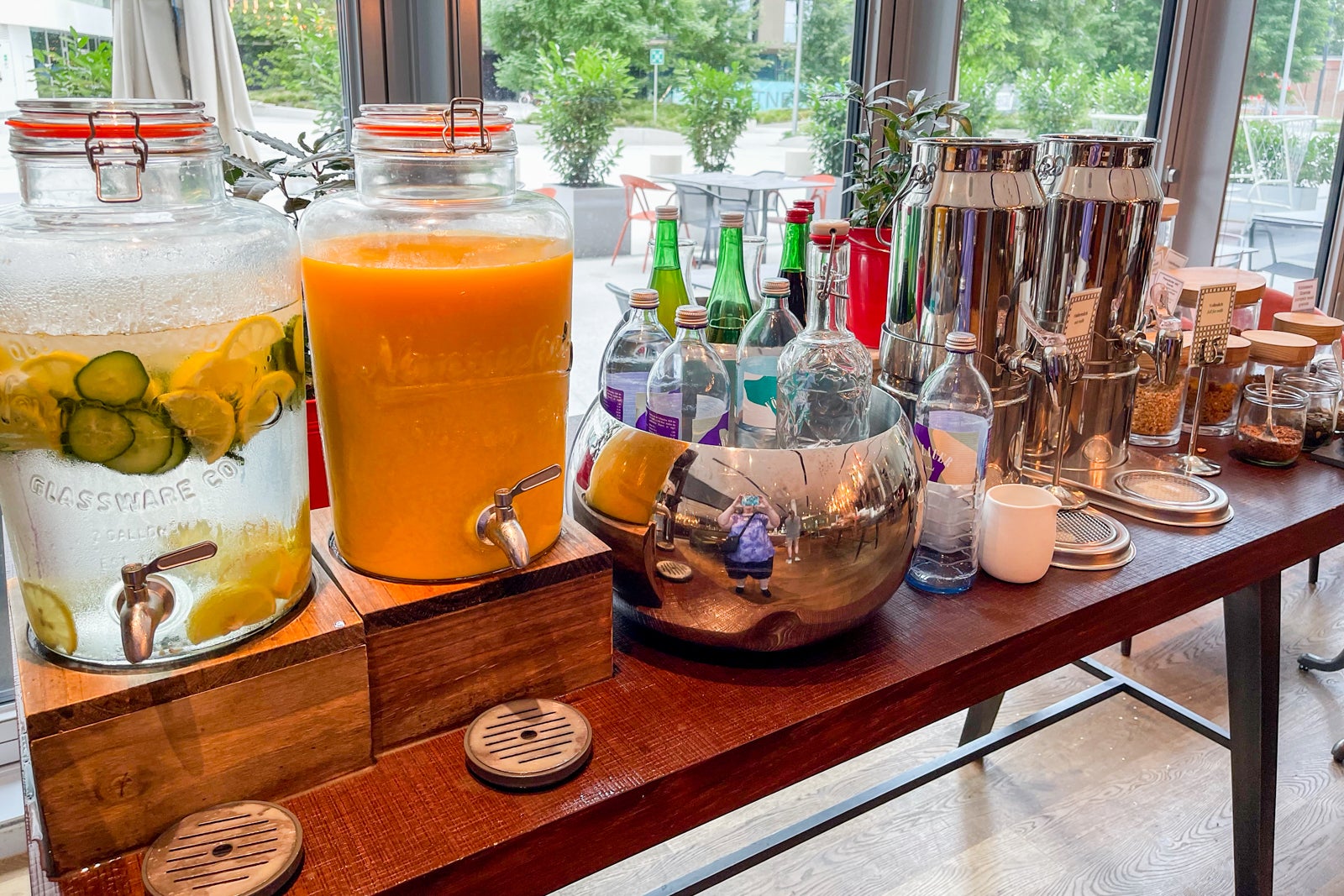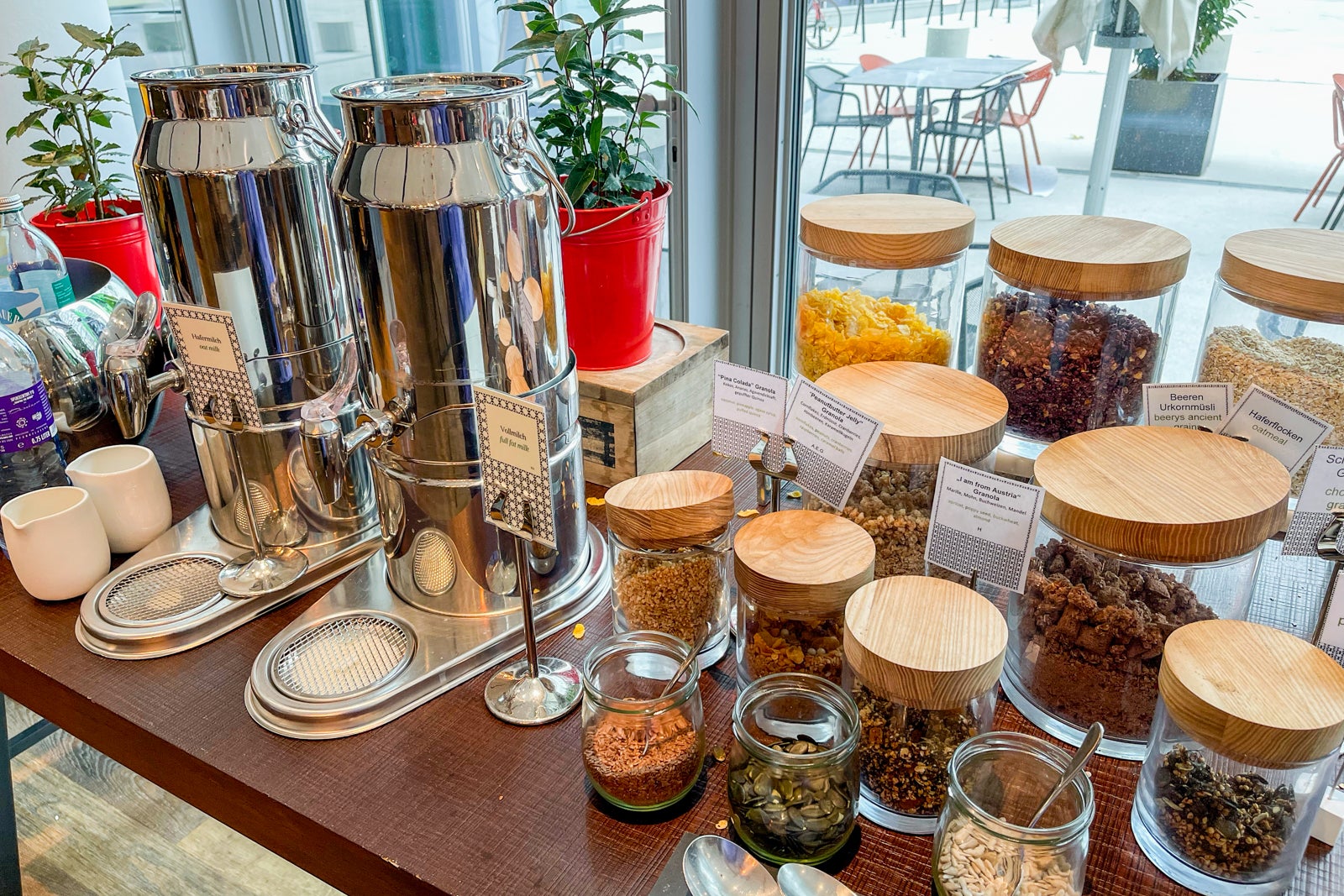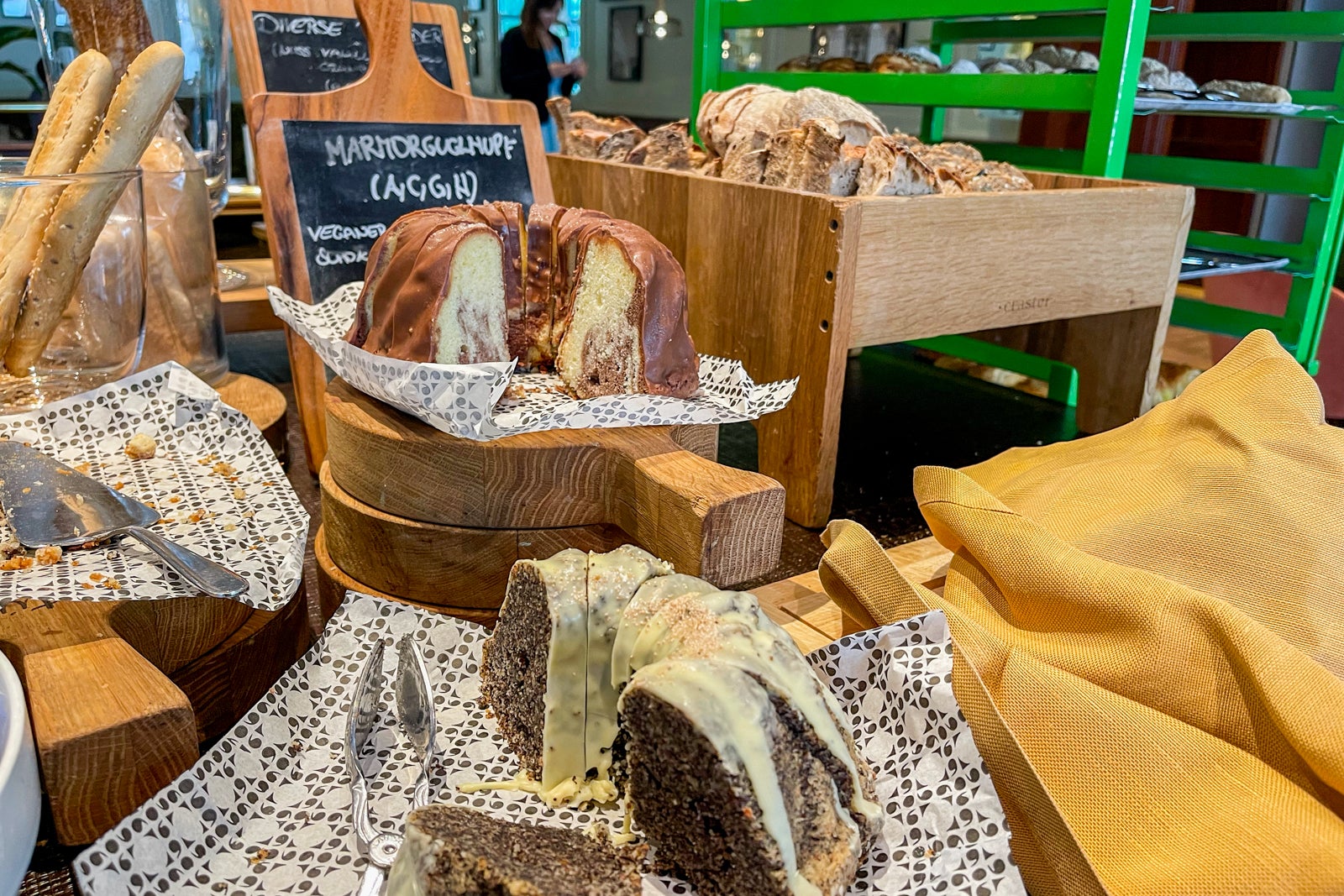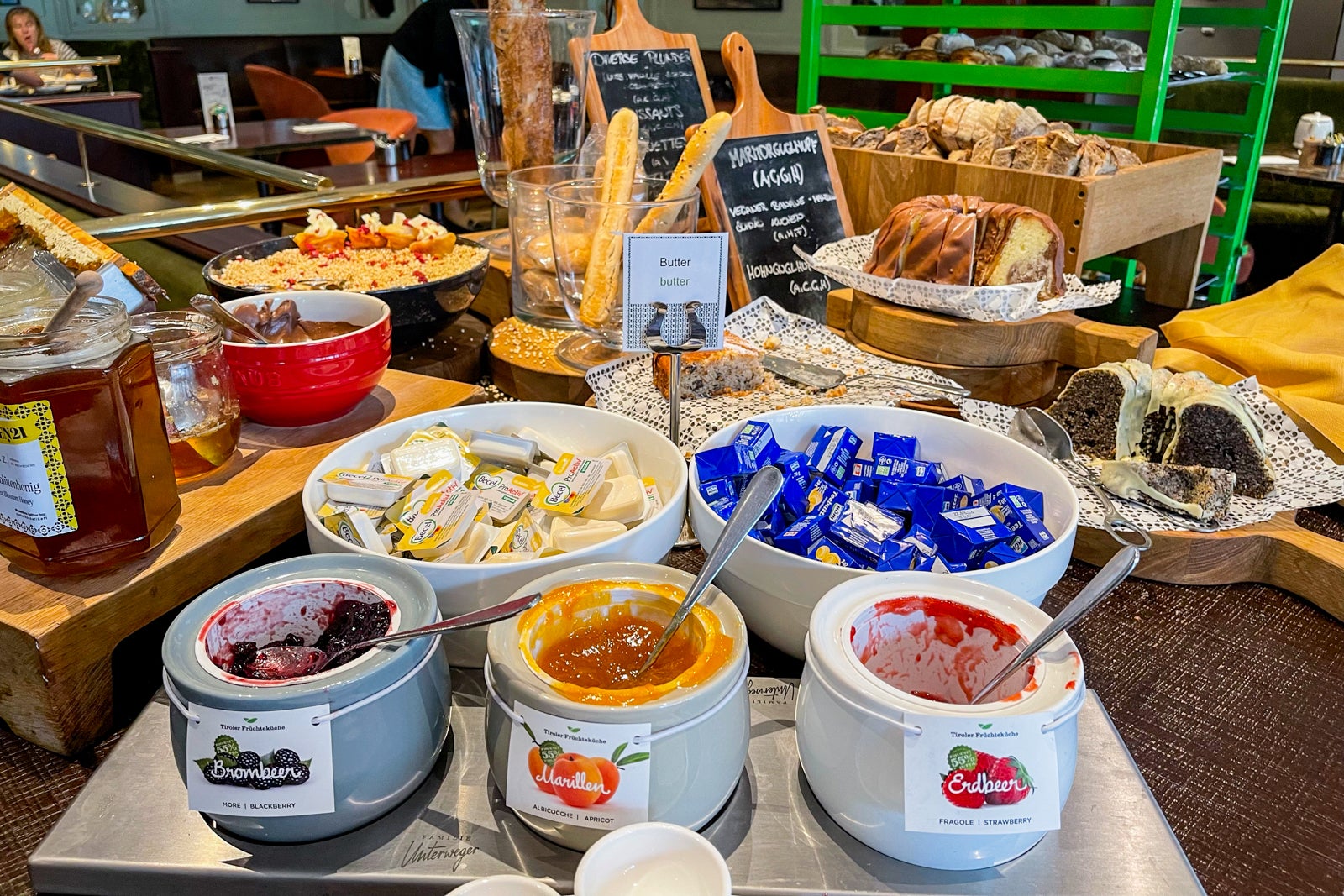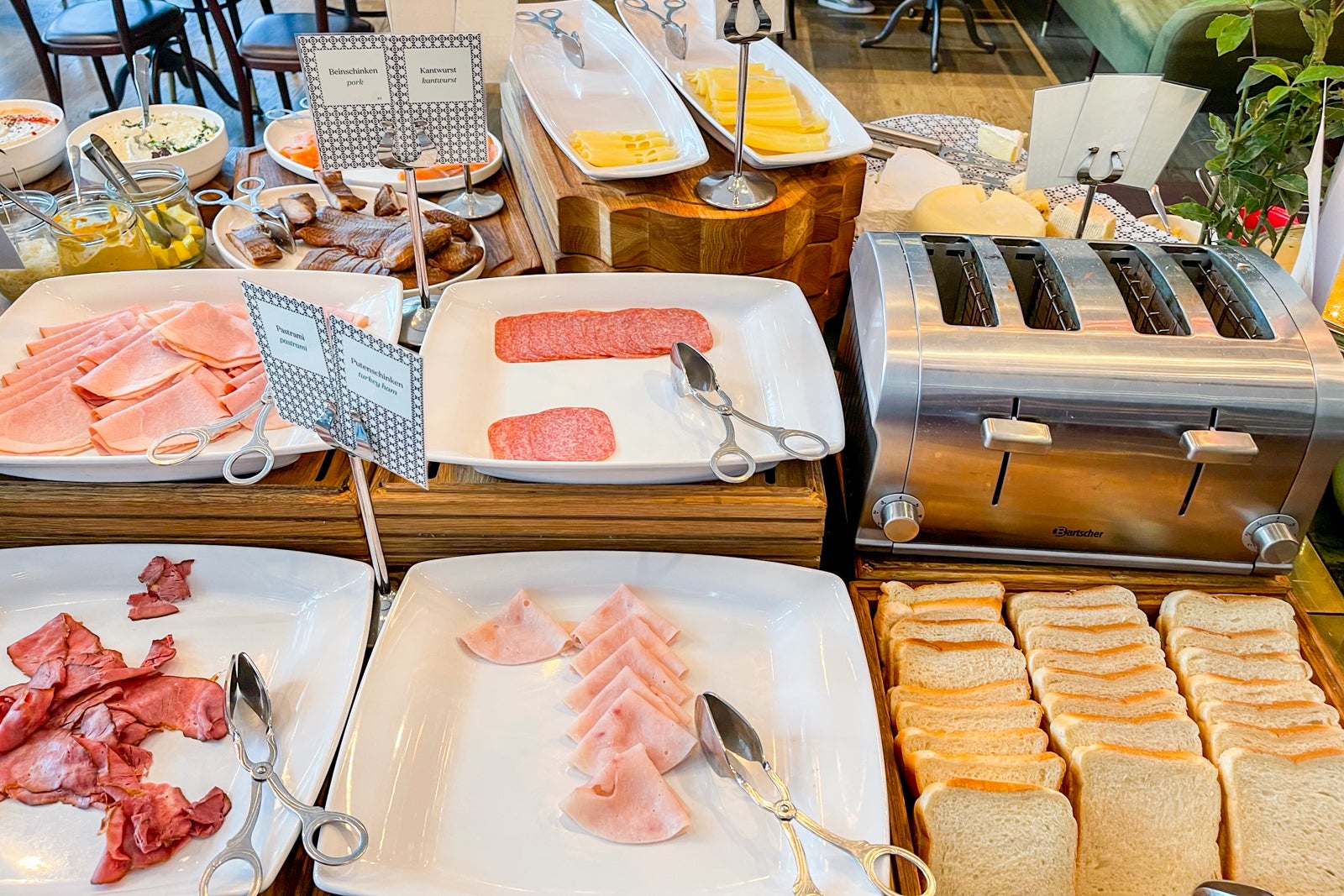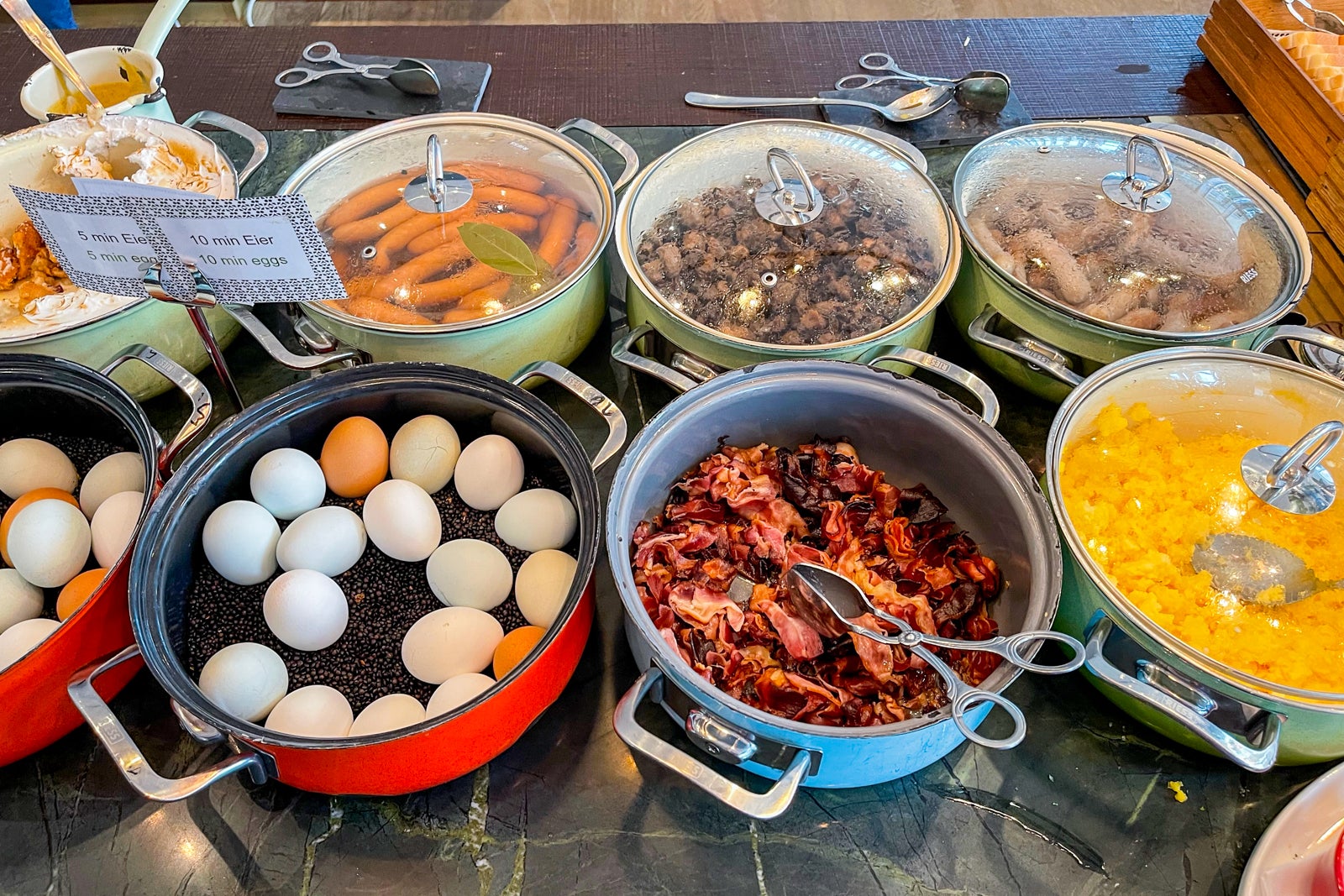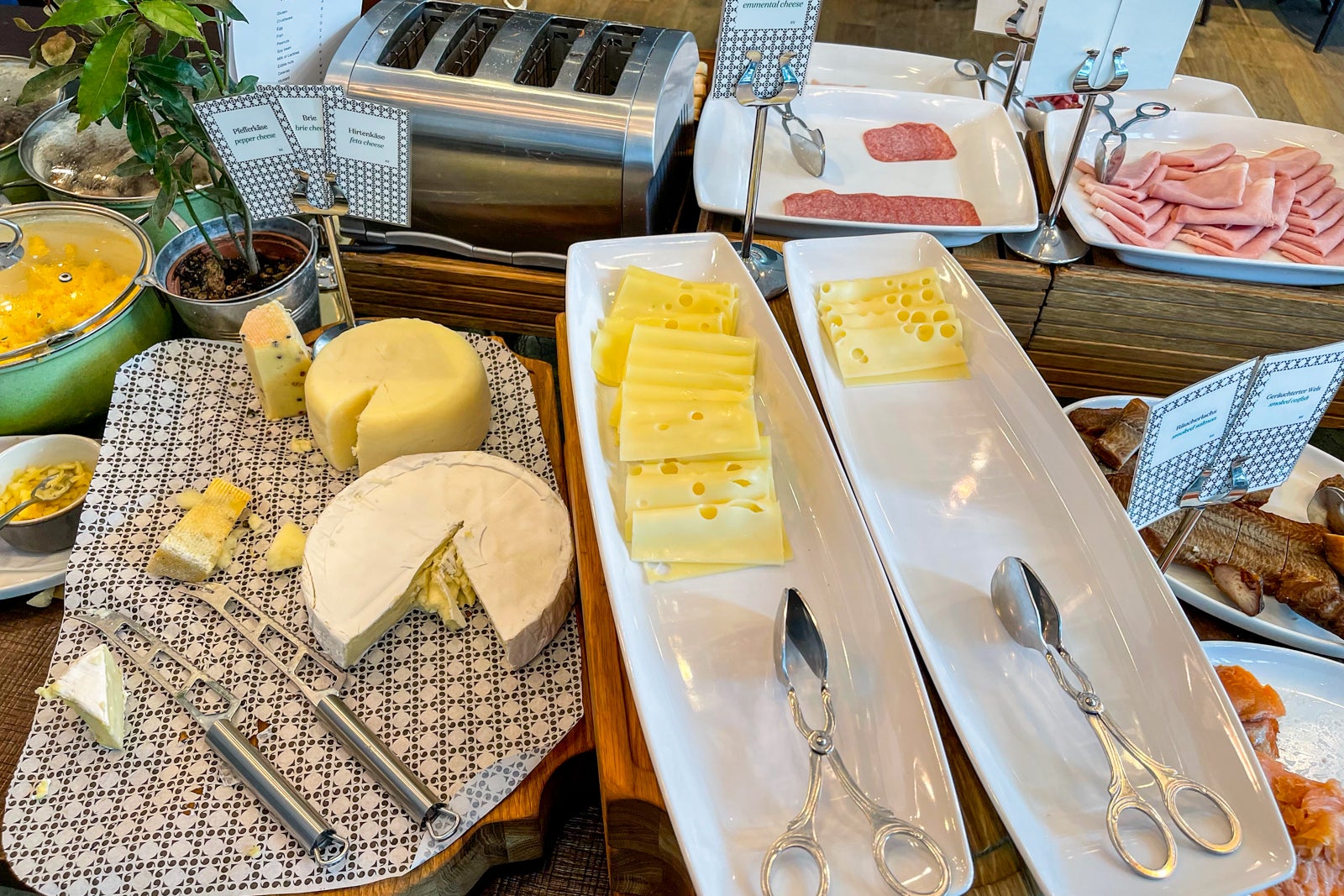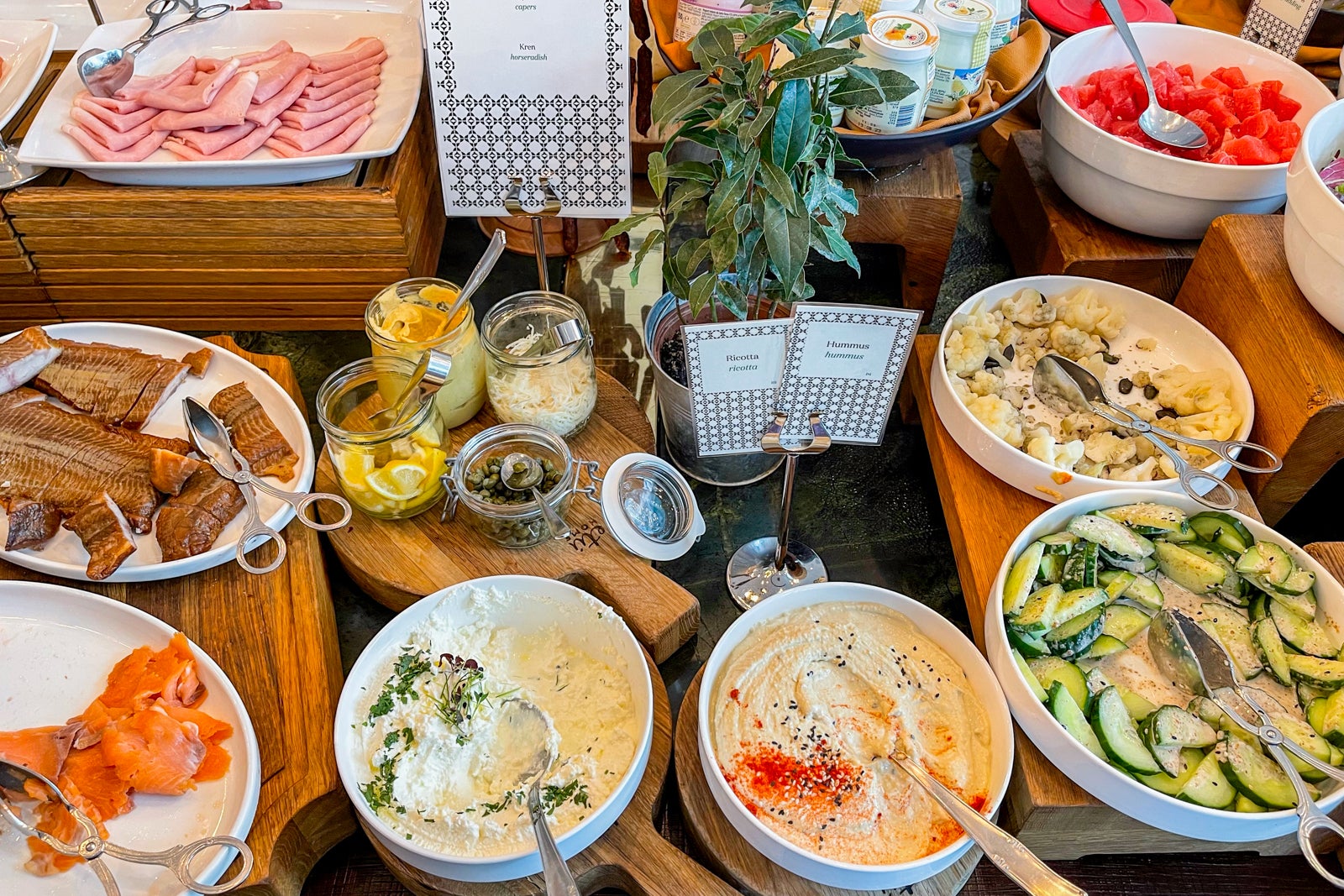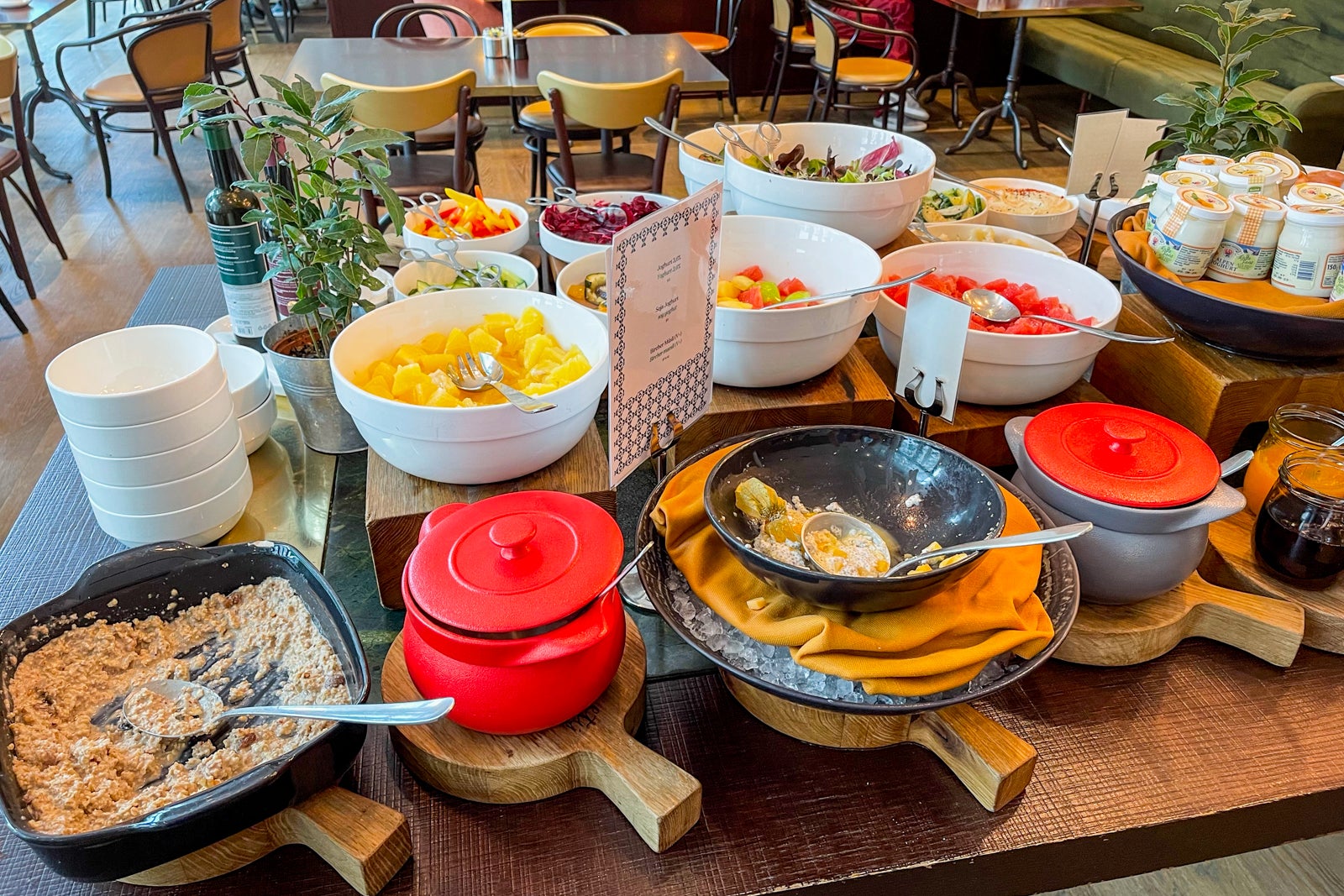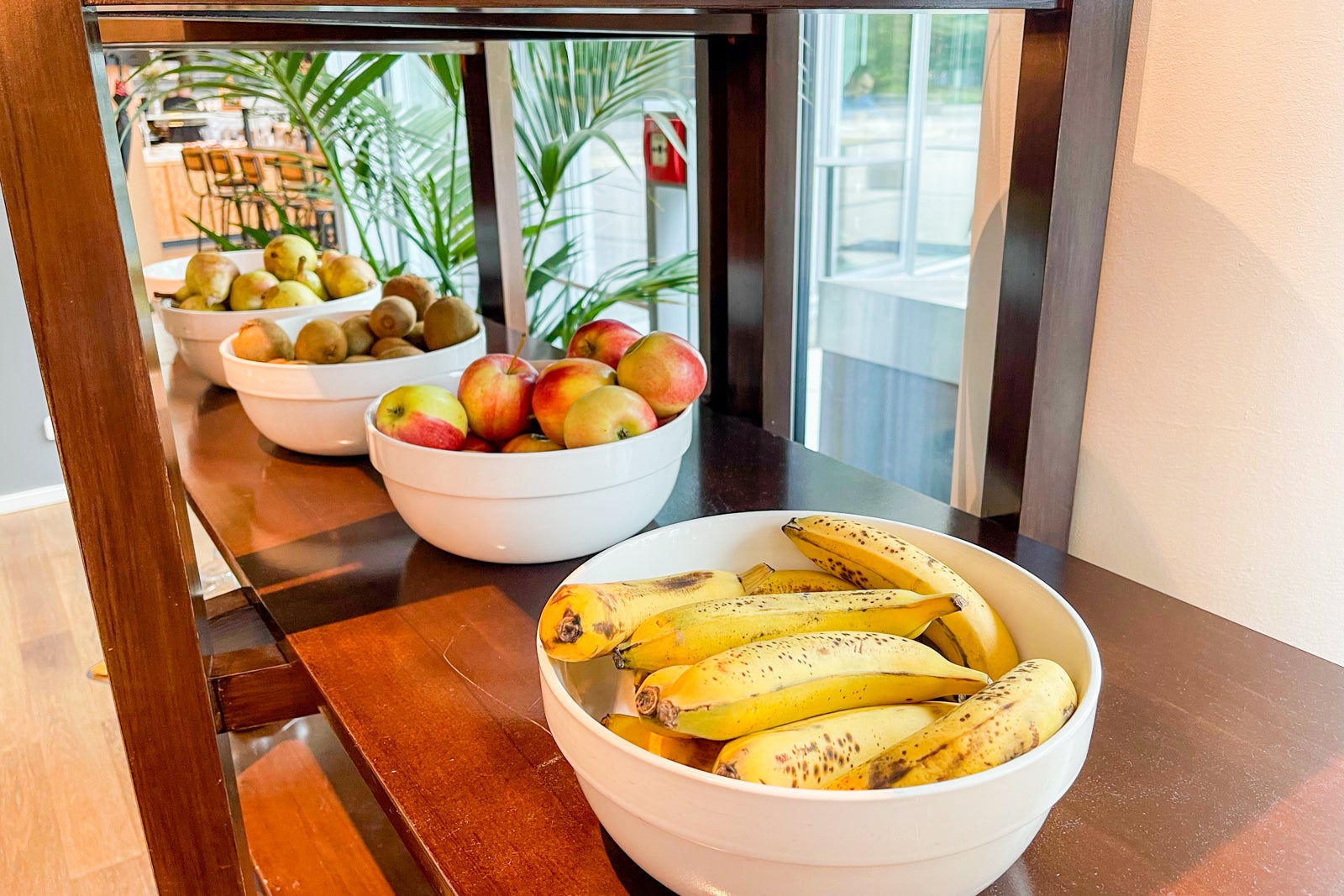 I had just come from a stay at the Park Hyatt Vienna, which puts out one of Europe's most impressive breakfast spreads so it was tough for me not to compare the Andaz to that. Of course, I preferred the Park Hyatt's breakfast with all the exquisite cheeses and sausages and veggies and pastries and chive toast, but I still found plenty to enjoy at the Andaz.
For those that don't like buffets, you can order off the a la carte menu: fresh bread and butter or croissants (5.5 euros/$5.89); scrambled eggs (7 euros/$7.49 or 7.50 euros/$8.03 with bacon); omelets, eggs Benedict, avocado toast or waffles (9 euros/$9.63) or breakfast bowls (9-9.5 euros/about $10).
However, dinner is the secret treat at Eugen21. On our last evening at the hotel, my husband and I dined here thinking it would be a quick "pick-me-up." It was one of the best meals we had on the trip.
We asked to be seated in one of the cozy green velvet banquettes and our server was absolutely lovely. The right balance of attentiveness and friendliness.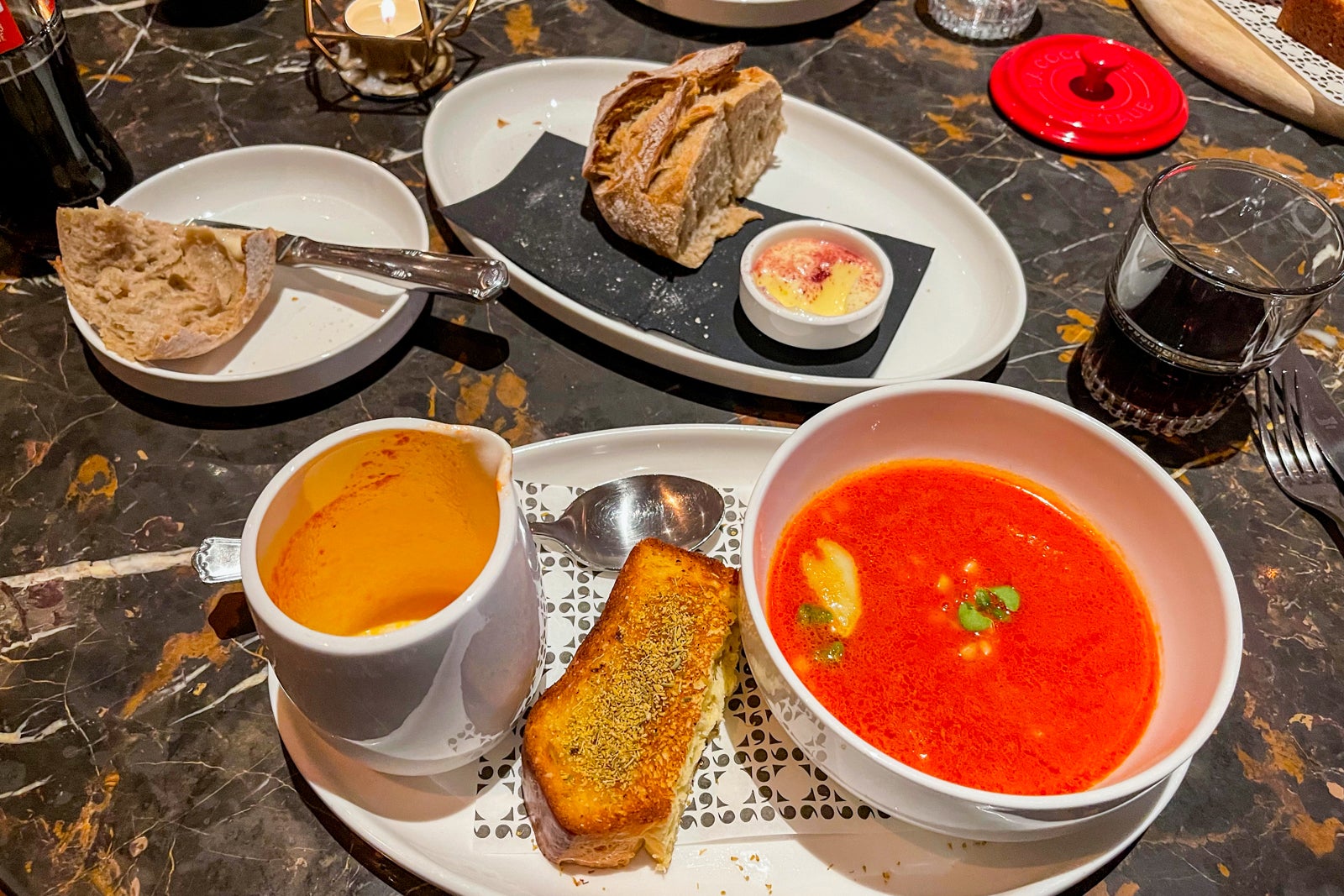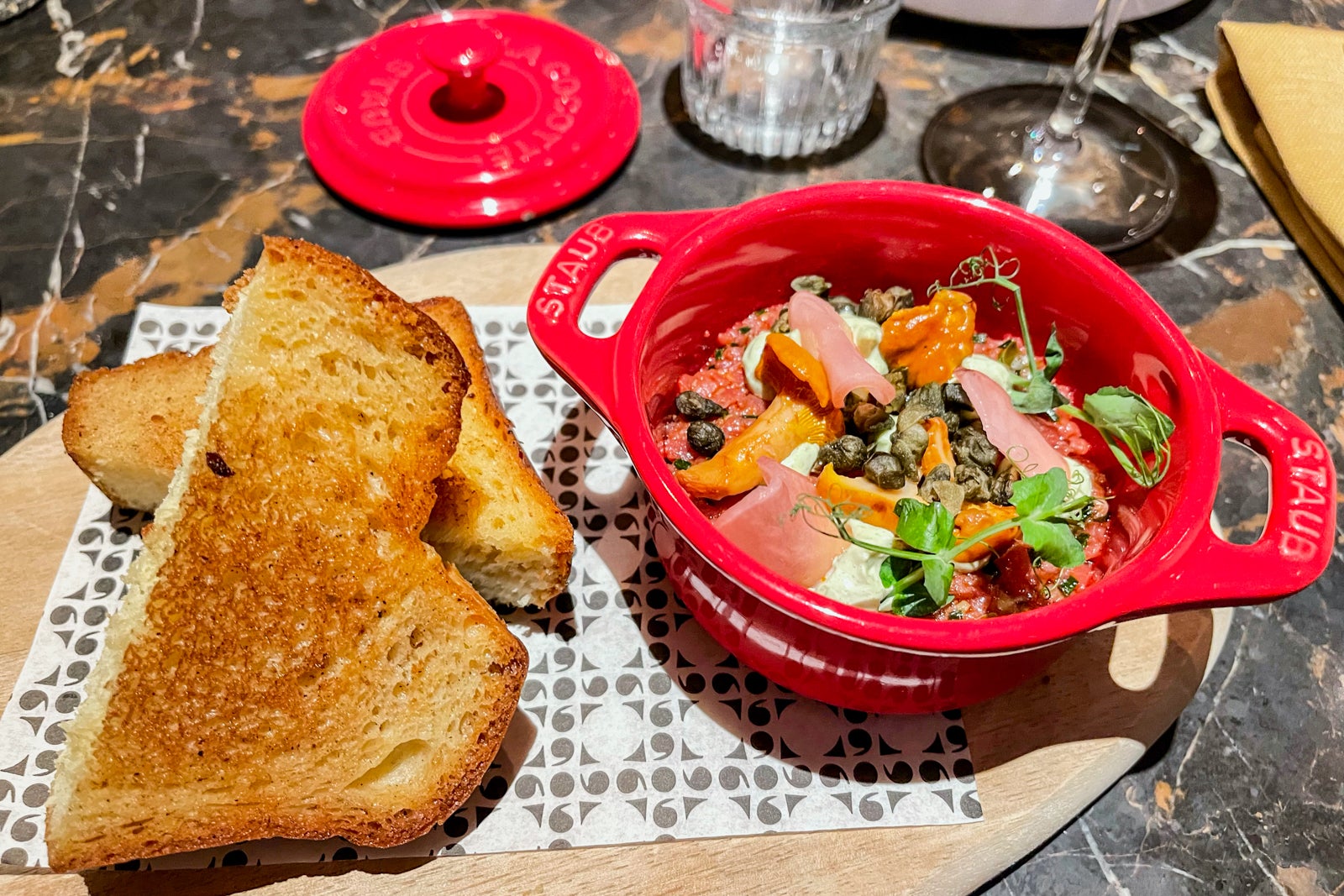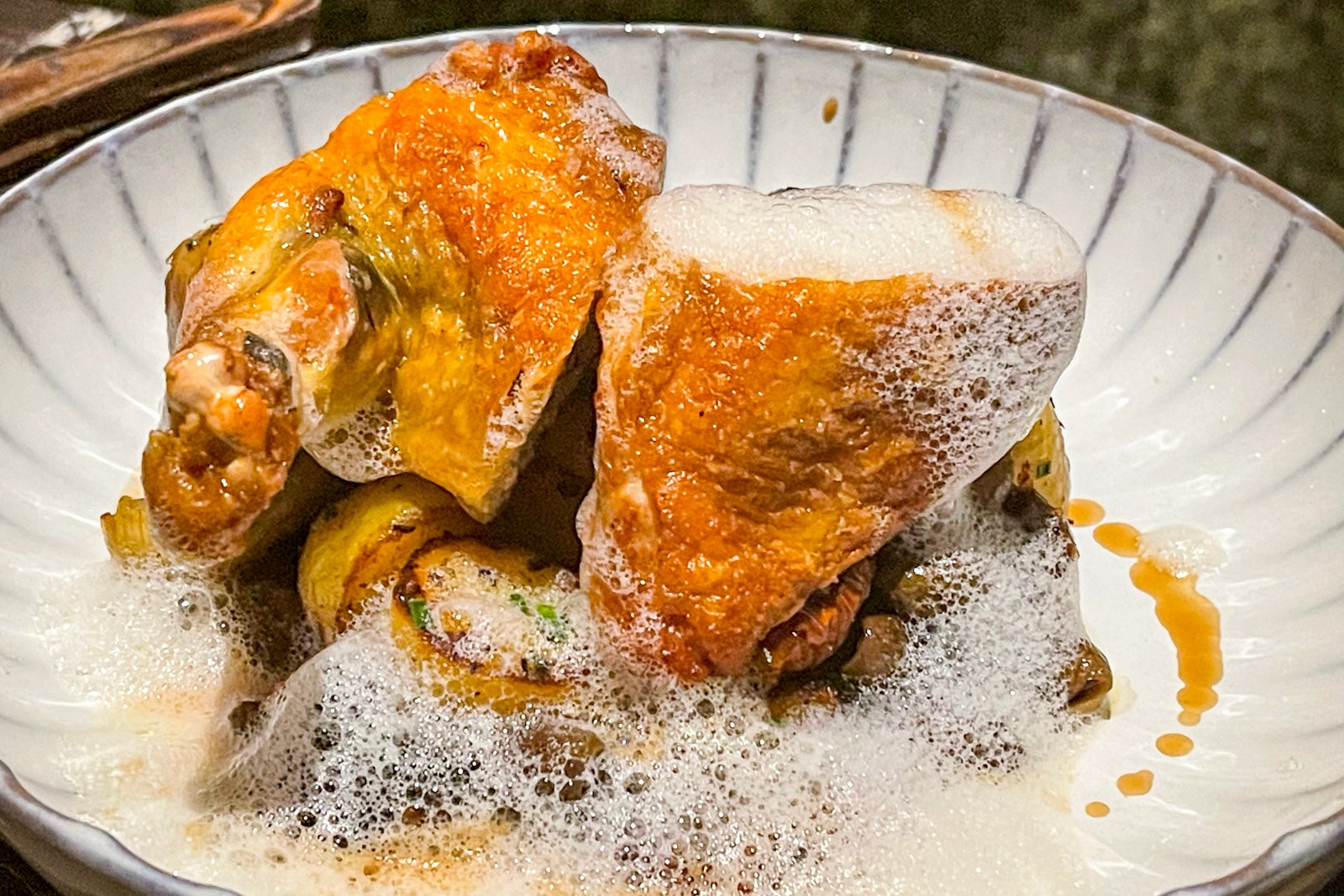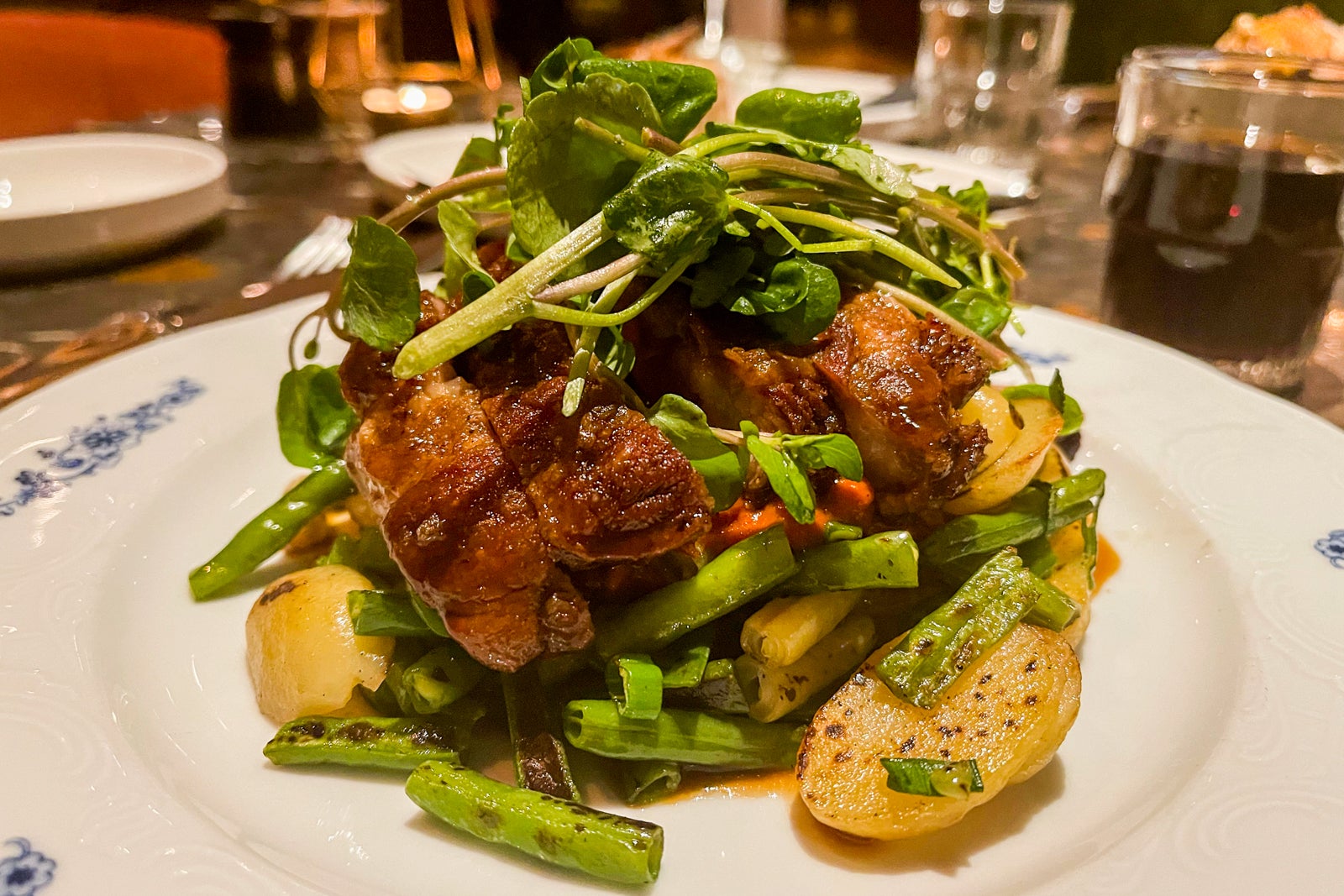 For appetizers, I chose a delicious watermelon gazpacho accented with a hint of wasabi and basil (10 euros/$10.70). It was served with a delectable fennel bread. My husband went with the beef tartare with fresh chanterelles and crispy capers tucked into a creamy tarragon mayonnaise (19 euros/$20.34).
From there, I enjoyed the most flavorful grilled Iberico pork with pan-roasted green beans and potatoes with piquillo pepper pesto and watercress (29 euros/$31.04). My husband had the guinea fowl with artichoke, taggiasca olives, preserved lemon and new potatoes (25 euros/$26.90). Both entrees were, frankly, stunning. We truly enjoyed the meal and wished we'd had room for dessert, which included cherry granita, iced dark chocolate and pickled rhubarb (all 10 euros/$10.70) as well as Austria's famous kaiserschmarrn pancake dessert with plum sauce for two (28 euros/$29.97) and an aged raw milk cheese plate (10 euros/$10.70).
Like many restaurants in Europe, Eugen21 charges a per-person cover charge (4.5 euros/$4.82).
Cyclist Cafe & Bistro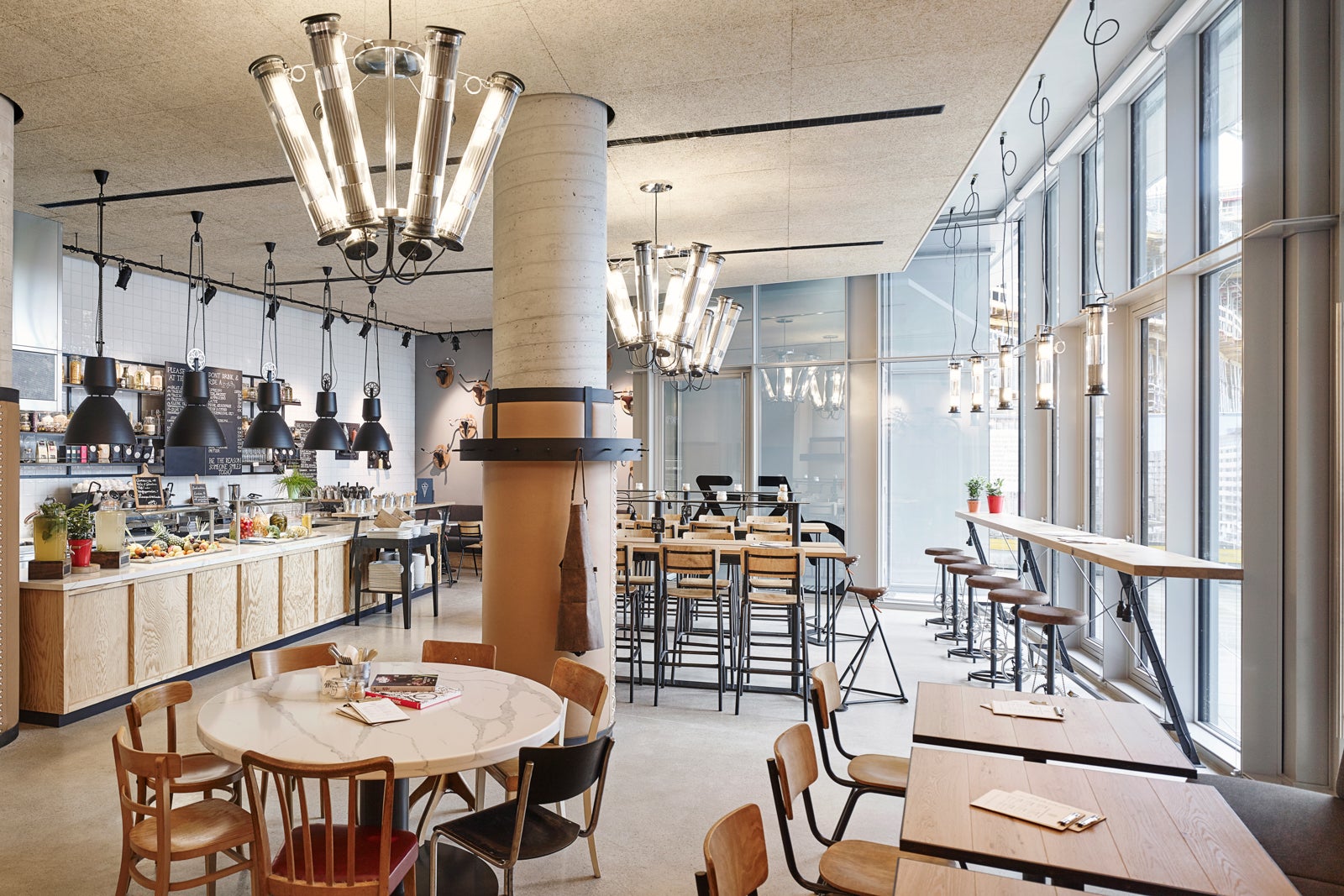 We didn't dine at the hotel's Cyclist Cafe, but we did walk through to see the funky decor inspired by — you guessed it — bicycles.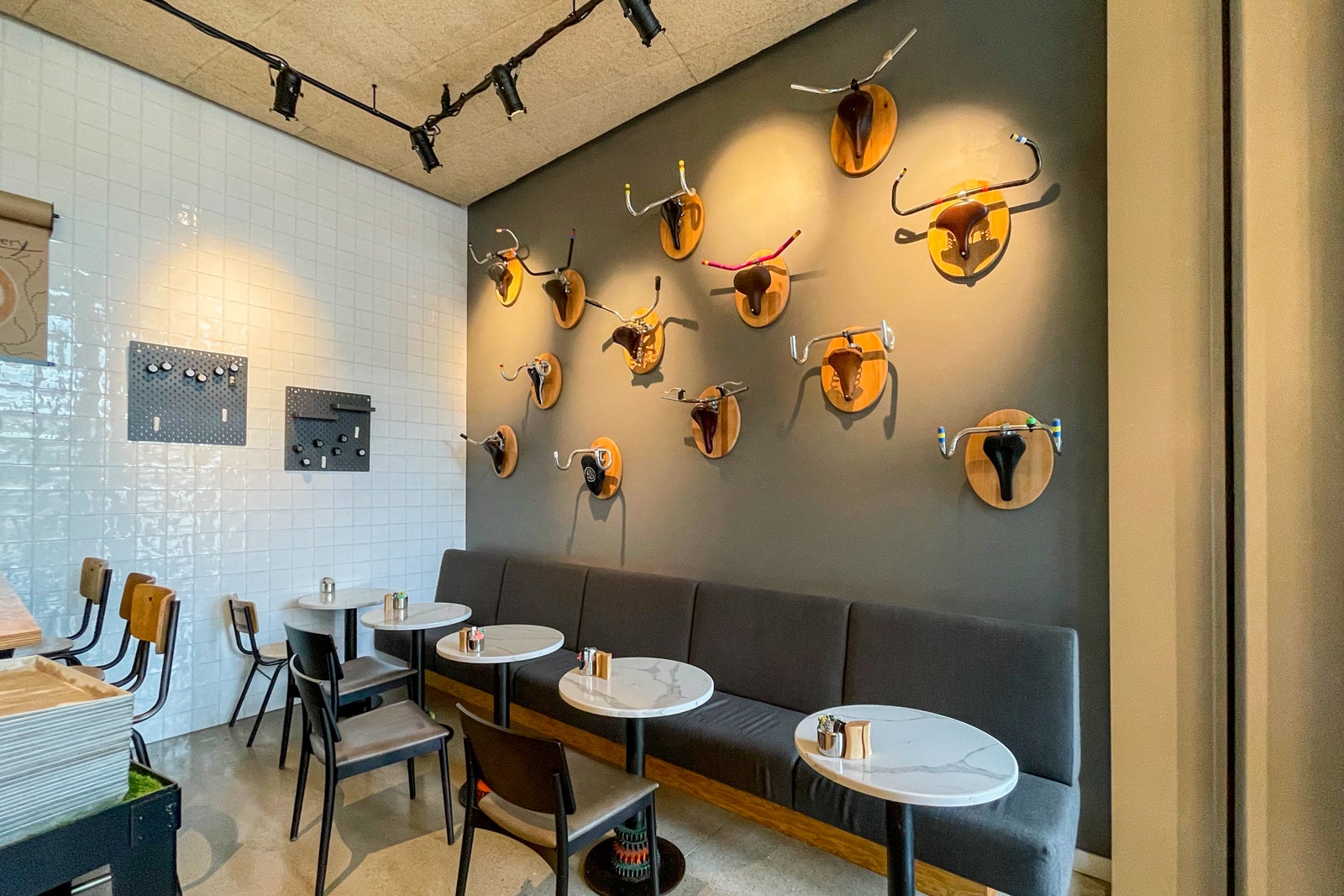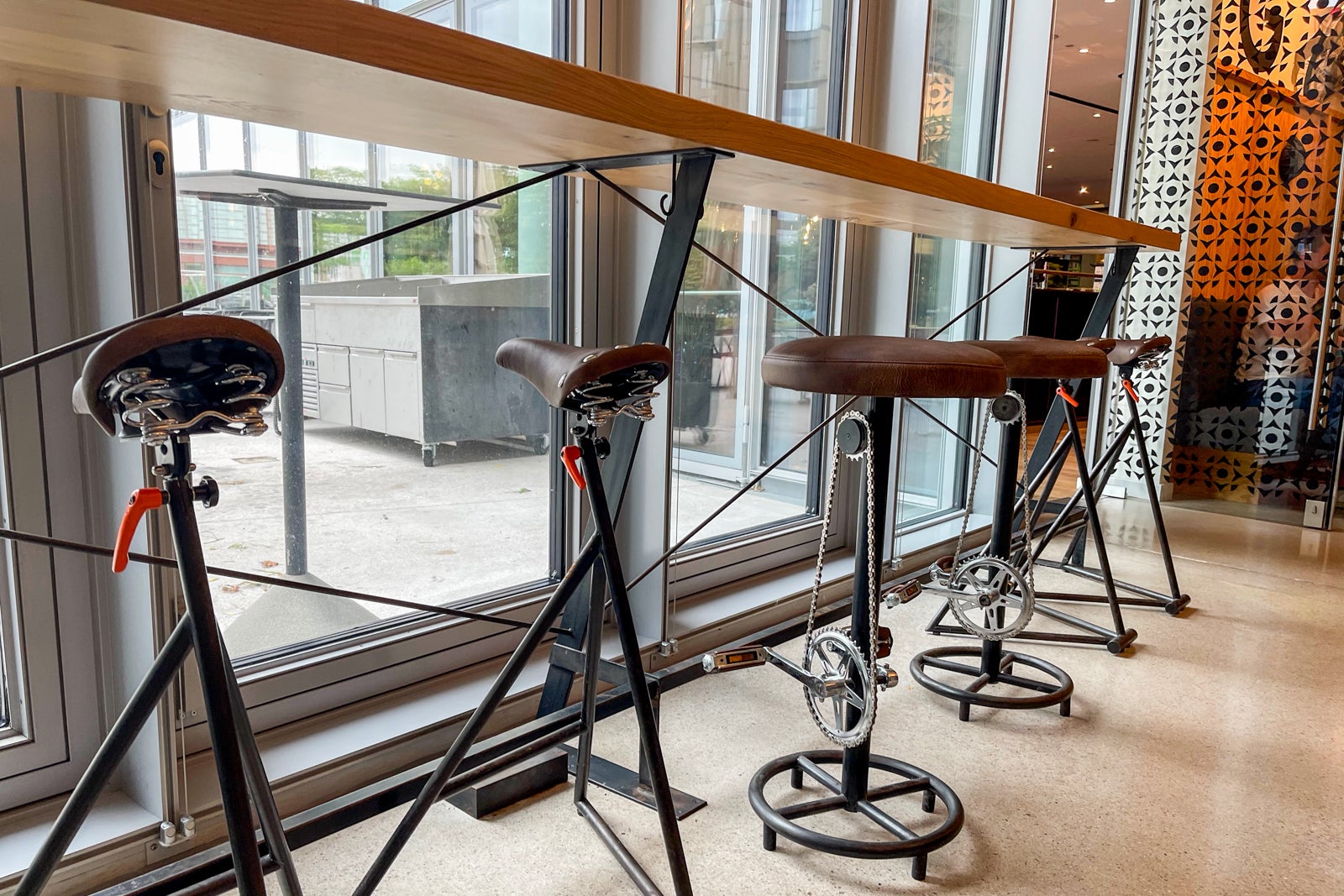 There is an entrance from inside the hotel (through Eugen21) and from the outside through the building's side terrace.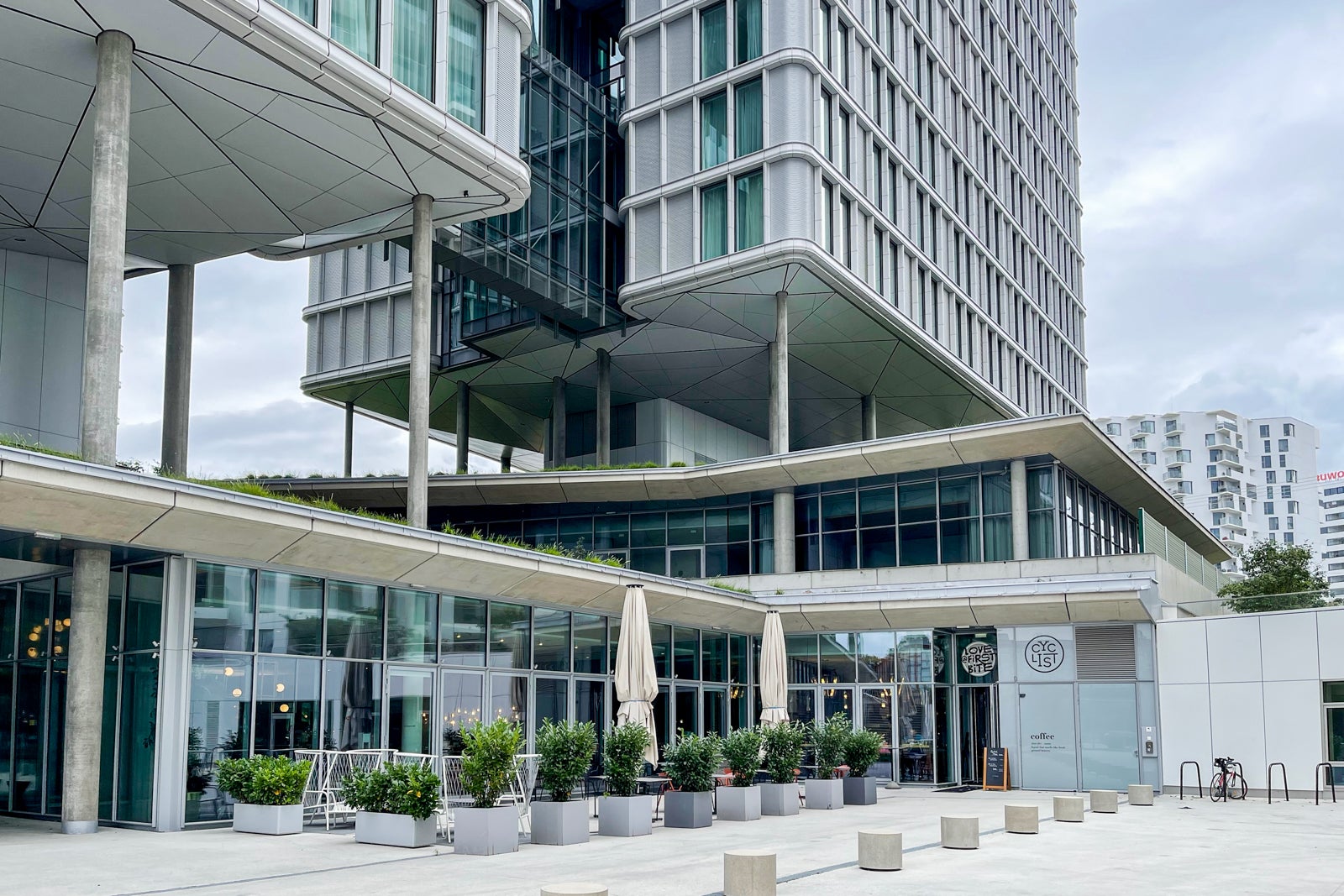 For breakfast, there are egg dishes like omelets and eggs Benedict, yogurt and fruit bowls, waffles, pastries and avocado toast (items ranged from 7-9 euros/$7.49–$9.63).
The lunch menu focused on burgers, falafel, salads and sandwiches (9-13 euros/$9.63-$13.91) but also offered Wiener schnitzel (29 euros/$31.04), pappardelle (22 euros/$23.55) and a few other hearty dishes.
Lobby Bar Lounge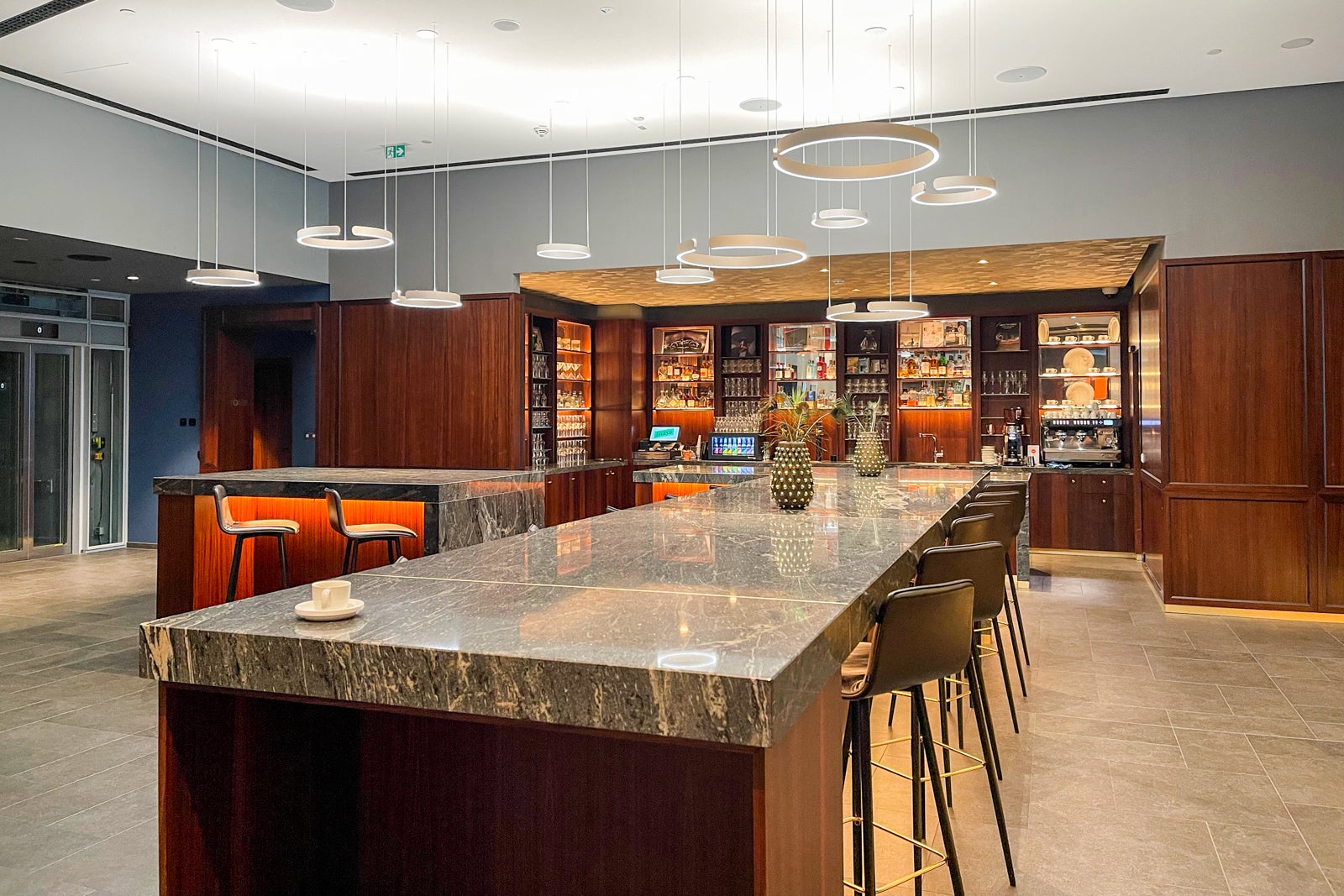 The Andaz's lobby is colloquially referred to as "the living room" and the Lobby Bar Lounge is toward the back of the living room, close to the restaurant. While the hours are listed as 7 a.m. to 10 p.m., we never saw a bartender manning it. However, we were able to flag down help from servers at Eugen21. You can purchase beer, wine, sodas and other beverages.
There is also a coffee machine in the lobby where you can get a complimentary drink 24/7 and there were often cookies set out as well.
Aurora Rooftop Bar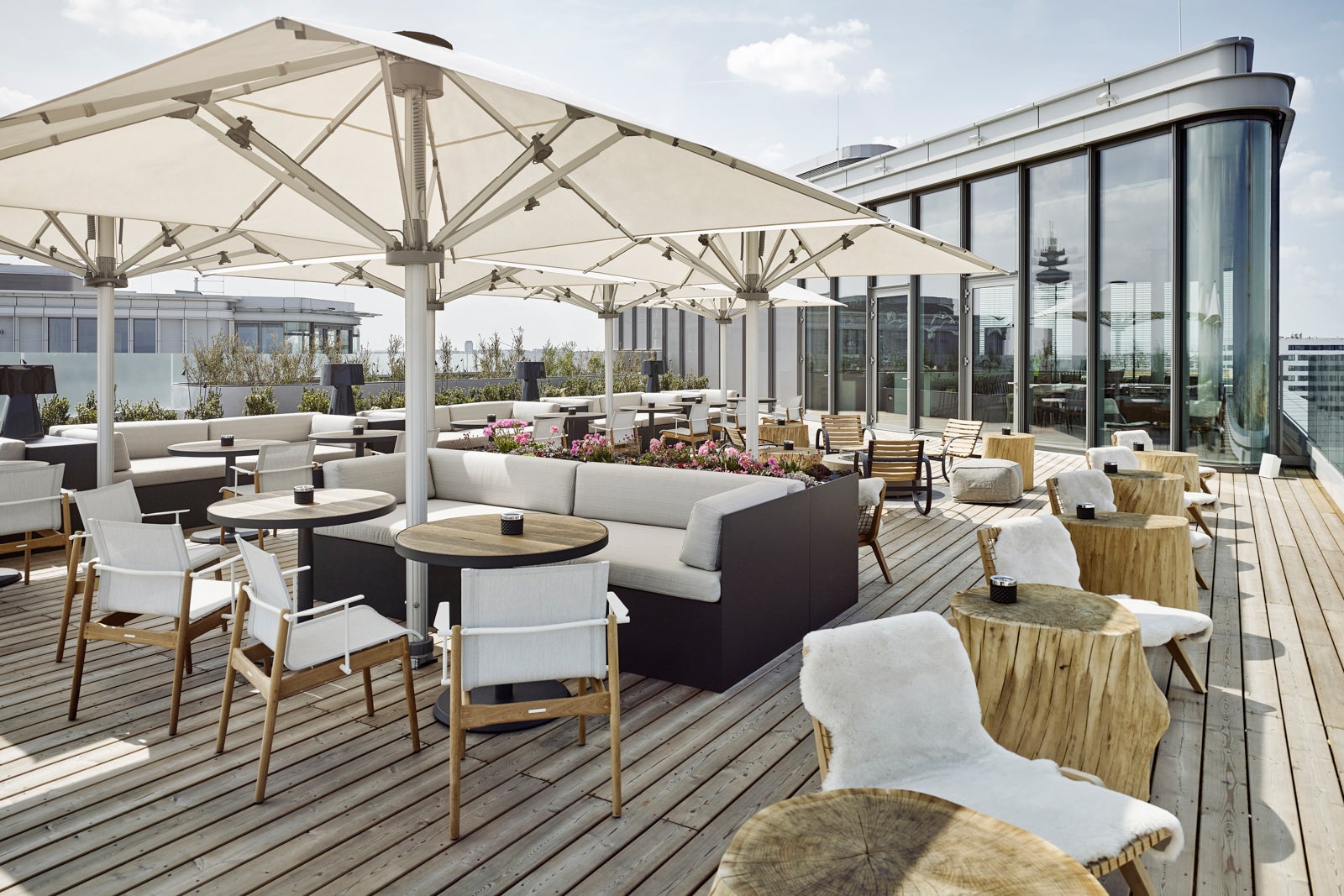 The spot you really want to stake out for an evening is on the 16th floor at Aurora Rooftop Bar. Inspired by the Northern Lights, the atmosphere is cozy and relaxed with seating looking out over the city.
Tree stumps serve as cocktail tables and there's even a firepit on the terrace.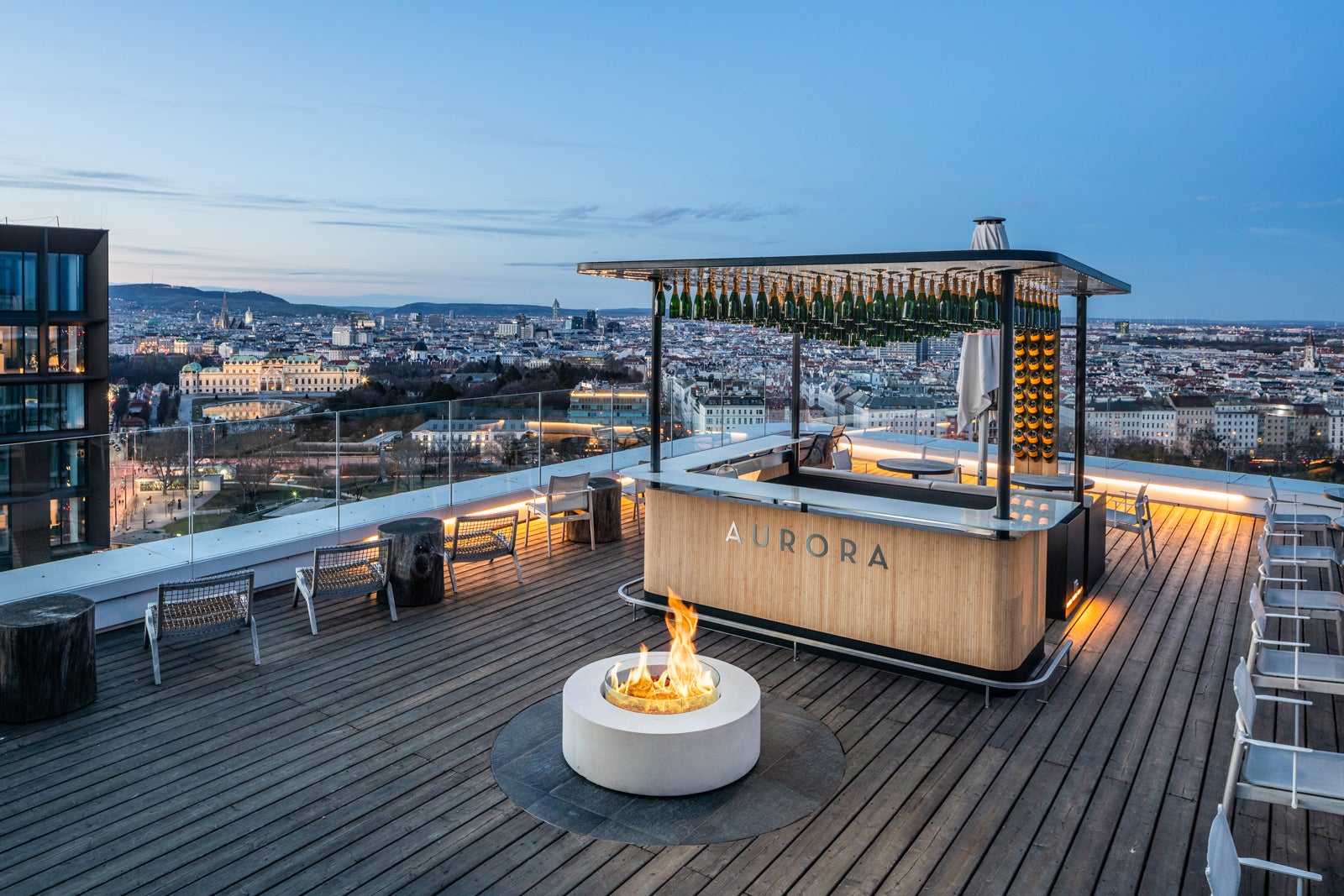 We'd made reservations for outdoor seating at sunset, but sadly, it rained like crazy that evening, so we canceled. The drinks menu is extensive, though, and you can order small bites. You can make timed reservations for outdoor seating and you really do need to book in advance since locals and tourists alike visit due to the exquisite panoramas.
There is also indoor seating and we did not need reservations to pop by for a drink or two before bedtime. The bar opens at 4 p.m. and closes at midnight (1 a.m. on Friday and Saturday).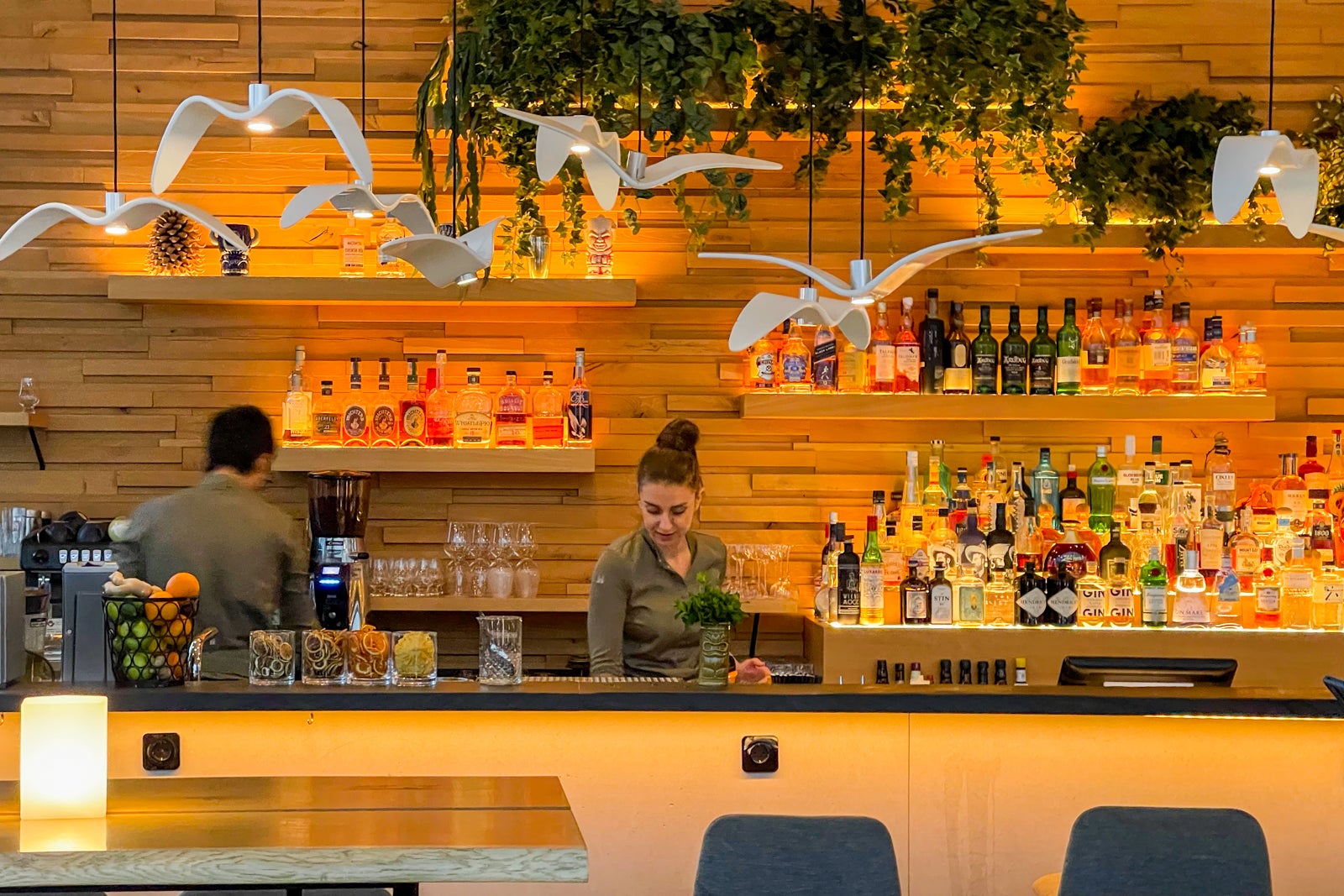 The indoor vibe is darker and more moody and there's an enclosed fireplace as a focal point.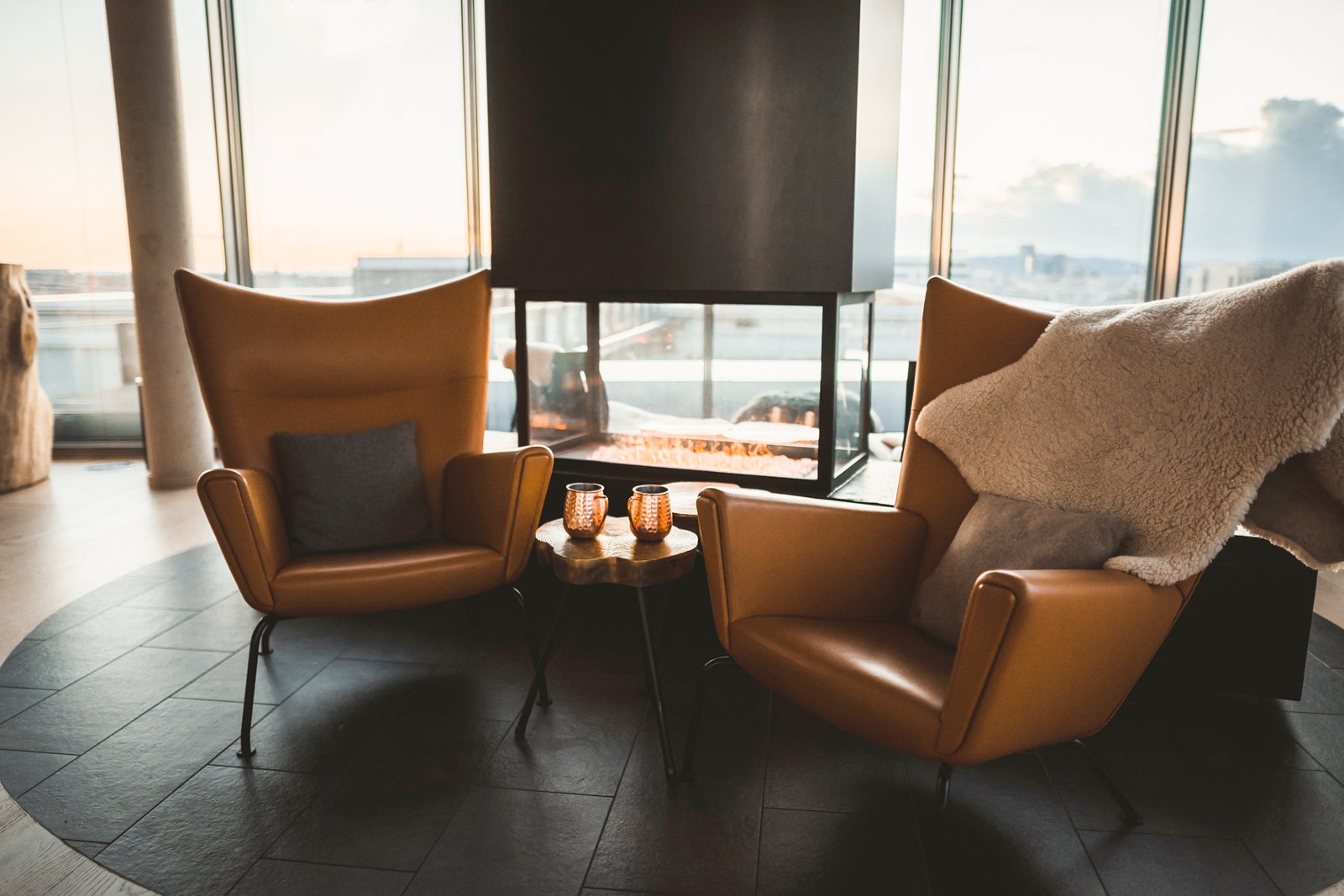 Mocktails are 12 euros ($12.84), cocktails are 16 euros ($17.13) and "bartender's choice" is 18 euros ($19.27).
The fitness center and spa will keep you busy
A few members of my family visited the 24-hour, 4th-floor fitness center and spoke highly of the quality of the Technogym equipment and nice ambience with windows looking out over the Schweizergarten.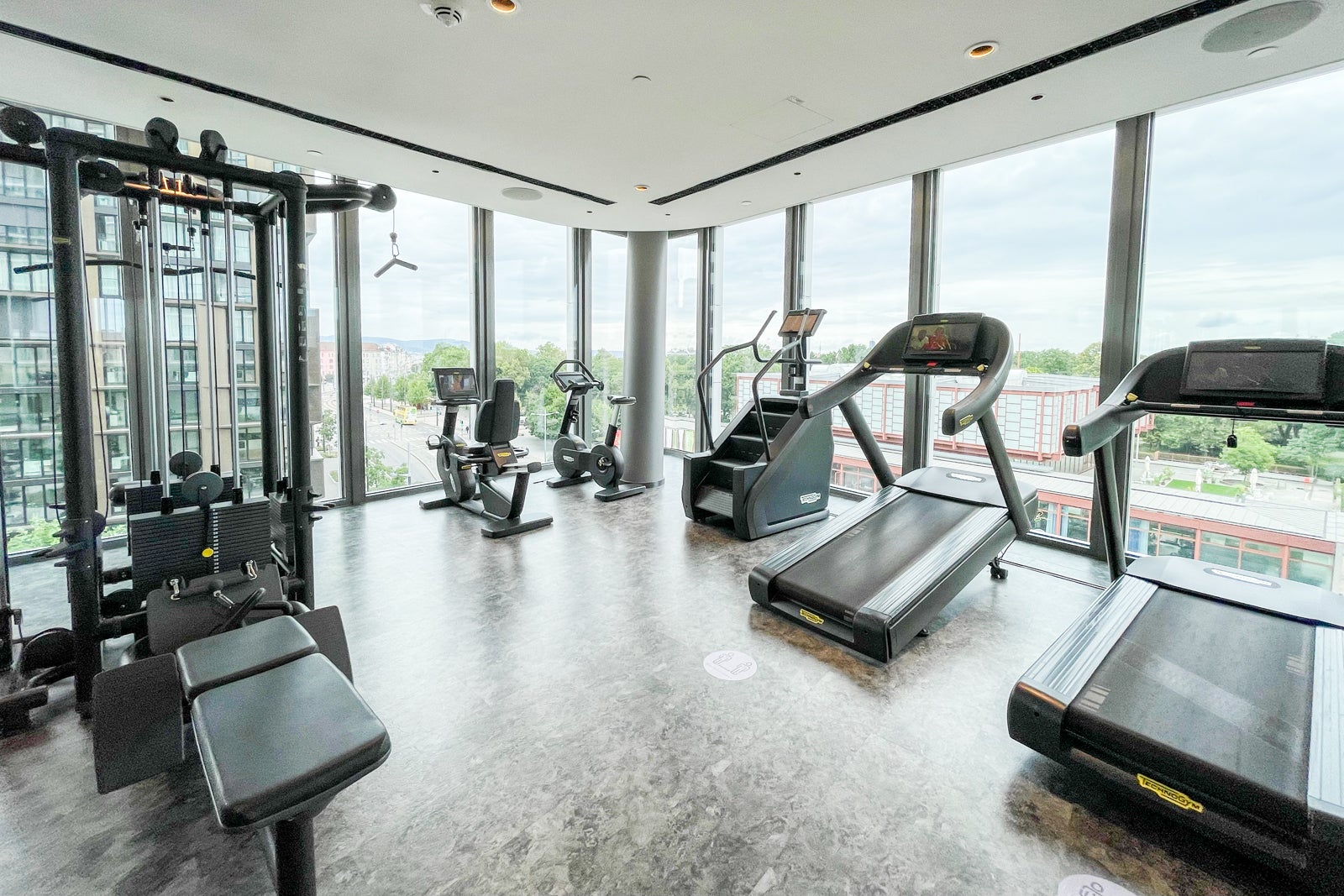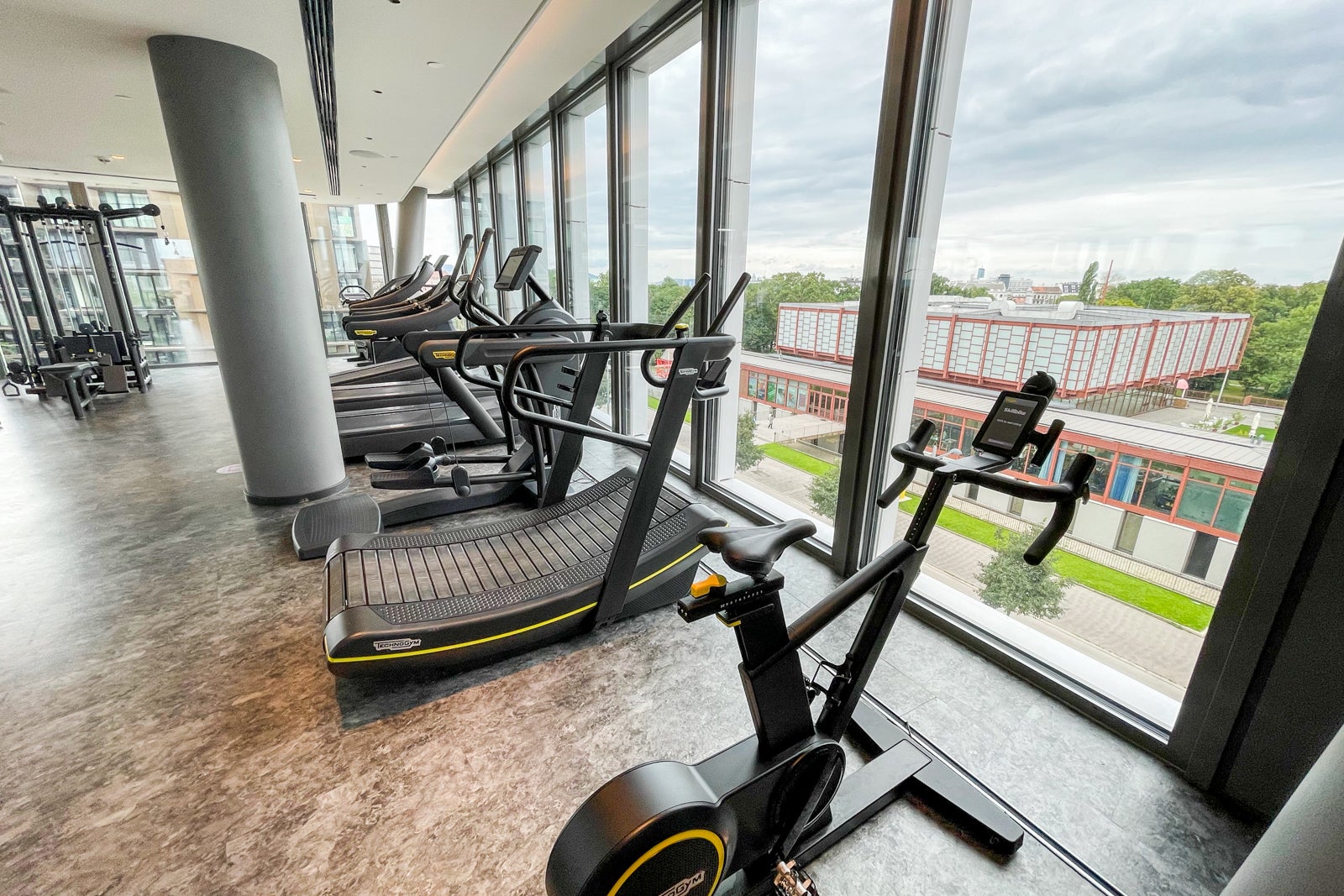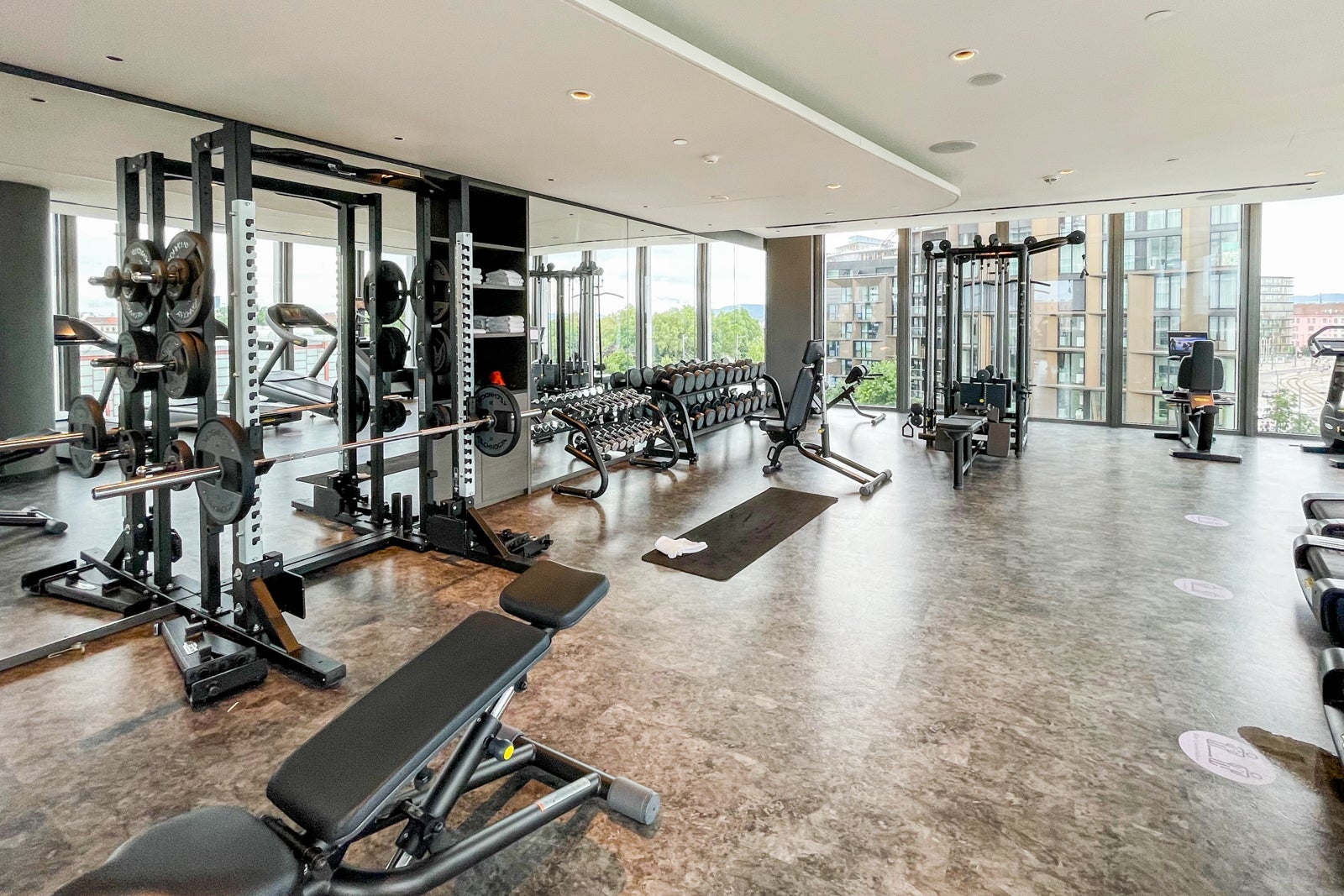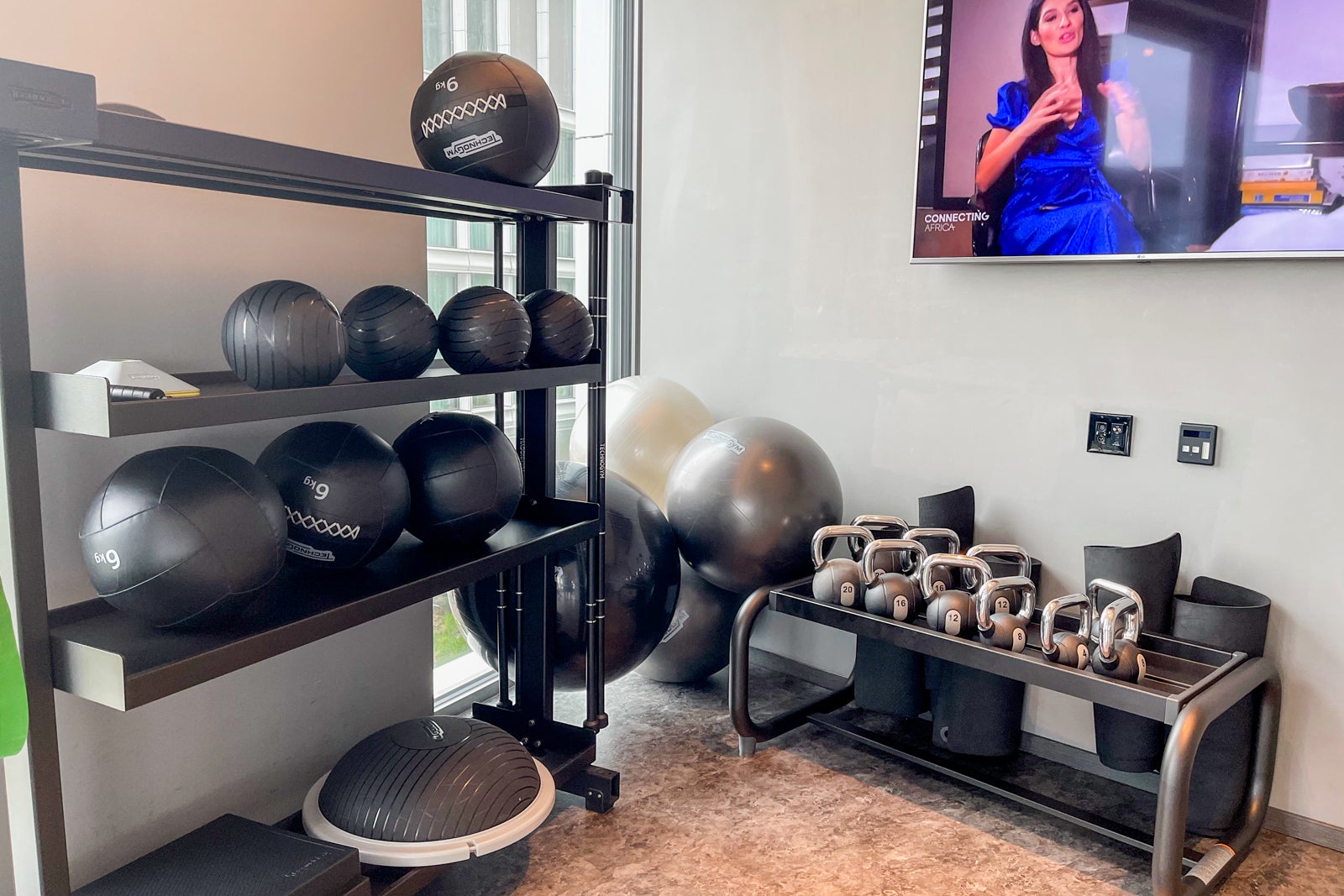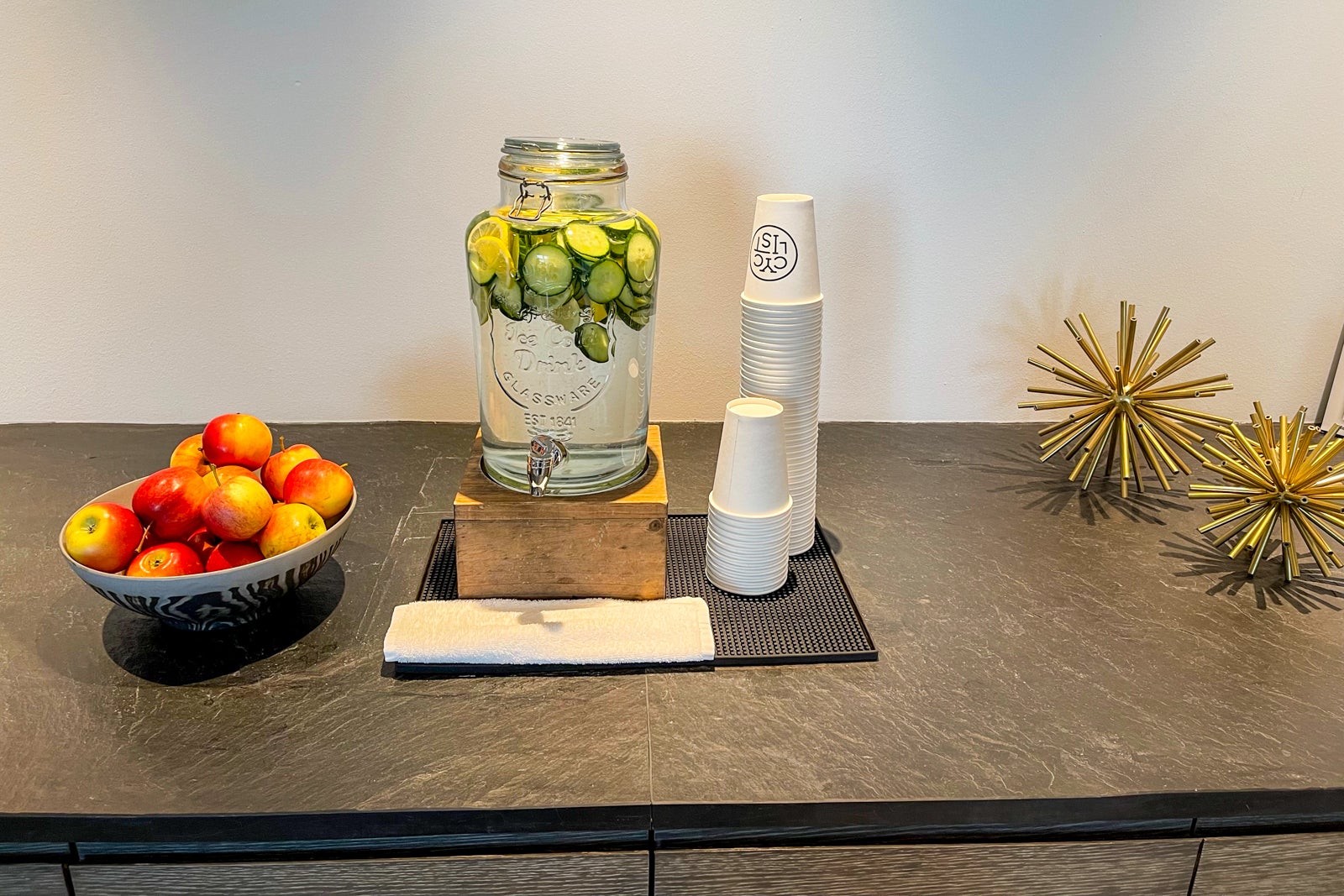 The spa, also on this floor, offers a sauna, steam bath with ice fountain and relaxation room. We didn't have time for a treatment, but options included all the usual suspects. A variety of massages, including deep tissue or relaxation, cost 125 euros ($134) for 50 minutes or 180 euros ($193) for 75 minutes. Hot stone massages were more at 220 euros ($235) for 75 minutes and 250 euros ($269) for 90 minutes.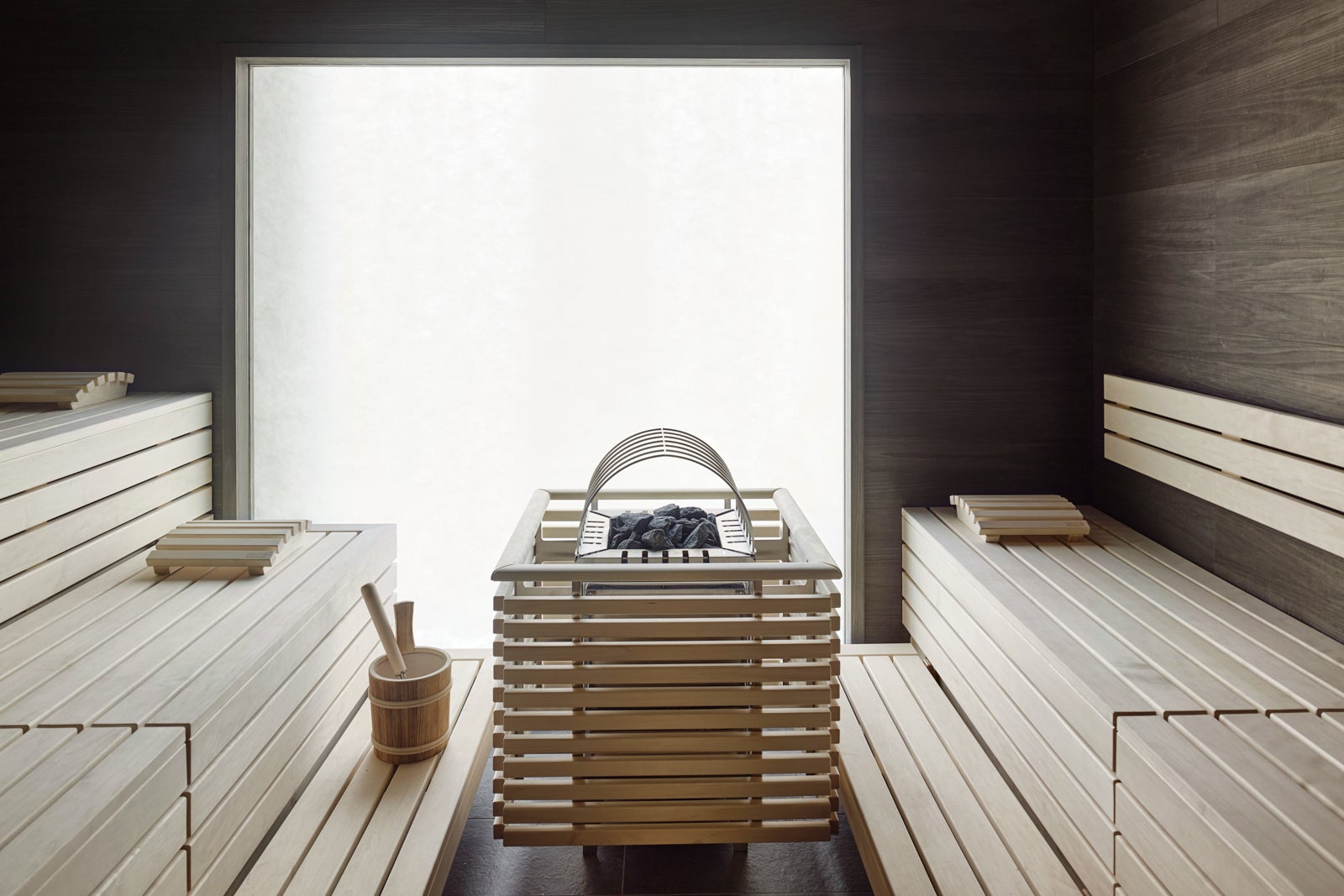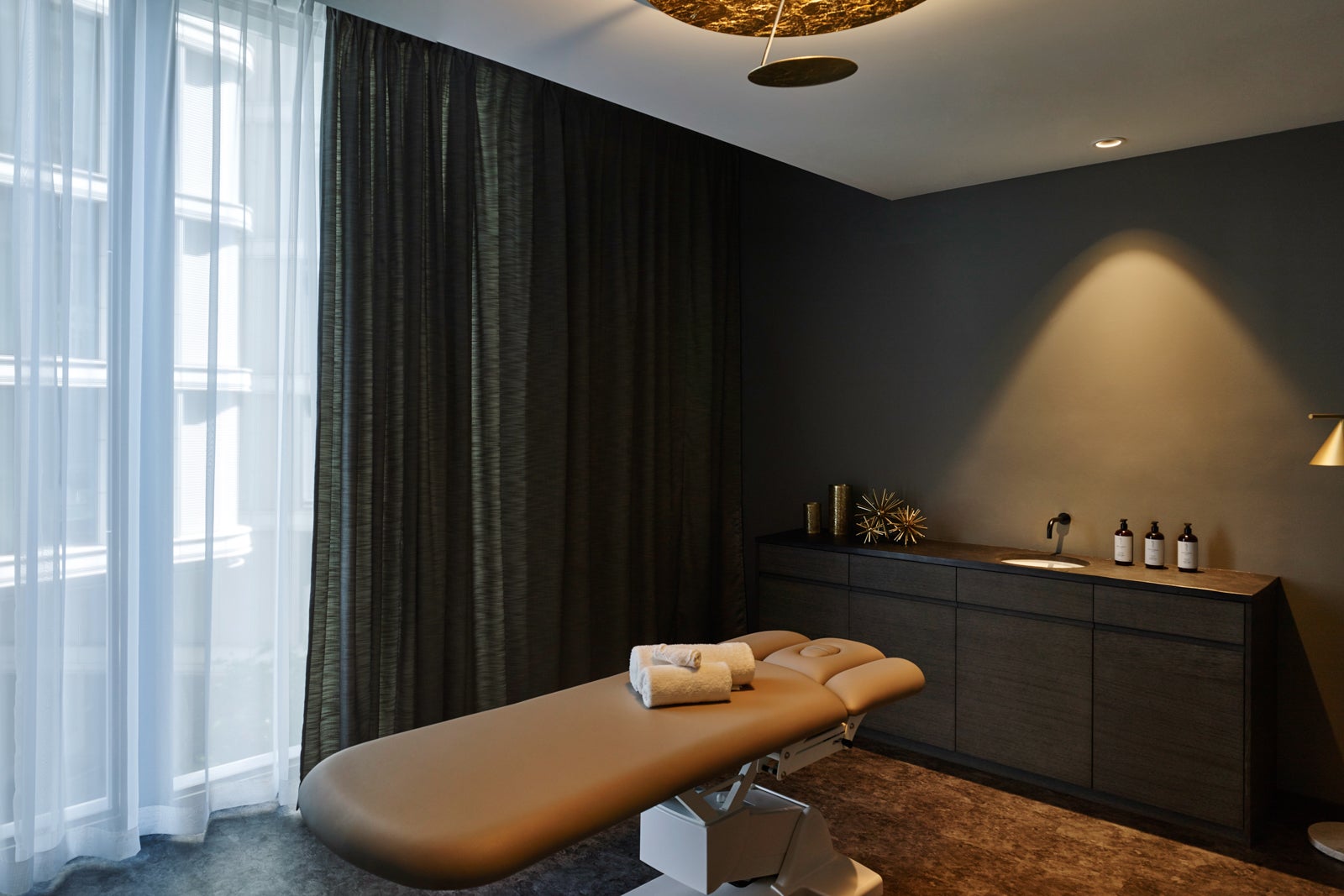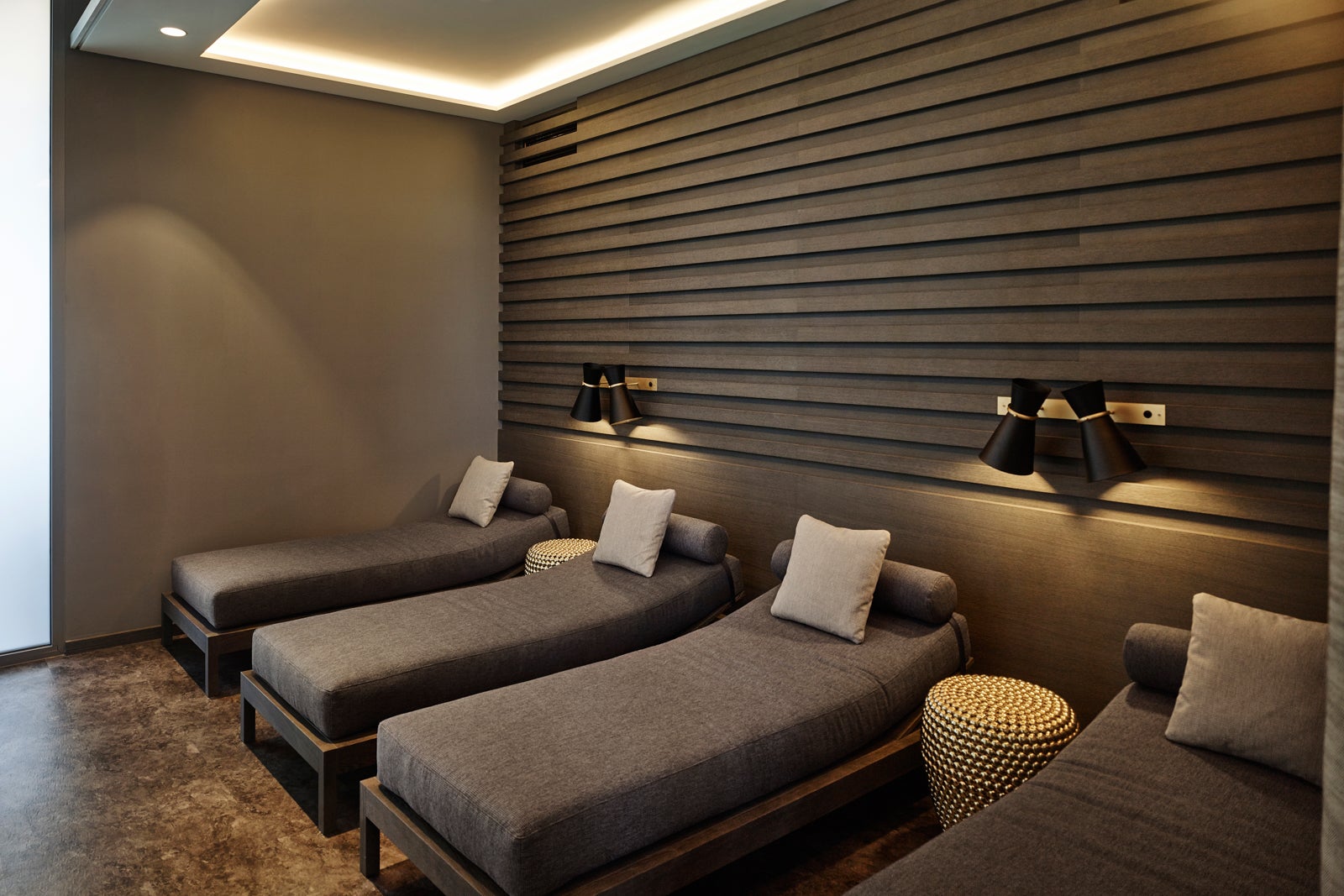 Reasons the Andaz Vienna Am Belvedere might not be for you
The Andaz Vienna am Belvedere is appealing on many levels, from the value to be had using both points or cash, to the art-filled suites, to the eager staff and excellent Globalist recognition. However, there are a few reasons why this may not be a perfect match for you.
Vienna's historic sites are a 20-minute drive, or a 50-minute walk, or require public transportation.
This quiet business district is not a buzzy area to take the pulse of the city.
The hotel's signature Eugen21 is closed for dinner on Sunday, which might put a damper on your plans.
Accessibility
The Andaz Vienna has six accessible rooms with wide doorways and roll-in showers that are ideal for those in a wheelchair or using other assistive mobility devices. Those rooms also have alarms to signal for help if the guest requires it.
Alternatives to the Andaz Vienna Am Belvedere
Vienna visitors are spoiled for choice when it comes to hotels. You can find dozens of excellent properties ranging from budget to luxury ends of the spectrum. Here are some other options to check out:
Park Hyatt Vienna — This is the gold standard (almost literally since it's housed in a former bank) for Hyatt loyalists. Located in a beautiful historical building in the old city, the hotel's incredibly polished staff sees to your every need. Dining venues are excellent and there's a pool in the spa. You'll spend more (in either cash or points) at the Park Hyatt than the Andaz, though. Award nights start at 25,000 points.
Hotel Imperial, A Luxury Collection Hotel, Vienna — We enjoyed lunch at Cafe Imperial at this hotel within Vienna's Innere Stadt and I'd love to return to stay at the hotel. Thanks to its participation in Marriott Bonvoy, you can snag a room from 50,000 points per night. Summertime rates are higher at around 70,000 to 80,000 points, so this could be a fantastic use of a credit card-related free night certificate that you can "top up."
Rosewood Vienna — Eric Rosen, TPG's director of content, enjoyed his recent stay at the new Rosewood Vienna. While pricey, it's worth it for those seeking top-notch service.
Lindner Hotel Vienna Am Belvedere — If you're looking for a hotel that's an even better value on points than the Andaz, consider JdV by Hyatt. It is more of a budget property but it's also near the Belvedere complex and starts at just 3,500 World of Hyatt points per night. Don't expect the high-end touches or eager service that's a hallmark of the Andaz Vienna, though.
Checking out
Would I return to the Andaz Vienna Am Belvedere? Yes, absolutely. While we had an issue with room service one evening, that was the only service blip (which the hotel made right) on an otherwise excellent trip — and that's across eight rooms and 14 people during the incredibly busy summer season.
The value at the Andaz Vienna — using either points or cash — can't be denied. It's one of the best deals in the city.
We loved the suites and even the base-level rooms were spacious and beautiful. Our group, which included a museum curator, especially appreciated the art in the lobby, in the hotel's hallways and in our accommodations.
But, most importantly, the staff was truly lovely. Everyone at the front desk went out of their way to greet my family members upon arrival and make them feel at home. They offered tips and advice throughout our journey and were never low on smiles. Beyond the wonderful accommodations and delicious meals, that's what truly set this stay apart.
Related reading: