It's official: the Frontier status match is back. As someone who has a love/hate relationship with Frontier Airlines, I've gone back and forth about whether to apply. I did so in 2021, and I paid a modest fee. But, in true Frontier fashion, there are more fees tacked on for me this time around since I'd be going for a higher status tier and because I've applied for a status match before.
Ultimately, I decided the perks I'd receive if approved for the match would outweigh the cost of applying. Here, I'll run through the application process, the match and what I'm entitled to as a result. But first, here's a quick recap of my history with Frontier.
Love at first flight
In 2018, I found myself in need of inexpensive flights to Orlando. A colleague suggested I try Trenton-Mercer International Airport (TTN), a small, local airport less than 10 minutes from my apartment. It has two gates, ridiculously cheap parking and one airline — Frontier.
In the two years that followed, I flew from there a lot, almost always to Jacksonville International Airport (JAX). The best part is that prices were so affordable I sometimes snagged fares from as little as $19 one-way.
Breaking my loyalty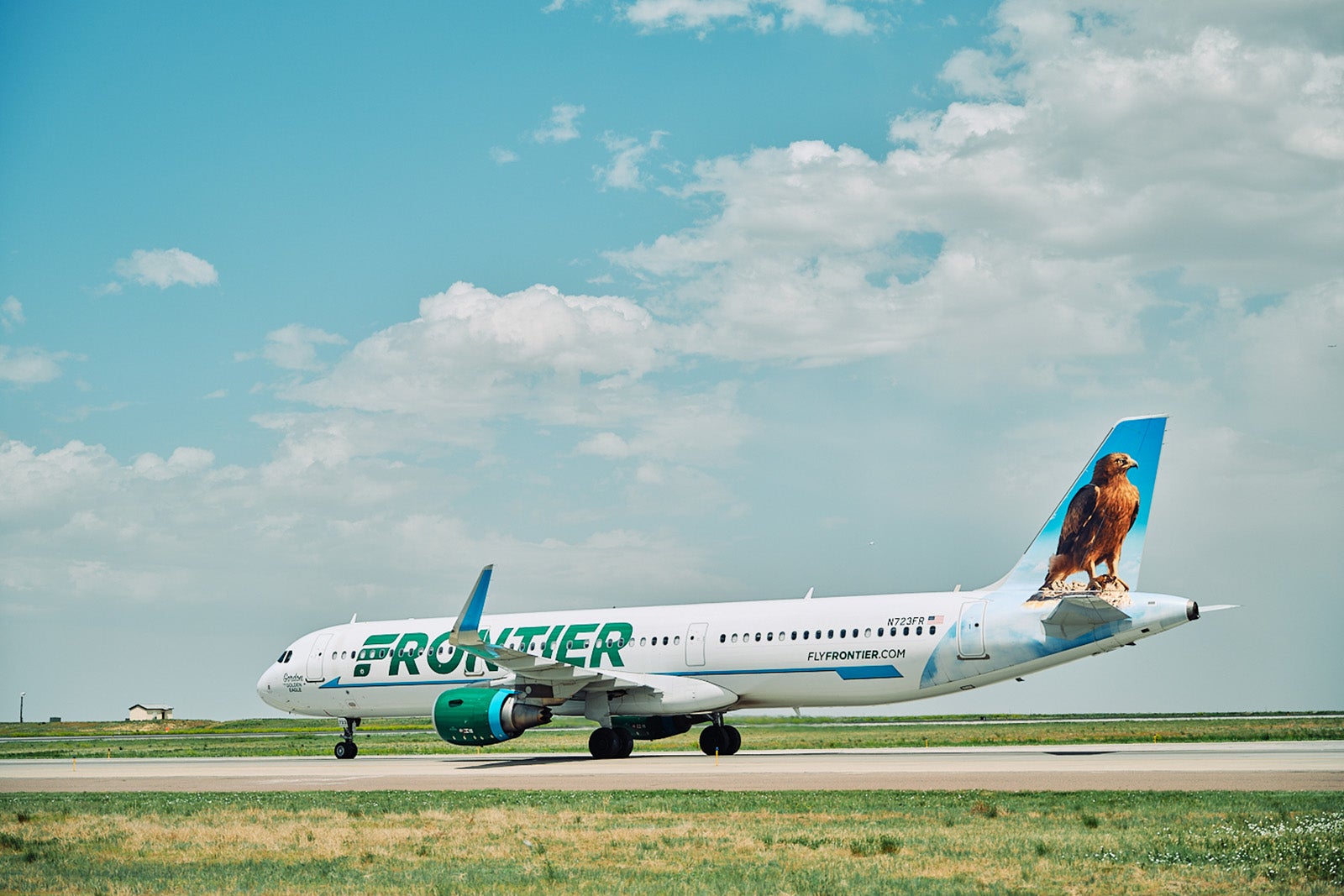 I used to stalwartly defend Frontier when people would say it wasn't their favorite due to nickel-and-diming or routinely delayed or canceled flights.
In 2020, at the height of the pandemic, Frontier removed its route between TTN and JAX and never brought it back. That, combined with a laundry list of gripes — broken checked bags, dirty planes, delayed flights and failure to honor refunds for cancellations within 24 hours of booking when at least seven days from departure — was enough to force me into the arms (or wings) of another airline.
Drawn back in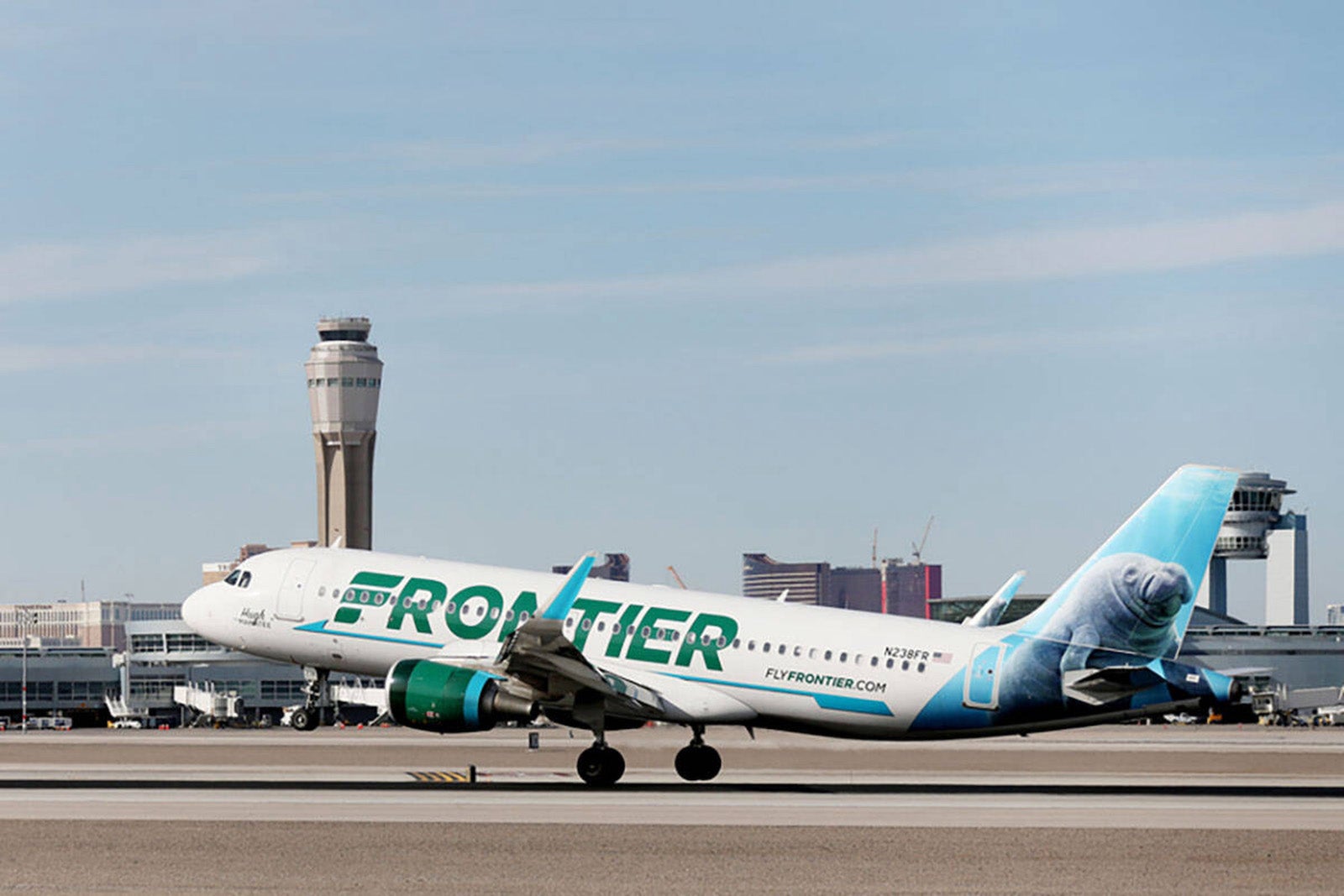 In late 2021, I decided to give Frontier another chance by applying for a status match. I paid the $49 application fee and used my Premier Gold status with United to reach Elite 50K, the middle tier of the airline's three-level Frontier Miles loyalty program. It entitled me to a free carry-on bag, a free seat assignment and priority boarding; these extras generally cost so much that I knew the application fee would more than pay for itself if I flew just once with a carry-on.
This year, with my United status now at Premier Platinum, I matched to Frontier's Elite 100K — the highest tier. I shelled out $149 just to apply for that level, plus another $50 because I previously applied for a match (which expired at the end of last year).
My status now means I have all the perks of Elite 50K (free carry-on bag, seat assignment and priority boarding, plus a bunch of other little things), as well as a free checked bag. The kicker for me: I also received a free membership for Discount Den, which offers discounts that usually save you between $10 and $30 on each ticket any time you book. (Membership normally costs $99.99 per year for new enrollees and $59.99 per year for returning members. So, for me, it's a $99.99 value.)
Given the membership, if I take a single one-way flight with Frontier, bring a carry-on and select a seat, the match's $199 application fees will just about pay for themselves. The other perks are merely a bonus.
Here's info on Frontier's loyalty status levels, how I requested the match (including what you'll need if you plan to do the same), which loyalty programs you can use to help you become elite with Frontier and what you'll pay to apply for each tier.
Frontier Miles loyalty program tiers
Frontier Miles has three levels: Elite 20K, Elite 50K and Elite 100K. To qualify, you normally have to earn 20,000 qualifying miles or fly 25 flight segments; 50,000 qualifying miles or 50 flight segments; or 100,000 qualifying miles or 100 flight segments, respectively. With the match, you simply pay a fee to be awarded a tier corresponding to your current tier with another travel loyalty program.
For a complete list of perks for each Frontier Miles tier, read more in our Elite 20K, Elite 50K and Elite 100K comparison chart.
For more information on how much value you might get out of attaining elite status with Frontier, here's a rundown of what Frontier Miles status is worth.
How to request a Frontier status match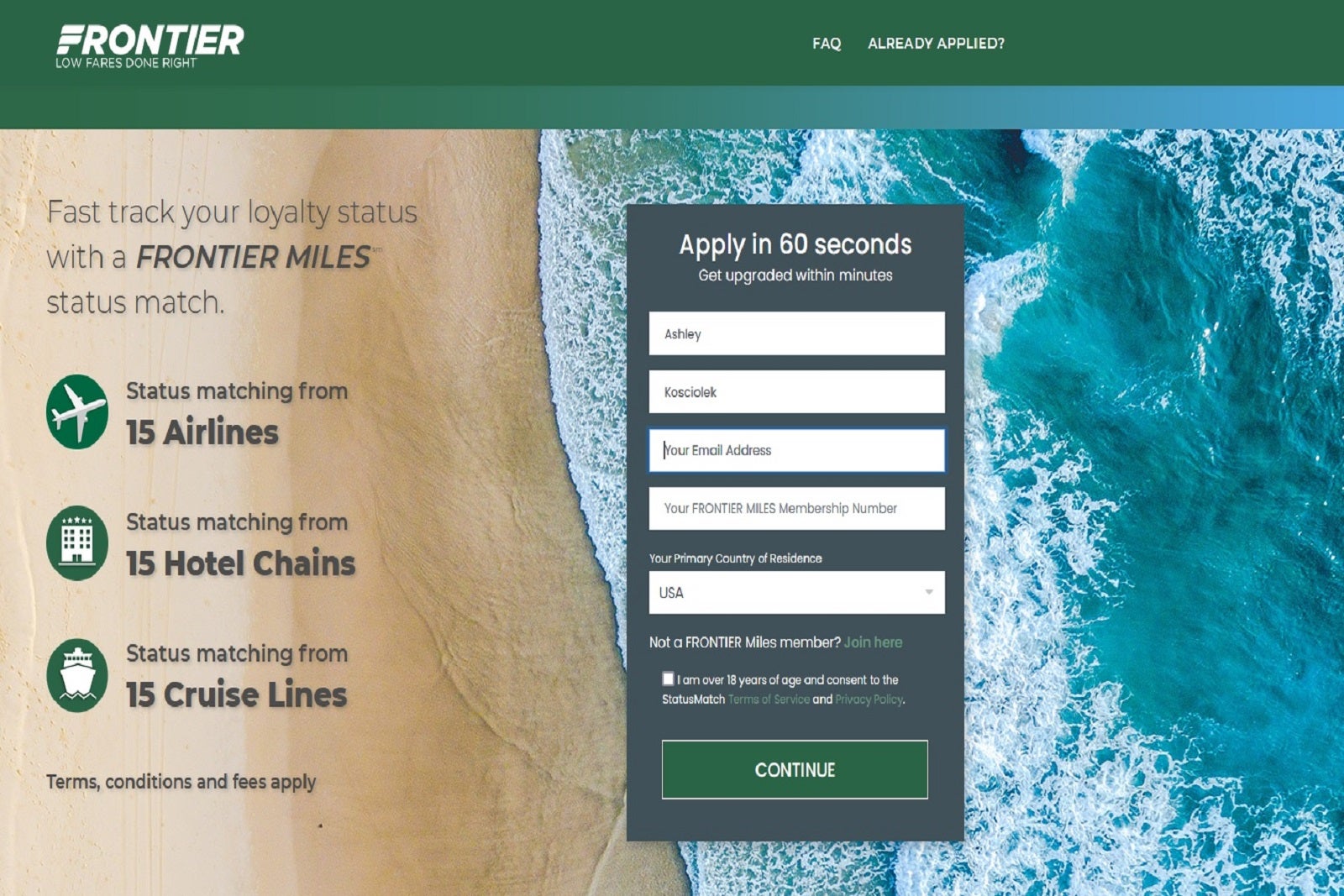 To request a status match with Frontier, you must fill out the form on the airline's website, starting with your full name, email address, Frontier Miles number and country of residence. (If you're not a member, you'll have to join Frontier Miles before you can request the match.) Check the box to agree to the terms and conditions and certify that you're 18.
On the next screen, you'll select whether you want to match your Frontier status to your status from an airline, hotel or cruise line.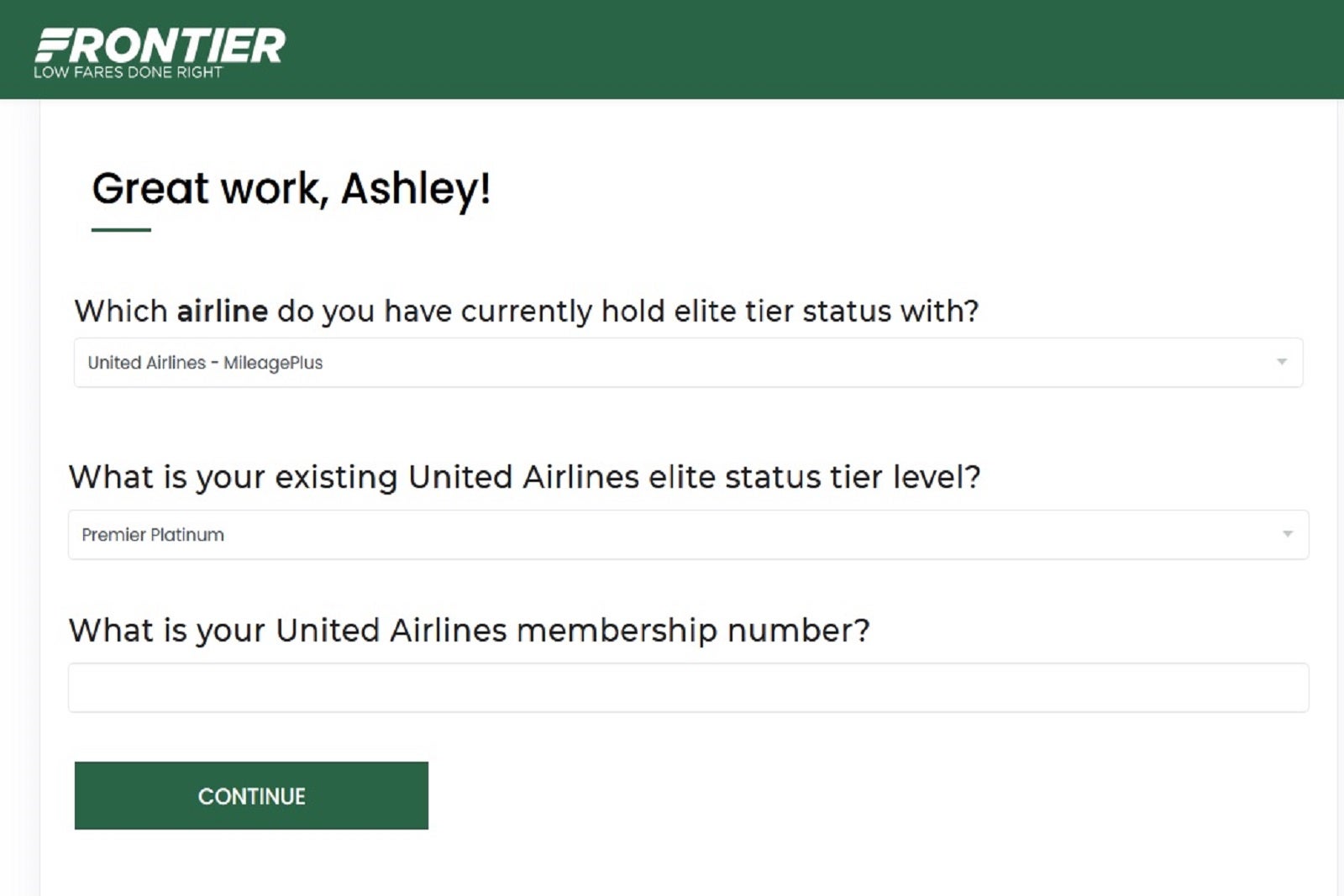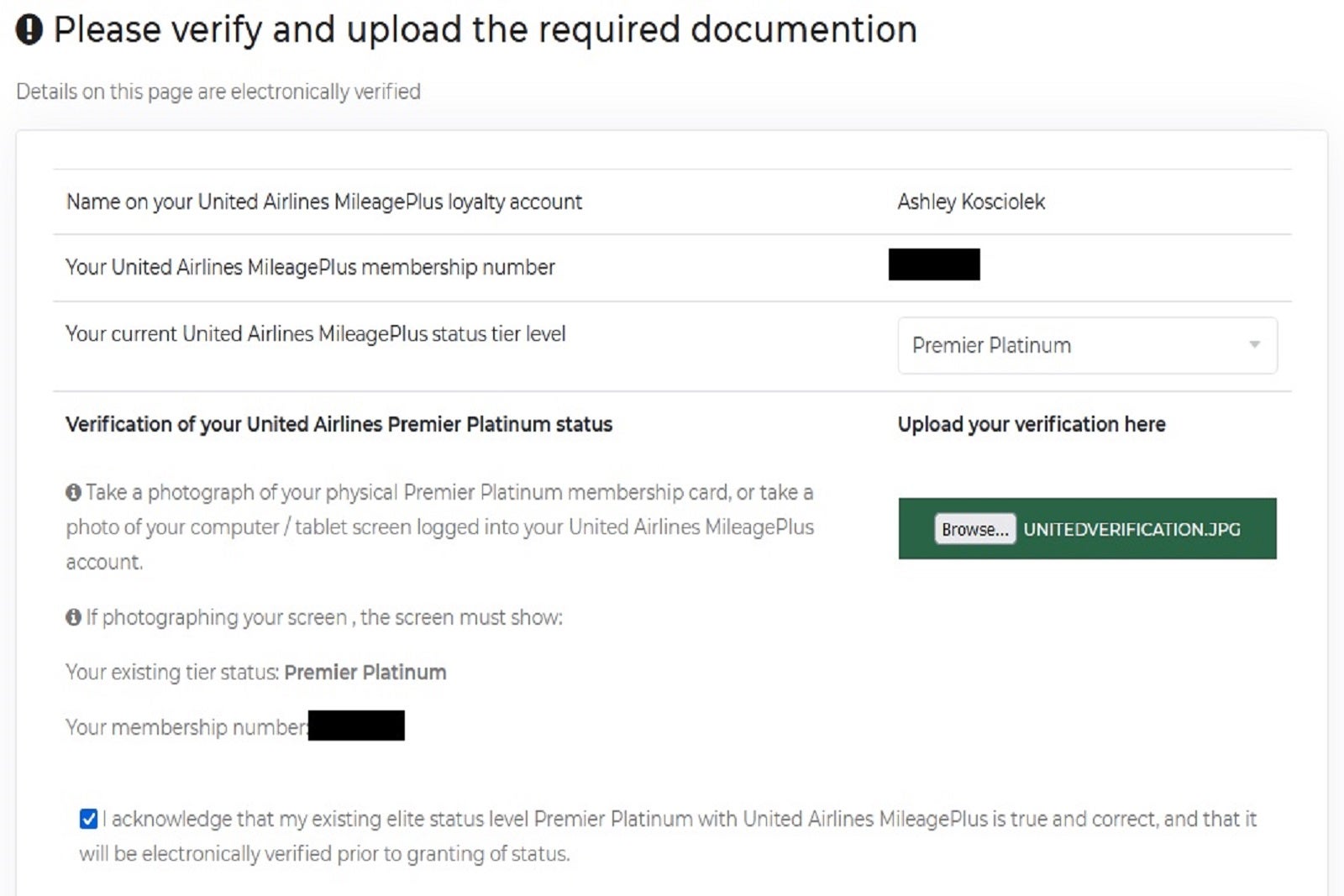 Next, you'll be asked to select the specific loyalty program and tier that you would like matched. Fill in your loyalty number for that program and continue to the next page, where you will be asked to verify your information and upload proof of your loyalty status. That can be a photo of a membership card or a screenshot from your computer or loyalty program mobile app. Uploaded photos must show your existing loyalty status tier and membership number.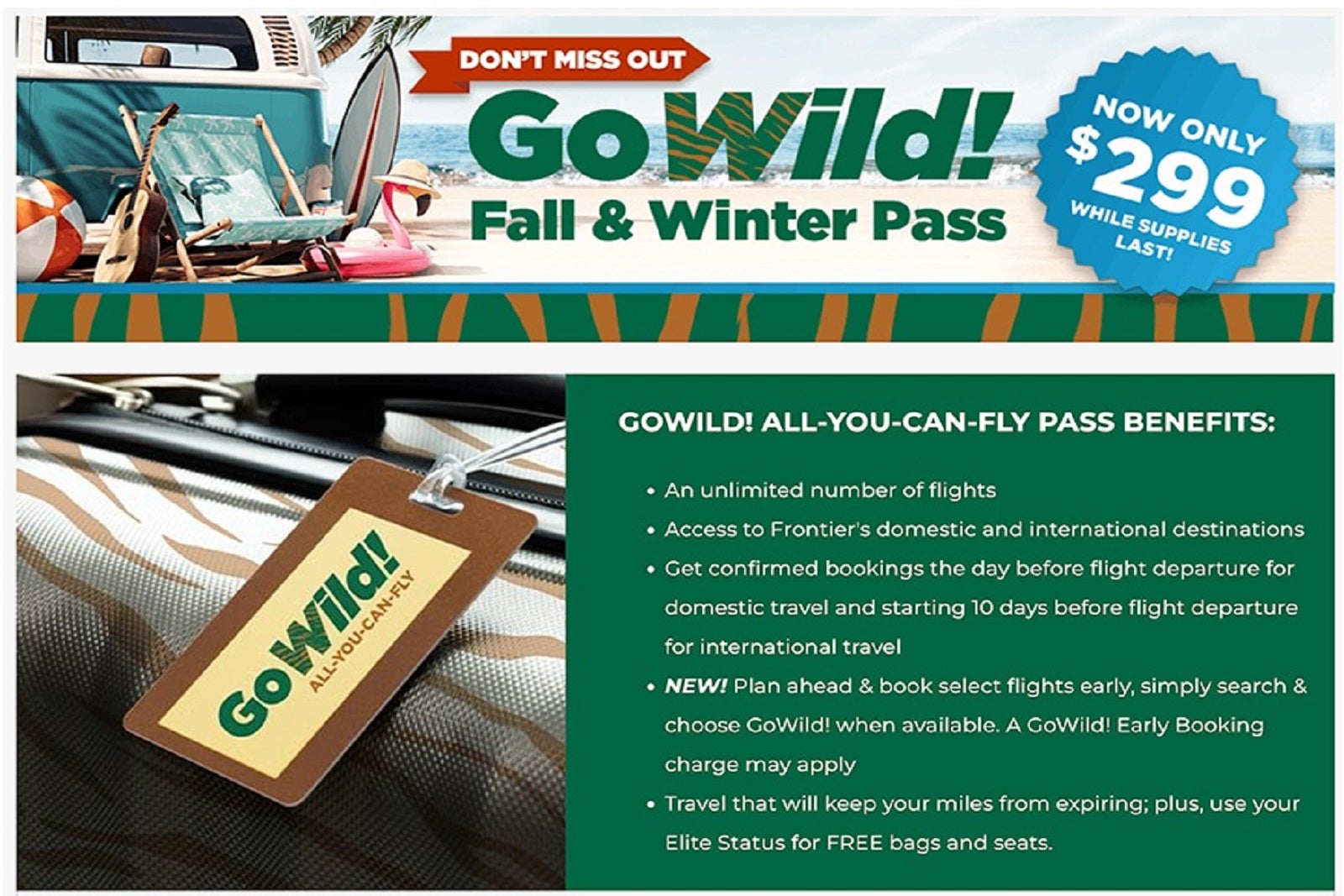 After that, Frontier will try to convince you to tack on a fall and winter GoWild! Pass for an additional $299. (One of TPG's editors shared her experience with a similar spring pass so you can determine if the pass is right for you.)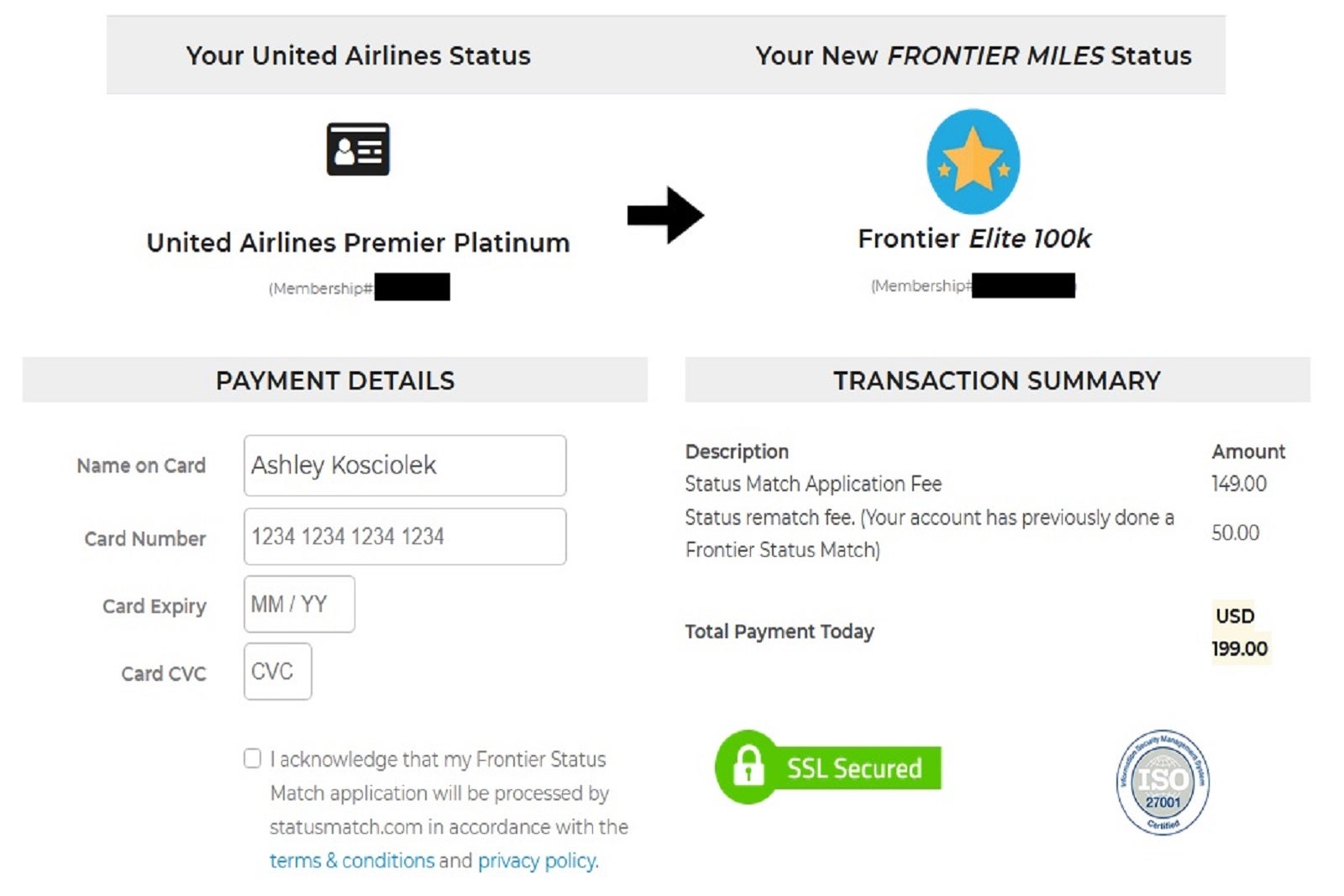 On the following page, the screen will tell you where your current loyalty status will place you within Frontier's program and provide your application fee total; it'll also ask for your payment information. Fill it out, check the box to acknowledge that your application will be electronically processed by Status Match and submit the form.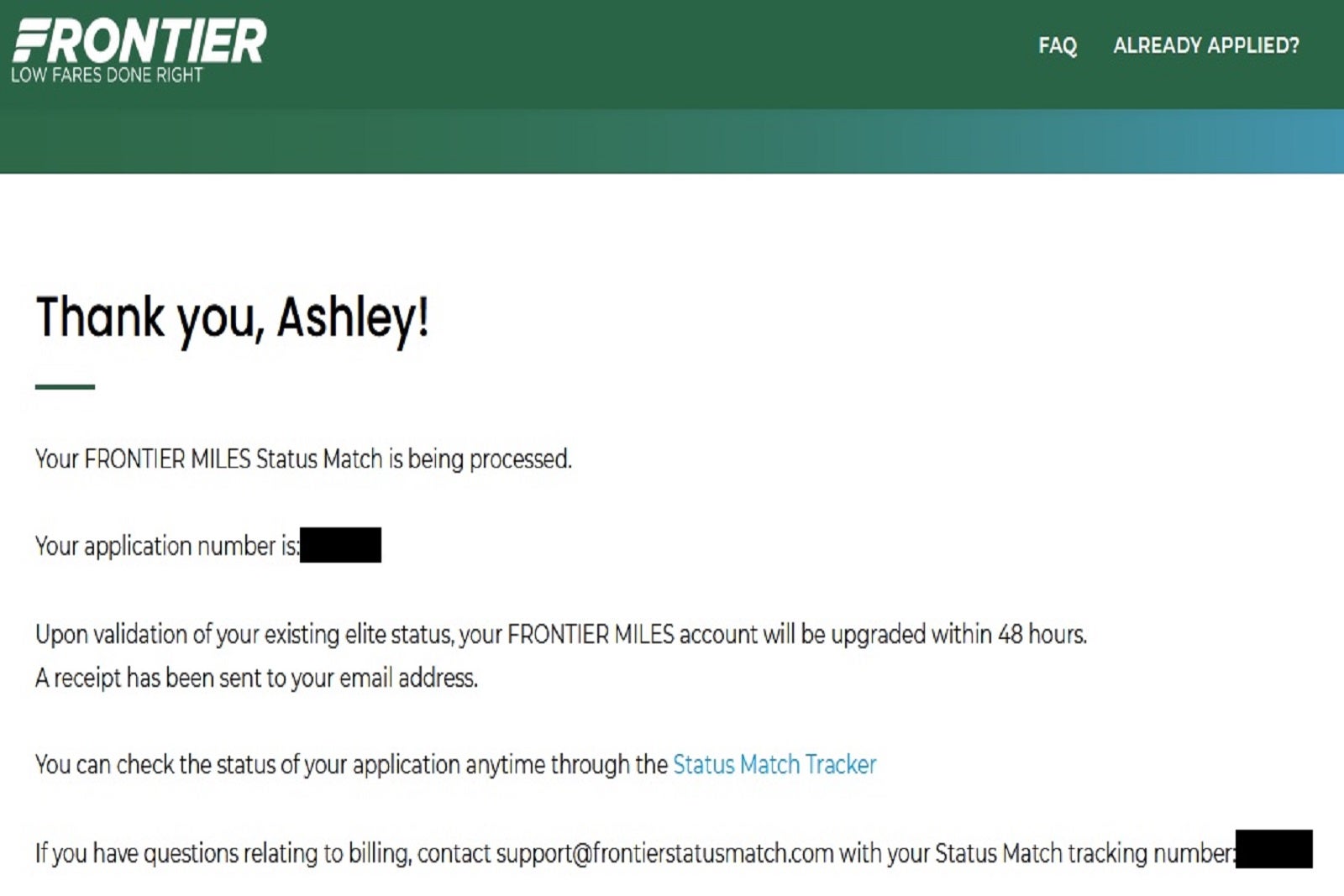 Finally, you should see a confirmation page with a receipt for your payment. You might want to print the page or take a screenshot for your records. Confirmation will also be mailed to you at the address you provided on the first page.
Loyalty programs Frontier will match
Frontier will honor status match requests across 16 airlines (although the application page says 15), 15 hotel brands and 15 cruise lines. These are the programs Frontier will consider for status matches.
Airlines
Aeromexico
Air Canada
Alaska Airlines
American Airlines
Avianca
Caribbean Airlines
Copa Airlines
Delta Air Lines
GOL
Hawaiian Airlines
JetBlue
LATAM
Southwest
Spirit Airlines
United Airlines
WestJet
Hotels
Accor
Best Western
Choice Hotels International
GHA
Hilton
Hyatt
IHG
Marriott
NH Hotels
Nordic Choice Hotels & Resorts
Radisson Hotel Group
Shangri-La Hotels and Resorts
Sonesta
World Hotels
Wyndam Hotels and Resorts
Cruise lines
Azamara Cruises
Carnival Cruise Line
Celebrity Cruises
Cunard Line
Disney Cruise Line
Holland America Line
MSC Cruises
Norwegian Cruise Line
Oceania Cruises
P&O Cruises
Princess Cruises
Regent Seven Seas Cruises
Royal Caribbean International
Scenic Luxury Cruises & Tours
Stena Line
To see how your current loyalty tier will translate within the Frontier Miles program, check out Frontier's conversion chart and status match FAQ.
Cost to apply for a Frontier status match
If you're a first-time applicant or it has been more than two years since you last requested a status match, you will pay $99 to apply for a match to Elite 20K or Elite 50K; you'll pay $149 to apply for a match to Elite 100K.
If you have applied for a status match within the last two years, you will be charged an additional $50 on top of the abovementioned fees.
How long it will take to hear back on your match request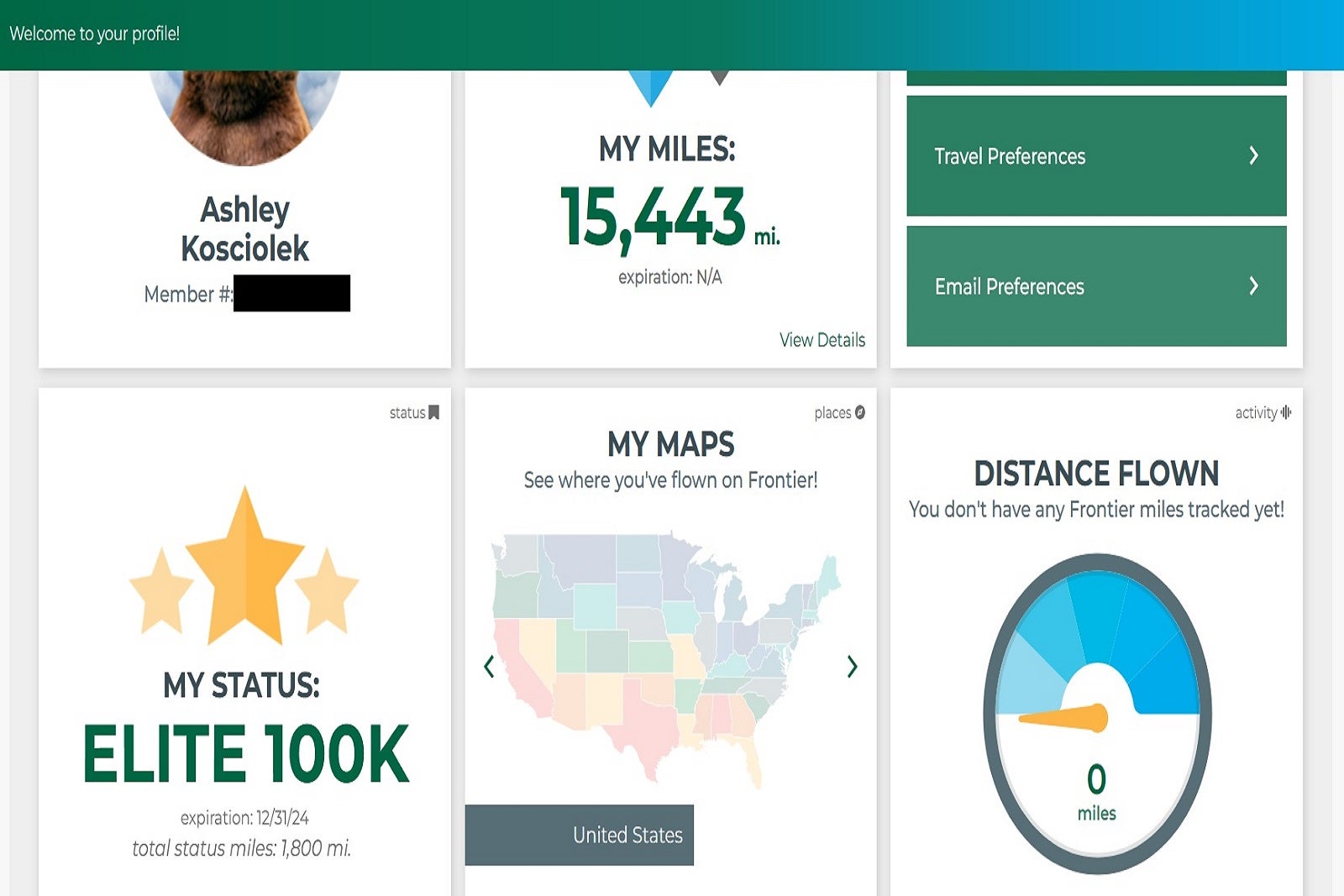 On your confirmation page, it will state that a determination will be made within 48 hours of request submission. You won't receive an official confirmation if your request is granted and the match is issued, but you can log into your Frontier Miles account within that time frame to see if it has been updated. If so, you're free to use your new loyalty benefits. However, they cannot be applied to amenities — such as baggage fees or seat selection — that have already been paid for.
Bottom line
If Frontier has routes that appeal to you, you plan to fly with the airline over the next year and you think you can justify the application fee(s) by utilizing the new perks you'll gain, the status match could be a great option.
You can request a match through Dec. 31, 2023. If your match is granted, you will maintain that status with Frontier through Dec. 31, 2024. If you apply now, you can get a couple extra months' worth of status out of the deal, too.
Related reading: