Editor's note: This is a recurring post, regularly updated with the latest information.
World of Hyatt has garnered a loyal following among award travelers with its award chart, generous elite status benefits and ample opportunities to earn points.
In addition to offering unique advantages such as Guest of Honor awards, one area where Hyatt excels compared to its competitors is upgrade certificates. These certificates can grant access to standard suites and club-level rooms.
In this guide, we will delve into the details of Hyatt upgrade certificates, including the various types you can earn and the ideal times to utilize them.
Types of upgrade certificates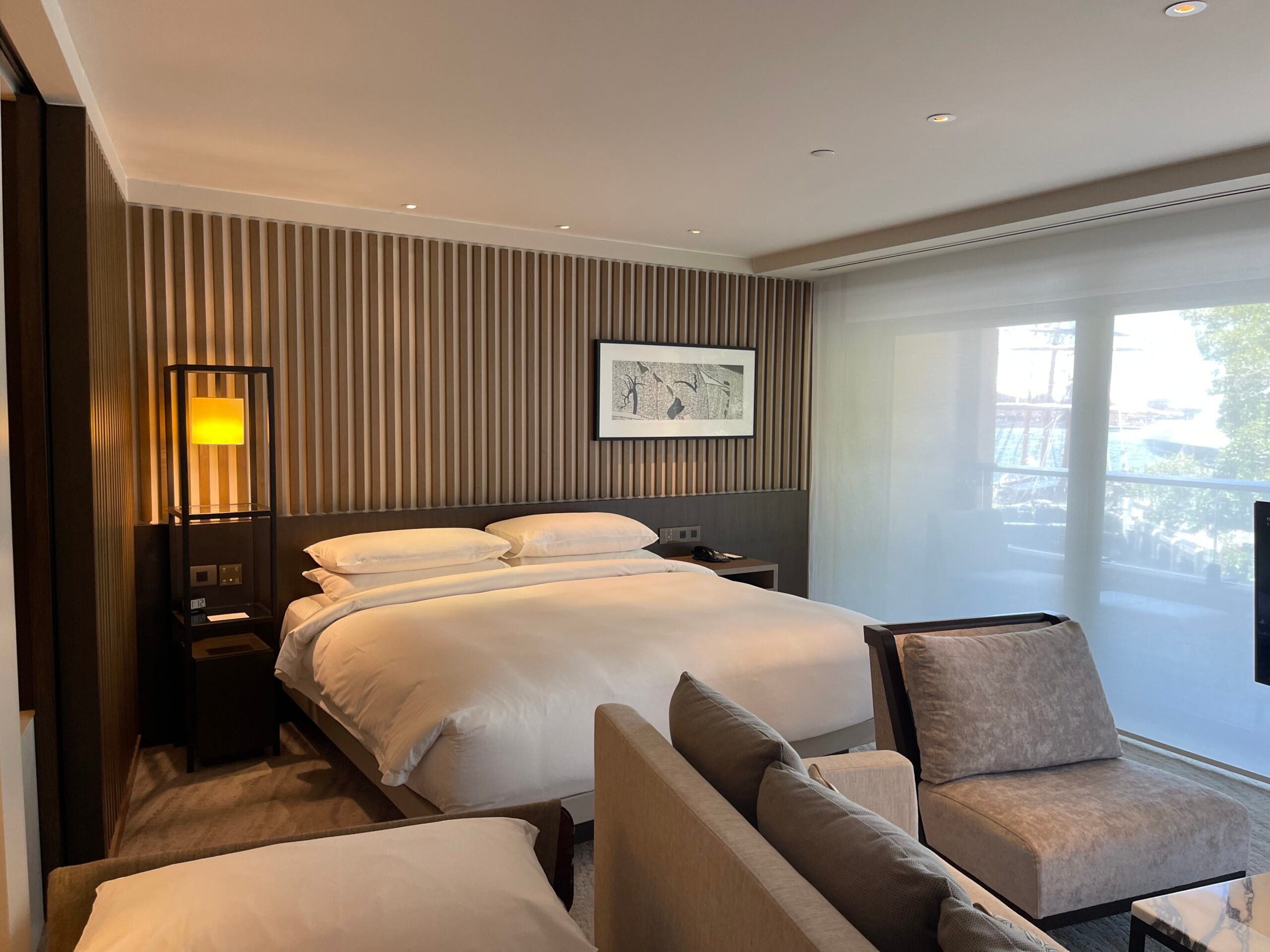 You can earn club lounge access awards and suite upgrade awards through Hyatt's Milestone Rewards program.
For club lounge access awards, you earn two certificates after staying 20 nights or earning 35,000 base points and an additional two certificates after staying 30 nights or earning 50,000 base points. Earning Explorist status typically requires 30 nights or 50,000 base points per year, so Explorist members usually receive four club lounge access awards annually. This benefit is especially valuable at properties with well-equipped club lounges, as complimentary upgrades to rooms with club lounge access are generally not provided for Hyatt Explorist members.
As for suite upgrade awards, you earn two certificates after staying 50 elite-qualifying nights or earning 80,000 base points and another two certificates after staying 60 nights or earning 100,000 base points. This is typically the point where you would qualify for Globalist status, but Hyatt offers additional incentives for surpassing this threshold. You can select between an additional suite upgrade award or 10,000 bonus points (worth $170 at TPG's valuations) for every 10 additional nights, up to 100 nights per calendar year.
World of Hyatt Lifetime Globalist members receive four suite upgrade awards annually, regardless of the number of elite-qualifying nights they complete.
It's worth noting that members with a World of Hyatt Credit Card receive five elite-night credits each year and can earn an additional two credits for every $5,000 spent on the card in a calendar year. Meanwhile, the World of Hyatt Business Credit Card offers five elite-night credits for each $10,000 spent per calendar year. Having these cards can be a simple way to progress toward earning the above upgrade awards (and Hyatt elite status) if you are running short on Hyatt nights.
Apart from determining the room type to which you are upgraded, many other aspects of these awards are the same:
Each certificate is valid for a single stay of up to seven nights.
The upgrades will automatically appear in your Hyatt account once you earn them.
Each certificate generally expires 14 months after the end of the year it was earned and must be used for a stay completed before its expiration date.
When applied, the certificates confirm your upgraded room.
These upgrades can only book you into a regular club-level room or standard suite, as designated by the property. So, you can't use a suite upgrade award to snag a specialty suite.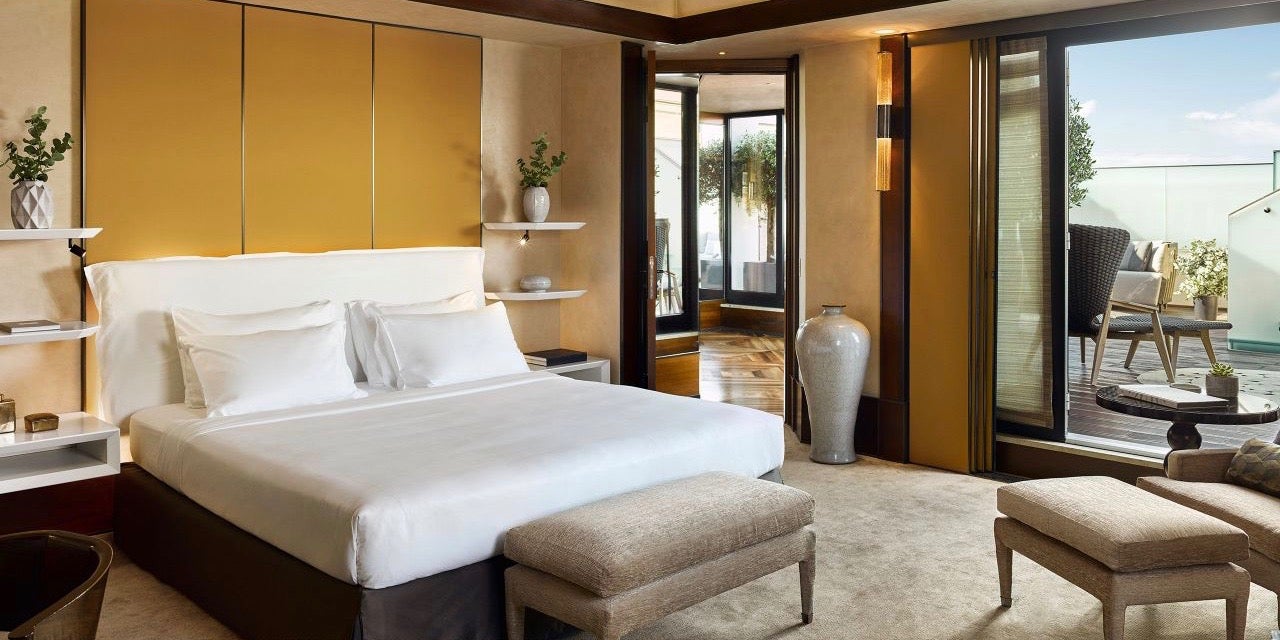 Club lounge access awards are (naturally) only available at properties with a club lounge. And suite upgrade awards are only available at properties where you can redeem Hyatt points for a standard suite. However, standard suite awards are never available at properties defined as "suite award ineligible properties" as defined in the World of Hyatt terms and conditions.
Currently, that list includes these hotels: Park Hyatt Maldives Hadahaa, Park Hyatt Sydney, Park Hyatt Beaver Creek Resort and Spa, Andaz Tokyo Toranomon Hills, Hyatt Regency Kyoto, Hyatt Regency Wichita, Hyatt Paris Madeleine, Hyatt Herald Square New York, Hyatt Key West Resort and Spa, Hyatt City of Dreams Manila, Hyatt Centric South Beach Miami, Spirit Ridge at NK'MIP Resort, Hyatt Rosemont, Hyatt Regency Suites Atlanta Northwest, Hyatt Regency Lisle near Naperville, Hyatt Regency John Wayne Airport Newport Beach, Numu Boutique Hotel San Miguel de Allende, Thompson Seattle, Thompson Hollywood, Chicago Athletic Association, Hotel Revival Baltimore, Hotel Avatar, Waterfront Hotel, Park South, The Laurel Inn, Hotel Kabuki, Alila Manggis, Studios at Alila Sminyak, Alila Villas Uluwatu, Alila Taihu Suzhou, Episode Hsinchu, Hotel du Louvre, Ventana Campground, Sunscape Sabor Cozumel, Dreams Aventuras, Dreams Royal Beach, Now Emerald Cancun, AluaSoul Alcudia Bay, AluaSoul Menorca, Alua Leo, AluaSun Far Menorca, AluaSun Mediterraneo, AluaSun Cala Antena, Alua Boccaccio, AluaSun Lago Park, AluaSun Doblemar, Me and All Hotel Dusseldorf, Me and All Hotel Dusseldorf Oberkassel, Me and All Hotel Mainz, Me and All Hotel Hanover, Me and All Hotel Kiel, Me and All Hotel Ulm, Lindner Hotel Cottbus, Lindner Hotel Frankfurt Hochst, Lindner Hotel Dusseldorf Seestern, Lindner Hotel Frankfurt Sportpark, Lindner Hotel City Plaza Cologne, Lindner Hotel Nurburgring Ferienpark, Lindner Hotel Nurburgring Motorsport, Lindner Hotel Nurburgring Congress and Lindner Hotel Bratislava.
In addition, you can't use suite upgrade awards at Hyatt Vacation Club resorts, and you can't use club lounge access awards at Caption by Hyatt, Hyatt Place, Hyatt House, Hyatt Ziva, Hyatt Zilara, Miraval, Destination by Hyatt Residences or Hyatt Vacation Club hotels and resorts.
The last caveat deals with how you book your stay. You generally have to book an eligible paid rate, redeem Hyatt points or book a Points + Cash reservation to use these upgrades. Other free night awards (including those from the World of Hyatt Credit Card) are generally ineligible.
Related: Can you use a World of Hyatt club lounge access award for someone else?
How to use Hyatt upgrade certificates
Unfortunately, unlike booking upgraded Hyatt rooms using points, the only way to use Hyatt's club lounge access and suite upgrade awards is by contacting World of Hyatt customer service. It's important to note that you must already have a reservation with an eligible rate (paid, award or Points + Cash) to use these certificates. To gauge availability, you can search for rooms at the specific property where you intend to use the certificates.
For instance, let's consider a trip to the Grand Hyatt Washington. This property offers a club lounge and standard suites, allowing you to utilize a club lounge access award or suite upgrade award to secure a better room after booking. However, you'll want to ensure the hotel has room at your desired upgrade level. To clarify, in the case of a club lounge access award, you would look for a standard room with club access.

Meanwhile, you'll want to find the phrase "This is a standard suite" in the room description to use a suite upgrade award. This property has two standard suite types — the executive king suite and the grand suite.


You'd probably want to go with the grand suite, which is roughly 25% larger than the executive king suite. Do your research, and then let your Hyatt representative know which of the two suites you'd like.
However, not all eligible properties have the "This is a standard suite" note in their room descriptions. In this case, you can toggle your search to show the points rates and see which rooms are listed as "Standard Suite Free Night." Alternatively, you can contact World of Hyatt and ask.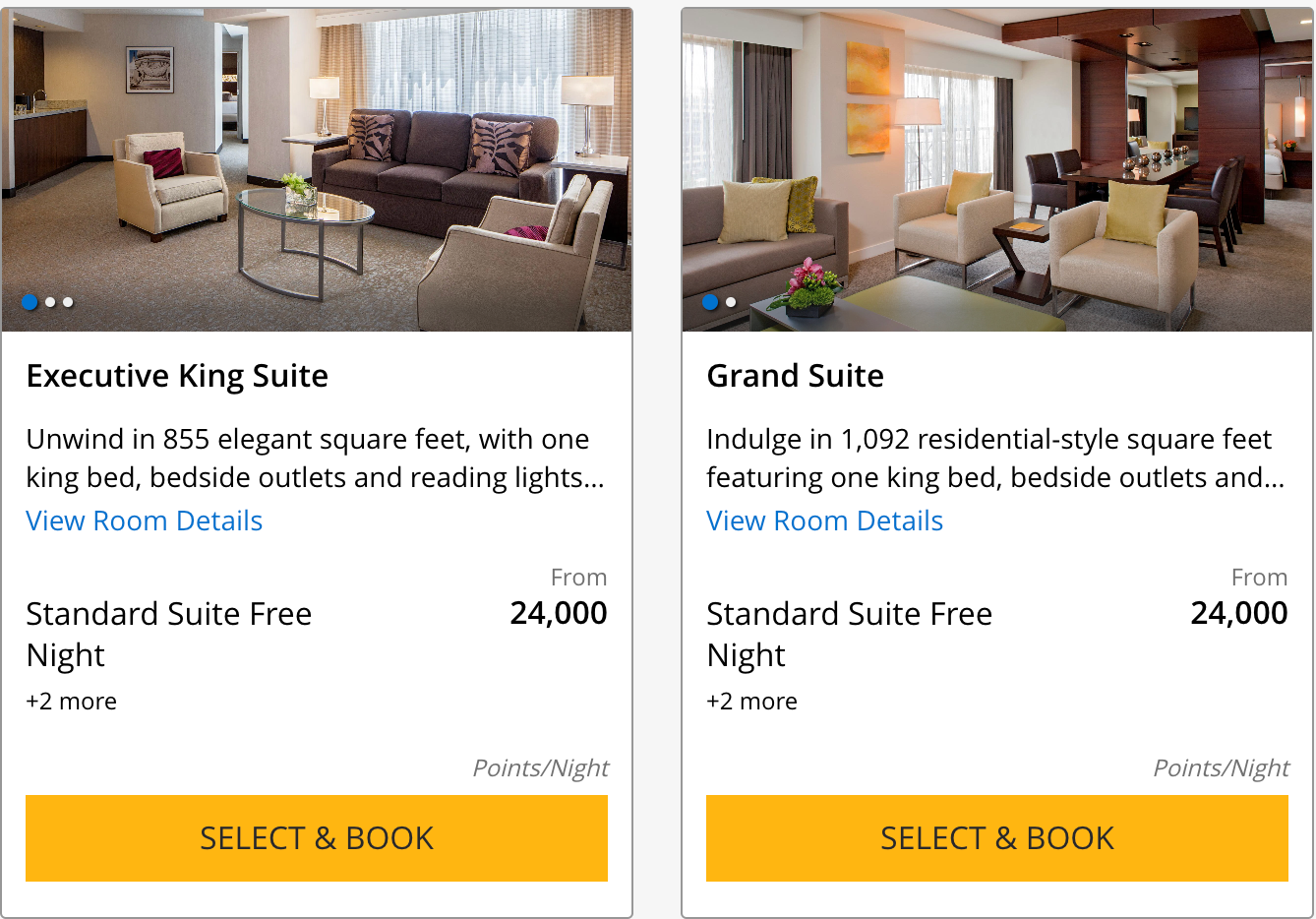 To use a suite upgrade award or redeem Hyatt points for a standard suite, you should be able to select either of these room types. However, if they are unavailable for your desired dates and the only suites listed include a description stating, "This is a premium suite," you won't be able to apply your suite upgrade award to this stay.
Once you have confirmed availability and determined your preferred room type, contact Hyatt's customer service at 800-544-9288. Have your confirmation and World of Hyatt account numbers ready, as the agent will require both to confirm your upgrade.
Related: Here's what I did when a Hyatt resort didn't honor my 'confirmed' suite upgrade
Maximizing your upgrades
Hyatt offers great value with its club lounge access awards and suite upgrade awards, as you can use each certificate for a stay of up to seven nights. As such, you could use each certificate for a one-night stay, a weeklong trip or anything in between. This differs from programs like Marriott Bonvoy, where top-tier members must redeem one suite night award for each night of their stay. With Hyatt, it is wise to save your upgrades for longer stays rather than using them for short overnight or weekend getaways.
A smart strategy, especially for club lounge access awards, is to use them when traveling with family or friends. The complimentary breakfast, drinks, hors d'oeuvres and extra space are more valuable when shared with others. If you are already booking plane tickets for multiple people, this is a great way to maximize the value of your hotel stay.
Consider booking your stay through luxury hotel programs like Hyatt Prive and American Express Fine Hotels + Resorts. These programs provide extra perks and often book eligible rates that still let you apply an upgrade certificate.
Finally, we recommend saving your upgrades for luxurious properties when possible. For example, a suite at the Park Hyatt New York will likely provide a more memorable and valuable experience than a suite at an airport hotel.
Related: Best hotel credit cards
Bottom line
Qualifying for mid- and top-tier elite status in the World of Hyatt program is relatively straightforward. You can achieve this through regular stays and using cobranded Hyatt credit cards for your spending. If you have earned Hyatt upgrade certificates, follow these tips to make the most of them and maximize their value.