World of Hyatt lets members use free night awards, book paid nights and redeem Hyatt points all on a single reservation via its Pay My Way feature.
Starting today, World of Hyatt has improved this feature by letting members select the eligible free night award they want to apply via the Pay My Way feature. Previously, the World of Hyatt booking system would automatically use the free night award with the earlier expiration date, which caused issues for some members who perhaps wanted to use their lowest value award certificate first (Category 1-4 vs. Category 1-7).
Here's what you need to know about using World of Hyatt's Pay My Way feature, especially now that you can select which free night award you want to use.
How to use Hyatt's Pay My Way
To use Hyatt's Pay My Way, log in to your Hyatt account and search for a stay of two nights or longer. Don't check the "Use Points" box before clicking "Find hotels."

The results page will show all the Hyatt properties available at your destination on your travel dates. Click "View rates" for the property you want to book.
Unfortunately, not all rates and room types are eligible for Hyatt's Pay My Way. You also won't find any options to use Pay My Way at some properties. For now, select the room type you'd like to book.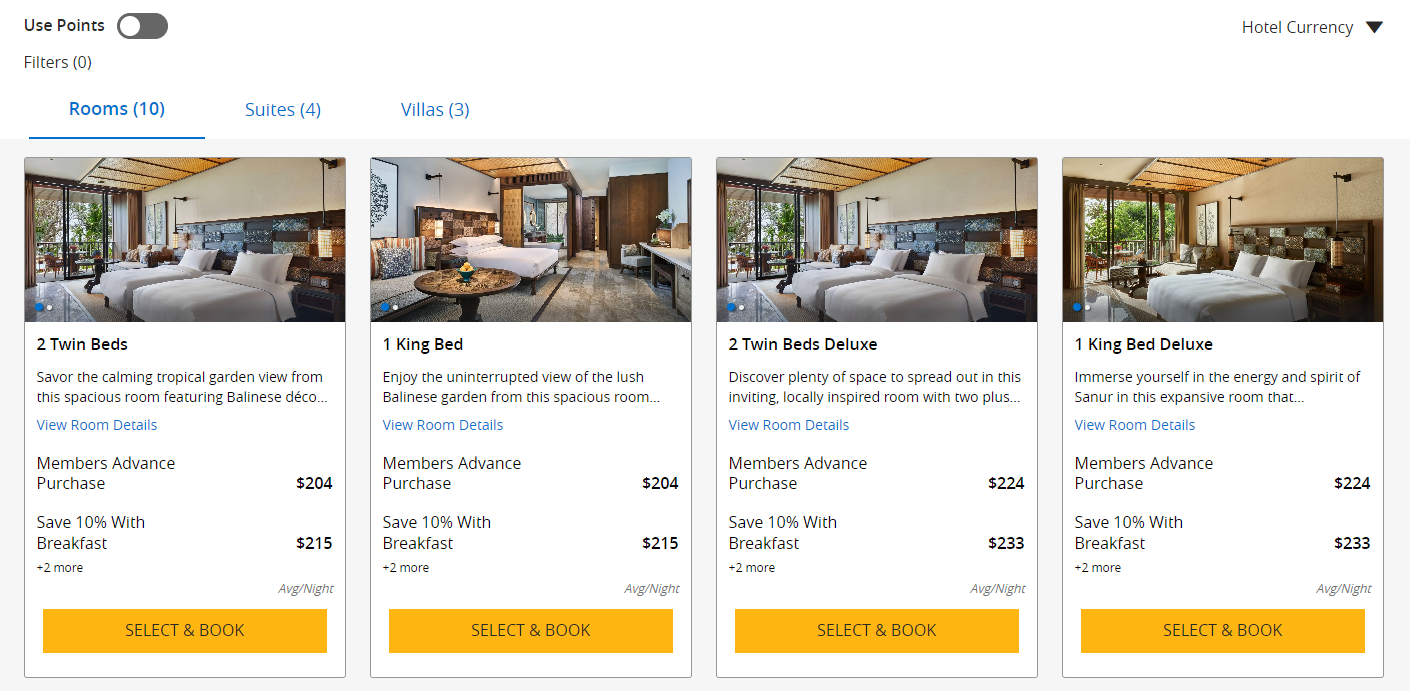 Hopefully, you'll see a rate eligible for Pay My Way (as indicated by the "Pay My Way" button). If none of the rates have the "Pay My Way" button, click "Other available rooms" near the top of the page to try a different room type.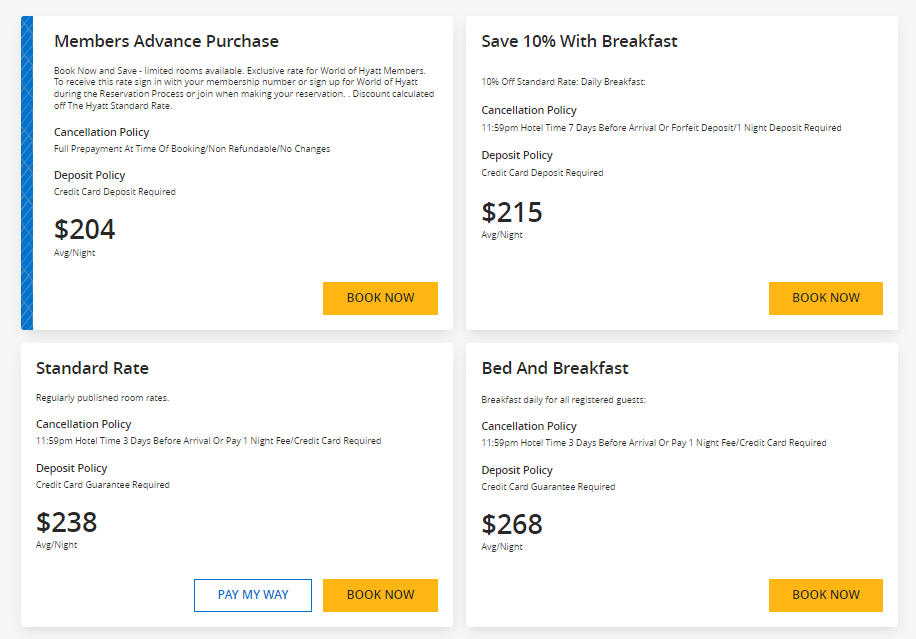 Once you find a room type and rate you want to book, click the "Pay My Way" button. You'll end up on the following page: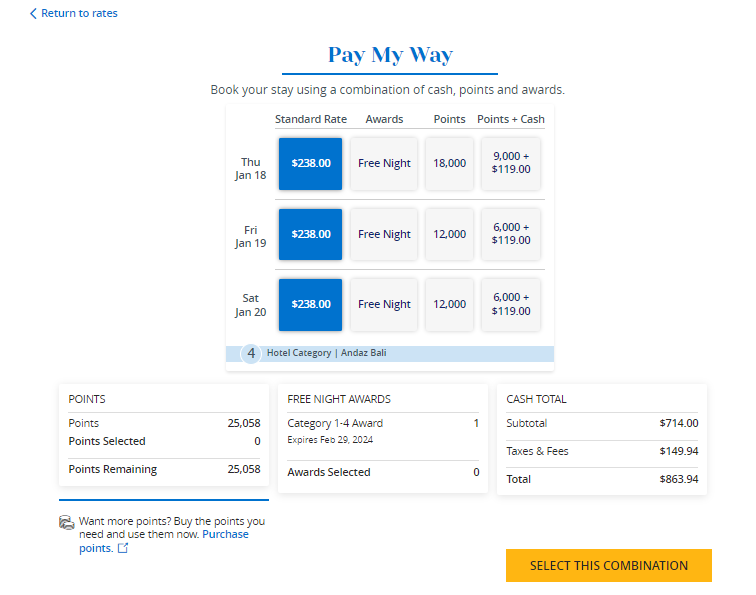 You can select any combination of points, cash, points and cash or free night awards. And if you have multiple free night awards, you can now select which one you prefer to use.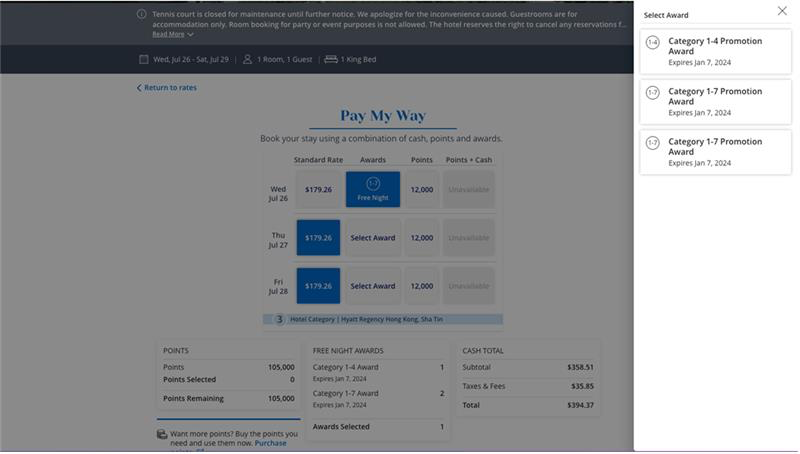 However, when calculating redemption rates, consider that the cash rates shown in the table don't include taxes and fees.
Click through a few combinations and see how the taxes and fees in the "Cash total" box at the bottom change. For example, here's a combination of a night on points, a paid night and a night using a free night award: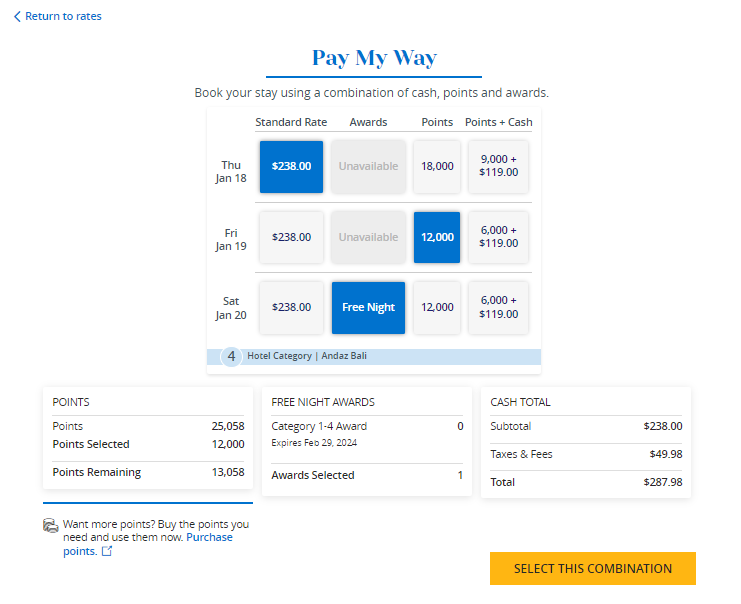 Click "Select this combination" to move forward with the booking process. Once you do so, you'll be on the final booking page.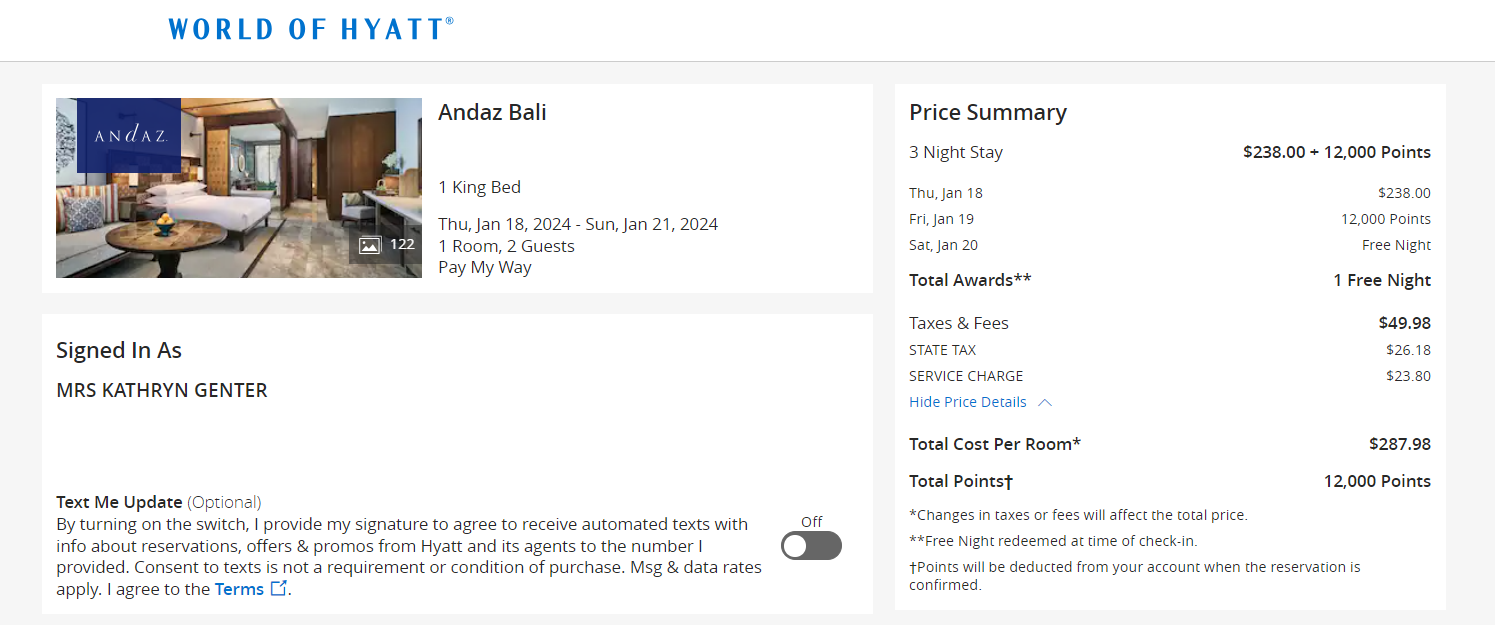 Related: These are the best Hyatt Category 4 hotels, according to Globalists
Why use Hyatt's Pay My Way
Now that you know how to use Hyatt's Pay My Way, you may wonder when and why to use this feature. The most obvious use case is when you don't have enough free night awards to cover all the nights of your stay.
It can also make sense to redeem World of Hyatt points for nights with expensive cash rates and pay cash for nights with low cash rates. After all, you can benefit from World of Hyatt still offering an award chart on the nights with expensive paid rates.
In short, it comes down to the redemption rate you can get each night and how you value Hyatt points. TPG's valuations peg the value of Hyatt points at 1.7 cents per point. So, based on these valuations, you'd want to redeem points when you can get a redemption value of at least 1.7 cents per point. You'd want to book a paid rate when your redemption rate would be lower.
However, remember that you can't access all available rates when using Pay My Way. So, it's worth considering whether you'd get a better deal by booking multiple reservations. After all, most hotels will try to keep you in the same room for your entire stay if you call or email before your stay.
It's easier to book one reservation, though. So if the rates are similar, you'll probably want to use Pay My Way instead of booking multiple back-to-back reservations.
Related: The best Hyatt beach hotels in the US
Bottom line
It's great that Hyatt has improved its Pay My Way feature to allow members to select the free night award they'd most like to use instead of defaulting to the one with the earliest expiration date.
This feature could be further improved by enhancing the functionality to make it easier to find properties and room types you can book using the Pay My Way feature, but this is a real step forward for the tool.