Editor's note: TPG's Gene Sloan accepted a free trip from Ponant to accompany one of its first expedition cruises to the North Pole. The opinions expressed below are entirely his and weren't subject to review by the line.
Sometimes, it's all about the setting.
Over a lifetime of travel writing, I've gone on some epic hikes across the globe, from the Alaskan wilderness to the jungles of Myanmar.
I've trekked for days across the mountains of Peru.
But nothing has quite compared to the hike I just did on Thursday.
For more cruise news, guides and tips, sign up for TPG's cruise newsletter.
You can't even really call it a hike. Maybe a walk. And a short one, at that. It wasn't long. But where it took place made it more over-the-top than any exploring by foot that I have ever done before.
It was, literally, over-the-top.
It was at the very top of the world: the North Pole.
Late on Wednesday, I arrived at the world's northernmost destination along with 198 other passengers aboard the French expedition ship Le Commandant Charcot.
Just unveiled in 2021, Le Commandant Charcot is an expedition cruise vessel made for traveling through ice like no other — a true icebreaker of the sort that only governments have built until now.
Related: The ultimate guide to expedition cruising
It's also the first and only expedition cruise ship capable of reaching the North Pole, a destination to which it is now traveling a handful of times each year.
Sailing out of Longyearbyen in the Arctic's Svalbard archipelago, the world's northernmost settlement of any size, Le Commandant Charcot got us to the North Pole in just four days, most of which was spent plowing through hundreds of miles of polar ice.
It was then that the fun began.
Snowshoeing in search of Santa
Upon arriving at the North Pole late Wednesday, we disembarked the ship through a door on its side to take our first steps on the ice, giddily taking pictures next to a sign labeled "North Pole" that our expedition guides had brought along for the occasion.
We walked a perimeter marked off around the vessel, protected by rifle-carrying lookouts scanning the horizon for polar bears (the rifles only to be used as a very last resort). We made snow angels in the ground and sipped hot chocolate at a warming station that the crew set up on the ice.
But it wasn't until Thursday morning that we started to explore in more depth — and with more toys.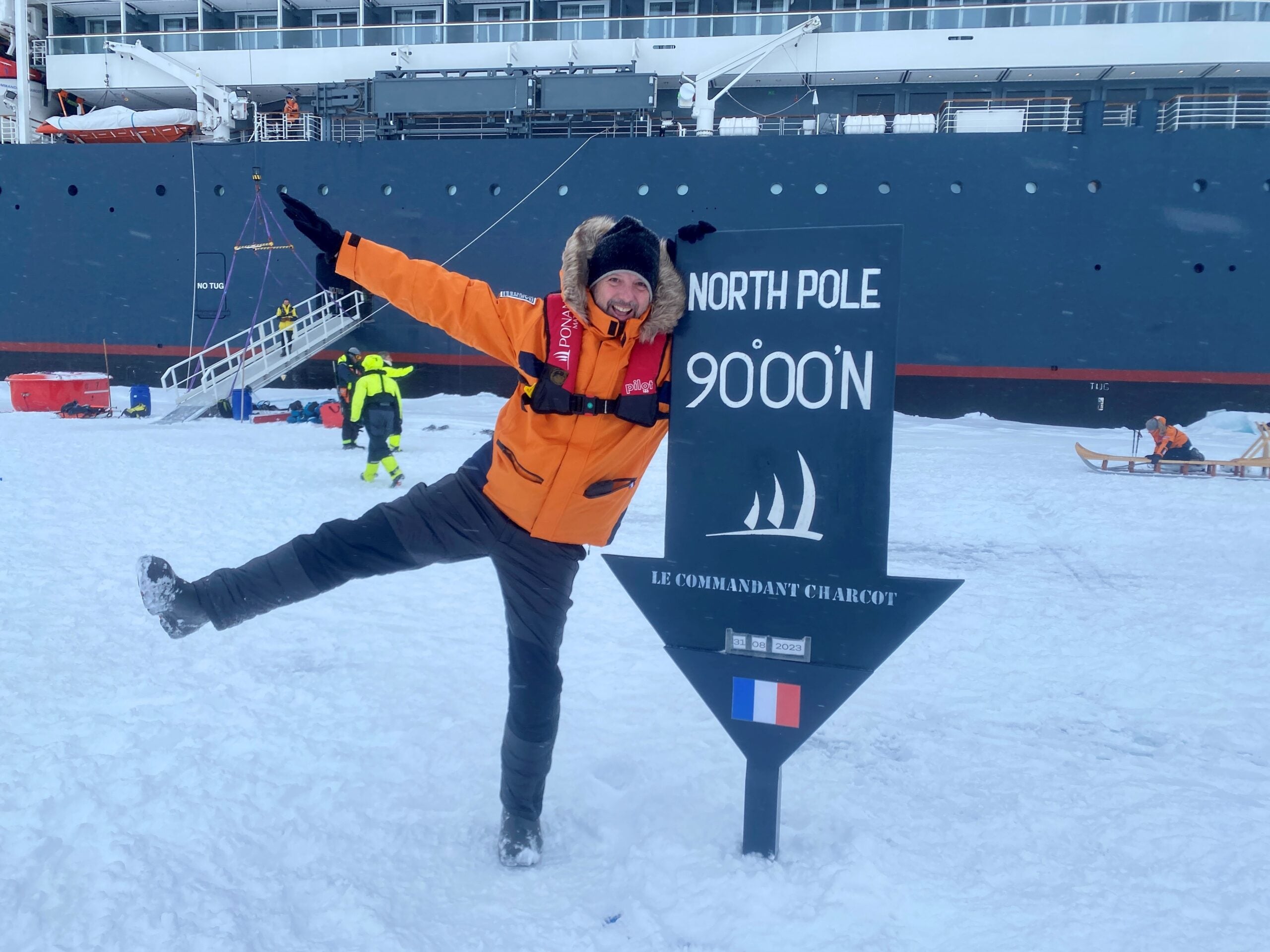 Emerging from Le Commandant Charcot after breakfast, I discovered that the ship's expedition guides had laid out snowshoes and cross-country skis near the ship's door for our use in exploring.
The ice at the North Pole was covered in a few inches of snow, some of which had come down overnight. It was nothing my sturdy rubber boots couldn't handle. But, heck, I was at the North Pole, a Holy Grail destination that had beguiled explorers and adventurers for more than a century, and I figured I needed to look the part.
I strapped on a pair of snowshoes and headed off into the great white nothingness that stretched to the horizon. Somewhere, out there, was Santa, toiling away in his workshop. Or, at least, some monster snow drifts that I could dive into for the ultimate polar selfie.
I didn't get far.
A sighting of a polar bear near the ship late Wednesday, after passengers had all re-boarded, had left the ship's guides skittish about letting us wander too great a distance from the vessel.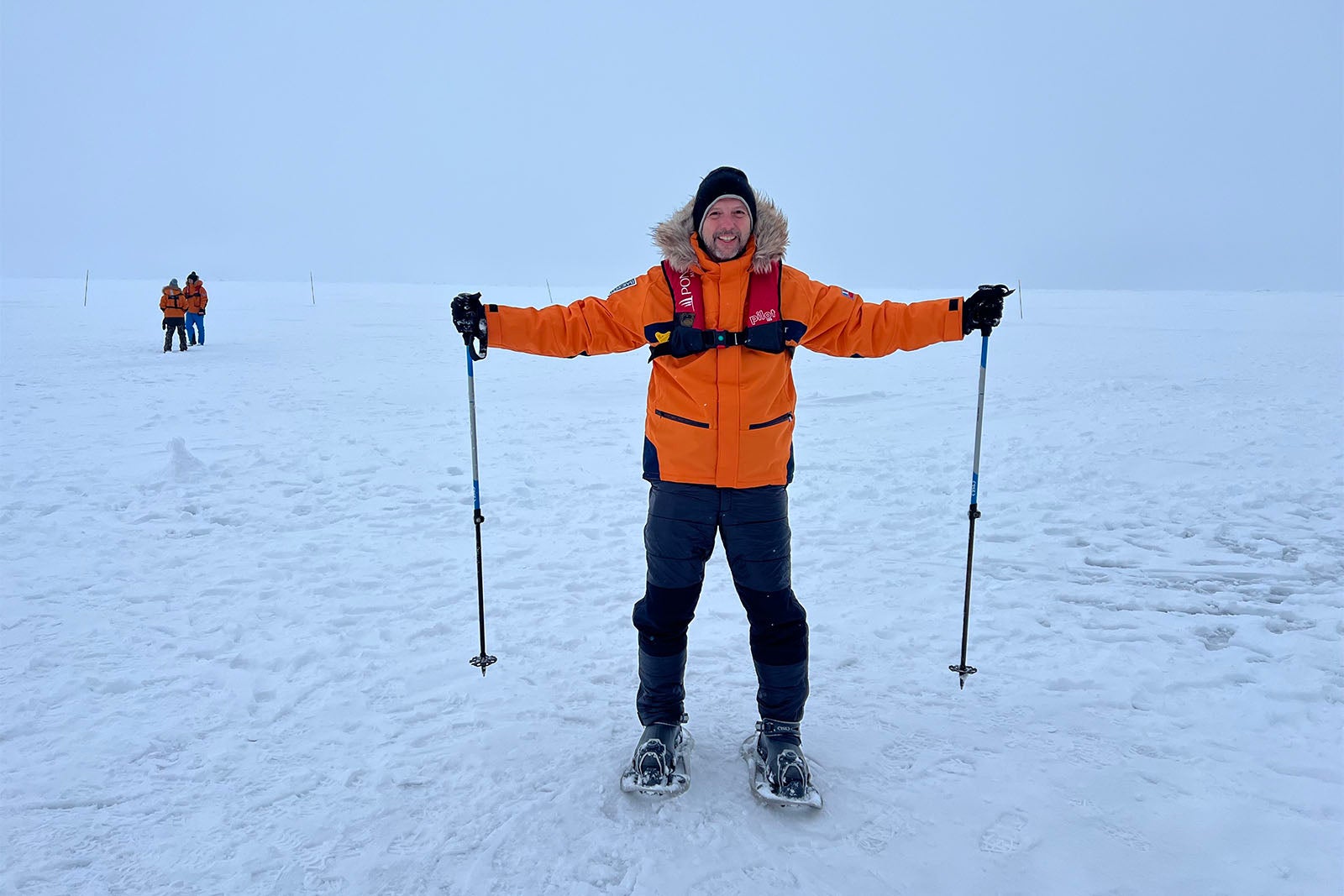 They had marked off a narrower perimeter around Le Commandant Charcot than the night before.
Still, I made the most of it, crunching across the crusty snow in my snowshoes to the edge of the don't-go line, walking its full length in an arc that took me from one side of the ship to the other.
As I walked, I tried to take in the scene with all my senses: The sound of the snow squeaking under my feet, the sting of the cold Arctic air blowing on my face, the white-on-white vista where the clouds met the snow.
For someone who loves history as much as the great outdoors, it was a magical moment.
In the footsteps of the great explorers
Barely a century ago, two of the world's most famous polar explorers, Frederick Cook and Robert Peary, spent months traveling over the north polar ice cap in search of this spot — and, depending on who you believe, never quite got to it.
It wasn't until 1926 that humans undisputedly reached the North Pole, albeit only during a flyby on an airship. It wasn't until 1977 that a ship like ours, the Russian nuclear-powered icebreaker Arktika, reached this northernmost spot.
But here I was, a tourist with no explorer bonafides, tromping around the North Pole, having arrived in warmth and comfort in just days on a modern and luxurious cruise vessel — albeit a very tough one.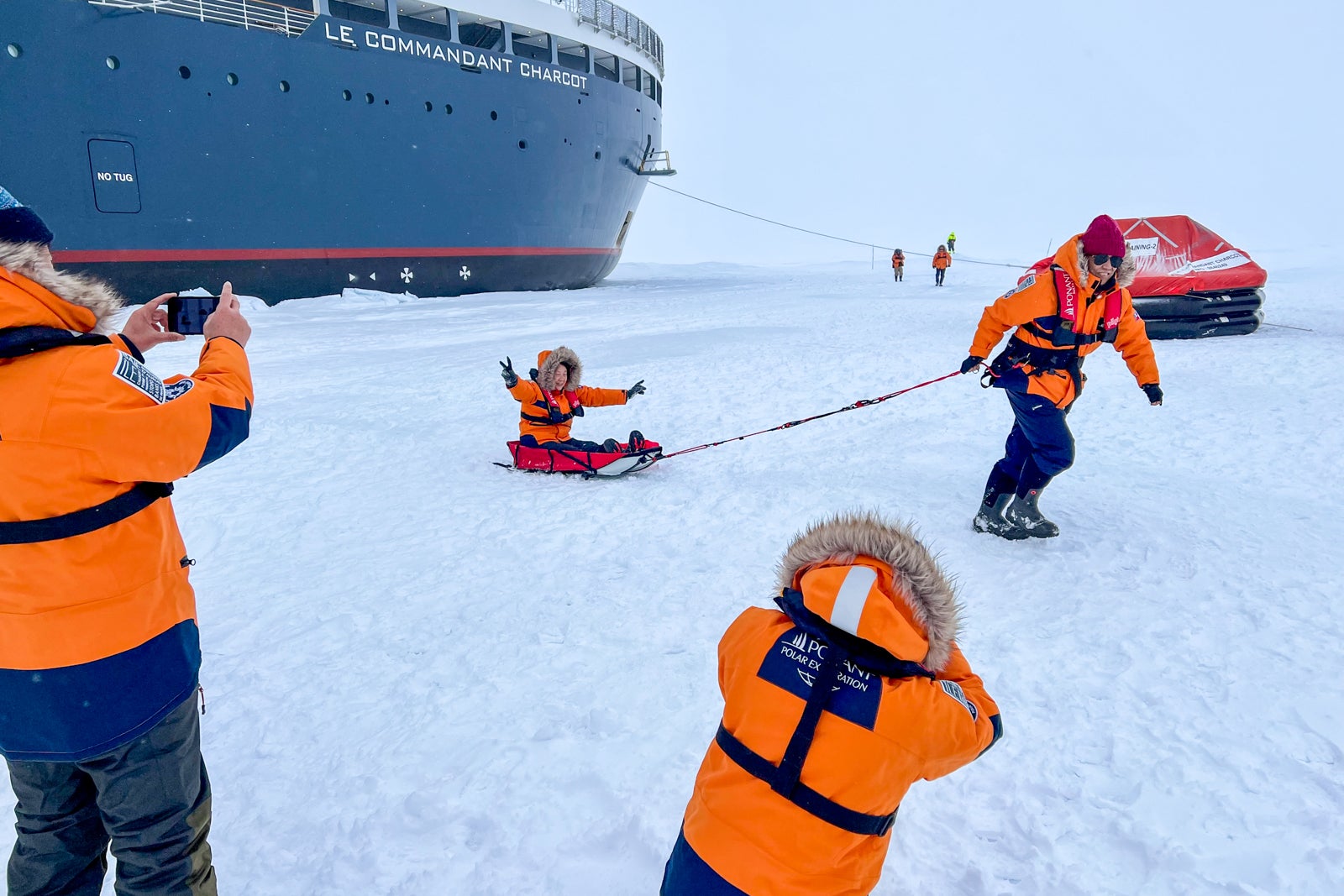 Le Commandant Charcot, which is operated by the French company Ponant, a specialist in expedition cruises, isn't the first icebreaker to take tourists to the North Pole. Before its debut, expedition travel companies would charter spartan Russian icebreakers to make similar trips.
But such voyages remain a relative rarity, and never before have they been operated in such style. By some estimates, only a few thousand people have ever visited the North Pole, and just a small fraction of those have arrived there on Le Commandant Charcot. The ship just began such North Pole trips with paying passengers last summer.
Related: My epic night staying in an 'igloo' in Antarctica
Even today, only 19 icebreaking vessels of all types have ever reached the world's northernmost point.
I'd be surprised if I walked half a mile on my polar snowshoe outing. But, because of where it was, my short trek will go down as one of my biggest adventures ever.
Oh, and don't tell the kids, but Santa's workshop was nowhere to be found.
TPG's Gene Sloan is reporting live from Ponant's Le Commandant Charcot as it travels on one of its first voyages to the North Pole. Visit his TPG author's page for all his latest posts. 
Planning a cruise? Start with these stories: