One of the best things about cruising is that you can pay for a cruise months in advance, forget how much it costs, and then board the ship on embarkation day blissfully ignorant of how much you paid to get there and ready for vacation spending.
While I'm not one to keep a tally of every dollar I spend on trips, it's sometimes nice to know exactly how much I've spent, down to booking a hotel the night before a cruise, drinks on board the ship and purchases in port. So on one of my recent Disney Cruise Line sailings on the Disney Dream cruise ship, I saved every receipt to figure out how much my family and I actually paid for the vacation.
Having that information is important, not just for me when I'm ready to plan my next cruise with Mickey and the gang, but so you can budget appropriately for your next Disney cruise. Let's face it — Disney Cruise Line vacations are expensive, but the memories made on the ships are priceless.
Is it possible for families on a budget to afford a Disney cruise? The short answer is yes, but there is some strategy involved. Here's how much our Disney cruise really cost for a family of three.
For cruise news, reviews and tips, sign up for TPG's cruise newsletter.
How much it costs to go on a Disney cruise
Before I dive into just how much my trip cost, let me give you some background.
The pricing for this cruise is based on my family of three adults. A cruise with kids will likely have a different balance of expenses.
Our transportation to the embarkation port of Miami is not included since the expense can vary greatly depending on how you choose to get to the port. We drove since we live in Florida, but not everyone is lucky enough to live within driving distance of their departure port. I did include all the other costs from our trip, including a pre-cruise hotel stay, the actual cruise fare and dining at specialty restaurants on board.
My family and I were not super strict with our budget, but we also didn't splurge on everything. We did treat ourselves to a few meals at the adults-only restaurants on Disney Dream and a few cocktails each day, but we never went overboard with extras in the ports of call. Checking our onboard account each morning through the Disney Cruise Line app made it possible for us to have a fun vacation without emptying our bank accounts.
Related: 26 Disney cruise tips, tricks, secrets and extra magic to unlock
Cruise booking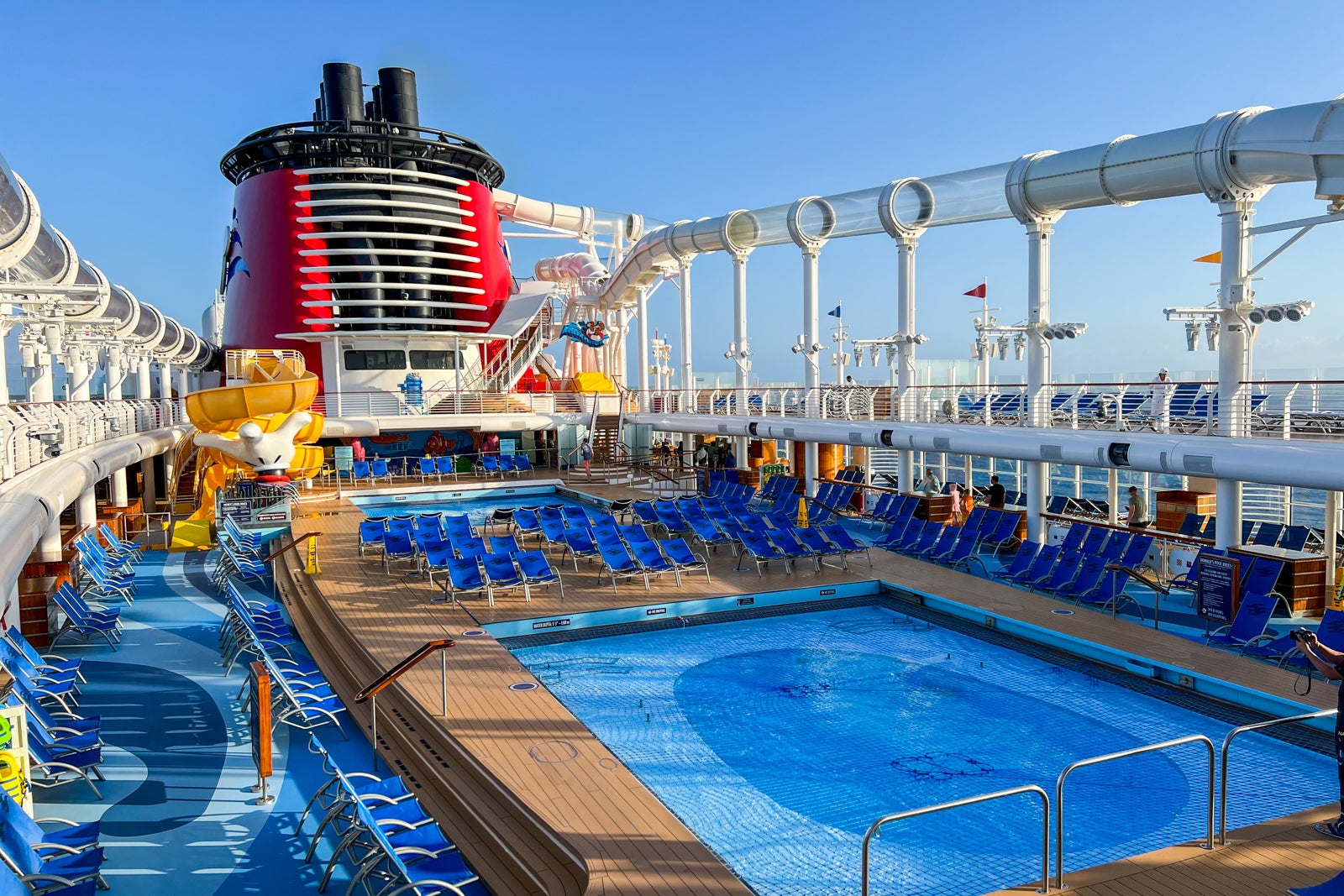 Our biggest cost on this trip was the cruise fare because sailings on Disney Dream are not cheap. Even if you avoid the specialty restaurants, skip excursions in each port and stay in one of the cheaper cabins, you'll still spend a few thousand dollars just to get on board.
For three adults sharing a cabin, Disney Cruise Line vacations start at $1,298, including taxes and fees, and that's for a quick two-night sailing on Disney Wonder in Australia in 2024. If you're planning a longer cruise from the United States, it will cost significantly more, especially during peak times when kids are out of school or during a themed sailing.
Because of how expensive Disney cruise sailings are, I always look for deals, either a Florida resident offer or a discount on a select sail date.
Related: 11 ways to save money on a Disney cruise
Our Disney Dream cruise was a five-night Halloween on the High Seas sailing, with a Florida resident discount for three people booked in a balcony cabin (which Disney calls a verandah stateroom). The total cost of the cruise, including taxes and fees, was $2,497.28.
Total for cruise booking: $2,497.28
Pre-cruise hotel accommodations
I always suggest that people arrive in their embarkation city or a city nearby at least the day before a cruise. This relieves the stress of having to get to the ship on time in case of flight delays or blocked roadways.
The night before my Disney Dream cruise, my family and I stayed at Disney's Vero Beach Resort, which is a little over halfway from our home in Jacksonville, Florida, to Miami.
We used Disney Vacation Club points to book an "Inn-Standard View" room, which was big enough for the three of us. The room cost us 16 points, so we technically didn't spend any money on booking a hotel the night before. Unless you have points to spend, don't forget to budget for lodging before or after your cruise, as needed.
Total for hotel: $0
Pre-cruise meals
The night before our cruise, we decided to eat out in Vero Beach at American Icon Brewery. Everyone in my family got a local beer to try, then we shared an appetizer, and everyone got their own entree. The meal set us back $106.55.
While Disney's Vero Beach does have an on-site restaurant, we enjoy getting out in the city and trying a local place. American Icon Brewery was fun, and the food and service were both great.
Related: 14 things you should do before every cruise
For breakfast the morning of our cruise, I brought muffins that I made at home for my family to enjoy. The room included a coffee maker and Keurig coffee pods, so we drank that with our light breakfast. Disney's Vero Beach Resort does serve breakfast at its onsite restaurant, but we needed to hit the road early to get to our 11 a.m. port arrival time, so the muffins and coffee were a perfect easy breakfast.
Total for dinner: $106.55
Parking at the port
Parking at any cruise port can add a large amount to a cruise vacation. For five nights, parking at PortMiami was $110. We paid for this as we were leaving the parking deck rather than upfront.
Total for parking: $110
Specialty dining on board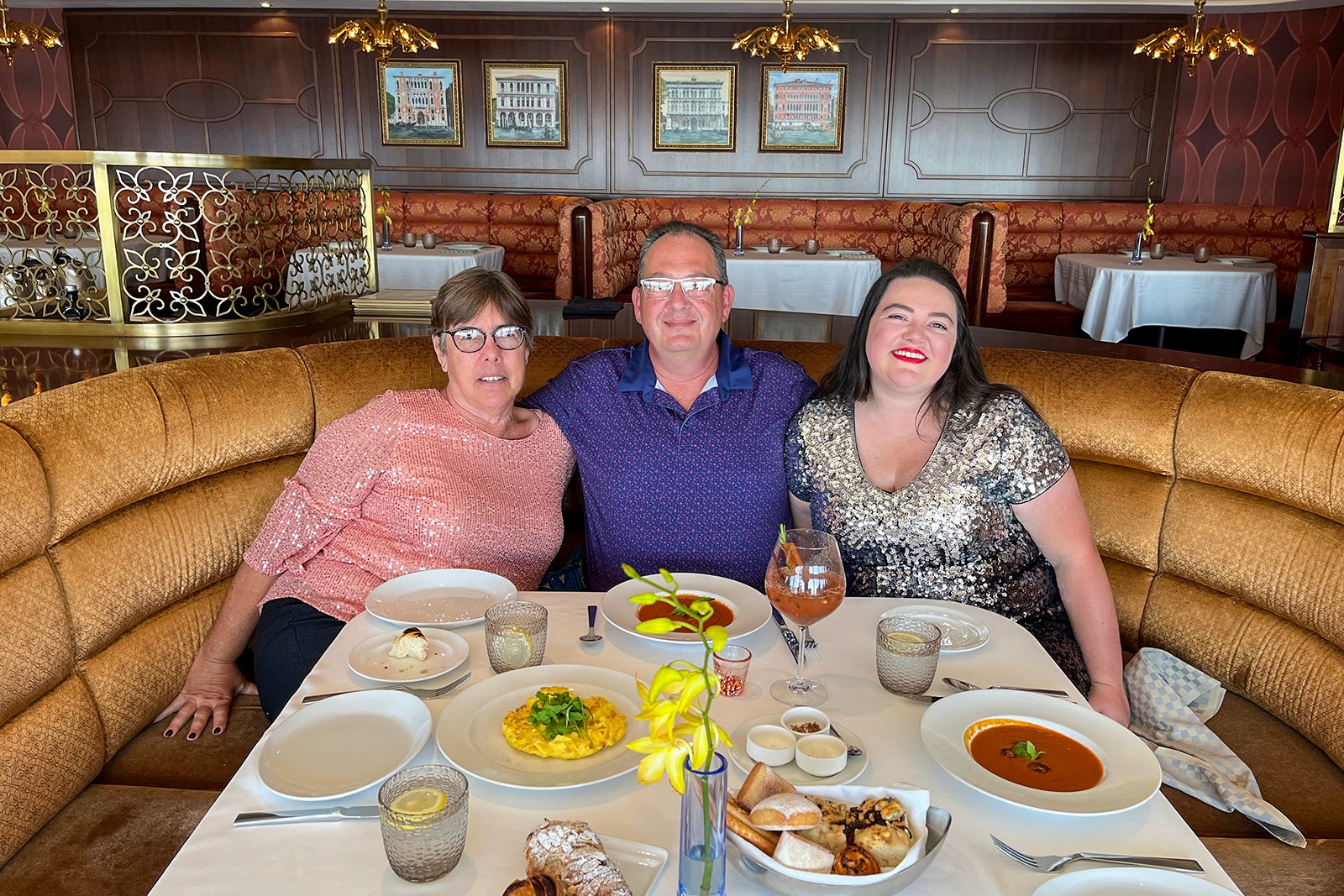 Disney Dream has two adults-only specialty dining restaurants onboard, Palo and Remy. To dine at either restaurant, cruisers should get a reservation in advance through the Disney Cruise Line Navigator app. If you can't secure a reservation before the sailing, ask about walk-up availability for either restaurant once on board. Just be sure to head straight to the hostess desk outside of Palo and Remy as soon as you board the ship (even before eating lunch) because any open reservations will be snapped up quickly.
My family always eats at Palo for brunch on a Disney cruise, and this time was no different. The meal is a high-end table service option that starts with your choice of a charcuterie board or chilled seafood platter, plus a delightful spread of bread. The menu is also filled with entrees like house-made pizzas, plate-size Mickey waffles, made-to-order pasta and elevated egg dishes like frittatas.
The meal for the three of us cost $170. My dad also ordered Palo's signature bloody Mary, which tacked on another $12.39 to our meal.
Related: The ultimate guide to Disney Cruise Line ships and itineraries
On this cruise, for the first time ever, my family and I dined at Remy, a French-inspired restaurant that was worth every penny. To start, we were served a welcome cocktail called The Collette, which is named after the female chef in the Pixar movie, "Ratatouille."
Then we were presented menus that were divided into two prix-fixe options, one that leaned more French and one that leaned more high-end American. I chose the French menu, while my parents chose the American menu. The meal overall was fantastic and was worth the $462.50 for the three of us.
Total for specialty dining: $644.89
Specialty drinks and alcohol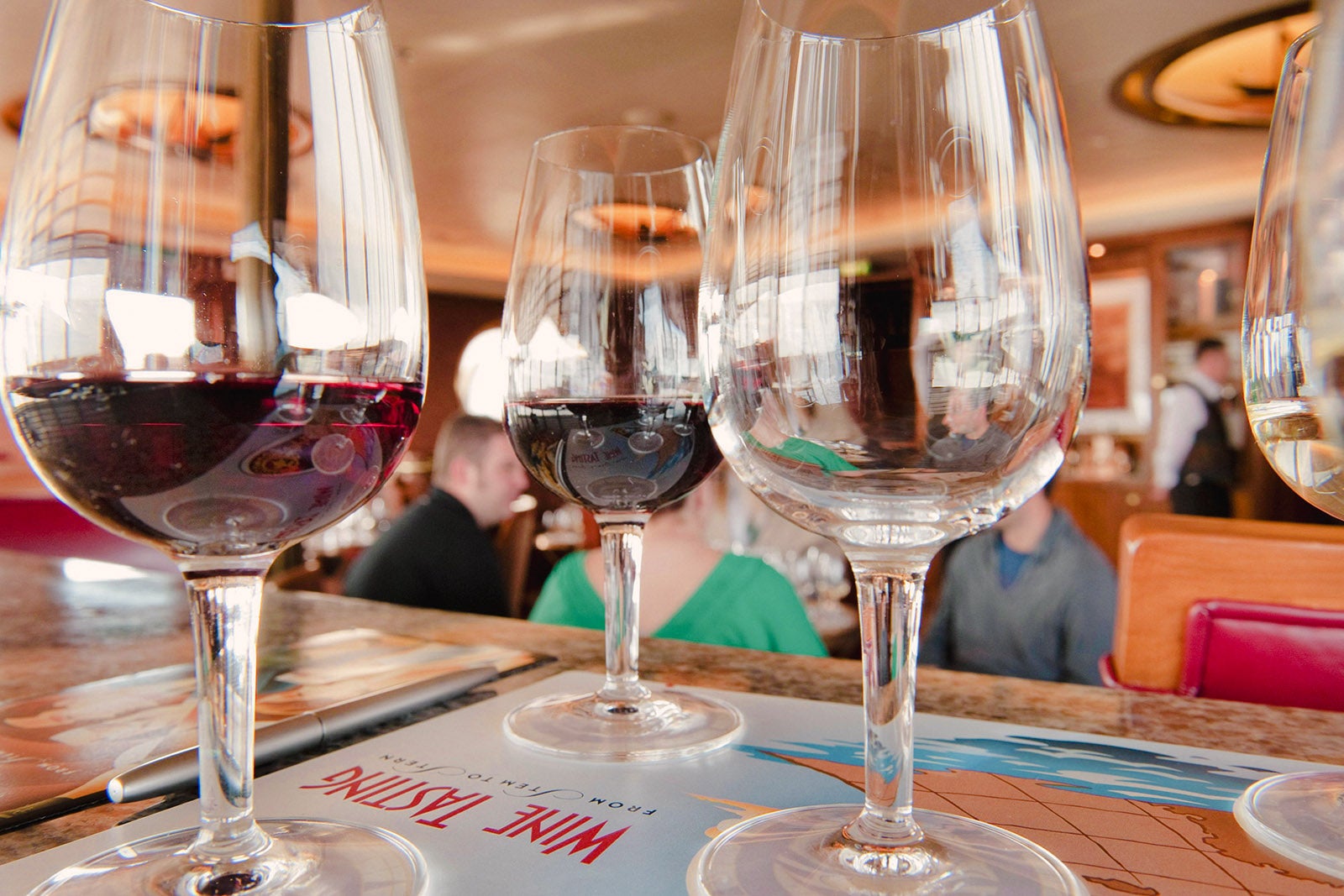 One thing that sets Disney Cruise Line apart from other family-friendly cruises is that it doesn't offer all-inclusive drink packages. Passengers must purchase all beverages on board at the per-drink price, though drink prices on Disney ships can sometimes be slightly cheaper than similar libations on other big-ship lines. Plus, soda is included in your cruise fare.
Disney Cruise Line also allows passengers to bring your own wine or beer on board at every port, while other cruise lines restrict guests to one bottle of wine at embarkation only. Not only does this policy allow you to potentially save money on beverage costs, but you can enjoy interesting brews and vintages from the places you visit.
Every night, my family went to happy hour at the adults-only bar Meridian, which is located between Palo and Remy. This spacious bar has large windows that overlook the sea and two outdoor patios with seating. Cocktails for five nights at Meridian cost my family of three $179.67.
Other places to have a specialty cocktail or coffee on Disney Dream include the Cove Cafe, Skyline, Pink and 687. At these other bars, my family spent $122.16.
While we enjoyed all of the bars and lounges on the ship, Meridian was easily our favorite and not just because of the view. The Cast Members who work in this bar are top-notch and learned our cocktail preferences quickly. By night two, they were shaking up off-menu cocktails that they knew we would enjoy.
Total for drinks: $301.83
Gratuities
Disney Cruise Line allows guests to prepay their onboard gratuities for their stateroom host and their service team in the dining room. This charge came to $72.50 per guest.
On top of the standard gratuities, we chose to give an extra $20 to our dining room server, assistant server and head server, plus our stateroom host, all of whom get a portion of the prepaid gratuities. At the end of our cruise, we also gave the two bartenders in Meridian an additional $20 in cash for all of their hard work throughout the week and for making our vacation special.
Total for gratuities: $337.50
Souvenirs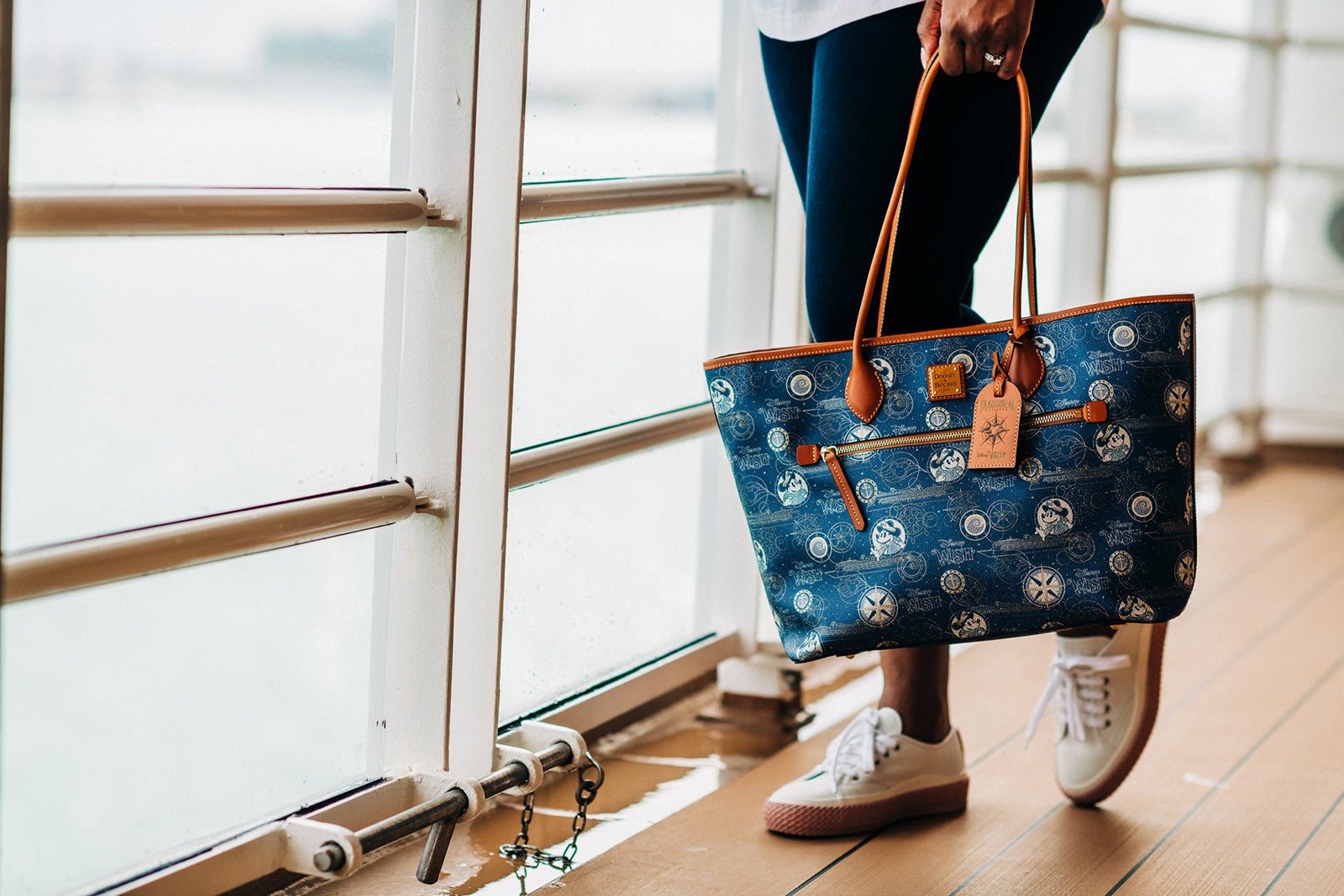 While I'm not normally one to get a souvenir from a cruise ship, I couldn't resist making a few purchases on Disney Dream.
My favorite Disney character, Sorcerer Mickey, is the stern character on the ship, so a lot of the Dream-branded merchandise has this variation of Mickey on it. And since this was a Halloween cruise, I found some spooky souvenirs in the stores, too. I dropped $118.97 on merchandise.
Total for souvenirs: $118.97
Related: 11 things you should never buy on a cruise ship
Excursions
On most cruises, my family and I opt to explore the port on our own versus buying excursions. It saves us money, and we can head back to the ship whenever we want. On this cruise, our ports of call were Grand Cayman and Disney's private island, Castaway Cay.
Because we've visited Grand Cayman previously and it's not our favorite cruise port, we stayed on the ship that day to enjoy the less crowded pool decks and a nice lunch inside one of the main dining rooms.
On our Castaway Cay port day, we did get off the ship but didn't opt for any of the island's excursions, instead heading to the adults-only beach, Serenity Bay. We also enjoyed lunch at the adults-only beach, which is included in the overall cruise cost.
If we were going on a cruise to destinations we had never been to before, like a Disney cruise to the Mediterranean or Alaska, we would likely opt to do Disney-sponsored excursions, which are often a few hundred dollars per person per excursion. And if your family has never been to Grand Cayman, you might want to book a tour to explore the island or one of its attractions.
Excursions: $0
Spa services
One of my favorite areas on any Disney cruise is the Senses Spa and its Rainforest Room. This area of the spa features multiple shower experiences, saunas, a row of heated lounge chairs and two private hot tubs. The best part is that the lounge chairs and the hot tubs are in a glass-enclosed space, so you can see the ocean or ports while using the facilities.
On this five-night sailing, my mom and I booked a "couples rate" to be able to come and go from the Rainforest Room as we wanted throughout the cruise. The total cost for that was $187.62. My mom also opted to get a massage on the cruise, which cost $209.42.
Total for spa services: $397.04
What it really costs to go on a Disney cruise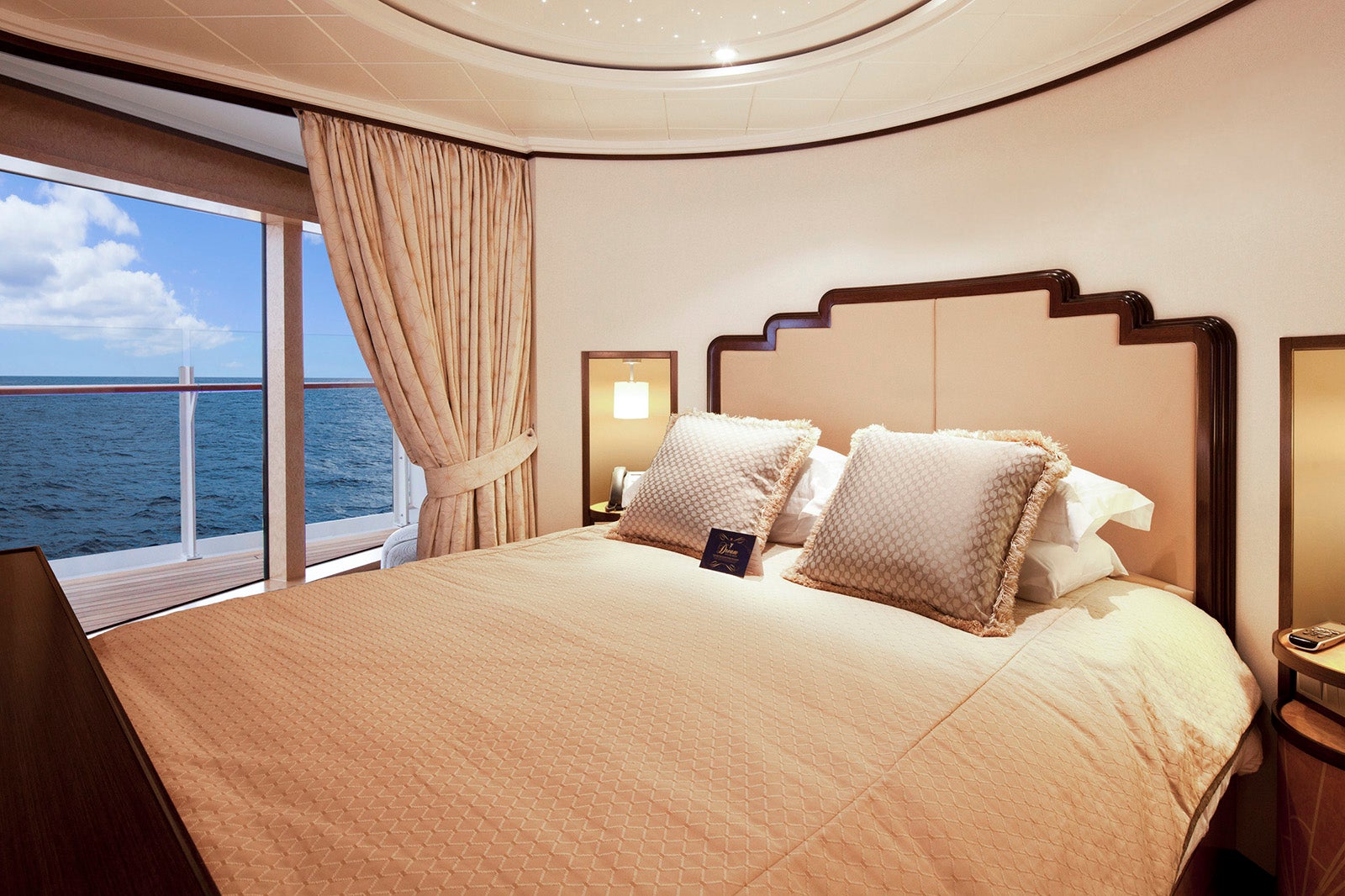 For three adults sharing one cabin on a five-night Halloween-themed sailing on Disney Dream, the total cost came to $4,514.06. That equals out to each person paying $1,504.69 for the trip, or $214.95 per person, per day.
To put that in perspective, our five-night Disney cruise was cheaper on a per-person, per-day basis than TPG's Summer Hull's three-day trip to Walt Disney World.
Based on our trip, here's the major breakdown of Disney Cruise Line trip expenses:
55.3% cruise fare
2.4% pre-cruise hotel and meal
2.4 % parking
14.3% onboard dining
6.7% drinks
7.5% gratuities
2.6% souvenirs
0% excursions
8.8% spa services
A Disney cruise can be an affordable way to take a Disney vacation, especially if you're willing to forgo upcharges such as concierge rooms and pricey excursions in ports of call. On my family's Disney cruise, we kept our daily expenses to just over $900, though it's very easy to rack up a folio bill for thousands of dollars a day more. If you want to stay within a certain budget, be sure to try as many money-saving hacks as possible to keep the cost in check.
A Disney vacation will never be cheap, but with some planning and flexibility, it is possible to take a Disney cruise without draining your bank account.
Planning a cruise? Start with these stories: