This year witnessed record-high temperatures worldwide, with the mercury repeatedly hitting over 100 degrees Fahrenheit from Arizona to Nevada, Texas and across the ocean, stretching into Athens, Greece and beyond.
With the final day of Amazon's Fall Prime Day upon us, now is a great time to get a good deal on a hi-tech portable fan. Trust us, you'll be thankful by the time summer comes back around.
Here are some of the TPG team favorites and best-reviewed portable fans on Amazon that are currently on sale. 
Best for extra features: Jisulife Handheld Mini Fan — $14.39 (normally $24.99)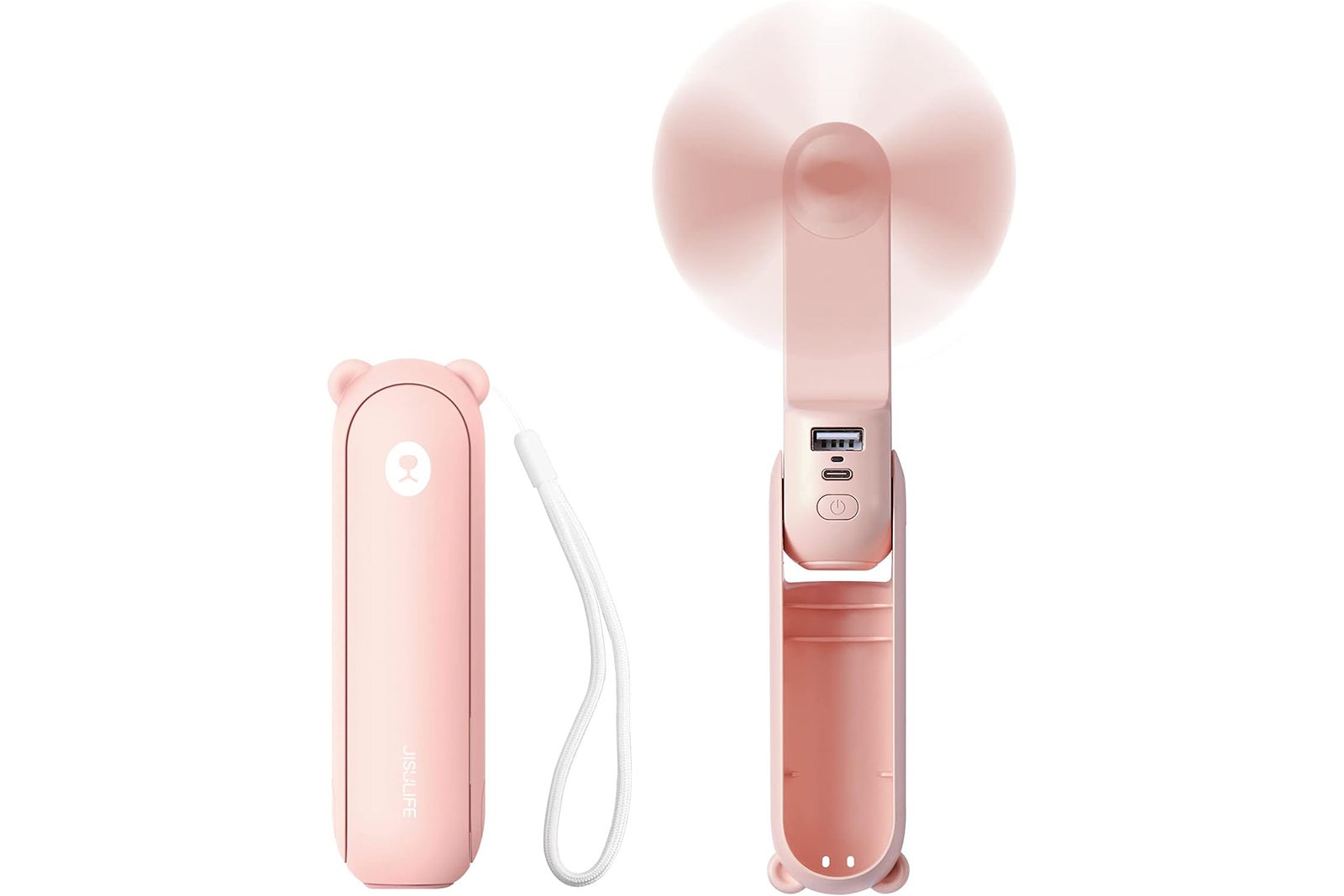 Coming in strong with an Amazon rating of 4.6, this portable fan from Jisulife is a small but mighty device that offers great value for the money.
Ergonomically designed, this device easily folds small to pack in a bag. It's also rechargeable, offering between 14 and 21 hours of use depending on which of its two settings you use. It comes with two great additional features: The fan houses a small flashlight and also functions as a power bank that can charge your devices on the go.
Still need convincing? TPG travel reporter Tarah Chieffi who makes frequent trips to the often-hot Orlando theme parks, never travels without it.
"It folds up small and holds a charge for longer than any other fan I've tried," she said. "I also love that I can use it to charge my phone when I am on the go."
Buy: [circuit type=hyperlink circuit_id="20420169209″], $14.39 (normally $24.99)
Best for hotel rooms: coldSky Portable Handheld Fan — $12.74 (normally $14.99)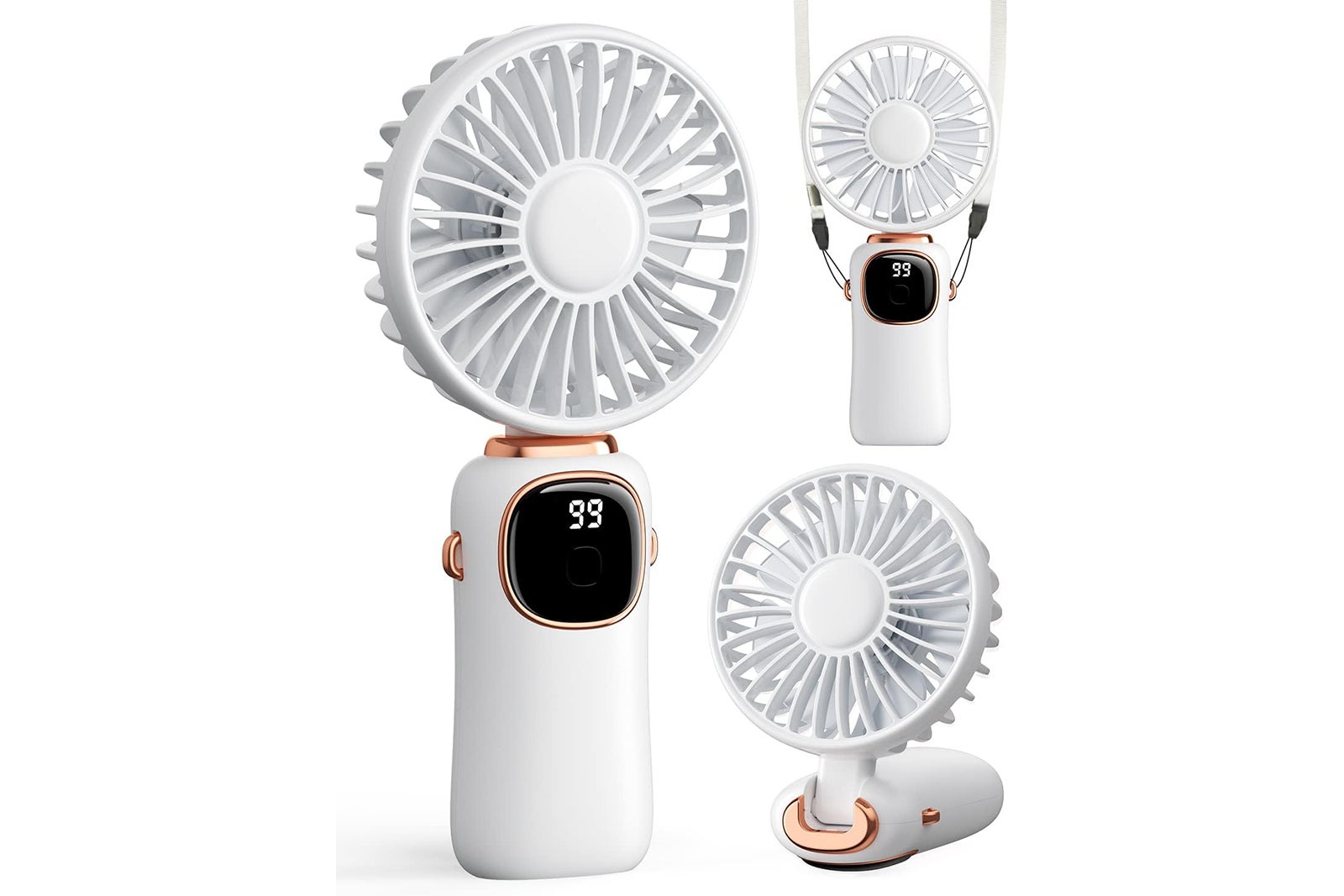 This sturdy and powerful fan might be slightly larger than other portable fans (though certainly small enough to pack into a tote bag), but that's not necessarily a bad thing. Sometimes, you want something with a little more oomph for when you accidentally book yourself into a hotel room that has subpar (or not) air conditioning. 
The coldSky device is essentially a compact desk fan that packs a punch but is still small enough not to clutter up your hotel room's bedside table. It has five speeds and a seven-blade design that will make your room breezy in no time. It also has a handy digital display showing the remaining battery life so you know when to recharge the device.
Buy: [circuit type=hyperlink circuit_id="20420169211″], $12.74 (normally $14.99)
Best for serious wind power: Jisulife Handheld Fan — $12.99 (normally $22.99)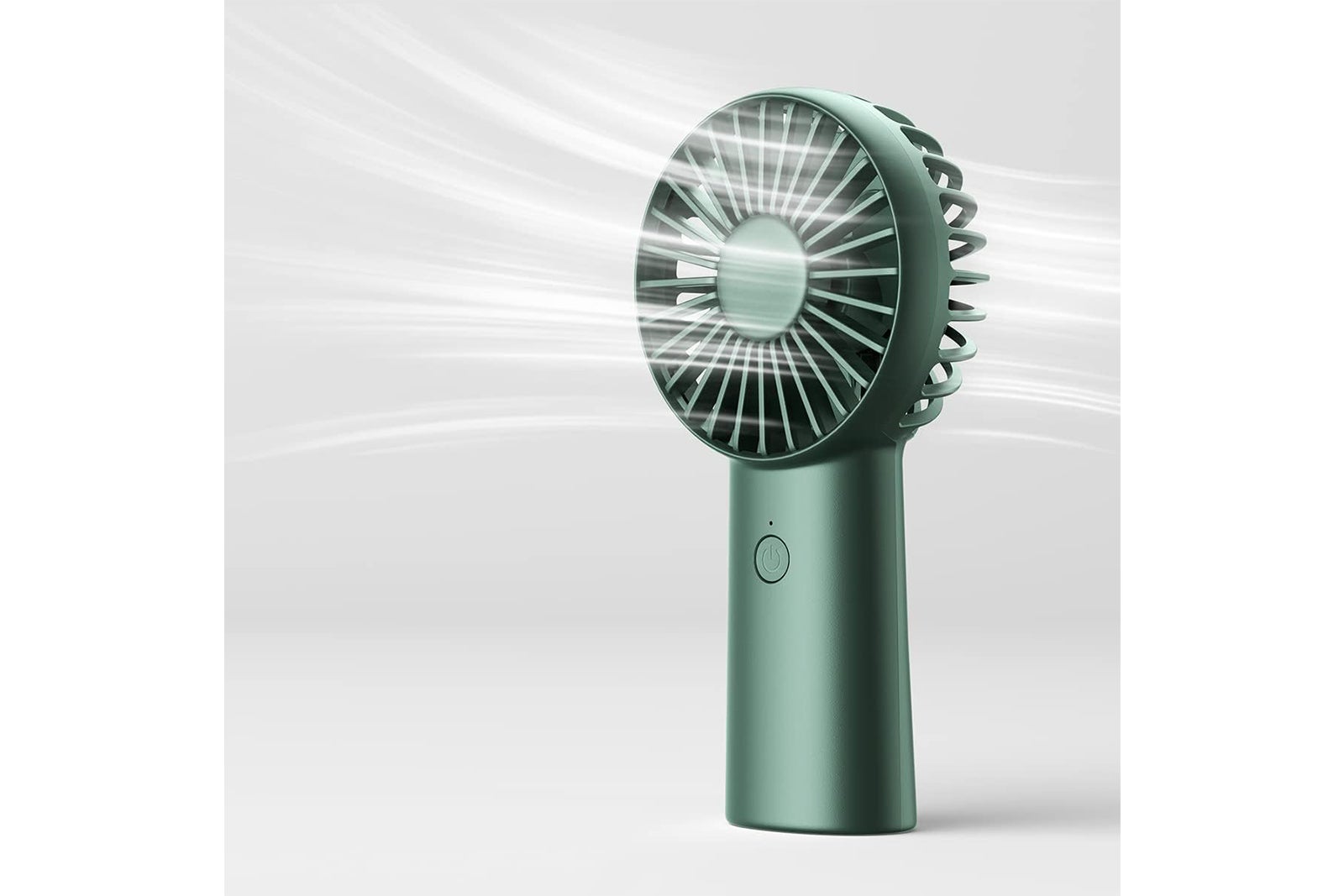 This is a stylishly designed hand-held fan that can also easily stand up on a desk.
The Jisulife Handheld Fan offers up to 16 hours of battery power and is easily charged via USB. It has fewer speed settings than some other fans on this list, but its real selling point is its strength. At full speed, it can reach up to 4,400 revolutions per minute; this equates to the feel of a strong wind, making it great for cutting through the harshest of heat.
Buy: [circuit type=hyperlink circuit_id="20420169213″], $12.99 (normally $22.99)
Best hands-free fan: Penkou Portable Neck Fan — $25.99 (normally $39.99)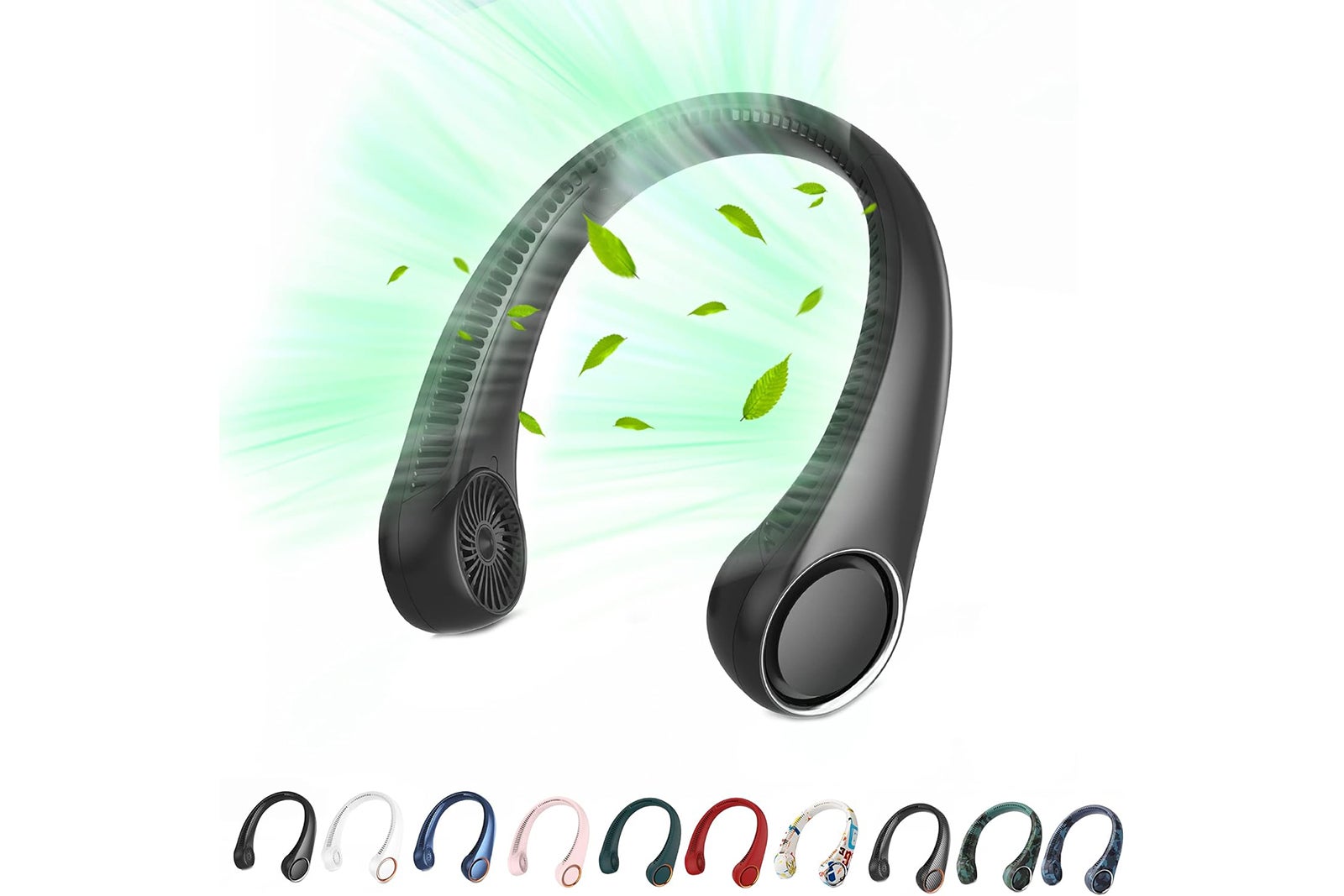 Looking for something you don't have to carry around in your hands all day but are also worried that a wearable fan sounds like a quirky steampunk contraption? This neck fan by Penkou is a safe option.
When in use, the device looks similar to a pair of headphones dangling around your neck. Its bladeless fan design produces less than 20 decibels of sound (about the same level as leaves gently rustling), so it also comes free of noise distraction. And with a weight of just 8.8 ounces, you should be safe from neck strain. 
In terms of battery power, you should get between three and 16 hours, depending on which setting you prefer. It's perfect for hikes, at the theme park or to wear during a long, sweaty train or bus journey.
Buy: [circuit type=hyperlink circuit_id="20420169214″], $25.99 (normally $39.99)
TPG favorite: VersionTech Mini Handheld Fan — $12.99 (normally $27.99)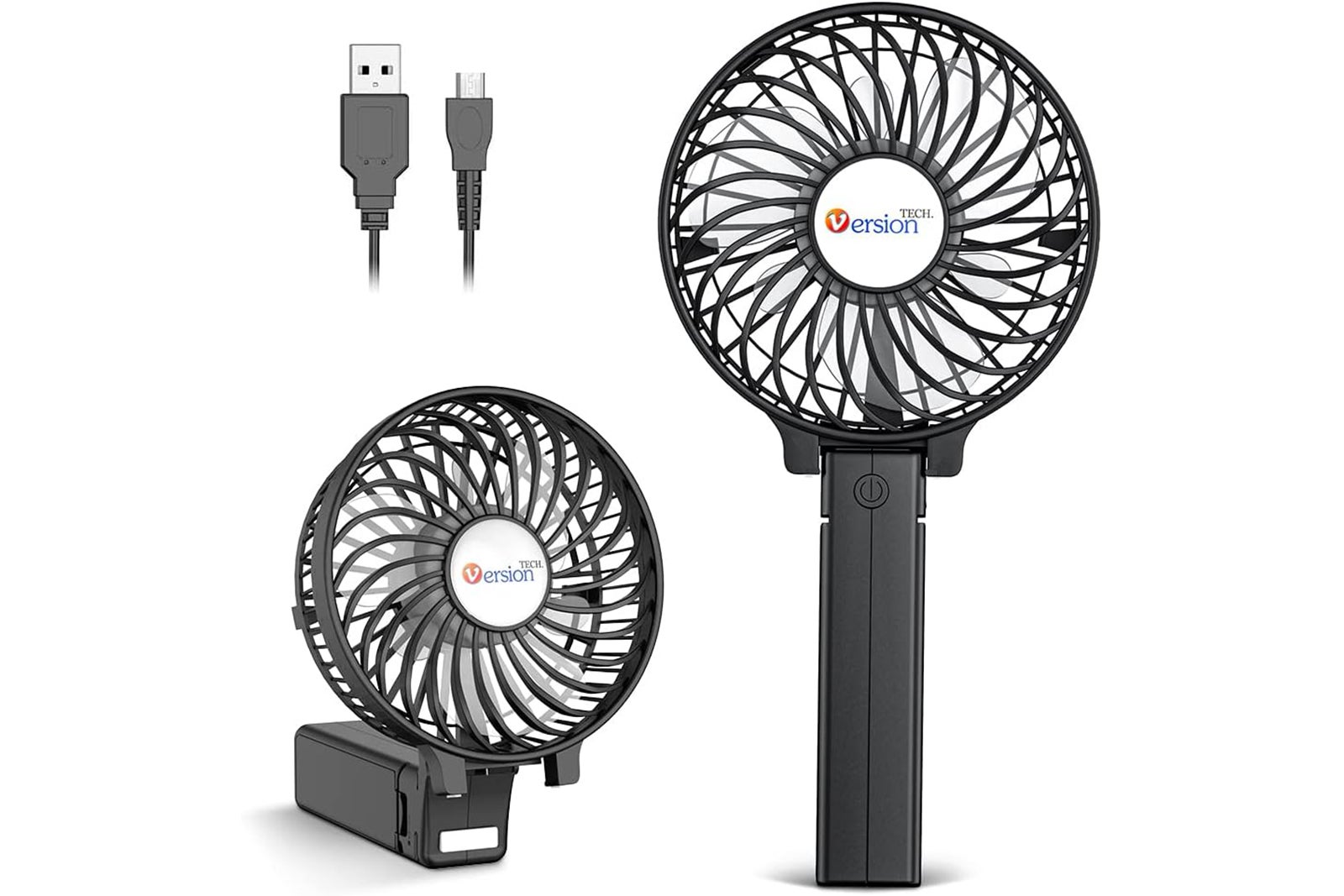 Finally, if you're looking for something cheap but reliable enough to shower you with a pleasant breeze, we recommend VersionTech's mini-handled fan. It's a favorite of TPG director of travel content Summer Hull.
This device can function like both a hand-held fan and a small desk fan. It also easily clips to bags or other thin surfaces.
The fan has three adjustable speeds and will work for up to three hours on the highest setting or eight hours on the lowest. It's currently priced at $12.99, down from its usual price tag of $27.99 as of this publication date. Get it while you can.
Buy: [circuit type=hyperlink circuit_id="20420169215″], $12.99 (normally $27.99)
Related reading: