Marriott Bonvoy is a popular hotel loyalty program, especially among U.S. travelers. The program has changed significantly over the years — including the removal of published award charts in early 2022. However, you can still get plenty of value when you travel as a Marriott Bonvoy member.
Whether you're a loyal Marriott customer or new to the program, knowing how to maximize your Marriott Bonvoy redemptions is important. This guide will provide you with all the essential information you need.
What is Marriott Bonvoy?
Marriott Bonvoy was established after Marriott Rewards, Starwood Preferred Guest and Ritz-Carlton Rewards joined forces in 2018. With over 30 brands under its umbrella, Marriott Bonvoy has over 8,000 properties in around 140 countries and territories.
Members can earn points for their stays by joining the program, and you can then redeem those points for various benefits such as free nights, room upgrades and exclusive experiences. Marriott Bonvoy elite status provides a variety of benefits for frequent guests, including bonus points on paid stays, late checkout and complimentary breakfast.
What are Marriott's status levels?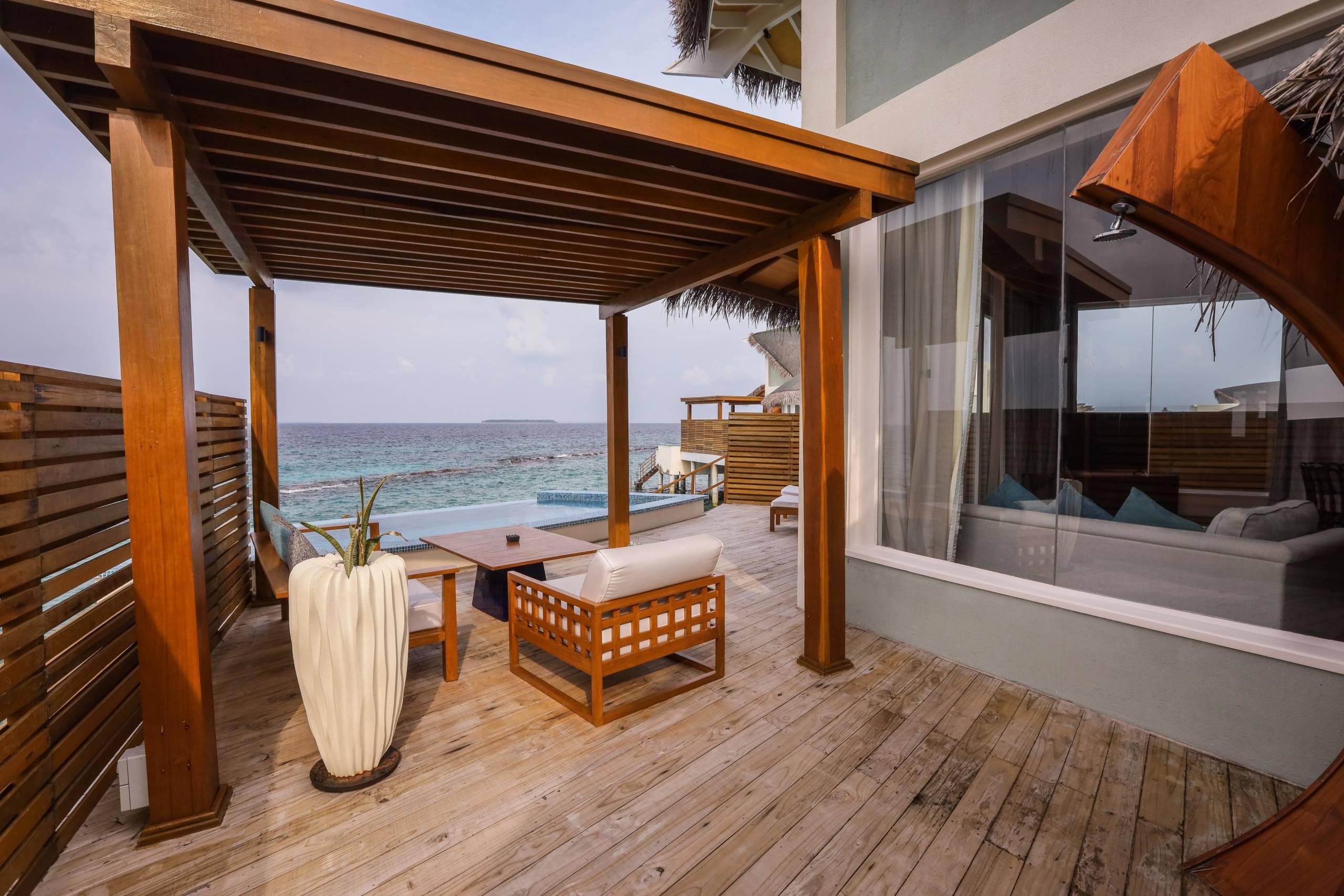 Marriott offers five levels of elite status: Silver Elite, Gold Elite, Platinum Elite, Titanium Elite and Ambassador Elite. Typically, you would reach each level by completing qualifying nights. However, certain Marriott credit cards offer automatic status and elite night credits that can count toward meeting the qualifying night requirements for each status. With Marriott credit cards, you can earn up to 40 elite nights annually.
It's important to note that you can only enjoy these benefits when you book directly with Marriott. If you book through online travel agencies like Expedia or Hotels.com, you generally won't receive the elite status benefits even if you add your Marriott Bonvoy number to your reservation. This also applies to most credit card booking portals.
Read more: 9 things to consider when choosing to book via a portal vs. booking directly
For a detailed breakdown of the benefits of each status level, you can refer to TPG's valuation of Marriott Bonvoy elite status. But here's a high-level overview of what each level offers.
Member
By signing up and becoming a Marriott Bonvoy member, you'll get free standard Wi-Fi, access to member rates and mobile check-in. You'll earn points that you can redeem for free nights or other redemptions. So, even if you don't think you will earn Marriott elite status, you'll at least want to sign up for the Bonvoy program.
Silver Elite
You'll earn Marriott Silver Elite status after completing 10 qualifying nights in a calendar year. Silver Elite benefits include a 10% point bonus on stays and late checkout, based on availability.
You'll automatically get Silver Elite status as a cardholder of the following cobranded Marriott credit cards:
You can earn Lifetime Silver Elite by accumulating 250 lifetime nights and earning Marriott Silver Elite status or higher for at least five years.
Gold Elite
You'll earn Marriott Gold Elite after completing 25 qualifying nights in a calendar year.
In addition to Silver Elite perks, Gold Elite members receive enhanced internet access, a 25% point bonus on stays, 2 p.m. late checkout based on availability, upgrades to "enhanced rooms" (excluding suites) based on availability and a welcome gift of points each time you stay.
Holders of the following cards get Marriott Gold Elite status as a perk of their card:
The information for the Ritz-Carlton Rewards Credit Card and Marriott Bonvoy Bountiful Card has been collected independently by The Points Guy. The card details on this page have not been reviewed or provided by the card issuer.
Members will achieve Lifetime Gold Elite status once they earn 400 lifetime nights and have held Gold Elite status or higher for seven years.
Related: Free nights and easy status: Why I have 3 Marriott Bonvoy credit cards and pay over $1,200 in annual fees

Platinum Elite
You'll earn Marriott Platinum Elite status once you complete 50 qualifying nights in a calendar year. This level offers additional benefits beyond Gold Elite, including a 50% point bonus on stays, room upgrades (including select suites) based on availability, lounge access, guaranteed 4 p.m. checkout (subject to availability at resort and convention hotels) and a choice of welcome gift during each stay. Benefits depend on the brand you stay at.
The welcome gift options vary by brand but often include points, an amenity and breakfast. Platinum Elite members usually receive breakfast in the lounge or on-site restaurant, although some properties may offer a room service credit instead. For more information, you can refer to TPG's comprehensive guide to Marriott elite breakfast benefits.
Upon earning 50 nights, Platinum Elite members can choose one Choice Benefit; options include five Suite Night Awards, gifted Silver Elite status, 40% off a mattress, five elite night credits and a $100 charitable donation. Opting for the Suite Night Awards is generally recommended unless you end the year with 70-74 nights.
Having the Marriott Bonvoy Brilliant® American Express® Card grants you Platinum Elite status. Alternatively, holders of The Ritz-Carlton Rewards Credit Card can reach Platinum Elite by spending $75,000 on purchases during the calendar year.
To lock in Lifetime Platinum Elite status, you must accumulate 600 lifetime nights and 10 or more years as a Platinum Elite member or higher.
Related: The secret to getting the discontinued Ritz-Carlton credit card — and 4 reasons you need it
Titanium Elite
You'll earn Titanium Elite status after completing 75 qualifying nights in a calendar year.
Titanium Elite benefits are similar to Platinum Elite benefits, with a few additions: a 75% point bonus on stays, 48-hour guaranteed availability and United Airlines MileagePlus Silver status through Marriott's RewardsPlus partnership with United.
Titanium Elite members are also eligible for a second Choice Benefit selection after completing 75 nights in a year. The options at this tier are similar to the 50-night threshold, but you also can pick a free night award worth up to 40,000 points or gift Gold Elite status (instead of Silver Elite). This free night award or five Suite Night Awards are my top choices.
Related: The case for burning 80,000 points to earn Marriott Titanium status
Ambassador Elite
Marriott's top published elite status tier is Ambassador Elite. Effectively an enhanced version of Titanium Elite, Ambassador Elite status is earned after accumulating 100 qualifying nights in a calendar year and reaching $23,000 in qualifying Marriott spending.
As with Titanium Elite, Ambassador Elite members enjoy complimentary United MileagePlus Silver status through RewardsPlus.
Ambassador Elite members get all Titanium Elite benefits, plus Ambassador service to help you out with booking and managing stays. You also get access to the Your24 benefit that lets you choose your 24-hour check-in and checkout time upon availability. So if you arrive on a 10 p.m. flight for a one-night stay, you could check out the following night at 10 p.m.
Related: 6 ways Marriott can improve Ambassador Elite status

Cobalt program
You won't find any mentions of "Cobalt" in any official Marriott Bonvoy promotional material. But TPG received leaked information in August 2019 about this secret invitation-only Marriott status. This elite level is so exclusive that it's only available through an invitation from Marriott International's president and CEO.
The benefits are largely that of Marriott Ambassador Elite, but with additional touches such as a personalized note from the general manager, a meeting with the GM and a "distinctive experience on-property" at luxury brands.
Related: VIP treatment: Your guide to invitation-only airline and hotel elite status
Guaranteed benefits
A great aspect of Marriott Bonvoy is that many of the benefits are guaranteed. For example, the "Ultimate Reservation Guarantee" promises elite members up to $200 and 90,000 Marriott points — plus accommodation at a nearby hotel — for being "walked" from a Marriott hotel.

Marriott has charts listing your compensation if you don't receive the benefits to which you're entitled.
When does Marriott status expire?
Once you earn Marriott Bonvoy elite status, it will be valid for the rest of the calendar year you've earned it and an additional 14 months after that.
For example, if you earned Marriott Platinum status in August 2023, you'd enjoy benefits through the rest of this year, all of 2024 and the first two months of 2025. Your status beyond that period would be based on the qualifying activity during the 2024 calendar year.
Related: Walked from a hotel? Here's how much compensation you're owed
How to earn Marriott Bonvoy points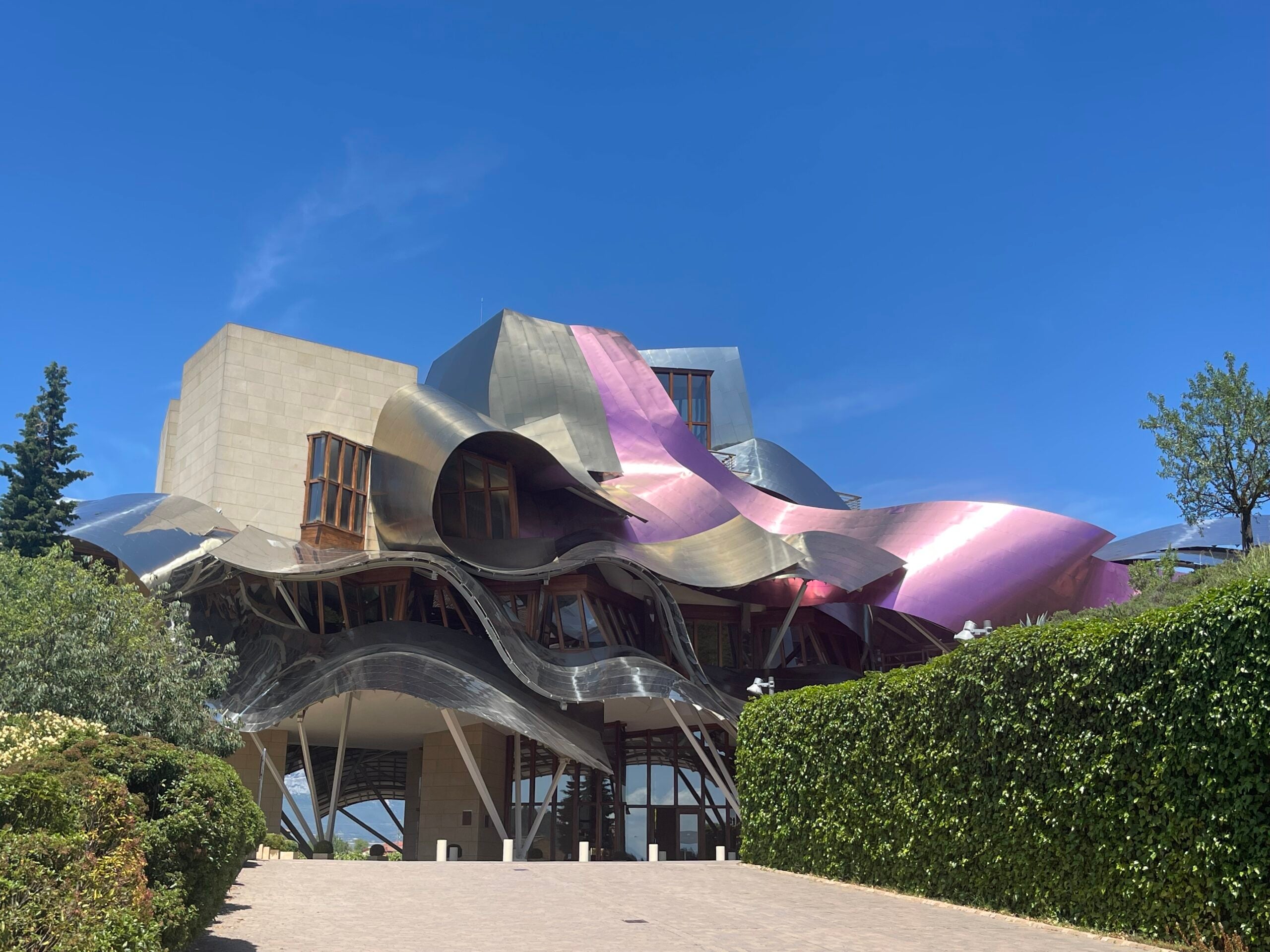 There are several ways to earn Marriott Bonvoy points, from staying at Marriott properties to spending on credit cards. For the full scoop, check out our guide on the best ways to earn Marriott points, but here's a summary.
Hotel stays
At most Marriott hotel brands, Marriott members typically earn 10 points per dollar spent on qualifying charges. However, there are a few exceptions. For instance, you'll earn 5 Marriott points per dollar at Element, Residence Inn, TownePlace Suites and Homes & Villas by Marriott properties. Qualifying room rates at Marriott Executive Apartments earn 2.5 Marriott points per dollar.
Your earning rates can be boosted by elite status and ongoing hotel promotions.
However, you'll need to book directly with Marriott to earn points for a stay. Stays that don't earn points include rooms booked through online travel agencies (like Expedia, Hotels.com and Priceline), as part of an event, through a tour operator or as a comped stay. You also won't earn points on stays where you redeem a free night certificate or Marriott points, though any eligible on-property purchases should earn points.
Related: How much value does Marriott status provide when you book directly?
Credit card bonuses and spending
There are several cards you can use to earn Marriott Bonvoy points, but six are available to new applicants — three from American Express and three from Chase:
The Marriott Bonvoy Brilliant Amex is one of the more appealing personal Marriott cards. This card currently offers a welcome bonus of two free night awards (each worth up to 85,000 points) after you spend $6,000 on purchases on the card in your first six months. Certain hotels have resort fees.
The Marriott Bonvoy Brilliant Amex has a hefty $650 annual fee (see rates and fees) but comes packed with benefits — including automatic Platinum status, up to $300 in statement credits for dining purchases each year (up to $25 per month) and an annual 85,000-point certificate. Plus, you'll earn 6 points per dollar spent on eligible purchases at hotels participating in the Marriott Bonvoy program, 3 points per dollar spent at U.S. restaurants and on flights booked directly with airlines and 2 points per dollar spent on all other eligible purchases.
Related: Marriott Bonvoy Brilliant American Express Card review
Business owners can apply for the Marriott Bonvoy Business American Express Card, which currently offers a welcome bonus of 125,000 bonus Marriott Bonvoy points after you use your new card to make $8,000 in purchases within the first six months of card membership. This card has a $125 annual fee (see rates and fees), but it makes up for that fee with automatic Gold status plus an annual 35,000-point certificate awarded each year after your card renewal month.
Plus, you'll earn 6 points per dollar spent at hotels participating in the Marriott Bonvoy program; 4 points per dollar spent at U.S. restaurants, gas stations, shipping providers and wireless phone services purchased directly from service providers; and 2 points per dollar spent on all other eligible purchases.
Related: Marriott Bonvoy Business Amex credit card review
The Marriott Bonvoy Bevy Amex card is the newest addition to Marriott's suite of cobranded credit cards; however, with a $250 annual fee (see rates and fees), we would have liked to have seen some more generous benefits. As with the two previously mentioned Amex cards, you'll earn 6 points per dollar on eligible purchases at hotels participating in the Marriott Bonvoy program. You also earn 4 points per dollar at restaurants worldwide, including takeout and delivery in the U.S., and at U.S. supermarkets (on up to $15,000 in combined purchases at restaurants and supermarkets, then 2 points per dollar), and 2 points per dollar spent on all other purchases.
Bevy card members also receive 1,000 bonus points for each eligible Marriott stay booked directly with Marriott Bonvoy. Unfortunately, you need to spend $15,000 on the card within a calendar year to earn a free night certificate (valid for up to 50,000 points). The Bevy card has a welcome offer of 125,000 Marriott Bonvoy bonus points after using your card to spend $5,000 on eligible purchases in the first six months of card membership.
Related: Marriott Bonvoy Bevy American Express credit card review
Chase's Marriott Bonvoy Boundless Credit Card offers three free night awards (each night valued at up to 50,000 points) after you spend $3,000 on purchases in your first three months of card membership. This card has perks like automatic Silver Elite status and the ability to earn one elite night credit for every $5,000 you spend.
The Bonvoy Boundless Card also earns 6 points per dollar spent at hotels participating in Marriott Bonvoy; 3 points per dollar on the first $6,000 spent in combined purchases yearly on gas stations, grocery stores and dining; and 2 points per dollar on all other purchases. You'll also get one free night award every year after your account anniversary, valid for a one-night hotel stay at a property with a redemption value of up to 35,000 points.
Related: Marriott Bonvoy Boundless credit card review
Finally, Chase offers the Marriott Bonvoy Bold Credit Card for those seeking a no-annual-fee credit card. Despite the card not having an annual fee, you'll earn 30,000 Marriott Bonvoy bonus points after using your card to spend $1,000 on eligible purchases in the first three months. This card also offers 15 elite night credits each year.
But, you'll only earn 3 points per dollar spent at hotels participating in Marriott Bonvoy (half the rate of other Bonvoy credit cards), 2 points per dollar spent on other travel purchases and 1 point per dollar spent on everything else. Even infrequent Marriott travelers will likely benefit from a higher-end card.
Related: Marriott Bonvoy Bold credit card review
Organizing events
Event planners will earn 2 points per dollar spent for any qualifying event held at a Marriott property, with a maximum base earning of 60,000 points per event. However, Marriott elite members get a bonus on these base earnings and have a higher maximum number of points they can earn per event.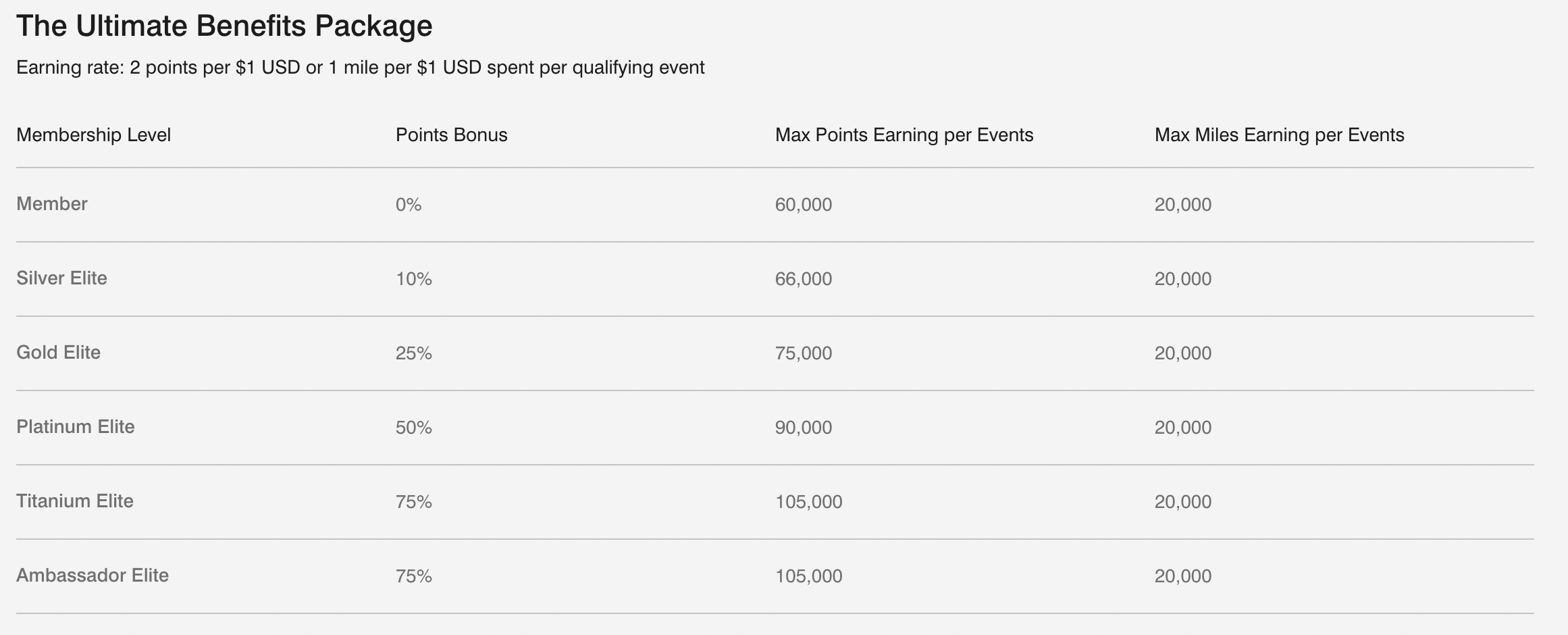 You'll earn an additional elite night credit for every 20 rooms you book as part of your event, up to 20 elite night credits per event.
Related: Maximizing points and miles when planning your wedding and honeymoon
Referring friends
Marriott Bonvoy will reward you for referring friends to the program. You can refer up to five new members each calendar year and earn 2,000 points for up to five of their paid stays.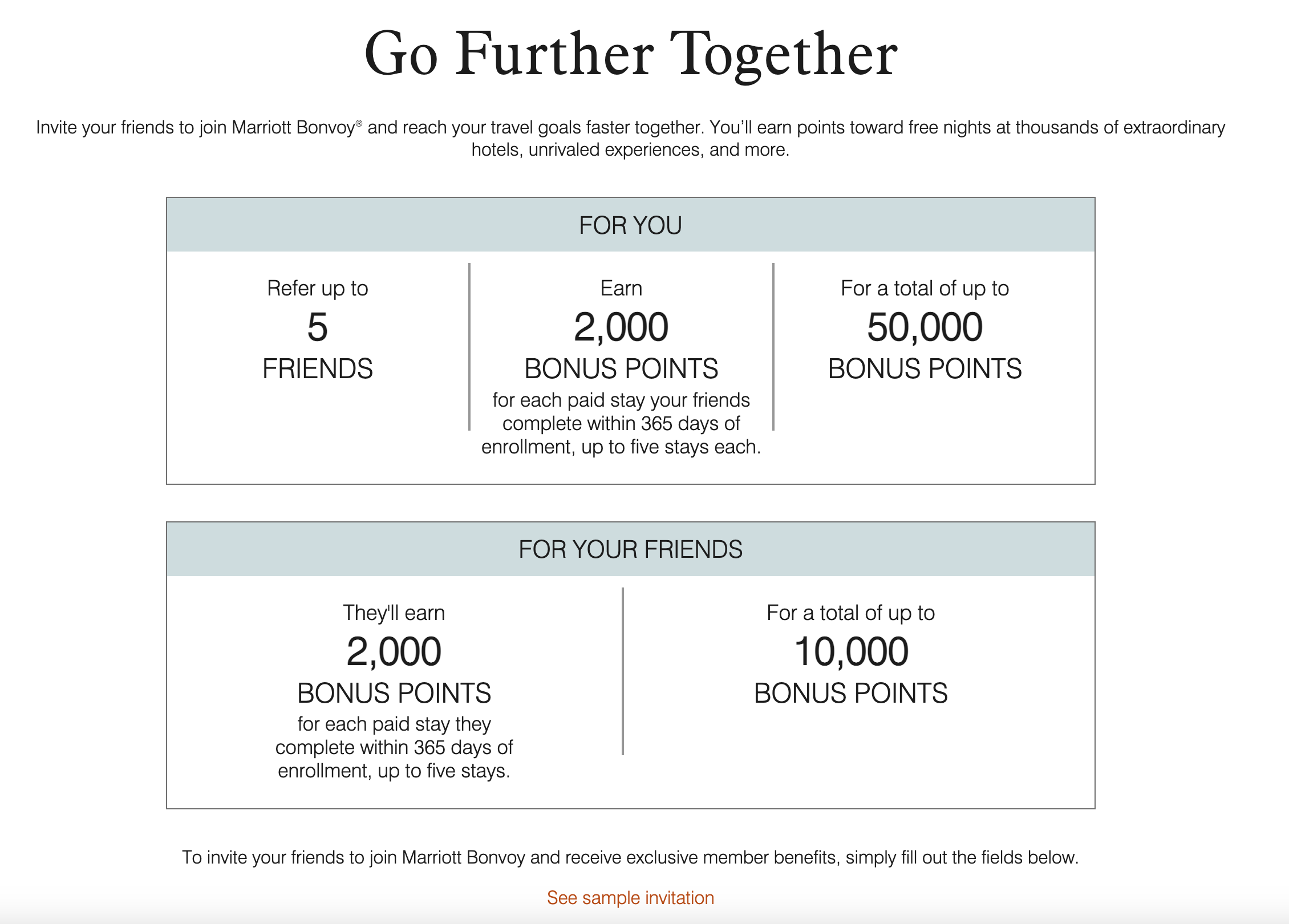 If all five referred friends complete at least five stays, you'll earn 50,000 bonus points a year. The friends you refer will earn 2,000 bonus points for each of their first five paid stays for a maximum of 10,000 bonus points.
Related: How to refer friends and earn points, miles or cash credits
Eating out
In October 2019, Marriott launched a new way of earning points: dining out. The Eat Around Town program offers Marriott elite members 6 points per dollar spent and nonelite Marriott members 4 points per dollar spent. To earn, you must connect your credit card to the program and use your card to eat at participating restaurants.

Note that points earned through the Eat Around Town program are in addition to the points you'd otherwise earn from the dining purchase, such as credit card rewards or rewards from the restaurant's loyalty program.
Related: 11 of the most generous airline and hotel dining rewards programs

Travel partners
You can earn up to 2,000 Marriott points per Hertz car rental by booking through Marriott's Tours & Activities page through Nov. 30.
And you can earn bonus Marriott points when you book a cruise through Marriott's Cruise With Points.
Buying a mattress
Bonvoy members can earn 10,000 Marriott points by buying a mattress from any of Marriott International's retail stores online: Shop Edition, The Ritz-Carlton Shops, The Luxury Collection Store, St. Regis Boutique, W Hotels The Store, Curated by JW, Shop Marriott, Sheraton Store, Westin Store, Shop Le Meridien, Collect Renaissance, Gaylord Hotels Store, Shop Courtyard, Fairfield Store and Shop Four Points.
Transferring points from other programs
You can transfer Chase Ultimate Rewards (39-hour transfer time) and American Express Membership Rewards (instant transfer) points to Marriott Bonvoy at a 1:1 transfer ratio. You can also transfer Singapore Airlines KrisFlyer miles to Marriott Bonvoy at a 2:1 ratio, which can take up to four days. United MileagePlus members can convert up to 100,000 miles to Marriott Bonvoy points per calendar year at a slightly more appealing 1:1 ratio.
While it's not the best use of more valuable points, transferring points to top off your Marriott Bonvoy account for a valuable redemption can make sense.
Combining points with other members
A fantastic aspect of Marriott Bonvoy is combining your points with another Marriott Bonvoy member; you can do this online.
According to Marriott, both accounts must have been previously used ("Qualifying Activity") and be in good standing. Both the account transferring and the account receiving points must have been open for at least 30 days with qualifying activity. If an account hasn't had any qualifying activity in the past 30 days, it must have been open for at least 90 days.
You must transfer at least 1,000 points; you can transfer up to 100,000 points (in 1,000-point increments) from your account to others in a calendar year. Additionally, you can receive up to 500,000 points from others in a calendar year.
Elite night credit, lifetime status and free night certificates are nontransferable.
Related: You can now transfer Marriott points between accounts online — here's how

Buying points
You can buy up to 100,000 points each year. The purchase rate is generally $12.50 per 1,000 points, but Marriott will periodically run promotions that lower the price.
Related: When does it make sense to buy points and miles?
Earning miles instead of points
It's also worth noting that you can earn airline miles with select airline loyalty programs instead of Marriott points on your hotel stays. Generally, you'll earn 2 miles per dollar on all qualifying charges at most Marriott brands. But, you'll earn less at some brands and may earn differently with select airline loyalty programs.
Related: We tested earning American Airlines miles for 3 different hotel stays — here's what we found
Do Marriott Bonvoy points expire?
You must have account activity within 24 consecutive months to prevent Marriott points from expiring. This can be achieved by earning points through stays, redeeming points or purchasing points at least once every 24 months. However, gifting or transferring points to another member or receiving points this way does not count as account activity.
How much are Marriott points worth?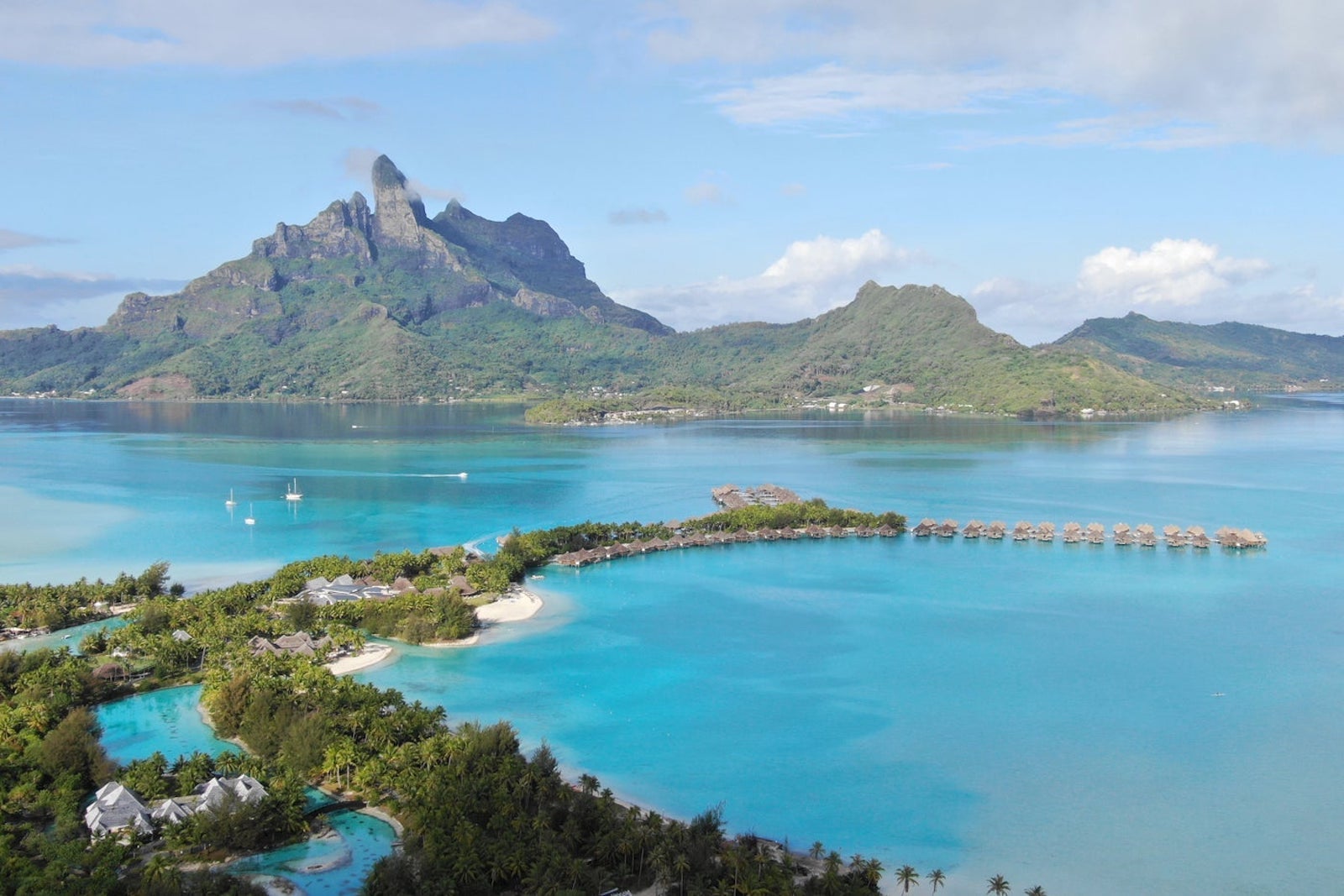 We value Marriott points at 0.84 cents apiece, so when possible, that's the minimum value you'll want to get when redeeming Marriott points.
However, since Marriott uses dynamic pricing, you may wind up getting more (or less) value, depending on your individual redemption.
Related: Ouch: It's not just you, Marriott stays now cost more points
How to redeem Marriott points
You'll typically get the most value from your Marriott points when redeeming for hotel stays or transferring to airline loyalty programs. Here's an overview of the various ways to redeem Marriott points.
Award nights
Marriott no longer uses an award chart. Now, Marriott uses dynamic pricing, with award rates based on paid hotel rates and occupancy levels (among other factors). As such, you won't know until you go to book exactly how much your award stay will cost.
You can also redeem Marriott points for upgraded rooms. This option isn't available at every property, so you'll need to search for award nights and see if upgraded rooms are bookable via redemption with cash upgrade or redemption with points upgrade. For example, in this search at the Le Meridien Maldives Resort & Spa, an overwater bungalow is just 10,000 points more per night on select dates.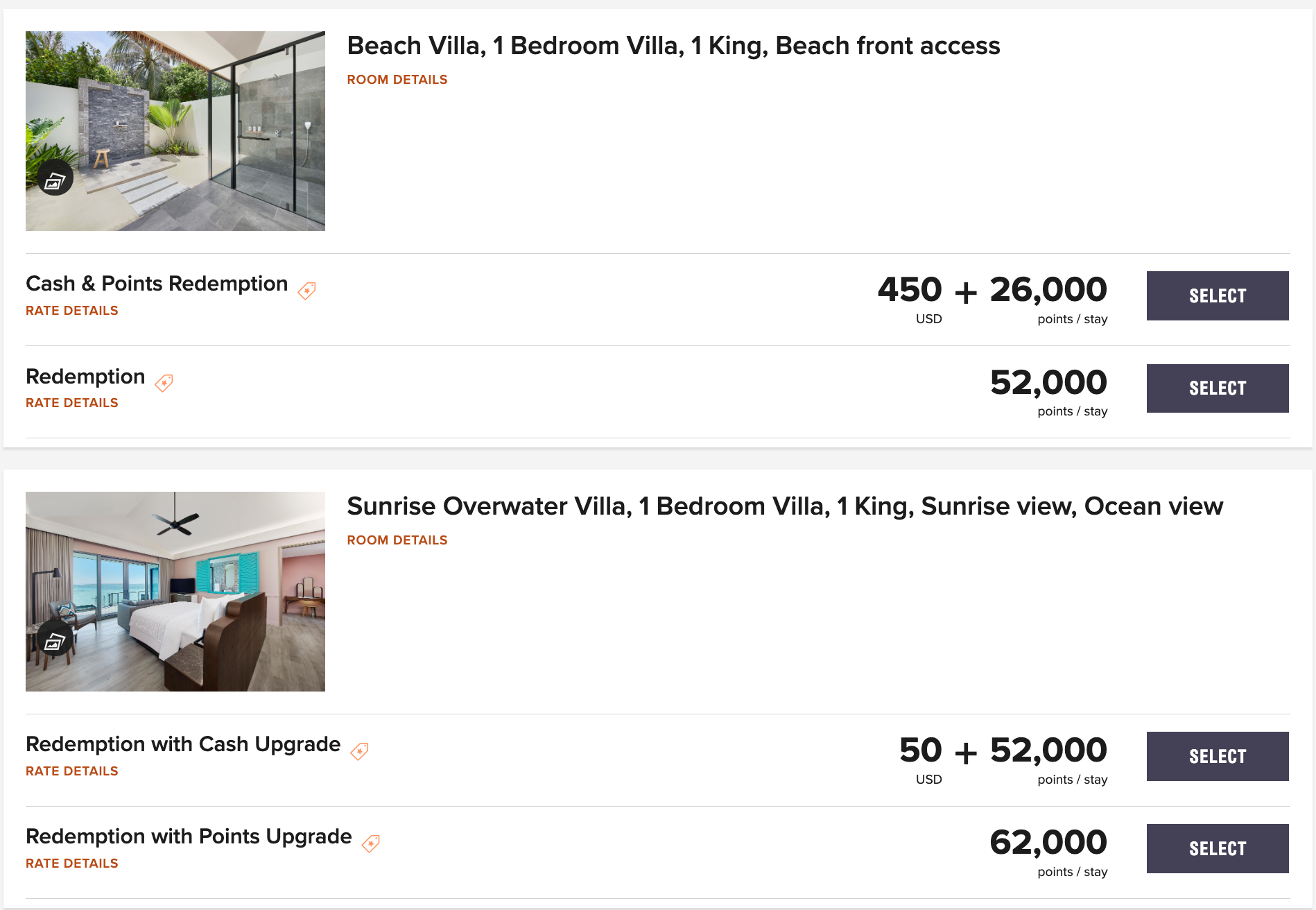 You'll receive the lowest-priced night for free if you redeem points for five or more consecutive nights in a standard room, thanks to Marriott's "Stay for 5, Pay for 4" perk. Marriott also allows you to reserve nights with Cash + Points when booking a standard room.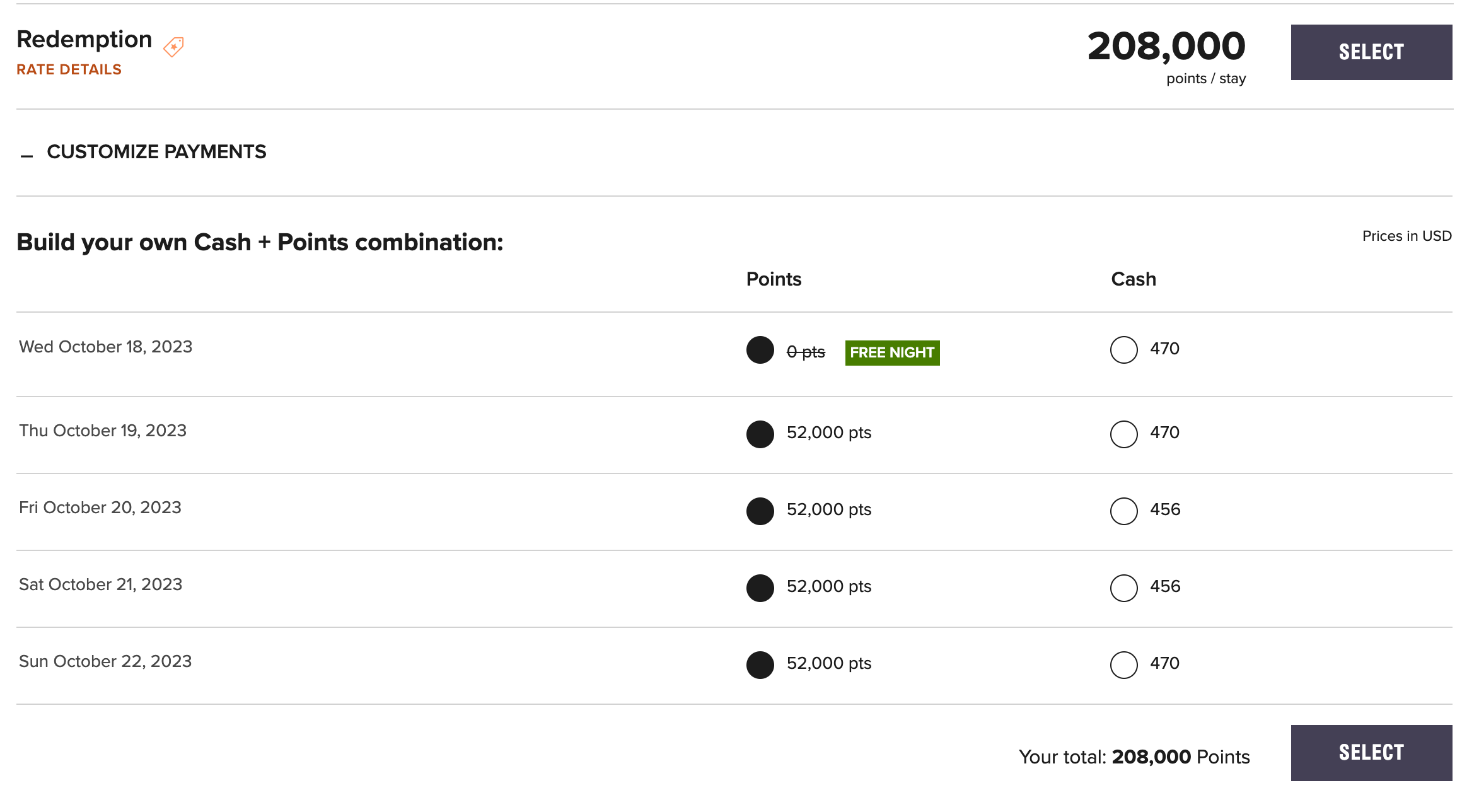 Related: How to maximize longer hotel stays by using a free night benefit
Marriott Bonvoy Moments
If you're looking for a different type of redemption, consider exploring the Marriott Bonvoy Moments program. This allows you to cash in your points for unique experiences like concert tickets, culinary events and seats to see your favorite sports team.
Check out the current options here. The packages change regularly, and while some are handled as auctions, others offer fixed-price redemptions. It's hard to peg a value on these, as many aren't easily replicable using cash.
Related: Living out my 'Fast & Furious' fantasy in LA with Marriott Bonvoy Moments
Instant redemption
You can use points toward hotel credit against your total room bill. This option only offers a redemption rate of 0.4 cents per point, so we recommend avoiding this option.
Gift cards
You can also redeem Marriott points for gift cards. But you'll get 0.4 cents per point or less, so I recommend avoiding this redemption option.
Related: How to use points and miles to give gifts with $0 out-of-pocket cost
Travel redemptions and airline transfers
There are many options for getting free travel with your Marriott Bonvoy points.
With most airline partners, 3 Marriott points will convert to 1 airline mile. Air New Zealand Airpoints (200:1 ratio) and United MileagePlus (3:1.1 ratio) are the exceptions that convert at different rates.
Marriott gives 5,000 bonus airline miles for every 60,000 Marriott points you transfer to most airline partners. However, transfers to American Airlines AAdvantage, Avianca LifeMiles, Delta SkyMiles and Korean Air SkyPass aren't eligible for the 5,000-mile bonus.
Keep in mind that transfer times vary based on the airline.
You can also book air travel and rental cars with your points through Marriott's Air and Car program, but you'll get less than 0.4 cents per point in value toward these redemptions.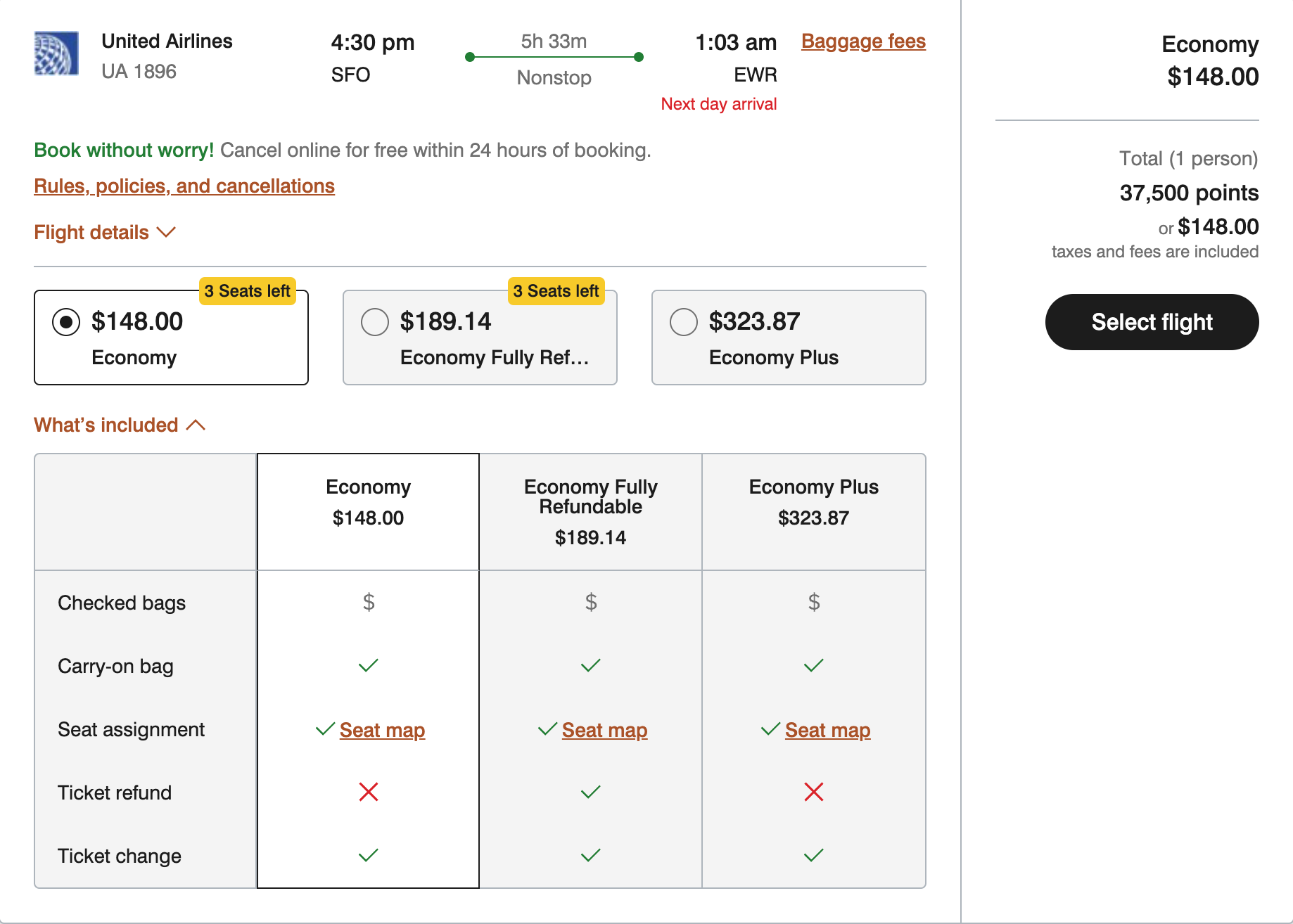 You can also redeem points toward a free cruise with Marriott Cruise with Points, but you'll only receive about 0.4 cents per point in value.
Related: How much are Marriott Bonvoy points worth 1 year after removing award charts?

Leveraging Marriott Bonvoy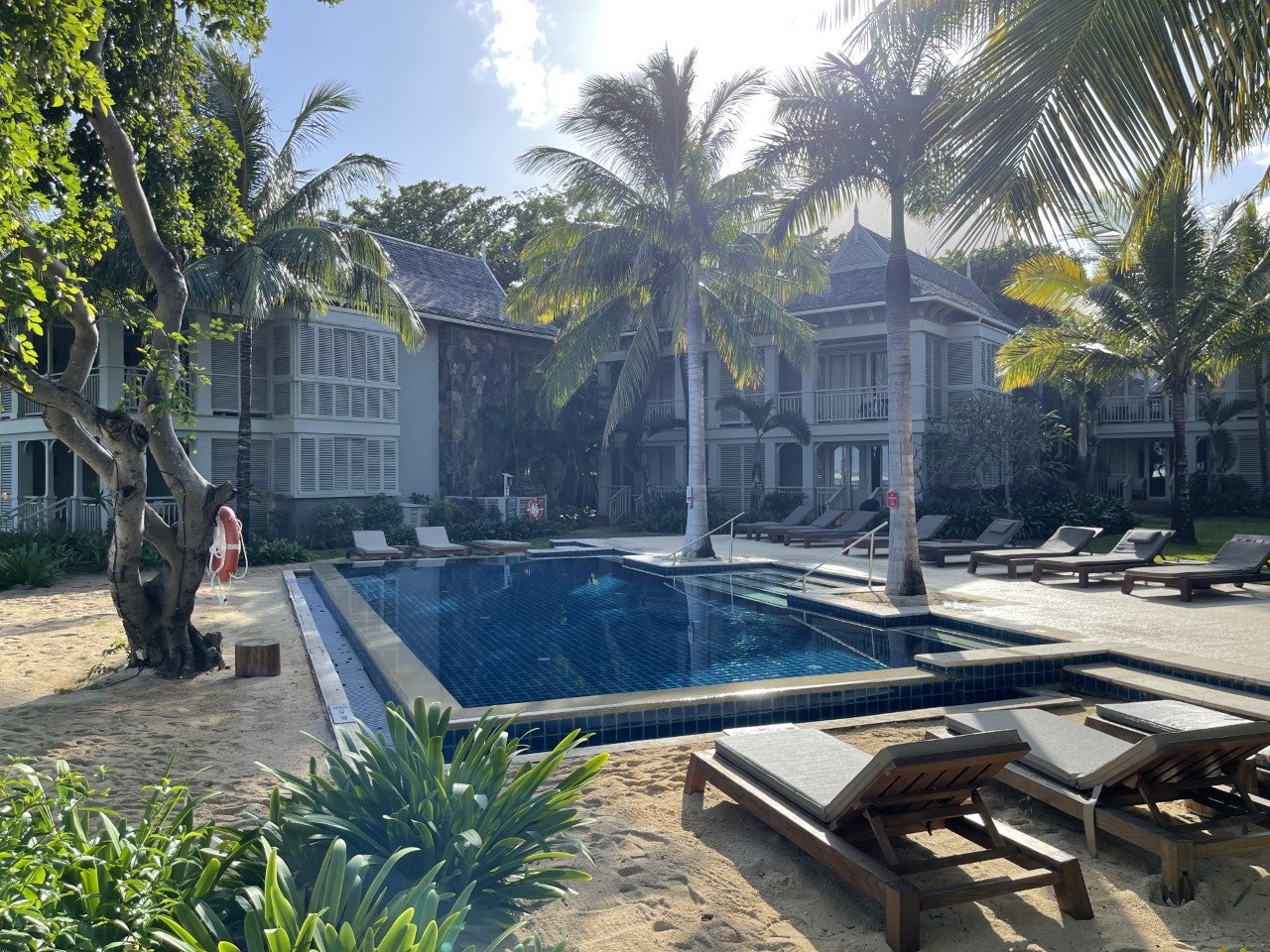 Here are some strategies to get the most value out of your Marriott experience.
Best-rate guarantee
Marriott's version of the best-rate guarantee will match the rate found on another website if you submit a claim within 24 hours of making your reservation on Marriott's website. Marriott will also give you a 25% discount on that rate or a 5,000-point bonus.
Get at least 1 Marriott Bonvoy card
You can snag up to 25 elite night credits annually on a personal Marriott credit card and 15 on a business card. These elite night credits can easily put Platinum Elite or Titanium Elite status in reach for many travelers.
Frequent Marriott travelers may prefer to pair the Bonvoy Brilliant card with the Bonvoy Business Amex. This combination allows you to earn 40 elite nights annually by keeping these two cards open. This puts you just 35 nights away from Titanium Elite status.
Related: Why I'm keeping my Marriott Bonvoy Boundless for the long term
5th night free
All Marriott Bonvoy members get a free night on five-night award stays or longer. While some travelers might not want to spend five or more nights in one place on a trip, this benefit is a great way to save points on longer stays.
Related: Do 5th-night-free awards apply to suites or only to standard rooms?
Bottom line
You can earn Marriott points through stays, partners, credit cards and promotions, though redeeming points has become more unpredictable with dynamic pricing. While free nights can require significant points, the Marriott Bonvoy program still offers valuable benefits and redemption options.
Despite some devaluations, many TPG staffers remain loyal fans.