George Bush Intercontinental Airport (IAH) is known for a lot of things, but being home to a variety of Priority Pass-eligible lounges you'd actually want to visit hasn't typically been one of them. However, things just got a bit better in that regard, as the renovation of the KLM Crown Lounge in the international D Terminal is now complete.
This is actually Amsterdam-based KLM's only lounge in the U.S. It has been revamped for a more consistent and cohesive look with the airline's lounges in its home airport of Amsterdam Schiphol.
Related: Best credit cards for airport lounge access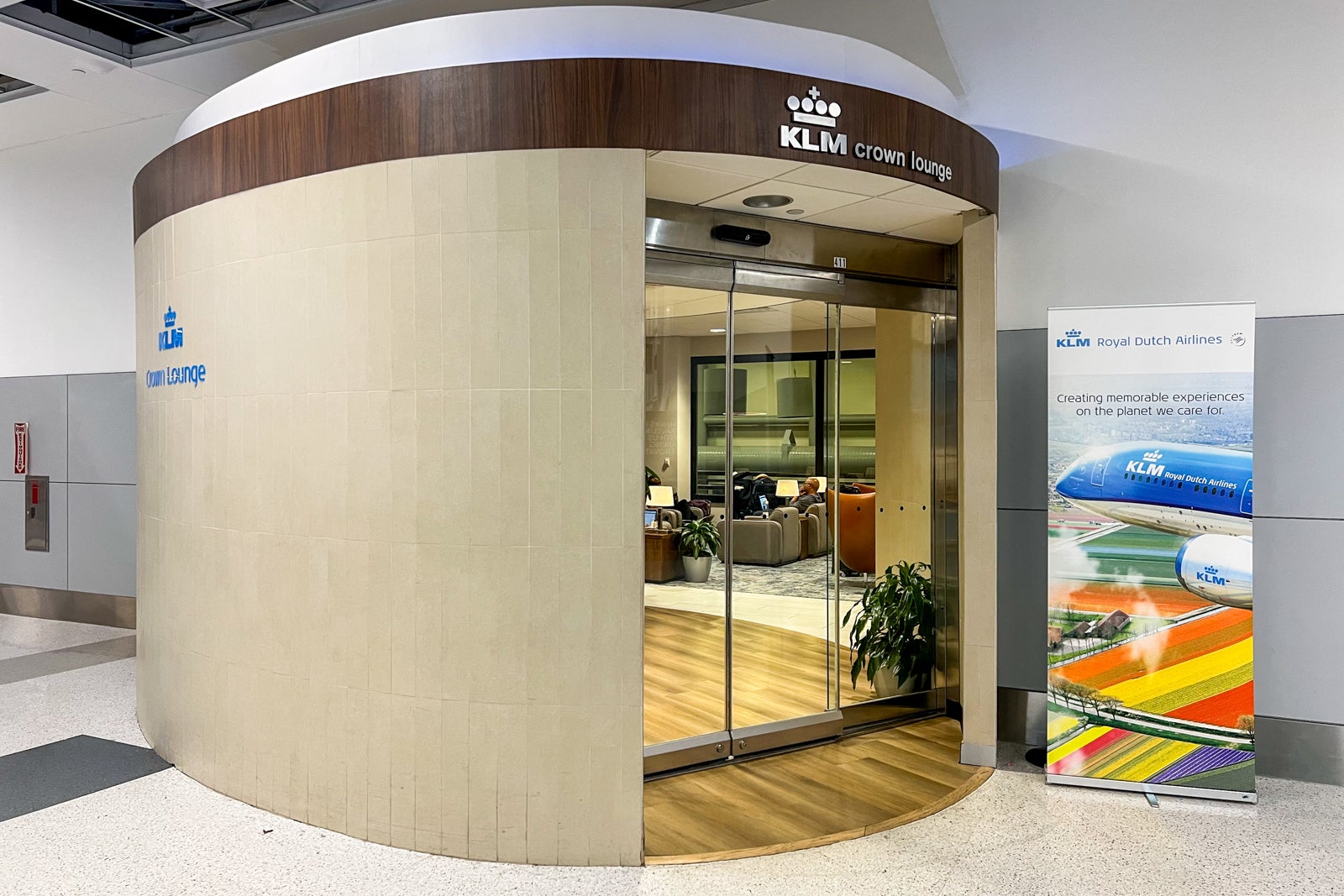 "Houston is one of our top markets in the U.S., and this upgraded lounge is a wonderful new offer, reaffirming our dedication to providing travelers with the utmost comfort and convenience. We look forward to welcoming our valued passengers in soon, providing an experience that will make their time at the airport as memorable as the destination itself," Eric Caron, general manager of North America at Air France KLM, said.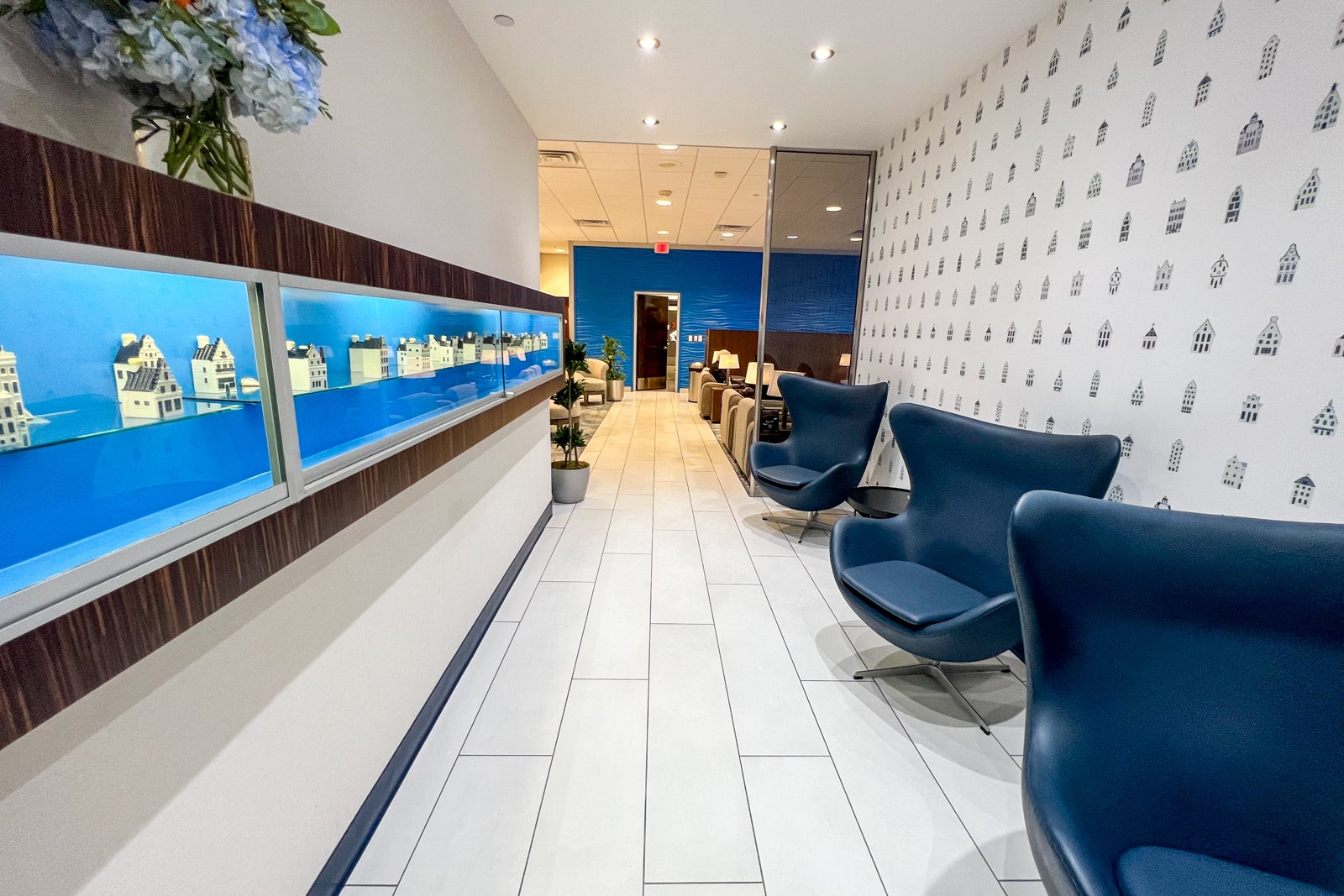 With the renovation complete, there are now 100 seats in the 3,962-square-foot lounge. The main components of the renovation center around some of the flooring, very cool-looking wallpaper, furniture, fixtures and the renovated bathroom.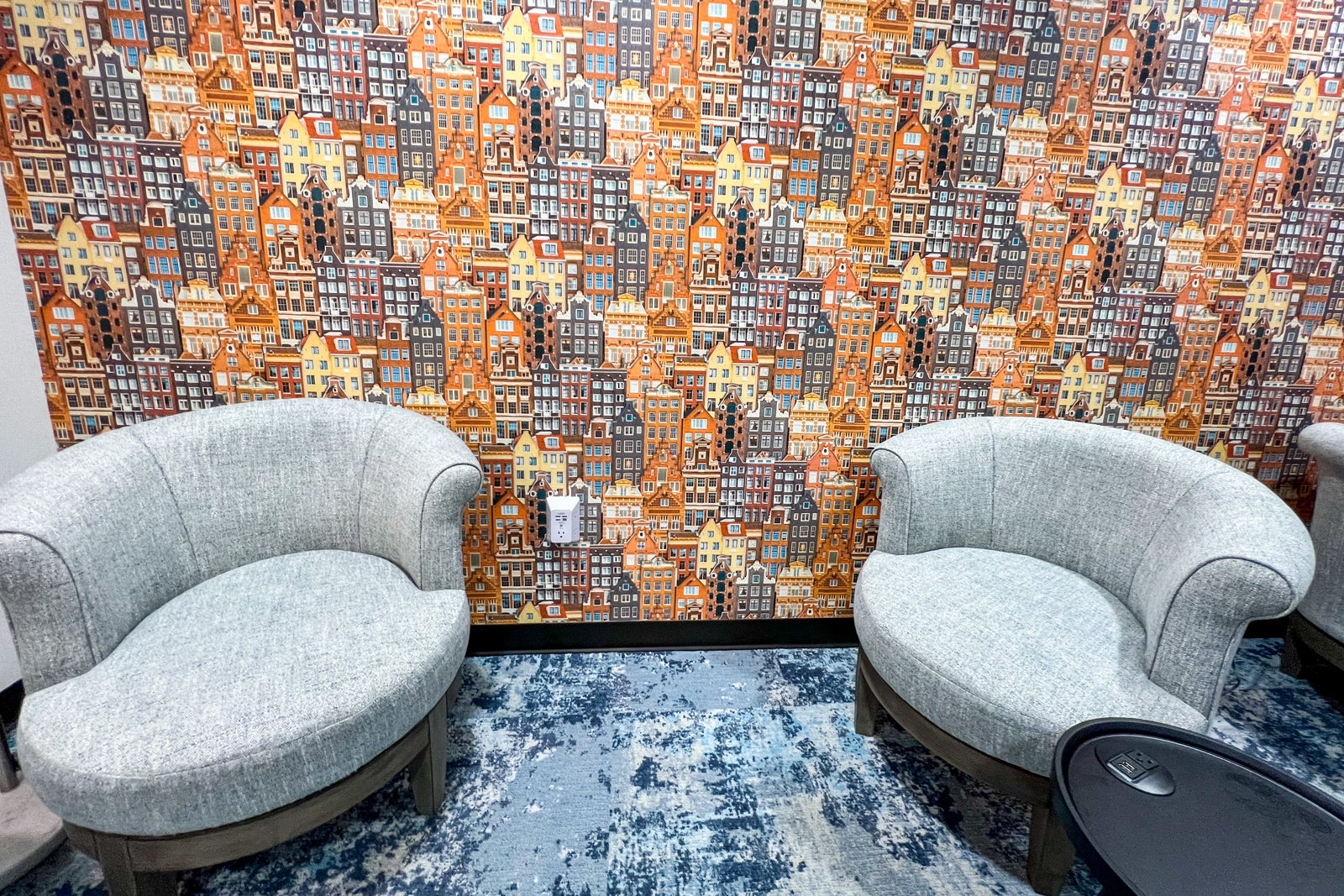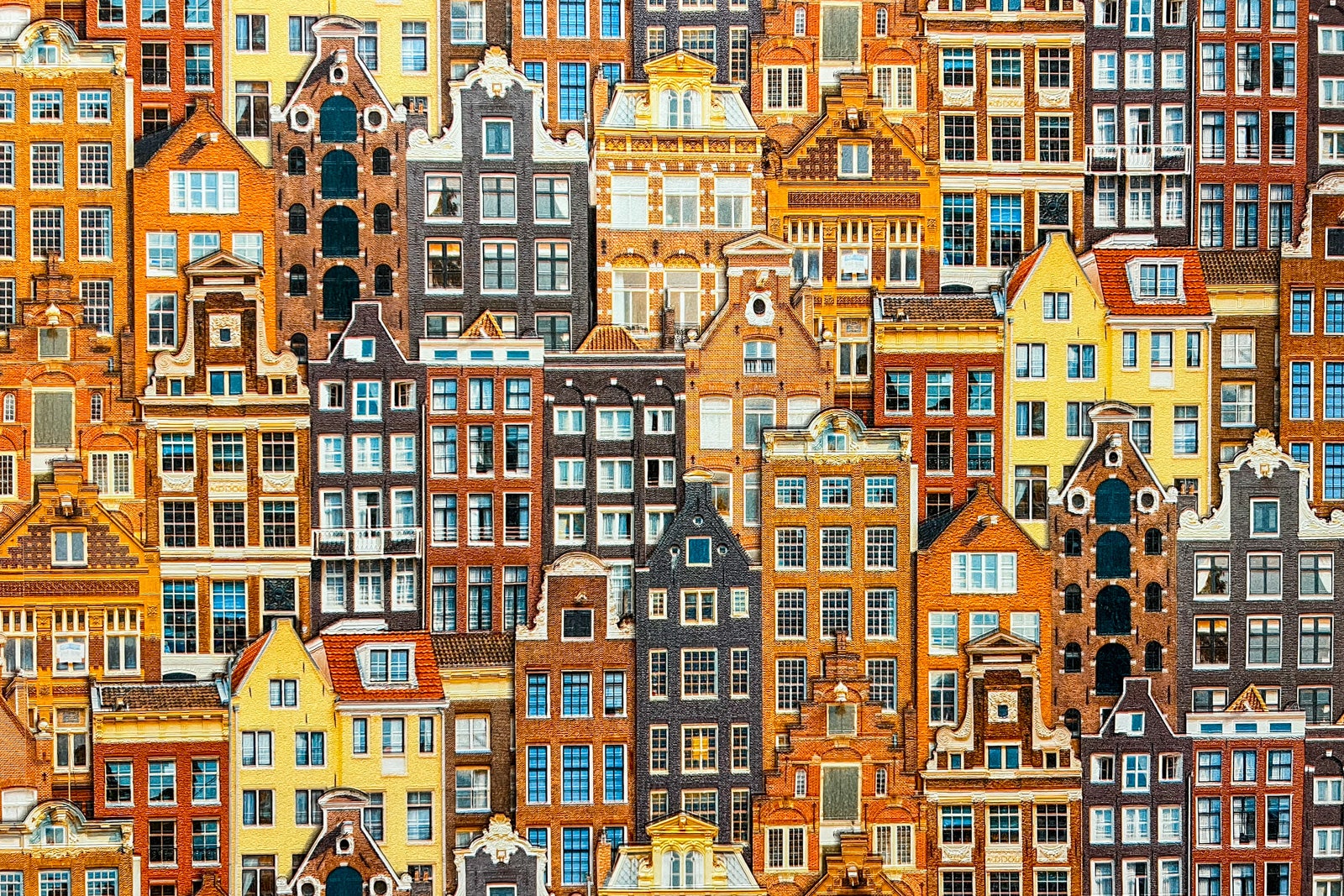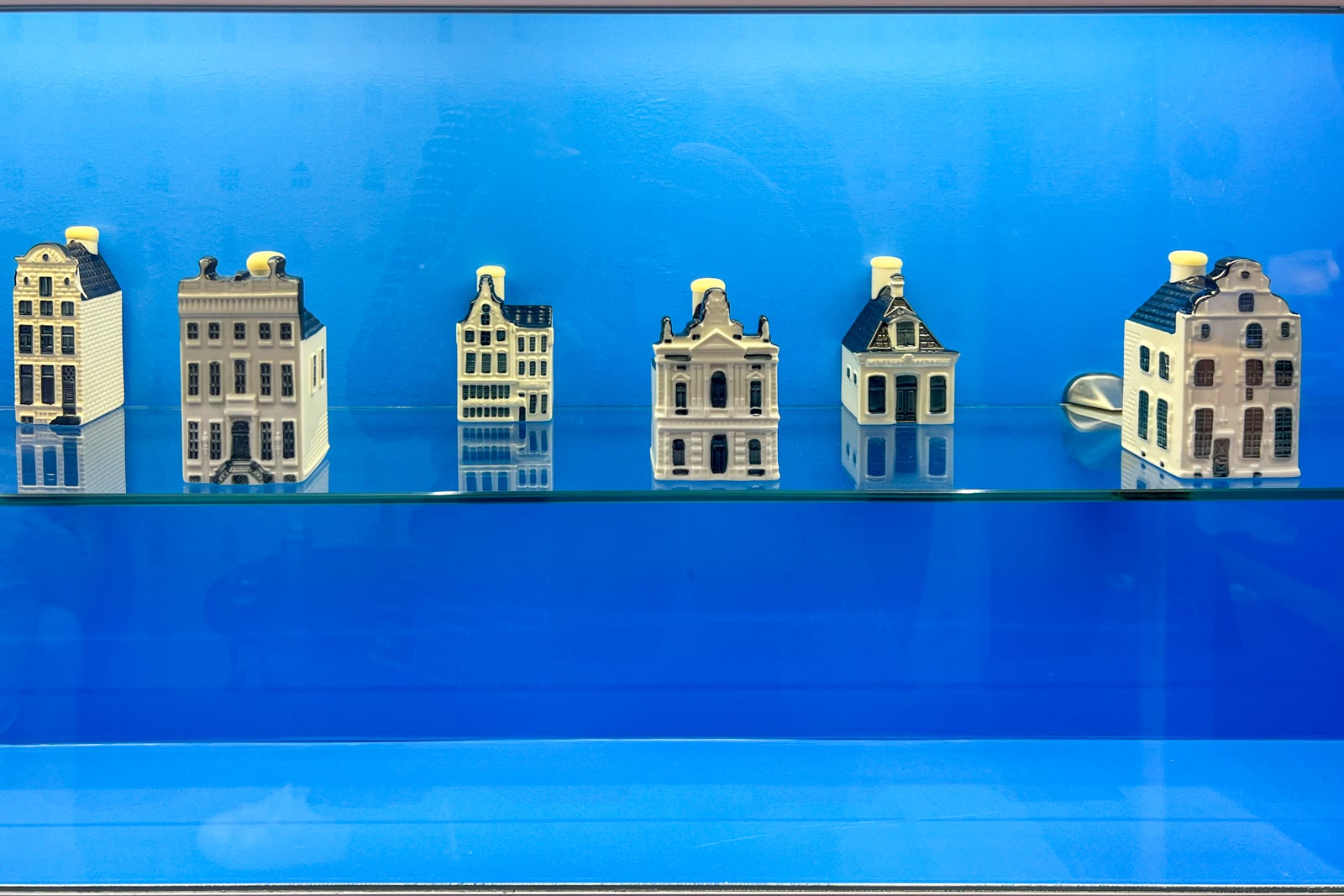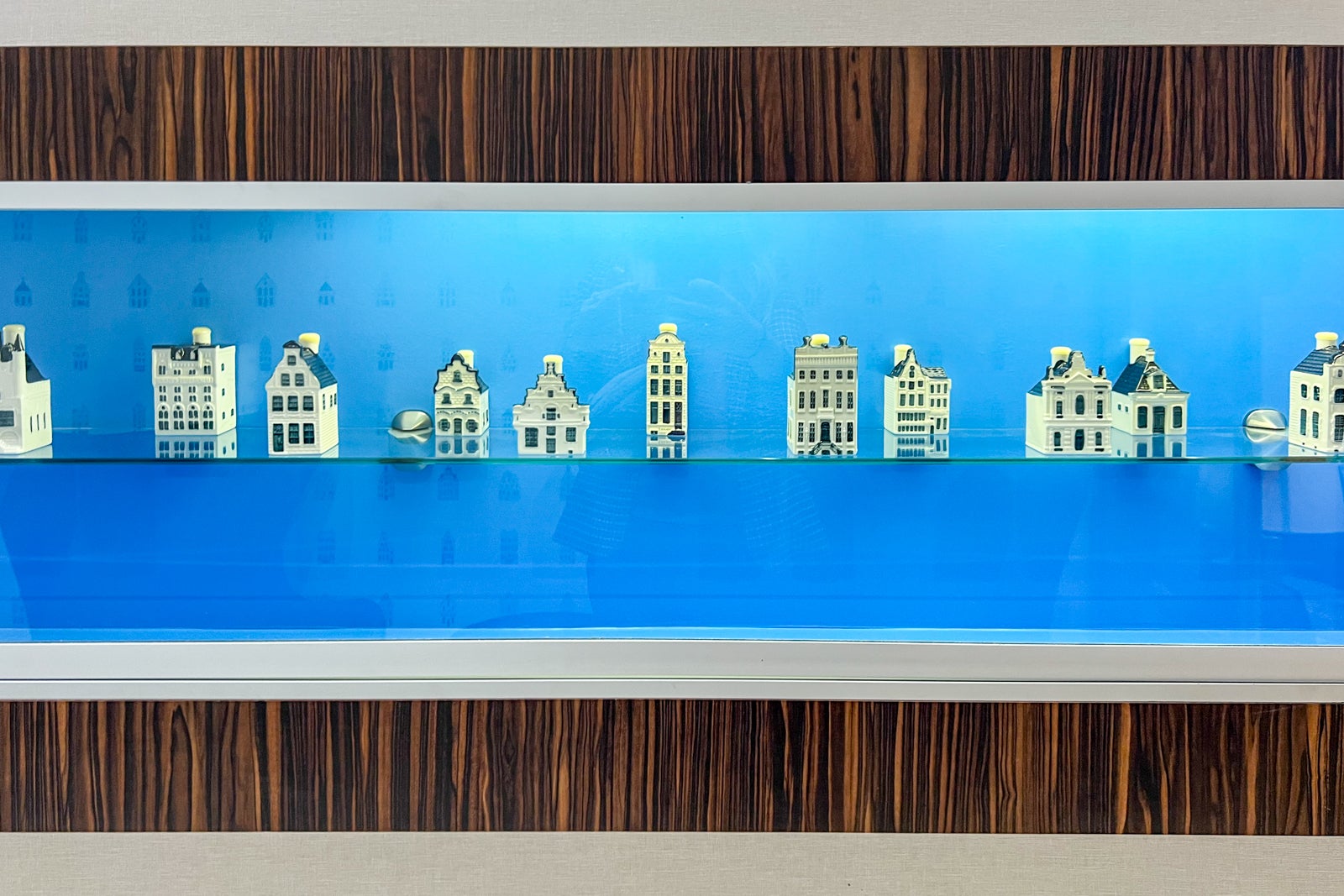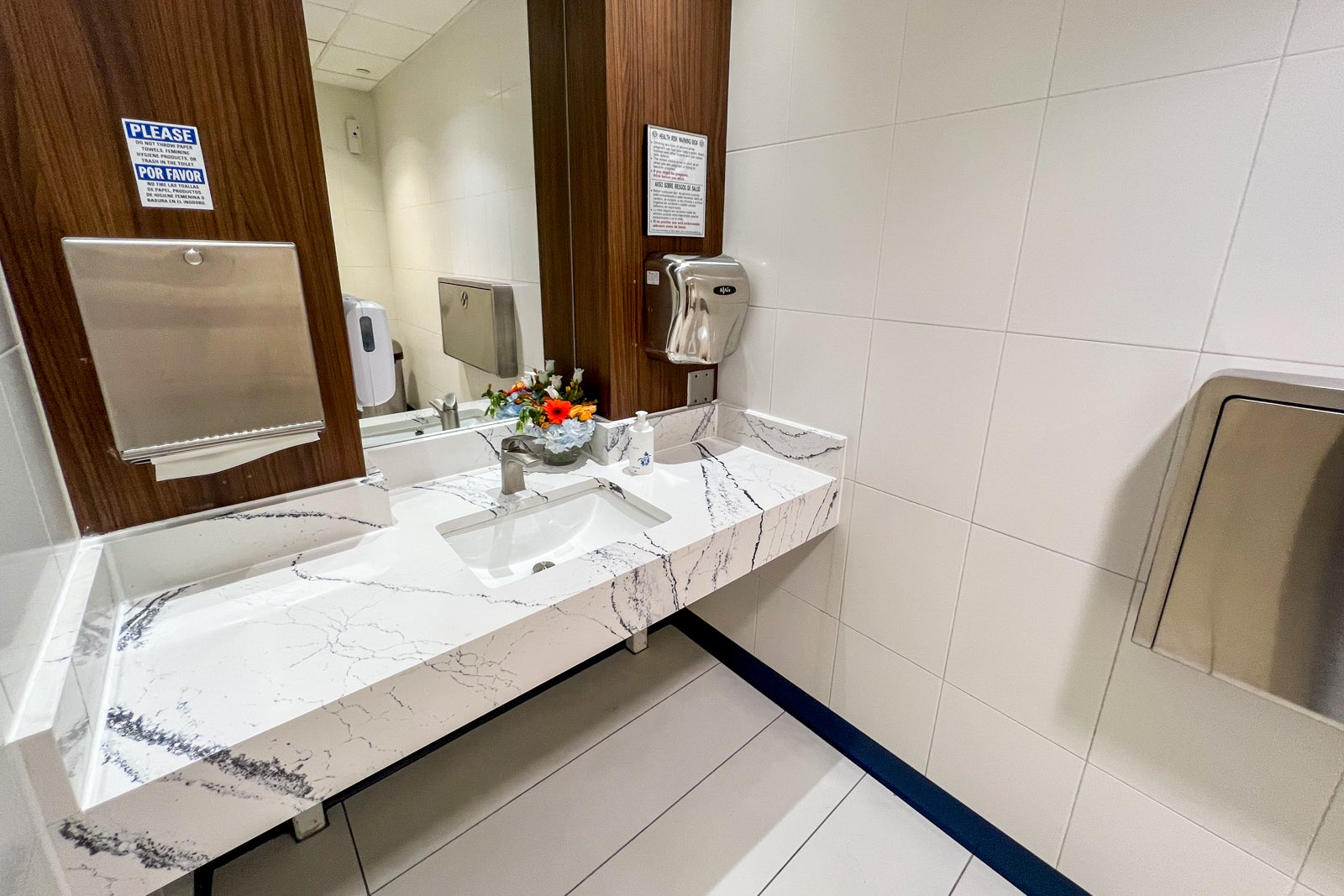 This was not a complete gut job-style renovation, as those who have visited before will likely quickly pick up on the circular buffet and entrance having essentially the same shape, look and feel.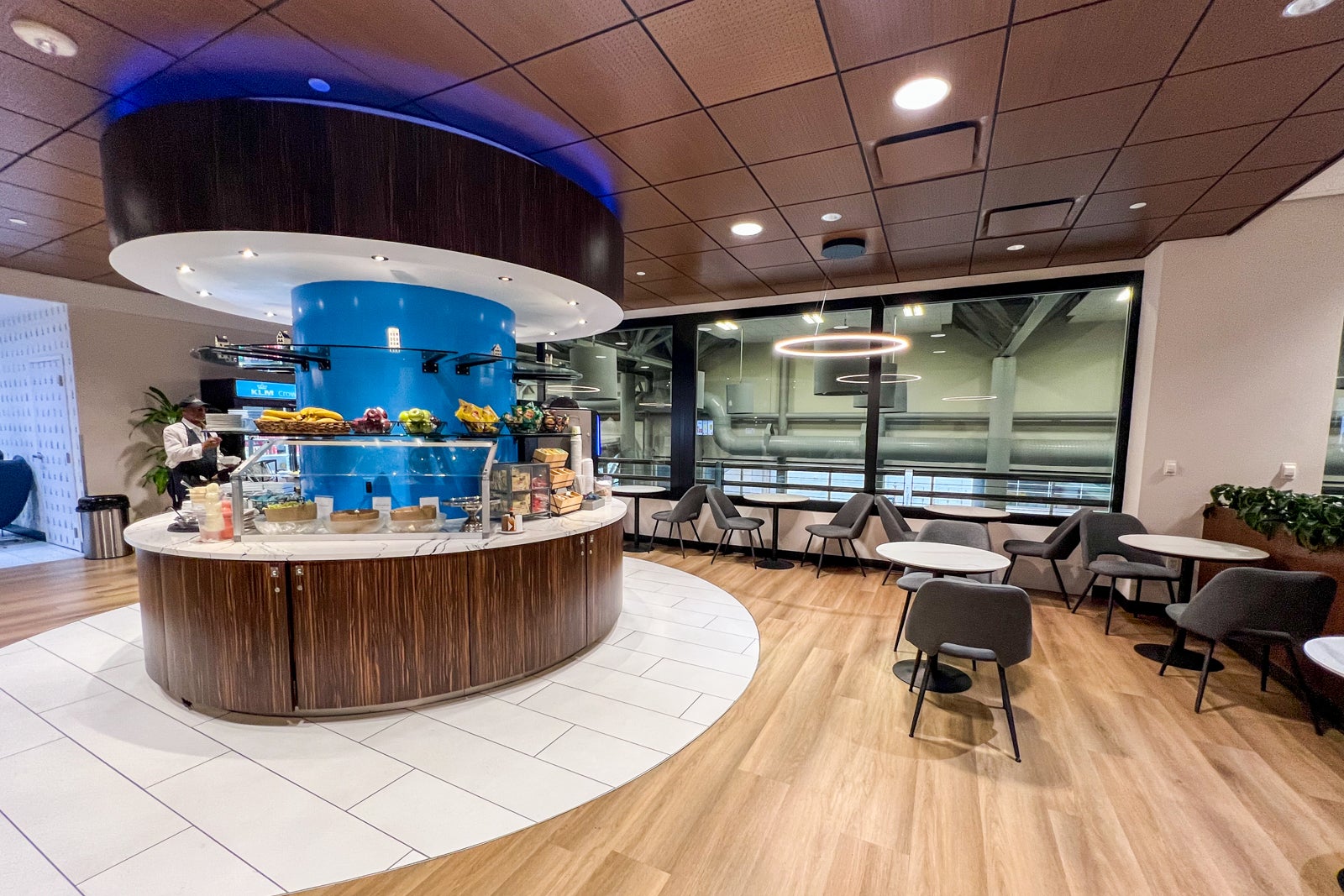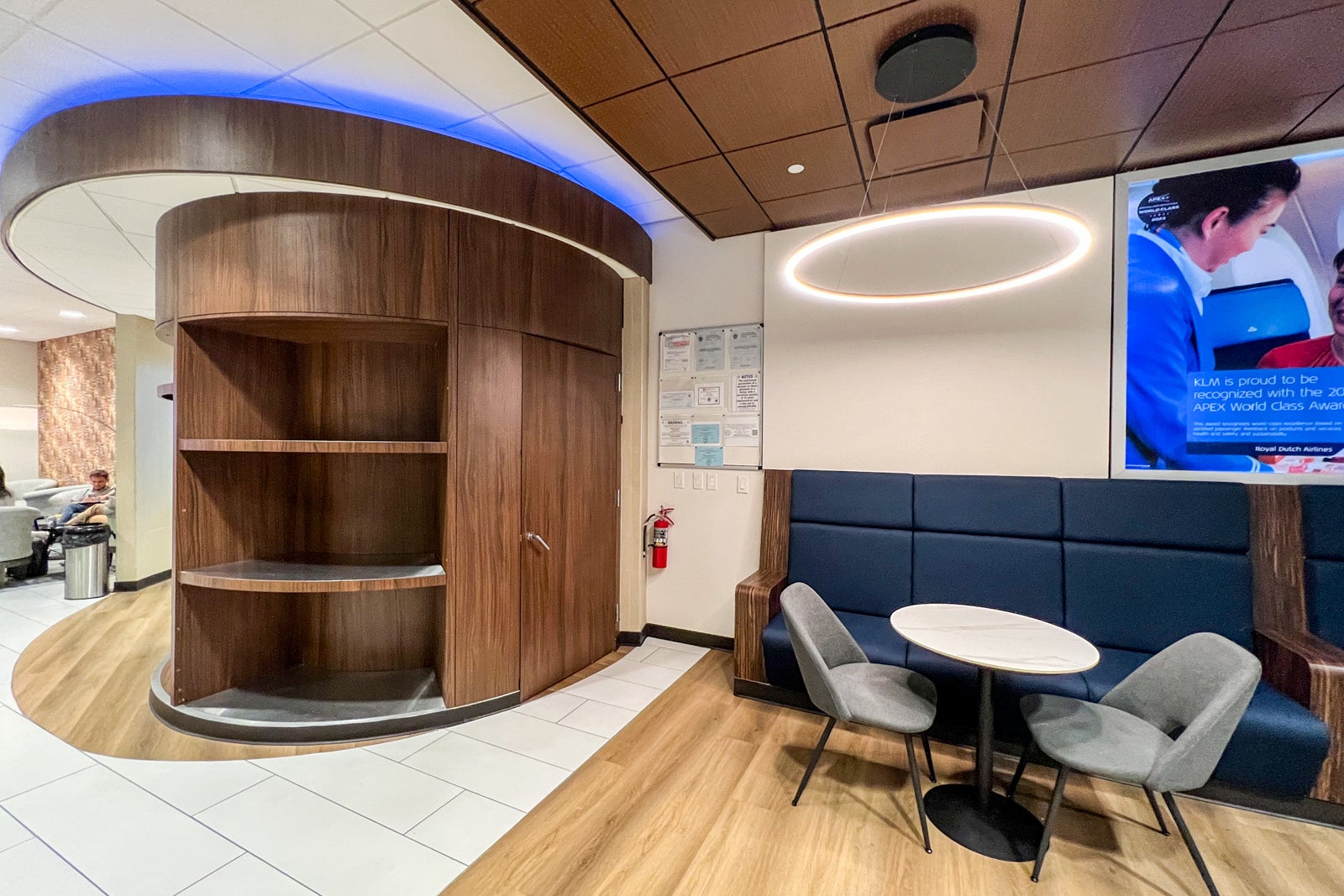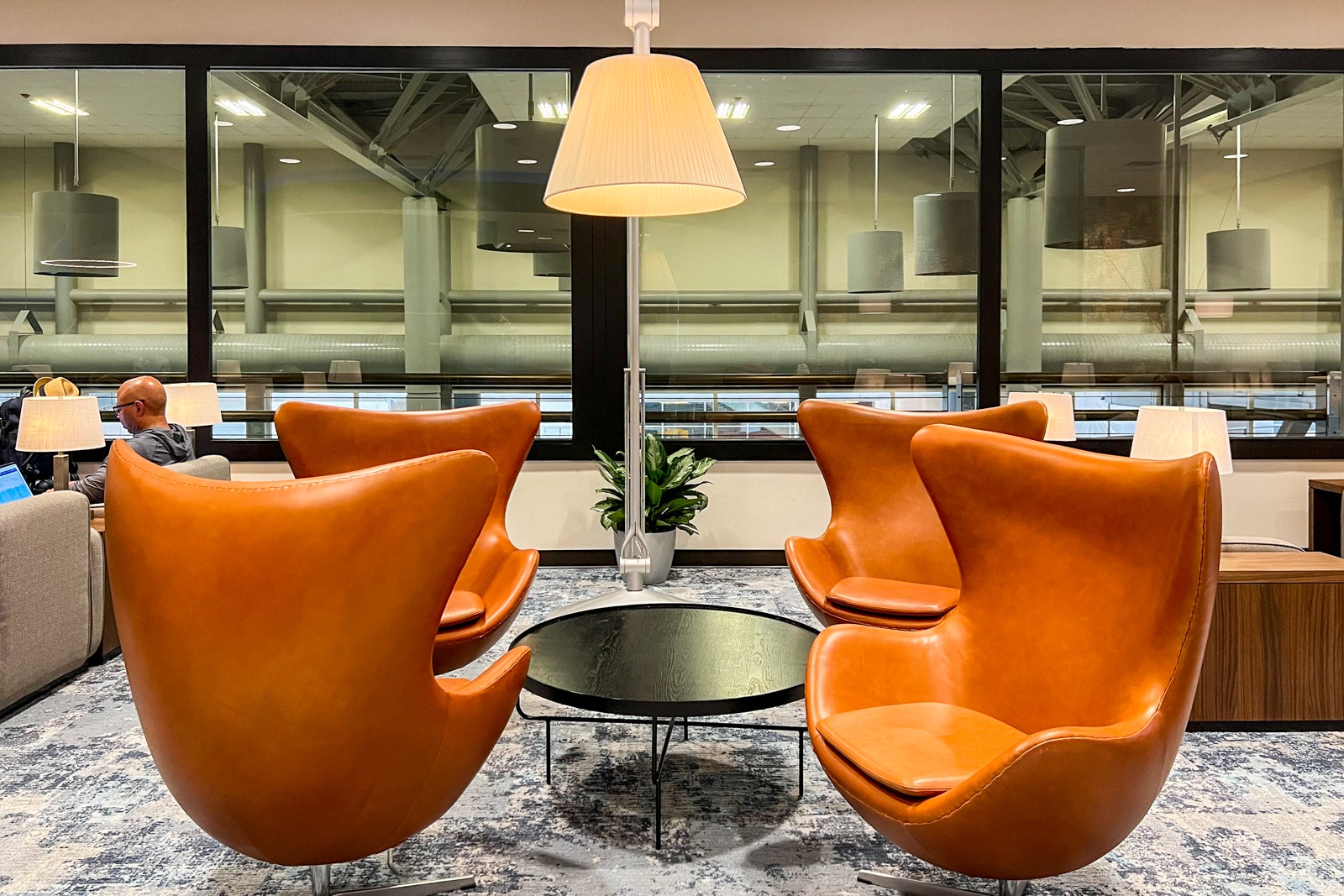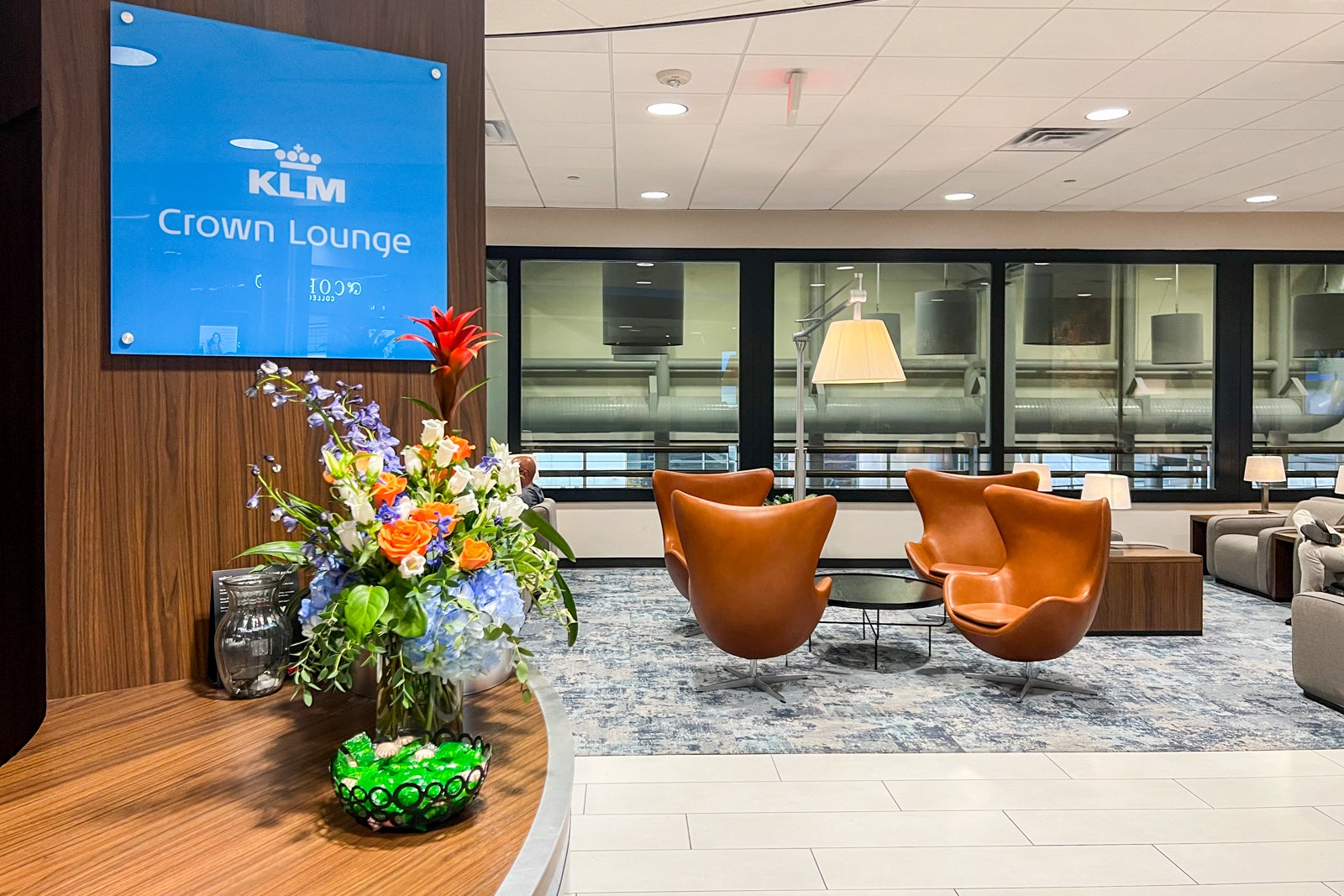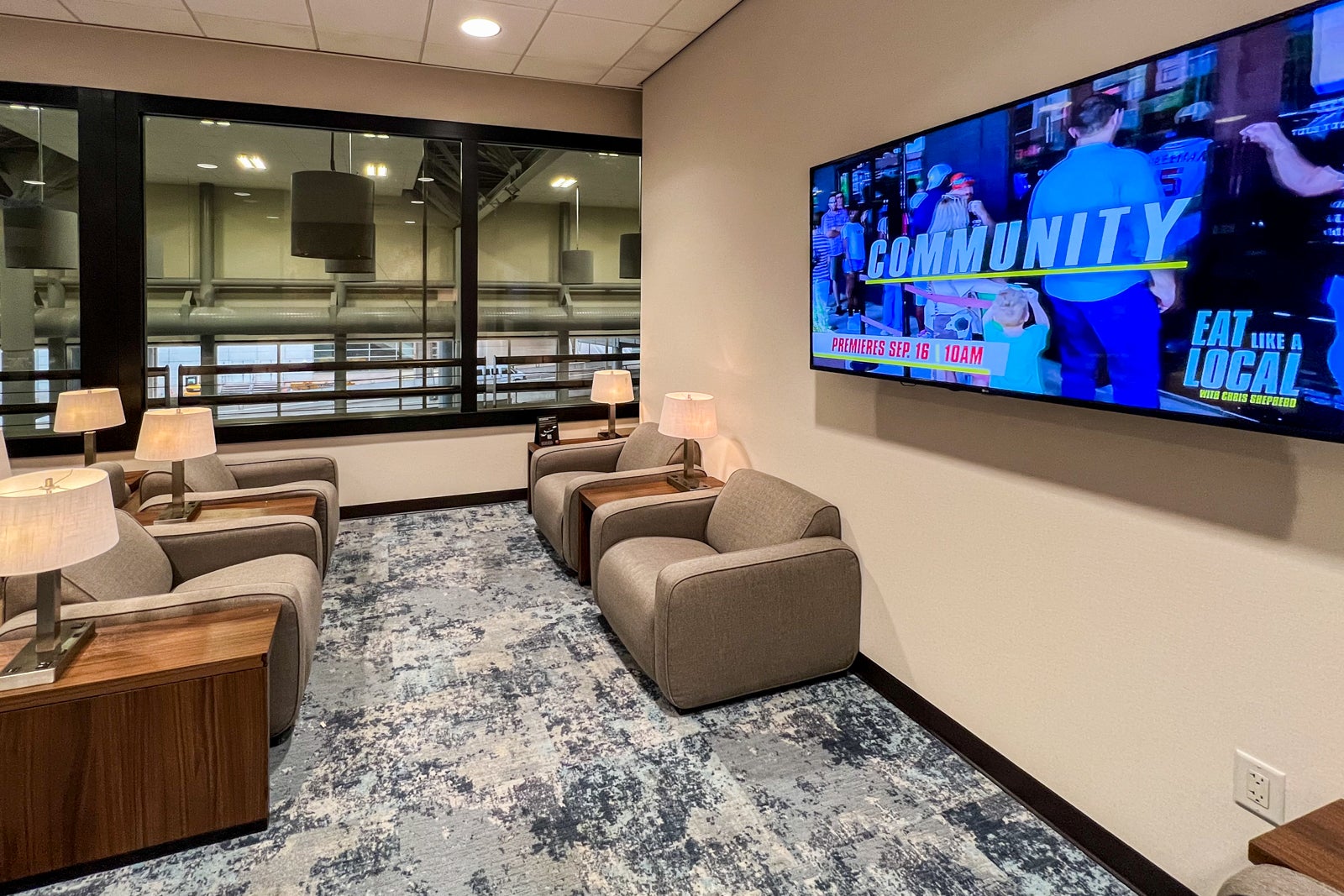 With work deeply underway on the new international terminal at the airport, I was told that it was not the right time to start completely over with the lounge. But, during a tour of the new space, I learned it was also time to do something fresh with the current lounge.
During my mid-afternoon visit — which was admittedly very crowded until the departing passengers on the 3:15 p.m. KLM flight left — the self-service buffet had options such as pita, hummus, soup, salad and quinoa. There was also a Tex-Mex-style station with chicken, beans, rice, salsa and pico de gallo serving as the local specialty.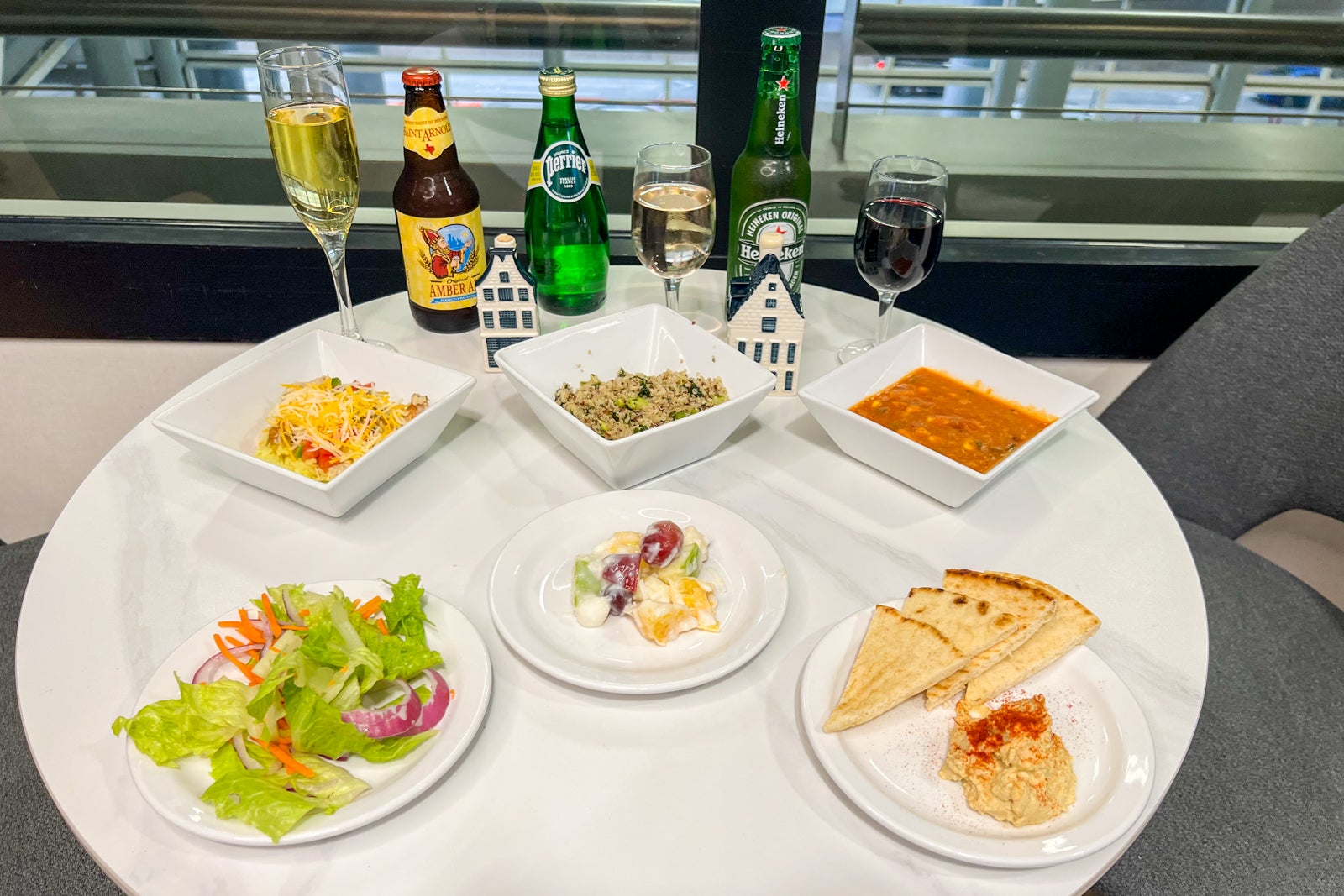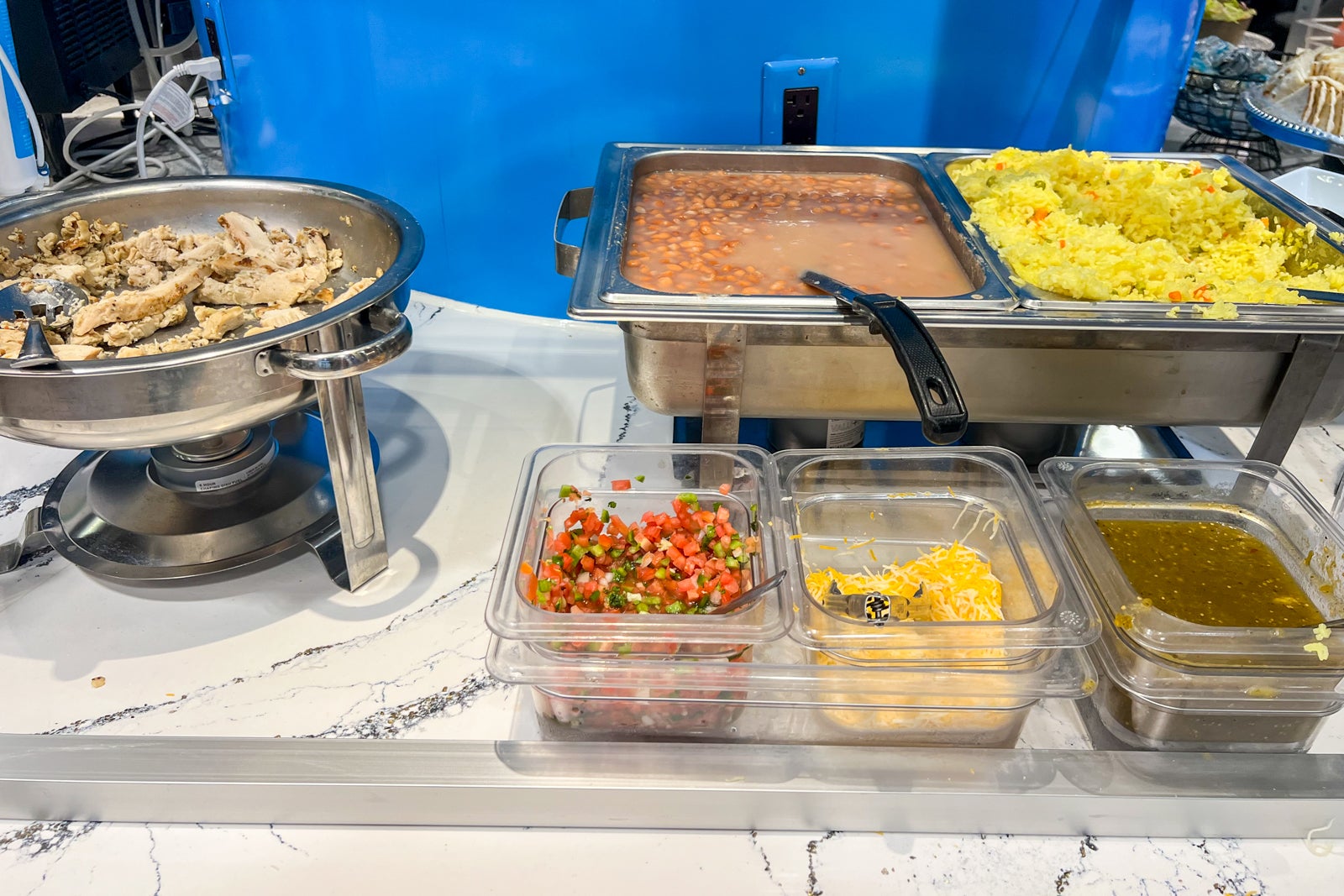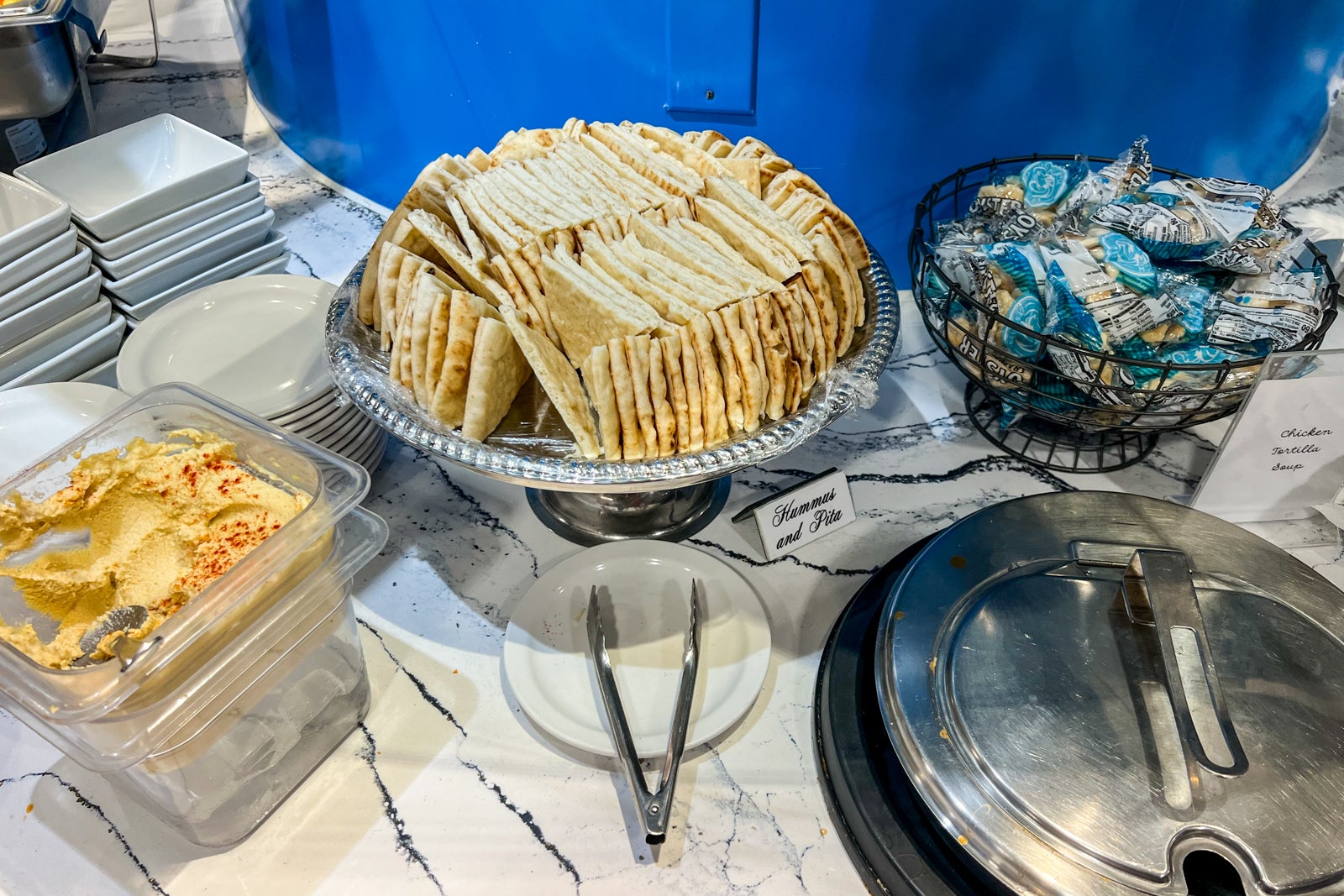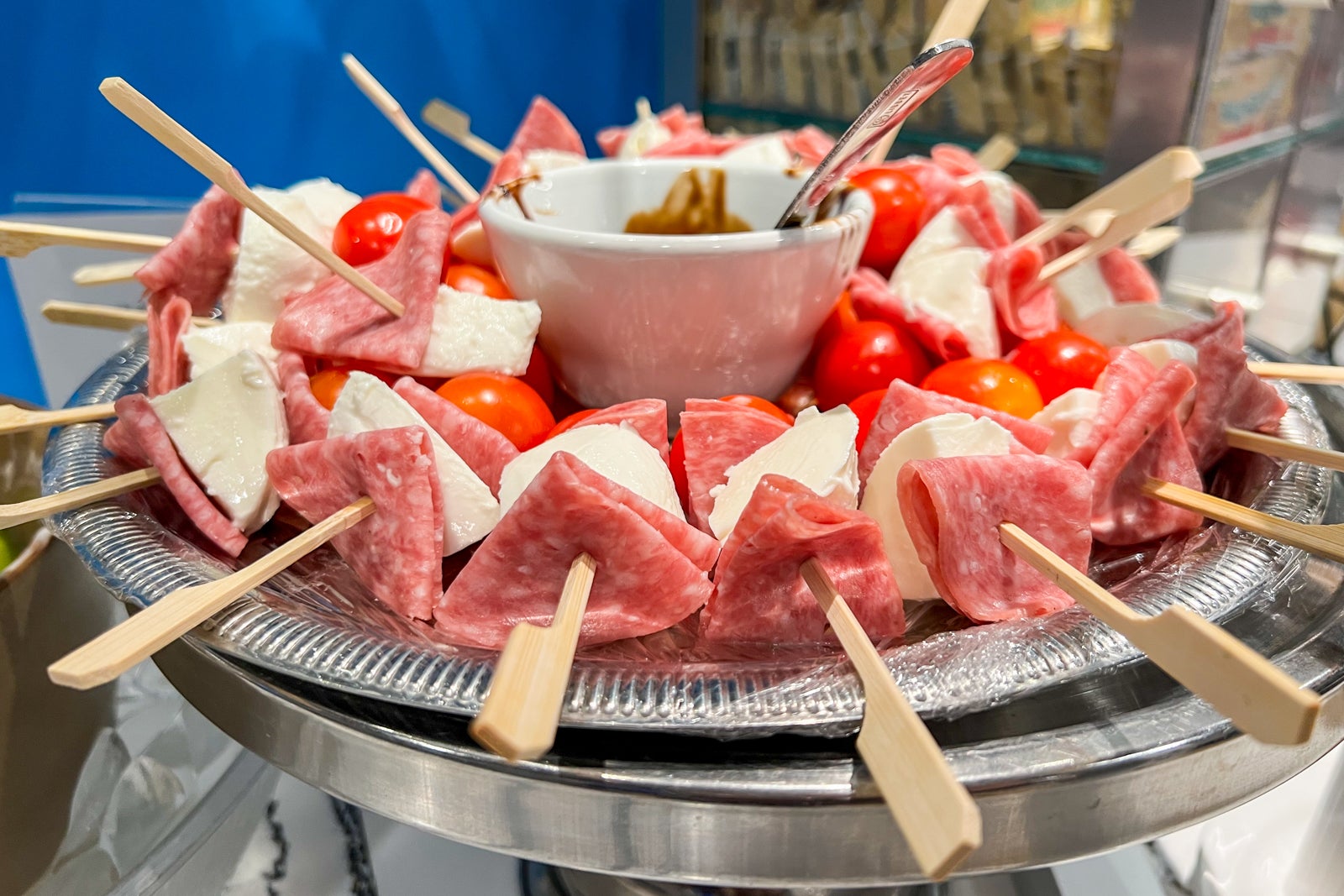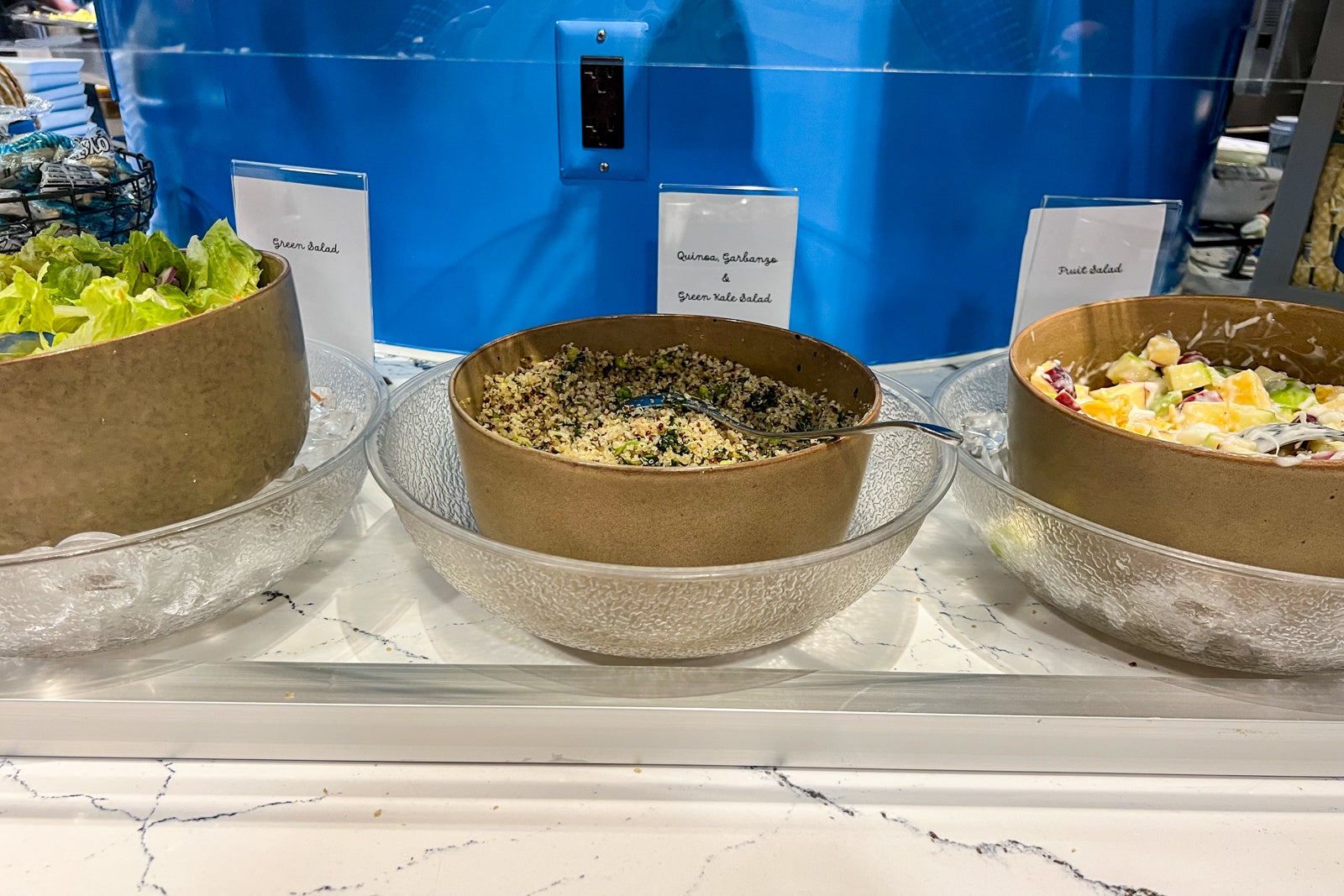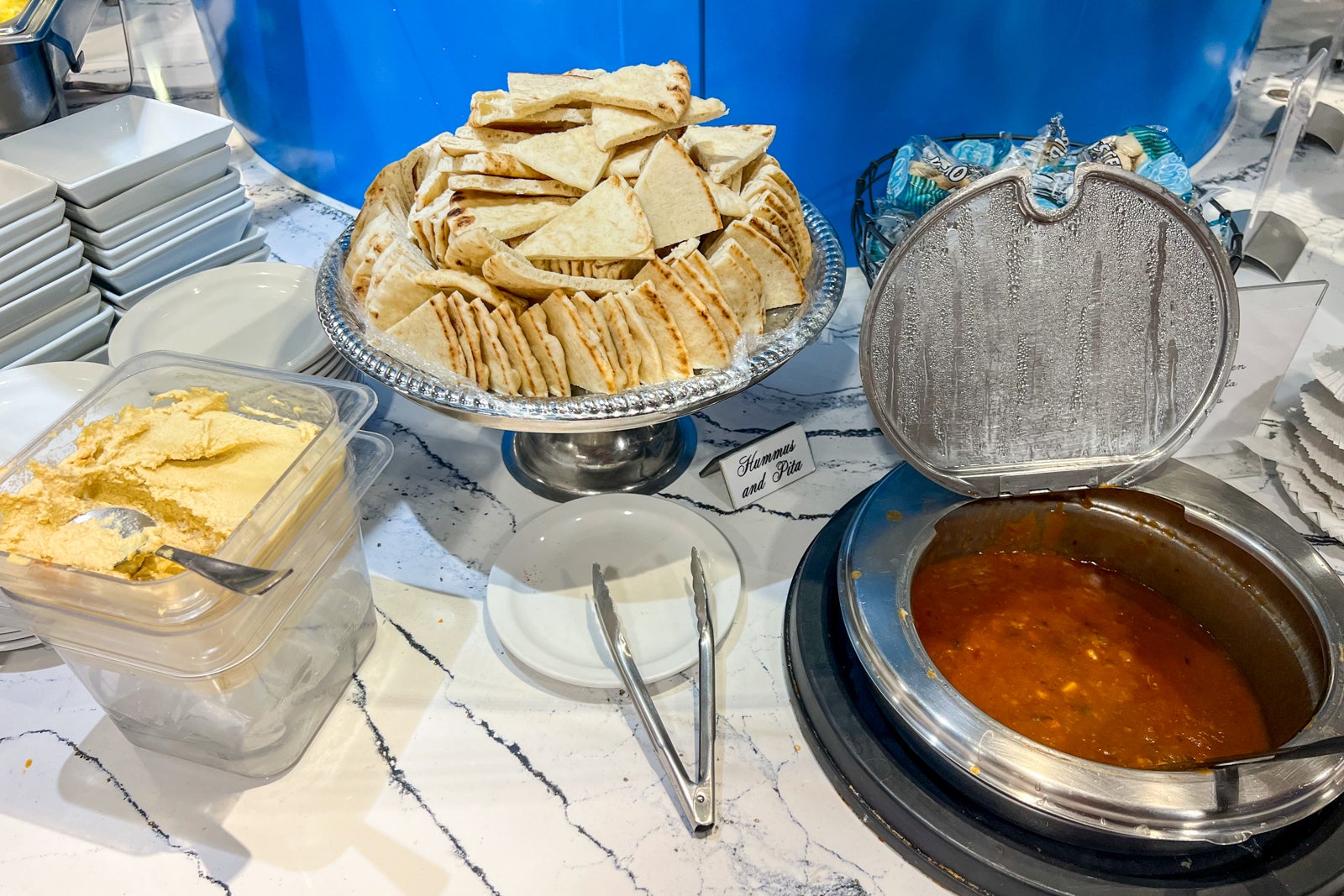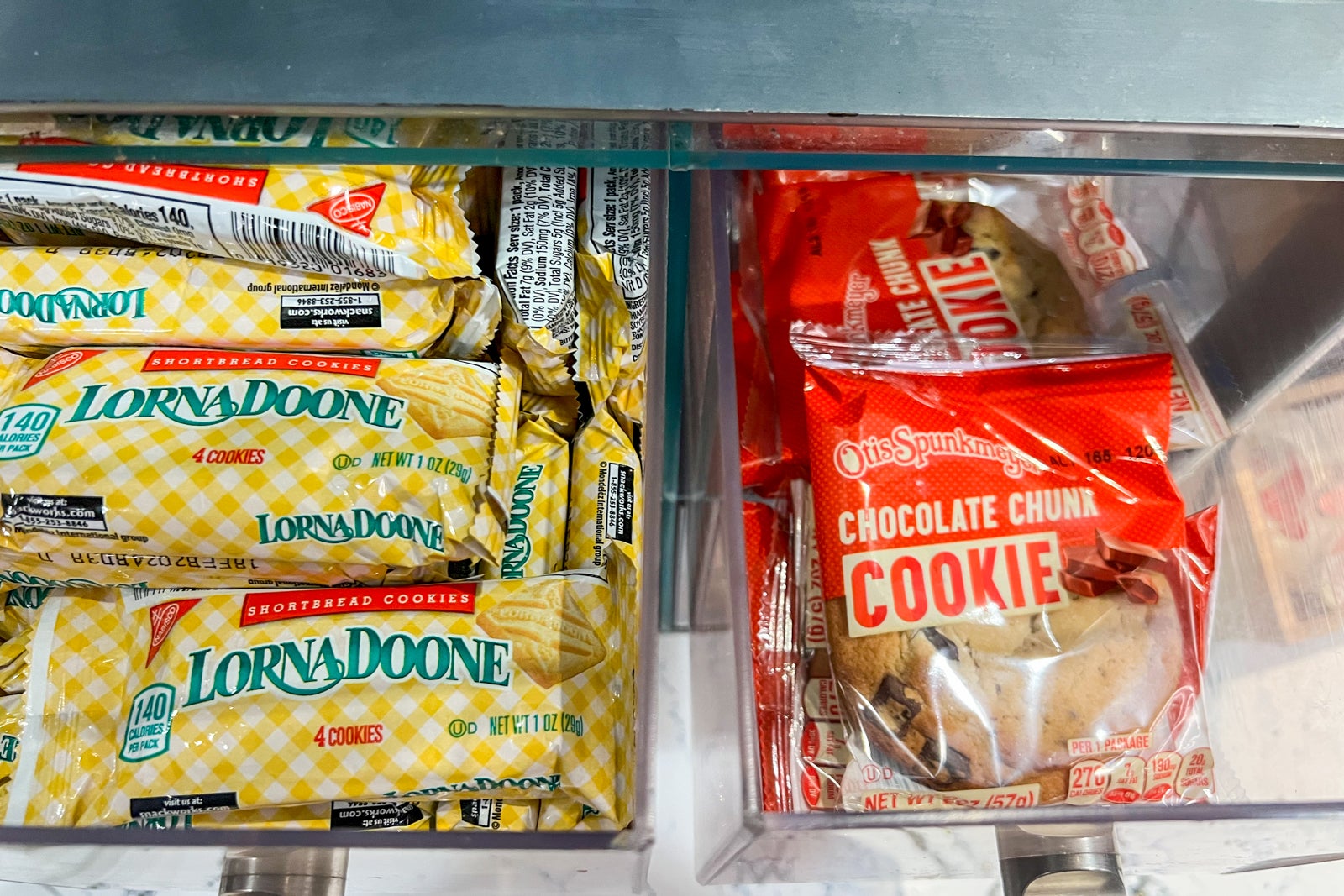 There was a small bar, which I'm told will be expanded shortly. The section for the bar will be larger, while the fridge will transition to an under-mount location. The selections served by a bartender were complimentary and included options such as Johnnie Walker Red Label  Scotch, 1800 Tequila, Bombay Sapphire London Dry Gin and Jack Daniel's Whiskey.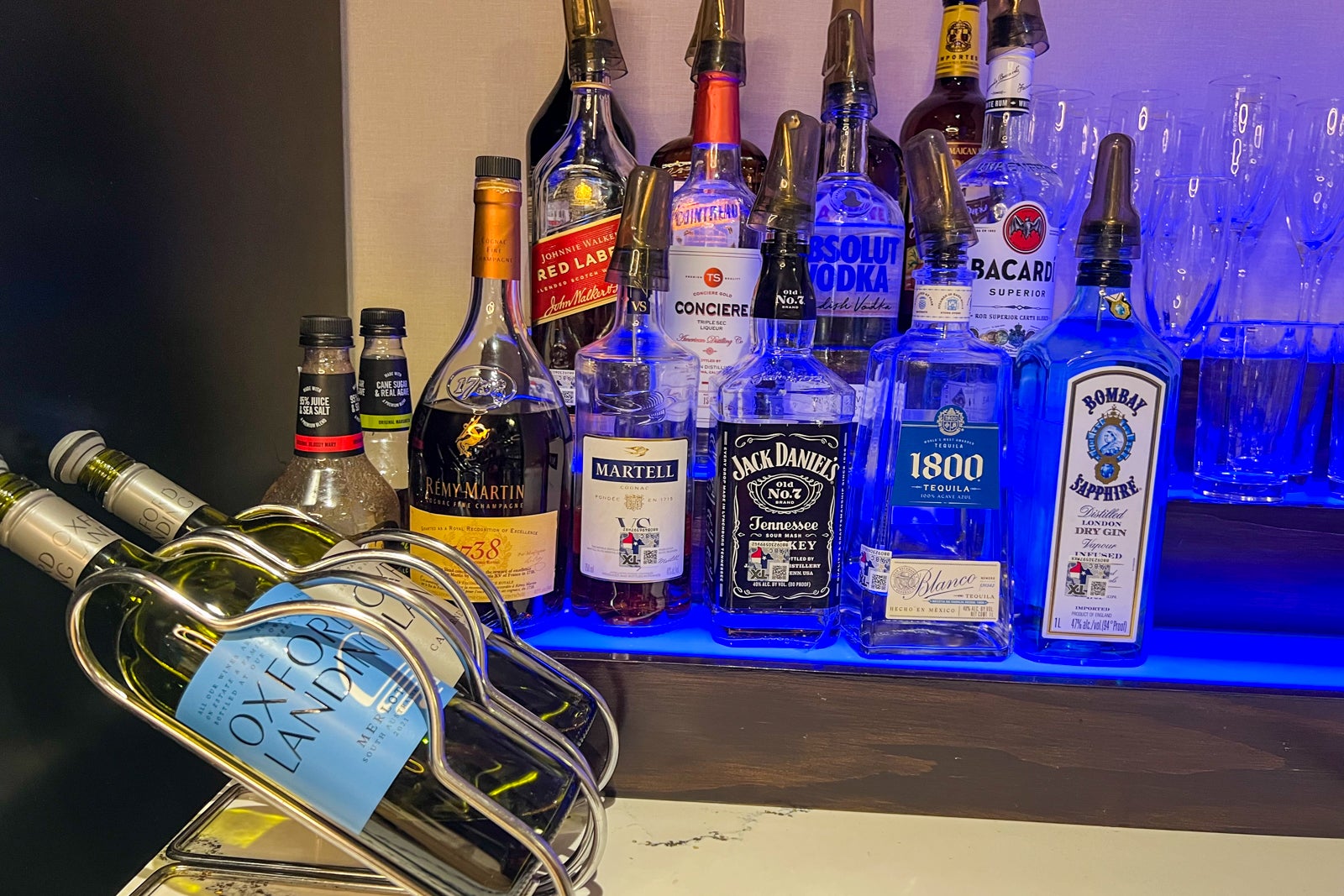 I spotted at least four or five different types of wine available, including rose — a nice treat you don't always find in an airport lounge.
There's also a fridge, so travelers can help themselves to a mix of Coke products, Heineken and Saint Arnold Amber Ale, along with some juice.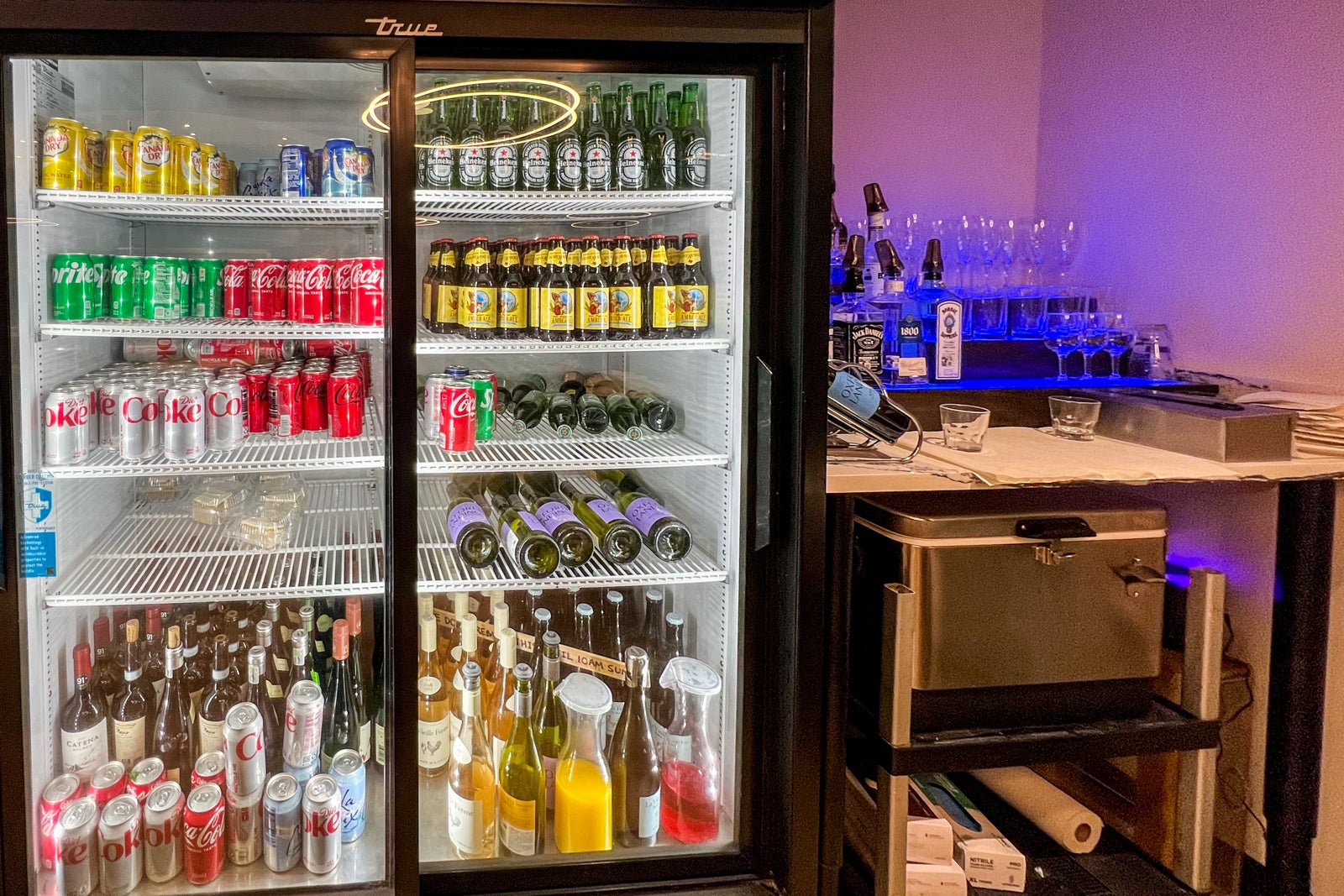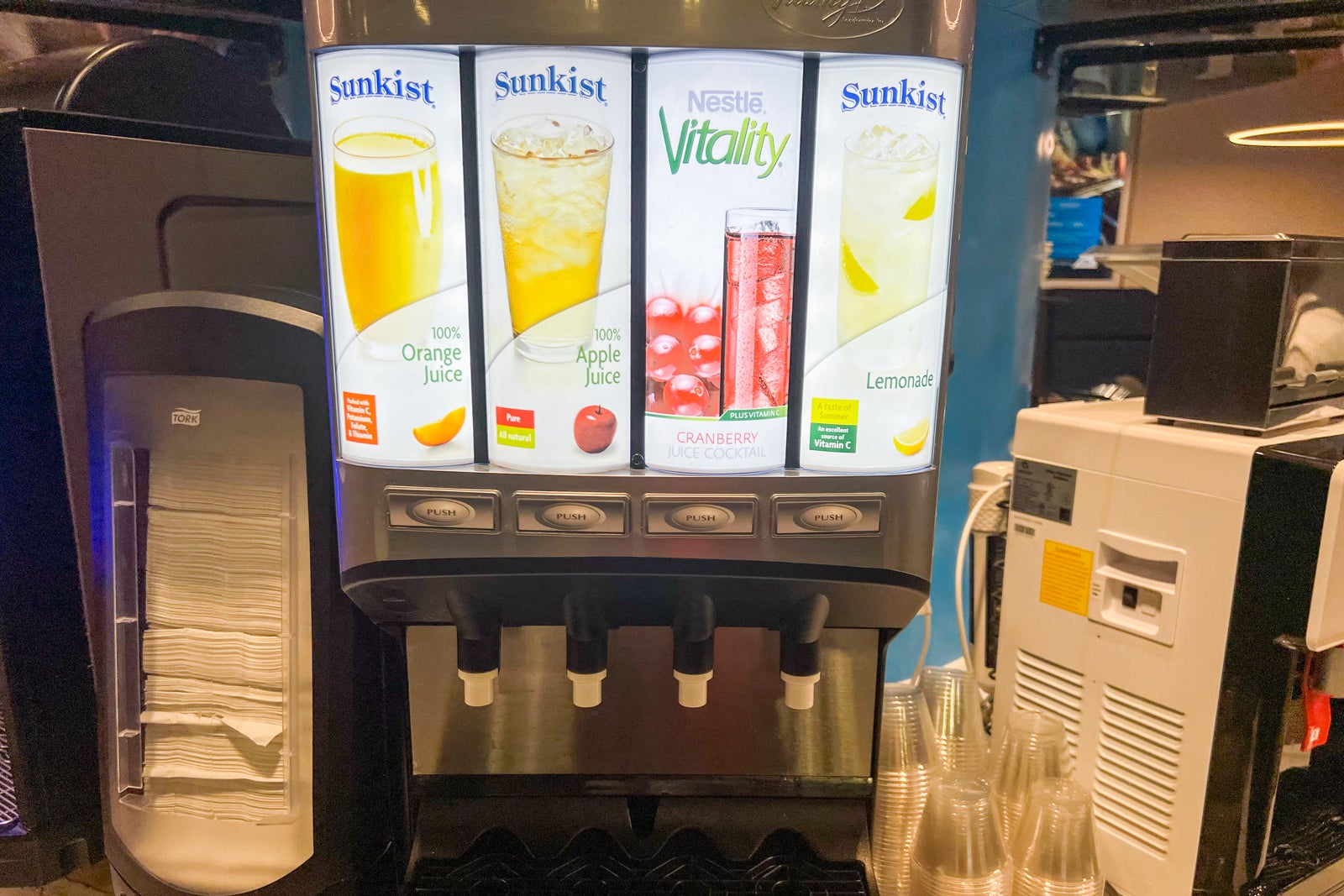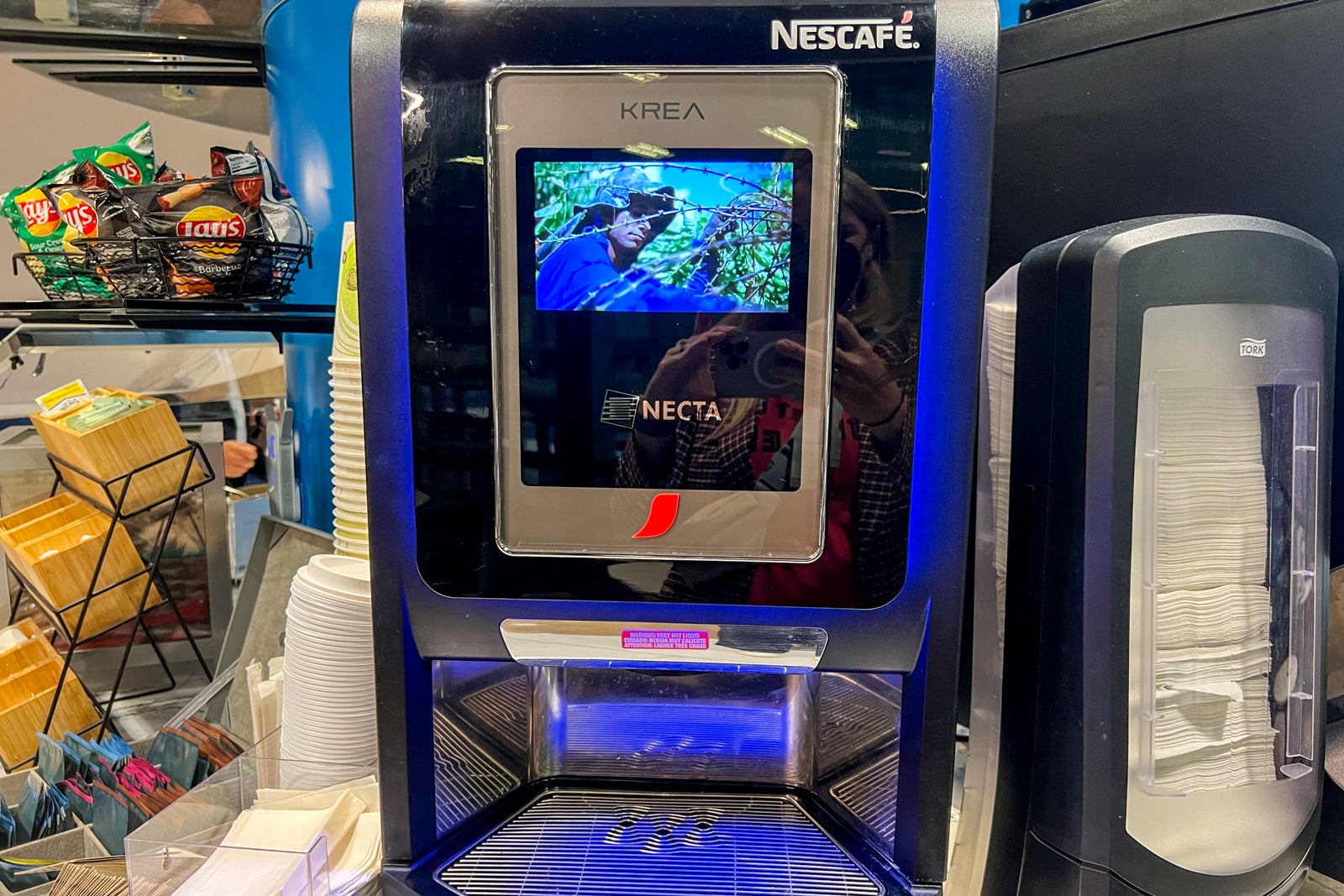 In addition to the fresher look and feel of the lounge, the collection of KLM Delft houses (here's the history of these popular airline collectibles, if you're not familiar) is a standout feature of the renovated space for KLM and aviation enthusiasts.
You can get access to the KLM Lounge at Houston's Intercontinental Airport via the following methods:
Business class passengers on KLM, Air France and SkyTeam partners

Flying Blue Platinum or Gold member

SkyTeam Elite Plus passenger

Dragon Pass and Lounge Key members
Priority Pass member (space available)
Here are some of the popular credit cards that convey Priority Pass membership and will get you into this and other lounges.
The KLM Lounge at Houston's Intercontinental Airport is open from 6 a.m. to 9 p.m. daily, though access is sometimes limited in the mid- or late-afternoon hours; the KLM and Air France passengers can fill the space with their scheduled departure times of 3:15 and 3:45 p.m., respectively.
I was told that as the nearby Amex Centurion Lounge limited complimentary guest access earlier in the year, demand for the Houston KLM Lounge via Priority Pass has only grown; guests are still permitted with many of the types of Priority Pass memberships.
Bottom line
The KLM Lounge in Houston now has a fresher look and feel and is open to those with the right ticket, elite status level or even just a Priority Pass membership who want to stop by. It isn't a wholly new space, but it is certainly a step up from the decor before the revamp. I'm told that with this renovation just about complete, a similar project with the nearby Air France lounge will be underway.
Only time will tell which lounges will be found in Houston's new international terminal when it is ready in the coming years, but at least for now, the KLM lounge is looking better than ever in Houston's Terminal D.
Related reading: