Royal Caribbean's megaships provide tons of activities and entertainment to suit all ages and personalities — and that includes kids. Not only do ships provide family-friendly programming, but they have drop-off spaces for kids and teens to hang out with peers and not their parents.
On Royal Caribbean, kids clubs include Adventure Ocean, Teen Lounge, and the Royal Babies & Tots Nursery. Here's everything you need to know about these onboard play spaces — before your kids ditch you and spend all day doing age-appropriate activities with their newfound friends.
For cruise news, reviews and tips, sign up for TPG's cruise newsletter.
Does Royal Caribbean offer a kids club?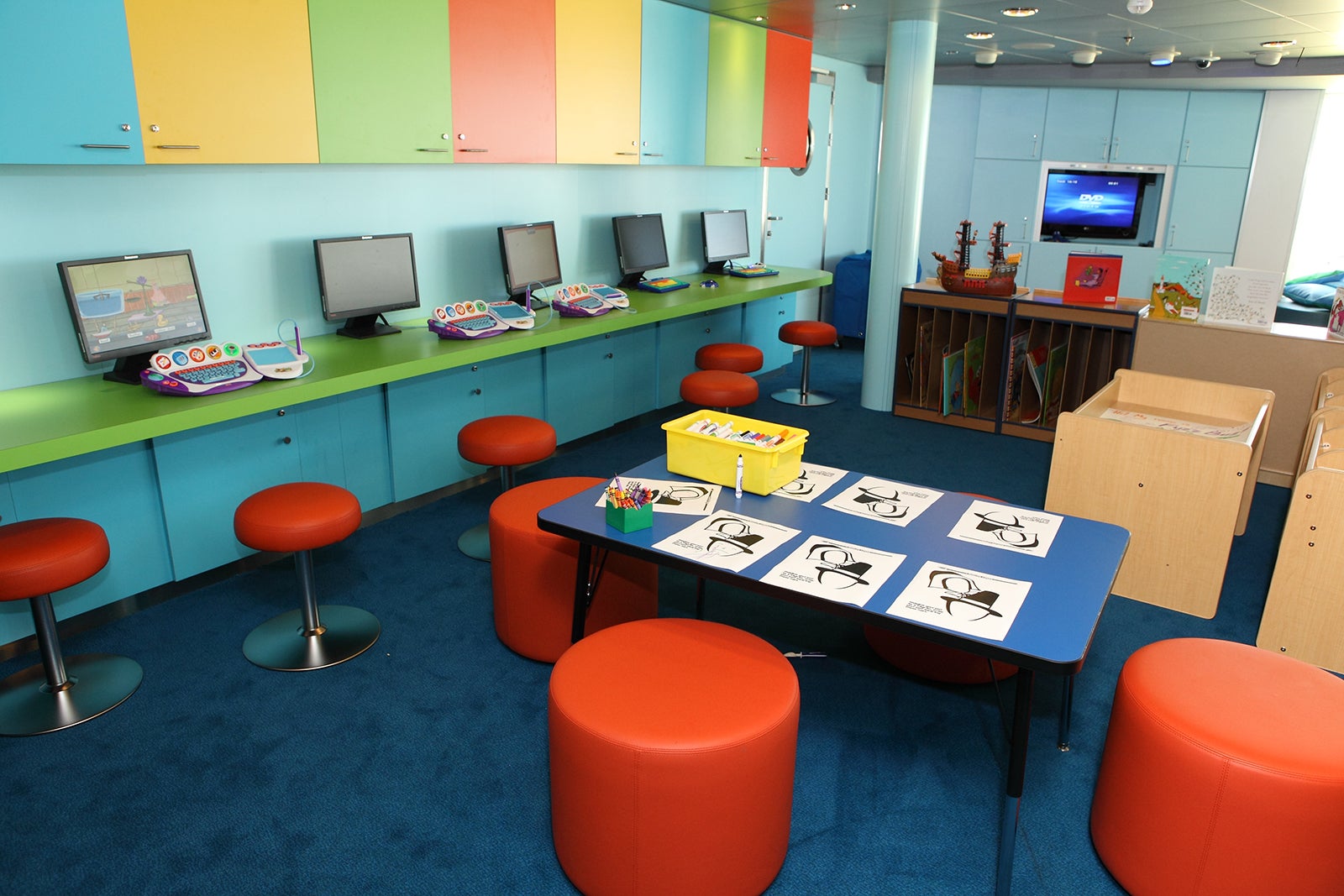 The family-friendly cruise line doesn't offer just one kids club — it offers several! And they're available on every ship in the fleet.
Royal Caribbean's Adventure Ocean kids club is divided into three groups: Aquanauts, Explorers and Voyagers. The groups will either have their own space or shared play areas, depending on the ship and the number of kids on board.
Ships also have teen clubs and lounge spaces (including outdoor hangouts) and nurseries and toddler play areas for the youngest cruisers.
Related: 5 best cruise lines for families
What's the age limit for Royal Caribbean kids clubs?
The Royal Babies & Tots Program takes children ages 6 to 36 months. Some ships offer drop-off sessions, while others offer spaces for parents or caregivers to play safely with babies and toddlers.
Adventure Ocean targets kids ages 3 (and toilet trained) up to 12. It is further divided into age-specific groups: Aquanauts (3 to 5 years old), Explorers (6 to 8 years old) and Voyagers (9 to 12 years old).
Note that on Freedom, Odyssey, Oasis, Wonder, Icon and Utopia of the Seas, Royal Caribbean's kids clubs are divided into AO Babies (6 to 36 months), AO Juniors (3 to 5 years old) and AO Kids (6 to 12 years old). On these ships, you'll likely find extra-large AO Kids play areas where school-age children can choose play areas and activities based on their interests, rather than all the kids of the same age playing together.
Related: Cruising with kids: 10 mom-tested tips for smooth sailing
Tweens and teens ages 13 and up can participate in teen activities or hang out in their ship's lounge and club. The upper age limit for Royal Caribbean's teen club is 17. Once you're 18, even if you're still in high school, you can't participate in youth programming.
What activities are available for kids in Adventure Ocean on Royal Caribbean?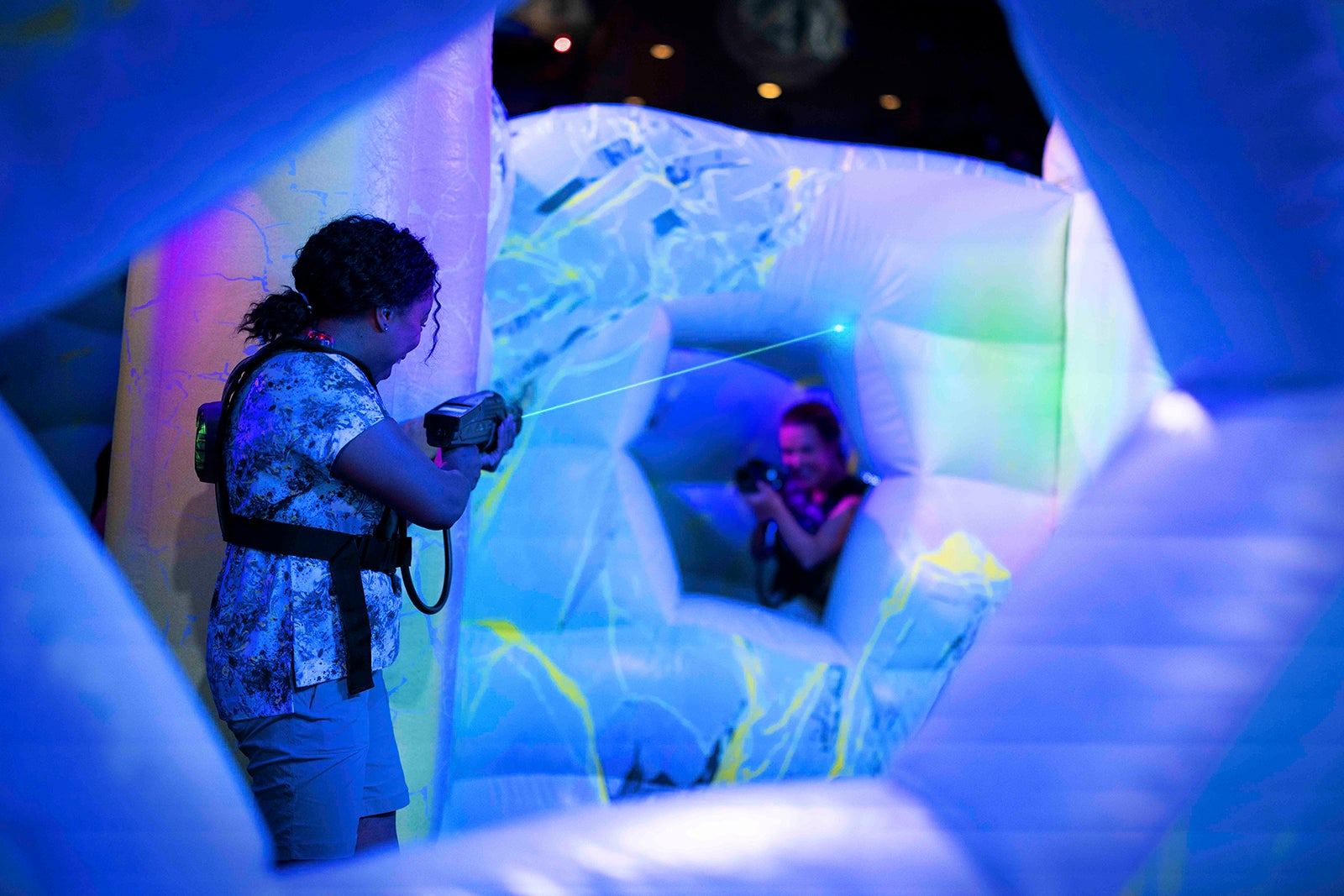 Activities will vary by ship facilities and by age group, but will typically include a mix of active games, arts and crafts (often inspired by the cruise destination) and video game play. Some ships have Adventure Science Labs for hands-on experimenting, while others have Imagination Studios where there's always an art project going on. Larger ships might also have the Adventure Ocean Theater where kids can watch or star in shows or play theater games.
Some Royal Caribbean ships, like the biggest Oasis-class vessels, have Play Spaces with climbing structures geared toward the younger cruisers, where kids can explore under parent supervision.
What activities are available for teens?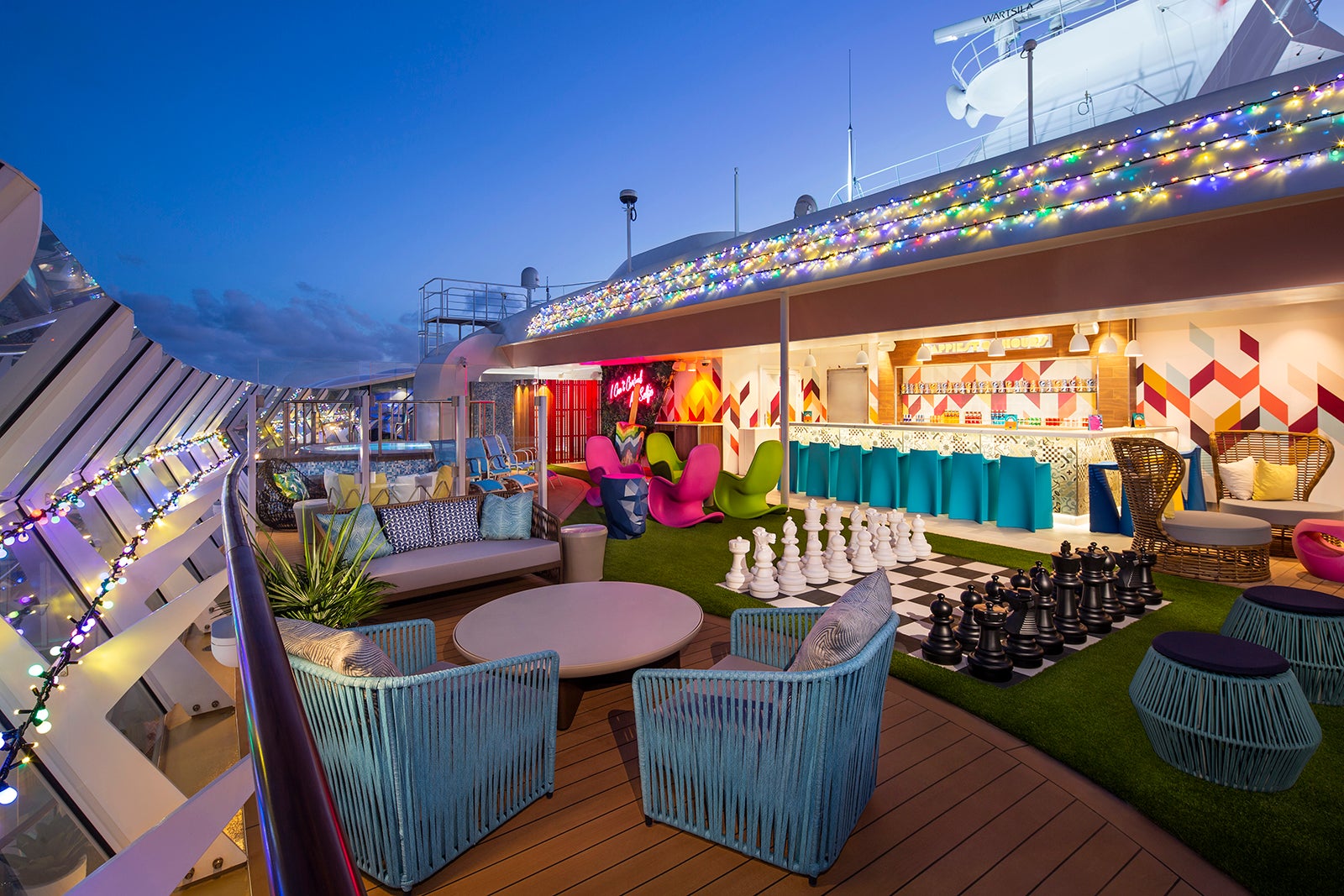 Many Royal Caribbean ships have spaces reserved for teenage cruisers, but the number, layout and names of these teen lounges vary across the fleet.
On Wonder of the Seas, for example, the indoor hangout is called Social100 and an outdoor gathering spot is called The Patio. On some ships, the Living Room is a place to chill with video games, table games (like foosball) and maybe even board games for organized competitions, and the Fuel Teen Club is the evening hangout with a DJ, dance floor and mocktail/soda bar.
Related: The 5 best cruises for teens
Activities might involve sports competitions, movie watching, video and board game play, scavenger hunts, evening dance parties or karaoke. Youth staff is on hand to supervise and get games and parties started, but the schedule for teens leaves more room for independent hanging out than the more structured program for the younger kids.
What about little cruisers too young for the kids club on Royal Caribbean?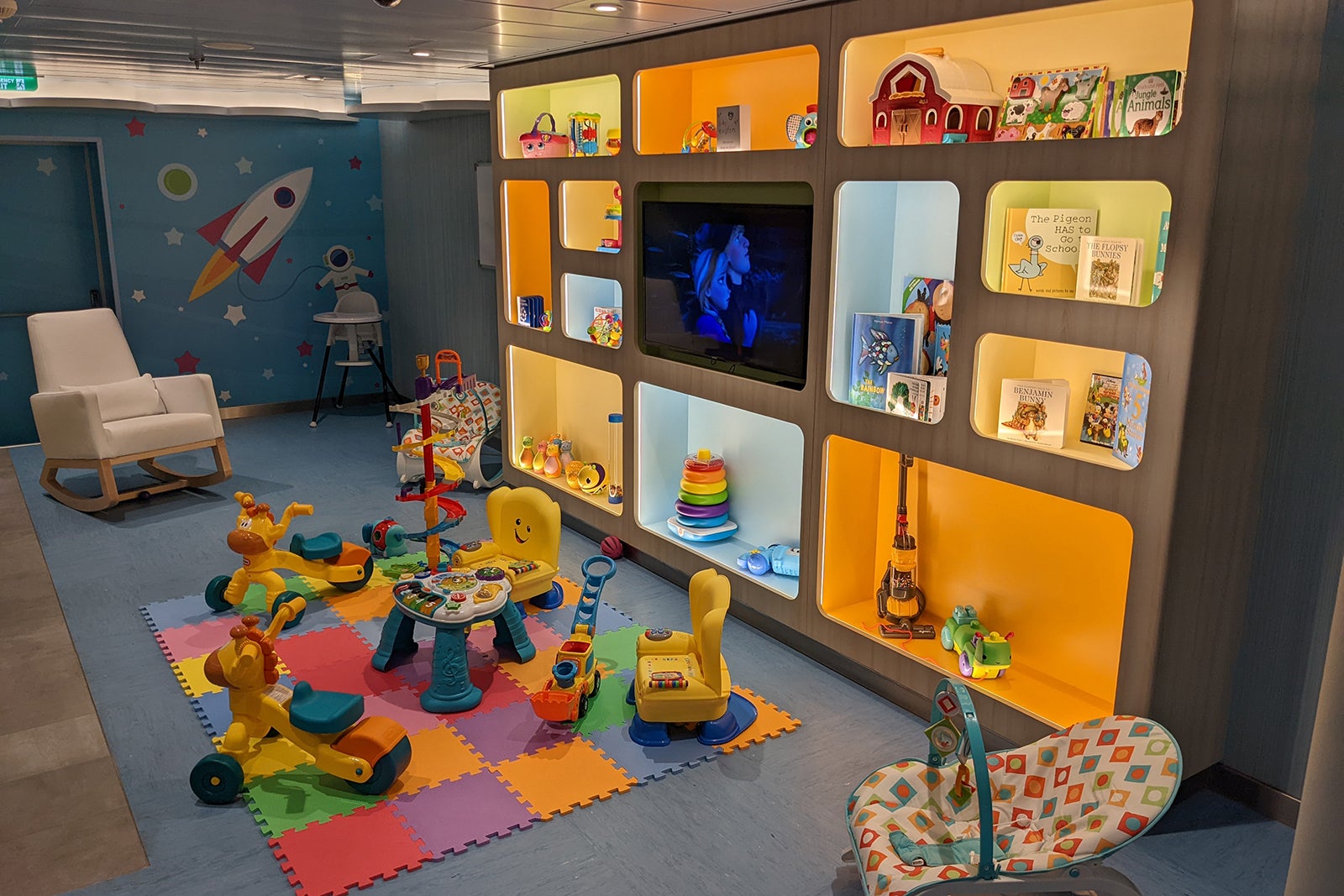 Royal Caribbean offers the Royal Babies & Tots program (or AO Babies on select ships) for diaper-wearing kids too young for Adventure Ocean. Onboard nurseries are outfitted with age-appropriate toys and soft mats for crawling and playing. Many also have a nap room with cribs.
During select times, parents can play in a safe space with their babies and toddlers. Otherwise, they can drop off their little ones into the care of trained early childhood staff.
Related: Royal Caribbean's new cruise ship aims to be the ideal vacation for young families
Note that Explorer of the Seas, Adventure of the Seas and Jewel of the Seas are the only Royal Caribbean ships without a nursery.
What are the hours of Royal Caribbean's kids clubs?
Royal Caribbean's Adventure Ocean runs from 9 a.m. until 10 p.m. The Late Night Party Zone typically operates from 10 p.m. until 1 a.m. Schedules can change based on the itinerary, so check at the kids club when you board the ship for open hours on your sailing.
Often, the kids facilities will close from roughly noon to 2 p.m. and 5 to 7 p.m. to encourage family mealtime. The kids clubs are open when the ship is in port, and kids can attend activities in the nursery and Adventure Ocean even if their parents are off the ship. In these cases, kids in the youth program during lunch hours will enjoy lunch together.
Teen lounges often open later and might not have structured programming until the afternoon or evening.
Are the kids clubs free or does child care cost money?
Daytime and early evening kid and teen club activities are included in your fare, and you do not have to pay extra for these services.
After 10 p.m., kids attending Adventure Ocean, AO Juniors and AO Kids can join the Late Night Party Zone until 1 a.m. at an hourly rate of $10 per hour, per child.
Parents can play with their babies and toddlers in the kids club free of charge but nursery drop-off costs $6 per hour, per child, before 6 p.m. and $8 per hour, per child, after 6 p.m.
Related: Are cruises all-inclusive? What's actually included in your cruise fare
What else does Royal Caribbean offer families with children?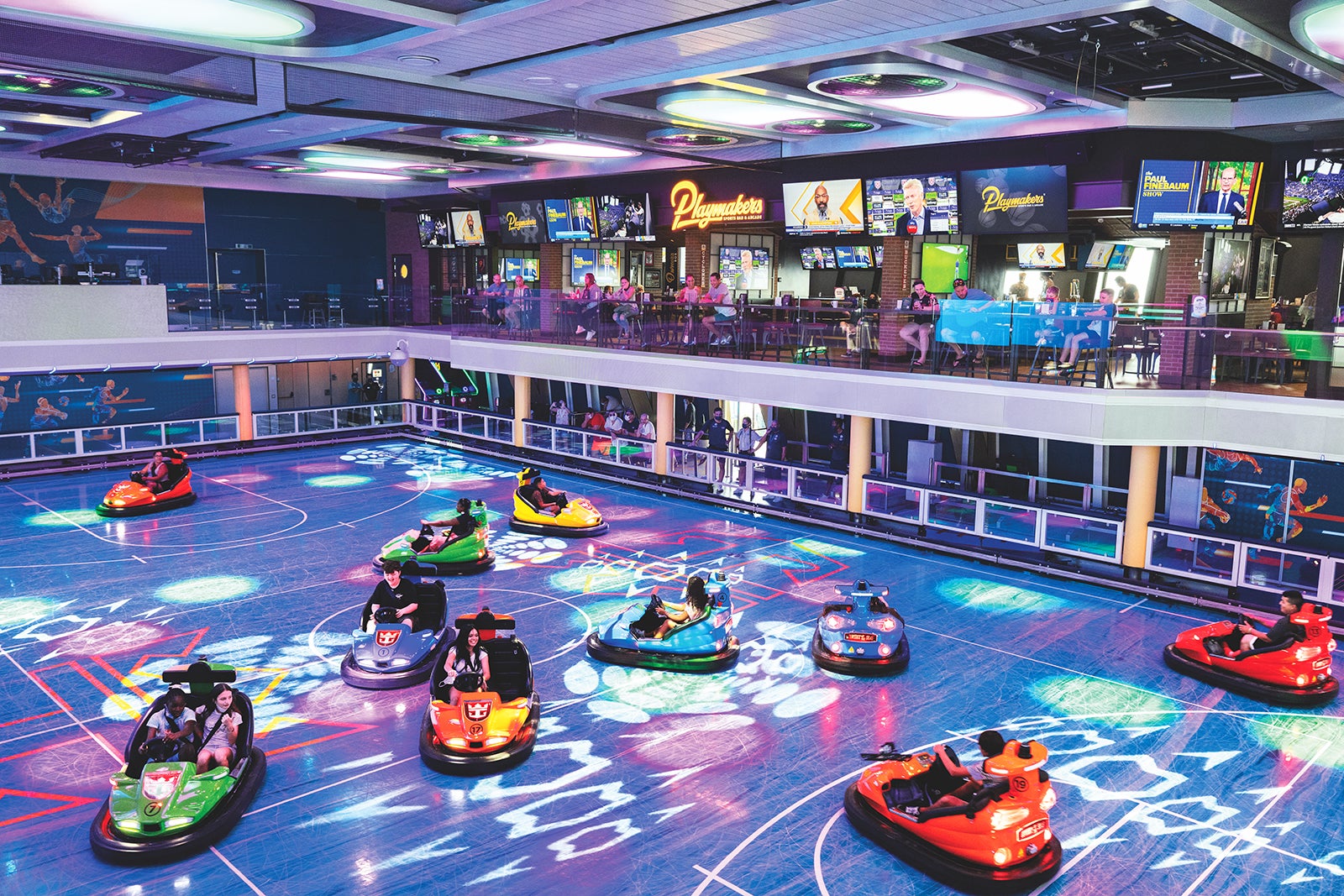 Royal Caribbean ships offer tons of activities that kids can enjoy with their peers or with their families. Pools, waterslides and splash areas are ideal for warm-weather fun, and all Royal Caribbean ships have rock-climbing walls (it's a Royal Caribbean signature). Shows of all kinds (musicals, ice skating, comedy, Promenade parades, AquaTheater and outdoor movies) are geared for all ages. Many ships offer miniature golf, ping pong, arcades and sports courts for basketball and other games.
The bigger ships have attractions including zip lines, surfing or skydiving simulators, bumper cars, escape rooms, carousels, laser tag and giant dry slides that will entertain kids and adults.
Related: Kids cruise free: 7 cruise lines offering family deals
Royal Caribbean dining options are always family friendly with kids' menus in the main dining room and specialty restaurants. Young cruisers will especially like casual eateries, such as Sorrento's Pizza, Johnny Rockets (burgers and shakes), Boardwalk Dog House (hot dogs) and El Loco Fresh (Mexican) found on select ships. Plus, there's always free soft-serve ice cream on the pool deck.
Bottom line: Royal Caribbean kids club
Royal Caribbean's Adventure Ocean, teen lounges and nurseries provide safe and fun spaces for kids to enjoy their vacation with peers, make new friends and give parents some time to do grownup things, like wine tasting and spa treatments (or simply enjoying a peaceful dip in the adults-only solarium). Some kids want to play there all day long, while others might dip in and out for an hour or two and spend the rest of their cruise with their family.
No matter how your children see it, Royal Caribbean dedicates a ton of space and creativity to making its youth programs some of the best at sea. Its varied offerings allow kids of all ages to find their happy places on board and your kids to grow up with Adventure Ocean over years of family vacations, from tot to teen.
Planning a cruise? Start with these stories: