As loyalty programs have increased the number of ways to earn points and miles, there are now many ways to redeem those points and miles.
We usually recommend aiming for long-haul premium cabin flights to get the best value.
However, you might want to save a few dollars on your next flight. Perhaps you only have a small number of "orphaned" miles in your account that you doubt will ever be enough for a long-haul flight. Or, maybe you're sitting on a boatload of rewards and simply want to keep cash in your pocket.
This guide will discuss whether it is a good deal to redeem your points and miles for inflight purchases such as Wi-Fi, food and drinks or duty-free items.
Related: Inflight Wi-Fi is getting cheaper across US airlines
Redeeming rewards for inflight purchases
When considering purchasing an item in flight, you may now see a choice between paying cash or redeeming miles.
For example, Dutch carrier KLM can sell you Wi-Fi onboard, with prices starting at 8 euros ($8.75) or 2,700 Flying Blue miles for one hour of surfing. Alternatively, you can pay 18 euros ($19.65) or redeem 6,000 Flying Blue miles for a full-flight internet package.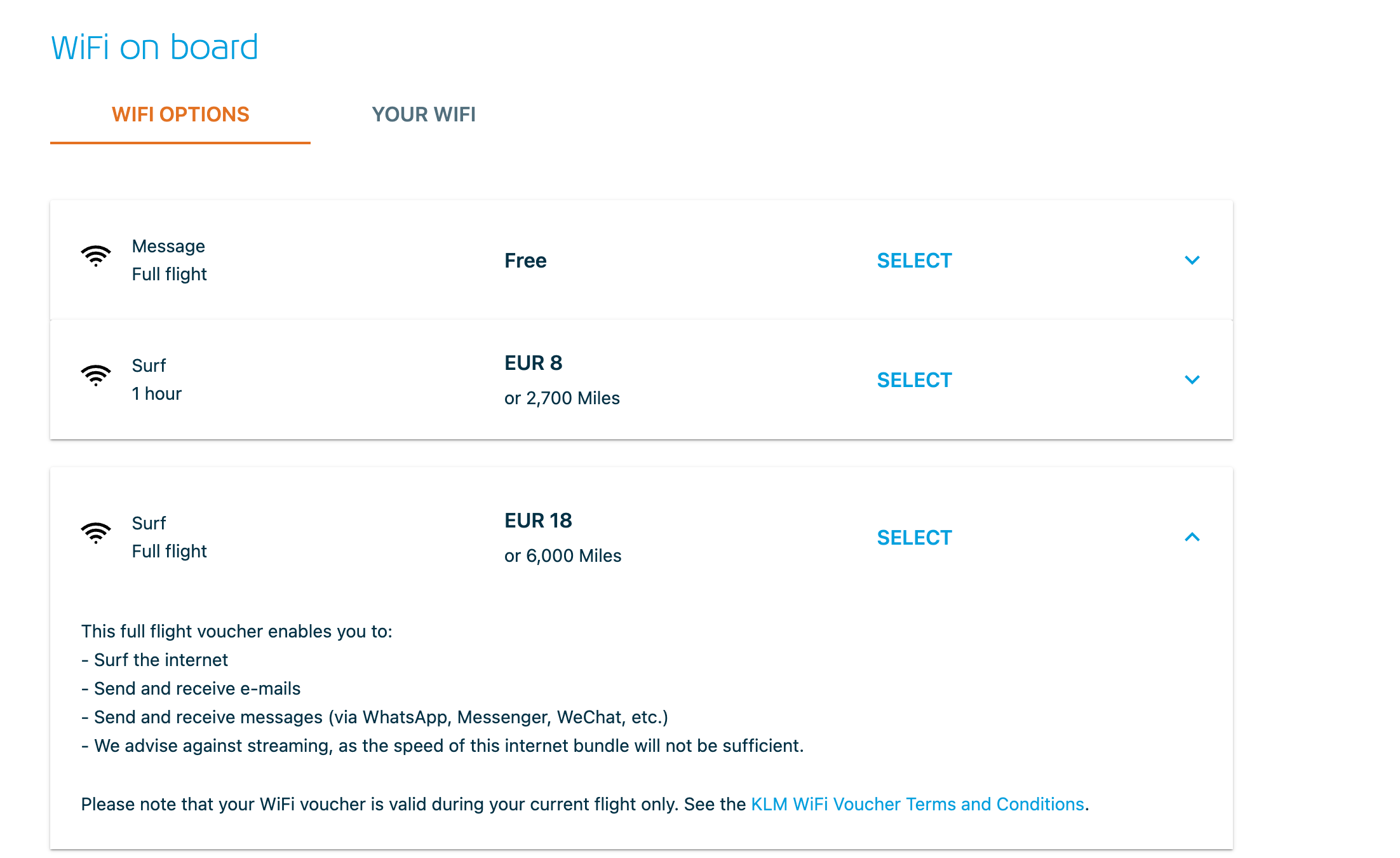 Initially, redeeming your rewards can seem like a great option. After all, who doesn't like saving a bit of cash? However, when deciding whether to part with your hard-earned points and miles, it's critical to know whether it makes sense.
To figure this out, calculate the redemption value of those miles. Divide your cash savings by the extra miles you're using. If that resulting value is higher than TPG's valuation for the given currency, that's a solid option for your rewards.
In the above example, you'd calculate the value of the full-flight package by dividing $19.65 by the 6,000 miles you'd use. This gives you a value of just 0.32 cents per mile.
TPG currently values Flying Blue miles at 1.2 cents each, so you'd be sacrificing a ton of potential value by opting for the redemption.
If you don't have Wi-Fi access, you may be unable to look up the value of the miles on the spot to make an informed decision. Don't worry about exact numbers in this situation — a round value of 1 cent per point or mile is a fair valuation if you need to make a snap decision without internet access.
If you only have a small mileage balance, it could make sense to use them up for an inflight purchase, even if the redemption value is poor. However, remember you could also redeem those miles for a flight within Europe, which will likely save you far more than the cost of that internet package.

Let's look at a different redemption offer on another carrier.
United Airlines offers several lunch and dinner options to purchase on domestic flights more than 1,500 miles in length. Each can be purchased for $10 or 1,180 MileagePlus miles. Divide the cost ($10) by the number of miles (1,180). This gives you a redemption value of 0.84 cents per mile.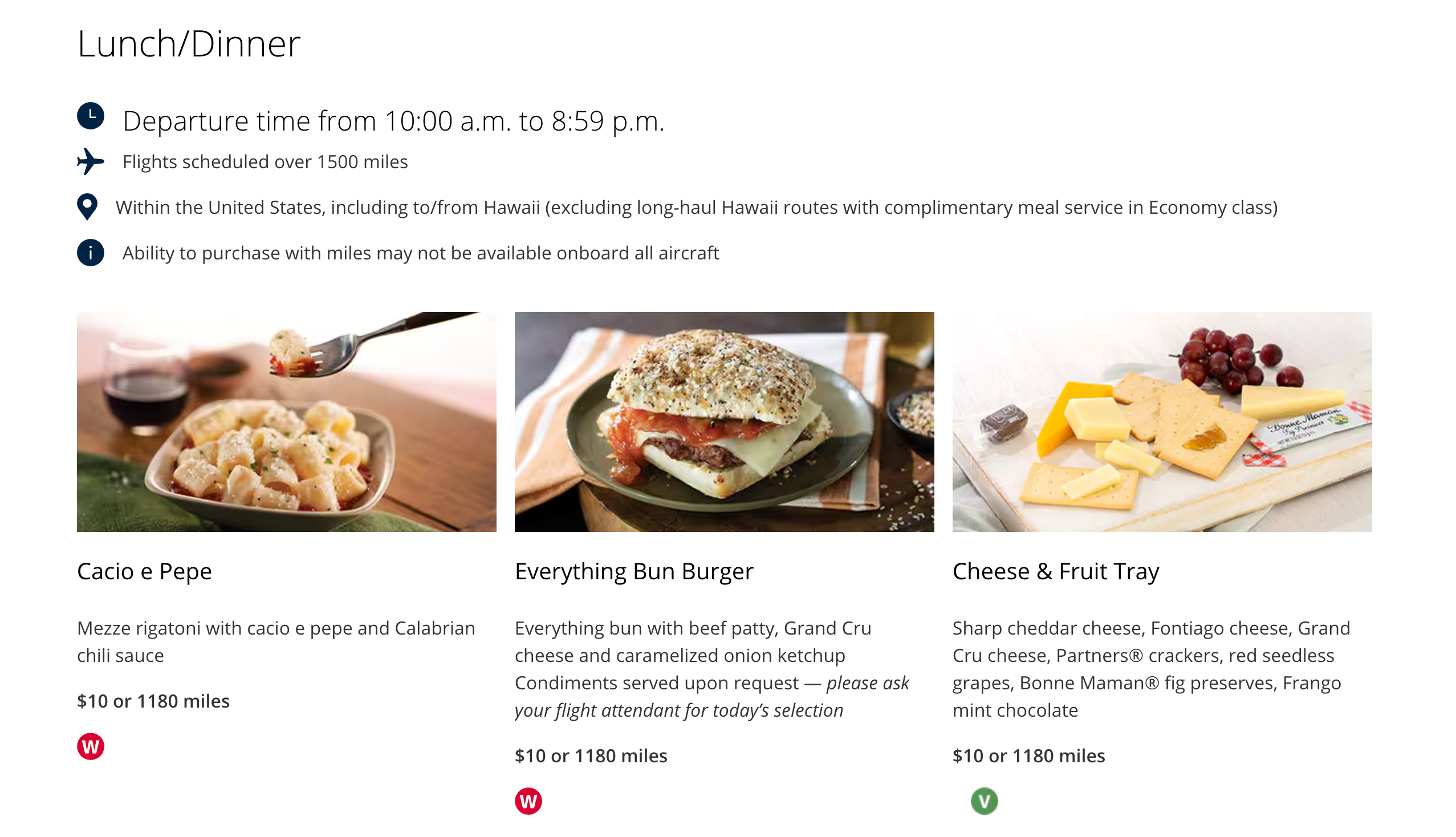 TPG values United miles at 1.1 cents each following recent devaluations, so this isn't a terrible redemption. In fact, it's one I would consider if I only had a few thousand MileagePlus miles in my account. However, there are still many ways to use your United miles at a much greater value, so be aware of what you are sacrificing by redeeming them in this fashion.
How to boost your account balances
Of course, it's worth noting that a small mileage balance doesn't have to remain that way. There are many ways to take several hundred points or a few thousand miles and turn them into enough for a more significant (and more valuable) redemption.
The easiest way to do so is via transferable point programs. The major credit card issuers offer various options to convert your earnings to partner currencies, often at a 1:1 ratio (and occasionally with a transfer bonus). As a result, you can easily boost your airline rewards by leveraging these partnerships.
Here's a quick overview of some possible transfer options.
In fact, Flying Blue, Emirates Skywards and Virgin Atlantic Flying Club partner with all five of these programs. So, don't jump the gun at using rewards for inflight purchases if you have access to any of these currencies.
Read more: Why transferable points are worth more than other rewards
Bottom line
Gaining access to additional redemption options is generally good — but that doesn't mean you should utilize those options. Redeeming points and miles for inflight purchases like Wi-Fi, food and drinks, or onboard duty-free items will usually result in a redemption value of less than 1 cent, regardless of what you purchase. This is often much lower than the value you'd get through these programs.
If you don't think you'll otherwise use the points and miles (perhaps they're expiring soon), it's not a terrible option. Still, crunch the numbers to make sure you're comfortable before completing the redemption.