Editor's note: This is a recurring post, regularly updated with the latest information.
If you have not booked flights for the upcoming months, now is an excellent time to snag Southwest Airlines flights.
Although some carriers allow you to book flights about 11 months in advance, Southwest extends its booking window in batches of only a few months at a time.
Previously, you could only book Southwest flights through early March. But as of Thursday, Southwest has extended its schedule through April 8, 2024. This is an excellent time to snag a good deal on Southwest flights next spring, including during the popular spring break period.
Here's what you need to know about maximizing Southwest's most recent schedule extension.
Why book when Southwest extends its schedule?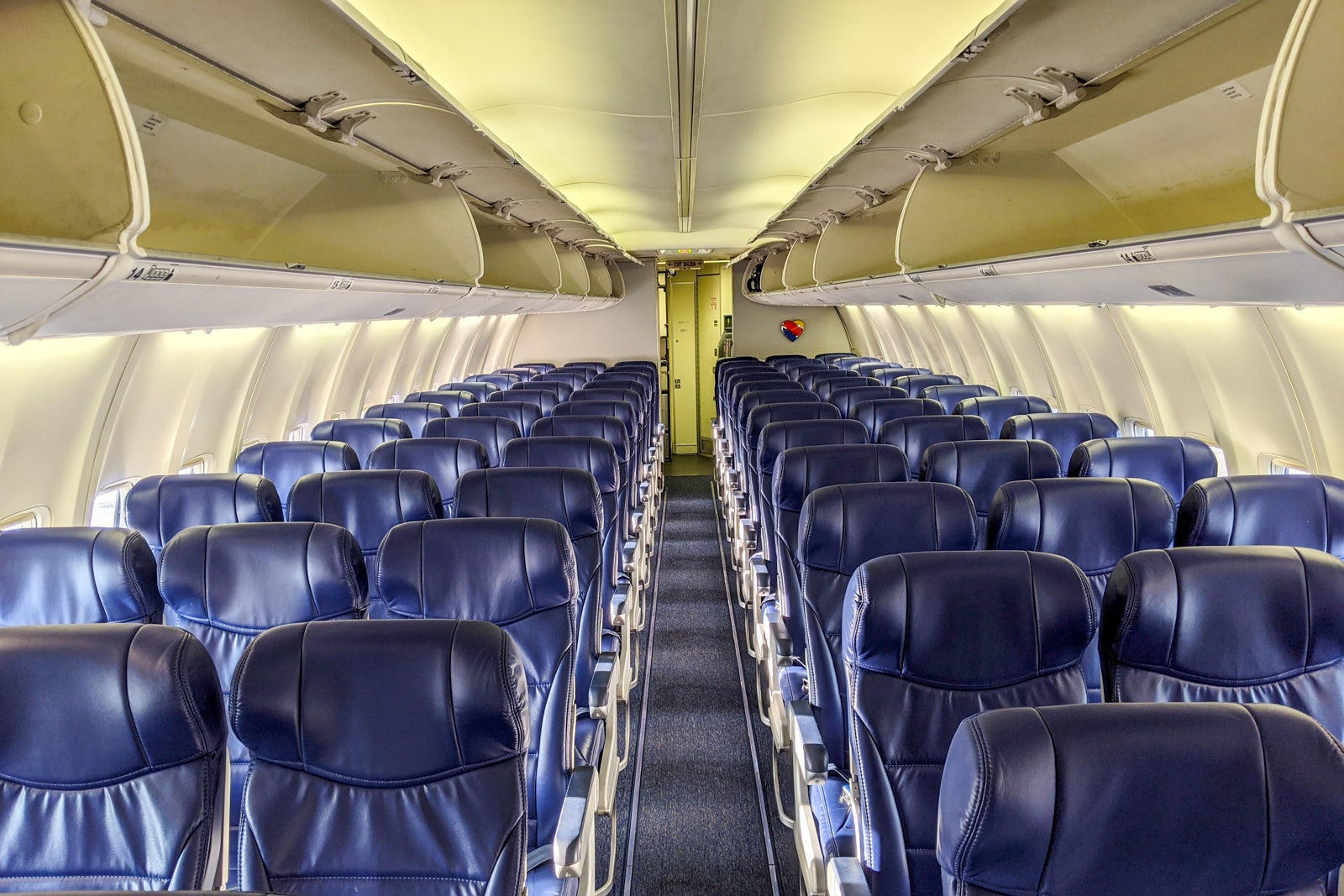 Booking flights quickly when Southwest extends its schedule can save you serious money. Although availability will probably still be around for a while, you likely won't find lower prices than are available now for peak travel dates.
Southwest's change and cancellation policy also makes it easy to book now, even if you aren't sure you'll take the trip. Here are Southwest's cancellation rules if you cancel at least 10 minutes before a flight's scheduled departure:
If you paid for a Wanna Get Away or Wanna Get Away Plus fare: You will receive Travel Funds.
If you paid for an Anytime or Business Select fare: You can request a refund to your original form of payment or accept Travel Funds.
If you redeemed Southwest points: Points will automatically go back into the account from which they were booked, and you can request that Southwest refund taxes and fees to your original form of payment.
So, you can cancel your flight for free if your family's travel plans change. Plus, if the price decreases after booking, you can rebook and receive the difference as Travel Funds or points. In this sense, booking Southwest flights for trips you hope to take is a very low risk.
Related: How to get seats together as a family on Southwest Airlines
How to score the best Southwest deals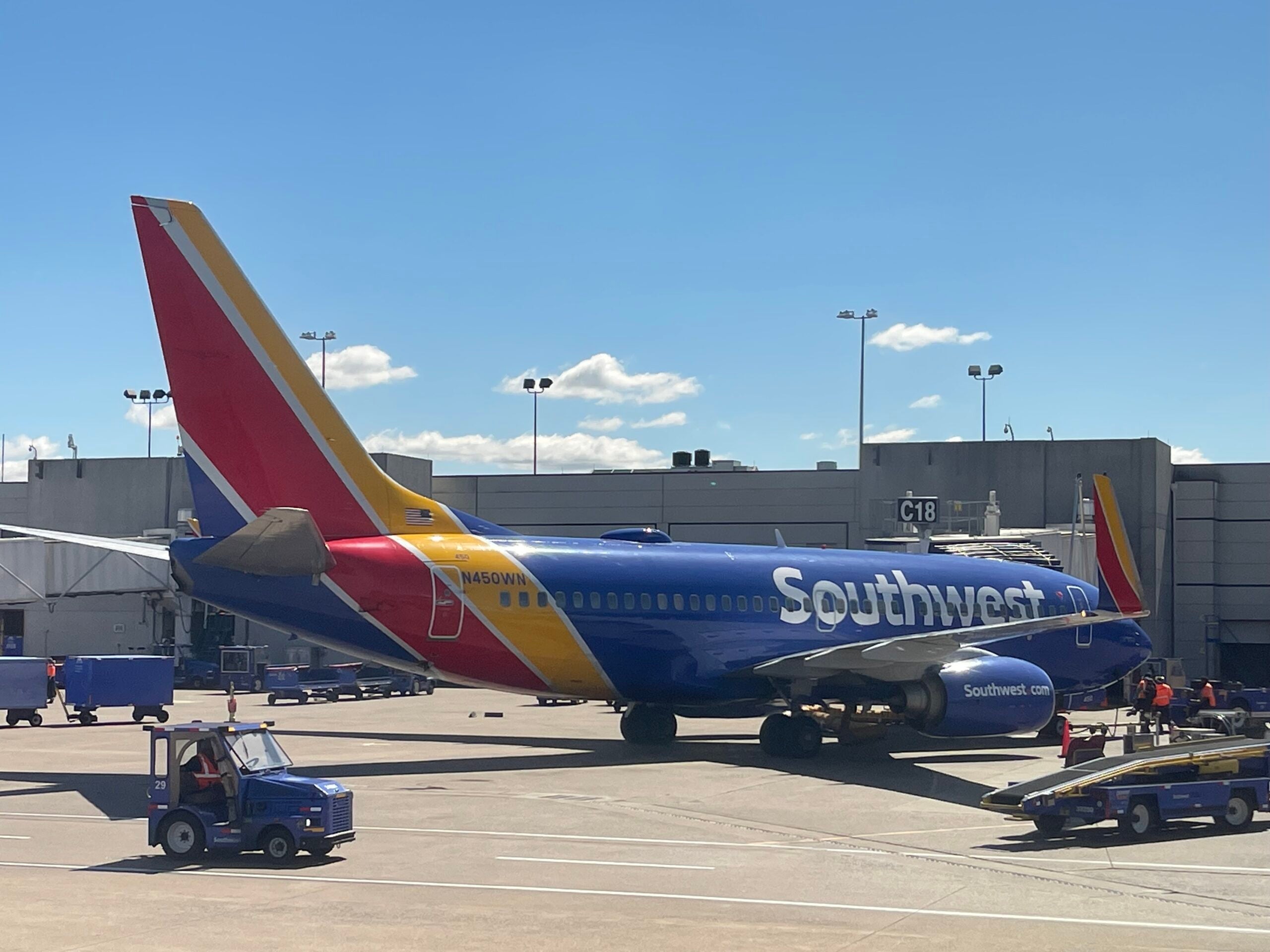 Here are five tips for getting the best deal on Southwest flights.
Book right now
We recommend booking Southwest flights immediately when the booking window opens, especially if you want to fly during peak times. Although flights have already opened up, you may still be able to snag some good deals.
As mentioned above, there is minimal risk with booking Southwest flights due to the airline's flexible policies. So, you may want to book now even if you are not 100% certain of your plans. If you want a full refund to your original payment method, redeem Southwest points for your flights or book more expensive Anytime or Business Select fares.
Related: Is Southwest EarlyBird Check-In worth it?
Transfer Chase Ultimate Rewards points to Southwest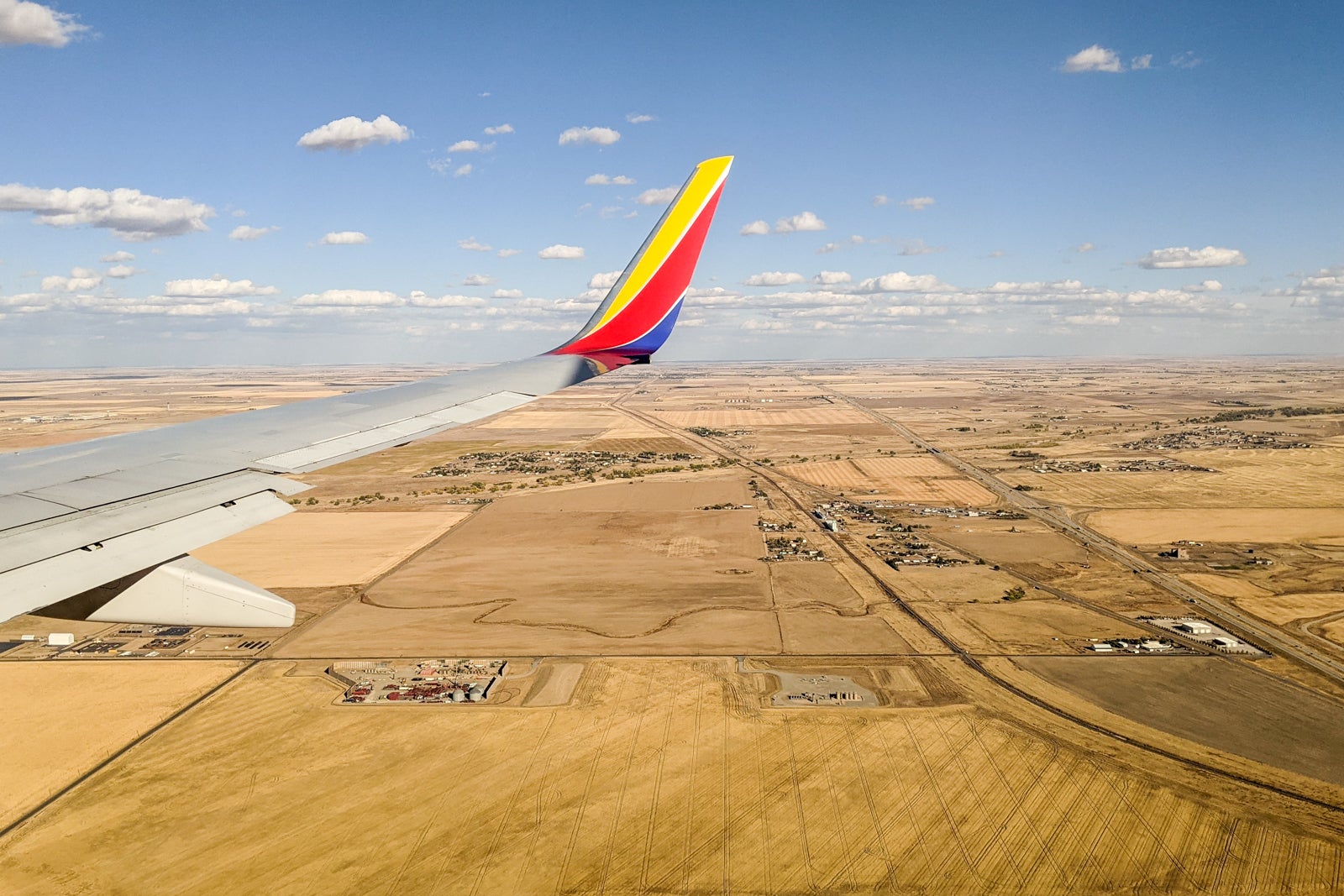 With the airline's flexible award policies, redeeming Southwest points is typically the preferred method for booking a Southwest flight. If you need to cancel a flight booked with points, your points go straight into your Rapid Rewards account, and you can get the taxes and fees you paid returned to your card.
Earning a sign-up bonus on a new Southwest credit card is an excellent way to boost your account balance, but that will take some time. You can also transfer Chase Ultimate Rewards points to Southwest at a 1:1 ratio if you have an Ultimate Rewards-earning card such as the Chase Sapphire Preferred Card, Ink Business Preferred Credit Card or Chase Sapphire Reserve.
Related: 9 cool places you didn't know you could fly on Southwest
Use a Companion Pass, but you can add it later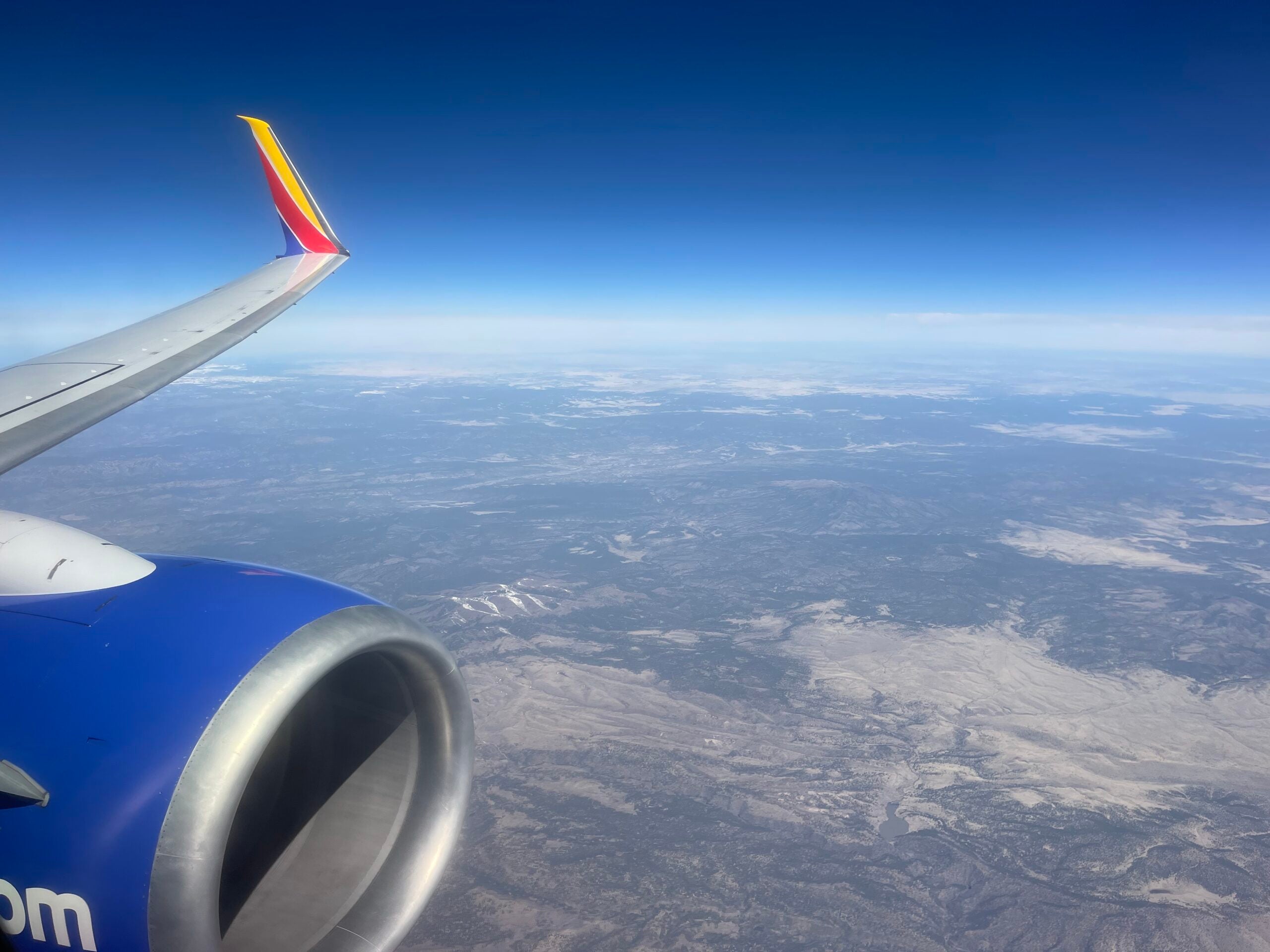 The Southwest Companion Pass is one of the most valuable rewards in the travel industry. After all, a friend or family member can fly with you for free (plus taxes and fees) as a perk of the Companion Pass. The pass typically expires Dec. 31 of the year after the year in which you earned it.
If you do not yet have a Companion Pass but plan to earn one before your flight, you can still book now and add your companion's ticket later. The only requirement for adding your companion to your reservation is that there must be at least one seat left for sale. Just keep in mind that if you are flying during peak times on popular routes, there is a chance that your flight will sell out if you wait too long.
If you want a faster path toward the Companion Pass, consider opening one of the following credit cards:
And if you're looking to earn the Companion Pass with a single credit card bonus, you can do so by applying for the Southwest Rapid Rewards Premier Business Credit Card. This card is currently offering 60,000 bonus points after you spend $3,000 on purchases in the first three months from your account opening. Plus, you'll earn an additional 60,000 points after you spend $15,000 on purchases in the first nine months.
If you meet the $15,000 spending requirement by October or November, you can earn the Companion Pass through the end of 2024 — though note that this offer ends Aug. 28, 2023.
Related: How to quickly earn the Southwest Companion Pass
Have alternative dates in mind
If you have some flexibility, use that to your advantage when booking your flights. You can use Southwest's low-fare calendar to check the least expensive dates for your desired flights.
The most expensive days to fly are typically Fridays and Sundays. So, if you can shift your dates a few days, you might find the price significantly less. Of course, missing work or taking kids out of school might not work for everyone, but having backup dates might pay off.
Related: Everything you need to know about the best seats on Southwest Airlines
Look for price drops
If your flight happens to go down in price between when you book and when you fly, you can easily get the difference in Rapid Rewards points back into your account. Of course, these flexible policies still exist when you pay for your fare with cash, but you'll end up with Southwest Travel Funds.
Related: How to re-price a Southwest flight when the fare decreases
Example pricing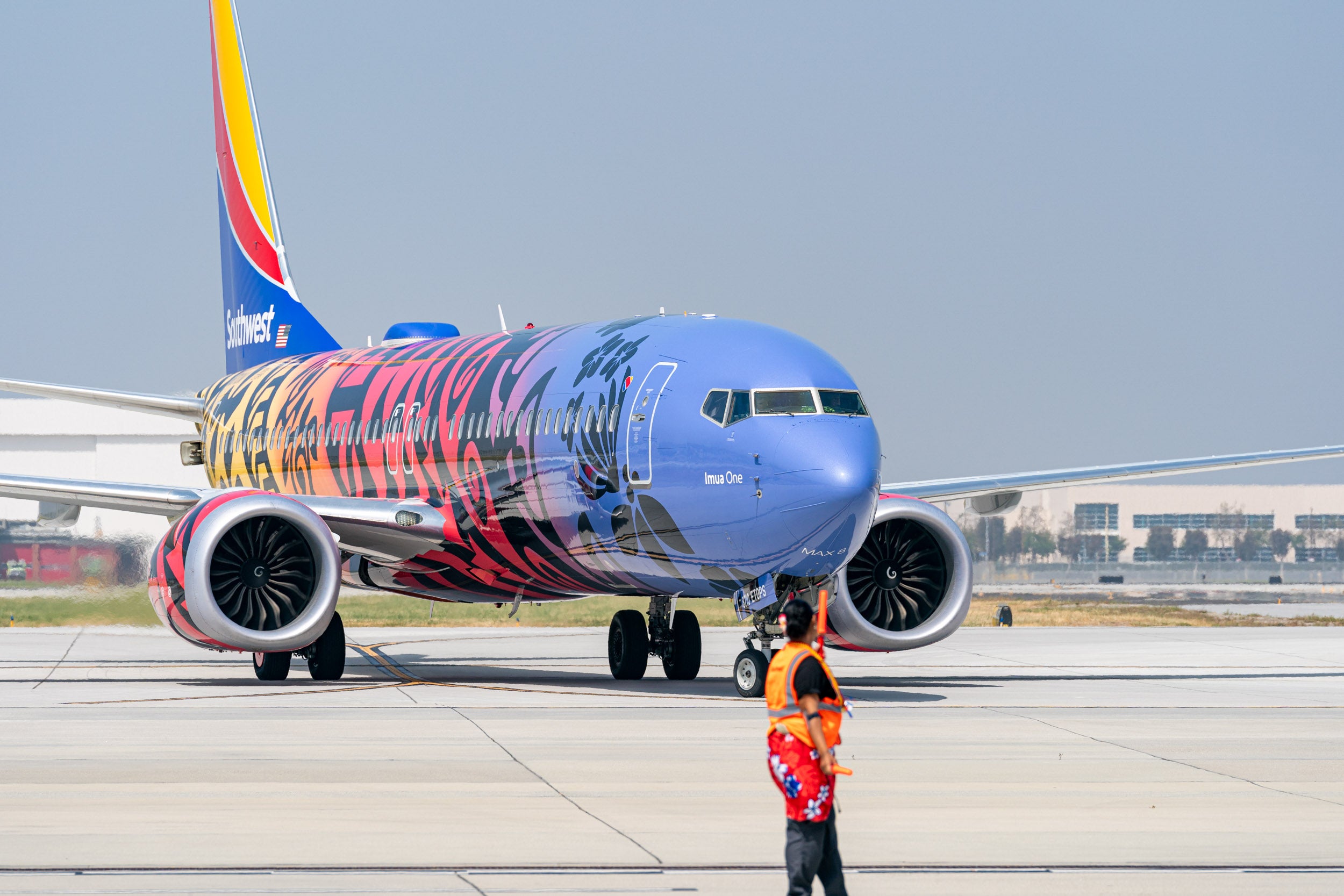 Here are some sample fares for travel in March. You'll see that you can save a lot of money if your dates (and willingness to fly connecting itineraries) are flexible.
John Wayne Airport (SNA) to Licenciado Gustavo Díaz Ordaz International Airport (PVR)
There are plenty of ways to save on your next trip to Mexico with points and miles. And, starting at under 6,000 Rapid Rewards points (plus about $44 in taxes and fees) next March, you can fly from Orange County, California, to Puerto Vallarta.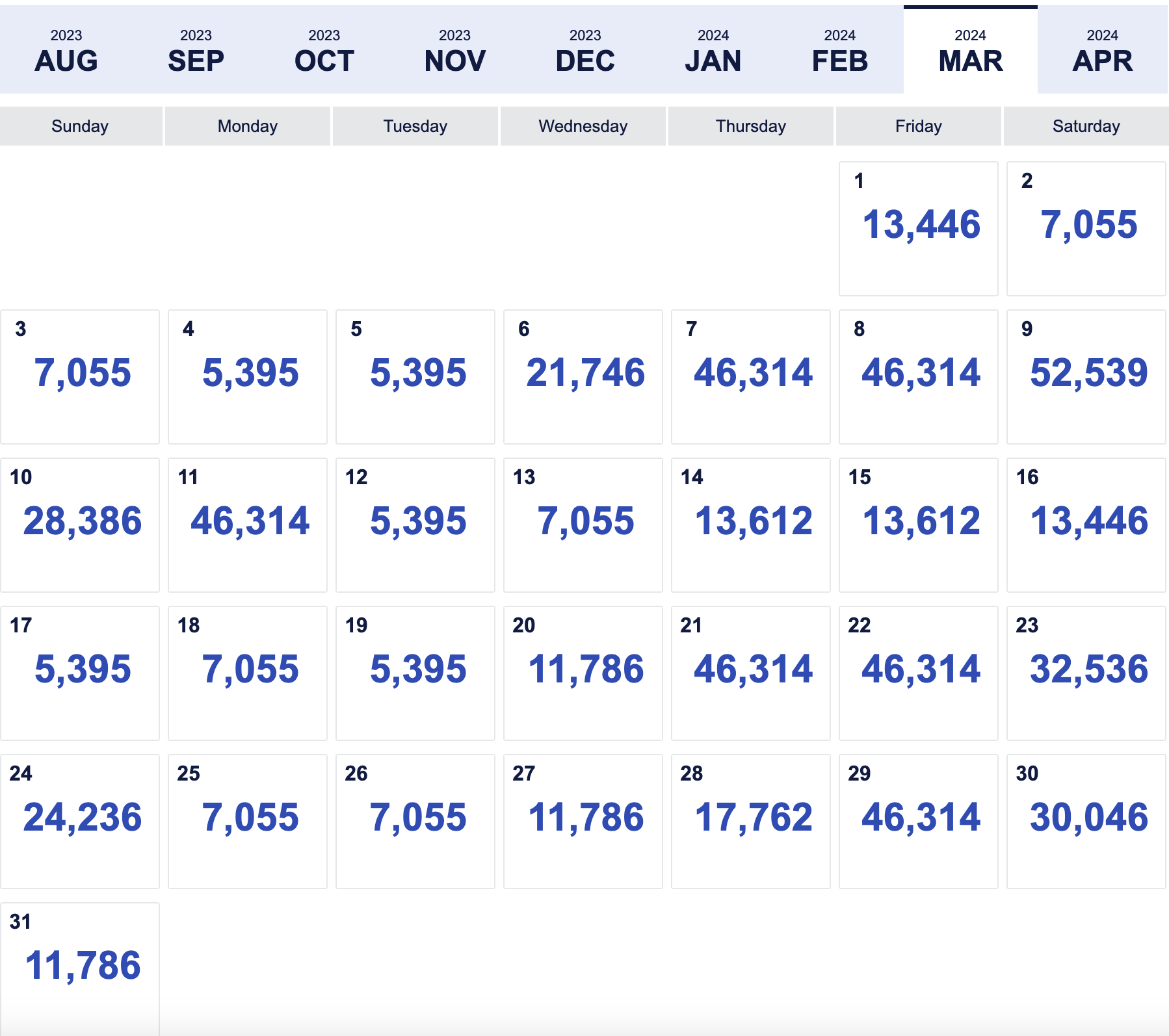 Related: 10 countries you didn't know you could fly to on Southwest
Oakland International Airport (OAK) to Kahului Airport (OGG)
You can fly to Kahului (on the island of Maui in Hawaii) from 12,280 Southwest Rapid Rewards points plus about $6 in taxes and fees on some dates in March. You can even fly 2-for-1 to Hawaii with your Southwest Companion Pass.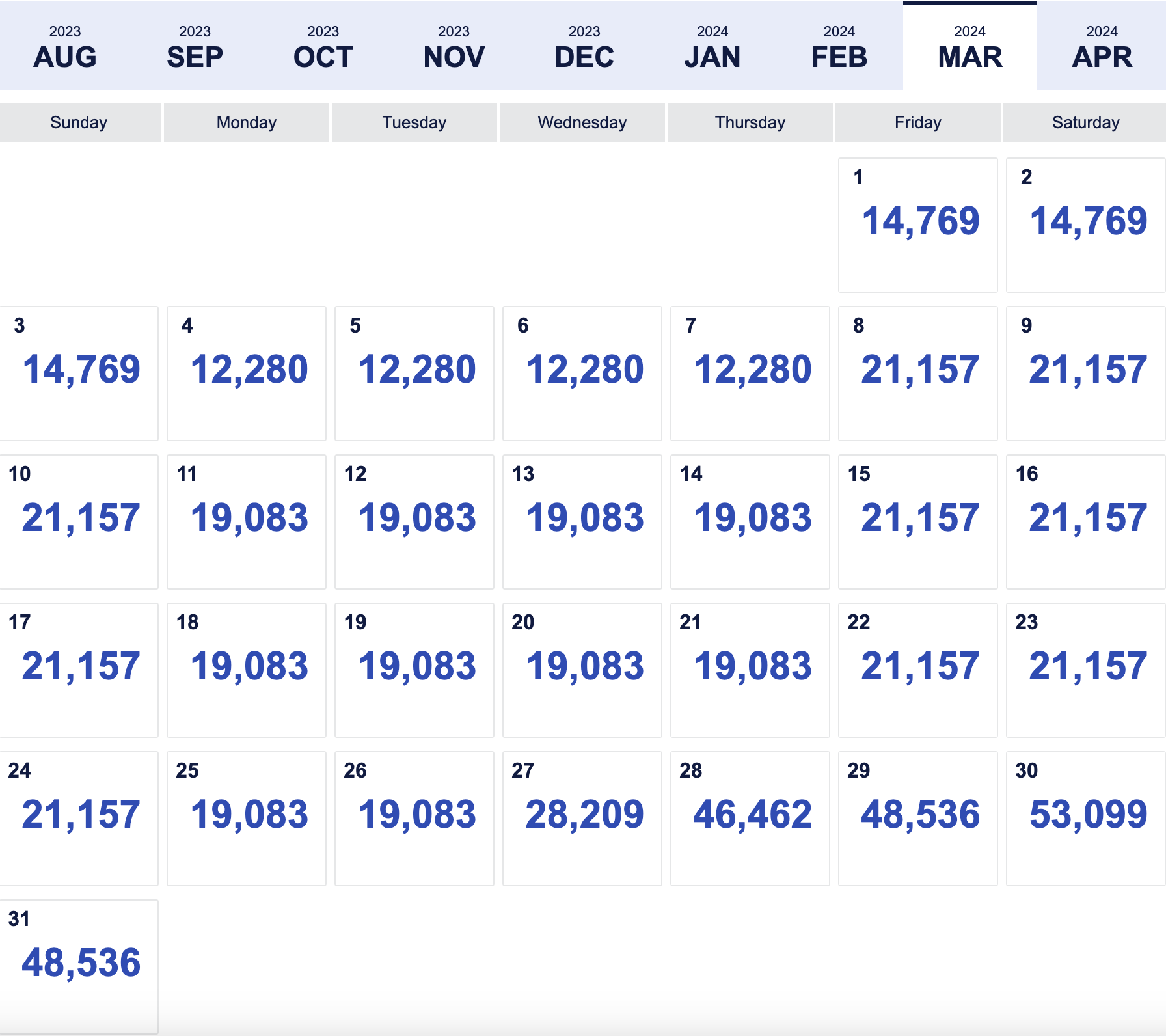 Baltimore/Washington International Thurgood Marshall Airport (BWI) to Midway International Airport (MDW)
For those looking to visit Chicago, you can fly from Baltimore for 9,580 points (plus about $6 in taxes and fees) any day in March. Check out our stories on Chicago's best hotels and things to do in Chicago with kids while planning your trip.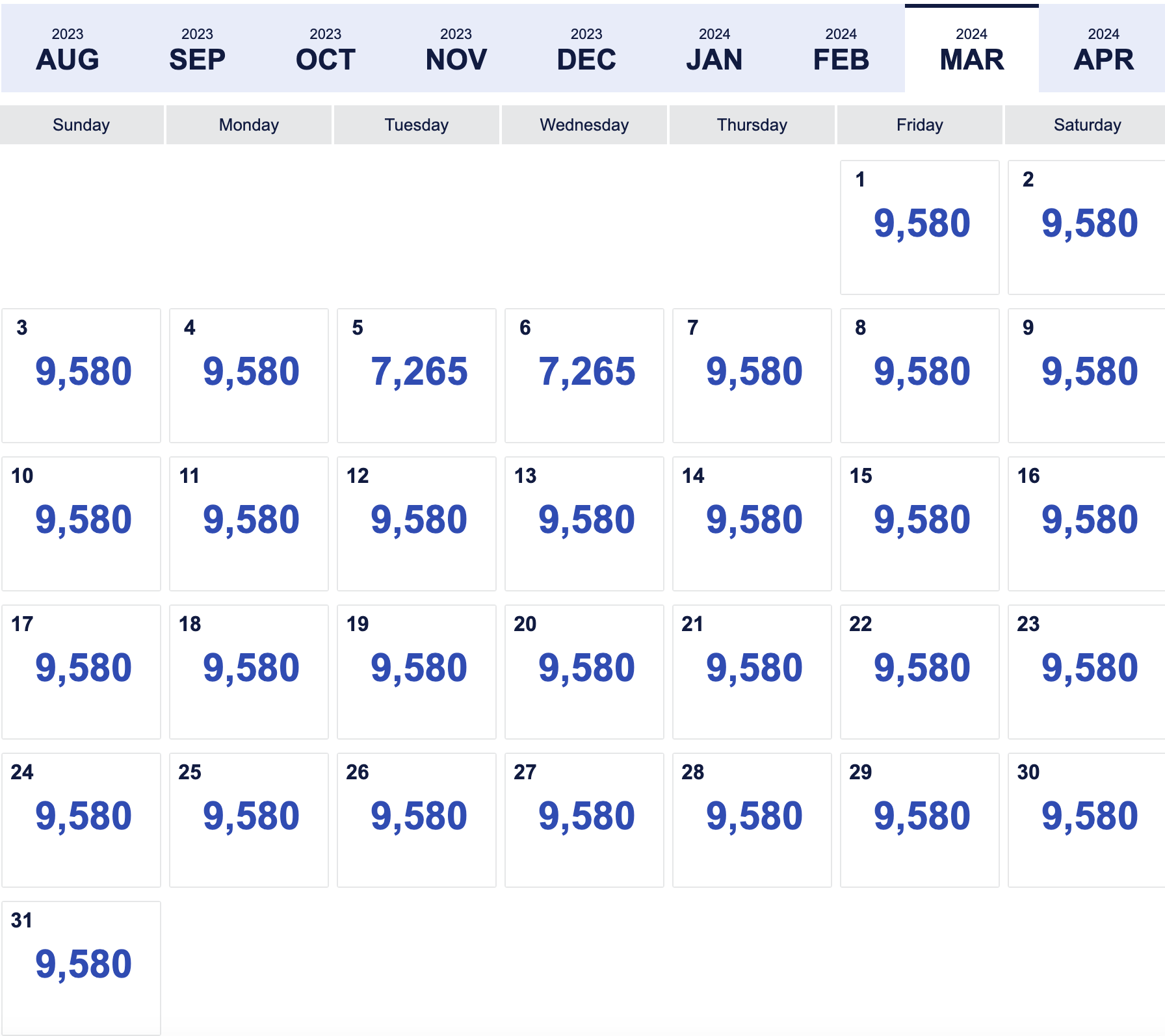 LaGuardia Airport (LGA) to Miami International Airport (MIA)
Southwest doesn't have the largest New York route network, but some hidden gems exist. If you want to book an early holiday trip to South Florida, you can fly for as few as 4,230 points (plus about $6 in taxes and fees) per person in March.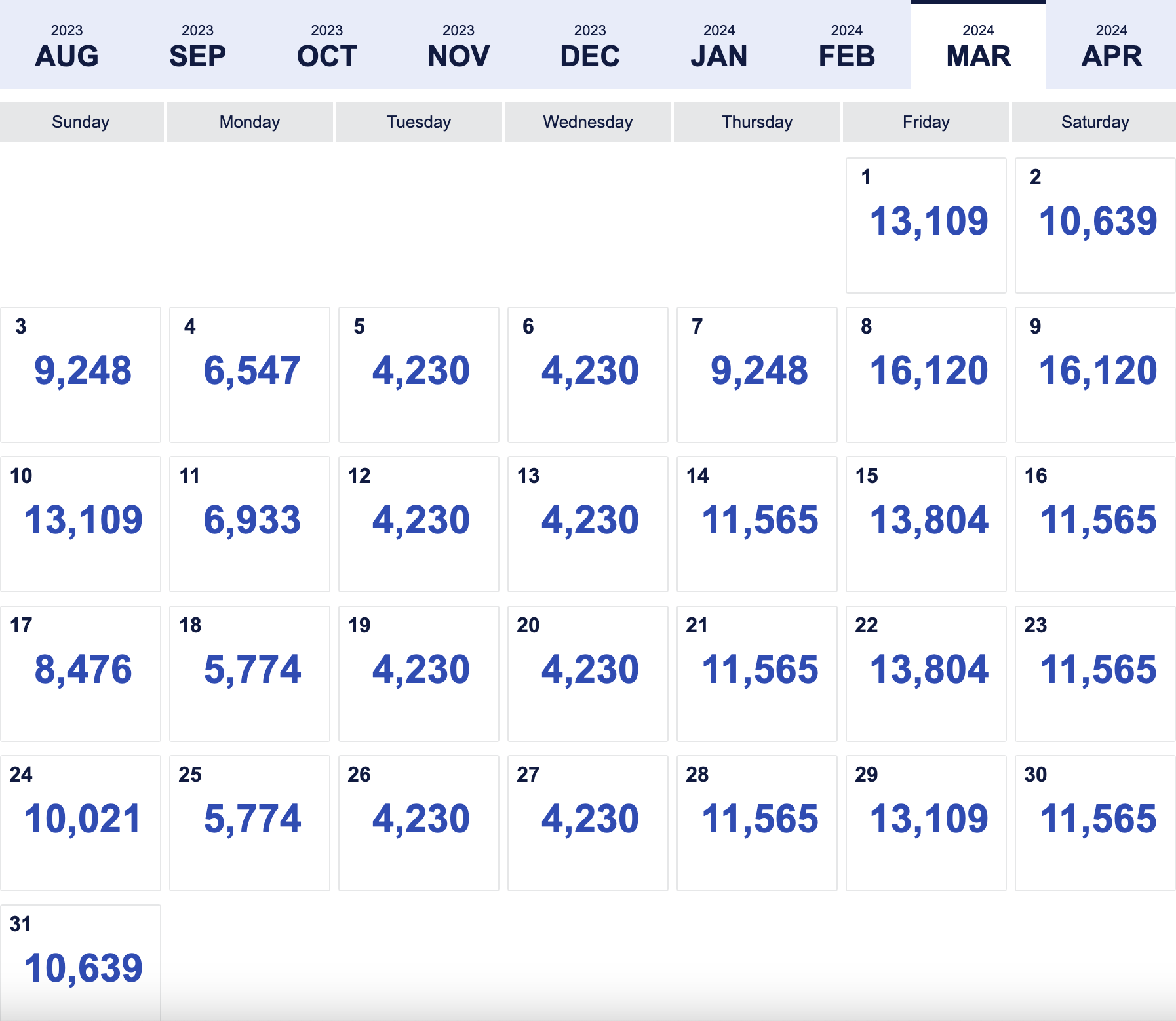 Remember that Southwest allows all passengers to bring two checked bags (up to 50 pounds each) for free on its flights, a notable differentiator from most other U.S. airlines.
Related: Southwest baggage fees and how to avoid paying them
Bottom line
Knowing the ins and outs of booking a Southwest flight can allow you to book the best flights for your family at the lowest cost. Those looking to travel this spring should book now to score the best deals on Southwest.
If you need to book flights further out, know that Southwest plans to extend its schedule again on Sep. 14, 2023, for flights through June 3, 2024.
Additional reporting by Katie Genter, Andrew Kunesh and Kyle Olsen.