There is an emptiness to the Arctic that is mesmerizing.
Traveling across it by ship, you'll encounter patches of snow-covered ice that stretch for miles, an endlessly white landscape punctured only by the occassional seabird and, if you're lucky, the sight of a far-off polar bear.
In some parts of the Arctic, there are rocky islands so windswept and desolate that you'd think you're on the moon; in other areas, there are islands covered with the most spectacularly beautiful mountains and glaciers. The common theme between them all is that they are rarely visited by humans.
For more cruise news, guides and tips, sign up for TPG's cruise newsletter.
Not that there aren't any humans in the Arctic. There are some, including Inuit who have lived in the region for centuries. But huge swaths of the Arctic lack a human presence, and the wildlife is equally sparse. Spotting the most famous denizens of the Arctic — the polar bear and the Arctic fox — is a rare moment to treasure.
As someone lucky enough to have traveled by ship to almost every corner of the Arctic over nearly 30 years as a cruise writer, I can say that the region is one of my favorite places to visit — maybe my very favorite. But it's not for everyone. It offers a subtle sort of beauty that reveals itself slowly.
Depending on the itinerary, an Arctic cruise might include days of bumping through icy waters covered by a fog so soupy that all you see out the window is a light greyish bubble all around. For all you know, you could be in a simulation.
But give the Arctic a chance, and it can be life-changing.
If you're unsure how to begin thinking of which Arctic itinerary might be the right choice, take a look at my picks for the five best Arctic cruise itineraries, chosen after a lifetime of trying just about every possible route in the region. As is typical for Arctic sailings, they are all itineraries that can only be done on polar-class expedition cruise ships — a specialized type of small, hardy cruise vessel built for polar travel and carrying its own landing craft for exploring.
A circumnavigation of Spitsbergen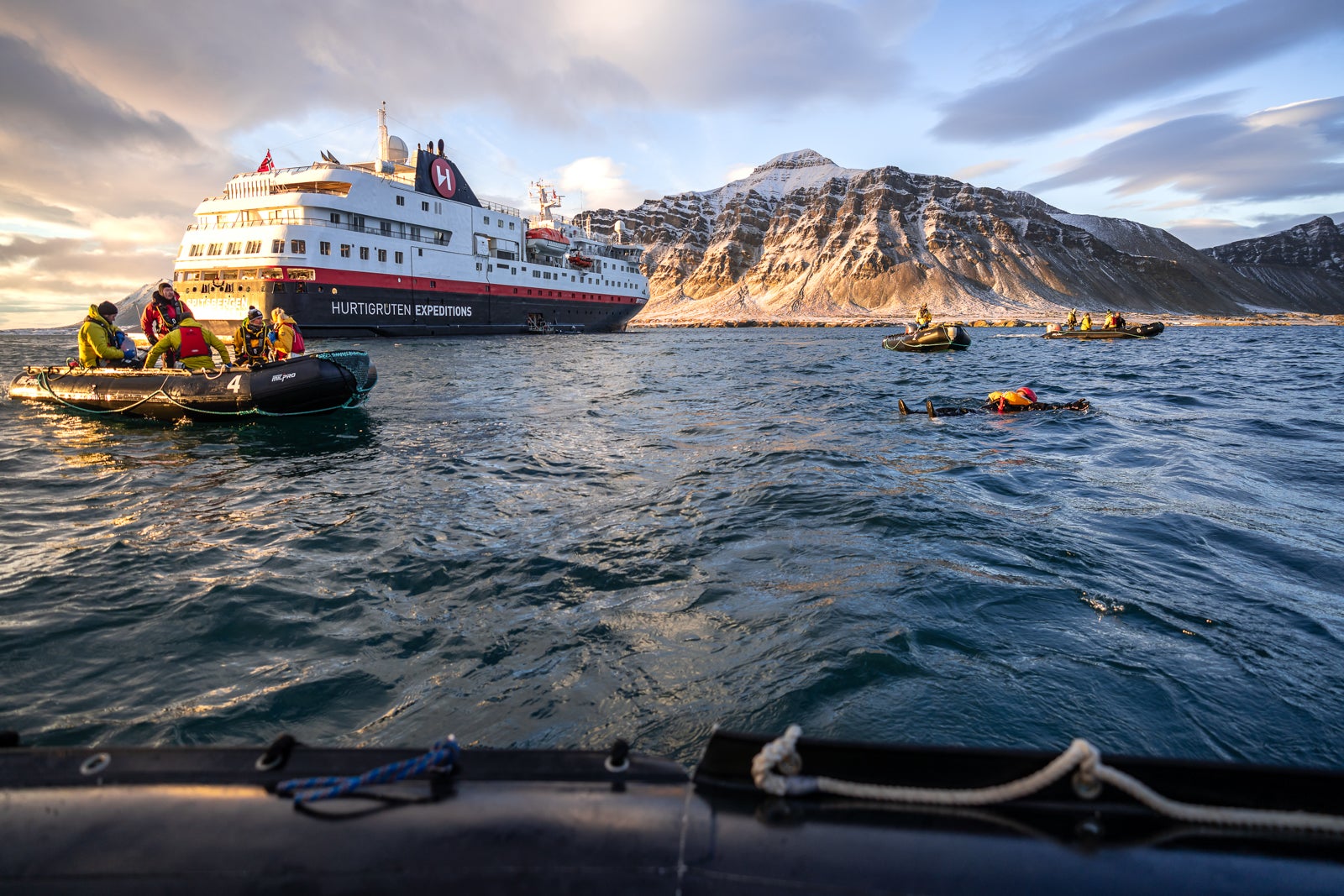 If you only have time for one Arctic cruise, this is the one I recommend. Consider it a sort of "greatest hits of the Arctic" itinerary. You'll get a little taste of everything the Arctic has to offer on a single, relatively easy-to-do sailing as short as a week or 10 nights.
On a voyage around Spitsbergen, the biggest of a cluster of rugged islands that make up the Svalbard archipelago, you'll likely see many of the Arctic's best-known wildlife — polar bears, whales (if you're lucky), walruses, and giant colonies of Brunnich's guillemots and other Arctic birds — over the course of a few days. Compared to some places in the Arctic, this region is relatively rich with wildlife.
Related: TPG's ultimate guide to expedition cruising
Spitsbergen is also about as scenic a place as you'll find in the Arctic, covered in mountains and glaciers. It's easily accessible by air through Longyearbyen, a settlement of about 2,500 people on the island's west side.
Located 600 miles north of the northernmost tip of Norway, which administers the Svalbard archipelago, Spitsbergen is also home to a few cultural oddities. Barentsburg is a semi-abandoned mining town operated by Russia under the terms of a century-old treaty, and Ny Alesund is a small mining camp that has been turned into a scientific research station. Spitsbergen itineraries sometimes include visits to both.
Ny Alesand, notably, was the spot where legendary explorer Roald Amundsen set off on a record-setting expedition flight to the North Pole by airship in 1926. Visitors to the outpost can see the still-standing remnants of the expedition, which include a tower that held the airship before it departed and a telegraph hut that broadcast news of the flight to the world.
Who goes there: Norway-based Hurtigruten is the best-known brand for Spitsbergen circumnavigations. It offers voyages out of Longyearbyen every summer. Most other expedition cruise operators, including Lindblad Expeditions and Seabourn, offer sailings to just a portion of Spitsbergen (usually the north and west coasts) combined with stops in Iceland and/or Greenland.
The west coast of Greenland
If you want to see icebergs and glaciers on a truly epic scale, a voyage along Greenland's west coast should be your pick.
It is home to what are, without a doubt, some of the world's most spectacular glaciers and snow-topped mountains.
On a trip down the west coast of Greenland, you will sail past huge icebergs that have shorn off the massive Greenland ice sheet on your way to visit at least a few of the coast's colorful Arctic settlements.
These settlements, notably, include Ilulissat, site of an iceberg-jammed fjord that is a marvel of the northern hemisphere.
Related: 8 things you need to know about Arctic cruises
If you're lucky during a visit to Ilulissat, you'll get to do two amazing things. One is to hike to an overlook near the town that reveals a massive pile-up of giant ice blocks that are slowly flowing down the fjord from a glacier. The other is a Zodiac ride to get close to some of the biggest icebergs that are stuck in the bay just offshore.
It is a landscape of icebergs at a scale that you can't imagine until you see it.
Who goes there: Seabourn, Lindblad, Silversea Cruises, Ponant, Viking and several other expedition cruise companies offer sailings down the west coast of Greenland. These voyages often include a visit to the eastern side of Canada's Northwest Passage or Iceland.
The Northwest Passage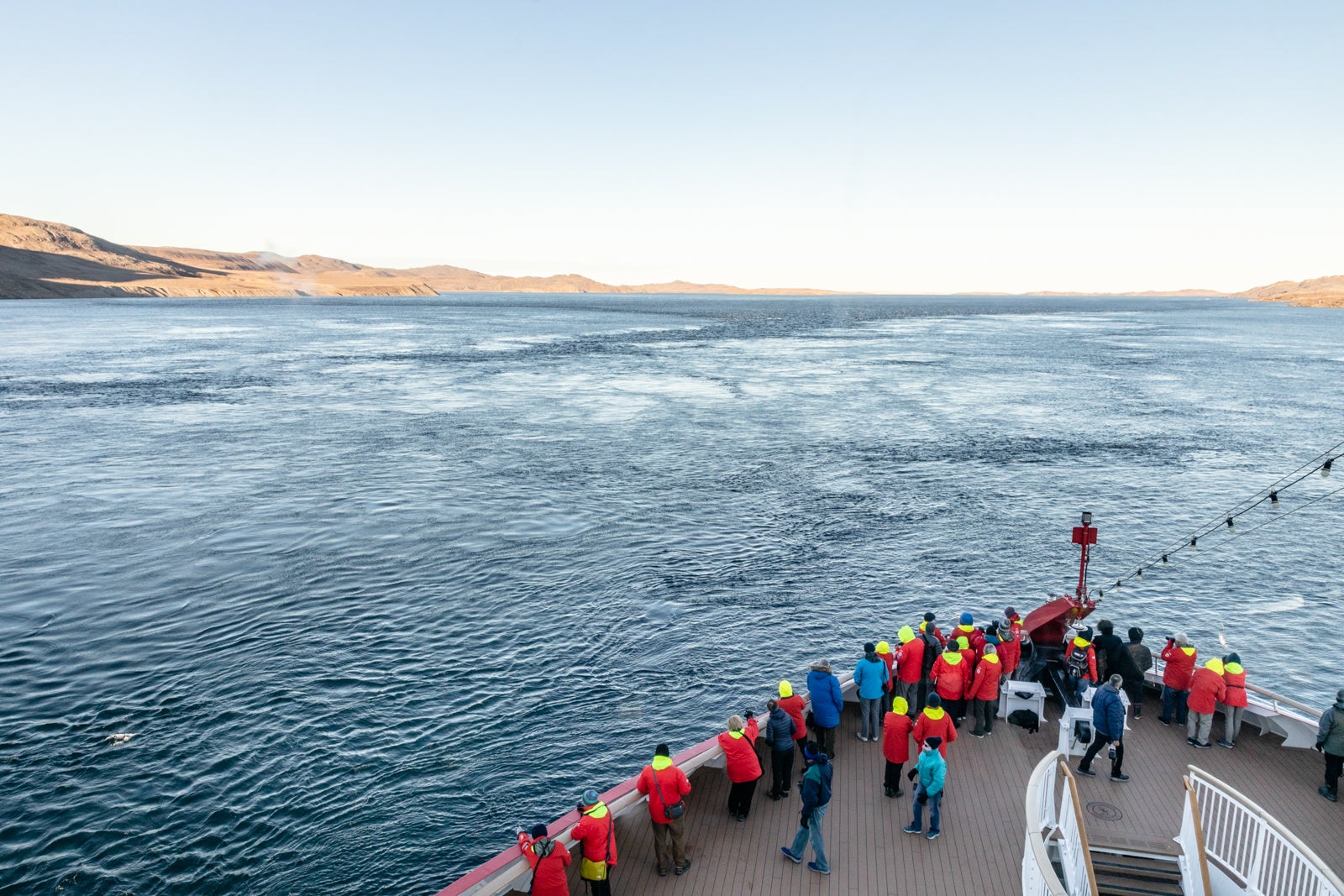 For cruisers who love the history of exploration, a trip across the Canadian Arctic's Northwest Passage might be the ultimate Arctic adventure. That's because it offers a chance to follow in the footsteps of some of the greatest polar explorers of the 18th and 19th centuries, for whom finding the long-hidden Arctic route between Europe and Asia was one of the biggest (and deadliest) challenges of the age.
Stretching more than 2,000 miles from the Davis Strait near Greenland to the Bering Strait off Alaska, the still-often-iced-in Northwest Passage famously swallowed up the two-ship, 128-man Franklin Expedition of 1845 (a massive and massively equipped British exploratory party that disappeared into the ice, never to be seen again), as well as other explorers. It was finally conquered in 1903 by Norwegian explorer Roald Amundsen — who also was the first human to reach the South Pole.
Until just the last couple of decades, traveling through the Northwest Passage remained almost as daunting as it was during Franklin and Amundsen's time. But rapidly shrinking ice coverage across the Arctic, driven by global warming, has been making it more accessible. In recent years, half a dozen expedition ships or more have sailed into the passage annually during the warmest summer months.
Still, even now, only a handful of the hardiest expedition vessels make a full transit of the Northwest Passage in any given year, while other vessels only offer partial transits.
Related: I loved my 1st Arctic cruise — here's why
Note that the Northwest Passage is a relatively desolate part of the Arctic. A typical landing by Zodiac during a trip across the passageway might bring a visit to a forlorn, windswept island covered in boggy fields of lichen-covered rocks and low-lying grasses. That is, if the island isn't covered in drifting snow.
But such trips also include stops at iconic historic sites related to the region's early explorers. These include the ruins of the last known camp of the Franklin Expedition at snowy Beechey Island and the remnants of a short-lived Hudson's Bay Company outpost on Somerset Island.
Stops at Inuit settlements such as Arctic Bay and Gjoa Haven are also common.
Who goes there: Most major expedition cruise operators, including Ponant, Hurtigruten, Silversea, Seabourn and Adventure Canada (a specialist in Canadian Arctic trips), offer sailings that transit at least part of the Northwest Passage. Complete crossings are rare.
The North Pole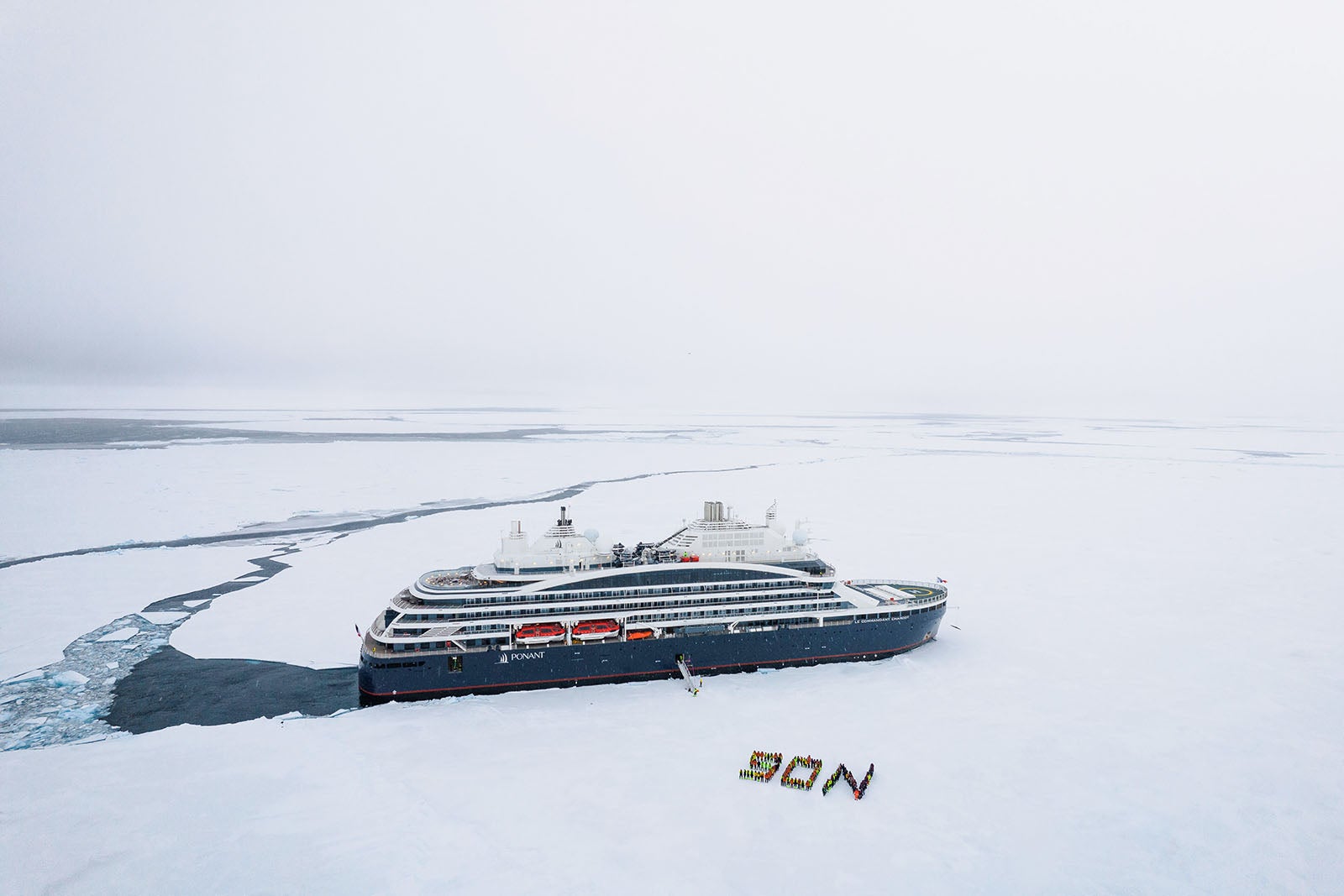 When it comes to bragging rights, it's hard to argue that any trip to the Arctic tops an expedition cruise to the North Pole.
The first undisputed expedition to reach the North Pole wasn't until 1926, when a team of explorers led by Roald Amundsen overflew the destination on the airship Norge. Even today, few humans have ever visited the northernmost point in the world — some put the number at just a few thousand.
Since the 1990s, working (and spartan) Russian icebreakers chartered by expedition travel companies have occasionally taken tourists in small groups to the world's northernmost spot. But since 2022, adventure-seekers have a more upscale option for a trip to 90 degrees north: A voyage on Le Commandant Charcot — the first built-for-tourists icebreaker.
Operated by Ponant, a French company known for upscale expedition cruises to far-off places, the 245-passenger ship is the first and only built-for-tourists cruise vessel capable of traveling to the most remote, ice-filled parts of the polar regions, including the North Pole.
Related: I just snowshoed at the North Pole — here's how you can, too
Named for a famed French explorer, Le Commandant Charcot is unlike any other vessel that has traveled across the polar ice cap. It has all the elements of the most elegant hotels on land: spacious suites, stylish lounges, fine dining (including a restaurant with a menu designed by Michelin-starred chef Alain Ducasse) and a spa.
In other words, you'll not just be traveling to the North Pole, you'll be traveling to the North Pole in high-end comfort.
Who goes there: The only way for an American to reach the North Pole by ship is aboard the new Le Commandant Charcot, which is operating three or four trips to the destination each summer. A Russian icebreaker that expedition travel companies have chartered in the past for such voyages, the 50 Years of Victory, still is occasionally making the trips, but it is not bookable for now by travelers from the United States and most other Western countries.
The Northeast Passage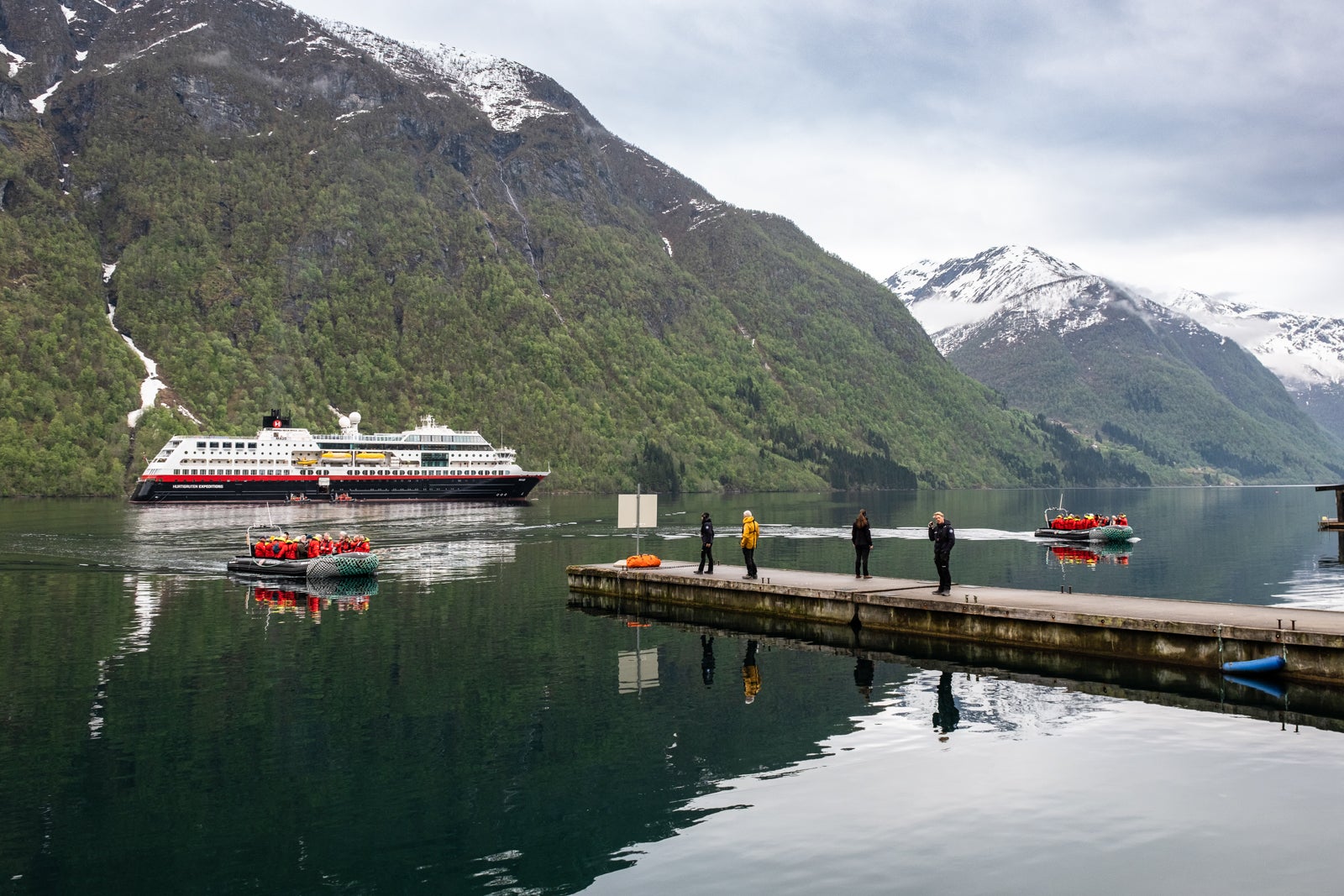 A voyage across the Arctic's Northeast Passage is surely the most off-the-beaten-path Arctic cruise you can do — even more off-the-beaten-path than a trip to the North Pole.
Rarely offered and typically about 30 days long, these are true explorers' journeys across the almost unvisited Arctic territory that stretches across the top of Russia from Arctic Norway to Alaska.
These sailings cross five frigid seas — the Barents, Kara, Laptev, East Siberian and Chukchi — that in some parts traditionally freeze over during much of the year and only partially thaw during the late summer. Along the way, sometimes spread apart by hundreds of miles, are glacier-topped, often mountainous archipelagos and island groups that passengers can explore during Zodiac landings.
Highlights of these trips include seeing the Arctic's iconic wildlife — polar bears, Arctic fox, walrus, seals and musk ox — and historic sites related to the region's early exploration. Among them is Cape Amundsen, where you can still see the ruins of a small stone hut built by the Norwegian explorer Roald Amundsen during a failed attempt to reach the North Pole. Amundsen's ship became stuck in the ice at the Cape for more than a year.
Only true icebreakers or the toughest ice-strengthened expedition cruise ships can make a Northeast Passage journey. Historically, they have occurred only occasionally. (I was on what was only the fourth voyage by any expedition cruise ship across the Northeast Passage, and that was as recently as 2018.)
Alas, for now, such trips are on hold, due to Russia's invasion of Ukraine. The invasion has brought all cruising to Russia by Western companies to a halt. But, in theory, these expeditions could resume in the coming years.
Who goes there: While Northeast Passage voyages are on hold for now, the trips traditionally have been offered by Hapag-Lloyd Cruises, an upscale German cruise brand that was a pioneer of expedition cruises in the Russian Arctic, and New Zealand-based Heritage Expeditions. The latter company traditionally chartered an ice-class Russian research vessel that can hold 50 people, the Akademik Shokalskiy, for the trips.
Planning a cruise? Start with these stories: