You have plenty of options if you're looking to see the world with Crystal.
The much-beloved luxury line, which restarted operations in July after an 18-month shutdown, offers cruises to a wide range of destinations around the globe despite operating just two ships.
The 740-passenger Crystal Serenity and 606-passenger Crystal Symphony are almost always on the move. They operate a diverse array of itineraries on multiple continents including Europe, North America and Asia.
For more cruise guides, news and tips, sign up for TPG's cruise newsletter.
Indeed, one of the ships is scheduled to completely circumnavigate the world in 2024 with visits to six continents.
Among its many offerings, Crystal has a particularly large footprint in Europe, with both vessels spending at least some time each year in the region. More than a third of Crystal's departures are to the Mediterranean, the Baltic and Northern Europe.
But the line also offers many sailings to the Caribbean, New England and Canada, and Alaska.
Crystal ships sail everything from short, seven-night cruises to Alaska to 141-day globe-circling voyages. Unlike mass-market lines, the company generally doesn't offer sailings of six nights or fewer. Between now and early 2025, the line has only a single voyage shorter than seven nights on its schedule — a six-night sailing from Vancouver, British Columbia, to Los Angeles.
Here are our picks for the five best Crystal cruise destinations.
The Mediterranean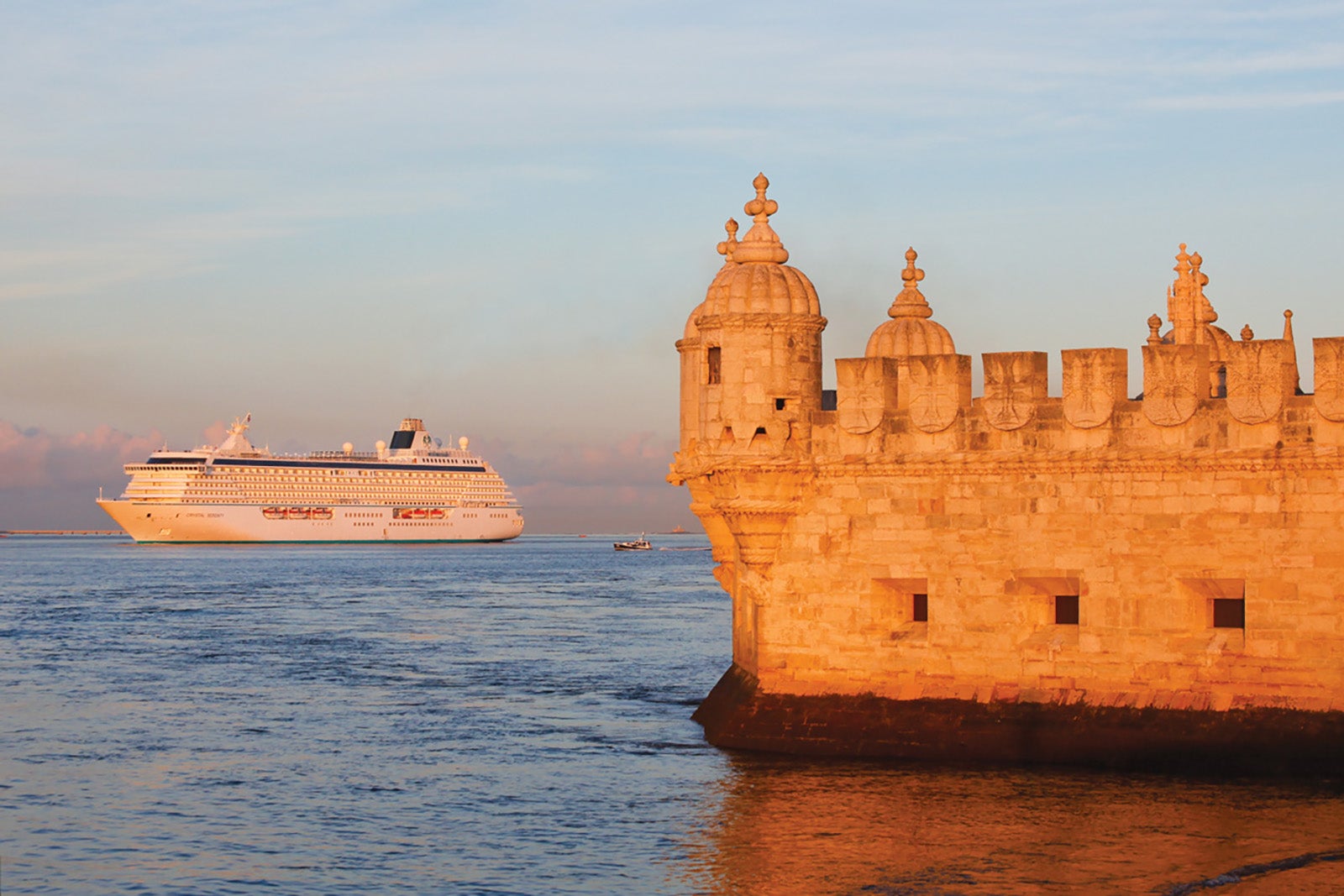 As is often the case with luxury lines, Crystal has a particular focus on sailings in the Mediterranean. A quarter of its departures currently on its schedule are devoted to the region, and both of its vessels are scheduled to spend at least part of the coming two years in Europe.
Most of Crystal's Mediterranean trips range from seven to 14 nights, although it occasionally offers much longer voyages. These itineraries include sailings focused specifically on the Western Mediterranean or Eastern Mediterranean and some that include stops across both.
Typical of the latter is the line's 12-night voyage from Istanbul to Monaco, a one-way trip with multiple stops in Greece and Italy.
The 12-night Istanbul-to-Monaco voyage is part of a longer, 45-night itinerary from Lisbon to Monaco with stops in Spain, Morocco, France, Italy, Greece, Croatia and Turkey.
In the Mediterranean, the line's main hubs are Piraeus, Greece (the port for Athens); Istanbul; Venice, Italy; Barcelona; Monaco; Civitavecchia, Italy (the port for Rome); and La Seyne, France (the port for Toulon).
Related: The best Mediterranean cruise for every type of traveler
The Caribbean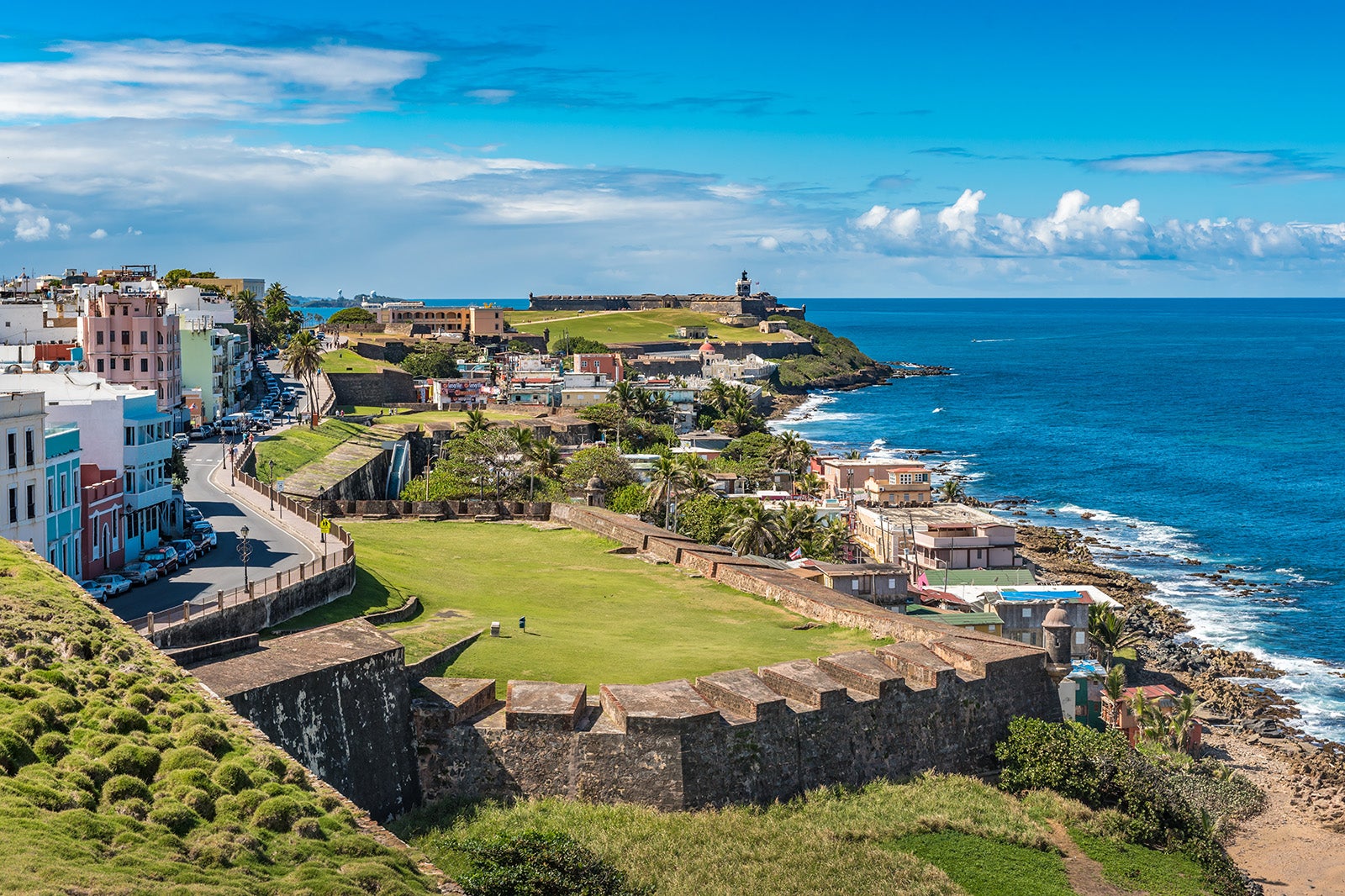 Crystal isn't a huge player in Caribbean cruises, but it typically sends one vessel to the region every winter for at least six to eight weeks of sailings that offer a mix of well-known and lesser-known ports.
These Caribbean voyages are considerably different, in many cases, than the typical seven-night Caribbean sailings offered by most mass-market lines.
For starters, they begin and end in a wide range of ports including Miami and Fort Lauderdale in Florida; San Juan, Puerto Rico; and Bridgetown, Barbados. They also typically are nine to 13 nights, which is relatively long for Caribbean sailings. In some cases, these itineraries can be combined to create even longer Caribbean itineraries that are 20 nights or longer.
Related: Crystal's revamped Crystal Serenity, reviewed in detail
A typical 11-night Caribbean voyage out of Miami offered by Crystal includes calls at Tortola in the British Virgin Islands; St. Martin; St. John in the U.S. Virgin Islands; Barbados; St. Lucia; and Nassau in the Bahamas.
Crystal also offers occasional one-way Panama Canal sailings from Florida to the West Coast of the United States. These feature stops in the Caribbean, as well as a full transit of the Panama Canal.
Alaska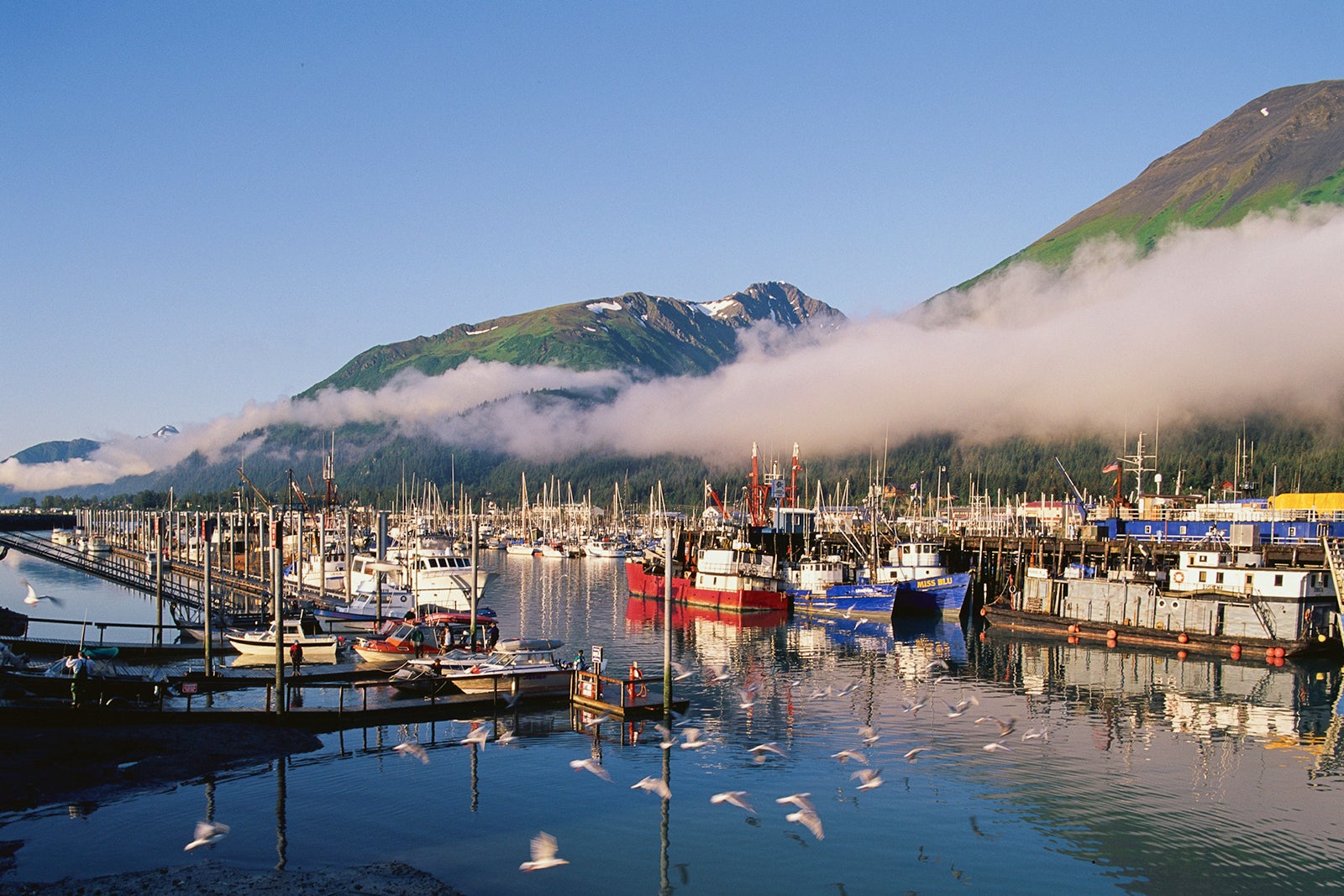 Crystal is one of a handful of luxury cruise lines devoting a ship to the Alaska market for the coming summer of 2024, with its 740-passenger Crystal Serenity heading to the region for an abbreviated season.
During July and August, Crystal Serenity will offer both round-trip sailings to Alaska out of Vancouver, British Columbia, and one-way sailings between Vancouver and Seward, Alaska.
The sailings are seven nights in length, which makes them among the shortest sailings on Crystal's schedule. But the itineraries are a bit different than most seven-night Alaska itineraries offered by the big-ship lines.
Related: Crystal plans rapid expansion with 4 new ships in 2029
Crystal's typical round-trip sailing to Alaska from Vancouver features a day sailing through and experiencing British Columbia's famously scenic Seymour Narrows, which is rarely on Alaska cruise itineraries. Just a few hundred meters wide in places, the 3-mile-long narrows isn't accessible to the big mass-market ships that sail to Alaska but is a site to behold. (I've been lucky enough to sail through it a couple of times, and it's a treat if the weather cooperates.)
The round-trip sailings from Vancouver also include a call at the small Alaska town of Sitka instead of the more touristy Juneau — the latter a mainstay of seven-night Alaska sailings. Stops at Skagway and Ketchikan and a visit to the glacier-carved Endicott Arm fjord round out the trips.
One-way sailings between Vancouver and Seward visit Ketchikan, Sitka, Skagway and Hoonah in Alaska and include scenic cruising to Hubbard Glacier.
Asia, Australia and New Zealand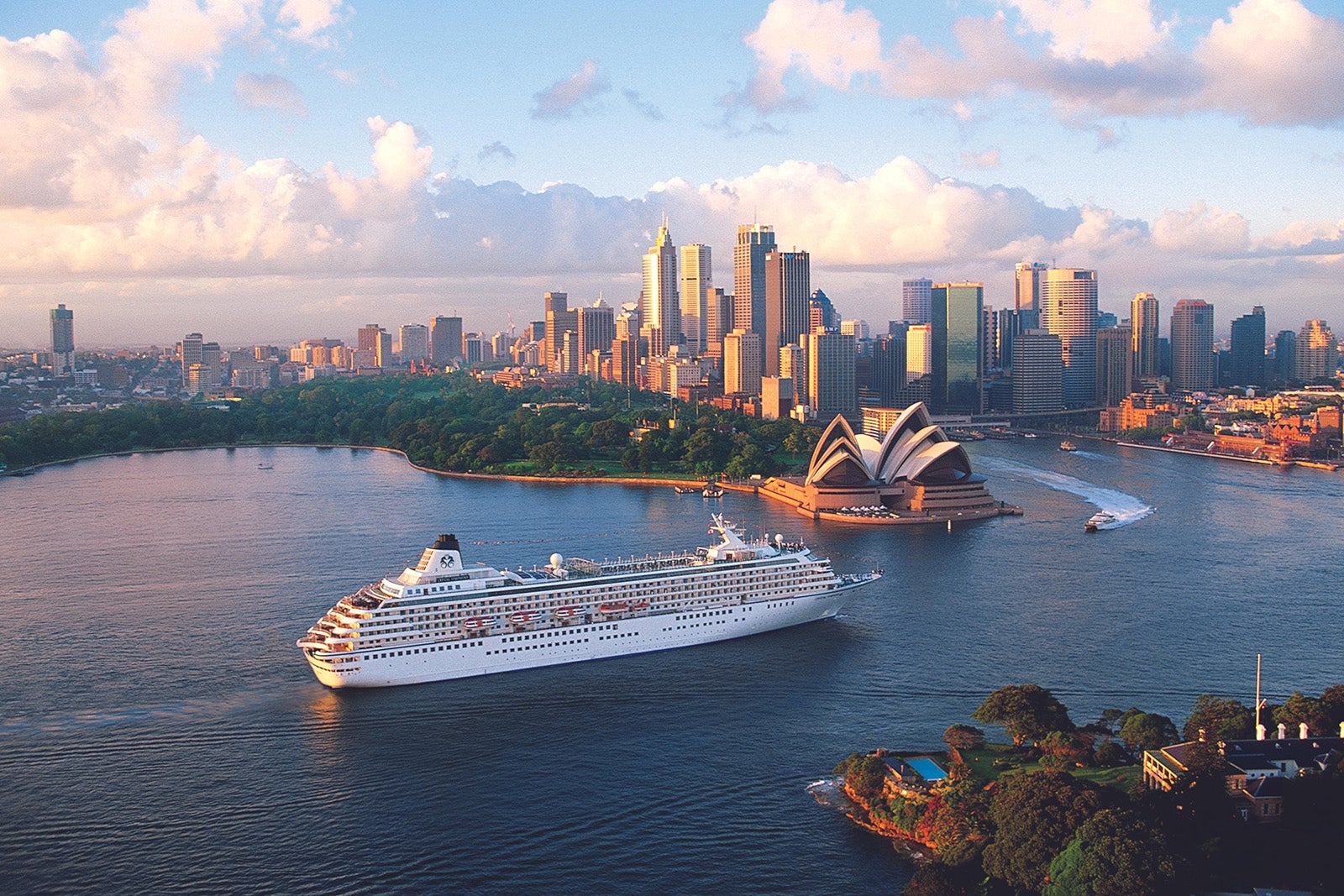 Crystal usually sends one of its two ships to Asia, Australia and New Zealand every winter for sailings out of such cities as Bangkok, Singapore, Sydney and Auckland.
The line also typically sends a second ship on an around-the-world cruise that includes segments in Asia, Australia and New Zealand, resulting in two of the line's ships sailing in the regions during the winter. (See more on the line's world cruises below.)
The vessels offer a relatively wide mix of itineraries, never staying in the same part of Asia, Australia and New Zealand for too many voyages in a row.
Among the Asia itineraries that Crystal has on its schedule for the next two years is a 12-night voyage between Hong Kong and Singapore with stops in Taiwan, Japan, the Philippines and Brunei. Australia and New Zealand sailings include a 17-night round-trip voyage out of Sydney to New Zealand with stops in Auckland, Tauranga, Picton, Lyttelton and Dunedin in New Zealand, and Burnie and Hobart in the Australian island state of Tasmania.
Related: The best cruise lines for elegance and exclusivity
Longer itineraries that combine visits to Asia, Australia and New Zealand into a single sailing include a 42-night voyage from Mumbai, India, to Auckland. This sailing includes stops in Sri Lanka, Indonesia, Thailand, Malaysia, Singapore, Vietnam, Australia and New Zealand.
The world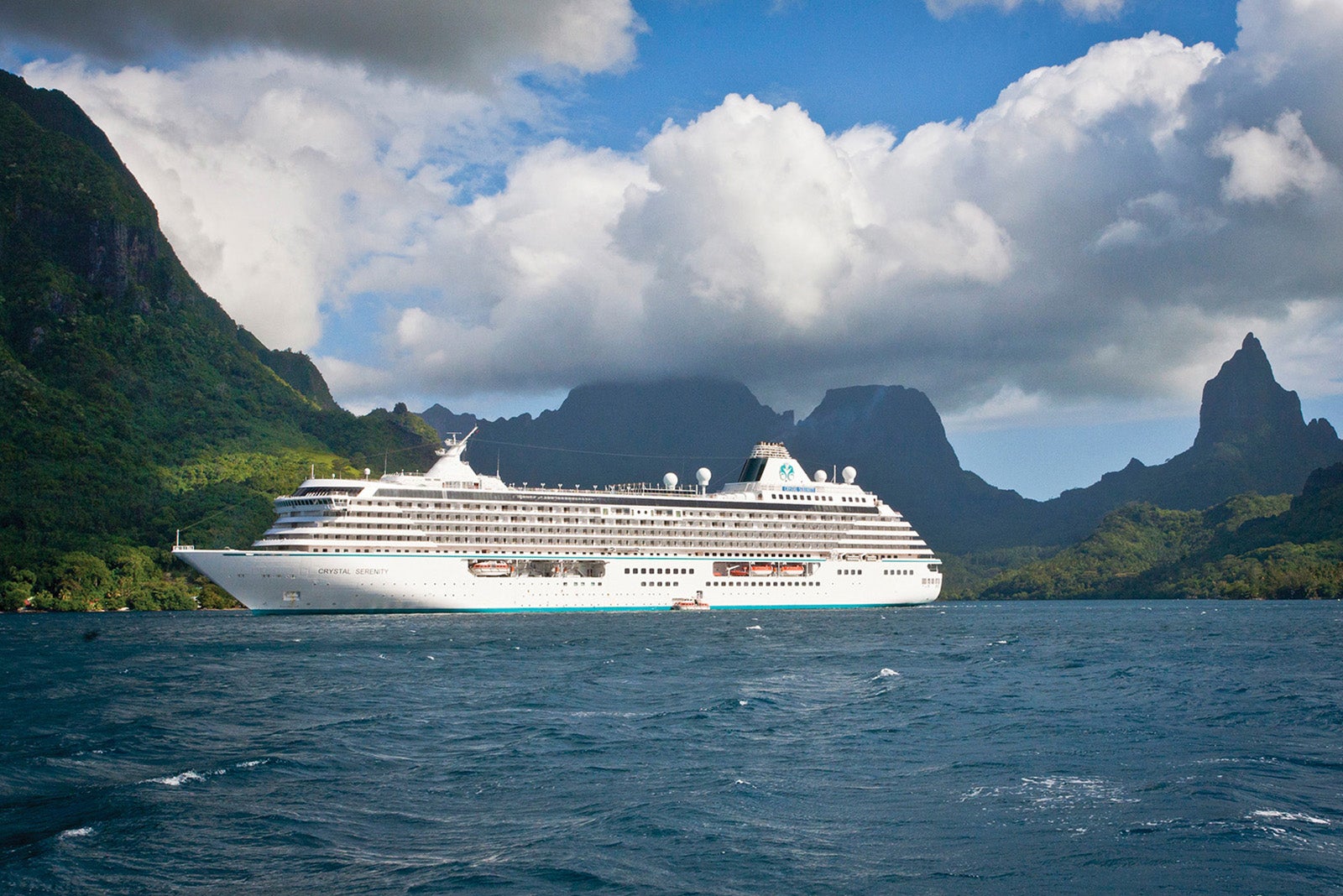 Crystal has long been known for epic around-the-world voyages with stops at dozens of destinations on four, five or even six continents.
These trips can last four months or longer, allowing Americans to travel across the globe without ever getting on an airplane.
Normally, Crystal's around-the-world voyages begin and end in either Florida or California (or both; the line sometimes offers the option of joining its world cruises in either state as the ship makes it way around the world).
Related: 10 epic around-the-world cruises
Crystal plans one such around-the-world trip for 2024 — a 141-day voyage on Crystal Serenity starting Jan. 18, 2024. The ship will depart from Miami and call in 33 countries. Would-be world cruisers also can join the ship in San Diego on Feb. 3, 2024, after it sails to California through the Panama Canal.
After departing San Diego, Crystal Serenity will follow a westward path around the globe, starting with a Pacific crossing to Hawaii and French Polynesia on the way to New Zealand and Australia. From there, the vessel will head to various countries across Asia, including Indonesia and India, before sailing through the Red Sea and the Suez Canal to the Mediterranean.
In the Mediterranean, the ship will visit multiple ports in Israel, Turkey, Greece, France and Spain before heading to Portugal. An Atlantic crossing to Miami will follow, and West Coast-based passengers can continue on an additional leg through the Panama Canal back to San Diego.
Crystal also recently announced a 123-day world cruise for 2025 that brings stops in 62 ports in 31 countries. Departing from Fort Lauderdale on Jan. 7, 2025, the sailing won't be a complete around-the-world sailing. Instead, It will focus on an extended exploration of South America and Antarctica before the vessel crosses the Atlantic to Africa, India and Europe.
Bottom line
Despite its small size, Crystal offers a diverse array of itineraries in cruise destinations around the world, from North America to Asia. You'll find the most choices among Crystal itineraries in Europe followed by the Caribbean and Alaska. The line is also well-known for epic around-the-world cruises.
Planning a cruise? Start with these stories: