Cunard Line is a relatively small cruise company with just three ships, but that doesn't mean it has a small footprint when it comes to places its ships go.
The storied passenger ship company — one of the oldest in the world with a history that dates back to 1840 — offers cruises to almost every corner of the globe.
The line's three vessels — Queen Mary 2, Queen Elizabeth and Queen Victoria — are almost always on the move. (A fourth, Queen Anne, will join the globe-trotting fleet in spring 2024.) They operate diverse itineraries on multiple continents, including Europe, North America and Asia.
For more cruise guides, news and tips, sign up for TPG's cruise newsletter.
They also often travel around the world on epic voyages that can last three months or more. For 2024, for instance, two of Cunard's three vessels will operate complete circumnavigations of the globe lasting many months (more on these below).
Among its many itinerary offerings, Cunard has a particularly large footprint in Europe, with all three of its vessels spending at least some time each year in the region. Asia is another big destination for Cunard, with all its ships heading there most years for at least a few sailings, too.
The line also regularly offers sailings in North America, including in the Caribbean, New England and Canada, and Alaska. Australia and New Zealand appear often on Cunard's itinerary schedule as well.
Cunard ships sail everything from super-short, two-night voyages between Southampton, England, and Hamburg, Germany, that don't include a single port call to 123-night globe-circling trips that take in dozens of ports.
Here are our picks for the five best Cunard cruise destinations.
The Atlantic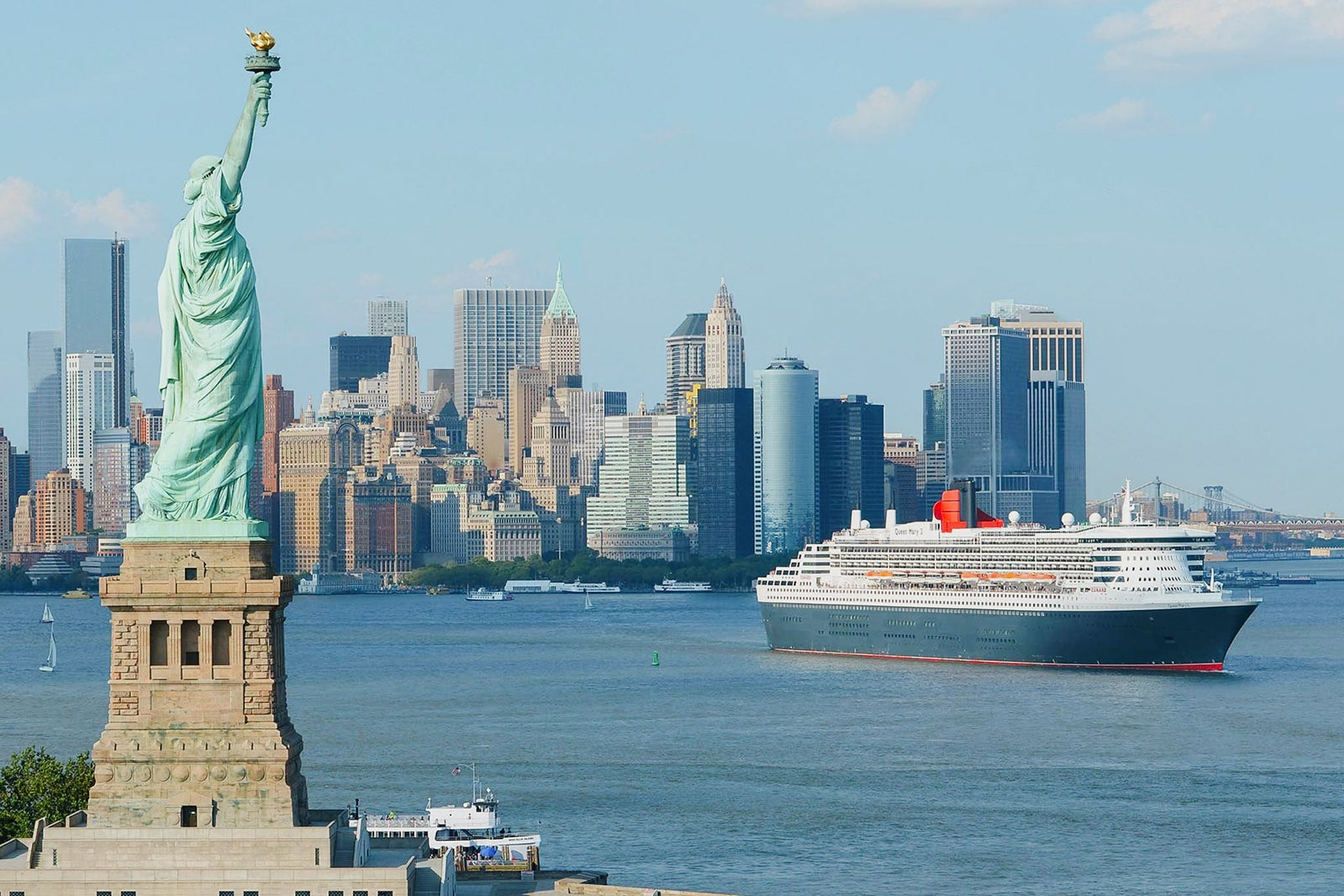 If Cunard has an iconic itinerary, it is the regular transatlantic voyages that its flagship, the 2,691-passenger Queen Mary 2, operates between New York City and Southampton, England, throughout the year.
In most cases, these trips lack even a single port stop. They are one-way sailings designed to get you across the Atlantic in relative speed and comfort — just like the line offered in the 19th century. But unlike back then, they aren't voyages people take out of necessity.
Both leisure and business travelers can now travel between North America and Europe in a matter of hours on speedy jets, so there's no longer a pressing need for such transatlantic crossings on a practical level. But Cunard has been able to keep the tradition alive for a subset of travelers who enjoy moving between the continents in a more leisurely way.
For many people who take Queen Mary 2 across the Atlantic, the ship itself and the experience of the crossing on it is the destination. It's not uncommon for passengers to take Queen Mary 2 one way across the Atlantic just to experience a crossing before flying fly back home.
Related: Why I was wrong about transatlantic cruises
Queen Mary 2 was specifically built for such crossings, with a more streamlined shape and more powerful engines than traditional cruise ships. It can cut through the sometimes rough waves of the Atlantic at higher speeds and with more comfort for passengers.
Aficionados say Queen Mary 2 is a true ocean liner — a ship designed to sail a direct course across oceans between two far-apart destinations — not a cruise ship. It is thus something truly different in the world of cruises.
Having sailed across the Atlantic on Queen Mary 2 three times over the years, including on its maiden voyage in 2004, I couldn't agree more. There is nothing quite like zooming across the ocean on the vessel, which is built with a grand ballroom, elegant restaurants and other formal spaces that evoke the famed ocean liners of a century ago. It's a throwback to an earlier time.
In a typical year, Queen Mary 2 operates about 20 Atlantic crossings. In most cases, it makes the crossing in seven nights without any stops, but it sometimes does faster six-night crossings. It occasionally adds a stop in a destination along the way — Boston, for instance, or the Azores.
The world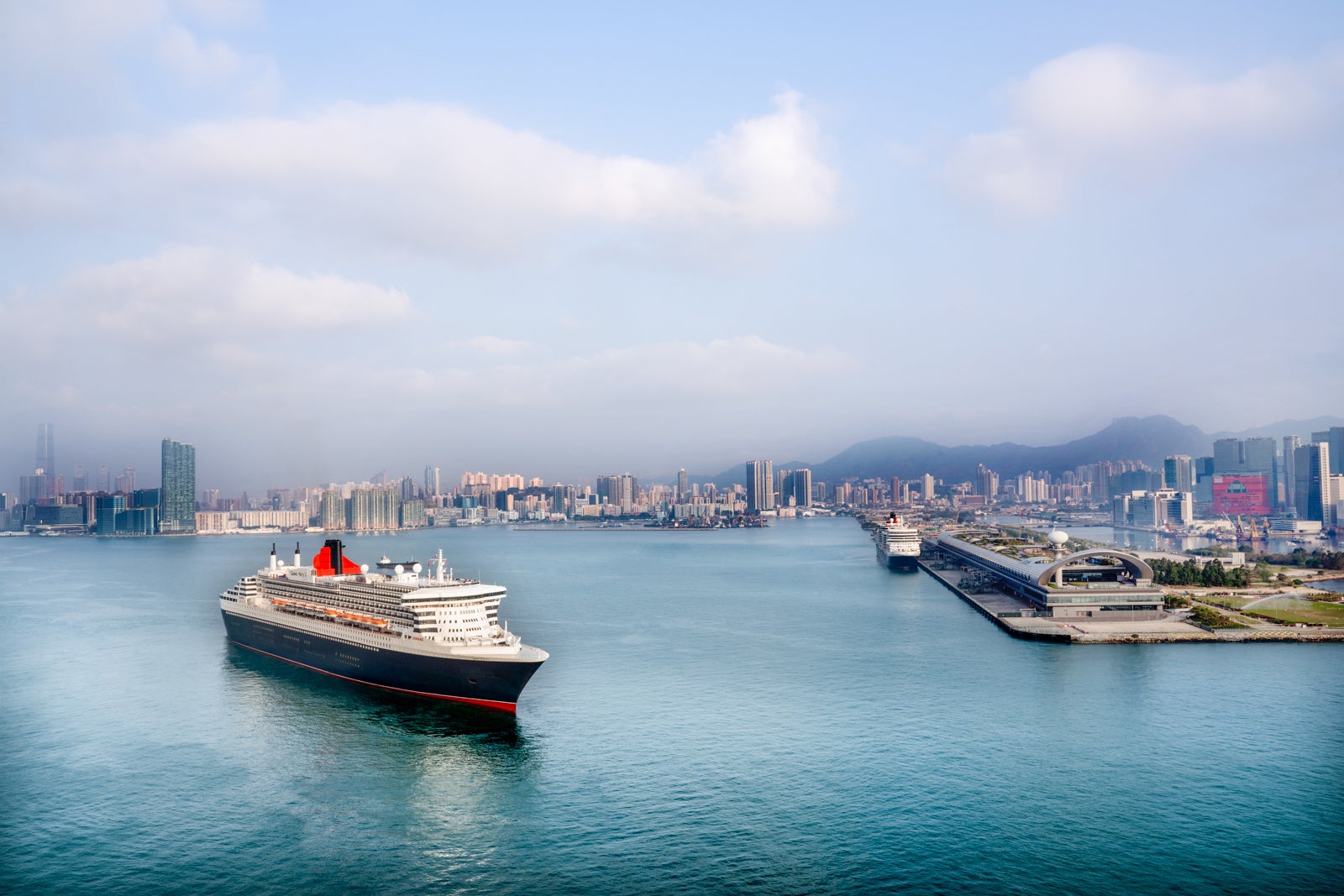 In addition to transatlantic crossings, Cunard has long been known for epic around-the-world voyages, stopping at dozens of destinations on four, five or even six continents.
Cunard usually will send one and sometimes even two of its three ships on monthslong jaunts around the world every year, something it has done for many decades.
In a typical year, the line might begin one around-the-world sailing in New York or Florida, allowing Americans to travel across the globe without ever getting on a flight longer than a few hours. It'll also often offer an additional around-the-world sailing out of a European port such as Southampton.
That's the case for 2024, when Queen Mary 2 will sail a 123-night world voyage out of New York City, and the 2,061-passenger Queen Victoria will sail a 111-night world voyage out of Hamburg, Germany (the latter voyage also can be boarded in Southampton).
Related: 10 epic around-the-world cruises that will check off all your bucket list travel destinations
As is sometimes the case with such trips, the sailing on Queen Mary 2 won't be a full circumnavigation of the globe. The ship will travel eastward from New York to Europe and then Africa, Australia and Asia before returning westward to the Middle East and Europe (through the Suez Canal) on its way back to New York. It's a sailing that will hit large portions of the world but not complete the circle.
The Queen Victoria sailing will be a true circumnavigation, with the ship circling the world westward. The voyage will take the ship to Bermuda, Florida, the Panama Canal and the West Coast before a Pacific crossing to Hawaii, Samoa, Fiji, New Zealand and Australia. From there, Queen Victoria will make multiple stops across Asia before cruising westward to the southern tip of Africa and then back to Europe up the west coast of Africa.
Europe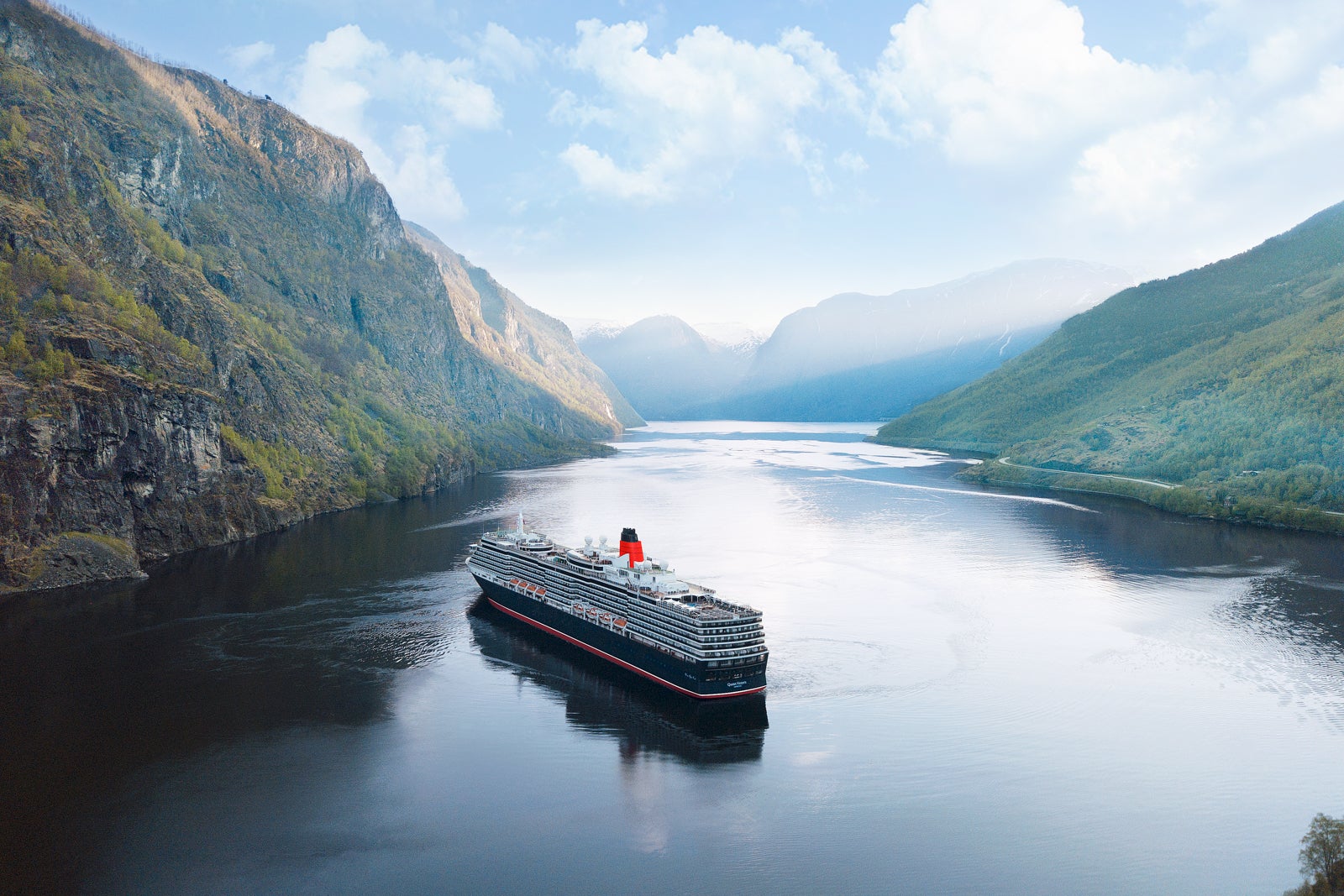 In part due to the fact that it's based in Southampton and has a strong following among British travelers, Cunard has long had a particular focus on sailings in Europe. As of the publishing of this guide, 171 of the 451 departures on Cunard's schedule were devoted to Northern Europe, Western Europe or the Mediterranean. If you add in transatlantic departures between Europe and North America, that number jumps to 227 — almost exactly half of all departures on Cunard's schedule.
All three of Cunard's vessels spend at least part of the year sailing in Europe, with the biggest portion of sailings in the Mediterranean.
These Europe routings vary greatly in length and destinations. Unlike many of its competitors operating in Europe, Cunard offers lots of short sailings, sometimes as short as two or three nights, that provide a chance for a quick trip between, say, Hamburg and Southampton. Often, these short sailings are one way, on Queen Mary 2 and timed to lead straight into a transatlantic crossing.
Someone in Europe could board Queen Mary 2 in Hamburg for a two-night sailing to Southampton and then stay aboard for a subsequent seven-night sailing to New York City.
Cunard also often offers many round-trip "short break" getaways lasting three or four nights out of Southampton to places like Bruges, Belgium; Amsterdam; and Le Havre, France. These trips are mostly aimed at a local British crowd.
Additionally, Cunard operates many longer Europe itineraries, sometimes as long as 30 nights, which take in a dozen or more major destinations. A good example of the latter is the line's 28-night Mediterranean Highlights itinerary from Civitavecchia, Italy (the port for Rome) to Barcelona, a one-way trip that takes in a wide range of ports across Italy, Croatia, Montenegro, Greece, Malta, Spain and Turkey.
In the Mediterranean, the line's main hubs are Piraeus, Greece (the port for Athens); Istanbul; Trieste, Italy; Barcelona; and Civitavecchia.
In Northern Europe, Cunard's big hub is Southampton, but it also offers voyages out of Hamburg and Kiel in Germany.
Related: Best Mediterranean cruises for every type of traveler
Alaska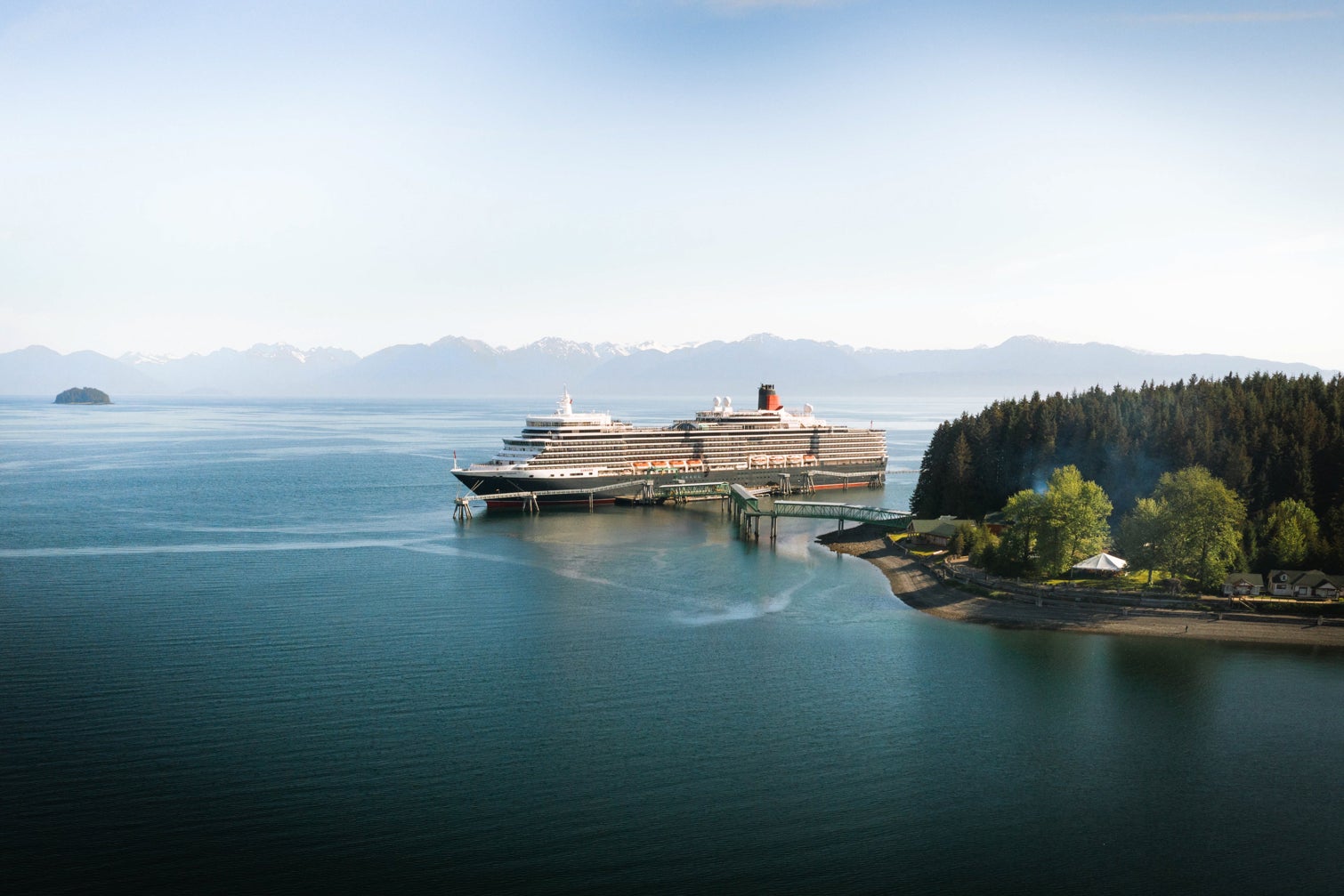 Cunard is one of a handful of Europe-based cruise lines devoting a ship to the Alaska market for the coming summer of 2024, deploying its 2,081-passenger Queen Elizabeth to the destination.
From June to September 2024, Queen Elizabeth will operate nearly a dozen round-trip sailings to Alaska out of Vancouver, British Columbia.
These Alaska voyages will mostly be 10 nights in length, which is longer than the typical Alaska sailing out of Vancouver. A handful of the sailings will be nine or 11 nights in length.
Cunard's typical 10-night Alaska sailing includes calls at Sitka, Ketchikan, Skagway and either Juneau or Icy Strait Point. The ship will also visit Glacier Bay National Park & Preserve and Misty Fjords National Monument.
The 11-night sailings add stops at the smaller Alaska towns of Wrangell and Haines and a visit to Hubbard Glacier (in addition to Glacier Bay National Park & Preserve and Misty Fjords National Monument). They skip the stops at Skagway and Sitka.
Asia, Australia and New Zealand
Cunard usually sends at least one of its three ships to Asia, Australia and New Zealand every winter for sailings out of such major hubs as Tokyo (where ships sail from nearby Yokohama) and Sydney.
The line also typically sends one or two ships on around-the-world cruises every winter that include segments in Asia, Australia and New Zealand, resulting in all three of the line's vessels, in some cases, sailing in the regions during the winter. (See more on the line's world cruises above.)
Cunard ships typically offer a relatively wide mix of itineraries in the regions, never staying in the same part of Asia, Australia and New Zealand for too many voyages in a row.
That said, for 2024, Cunard's Queen Elizabeth will be based out of Tokyo for nearly two months for multiple sailings around Japan. These sailings typically also include a stop in either South Korea or Taiwan.
Related: The best luxury cruise lines for elegance and exclusivity
Among the Australia itineraries that Cunard has on its schedule for the next two years is a 14-night sailing to New Zealand out of Melbourne, Australia, with stops at New Zealand's Fiordland National Park, Wellington, New Plymouth, Bay of Island and Auckland (for an overnight visit).
Shorter sailings out of Australian ports include a five-night voyage from Sydney to Melbourne and Burnie — the latter destination in the Australian island state of Tasmania.
Bottom line
Despite its small size, Cunard offers a diverse array of itineraries in cruise destinations around the world, from North America to Asia. It's also well known for its transatlantic sailings between New York City and Southampton, plus its epic around-the-world cruises.
Planning a cruise? Start with these stories: