[circuit type=review circuit_id="9194″]
When I decided to go to the U.S. Open, I wanted to book an equally chic hotel to commemorate my first trip to the annual tennis championship, which brings tennis fans and celebs back to the city as the unofficial start of fall.
Enter The Standard, High Line, an independently owned luxury hotel situated above its famous namesake park in the Meatpacking District of New York City's Manhattan borough.
Quick take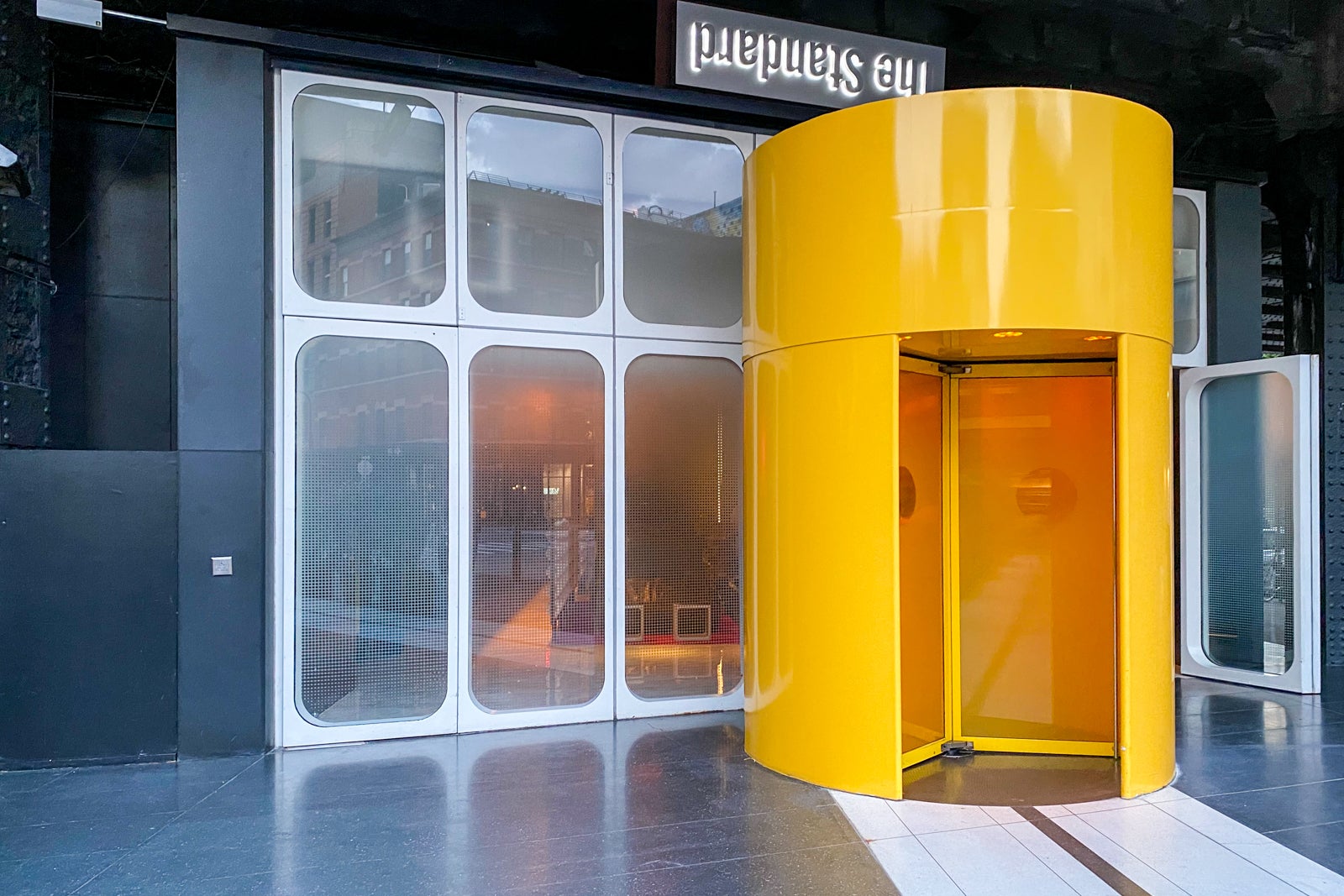 When I first exited my Uber, I did a double-take to ensure I had been dropped off in the right place. The property's eye-catching and unexpected exterior offers a stark contrast to the design of most hotels … at least, the ones where I've previously stayed. Yet the hotel's signature backward lettering confirmed I was indeed in the right place.
With 338 rooms and multiple dining venues spread across 18 stories, the hotel towers above the High Line elevated park it is named after. Rooms offer city and/or Hudson River views thanks to floor-to-ceiling windows, while eateries like The Standard Grill dish up tasty plates of New American fare.
Getting there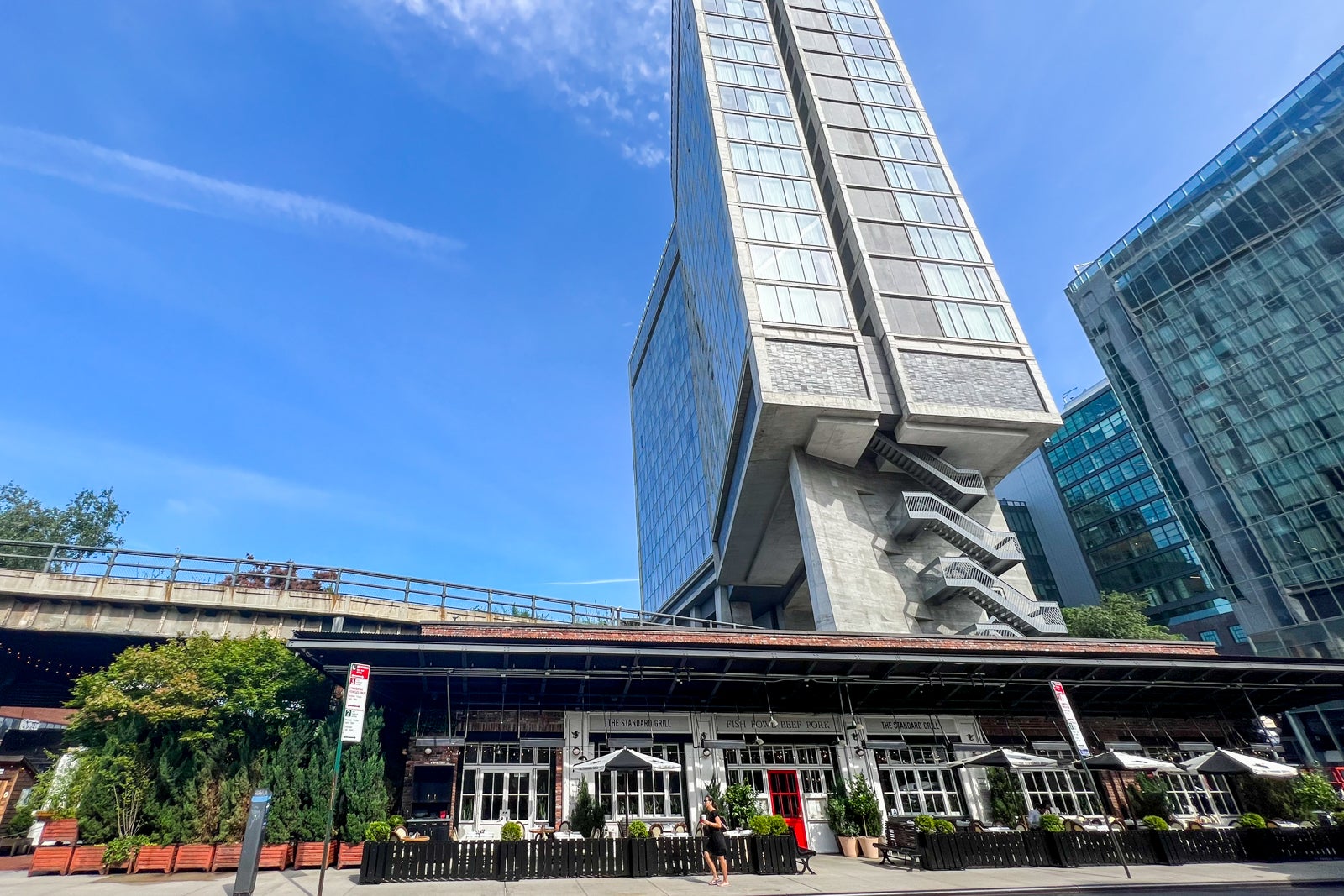 Like all New York City hotels, The Standard, High Line is easily accessible via ground transportation. It sits in Manhattan, approximately 45 minutes from both LaGuardia Airport (LGA) and Newark Liberty International Airport (EWR) and one hour from John F. Kennedy International Airport (JFK). However, ride-hailing services from a local airport to the hotel can cost more than $100, depending on the time of day.
For a more economical way to get to the property, opt to use public transportation. You can reach the hotel by subway, roughly an hour from each airport, for $2.90 each way (plus an additional $8.25 charge for the AirTrain). The closest station is 14th Street/Eighth Avenue, which is about a 15-minute walk from the hotel.
Booking details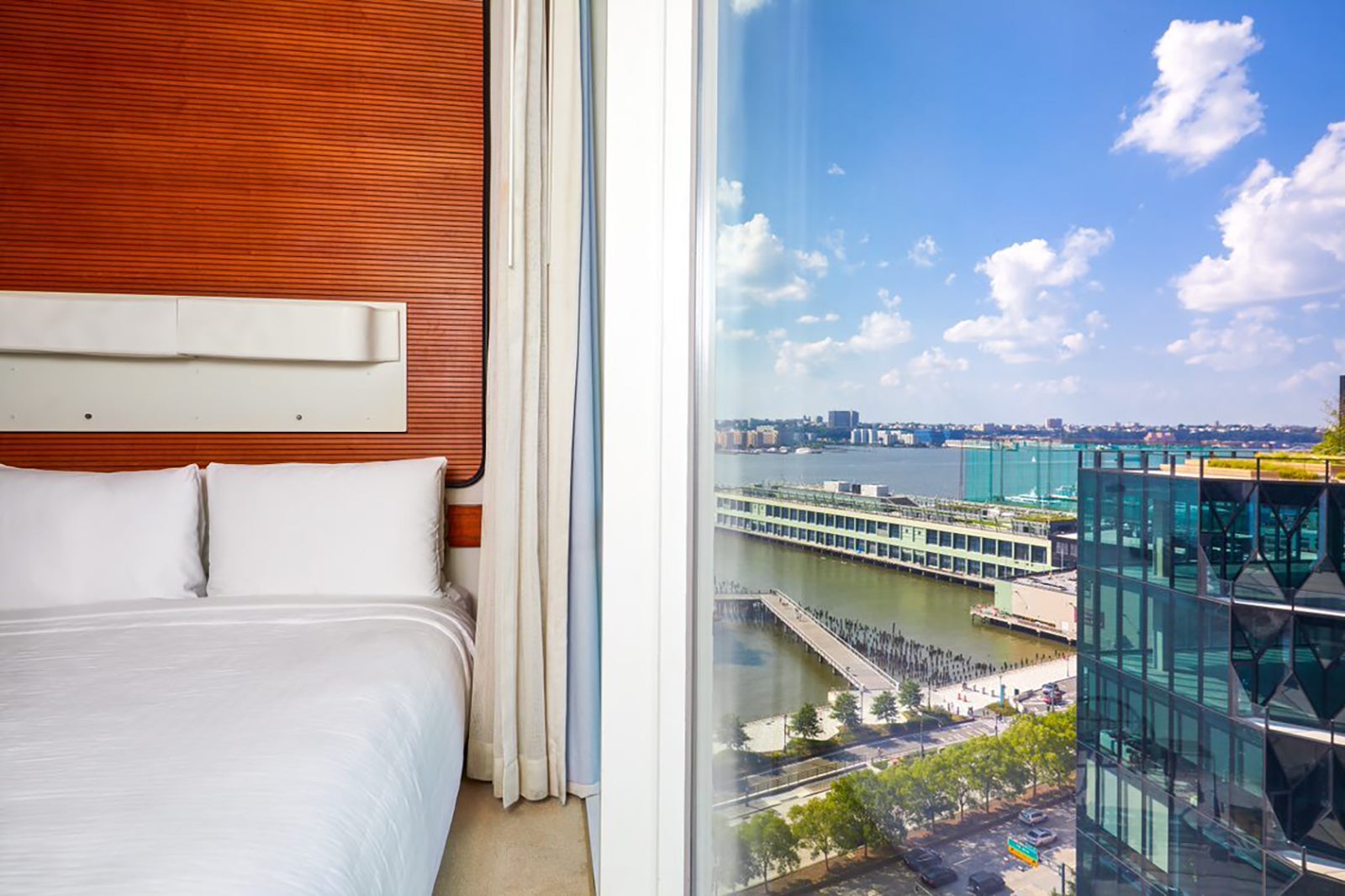 There are nearly 340 rooms to choose from at The Standard, High Line, with options ranging from standard queen and king rooms to suites named after iconic Big Apple sights.
Rates vary throughout the year. Standard queen rooms can go for as little as $215 per night, while standard king rooms are available on select dates for less than $400 per night. A junior suite starts at $475, a mid-tier one-bedroom Liberty Suite at $775 and the largest Empire Suite at $1,880. Keep in mind, though, that room rates increase for dates in and near the peak summer season; standard rooms cost up to $600 and suites max out at $2,400 per night during the warmer months. When I booked my slightly upgraded deluxe queen room in mid-June for late August, it cost $375 per night (or $1,400 total for my three-night stay).
Since this hotel is not part of a major hotel group with an expansive loyalty program, you cannot book with points. However, you can use a credit card to maximize your purchase. Popular options include the Chase Sapphire Preferred Card (which earns 2 points per dollar spent on travel), the Capital One Venture Rewards Credit Card or the Capital One Venture X Rewards Credit Card (both earn a flat 2 miles per dollar on all purchases, including hotels), or the Citi Premier® Card (see rates and fees), which earns 3 points per dollar on several travel categories, including hotels.
Related: New York on the cheap: Strategies I used on a $252 2-night trip
Standout features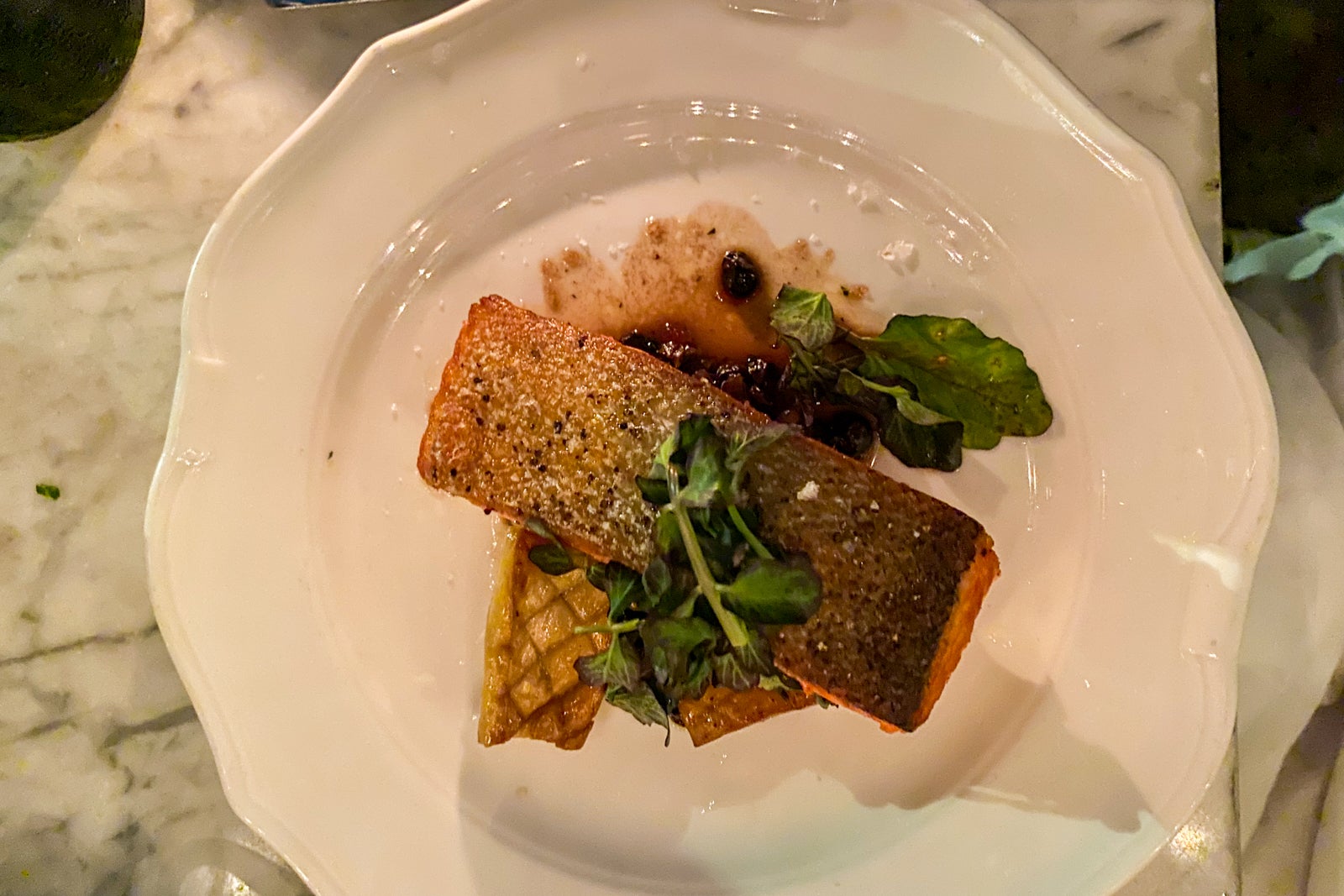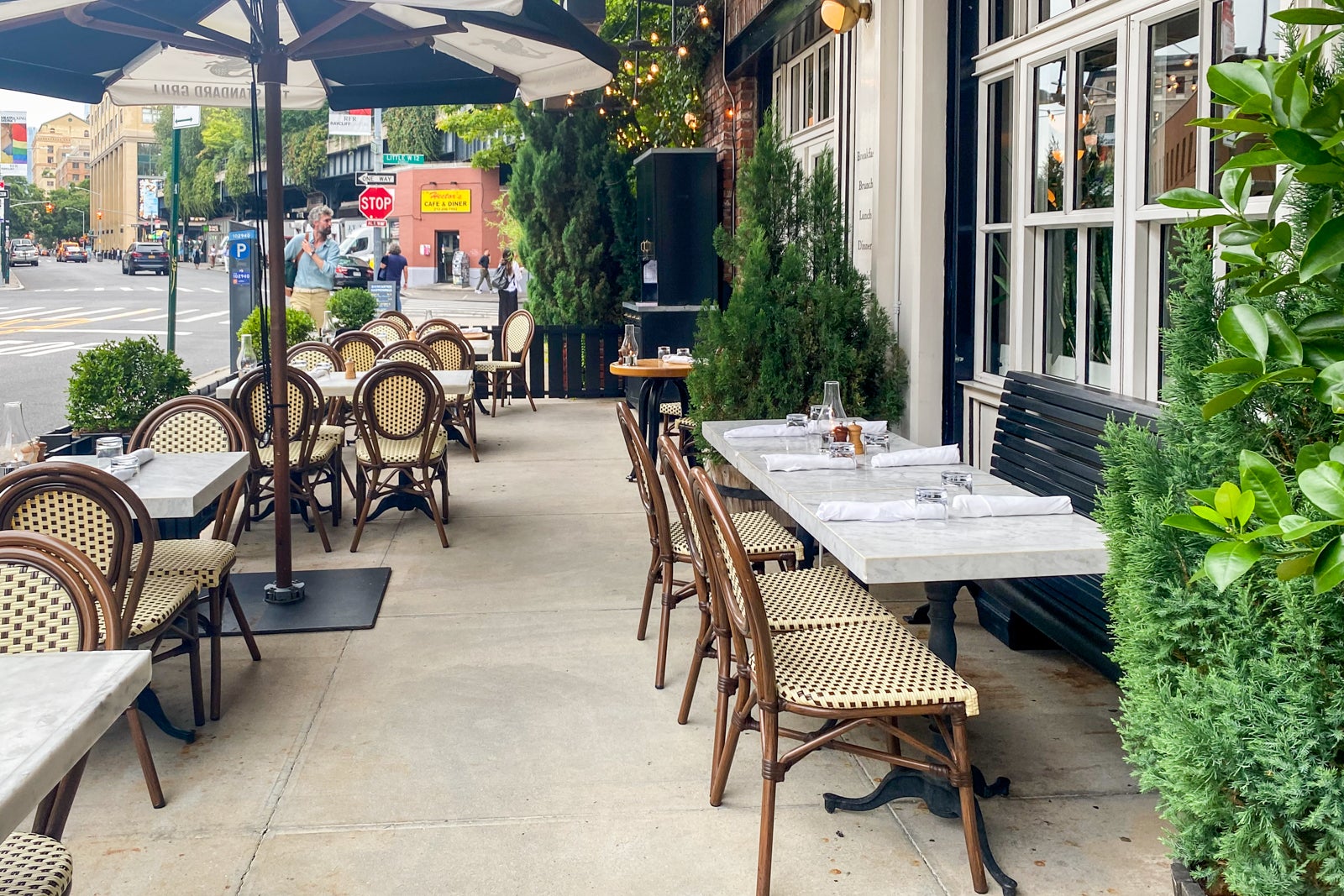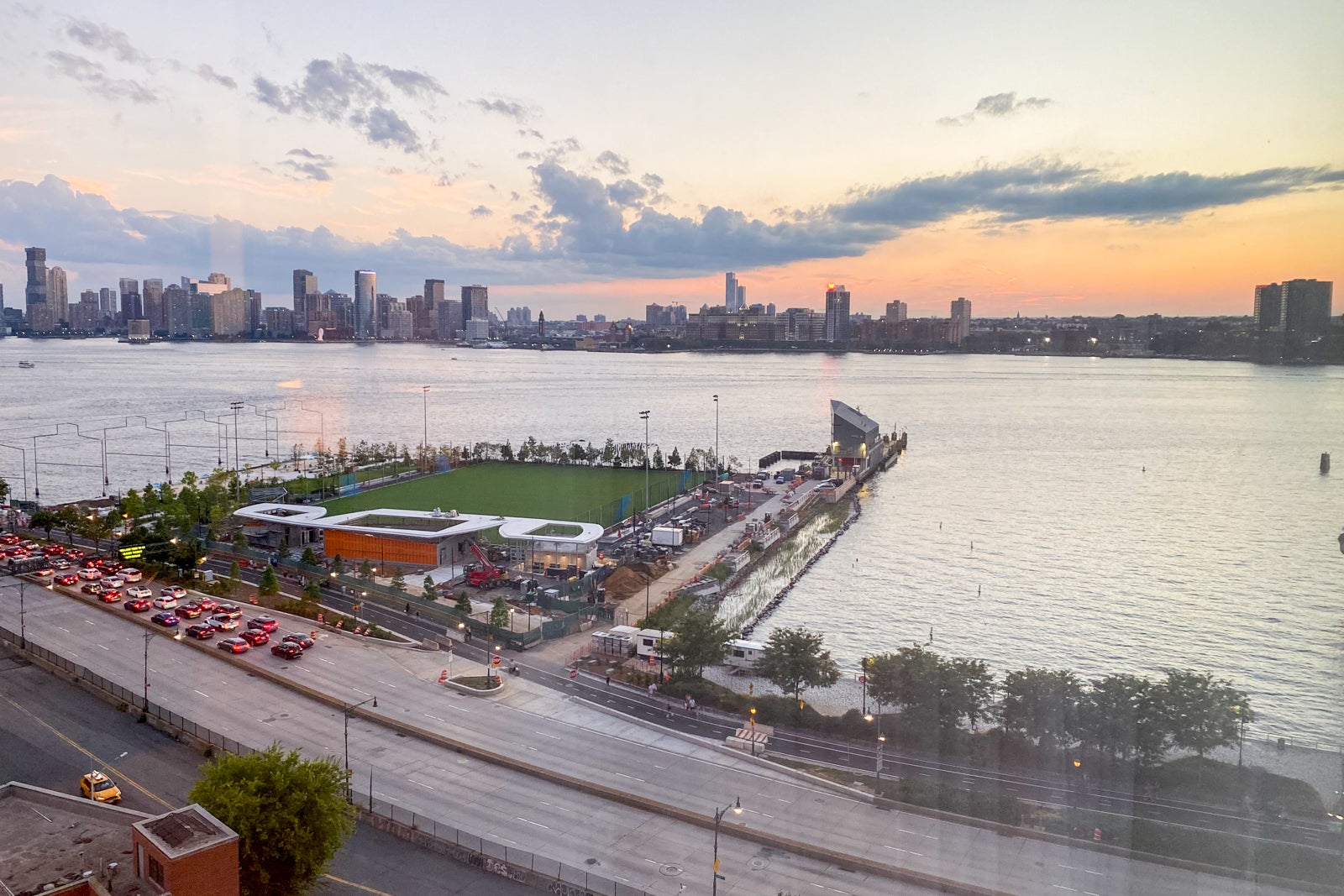 Eat at The Standard Grill, where there were no bad dishes out of the ones we tried. From the Grilled Okra King Salmon with pine nut-currant relish and king oyster mushrooms to the crispy potatoes and lobster pasta, each dish hit our palates just right.
The central location of this property makes it accessible on foot to many other downtown gems. Some attractions include the High Line and West Side Highway, both scenic walking paths; the city's newest public park, Little Island; and the nearby West Village, which is home to some of the city's best and most sought-after restaurants.
Soak in the floor-to-ceiling window views of Manhattan or the Hudson River, depending on your room, for an instant serotonin boost.
Drawbacks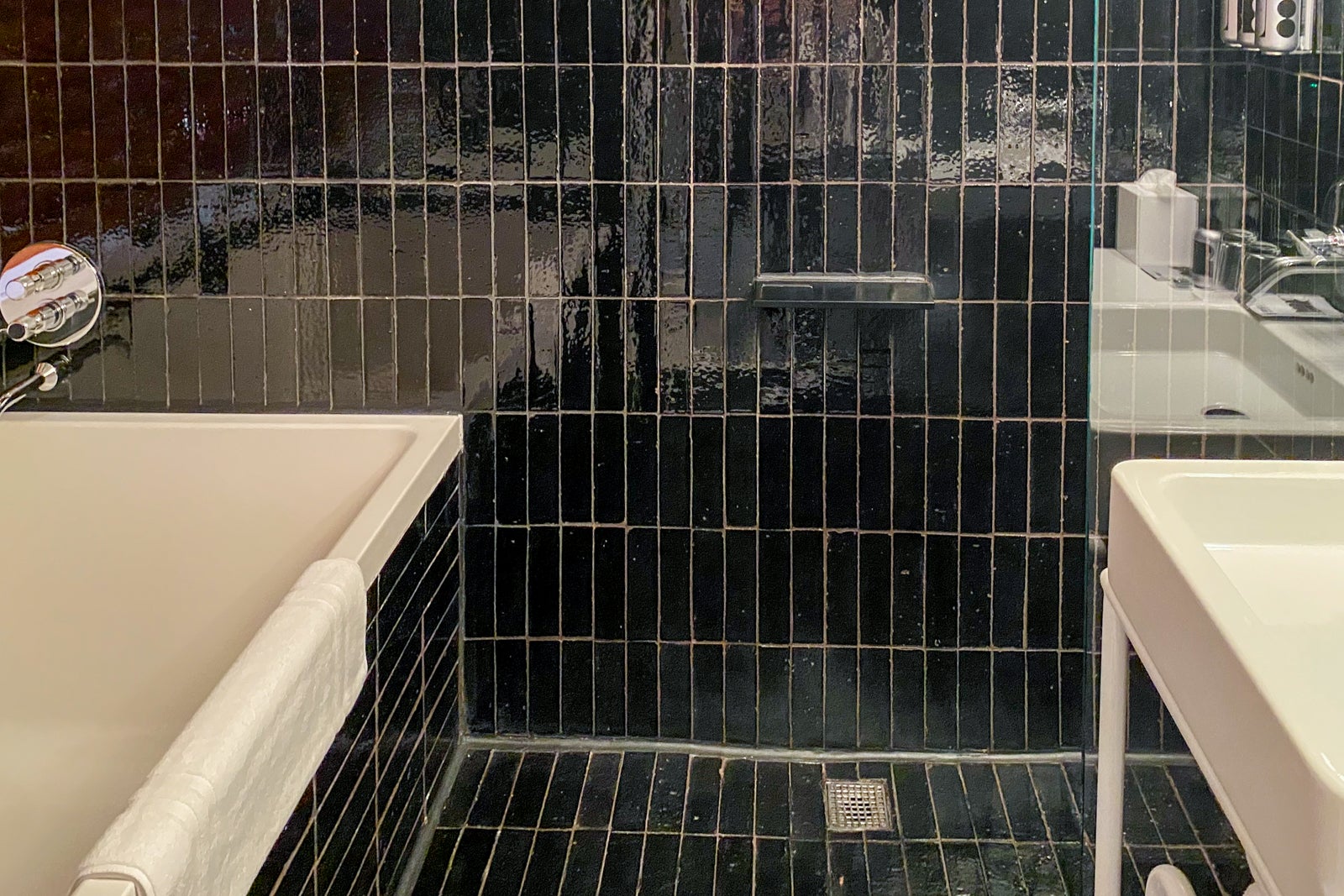 The elevator is an odd ride, featuring a seemingly out-of-place "Alice in Wonderland theme," with unpleasantly dim lighting, a random Christopher Walken cameo visual and a bizarre song on an endless loop.
The very intense water pressure from the bathroom sink and the slick tile shower floor were both design misses.
The in-room Wi-Fi is slow to connect and may take a couple of tries.
The vibe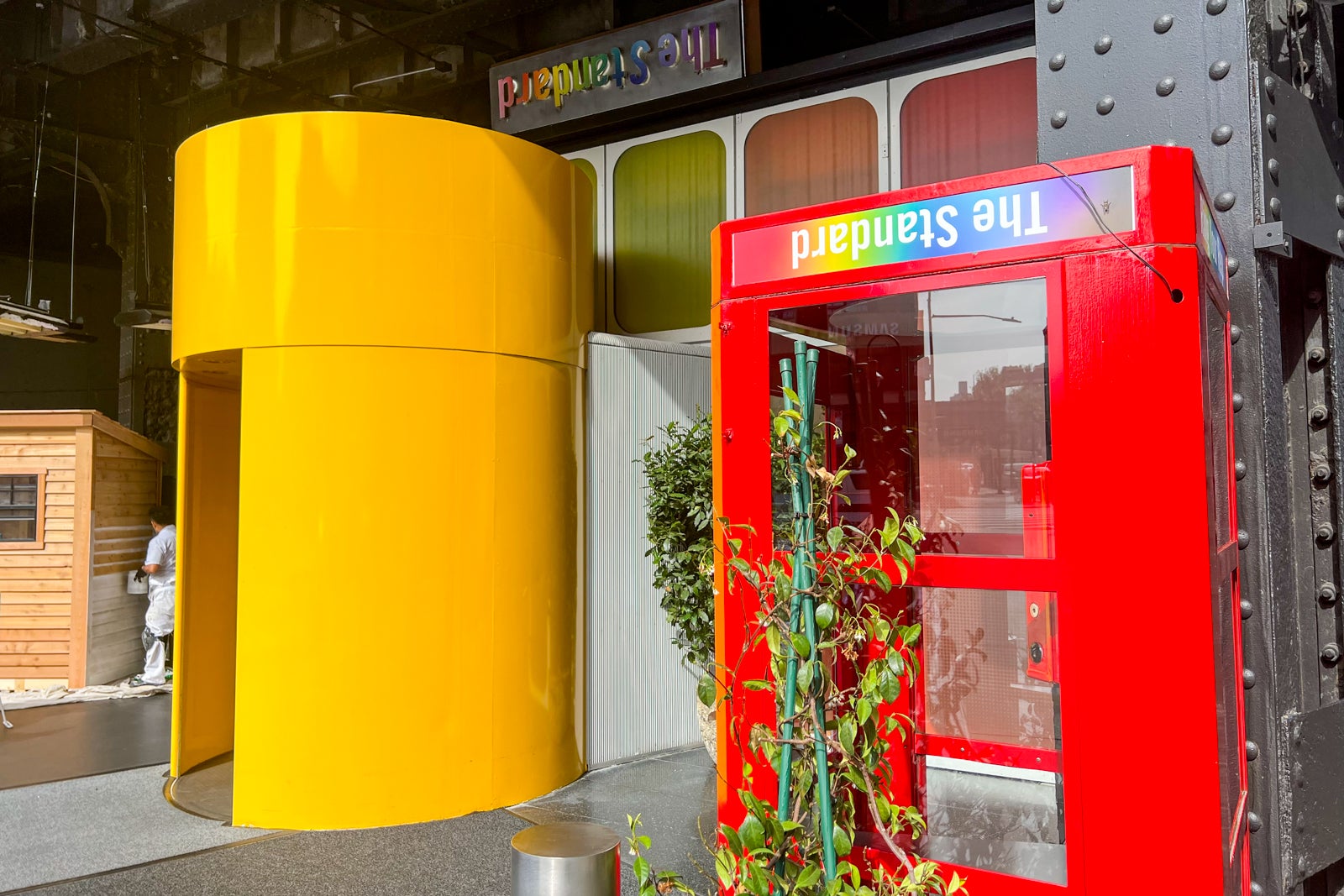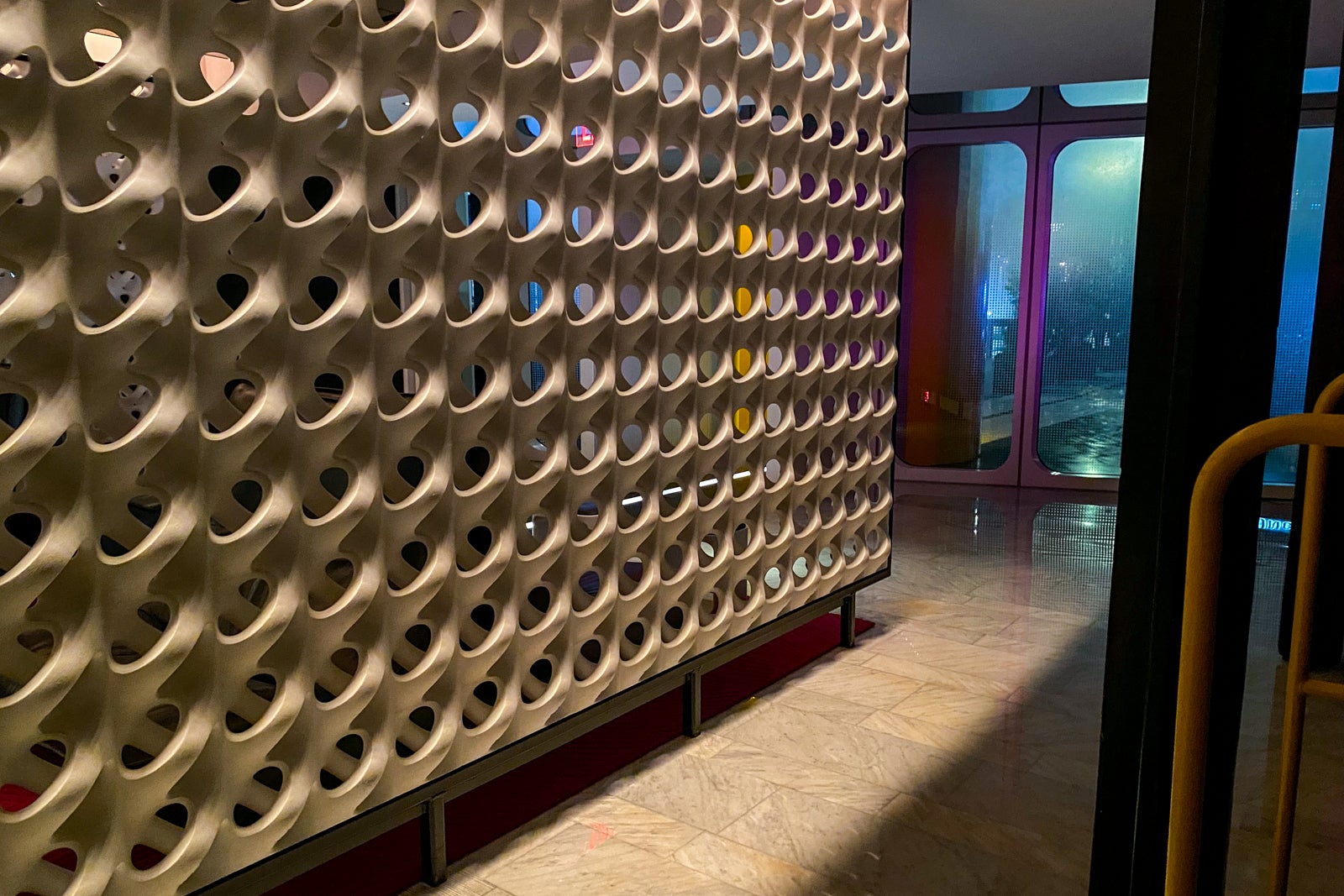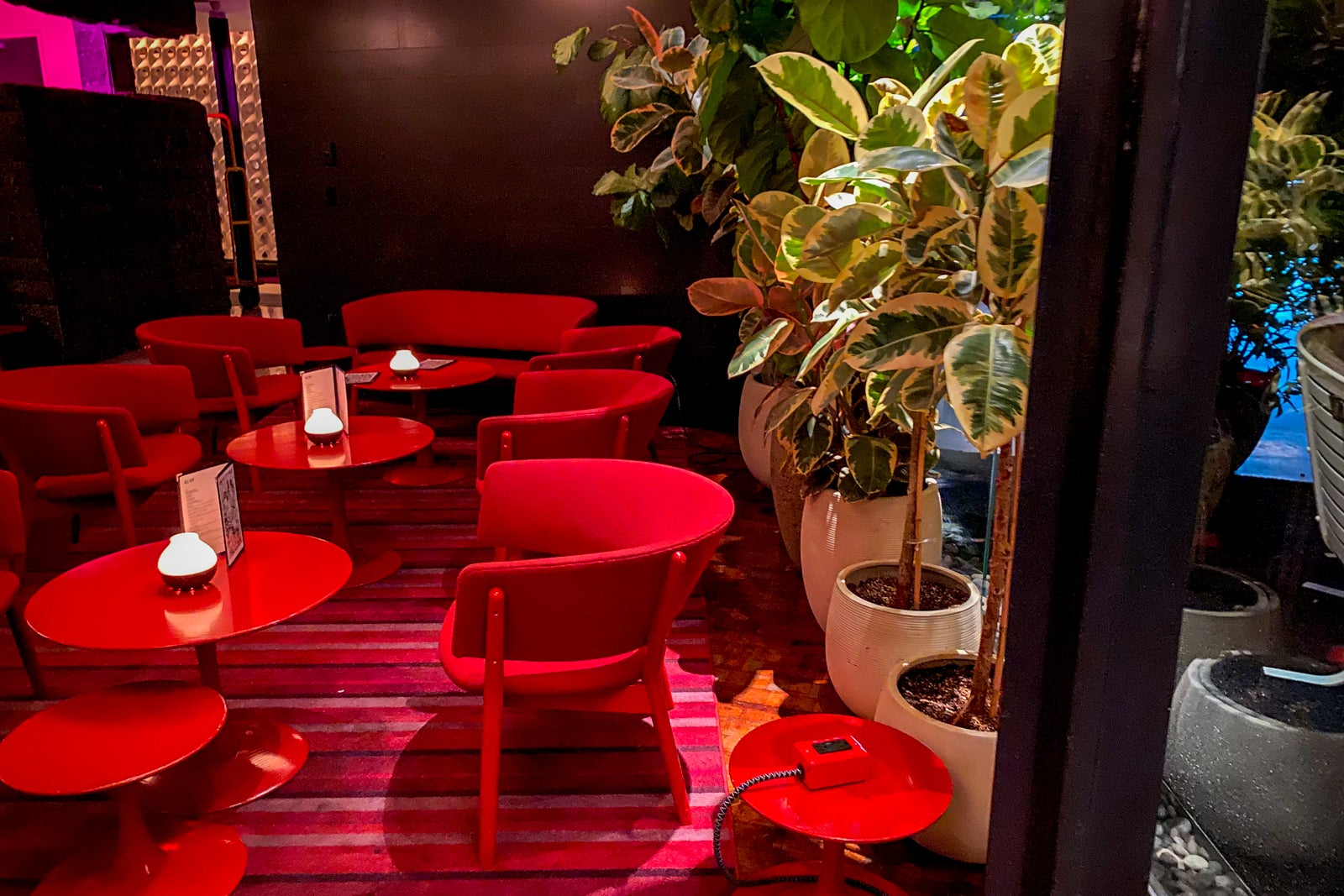 The Standard, High Line sits on Washington Street in the trendy Meatpacking District. It attracts cool, party-centric travelers, in part because it's the home of one of the city's hottest nightlife destinations: Le Bain.
With that in mind, you'll see many guests who, after a night of partying, may mistake your room for theirs — this happened to me twice during my stay. Plus, there's no shortage of well-dressed Europeans.
The property strives to remain cool by way of design details. For instance, the room's tambour paneling serves as the bed's headboard and a stunning ceiling feature; a low bed, black metal accents and a retro orange glow to the lights immediately outside create a Scandinavian aesthetic with a touch of '70s flair.
The lobby is designed to be more of a social space with oversized black lounge couches to match the party vibe. The lobby's design elements, such as funky red lighting and art throughout, hammer home the property's cool aesthetic.
As such, families and those looking for a quieter scene may feel a bit out of place staying here.
Related: These are the best New York City hotels for families to check out
The room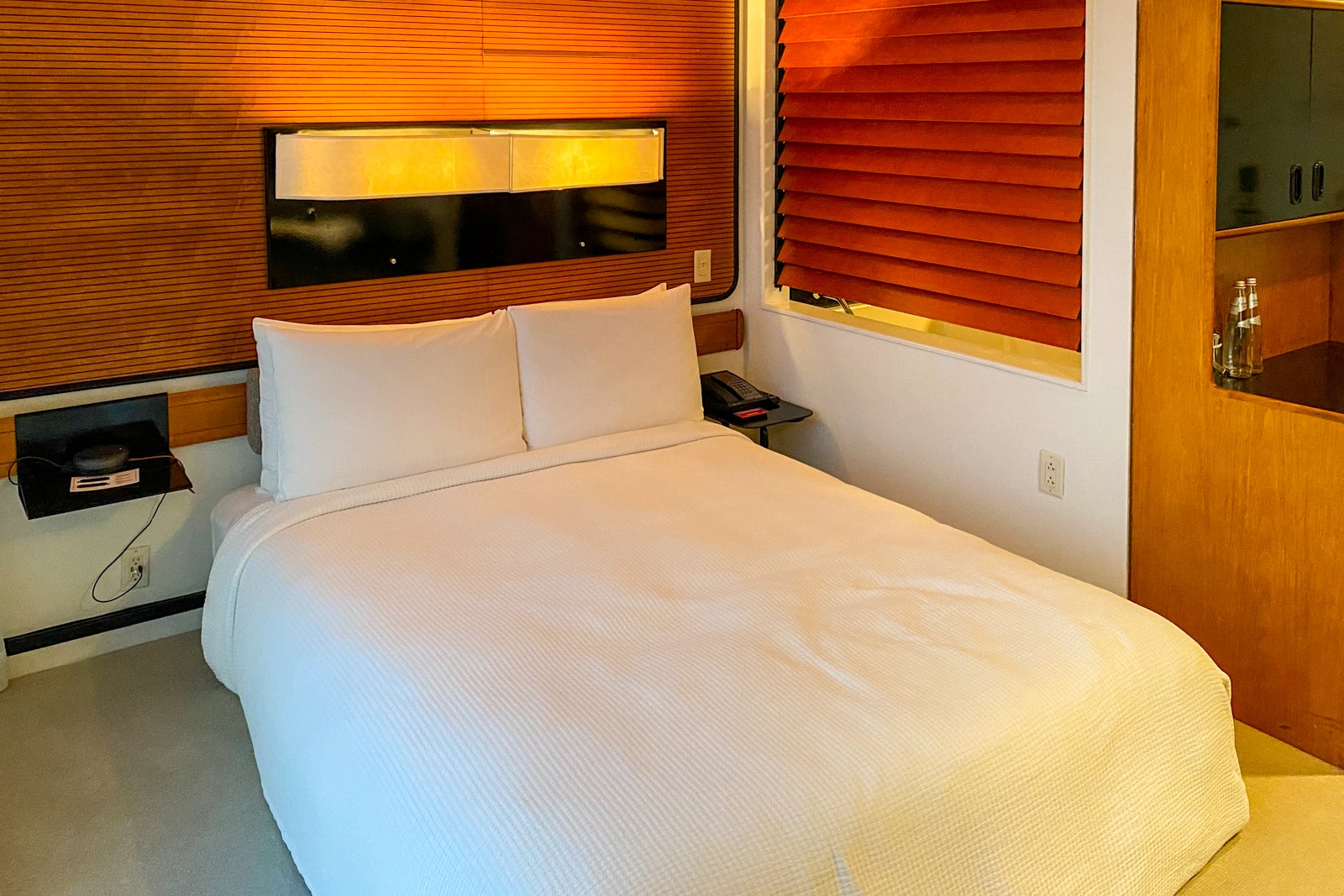 Though slightly smaller than the average New York City hotel room at 230 square feet, my deluxe queen room had a thoughtful layout that could comfortably fit a queen bed with room to walk around. It also fit a full-size table and couch large enough to accommodate four people for meals or work. There was a closet with a robe and slippers, a flat-screen TV and a minibar.
You'll find a cool, eye-catching design in black, white and gray hues that complements the rest of the property. All rooms have a wall of floor-to-ceiling windows offering incredible city skyline and Hudson River panoramas (once you look past the less-than-stellar view of a parking lot).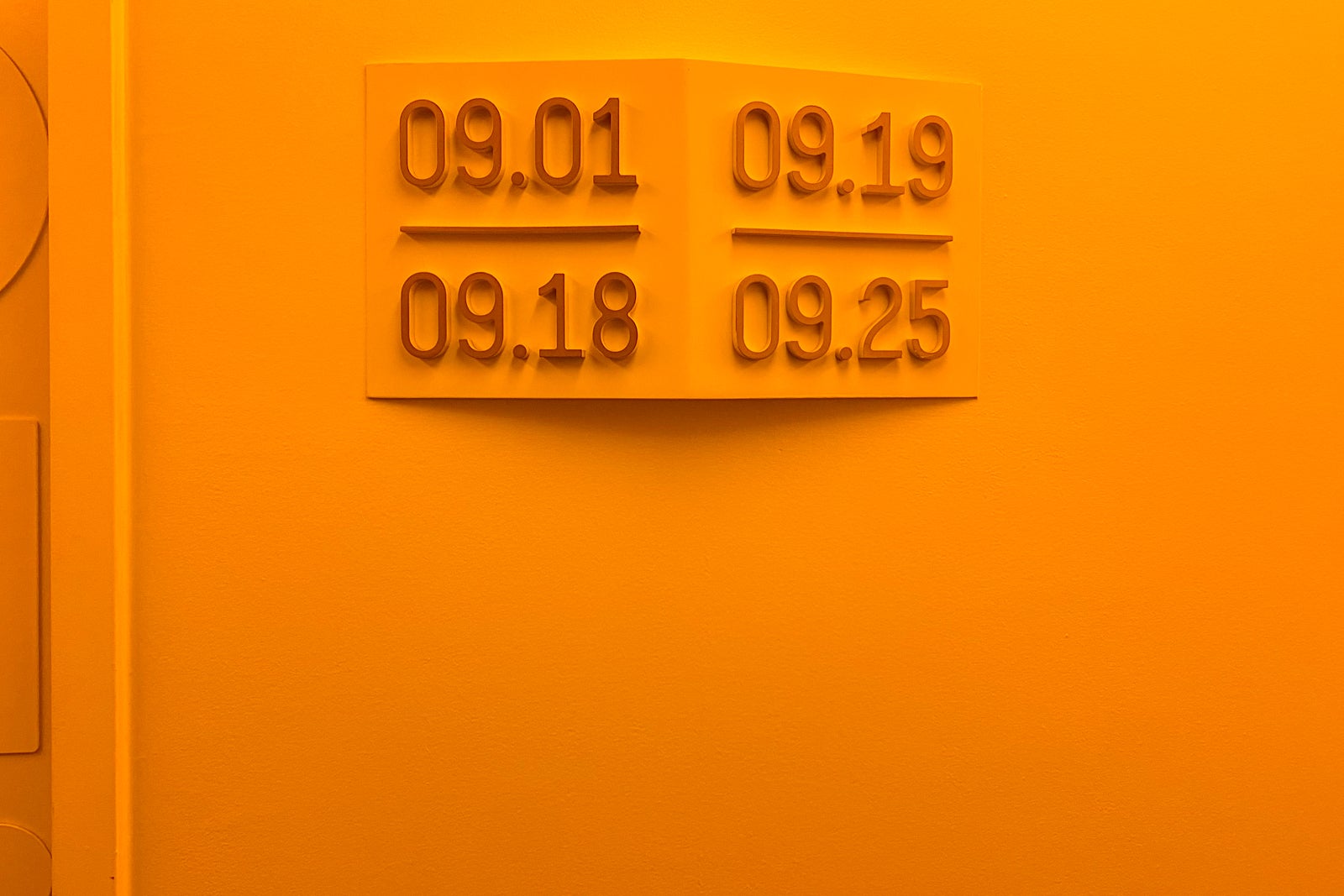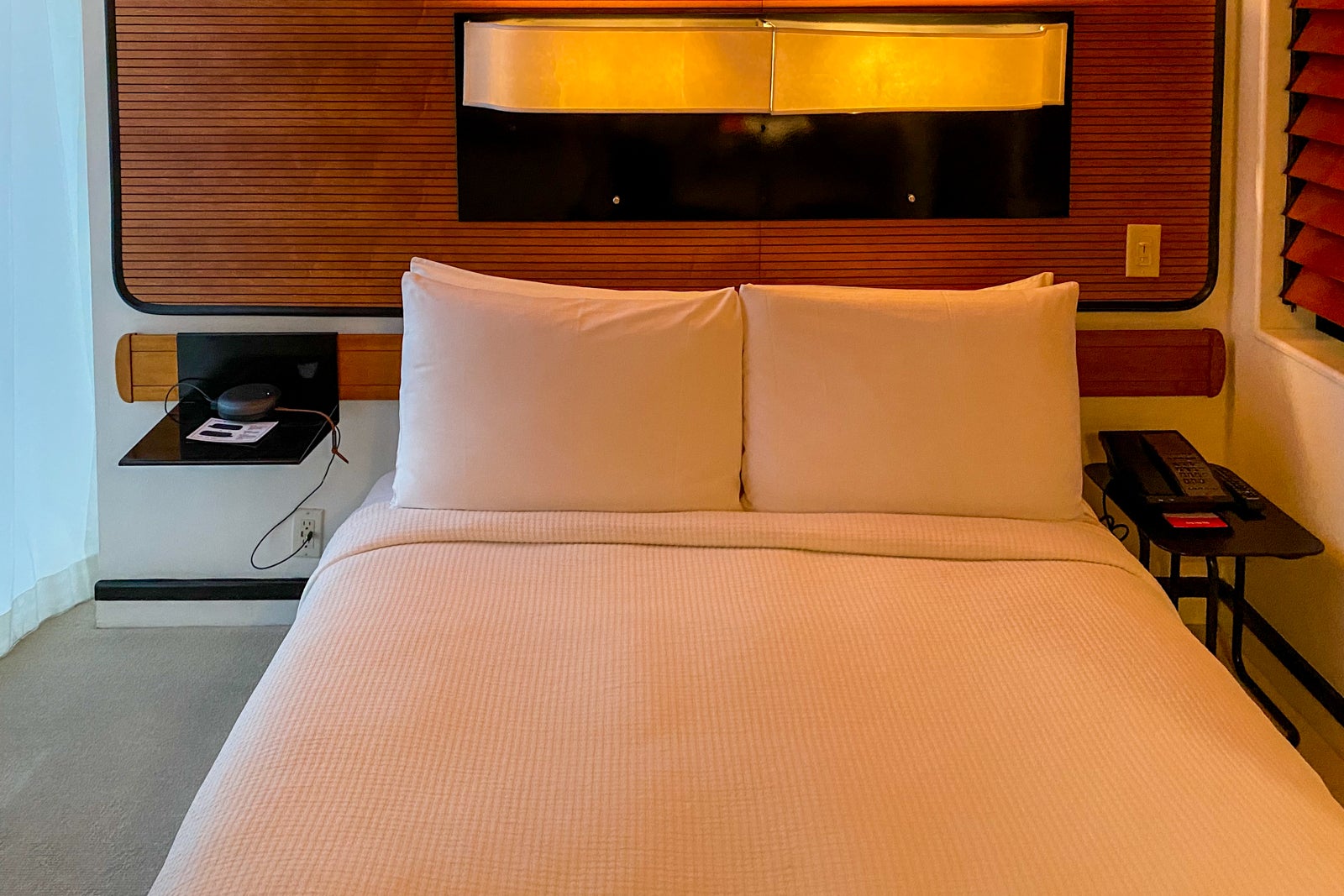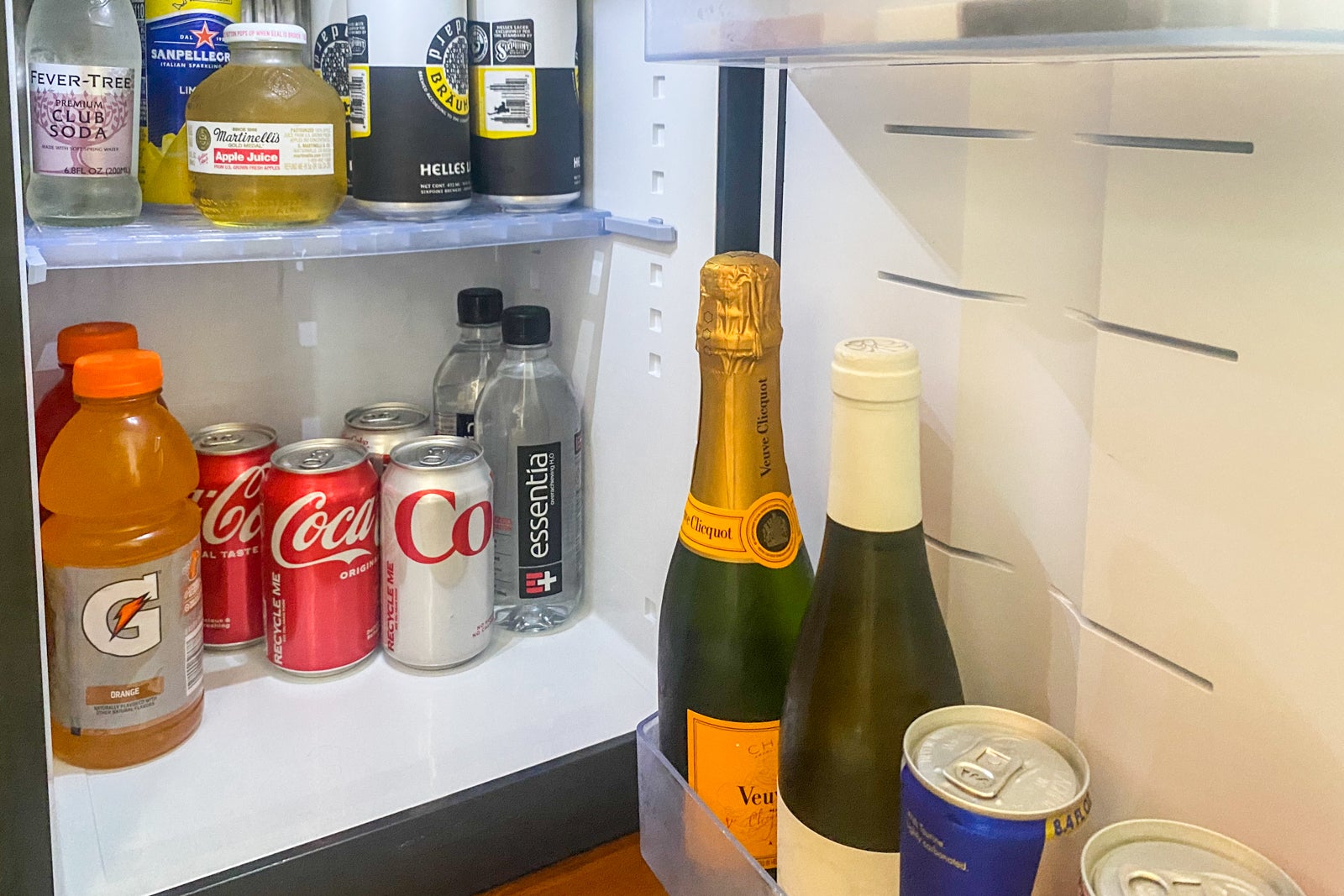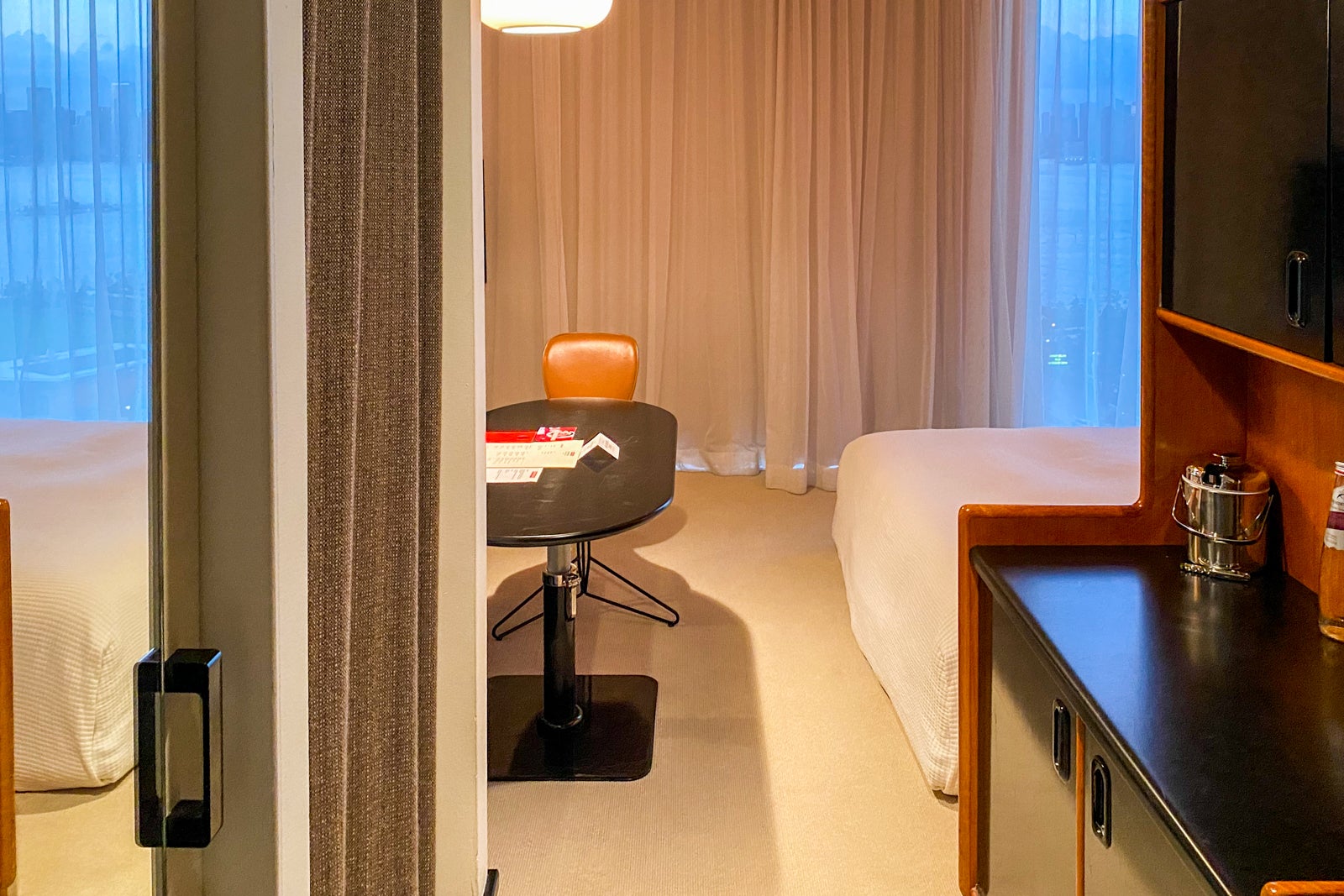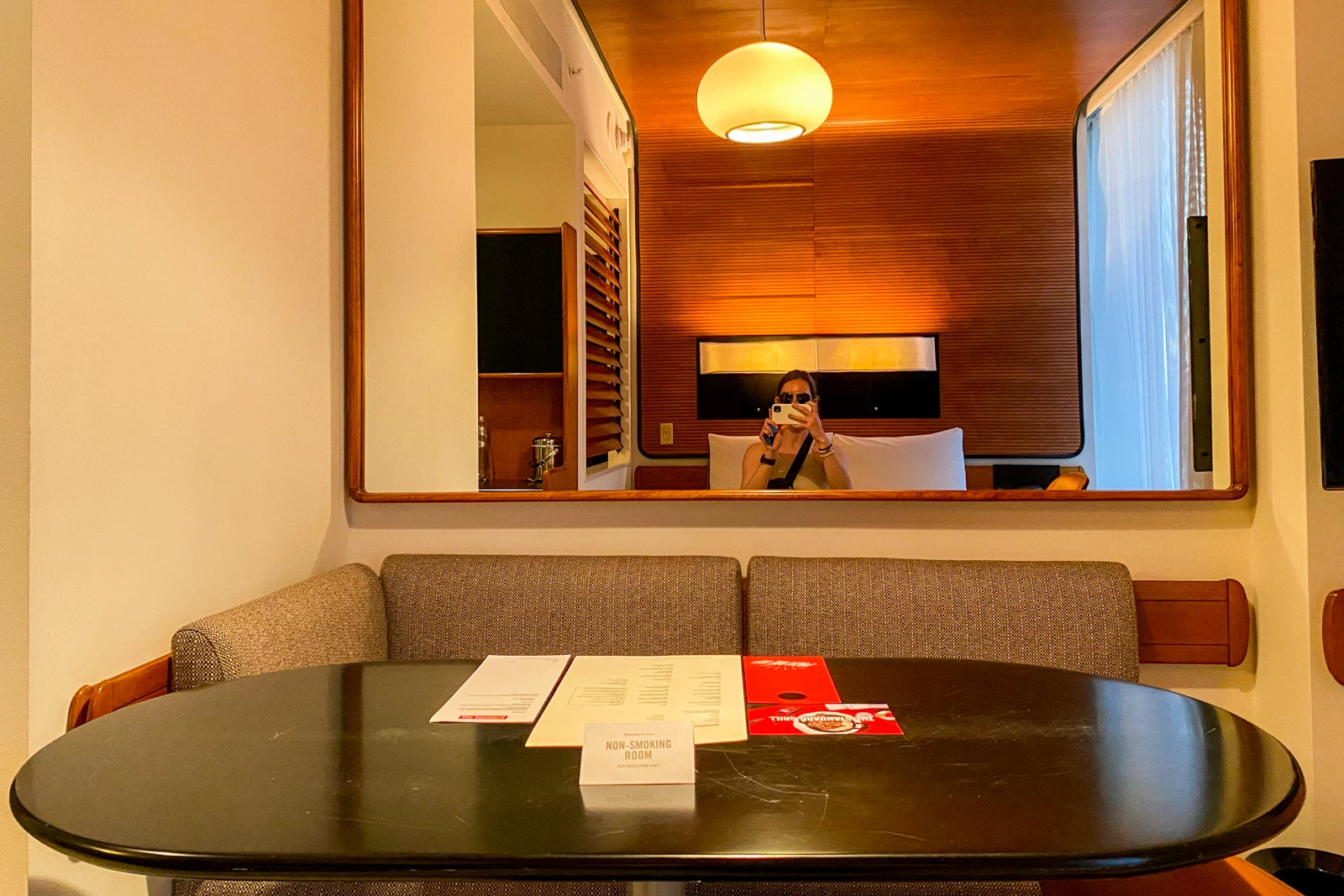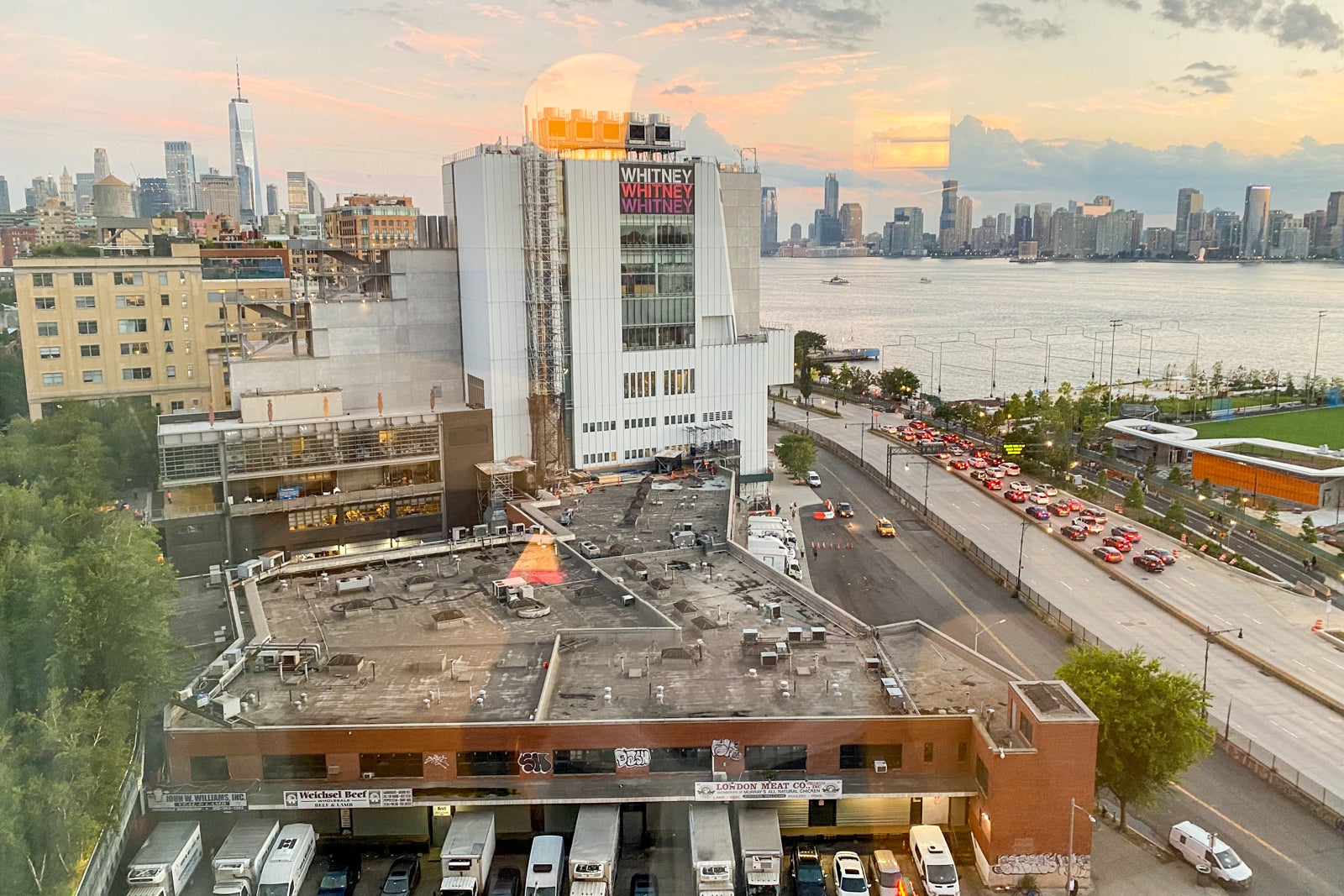 The bathroom continues the retro-yet-modern aesthetic, though with a few subpar design choices. Handmade black, cream and orange tiles cover the floor, walls and sides of a bathtub and an exposed shower. The toilet and the trash can, which is too small to hold more than a couple of tissues, sit out of view in a small water closet. The hotel supplies its own Standard branded body wash, shampoo and conditioner.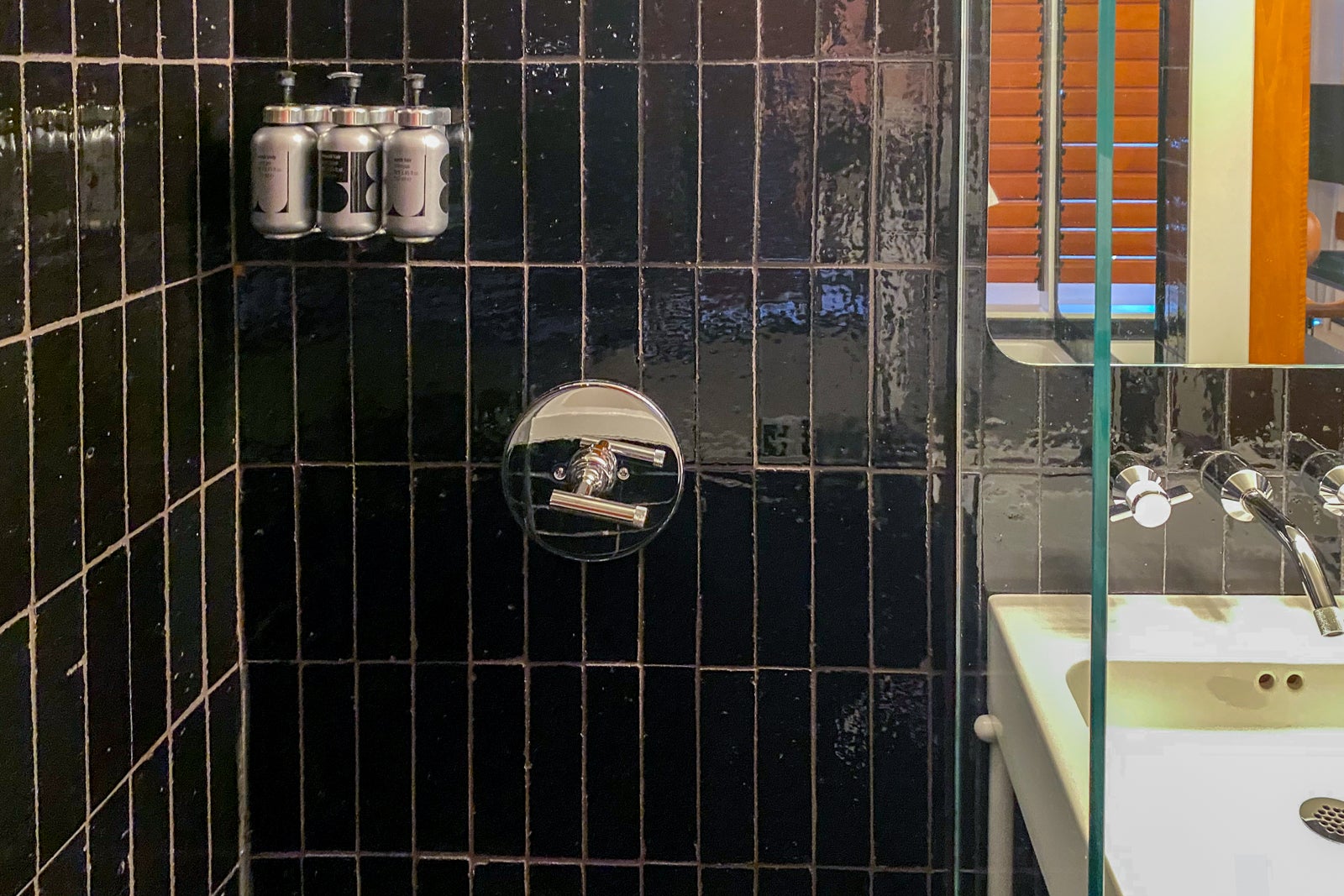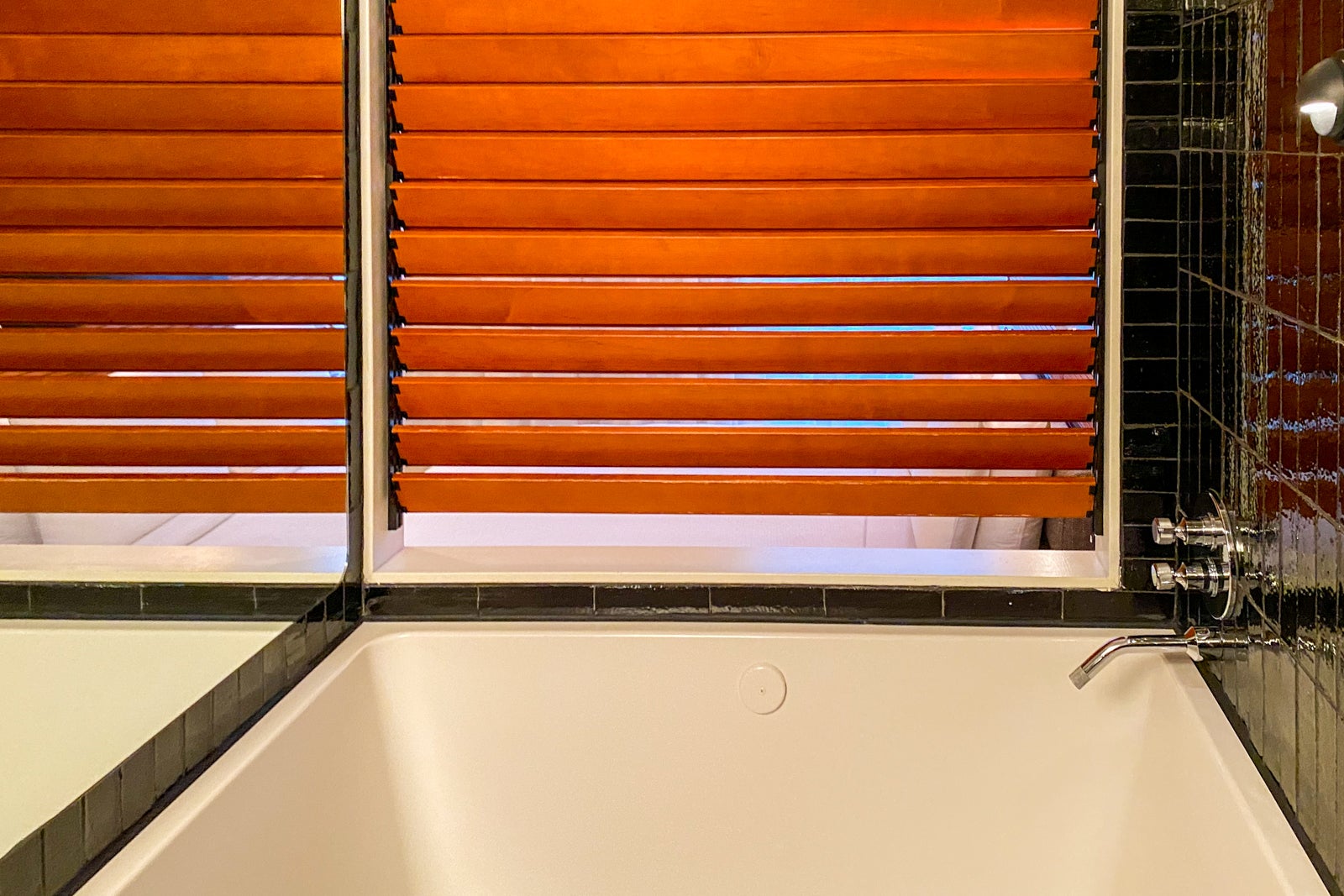 Above the tub is a window facing the bed and the view beyond, a quirky feature that you'll likely either love or hate. I appreciated its design for the exterior view it gave and didn't mind it for my solo stay. However, those staying with another guest might find this to be awkward for privacy purposes.
While I liked the look of the space overall, the bathroom sink created too much water pressure, to the point where both of my visitors commented on such intensity after being splashed upon washing their hands. Also, the tile shower floor extends throughout the bathroom, leaving the bathroom floor in front of the mirror regularly cold and wet due to the lack of separation between the shower and sink.
Food and drink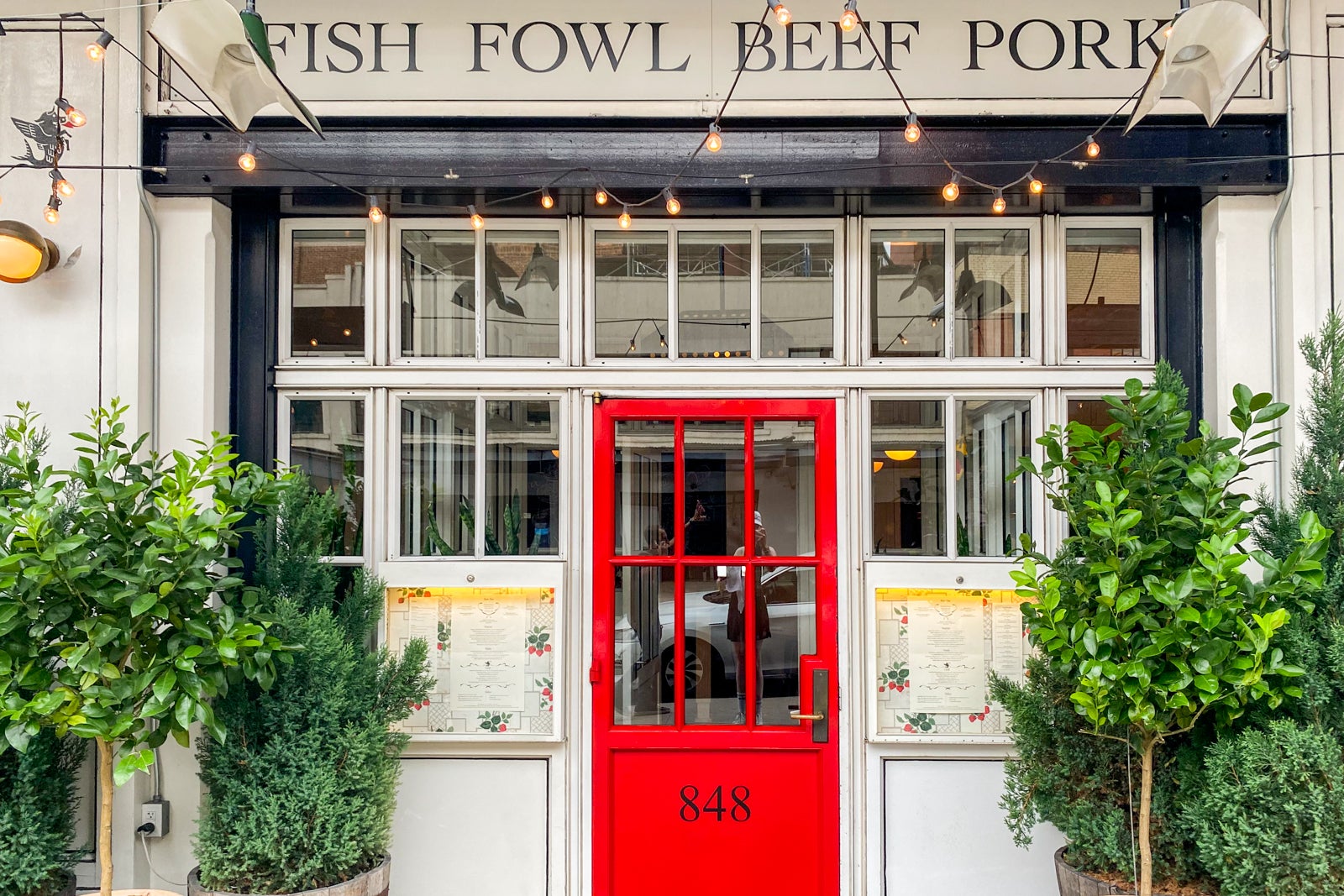 There are several on-site eateries, including a lobby lounge with lighter fare, a beer garden with German brews and bites, and the aforementioned rooftop nightclub. The main restaurant, The Standard Grill, is the culinary highlight of this property, though. Drawing both hotel guests and neighborhood residents, The Standard Grill blends traditional steakhouse vibes with a sidewalk cafe feel.
During my dinnertime visit with a TPG colleague, I sampled a variety of dishes to get a sense of the New American menu.
We started with two salads — the Little Gem Caesar Salad with Spanish anchovy dressing, Parmesan and sourdough croutons ($17) and the Simply Green Salad with various herbs, shallots and a red wine vinaigrette ($14). We followed this with the Lobster Pasta with peas, cherry tomatoes and mint ($28) and the Grilled Okra King Salmon with king oyster mushrooms and a pine nut and currant relish ($32).
To accompany our entrees, we ordered sides of crispy potatoes with smoked paprika aioli ($9), french fries ($8) and a pickle ($3) for a good crunch; we also ordered a Rosa Paloma cocktail made with blanco tequila, rosa aperitif, pink grapefruit, lime and passionfruit salt ($16).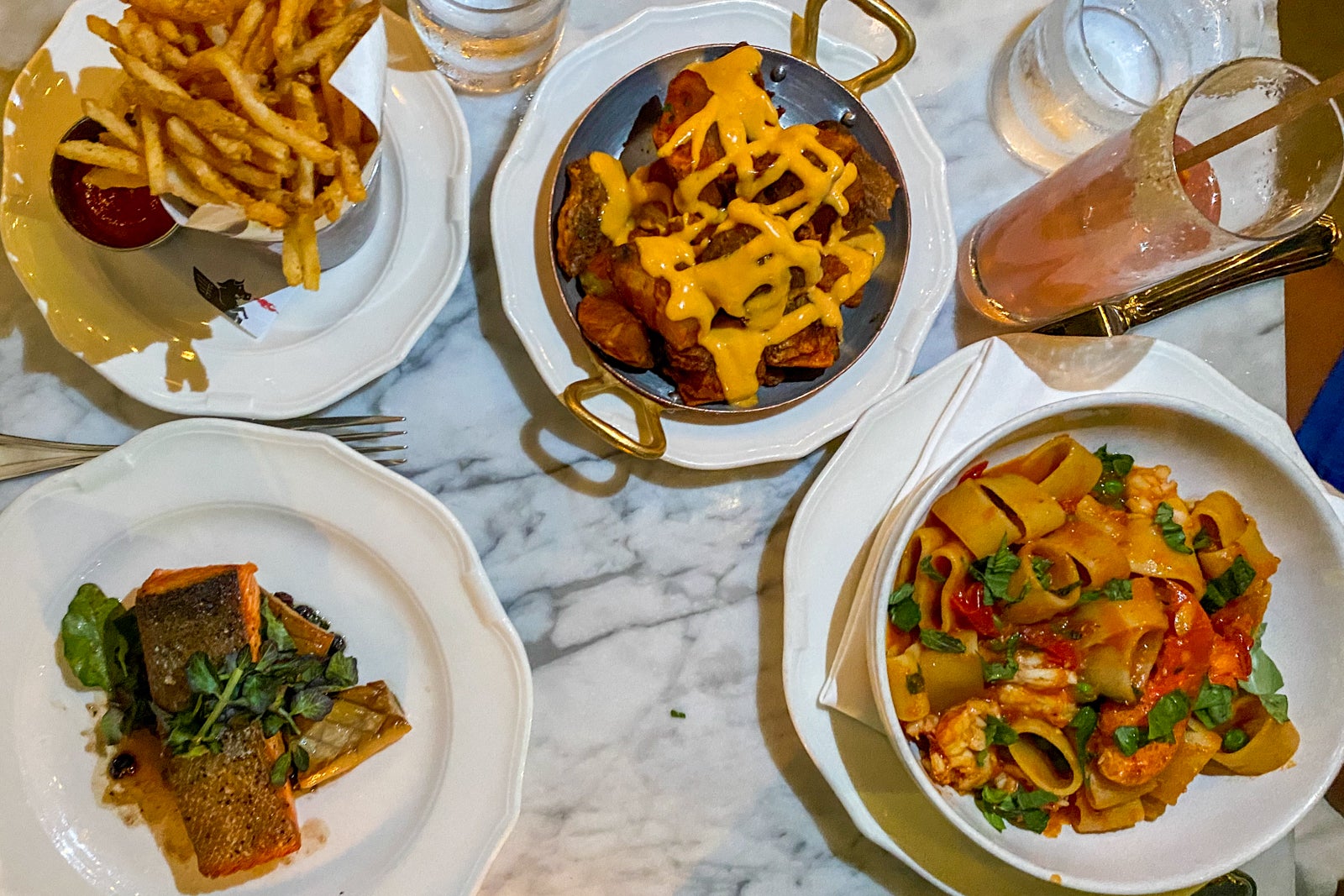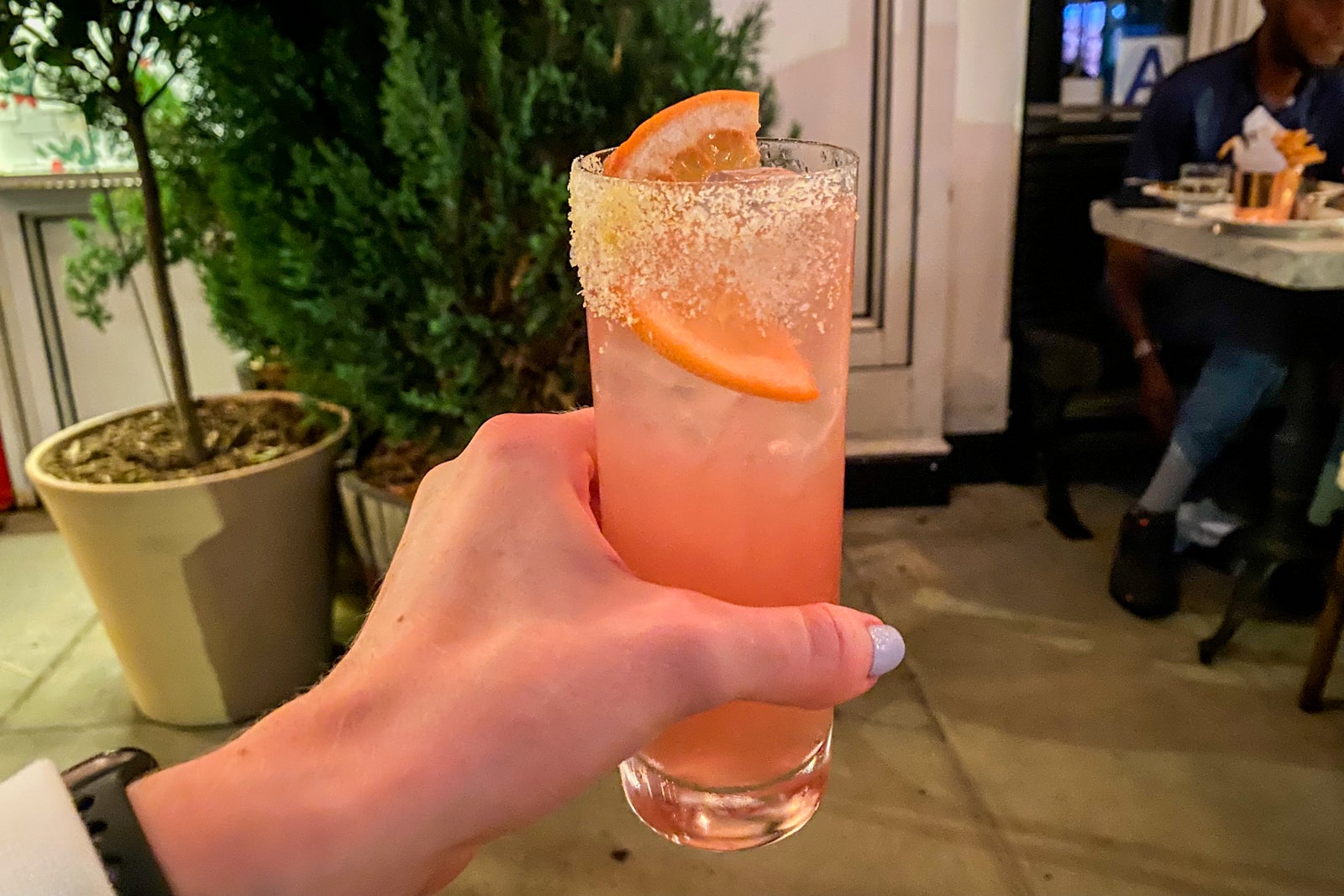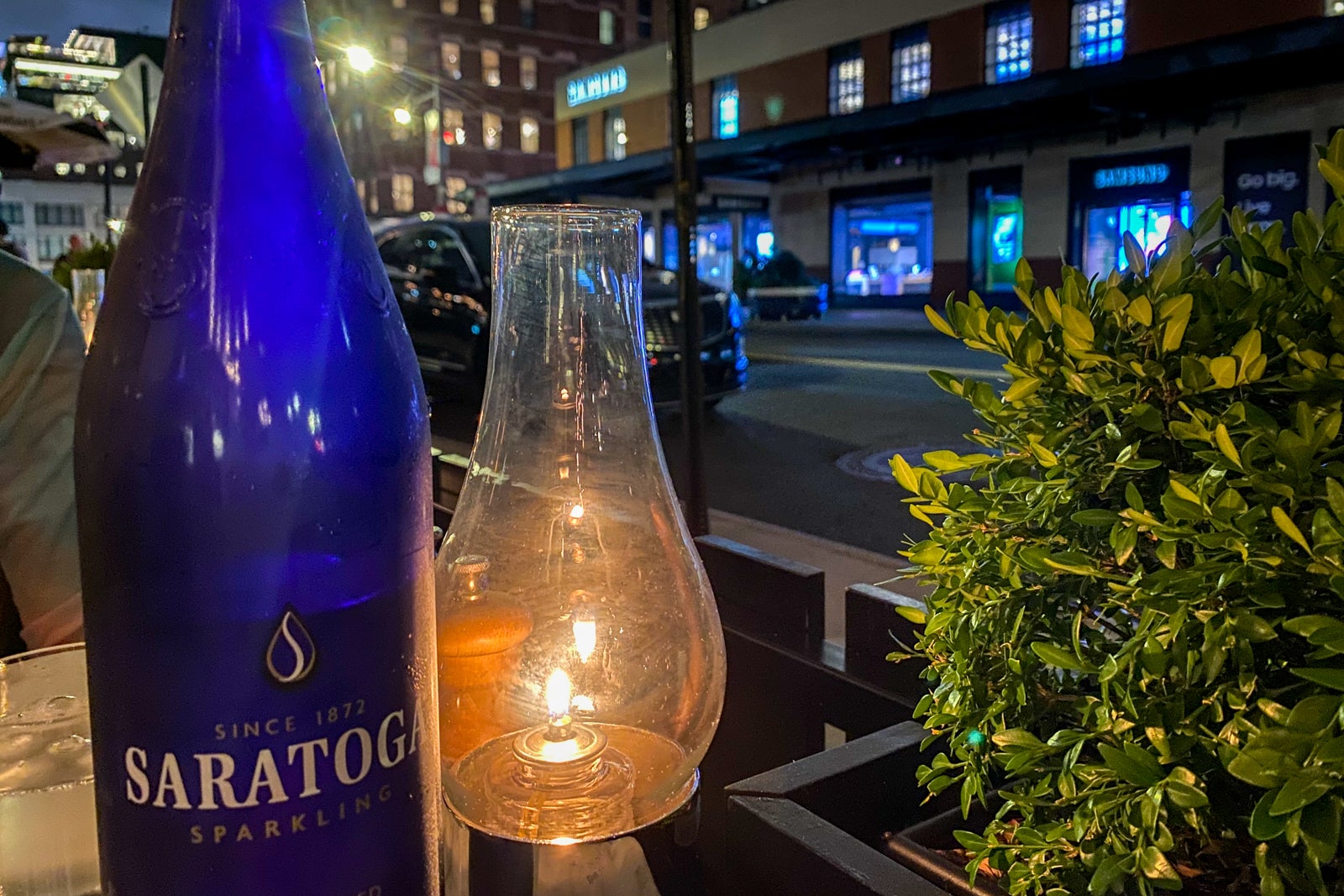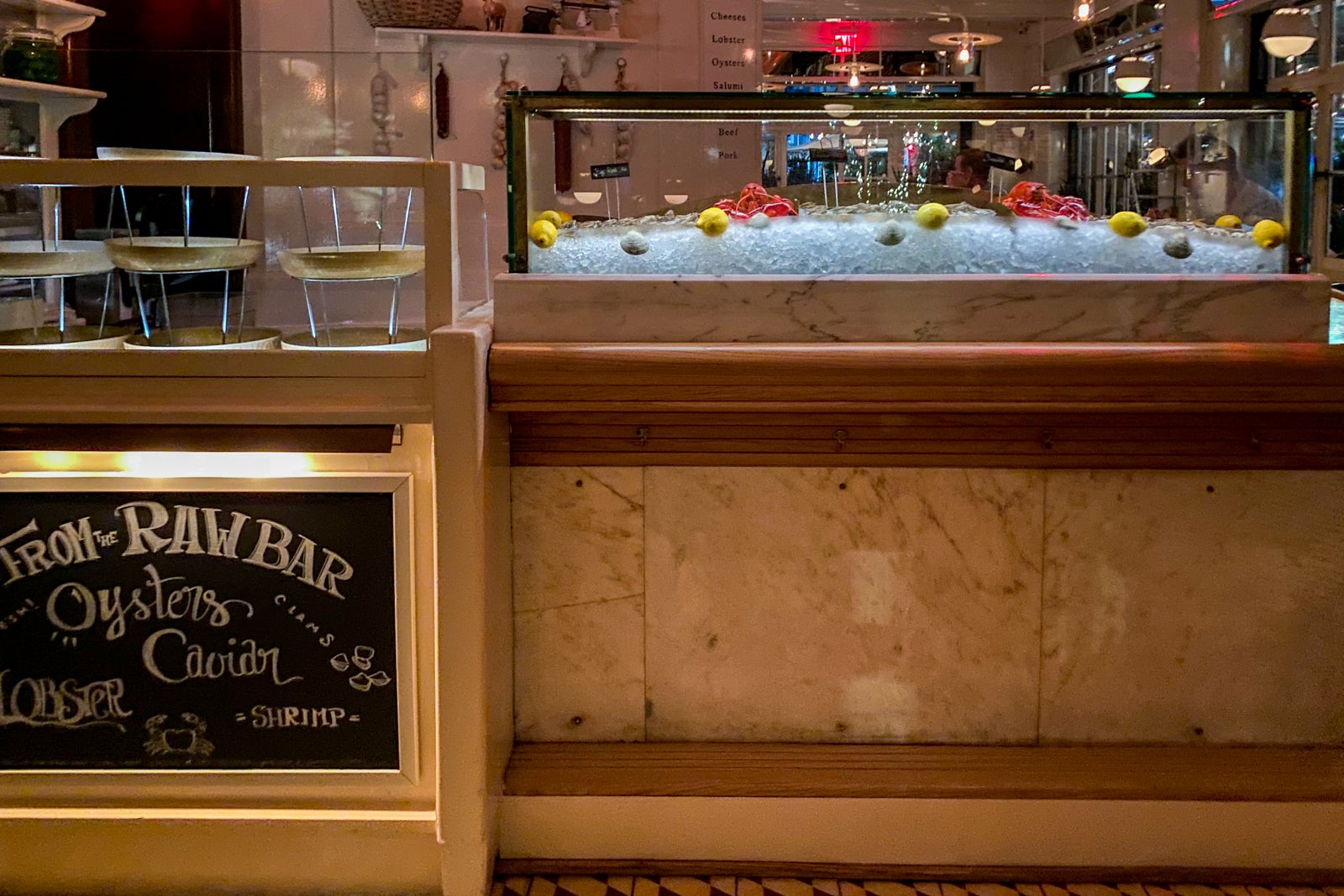 As someone who eats salmon multiple times per week, the restaurant's salmon melted in my mouth (and was dairy-free). Both the patatas bravas and fries were worth the carb intake. It was not busy on a Tuesday evening, but I would recommend making a reservation on the weekend.
Though I didn't visit the Biergarten this trip, I would recommend it for those looking for an outdoor drinking and games experience, complete with giant pretzels and ping pong.
Room service is available daily, 7 a.m.-11:30 p.m.
Related: 10 reasons the Hard Rock Hotel New York is a teenage dream
Amenities and service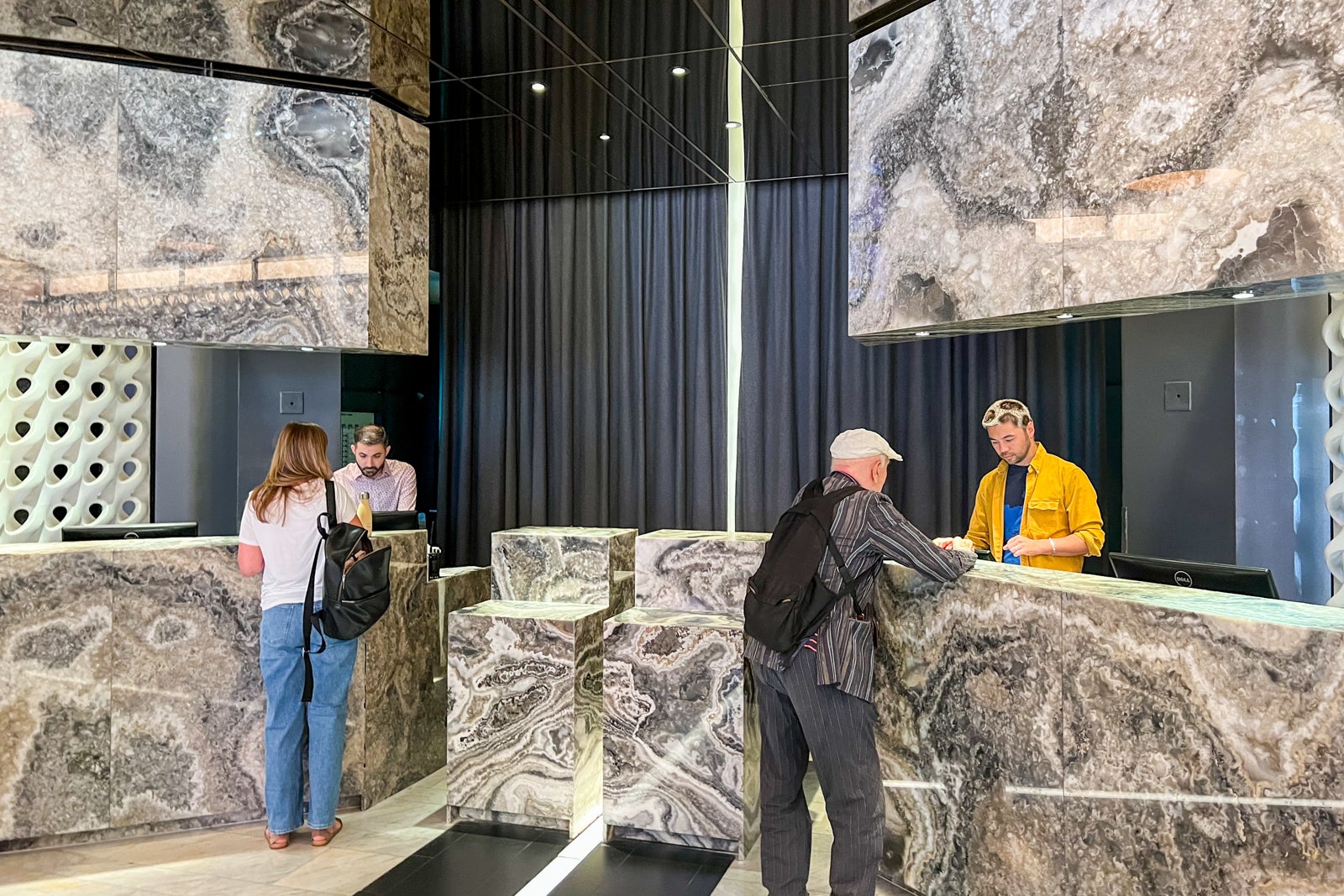 Due to a busy U.S. Open schedule, I didn't get a chance to visit the property's other amenities. However, shopaholics will appreciate the convenience of the on-site retail shop, which is full of designer goods. Meanwhile, fitness buffs can break a sweat in the 24-hour gym, equipped with ellipticals, treadmills, Peloton bikes, yoga balls and free weights.
As for service, this is where the property was underwhelming. Overall, the staff did not go the extra mile to assist me at any point during my stay.
That said, I hardly spent time interacting with the hotel's employees since I was mostly off-site during my visit. The only time the lack of prompt attention was an inconvenience was when I lost my room key and needed to wait in line for about 10 minutes to get a new one from the sole front desk staffer. The service at the restaurant was pleasant and relatively quick.
Out and about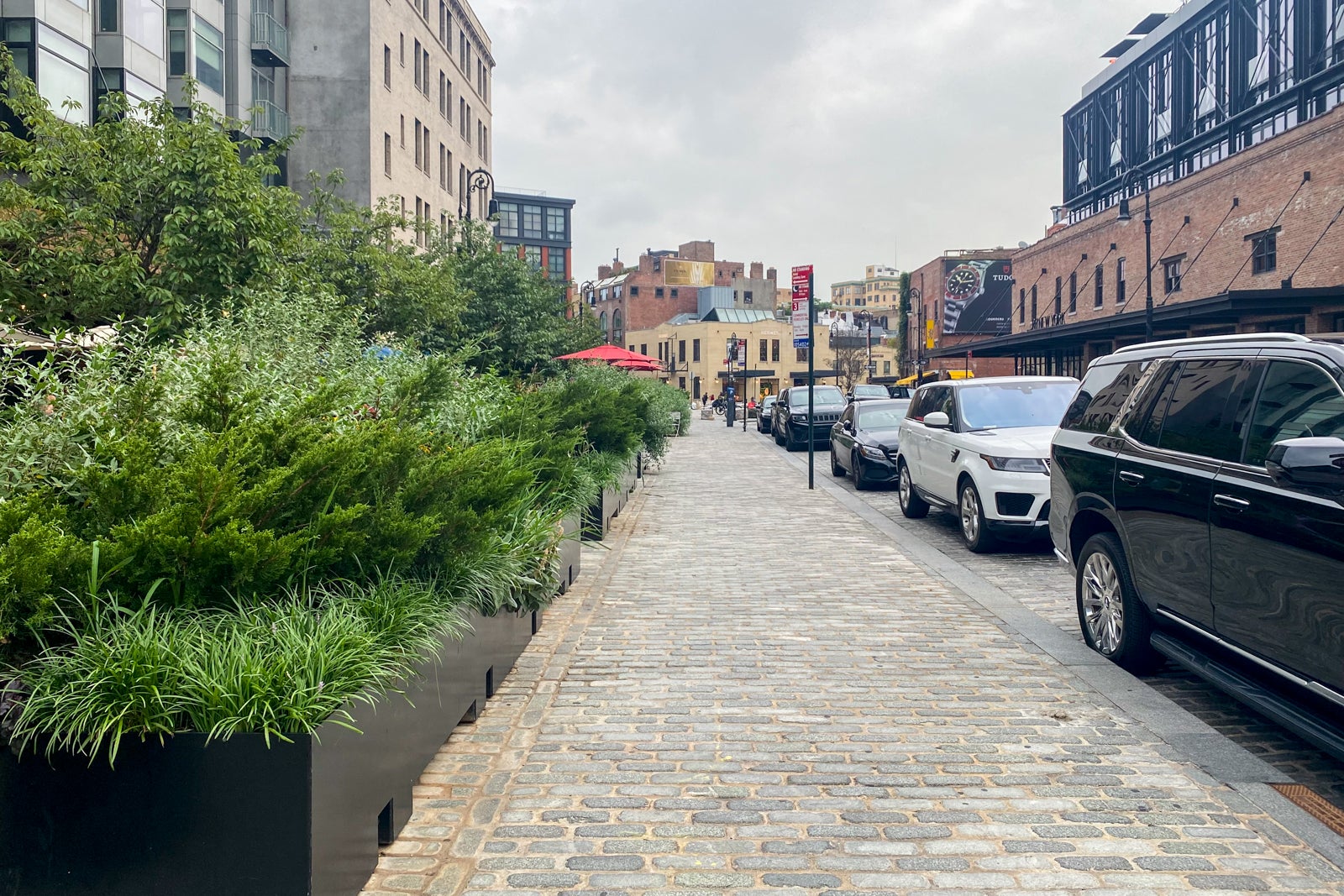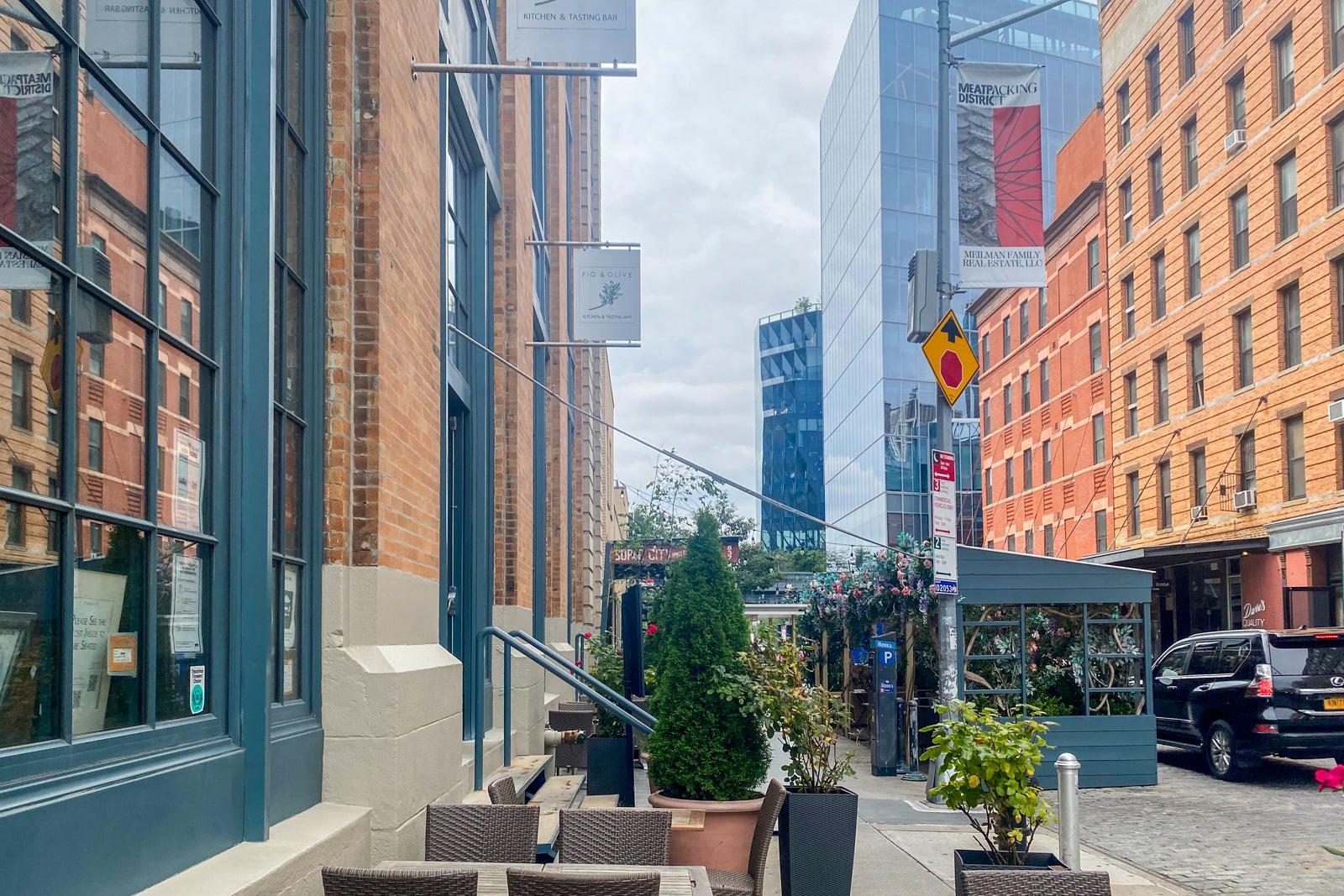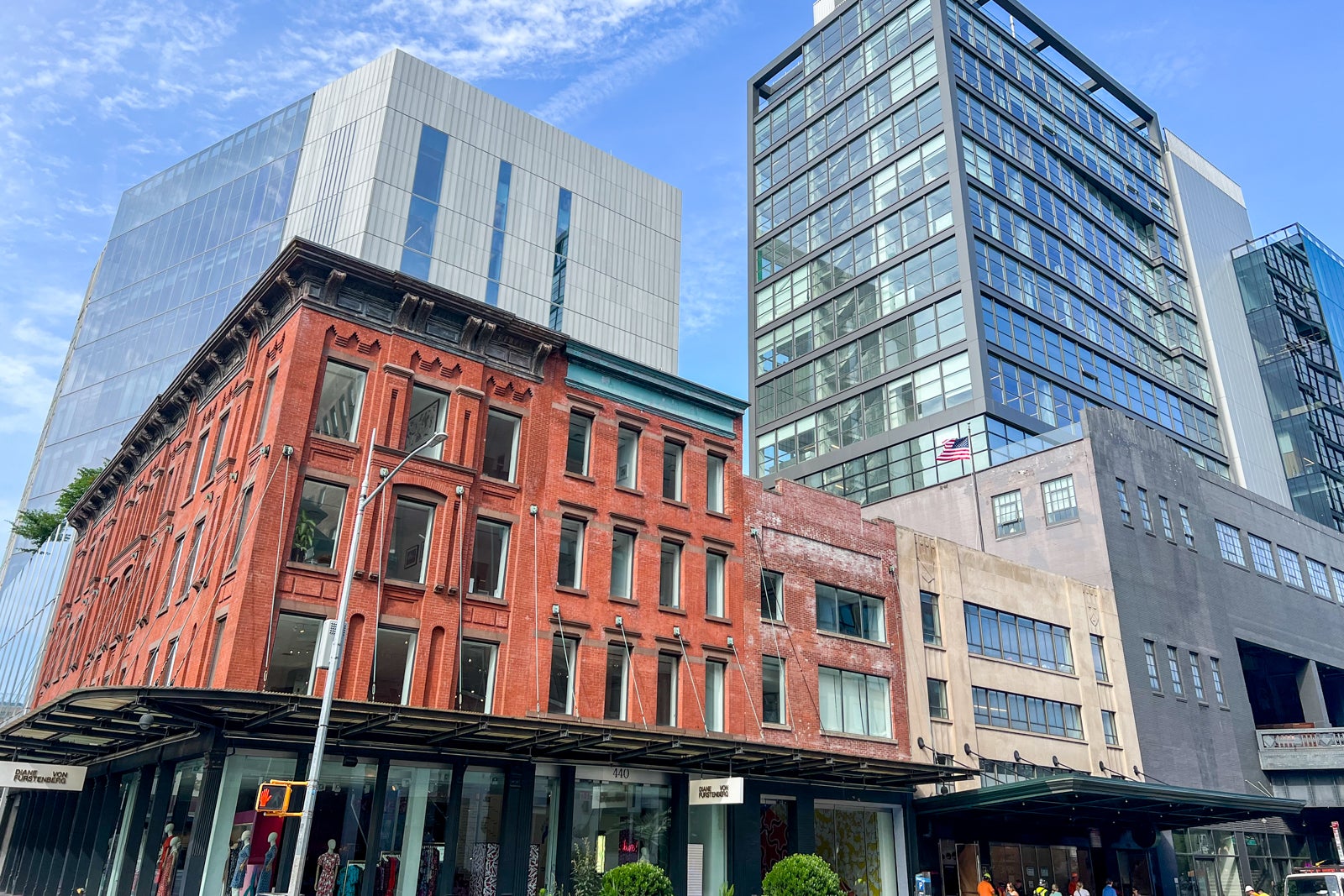 You may think the Meatpacking District is past its early 2000s heyday, but as you walk through the neighborhood and stroll its wide open streets (a few of which remain restricted to pedestrians), you'll find it hard to refrain from feeling like this area is once again cool. 
Exit the hotel, and you'll see a constant flow of yellow taxis, making it very easy to hail a cab. (I never waited more than a minute to grab one.)
Across the street from the hotel's entrance sits the Diane von Furstenberg store with its iconic pink stairs; there are also storefronts for tech staples like Samsung and Tesla are neighborhood fixtures. A slew of dining hot spots — including Catch and RH Rooftop Restaurant on Ninth Avenue and Fig & Olive on West 13th Street — are all within a block of the property.
Other nearby attractions include the Whitney Museum, Soho House, Starbucks Reserve Roastery, Pier 57, Chelsea Piers and Chelsea Market.
Accessibility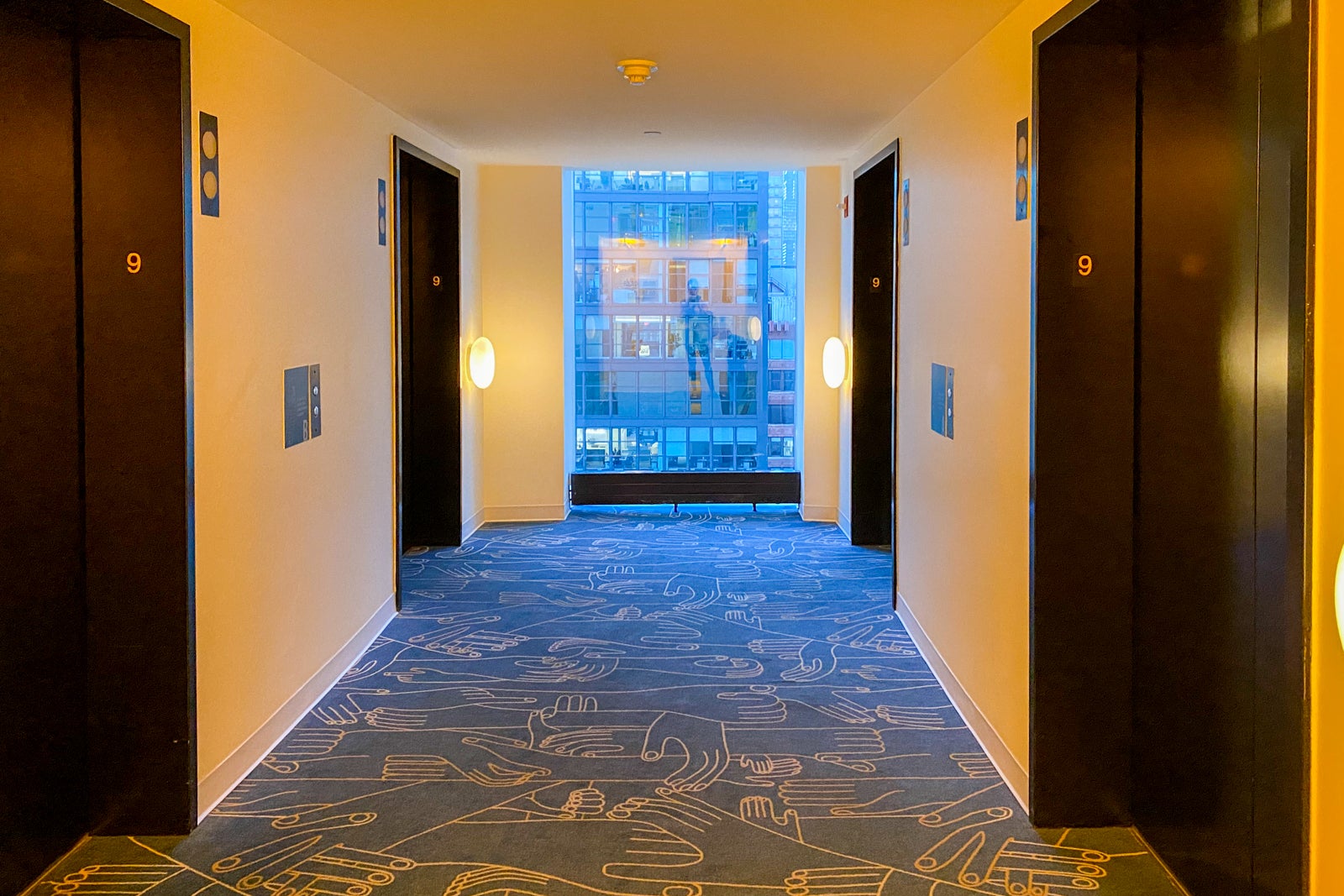 Guests seeking accessibility features should book the deluxe king room, which has a king-size bed and a roll-in shower. Other in-room features compliant with the Americans with Disabilities Act include alarms and visual notification devices.
Outside the rooms, you'll notice wide hallways and multiple elevators large enough to accommodate a wheelchair. However, the moody lighting throughout the property could pose a challenge for those with vision issues.
Related: United will add Braille signage throughout its aircraft, an accessibility first
Checking out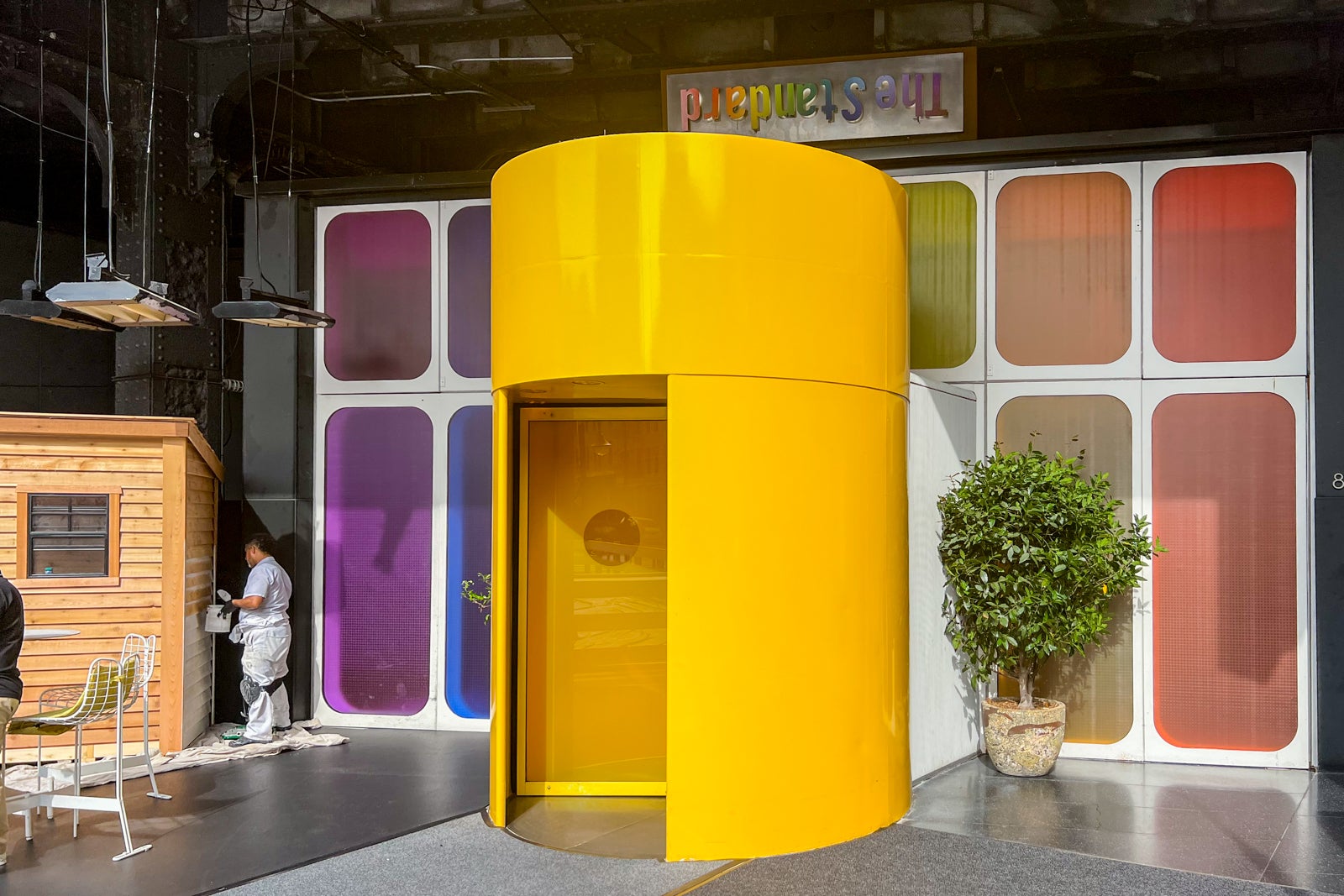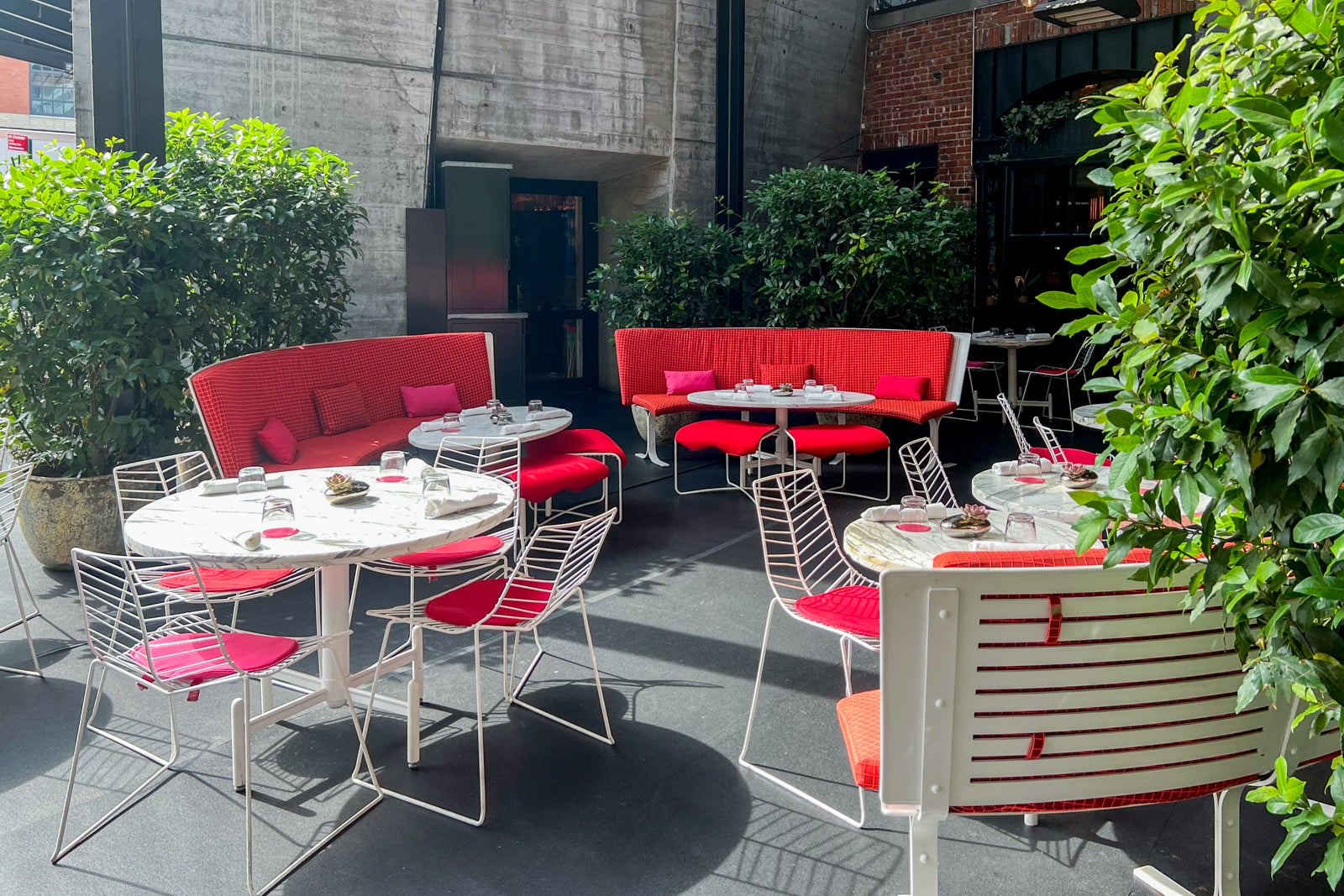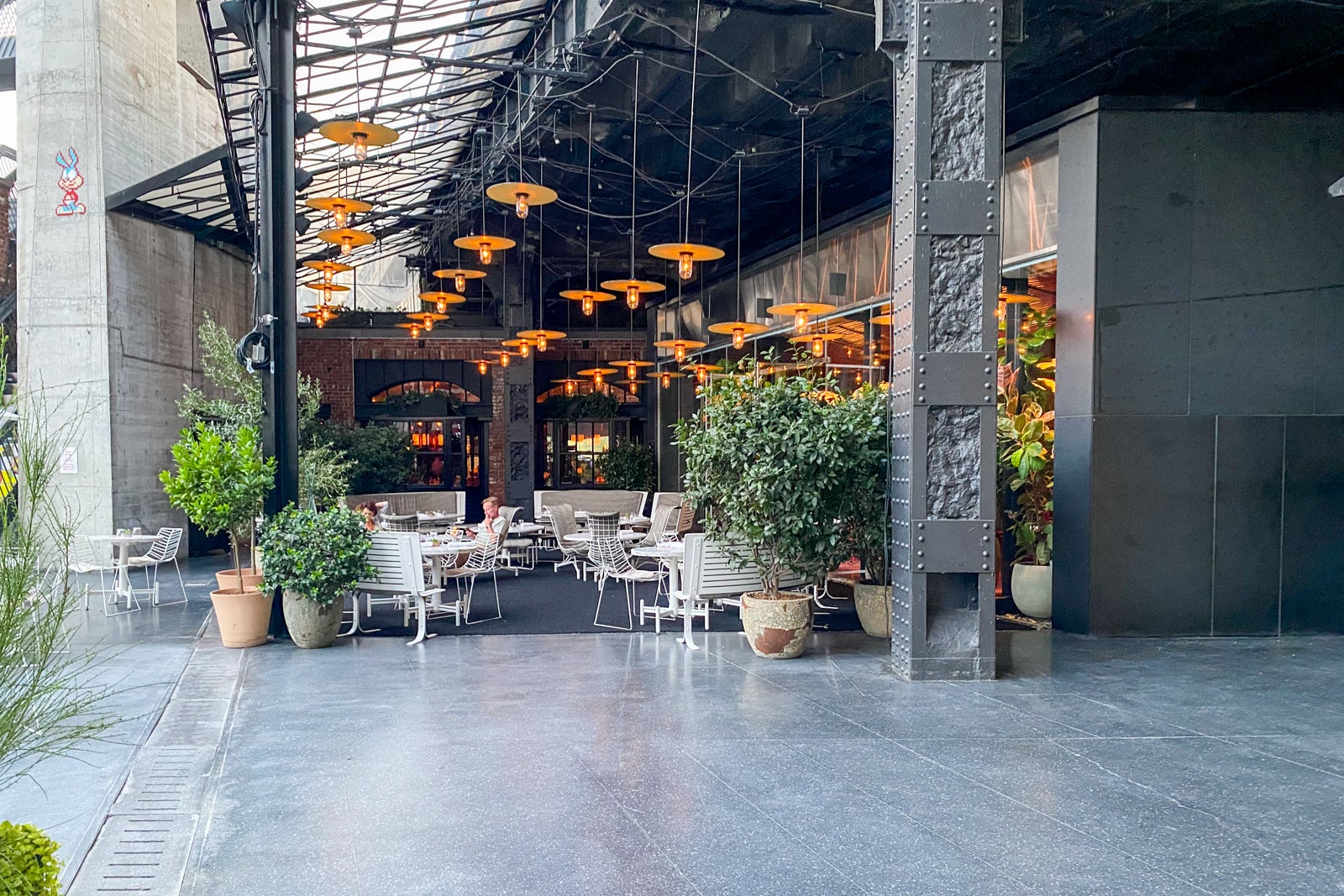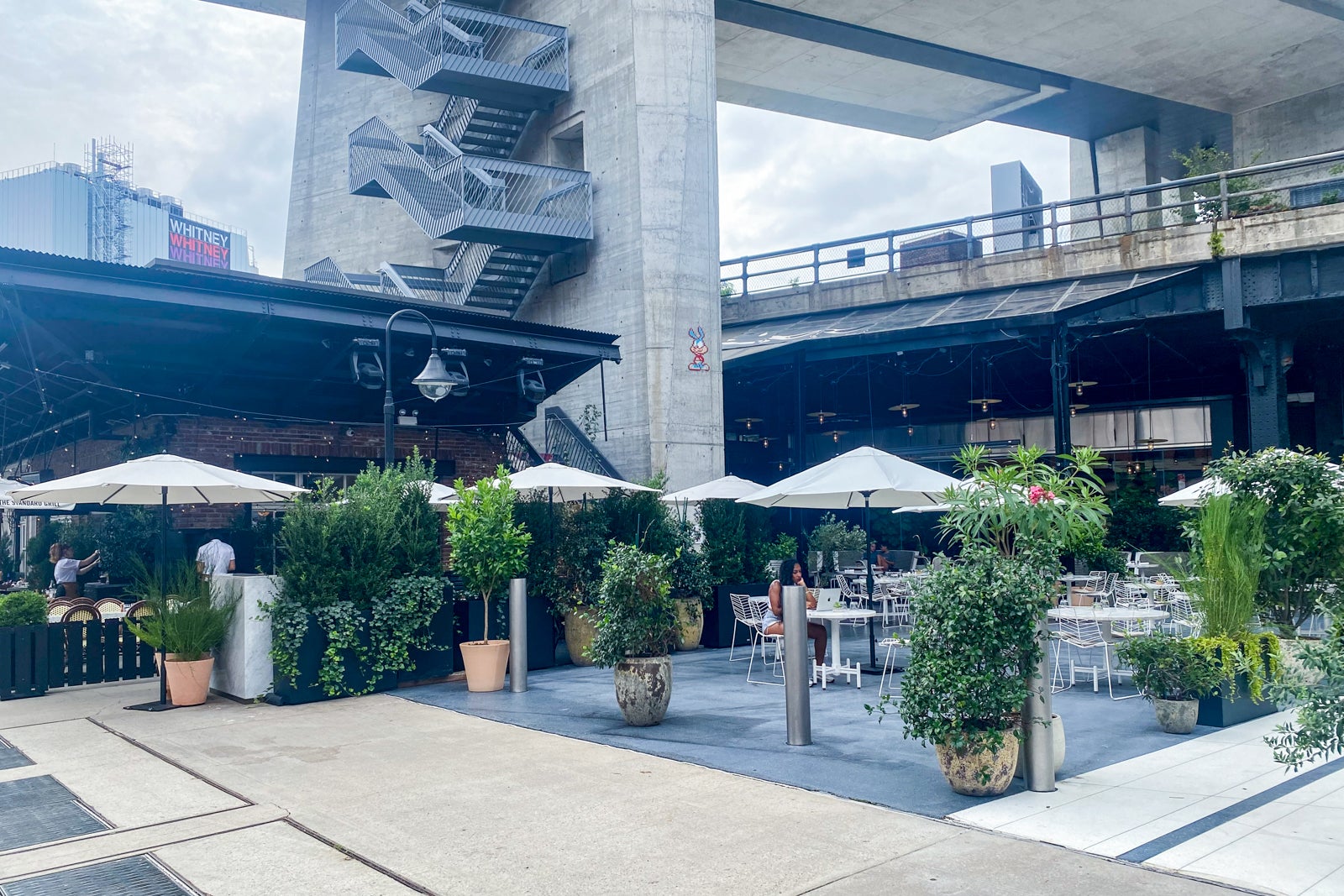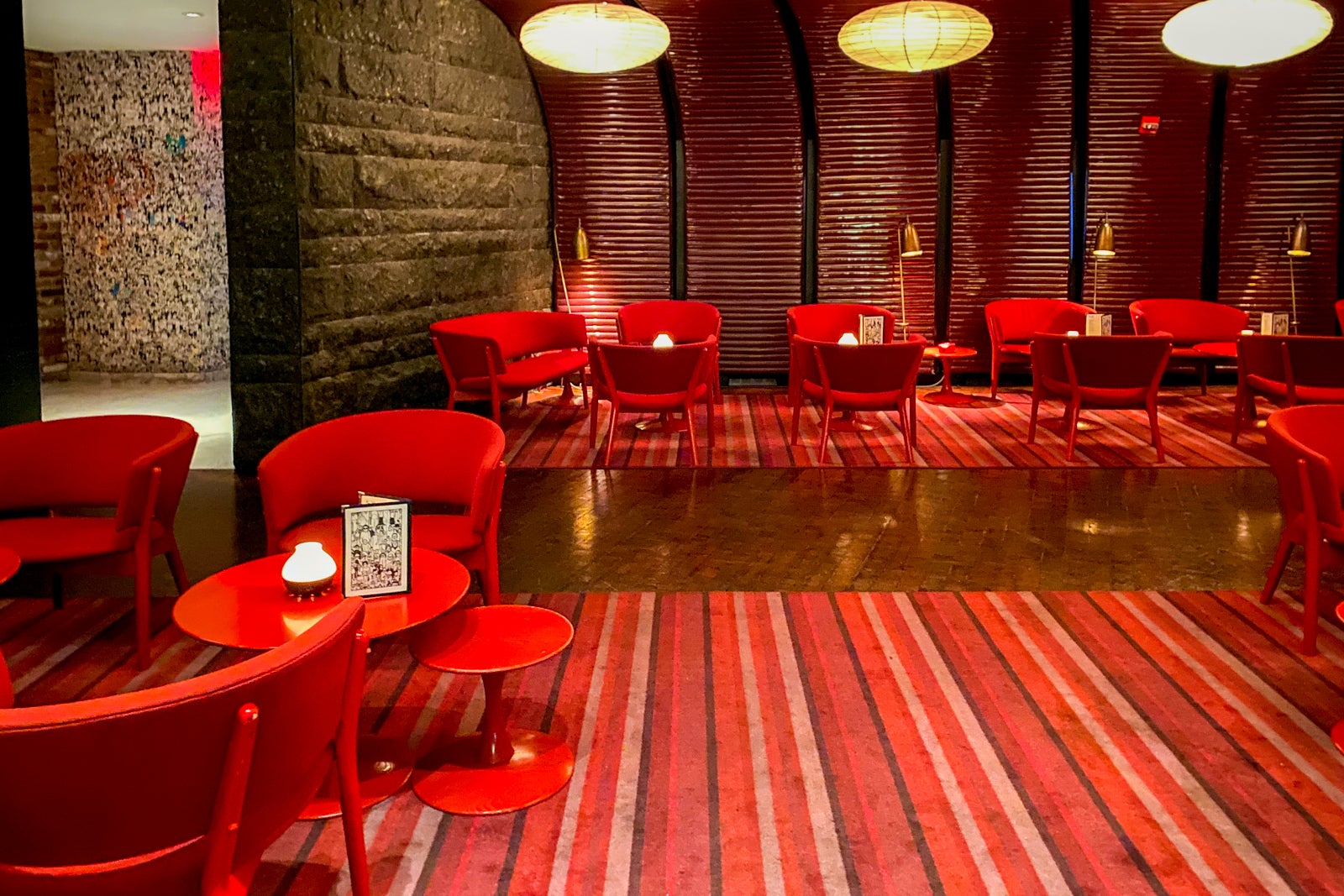 Though I no longer live in New York City and frequent The Standard before a night out on the town, the property remains a beloved piece of my past that I enjoyed experiencing again — this time as a hotel guest. It sets the bar high for providing trendy digs in a see-and-be-seen setting and creates a cool atmosphere few hotels can rival. I enjoyed that feeling, even if just for two days, and hope to return again.
Related reading: