Editor's note: This is a recurring post, regularly updated with the latest information.
In 2019, United implemented PlusPoints as a replacement for Regional and Global Premier Upgrade awards when revamping its MileagePlus Premier program. United claims that PlusPoints offer greater flexibility, customization and fewer restrictions than the previous upgrade awards. However, currently, there is limited confirmed upgrade availability before departure.
Today, we'll look into United long-haul upgrades and why you might not want to skip the waitlist.
United's upgradable PZ fare class
Looking at United's long-haul flight availability throughout its international network, there is little, if any, "PZ" fare class space on many routes. The "PZ" fare class indicates whether or not there is confirmed business upgrade availability using either PlusPoints (issued to Premier Platinum and Premier 1K members) or MileagePlus awards.
Historically, United has offered confirmed "PZ" upgrades to Polaris business class before departure when business "saver" award space is available.
When it came time to buy a ticket between London's Heathrow Airport (LHR) and Washington's Dulles International Airport (IAD) for a spring trip, I saw plenty of business saver award inventory (in the IN fare class, which is expanded award space for Premier Platinum and Premier 1K members). However, my desired flight had no "PZ" availability. This means that I couldn't confirm a seat in business class using my PlusPoints at the time of booking.
In my book, removing these desirable "PZ" fares is a letdown, especially after working so hard to maintain Premier 1K status.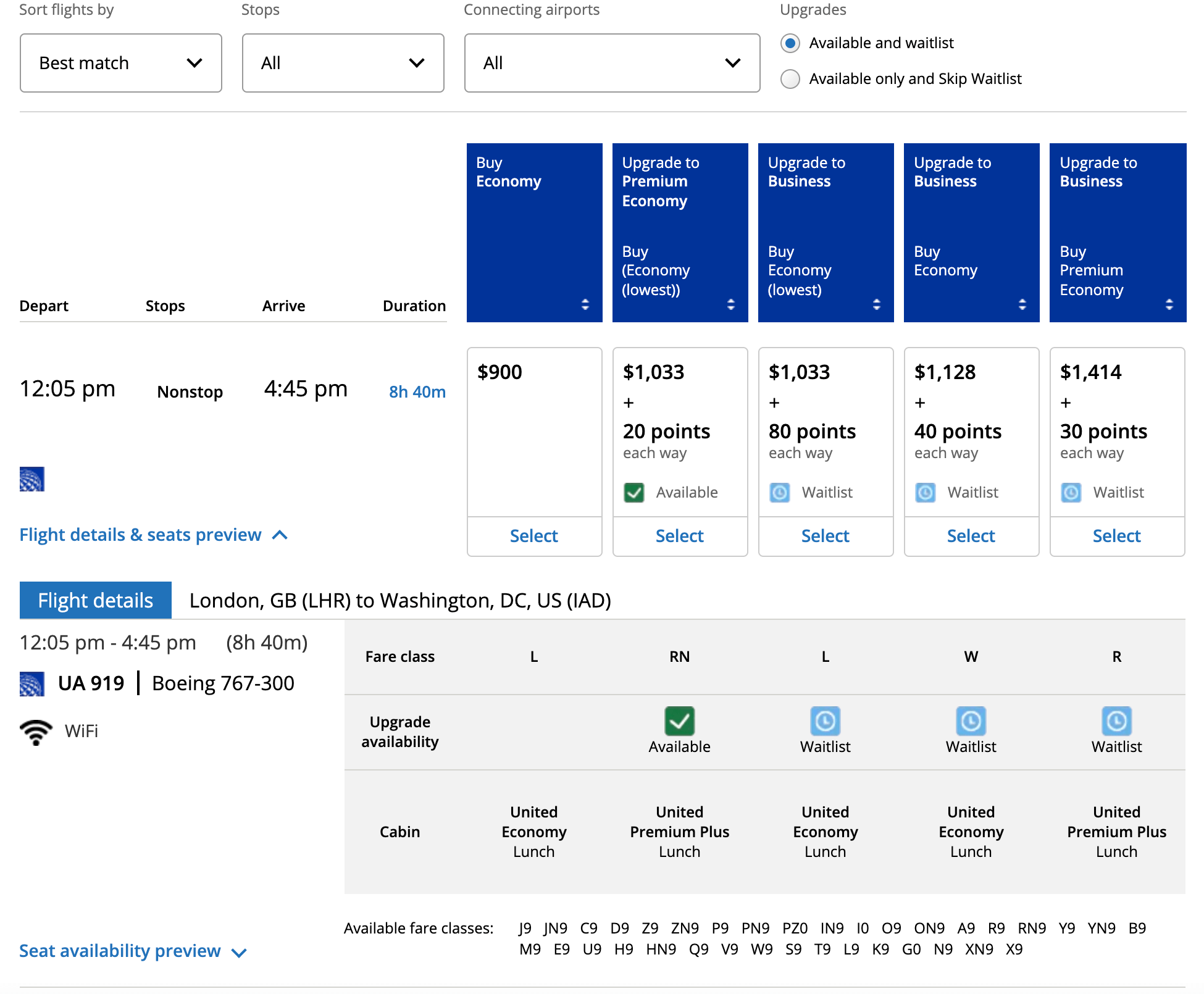 Related: Is United Polaris business class worth it to Singapore?
How to upgrade a United flight with no PZ upgrade space
Essentially, there were two PlusPoint upgrade options:
Confirm an upgrade to Premium Plus now (for 20 Plus Points) and remain on the waitlist for Polaris business class for 20 additional Plus Points (40 in all).
Skip the waitlist using 100 PlusPoints and confirm a seat in Polaris business class now (an option reserved for Premier 1K members).
The latter option was not appealing given that I needed to spend 100 PlusPoints for an upgrade that should only require 40 PlusPoints. Premier Platinum members receive 40 PlusPoints each year they qualify, while Premier 1K members receive 320 PlusPoints each year they qualify (40 PlusPoints after meeting the Premier Platinum requirements + 280 PlusPoints after meeting the Premier 1K requirements).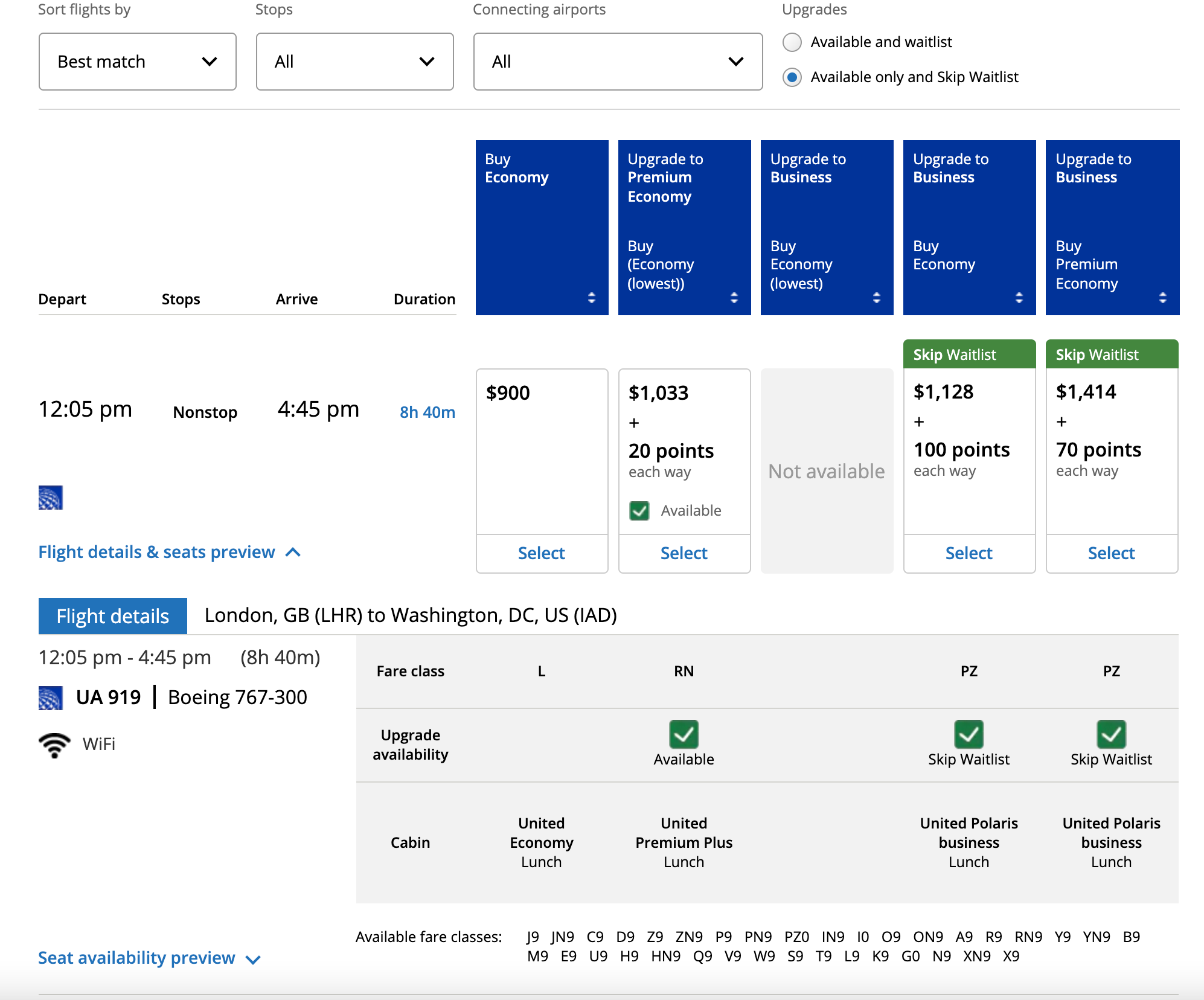 For most 1K members, 100 PlusPoints would equate to nearly a third of their annual allotment.
As a result, I opted to confirm an upgrade to Premium Plus and waitlist for an upgrade to Polaris business class.
And then, within ten minutes of purchasing my ticket, I received this text message from United: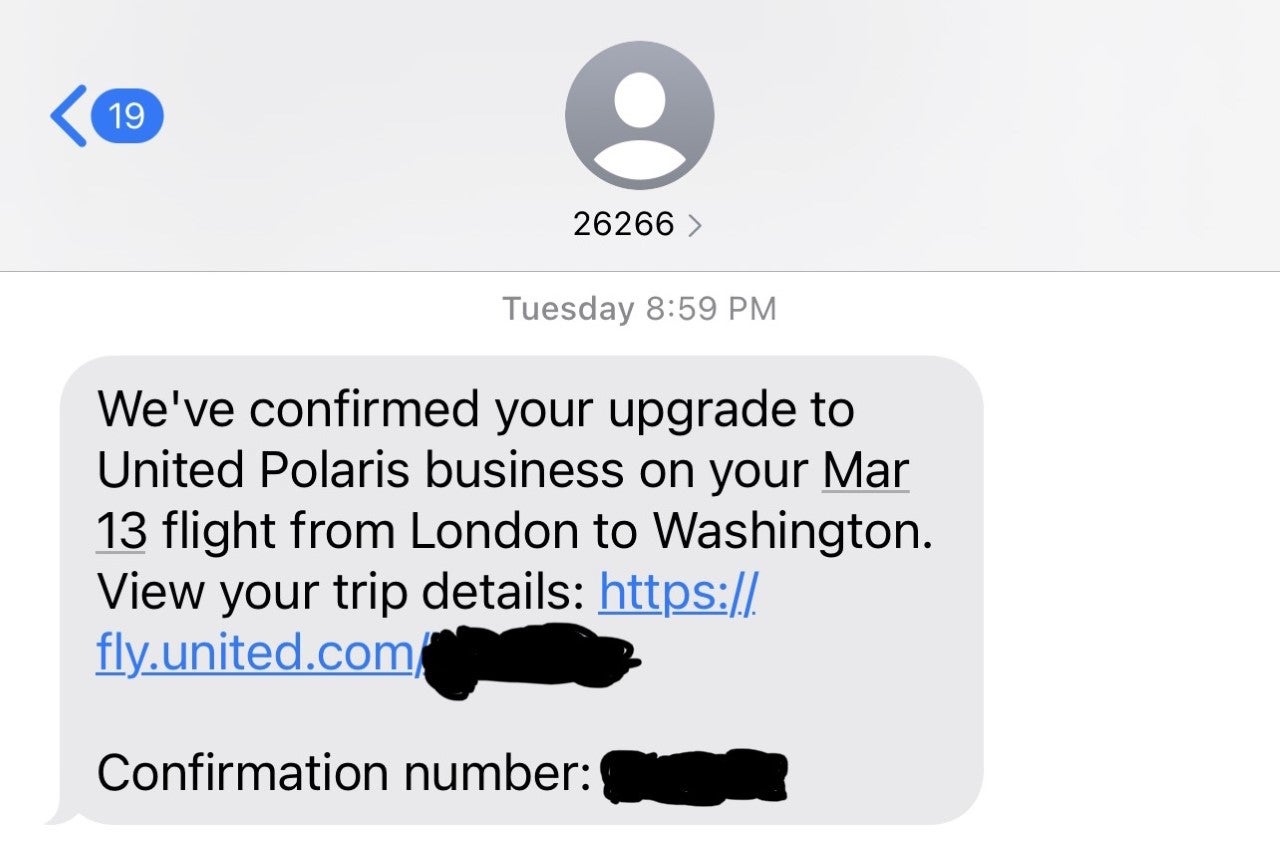 I was perplexed about whether I had really gotten this lucky, but yes, after ten minutes of being on the waitlist for Polaris business class, my upgrade from economy to Polaris cleared using a total of 40 PlusPoints, not the 100 PlusPoints to skip the waitlist. This saved me a ton of PlusPoints and gave me the exact same Polaris business-class seat as if I'd spent 100 PlusPoints.
While the Skip Waitlist feature could've been an effective tool to confirm a Polaris upgrade (without "PZ" space available), the number of PlusPoints required made it an unappealing option in most cases. I could envision someone using so many PlusPoints when there's a very compelling reason to burn them, like an impending expiration. In this case, you may consider splurging for the upgrade confirmation — but my experience shows that you may not need to.
You are not limited to using the skip waitlist feature at booking, so you may consider trying to waitlist your upgrade instead. However, the Skip Waitlist feature is only available on select flights at least 30 days before departure.
Related: Complete guide to United's revenue, award and upgrade fare classes

Bottom line
When booking your next United flight, chances are high that you'll see no confirmed upgrades to Polaris business class using PlusPoints or miles. This gives you the impression that to secure an upgrade, you will need to burn your awards and go with the Skip Waitlist option. Don't be fooled. If there's enough availability (and especially if the flight has saver award inventory in the IN or I fare classes), your upgrade may be confirmed in short order, just like mine — even if you're not seeing "PZ" fare space.