Does Virgin Voyages have a loyalty program? The short answer is yes, sort of.
Virgin Voyages has launched a loyalty program called the Virgin Voyages Sailing Club loyalty program. But it isn't fully in place.
Unveiled in August 2022, the Virgin Voyages Sailing Club is operating for 2023 with temporary perks while Virgin Voyages develops long-term tiers and perks that will take effect in the future.
These temporary perks — for which loyal fans of Virgin Voyages already are eligible — are quite valuable in some cases. They include free laundry service and free, premium Wi-Fi, two things that normally can cost quite a bit extra on cruise ships.
For more cruise guides, news and tips, sign up for TPG's cruise newsletter.
There is also a daily specialty coffee credit, which is like money in the bank if you're a regular latte or cappuccino drinker. And the perks don't end there.
However, for now, the Virgin Voyages Sailing Club isn't as robust a loyalty program as what is offered by some cruise lines.
Ways to earn points
Currently, the Virgin Voyages Sailing Club loyalty program does not have a formal point-earning system. That will come in the future, the line has said. But until it arrives, Virgin Voyages has introduced a token system to track all qualifying spending by "sailors," as Virgin Voyages calls passengers.
The number of tokens each passenger accumulates will factor into the benefits they receive when the long-term version of the Sailing Club program officially debuts.
As part of the token system, loyal Virgin Voyages customers get credit in tokens for all the money they have spent with Virgin Voyages since its inception.
Virgin Voyages Sailing Club loyalty levels
Virgin Voyages has yet to set the long-term tiers for the Virgin Voyages Sailing Club loyalty program. For now, it divides its customers into three status levels, with customers in all three levels eligible for the temporary perks mentioned above.
The three status levels are:
Sea-Blazers: These are the "pioneers" of Virgin Voyages sailings who cruised with the line in 2021, its first year of operation. In addition to the temporary perks available to all eligible Sailing Club members, this group will get a $125 Bar Tab Bonus for every $300 Bar Tab purchased every time they sail with the line for the rest of their lives; this was something Virgin Voyages promised them back in 2021.
Sea-Rovers: These are customers who sail with Virgin Voyages at least twice between Jan. 1, 2022, and Dec. 31, 2023. They are receiving all the temporary perks plus a $100 Bar Tab Bonus for every $300 Bar Tab purchased through 2024.
Match and Sea More Sailors: These are customers who are enrolled in other cruise and select airline travel rewards programs who now are able to match their status with these other companies to get immediate status in the Virgin Voyages program. As part of this, they are granted the above Sea-Rovers status, which includes the $100 Bar Tab Bonus through 2024.
Passengers who have sailed only once with the line do not qualify for Sea-Rovers status.
Virgin Voyages Sailing Club benefits
The temporary perks for which Sailing Club members are eligible through the end of the year are packaged together into a grouping called Deep Blue Extras. They include:
Access to expedited boarding
$100 Bar Tab credit
Unlimited premium Wi-Fi package (where available)
Invite to an exclusive onboard cocktail event
Free laundry services
$10 daily specialty coffee credit per cabin
Dedicated customer support on board
The Deep Blue Extras perks will be available to all qualifying Sailing Club members on voyages from now through Dec. 31, 2023.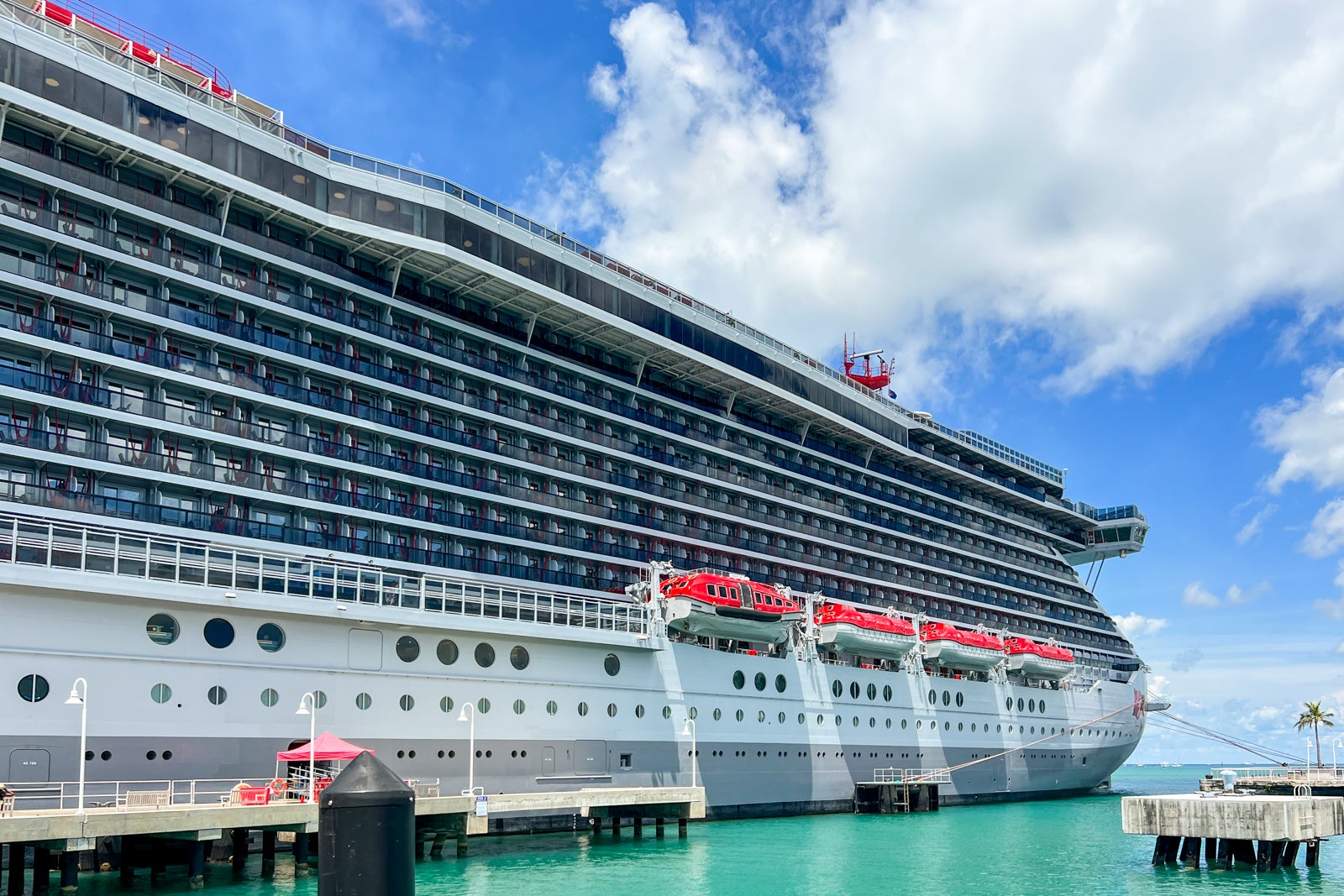 Related: I've been on more than 150 cruise ships; here are my first impressions of Scarlet Lady
Virgin Voyages wants to hear from you
As it works out its long-term plans for the Sailing Club loyalty program, Virgin Voyages is soliciting recommendations from fans on which perks they want to see most. The line is taking suggestions by email at loyalty@virginvoyages.com.
Virgin Voyages is also seeking volunteers to participate in surveys and focus groups. Details are on the line's website.
Note that the Sailing Club is a new program, separate from the Virgin Atlantic Flying Club and Virgin Red programs that are connected to other Virgin brands.
Members of those programs in the U.S. can already redeem their Virgin Points on sailings from Miami and Barcelona on all of the line's current ships: Scarlet Lady, Valiant Lady and Resilient Lady. Capital One cardholders can also access cruises for points through a partnership between Capital One and Virgin Red announced in March.
Bottom line
Startup cruise line Virgin Voyages is just getting into the loyalty program game with a temporary program called The Sailing Club. A more permanent version of the Virgin Voyages Sailing Club program will debut soon.
But, even now, the program offers Virgin Voyages fans who have sailed on as few as one sailing with the line a number of valuable perks.
Planning a cruise? Start with these stories: