[circuit type=review circuit_id="9313″]
Rome is a city rich with history and tradition, but there is certainly no shortage of trendy hotels in the Eternal City. If you want to stay somewhere fresh and modern after spending the day admiring 1,900-year-old buildings and eating your fill of Italian cuisine, look no further than the W Rome.
On a recent summer trip, I had a few days to check out the city before embarking on a Mediterranean cruise, so I decided to spend two nights at the relatively new W Rome. Suffice it to say, my stay surprised me in the best ways.
Whether you plan on racking up well over 10,000 steps a day while sightseeing (like I did) or enjoying a more low-key Roman getaway far from the ancient city's throngs of tourists, here's what you can expect when staying at the W Rome.
What is the W Rome?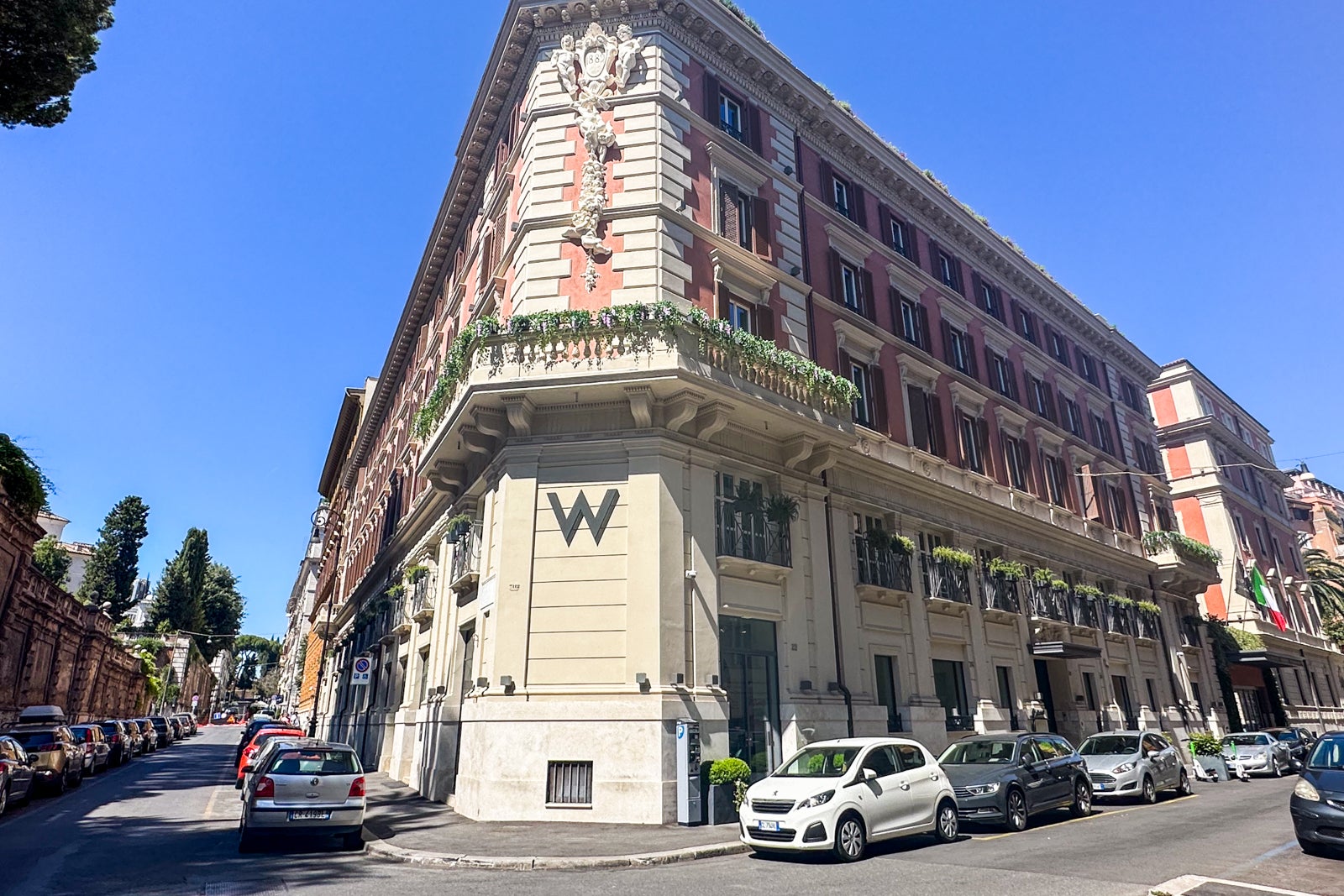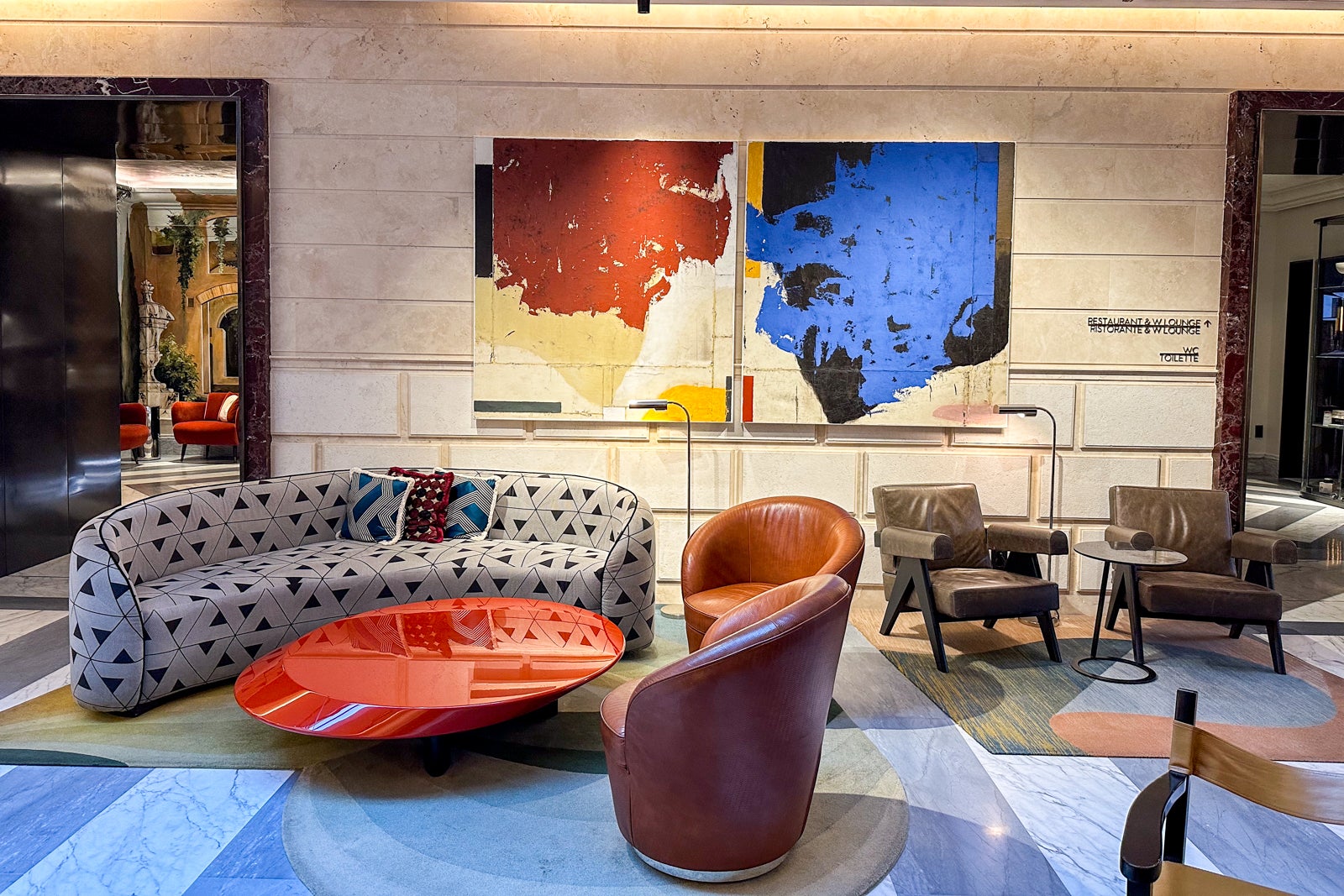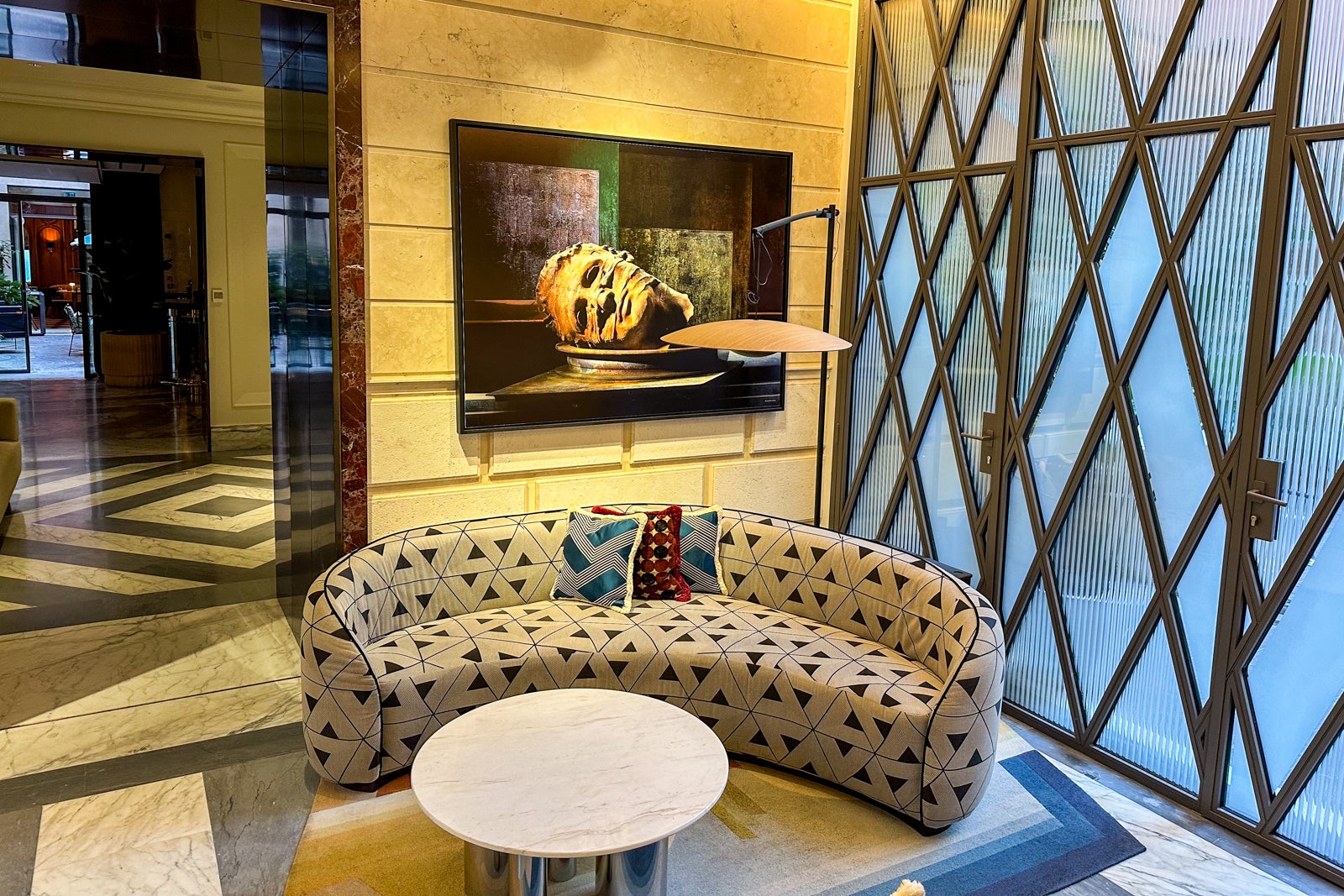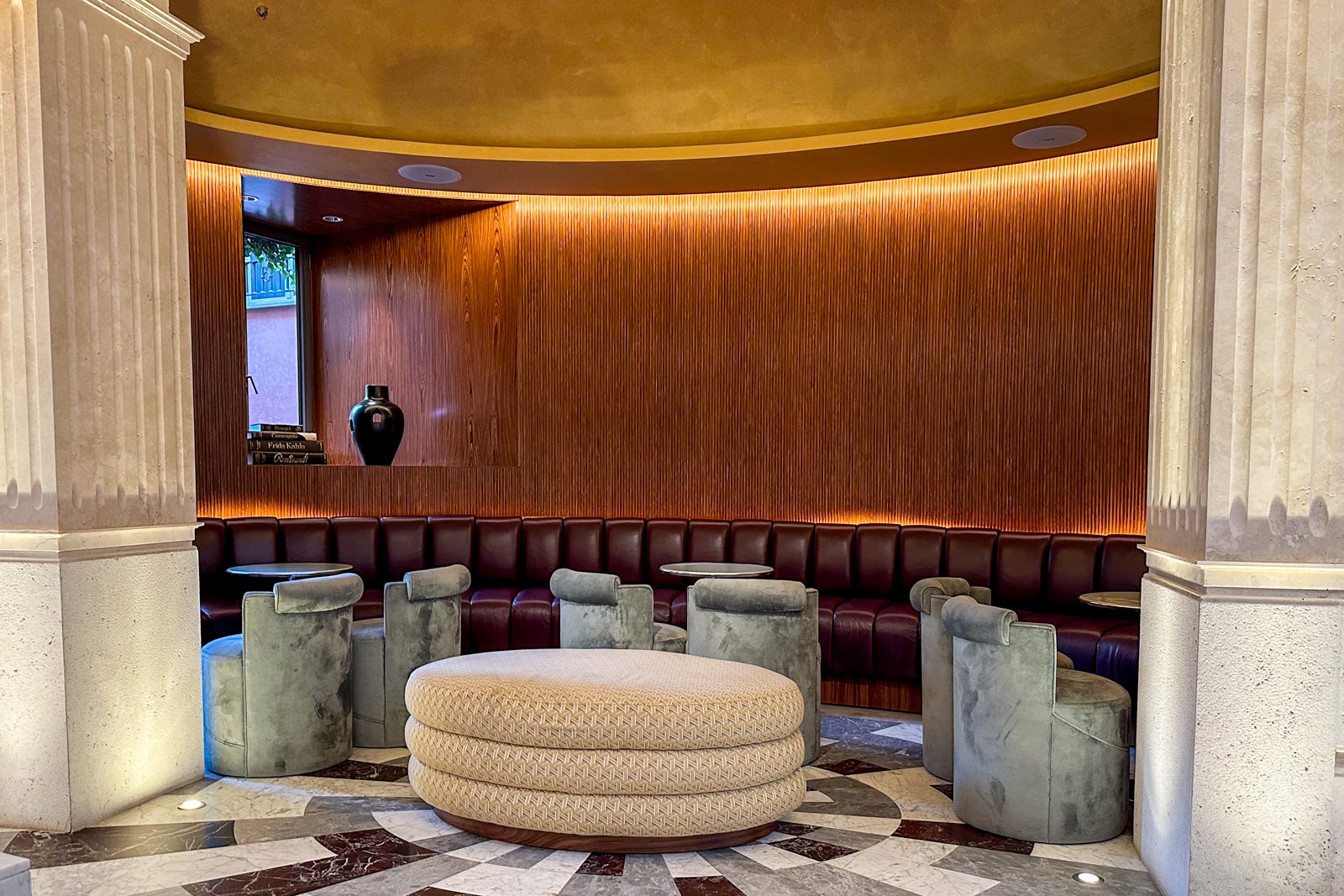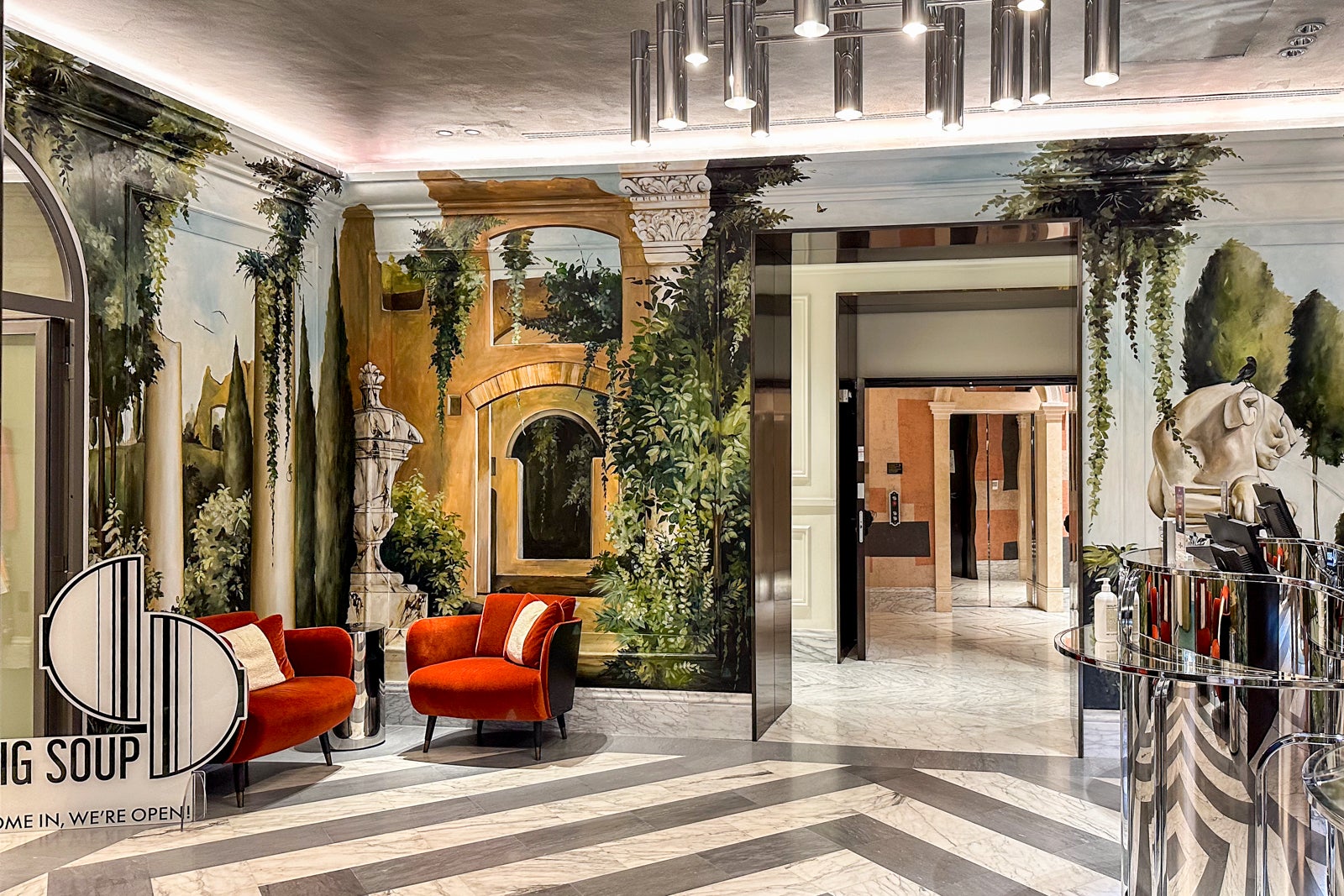 The W Rome became the brand's first location in Italy when it opened its doors in December 2021. It has 162 rooms and suites and sits on a quiet side street only 10 minutes away (by foot) from famous tourist attractions like the Spanish Steps, the Trevi Fountain and Villa Borghese, making it a convenient spot for sightseers to unwind after a busy day out and about.
With a popular rooftop pool, a restaurant helmed by Michelin-starred Sicilian chef Ciccio Sultano and photo-worthy artwork and design features (think: classic marble floors contrasted with geometric patterns and bright blue, yellow and red accents), the W Rome should appeal to everyone from families with aspiring foodies to couples seeking a stylish, romantic getaway and friend groups eager to see all the city's famous sights.
Related: Here's why fall is a great time to visit Italy
How to book the W Rome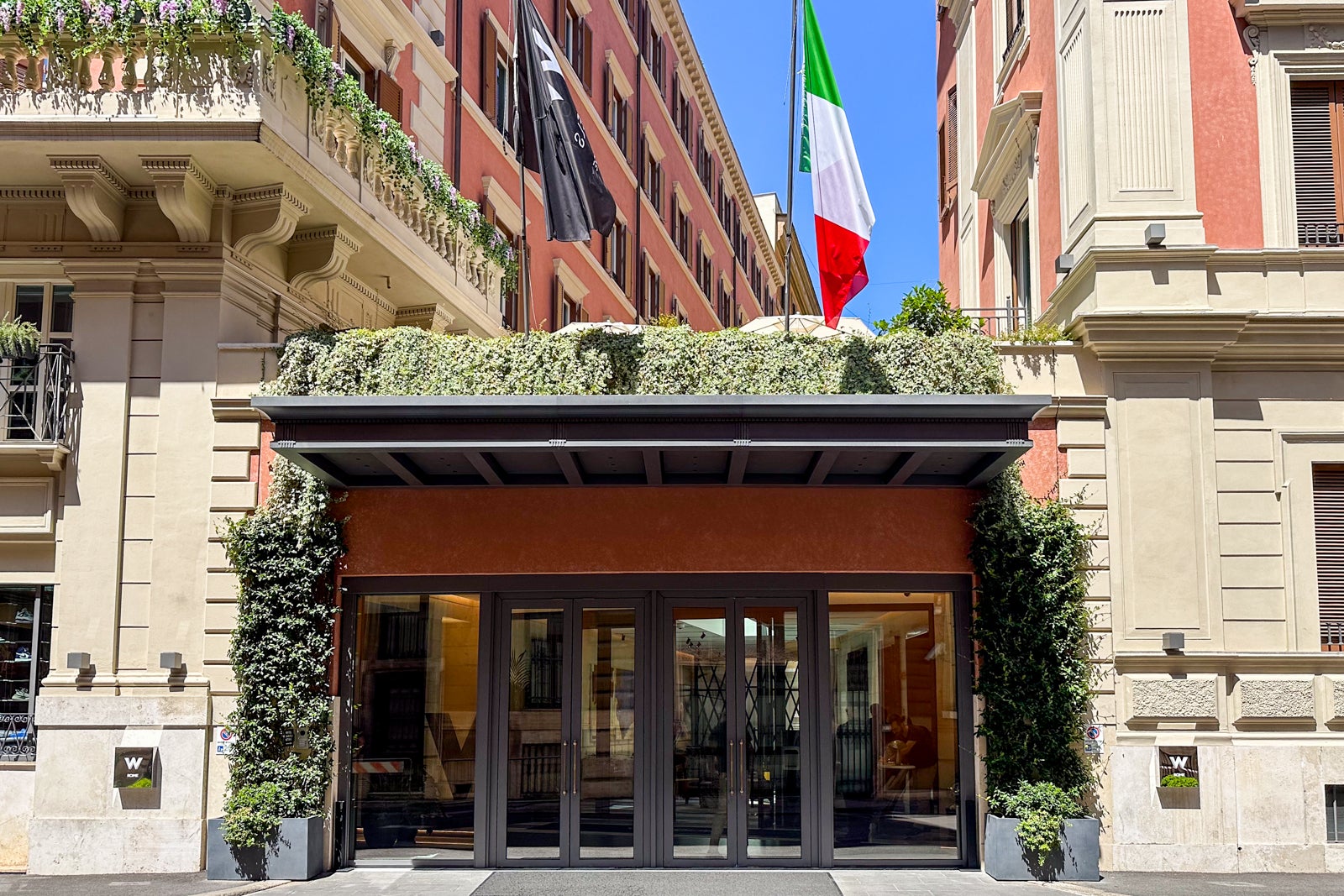 Rooms at the W Rome start around 485 euros ($512) per night when booking directly through Marriott. If you have a stash of Marriott Bonvoy points available, you can also choose to use points to pay for your room. While the exact rates will vary depending on the dates you choose, expect to need at least 71,500 Bonvoy points per night when redeeming points for a standard room.
Cash rates for my stay during peak tourism season were surprisingly low at 517 euros ($545) per night (rates on the same days in August 2024 are 704 euros, or $739, per night), so I opted to book with cash.
Know, though, that if you have certain Marriott Bonvoy credit cards — such as the Marriott Bonvoy Brilliant® American Express® Card, the Marriott Bonvoy Bevy™ American Express® Card, the Marriott Bonvoy Bountiful Credit Card and the Marriott Bonvoy Business® American Express® Card — you can also use free night certificates to cover the cost of your stay.
If you are not a Marriott status holder, consider booking through the American Express Fine Hotels + Resorts program. Cardholders with The Platinum Card® from American Express and The Business Platinum Card® from American Express are able to make a reservation through the program to unlock several elitelike perks, such as space-available upgrades, a $100 food and beverage credit to be used during your stay, daily breakfast for two and guaranteed 4 p.m. late checkout.
Related: 12 hotels where you can stay for half price (or break even) with your Amex Platinum credit
The information for the Marriott Bonvoy Bountiful Credit Card has been collected independently by The Points Guy. The card details on this page have not been reviewed or provided by the card issuer.
It's on a quiet street but close to the action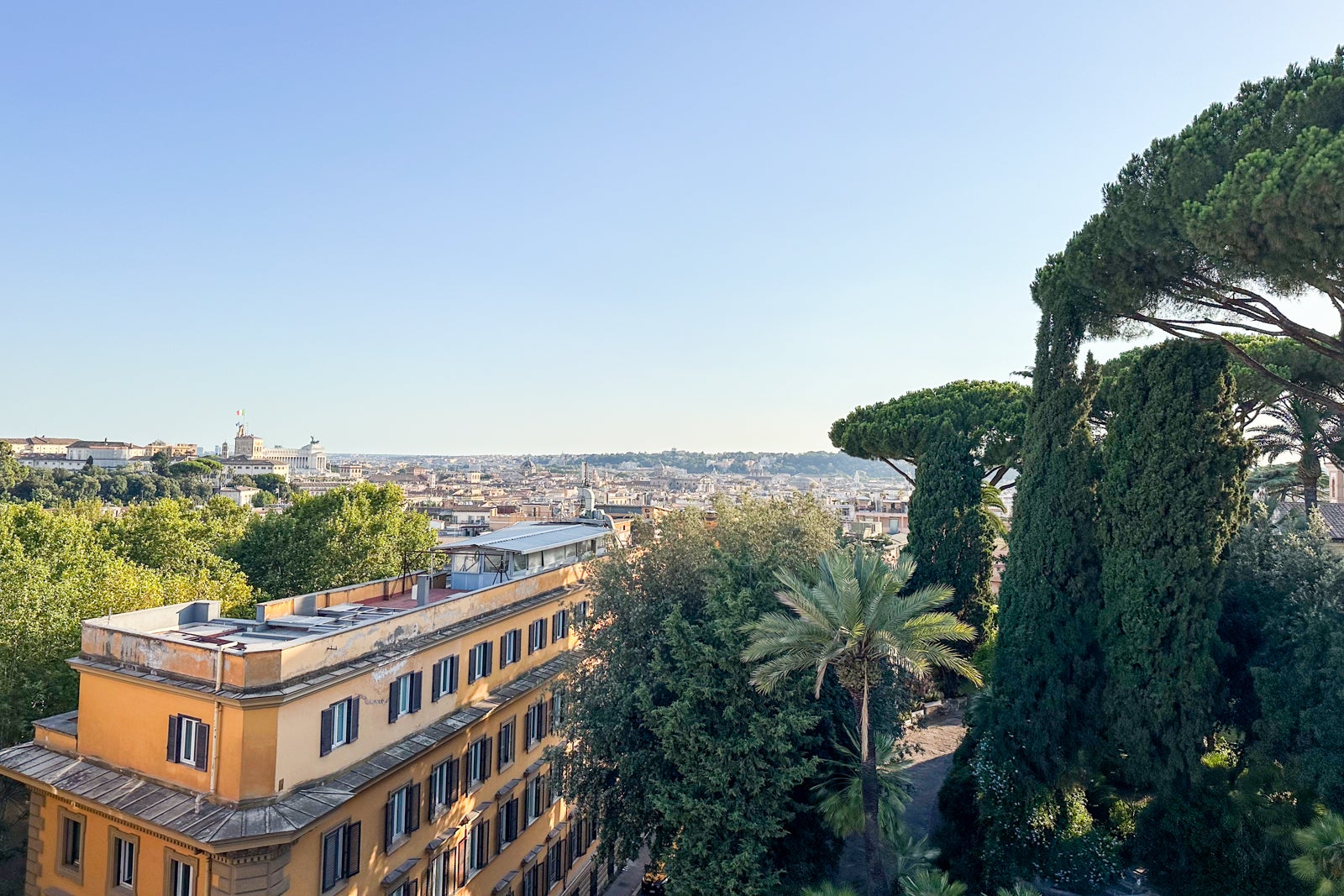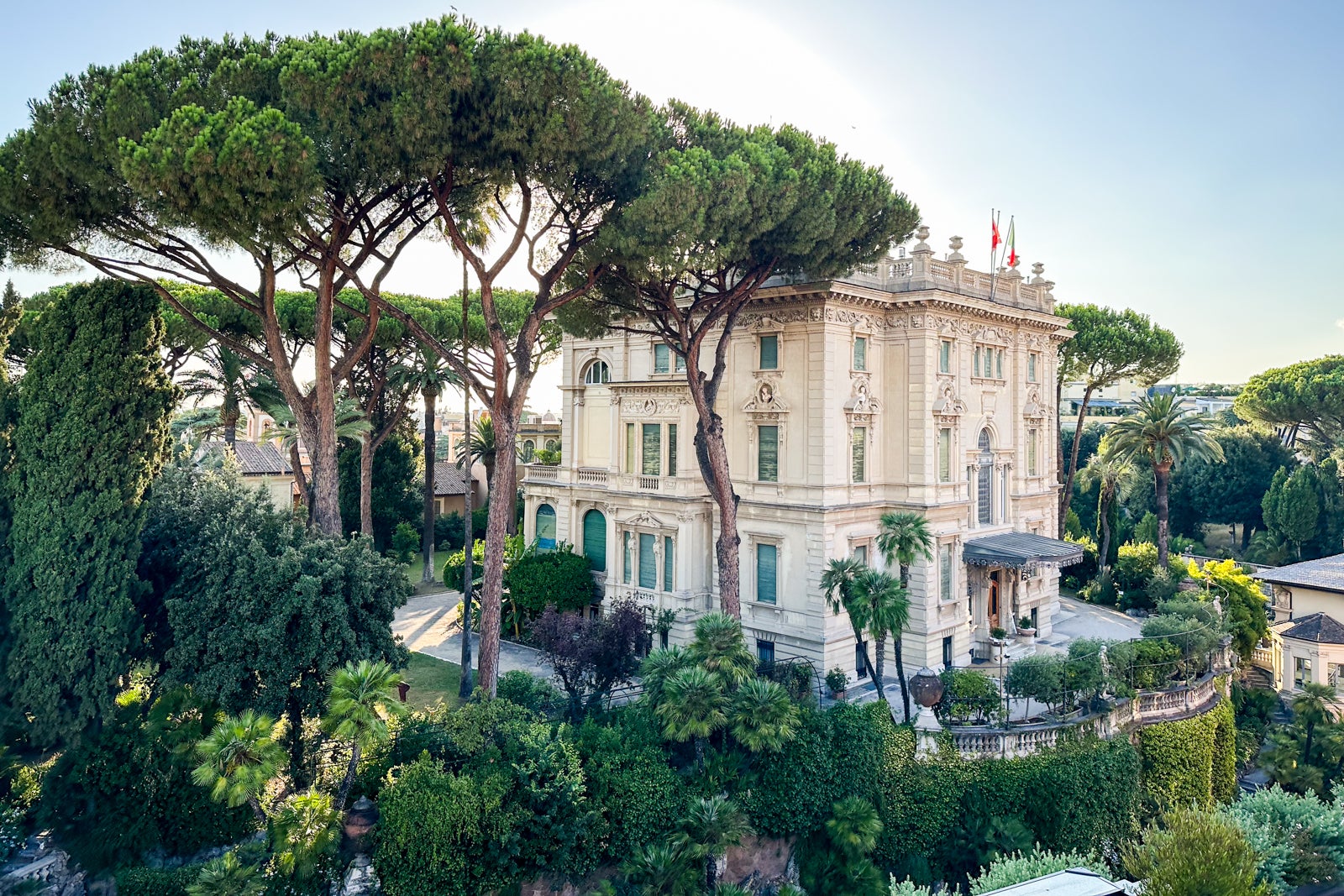 With a discreet entrance on a side street off of the famous Via Veneto, which is full of hotels and restaurants, the W Rome provides the best of both worlds: seclusion from the busyness of Rome's ancient streets during peak tourist season and ease of access to many of the city's main points of interest.
Staying at the W Rome means you'll be within walking distance of can't-miss sights like the Trevi Fountain and Villa Borghese, plus numerous restaurants, cafes and gelaterias dishing up authentic Italian fare. However, the property sits near the top of the iconic Spanish Steps, so be prepared for a lot of steep journeys if you're venturing out nearby.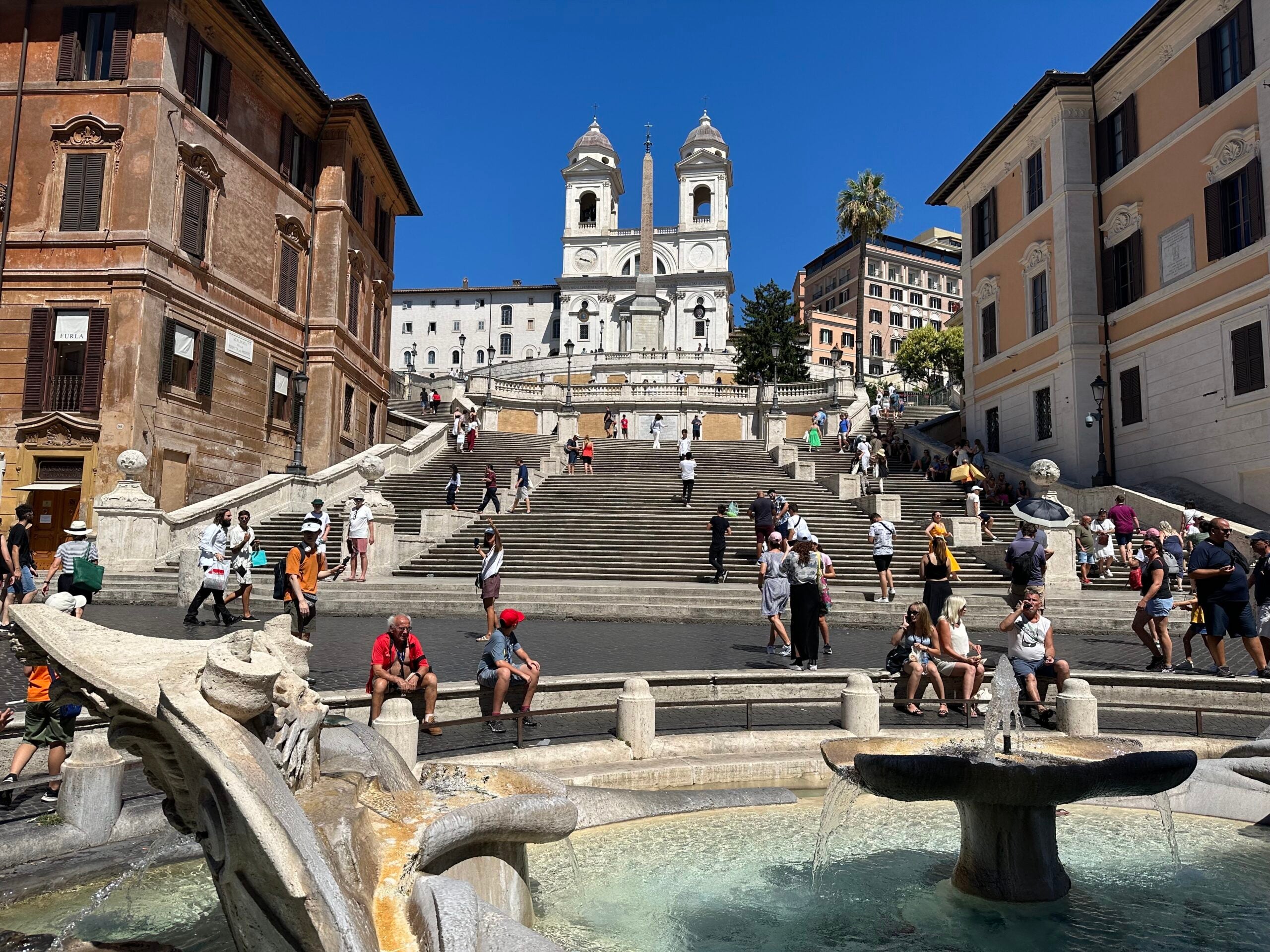 For longer treks to and from the hotel, lean on ride-hailing services like Uber. Cars are plentiful in the area and typically cost 12 to 18 euros ($13 to $20) to reserve for trips between the hotel and farther attractions. A small metro system is also available, with the closest stop — Barberini station — about a seven-minute walk away.
To get to and from Rome Fiumicino Leonardo da Vinci Airport (FCO), the region's main airport, plan on driving, as the ride takes about 35 minutes by car. Taking a taxi to and from the airport will set you back 50 euros ($53).
Related: Planning a trip to Italy? Here's how to get there on points and miles
The room design is chic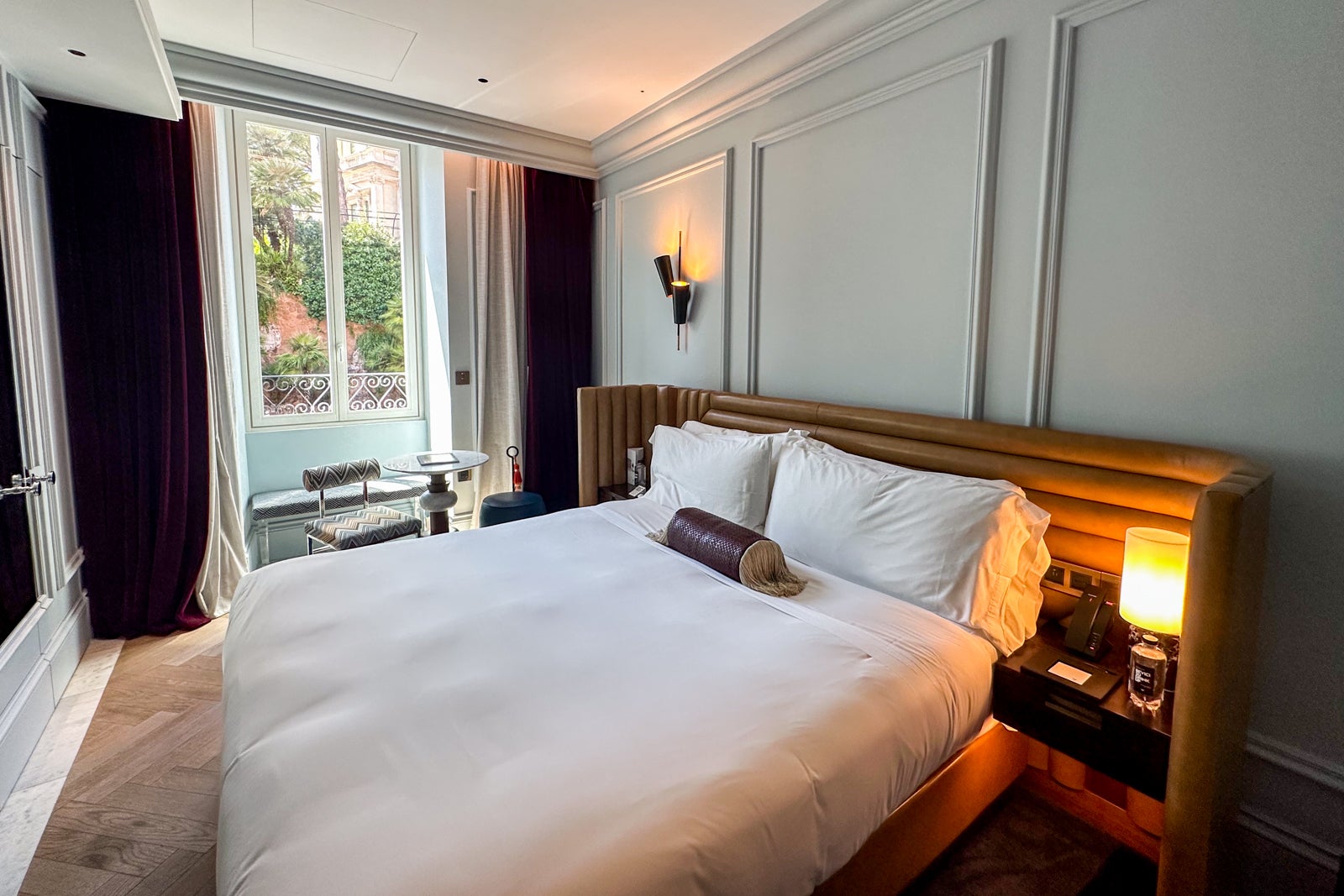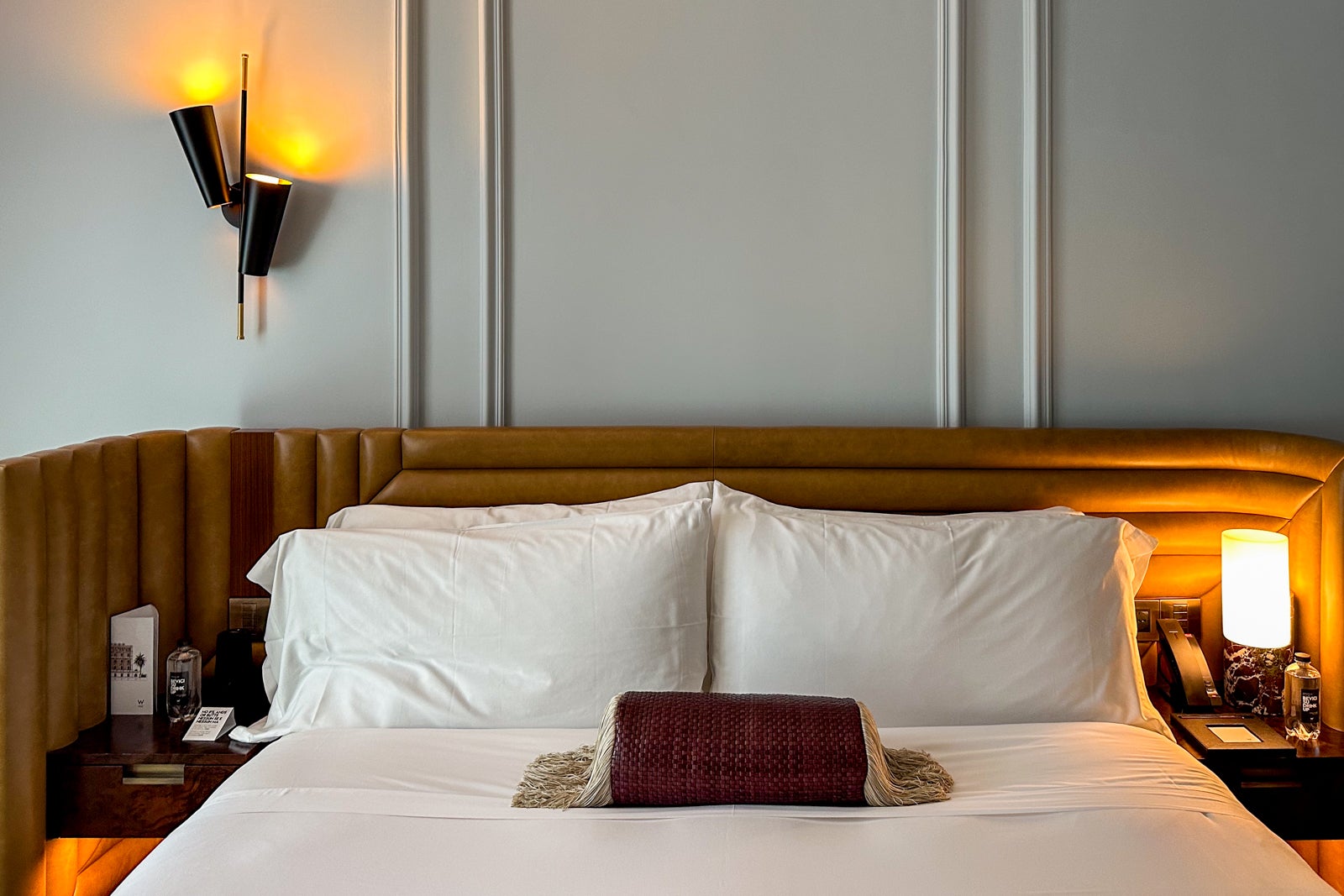 Walking into my Fabulous Room, the standard room type I booked for this stay, I was immediately wowed by the design. The pale blue walls with picture frame molding all the way around the room provided a subtle nod to traditional style but with a modern twist of an unconventional color. The look perfectly complemented the sleek curved leather headboard and dramatic red velvet curtains in the main sleeping area, though the walls admittedly lacked adequate soundproofing, so every little noise in the hall carried into the room.
Still, the standard room felt a lot bigger than expected thanks to thoughtful design touches throughout the 247-square-foot space. For example, the bathroom door, dresser drawers and minibar were all slightly hidden, flush to the wall and matching the same pale blue color and picture frame molding as the rest of the room. This saved valuable square footage, but it did take a few minutes for me to discover where each element was located.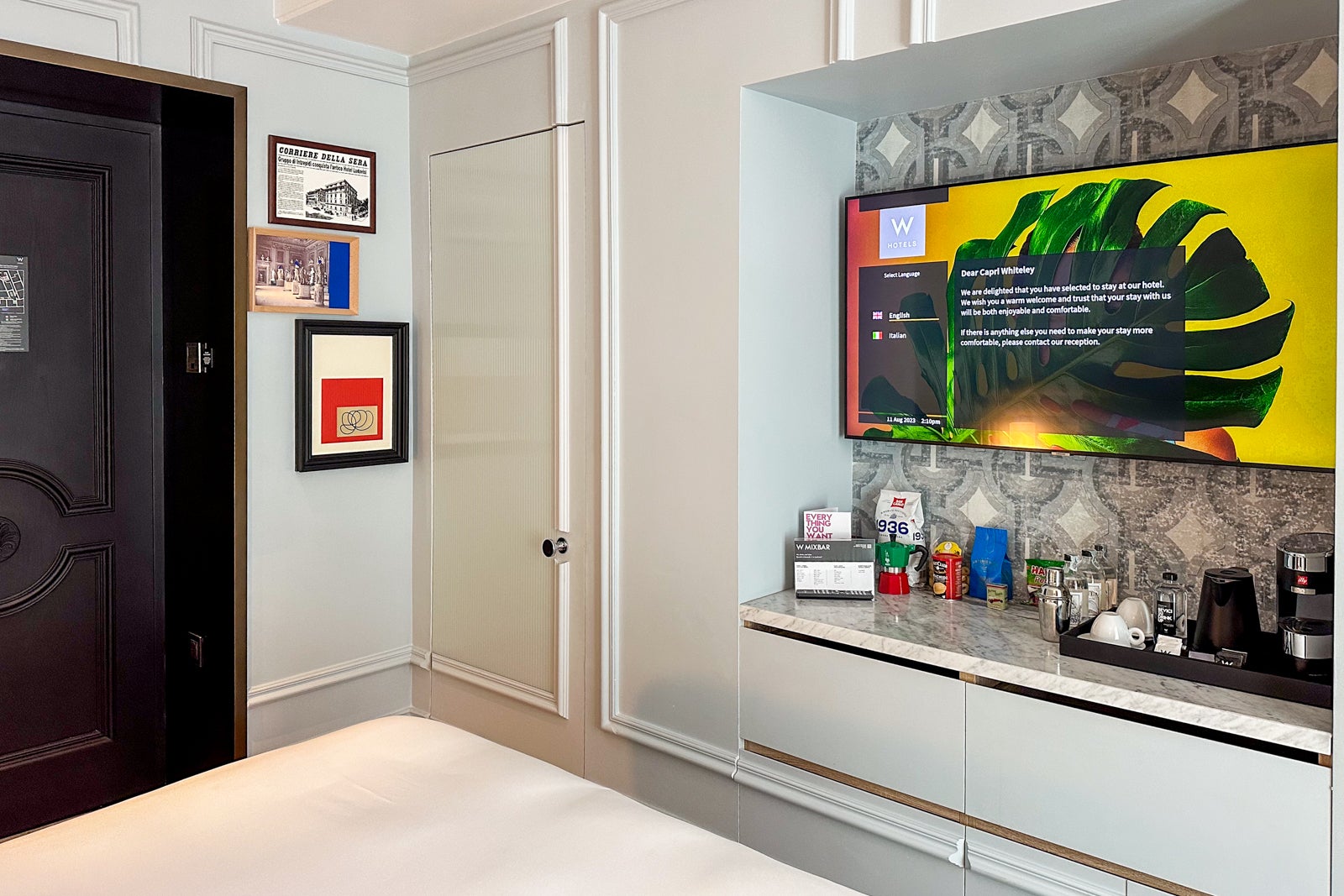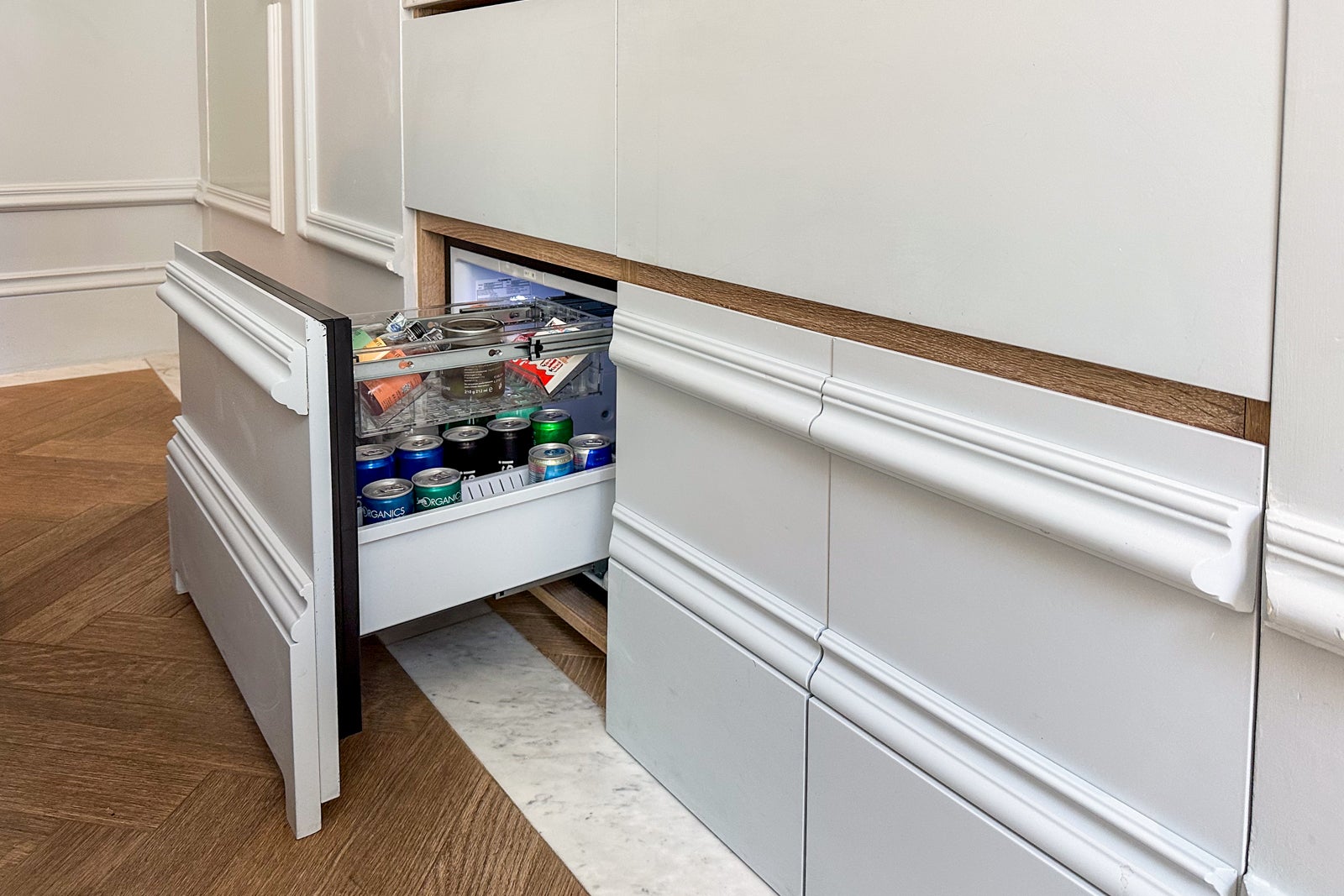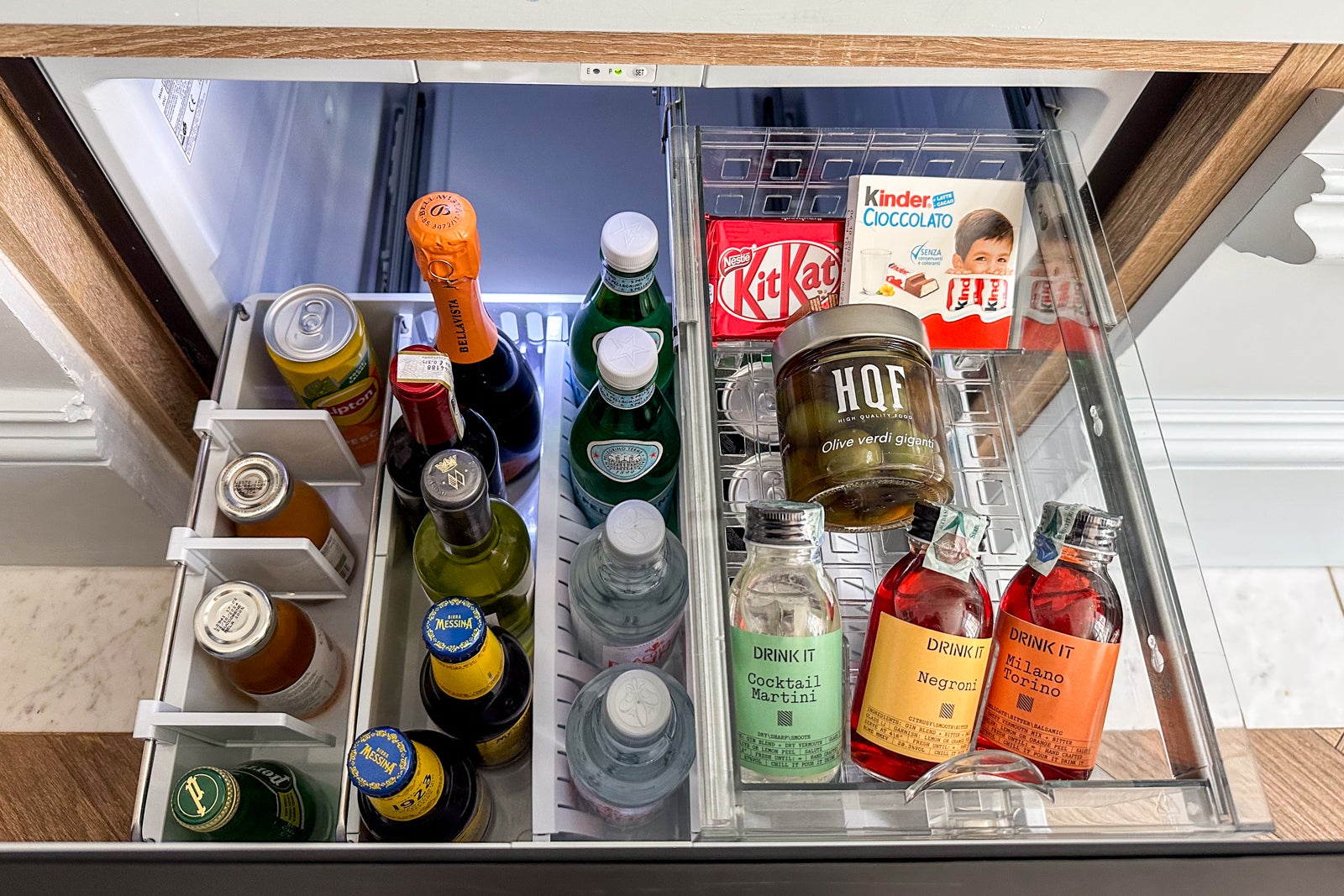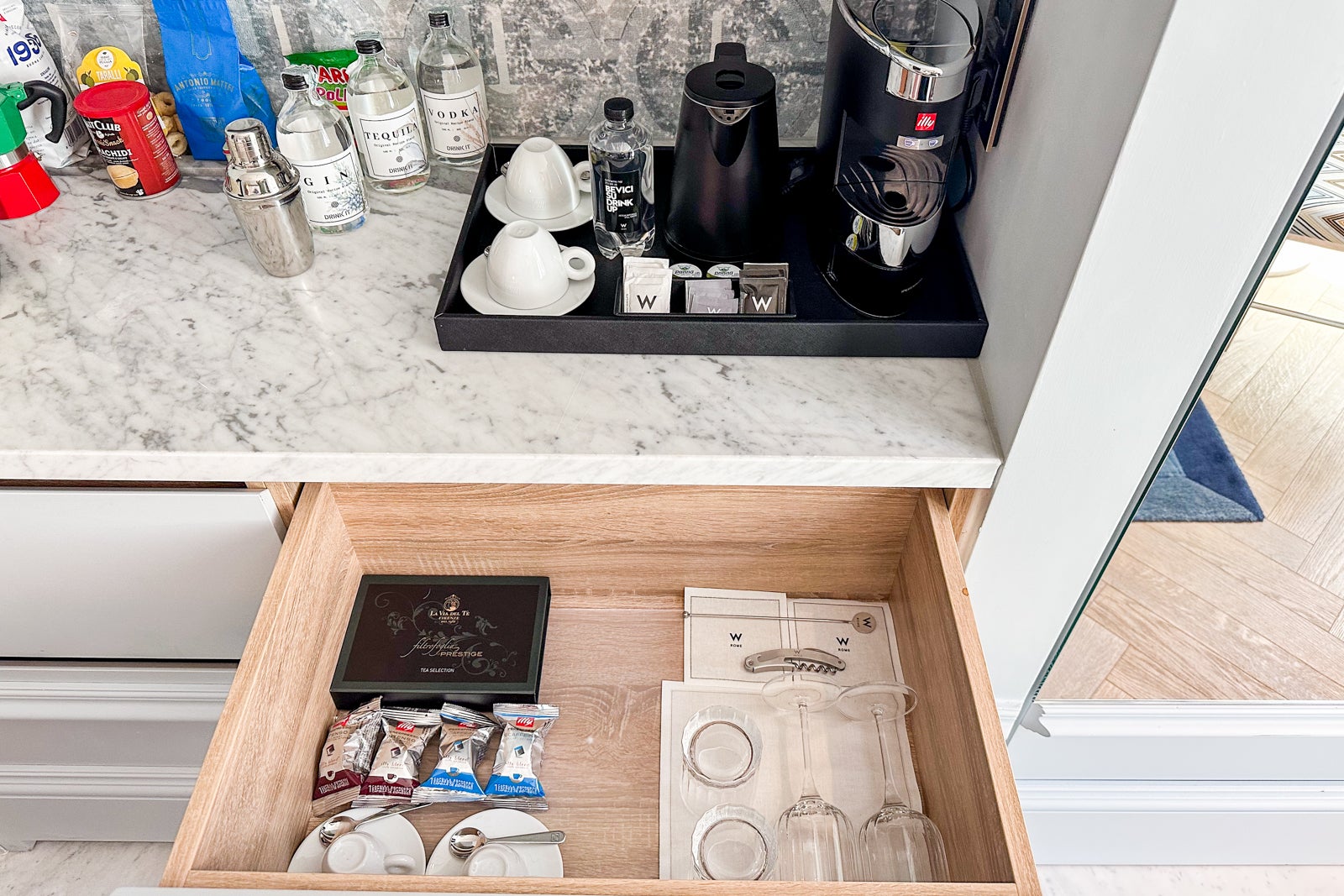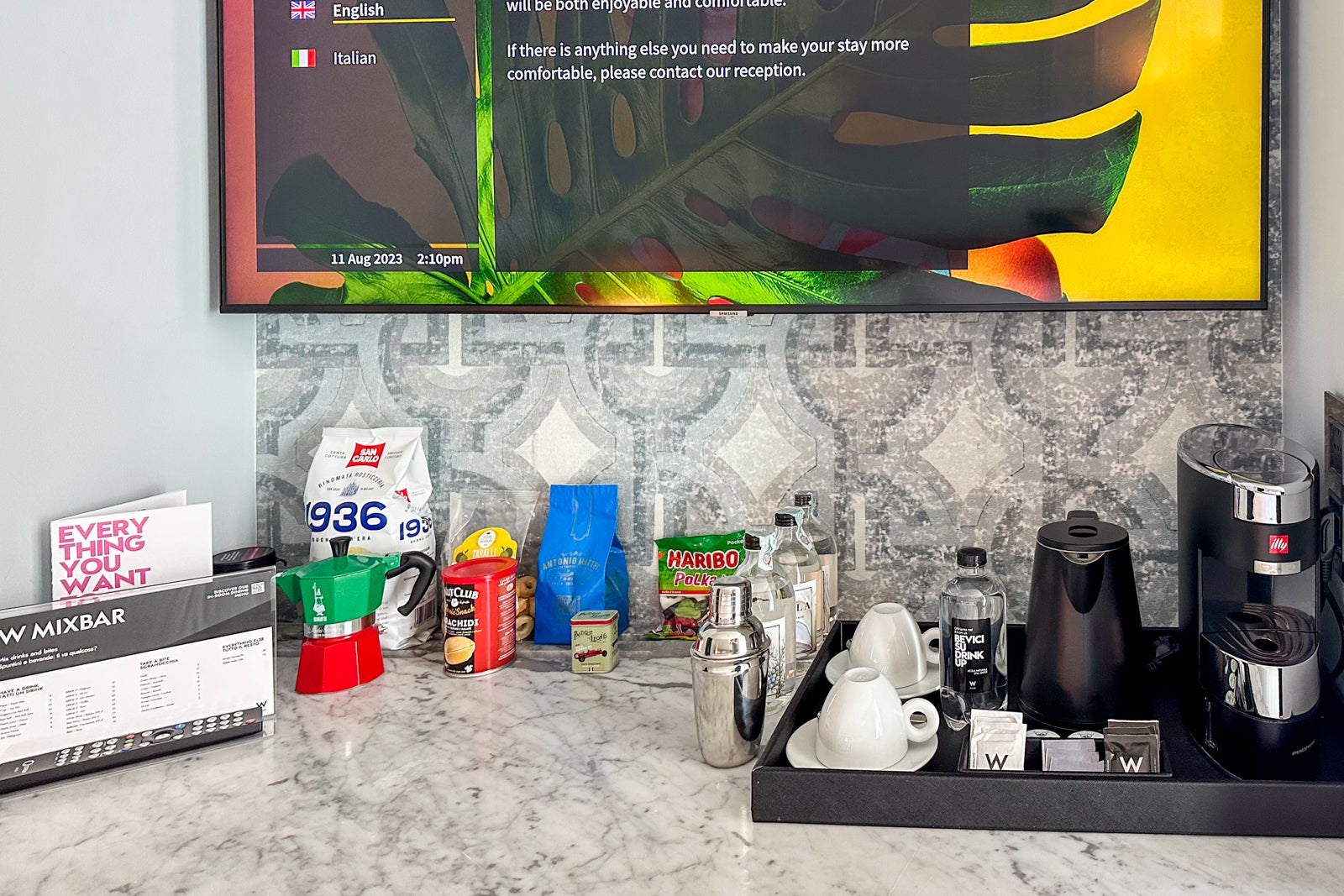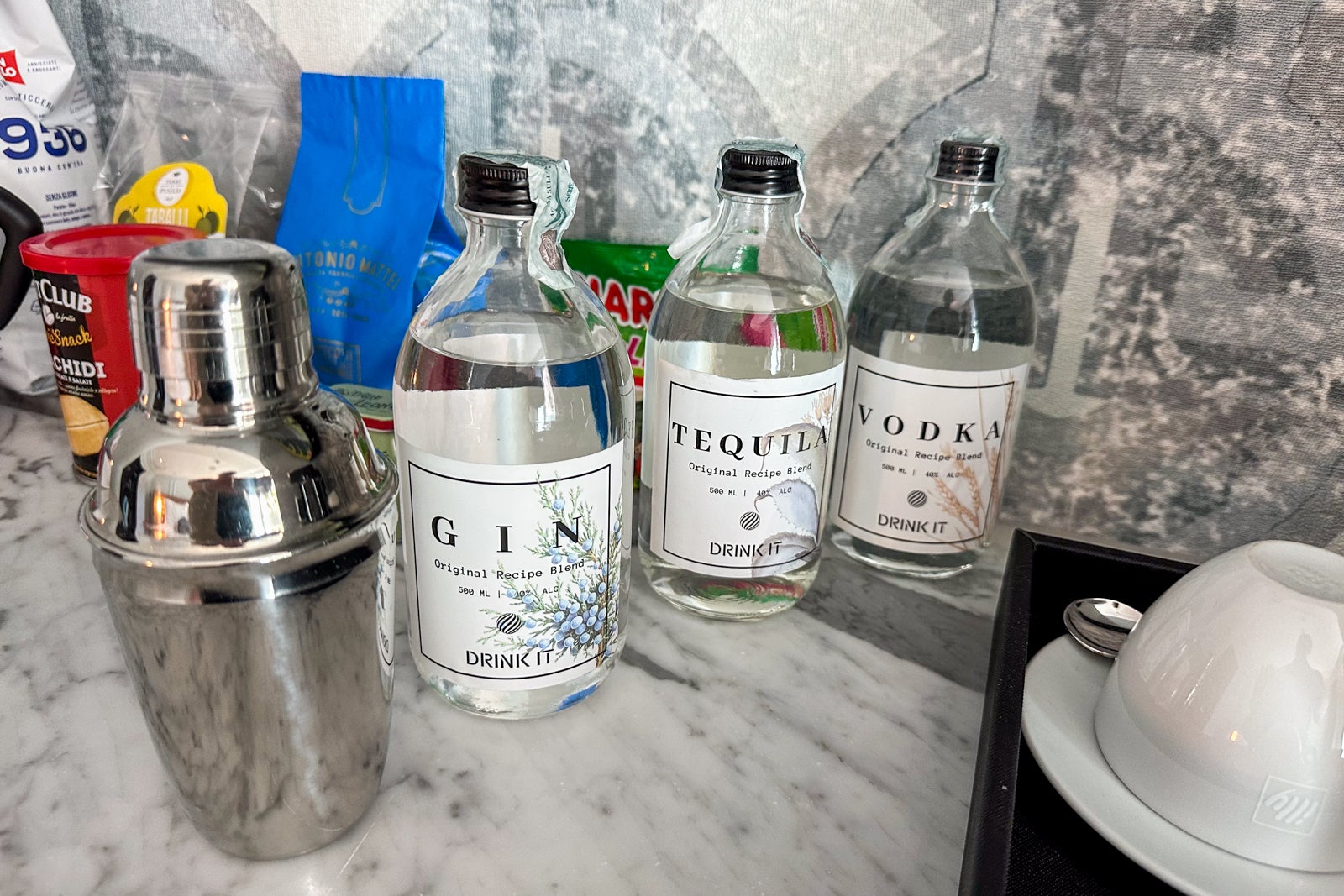 I was particularly impressed with the minibar, as it was packed with options to satisfy plenty of different drink cravings. There were 500-milliliter bottles of gin, tequila and vodka for 45 euros ($47) each, plus several premade cocktails for 15 euros ($16), prosecco for 55 euros ($58), wine for 22 euros ($23) and various juices costing up to 10 euros ($11) that could be used for mixers. A jar of olives was even available for 10 euros ($11) so you could top off your premade martini. For those who prefer caffeinated beverages, a selection of complimentary coffees and teas sat next to glassware in another hidden drawer. 
Beyond the minibar area, you'll find a comfortable king-size bed with multiple USB outlets and standard European Type C electrical plugs on each side, as well as a closet with mirrored double doors that open to reveal plenty of hangers and hanging space.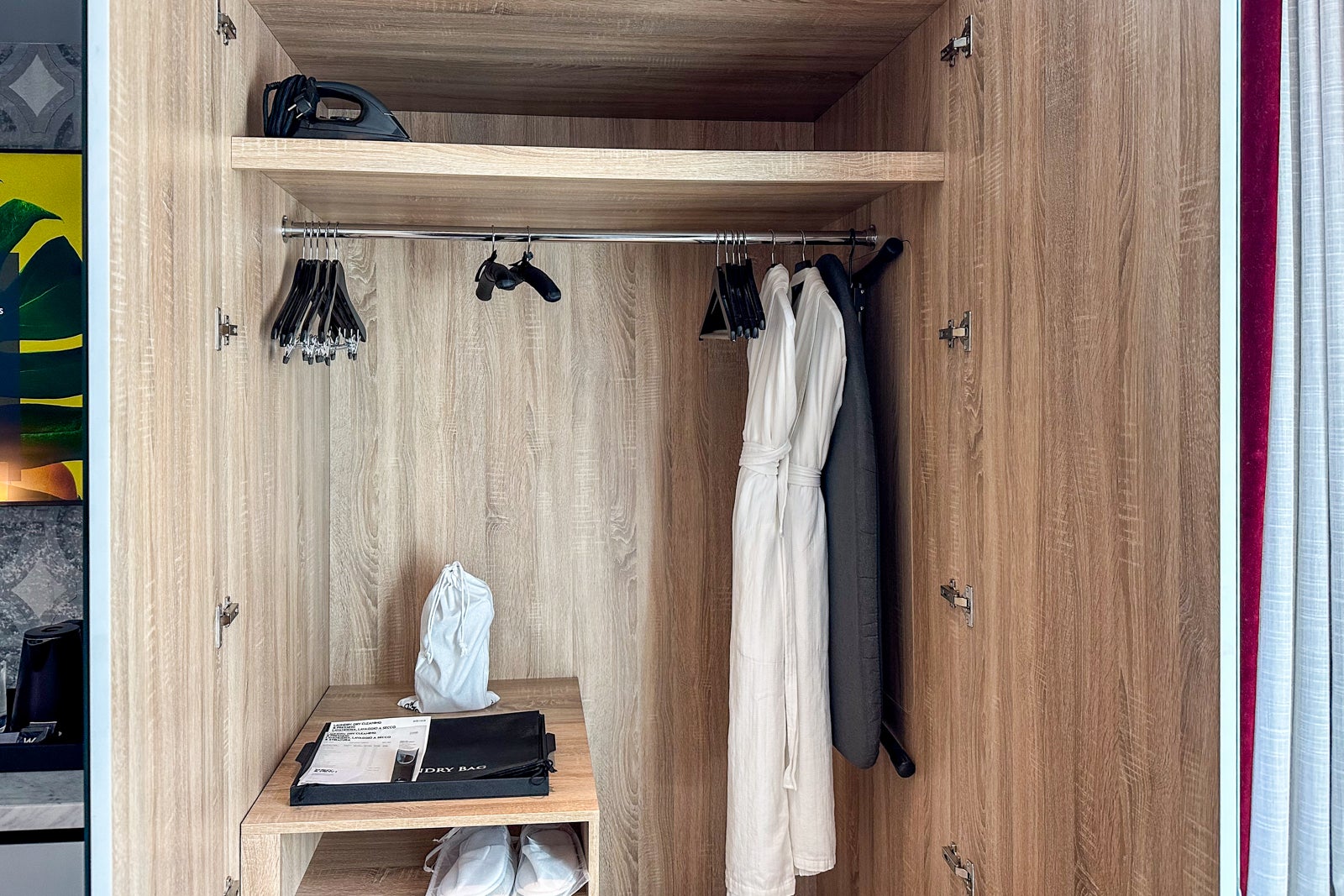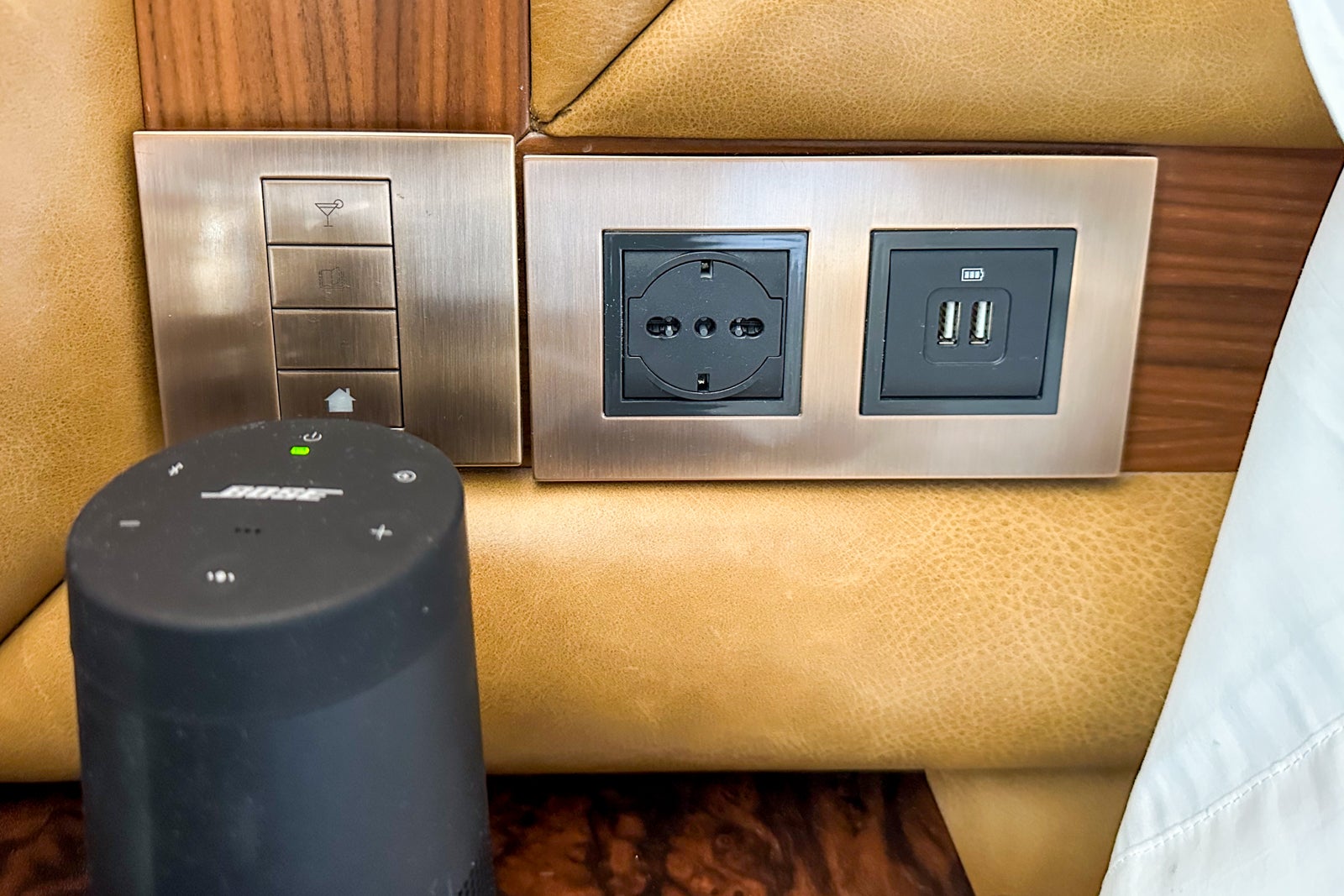 The bathroom was the most luxurious area within the room, featuring floor-to-ceiling marble in gray and black hues. Despite being too small to accommodate a soaking tub and a second sink, the walk-in shower was spacious, and I appreciated the variety of provided toiletries, including Momo-branded shampoo and conditioner, a toothbrush and toothpaste, a shaving kit and makeup wipes.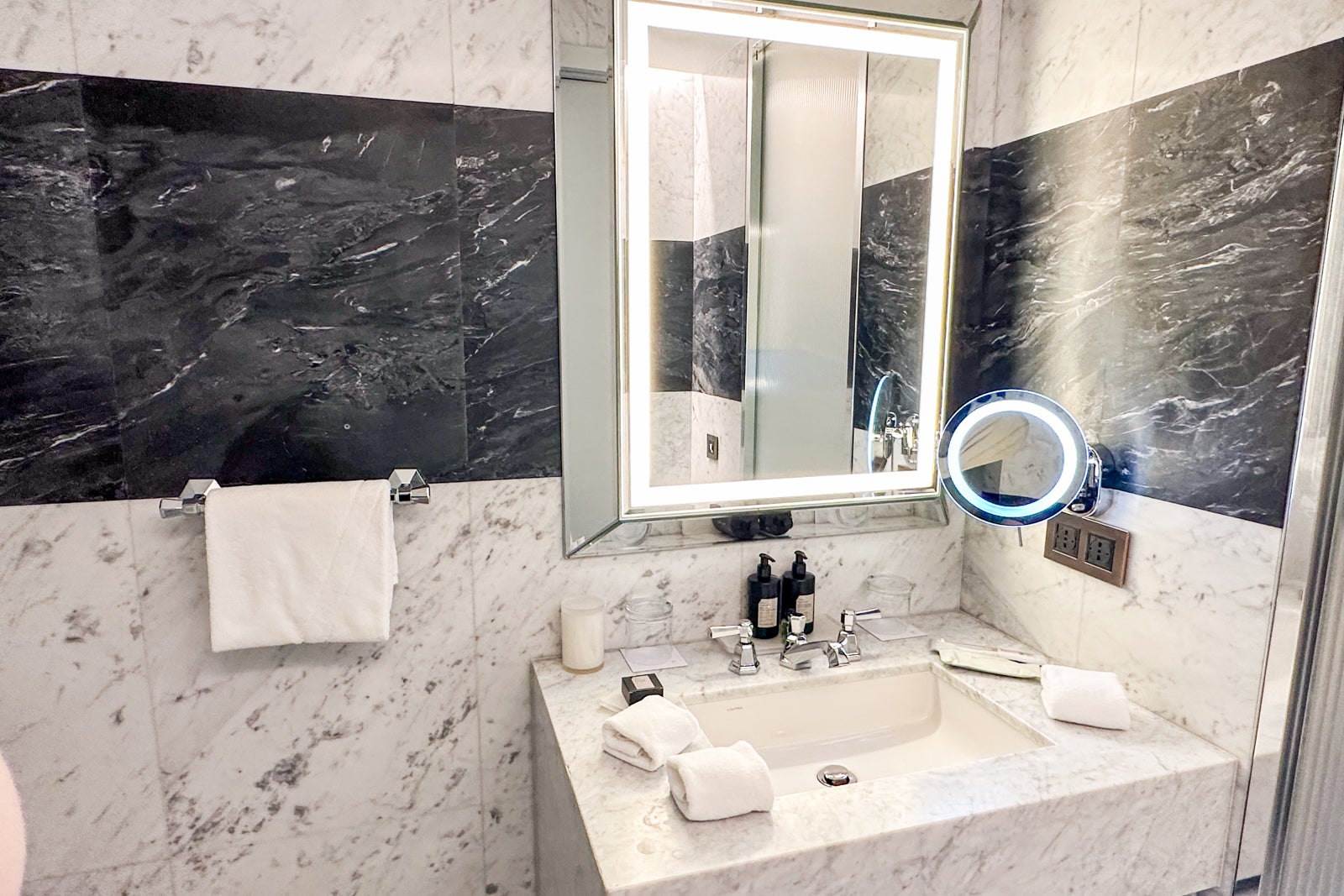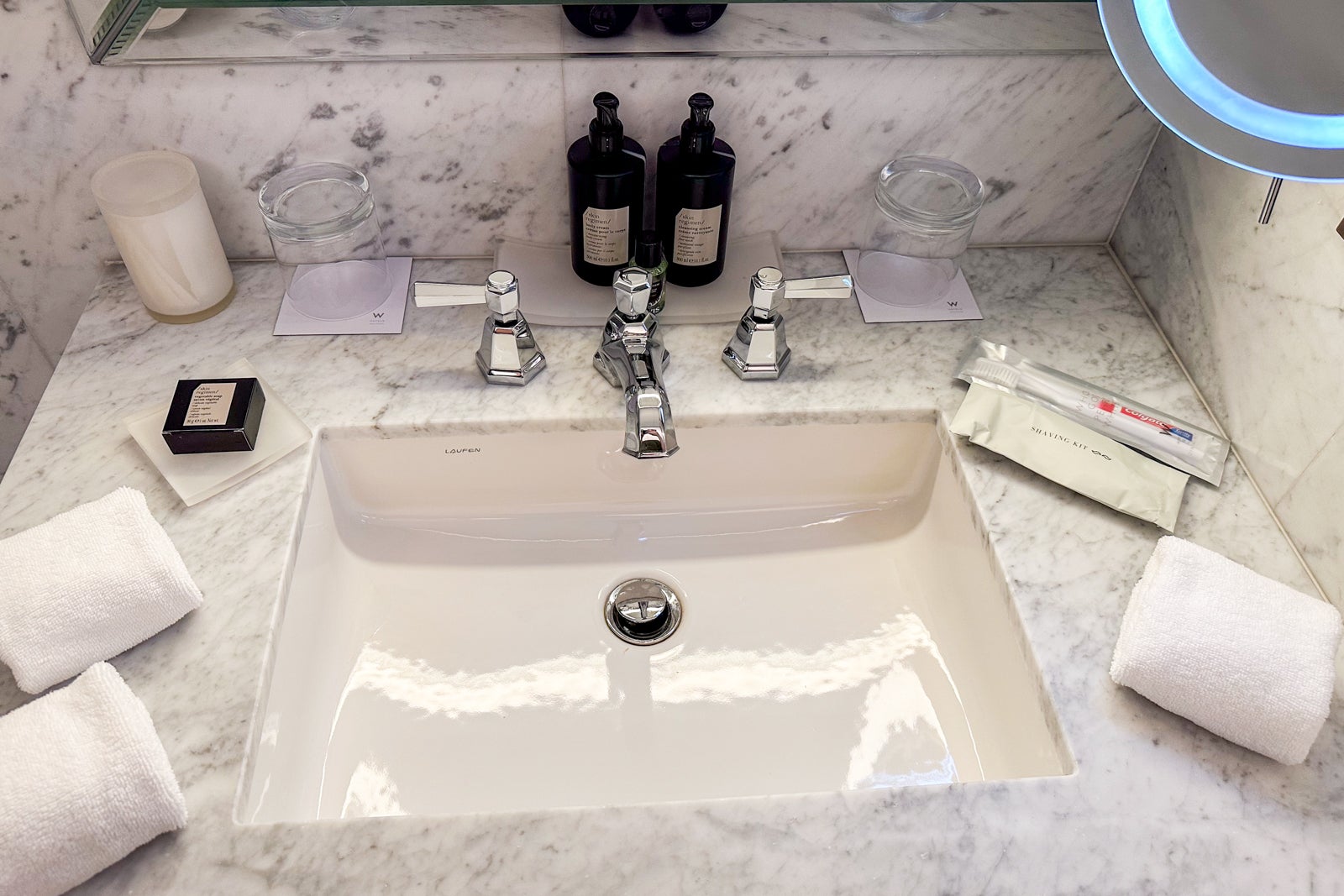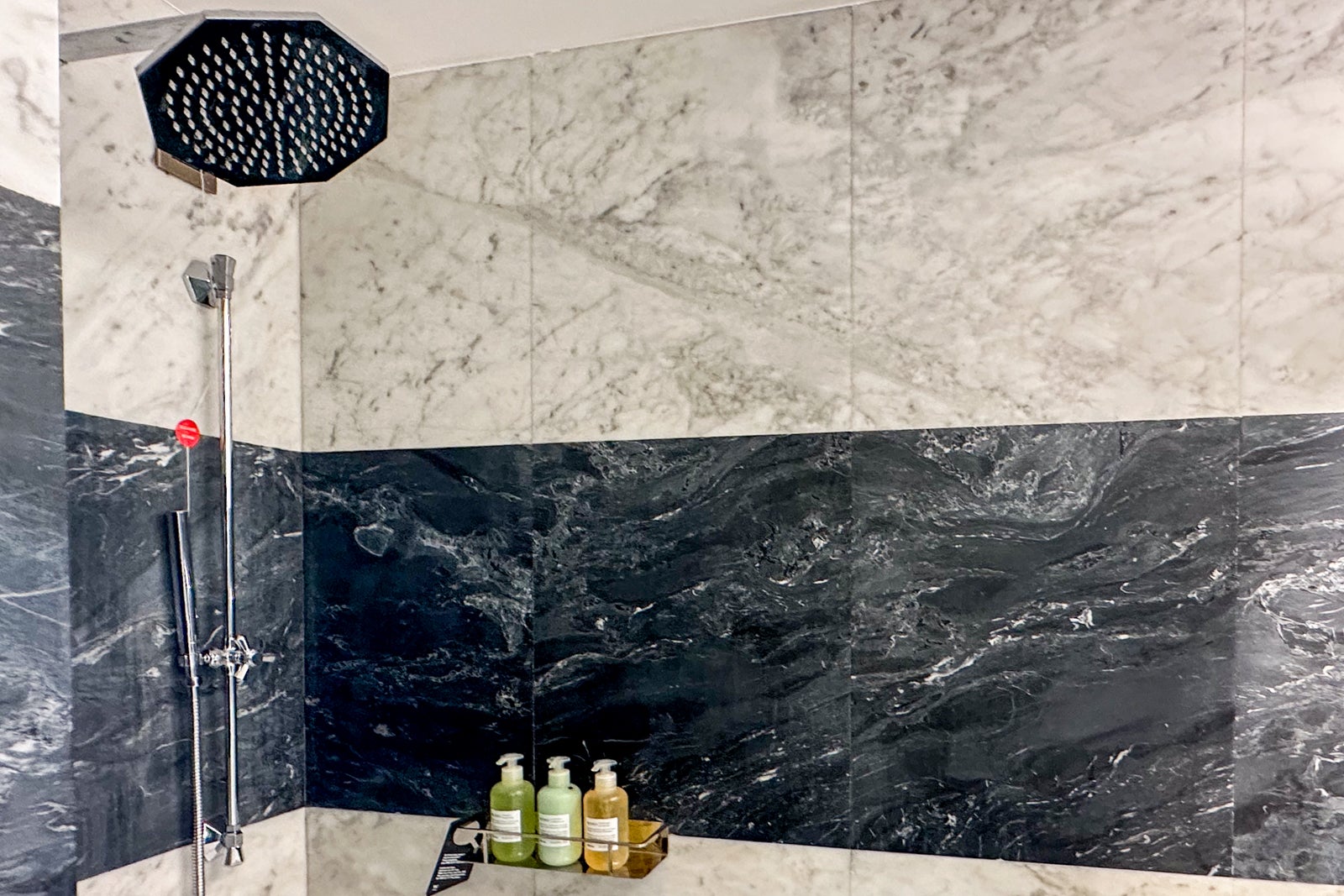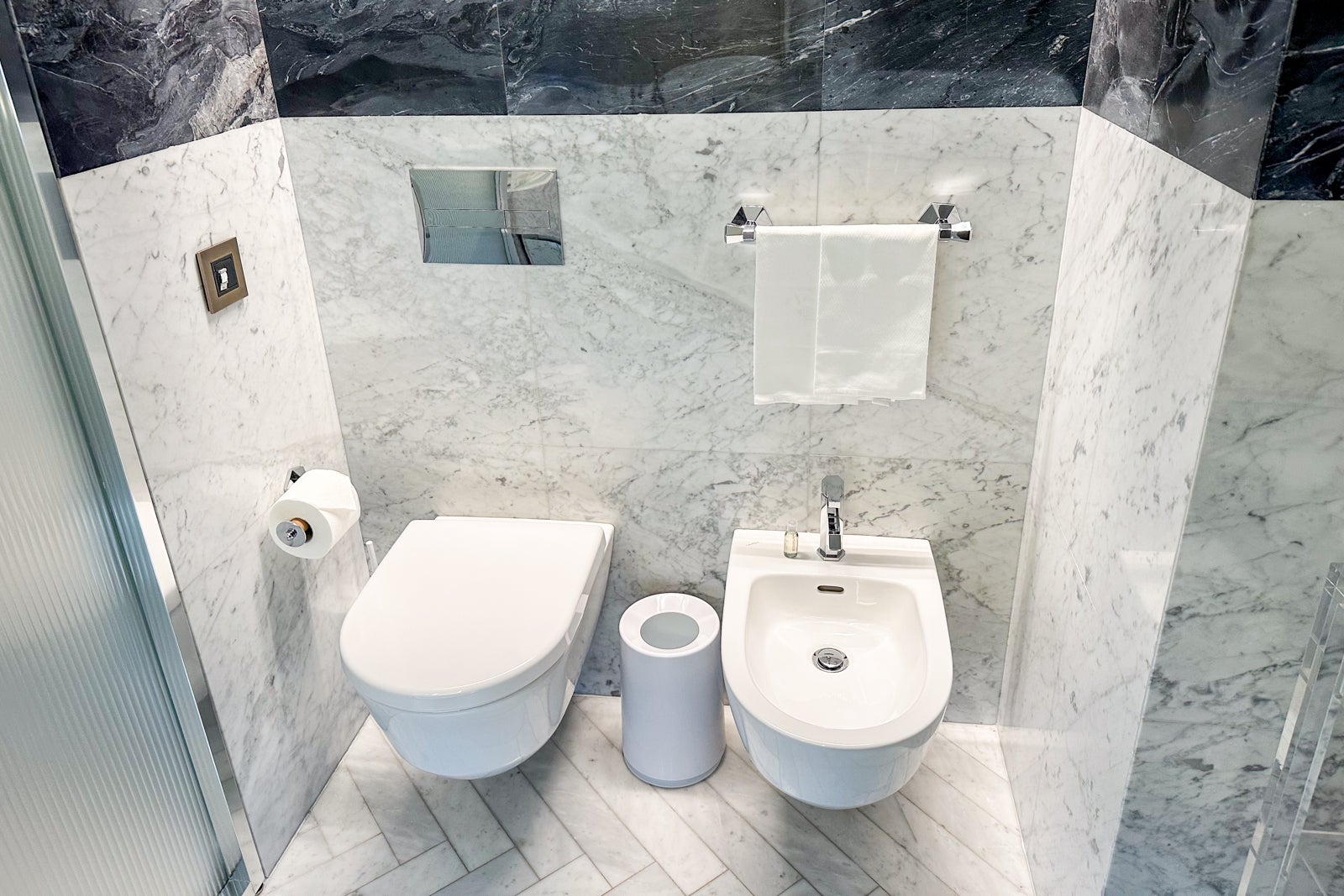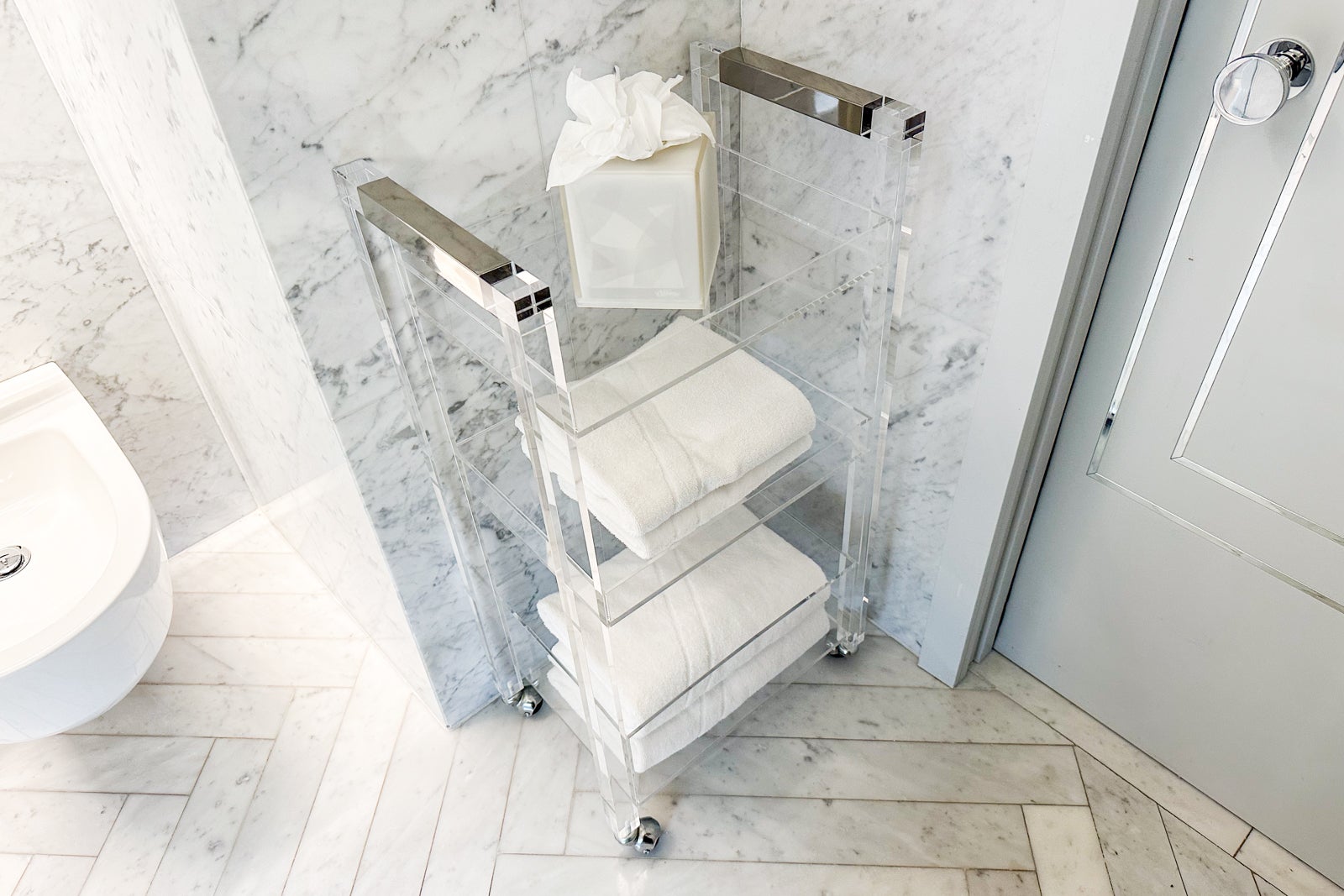 The most charming part of my room, though, was undoubtedly the bench seat in front of the window, where you could sit and admire the beautiful view of the Swiss Institute across the street. If I had more time, I would've lingered here to relax and read a book while the warm Italian breeze blew in through the window.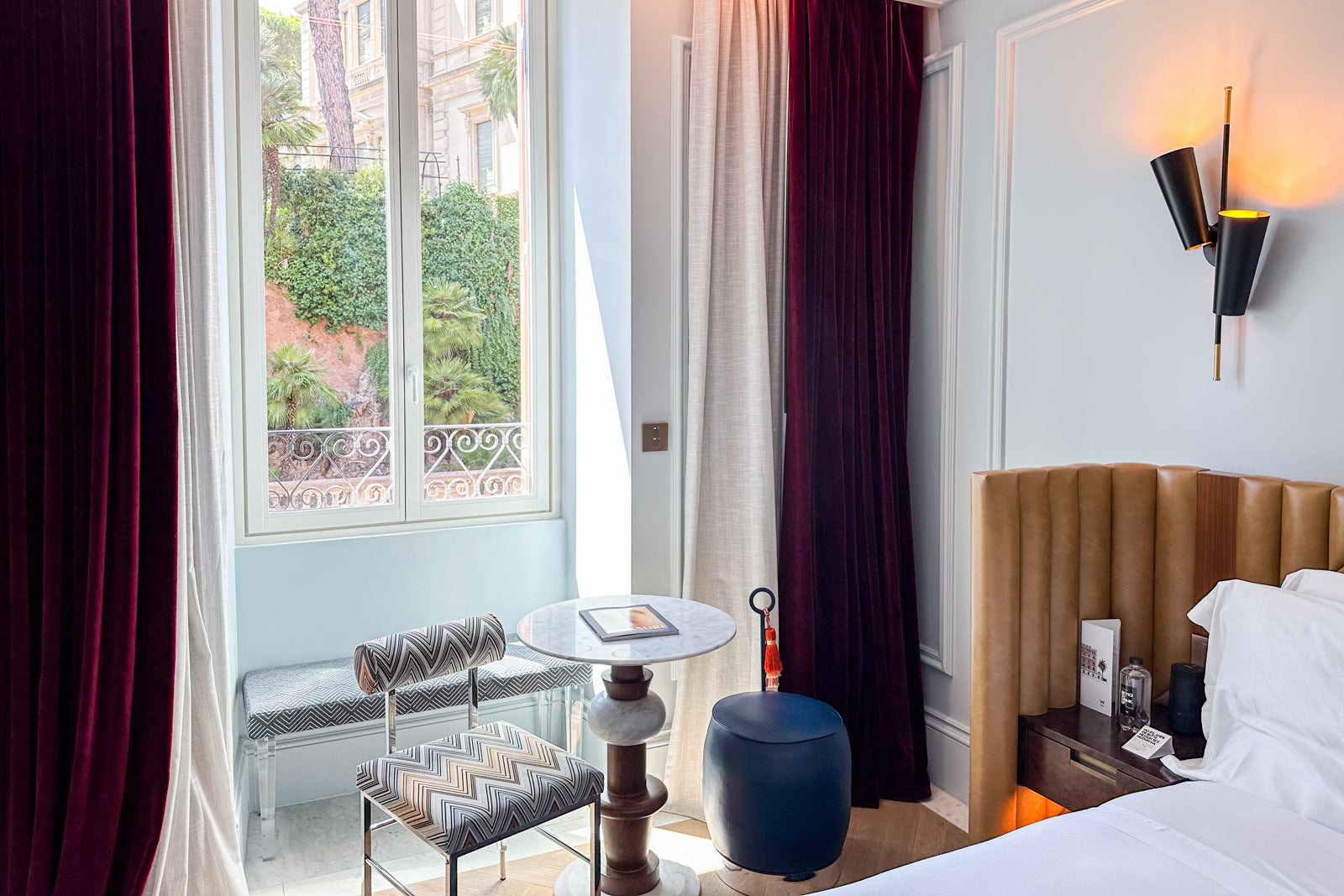 Related: Booking a milestone birthday trip to Rome and Florence
Delicious dining and drinking options abound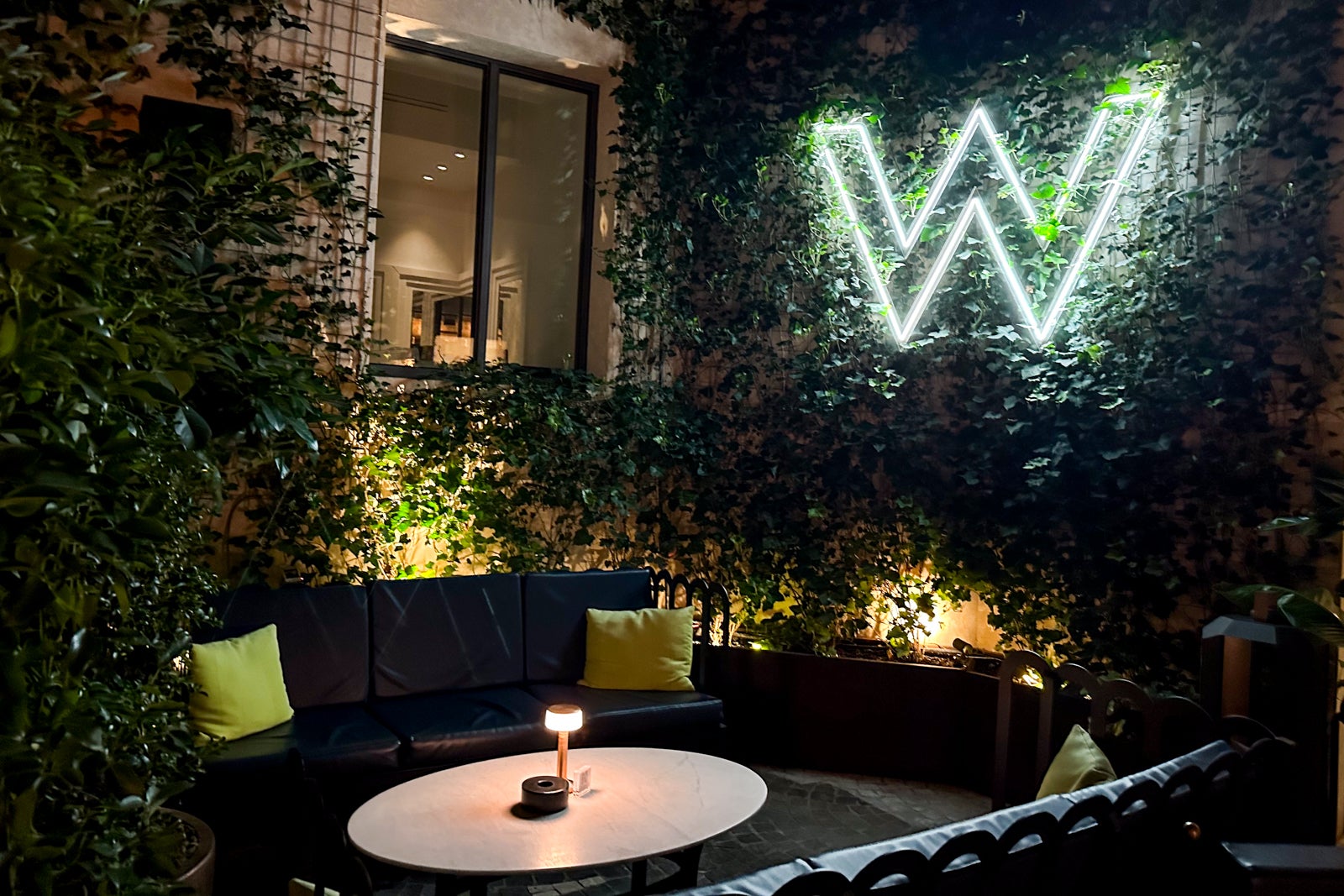 One of the things that swayed me to choose this hotel for my stay was the Sicilian-influenced restaurant that occupies most of the ground floor, including a courtyard in the center of the building. Helmed by superstar Sicilian chef Ciccio Sultano, Giano Restaurant is highly regarded, having earned inclusion in Rome's Michelin Guide. I'm happy to report it lived up to the expectations. 
Seated in the quiet (albeit sparsely decorated) courtyard when we visited for dinner one night, my dining companion and I started our meal sharing a bottle of Pallagrello Riccio Bianco for 46 euros ($48) and nibbling on the complimentary homemade focaccia and fresh bread with ricotta and lemon-infused olive oil offered by our waiter.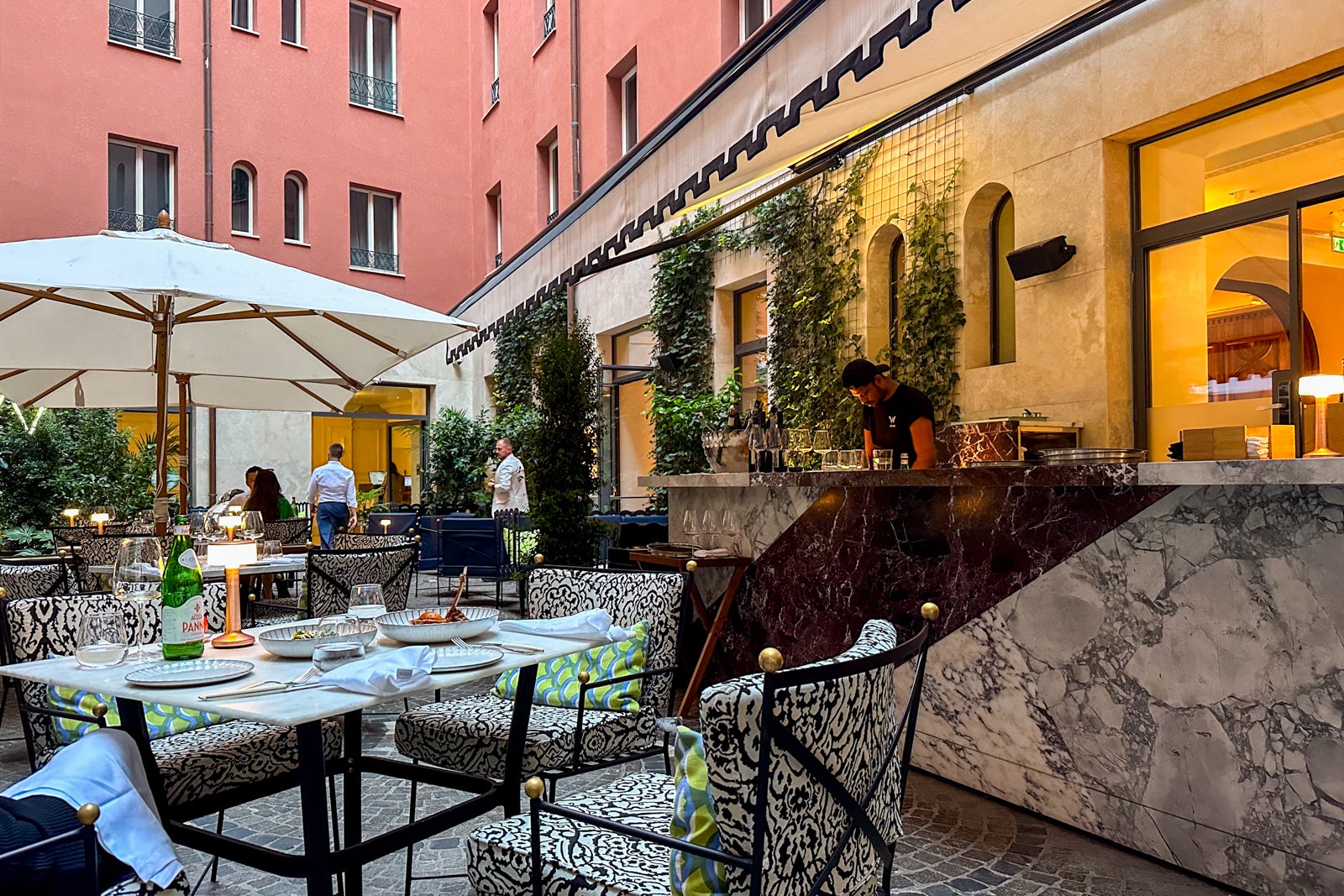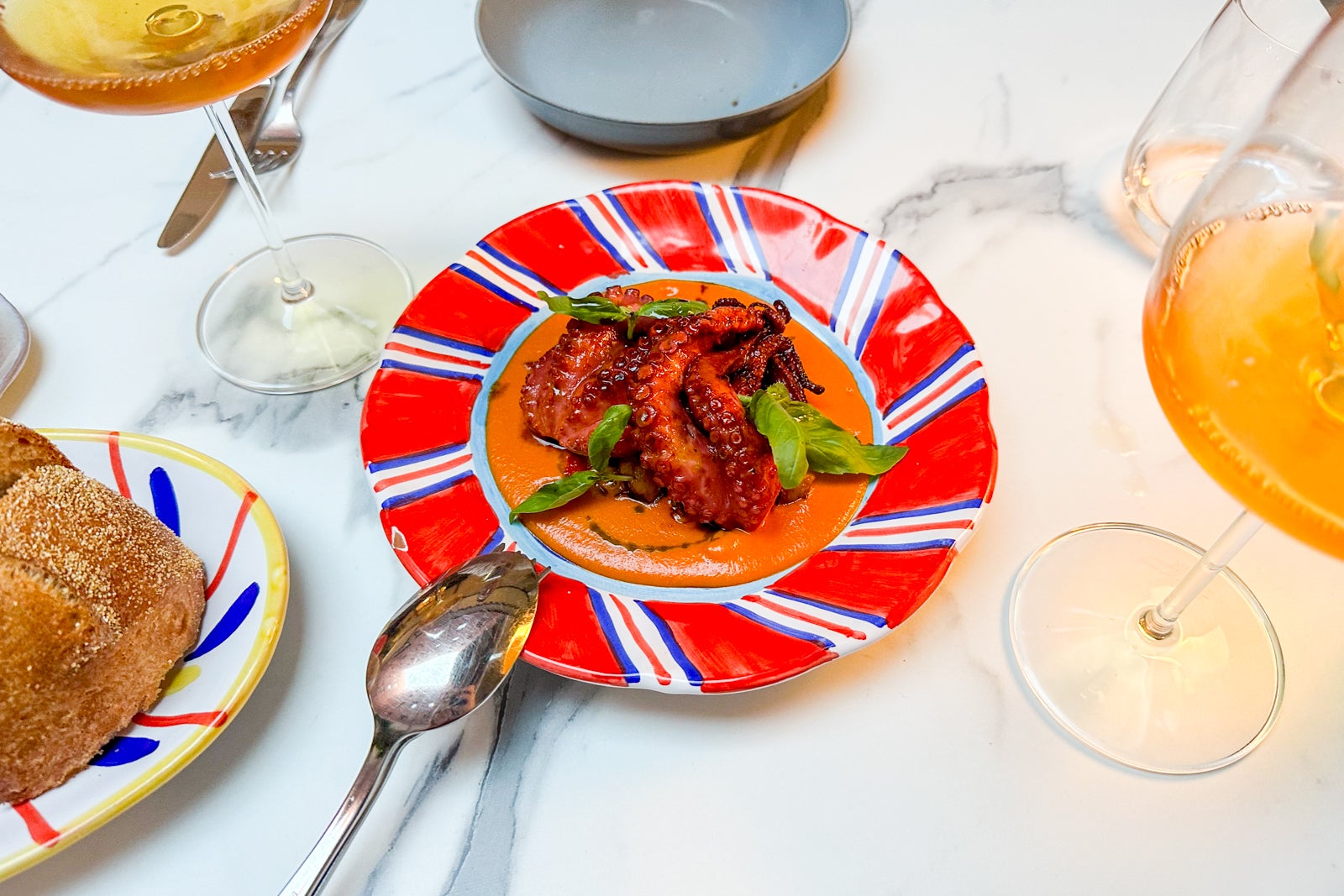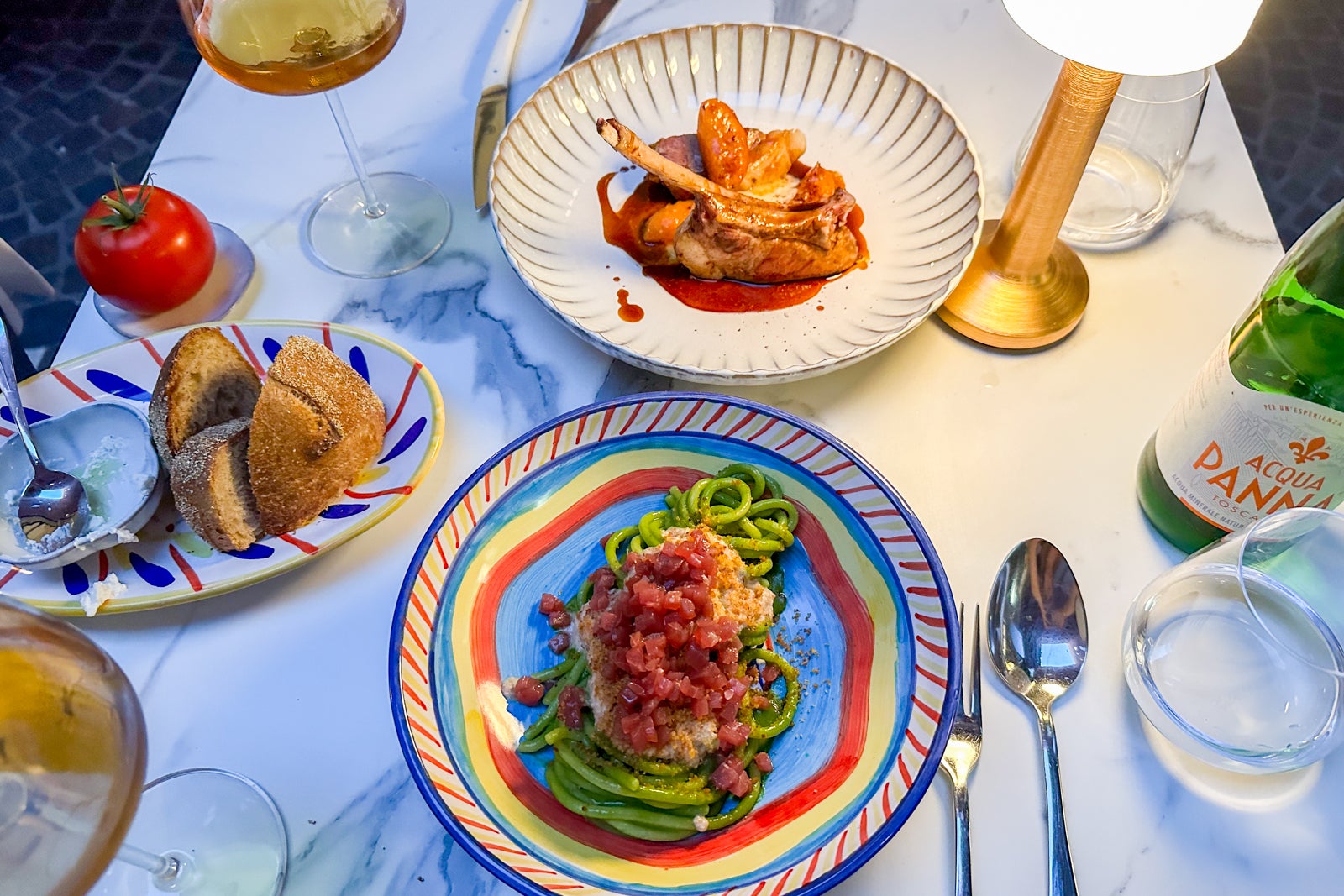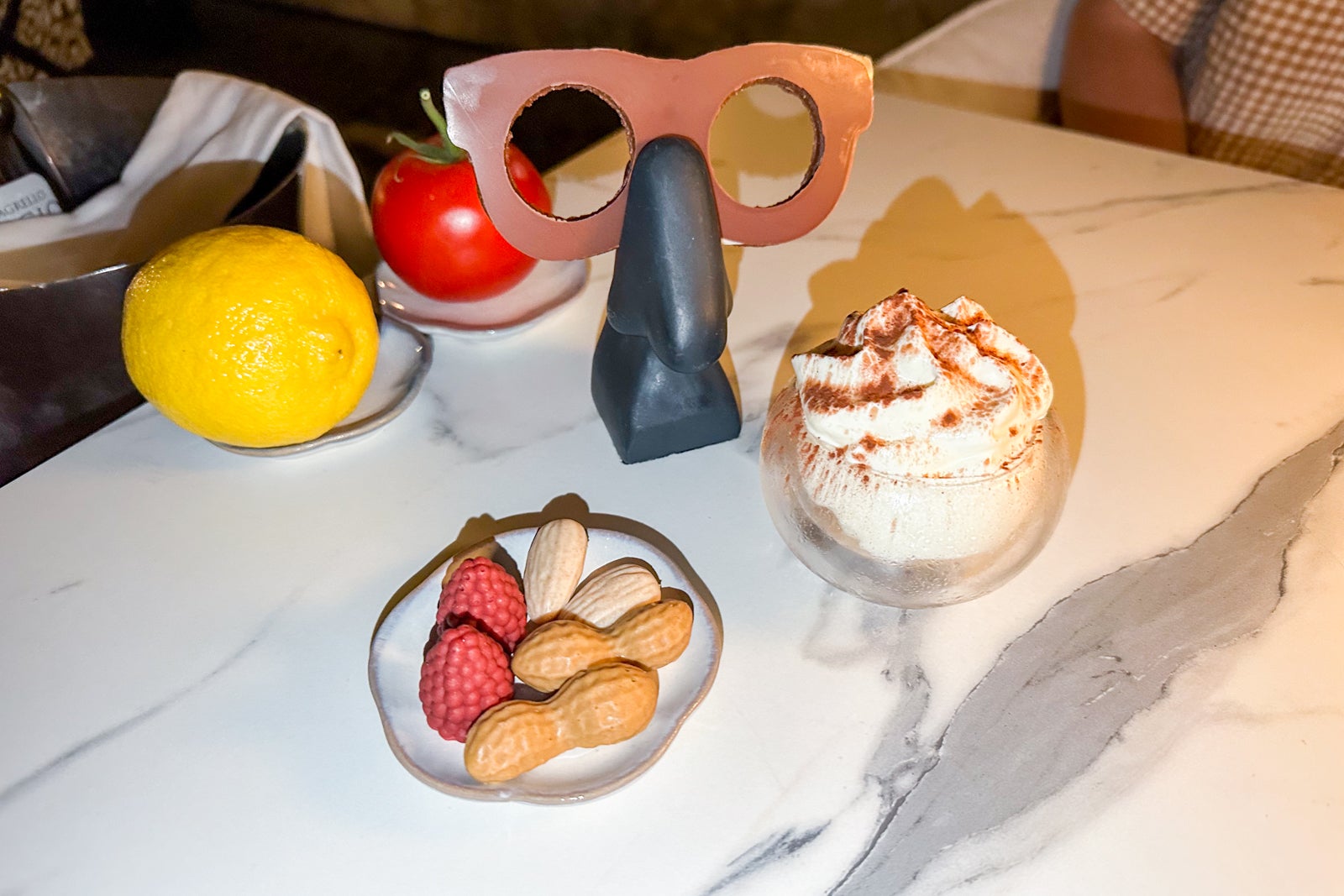 Then, we shared an order of the tender Polpo e Caponata (roasted octopus) for 26 euros ($27) before eating our entrees. Both the Spaghetto Taratata with tuna tartare, tuna bottarga and citrus pesto for 28 euros ($30) and the Maialino nero dei Nebrodi with Sicilian pork, potatoes and apricot for 35 euros ($37) were exceptional and full of flavor. Our Tiramisu dessert for 16 euros ($17) and complimentary chocolates creatively shaped into wafer glasses, raspberries, almonds and peanuts were a fun and delectable way to end the evening.
Continental breakfast is complimentary for all guests, so I returned to Giano again in the morning to fill up before sightseeing. The standard European breakfast spread featured an array of meats, cheeses, bread, pastries and fruits, all of which were delightful.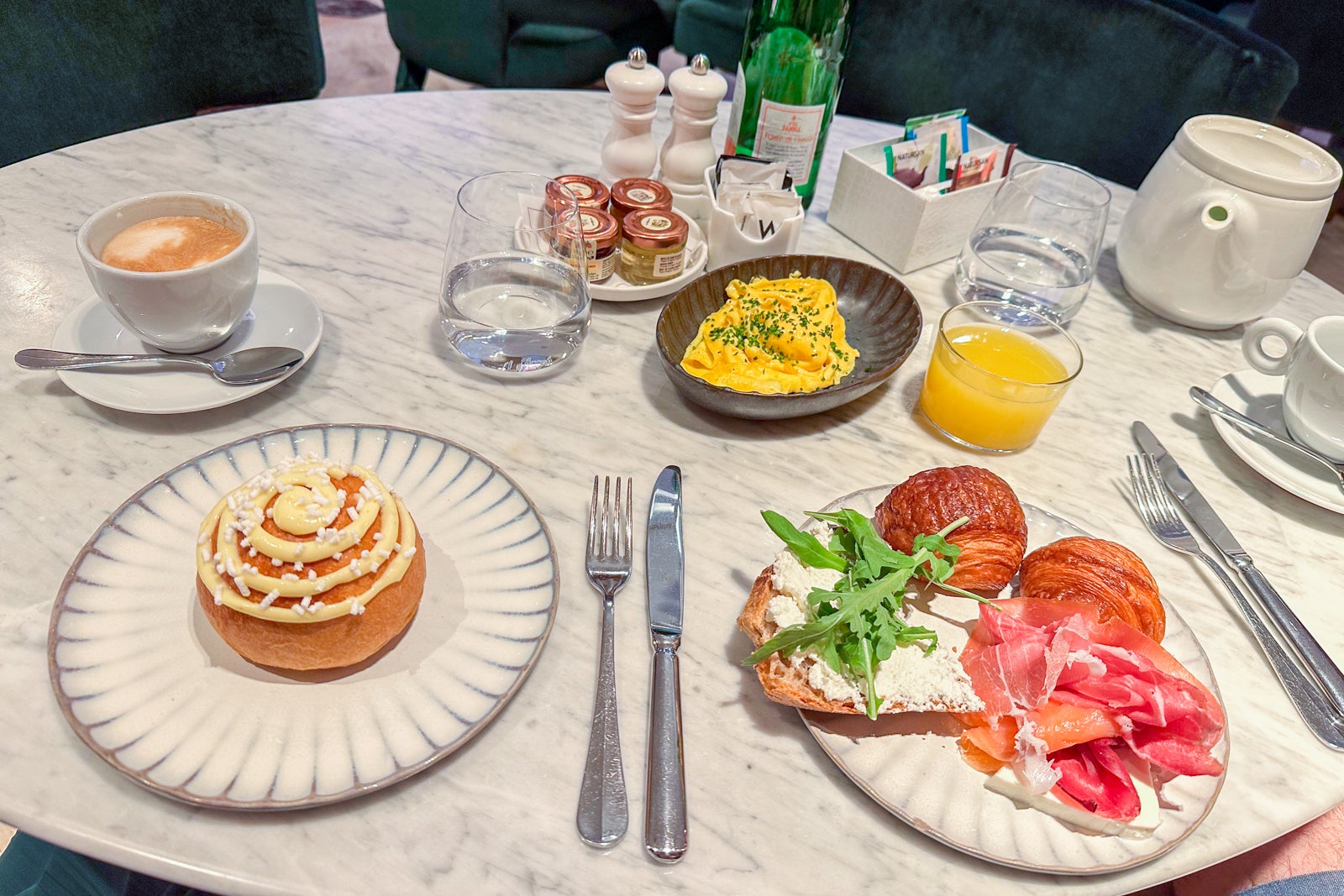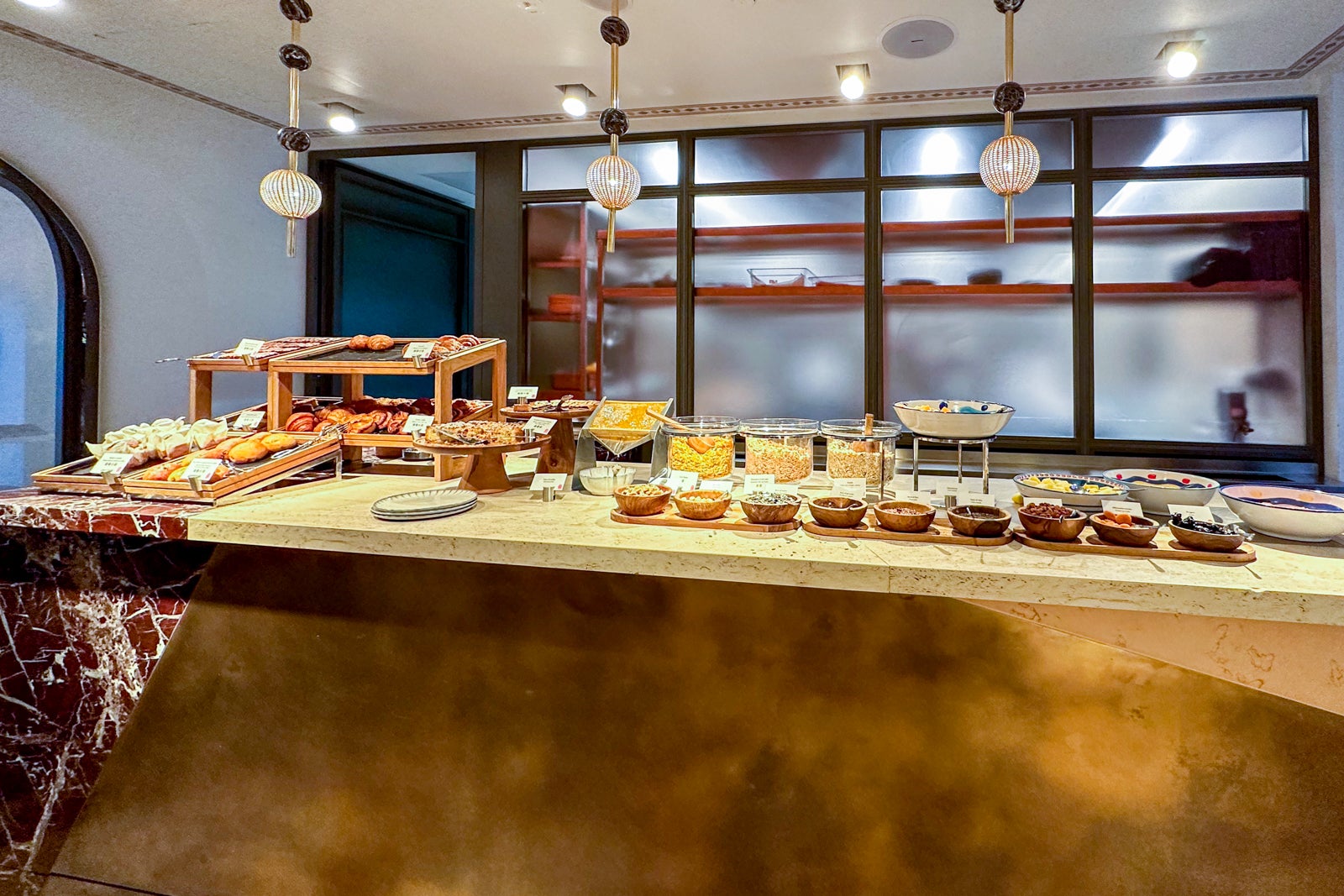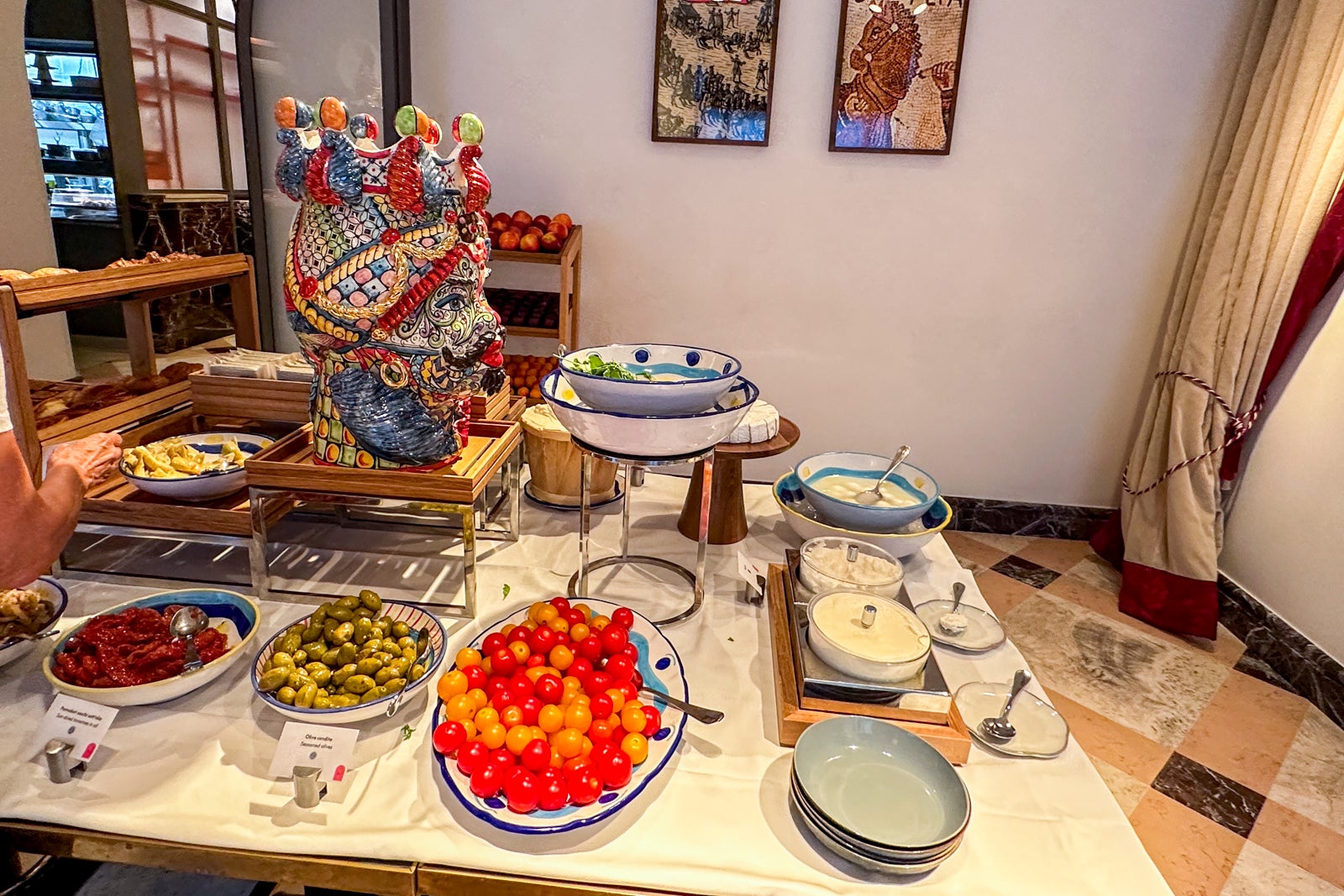 Two additional food and beverage venues — the W Lounge, a moody art deco lobby bar that was surprisingly quiet during my stay, and Seu Pizza con Vista, a rooftop pizza joint with sweeping city views — are also available on-site.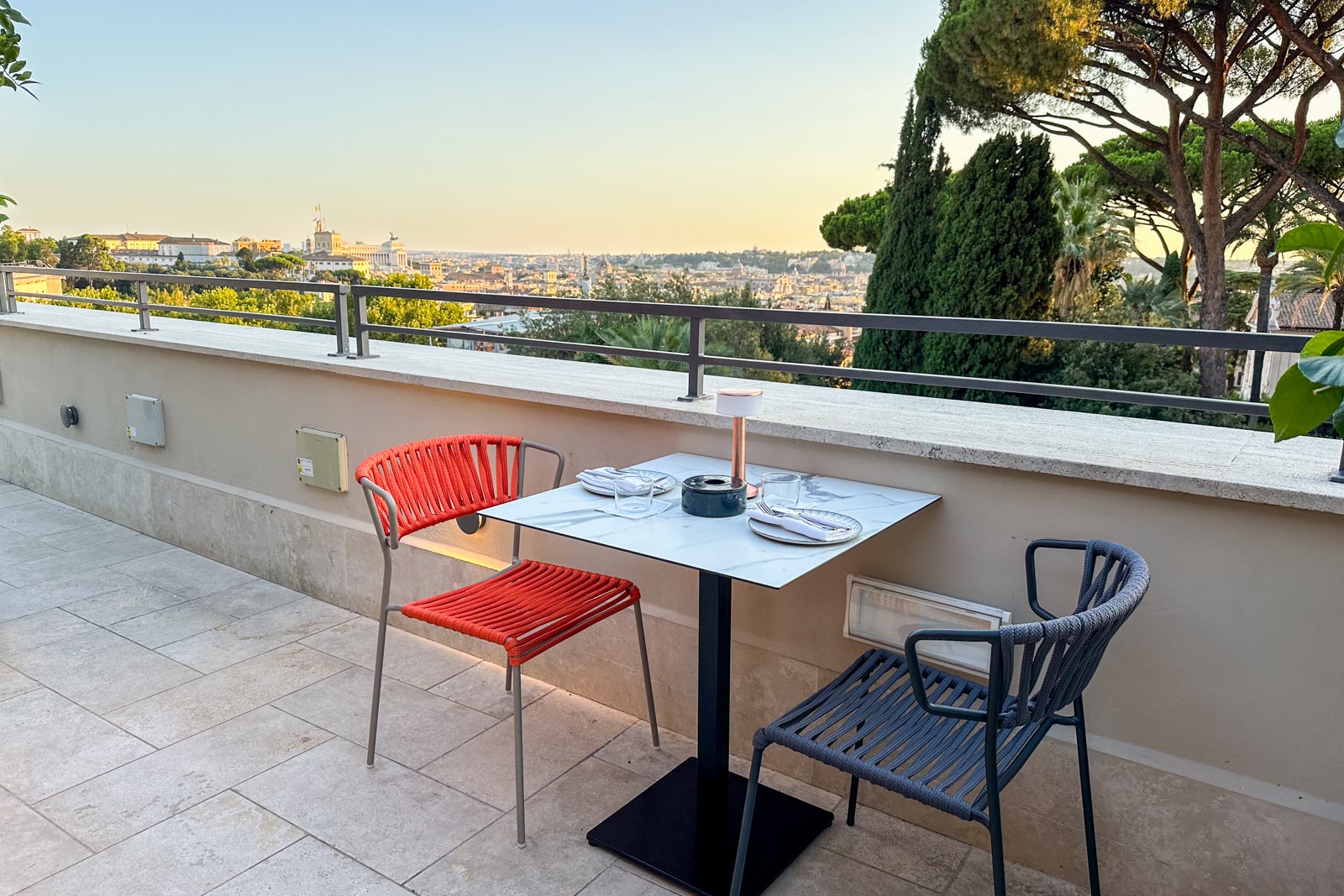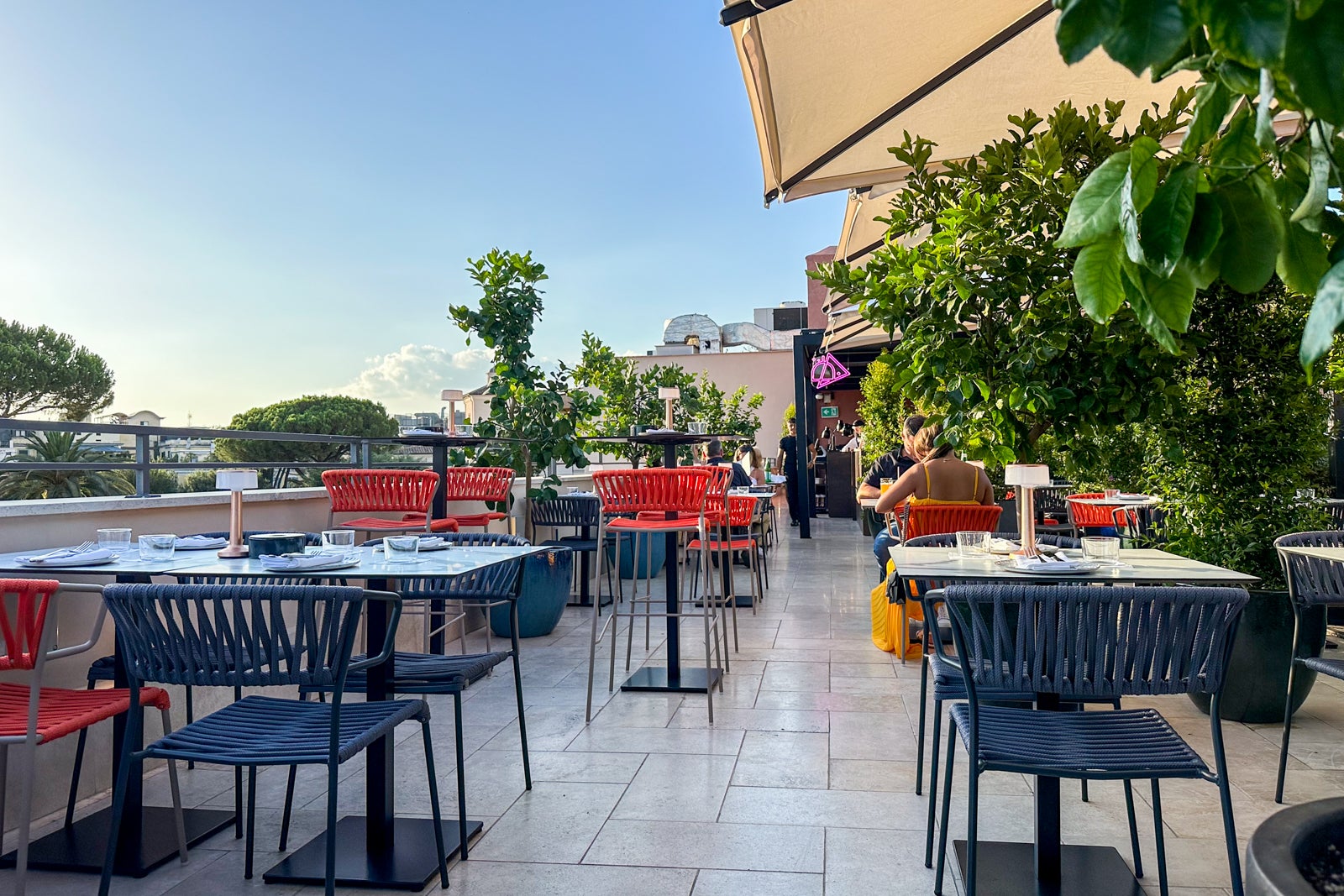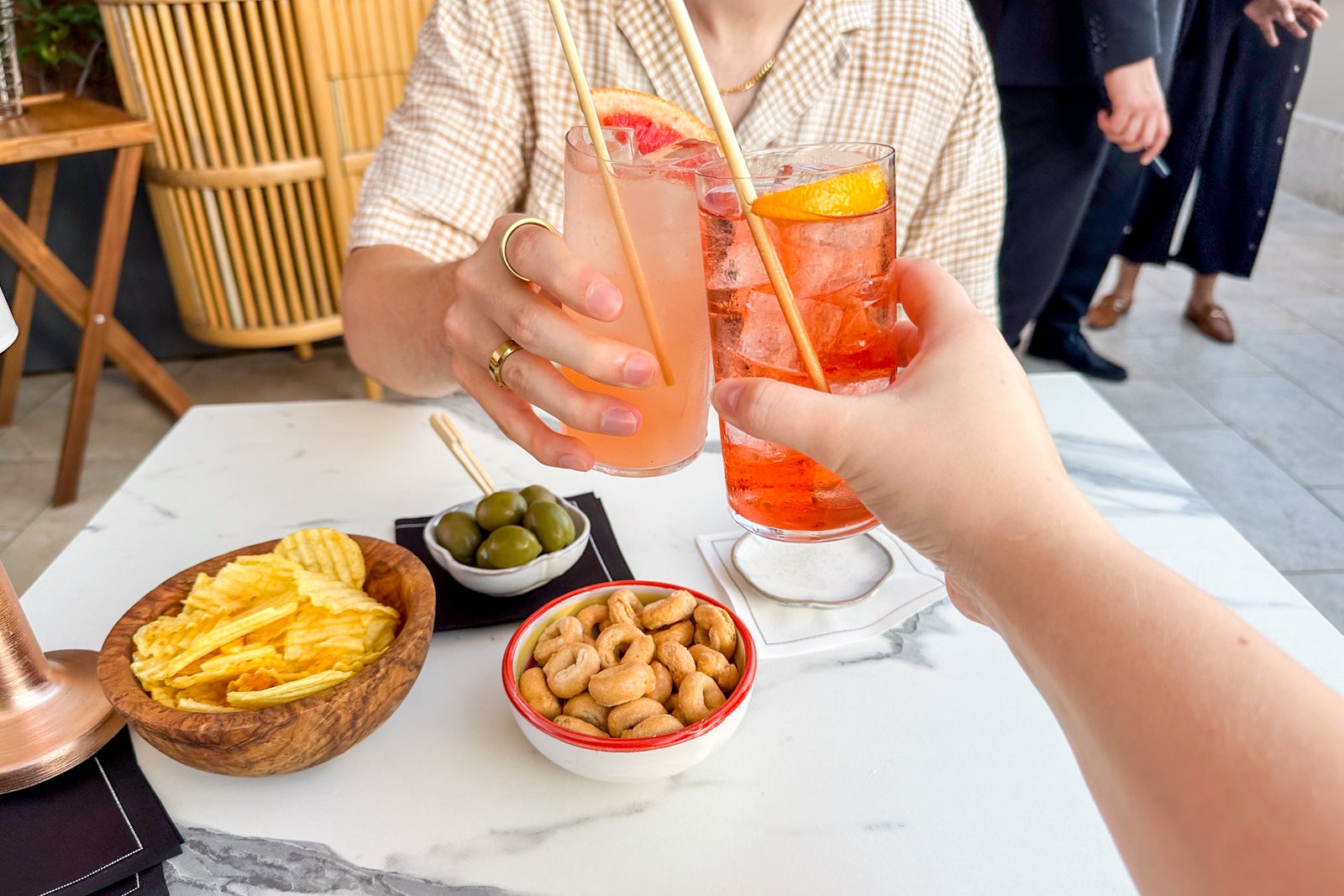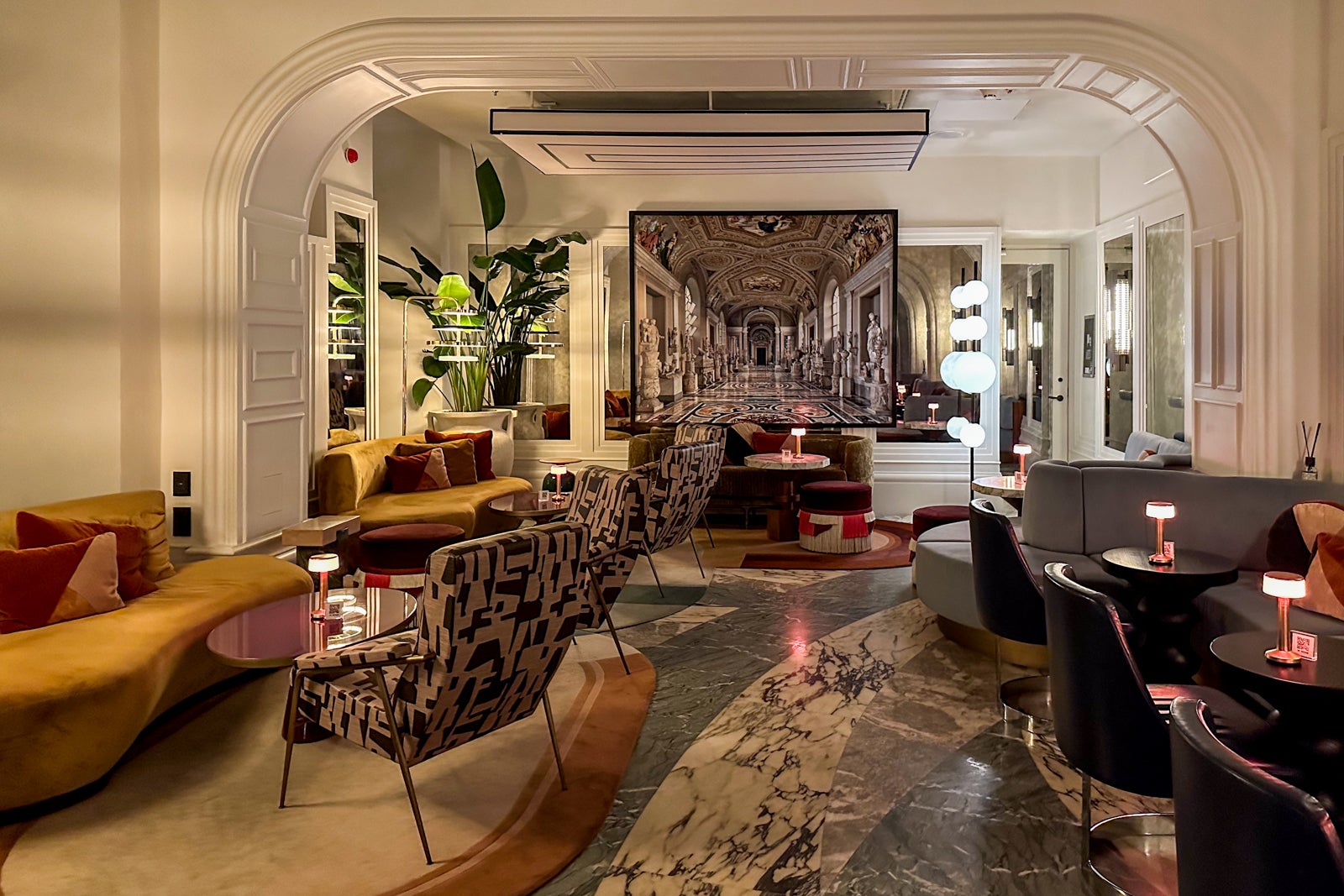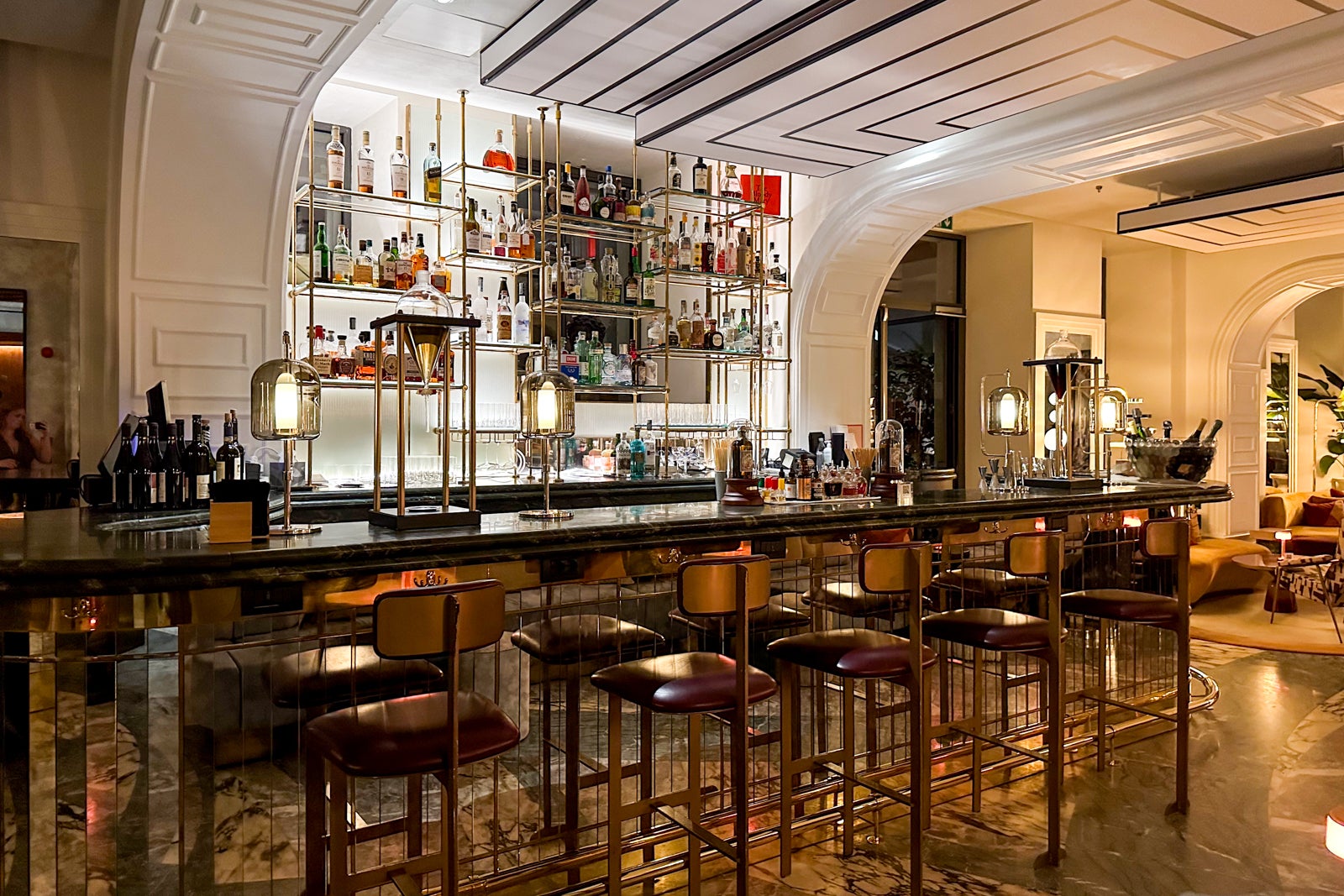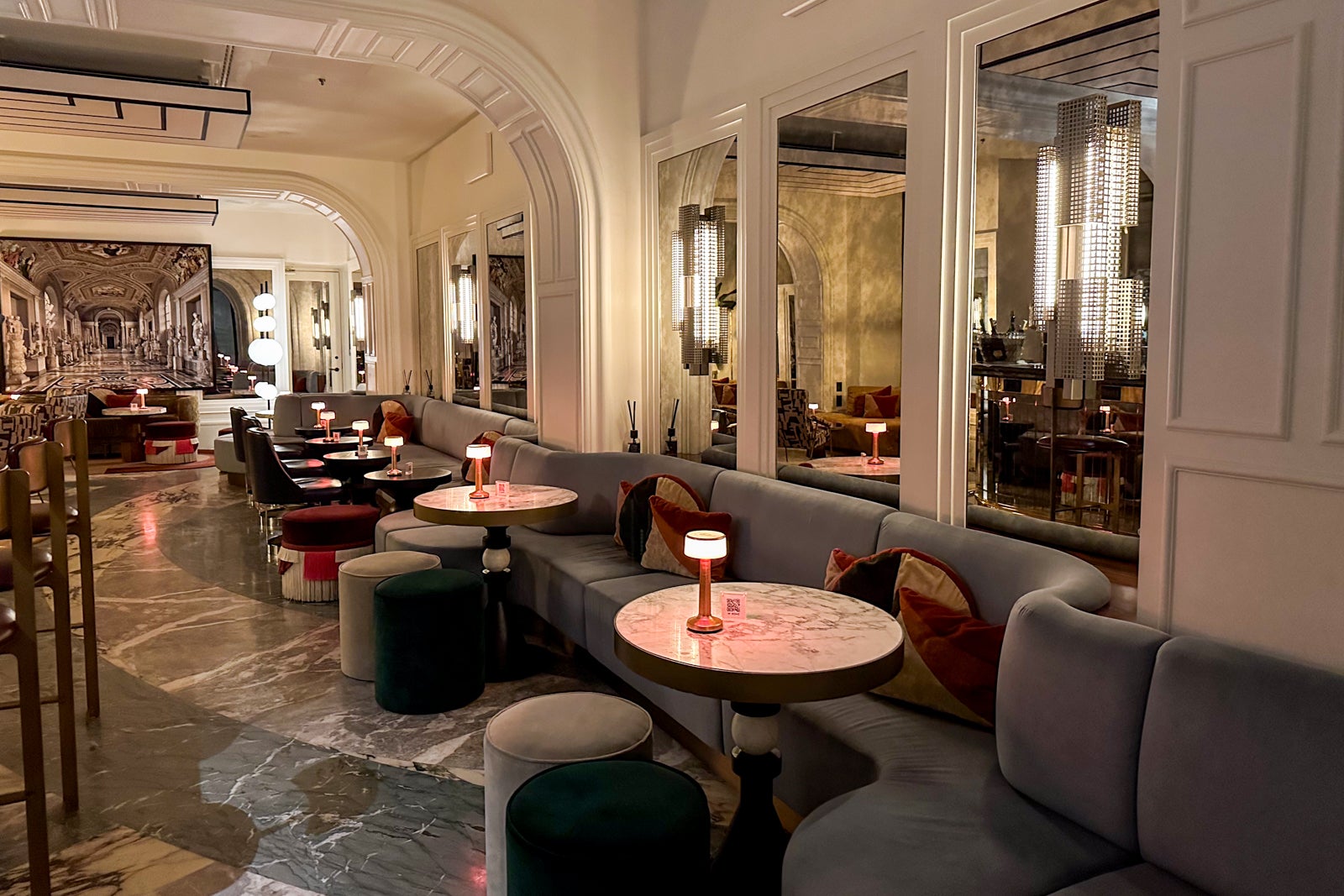 I was only able to grab a drink at Seu Pizza con Vista, but if you're planning to dine there, be sure to make a reservation in advance, as the venue is popular. You can't go wrong trying the Super Santos and La Bellavita cocktails for 22 euros ($24) each; they were just as delightful as the views.
Related: Insider tips for eating and drinking your way through Italy
A rooftop pool (a rarity for Rome) is available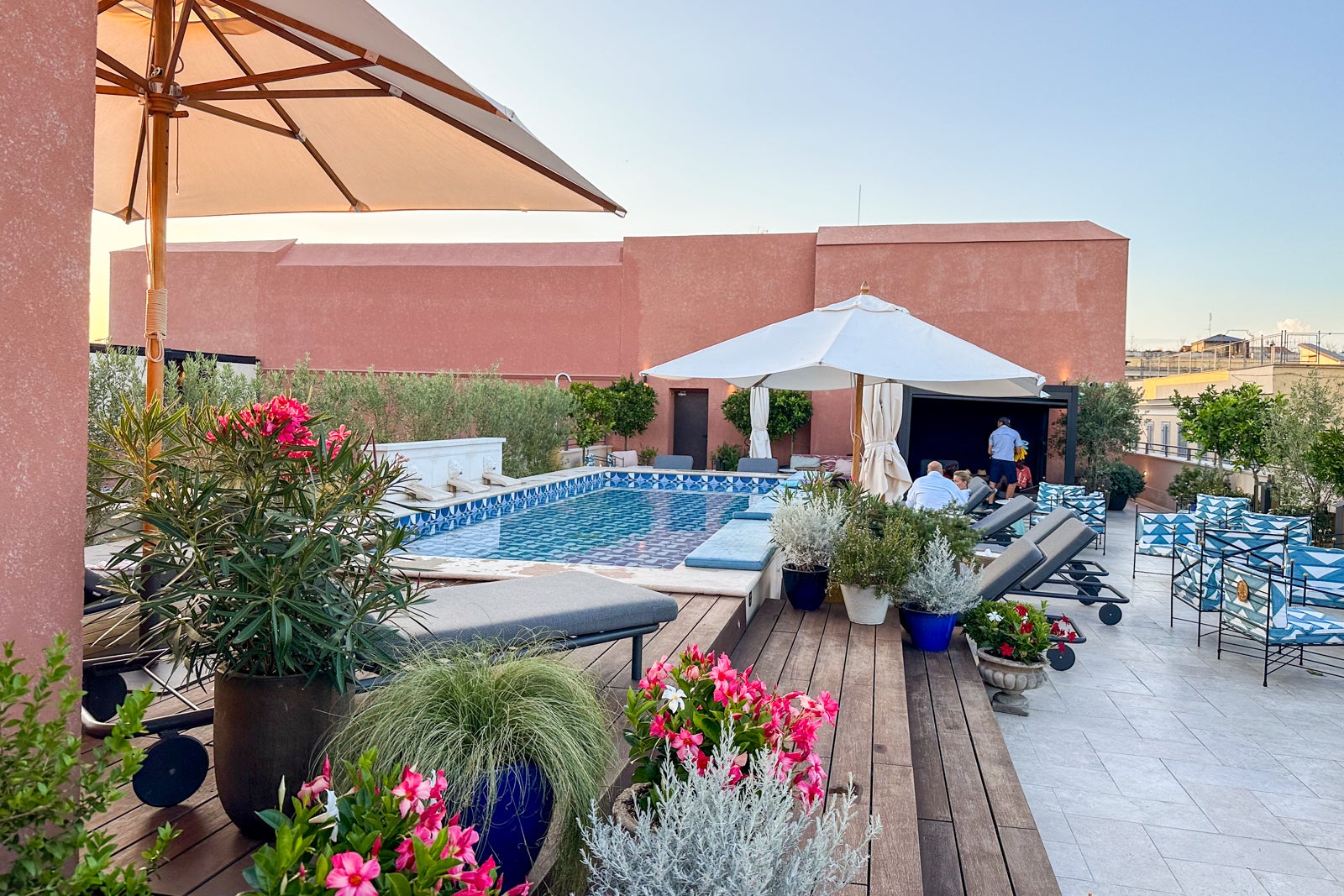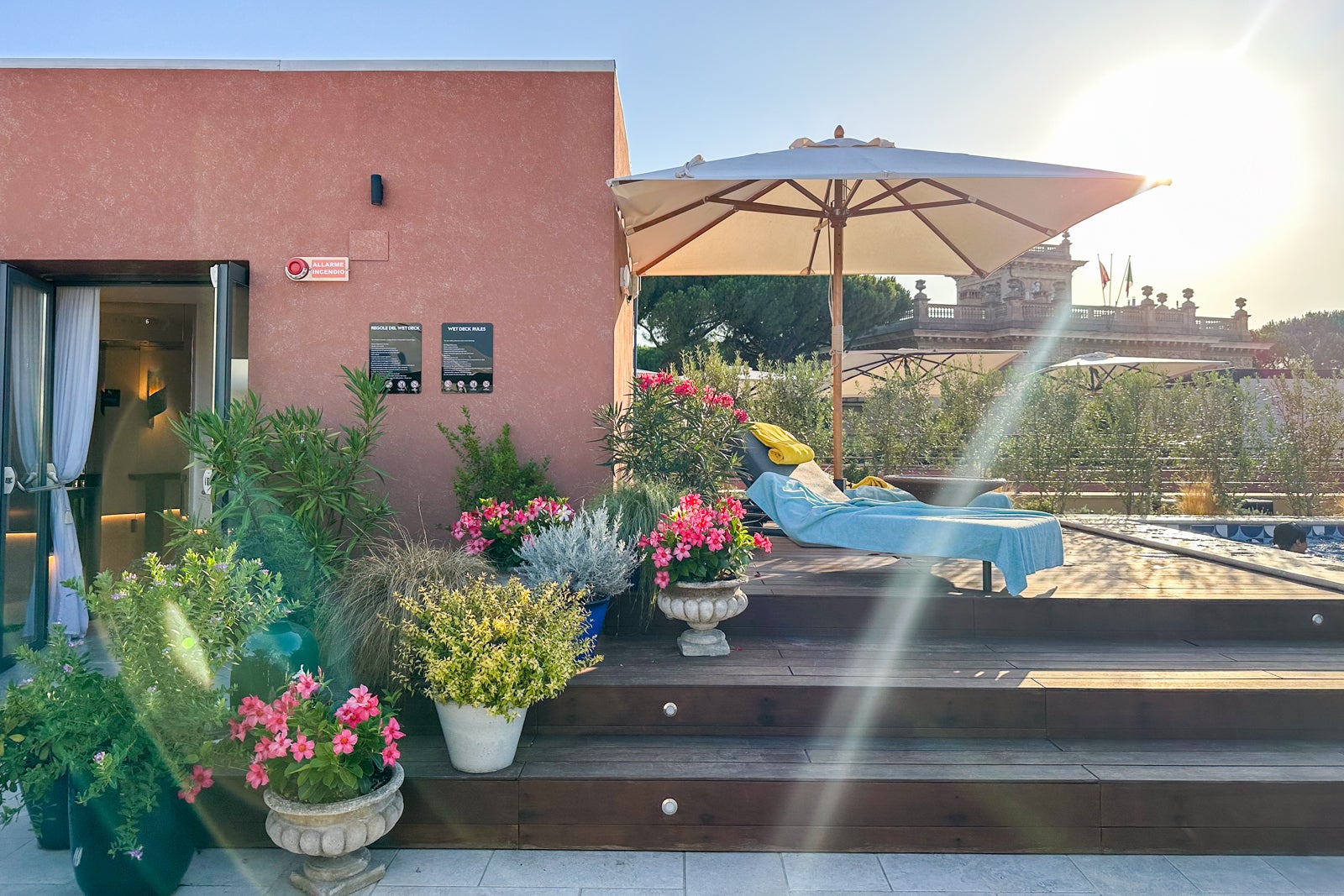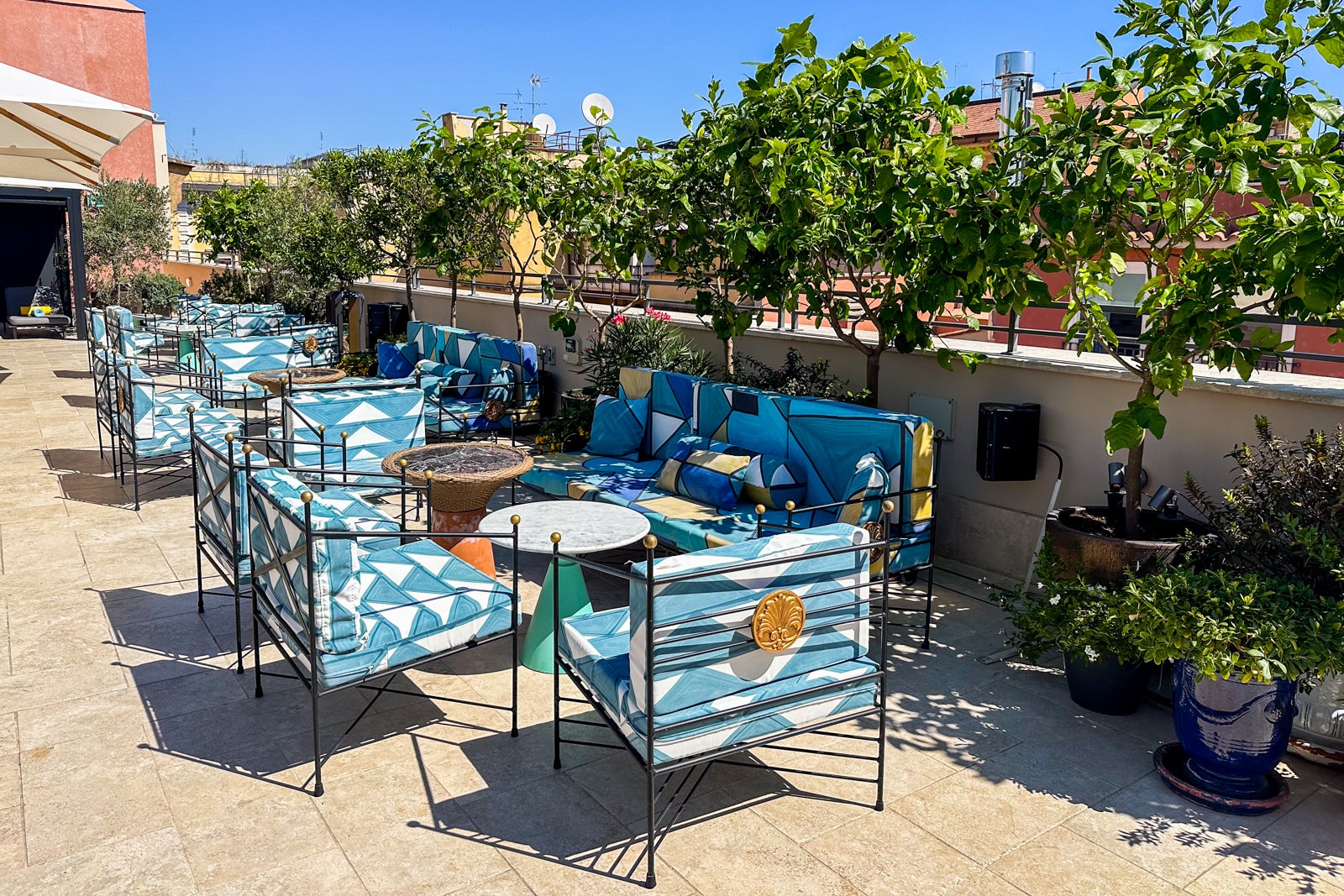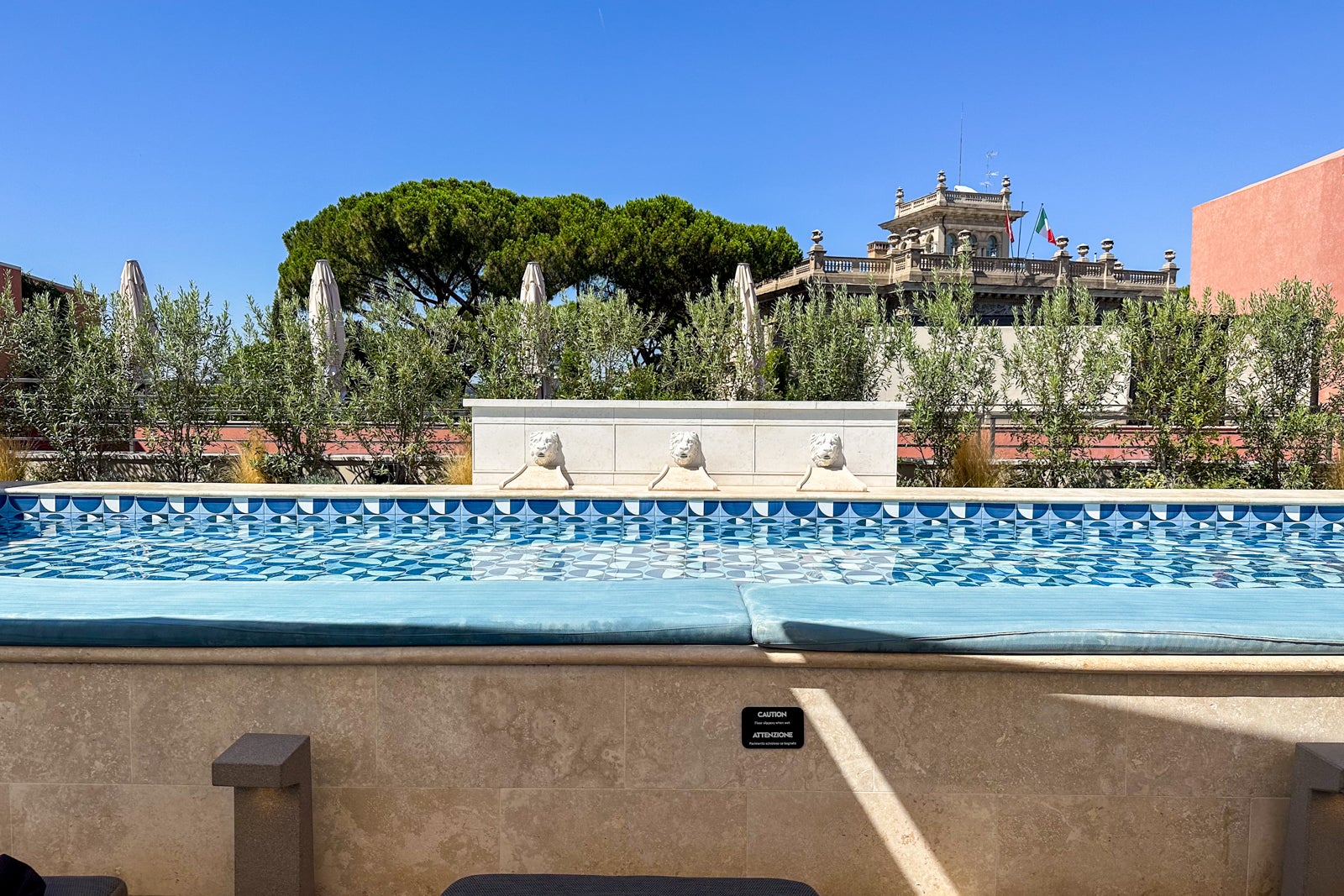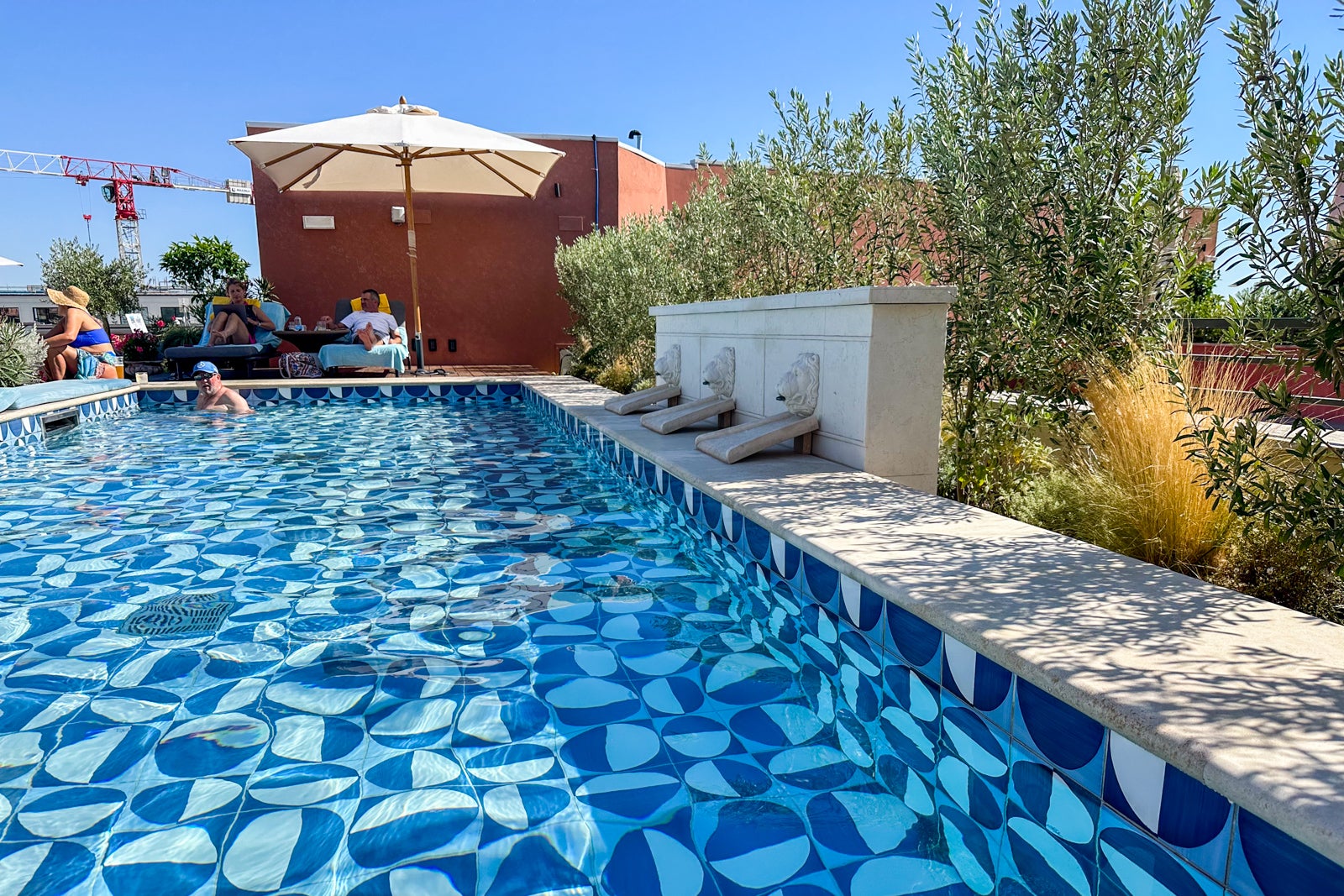 The only thing better than pizza with a view in Rome is a rooftop pool.
Pools, especially ones on rooftops, are extremely hard to find in Rome, so when I discovered that the W Rome incorporated one into its design, I was eager to check it out.
While the rooftop pool area isn't particularly large, it certainly is eye-catching, with blue-patterned tiles lining the inside of the pool, bright yellow towels and plenty of green and pink foliage surrounding the pool. Despite being small, there seemed to always be a few open seats, even during peak afternoon hours.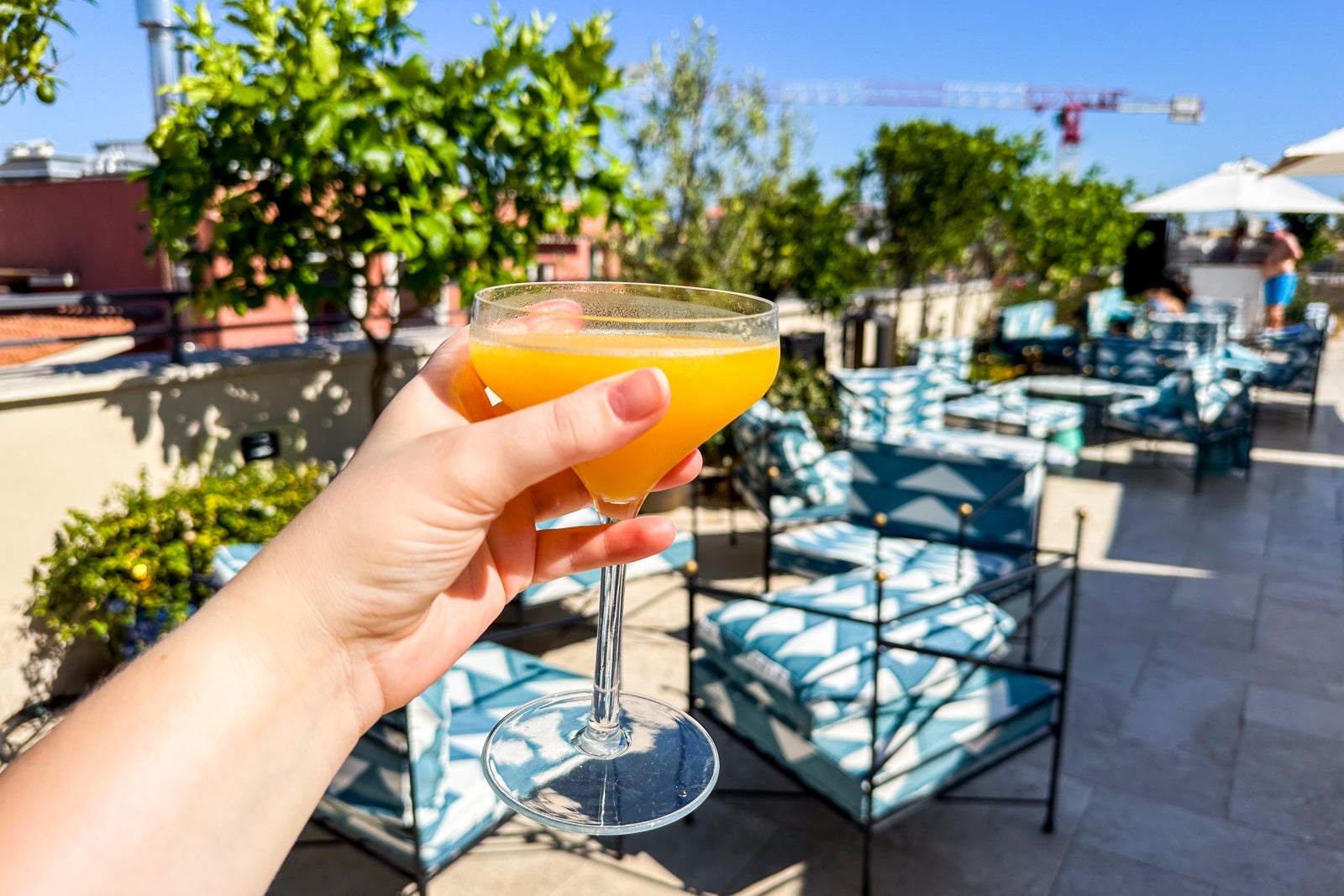 You won't find anyone swimming laps, but the shallow pool is perfect for cooling off with a drink in hand on a hot summer day. Best of all, it's only open to hotel guests, so you don't have to worry about lots of people blocking your view.
Related: 15 of our favorite hotel pools on the planet
There's also a high-end gym but no spa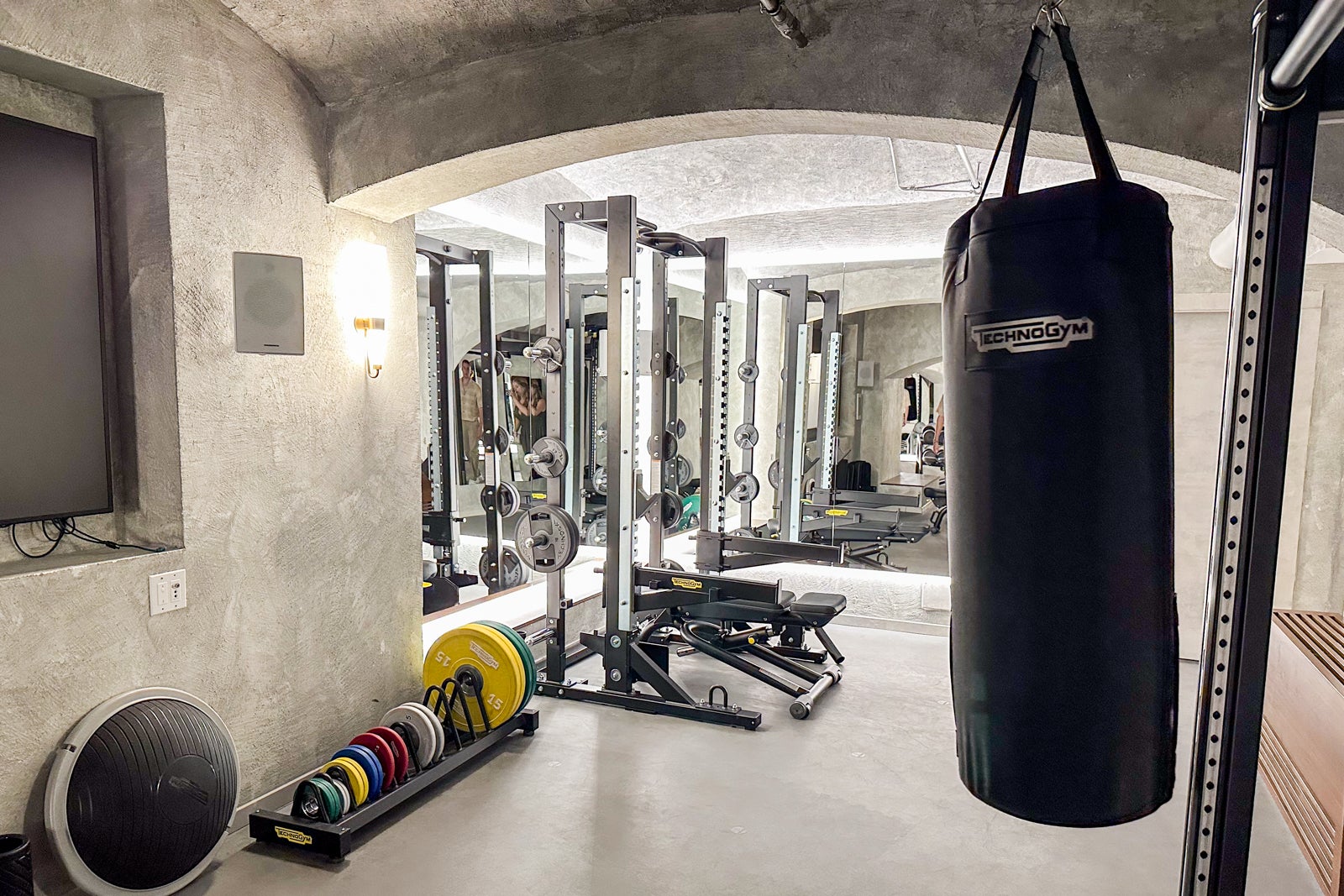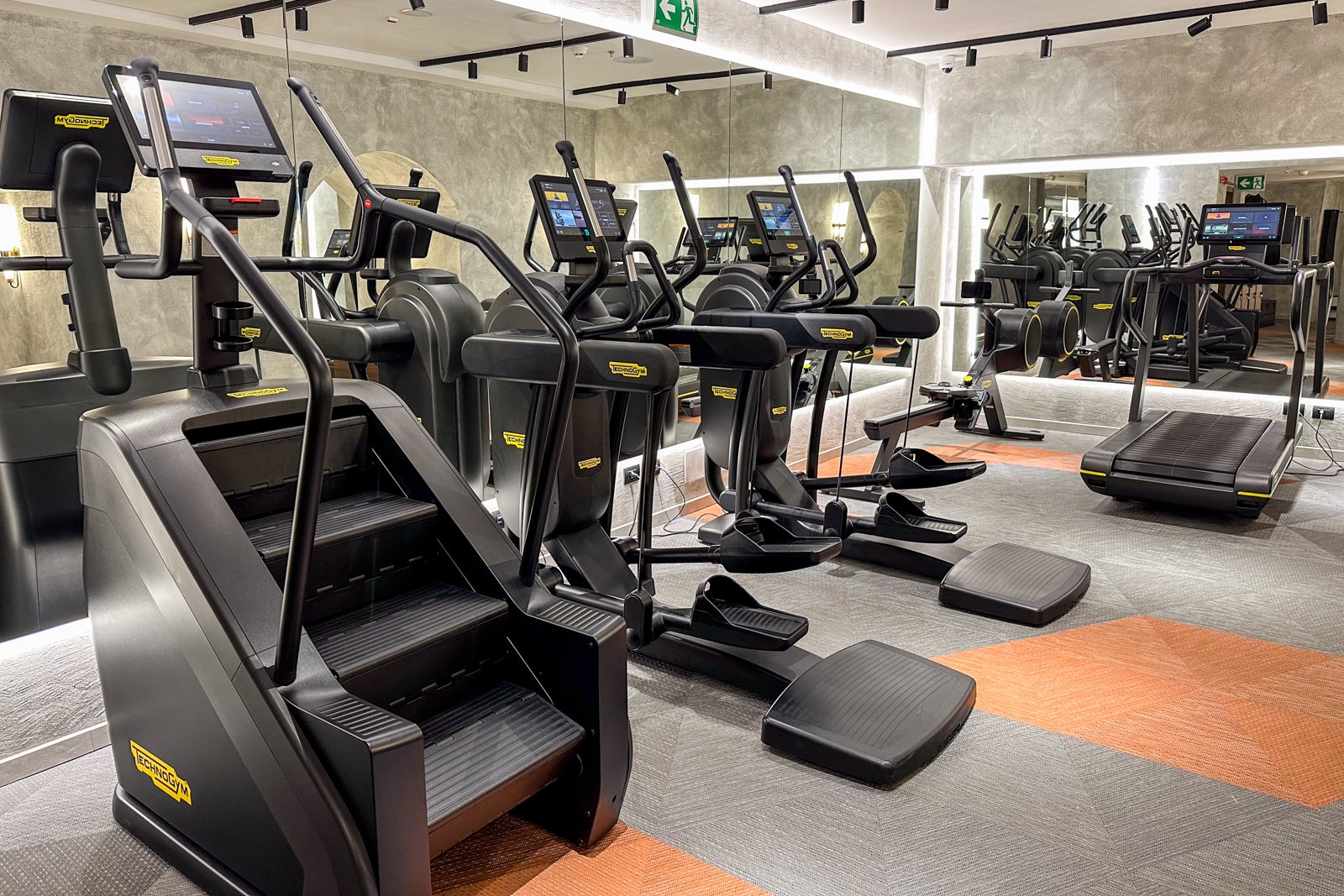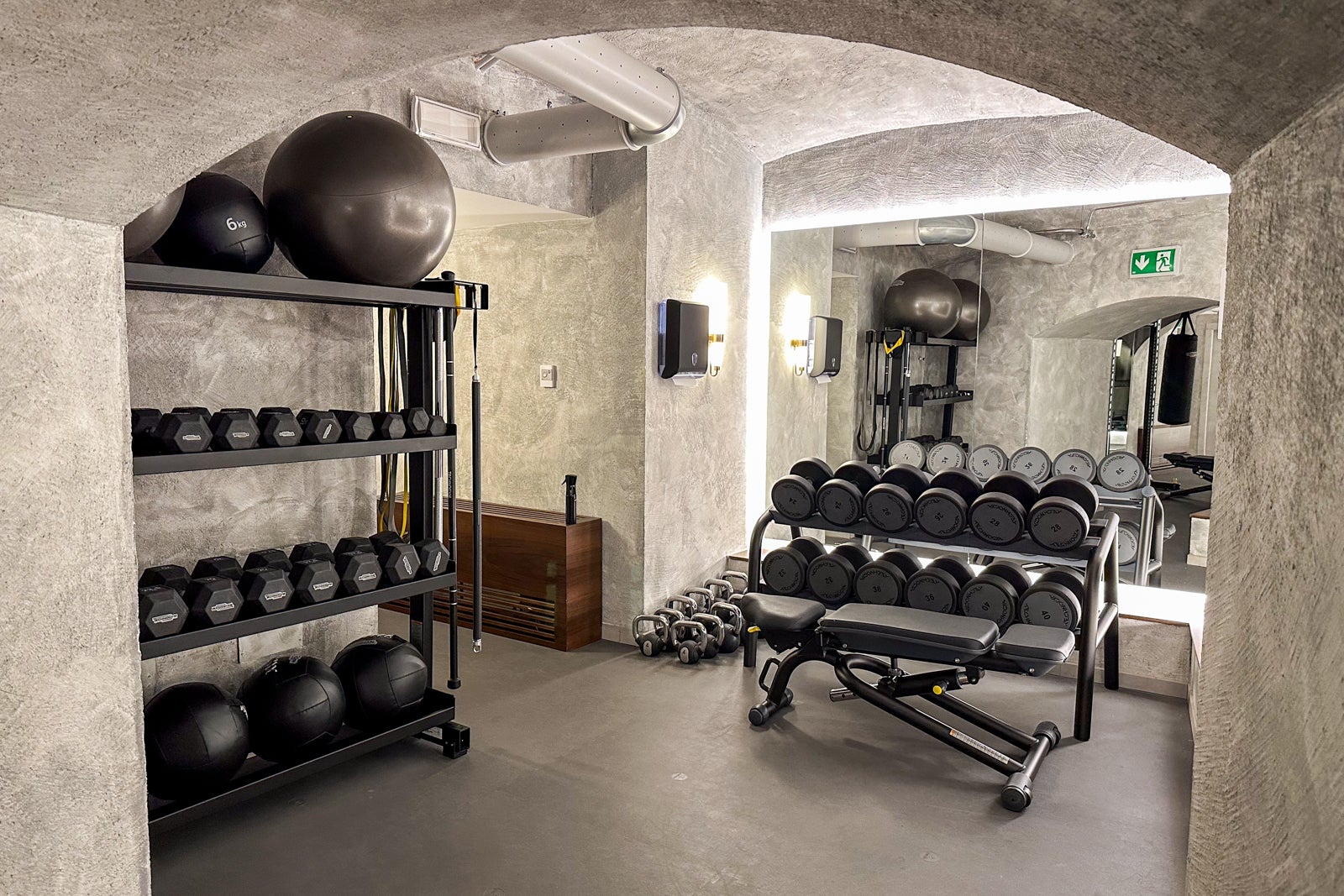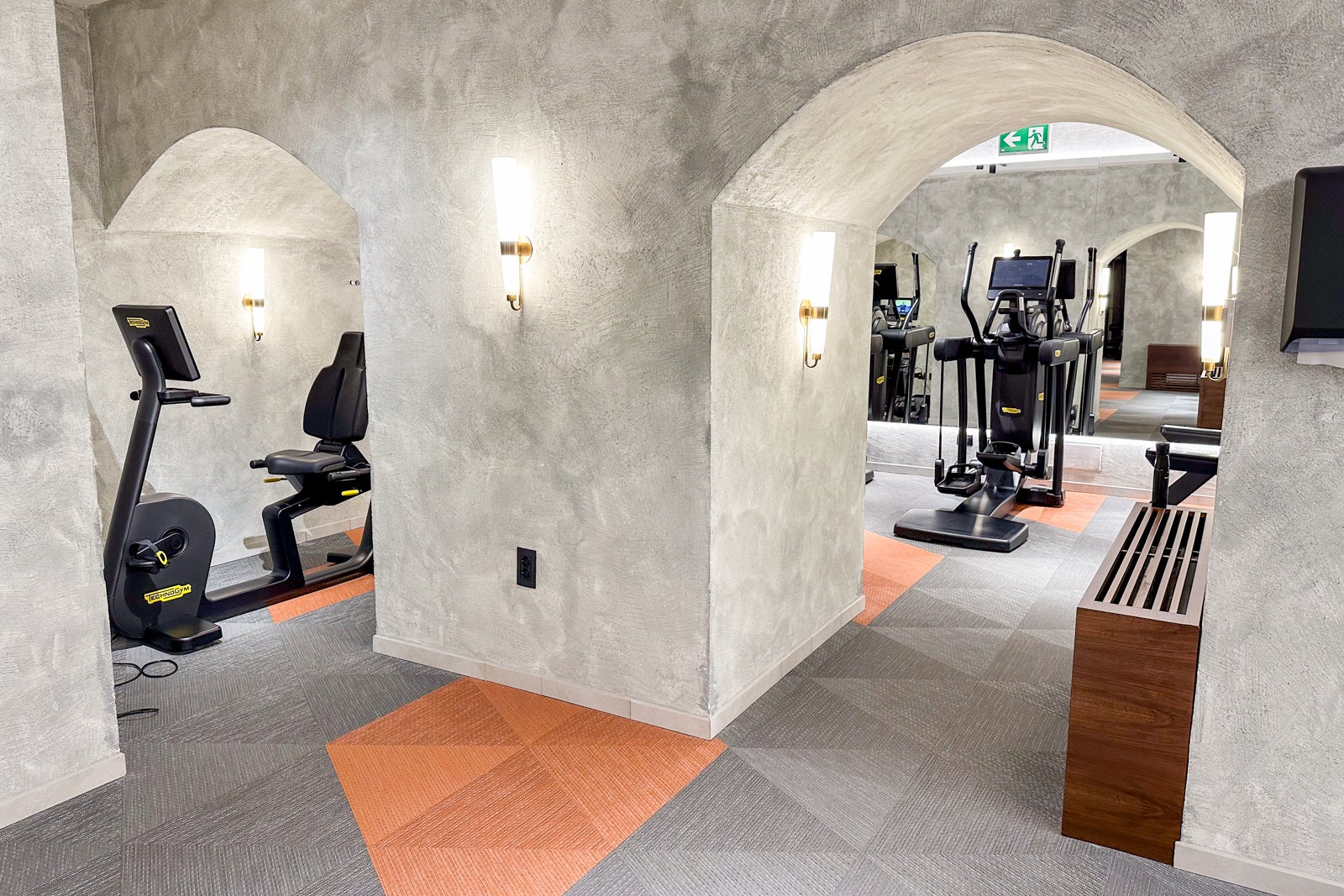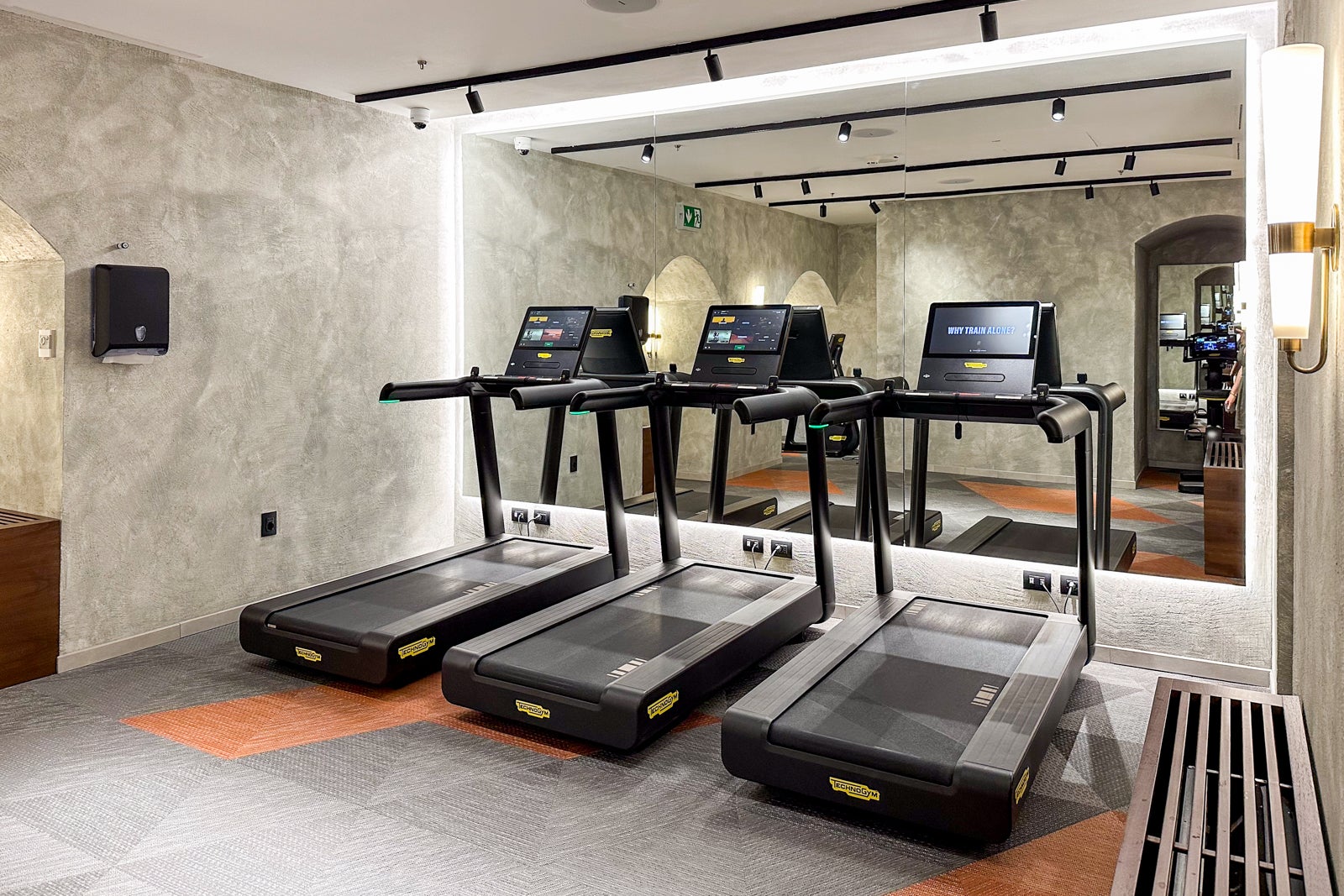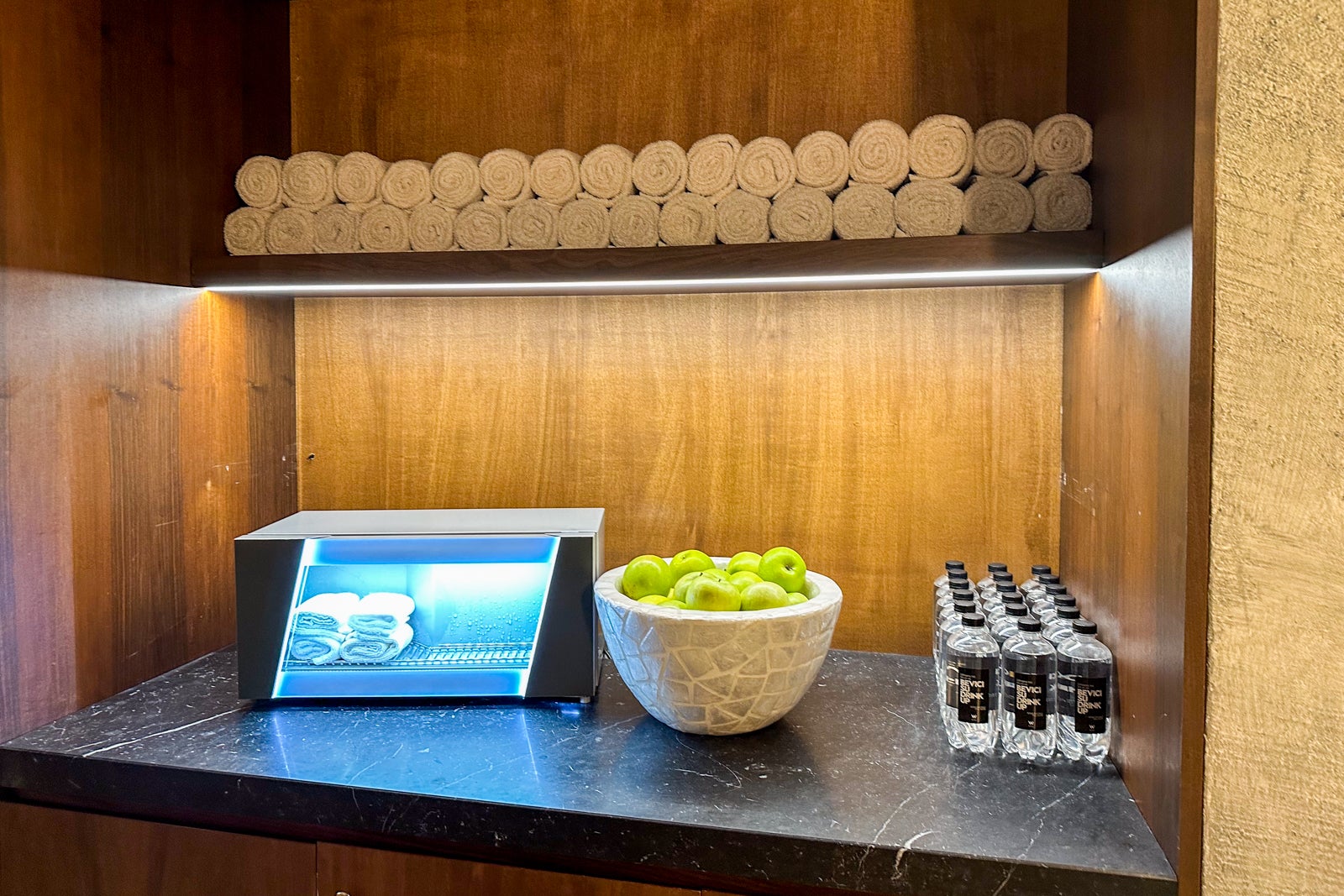 Hotel gyms rarely excite me, but the one at the W Rome is impressive.
Located in the basement of the building, the 24-hour fitness center's concrete walls, low archways and mood lighting come together to create a more luxurious vibe than your typical gym. Offering all kinds of high-end equipment, from treadmills and ellipticals to rowing machines and free weights, plus fitness classes like boxing and yoga, it had everything a gym rat could need (except natural light). Maybe it was all the Roman tourist attractions I had spent the day appreciating, but the facility felt like something a rich gladiator would train in before heading to the Colosseum for battle. 
While the hotel excels at fitness offerings, it falls short when it comes to wellness amenities. There is no on-site spa, so if you wish to pamper yourself with a massage, facial or body treatment, you'll want to choose a different property.
Related: From city sanctuaries to desert retreats, these are the best luxury hotel spas for every type of traveler
Reasons the W Rome might not be for you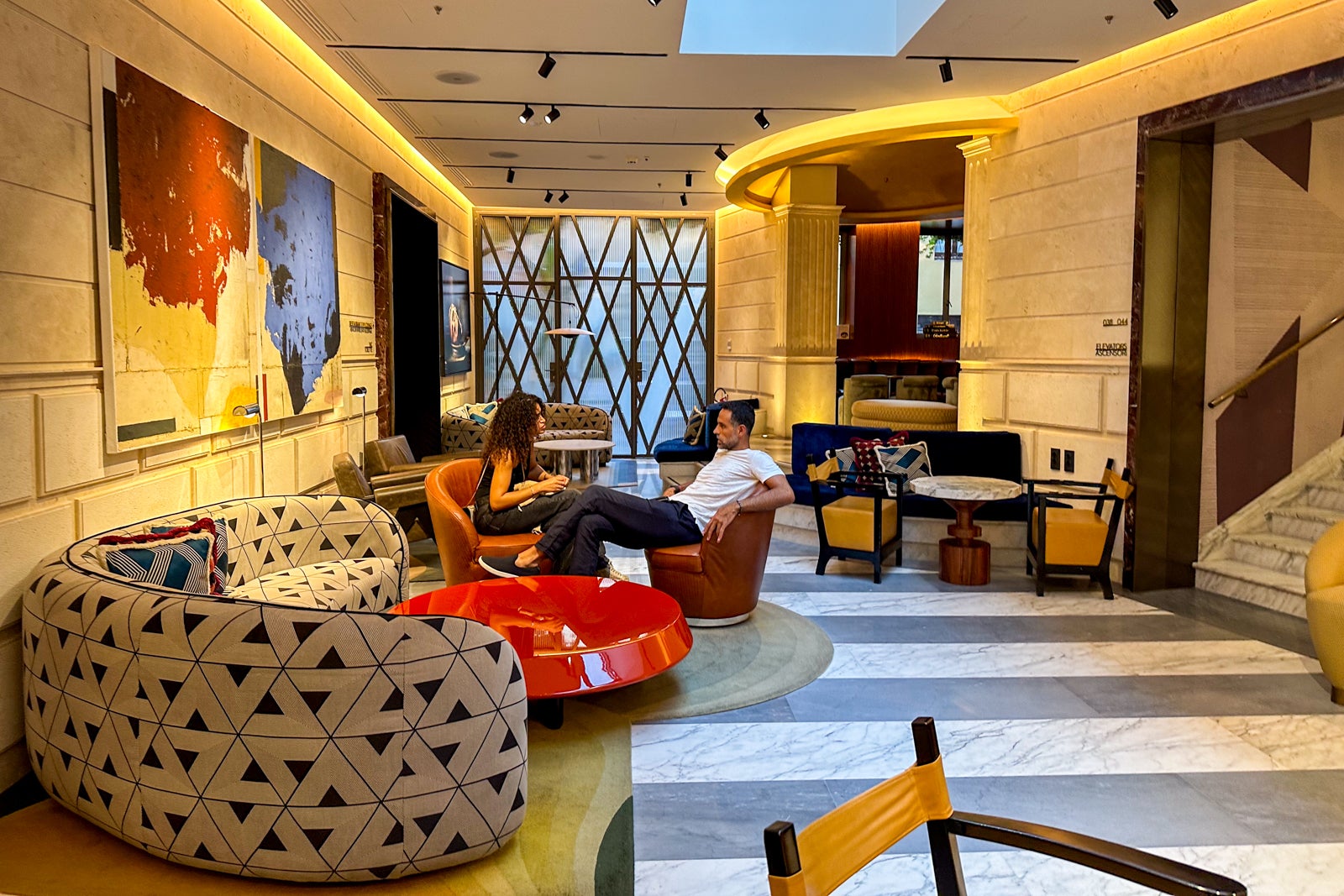 Overall, I thoroughly enjoyed my stay, though there were a few potential downsides you'll want to consider in deciding if it's the right property for you.
Many families used the hotel as their home base for exploring the city during my visit, so if you prefer a peaceful adults-only setting (especially during the busy summer months), you may want to look elsewhere.

While W Hotels are known for their party atmospheres, the W Rome did not have that same vibe. Yes, there is a resident DJ, but it's a more sophisticated property that seemed a bit removed from the party scene while I was there, so don't expect a lively lobby bar and a late-night crowd.

The location is great for visiting nearby attractions, but if you want to be in the center of all the action, you may want to stay somewhere farther south.

If a spa is important to you, you'll be disappointed to learn there isn't one at the W Rome.
Related: 10 exciting new hotels to check out in Rome
Accessibility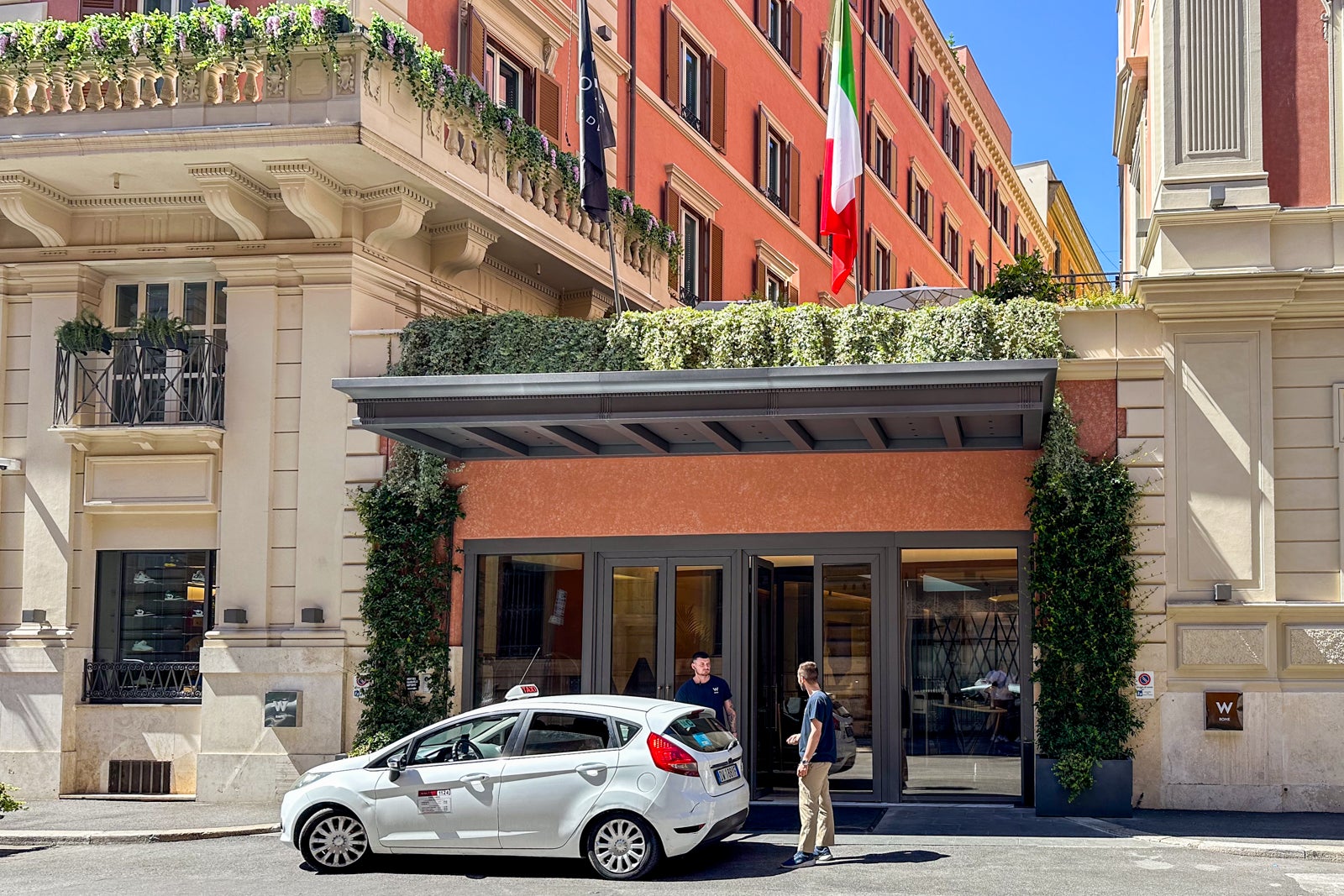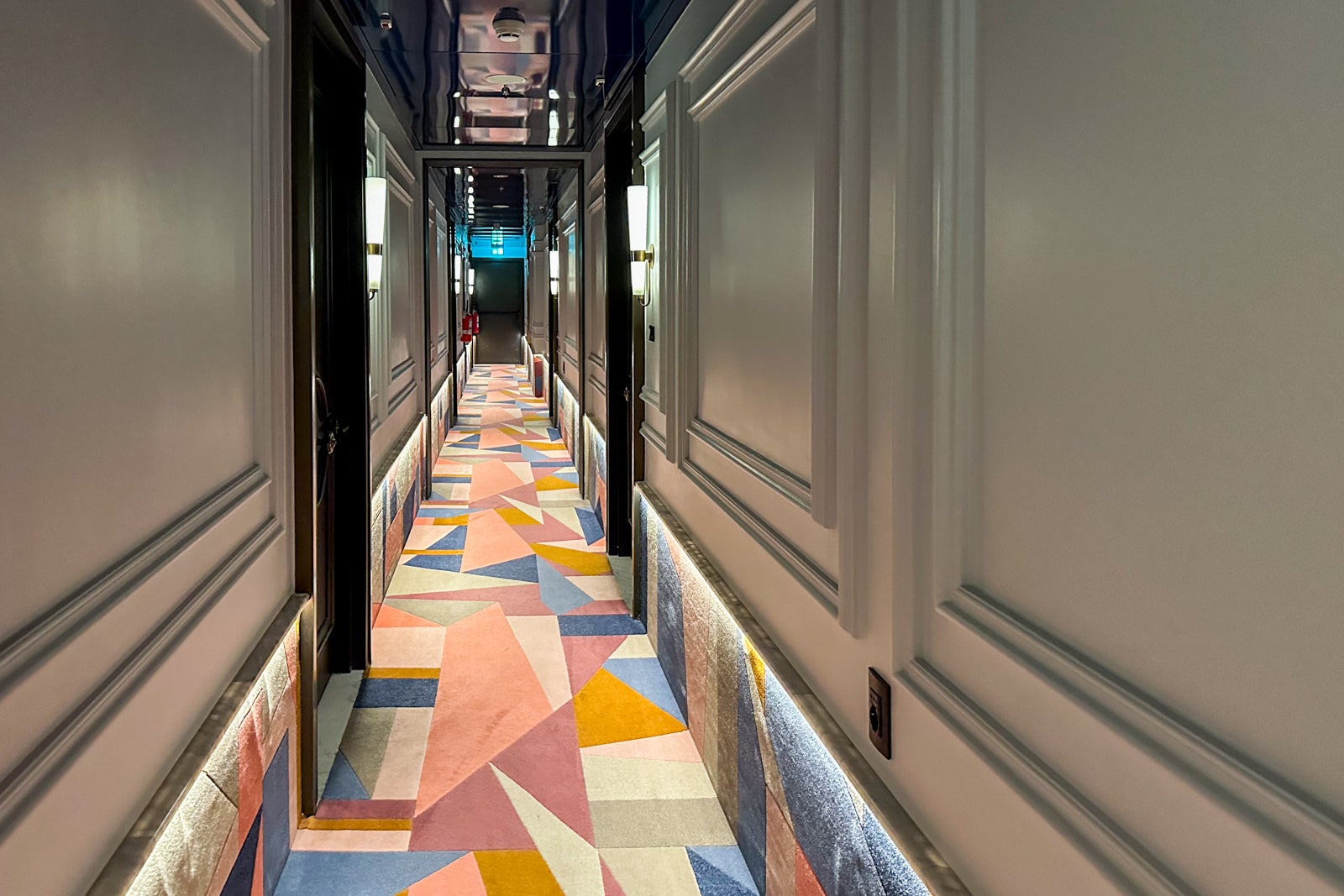 Having opened in 2021, the hotel seemed to be designed with accessibility in mind. The flat entrance and lobby are wheelchair accessible, as are all seating areas at Giano Restaurant, though there are two steps to walk up to reach the continental breakfast setup.
Wheelchair-accessible rooms are available in nearly every room type, but note that you will have to call the hotel after booking your preferred accommodation category in order to secure one of the accessible rooms. In them, you'll find modified amenities like roll-in showers.
The rooftop pool is not wheelchair accessible, as it's located up three steps from the lounge area and doesn't have a lift. However, the rest of the rooftop, including Seu Pizza con Vista, is easy to move about in a wheelchair.
Related: How to make sure you get an accessible hotel room if you need 1
Alternatives to the W Rome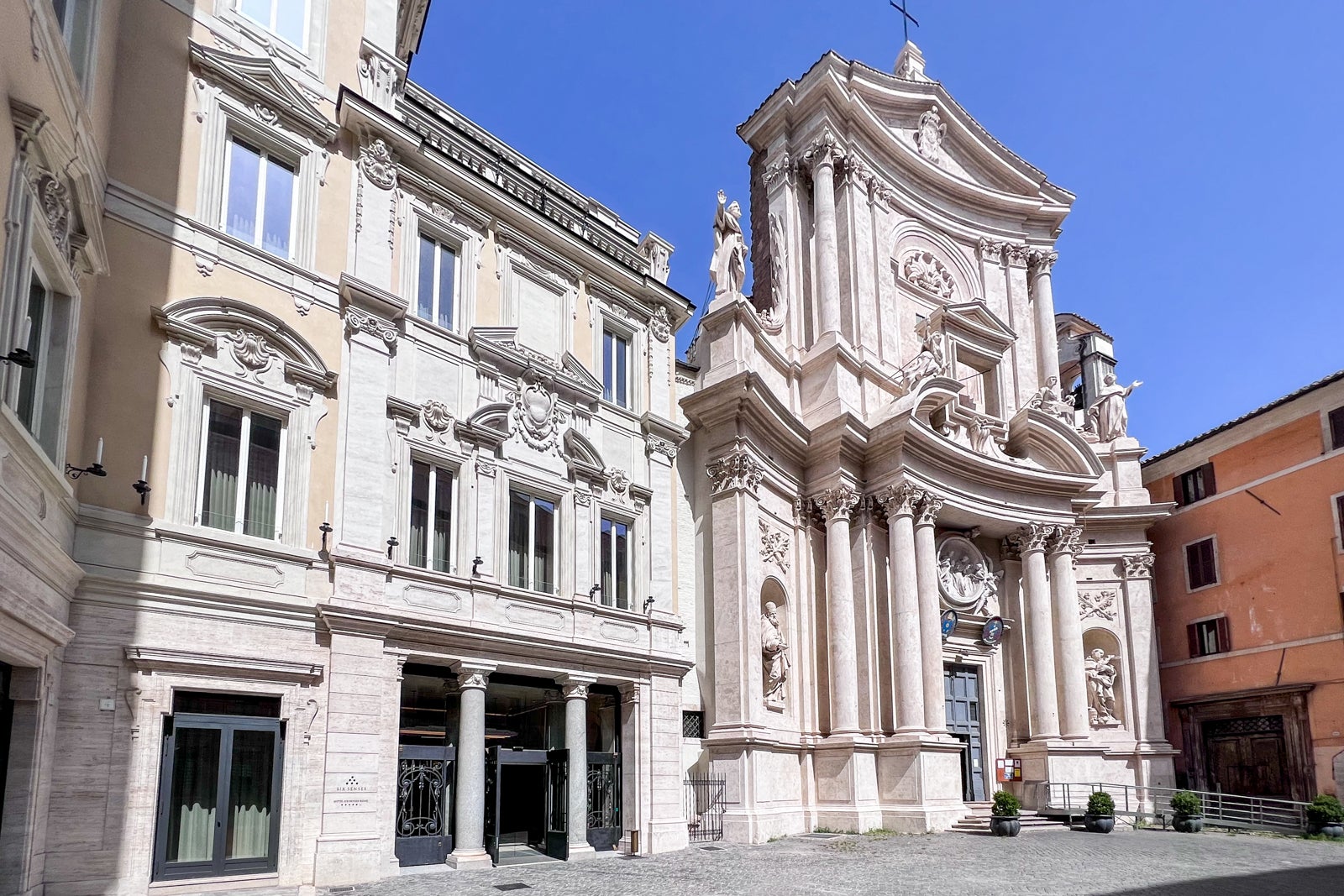 There are plenty of great hotels in Rome if the W Rome does not suit your vibe. 
Marriott loyalists have their pick of 13 properties around Rome's city center, including the recently opened Rome Edition, which offers a more intimate feel thanks to only housing 91 rooms and suites.
Those who prefer IHG properties are also in luck, as there are two noteworthy hotels that are part of the IHG portfolio. The InterContinental Rome Ambasciatori Palace, which opened earlier this year, is a high-end option that impresses with its exceptional culinary venues and stunning design, while Six Senses Rome, which also became part of the IHG family this year, wows with its historic 15th-century facade and serene interior.
For travelers willing to pay a pretty penny for one of Rome's most coveted hotels, there's also Hotel de la Ville. Just a short walk away from the W Rome, this Rocco Forte-affiliated hotel has luxe accommodations and an expansive spa with a salt room, an ice fountain and a cold plunge pool, among other amenities.
Related: The best hotels in Rome
Checking out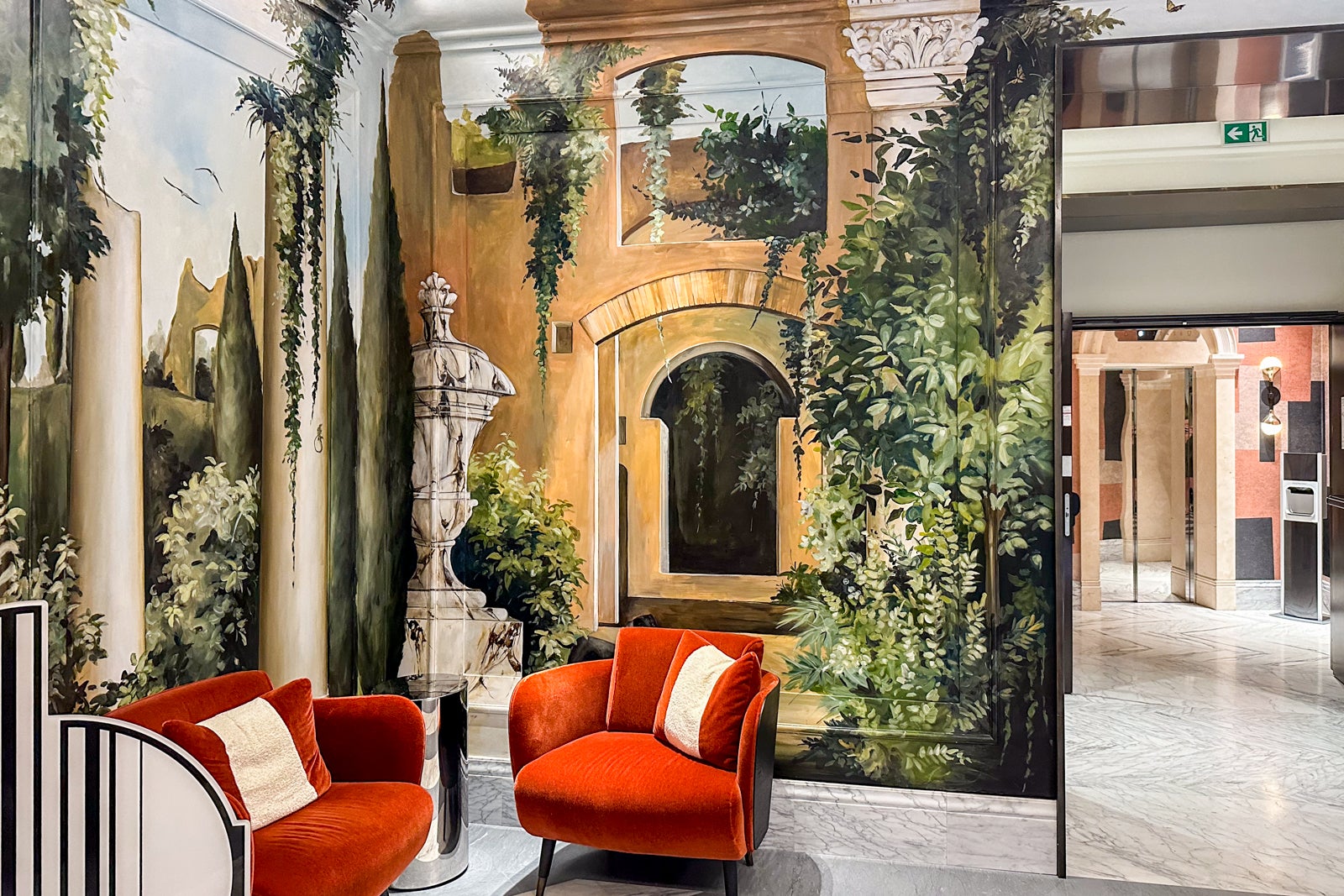 If you're planning a trip to Rome and looking for a centrally located hotel that's equal parts trendy and relaxing, the W Rome should be on your list. 
The W Rome takes a more refined approach to hospitality than some of the brand's older hotels, but still attracts a trendy crowd while keeping a lower profile. The property does an excellent job of appealing to both families looking to explore the city and couples and solo travelers eager to savor top-notch Italian fare in a chic setting.
On my next trip to the Eternal City, I'll certainly keep the W Rome in mind. Competition in the hotel space in Rome can be stiff, but if I can find a good rate, I'd happily return to dip my toes back in the pool and experience more culinary delights at Giano.
Related reading:
For rates and fees of the Marriott Bonvoy Brilliant Amex Card, click here.
For rates and fees of the Marriott Bonvoy Bevy Amex Card, click here.
For rates and fees of the Marriott Bonvoy Business Amex Card, click here.