There's big news from JetBlue and Yotel, a 22-property hotel chain known for providing an innovative and unique hospitality experience.
The New York and London-based travel providers are teaming up in a new partnership to provide more benefits and rewards to JetBlue TrueBlue members. Now, TrueBlue members can earn points, get a 10% discount off the flexible rate and receive a complimentary welcome amenity when booking stays through Yotel's JetBlue booking page or Paisly.com, JetBlue's travel portal. JetBlue's Mosaic elite members also enjoy room upgrades and late checkout upon availability.
Here's the scoop on the JetBlue-Yotel partnership.
An introduction to Yotel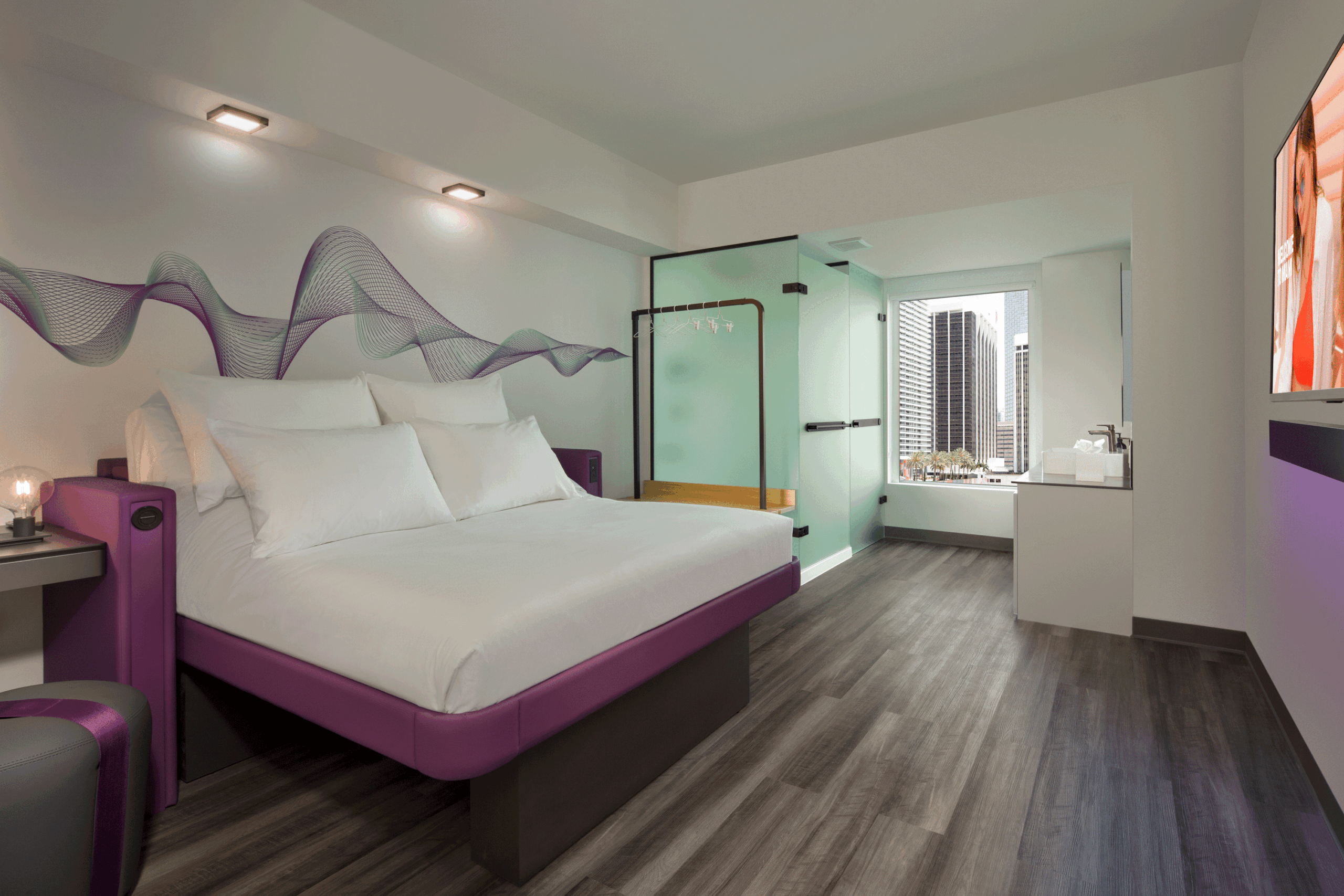 Before diving into the partnership, you should know a few things about Yotel.
Yotel has built a reputation of breaking the norms of the traditional hotel experience. It's known for tech-friendly, compact rooms that start at just 86 square feet. At some Yotel properties, you'll find stylistic elements like bunk beds, similar to what's offered at some Motto and Moxy properties.
The company operates three brands under its umbrella: Yotel, Yotelpad and Yotelair.
Yotel offers city center locations in New York; Boston; San Francisco; Washington D.C.; Miami; Singapore; Edinburgh; London; Amsterdam; Porto, Portugal; Glasgow, Scotland; Manchester, England; and Park City, Utah. Meanwhile, Yotelair features in-airport accommodations at five popular gateways: London Gatwick Airport (LGW), Amsterdam Airport Schiphol (AMS), Paris-Charles de Gaulle Airport (CDG), Istanbul Airport (IST) and Singapore Changi Airport (SIN).
Yotelpad — the company's newest brand — launched in 2020 and aims to offer comfortable accommodations for longer stays, with locations in Park City and Miami.
Related: Are hotel brands getting out of hand?
How to earn TrueBlue points and Mosaic status on Yotel stays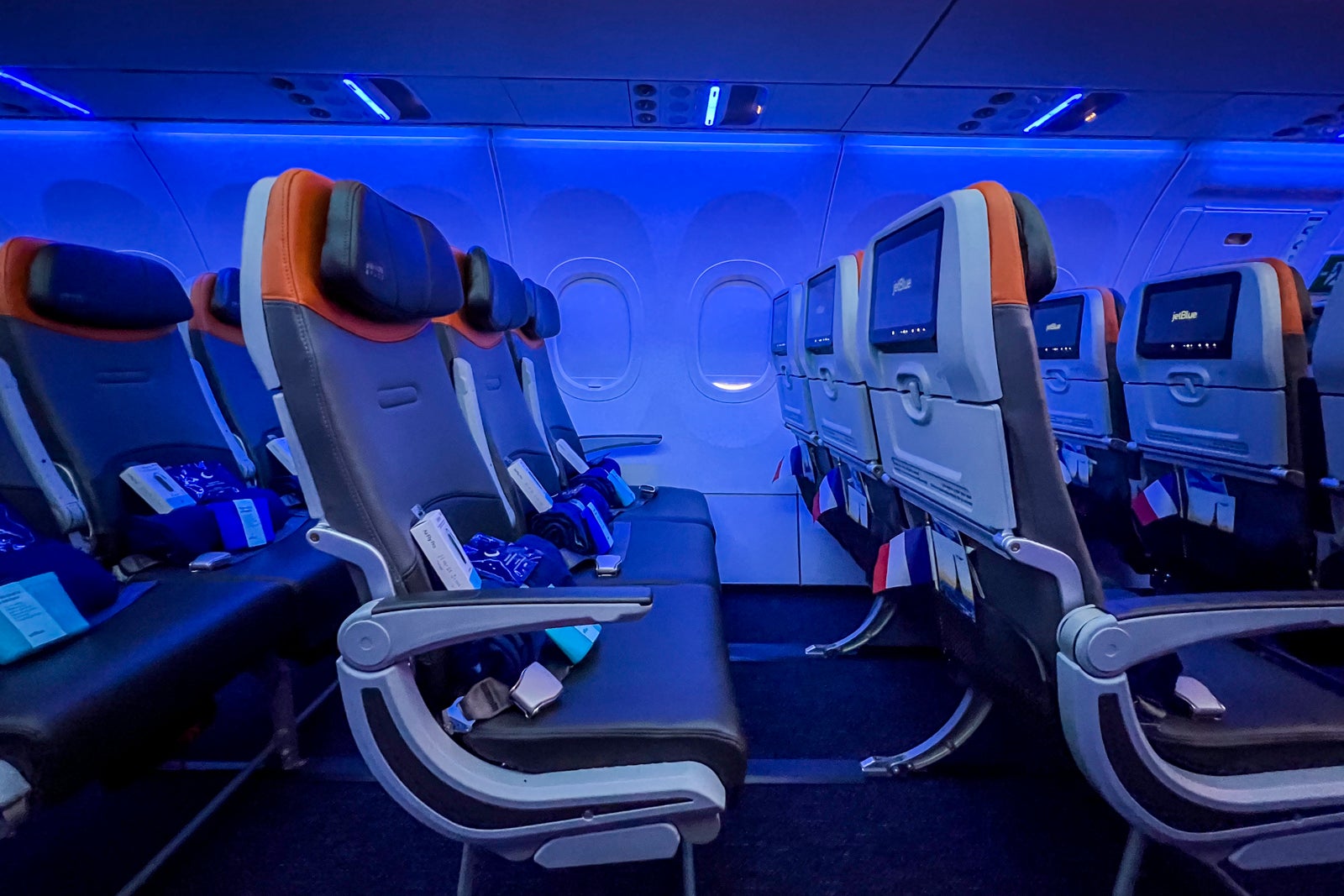 All TrueBlue members — including those with Mosaic status — earn 1 point per dollar spent on Yotel stays when they book through the Yotel JetBlue booking page or Paisly.com. Our valuations peg TrueBlue points at 1.3 cents apiece, so at 1 point per dollar, it's a fairly minuscule 1.3% return in points. However, if you're planning to book a Yotel stay and find comparable rates, you might consider booking your stay with your TrueBlue number for the on-property perks and modest point accruals.
If you're going after Mosaic status, book through Paisly.com. This way, you'll earn 1 tile for every $100 in eligible spend; those count toward the 50 tiles required for Mosaic elite status.
Finally, Yotel and JetBlue told TPG they will run occasional promotions where customers can earn up to 3 TrueBlue points for every dollar spent.
Related: How to earn points in the JetBlue TrueBlue program
TrueBlue members to receive a complimentary amenity
If you book your Yotel stay through the dedicated booking page or Paisly.com, TrueBlue members will receive a complimentary food and beverage amenity upon arrival at all Yotel properties. The specific offering may vary depending on the location and the local suppliers, but in most cases, you can expect to receive water and a high-quality snack as part of this perk.
Speaking of food and beverage, TrueBlue members can indulge in JetBlue's exclusive pre/post-flight cocktail, known as the Mint Condition, at select Yotel bars. This beverage is crafted with either Bombay Sapphire gin or Tito's Handmade Vodka, along with refreshing ingredients like ginger, lime, cucumber and mint.
Related: Style and substance: Flying JetBlue Mint Suites to Paris
Mosaic members enjoy free upgrades and late checkout at Yotel
If you're a JetBlue Mosaic elite member, you're eligible for a late checkout at all three Yotel brands when booking through Paisly.com. Mosaic members are also eligible for room upgrades on all room types booked at Yotel and Yotelpad properties — though this doesn't apply to the five airport locations.

Complimentary room upgrades and late checkout are subject to availability.
Related: How and when to ask for late checkout at a hotel
What if I have an existing Yotel booking?
If you're a TrueBlue member with an existing reservation, you can contact Yotel via jetblue@yotel.com and request to add your TrueBlue number to your reservation. The exclusive TrueBlue room rate discount cannot be retroactively applied. Additionally, no stays before Aug. 1, 2023, are eligible for benefits.
Bottom line
Yotel's innovative approach to hospitality, with its compact rooms and creative locations, offers an eccentric experience for travelers. This is the brand's first partnership with a U.S. airline, which offers new benefits to TrueBlue members.
By booking through Yotel's JetBlue booking page or Paisly.com, TrueBlue members can earn points, receive a 10% discount off the flexible rate and enjoy a complimentary welcome amenity. Mosaic elite members also receive room upgrades and late checkout at most Yotel properties upon availability.
If you have an existing booking, contact Yotel to earn TrueBlue points — and be sure to book upcoming stays through one of the above links to enjoy extra rewards.