[circuit type=review circuit_id="20420169684″]
Editor's note: TPG was provided a stay at the hotel, along with some on-site meals and experiences. This story was not subject to review or approval by the resort or any other entity. Opinions expressed are the author's alone.
I've been lucky enough to travel to some amazing destinations that range from snowy mountain peaks to private islands, but when I'm asked about my favorite spot to visit, the answer is consistent: Kauai's North Shore.
For me, it doesn't get any better than sitting on the warm sand as the sun sets over Hanalei Bay; the green mountains come alive with the golden light, the waves roll by and, with a little luck, a rainbow appears.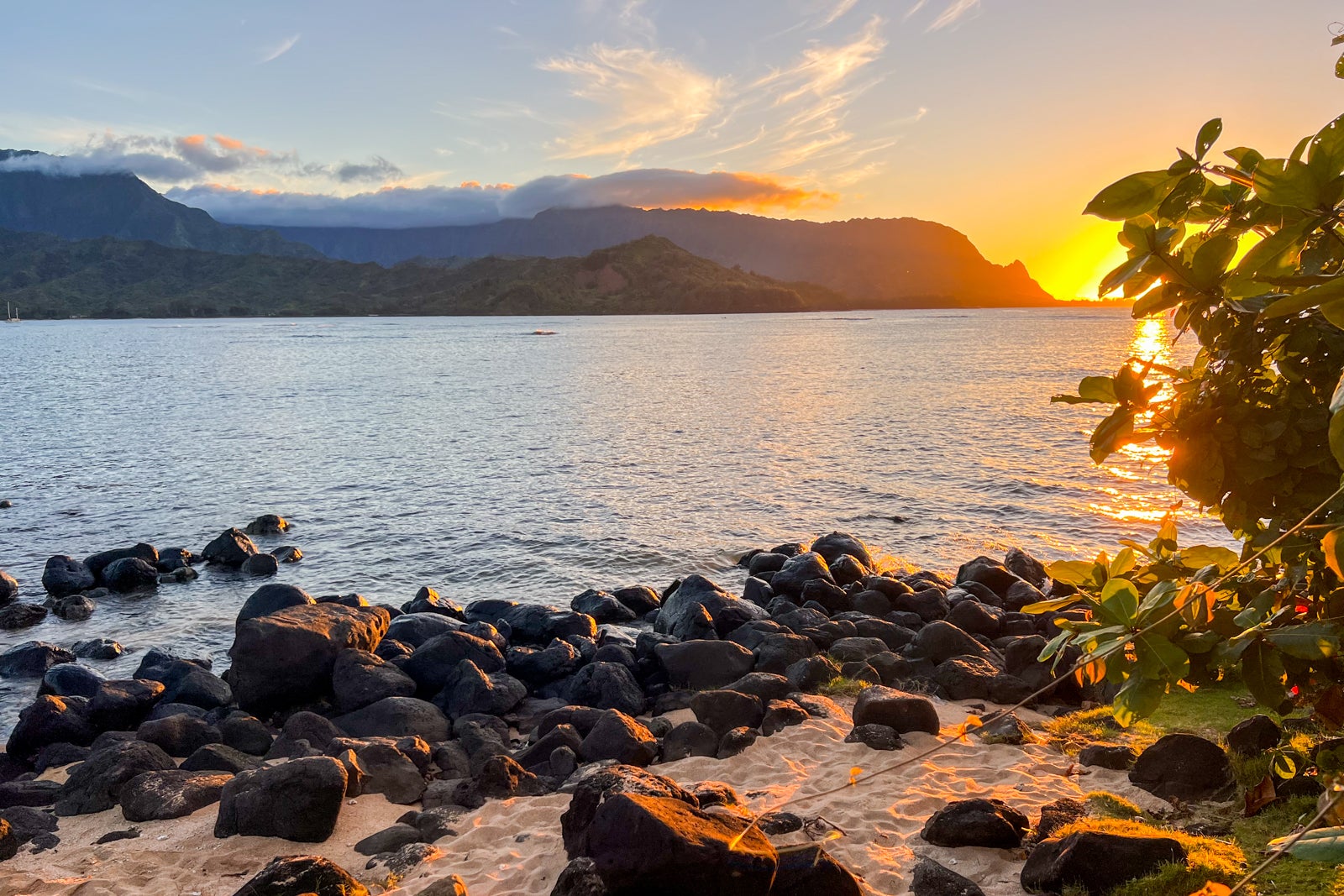 There aren't a lot of big resorts on the northern part of the island, but perched on a cliff overlooking the bay where The St. Regis Princeville once sat is the new 1 Hotel Hanalei Bay.
The location was always awe-inspiring, but the hotel, with its recent $300 million total renovation, has been transformed into something almost as breathtaking as the ground on which it sits. Gone are the heavy colors and textures of the interior, the stark white exterior and the design footprint that harked back to the boxed-in days of the '80s and '90s.
Now, the hotel blends with its surroundings — which is, of course, by design.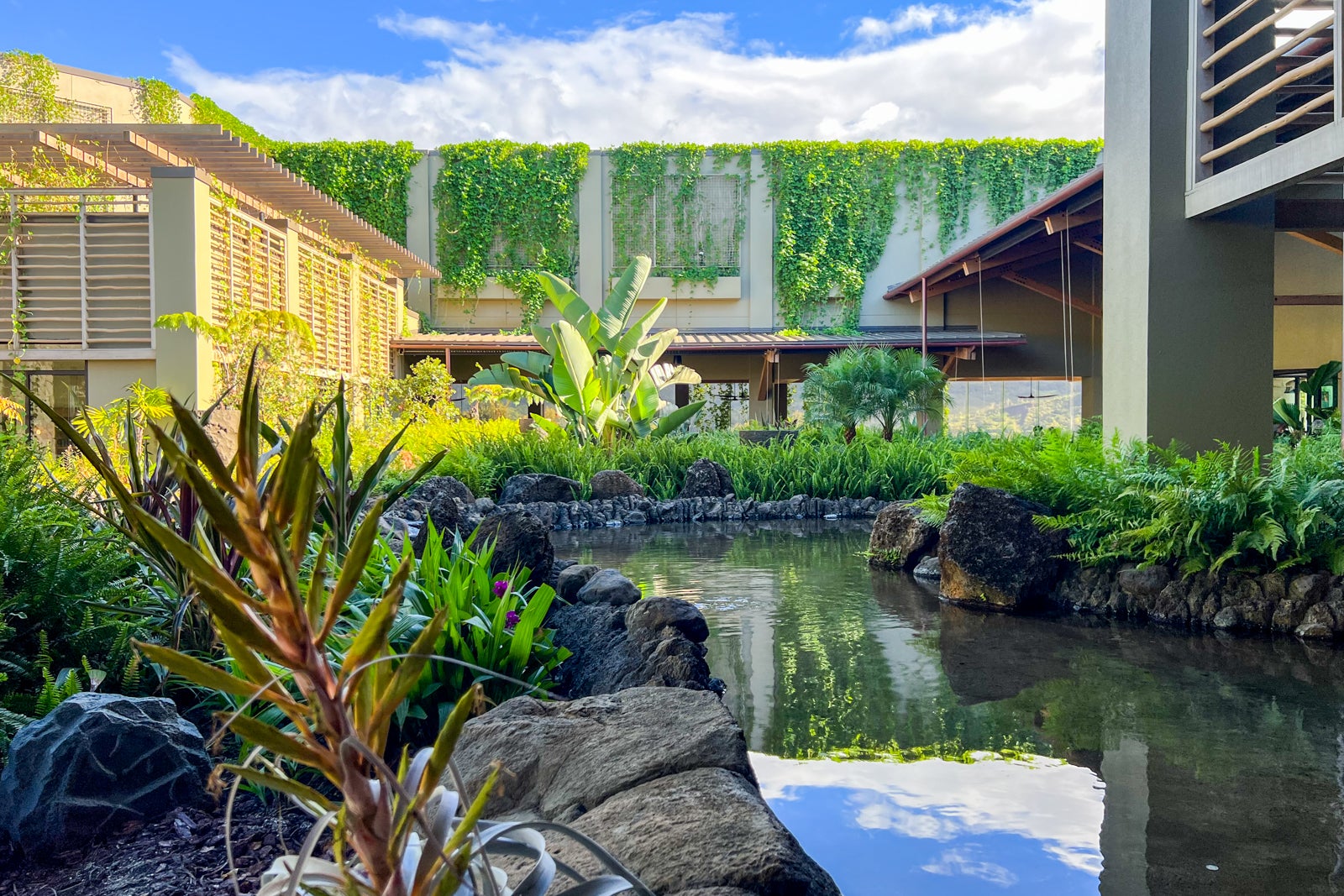 Since I love this spot of earth more than any other, I jumped at the chance to experience 1 Hotel Hanalei Bay when invited by its team. I was over the moon to have an excuse to get back to Hanalei, but I was also curious to see the new look for myself — we all know all renovations are not created equally.
All it took was stepping out of the car and walking toward the lobby to know this wasn't a renovation; it was a rebirth. If you're at all curious about what it's like to stay at the 1 Hotel Hanalei Bay, grab some Hawaiian coffee and settle in.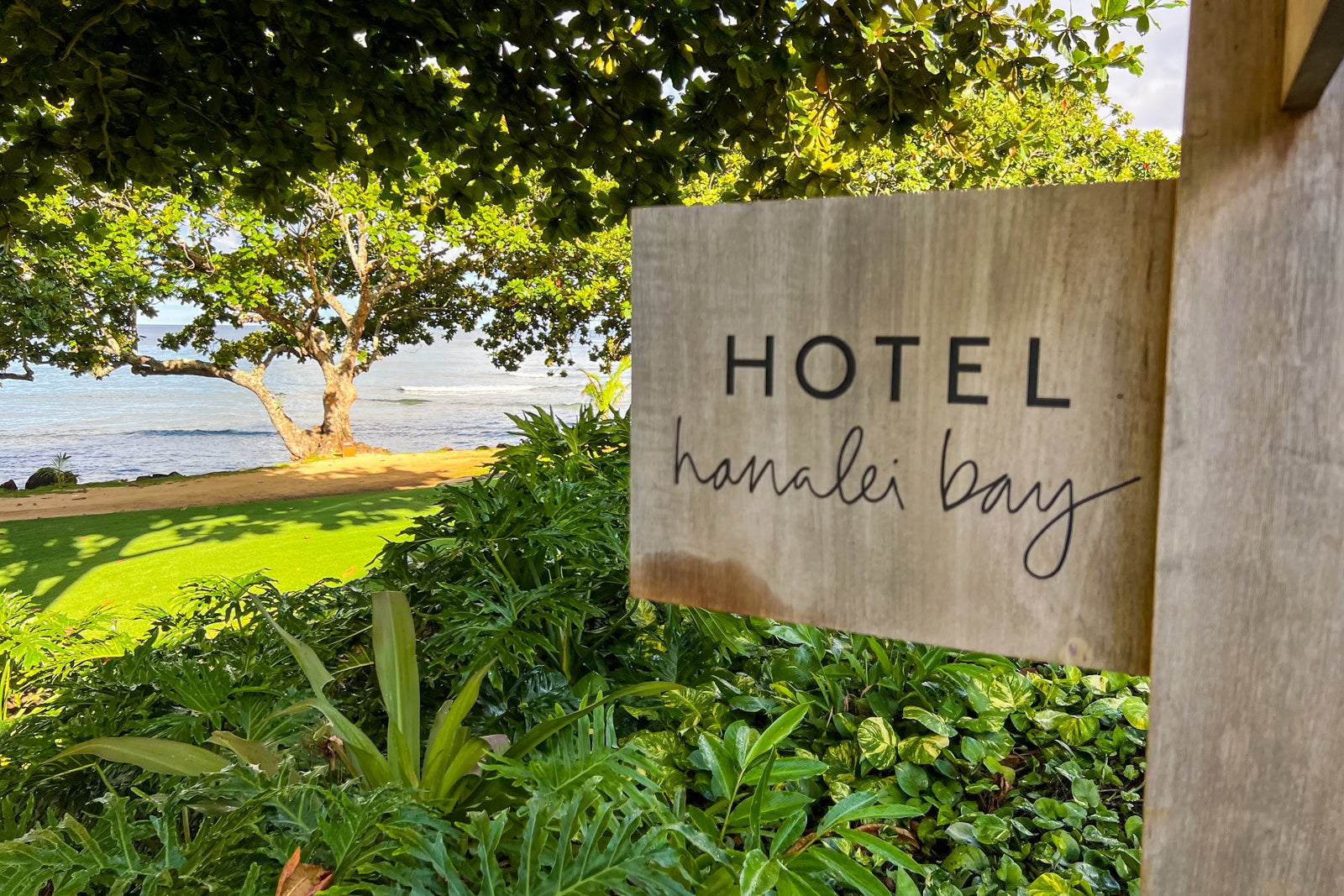 Related: These are the best hotels in Hawaii
What is the 1 Hotel Hanalei Bay?
If you aren't yet familiar with the 1 Hotel brand, it first came on the scene in 2015 with properties in Miami's South Beach and near Central Park in New York City. There are now 11 open 1 Hotels and several more are under development. It's an undeniably high-end hotel brand with the price tag to match, but more on that shortly.
The brand's approach to hospitality is one I can appreciate: prioritizing being a part of the local community in terms of style, architecture and ethos. This is seen in the food, drinks, activities, layout and materials found in the hotel.
There are touches such as drinking glasses produced by local artisans, on-site gardens providing garnishes and food sourced from local farmers, to name a few — and all of that and more is certainly apparent at the 1 Hotel Hanalei Bay.
You'll find 1 Hotel Hanalei Bay on a cliff in Princeville on the northern shore of Kauai. It's at the end of a road flanked by condos and the like, about 40 minutes from Kauai's Lihue Airport (LIH). This places it about a 10-15 minute drive (depending on traffic on the one-lane bridge) from the historic, charming and must-visit town of Hanalei.
Related: Guide to getting started with points, miles and rewards credit cards
Standout features of 1 Hotel Hanalei Bay
While most major resorts on Kauai are in other sections of the island, such as the sunny Poipu southern side, 1 Hotel Hanalei Bay is one of just a few true resorts on the northern shore of Kauai, known for its lush mountains, gorgeous beaches and an emphasis on local small businesses.
There are no tired corporate versions of Hawaiian decor or commercial luaus here. The style feels relaxed, natural and high-end. And while it is certainly an international brand running the hotel, it feels like a part of the location rather than planted in it.
The price is high but includes daily activities that go far beyond the norm and inspire a true sense of place, such as extensive local rum tastings, guided off-property hikes and sake tastings — not to mention all the fitness offerings.
The beach here is swimmable, and there's a very large family pool complex on the beach level, along with a separate adults-only option.
From the sushi to the cocktails and beyond, the food and beverage offerings on-site are worth enjoying even if you don't stay the night. I'm still dreaming of the extensive, fresh breakfast buffet weeks later.
The on-site spa offers both quality and diversity when it comes to treatments. Those looking to start, restart or level up their fitness routine will have found the right spot to do so at 1 Hotel Hanalei Bay.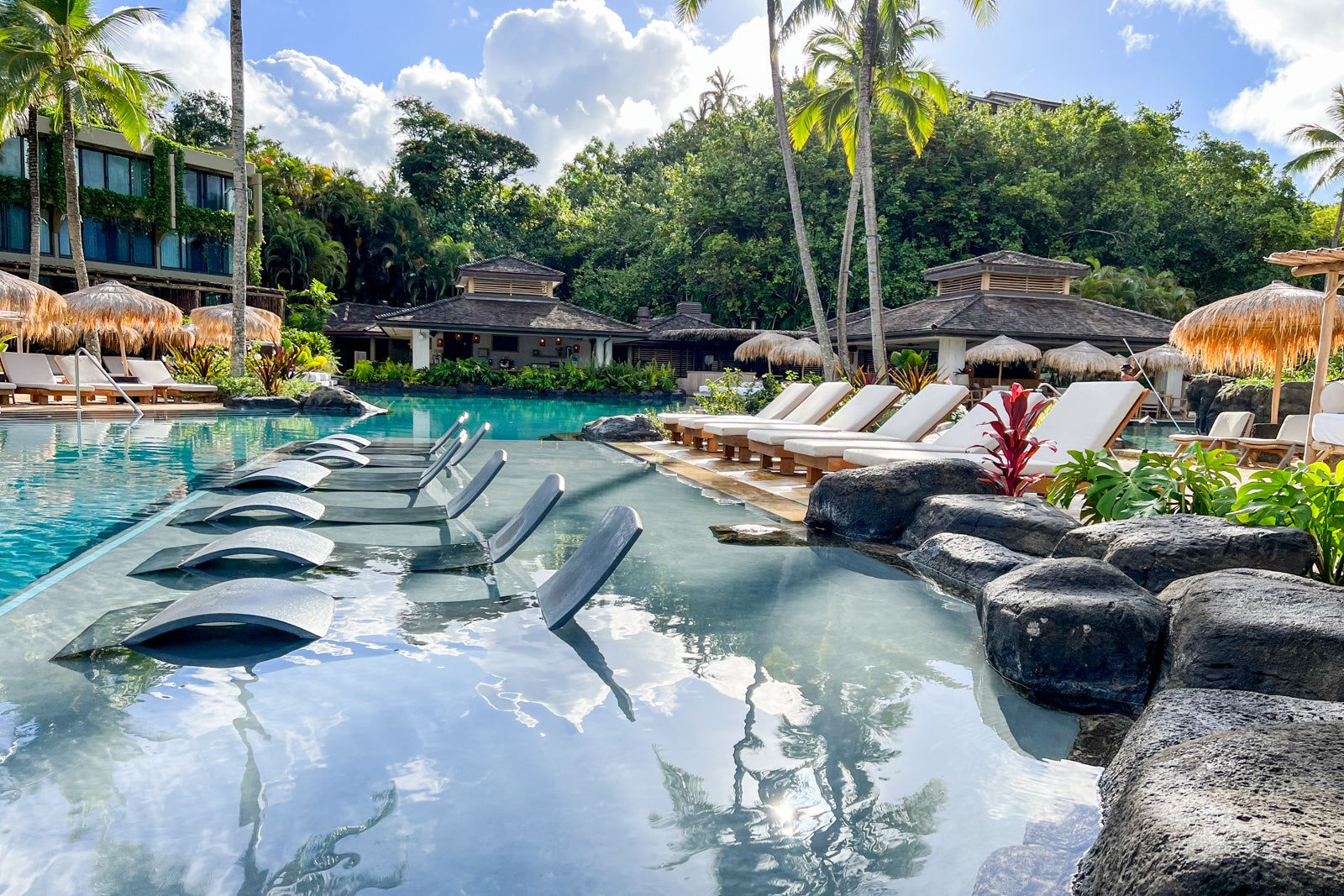 How to best book 1 Hotel Hanalei Bay
Given the location and $300 million renovation (that equates to over $1 million invested per on-site room if you want to count that way), you probably don't need me to tell you that this is a truly luxurious resort in terms of amenities and price. And, unfortunately, while you can use flexible credit card points to reduce the sting of your stay, there are no hotel points or award charts that will fully erase the cost.
So, let's get it out of the way and acknowledge clearly and upfront this is an expensive resort where standard rooms often start around $1,000 per night and go up during busier times of the year.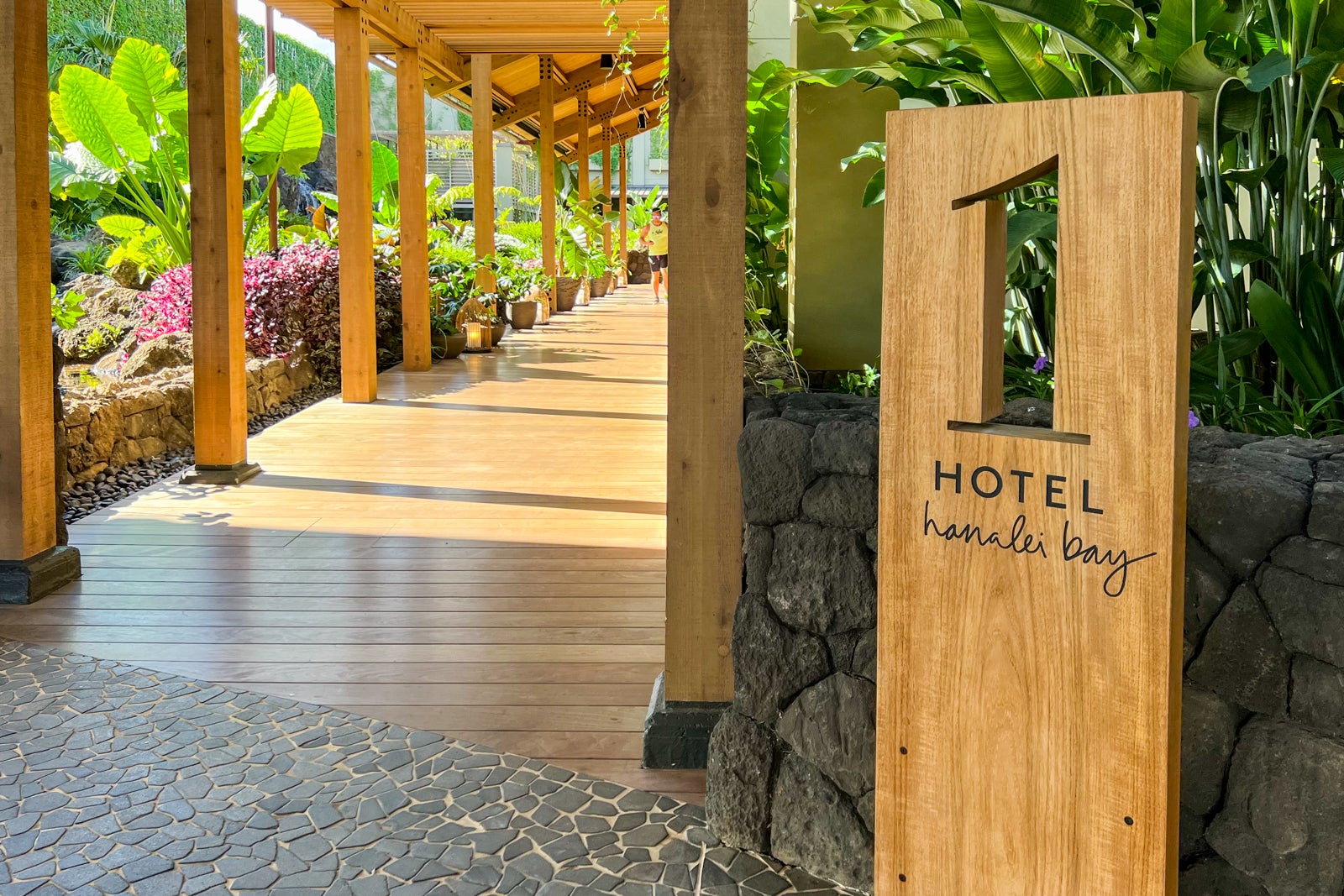 For perspective, the Grand Hyatt Kauai Resort & Spa on the other side of the island often has standard rooms starting at about $800 per night, so while it is certainly expensive, it's not orders of magnitude different from cash prices at some other popular resorts on the island.
I highly recommend booking your stay at 1 Hotel Hanalei Bay via a program that includes breakfast and a property credit, such as the American Express Fine Hotels + Resorts program. Early check-in and late checkout may also be quite valuable to maximize your time, which that program provides. Right now, I see a special offer of an increased $250 property credit with the Amex FHR program through the end of the year when booking under that promo.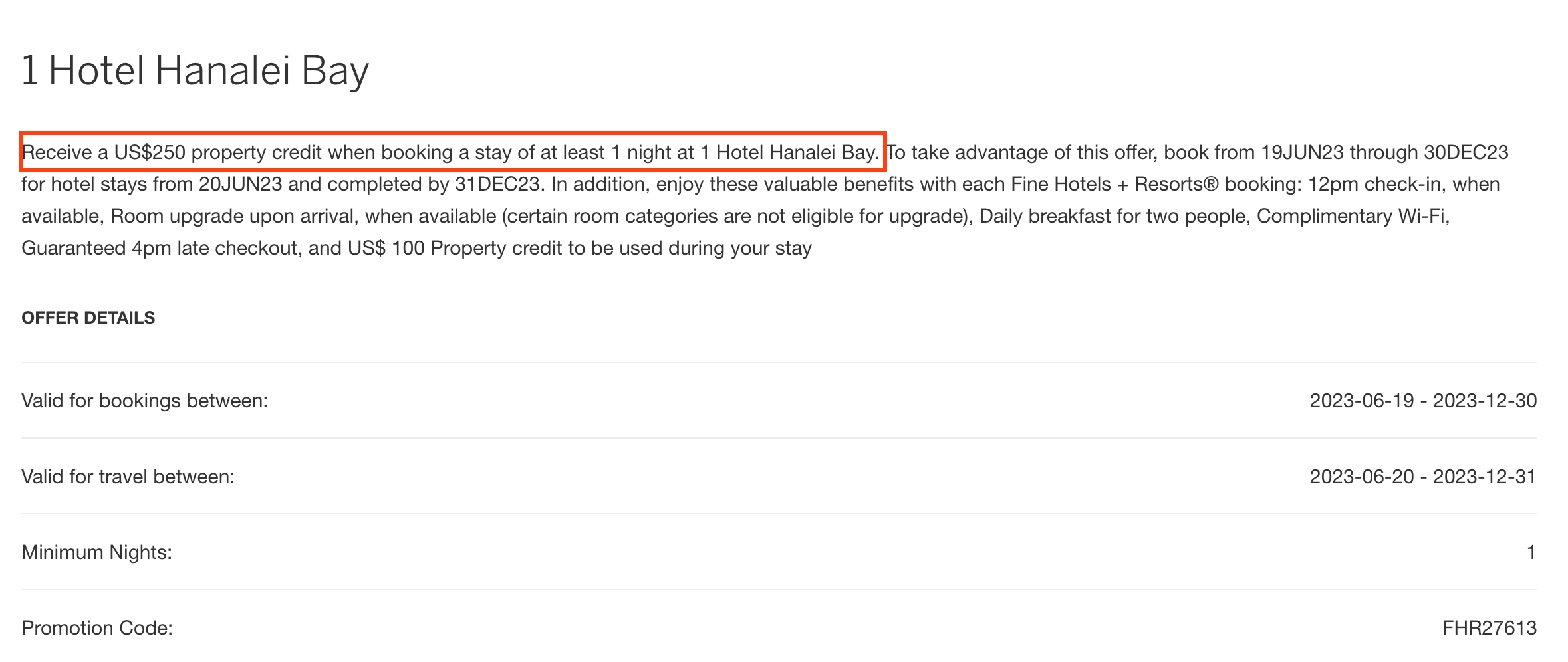 If you booked via FHR, which is open to those with The Platinum Card® from American Express, you could also use your annual $200 hotel credit, which would help a bit, especially when stacked with the on-property credits.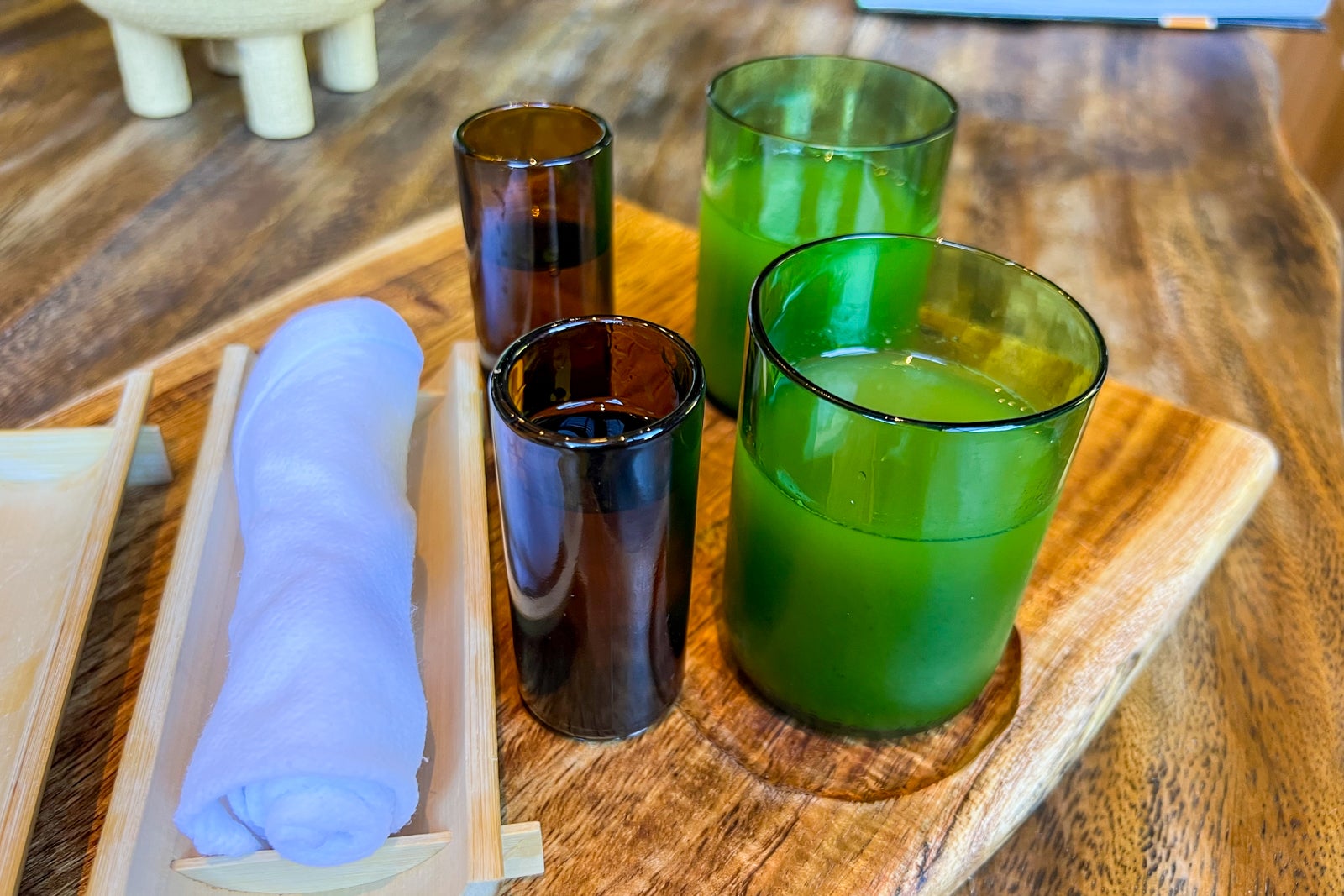 If you don't have the funds to enjoy your entire Kauai vacation here, another option would be to make this your home base for a couple of nights while you enjoy all the hotel has to offer and then move to a hotel where you could redeem points, such as the nearby Westin Princeville Ocean Resort Villas or the previously mentioned Grand Hyatt Kauai. That's my plan for when I hopefully return one day.
Located in one of the prettiest spots on earth
I've mentioned this already, but it deserves a dedicated section because the beauty of the northern portion of Kauai can't be oversold.
Rainbows happen so frequently that the restaurant waitstaff jokes that they have a secret button that they can hit that brings the rainbows out at breakfast, much to the delight of those sipping their morning cup of Hawaiian-blend coffee.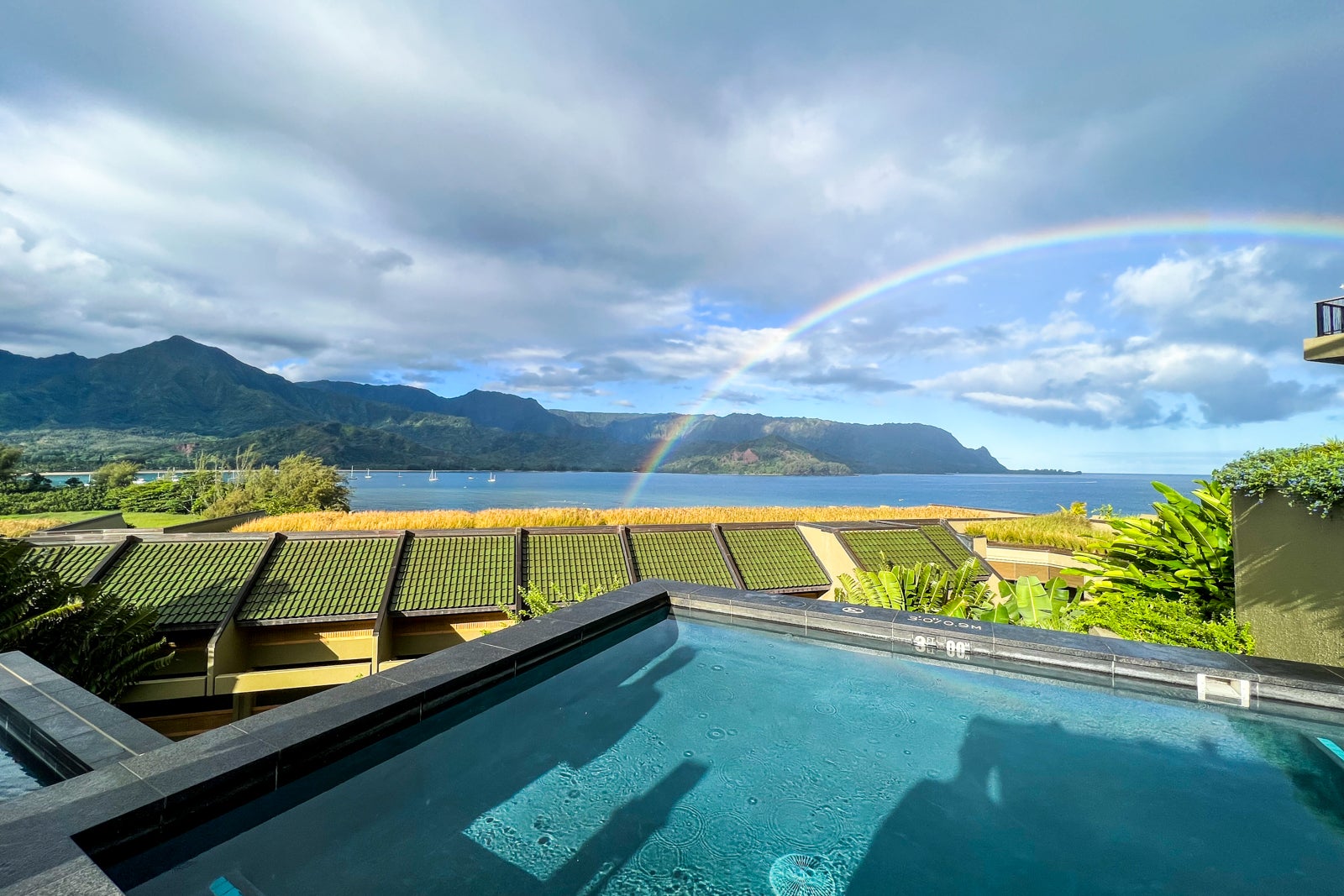 The lush, green mountains with just-visible waterfalls serve as the backdrop to waves rolling on the shore. And you can fully appreciate all of this from either down on the swimmable Puu Poa beach or from above, thanks to the hotel's cliff-side location.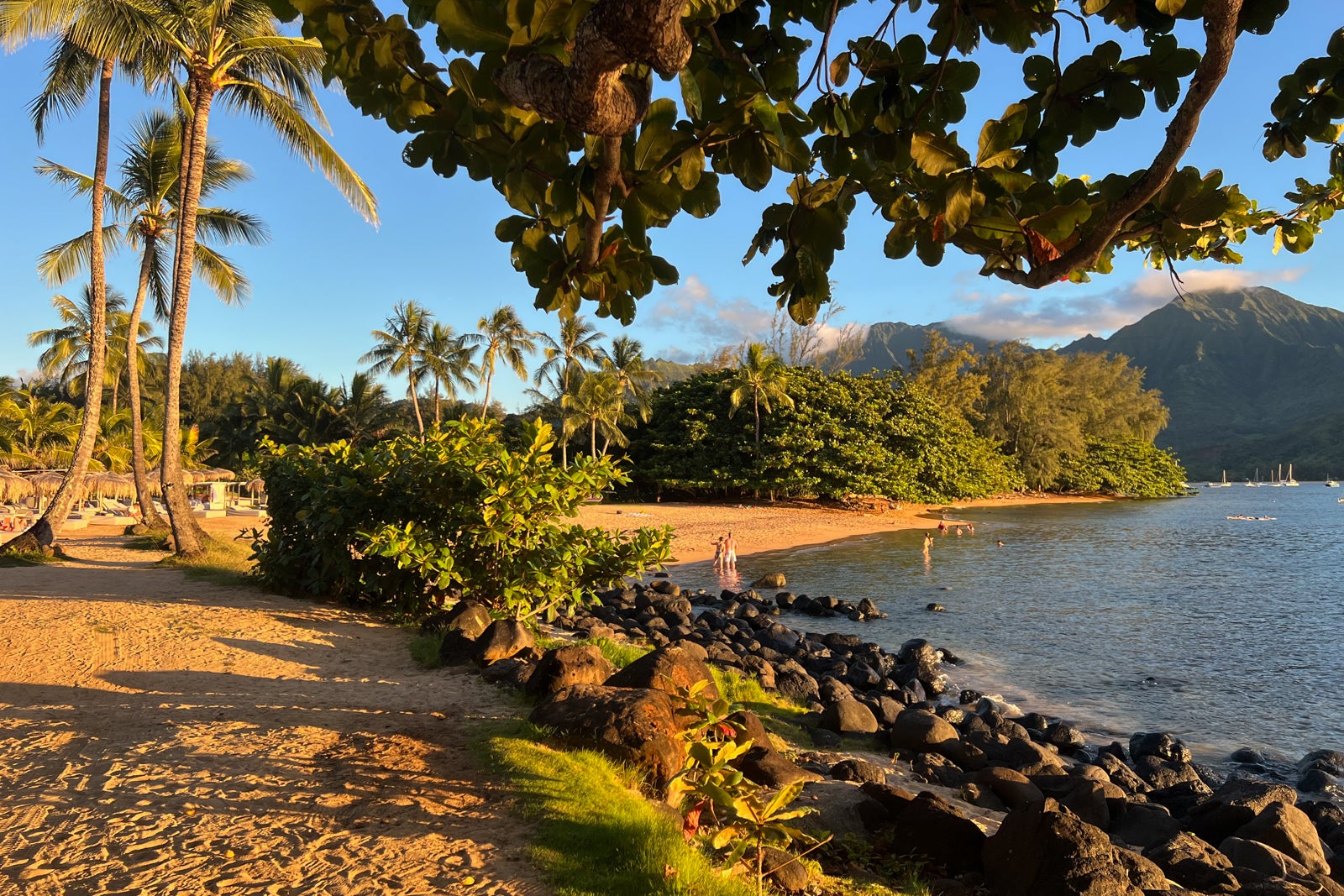 The vibe at 1 Hotel Hanalei Bay
While the resort is unquestionably high-end, it's not stuffy. The vibe from the guests and staff is one of relaxation and enjoyment where you fit in just as well if you are on your third mai tai by the pool as you would if you are focusing on your fitness via the included classes and wellness amenities.
During our September visit, after most school-aged kids had returned to class, there were certainly a few families to be found, but more common that time of year were babymooners, honeymooners and those like us — middle-aged couples celebrating a big anniversary in paradise.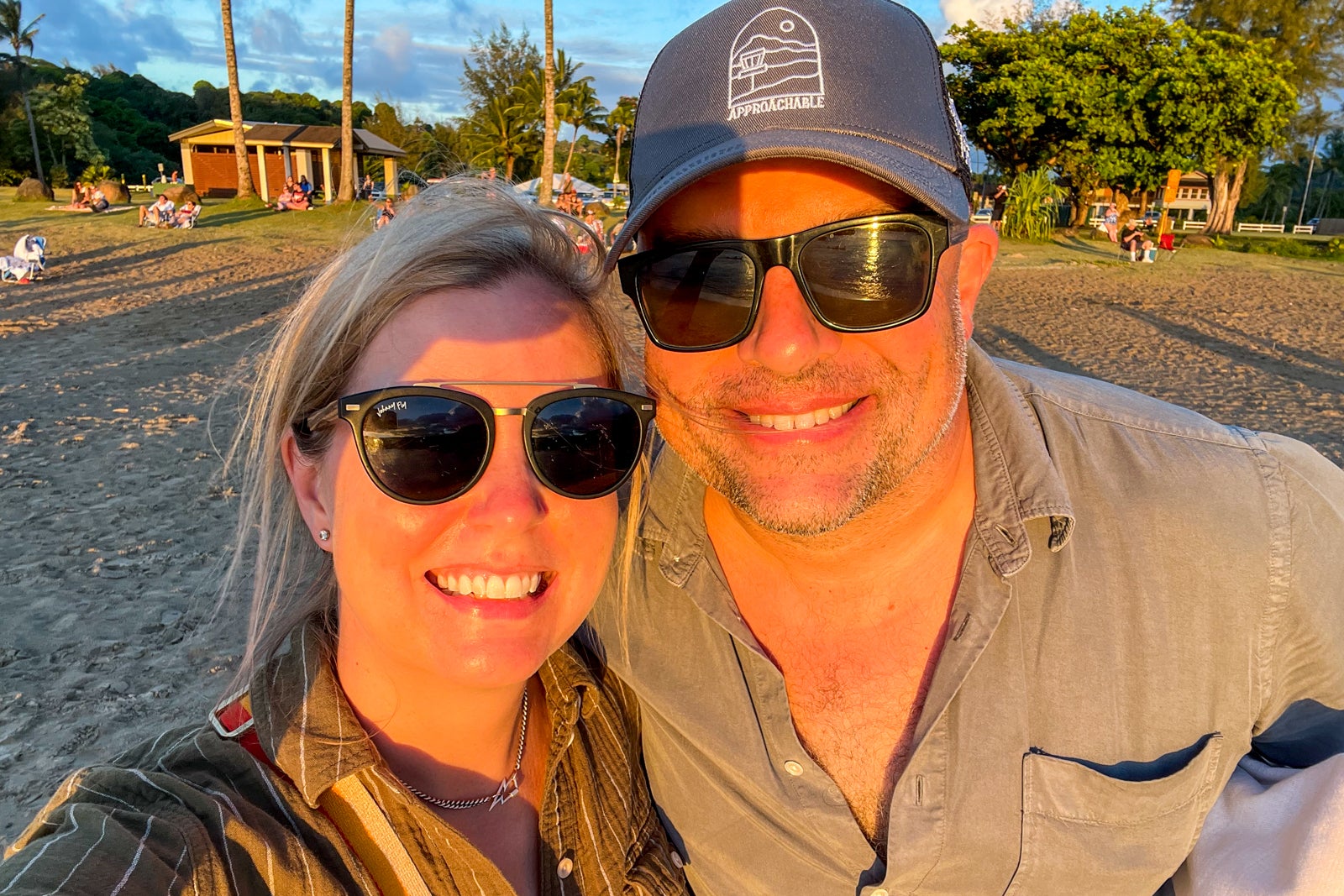 Many guests dress up a bit for sunset cocktails, but it's not required. We thoroughly enjoyed every guest we met — which turned out to be quite a few, thanks to the extensive activity list. Those who seek out this spot seem to naturally have at least a few things in common, so it wasn't hard to enjoy our time with every other traveler we met.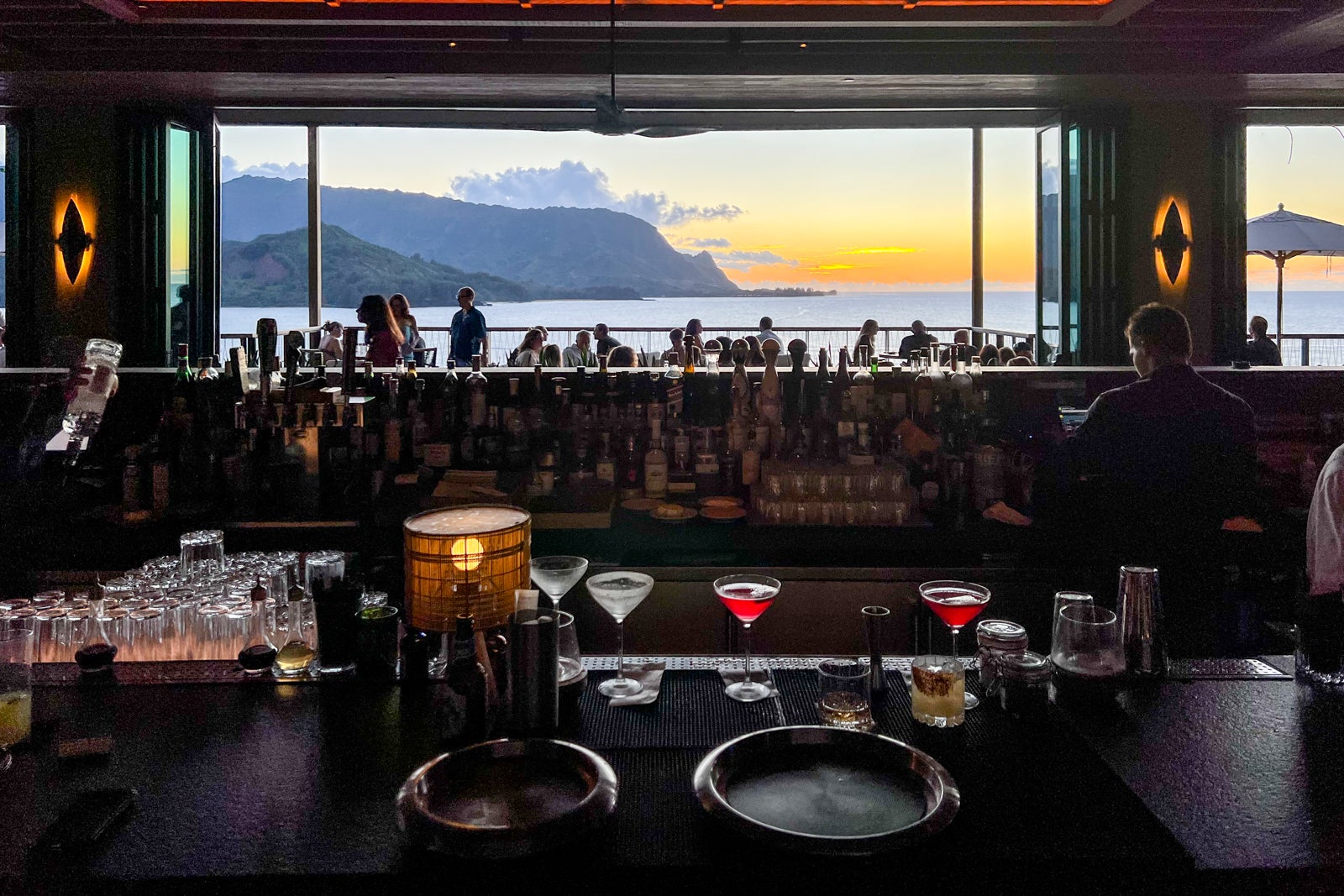 Gorgeous rooms with a view
There are 252 rooms at 1 Hotel Hanalei Bay, including 52 suites, which are designed as both a place to rest and to bring the outside in.
You can literally bring the outside in with windows that actually open, but there are also subtle ways that the property blends with its setting, such as materials and styling (think greenery, reclaimed teak furniture and a natural color palette).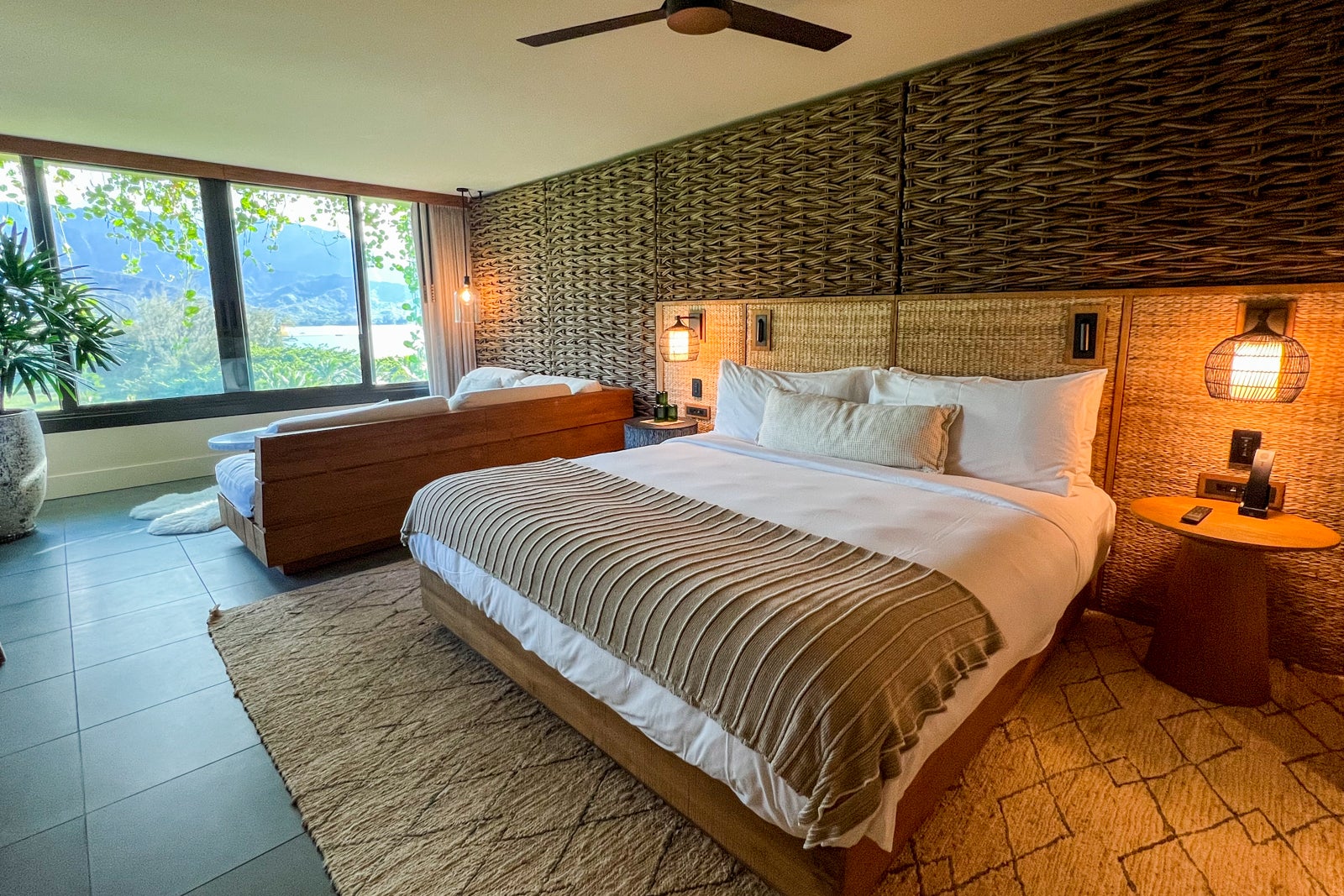 Entry-level rooms, such as the one we stayed in, are still quite large at an average of 547 square feet.
In addition to the comfortable king bed with a pillow-top mattress, there's a work desk (though, please don't), a 55-inch TV and a sitting area with an L-shaped sofa and coffee table.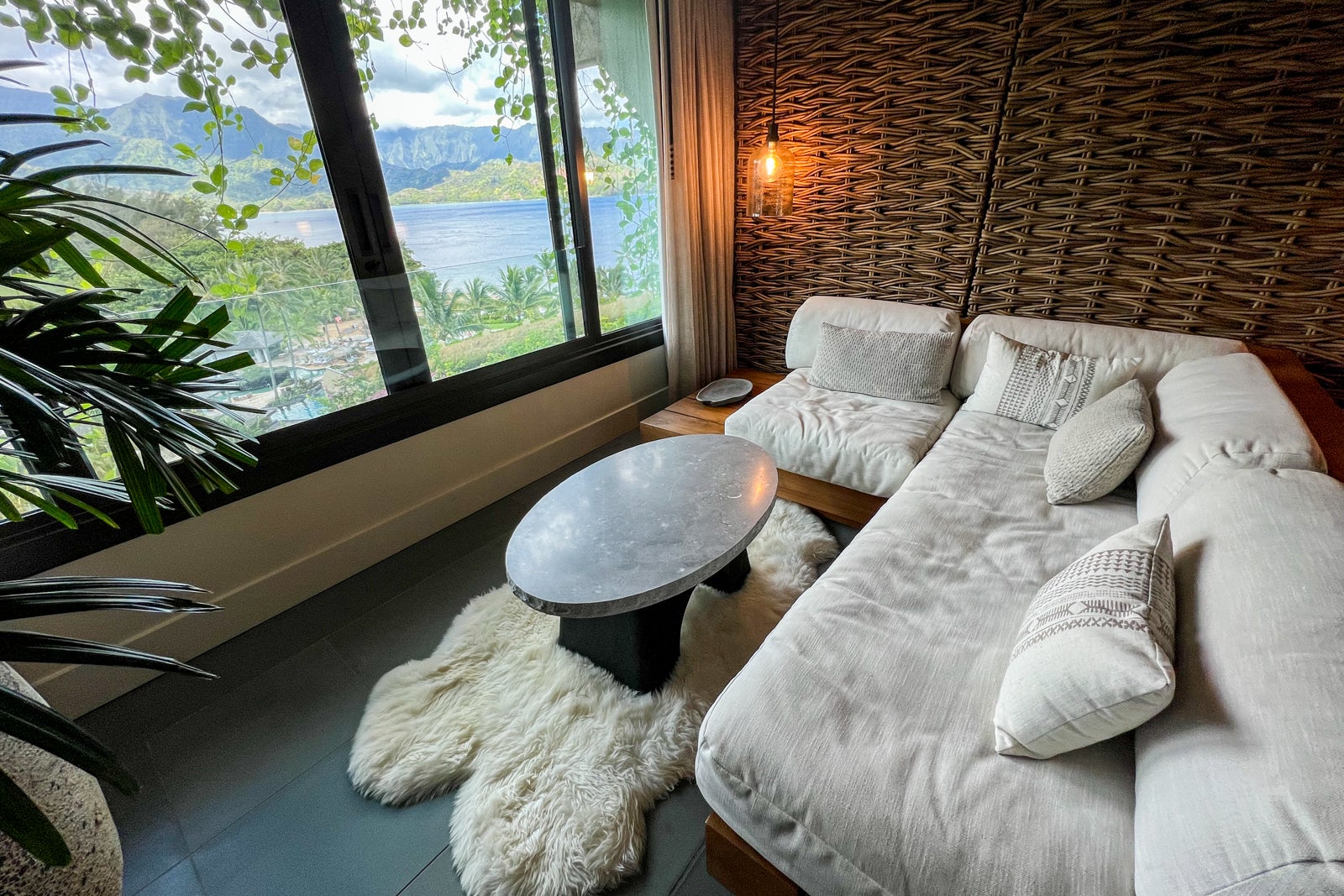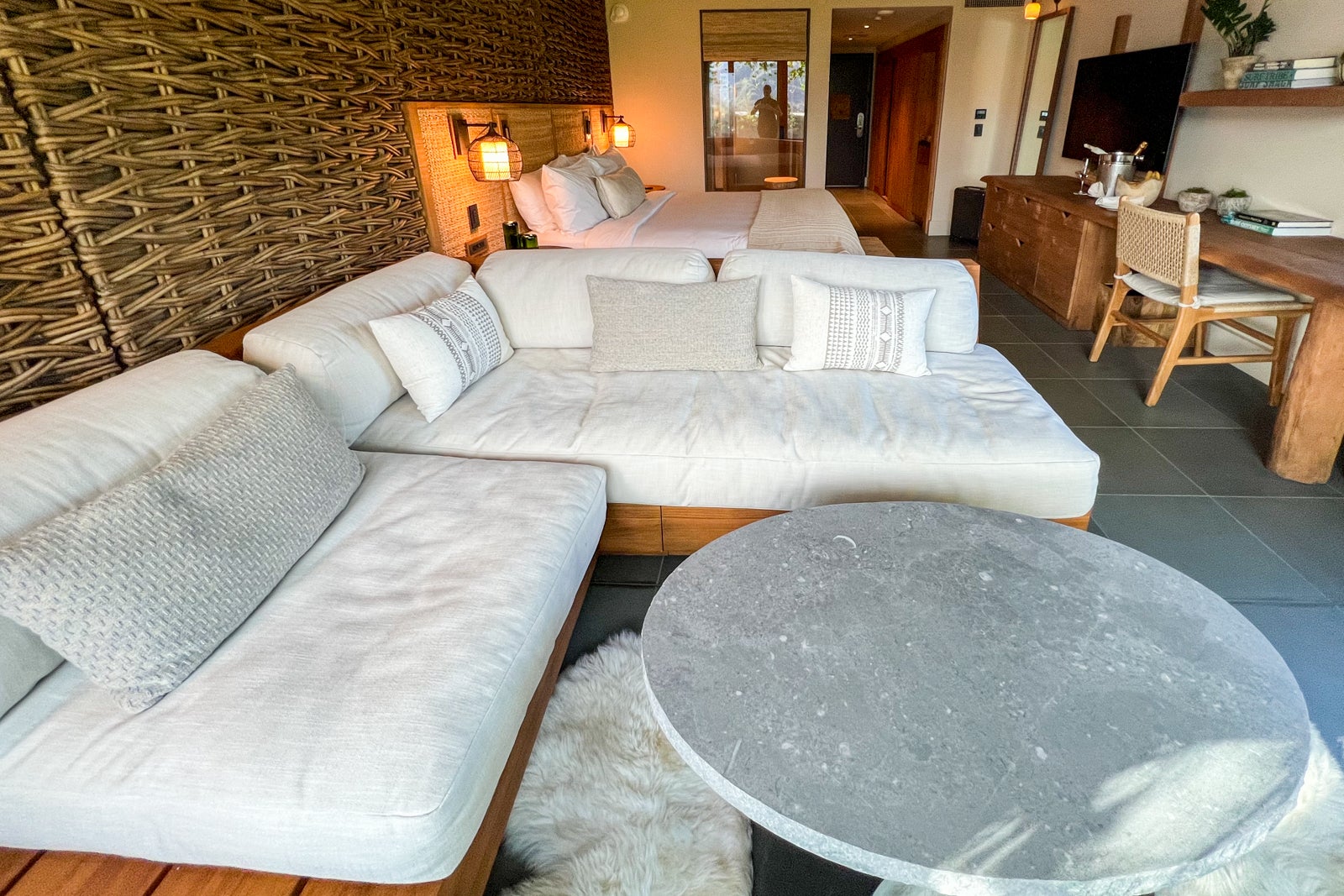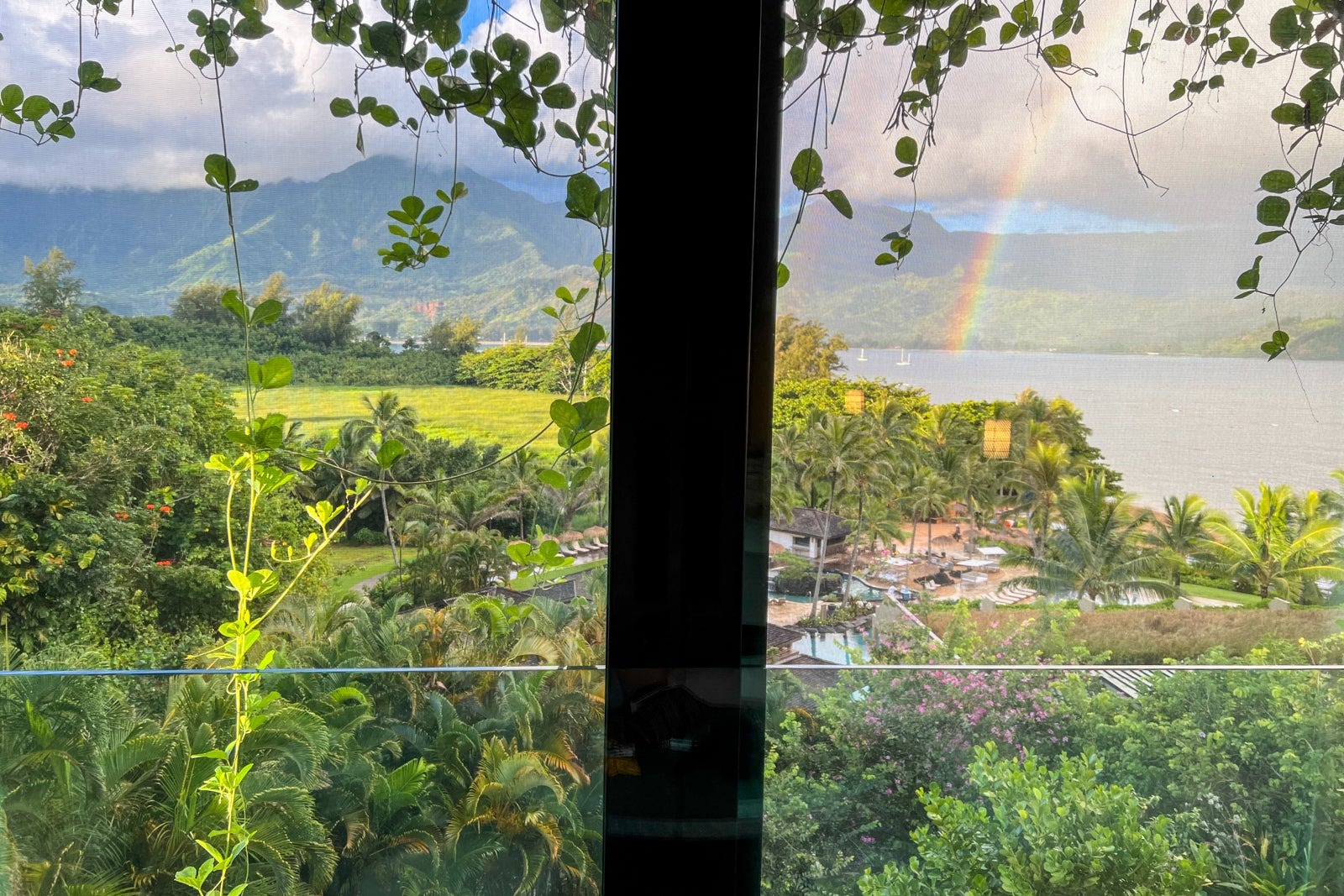 The shower has a double vanity — with a filtered water tap. This was both convenient and a tangible way the hotel strives to be more sustainable.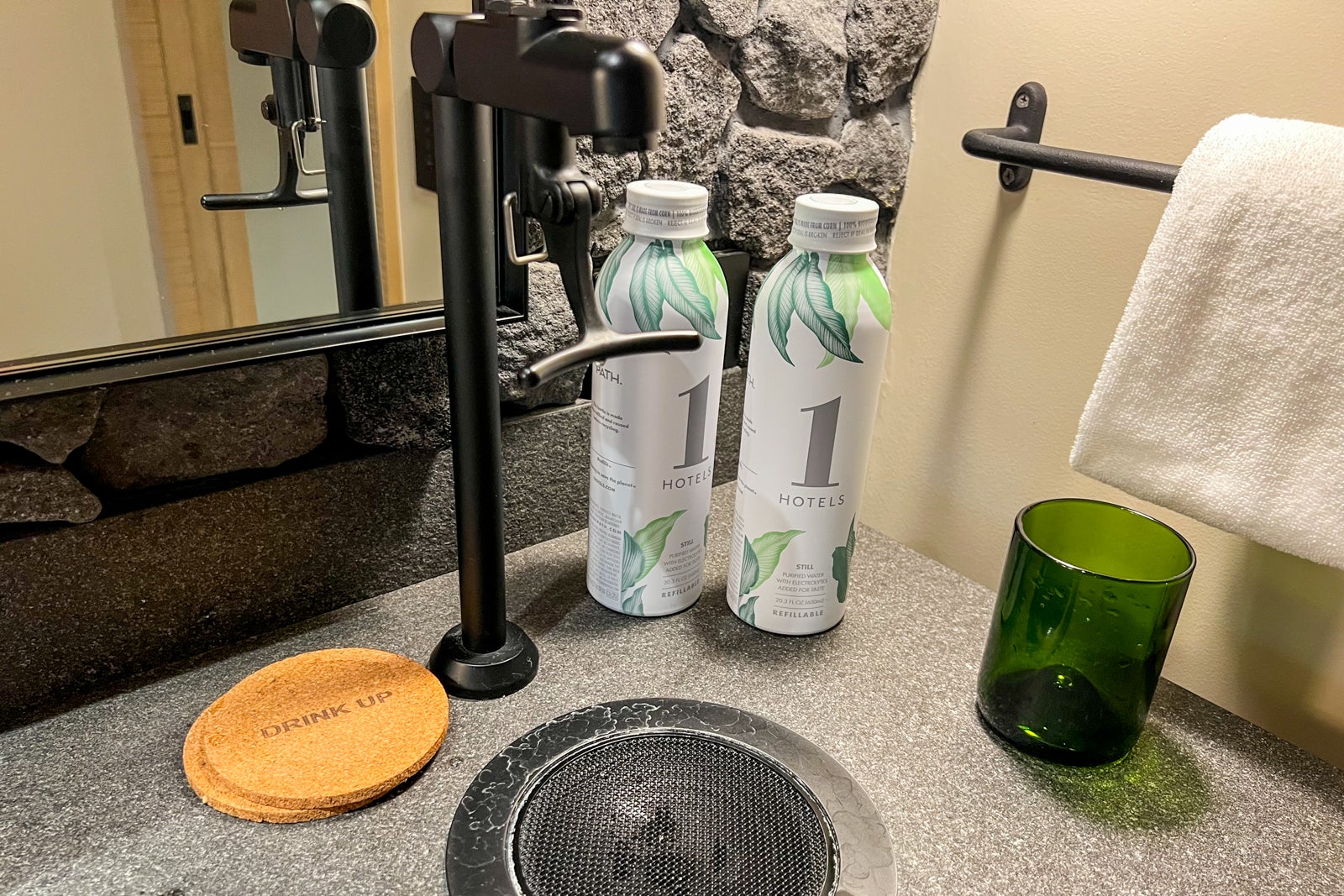 Inside the rainfall shower, you'll find Bamford bath products. And when your shower is done, each room has fluffy robes and slippers to keep you cozy.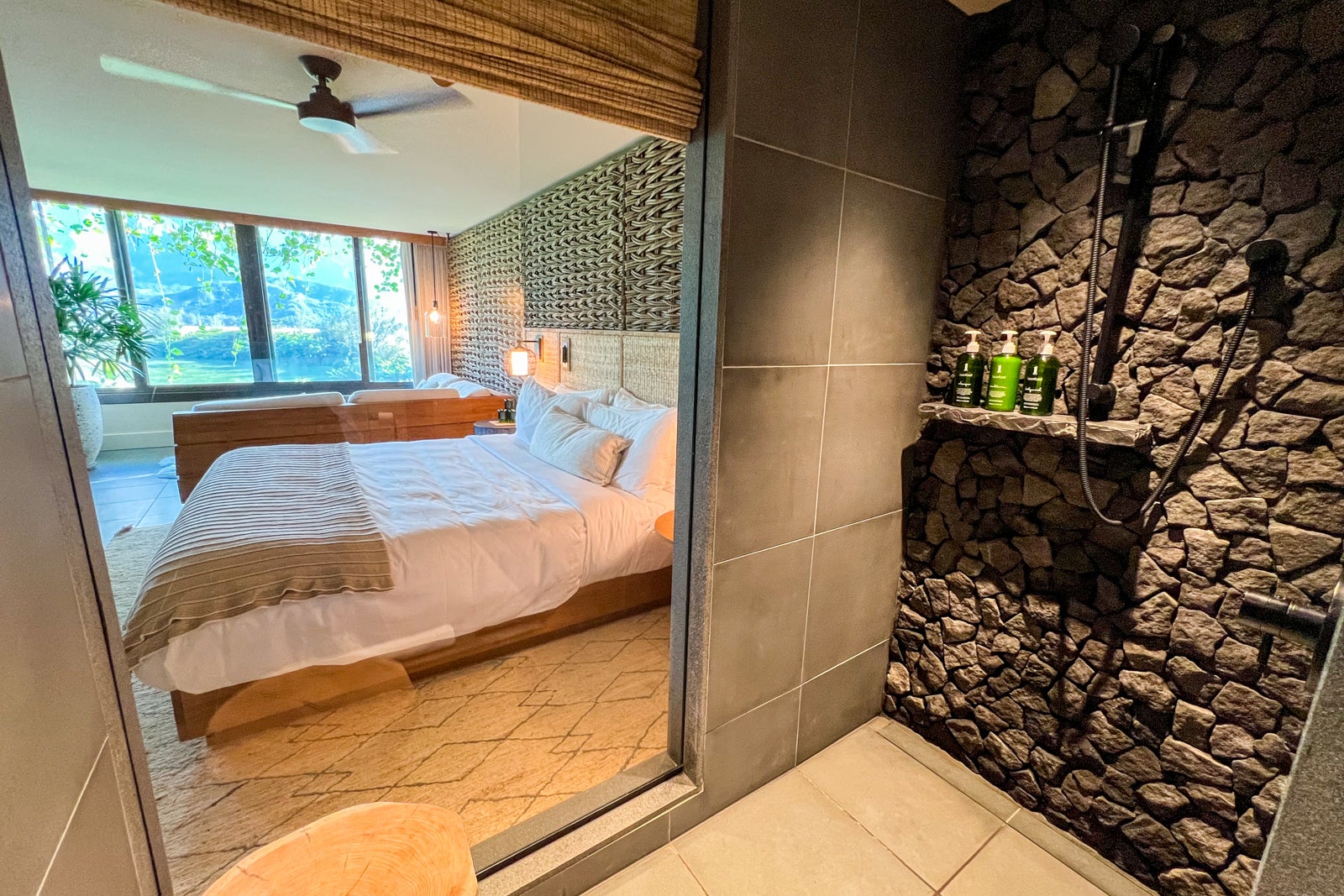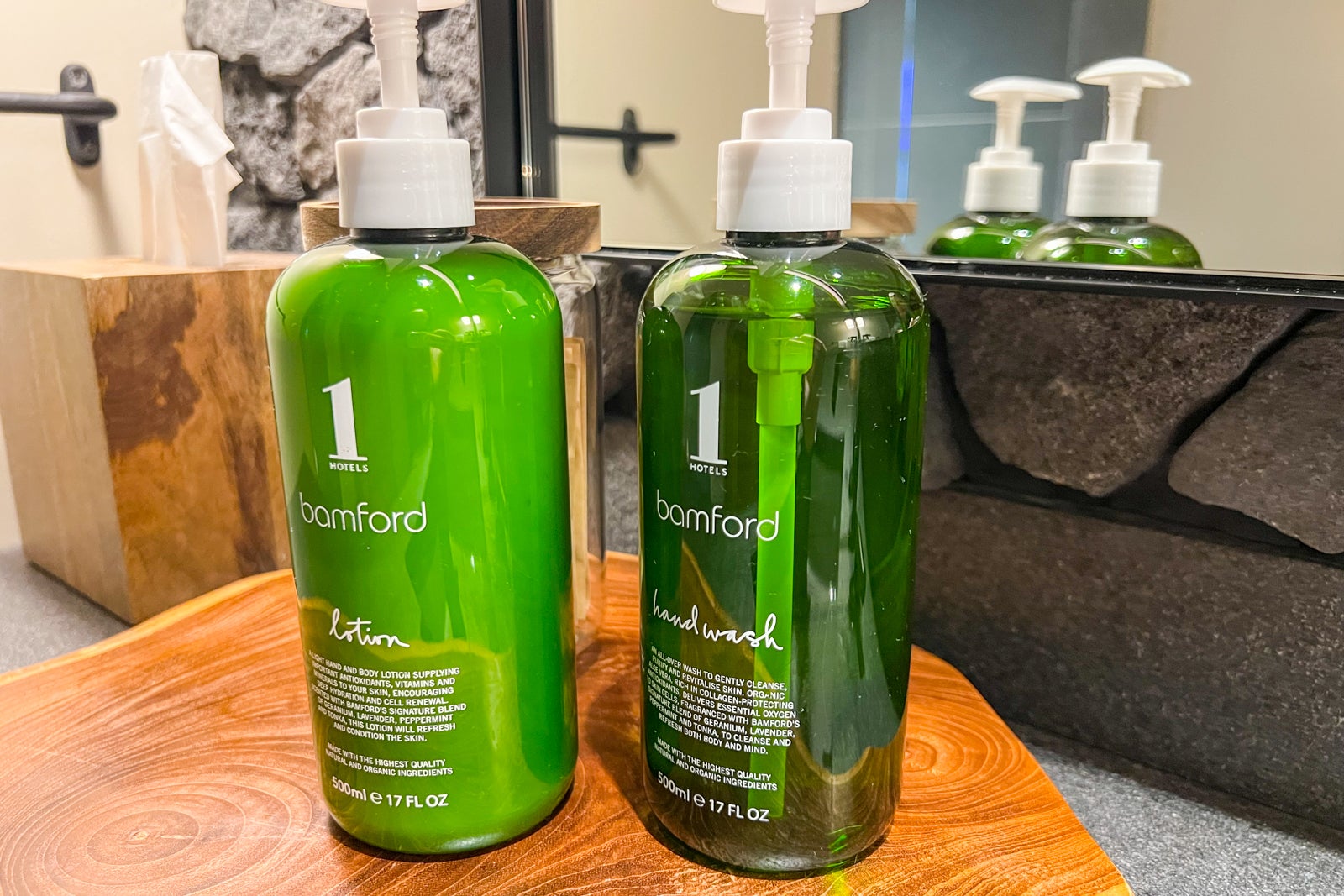 While we didn't delve too far into the minibar, it is stocked with local products, such as drinks from the Kona Brewing Company and Hawaiian-made chocolate.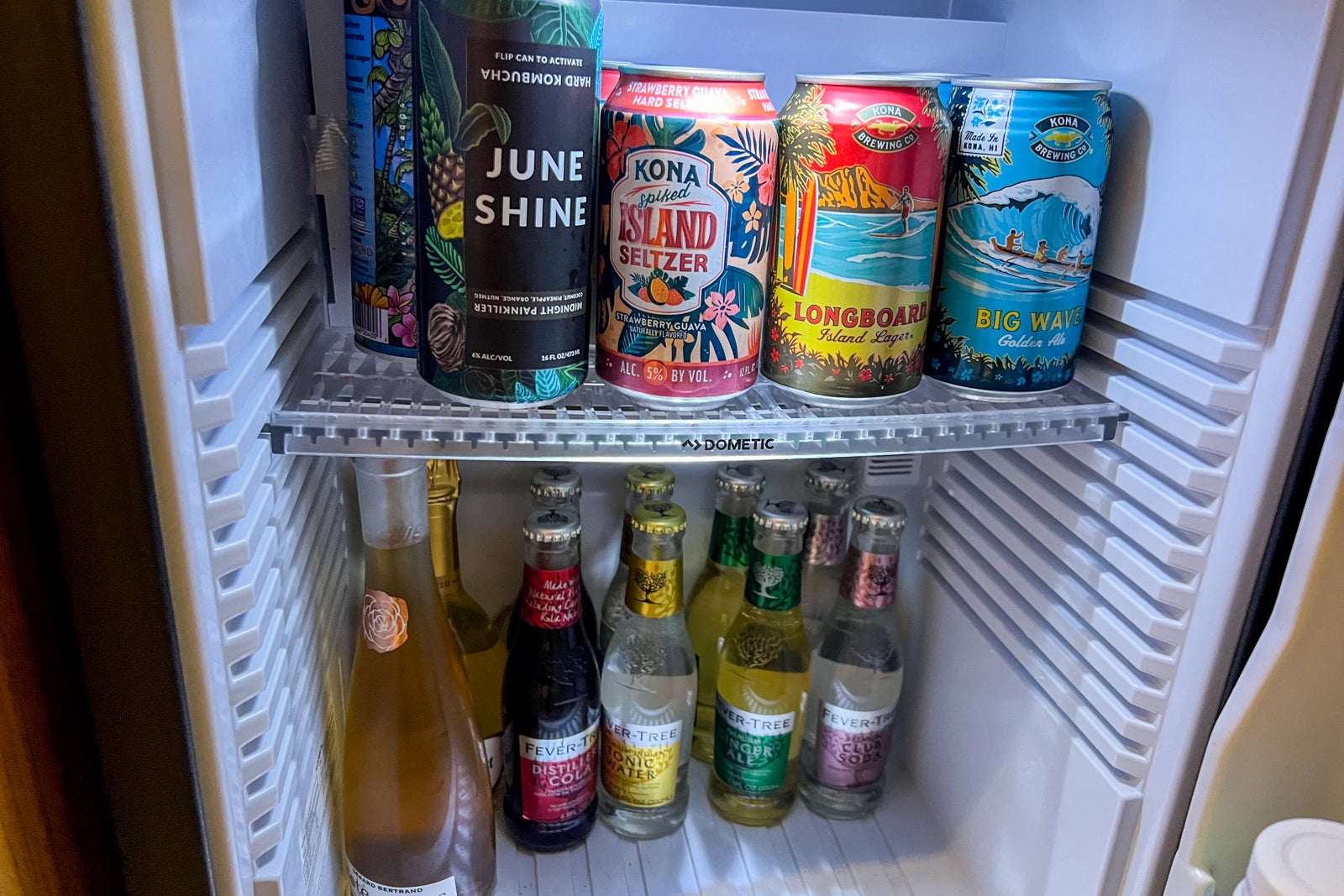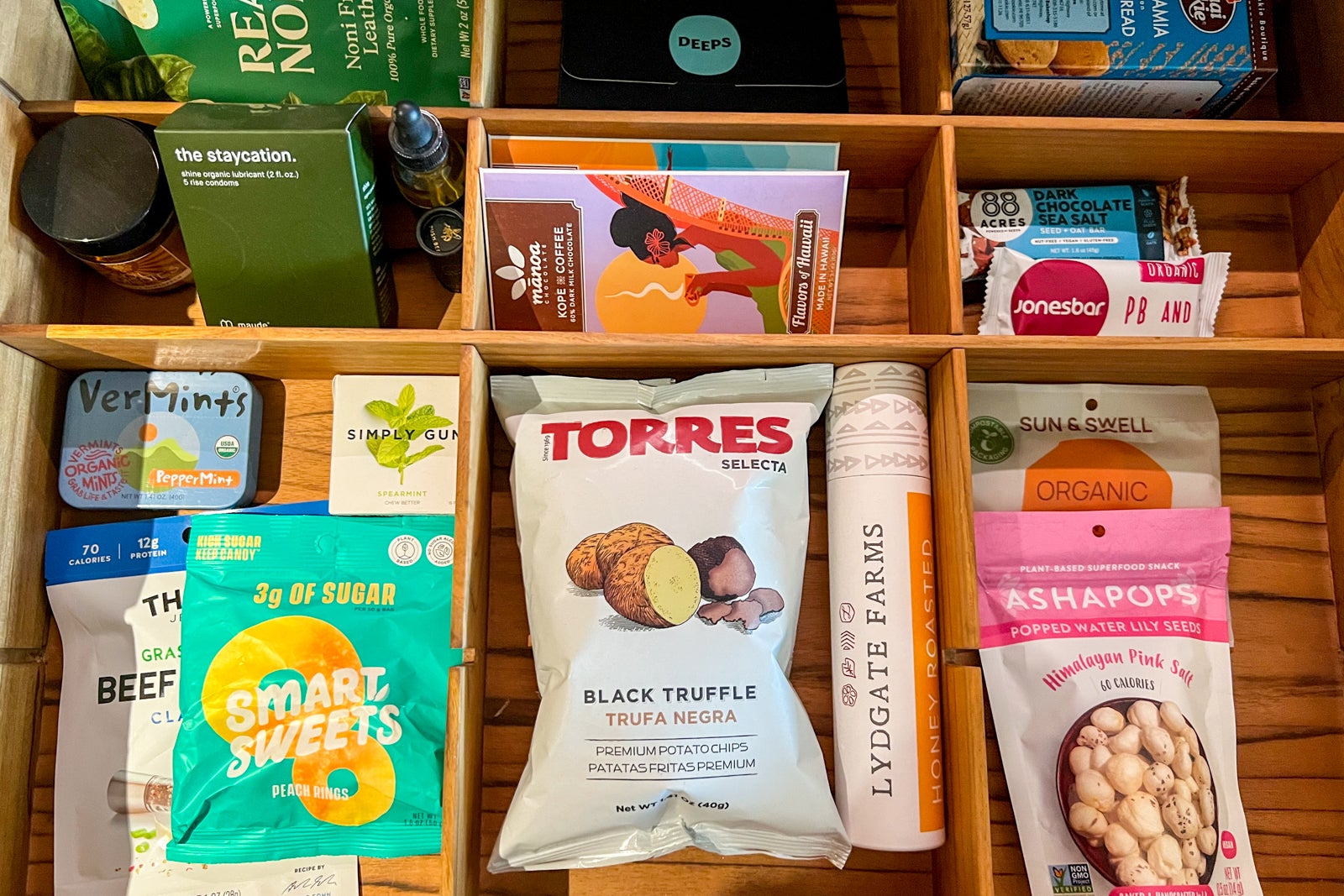 Long list of included high-end activities
There's no resort fee at the 1 Hotel Hanalei Bay and no charge for its extensive lineup of daily activities.
We participated in at least one of those activities every day, and I was blown away by the quality of the inclusions that would almost certainly cost a significant amount of money to enjoy almost anywhere else.
For example, we did a local rum tasting that included a welcome drink and around a half-dozen generously poured rum samples from distilleries such as the Koloa Rum Company. You could also try more of your favorites at the end, all complimentary. (My favorite is the coconut-infused flavor.)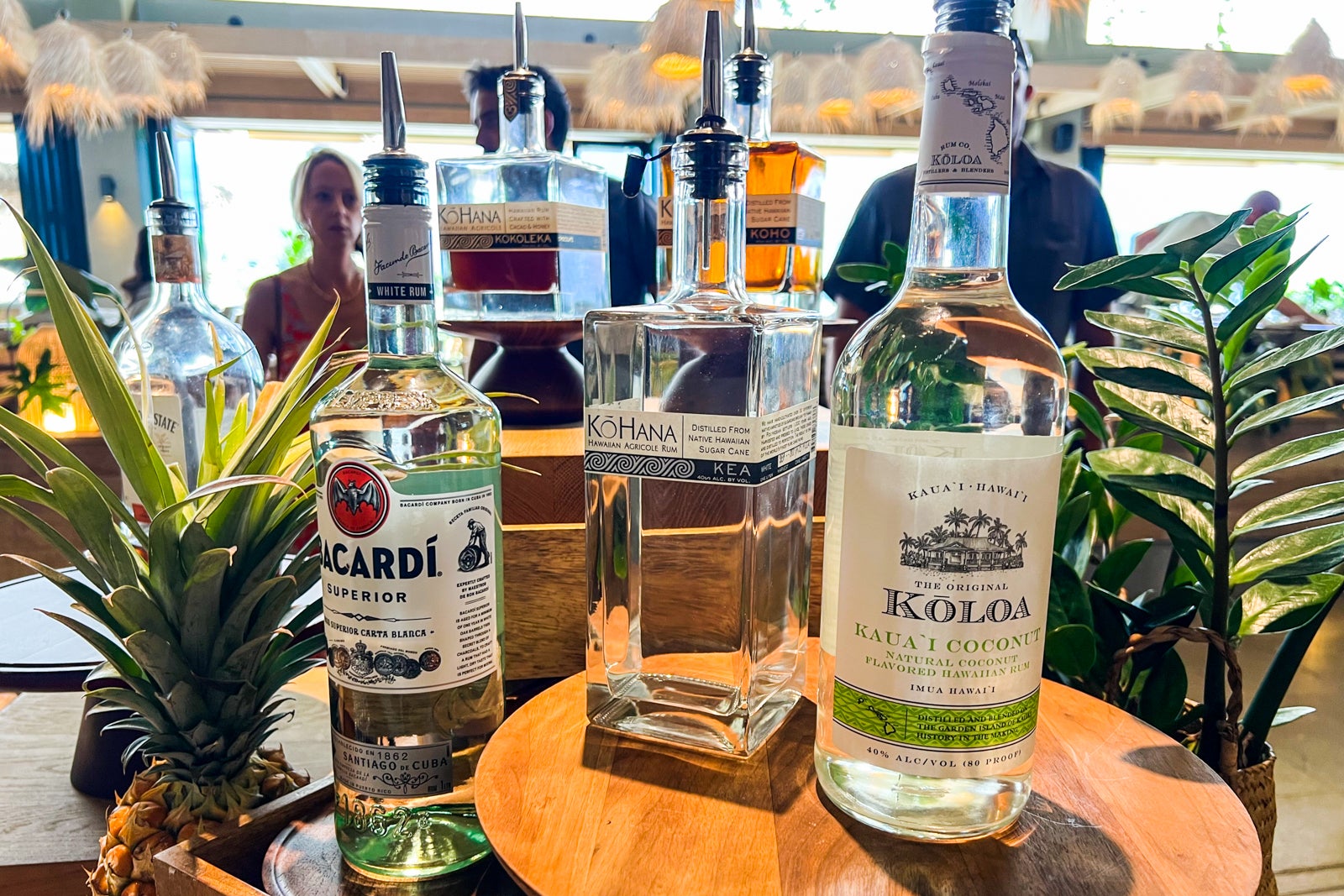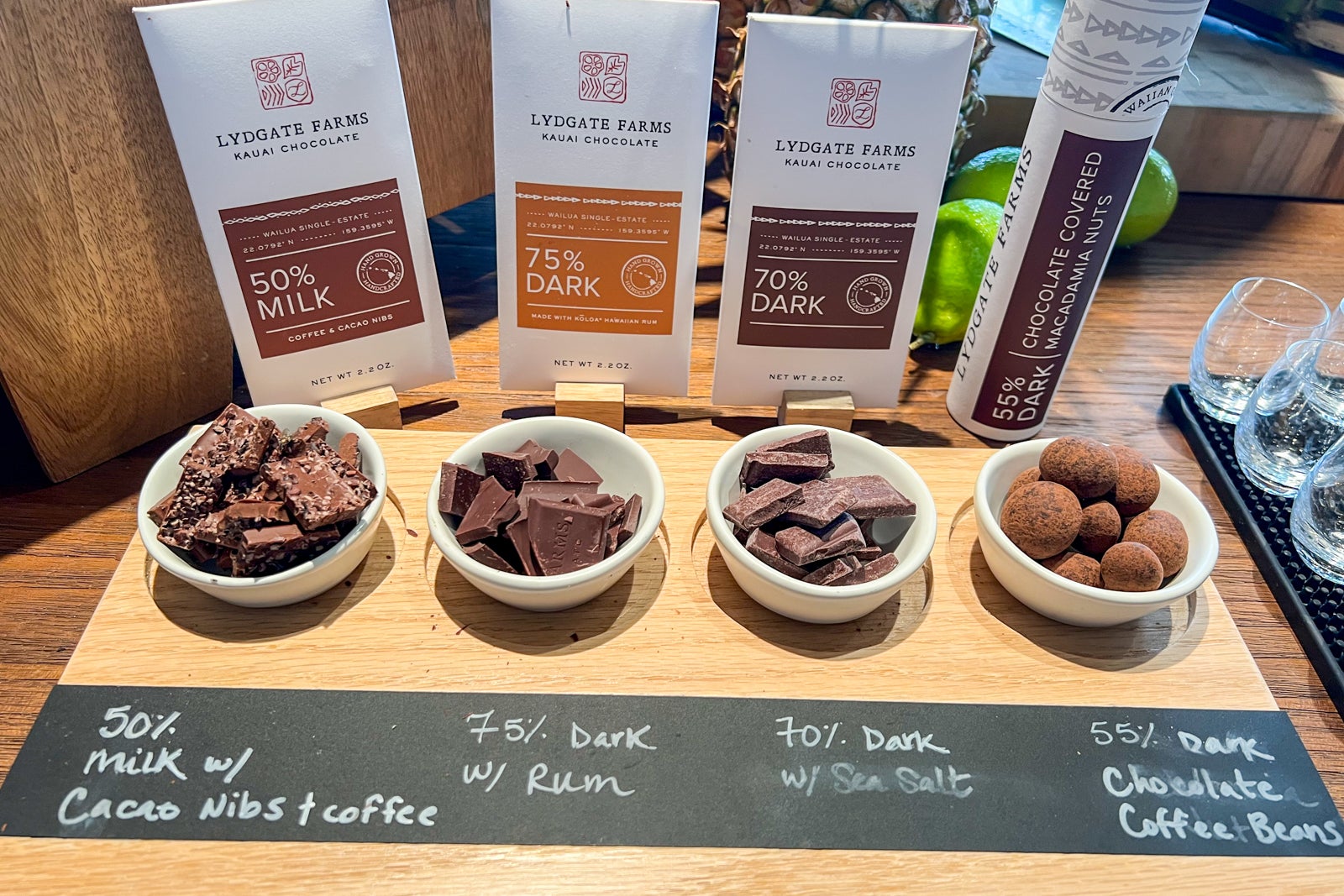 On top of that, you could pair the rum with all the chocolate you desired from Lydgate Farms, also found on Kauai. One of those chocolate bars can sell for $18, so you can sample high-end local goods to your heart's (and stomach's) content.
We also enjoyed a guided beginners hike that spanned over 4 miles and took us to a swimming hole with a rope swing. Not only that, but thanks to the knowledgeable local guide, we got to taste some edible plants and flowers along the way and hear stories and tips about the island.
Related: The best way to get to Hawaii on points and miles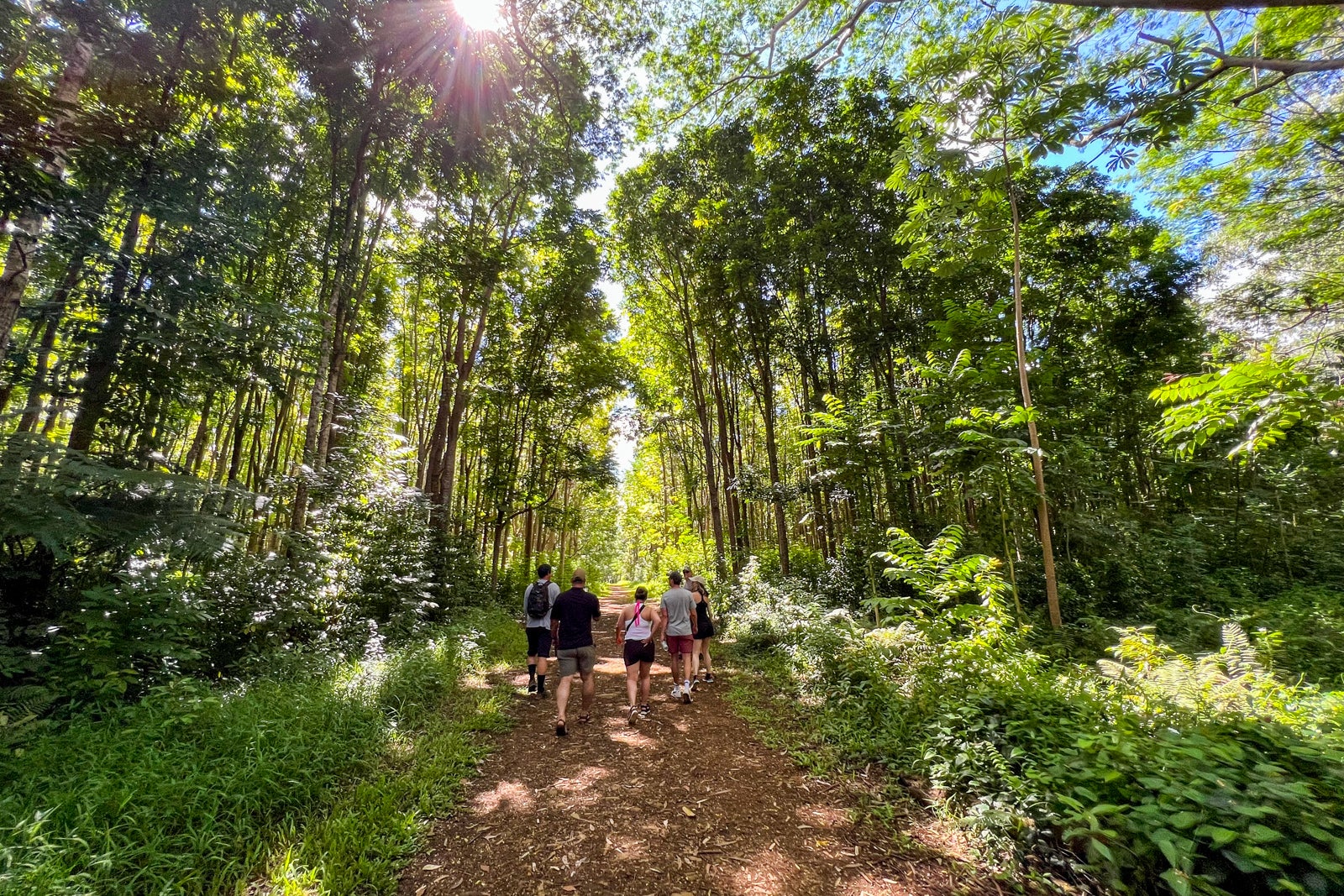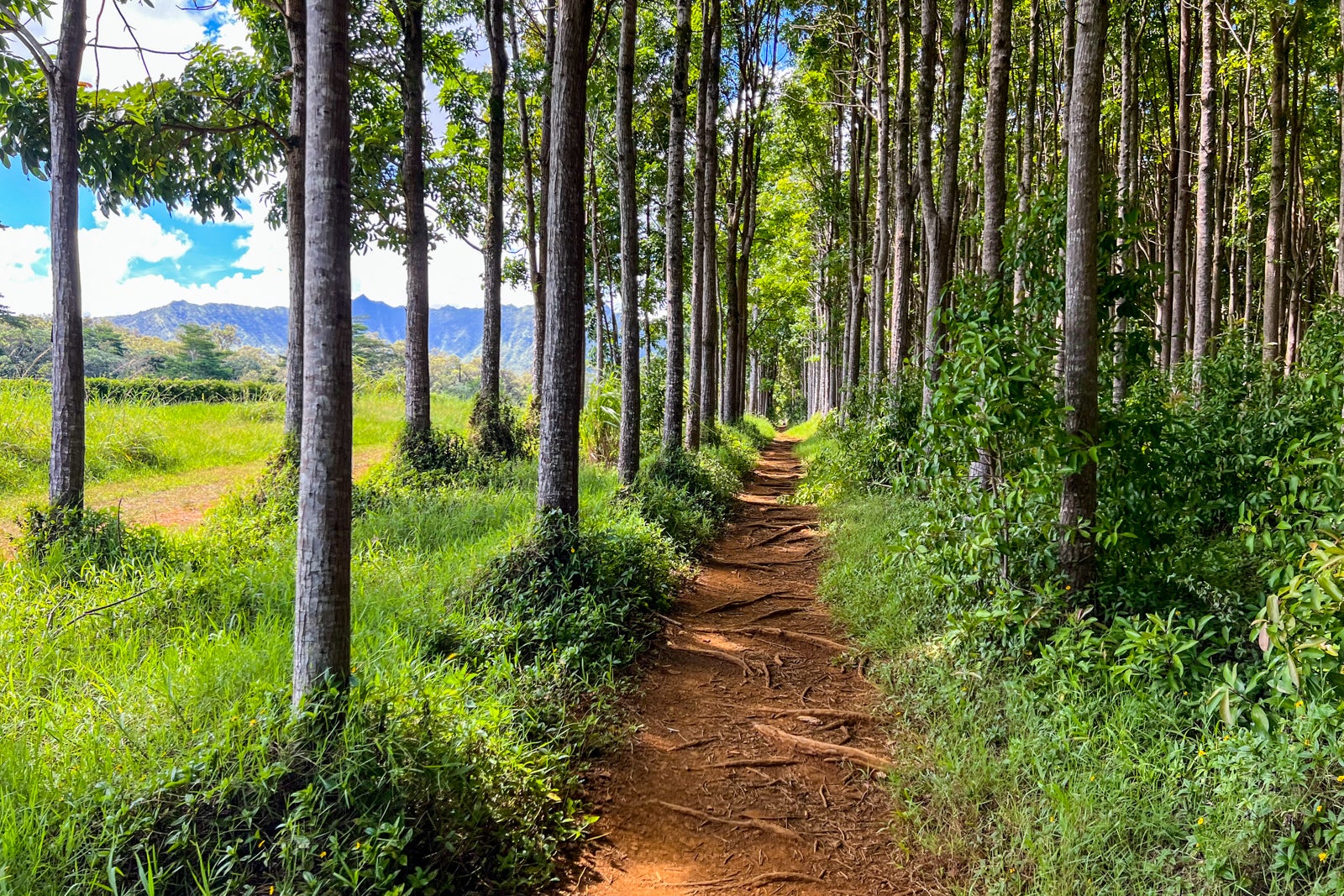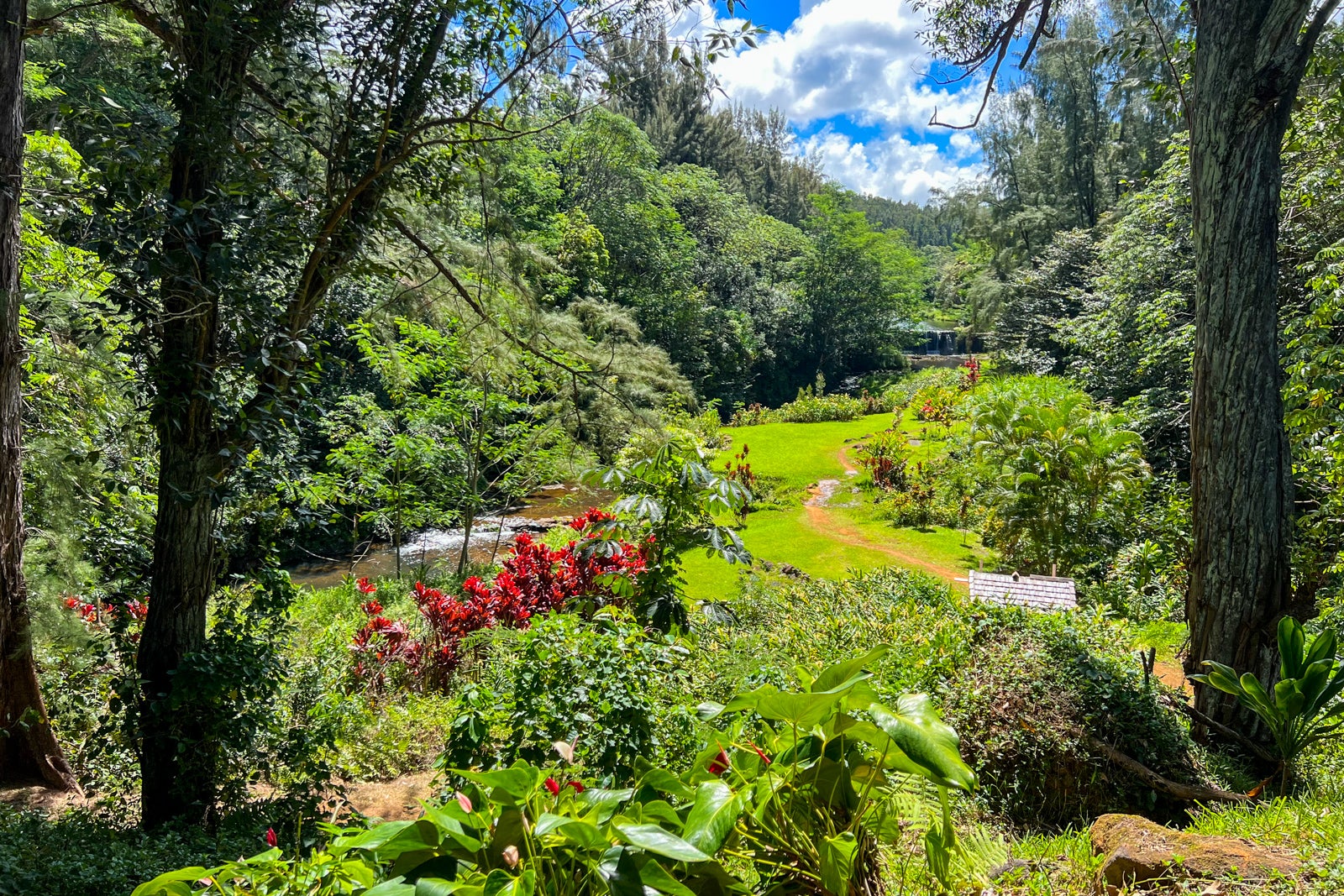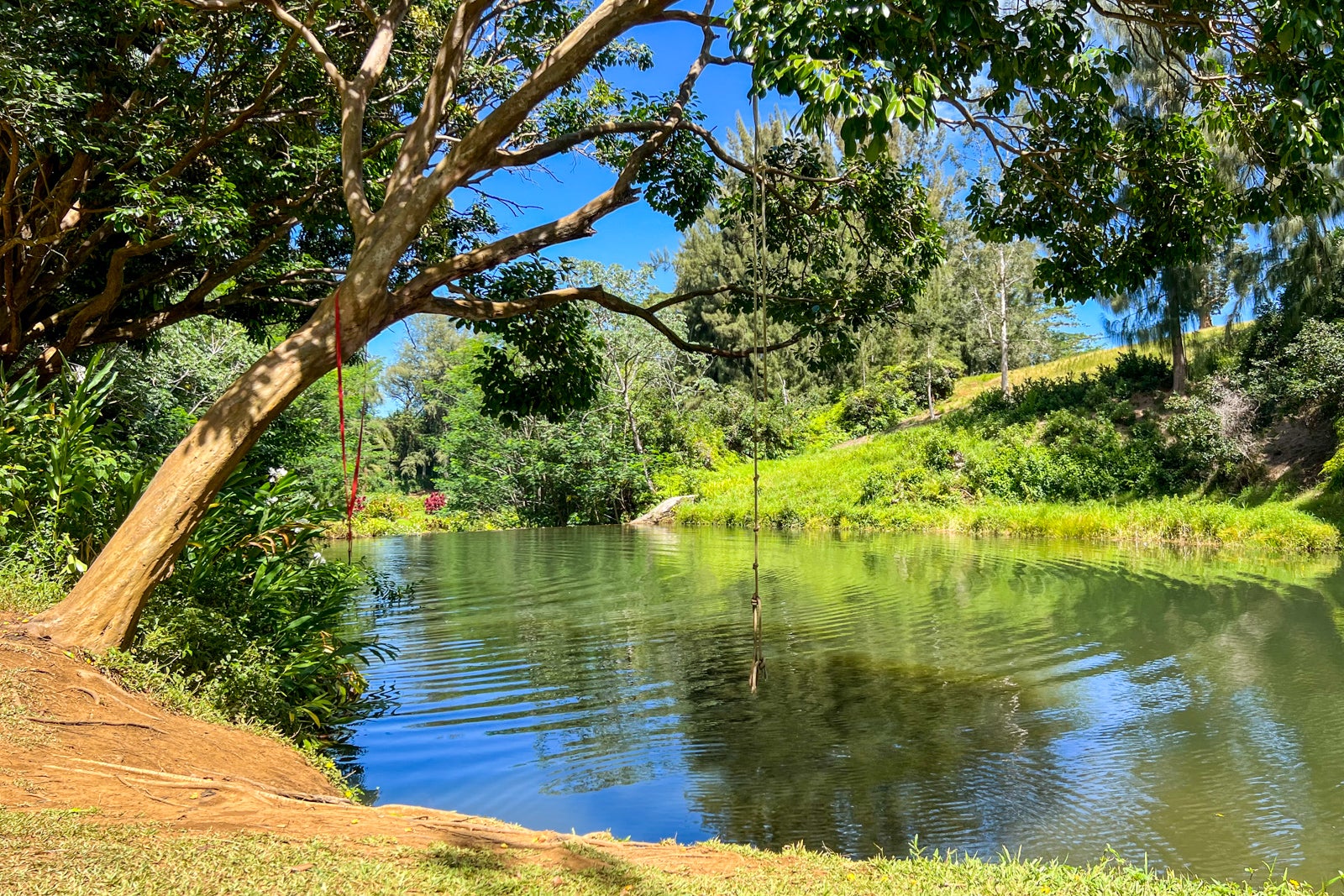 There are also lei- and bracelet-making classes, sake tasting, mai tai making, yoga and so much more, all offered seven days a week. Just be sure and register for the ones you want to partake in, as some of them can fill up.
World-class spa and fitness program
The Bamford Spa at 1 Hotel Hanalei Bay is next level.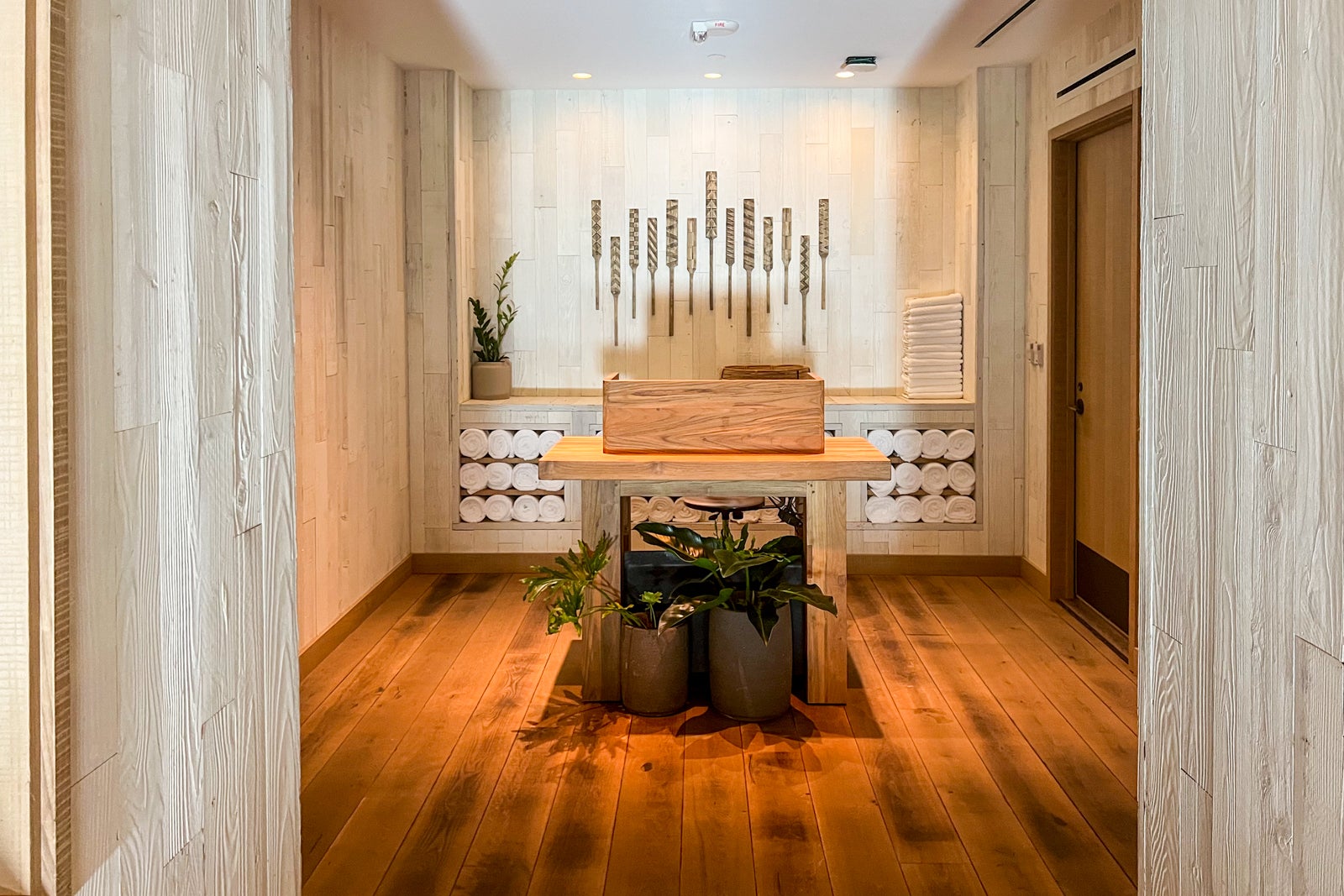 This is not your run-of-the-mill spot for 50-minute Swedish relaxation massages and hydrating facials. This wellness sanctuary is built on a connection with nature that takes place on a whole other playing field.
And as I walked into what amounted to a sensory deprivation chamber, I knew I was not in Kansas anymore. I wasn't even sure what reality I was in, if I'm being honest. Spoiler alert: I only lasted about four minutes in there as I floated in the dark at the top of water infused with pounds and pounds of salt. But more on that in a minute.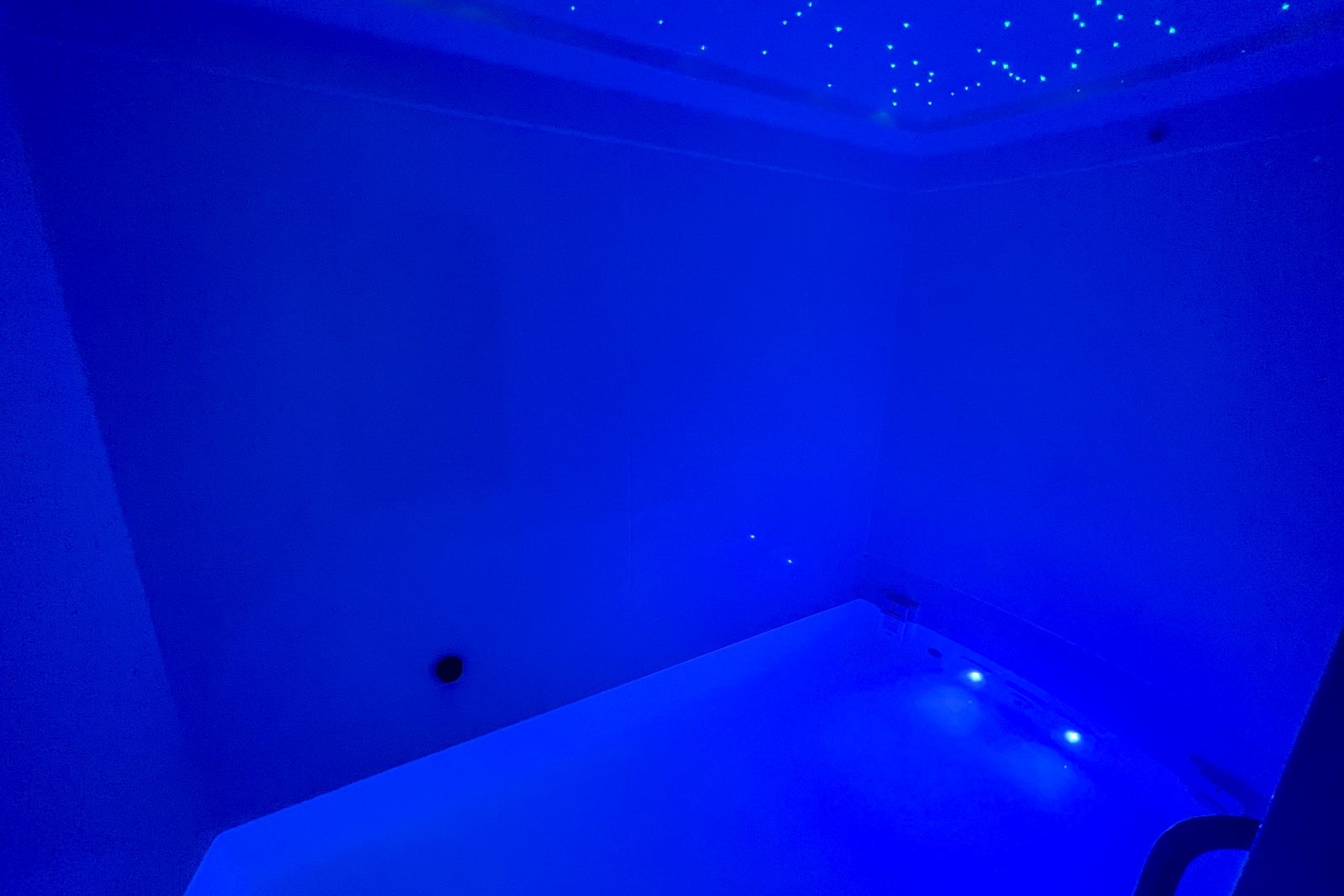 First, I went into one of the spa's 13 treatment rooms for 90 of the most relaxing minutes of my life, thanks to the Intuitive Herbal Healing Ritual that kicked off with a foot soak infused with local plants.
The session then moved into a massage that was the perfect pressure for me and utilized multiple local, organic products from the Kauai Farmacy, including warmed noni leaves placed on areas of tension and inflammation (i.e., my whole back).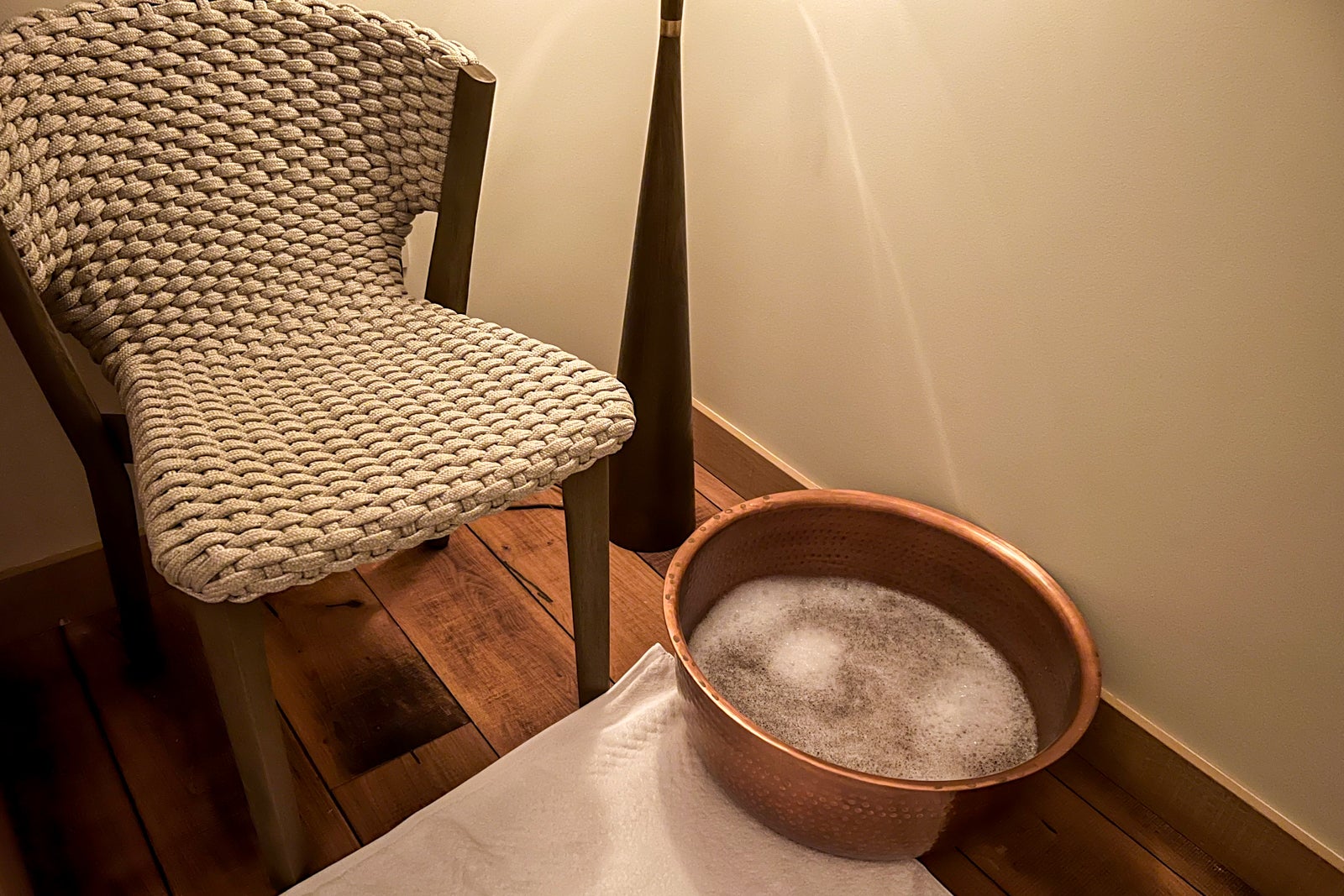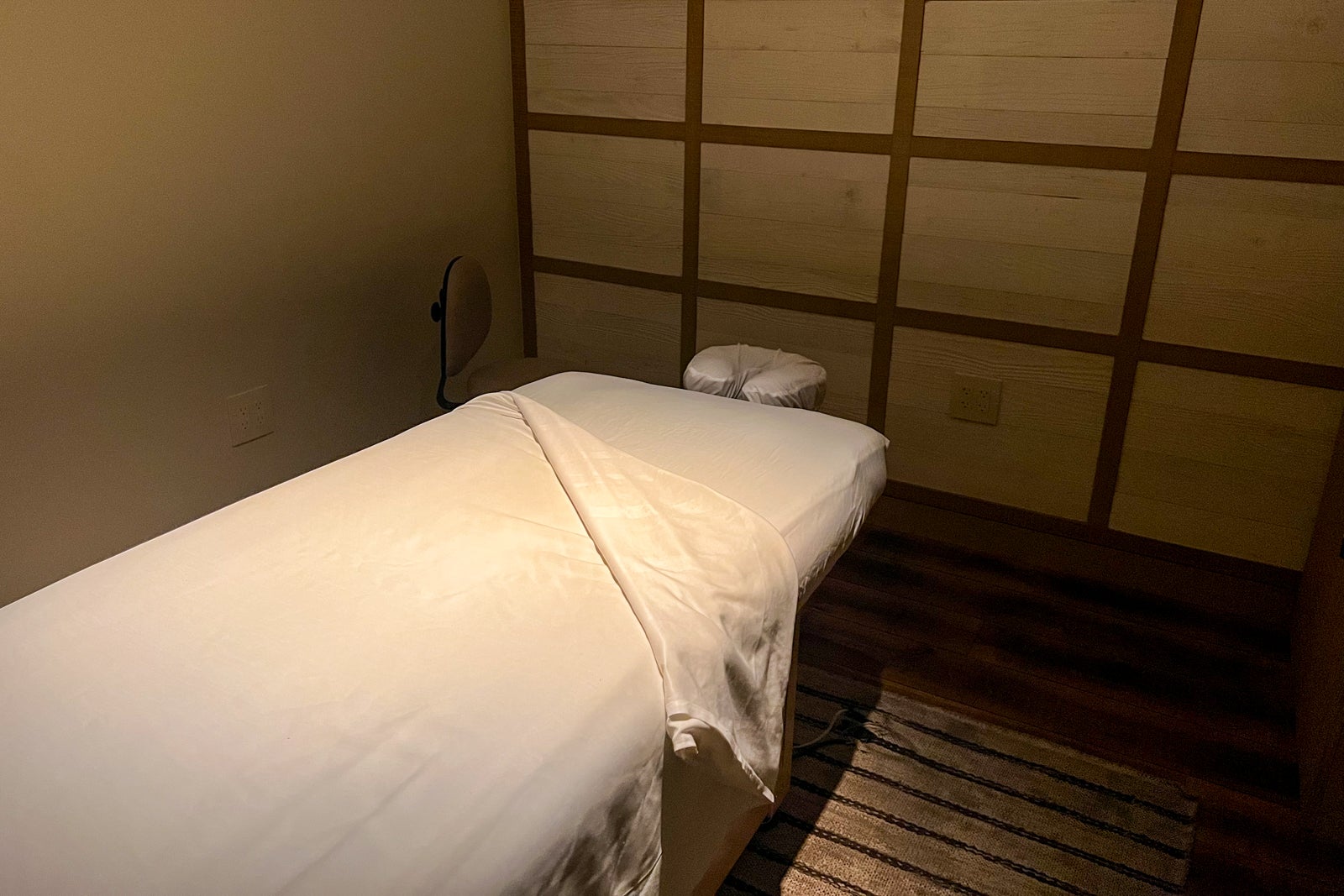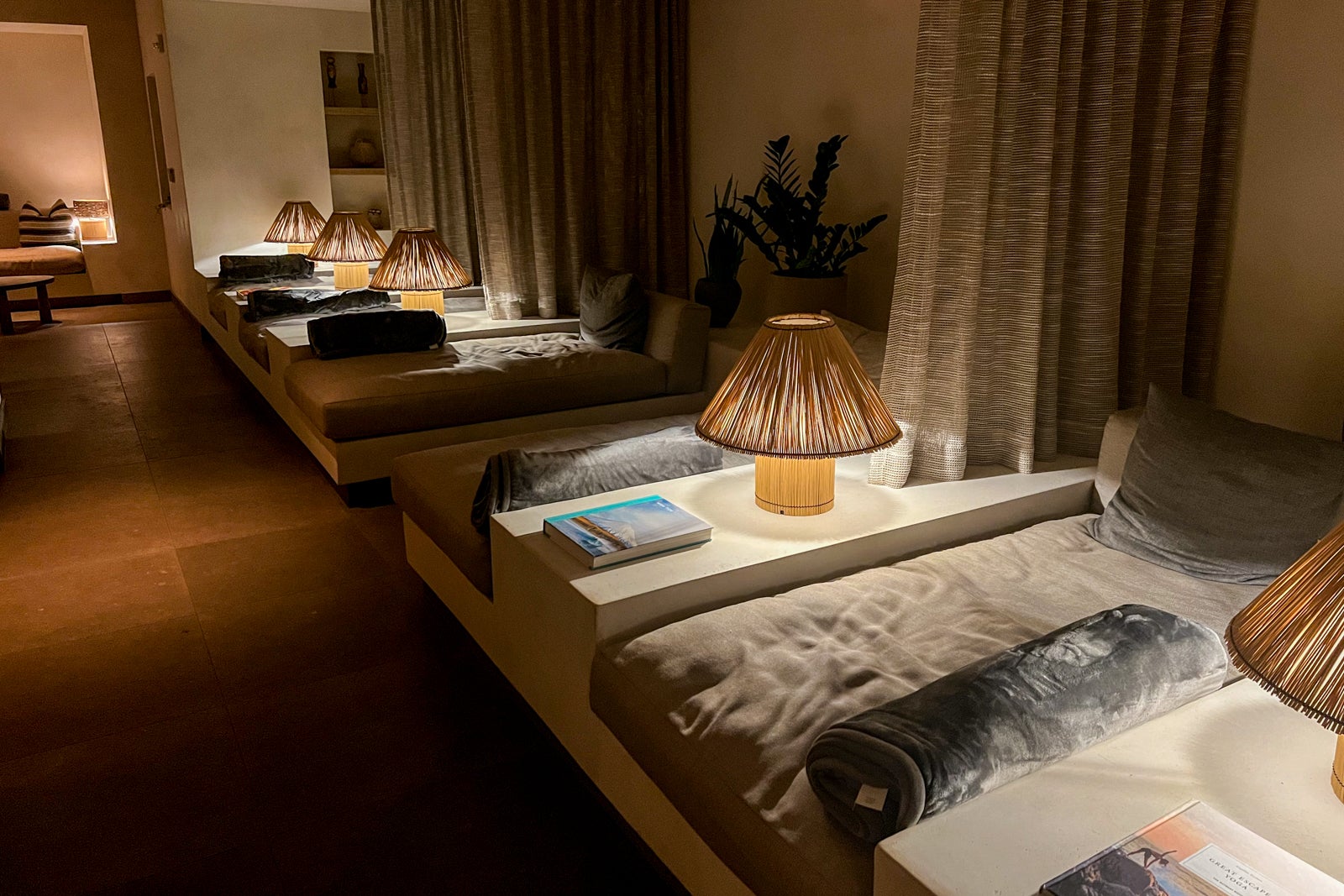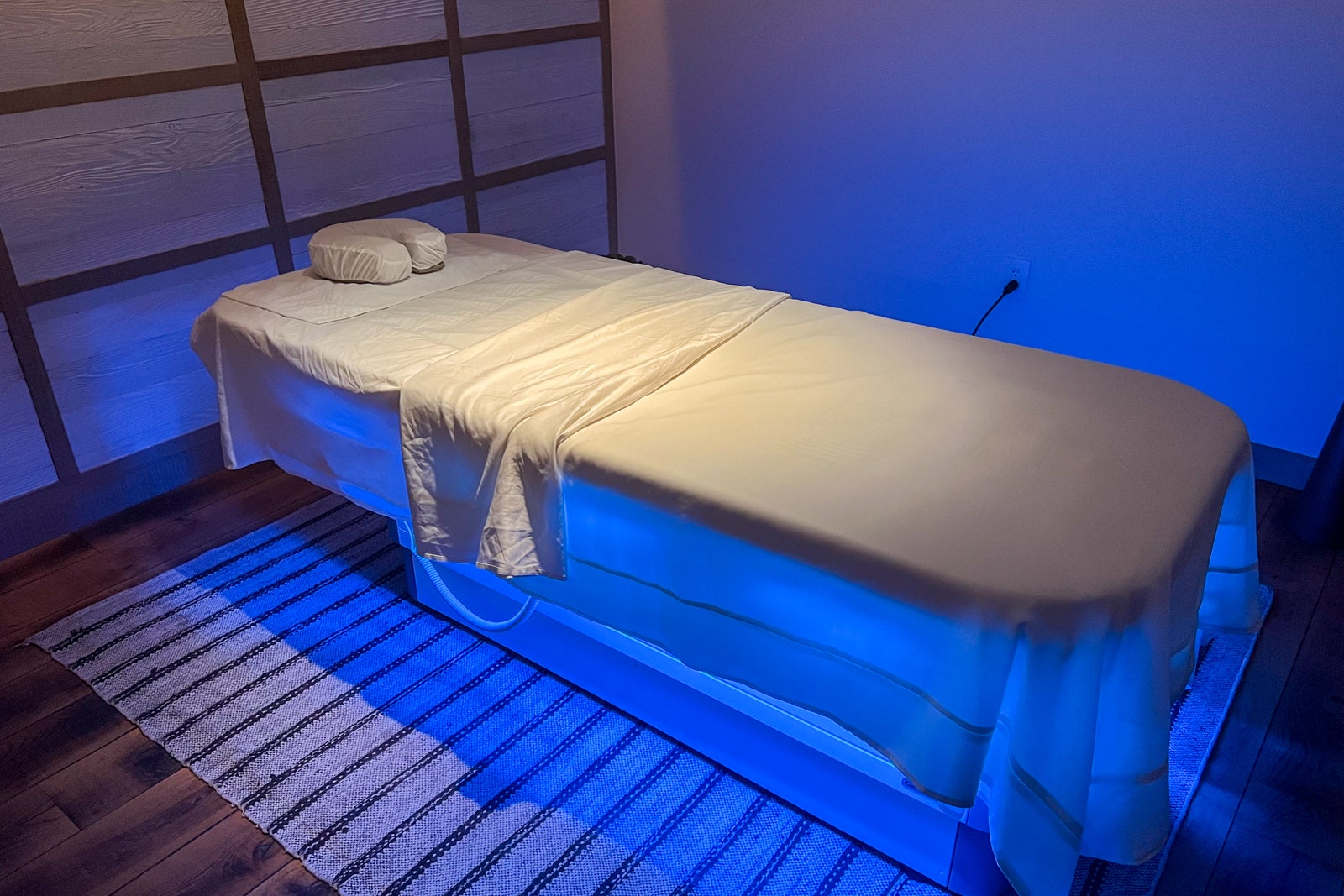 The treatment provider was exceptional, and I could have spent all day in that treatment room if they had let me. It's not an inexpensive treatment at $445, but if it fits in your budget, I can't say enough wonderful things about it.
And then came the time to go to my float — which looked amazing at first, with blue ambient light and a ceiling decorated with the constellations as seen from Scandinavia, with a backdrop of calming music. But, by design, all that shut off after a few minutes … and that was when I knew this was not the path to relaxation for me.
I'll try almost anything once, but even if I was there for work and it was a comped experience, a panic attack would be paid for by me alone.
Luckily, the spa staff was on alert for this to happen (my wild-eyed questions were probably the first clue I wasn't going to make it the whole 30 minutes), and when I popped out of the room after just a few minutes, they had an alternate treatment available at no extra fee as a standard offering, not just because I was there on a hosted trip. It made it risk-free to try something new, knowing there's a solid Plan B at the ready if needed.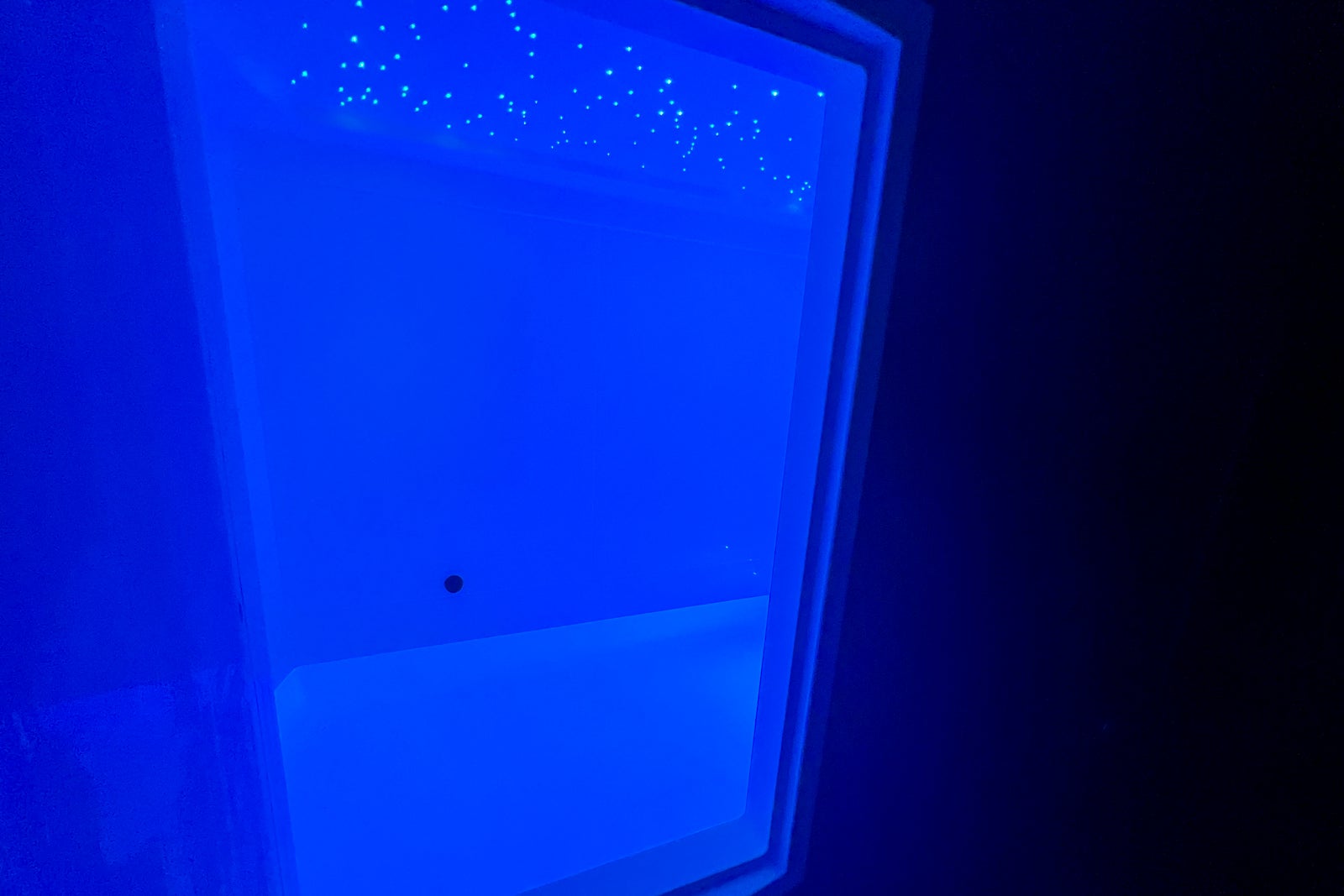 Vibrational acoustic therapy was much more my cup of tea, but don't be afraid to try the float if that sounds interesting — the staff is on hand if you decide it's not for you, and it was a really cool sensation.
Amazing pools and on-site beach
Unlike some resorts on Kauai, this one has a swimmable beach with gorgeous trees and plenty of plush chairs and umbrellas to go around.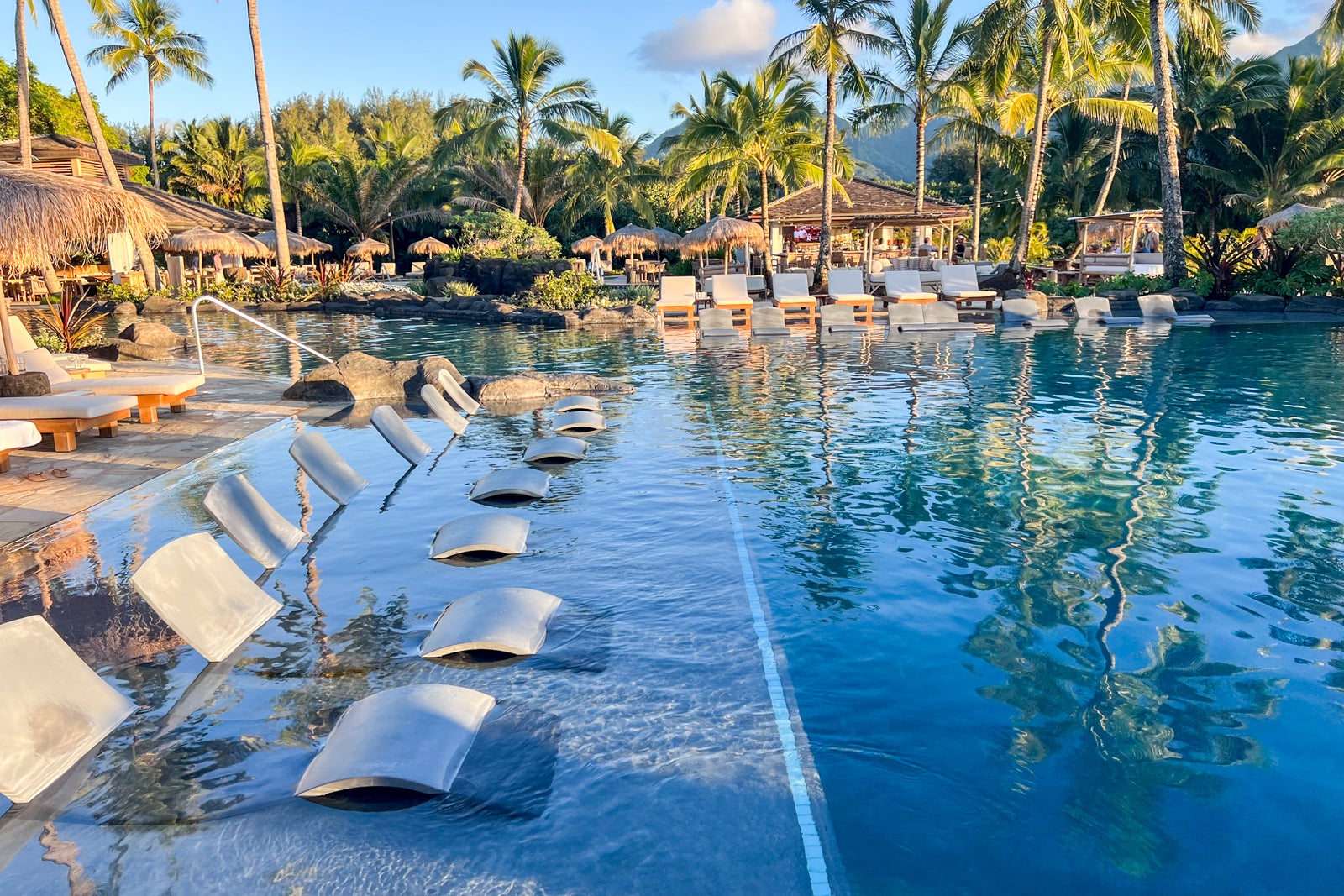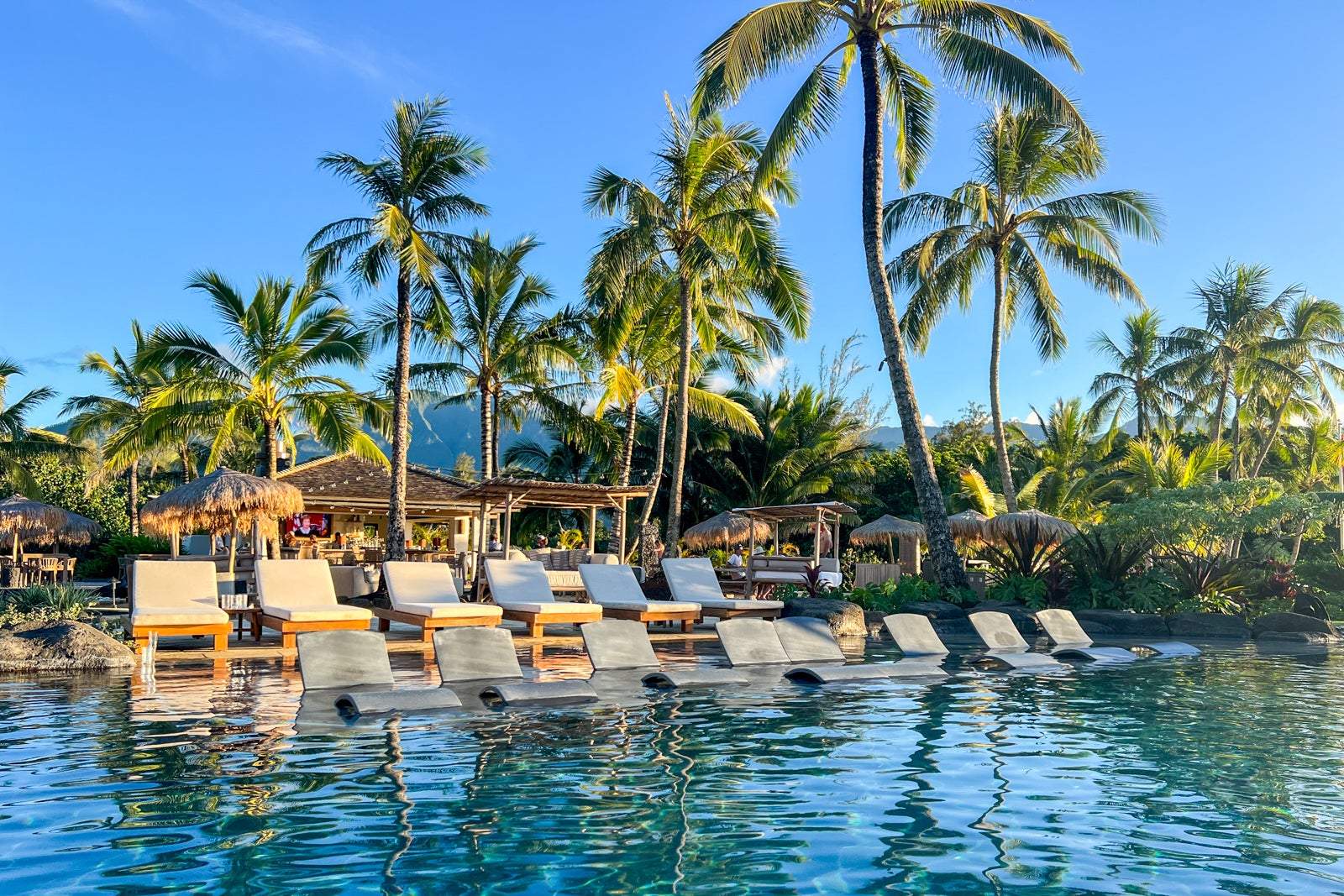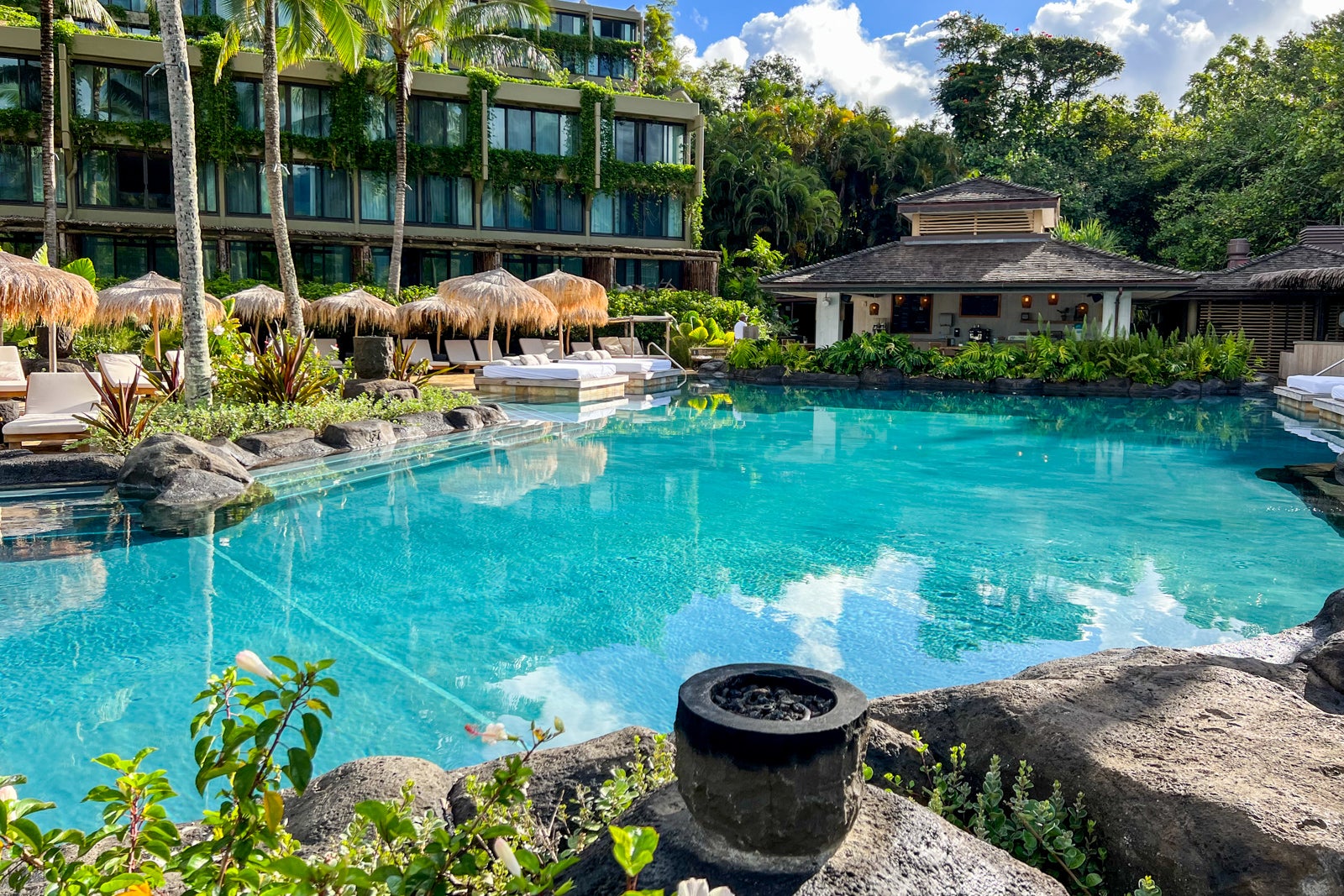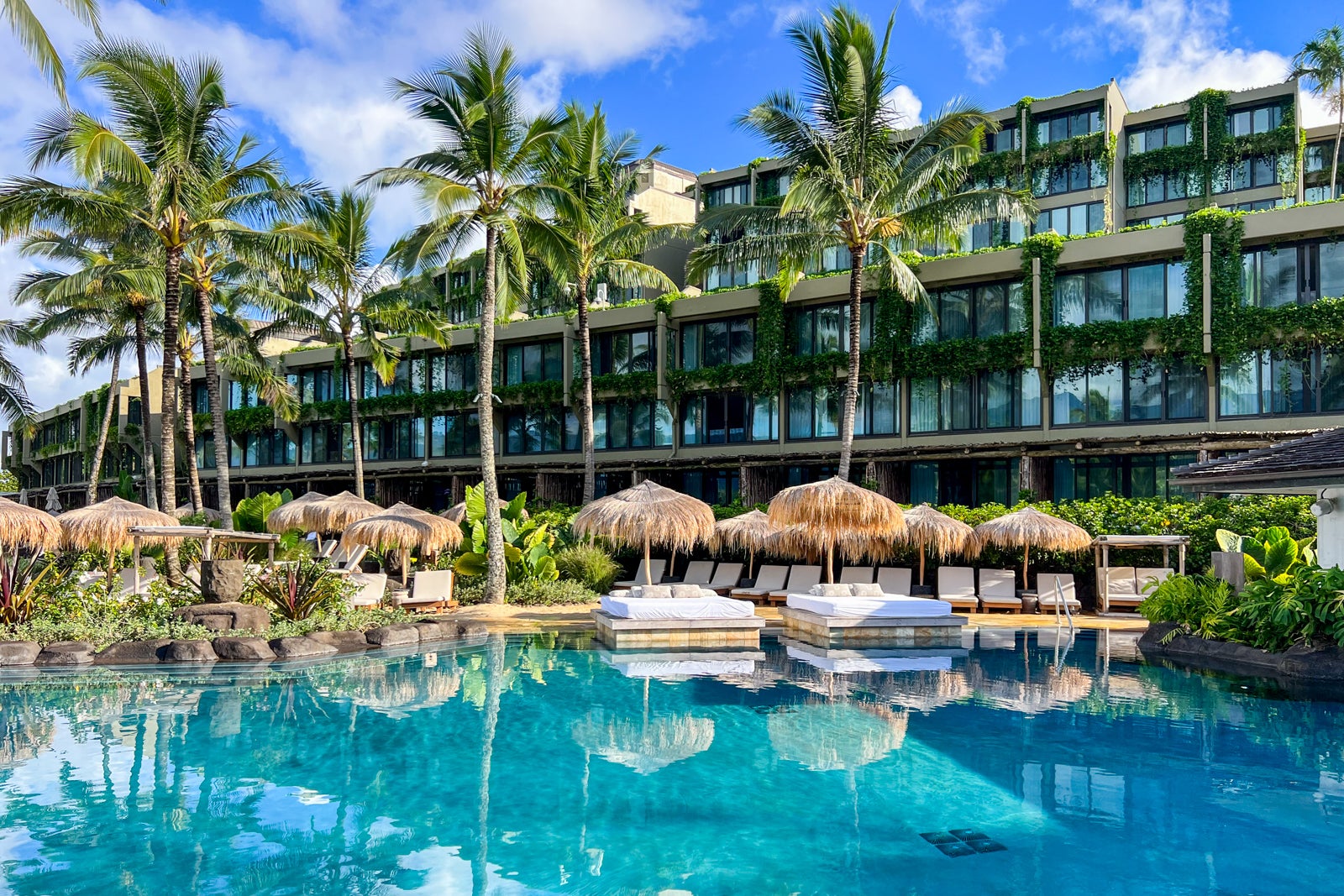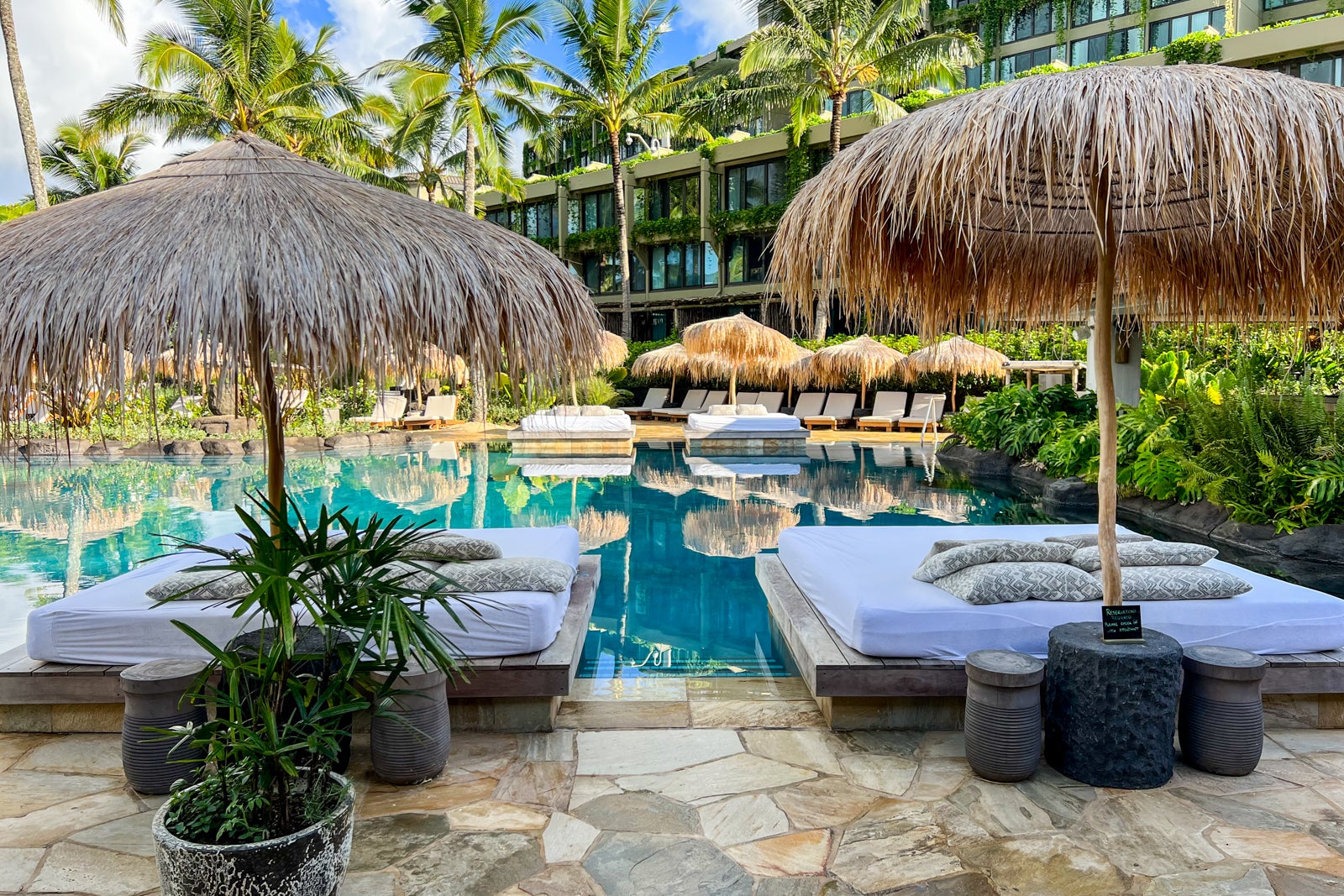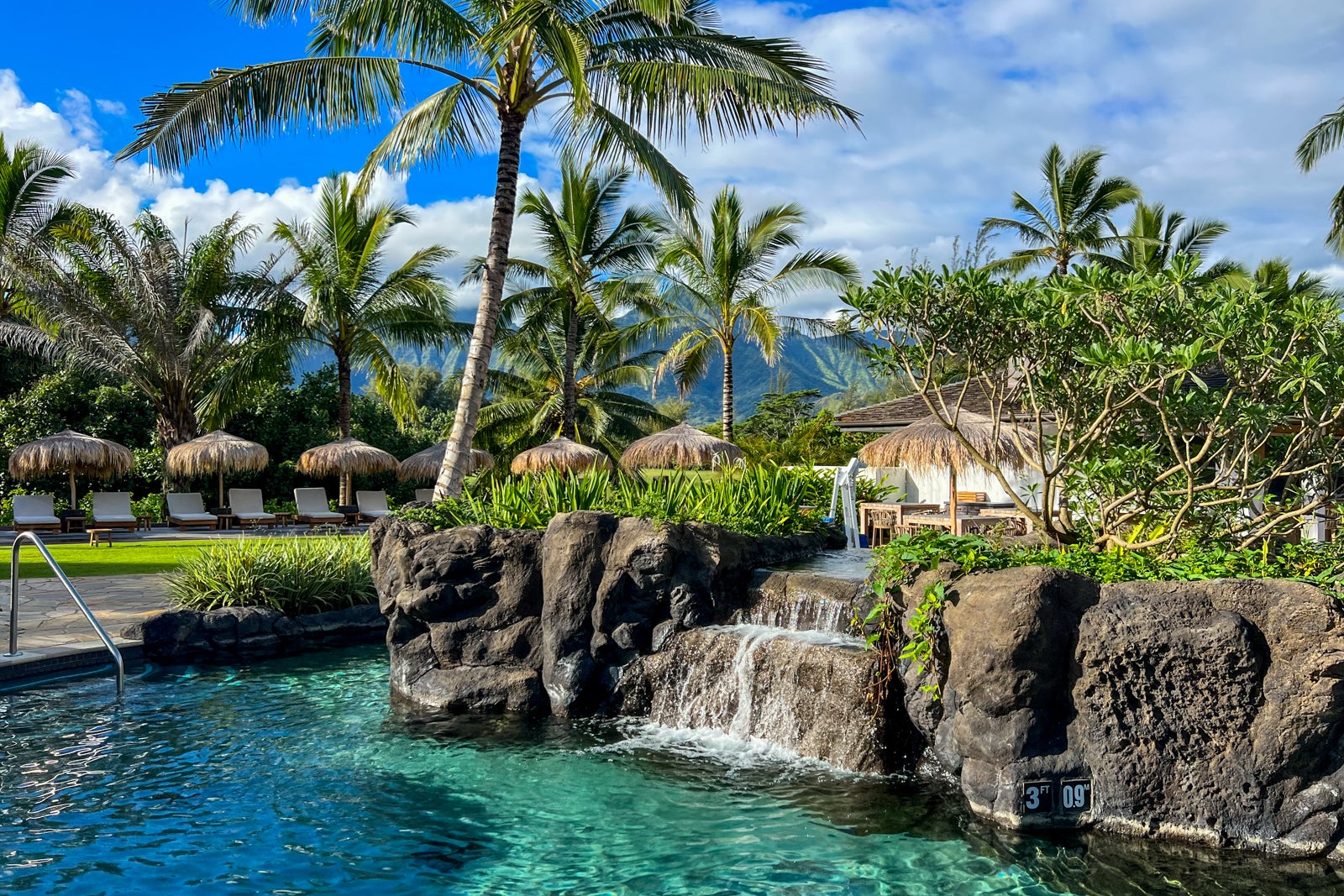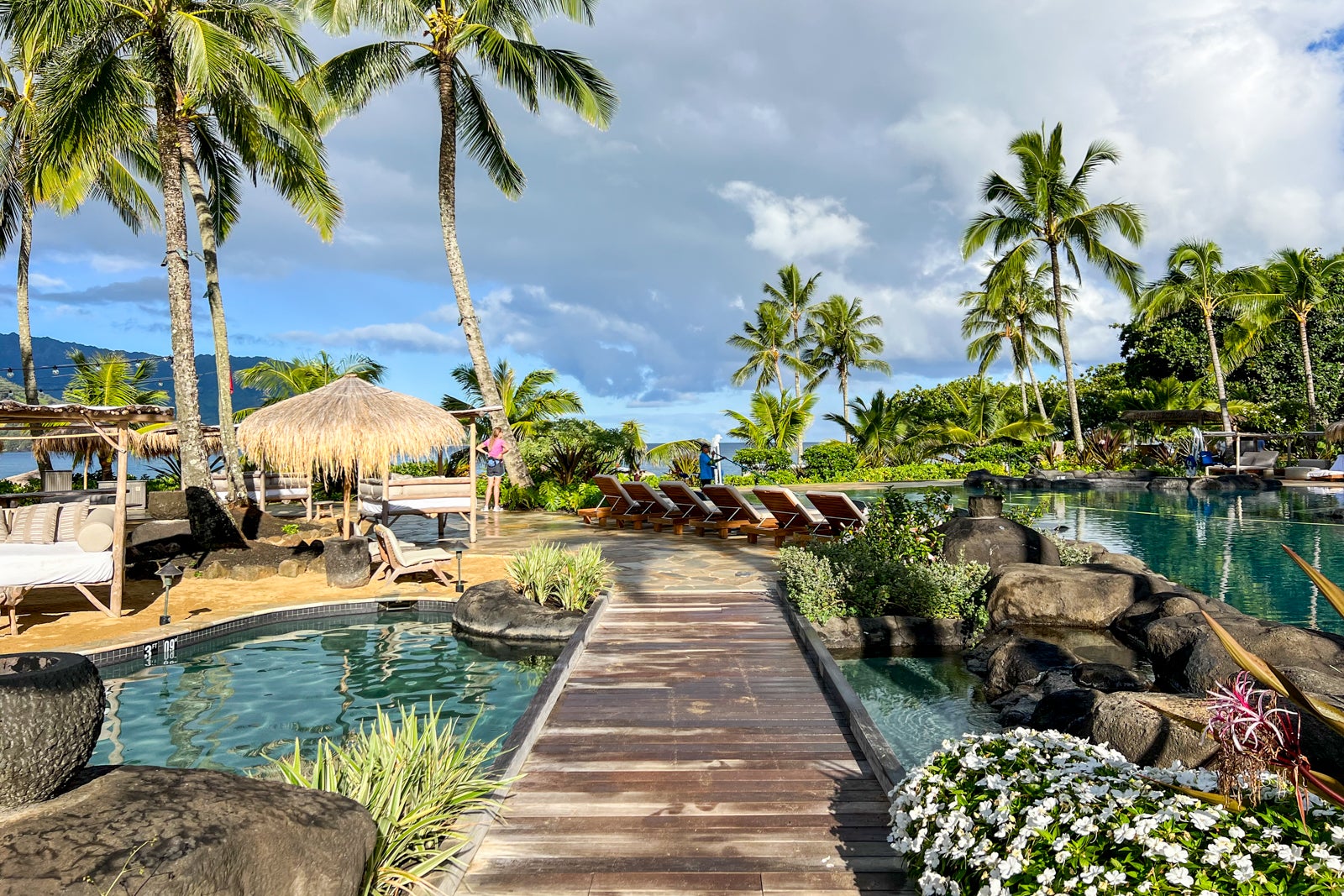 The main pool level near the beach has multiple pools, a waterfall, hot tubs and plenty of varying depths, nooks and crannies to find "your spot." There are also plenty of shaded spots around the pool, but know that the larger beds do come with an additional reservation fee. Booking a bed is really not necessary if all you want is a shaded spot by the water.
On the eighth level is an all-new infinity pool that wasn't there at all in the hotel's previous chapters. If you want a break from kids and families, this is the place for you, with an adjacent bar and some amazing views of the bay below. Note that space is limited at the adults pool, so you may want to time it right if you want a front-row chair.
Related: These are our favorite hotel pools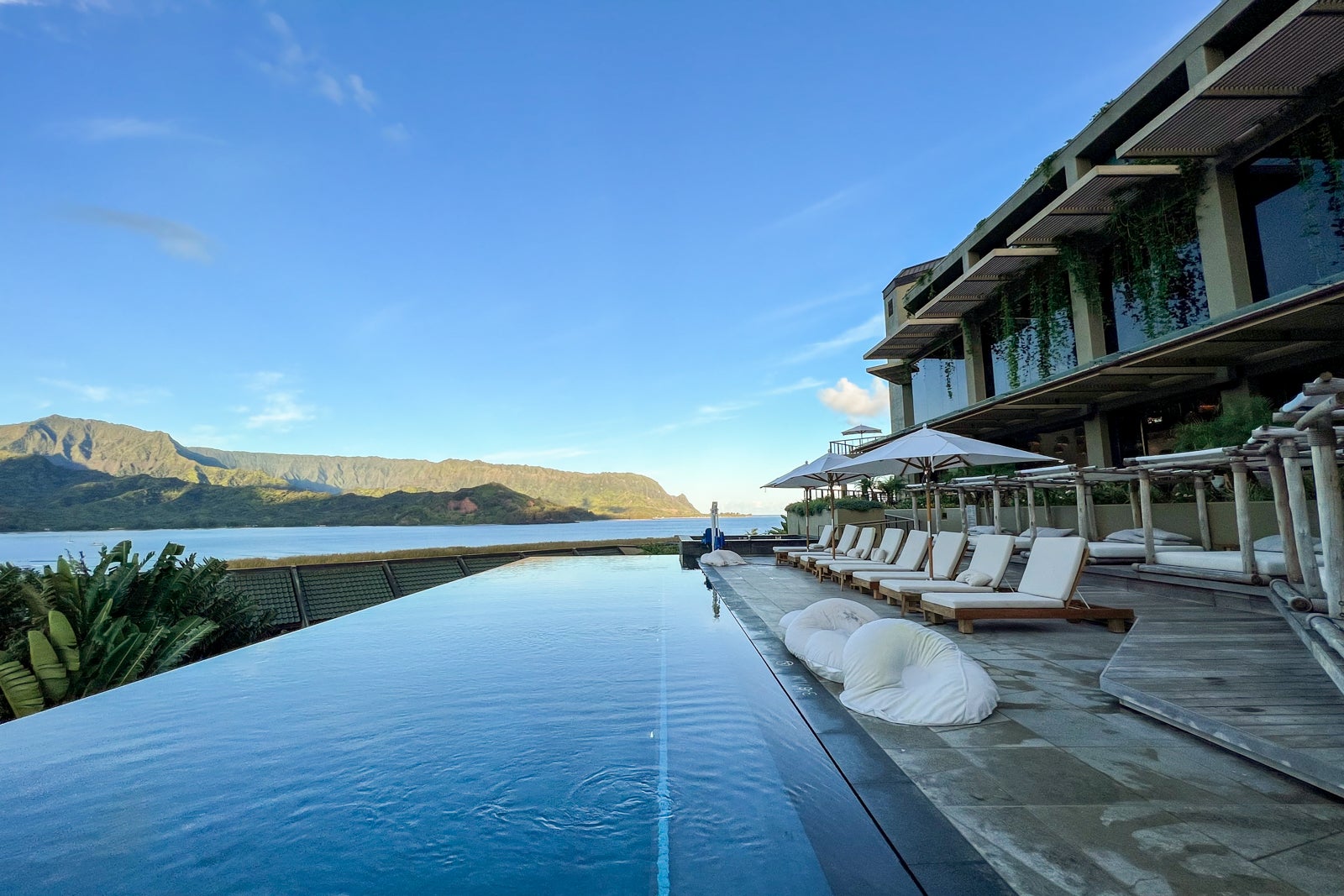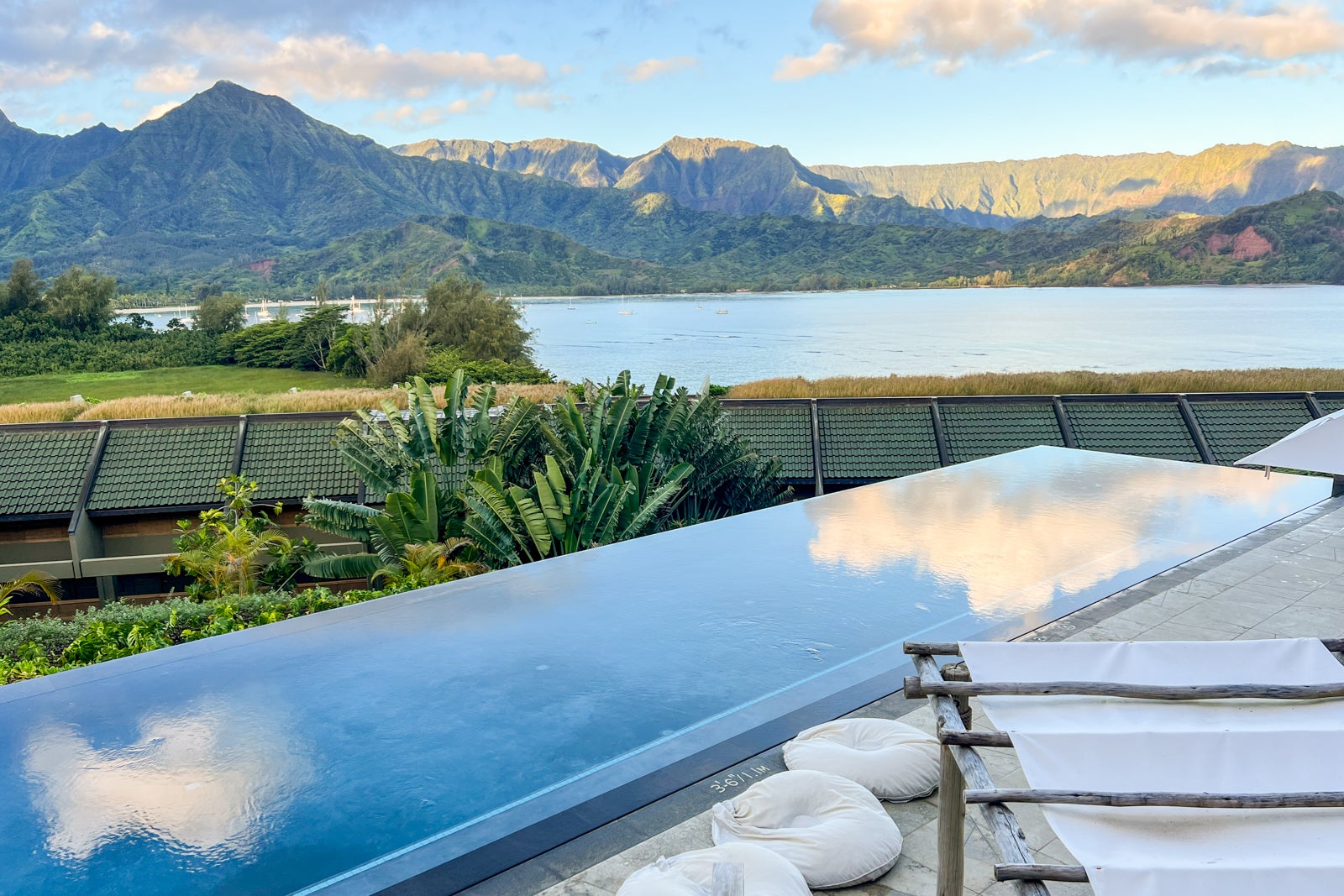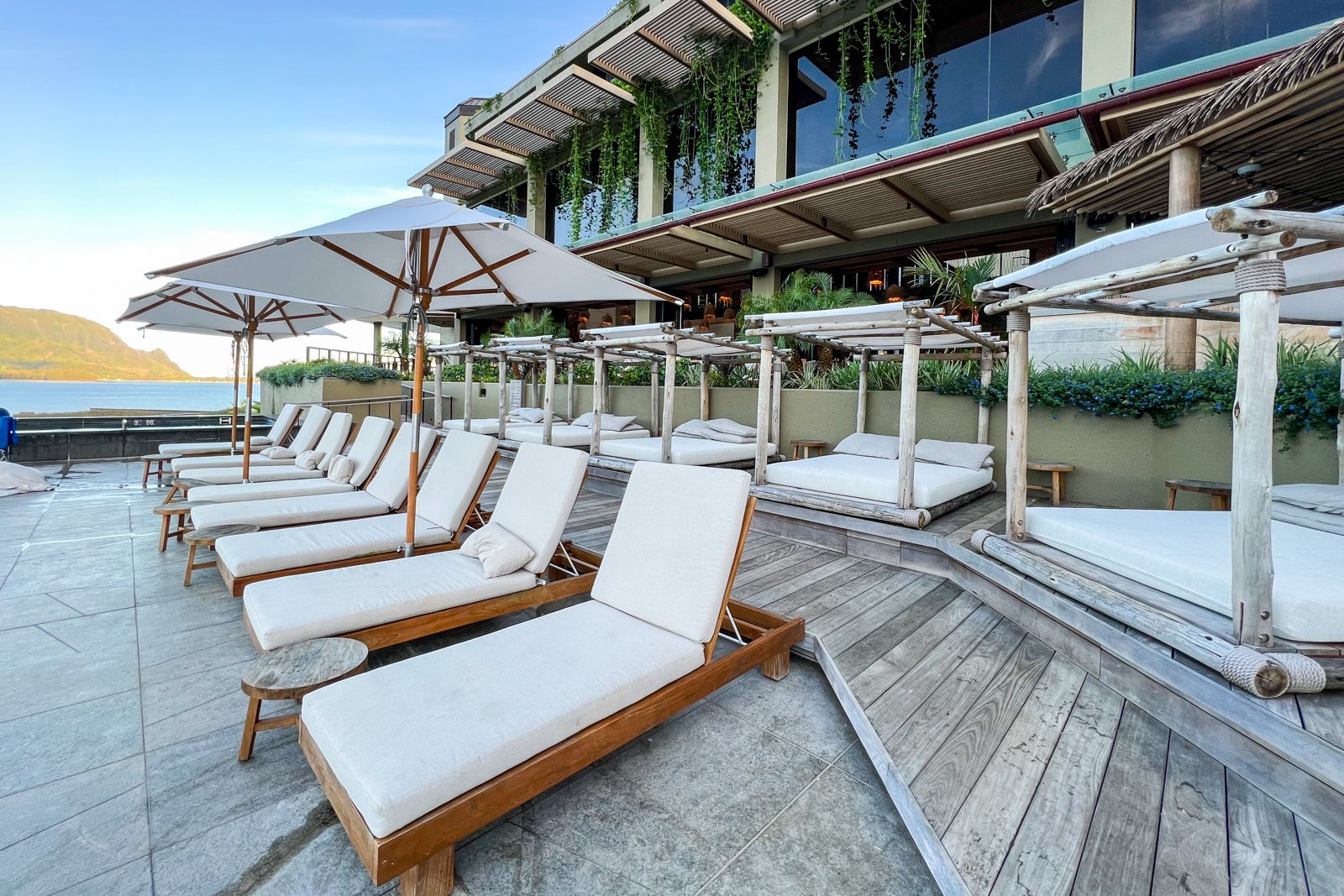 Great food
1 Kitchen
1 Kitchen is the hotel's signature restaurant, open for breakfast and dinner, with reservations not required for breakfast. It's a large, open-air space that sources its produce, proteins and seafood in Hawaii.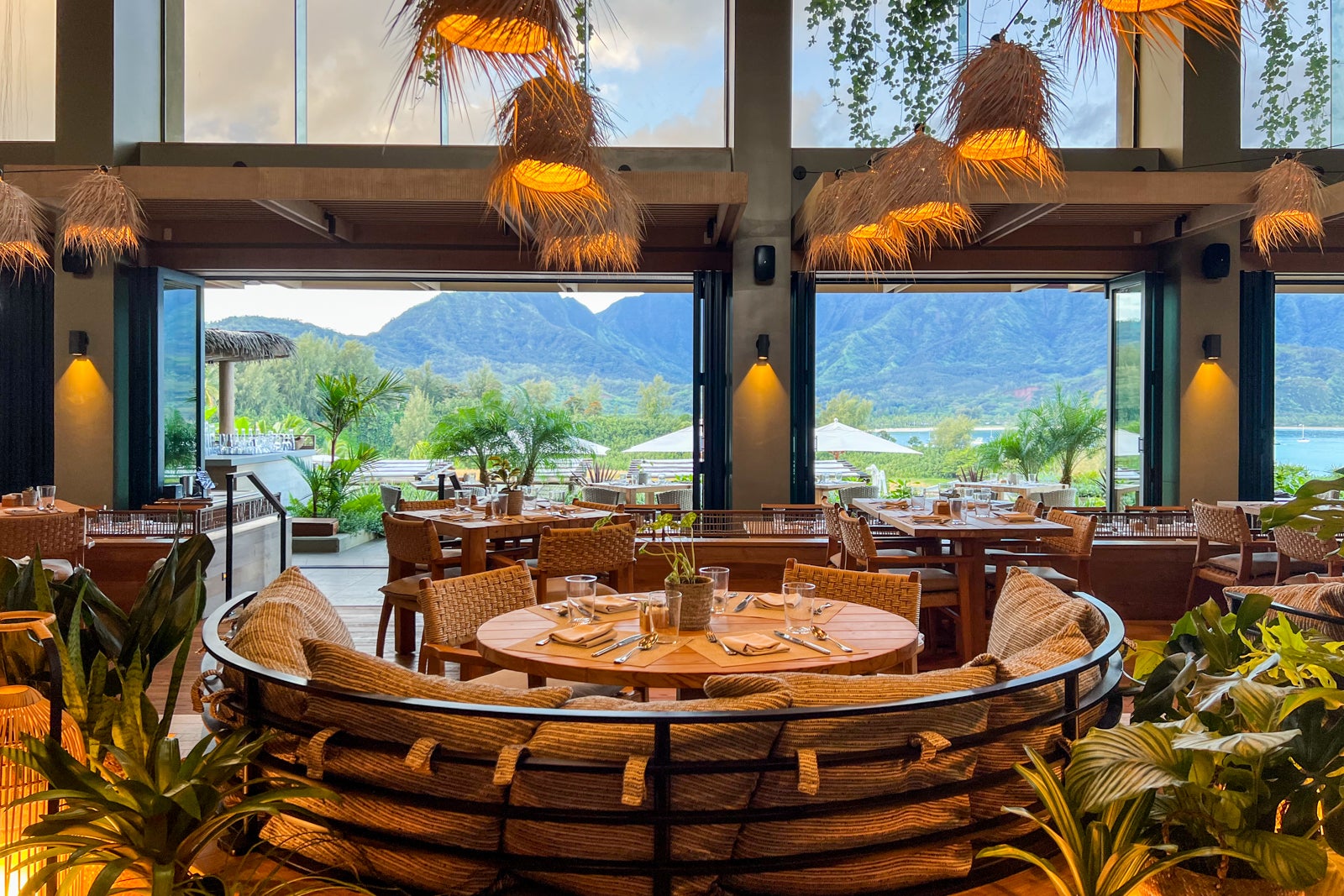 We ate breakfast here each morning, and there are both a la carte items and a buffet ($48) that includes juice and coffee, along with a variety of locally produced and inspired pastries, fruits, hot items and cooked-to-order eggs and omelets.
Honestly, I loved this and looked forward to it each morning with excitement. My first plate typically consisted just of fruit and yogurt, moving into the proteins and more after that. It was fantastic.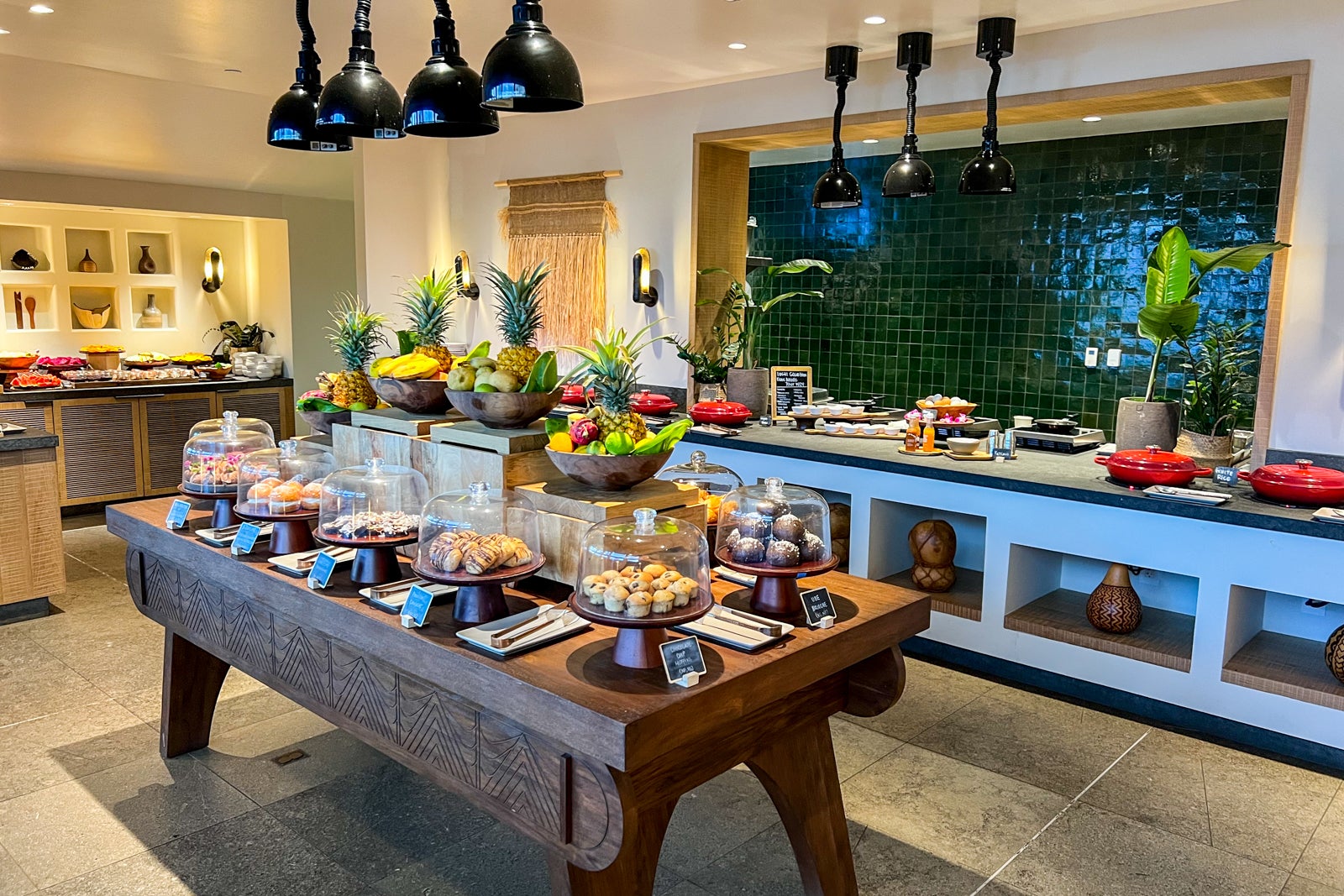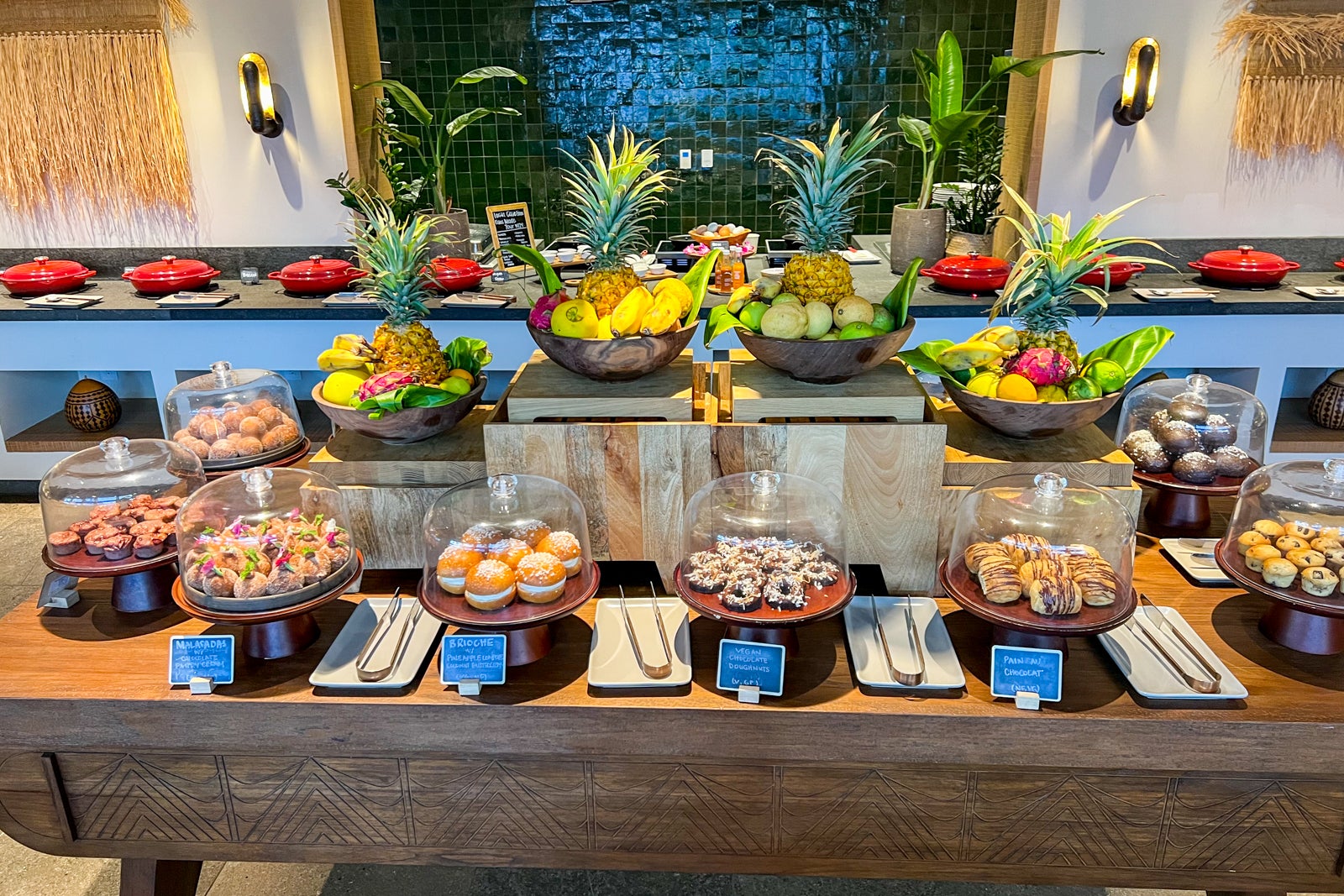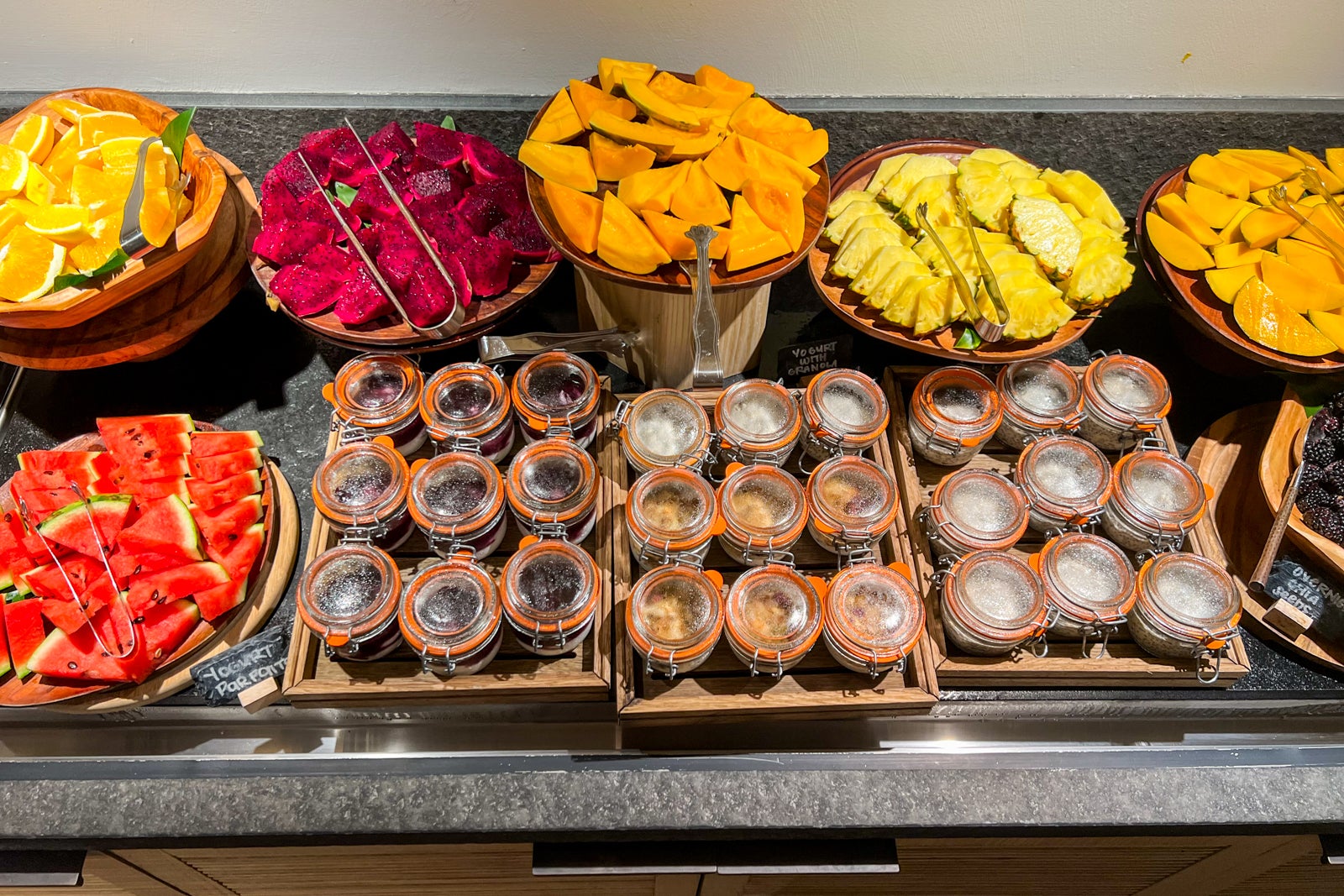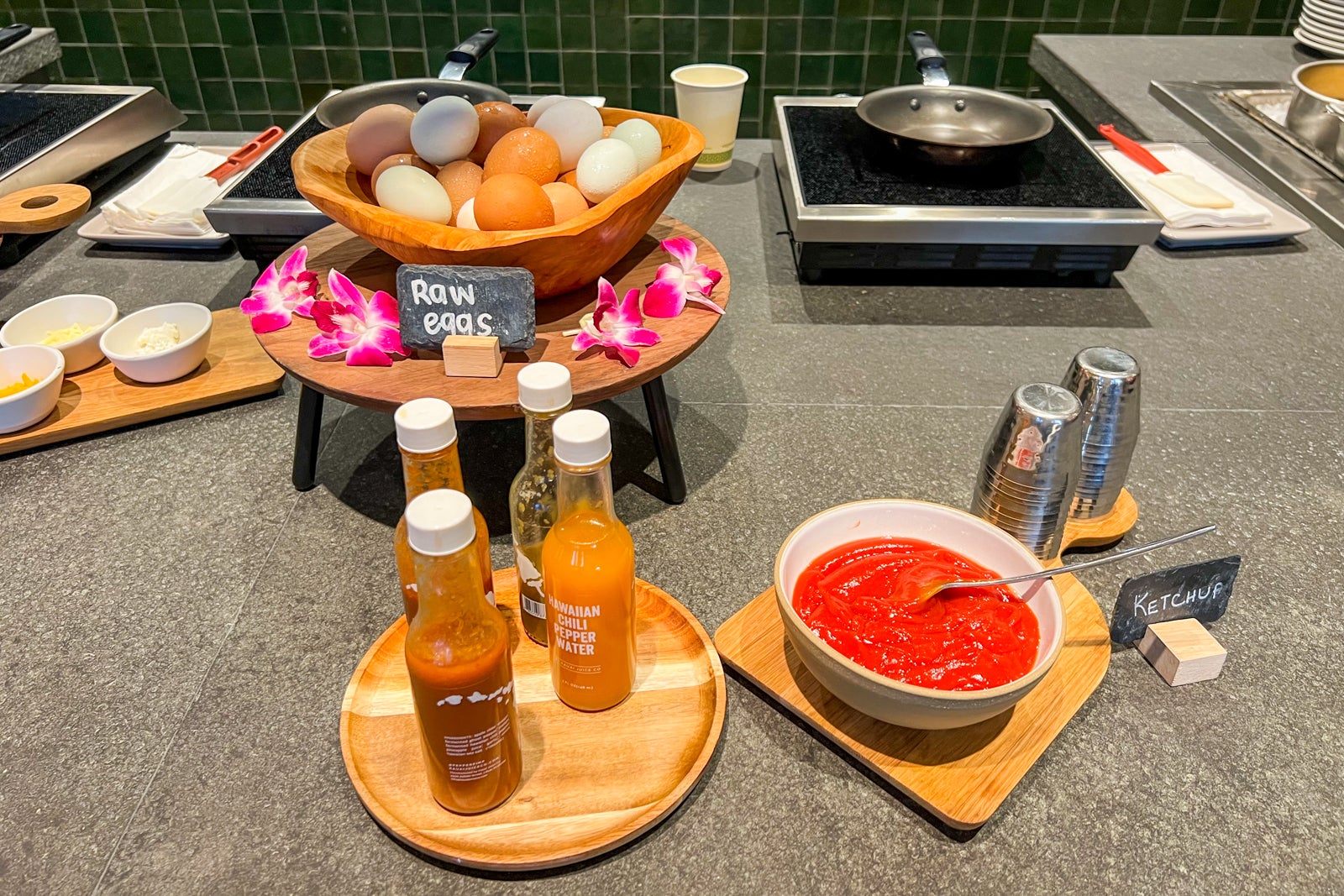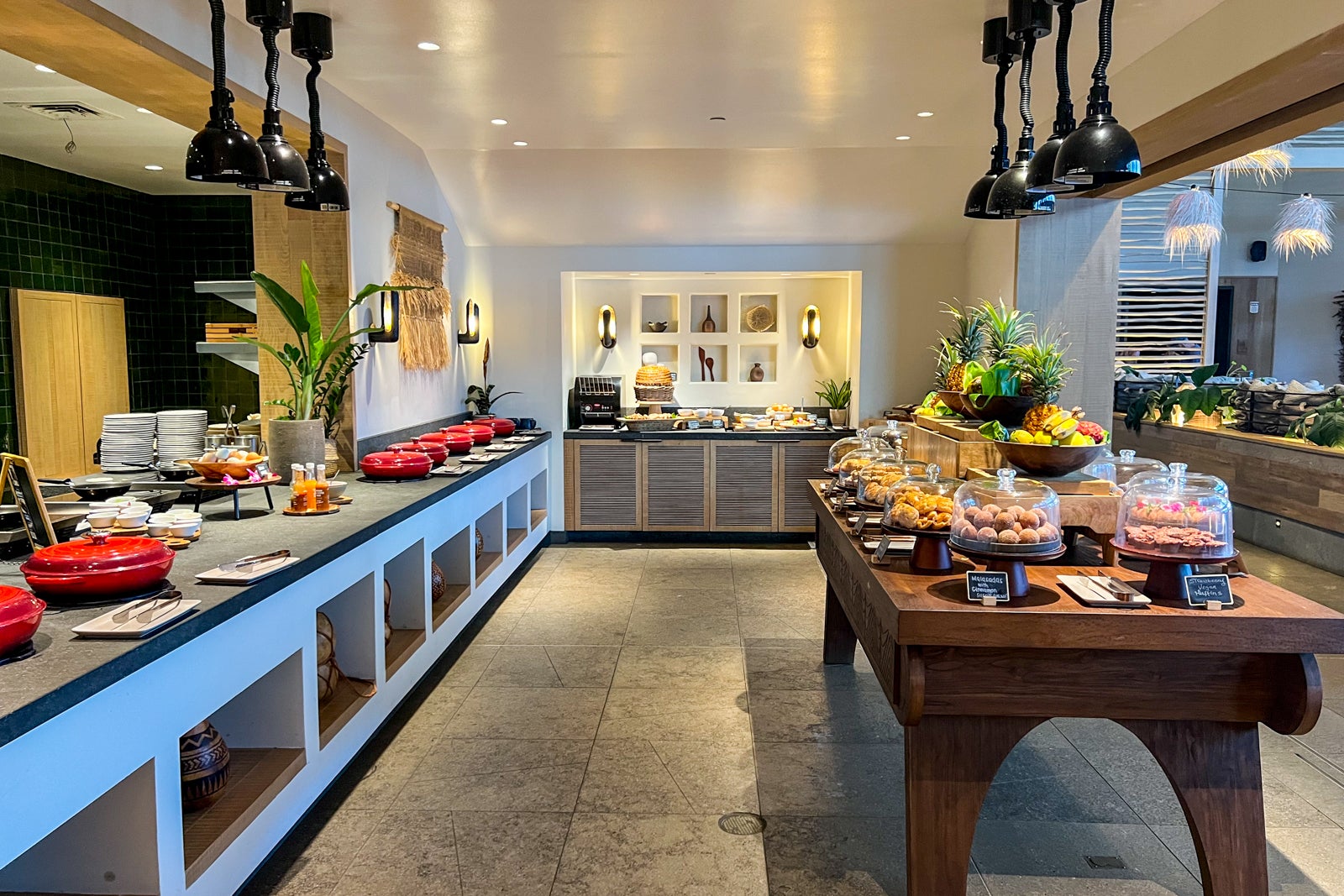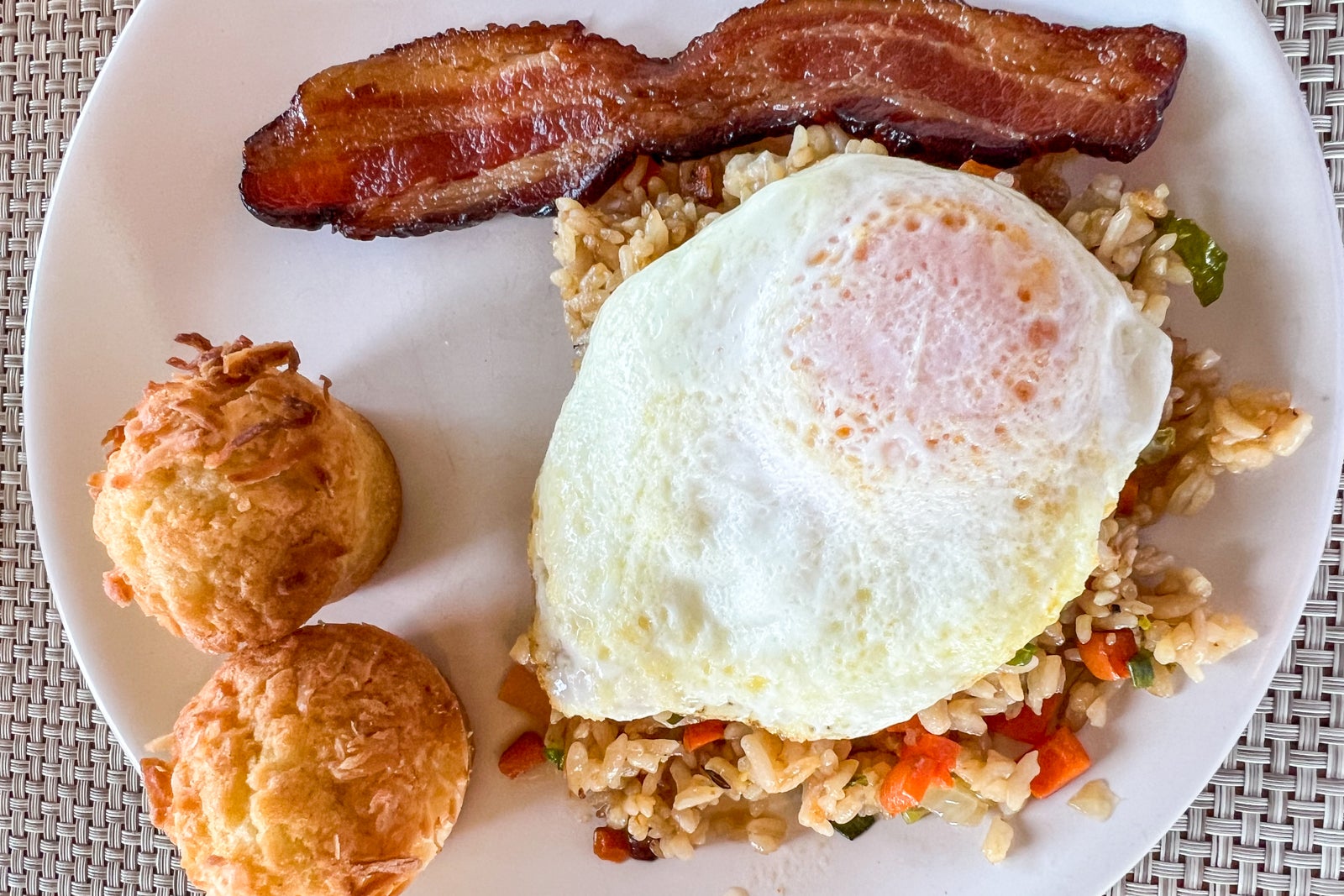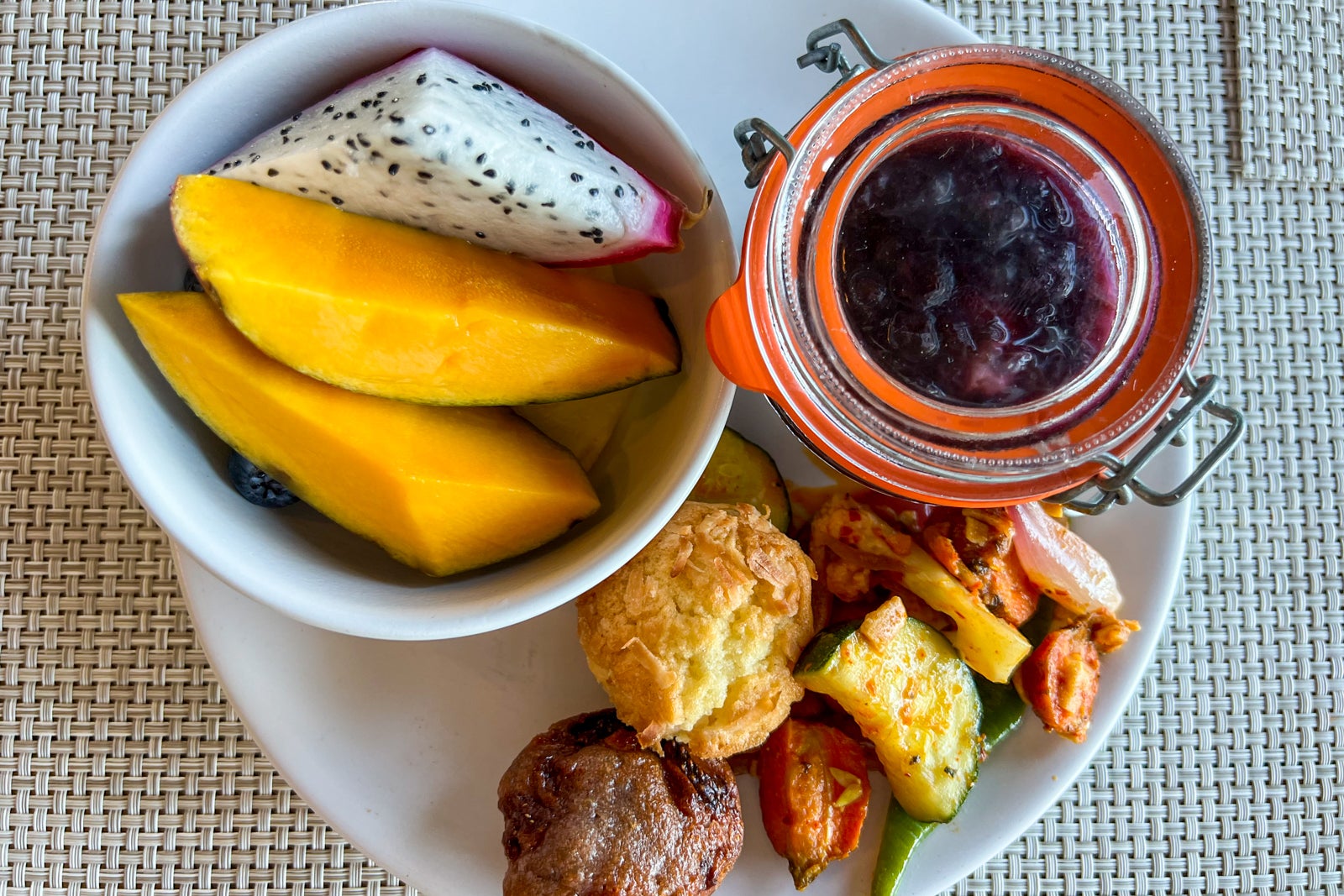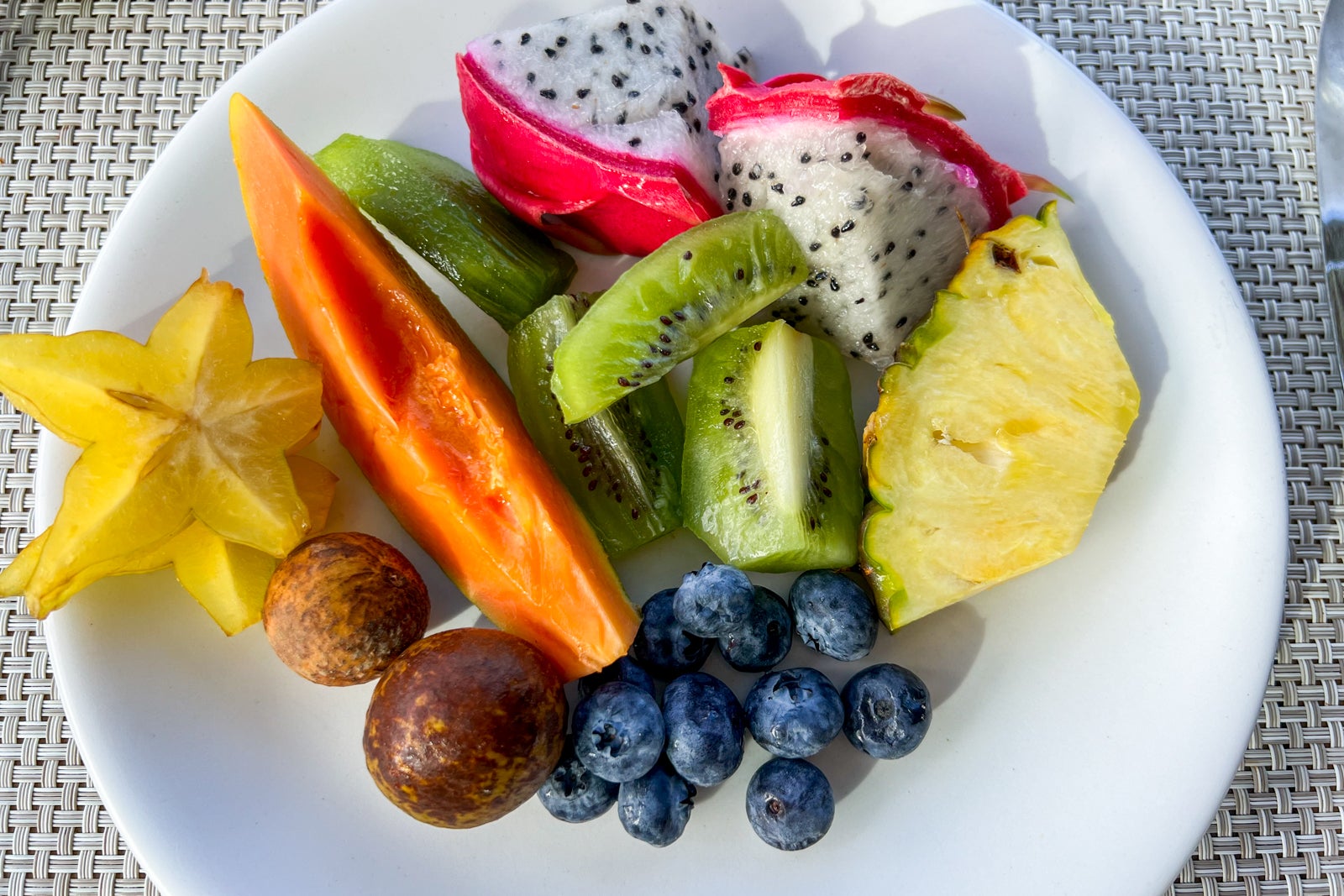 While a Hawaiian-blend coffee is included if you do get the buffet, on a couple of occasions we did splurge on the 100% Hawaiian coffee served in a French press. Our favorite was the Kona Honey ($20), which was just as it sounded — local with a touch of sweetness.
Whatever you decide to eat or drink, try and get a table at the edge of the restaurant where you can easily keep an eye out for rainbows — they appeared during two of our four morning meals.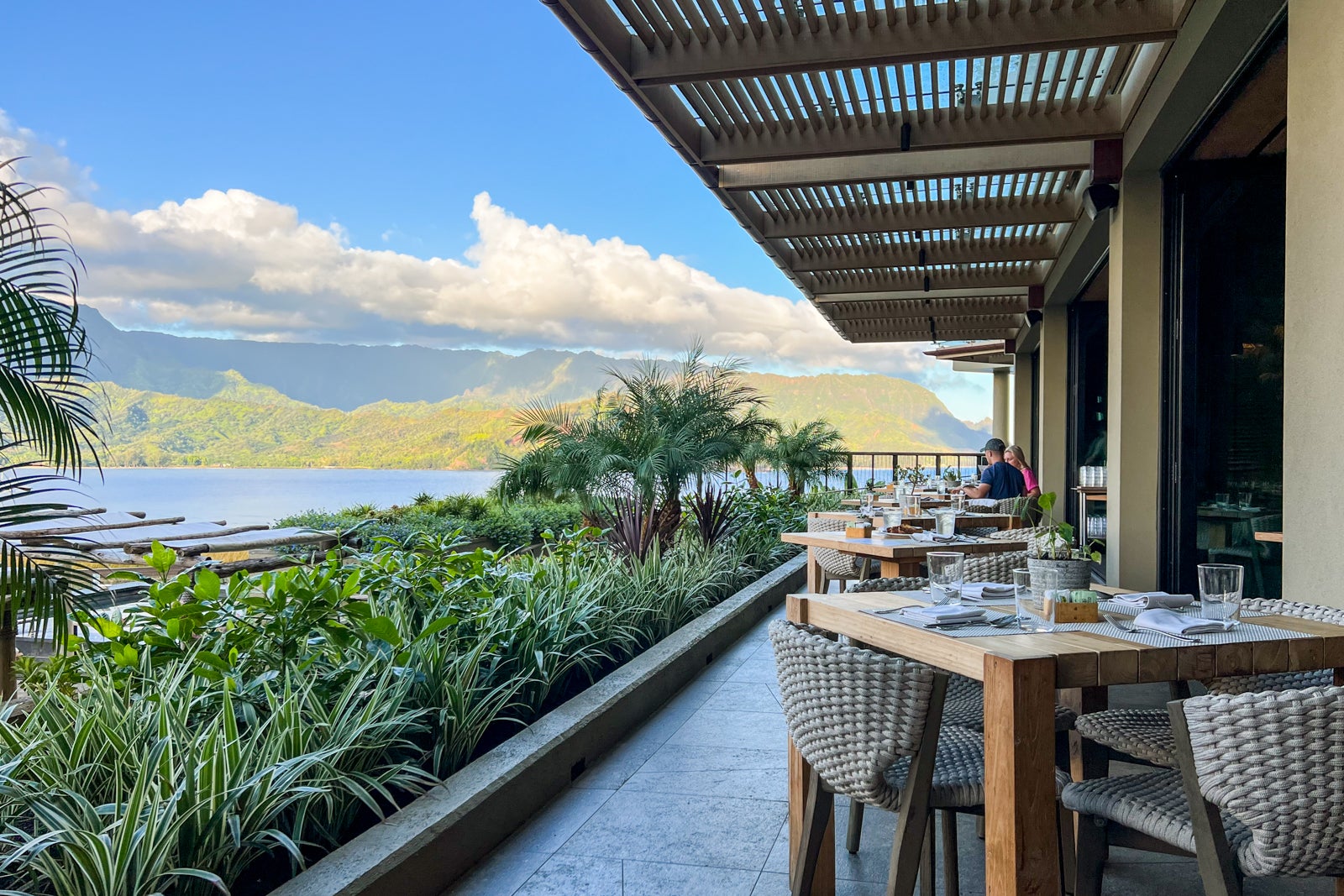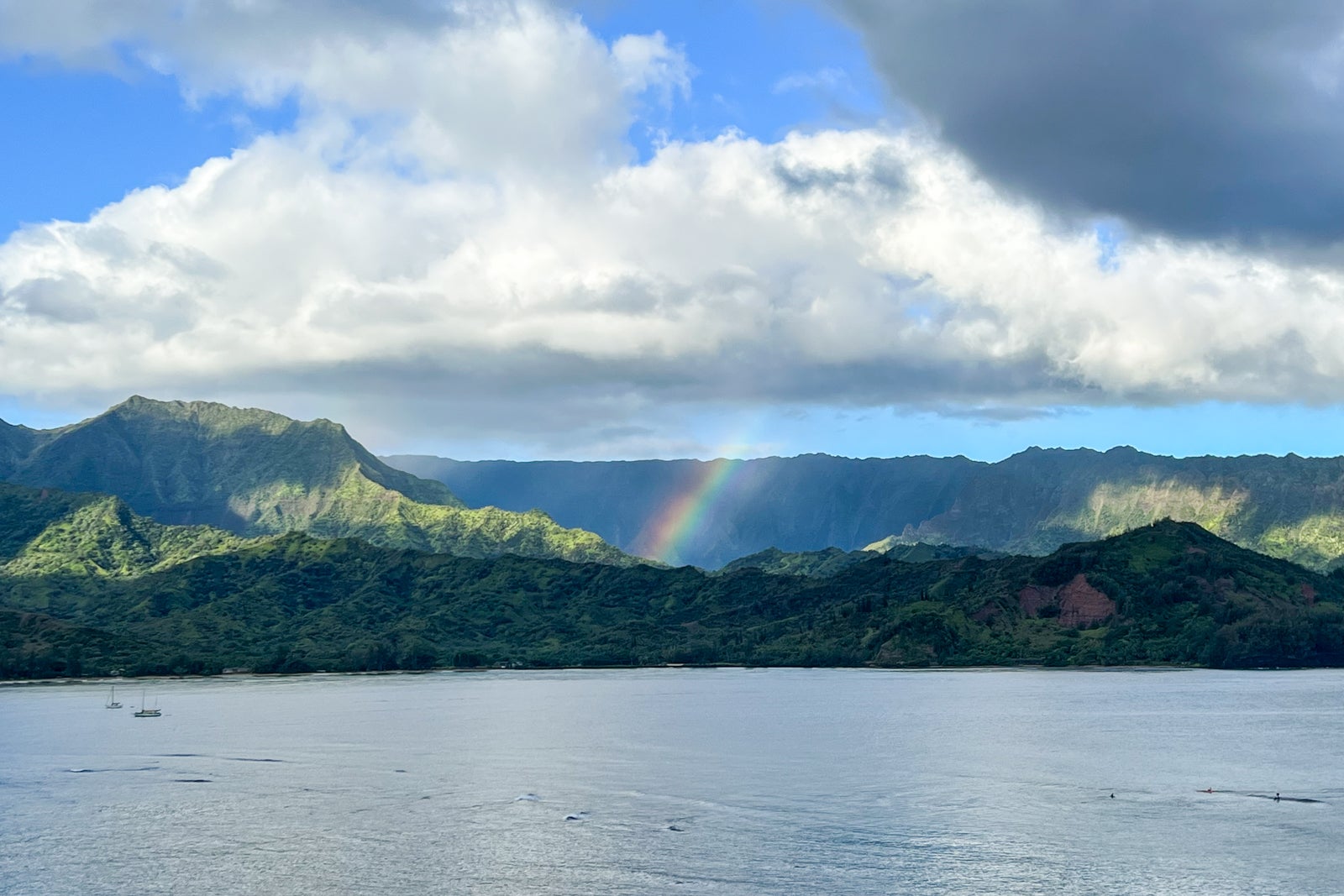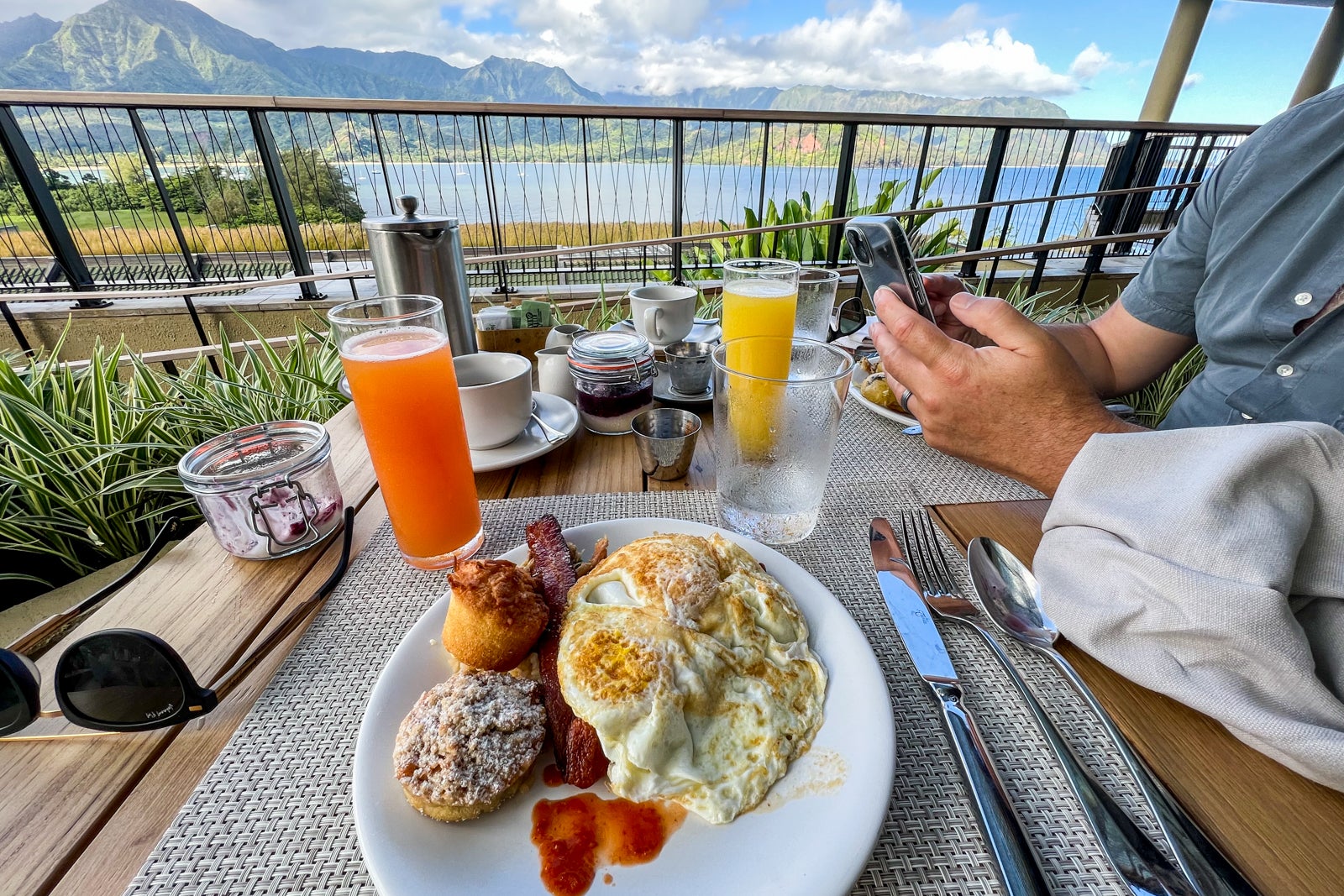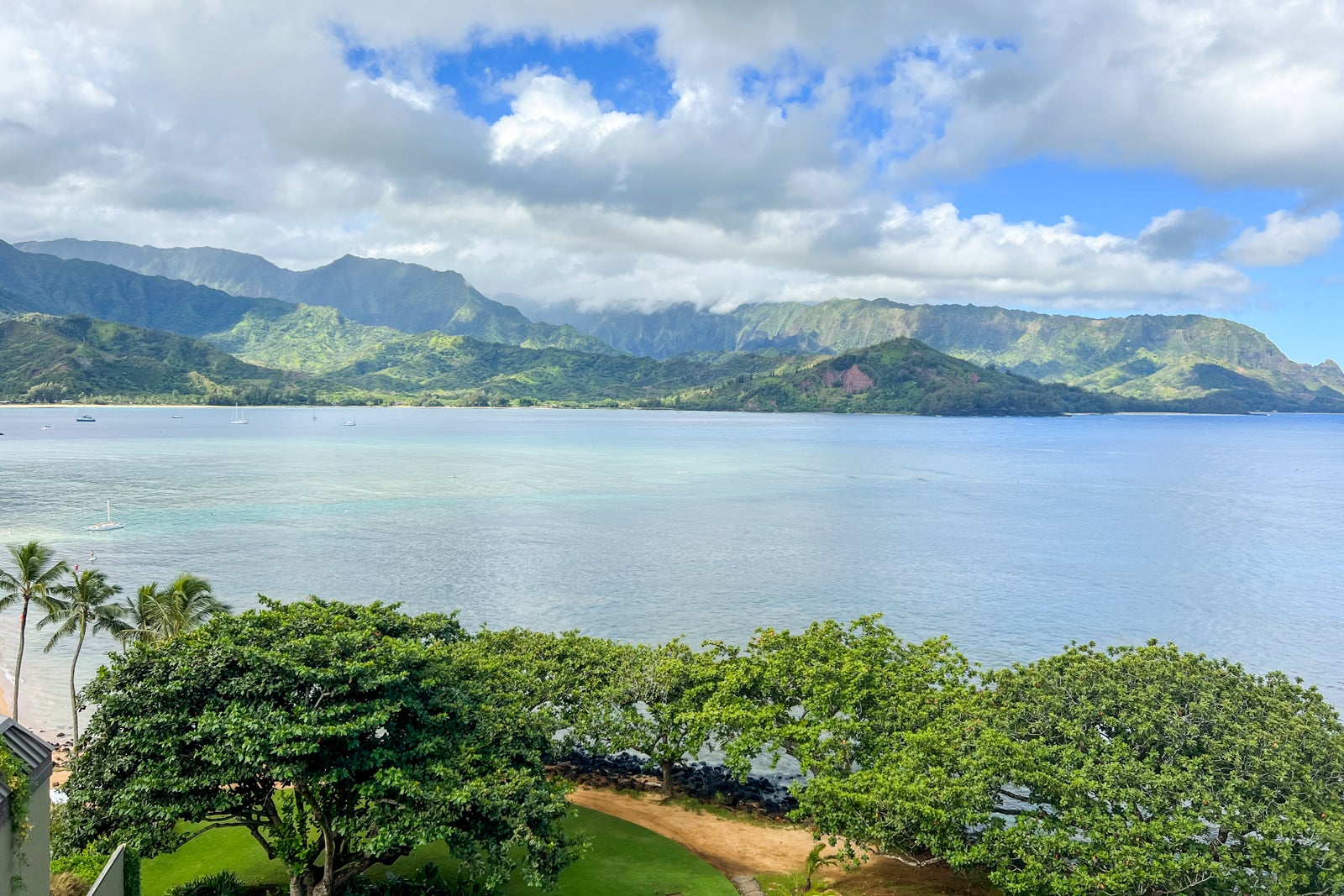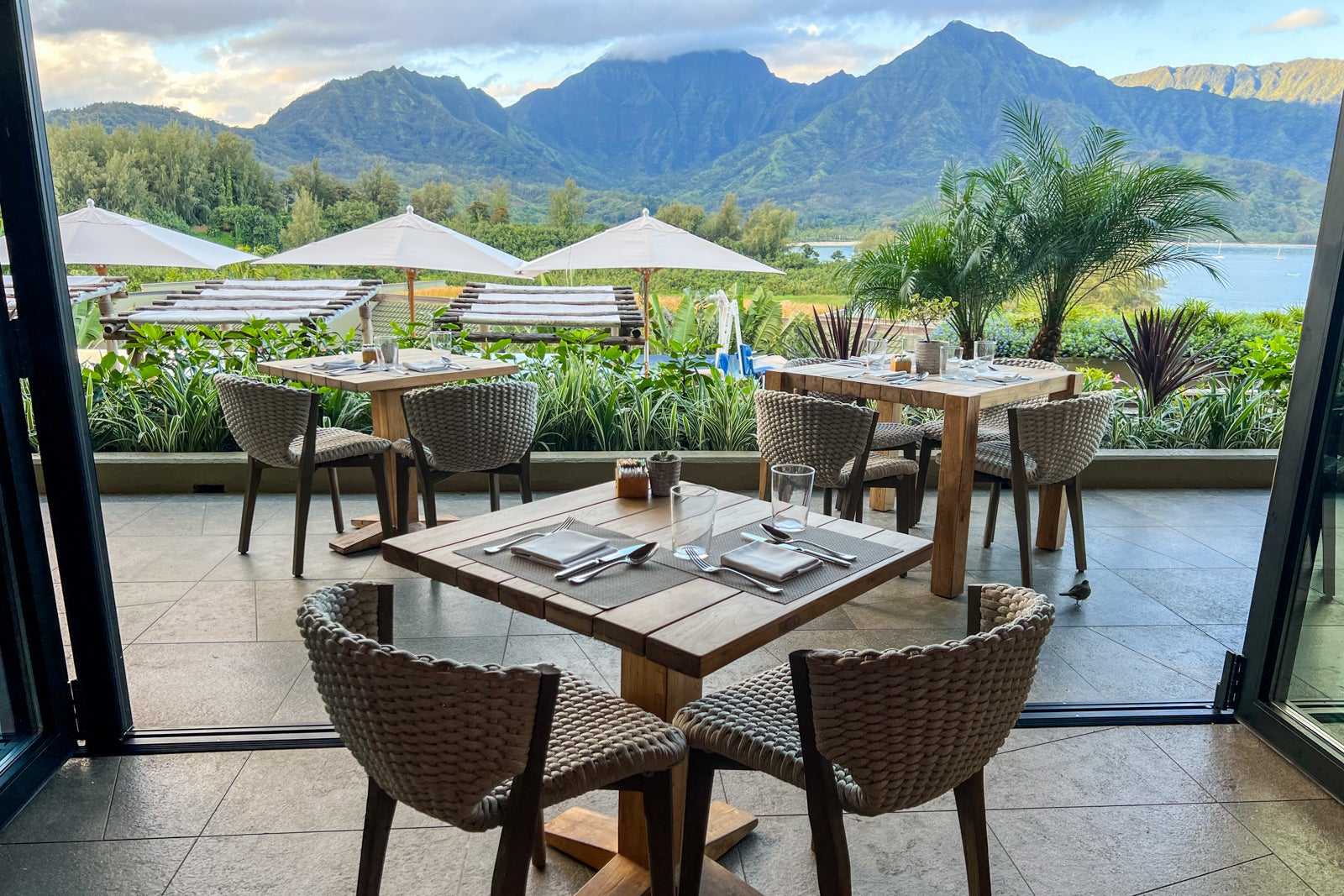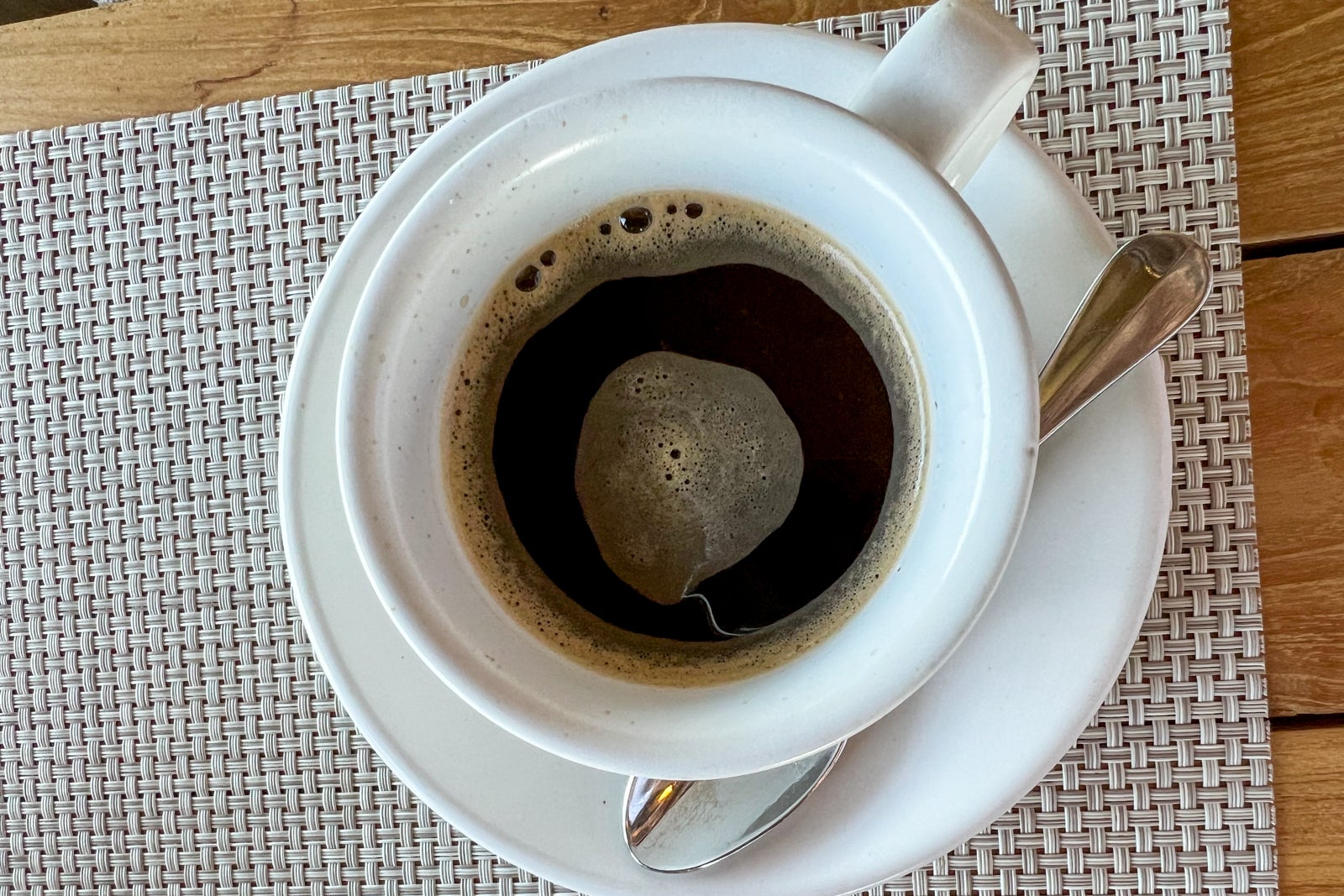 Welina Terrace
You'll want to make reservations for Welina Terrace well in advance of your trip as it always books up — and the sushi is as great as the views. (Bring sunglasses, though, because the light comes straight at you during sunset.)
This is lounge-style seating for the most part, with incredible views of the sunset and live music from 6-9 p.m. daily.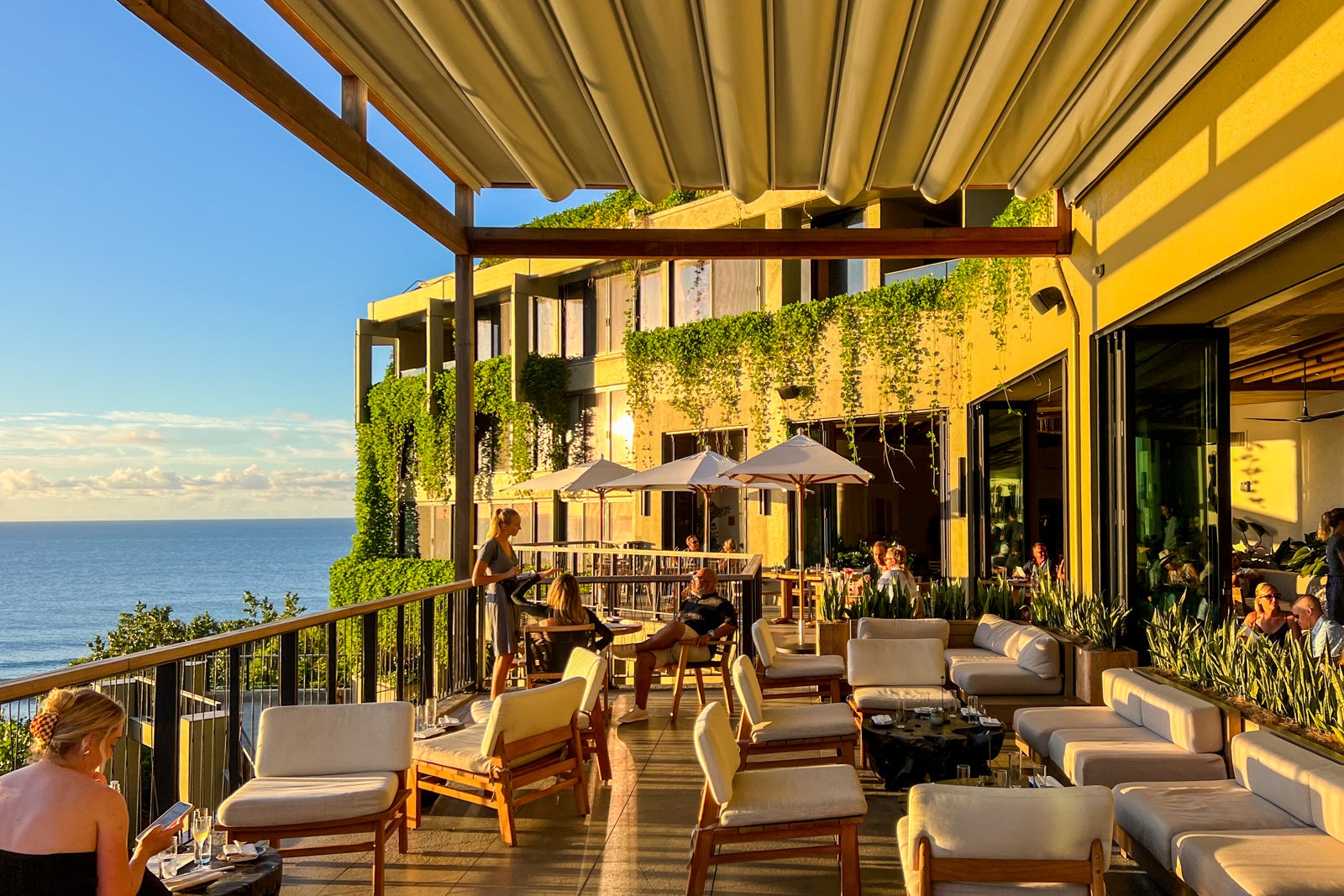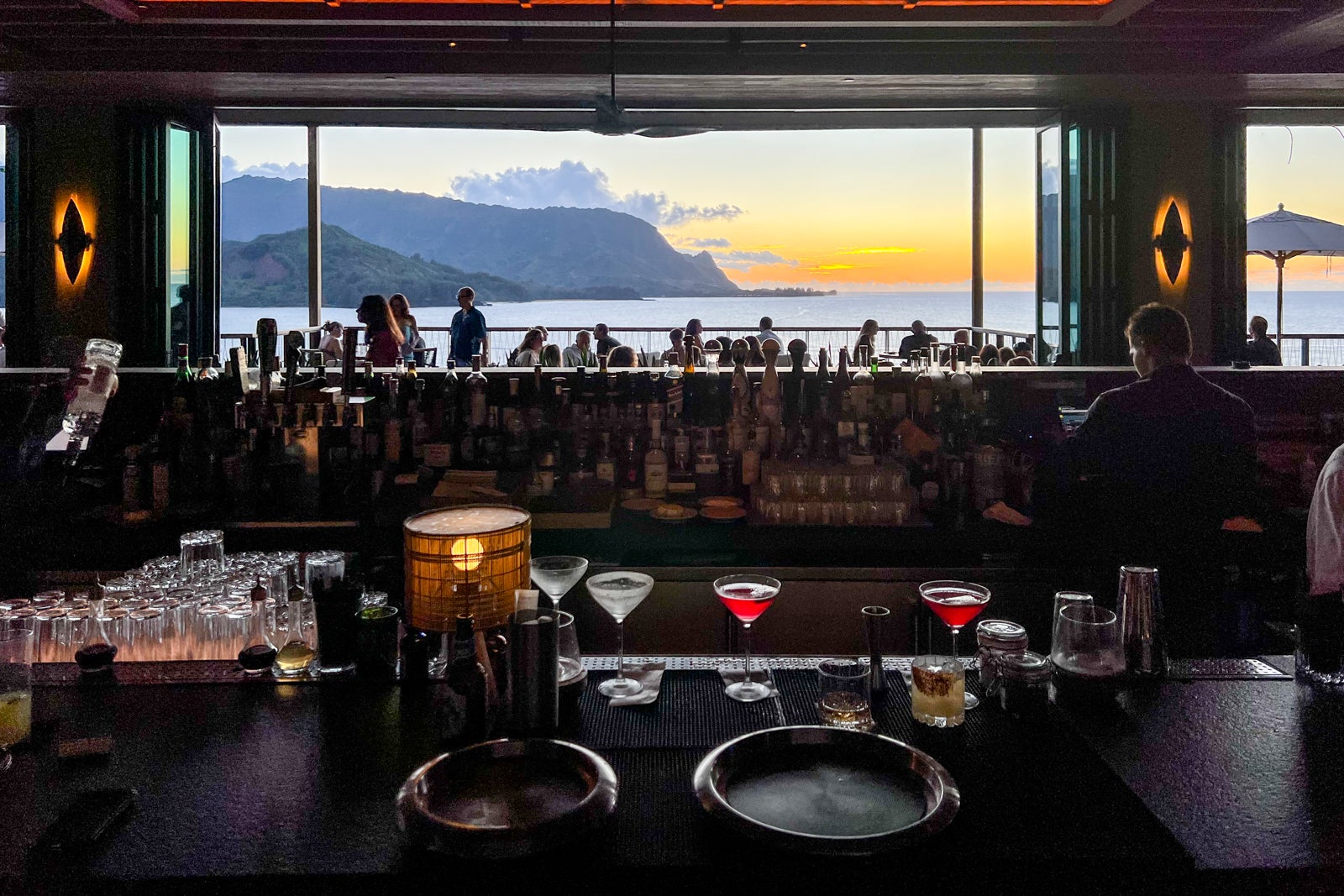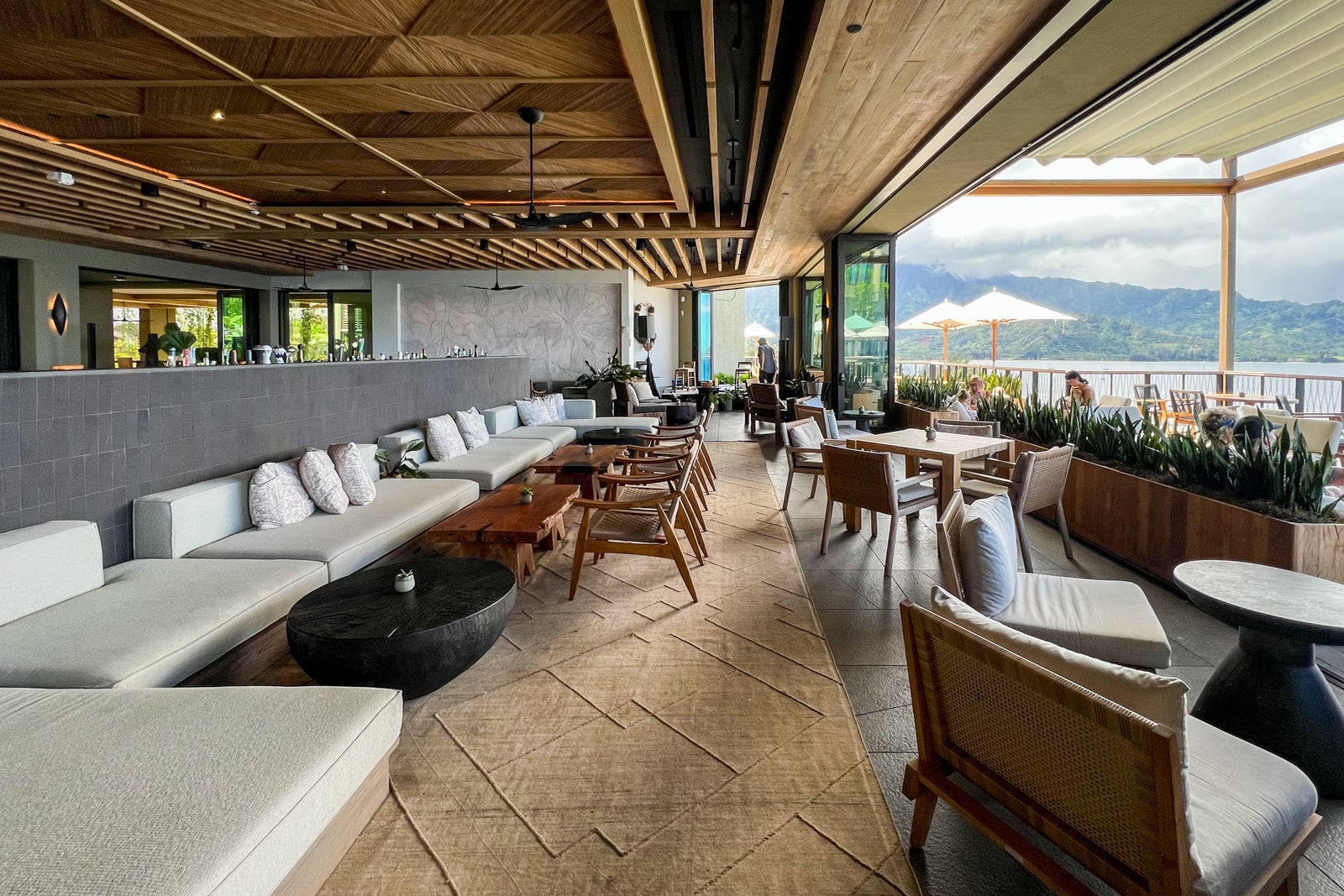 We enjoyed some of the appetizers we tried, like the shishito peppers ($10), but we loved the sushi. For our second visit, we jumped straight to that part of the menu.
The yellowtail and salmon sushi ($8), along with the kani mayo roll with Japanese snow crab ($30), were great, but even options such as tomato ($5) and avocado sushi ($5) surprised us with how delectable they were.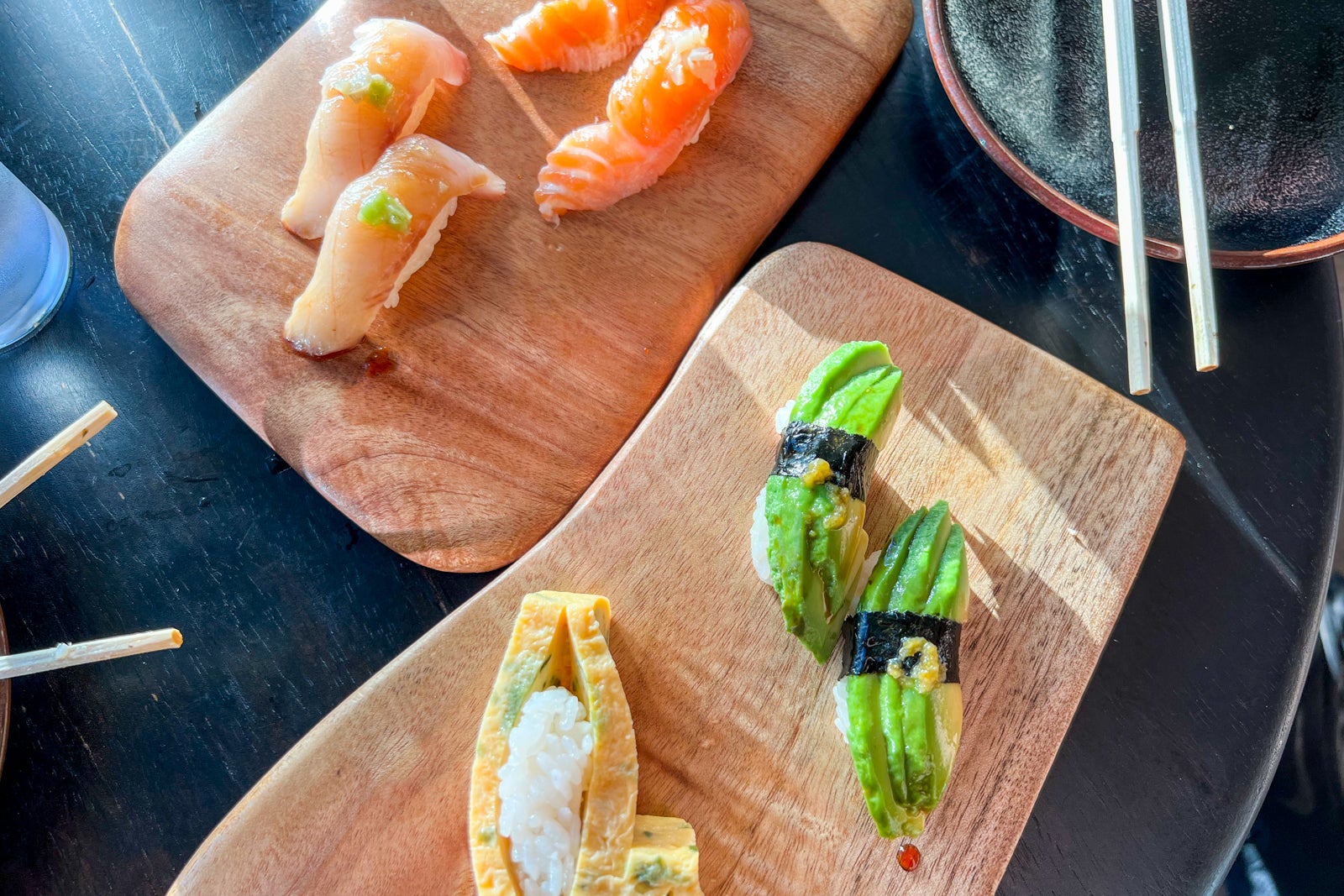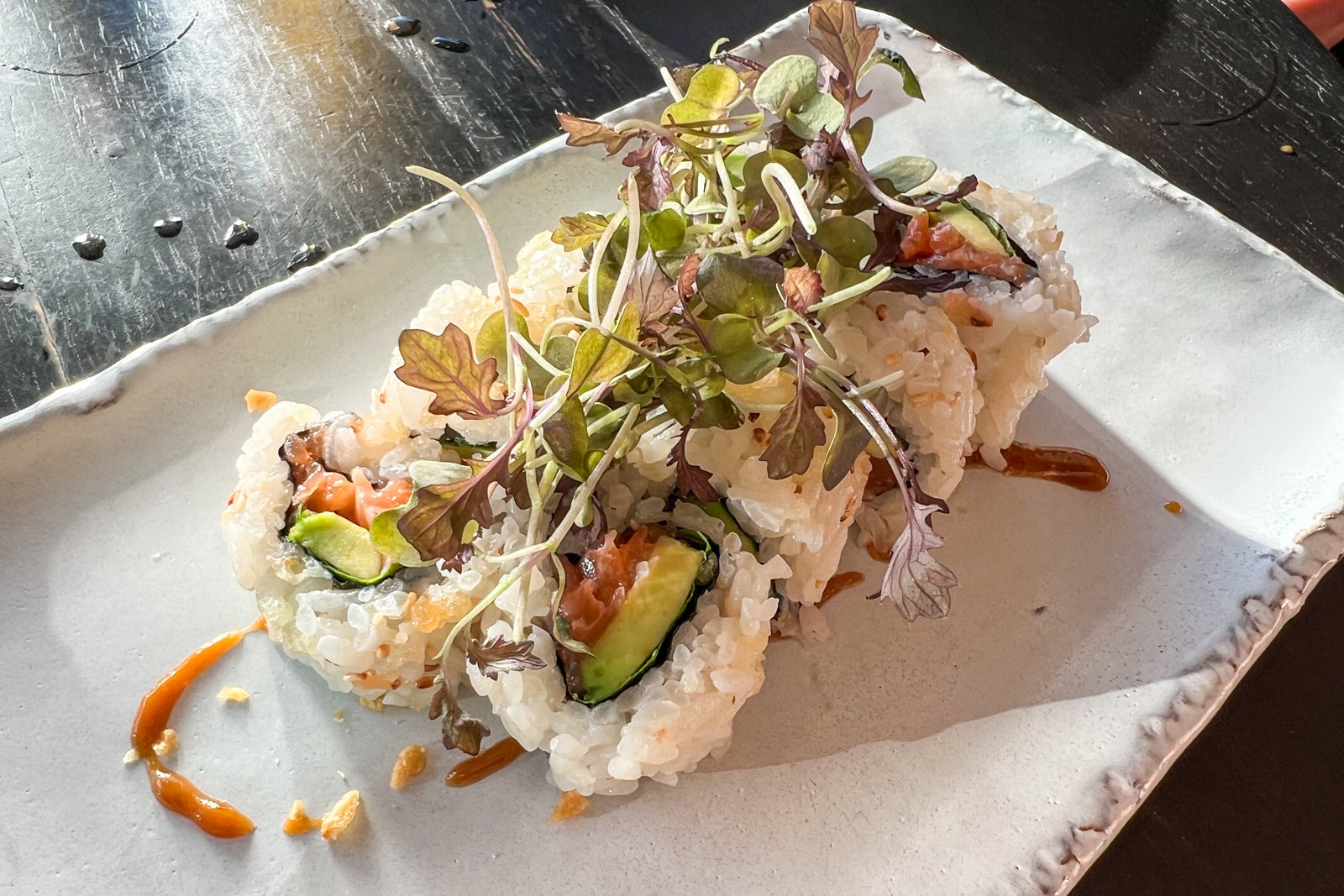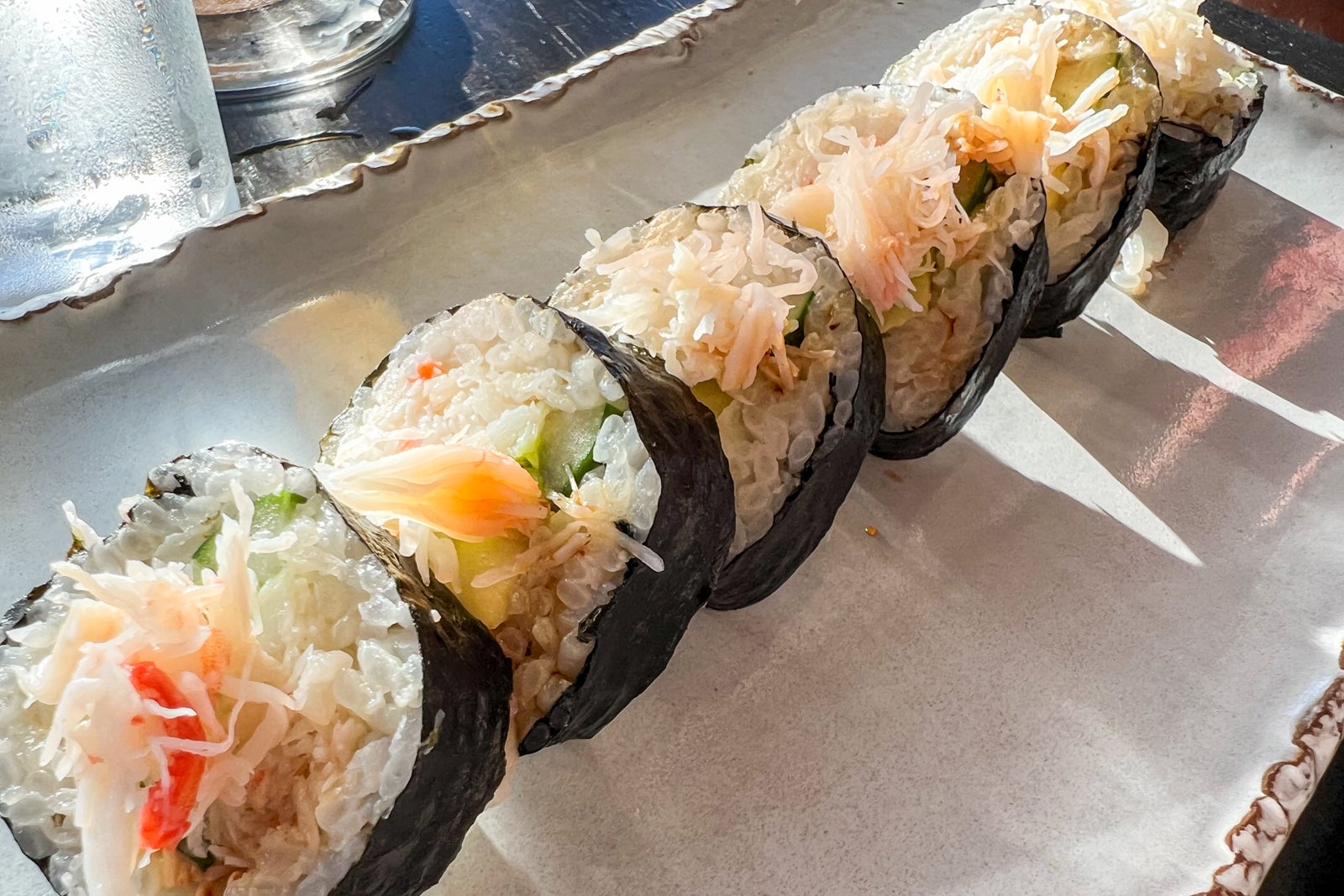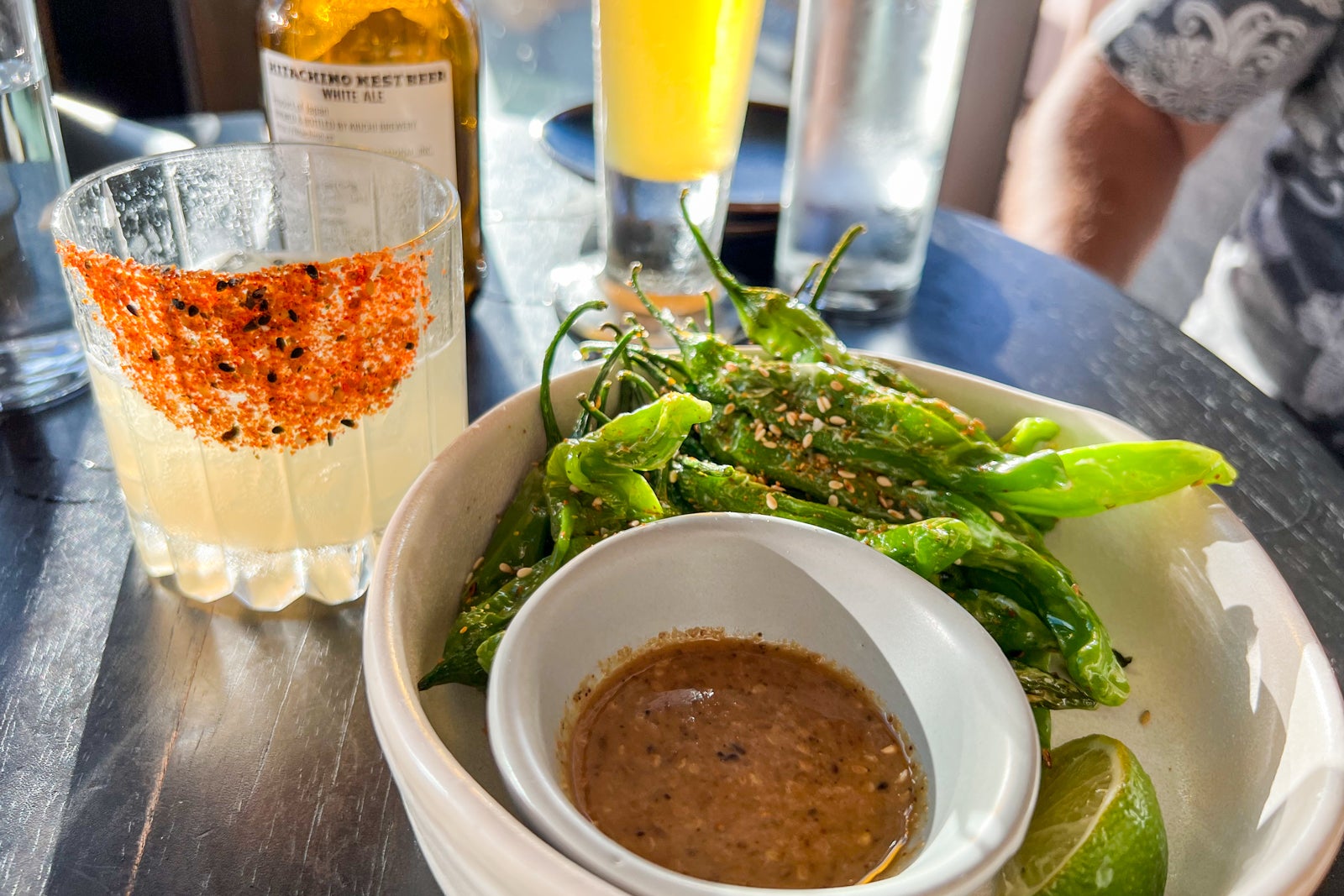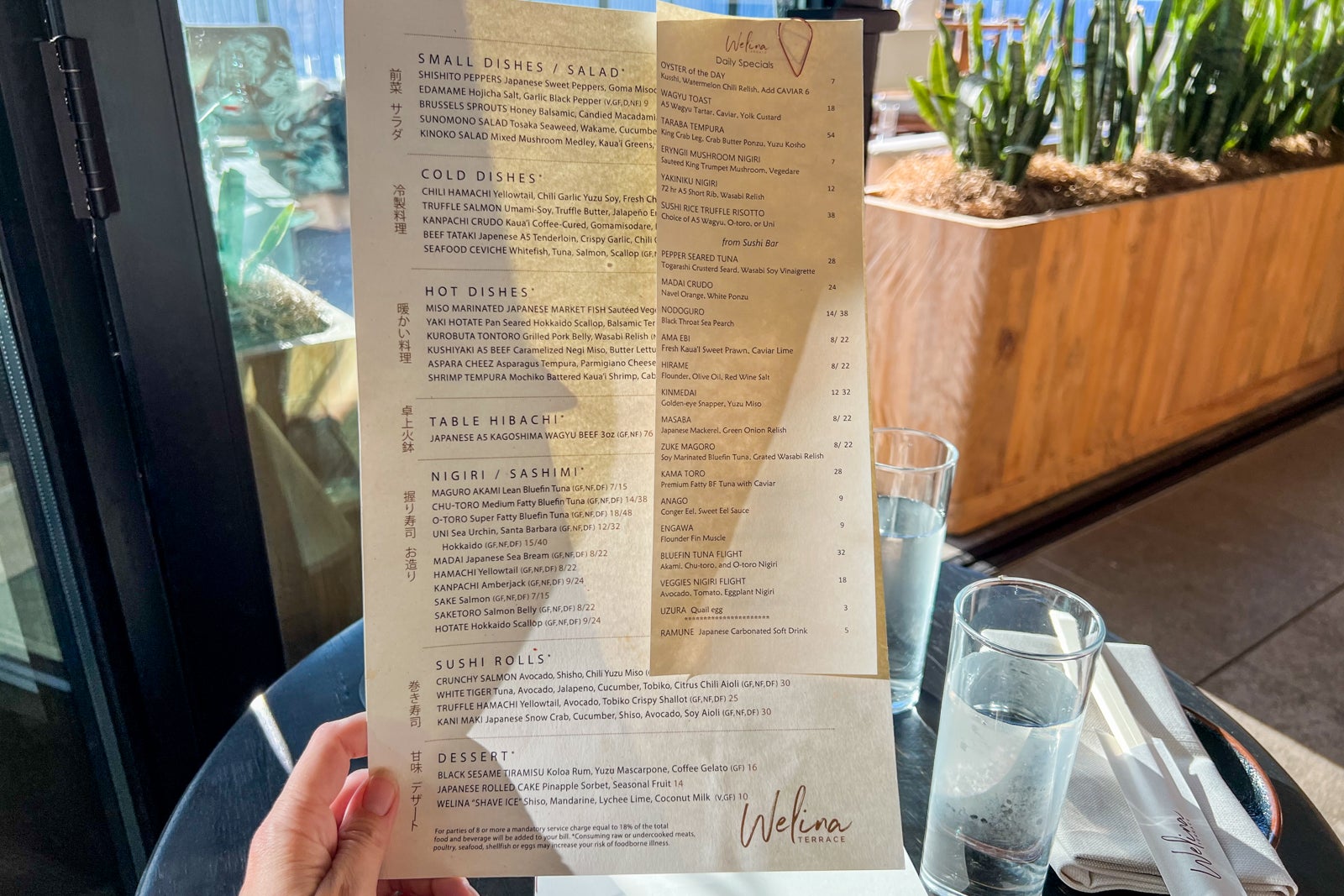 For as long as it is available, I recommend the Maui Strong cocktail ($25) made with dark rum, lime juice and simple syrup that benefits the Maui relief effort. But if that is not available, the Hawaiian Pineapple & Chili margarita was also the right blend of sweet and spicy — and the sake menu isn't too bad either.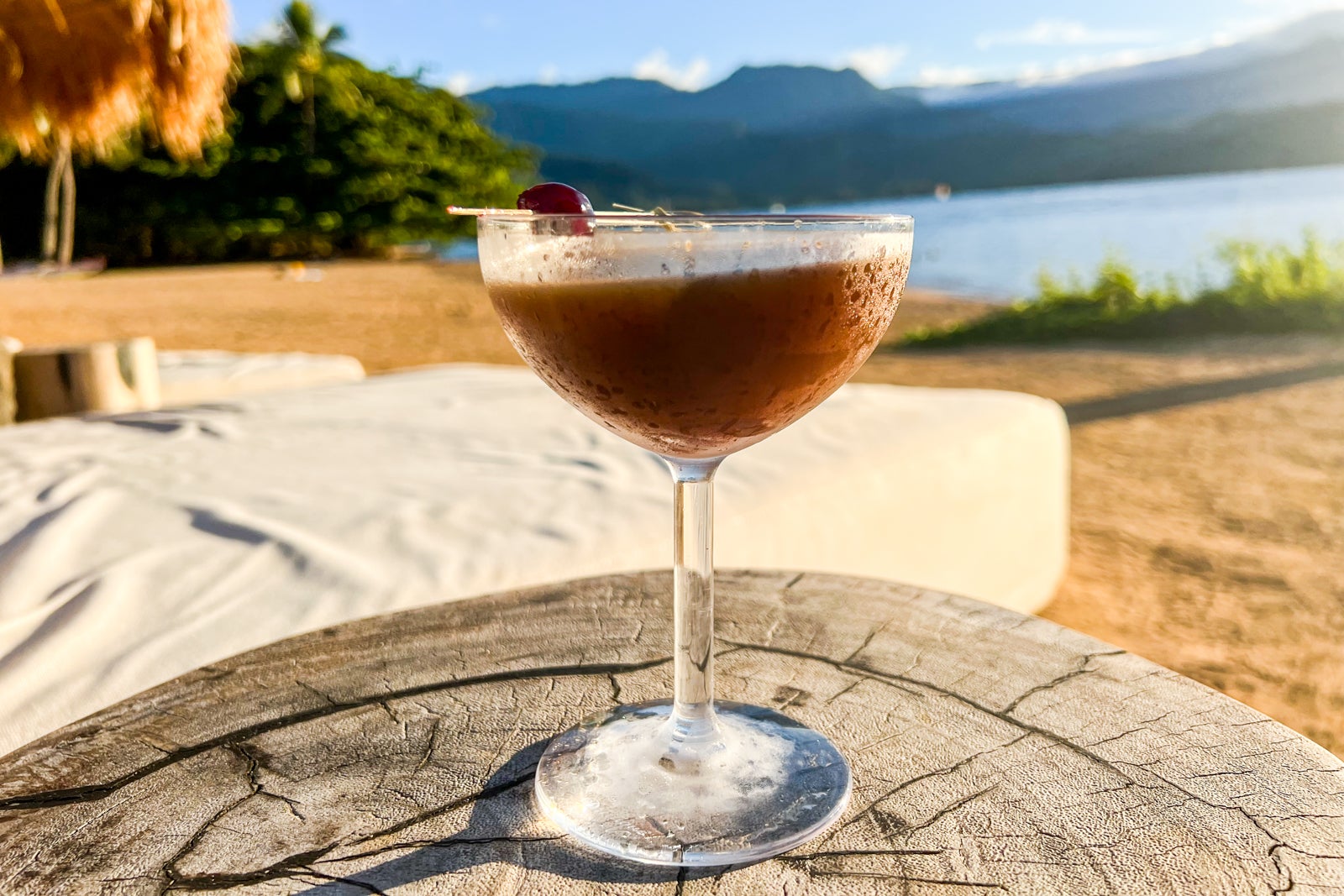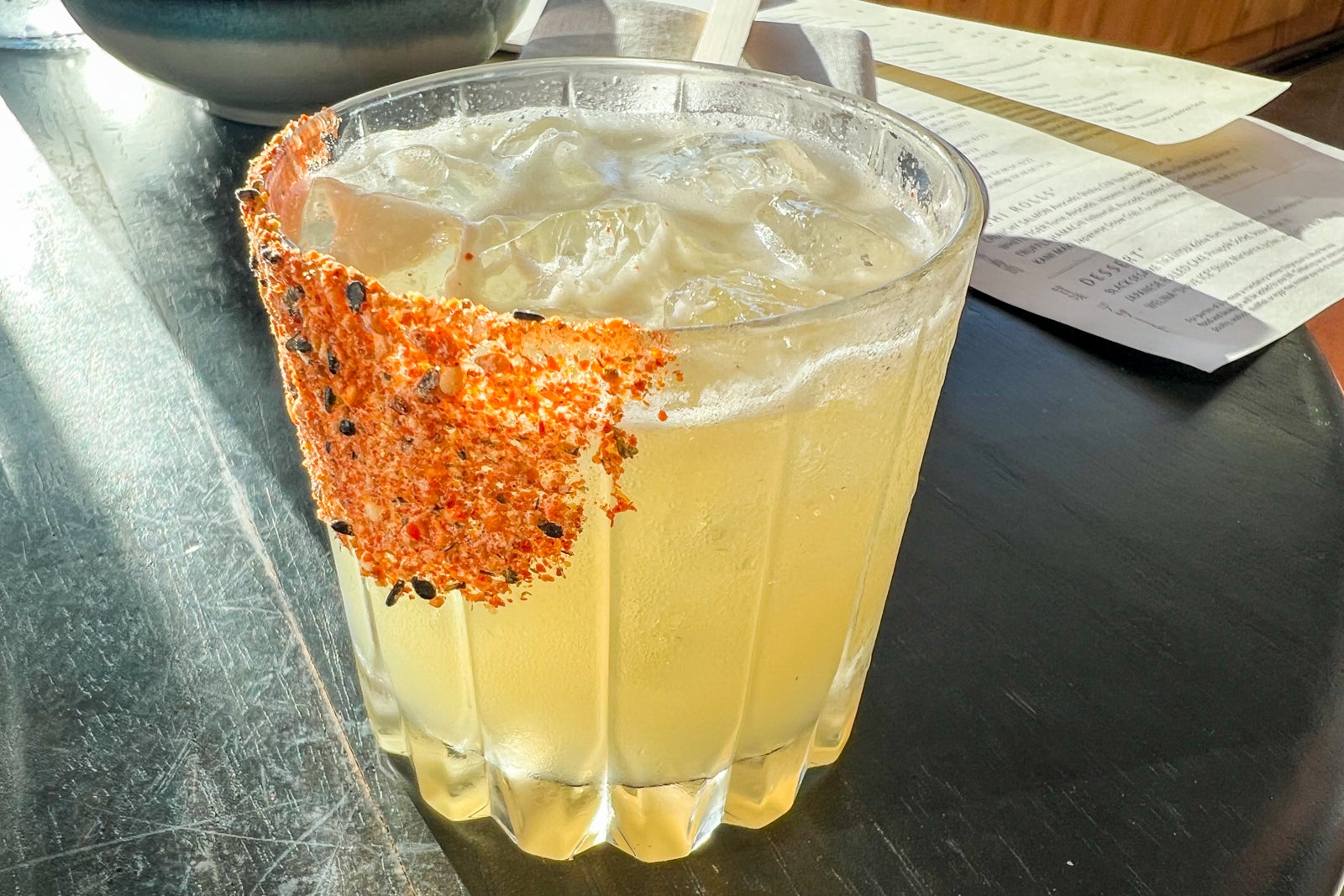 Neighbors
When you are dealing with early-morning jet lag those first few days on the island, Neighbors is your best friend as it opens at 5:30 a.m. and has free Hawaiian-blend coffee.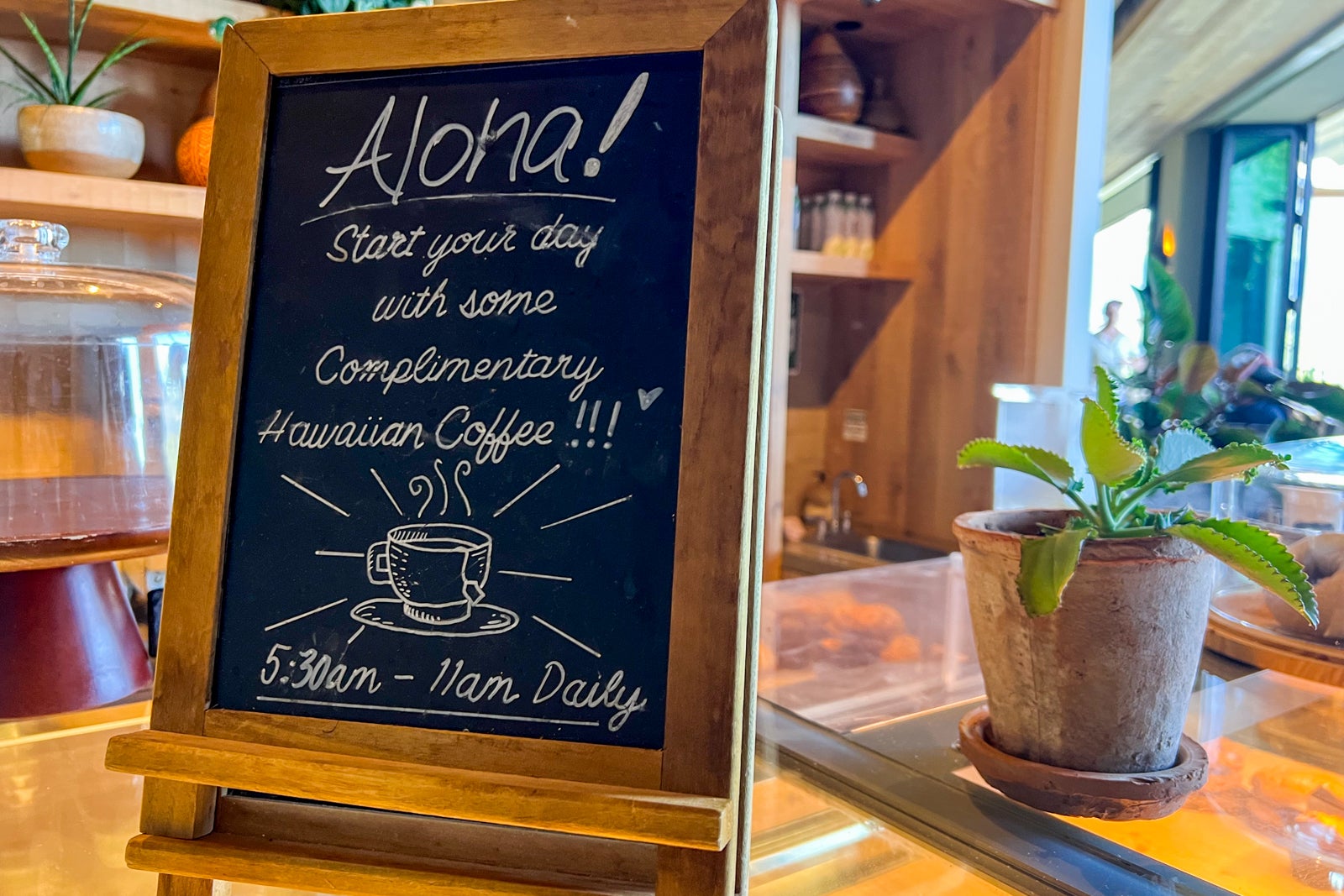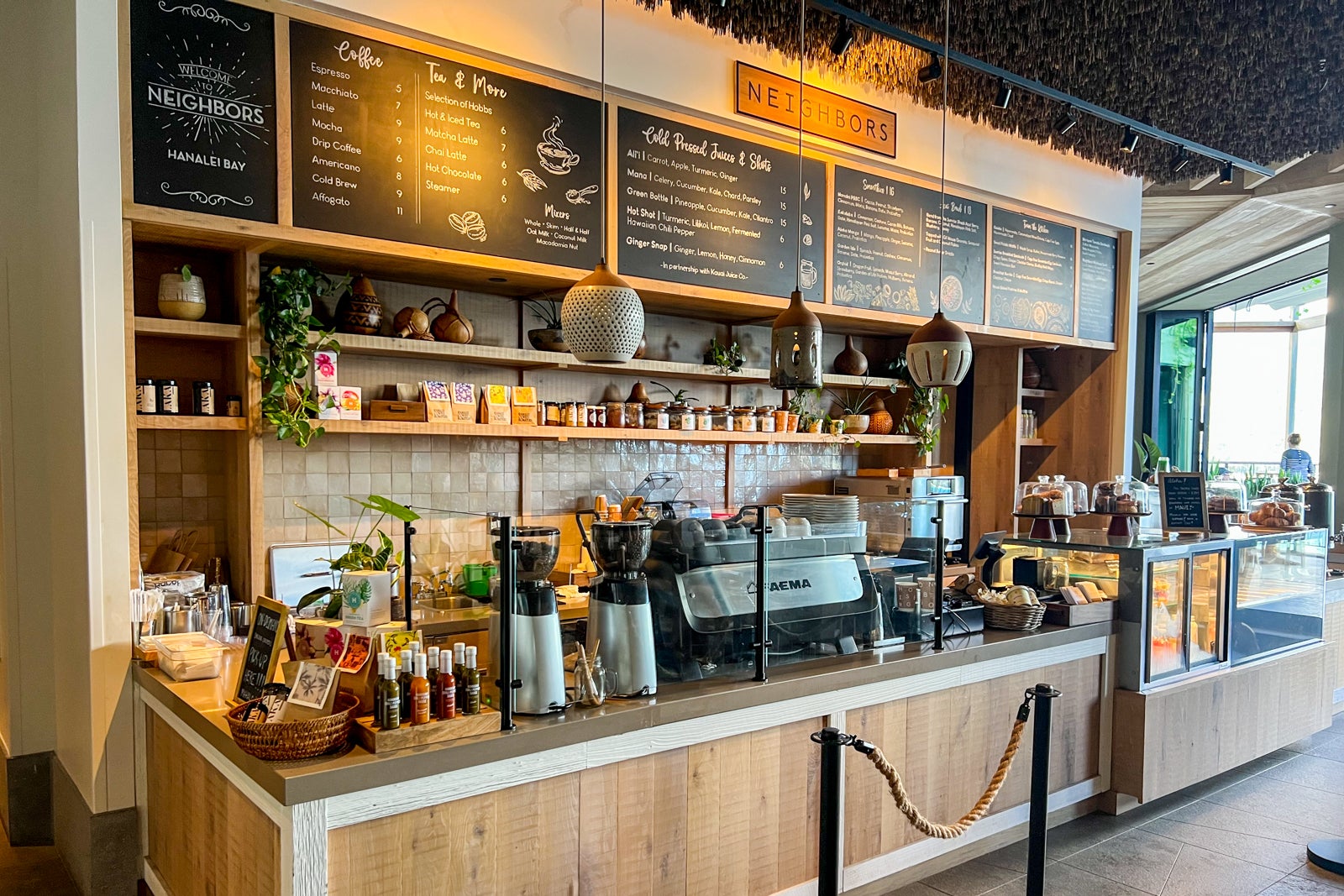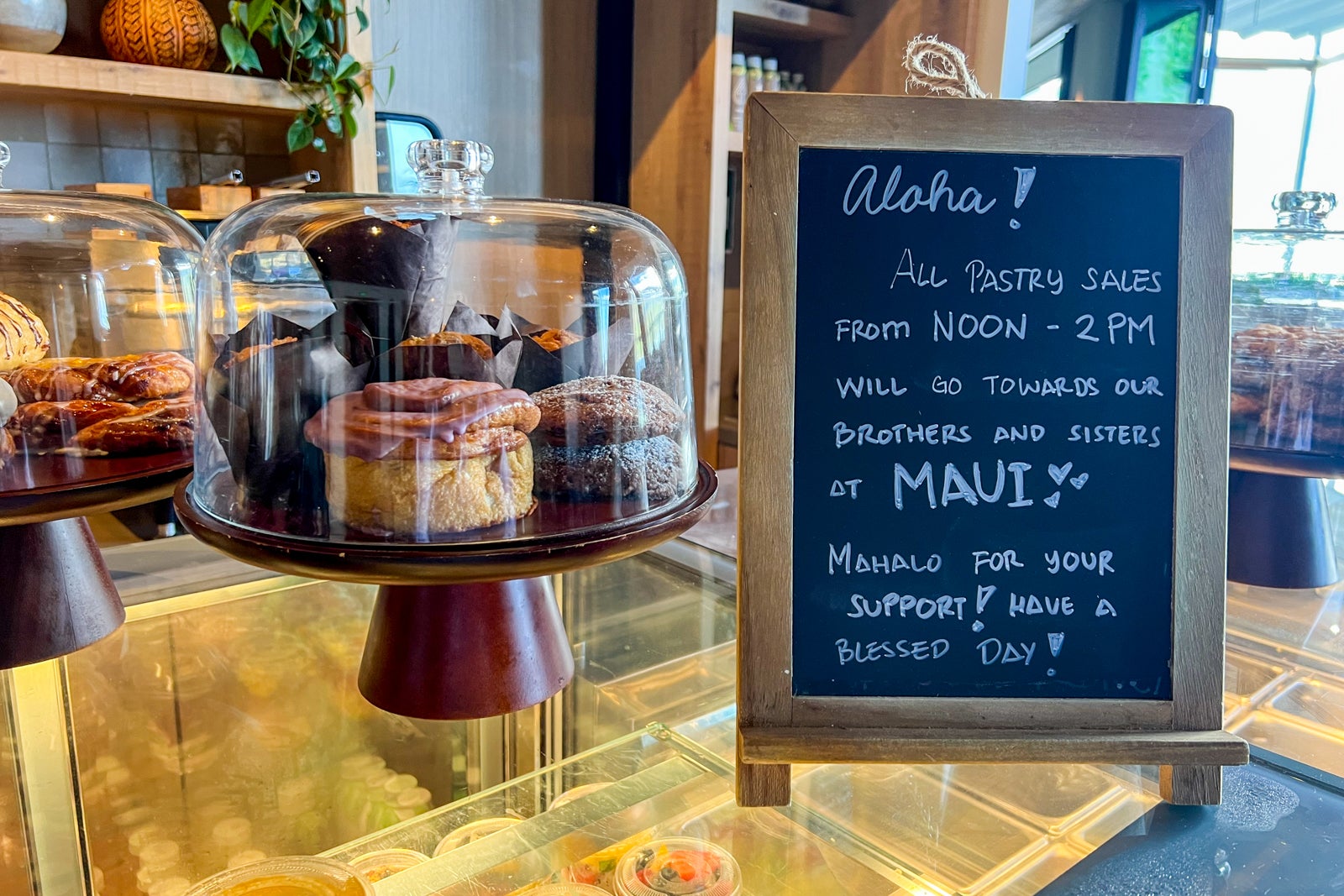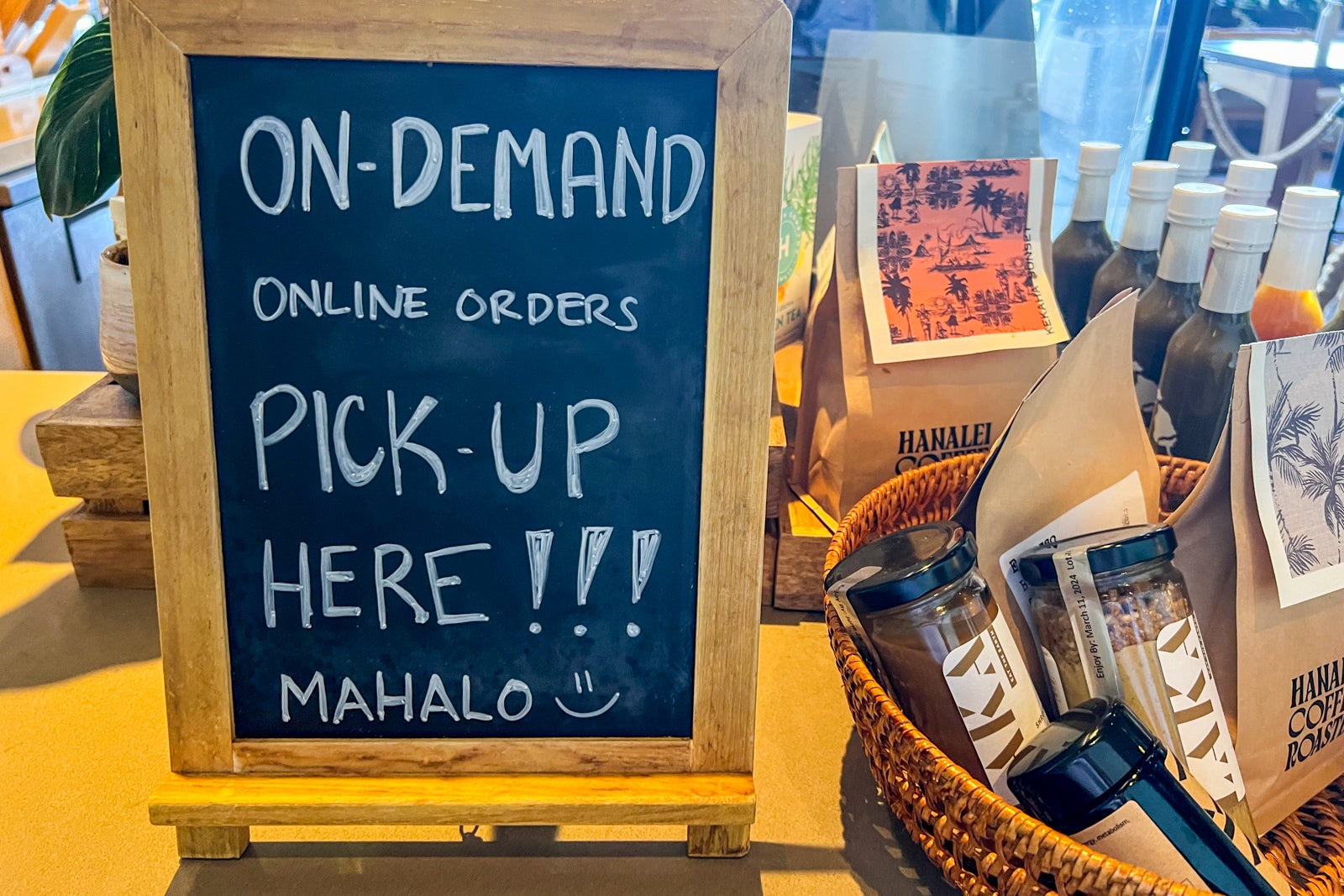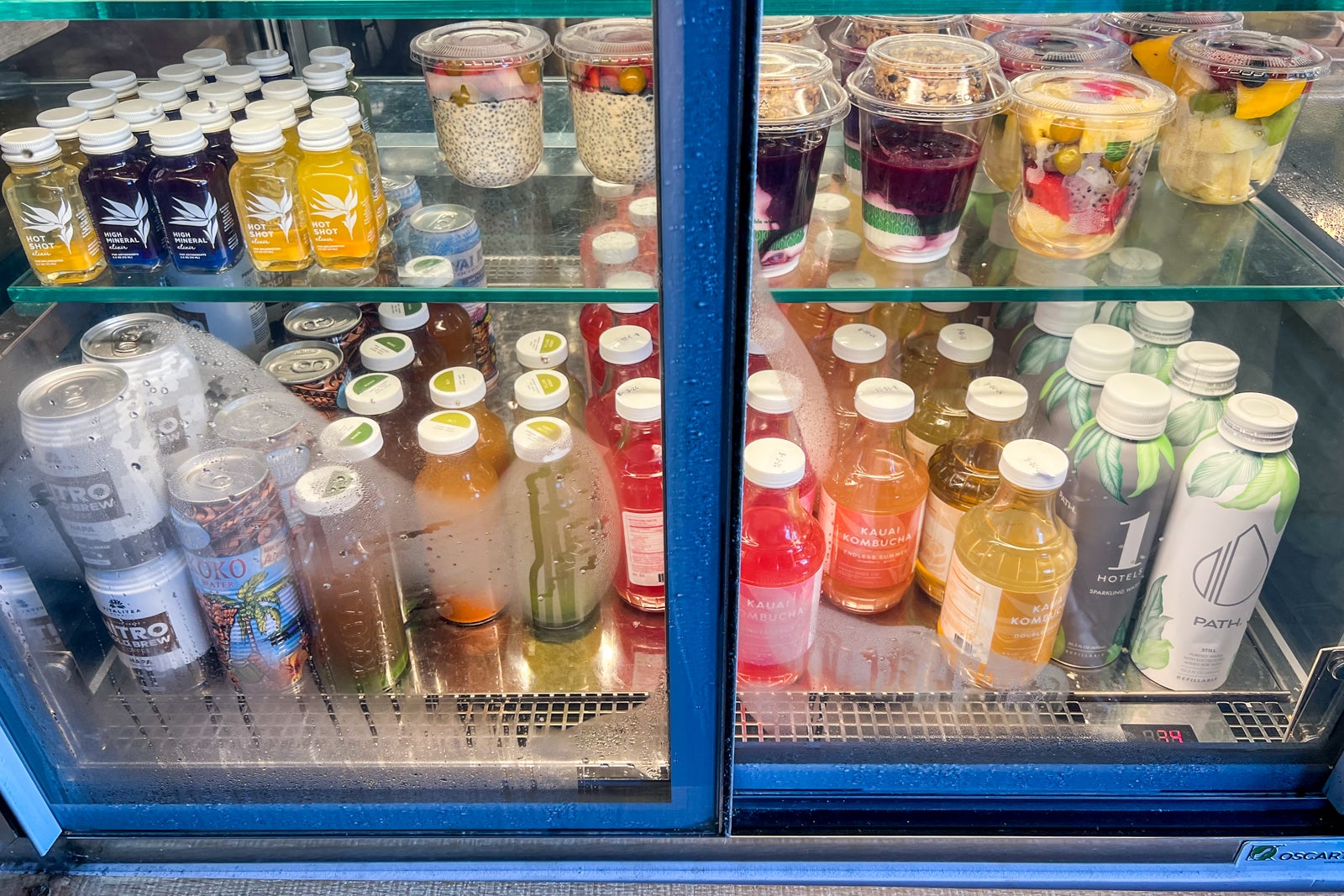 In addition to the free coffee, there are pastries, a breakfast burrito ($18), a breakfast sandwich on a sweet Hawaiian roll ($18) and assorted bowls, to name a few. Here, you can also grab a fresh-pressed juice from Kauai Juice ($15) or a bar of dark chocolate from Lydgate Farms.
If you want to plan ahead, you can place a mobile order from the hotel's app and just pop in for a quick pick-up.
The Sandbox
Next to the pools on the ground level, you'll find The Sandbox, a casual spot for lunch with a wood-burning pizza oven, some pretty stellar Kauai shrimp tacos ($24) and a spicy poke bowl ($25) that was so nice we had it twice.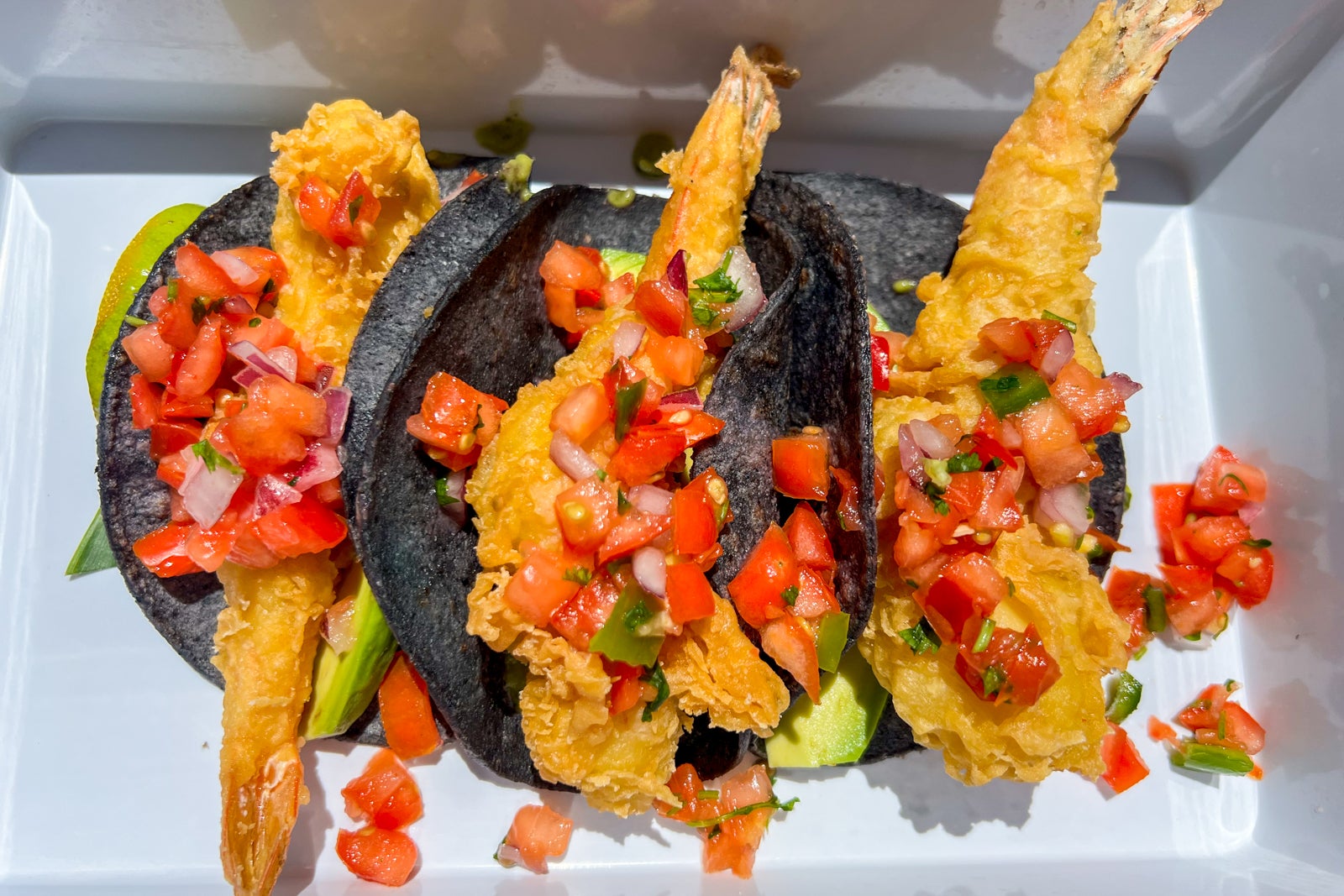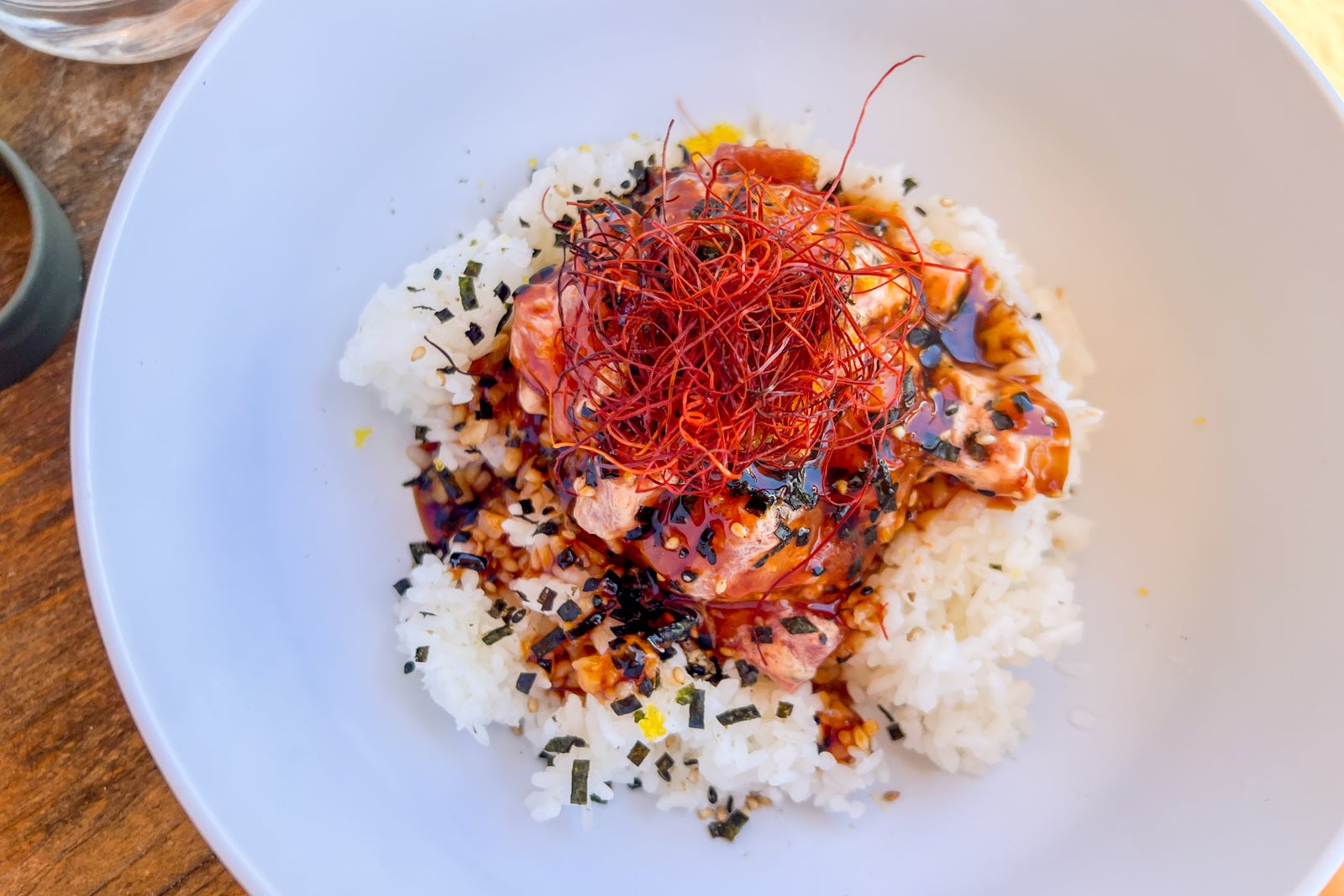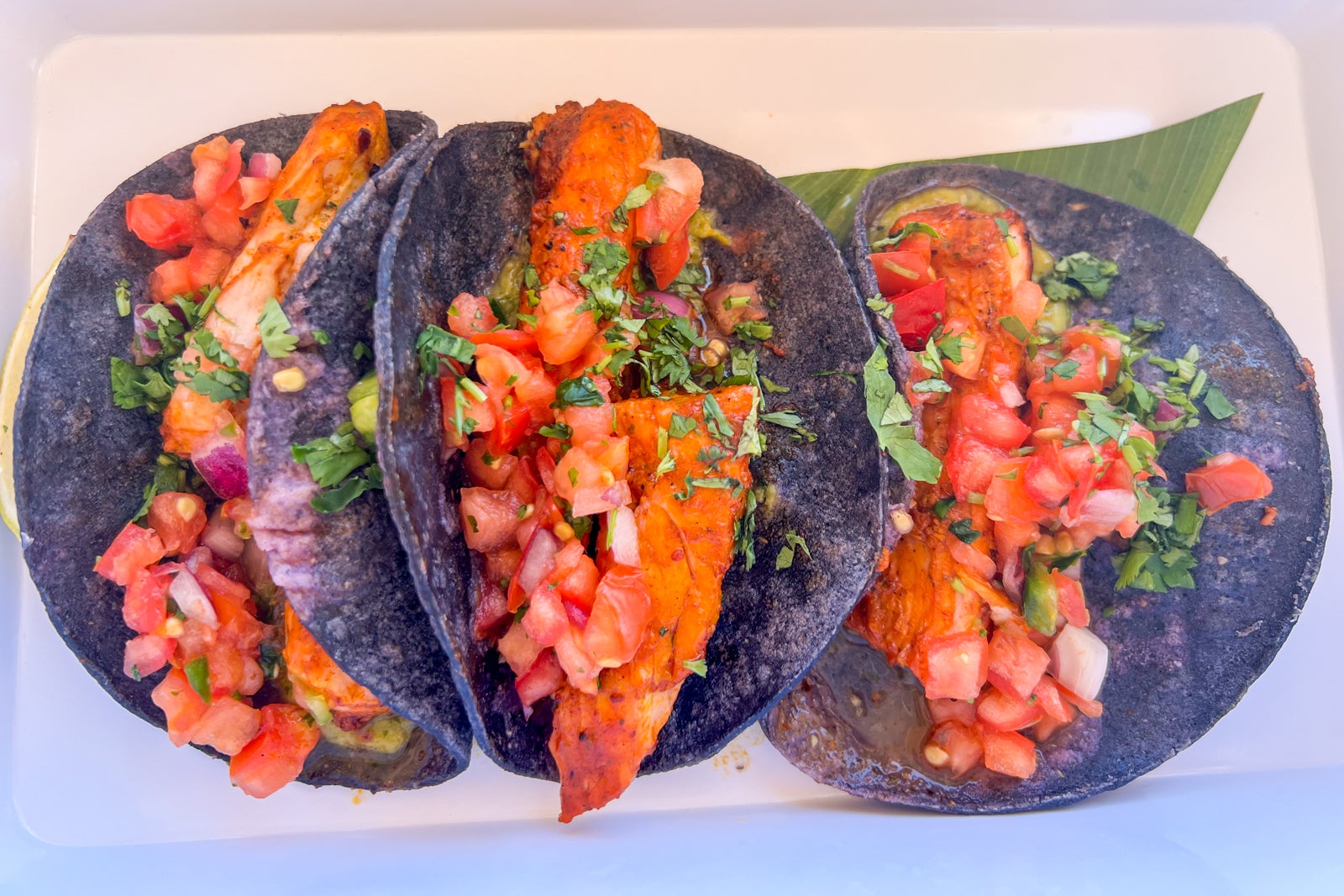 Unless you are really set on eating from your pool chair (which you can totally do with poolside service), I recommend just sauntering up to a poolside table for a more comfortable dining experience where you don't have to deal with sand. This is especially true if the server staff is short-handed that day.
But no matter exactly how you enjoy this meal, it's the perfect midday outdoor treat on a day that you relax at the resort.
Sustainability that goes beyond buzzwords
I'm embarrassed to admit that I sometimes mentally scoff at "sustainability" initiatives at hotels. Often, it feels like a code word for cost-cutting savings in sustainable sheep's clothing. Bulk soap dispensers, less frequent housekeeping and the like really put the onus of the behavior change on the guest more than the property itself.
But this is not that.
I went in a skeptic, but the 1 Hotel Hanalei Bay has sustainability in its DNA and approaches it in a way that doesn't give the guest less; it actually ends up giving everyone more.
For example, instead of using plastic water bottles, the hotel installed filtered water dispensers in each guest room and provides locally produced glassware made of recycled bottles. At the beach level, there is complimentary organic, reef-safe Coola sunscreen in various SPFs.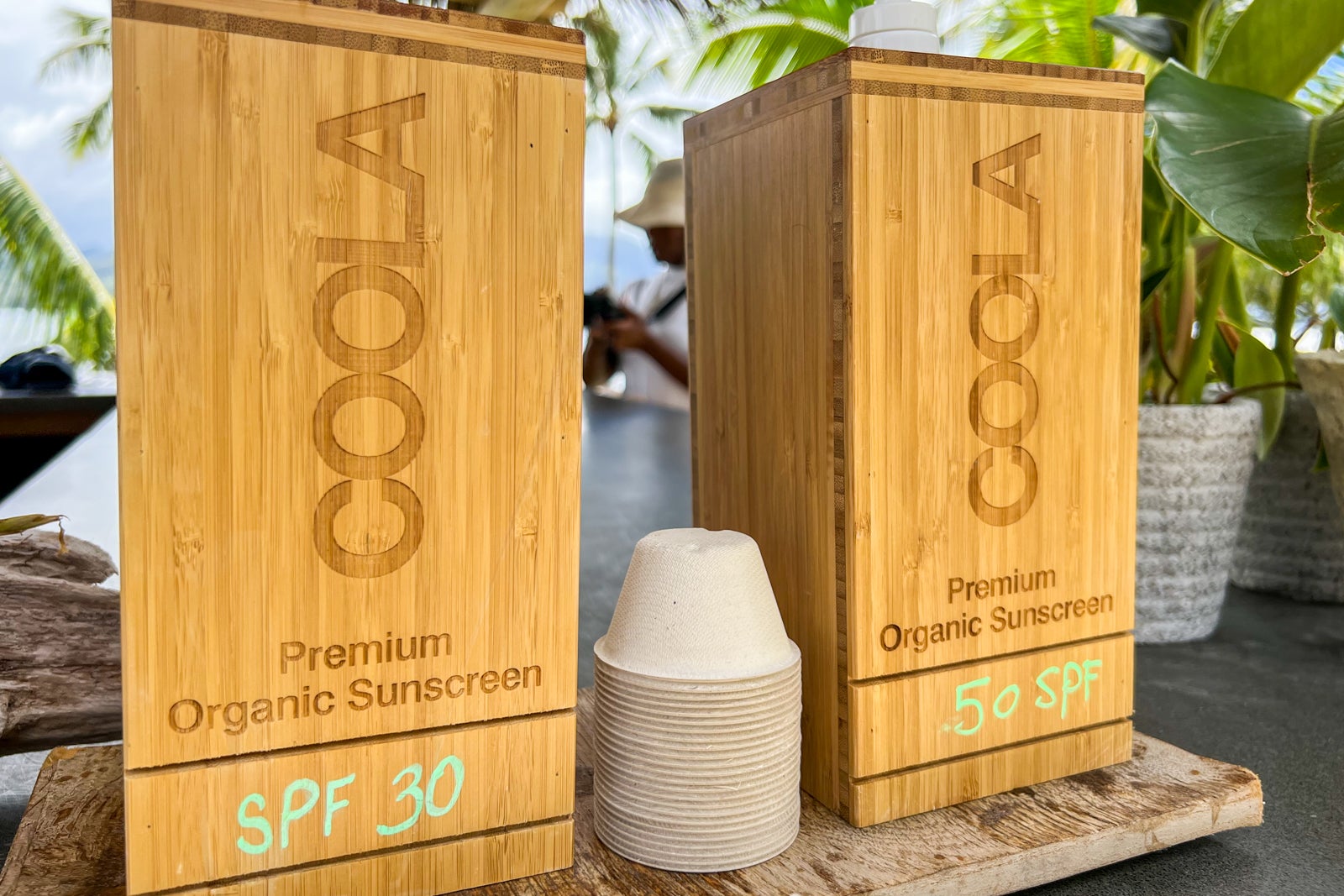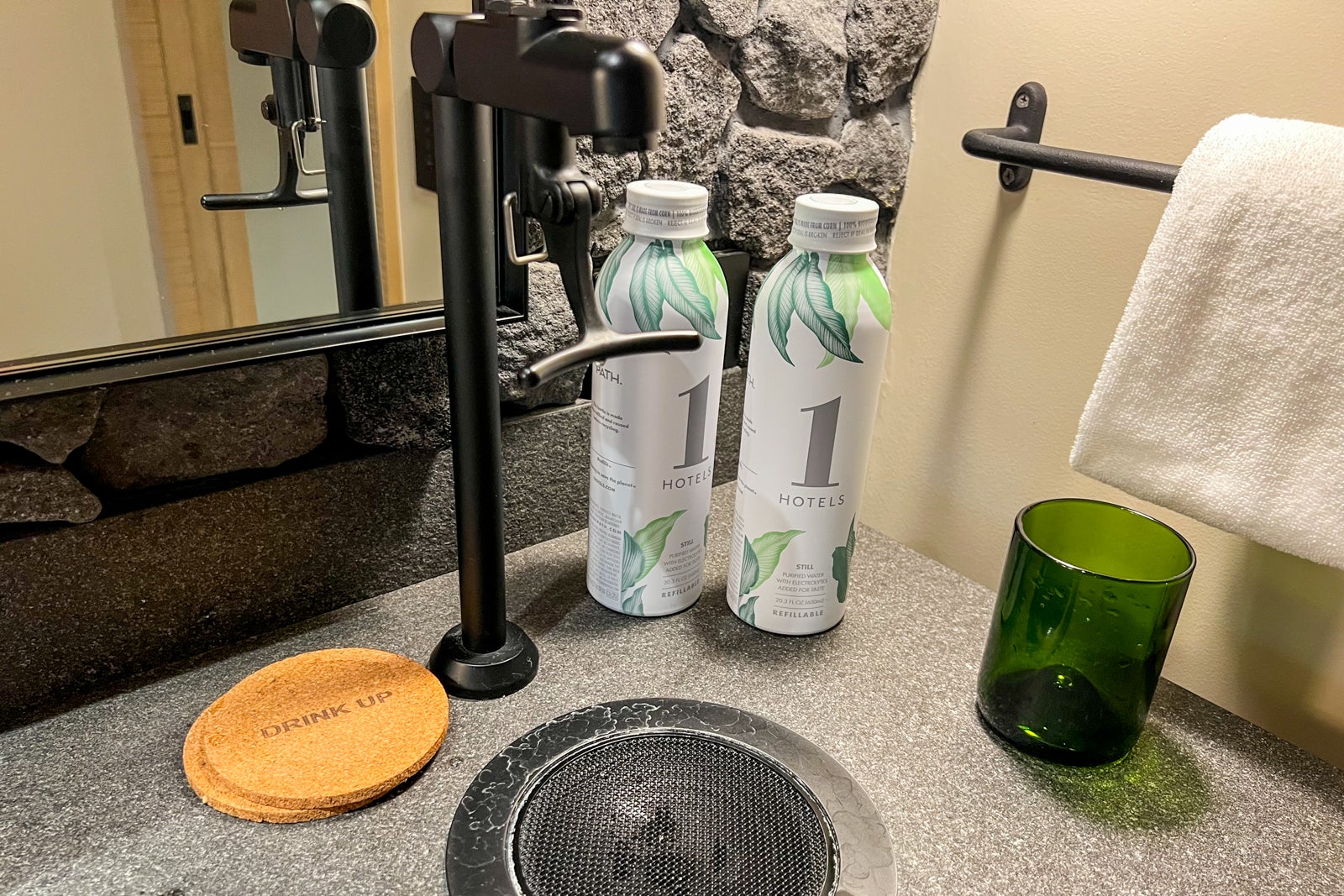 To make it easier to get around the area in a lower-impact way, there are free-to-use bikes, and Audi E-tron house cars (which are available for free two-hour reservations) are recharged in a lot that's powered by solar lights.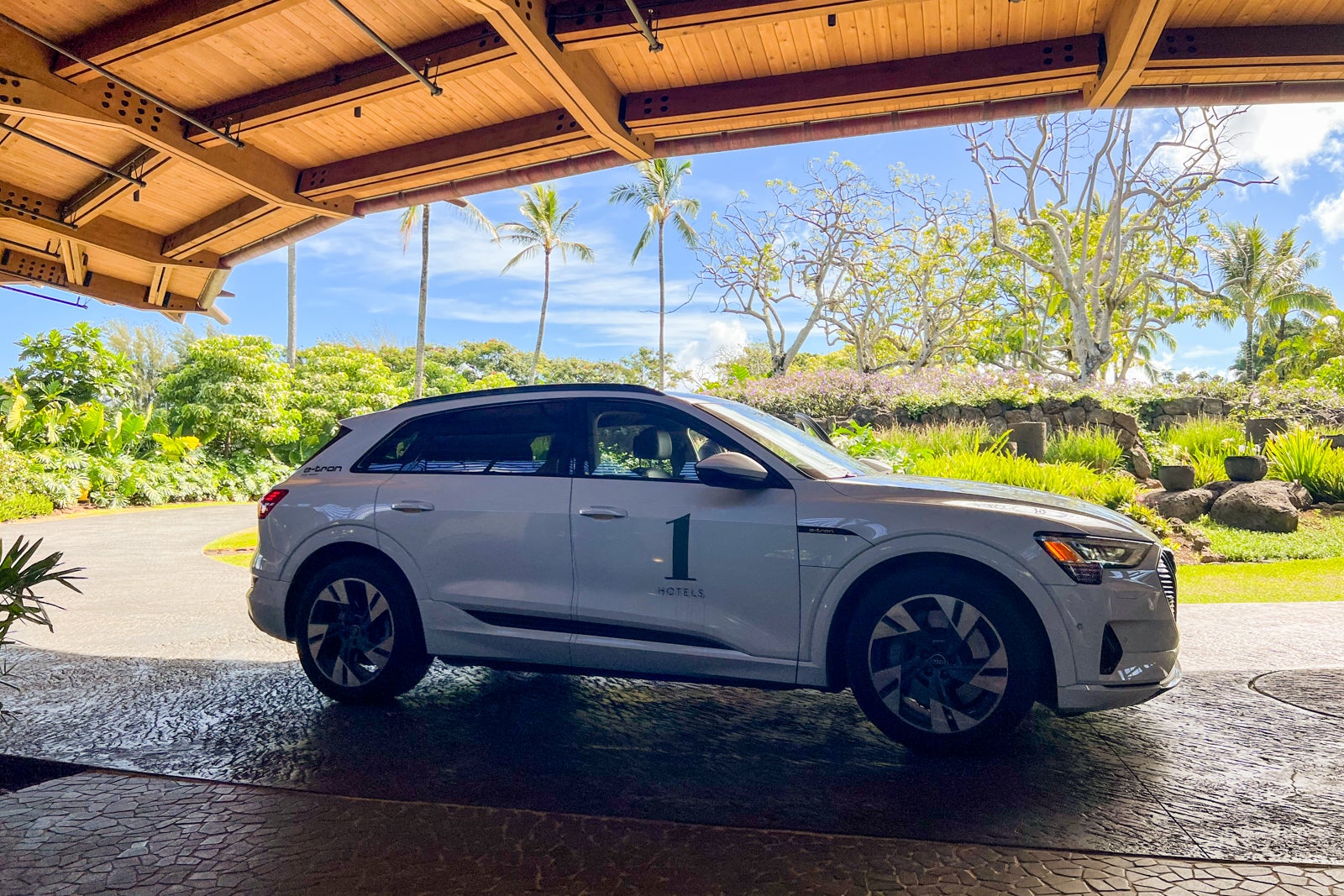 And there are the things you won't see as readily, such as a rainwater catch system that allows for a 97% reduction in water used for irrigation annually, high-efficiency lightning and a return to 70% use of native plants.
You'll find this not only in the obvious spots but also on rooftops and growing down the side of the building as the resort looks to reduce its carbon footprint and blend in — literally and figuratively — with its surroundings.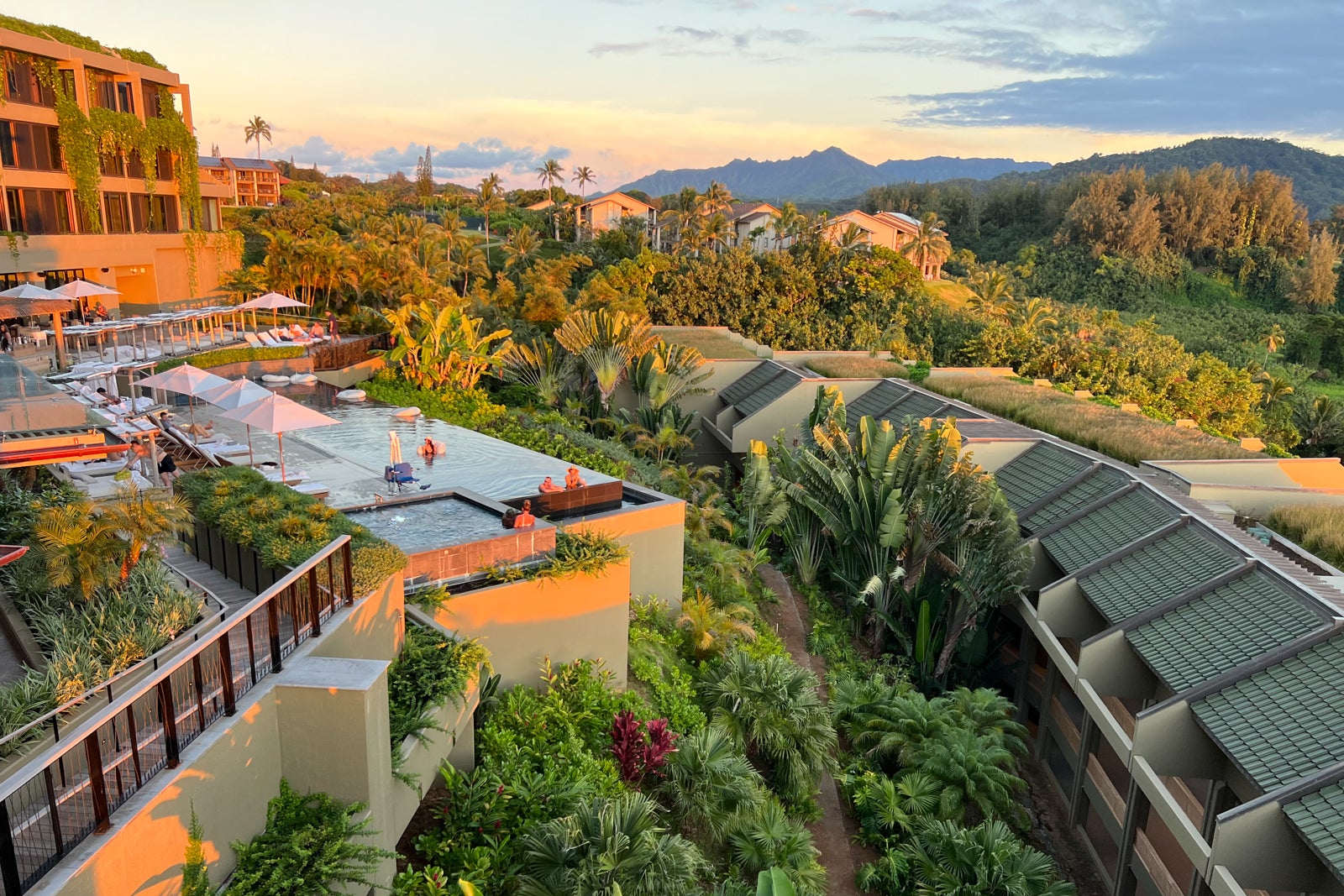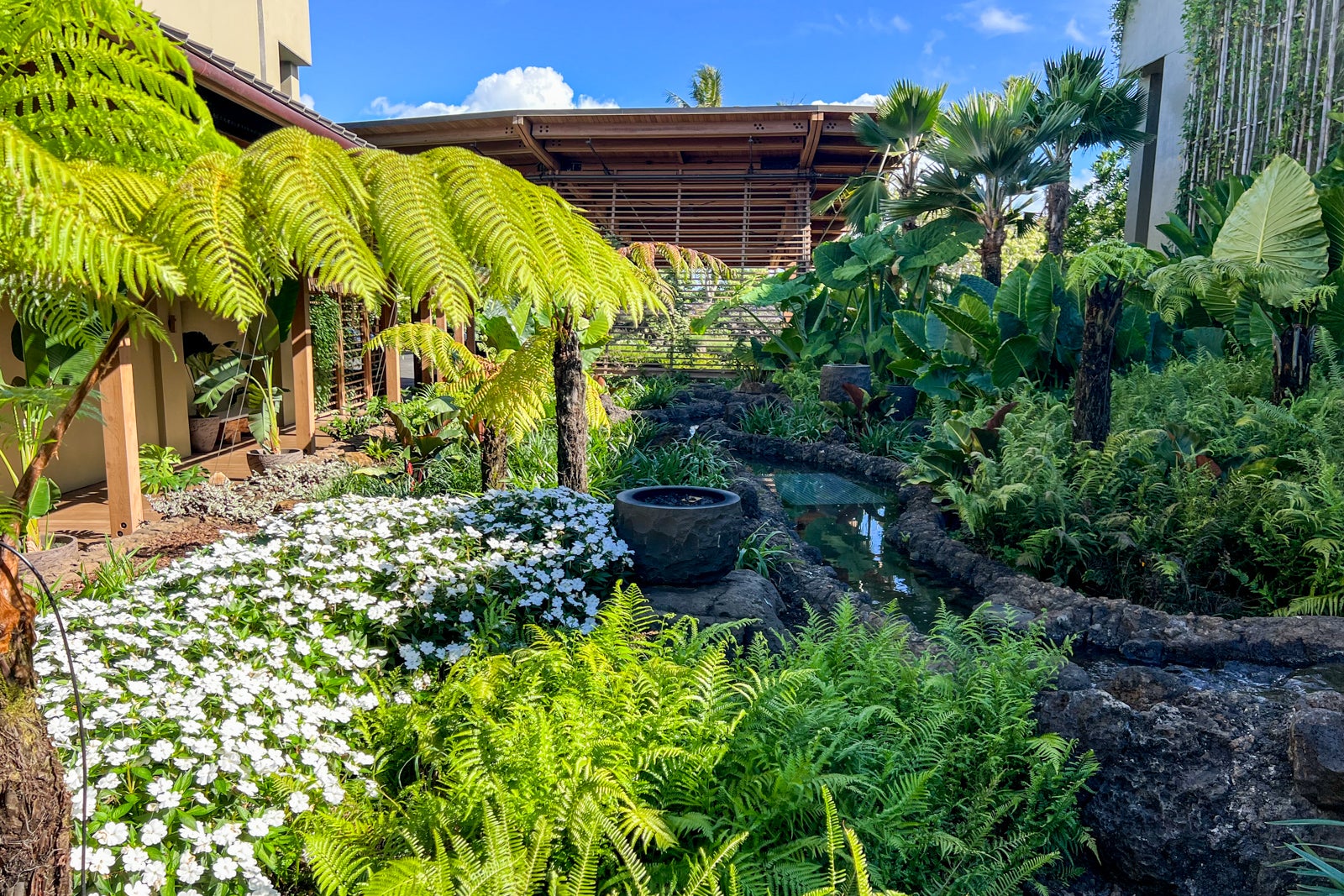 Friendly, mostly efficient service
After just a couple of mornings, our server knew what we liked to drink for breakfast, and while we only chatted for a few minutes a day, we felt like we knew her by the end of the trip.
The same is true of the person who led our hike and the staffers who headed up the lei-making and rum-tasting. Most of the staff members we encountered at 1 Hotel weren't just the polite type of friendly; they were personable.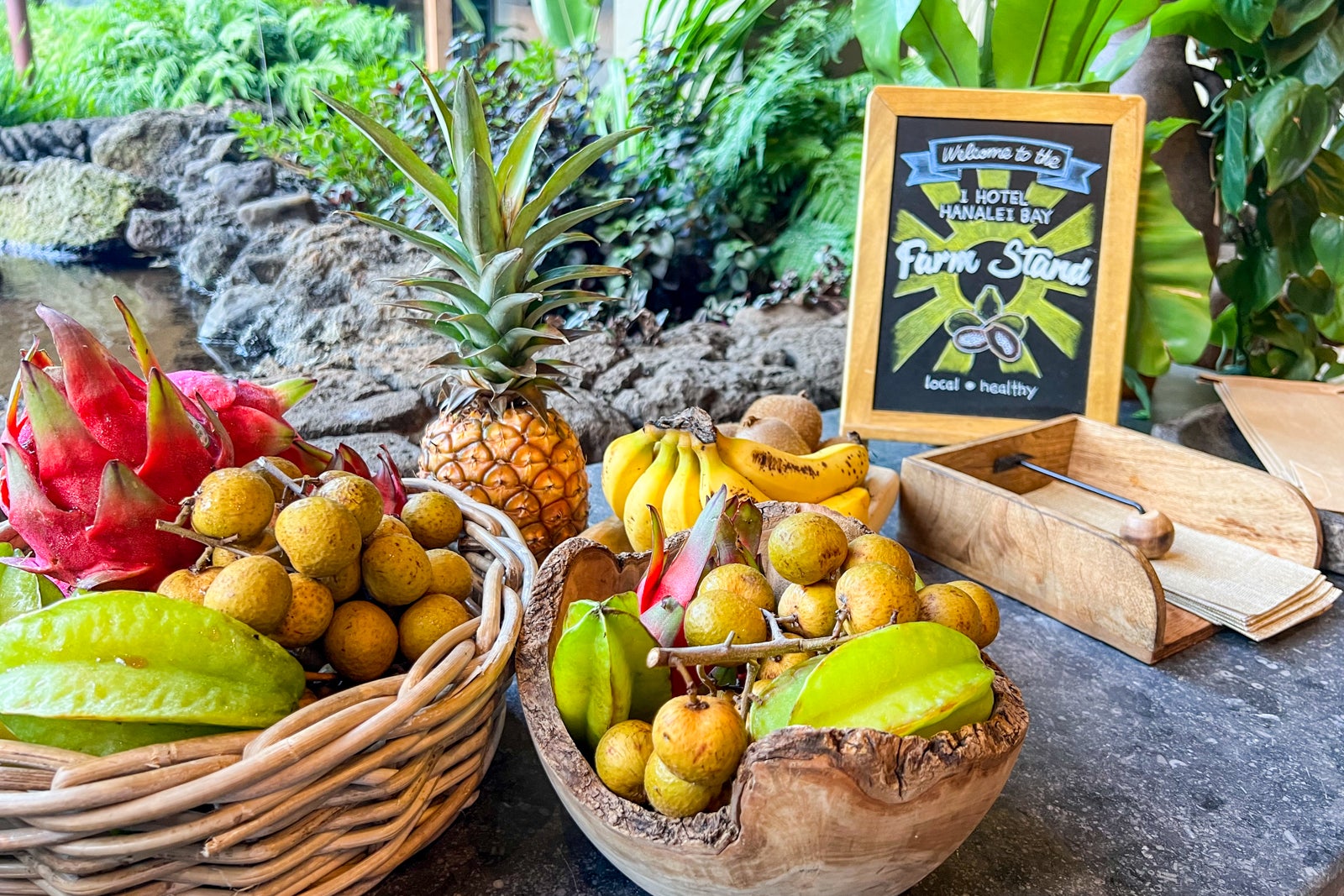 Over the four nights, a couple of times, things took longer than you'd perhaps want to come out, and there was a day that our timing with housekeeping was a bit off, but those were little things. On the whole, the service was unquestionably kind and usually quite efficient.
Reasons the hotel may not be the one for you
No hotel is the perfect match for everyone, even in paradise. Here are a few reasons this hotel may not be right for everyone.
This is a pricey hotel where there is no way to use traditional hotel points. Pretty much every full-service resort in Hawaii is expensive, but as one of the nicest and newest around, this hotel will typically cost over $1,000 per night for the room. On top of that, you can easily spend several hundred more per day on on-site food and drinks, so it will simply be out of the budget range for many travelers.
Must love (or tolerate) elevators: 1 Hotel Hanalei Bay is built into the cliff, and as such, you will be using and (depending on your room location) transferring between elevators several times per day. To minimize your time in elevators, request floors one, four, eight or nine. The walk-out rooms on the ground level with direct pool access looked pretty perfect to me in terms of elevator-free enjoyment.
While the Hanalei area is breathtaking and full of natural adventures, it can be a bit sleepy, so if you are after nonstop action and nightlife, this may not be the best location on Kauai for you.
If you plan to explore and just need a decent spot to sleep at night, then there might be more accessible, cost-effective choices. This resort is the best for when you want to devote at least some of your time to enjoying the on-site amenities.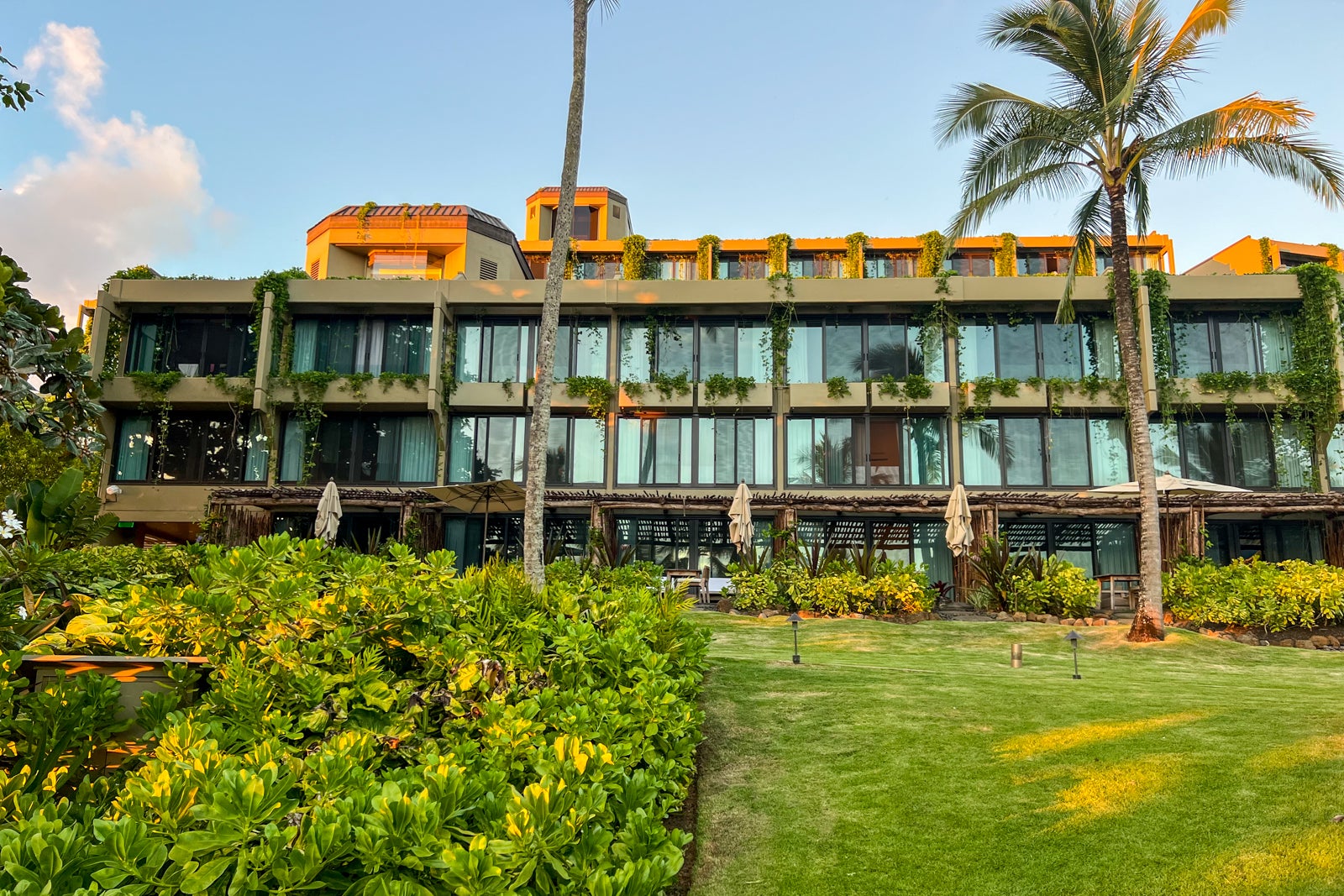 Accessibility
While built on multiple levels into a cliff, which could very easily provide some accessibility challenges, that was not my observation. 1 Hotel Hanalei Bay says that it is "a place for everyone," and from what I could tell, that seems to be true from an accessibility lens.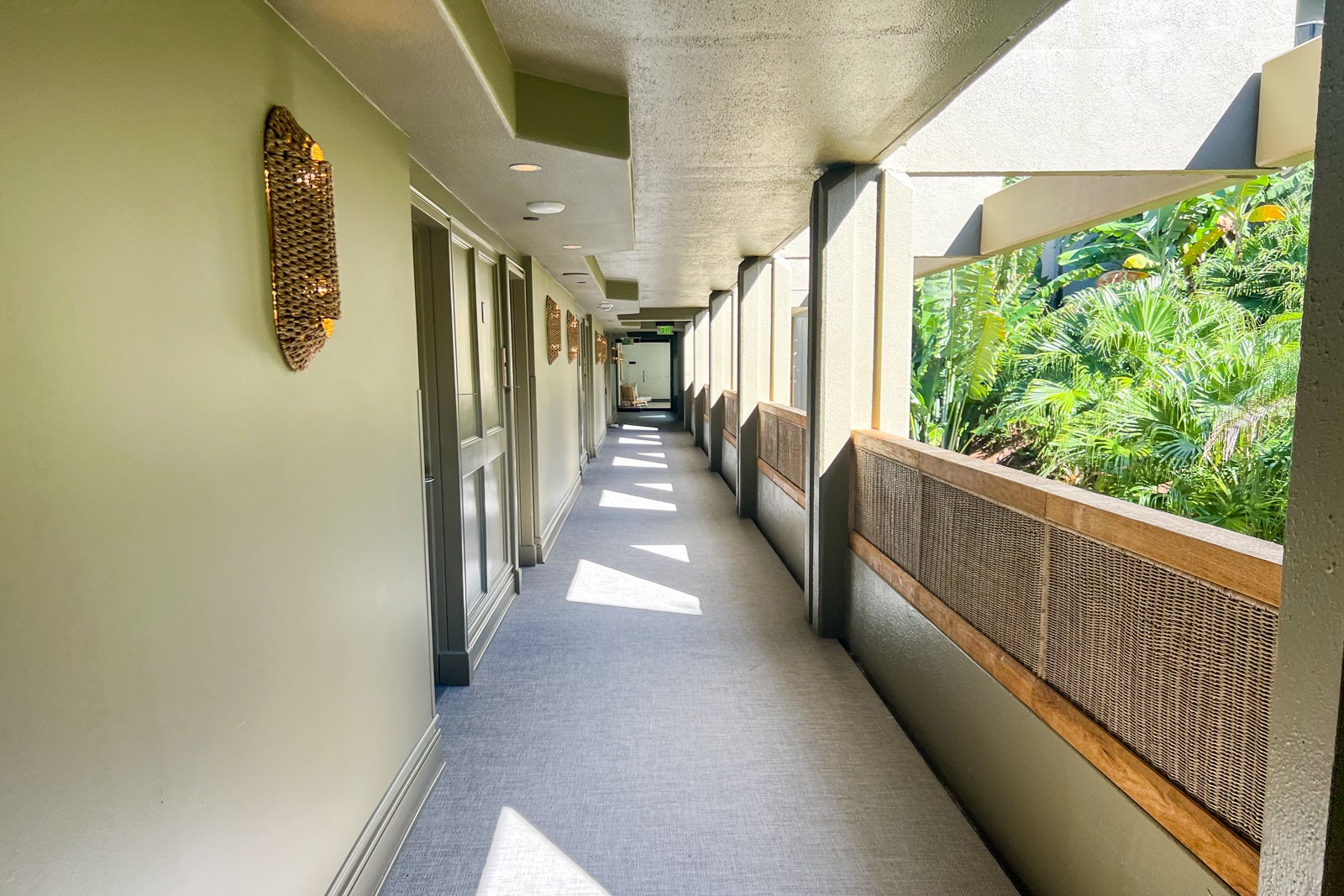 The main level and lobby, Wailena Terrace, Neighbors cafe, concierge and spa are all accessible without stairs. You will need to use the elevator to get around the hotel and use all of its amenities, but that's a norm for all guests, and there are ramps and sidewalks on the pool level, along with lifts into the pool.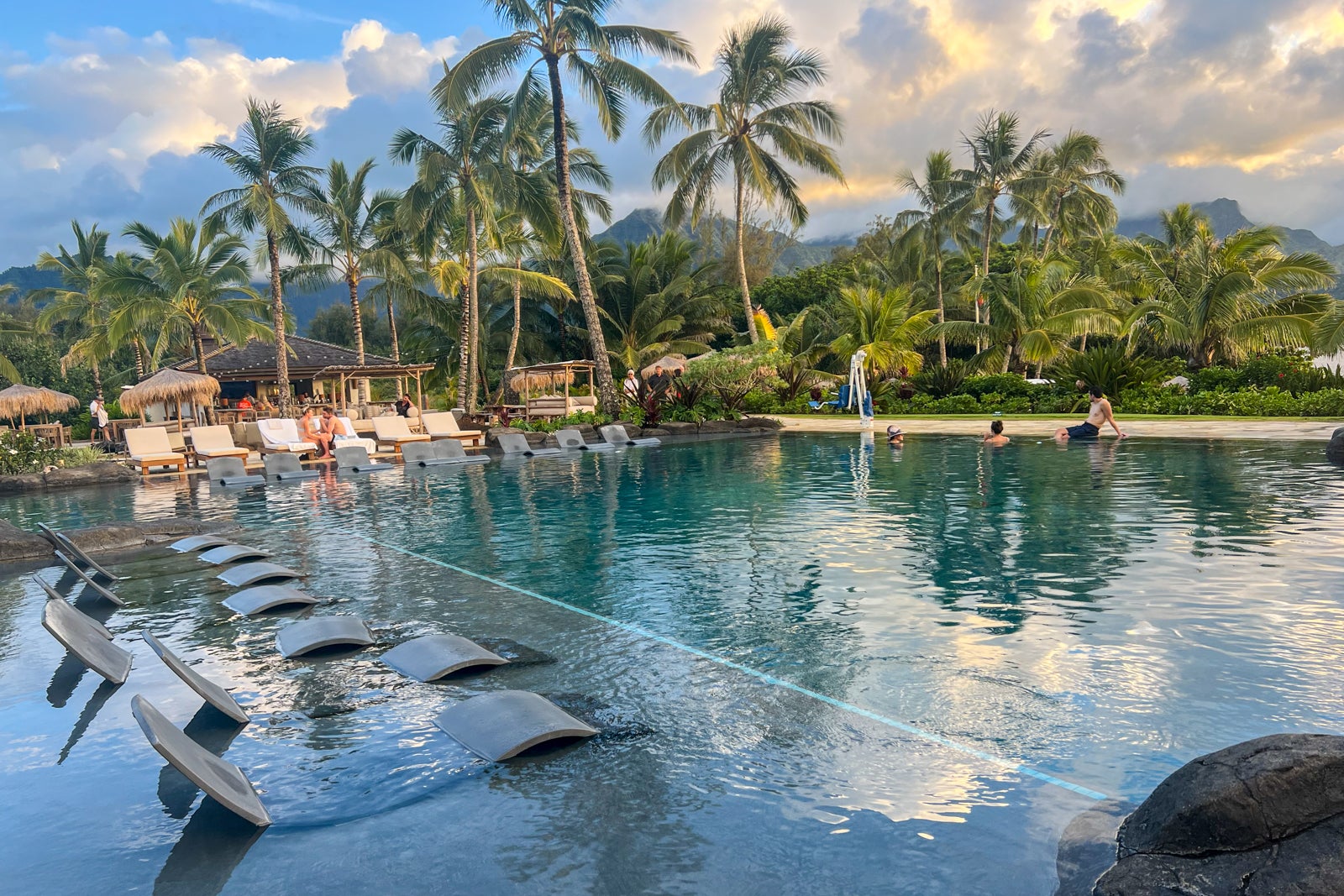 The hotel also has multiple accessible rooms with features such as raised toilets, low-level sinks, roll-in showers, grab bars and more. The hotel asks that you list any accessibility needs in the "special requests" section of the website when booking.
Checking out
I had high hopes for our stay at 1 Hotel Hanalei Bay, which can be dangerous when it's a newer property. But in this case, every hope I had was met or exceeded. It's a gorgeous, relaxing, inviting resort that offers just the right amount of diversions while creating a serene setting for those who want to do nothing at all but soak it in.
In my book, it's impossible to beat the idyllic location, and with any luck, we hope to one day become repeat 1 Hotel Hanalei guests. We'll happily do it all over again, starting with a rum-infused welcome drink and a smile as we round the bend to the entrance and know all the enjoyment that lies in store.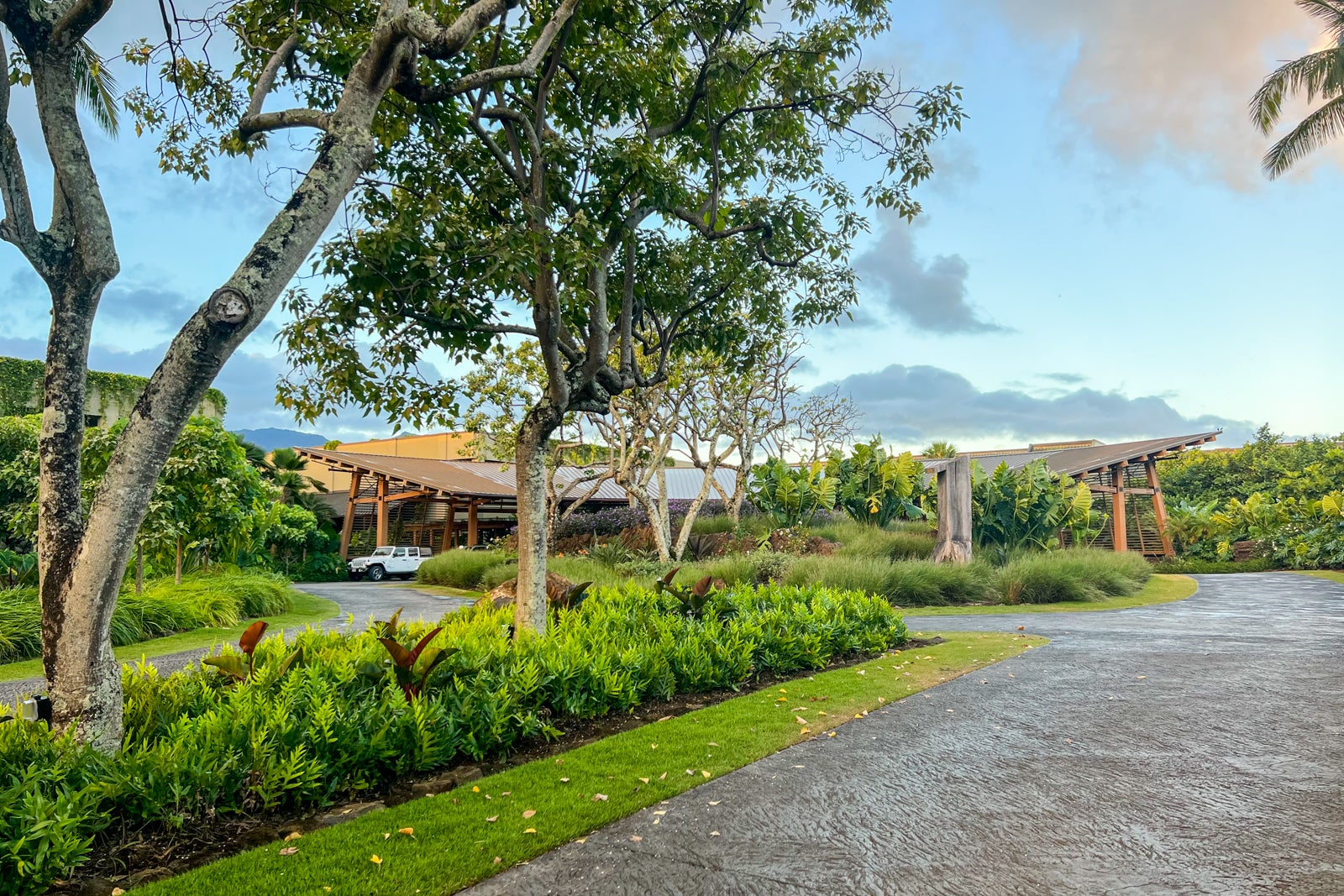 Related reading:
For rates and fees of the Amex Platinum, click here.