Editor's note: This is a recurring post, regularly updated with new information and offers.
Air Canada's Aeroplan® Credit Card from Chase is one of our favorite cobranded airline credit cards, offering award flexibility and valuable airline benefits. With its strong earning rate and incentives to spend on the card beyond earning the sign-up bonus, the Aeroplan credit card is worth considering for many points and miles enthusiasts — even those who may never visit Canada.
You may not realize just how many benefits this card has — some are rarely seen on an airline-branded credit card. So, if you are planning to fly Air Canada, even occasionally, we are looking at the benefits more closely.
Here are the perks that could make this the most valuable airline credit card you could add to your wallet.
Valuable welcome bonus
New Air Canada Aeroplan credit card applicants can earn up to 100,000 Aeroplan points: 75,000 points after spending $4,000 in the first three months from account opening, plus an additional 25,000 Aeroplan points after spending $20,000 total in the first 12 months from account opening.
TPG values Aeroplan points at 1.5 cents each, making this sign-up bonus worth up to $1,500.
Despite such a valuable welcome bonus, the Chase Aeroplan card has an annual fee of just $95.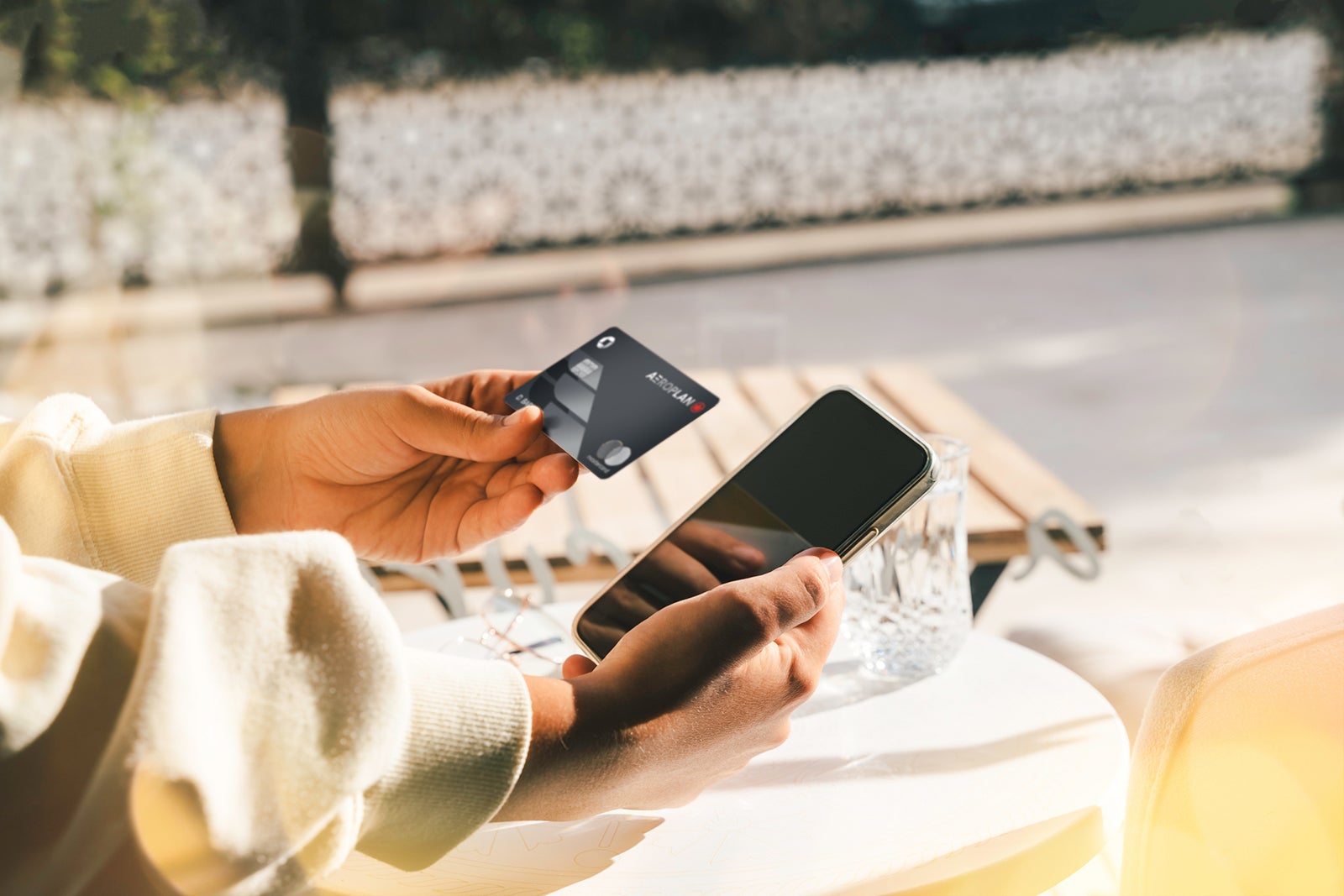 Triple points in multiple categories
Cardmembers earn 3 Aeroplan points per dollar spent at grocery stores and on dining and purchases made directly with Air Canada. You'll earn 1 point per dollar on all other purchases.
The dining category includes food delivery and takeout purchases.
Monthly bonus points
On top of the 100,000 points welcome bonus and triple point categories, there are even more bonus points for your everyday spending. For every $2,000 you spend on the card each month, you also can receive up to a 500-point bonus — up to 1,500 points per month. These bonus points can add up if you're a heavy spender, potentially earning up to 18,000 bonus points annually.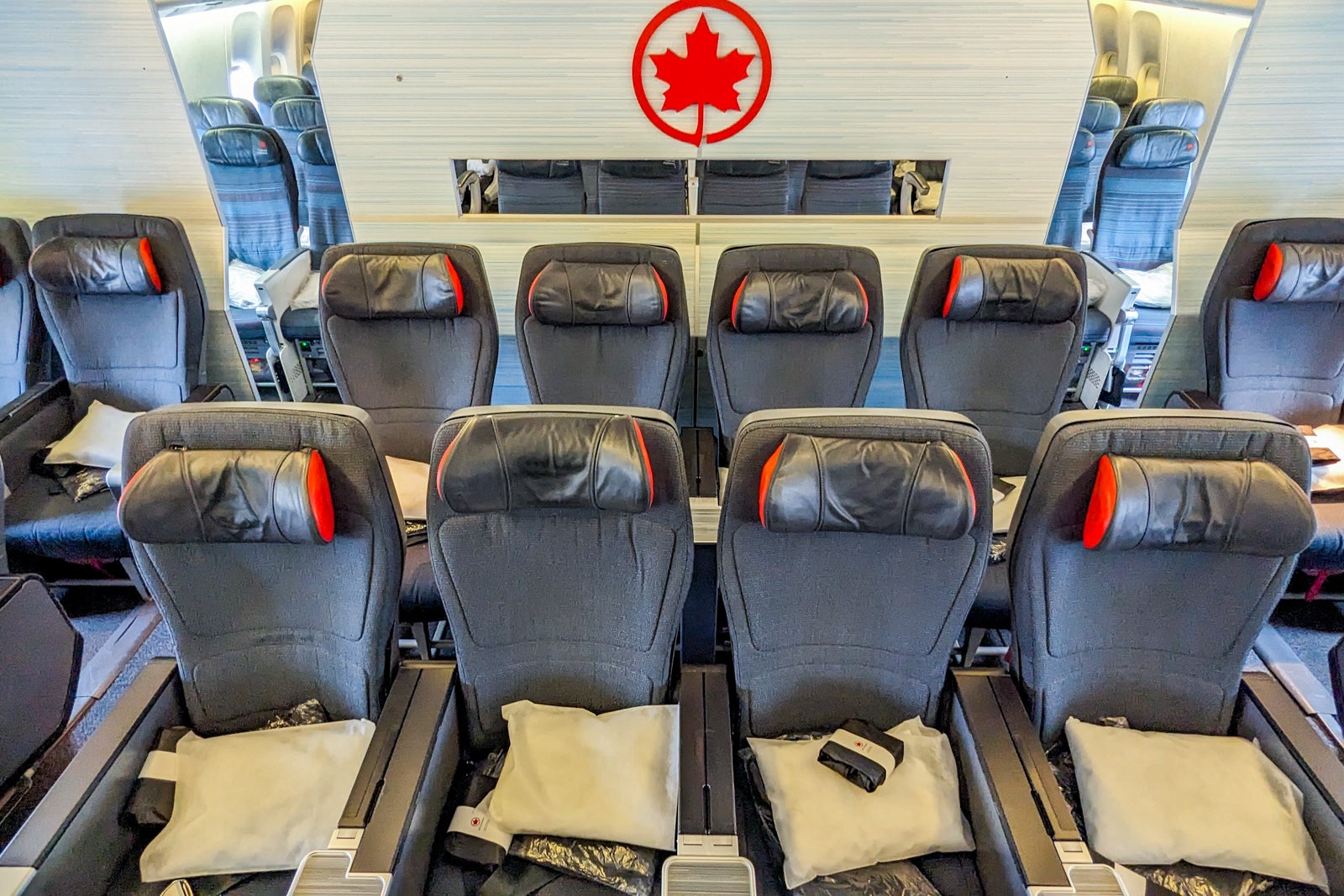 For example, a new cardmember spending $2,000 per month on the card — with half this spent on any combination of groceries, dining and with Air Canada — in the first 12 months, they would earn:
100,000 points from the welcome bonus
36,000 points for their groceries, dining and Air Canada purchases
12,000 points for their everyday purchases
6,000 points for reaching the monthly spend bonus once each month
That comes to 154,000 Aeroplan points from one card in 12 months, worth $2,310, according to our points valuations.
Ultimate Rewards transfer bonus
Suppose you also collect Chase's own Ultimate Rewards points. In that case, Air Canada Aeroplan credit cardmembers get a 10% transfer bonus after transferring 50,000 or more Ultimate Rewards points in a single transaction from an eligible Chase credit card to their Aeroplan account, up to a bonus of 25,000 Aeroplan bonus points per calendar year. This promotion runs through Dec. 31.
If you are working toward an Aeroplan redemption, this can allow you to reach that goal sooner.
Redeem points for any travel purchase
For those who get lost trying to optimize their points and miles, cardmembers can redeem their Aeroplan points toward travel purchases — on any airline, hotel, car rentals and more — at a rate of 1.25 cents each. The Pay Yourself Back tool has a redemption limit of 50,000 points annually, though this limit is waived for 2023.
Statement credits to make your travel easier
Cardmembers also receive up to $100 statement credit for Global Entry, TSA PreCheck or Nexus application every four years.
While most U.S. travelers are familiar with Global Entry or TSA PreCheck, they may not know about Nexus. This membership program expedites travel between the U.S. and Canada via land, sea or air. This is the best membership for U.S. travelers who plan to visit Canada frequently.
Nexus application fees are only $50, including Global Entry and TSA PreCheck benefits. Just note that you must be interviewed for Nexus at a major Canadian airport or along the U.S.-Canadian border.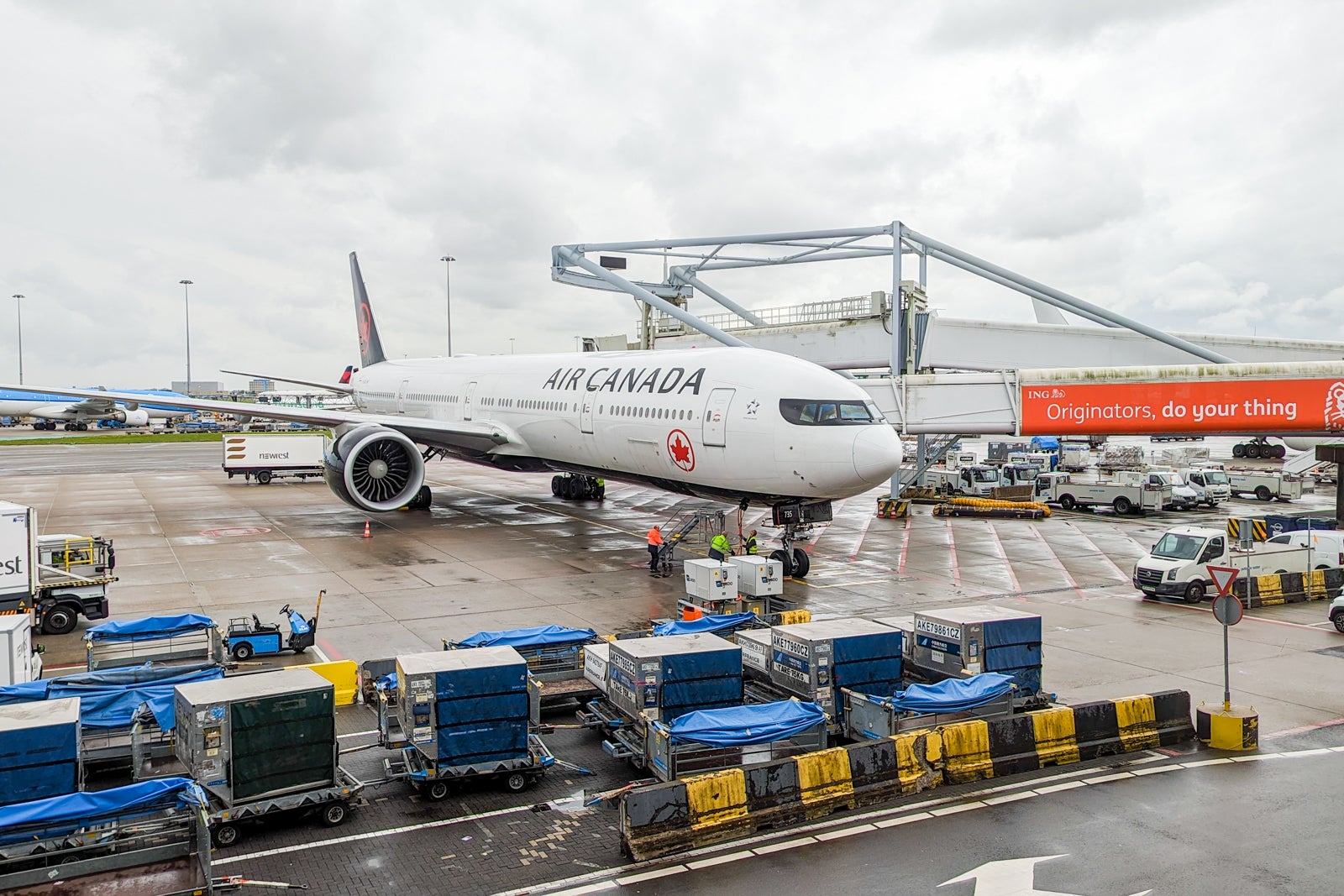 Aeroplan elite status
Cardholders receive automatic Aeroplan 25K elite status, which has more benefits than you might realize; some benefits incldue priority check-in and boarding, a 50% discount on Preferred Seats and 20 eUpgrade credits each year. Status is good in the calendar year you open the card and the following one, so folks who apply in the second half of 2023 will enjoy status through the end of 2024.
Aeroplan 25K members also receive priority phone access and are ranked above non-elite passengers on the waitlist when there's a full plane. These perks can be highly beneficial when trying to reach customer service or when a flight has been delayed or canceled. With priority access, you'll be among the first to have your flight rebooked.
These members can select seats at the front of the economy cabin on Air Canada flights and are eligible for priority boarding. By getting on the plane quicker, you'll have first access to the overhead bin space and more time to settle in before takeoff.
The 25K elite status is also Star Alliance Silver status, which gives you access to the priority reservation waitlist and priority standby at the airport when traveling with member airlines, including United Airlines, Lufthansa and Singapore Airlines. Star Alliance Silver status can expedite your service if something goes wrong with your itinerary. If your original flight is delayed or canceled, you'll be one of the first passengers to capture a seat on the next flight, which can be critical when weather or other factors interrupt an airline's schedule.
Discounted award pricing
A lesser-known but very valuable perk of Aeroplan 25K status is discounted pricing on some award redemptions flying with Air Canada. It's not immediately apparent how much the discount is when cardmembers search for flights using their Aeroplan points; however, let me show an example of what a cardmember and non-cardmember would see.
Say you want to fly from Washington, D.C.'s Dulles International Airport (IAD) to Amsterdam Airport Schiphol (AMS) in business class. You can see the lowest price on the date you want to travel from 80,000 Aeroplan points as a non-elite.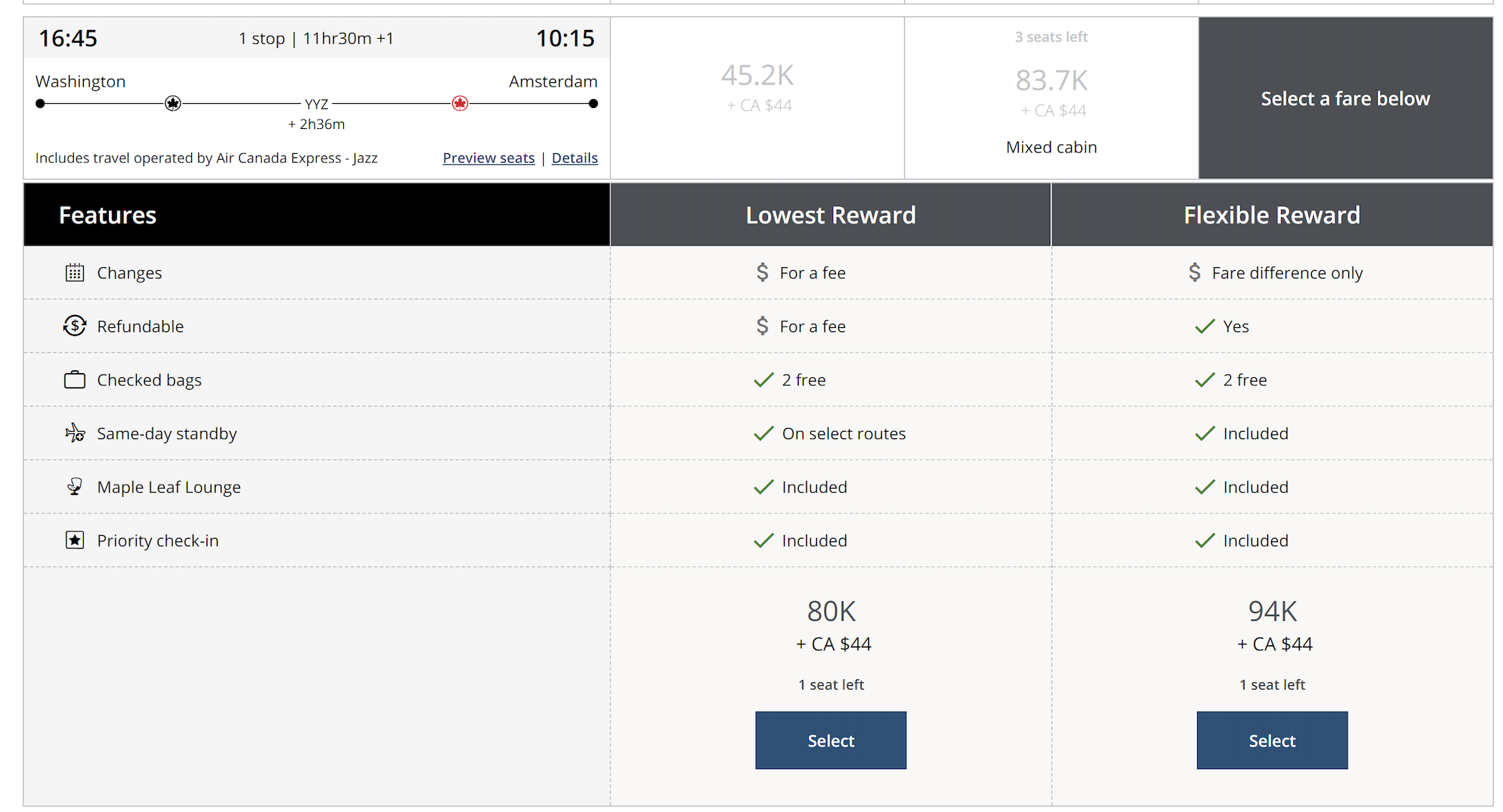 The 25K elite status members receive the following discounted pricing of fewer than 60,000 points for the same flights.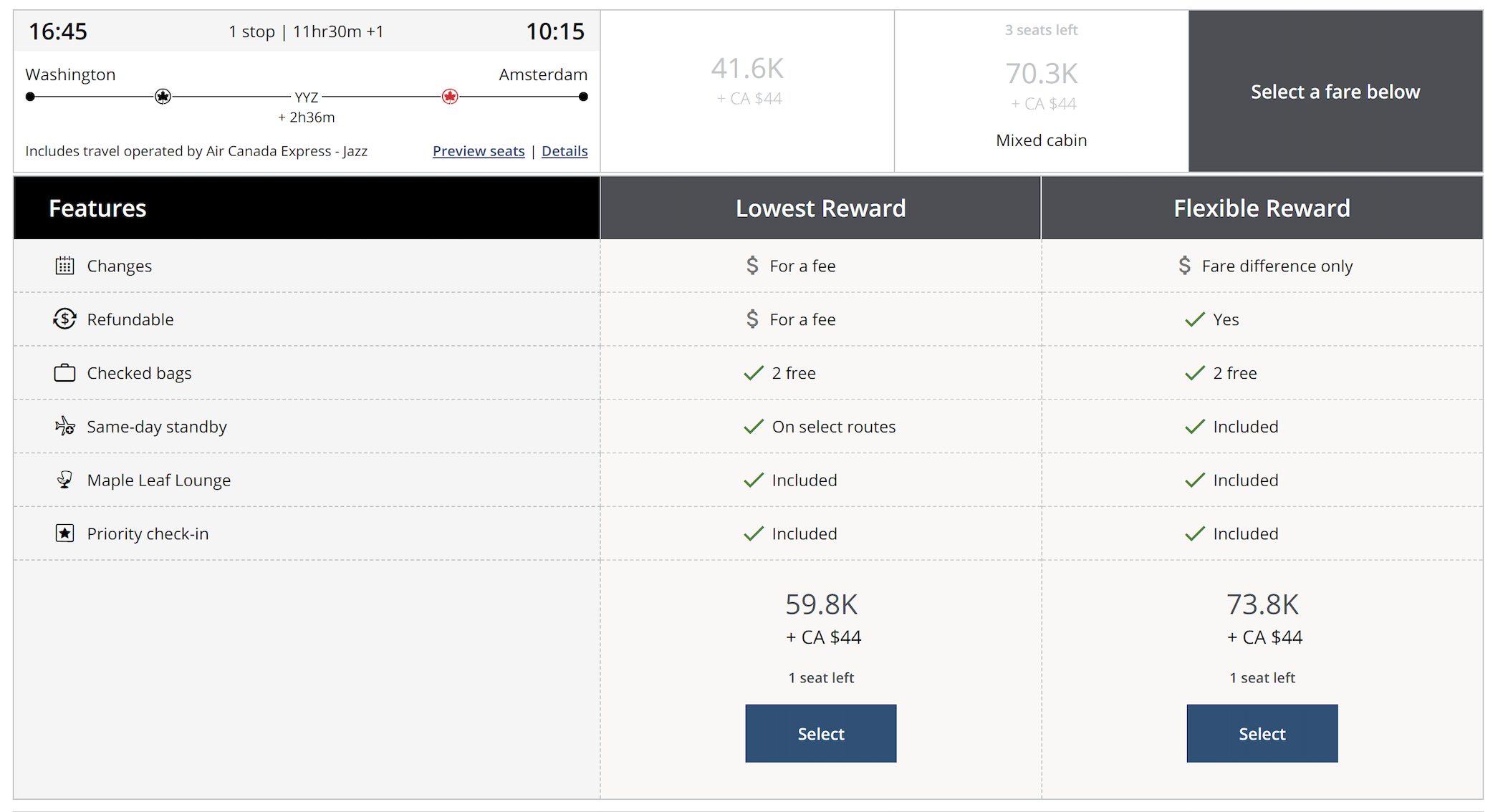 This credit card could save you around 20,000 Aeroplan points for just one redemption, saving you the equivalent of the annual fee several times over.
Upgrade credits
The 25k elite status members also receive 20 eUpgrade credits each year.
Say you want to fly from New York to Frankfurt Airport (FRA). On the dates you wish to travel, with Aeroplan's pesky dynamic pricing, the best price in business class you can find is 122,100 Aeroplan miles. Compared to the 375,000 miles Delta might charge for a similar flight, this Aeroplan price is not terrible, but not excellent.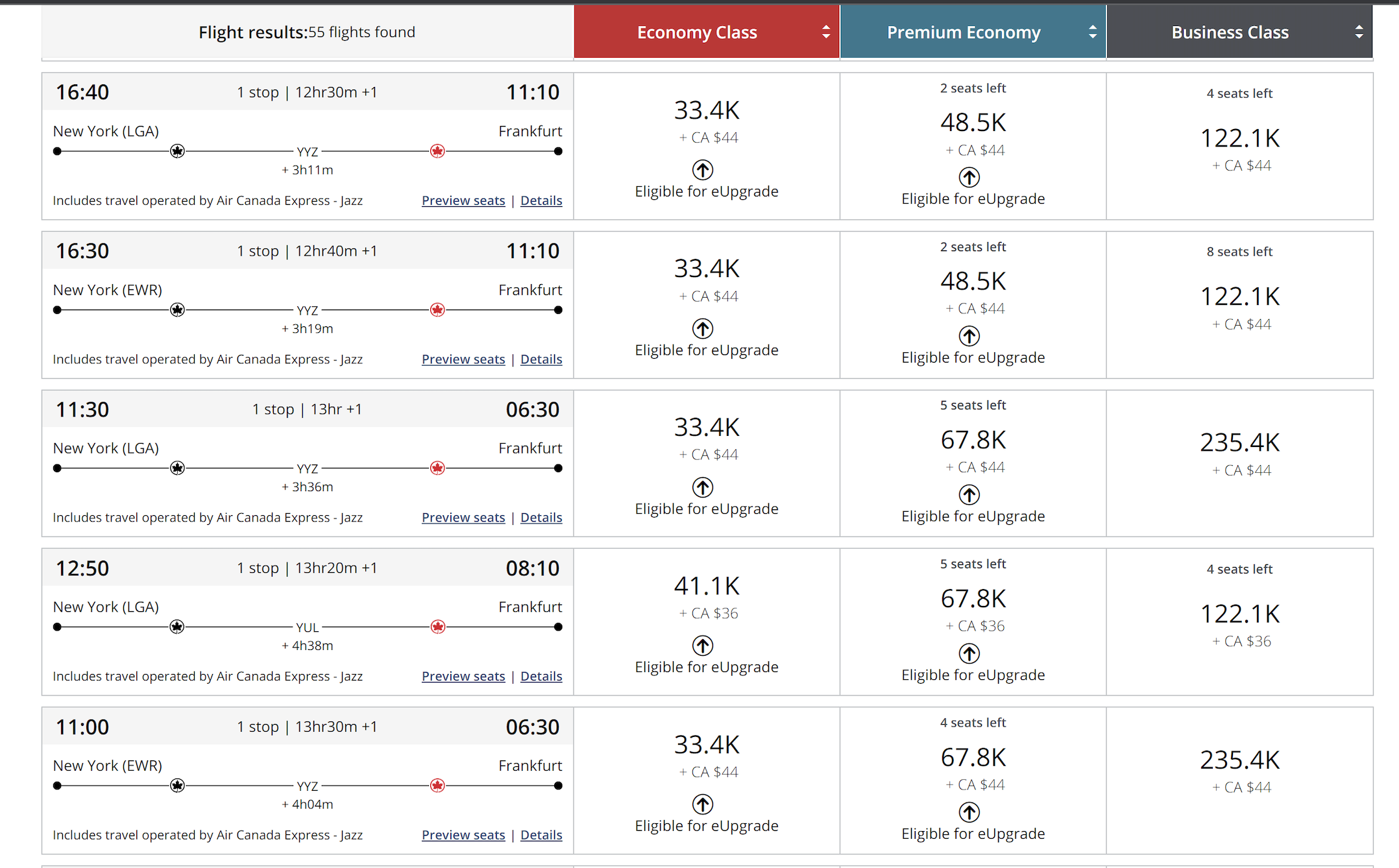 By selecting the 'eUpgrade' filter in the search results, look for pricing in lower classes stating the flight(s) are "Eligible for eUpgrade." On this date, premium economy starts from just 48,500 Aeroplan miles — a much better deal.
By clicking on premium economy and looking to redeem those eUpgrade credits from the Aeroplan credit card, you could book the 48,500 point level; you could also apply 12 eUpgrade credits plus 200 Canadian dollars ($147) to instantly upgrade to business class on the transatlantic sector between Toronto and Frankfurt. You could also be waitlisted for the short hop from New York.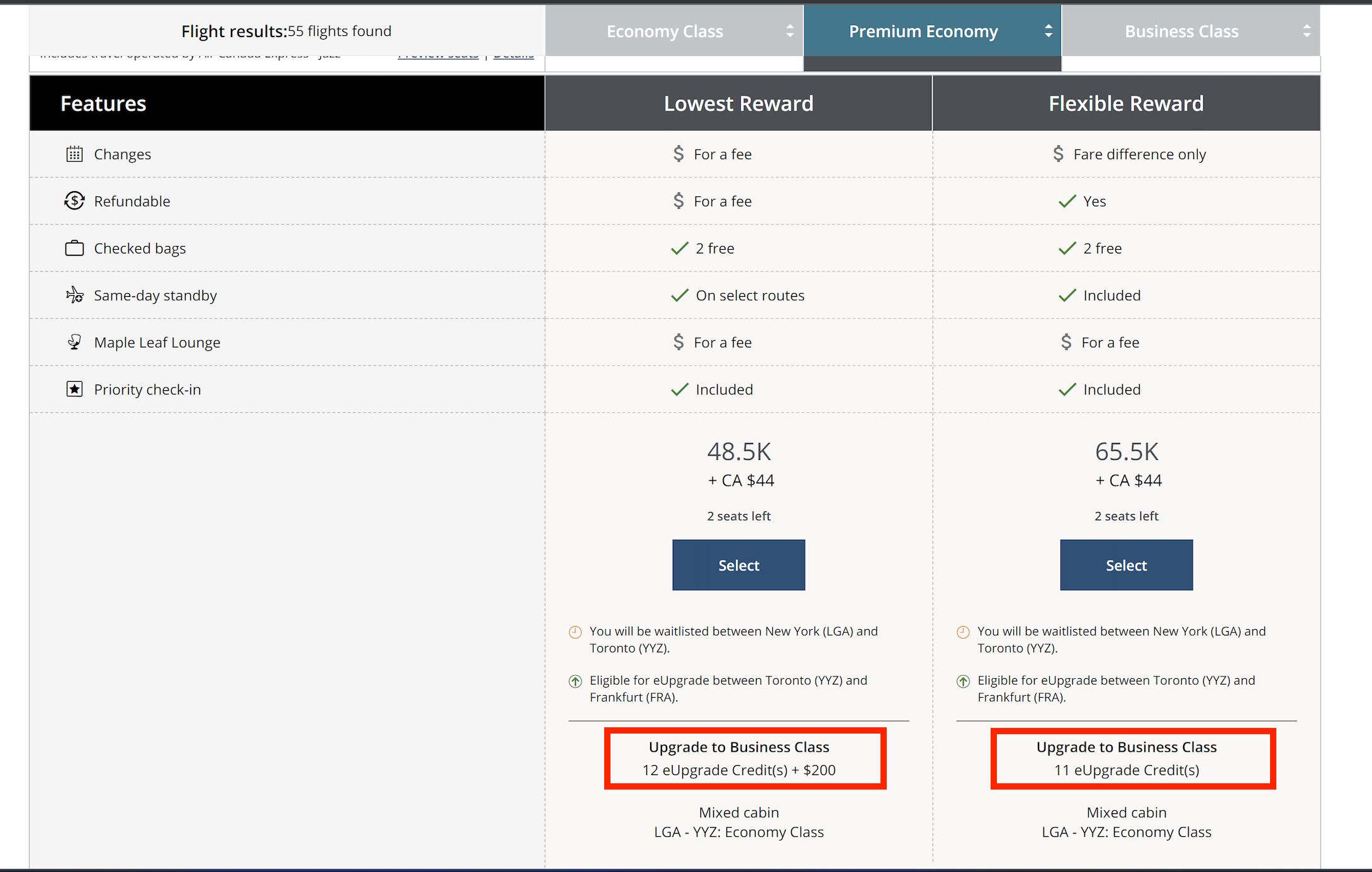 AIRCANADA.COM
If you would rather save the CA$200 (and one eUpgrade credit), you could pay the higher 65,500 Aeroplan points amount and upgrade to business class with no additional co-payment.
These eUpgrade credits can save you hundreds of dollars and tens of thousands of Aeroplan points each year.
Lounge passes
Each year, 25K elites status members receive two one-time guest passes to Air Canada's Maple Leaf Lounges located in the domestic and U.S. zones of Canadian airports; they can also access those lounges at Los Angeles International Airport (LAX), New York's LaGuardia Airport (LGA) and Newark Liberty International Airport (EWR).
Passes can be used with a confirmed same-day ticket on Air Canada.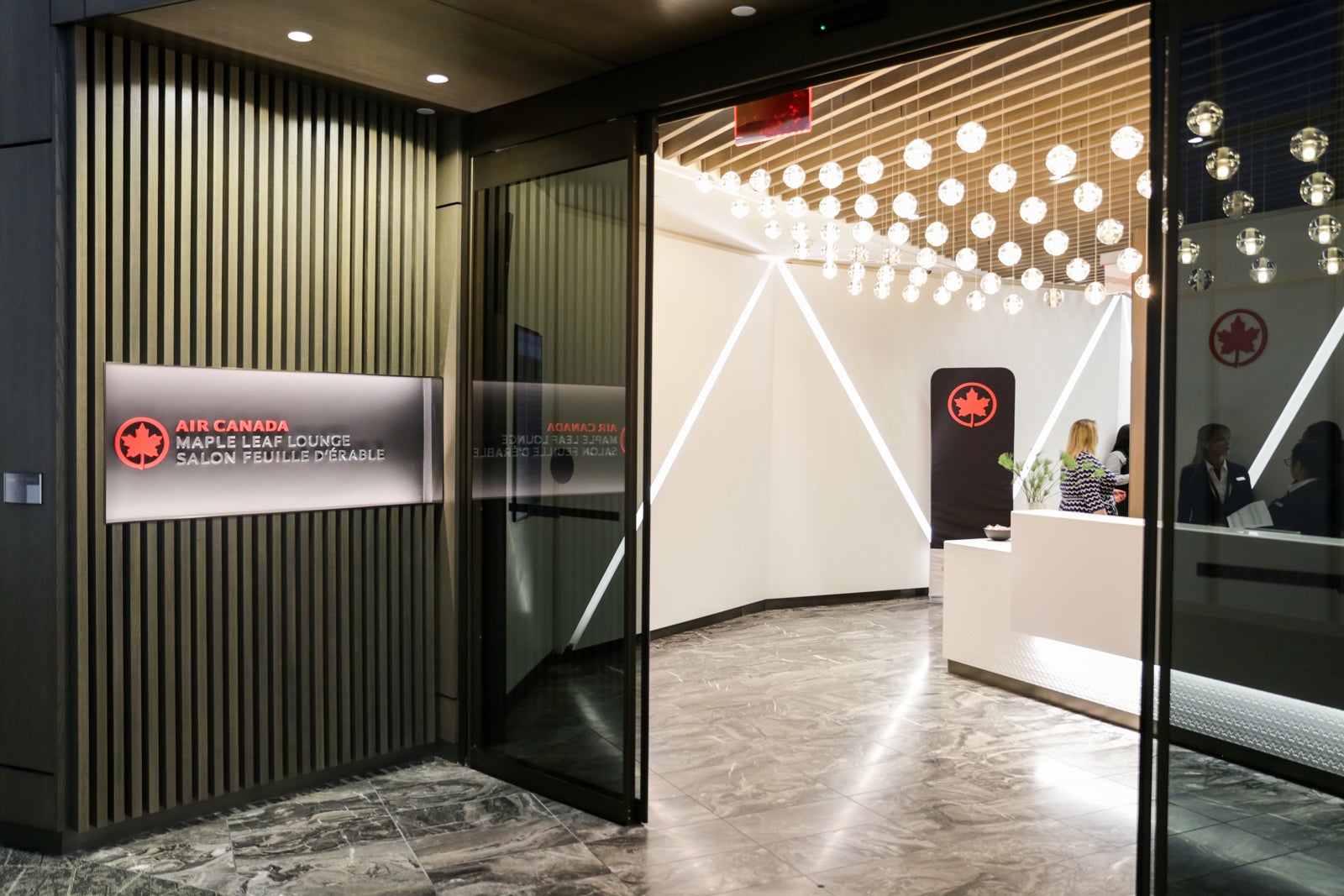 Bottom line
For a credit card with an annual fee of $95, Air Canada Aeroplan credit card has so many benefits, especially if you plan to fly Air Canada once you hold the card.
You can earn a stack of Aeroplan points with all of the bonuses offered. You can save points on Air Canada redemptions, whether by benefiting from the discounted pricing or by using those very valuable eUpgrade credits to upgrade for less; cardmembers receive both perks as part of their 25k elite status.
Even if you have no plans to visit Canada, Air Canada's extensive route map includes Europe, Asia and the Pacific. Finally, Air Canada has some terrific redemption partners both within Star Alliance and outside of it.
---
Official application link: Aeroplan Credit Card with a 100,000-point sign-up bonus after spending $20,000 in 12 months
---