Quick take: Emirates A380 business class lives up to the hype, with an enjoyable experience and luxurious amenities from start to finish.
Pros:
It's an excellent lounge in New York with a variety of Champagne choices that create a sense of occasion as well as a wide range of hot food.
Eye-catching Bulgari amenity kits are stocked with the brand's high-end products.
Spending time in the onboard bar is probably the most fun you can have in business class across the Atlantic.
Cons:
The massive business-class cabin can feel impersonal on a full flight.
The number of lavatories is insufficient for how many passengers this plane carries, and they are awkwardly located.
Unlike on some of Emirates' longer-haul flights, eight hours is barely enough time to experience everything.
Fifteen years after taking delivery of its first Airbus A380, Emirates is the largest operator of the world's largest passenger aircraft, with a fleet of more than 100 jets.
While the flight time from the U.S. to the airline's mega hub at Dubai International Airport (DXB) can be a marathon, Emirates also flies a shorter fifth-freedom service between New York's John F. Kennedy Airport (JFK) and Milan Malpensa Airport (MXP) in Italy. (The aircraft then continues on to Dubai.)
I have admired 15 years' worth of social media posts of Emirates' A380 onboard bar, and I had a very positive experience flying Emirates' new premium economy last year. So, I was thrilled to finally get the opportunity to fly business class and spend some time in the high-flying cocktail lounge.
Here's what the experience was like flying Emirates' A380 business class.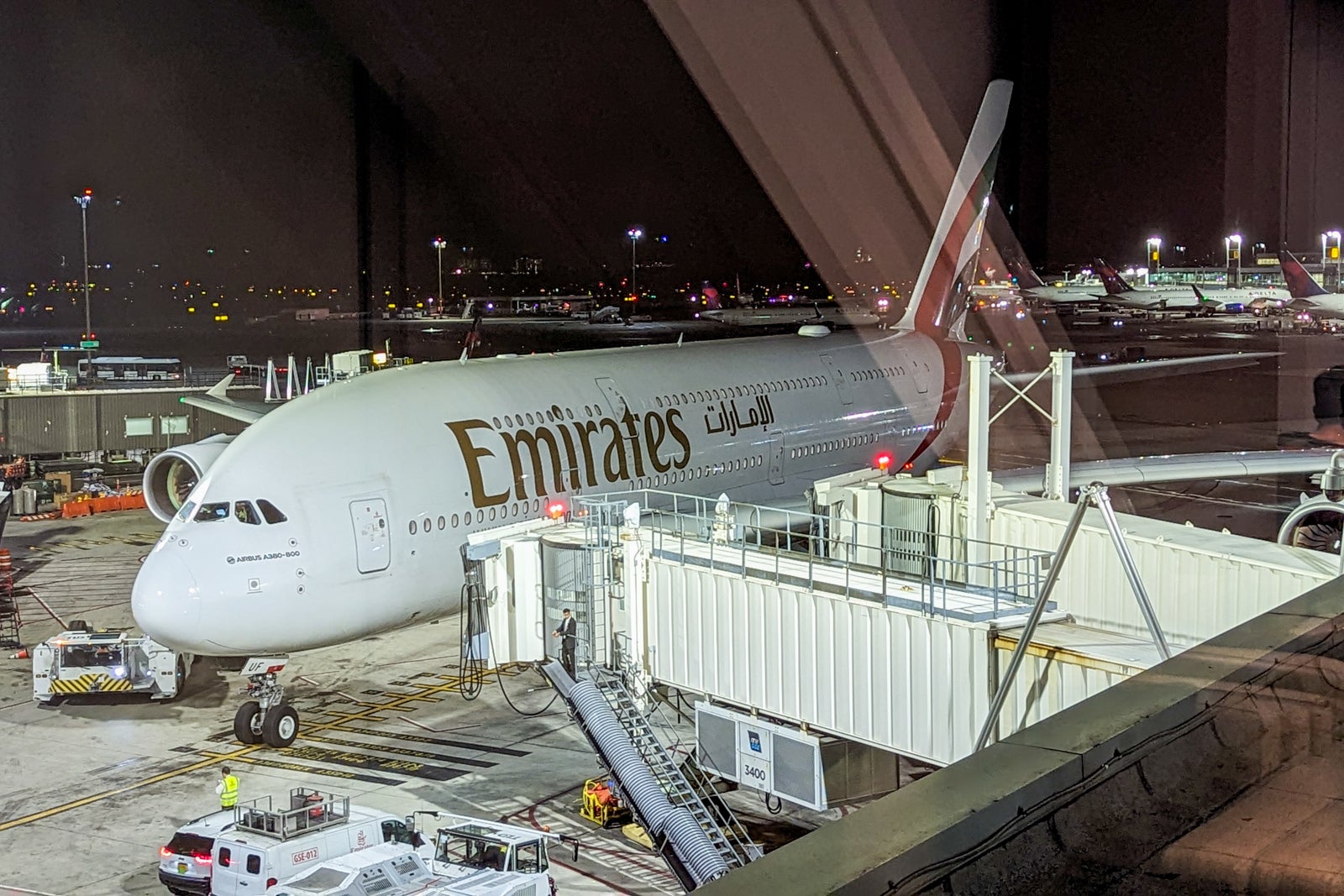 How much does business class cost to book on Emirates?
Award availability using Emirates Skywards miles on this unique route is plentiful over the winter months but harder to come by in the summer. We redeemed 87,000 Emirates Skywards miles plus $104 in taxes and fees for a one-way business-class flight from New York to Milan.
Here is the range of cash and award rates on it over the next 12 months:
| | | | | |
| --- | --- | --- | --- | --- |
| Class | Economy | Premium economy | Business class | First class |
| Airfare (round-trip) | $652-$1,267 | Not offered on this route | $3,253-$8,506 | $15,800-$20,000 |
| Emirates Skywards miles (round-trip) | 45,000-77,500 miles plus $142 | Not offered on this route | 141,000-174,000 miles plus $246 | 285,000 miles plus $1,721 |
Both cash fares (excluding the airline's Business Special bucket) and mileage redemptions in Emirates business class to or from the Americas include free seat selection, two checked bags up to 32 kilograms (70 pounds) each and two full-size cabin bags.
Emirates flight EK206 departs JFK daily at 10:20 p.m., arriving in Milan just less than eight hours later at 12:15 p.m. the next day.
The fastest and easiest way to earn a meaningful number of Skywards miles is by leveraging the right credit card welcome bonus and transfer options.
Emirates does offer a pair of cobranded credit cards in the U.S., but even if you don't have one of them, Skywards miles are among the easiest to earn without them since Emirates is a transfer partner of several major credit card points currencies.
The following cards all currently offer strong welcome bonuses with points and miles that you can transfer into your Skywards account:
Checking into and boarding business class on Emirates
Emirates business-class passengers can expect the following priority services at the airport.
| Priority boarding | Yes |
| --- | --- |
| Lounge available | Emirates lounge |
| TSA PreCheck access | Yes |
| Boarding group | At leisure |
Emirates operates from Terminal 4 at JFK, which is typically a hive of activity in the evenings before a bank of flights departs to Europe.
Another Emirates A380 flight departs just 40 minutes after the flight to Milan (that one operating nonstop to Dubai), so Emirates fields a huge check-in area to cater to more than 1,000 evening passengers.
A dedicated business-class check-in lane with only a handful of passengers meant a friendly and efficient check-in agent helped me within five minutes.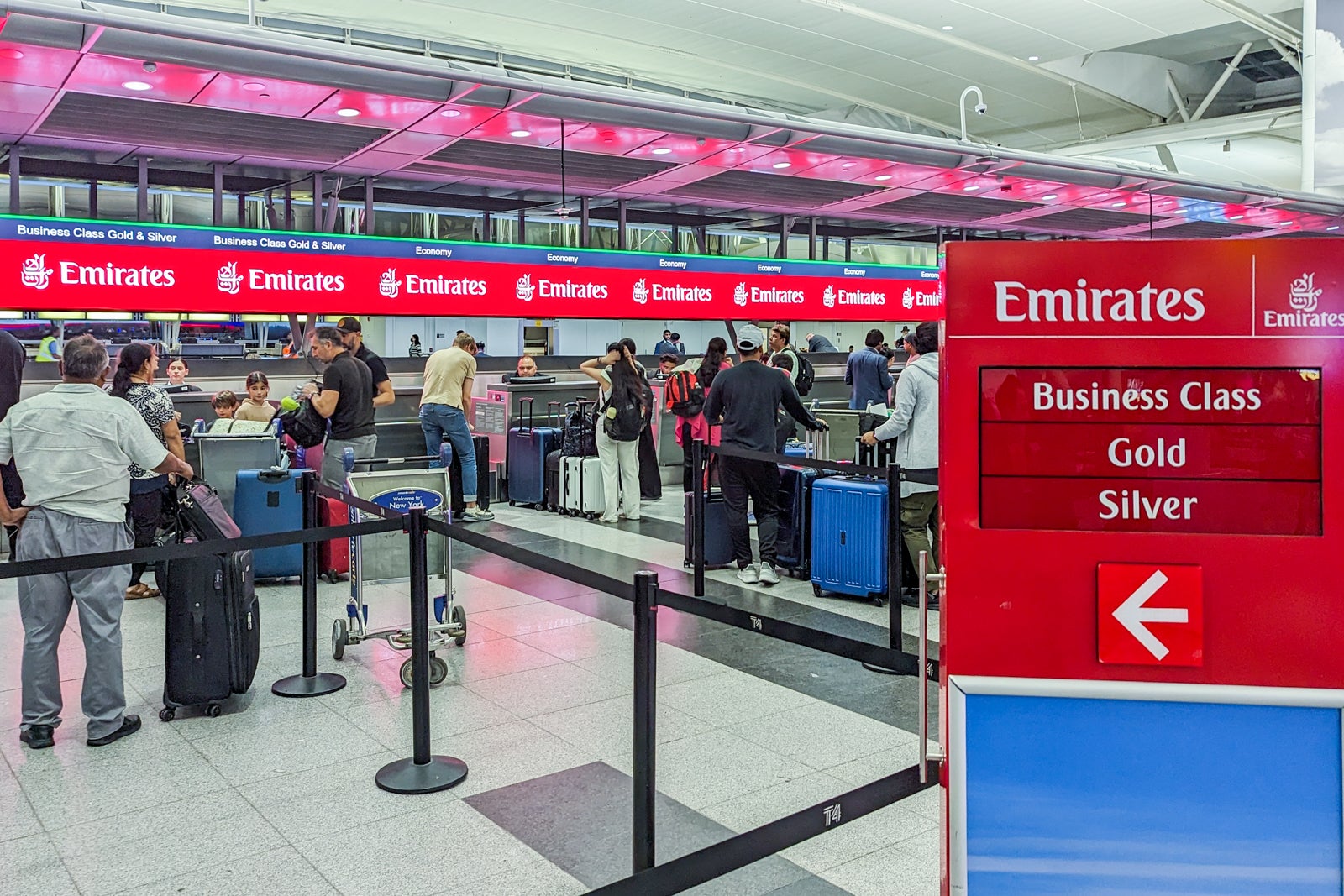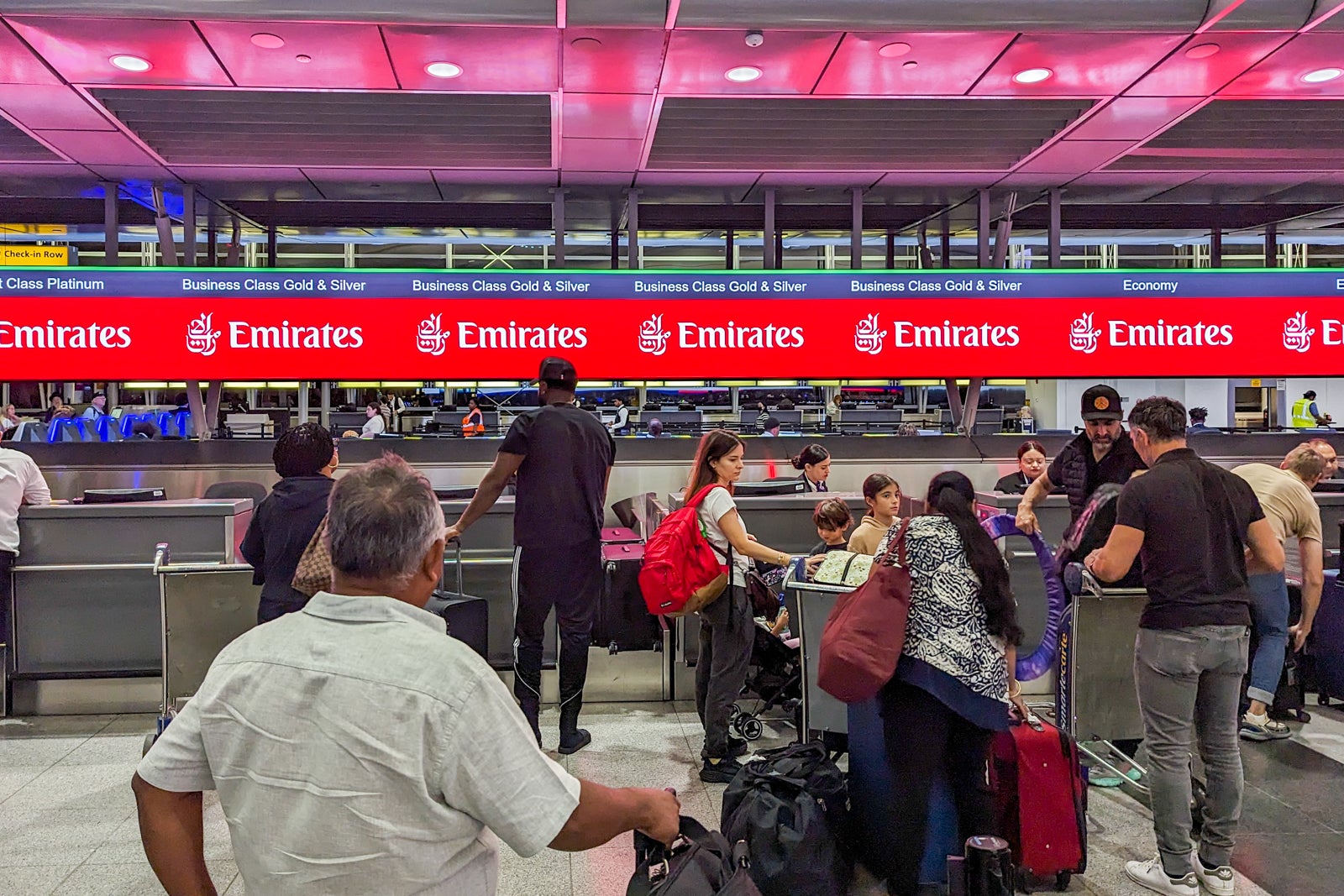 Emirates business-class passengers do not receive priority security. If you do not have TSA PreCheck, you will need to allow plenty of time to pass through the often-busy checkpoints in this terminal.
Once through security, the Emirates lounge is upstairs toward gate A6, next to the Air India lounge.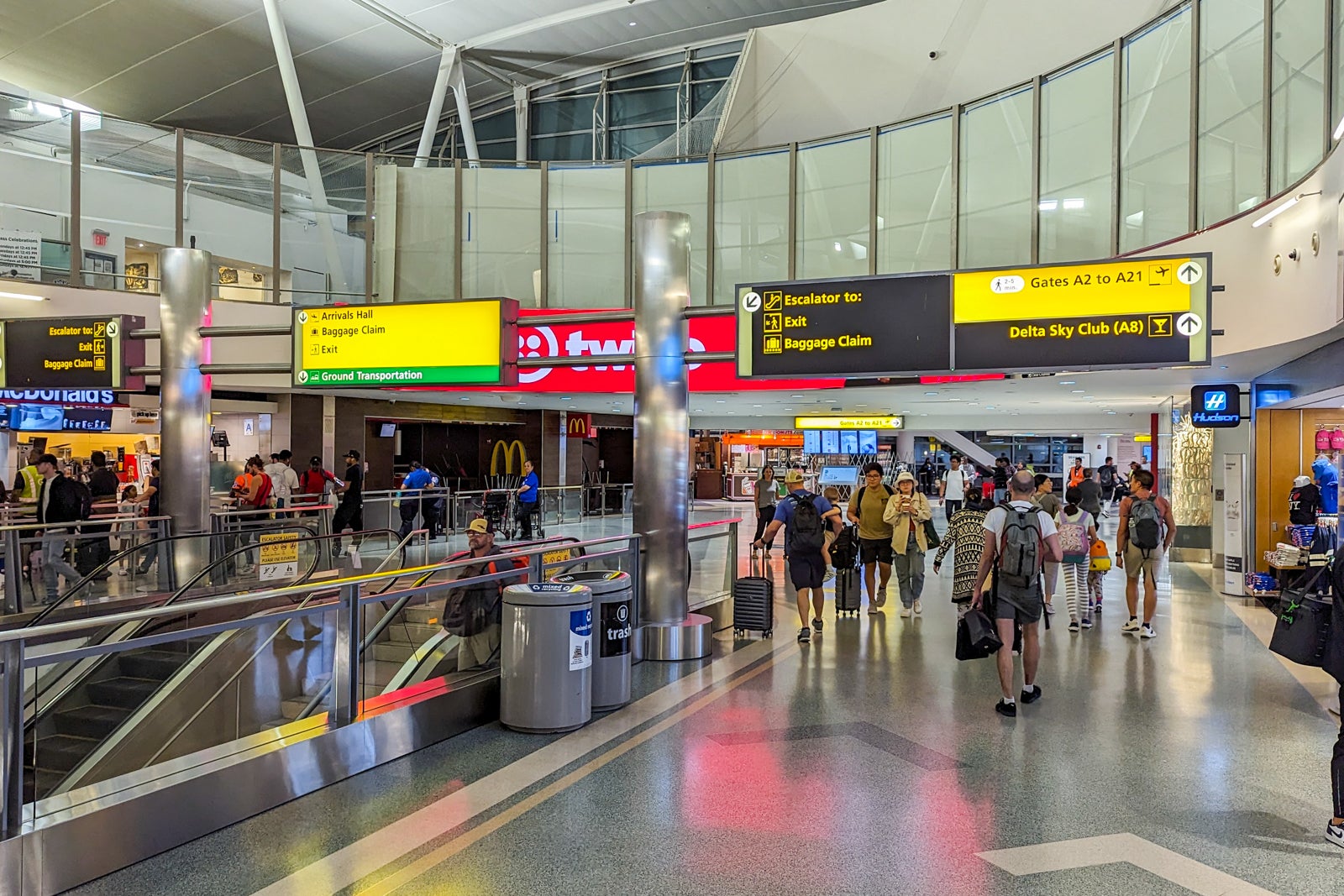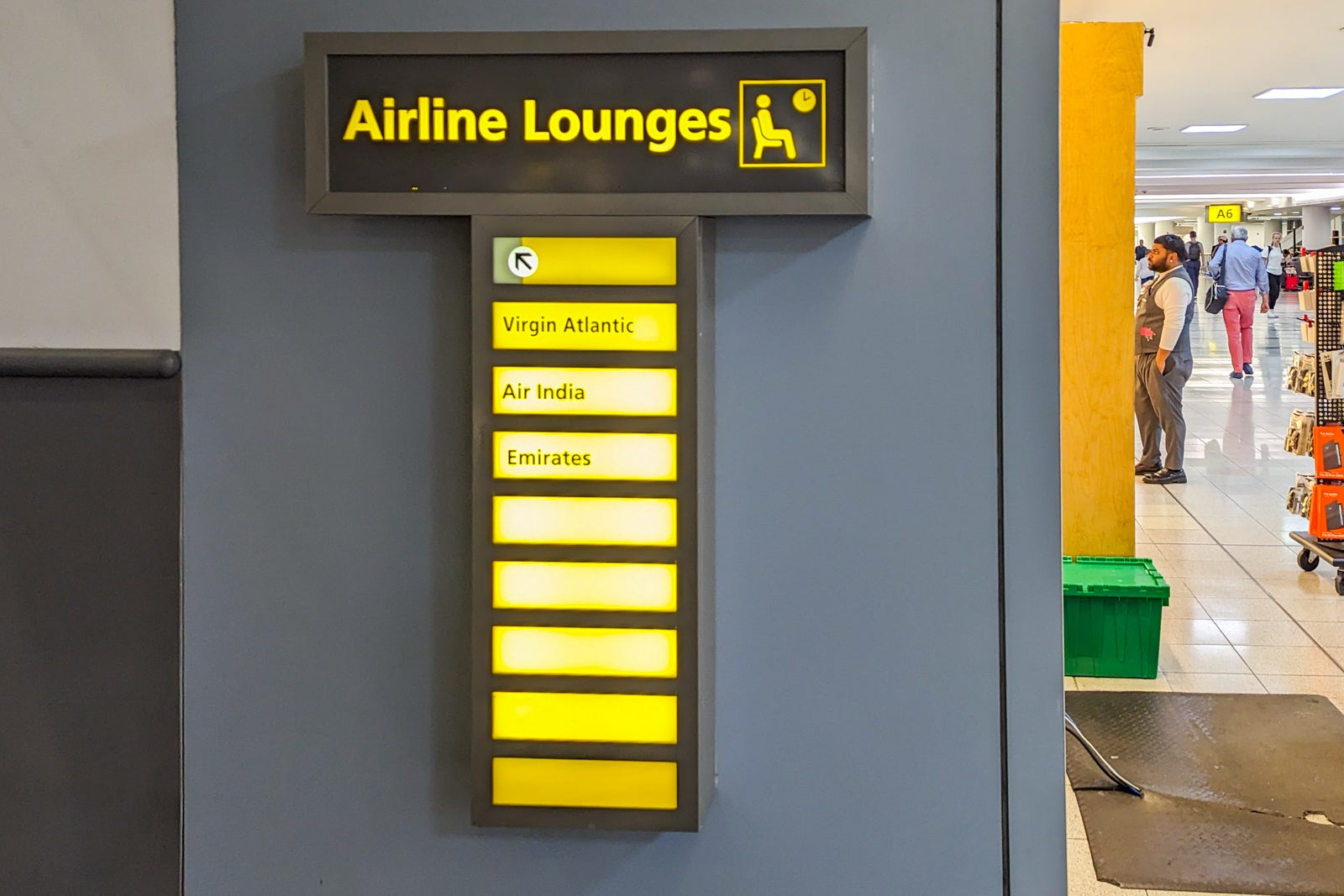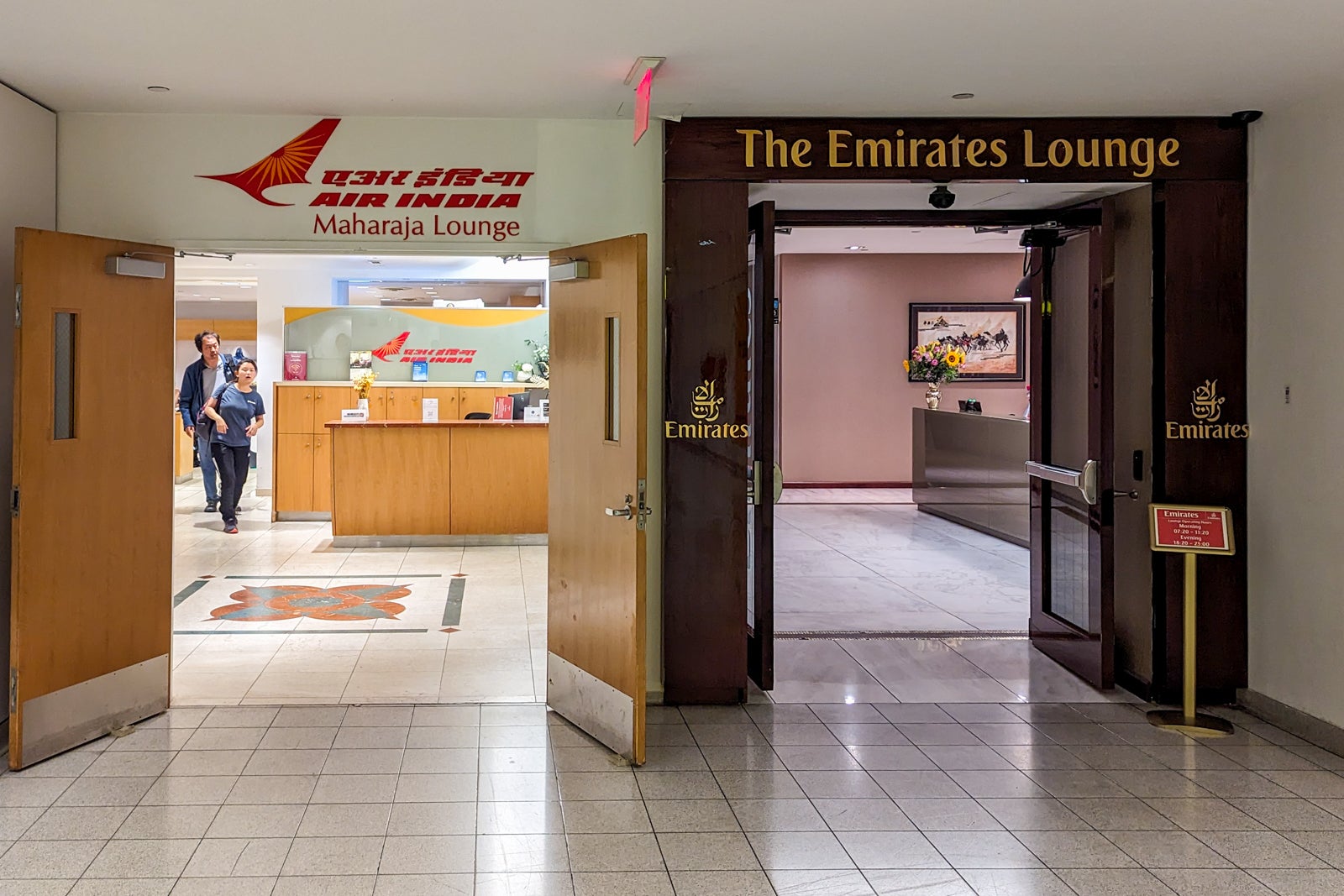 The lounge was excellent, both in size and in the quality of food and beverage options available. Even with two A380s shortly departing in the middle of summer, there was plenty of seating.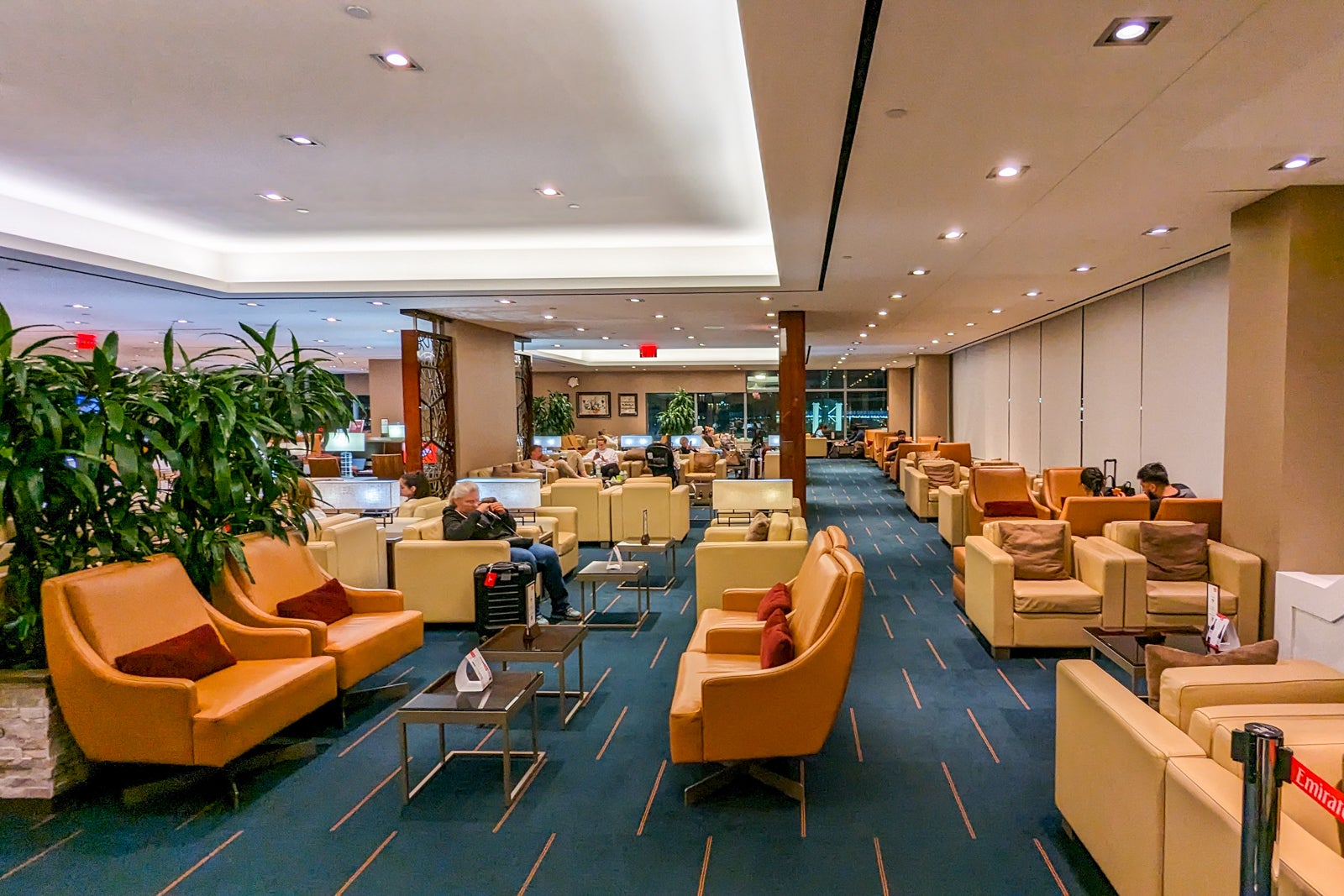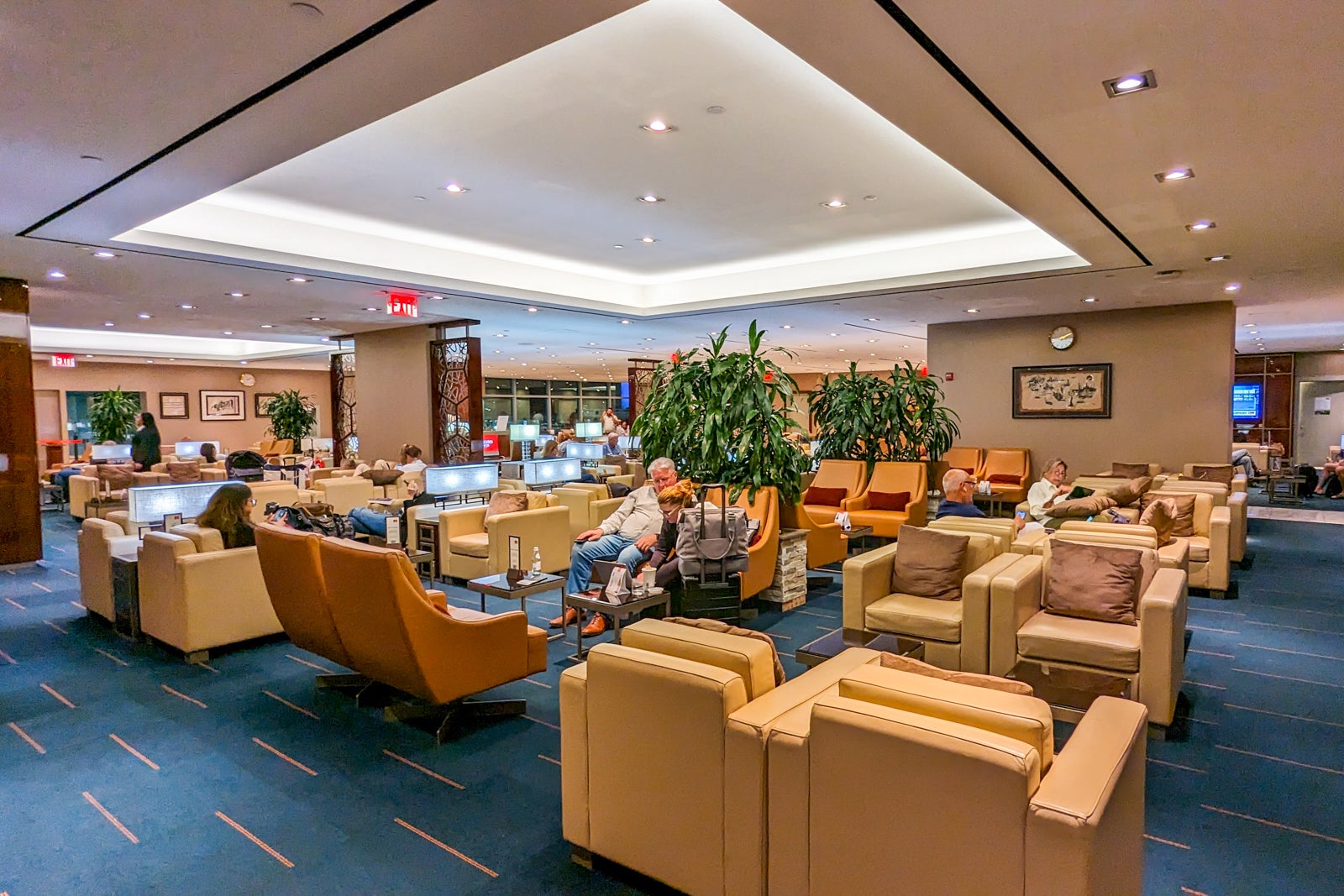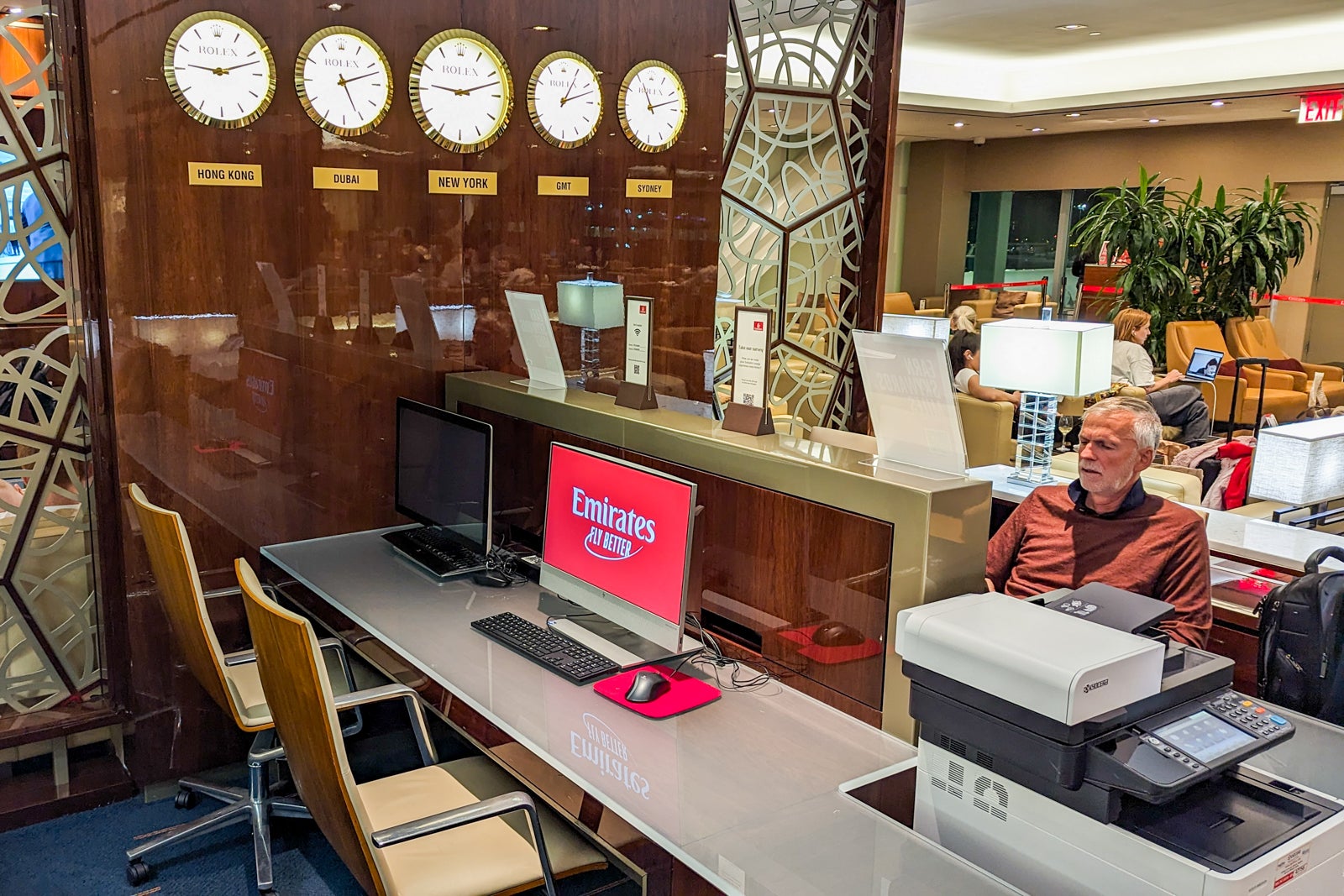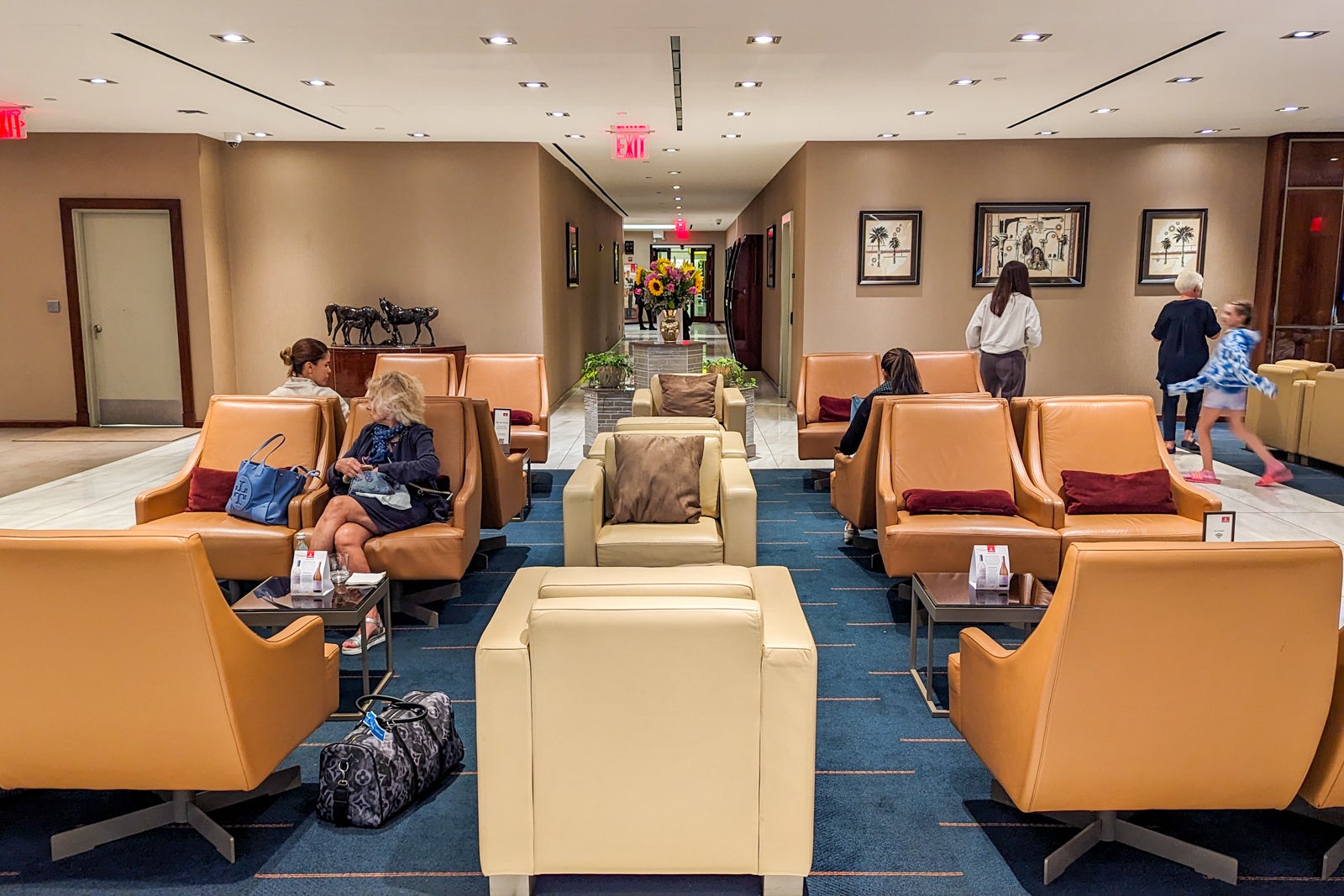 Passengers could choose from both Moet & Chandon Imperial and Veuve Cliquot Champagnes, as well as name-brand spirits like Johnnie Walker Black Label whisky, Grey Goose vodka and Jose Cuervo tequila. Coca-Cola and Pepsi soft drinks were stocked in the refrigerators, along with San Pellegrino sparkling water and Acqua Panna still water.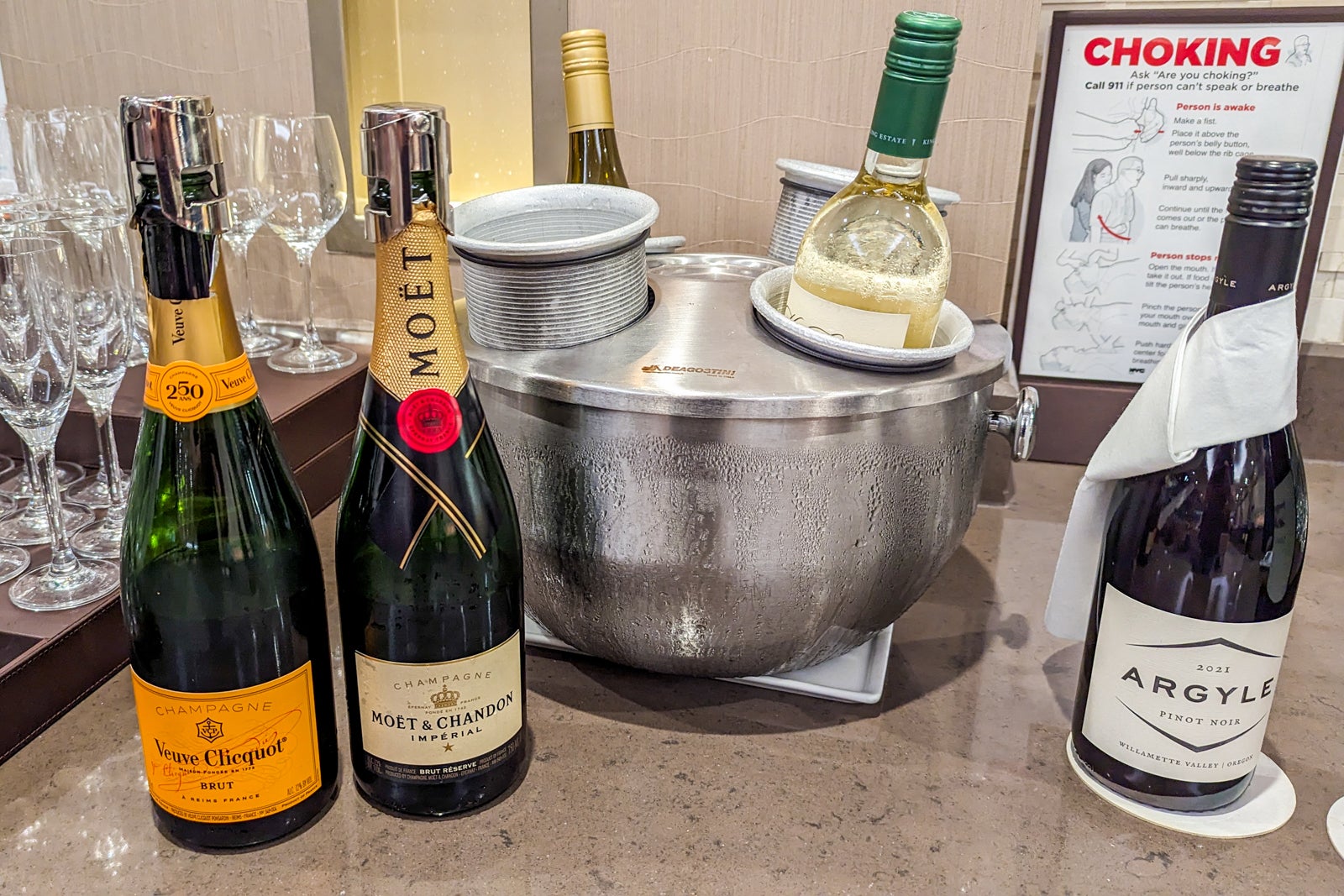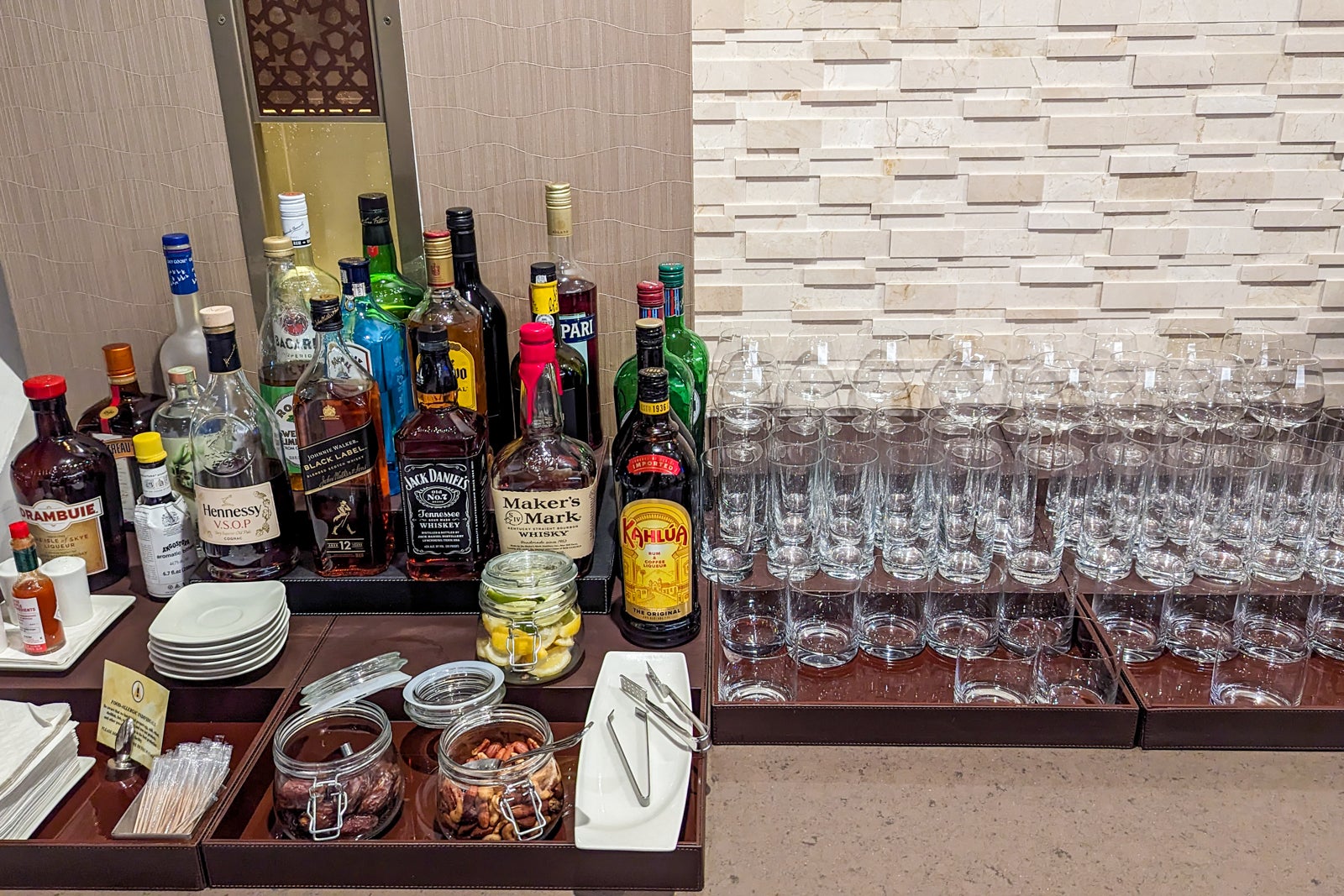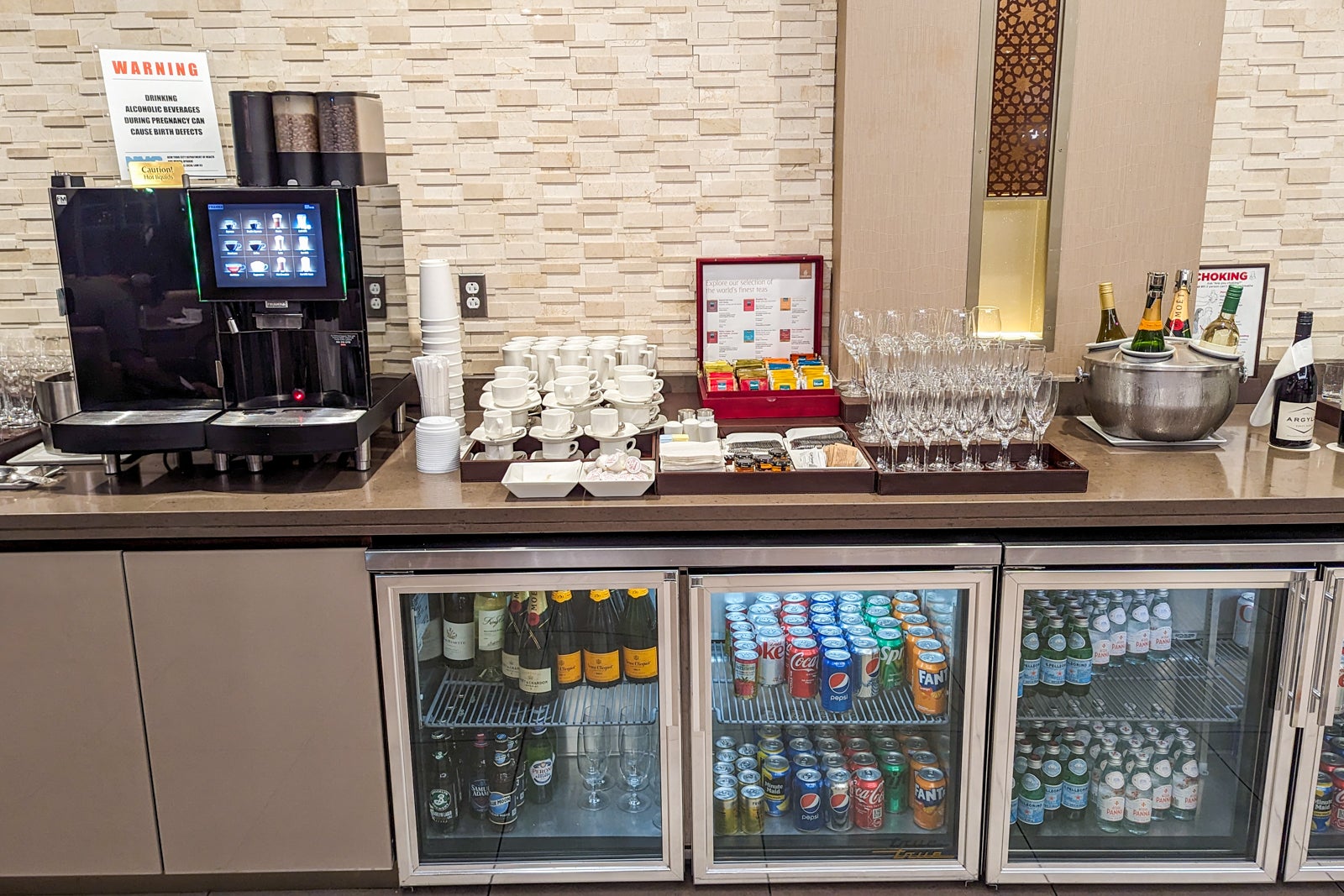 An extensive buffet of hot and cold dishes, such as roasted rack of lamb and zucchini cakes in the dining area looked freshly prepared and neatly presented. In short, this is a lounge worth arriving slightly early for.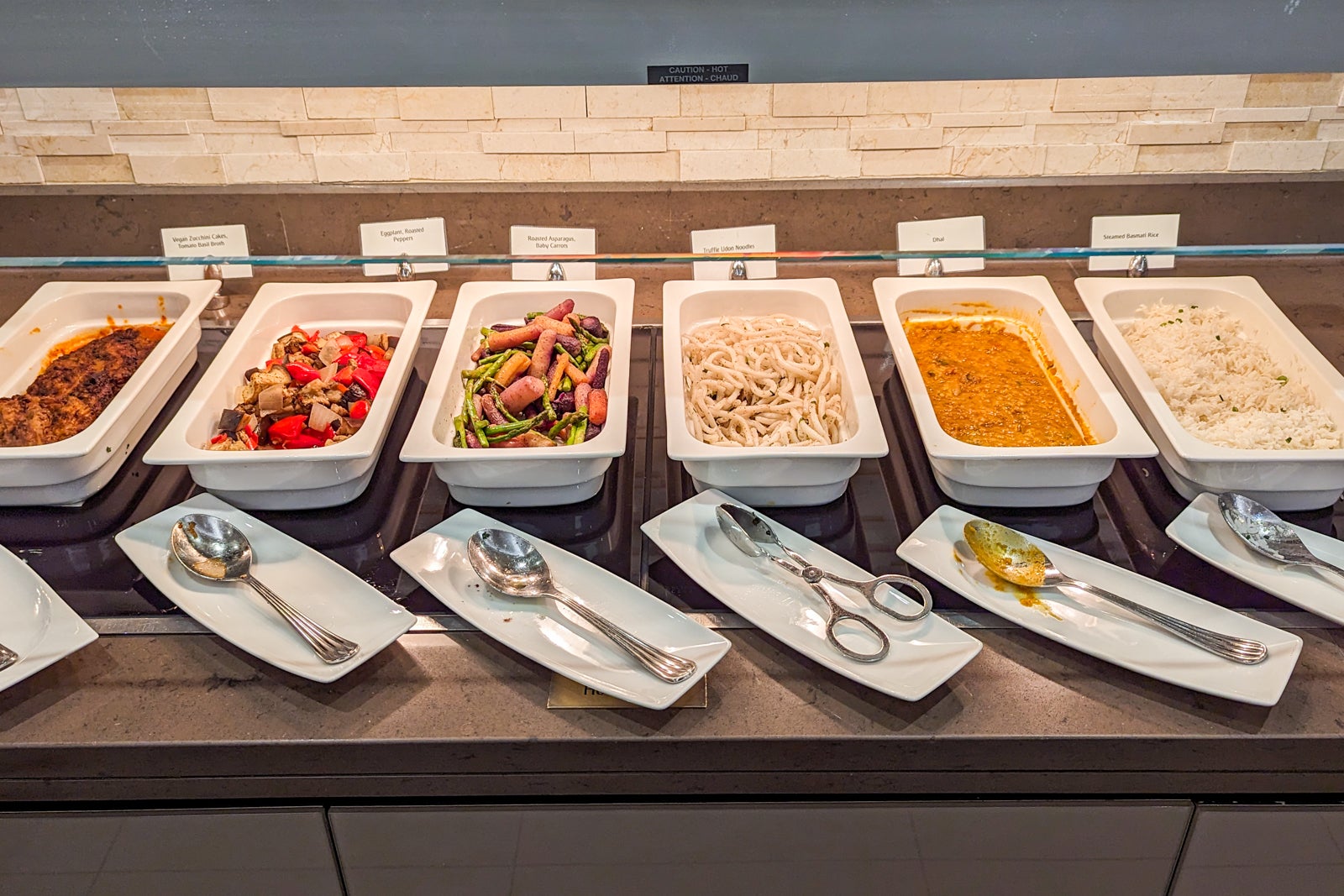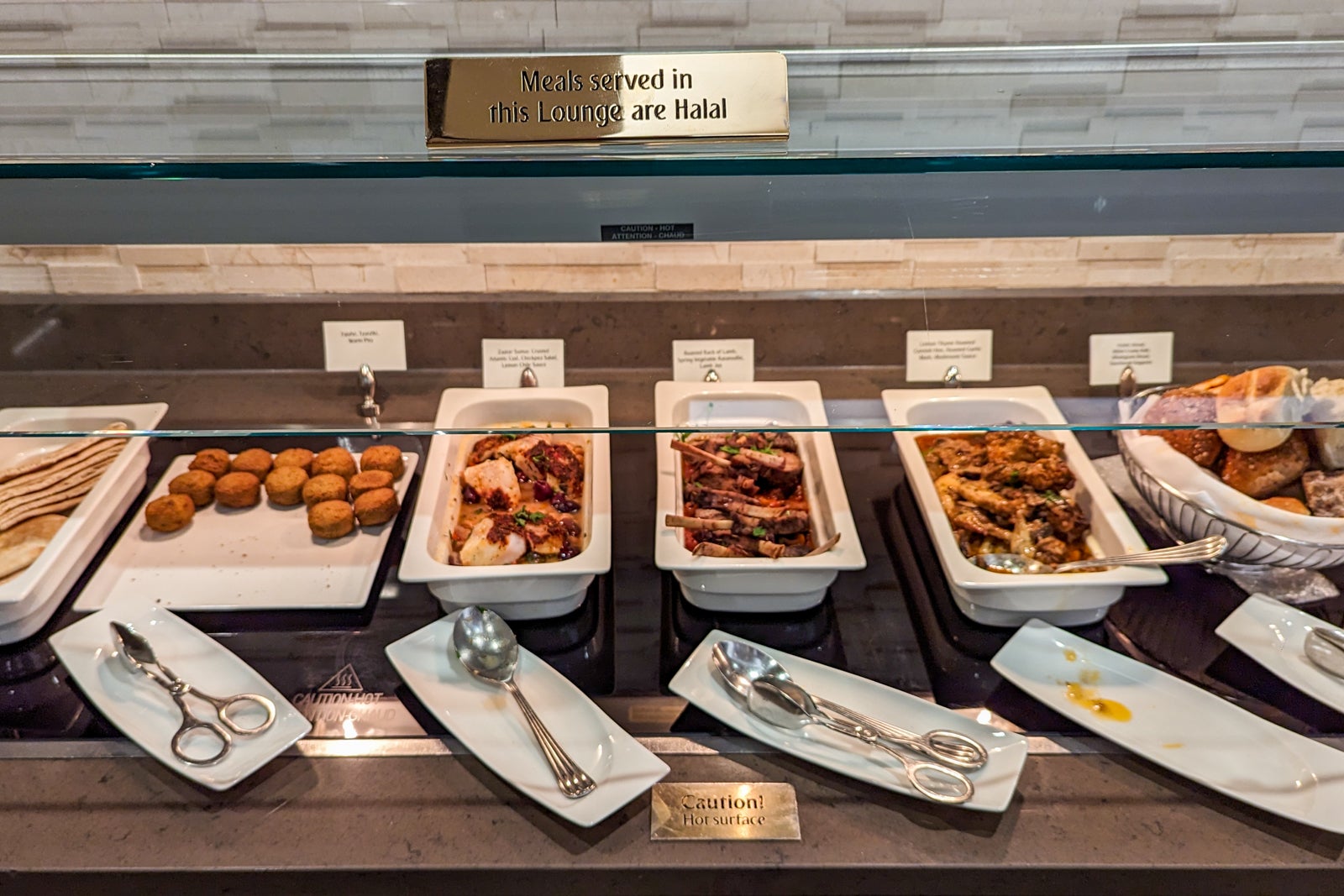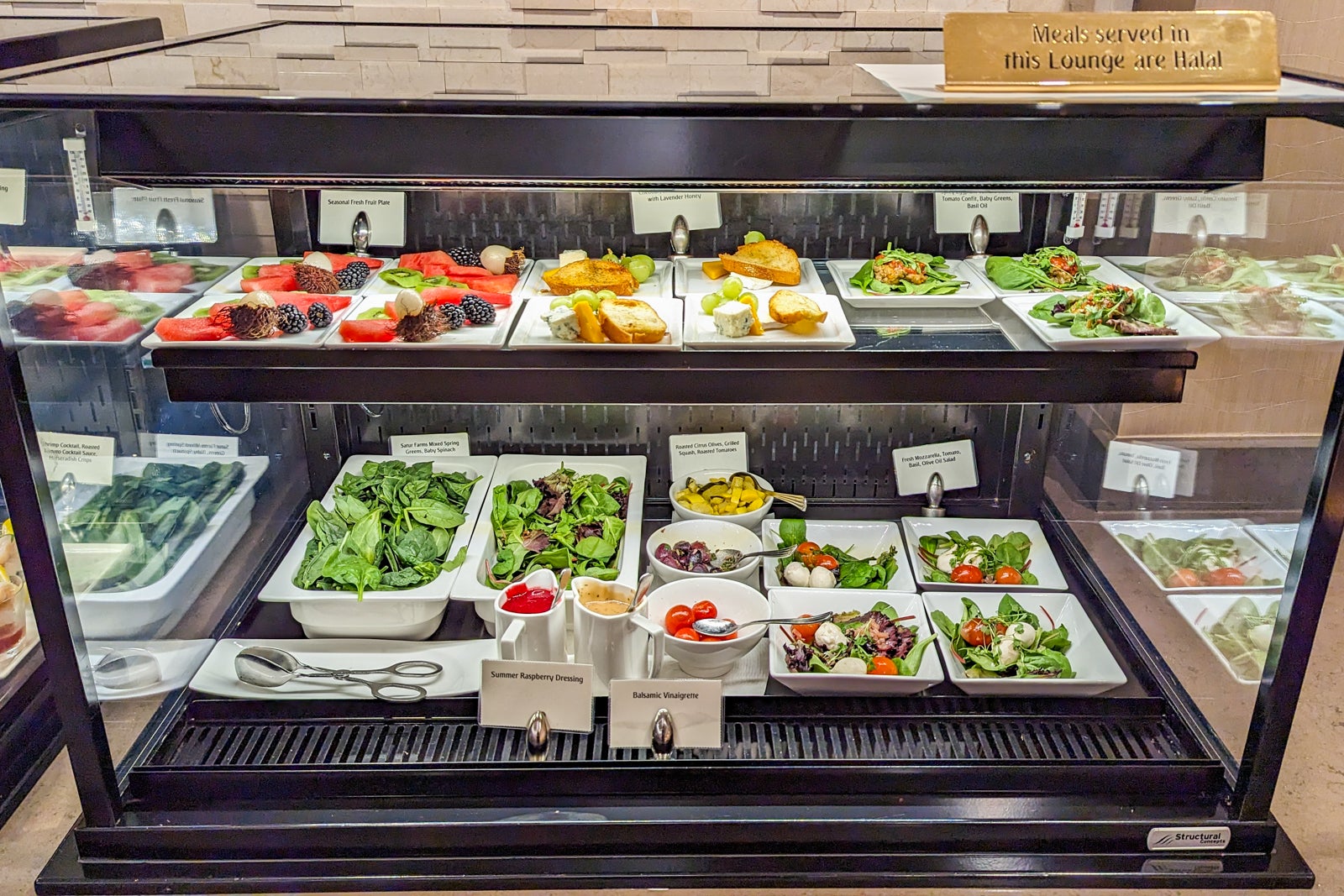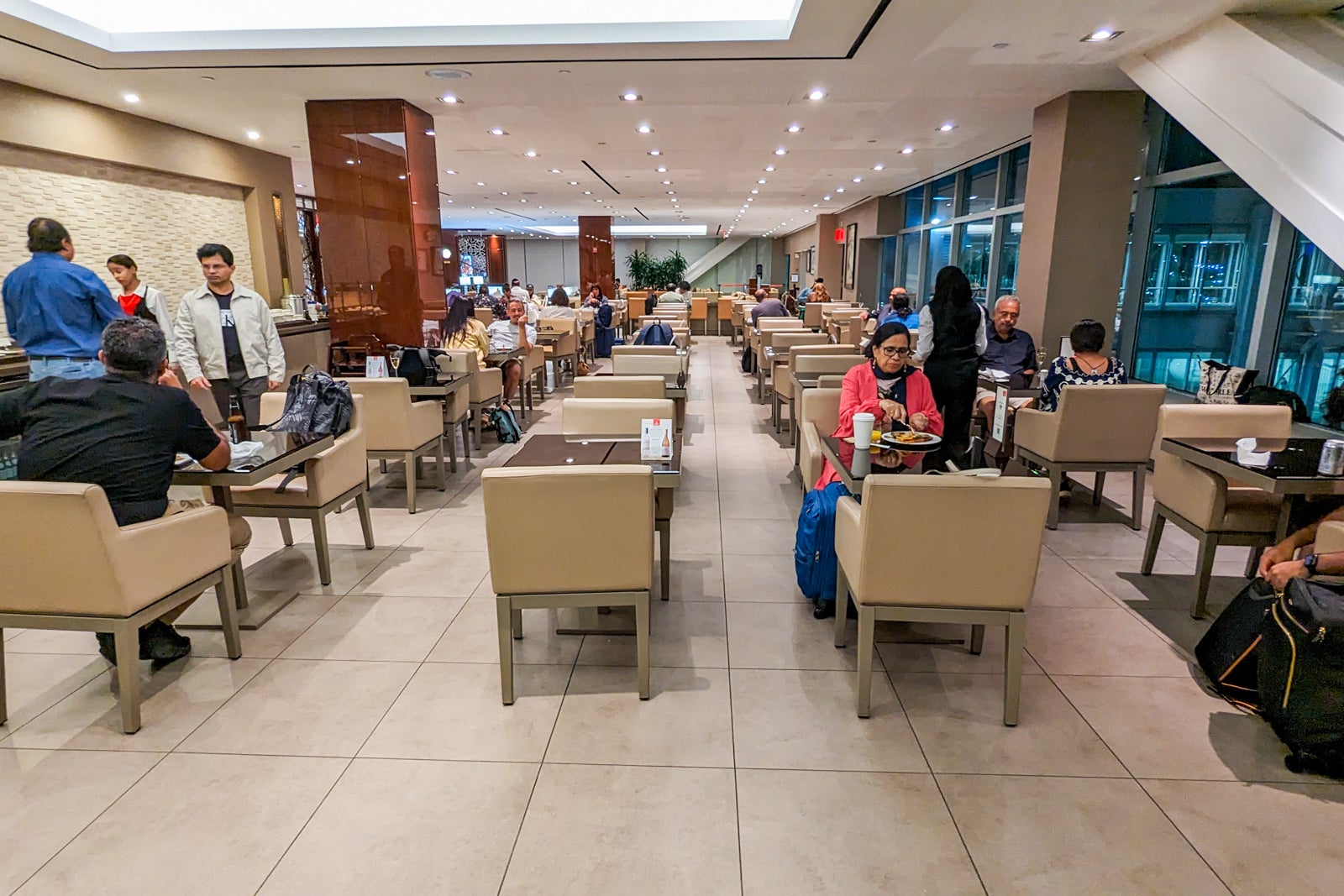 Business-class passengers are invited to board at leisure through the priority boarding lane, with boarding commencing 50 minutes before departure. Emirates does have the ability to board passengers onto its A380 double-deckers directly from the lounge above the terminal's main concourse. However, this area was being refurbished during my visit.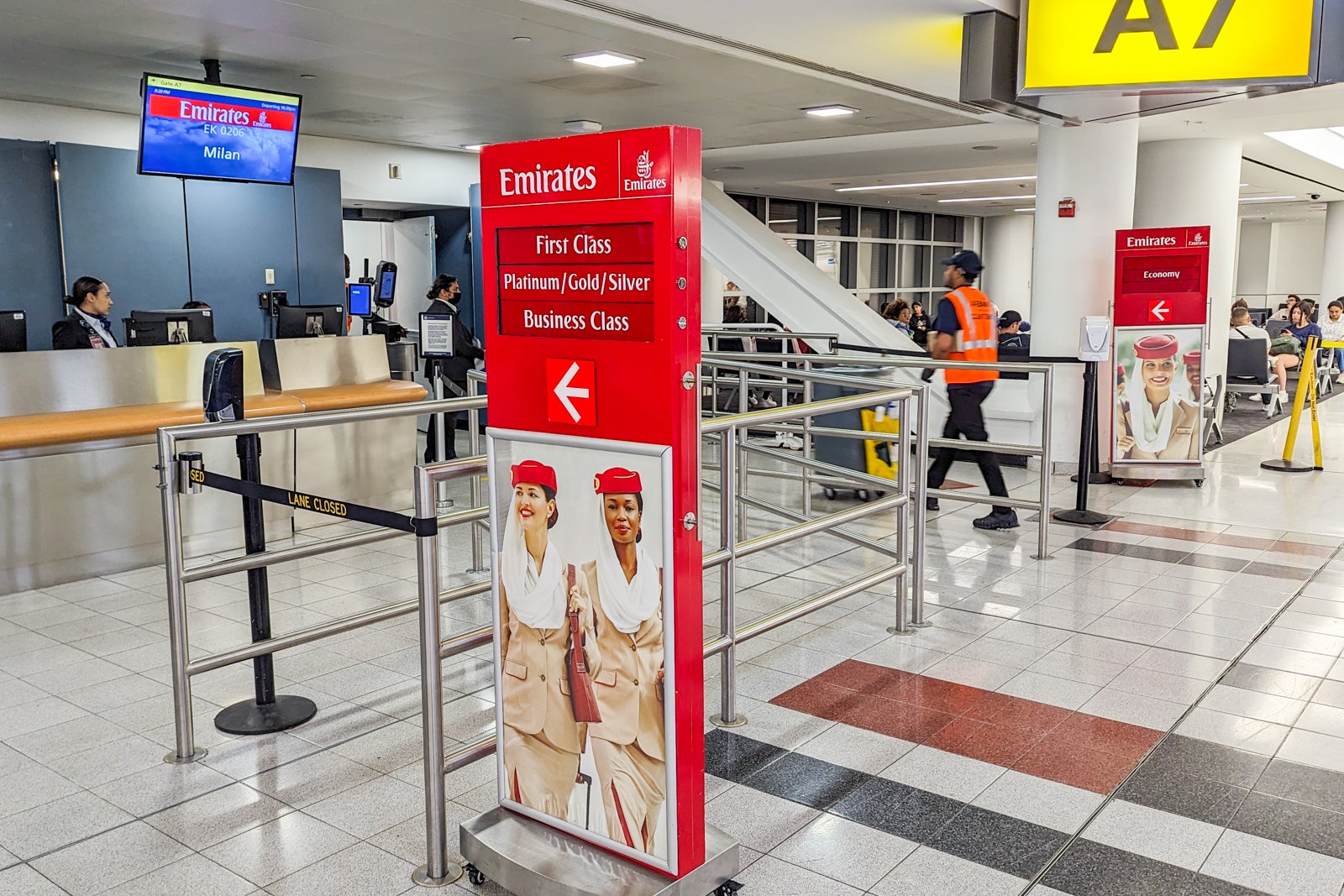 How comfortable was business class on Emirates?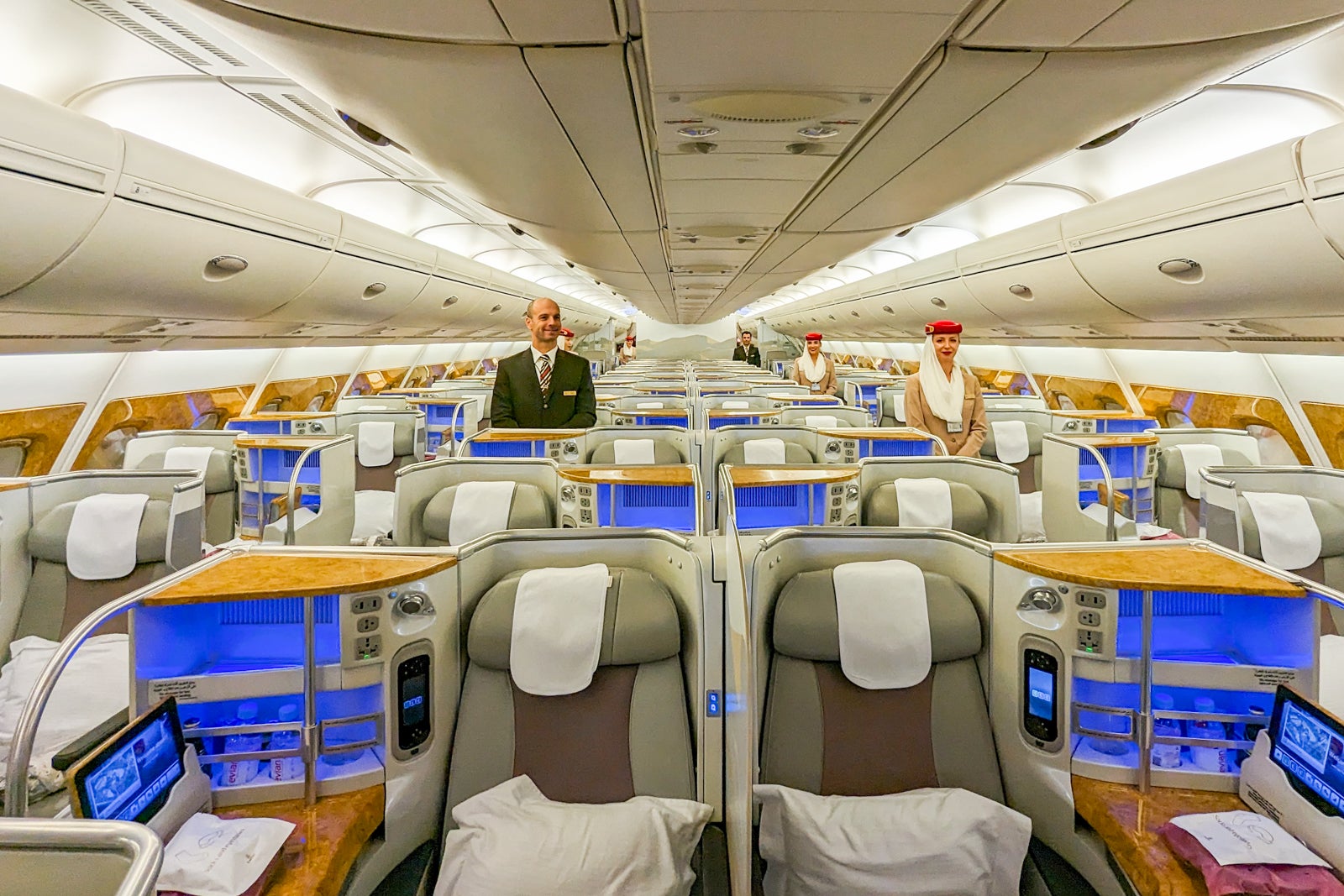 On Emirates' three-cabin mid-haul A380s, business class is upstairs behind the luxurious first-class cabin with the following configuration and dimensions.
| Number of seats | 76 |
| --- | --- |
| Cabin layout | 1-2-1 |
| Fully flat bed | Yes |
| Bed length | 79 inches |
| Seat width | 18.5 inches |
| Screen size | 18 inches |
There is a large main section and a mini-section behind that. I chose seat 14K, a window seat midway back in the larger section.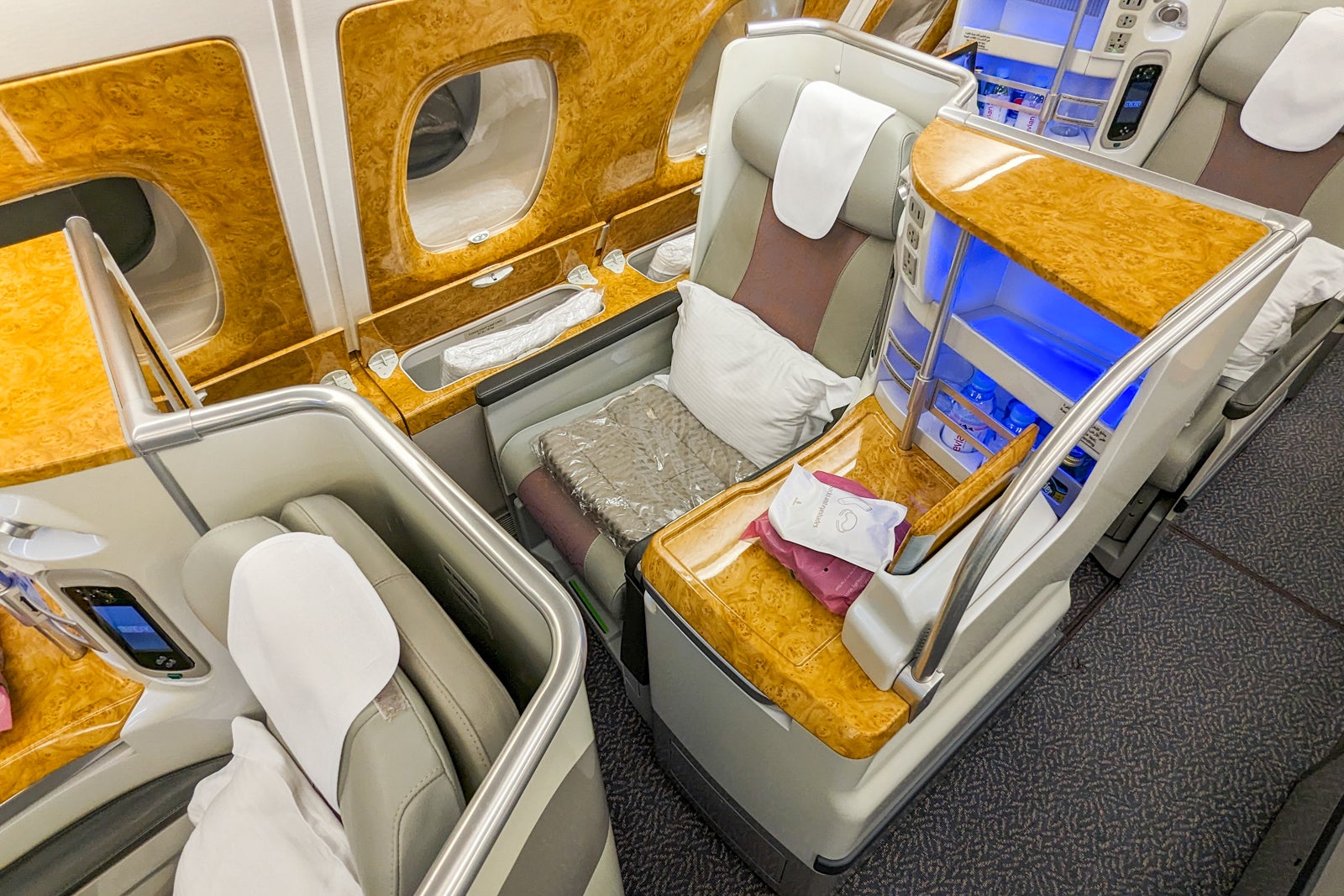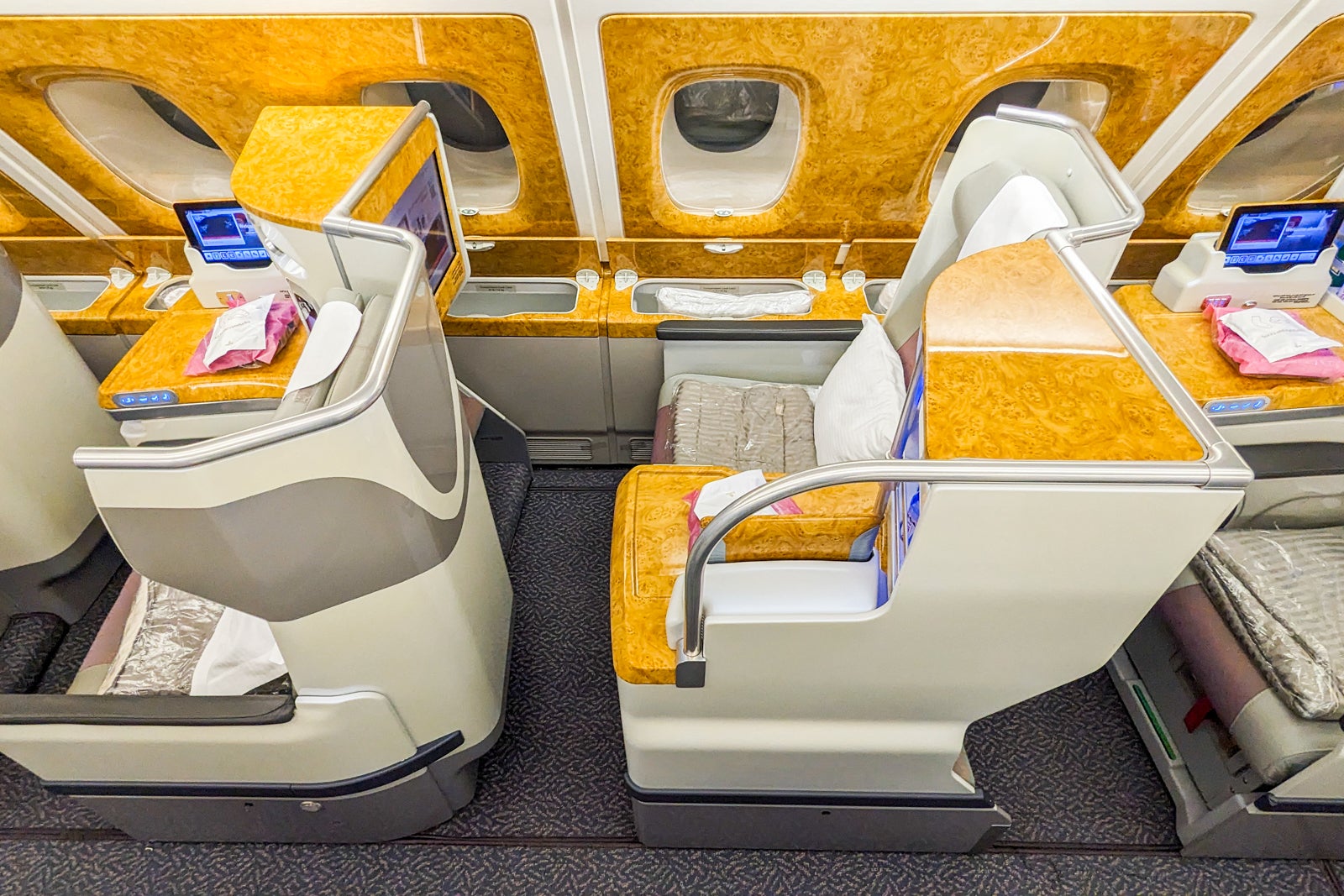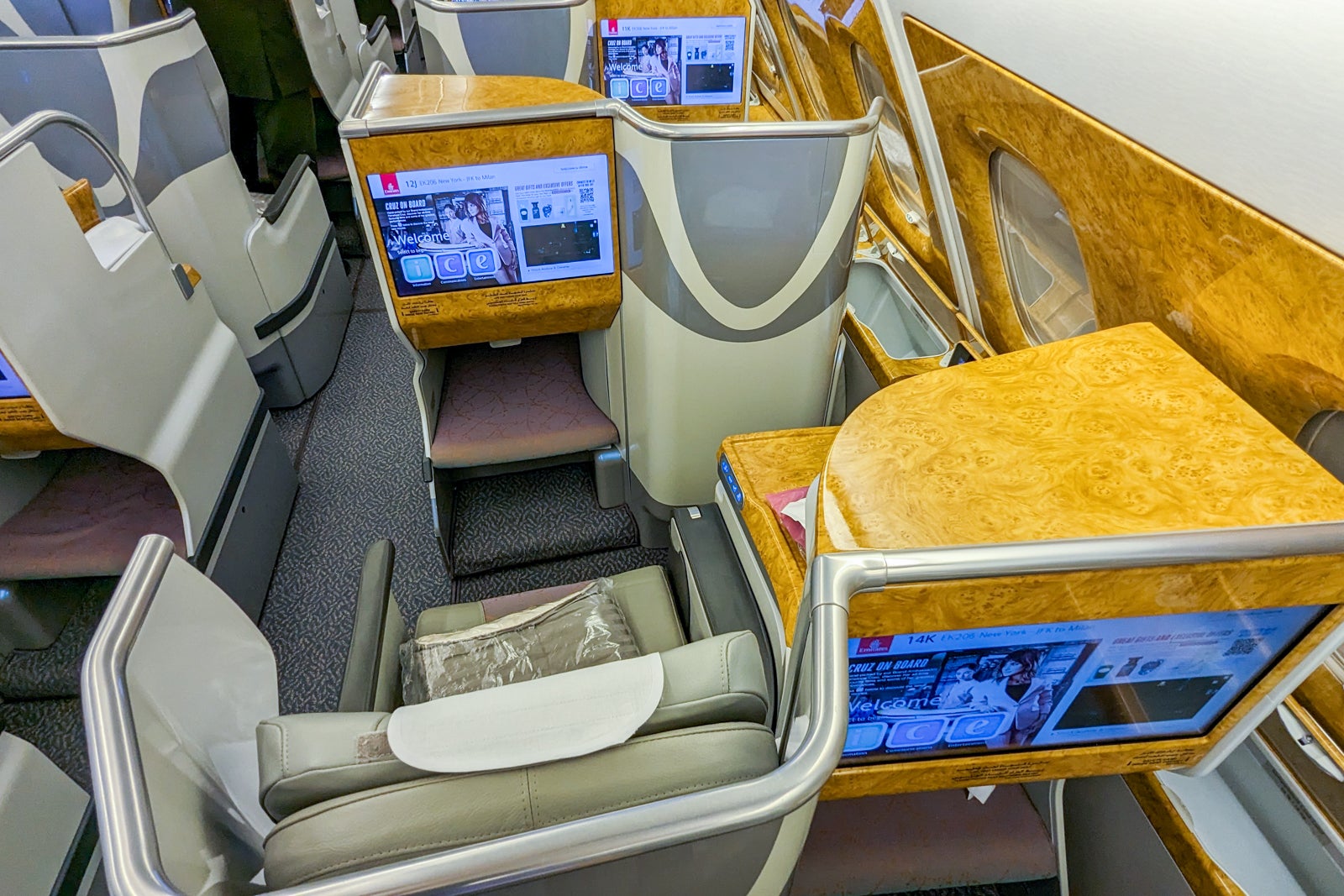 Seats are staggered in a 1-2-1 configuration so that each has direct aisle access. Each seat has a large shelf and storage area on either its left or right armrest. So, you could be sitting closer or farther from the aisle, depending on your row's configuration.
Window A and K seats along the sides of the cabin are farther from the aisle, while B and J seats are closer to the aisle. D and G seats are by the aisle in the cabin's center, with E and F seats in pairs together in the middle.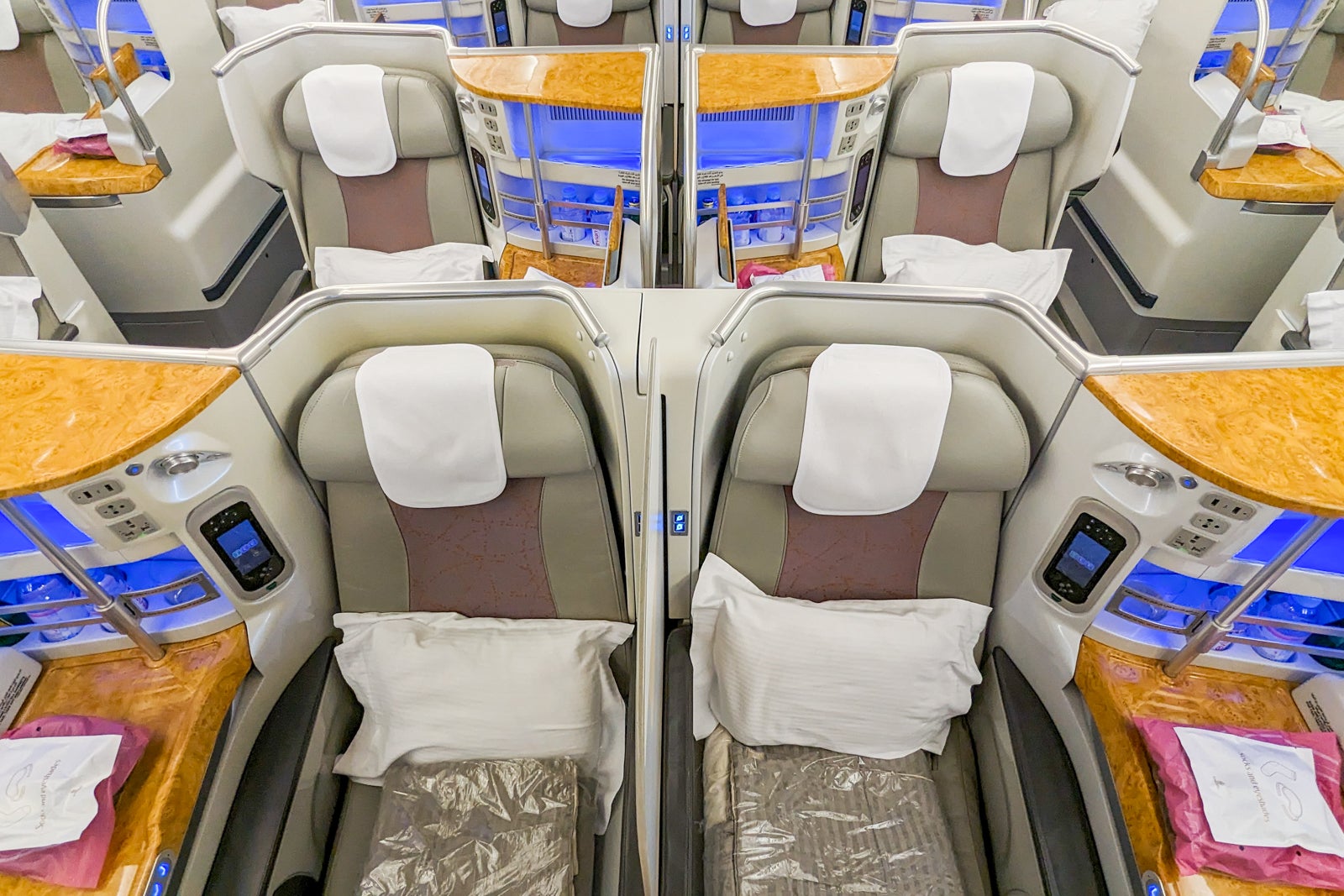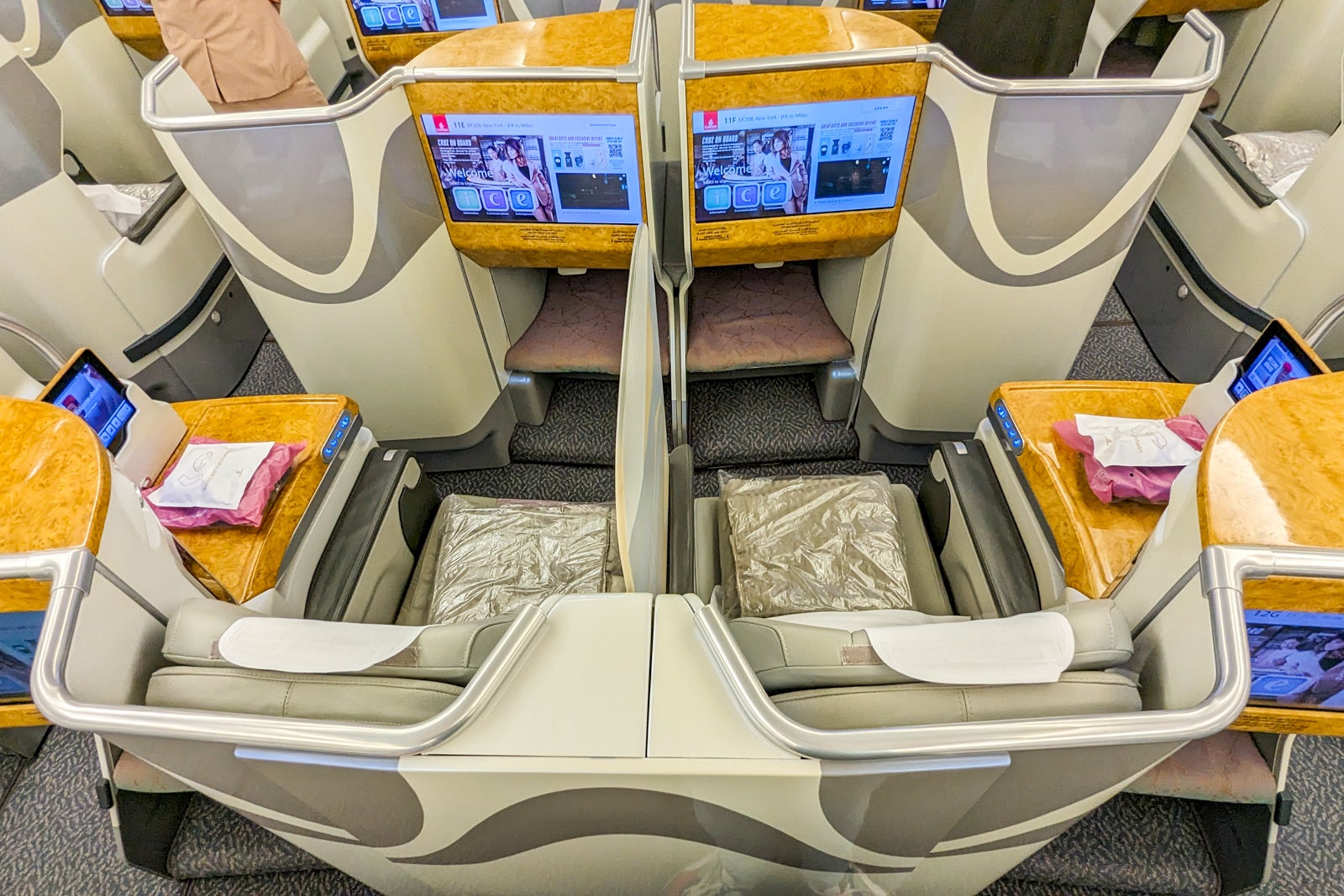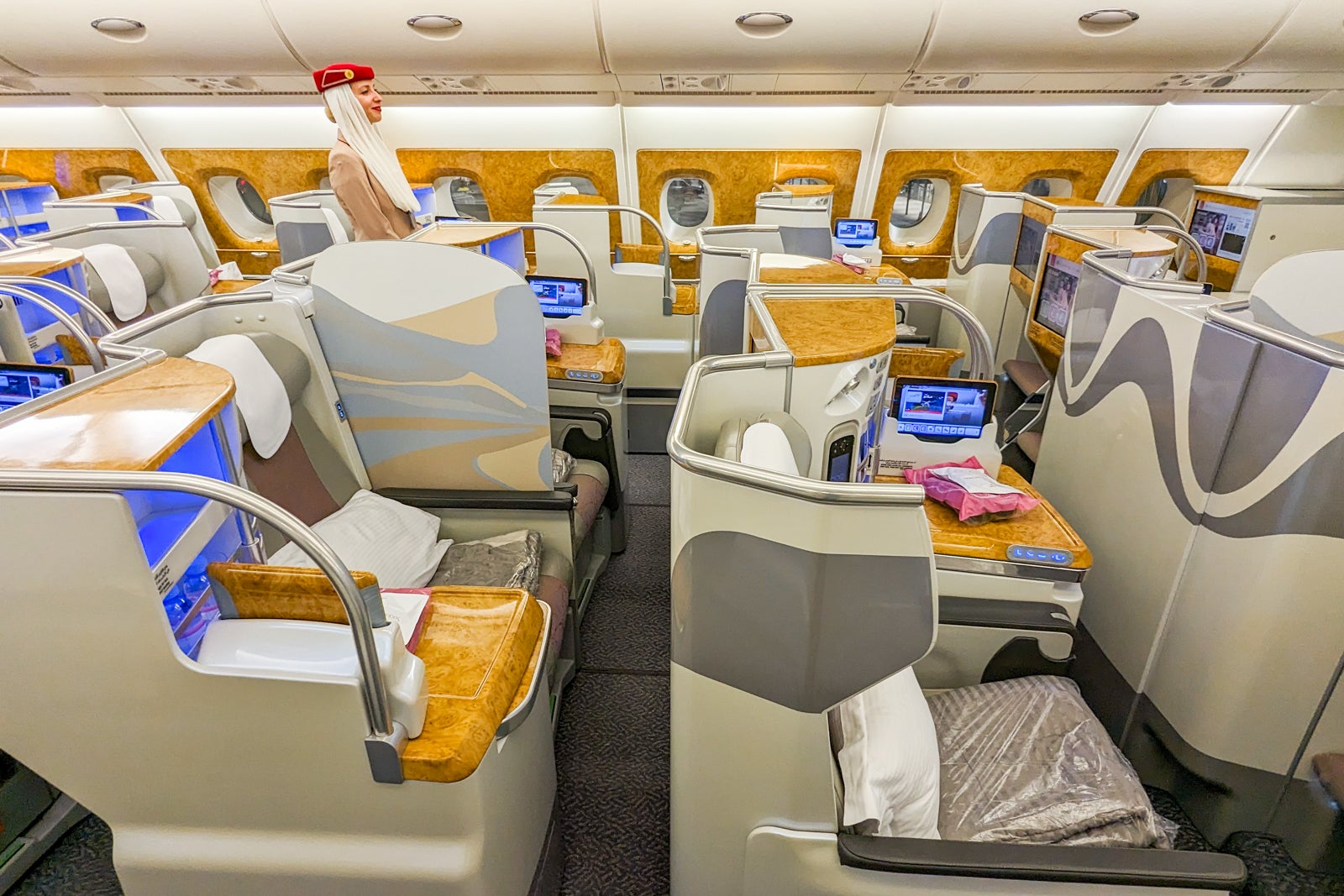 Despite being almost 10 years old, the cabin aboard my plane was in excellent shape; it still appeared fresh, clean and polished. The entire upper deck dedicated to the premium cabins created an exclusive private jet-like atmosphere.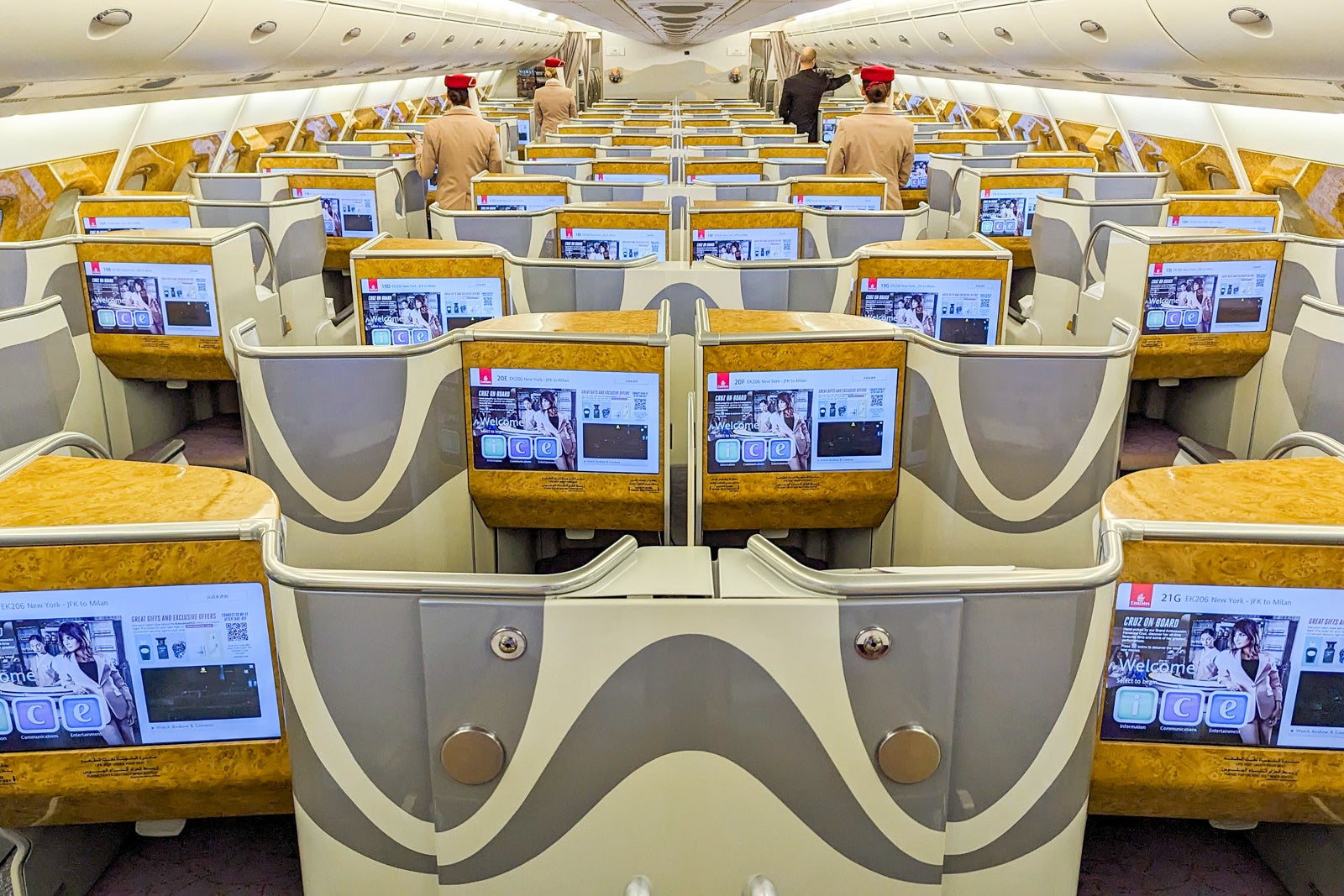 There was a huge amount of glossy wood paneling, and the beige and gray swirls on the hardbacks of the seats felt a little dated. Still, it felt like an enormous amount of money had been spent on this cabin.
| Best seats for solo travelers. | A and K seats in Rows 11-18 |
| --- | --- |
| Best seats for couples. | Any pair of E and F seats in Rows 9-18 or 23 |
| Seats to avoid. | All seats in Rows 24, 25 and 26, due to their proximity to the boisterous onboard bar. |
The large, burnished tray table swung out from the larger armrest and was more than enough for a full-size laptop or meal. It could slide forward and back so passengers could easily get in and out of the seat.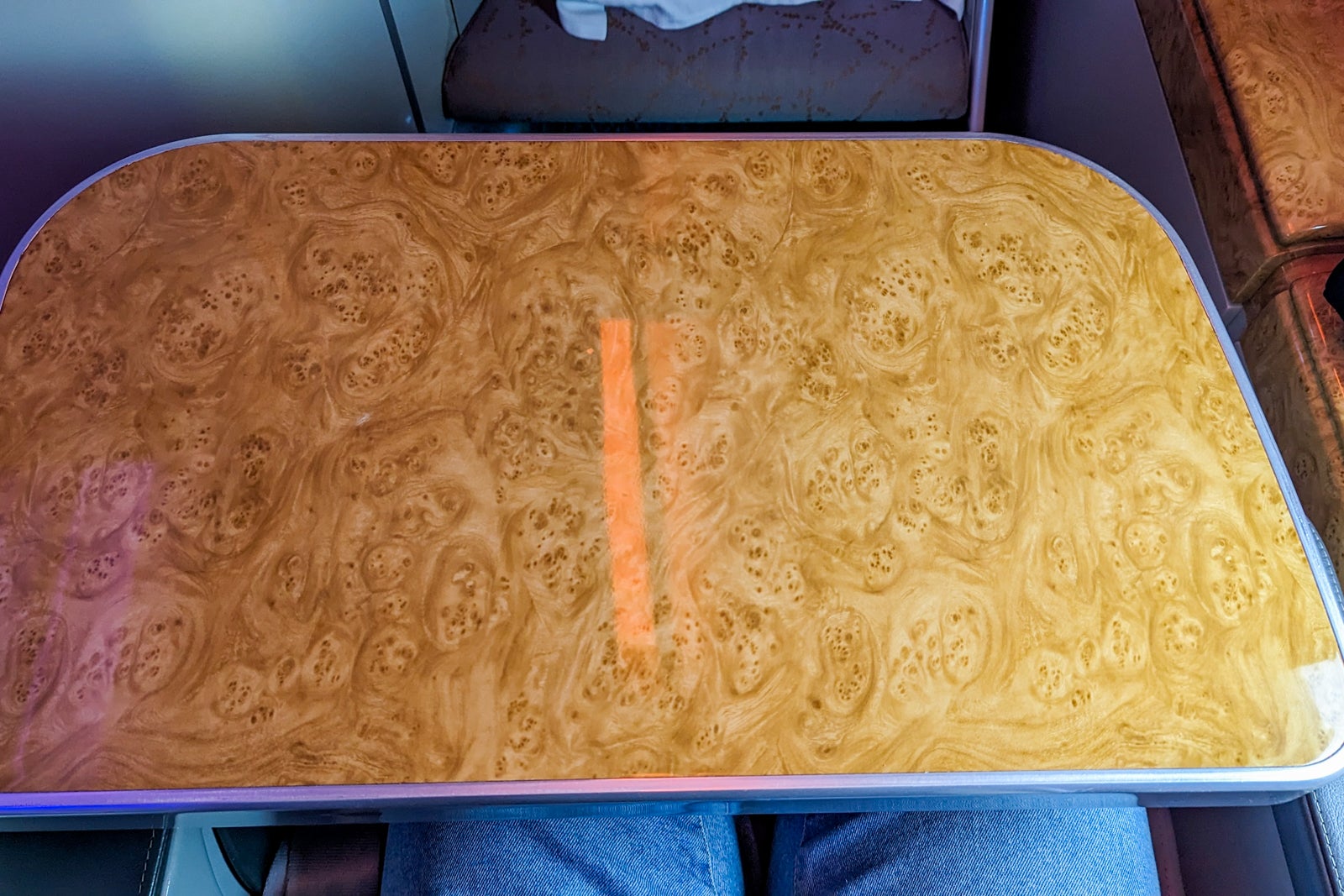 On the larger armrest of my window seat was a handheld remote, a handheld tablet to control the various seat functions, a universal charging plug, a reading light, a headphone jack and two USB-A charging ports. Emirates is one of the only airlines with an in-seat "minibar," though the drinks are at room temperature since it's not refrigerated.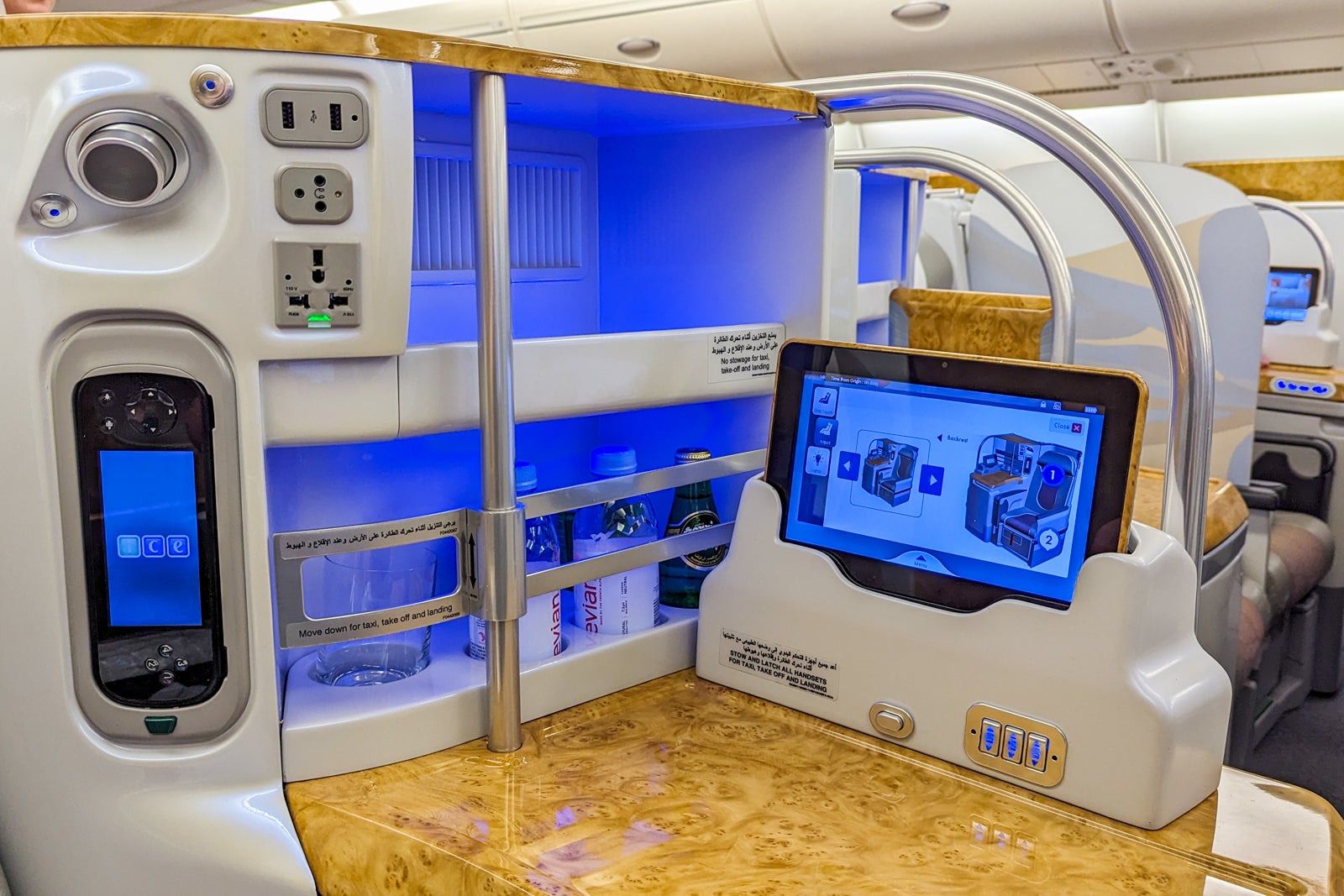 Thanks to the curved fuselage of the A380's upper deck, there were two large storage bins under the window — another reason why the window seats are a great choice for solo travelers.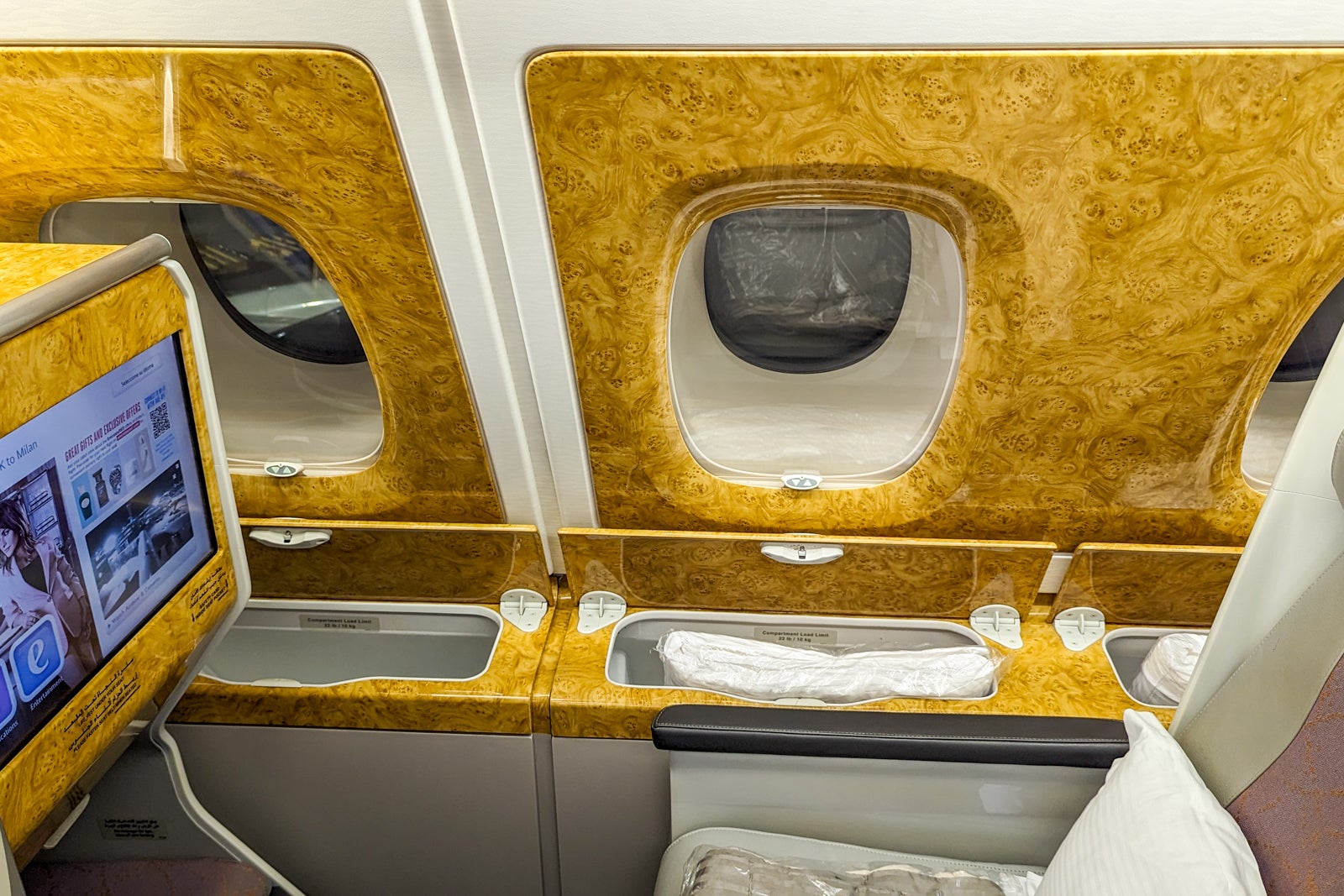 The seat reclined fully flat via buttons on the side shelf (or the wood-paneled handheld tablet). While the short flight length and the allure of the onboard bar meant I only had a few hours to sleep, it was a comfortable bed with good cushioning in the seat and good support for my head from the large pillow. The cabin was also kept at a nice, cool temperature for sleeping.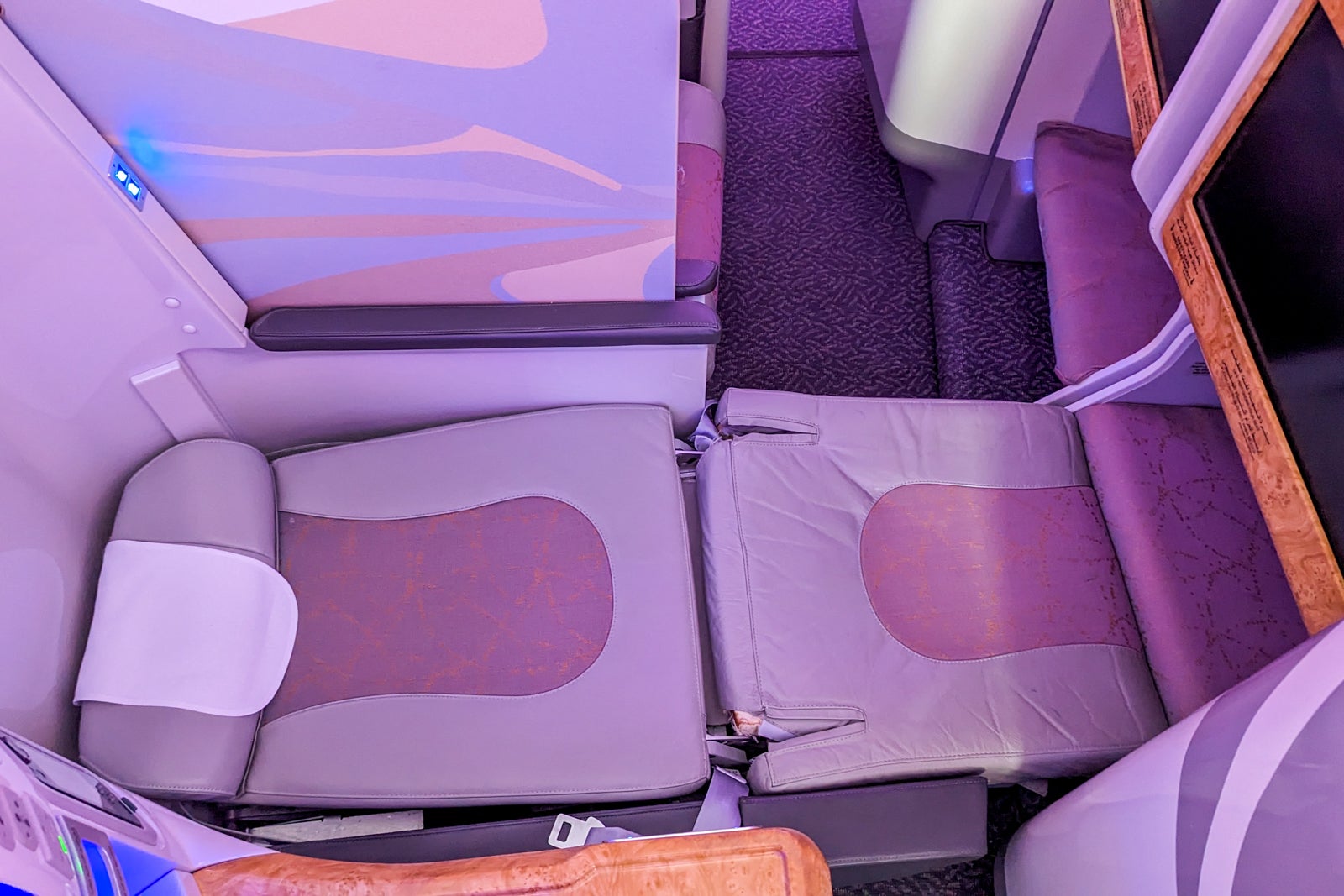 There were only three restrooms for the 76-seat business-class cabin, so even though the cabin wasn't full, there were lines to use the facilities at various points throughout the flight. All three were at the rear of the cabin behind the onboard bar, just in front of the large galley area.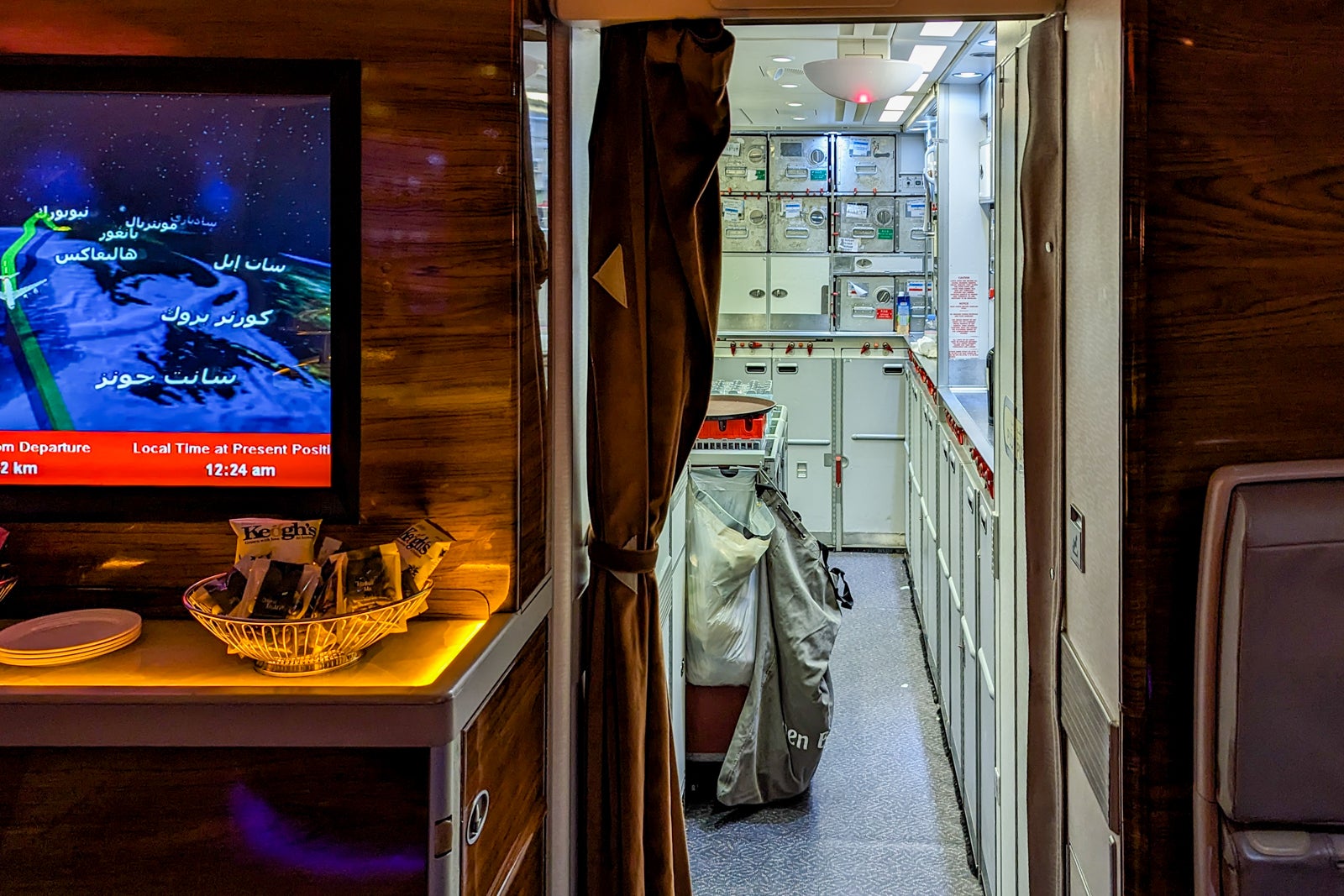 This location was awkward to deal with since crews had to dart in and out of the area with food trays while passengers were coming in and out of the toilet. Still, they were spacious and kept clean during the flight. Although, I was surprised not to see any special, high-end toiletries.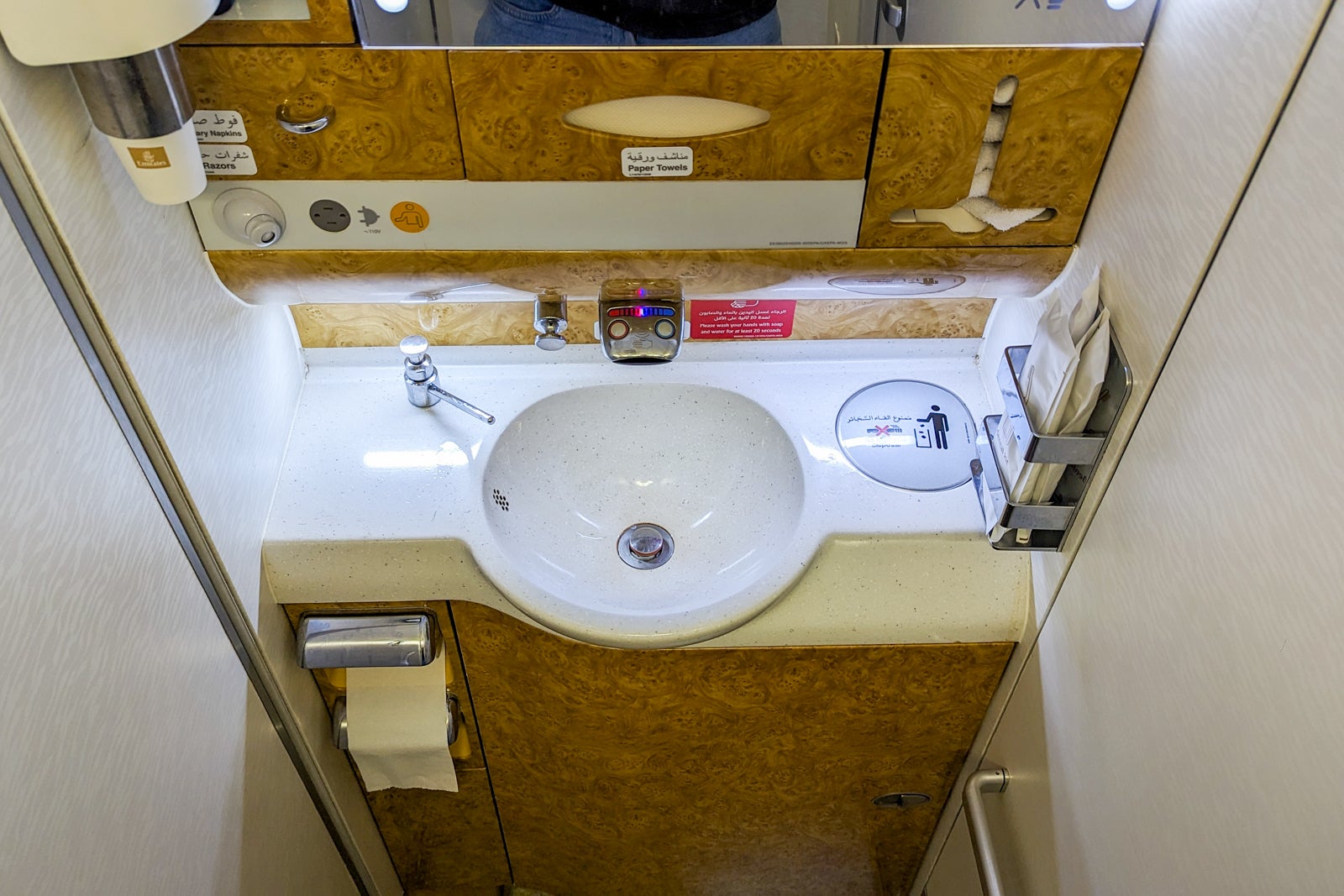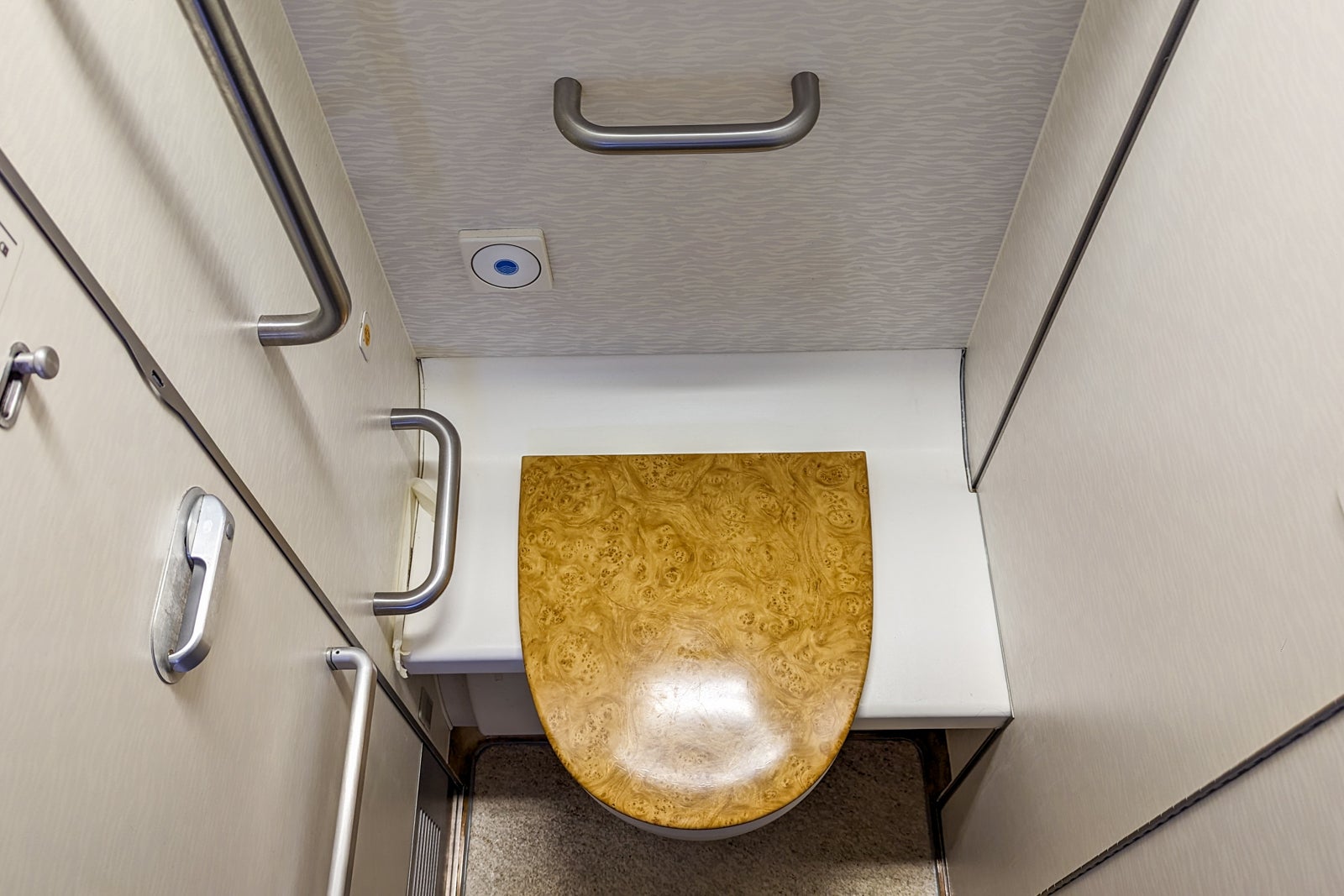 Placing the bathrooms between the two business-class cabins and away from the galley would have been far more logical, but perhaps this setup was selected to accommodate the inflight bar.
Amenities in Emirates business class
Numerous goodies were awaiting me when I boarded. A large, plush pillow and blanket were laid on the seat, and a mattress pad was placed in the storage bins below the window.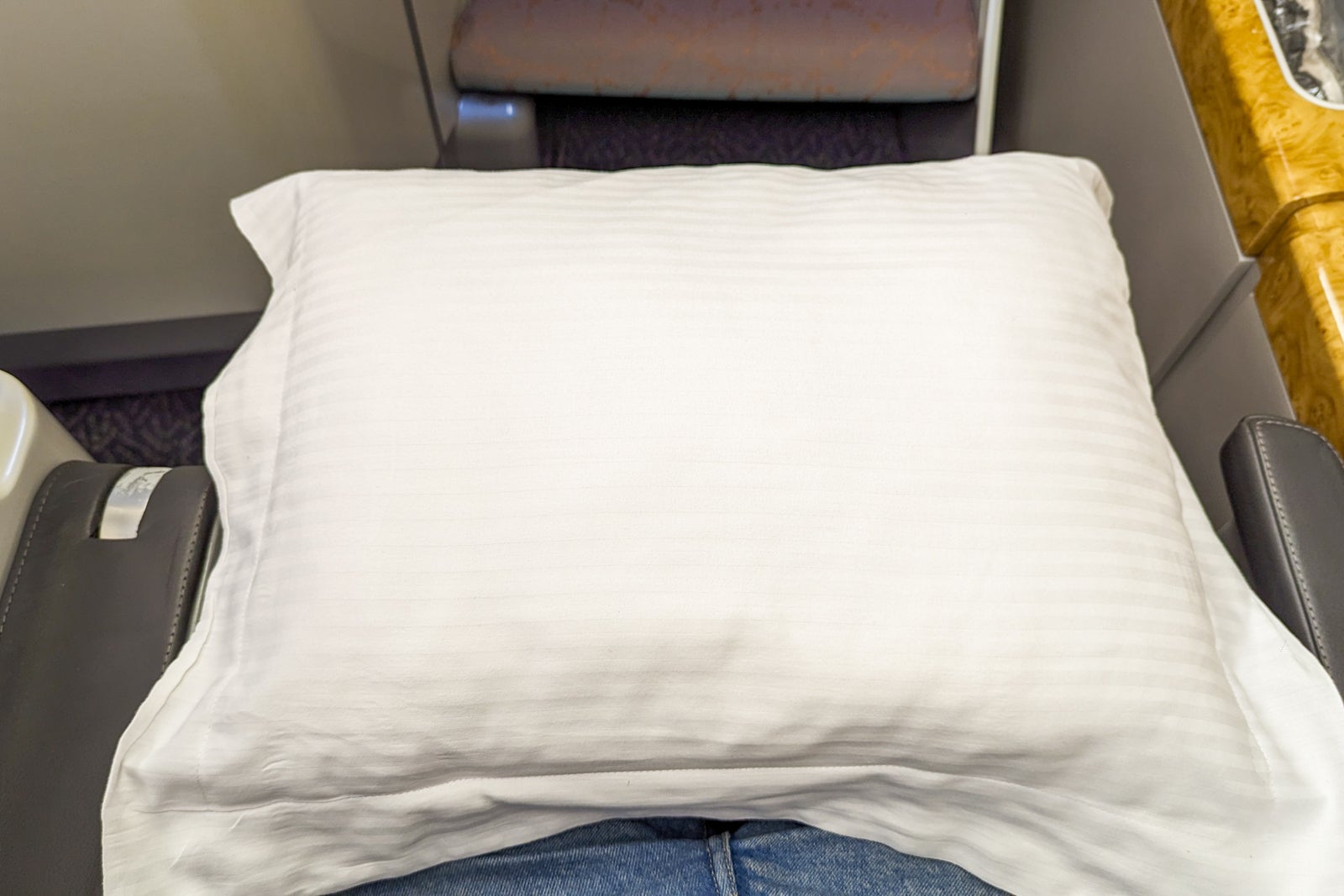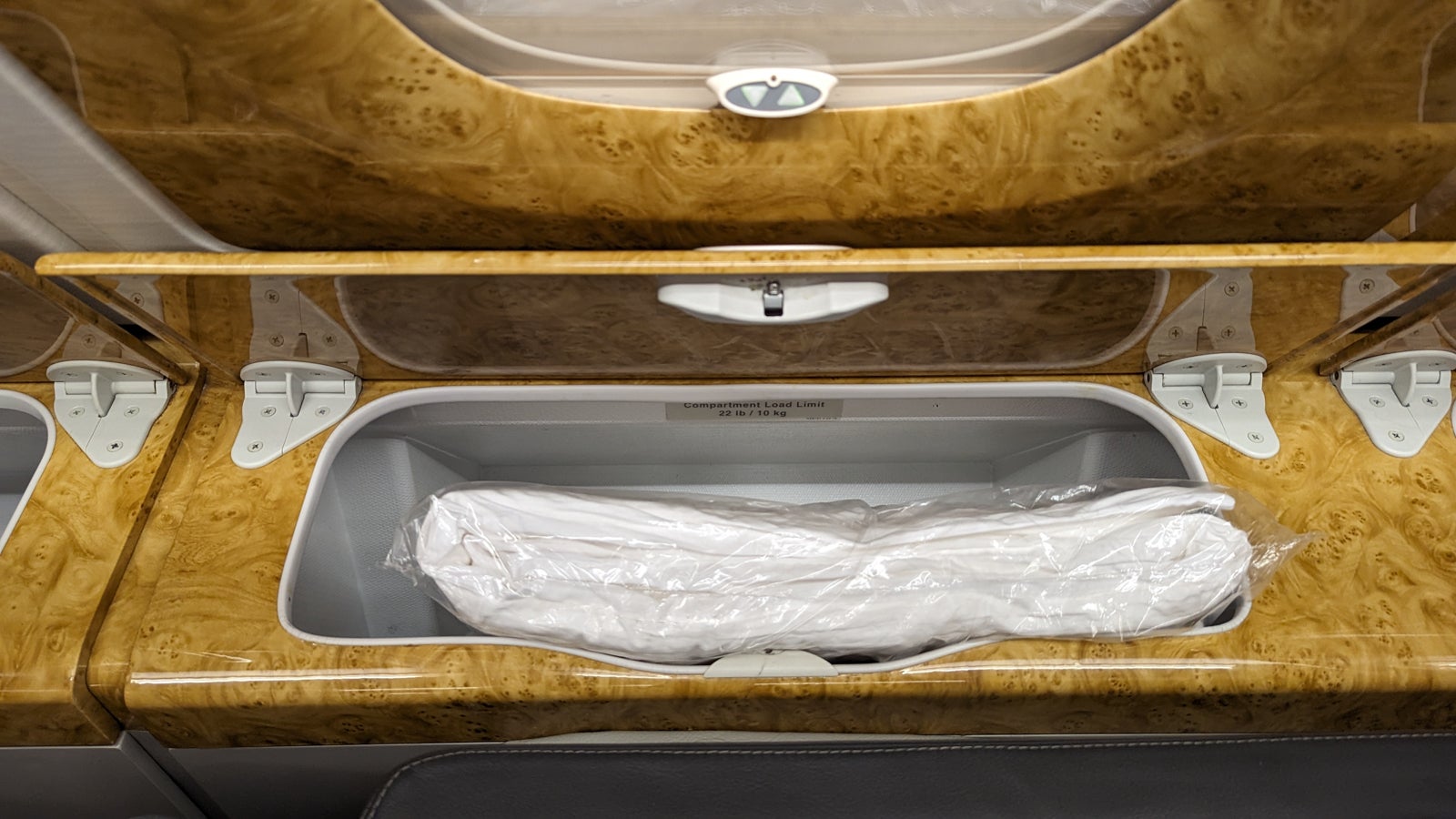 Emirates recently rolled out new his and hers Bulgari amenity kits. While I usually leave the kits on the aircraft since I don't have much use for them afterward, the smart black and tan men's pouch looked both practical and elegant.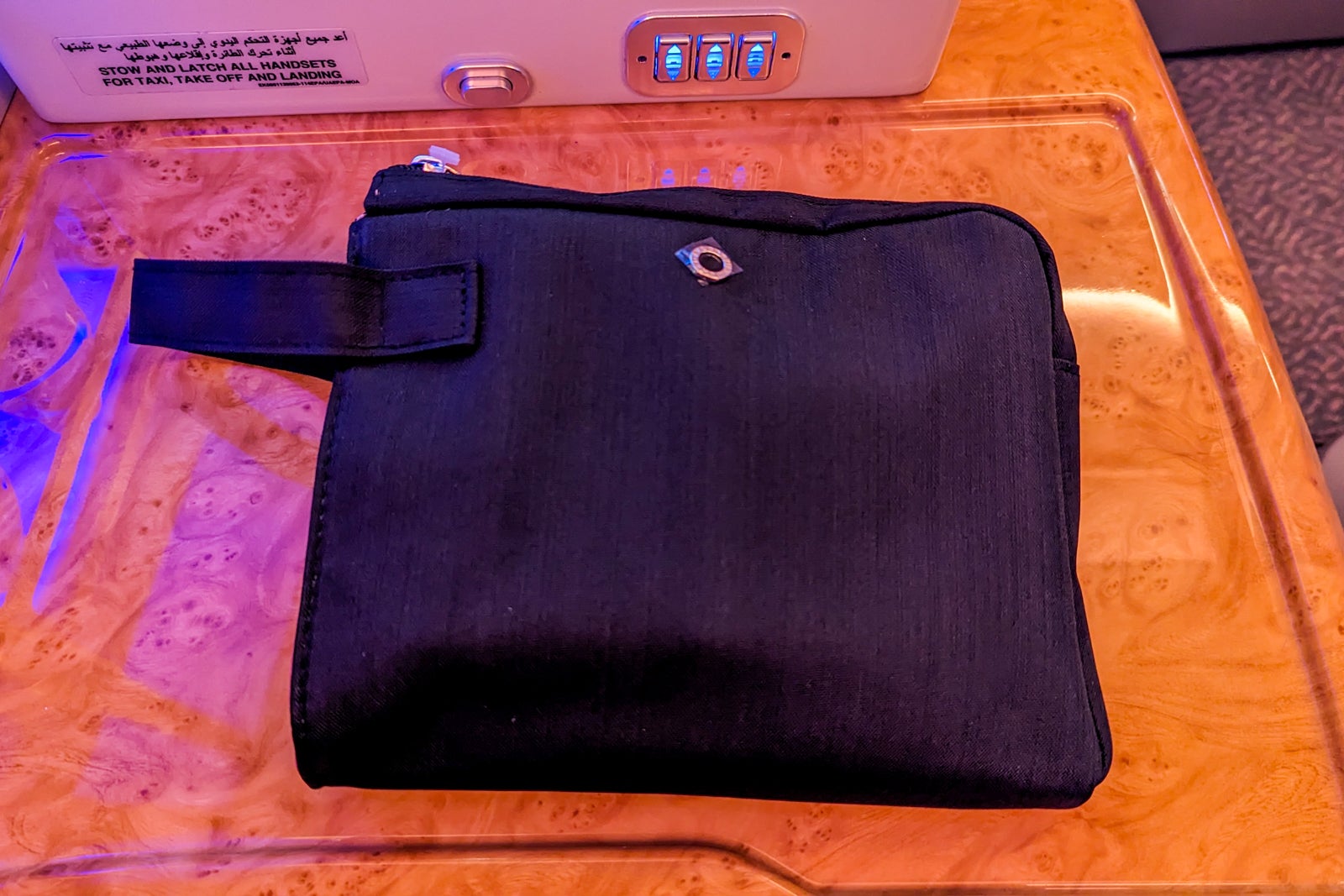 It was generously filled with opulent Bulgari pour homme eau de toilette, body lotion, after-shave balm and lip balm. They also had non-Bulgari shaving cream and a razor, roll-on deodorant, a comb, a dental kit and tissues.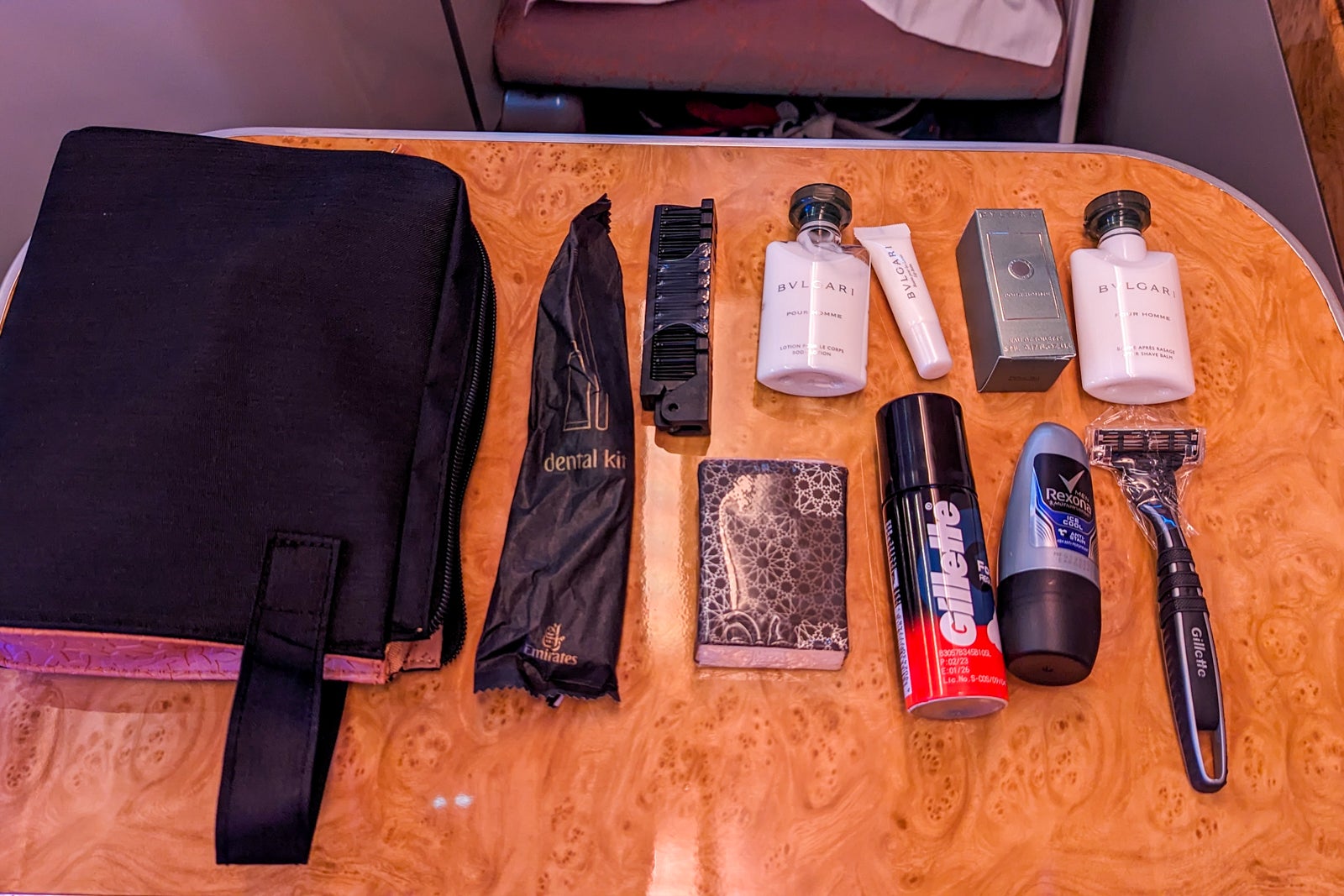 Noise-canceling Emirates-branded headphones were also waiting on my seat, as was an eye mask and sleep socks in beige and brown tones. Pajamas are not provided in Emirates business class.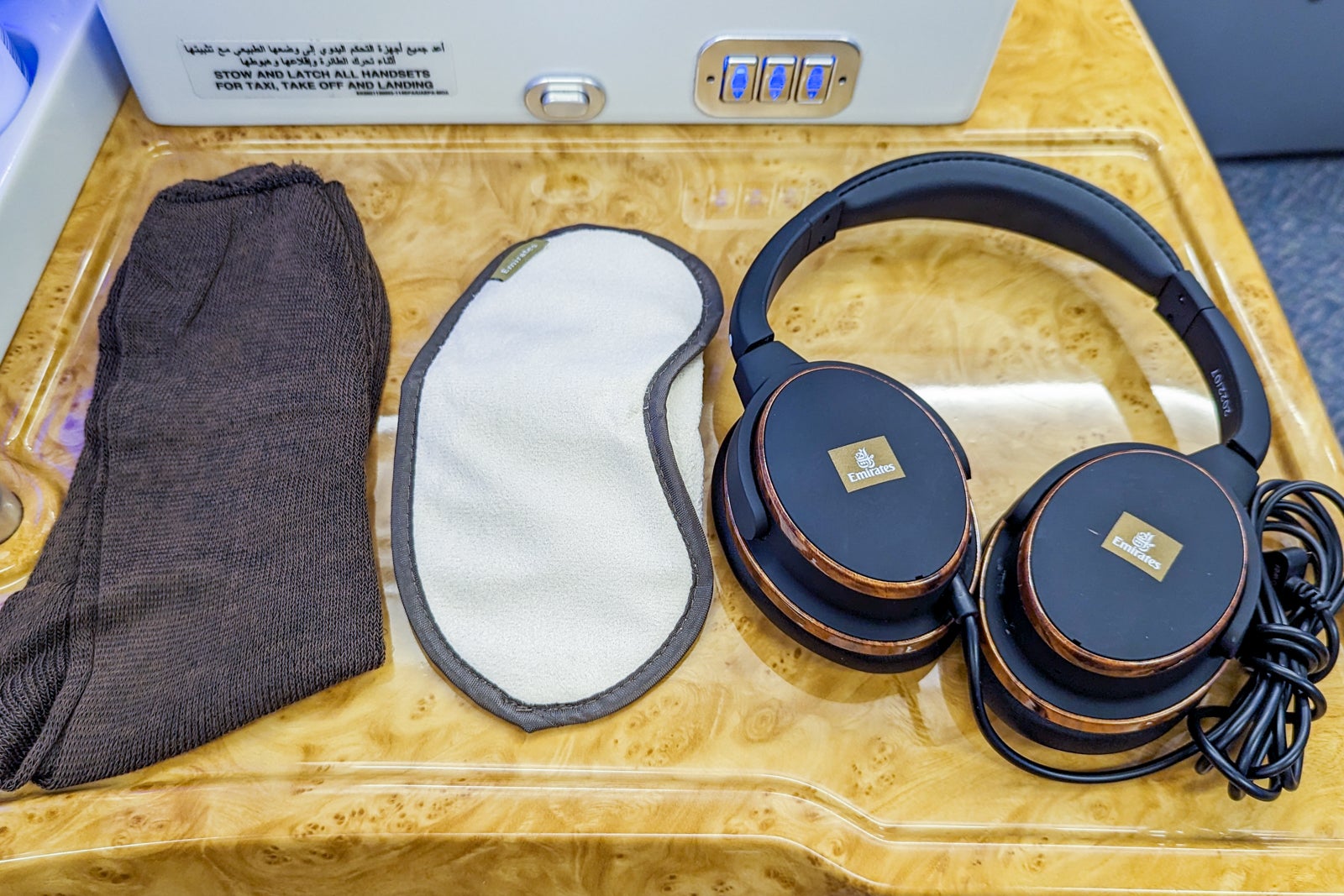 Emirates "ICE" inflight entertainment system (for information, communication and entertainment) has hundreds of entertainment options, live television, games and inflight information.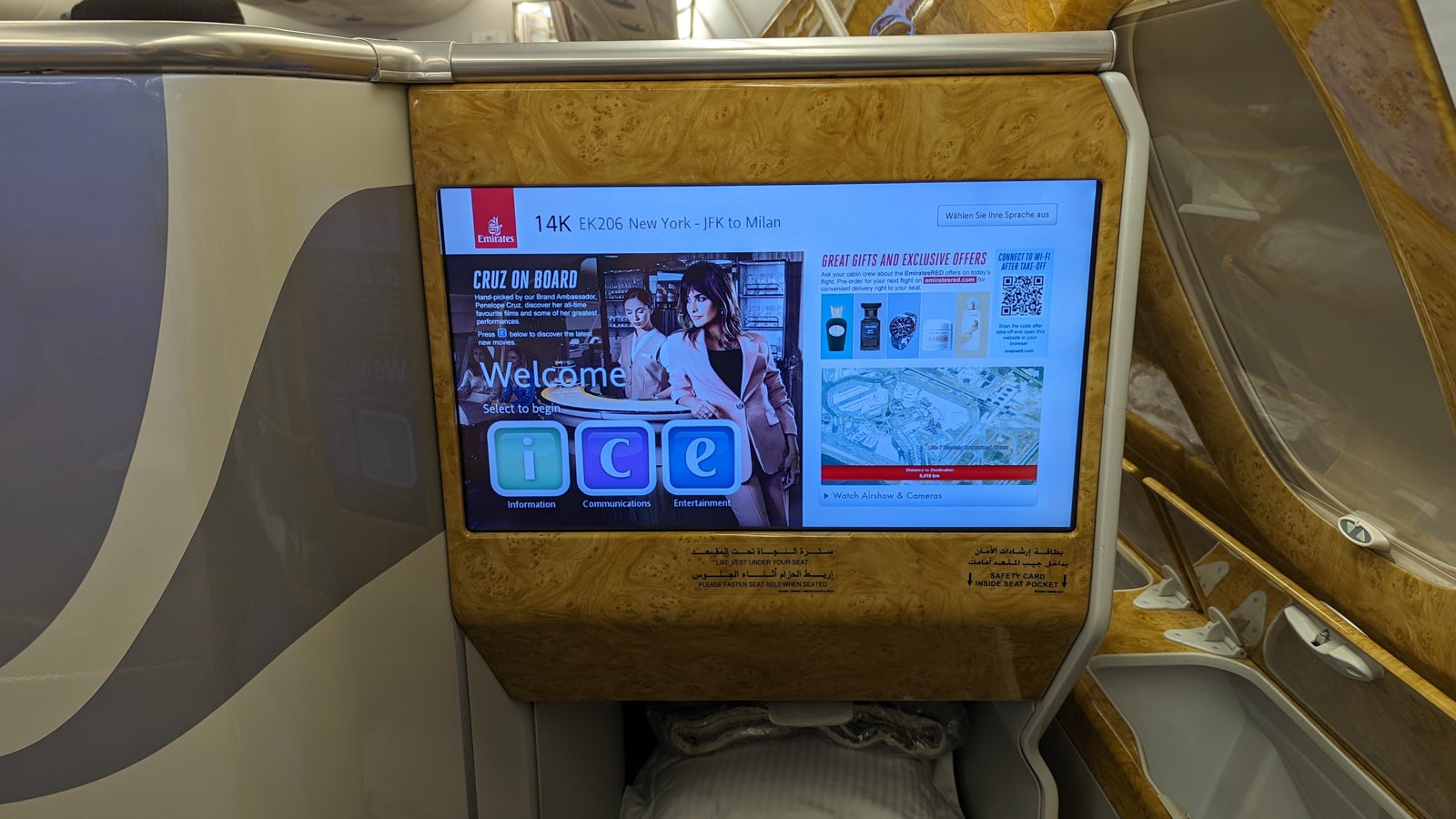 Among the dozens of new release movies were "Avatar: The Way Of Water," "About My Father," "Mafia Mamma" and "The Menu." There was also plenty of information about the aircraft and details about arriving or transiting in Dubai.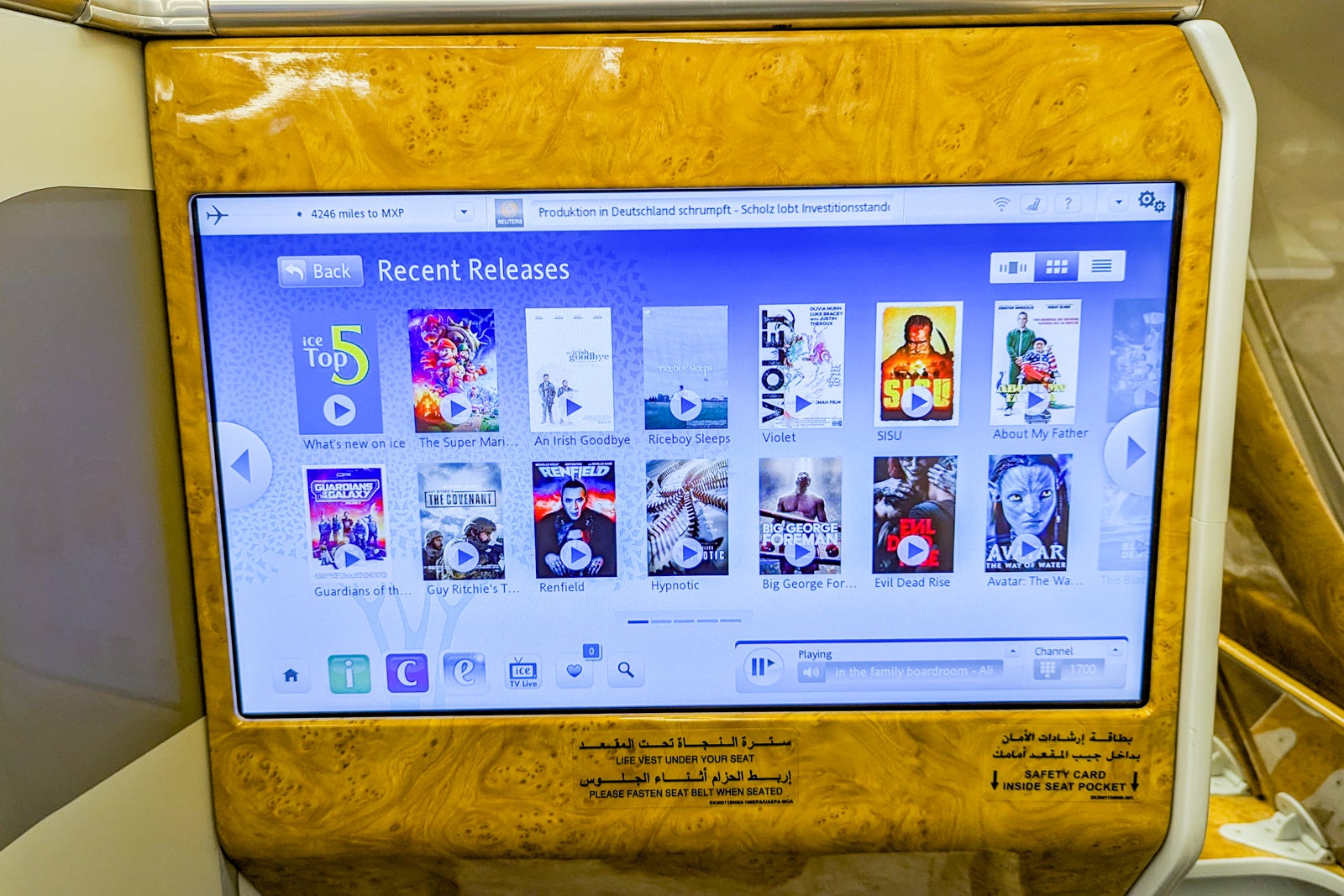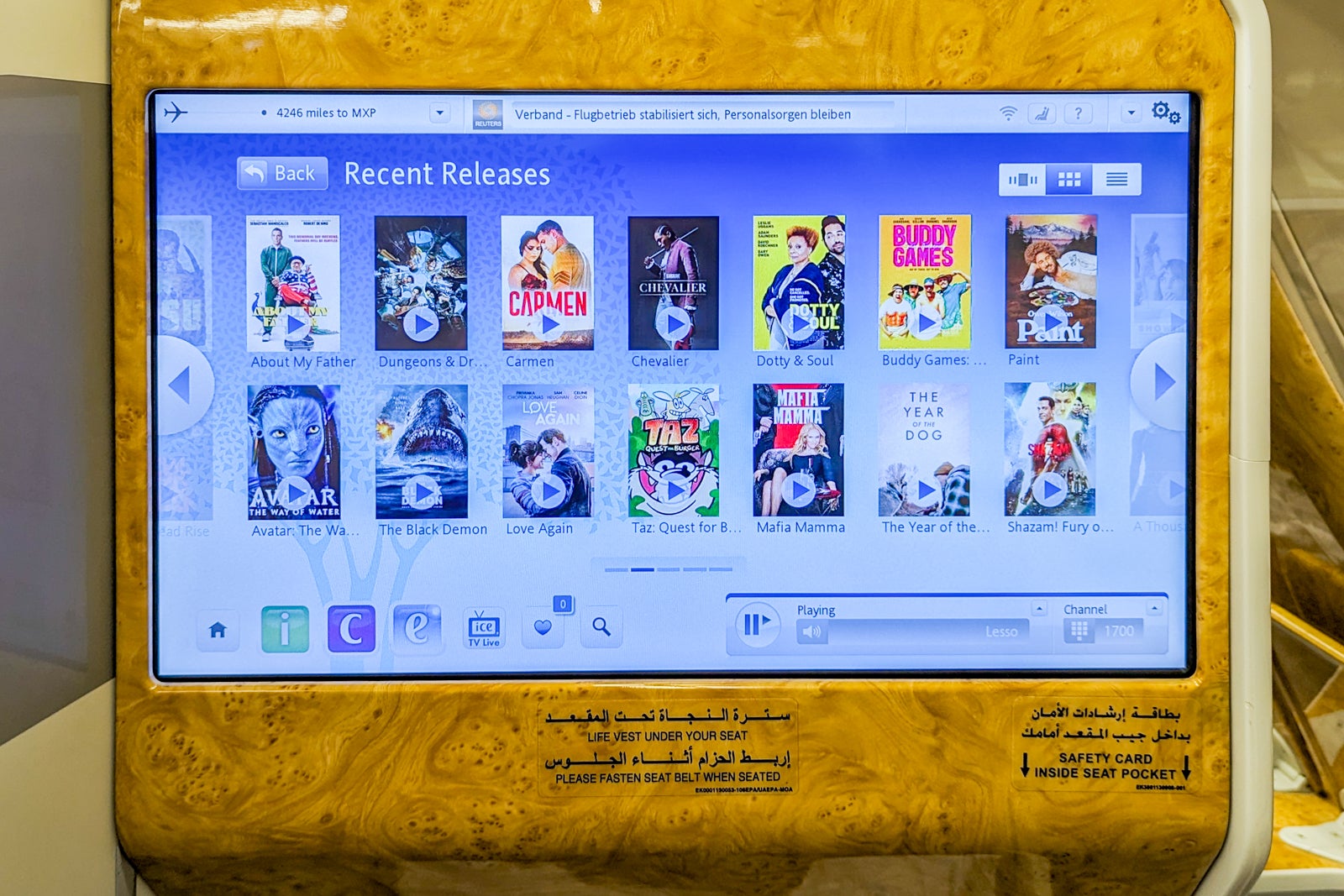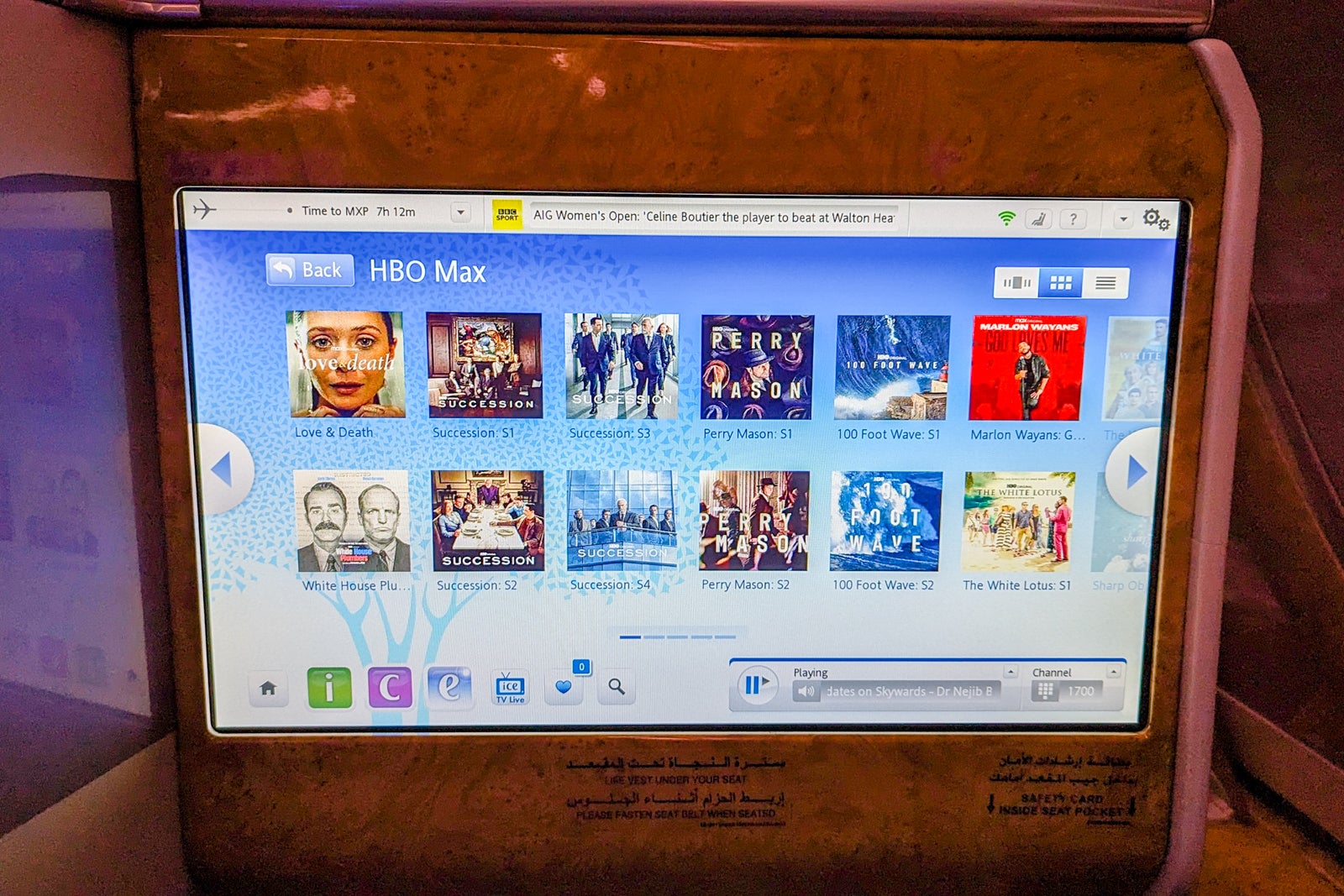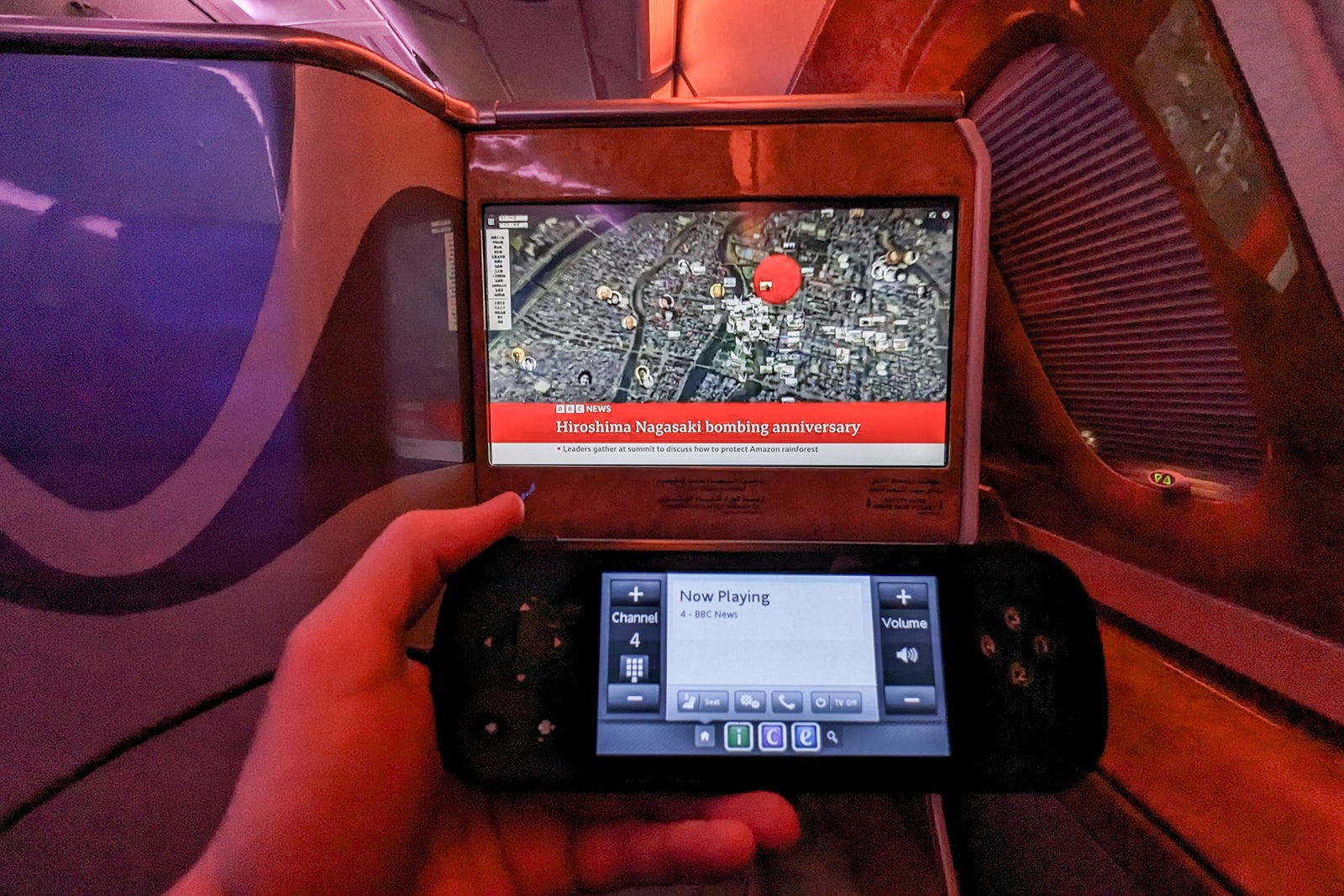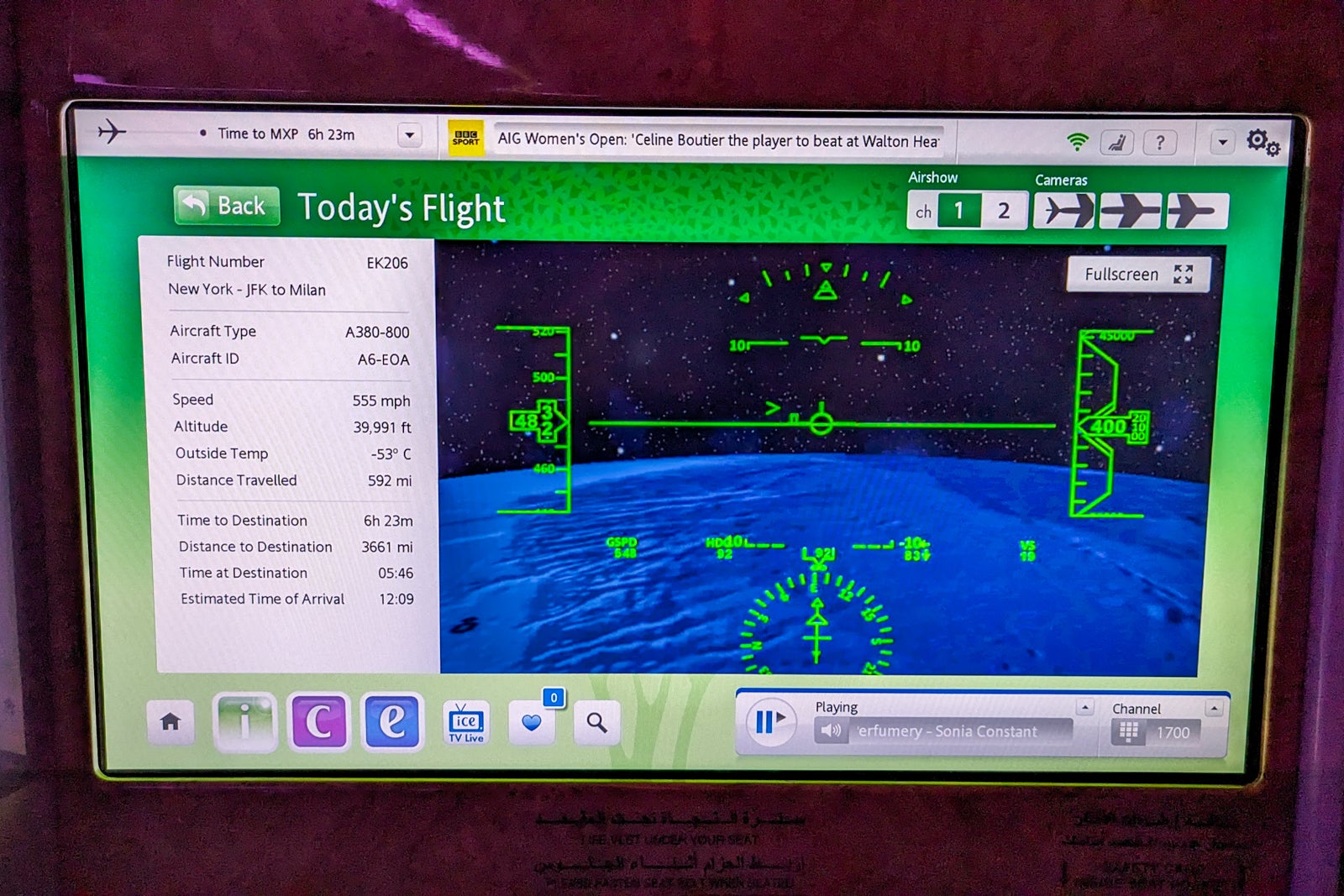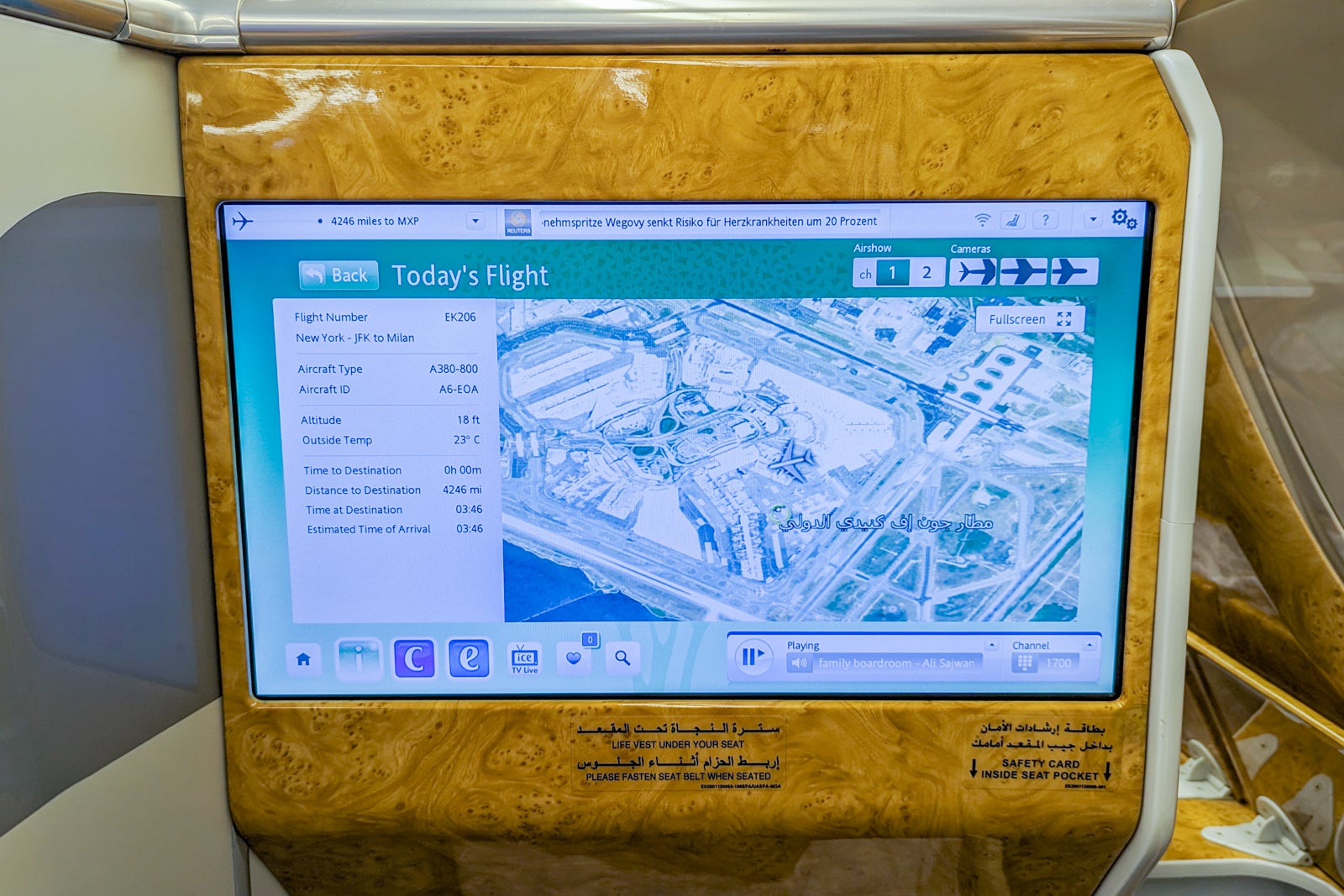 Wi-Fi was available on the flight. Prices ranged from $5.99 for a messaging-only option to $19.99 for the full-flight package with no data limits; streaming platforms like Netflix and YouTube were blocked. I registered speeds of 4.59 Mbps downloads and 3.71 Mbps uploads with the full flight package, which was disappointing for the price.
How was the food in Emirates business class?
During boarding, the cabin crew offered a choice of pre-poured Veuve Cliquot, orange juice or water, and food and wine menus.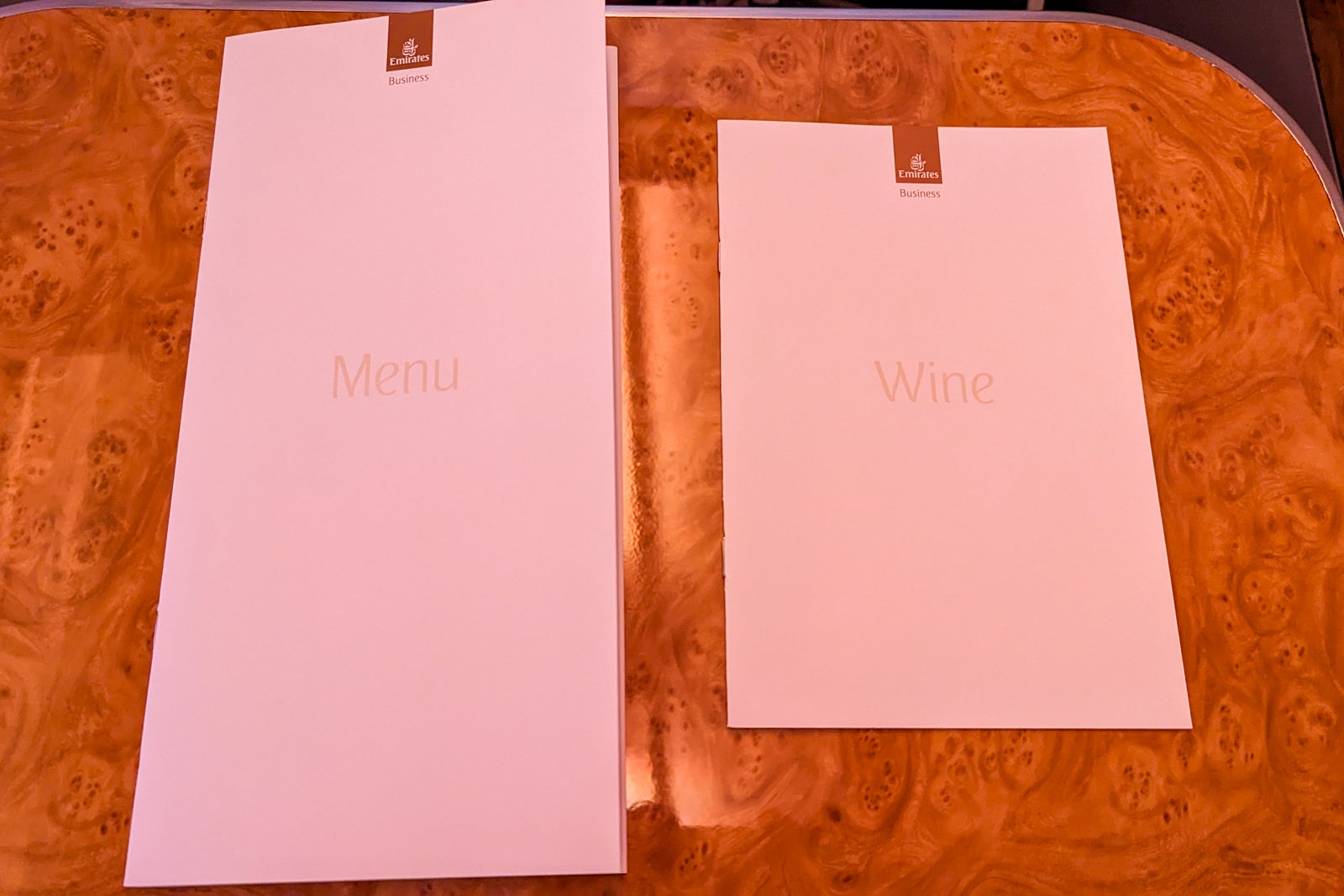 Shortly after takeoff, orders were taken for a light supper that was served quickly due to the late departure time. Options included:
Green pea ravioli
Roasted rack of lamb
Chicken Biryani
Reuben sandwich
Chocolate cherry torte
I ordered the Reuben sandwich and quickly received my drink of choice — a Champagne cocktail with Hennessy X.O. and Angostura bitters — as well as a ramekin of warmed nuts.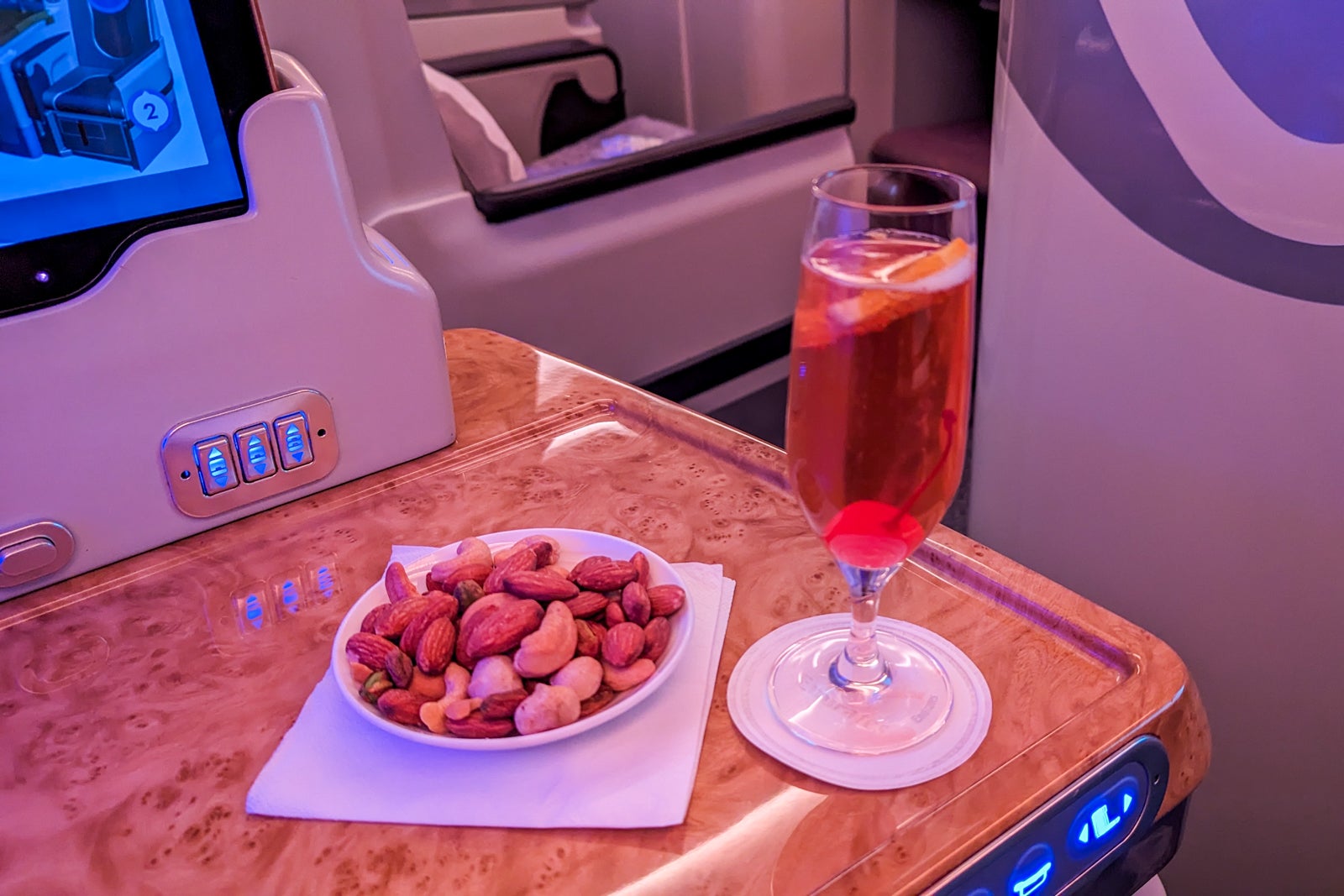 Given how large the business-class cabin was, I was most surprised when the staff asked me when I would like to receive my meal. Seeing all meals delivered from the galley rather than trolleys serving all passengers at a set time was unique.
My Reuben sandwich, while simple, was hot, tasty and just the right size as the time approached midnight (about 90 minutes into the flight).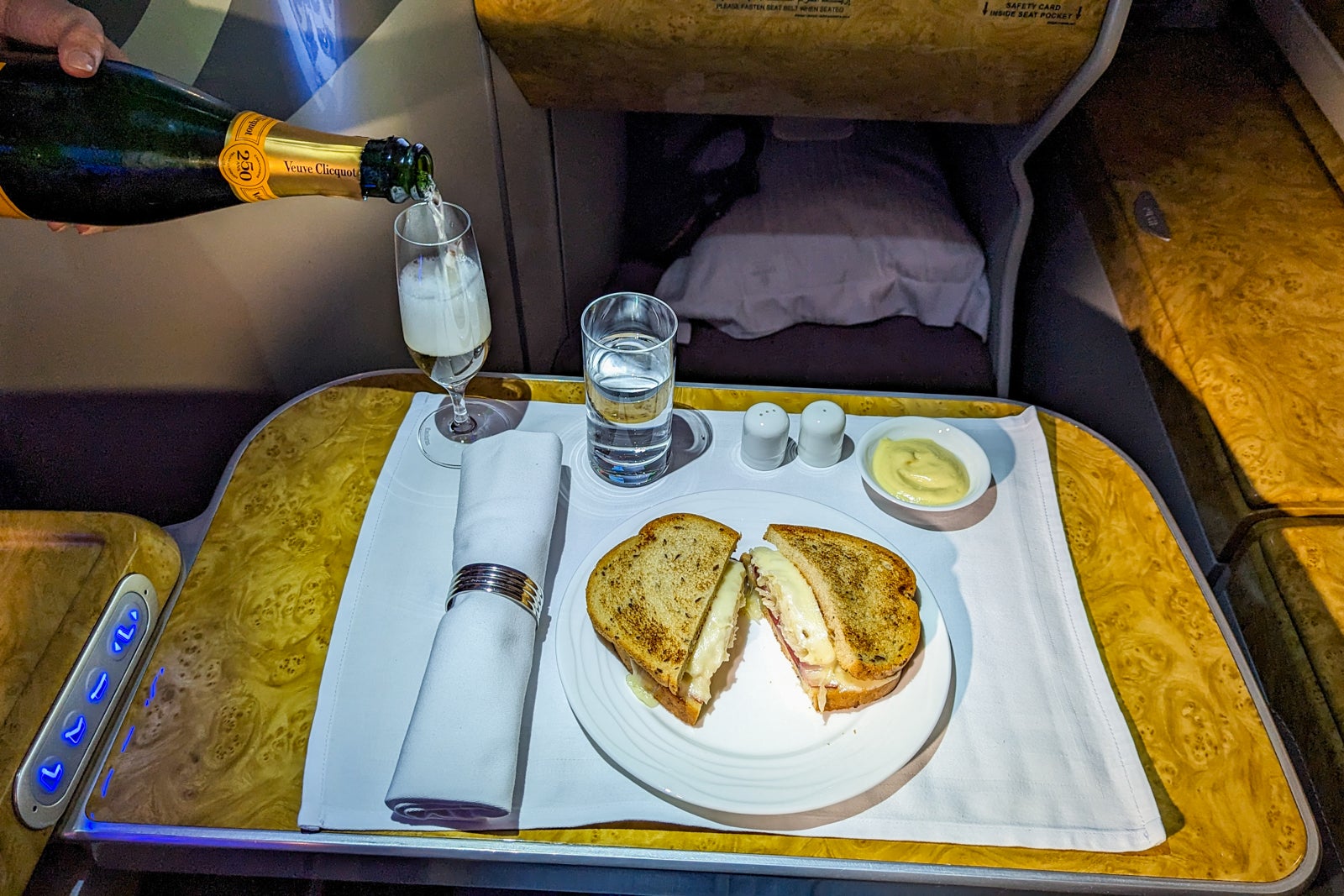 After dinner, the crew passed through the cabin, offering a range of traditional Arabic sweets.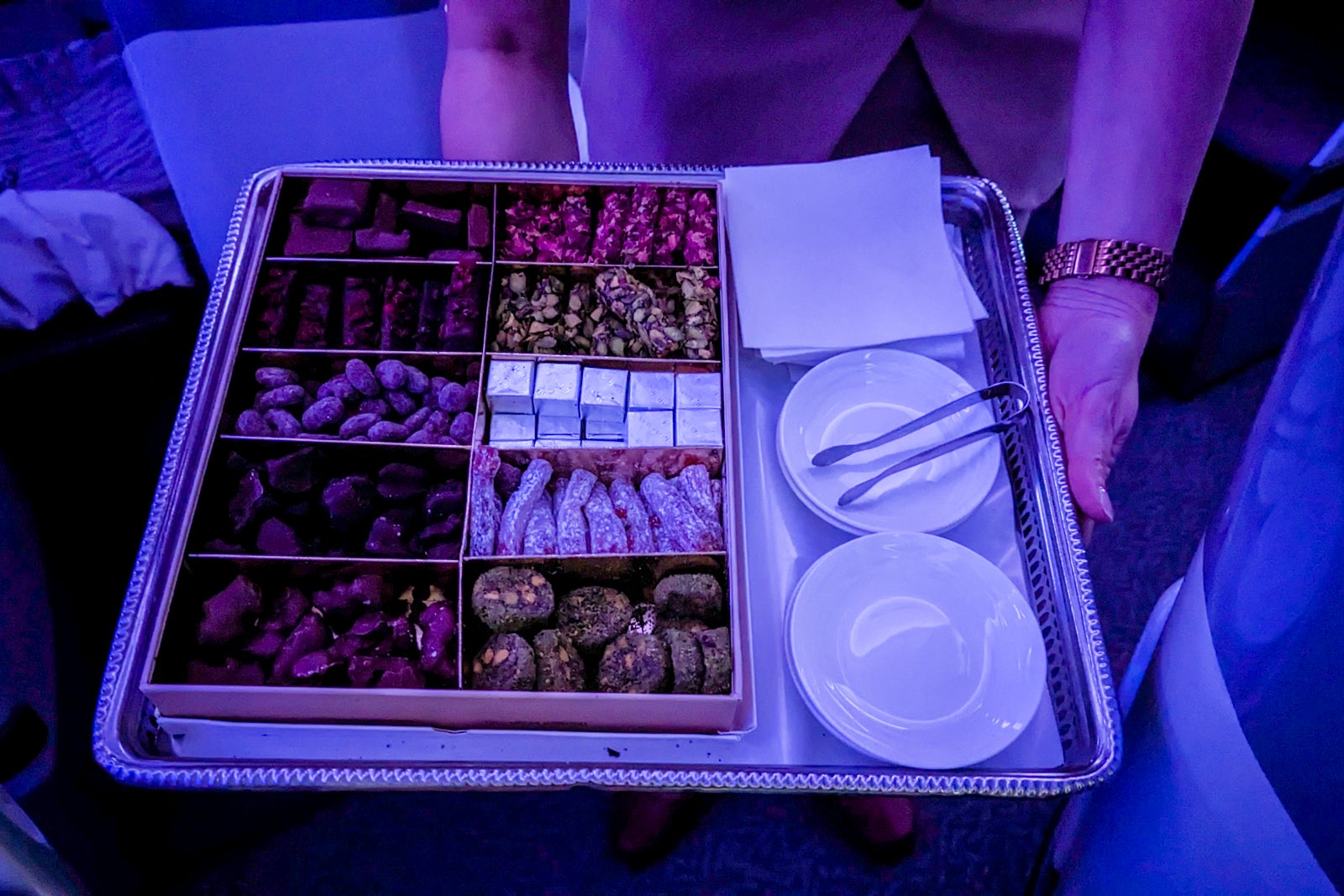 Breakfast was delivered individually to each passenger around 75 minutes before landing in Milan. All passengers were offered bread, pastries, fresh fruit and yogurt, fresh juice, tea and coffee, as well as a choice of the following hot items:
Avocado, tomato and cheese omelet
Scrambled eggs with chives
White chocolate and apple pancakes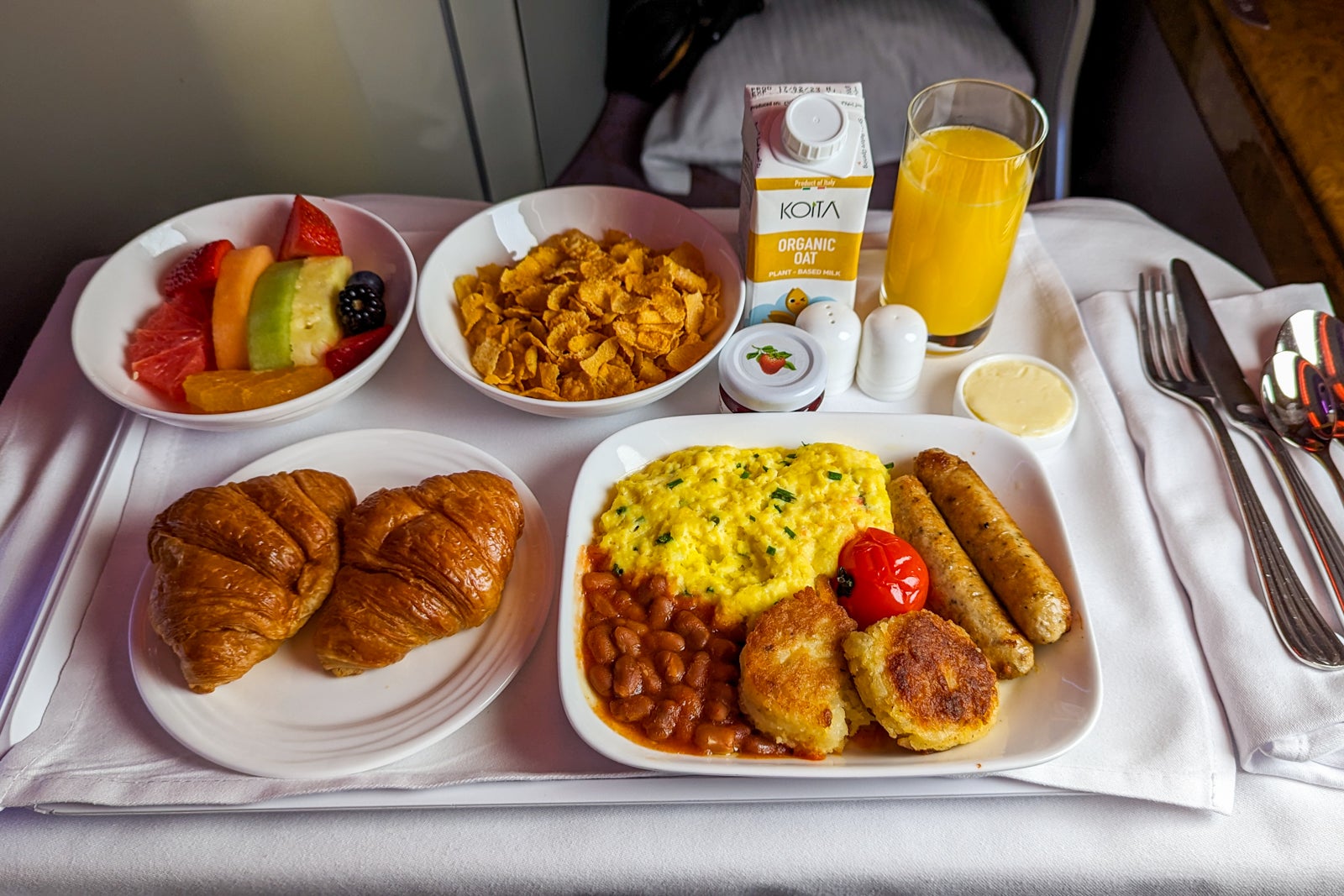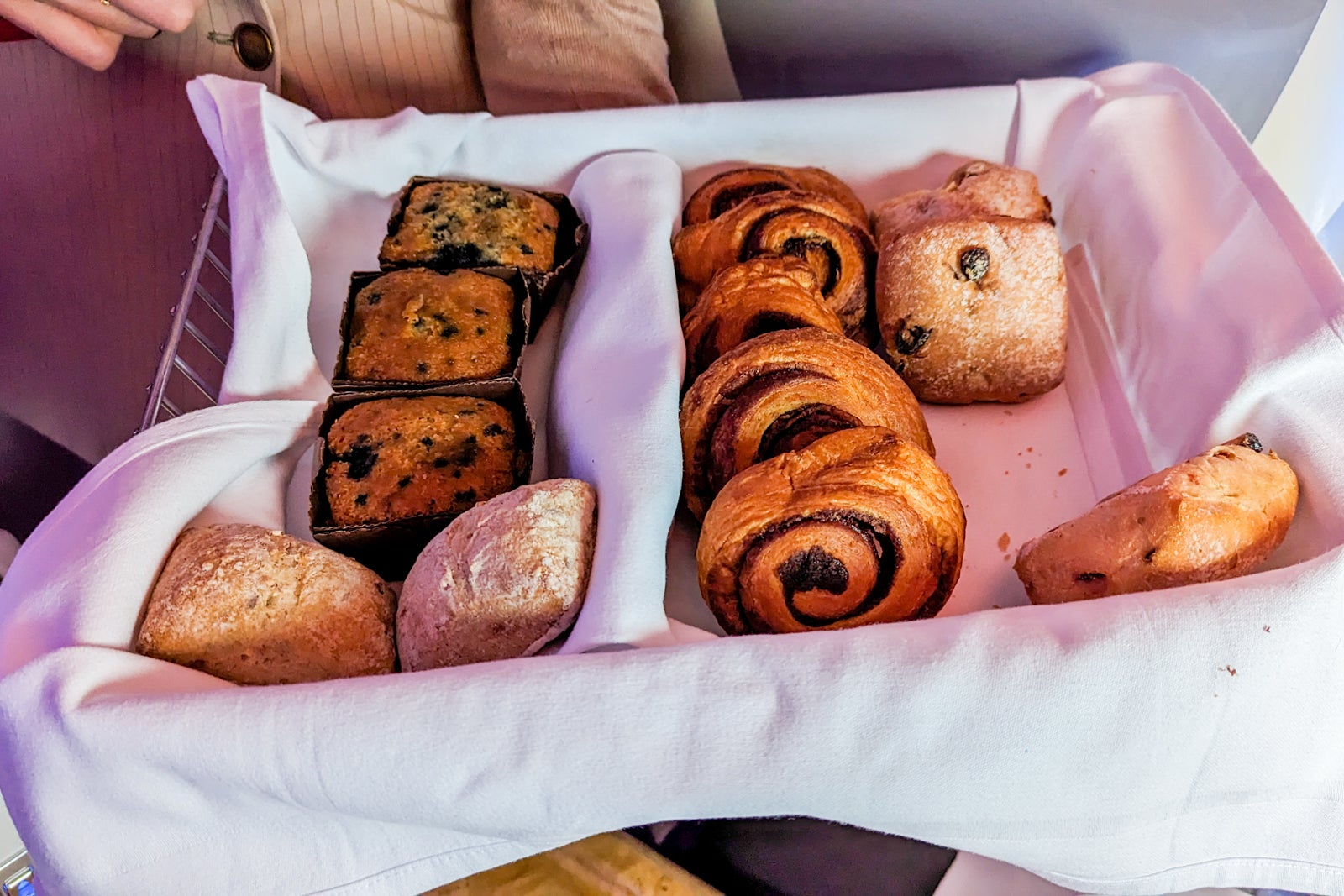 I chose the scrambled eggs with chives, served on a tray with grilled chicken sausages, rosti and braised cannellini beans. It was hot, hearty, filling and one of the better business-class cooked breakfasts I've eaten.
Service throughout the flight was excellent, though I admit I was lucky to have booked a flight in the summer that wasn't full. I was impressed with the personalized experience on the world's largest commercial aircraft, with the crew regularly passing through the cabin to see if passengers wanted anything.
Whether the onboard bartenders are trained to strike up a conversation, or I lucked out with a chatty crew, they seemed to thoroughly enjoy talking with passengers about their travel plans and answering questions about Emirates and Dubai.
They were proud of the airline and took service seriously, though there were plenty of smiles and laughs from crew and passengers alike.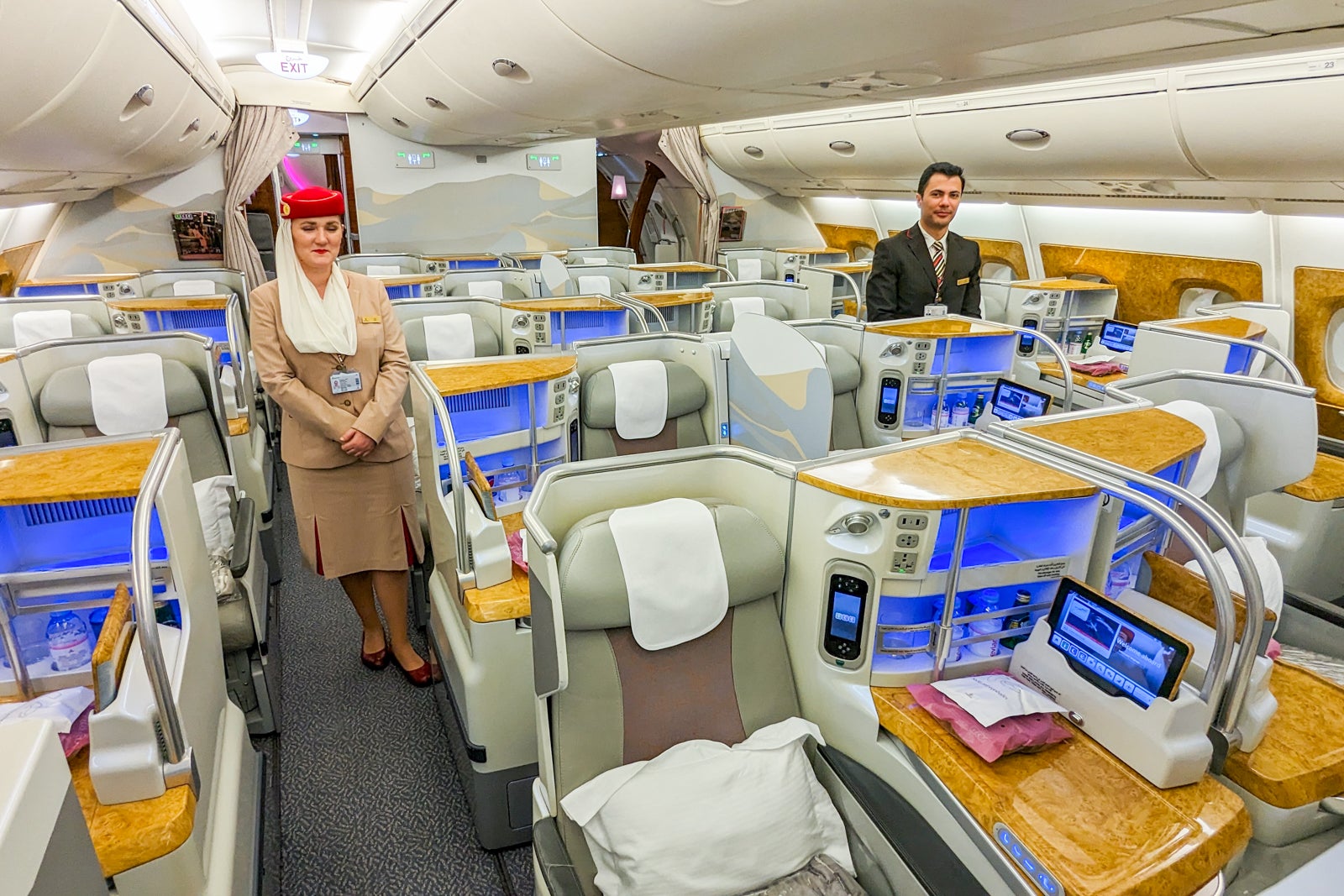 The Emirates A380 onboard bar
The best feature of this flight for me was the onboard bar. Located at the rear of the upper deck cabin, it is available for all business- and first-class passengers to enjoy from the moment the seat belt sign is turned off until the start of descent. While you may know Emirates also has two onboard showers on the A380, these are strictly reserved for first-class passengers.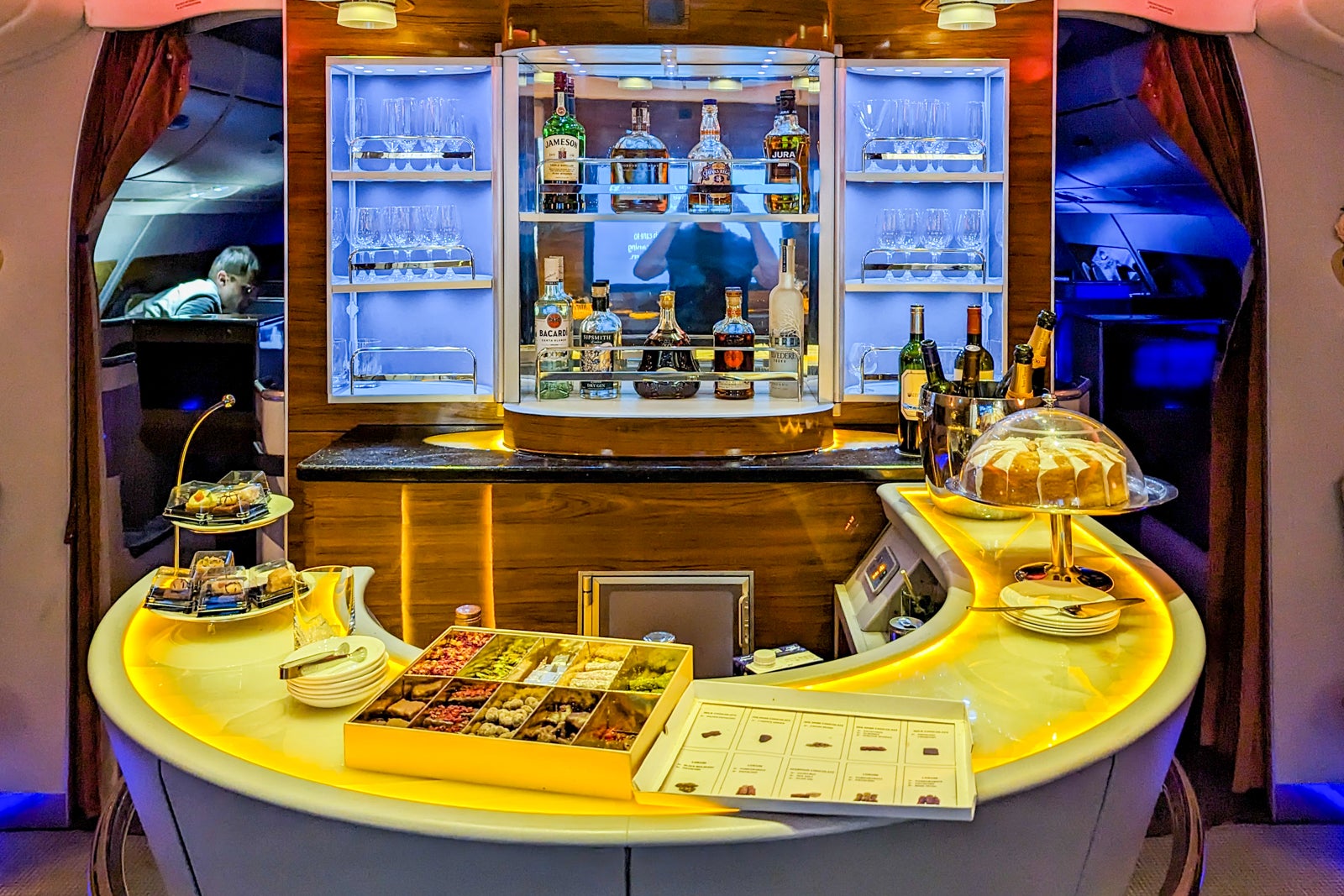 The U-shaped bar is stocked with Champagne, wine and spirits, and various sweet and savory snacks. A bartender is available to whip up pretty much any drink you can think of, on or off the menu. One passenger asked for a cocktail the crew was unfamiliar with, so the passenger asked if they could jump behind the bar and mix it up themselves.
The crew didn't hesitate to agree, which made everyone smile.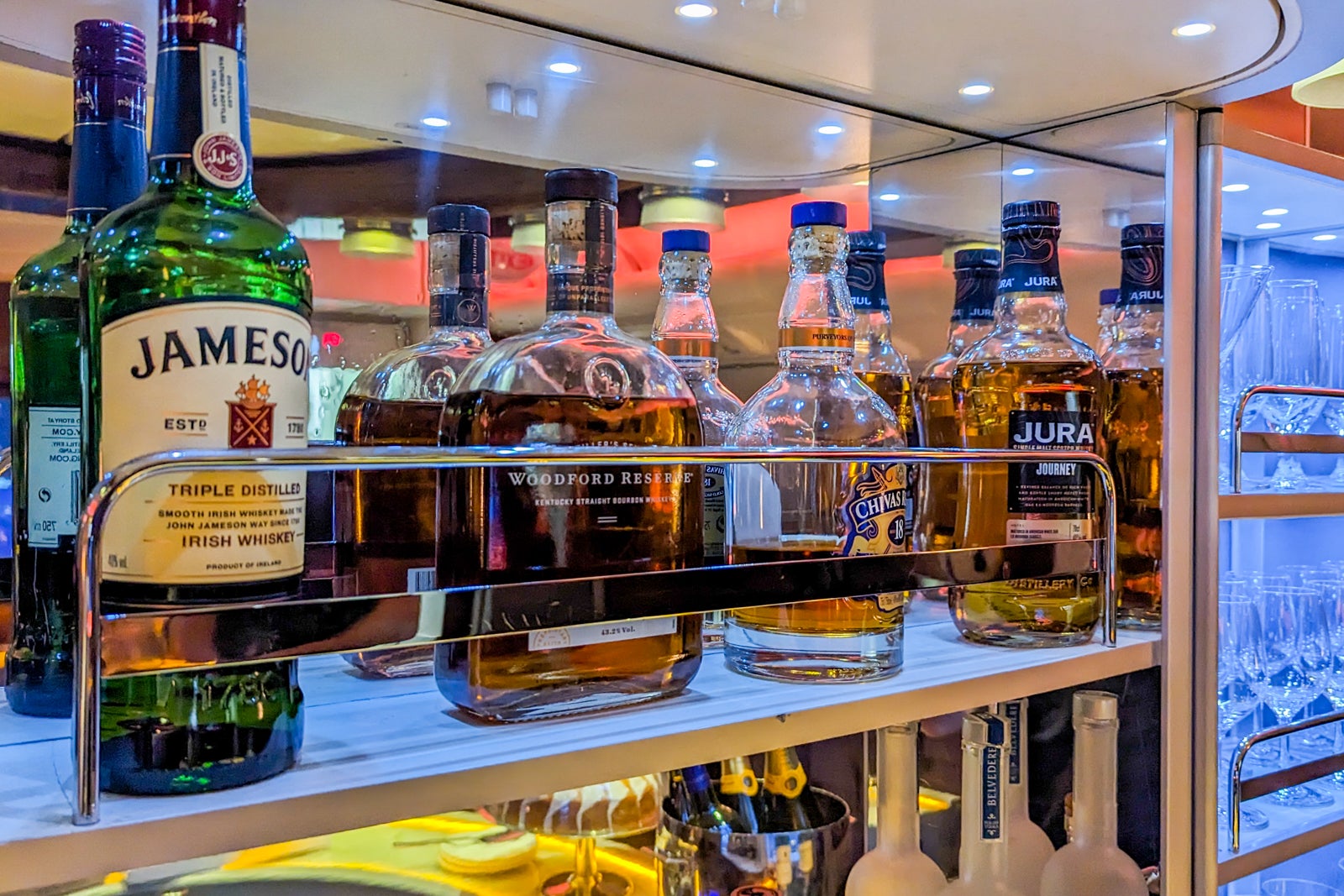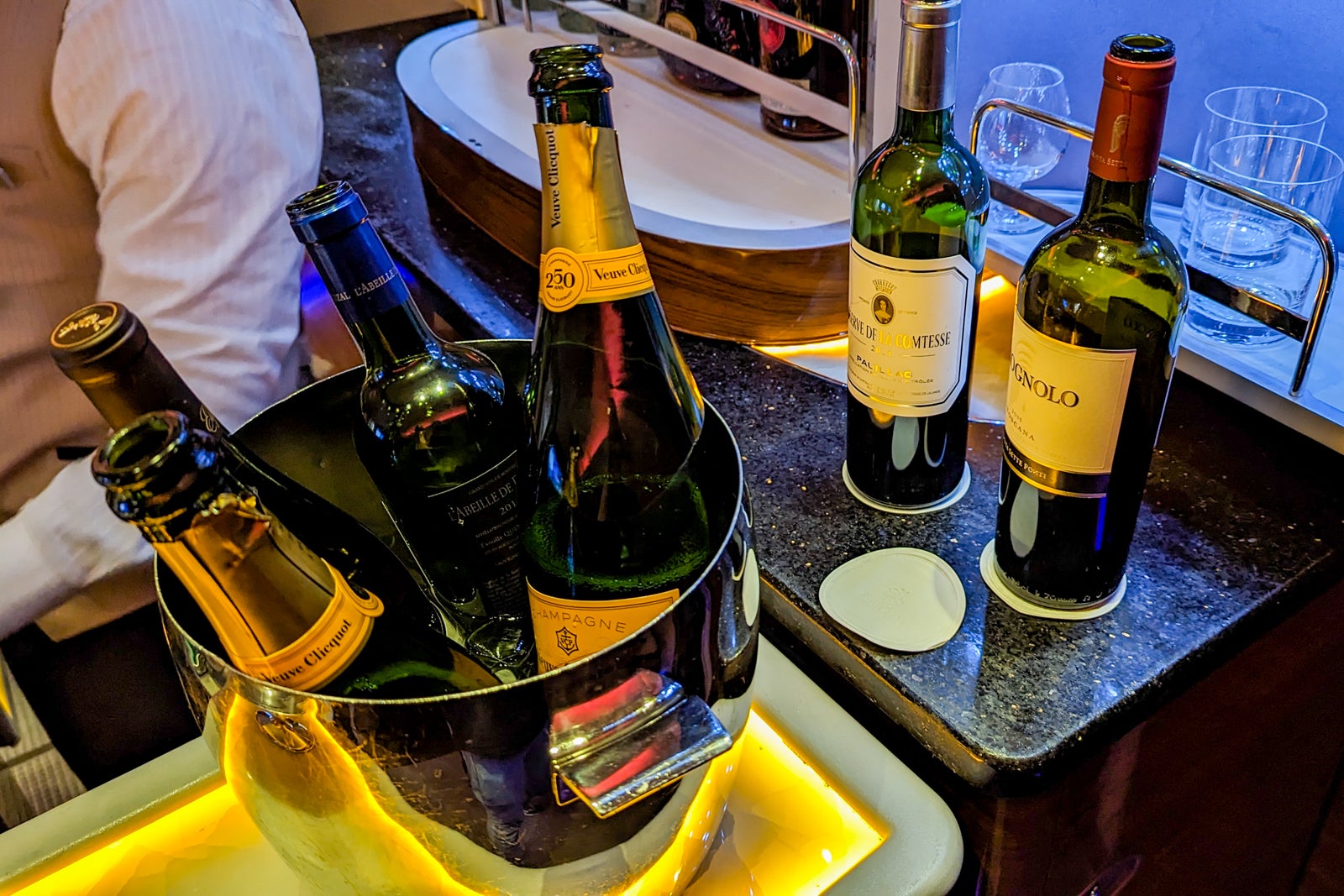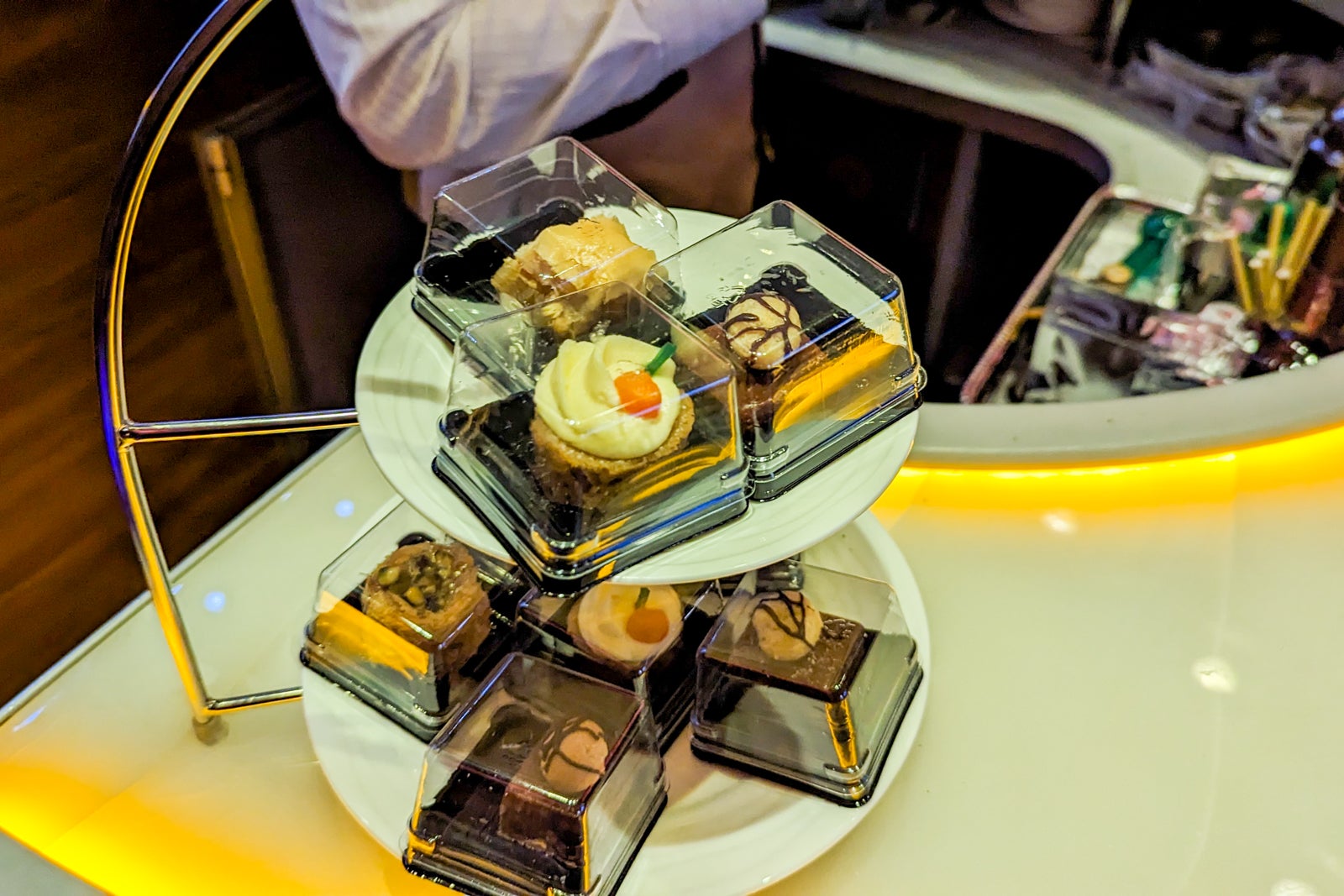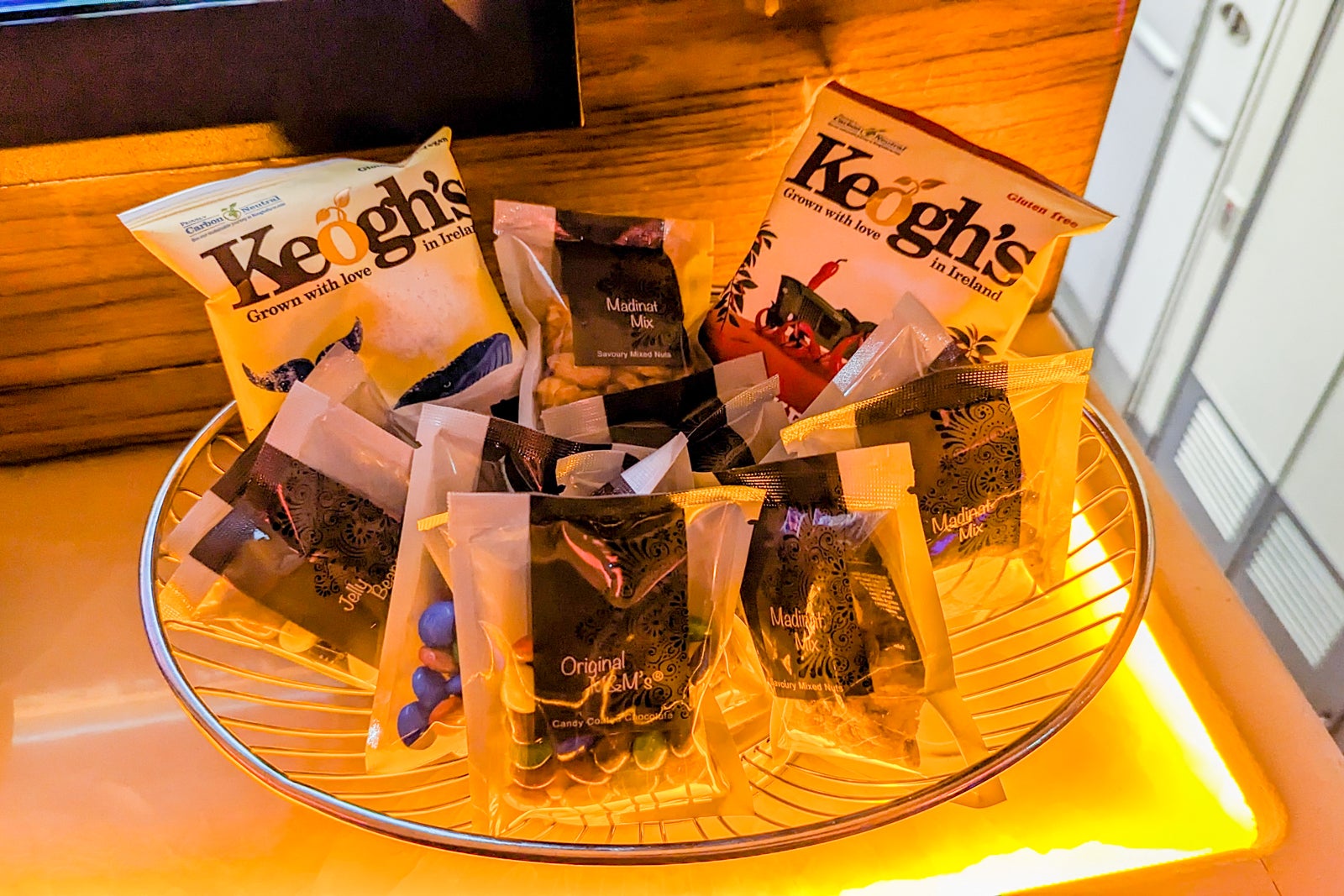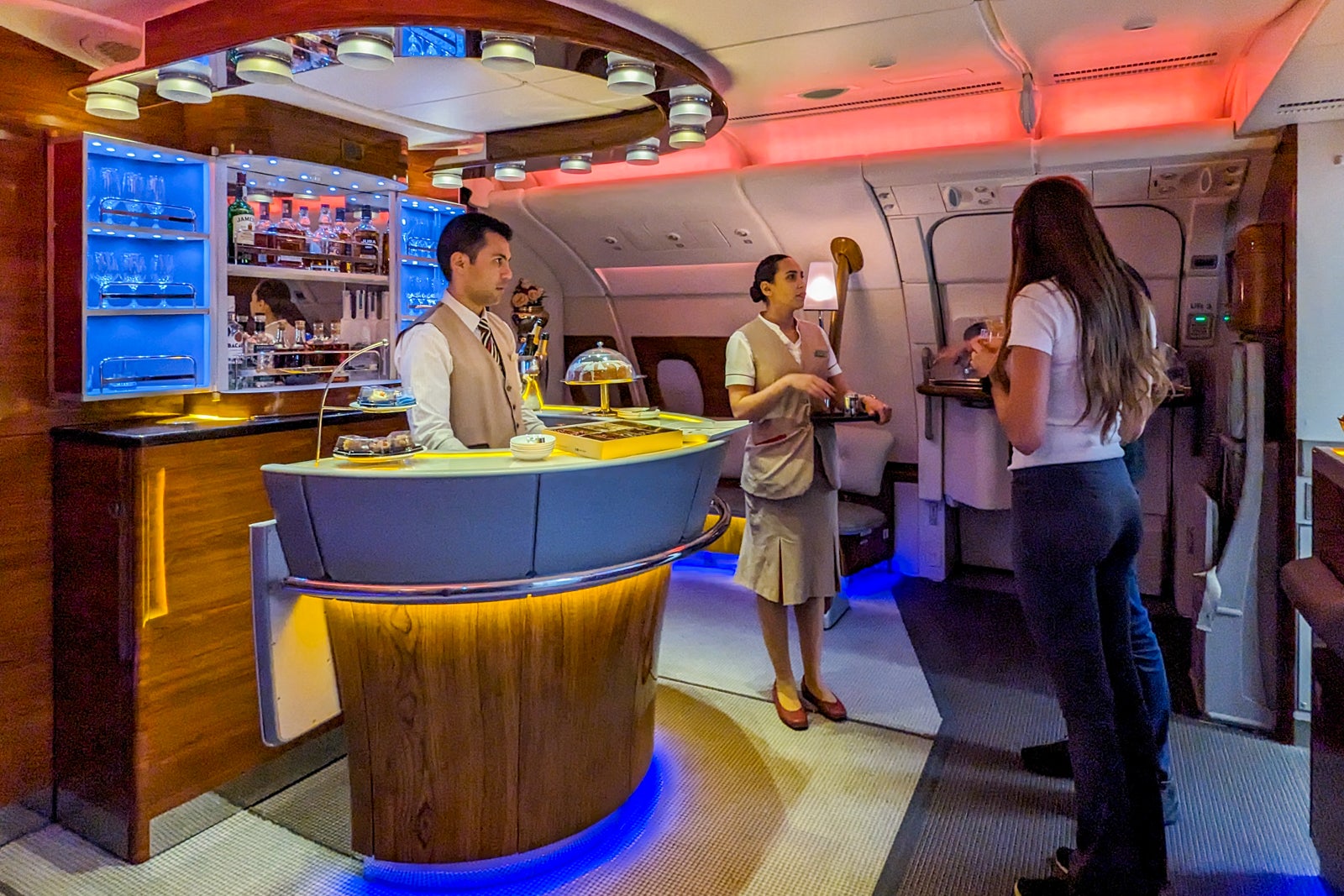 The older-style onboard bars, like on my flight, have bench-style seating on either side for guests to mingle and relax; the newer bars have booths and a separate bench.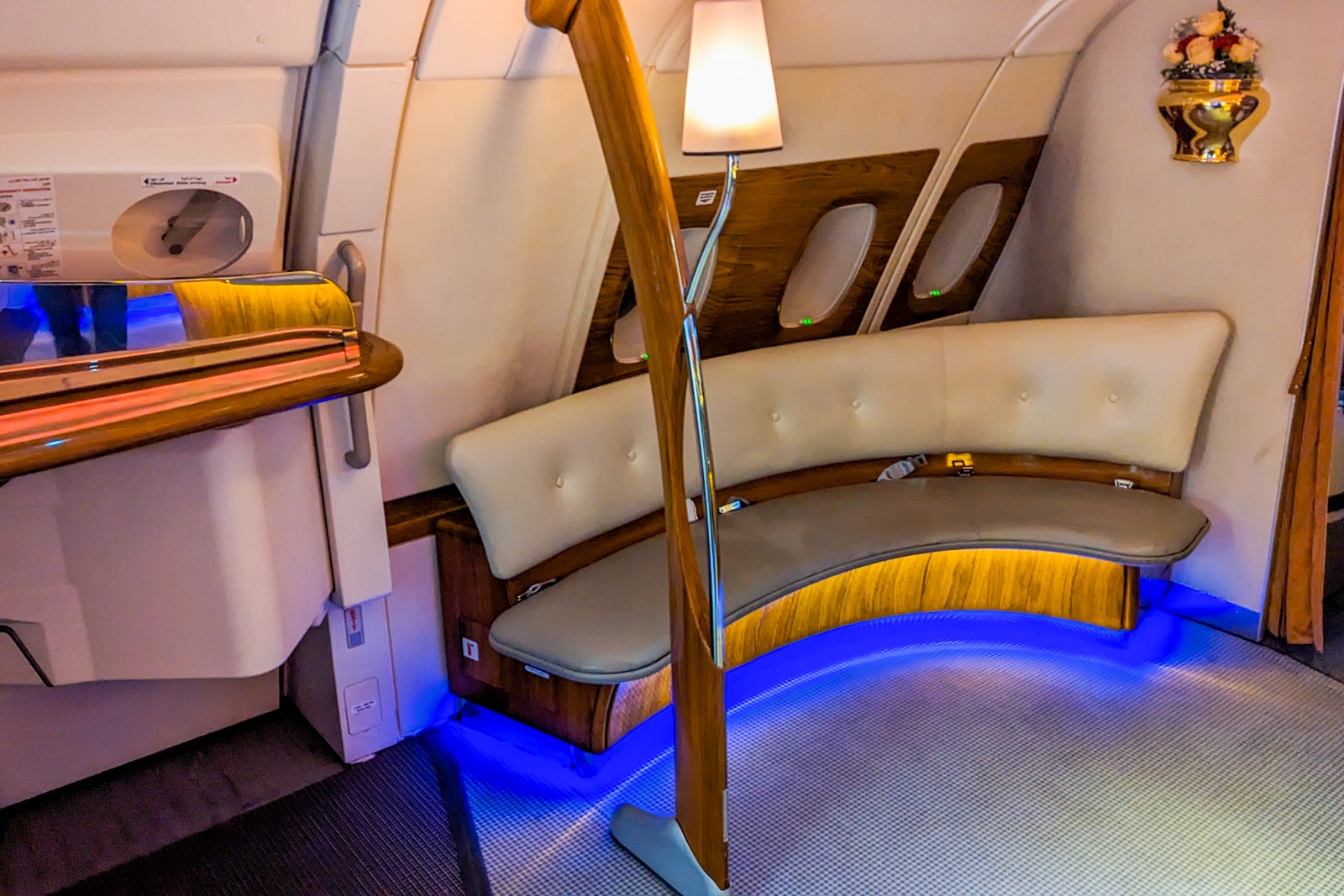 Dedicating this much space to a social area is a fun perk for the airline to offer passengers, many of whom seemed to be as excited as I was to experience it. Beyond being a place to stretch your legs on long flights, it's a great place to meet other travelers and to chat informally with the crew.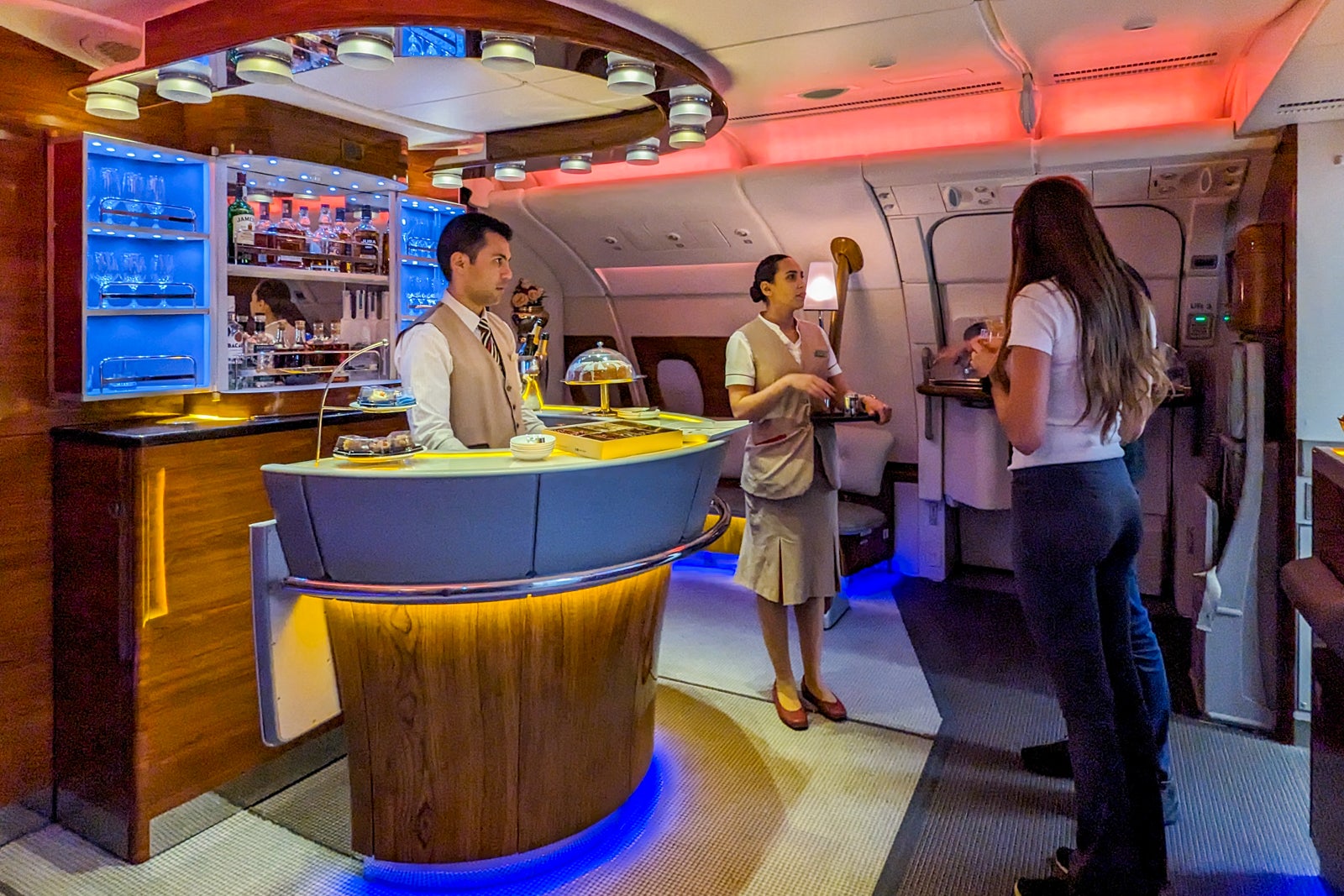 Before you even ask, the crew will likely offer to take a photo of you behind the bar (but don't hesitate to ask, even if they don't). It's the ultimate Emirates A380 business-class souvenir.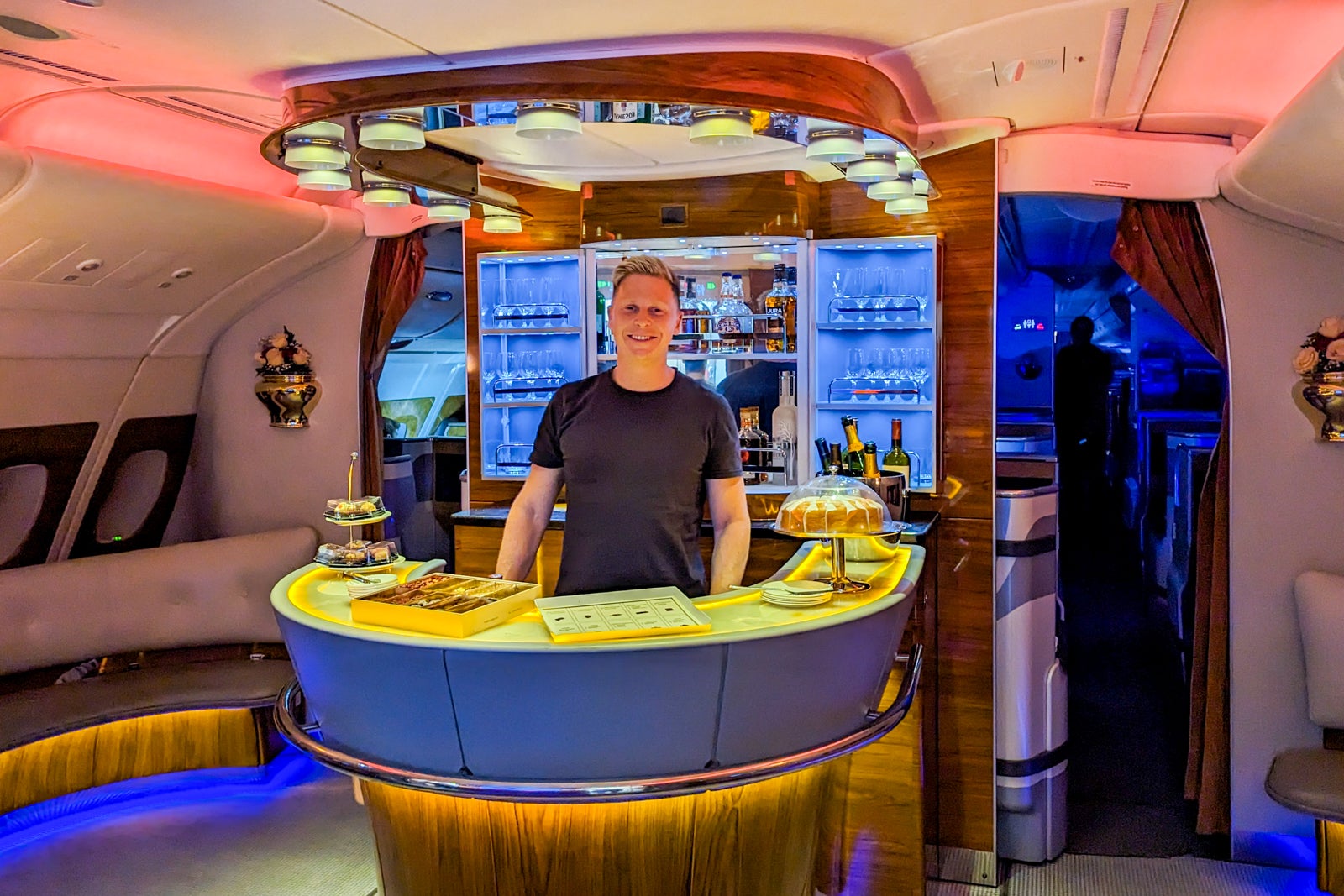 The bar was busy directly after the first meal service but quiet for much of the rest of the flight. The bartenders told me with a wink that the daytime flights to and from Scotland are the liveliest onboard bar scene in the Emirates network.
Would you recommend Emirates A380 business class?
I don't think I've ever enjoyed a transatlantic business-class flight this much, where the priority is usually to sleep as quickly as possible. I only wished this flight had lasted longer. The Emirates A380 experience was terrific from start to finish, with an excellent lounge at JFK, great cabin crew, nice seats, and an impressive number of food and beverage options.
Everything felt luxurious and opulent (over the top, even), and I can see why this product has remained popular for 15 years. Features like a wood-paneled removable tablet to control the seat position and an in-seat minibar are so ostentatious but still brought a wry smile to my face.
It was also terrific to be back on the A380 after the pandemic caused uncertainty about the jumbo jet's future. The plane remains a marvel of engineering, and the all-premium configuration of the upper deck on Emirates created an unmistakable atmosphere of exclusivity.
The onboard bar was the best-executed social space I have ever seen on an aircraft, and it's difficult to overstate just how enjoyable the crew made the experience. I've never chatted with flight attendants this much on an overnight flight before.
All that said, I'd suggest avoiding Emirates' Boeing 777 since the business-class seats feel downright outdated compared to newer editions, and there are even middle seats without direct aisle access. Instead, aim for all the fun of the Airbus A380 on the longest flight you can.