Air India is getting a head-to-toe makeover.
The carrier unveiled a new livery, logo and cabins last week, part of an attempt to refresh the airline after years of losing money under government ownership.
Air India's first plane with the new look is expected to take off in December when Air India begins flying its first Airbus A350. The airline did not give specifics on how long it would take to repaint its entire fleet.
The new look will be part of what the Tata Group — which acquired Air India in 2022 — hopes is a welcome change for Air India. The brand has become synonymous with operational irregularities and uneven service over the past few decades. In the years before Tata's acquisition, Air India racked up billions of dollars in losses as a state-owned enterprise.
Now under Tata's direction, Air India is trying to pivot. In February, Air India made a blockbuster deal with Airbus and Boeing for 470 new aircraft that was billed at the time as the largest aircraft order ever. 
Want more airline-specific news? Sign up for TPG's free biweekly Aviation newsletter.
The new livery and logo unveiled last week are the latest effort of that pivot — one that Air India hopes will make it more competitive internationally against Persian Gulf rivals Emirates, Etihad Airways and Qatar Airways. Those carriers have siphoned off a large portion of the Indian market, winning over customers willing to connect at Middle East hubs in exchange for better service.
As part of that, Air India's planned update will be more than cosmetic: The carrier's wide-body cabins also are getting an overhaul.
In addition to the dozens of new wide-bodies that the carrier just ordered, Air India plans a stem-to-stern makeover of more than 43 wide-body jets already in its fleet.
Previous woes: Air India Is behind on its fuel bills and its suppliers are cutting it off 
The most notable update will come to Air India's Boeing 777s, which will retain a first-class cabin in the cabin makeover.
Those first-class seats will be arranged in a 1-2-1 configuration, with fully lie-flat seats and a door.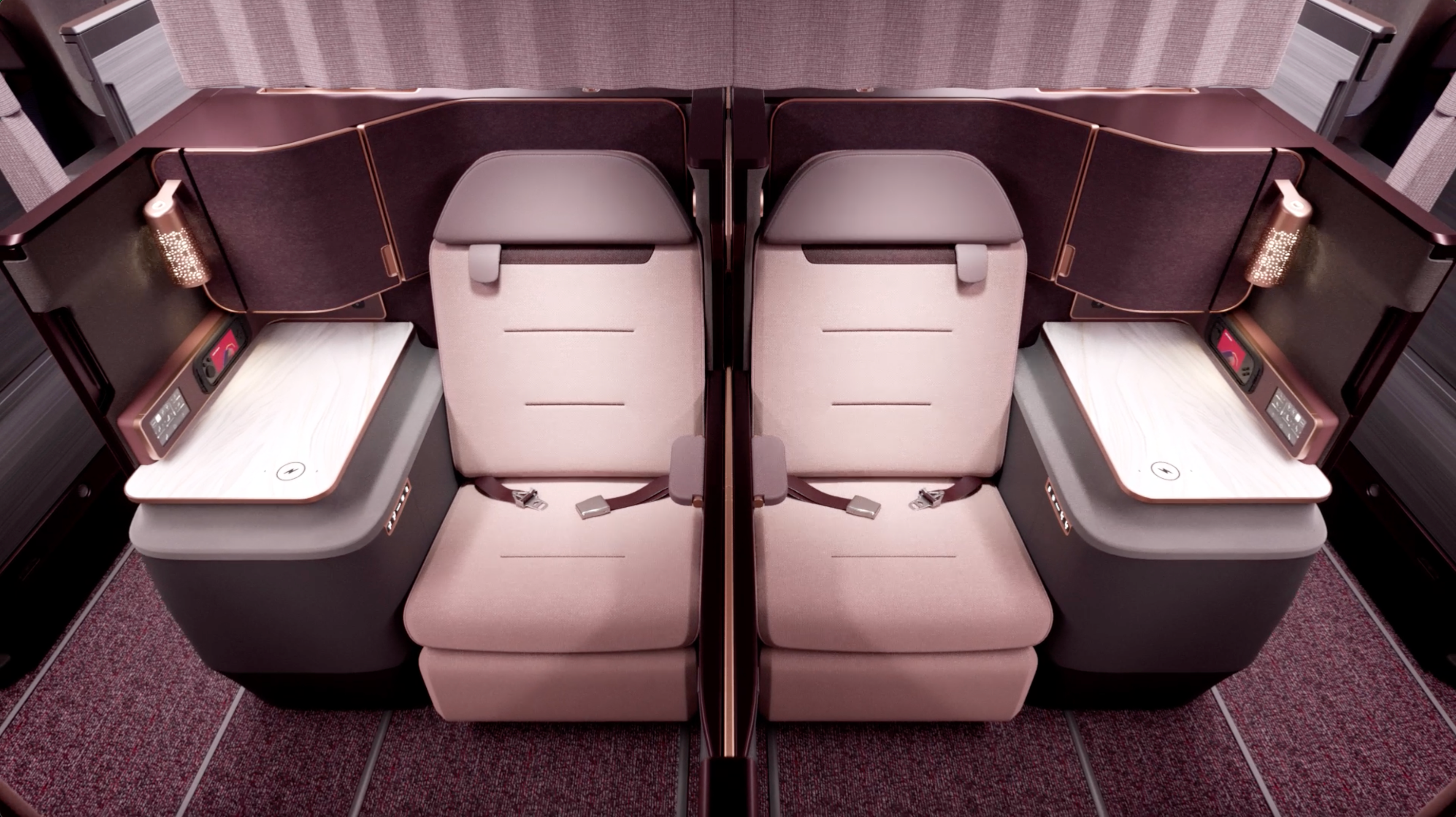 The new business-class cabins also will feature lie-flat seats arranged in a similar layout as the first-class cabin. The main difference between the refreshed first- and business-class cabins is that the new business-class seats will feature a staggered 1-2-1 configuration and will have smaller entertainment screens than in first class.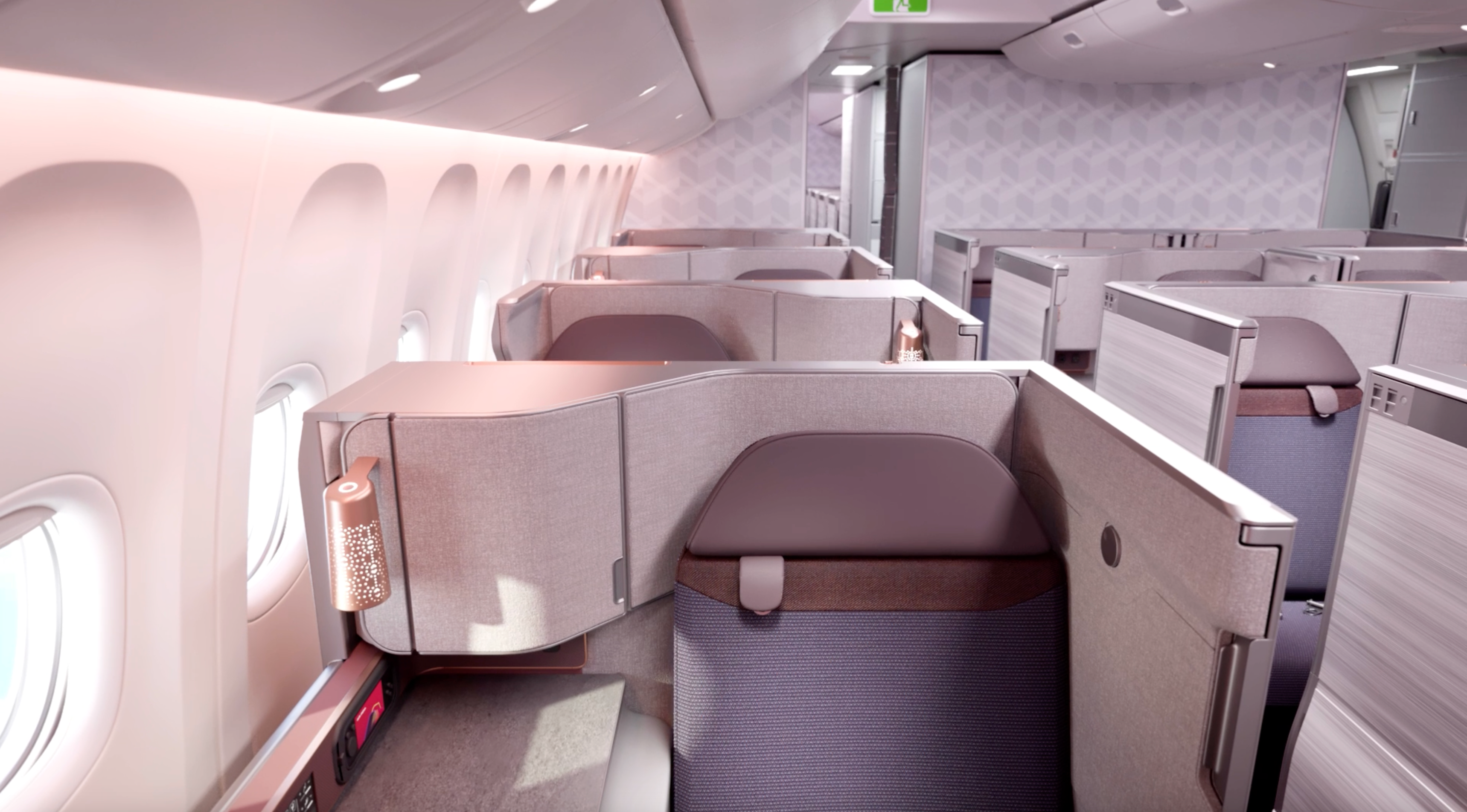 Premium economy will be added in the retrofit, and economy will be updated, too. Premium economy seats will be in a 2-4-2 configuration, while economy seats will be in a 3-4-3 configuration for long-haul flights, matching the industry standard.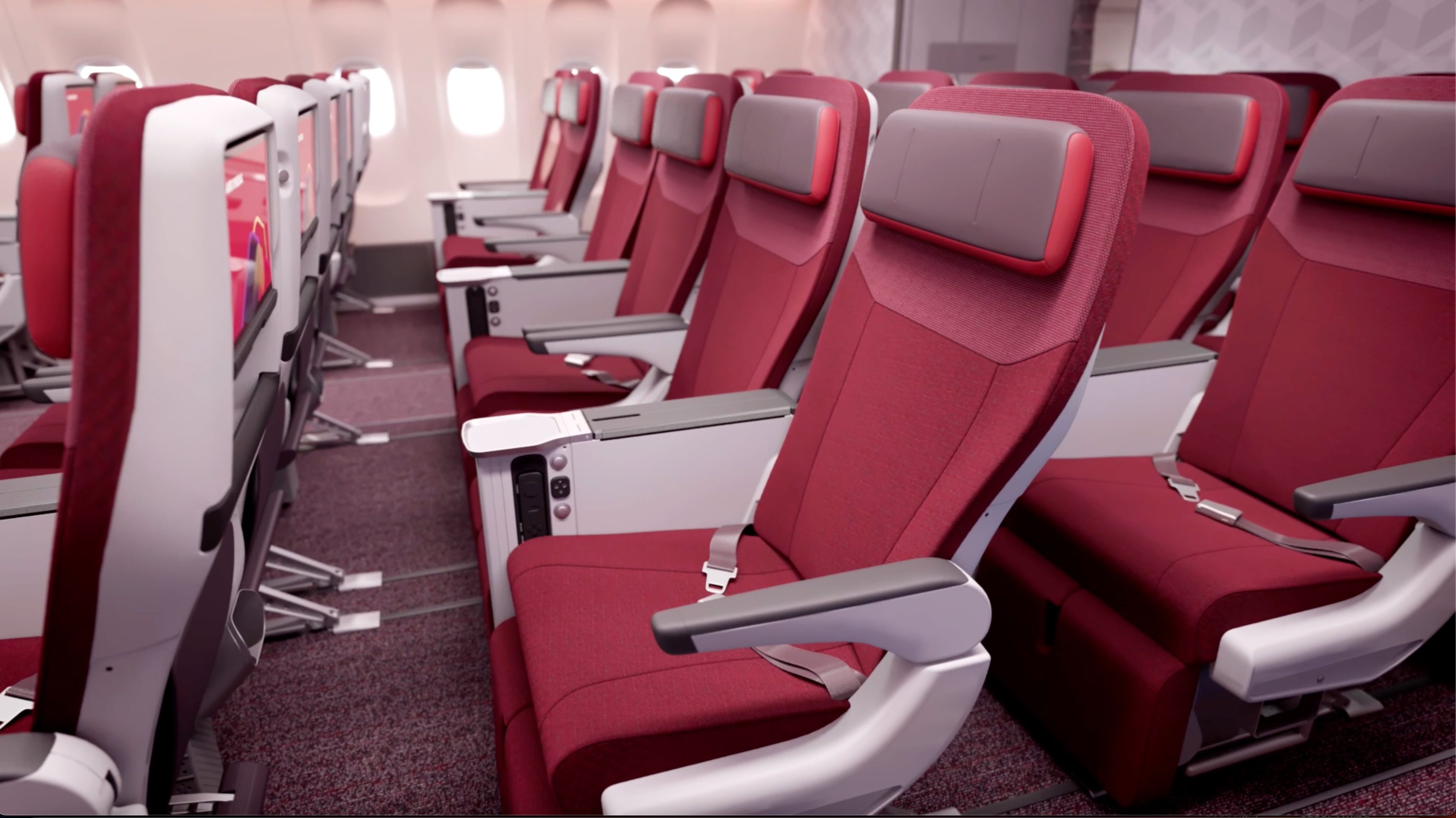 Soft hues of purple coat the seats and walls of the new first- and business-class cabins, while the premium economy and economy cabins feature a set of bright red seats.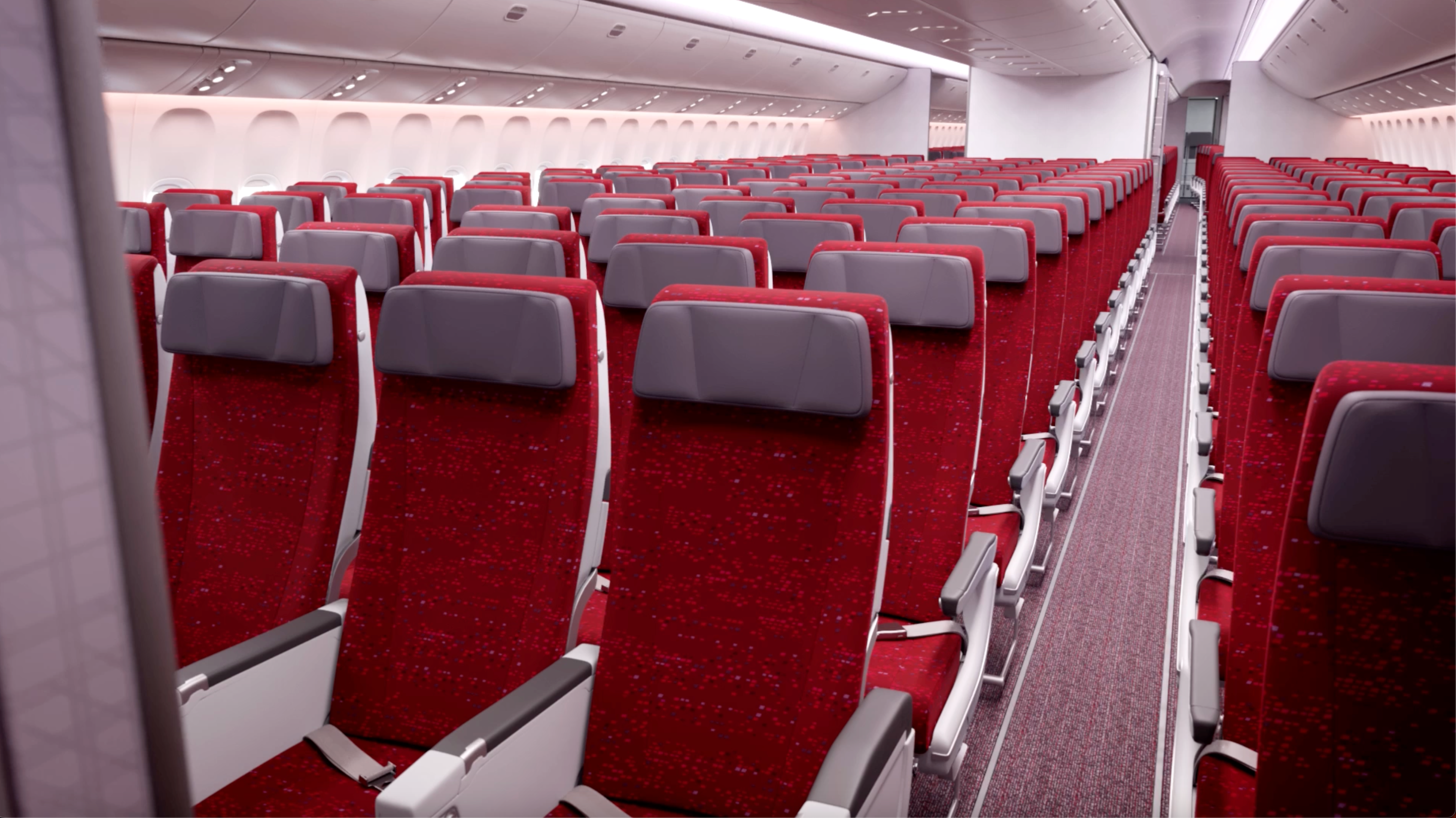 The cabin upgrades to Air India's 43 "legacy" wide-bodies will cost around $400 million. In addition to the 777s, Air India's 787s also will receive updated cabins (but not first class). The first of the retrofits is expected to come in December, with a rollout taking a little more than two years.
As for Air India's new livery, it will include a gold frame on its underbelly, bright red "Air India" in all caps toward the front of the aircraft and a tail fin with a gold, red and purple pattern, along with a chakra design, paying homage to Indian culture.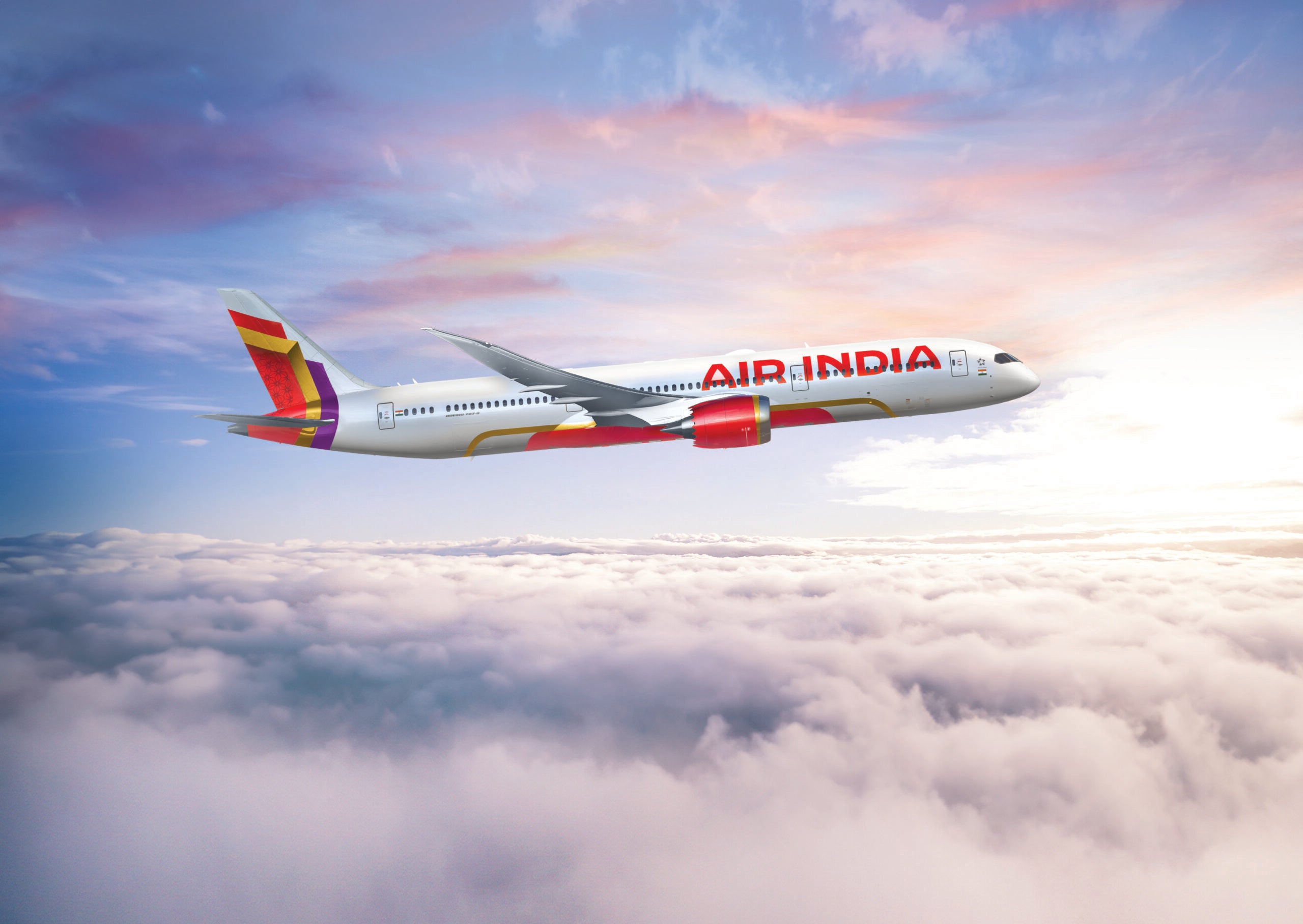 Additionally, Air India's logo will include a gold "vista" at the top right corner, doing away with the tail fin that featured a sun engraved in the middle. However, Air India's mascot, the Maharaja, will stay, but it won't be as prominent in Air India's redesign, according to a report from Reuters.

Tata touted the latest moves as part of a multimillion-dollar investment to reposition the airline as "premium, inclusive and accessible."
"The new Air India is bold, confident, and vibrant, but also warm and deeply rooted to its rich history and traditions that make Indian hospitality a global benchmark for standards in service," Campbell Wilson, Air India's CEO, said in a statement.
Next, it will be time to see if the company can deliver as its new look and seats begin to take to the skies.
Related reading: