Have a penchant for pink sand beaches and Gosling's Rum? A new airline can deliver you to the island of Bermuda in style.
BermudAir will soon offer service from New York's Westchester County Airport (HPN), Boston Logan International Airport (BOS), and Fort Lauderdale-Hollywood International Airport (FLL) to Bermuda's L.F. Wade International Airport (BDA).
Ticket sales commenced on this morning at 2 a.m. EST for upcoming flights from HPN and BOS to BDA that launch on Aug. 31. Flights from FLL follow on Sept. 22. Starting Sept. 15, service will ramp up, with twice-daily flights between HPN and BDA. The full schedule of year-round flights kick in on Nov. 9, with up to six flights a week on the startup's initial routes.
The experience is meant to evoke a Bermudian vibe from the moment guests step onboard, with flight attendants mixing up "dark 'n' stormy" drinks — the airline's first featured cocktail — a trademarked concoction of Goslings Black Seal Rum, ginger beer and a lime wedge, served over ice.
Want more airline-specific news? Sign up for TPG's free biweekly Aviation newsletter.
The team also works with local suppliers to source menu items, including French bakery l'Artisan Boulangerie and the family-run Ahmani's Cookie Company. Depending on the time of day, passengers might be treated to pain au chocolat, quiche lorraine, or cannelé pastries flavored with rum and vanilla. They can all be washed down with a selection of spirits, wine beer, soft drinks, tea, and coffee. All onboard food, beverages, and amenities are included, and the menu will be switched up every three months to keep passengers' palates piqued.
Even the cabin lighting will be evocative, shining pink when the aircraft is en route to Bermuda, and blue when you have to depart the pink sand paradise.
The two-hour flights will take place on Embraer E175 jets that — eventually — will feature a cabin that the carrier says will be ground-breaking for a short-haul airline.
Maximize your points: The best airline credit cards of 2023 
For now, however, the airline is launching with 88-seat E175 flights on which only half the cabin will be sold. By selling just 44 seats on the flights, BermudaAir says all passengers will get both aisle and window access, part of an effort to "maintain a premium, spacious experience."
But this fall, BermudAir plans to begin flying custom-designed suites in layout featuring just 30 seats, all business class. Supply chain issues delayed the new cabin, with the airline deciding to get off the ground this month instead of waiting until the new seats are ready this fall.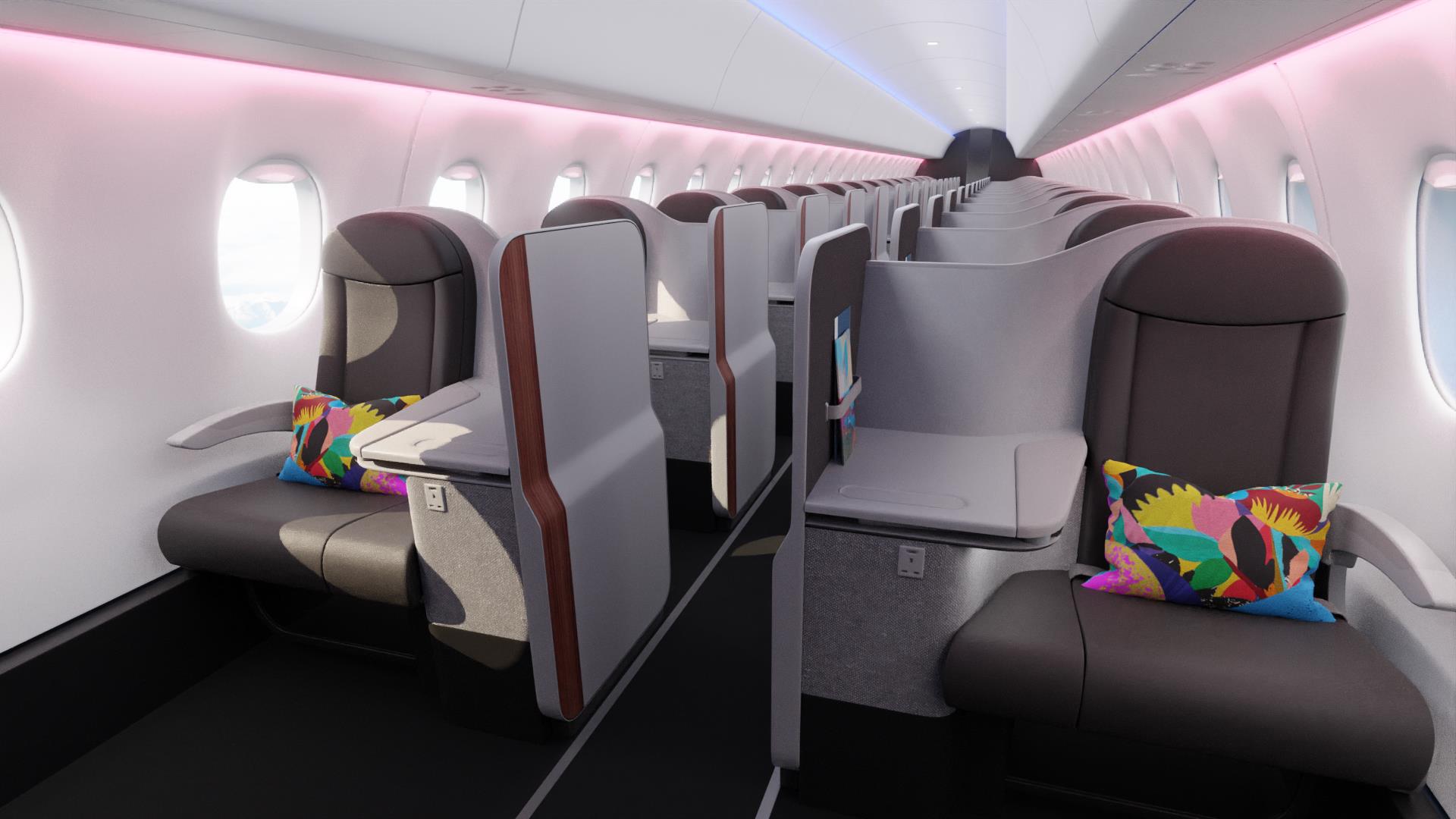 That's expected to come Nov. 1, when aircraft will be reconfigured with BermudAir Aisle Class featuring with two spacious seats across from one another in each row, overhead bins eschewed for ample under-seat stowage, in-seat power, free Wi-Fi, including entertainment and messaging. The seating configuration promises a quick and effortless boarding and deplaning process, and since the U.S. Customs and Border Protection (CBP) opened a Preclearance Terminal in Bermuda in December 2020, returning passengers will be able to undergo U.S. immigration and customs before departure.
The startup is the brainchild of Canadian founder and CEO Adam Scott, a former executive at Goldman Sachs. After frequently traveling back and forth from the UK to Canada as a student, he grew tired of what he refers to as "big painful airports," which led to the development of the first Airbus A318 transatlantic concept from London City Airport (LCY). He noticed a lot of similarities in demographics between London and Bermuda, including high-end leisure travel and business traffic and a robust returning resident market, which partly inspired this venture.
"Bermuda has the best parts of Canada, the U.S., and the U.K.," he says. "It's just a happy place for me."
Stretch your legs: The world's longest nonstop flights, updated 
Scott has bigger ambitions to scale this project, but for now he's firmly entrenched in the East Coast market, saying: "We want to provide our guests with a hassle-free, stress-free, incident-free, positive travel journey. As well as an elevated, completely differentiated experience."
BermudAir's seating configuration and inflight experience appear to be comfortable and immersive, even if you're not donning a pair of Bermuda shorts. Introductory fares on BermudAir start at $199, including taxes, though the team shared that the regular fare price will eventually climb to $1,000 one way.
A quick search of the BermudAir's website on Thursday morning showed fares from as low as $199 each way through October, before jumping to $999 each way in November, when the airline's new cabin is expected to be in use.
For more information, visit flybermudair.com or instagram.com/flybermudax.
Related reading: