The next time you find yourself on a Royal Caribbean ship craving a steak, you're in luck. As an added-fee alternative to the complimentary buffet and main dining room, Chops Grille caters to meat lovers, offering a full menu of starters, mains, sides and desserts.
Although Chops doesn't rank on our list of top steakhouses at sea, it's still a fine option for a night out, whether it's to celebrate a special occasion or simply to try something different.
Here's all you need to know about Chops Grille steakhouse.
For more cruise news, reviews and tips, sign up for TPG's cruise newsletter.
What is Royal Caribbean's Chops Grille?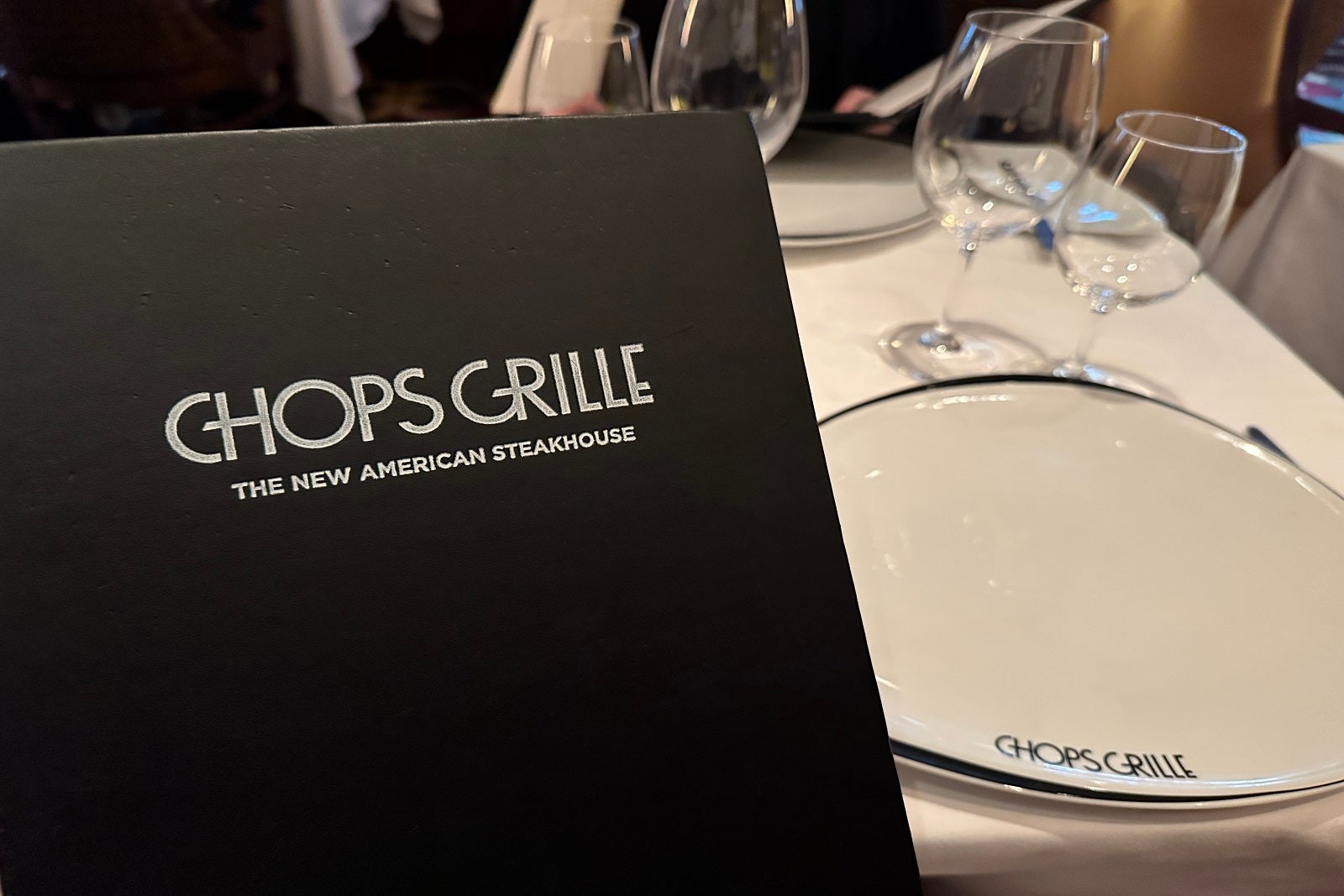 Chops Grille is the name of the steakhouse on Royal Caribbean ships. It offers an upscale atmosphere, complete with dark woods, rich jewel tones and dim lighting.
Chops is open for dinner daily and for lunch on sea days. Reservations are recommended.
Unfortunately, food quality is hit or miss, with sauces often coming out excessively salty and the steak sometimes overcooked or rubbery. However, the last time I ate there, everything was excellent.
Menu for Chops Grille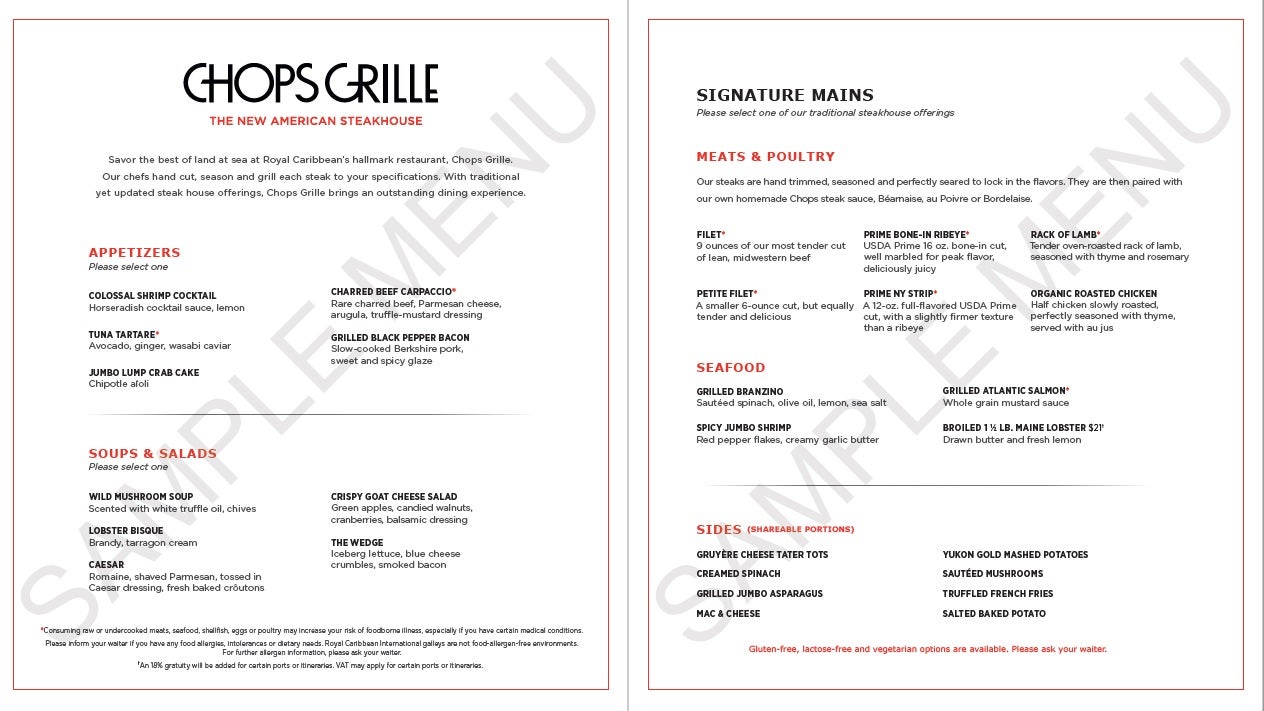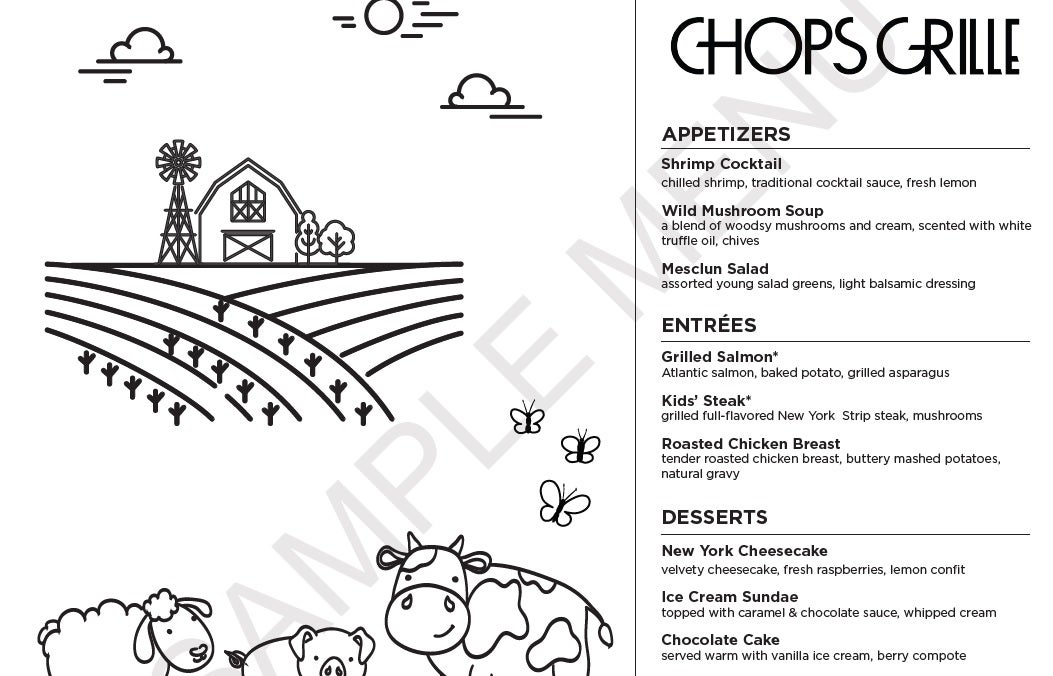 Royal Caribbean offers a prix fixe menu at Chops. Dishes occasionally change but might include shrimp cocktail, tuna tartare and crabcakes as appetizers; soup and salad selections; and filet mignon, New York strip, rack of lamb, roasted chicken, branzino and Maine lobster as mains.
Featured sides might consist of cheese tater tots, jumbo asparagus, mashed potatoes, French fries and more. Desserts could include key lime meringue pie, New York cheesecake, warm chocolate cake, apple pie, ice cream and sorbet. Alcohol and specialty coffees are also offered.
A kids menu is available, too. Young cruisers won't exactly find chicken fingers and pizza, but children with more sophisticated palates might enjoy shrimp cocktail and wild mushroom soup; grilled salmon, a small steak or chicken breast; and cheesecake, chocolate cake or ice cream.
With advance notice, the restaurant can accommodate vegetarian, gluten-free and dairy-free diets.
What does Chops Grille cost?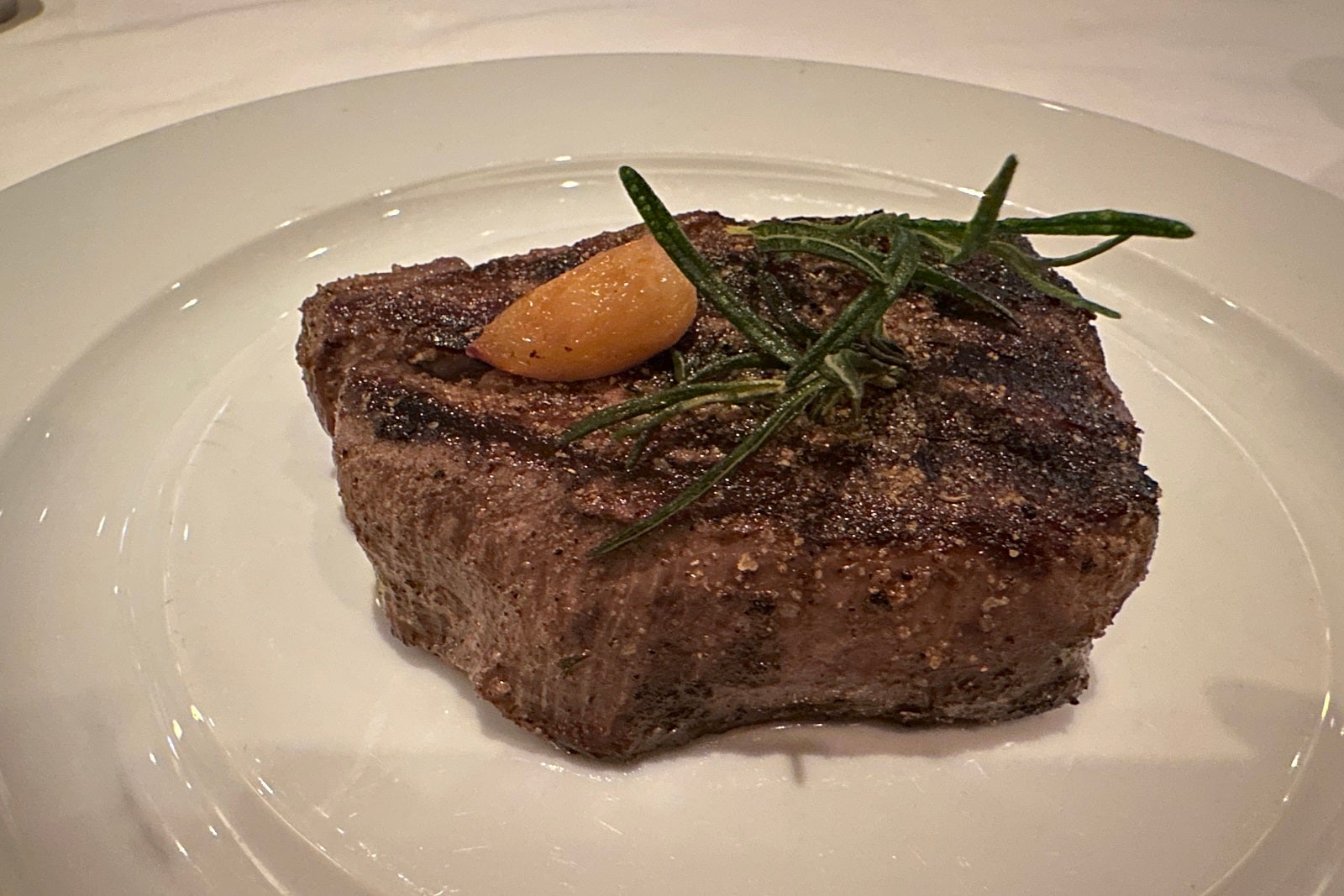 Prices can change by ship and itinerary. As of 2023, the fee to dine at Chops Grill on Oasis Class ships is $69.99 per adult ($14 for kids) for dinner and $24.99 per adult ($14 per child) for lunch. Children 5 and younger eat free at Chops.
Which Royal Caribbean ships have Chops Grille?
All ships in the Royal Caribbean fleet have Chops Grille.
Have cruise questions? TPG has answers: