Editor's note: This is a recurring post, regularly updated with new information and offers.
Just in time for the holiday season, the expedited airport security program Clear is emailing certain users five guest passes to share with their family and friends this holiday season.
New Clear users can redeem the guest passes for three free months of Clear Plus.
As it did last year, Clear is extending a targeted, limited offer to existing Clear users, so be sure to check your email for a unique code to share.
To share this offer, you can either copy the code from the email or forward the email instead. New users should click on "Enroll Now" to register.
Those targeted for this promotion can share their unique code with up to five different people — including family members — through Nov. 27, 2023. After their three-month trial, memberships will automatically renew ($189 for a yearly membership, $99 to the primary member account for family memberships). Still, users can cancel anytime before their free trial ends.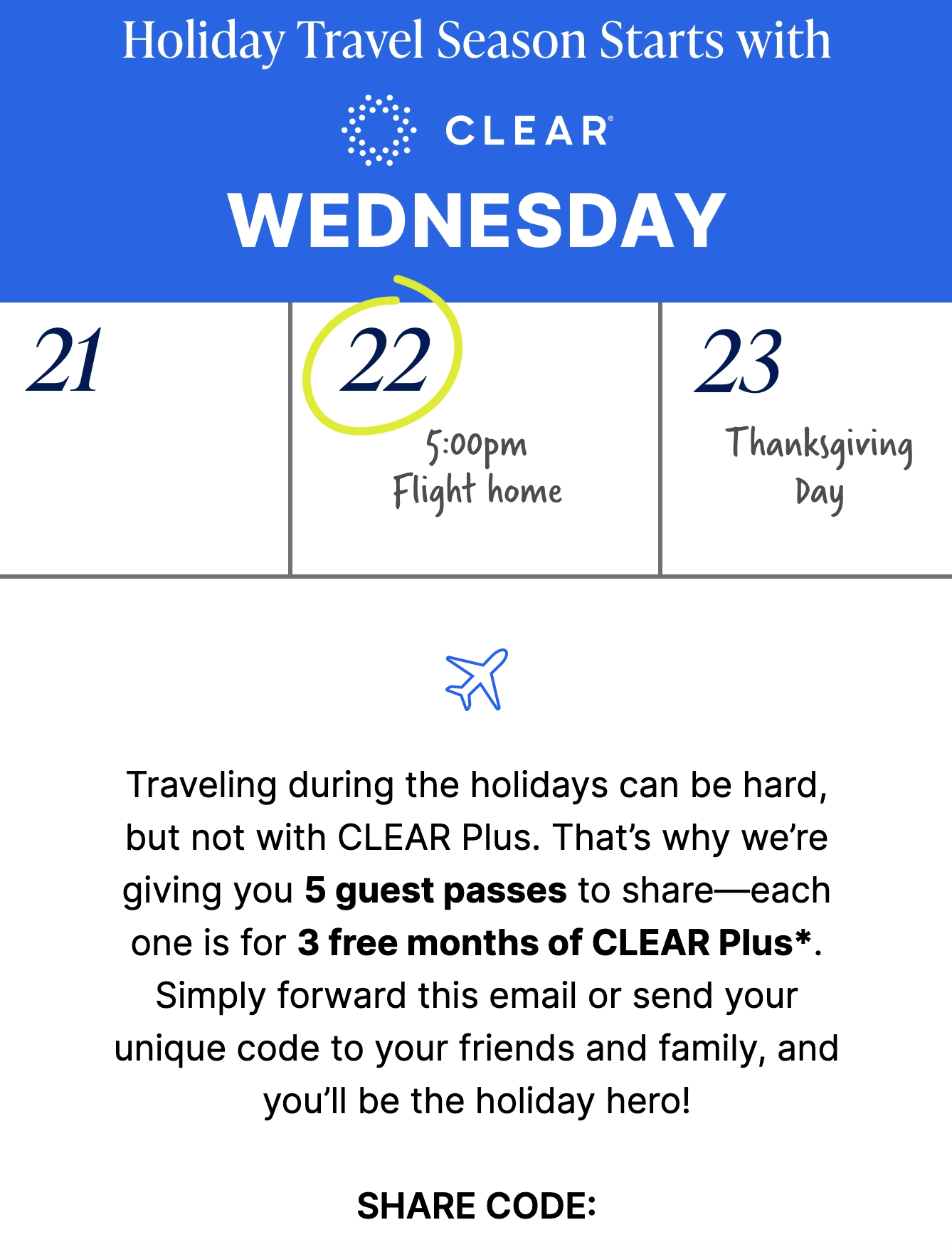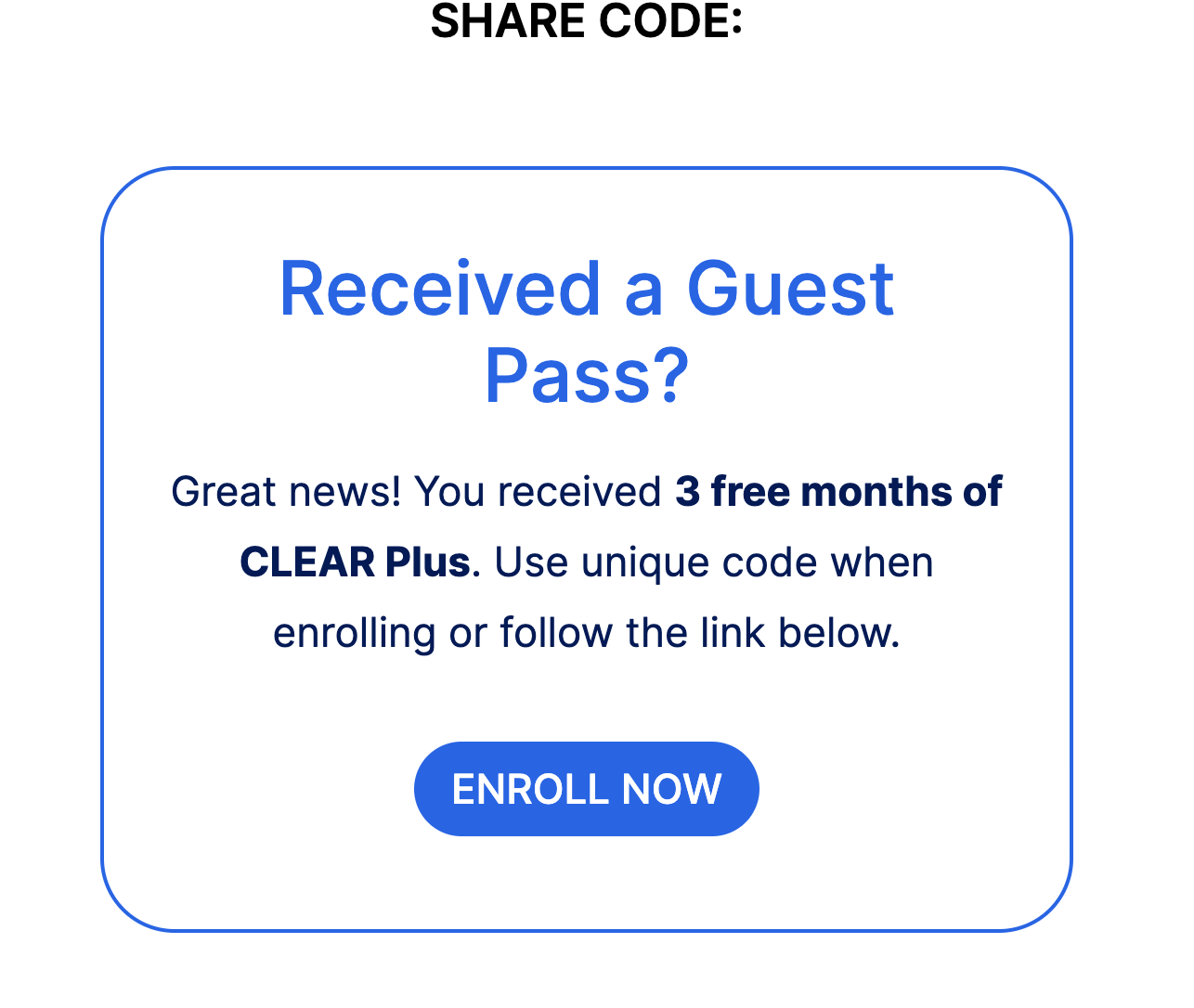 How Clear works
As of November, Clear is available at 54 U.S. airports, as well as at various stadiums and other large venues; there are nearly 19 million members nationwide.
As a secure identity platform, Clear uses member data, including fingerprint and iris scans, to automate most users' identity verification steps in the U.S. Transportation Security Administration screening process. Clear members go through a separate security lane with dedicated kiosks rather than waiting in line for a TSA agent to review their license or passport.
After verifying a passenger's identity, a Clear representative will escort Clear users to the actual security screening area, bypassing everyone waiting in the first line. If you're also enrolled in TSA PreCheck, you'll go directly to the TSA PreCheck line.
Additionally, Reserve powered by Clear — which allows travelers to book timed entry through TSA security based on flight departure — is currently available at 20 airports across the U.S., Canada and Europe.
Which credit cards cover Clear?
The following credit cards will reimburse you for up to $189 per year in Clear Plus membership costs:
The information for the Centurion, Green and Hilton Aspire cards has been collected independently by The Points Guy. The card details on this page have not been reviewed or provided by the card issuer.
Also, there are sometimes targeted Amex Offers covering the cost of Clear Plus membership for different American Express cardholders.
Other ways to save on Clear
An annual individual membership to Clear costs $189, while Clear's family plan enables you to add up to three adult family members to your primary membership for $99 per person per year. Family members under age 18 can go through the Clear lane for free when accompanied by an adult user.
Additionally, Clear has partnered with select airlines to offer the following special membership rates for their members:
Delta SkyMiles discounts
United MileagePlus discounts
To take advantage of these rates, enter your SkyMiles or MileagePlus number during enrollment or link your SkyMiles or MileagePlus account after enrolling. Since it's free to join Delta SkyMiles and United MileagePlus, any U.S.-based passenger can access the discounted membership rates by linking their SkyMiles or MileagePlus account to their Clear account.
Once you are a Clear member, you can log in to your account on Clear's website and add up to three family members for $60 each per year. Children under 18 can use the lane for free when accompanied by a Clear member.
Alaska Airlines Mileage Plan discounts
MVP, MVP Gold, MVP Gold 75K and MVP Gold 100K members will receive 1,500 bonus miles when they sign up for Clear, plus an additional 1,250 miles each year they renew
General Alaska Airlines Mileage Plan members: $179 annually
Bottom line
If you were not targeted for this holiday promo, remember that existing Clear users can refer friends to the program for a free two-month trial.
New users can also access a two-month trial through this link.
Related reading: