Editor's note: This is a recurring post, regularly updated with the latest information.
If you're looking for ways to maximize your recently devalued United miles, you're not alone.
As you delve into the details of the MileagePlus program, you'll come across fare classes, which can feel like alphabet soup. United uses different letter codes in its reservation systems to label different buckets of tickets. While we commonly refer to them as economy, premium economy, business class or first class, the reservations systems use designators such as Y, O and J, among others.
For example, let's consider the United Polaris cabin. Regardless of the seat they choose, passengers in this cabin may have booked their tickets in different fare classes. One passenger in seat 1A might have booked the "I" class, which indicates a saver award ticket using miles. Another passenger in seat 8L might have booked a full-fare (paid) "J" ticket. The in-flight experience won't differ, but there are still important distinctions between the two.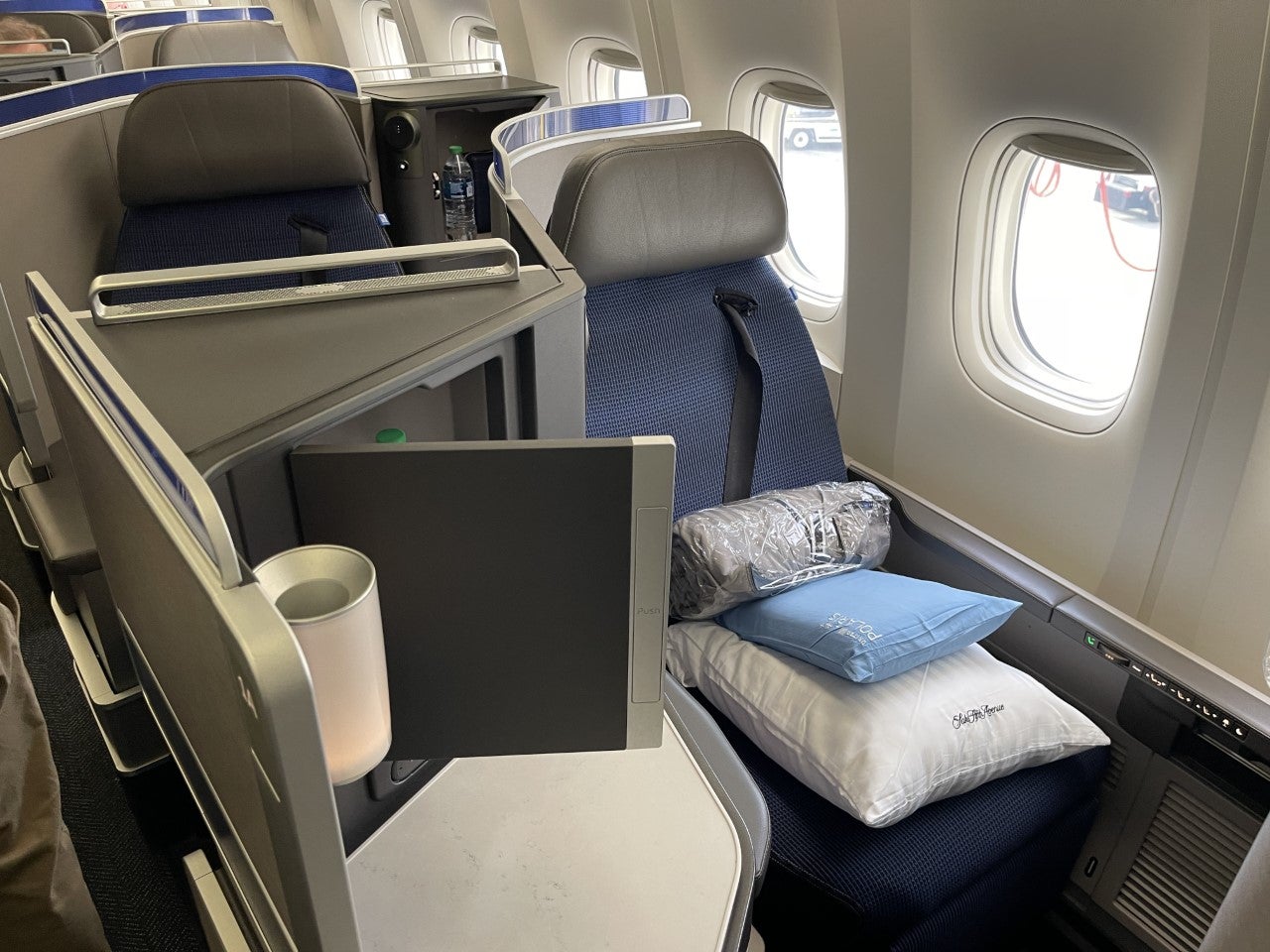 Understanding fare classes is essential for frequent United flyers as it affects mileage and Premier qualifying points (PQPs) earnings, which are generally tied to the price of your ticket. For instance, a basic economy passenger with an "N" class ticket will generally earn significantly fewer miles than a business traveler with a full-fare "Y" ticket.
In addition, if you hope to upgrade to a higher cabin, paying attention to fare classes is important. Booking a flight in the "W" fare class or higher requires 40 PlusPoints, while lower-priced fare classes require double that amount.
These fare class codes also come into play when making flight changes. If only a higher fare class is available, you may need to pay the price difference, even when using United's same-day change policy. Therefore, it's crucial to familiarize yourself with these codes.
Let's take a closer look at how United breaks them down.
Revenue fare classes
United uses many different fare classes for standard revenue tickets. These letters apply to paid tickets booked on United.com, but they also apply to reservations made via credit card travel portals — including Chase Travel and American Express Travel.
For visibility into these fare classes, we suggest visiting United's website and enabling Expert Mode on your profile page. This will allow you to see the complete list of fare classes when searching for paid itineraries on United-operated flights, as demonstrated below with an example from San Francisco International Airport (SFO) to Singapore Changi Airport (SIN).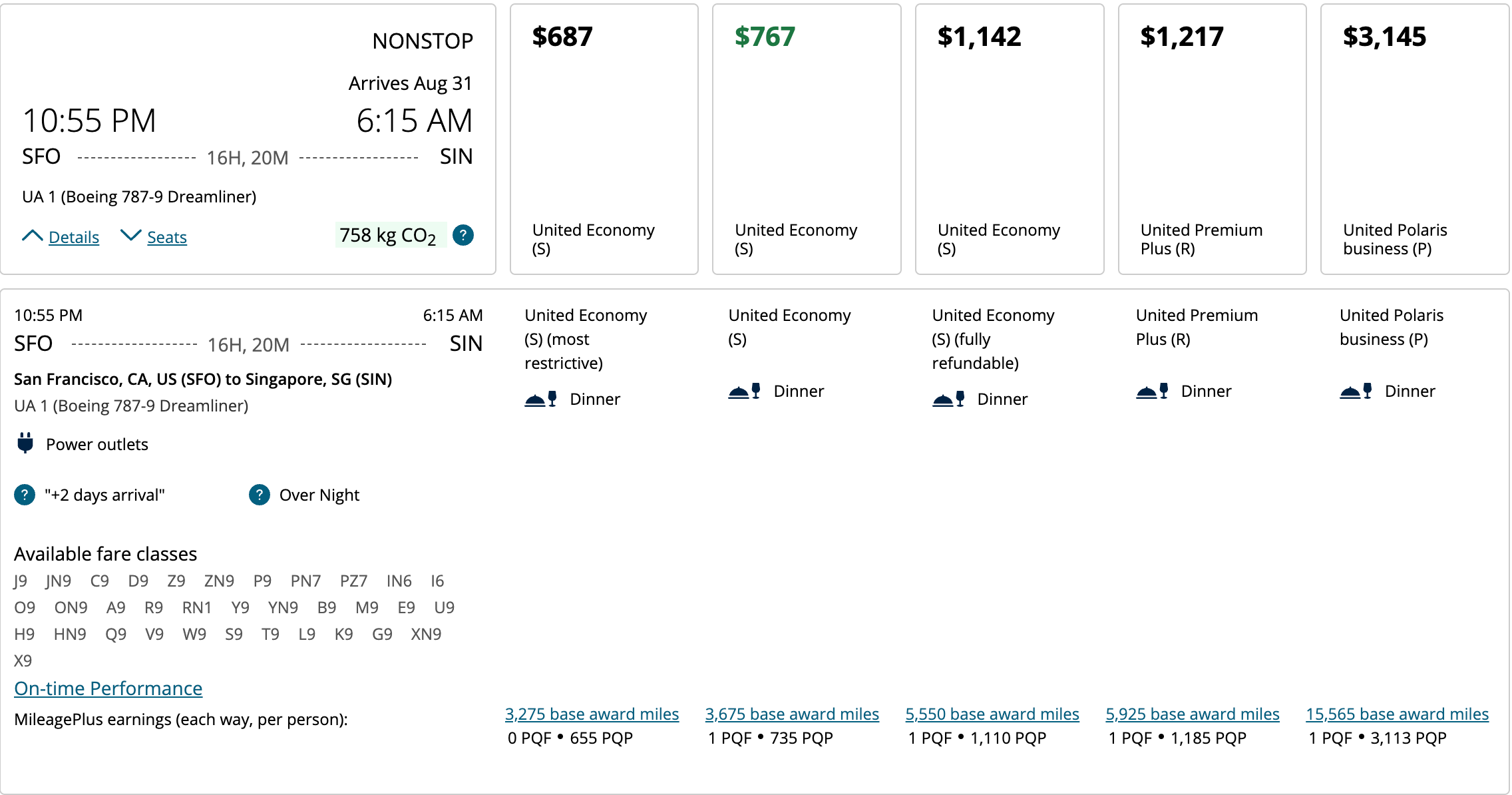 The available fare classes list includes paid tickets, upgrades and awards, all mixed in.
Starting with revenue fares, here's how it breaks down:
First/business class
J: Full fare
C: High fare
D: High fare
Z: Discounted fare
P: Deepest discounted fare
Premium Plus
O: High fare
A: Discounted fare
R: Deepest discounted fare
Economy
Y: Highest full fare — regional instant upgrades for all elite members when PN is available (or PZ if Premier 1K)
B: Full fare — regional instant upgrades for all elite members when PN is available (or PZ if Premier 1K)
M: High fare — regional instant upgrades for Premier 1K when PZ is available
E: High fare
U: High fare
H: High fare
Q: Discounted fare
V: Discounted fare
W: Lowest standard Polaris upgrade-eligible fare
S: Deep-discounted fare
T: Deep-discounted fare
L: Deep-discounted fare
K: Deep-discounted fare
G: Deepest discounted fare
N: Basic economy on domestic and short-haul international flights
Just note that you'll often see multiple prices for the same economy fare class. Domestic and short-haul international flights offer an "upgrade" option to convert a discounted fare into a fully refundable one. Meanwhile, long-haul international flights usually have three different options for the lowest-priced economy fare class:
Basic economy (limited perks)
Economy (standard perks)
Flexible economy (standard perks on a fully refundable fare)
Pay close attention to the ticket you book to know exactly what to expect.
How fare classes impact partner mileage rates
When you book United flights via United.com, you earn Mileage Plus miles based on the price of your ticket. However, if you opt to credit these flights to a partner program, most of them still compute earning rates based on the fare class and distance flown.
Take Air Canada Aeroplan. Here's the accrual chart for United-operated flights credited to your Aeroplan account: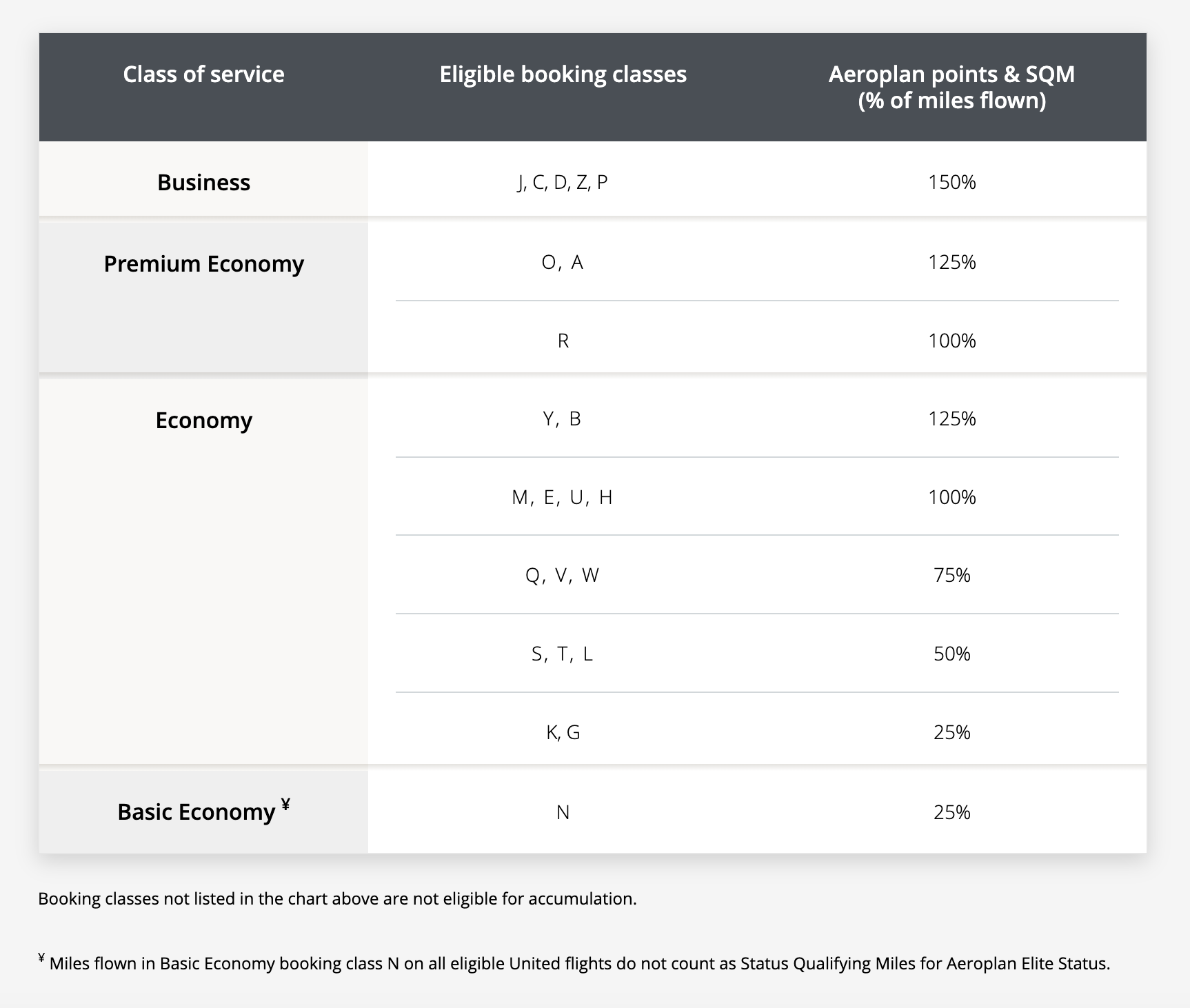 In the above flight from San Francisco to Singapore, the Great Circle Mapper calculates the distance as 8,446 miles. Booking a ticket in the S fare class would accrue Aeroplan points at 50% of said distance — so you'd take home 4,223 points. This is notably higher than the 3,675 United miles you'd earn with United MileagePlus.
Related: United's best kept elite status secret: How to earn PQPs faster with partner flights
Upgrade fare classes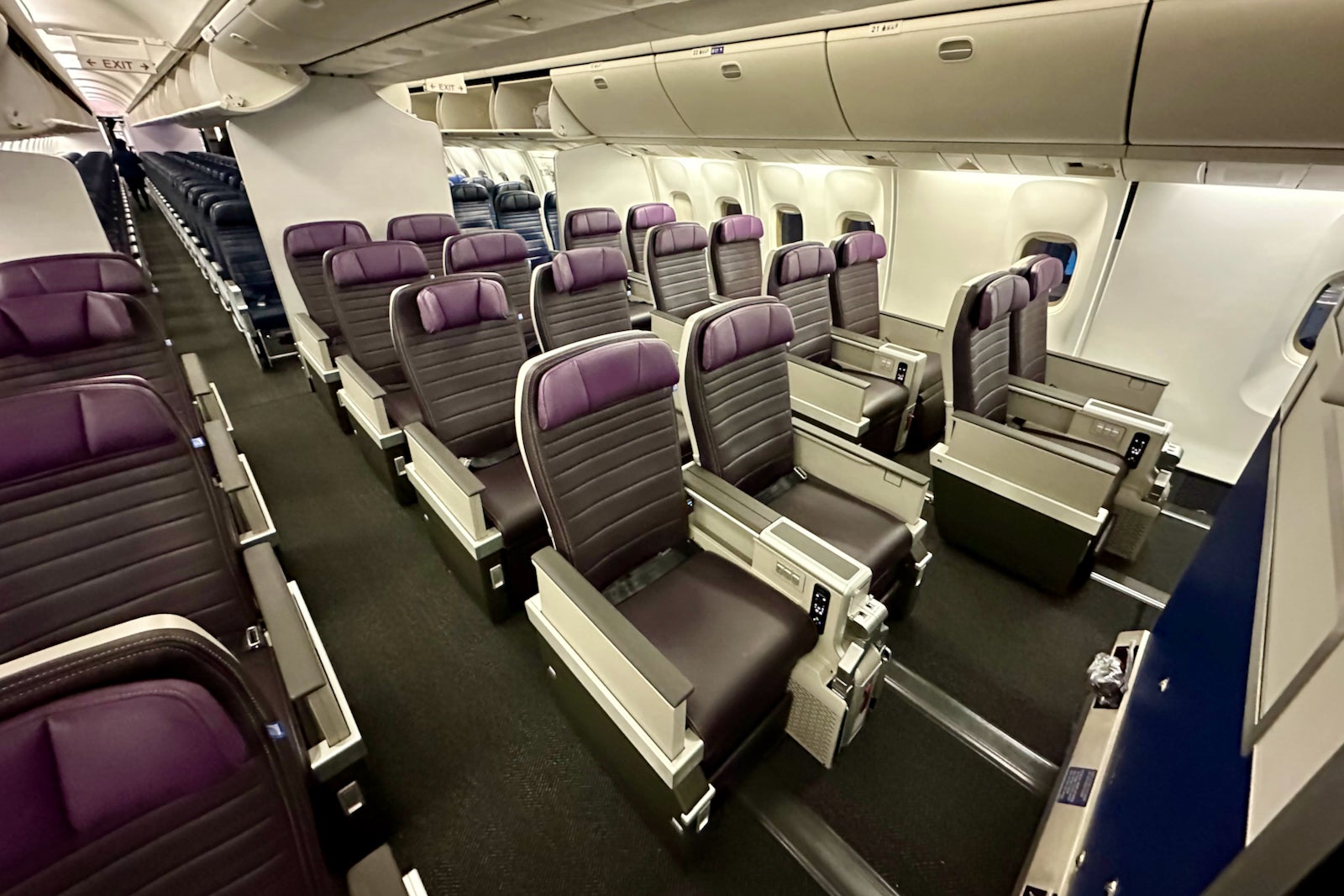 United also has different fare classes for upgrading to a higher cabin. This includes travelers booked in economy who want to upgrade to Premium Plus or Polaris business class, as well as ticketed passengers in Premium Plus who want to snag a business class seat. These can also vary depending on your United elite status tier.
First/business class
PN: Global Services mileage and PlusPoints upgrade and instant upgrades for Premier 1K customers in full-fare economy on eligible routes.
PZ: Premier Platinum and 1K PlusPoints and all mileage upgrade awards — though if you've received a Complimentary Premier Upgrade (CPU), you'll also be automatically reticketed in this fare class
Premium Plus
RN: Upgrades for all members
Upgrade-eligible fare classes
While these upgrade classes are fixed, the price you'll need to pay to upgrade is not, as it depends on the revenue fare class you book. Passengers with tickets in the "W" fare class or higher can use 40 PlusPoints to upgrade to Polaris business class on eligible international flights. However, tickets booked in S, T, L, K or G fare classes require 80 points for the upgrade.
All paid Premium Plus fares are eligible for Polaris upgrades at 30 PlusPoints, and all regular economy fares can be upgraded to Premium Plus for 20 PlusPoints.
Note that United's basic economy fares — which book into the N fare class — aren't eligible for any type of upgrade.
Related: Why Premium Plus and higher fare classes are the secret to United upgrades
Award fare classes
Now, let's discuss award tickets. There are nine fare classes for mileage tickets, and the rates can differ significantly between each code. As noted above, you can view all fare class availability by enabling Expert Mode. From there, you'd initiate a revenue search instead of selecting "book with miles" on United.com.
Here's a breakdown of United's award fare classes.
First/business class
JN: Everyday award for all members (dynamic pricing)
IN: Saver award for Premier Platinum and 1K members
I: Saver award for all other customers and partner redemptions
Premier Platinum, 1K and Global Services members have access to expanded business- and first-class saver awards on United-operated flights. These will book into the IN fare class but will only appear when logged into an eligible account.
For example, I'm a Premier 1K member, and here's what I see when I search for the same flight from San Francisco to Singapore detailed above.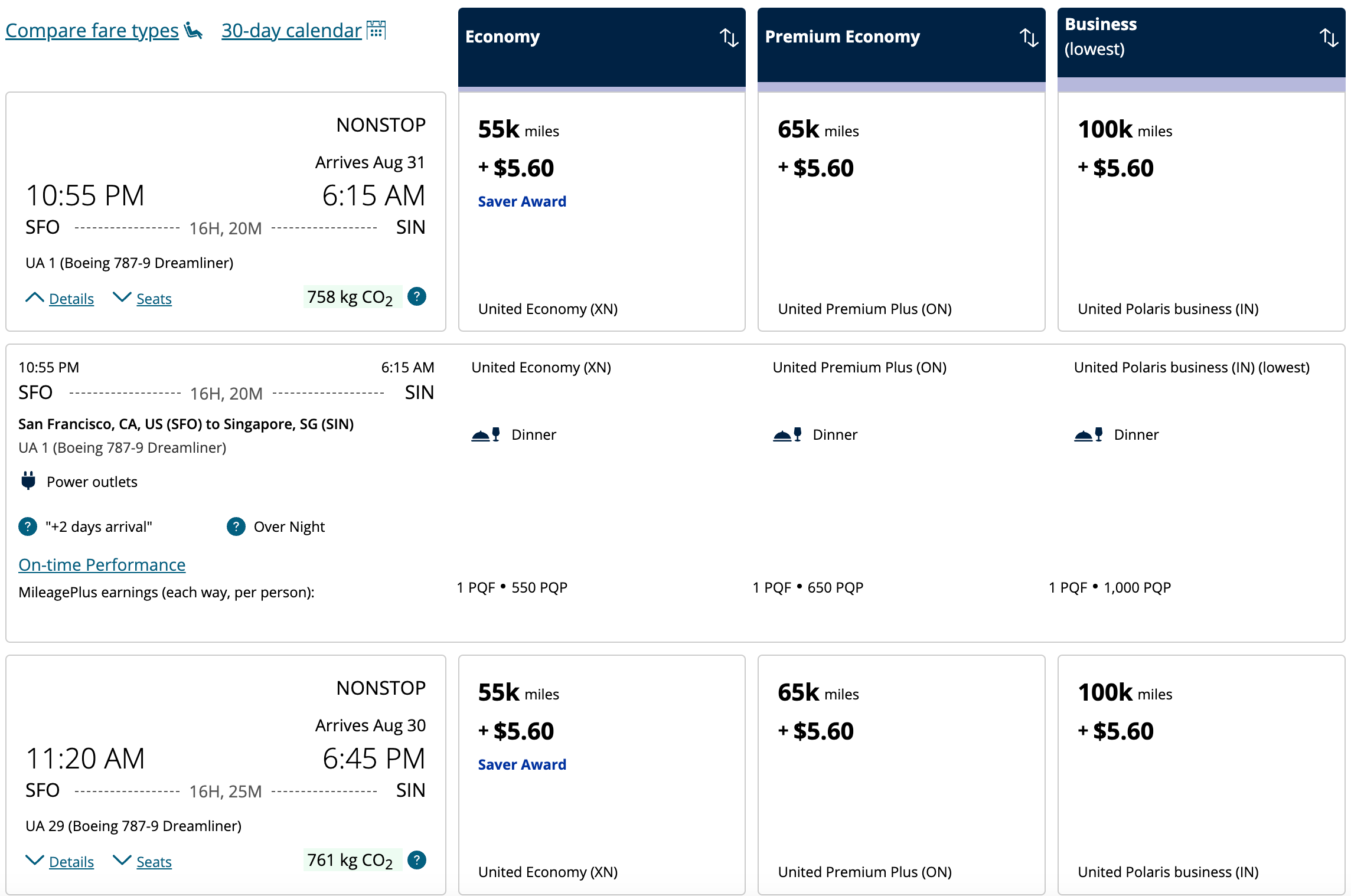 In this specific example, the IN inventory matches the I inventory. However, as a general rule of thumb, United typically releases more seats to the IN fare than the I fare (the standard fare class for business-class and domestic first-class saver awards).
Just remember that only I inventory is bookable using rewards from partner programs like Air Canada Aeroplan and ANA Mileage Club.
Read more: The best websites to search for Star Alliance award availability
Premium Plus
ON: All awards (dynamic pricing)
Economy
YN: Everyday award for all members (dynamic pricing)
XN: Saver award for elite members and select credit cardholders
X: Saver award for all other customers and partner redemptions
If you're the primary cardholder of a United Explorer Card, United Business Card, United Quest Card or United Club Infinite Card, you can access expanded economy-class saver awards, giving you access to the XN fare class. This also applies to all United elites — including Premier Silver and Premier Gold members. United often releases more seats to the XN fare than the X fare (the standard fare class for economy-class saver awards).
However, like business class, only X inventory is available using partner currencies.
Bottom line
Frequent flyers often familiarize themselves with fare classes, as understanding their meanings empowers them to book, change and earn credit from flights more efficiently. While you don't need to memorize all the fare classes immediately, we suggest enabling Expert Mode on United's website. This will grant you access to this valuable information whenever you log in, whether through the airline's website or mobile app.
Additional reporting by Zach Honig.