Do cruise ships have enough lifeboats for everyone?
It's a question that comes to many cruisers' minds, especially if they're hesitant about sailing across oceans and seas, far from land.
You can rest assured that cruise lines have many safety systems in place in the rare instance that a major emergency occurs at sea. Among these systems are, of course, the brightly colored lifeboats that you'll see lining the sides of your ship. Not only are they there to carry passengers to safety if the ship needs to be abandoned, but they're also used as tender boats in a port where the ship can't dock at a pier.
For cruise news, reviews and tips, sign up for TPG's cruise newsletter.
You may have other questions about lifeboats, either from curiosity or safety concerns. How reliable are the small vessels? What supplies are on board? Do they have restrooms?
Here are the top things to know about cruise ship lifeboats, so you'll feel safe and confident when heading out on your next voyage.
What does a lifeboat look like?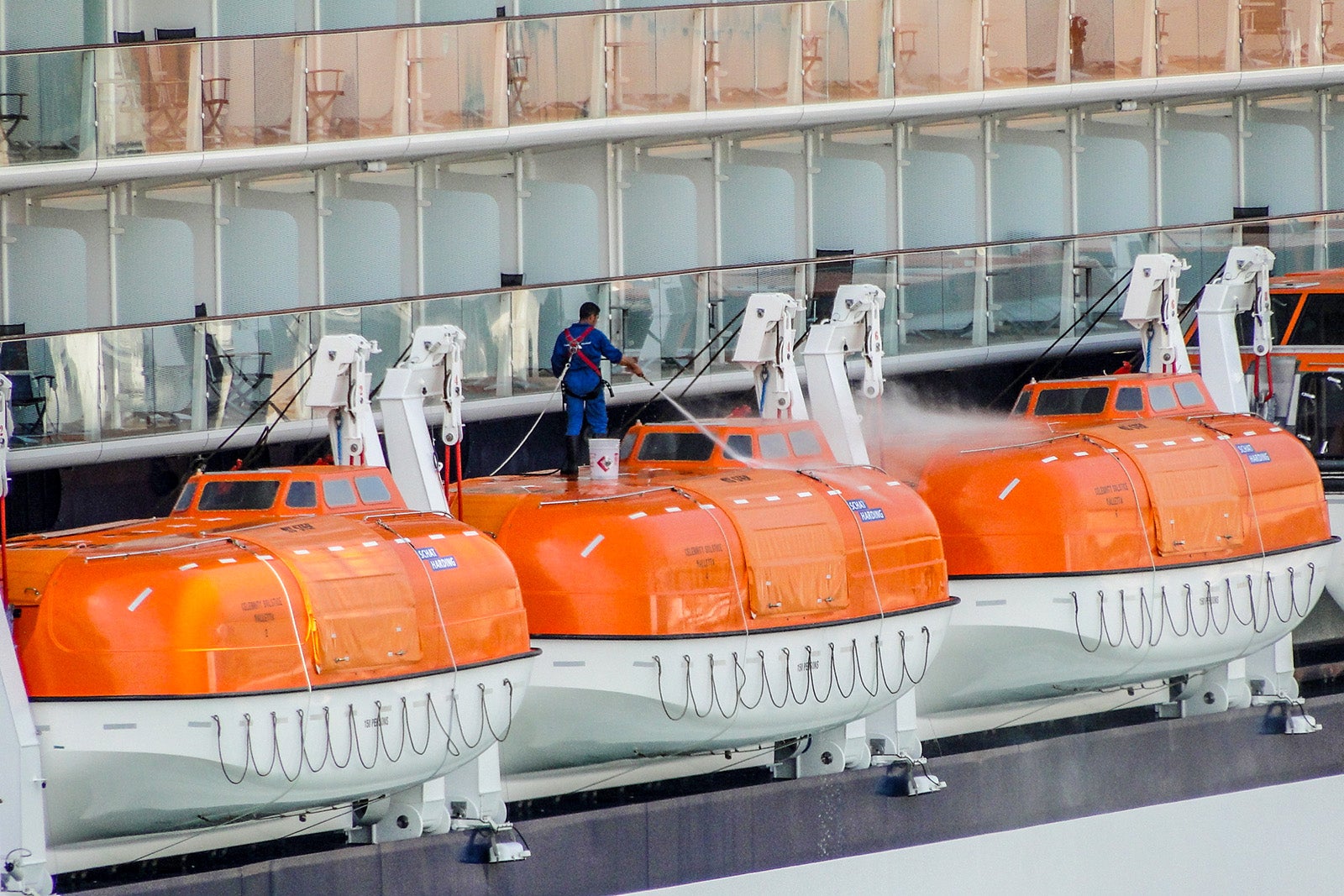 Lifeboats are orange or yellow watercraft that you'll find lining the sides of the ship. You'll find two main types of lifeboats on many cruise ships: enclosed lifeboats and lifeboat tenders. The majority of cruise ship lifeboats are enclosed lifeboats, which are tough and built with superior watertight integrity, with the ability to easily right themselves if tossed around by rough waves.
Lifeboat tenders are partially enclosed and are designed for two main functions: to serve as a lifeboat if needed and to ferry guests from the ship to the shore during a port call where the vessel can't dock. Lifeboat tenders are more expensive to maintain than traditional lifeboats, so cruise ships will usually have just enough lifeboat tenders to operate port tender service while the rest are the standard enclosed lifeboats.
The interior of a lifeboat includes rows of seating, which may or may not have a seatback. A steering area with windows and a hatch is located toward the top of the vessel. According to lifeboat manufacturer Fassmer, enclosed lifeboats have no windows besides those in the steering area, while lifeboat tenders have windows for viewing the surroundings from the seats. These windows do not open.
Fun fact: When Disney Cruise Line launched in the '90s, regulations required all cruise ship lifeboats to be orange. However, Disney wanted the exteriors of its ships to match the colors of Mickey Mouse, so it requested an exemption to paint its lifeboats yellow to match Mickey's shoes.
The U.S. Coast Guard granted the unique request, and the lifeboats were painted in Mickey's yellow, Pantone 99, which is a patented color that only Disney can use. Since then, other lines, such as Royal Caribbean and Costa Cruises, have painted their lifeboats yellow.
What's the typical capacity of cruise ship lifeboats?
The maximum capacity of a cruise ship lifeboat is 150 people, according to the International Maritime Organization's International Life-Saving Appliance Code. Most cruise ships have lifeboats that can hold this maximum number of passengers because it is easier, more cost-effective and takes up less space to have fewer large lifeboats instead of a greater number of smaller ones.
Despite the LSA's 150-person capacity limit for lifeboats, an exception allows for larger lifeboats on some of the world's largest cruise ships.
Related: Are cruises safe? Here's what you need to know about cruise ship security and safety
Royal Caribbean's massive Oasis of the Seas, which holds 8,880 passengers and crew members in total, was the first ship to use 370-person CRV55 catamaran lifeboats (or "rescue vessels"), designed and built by marine life-saving equipment company Umoe Schat-Harding. The enclosed vessels are unique in that they can be lowered directly from their storage position on the ship into the water (no moving outward needed), and passengers can board on two levels simultaneously, reducing the loading time. Their catamaran-style hull increases stability, while twin diesel engines and twin propellers allow these "mega" lifeboats to move at speeds of up to 6 knots.
On a cruise ship, there must be enough lifeboats to accommodate 37.5% of passengers and crew members on either side (75% total), according to the International Convention for the Safety of Life at Sea. What happens to the other 25%? This leads us to our next question.
Do cruise ships carry inflatable life rafts?
The remaining 25% of passengers that can't be accommodated in the traditional lifeboats can use cruise ship inflatable life rafts. These are generally designated for crew members, while guests will board the lifeboats first — though rafts can also be used for guests if necessary.
Collapsible cruise ship life rafts are stored in fiberglass canisters and usually utilize a high-pressure gas to automatically inflate once deployed. While lifeboats have motors, life rafts do not. They do, however, have oars. Ships may also carry rigid, noninflatable life rafts, but they aren't as common for large cruise vessels.
On newer cruise ships, life rafts may be used with a Marine Evacuation System, which utilizes a fully enclosed inflatable spiral slide to transfer passengers from the embarkation deck to an automatically inflated raft in the water.
If some lifeboats become damaged or can't be lowered during an emergency, cruise ships have extra life rafts to pick up the slack. SOLAS requires that there are enough additional life rafts for 25% of the ship's capacity. Cruise ships have also been designed to allow lifeboats and life rafts to deploy even if the ship is listing up to 20 degrees.
Where are lifeboats located on cruise ships?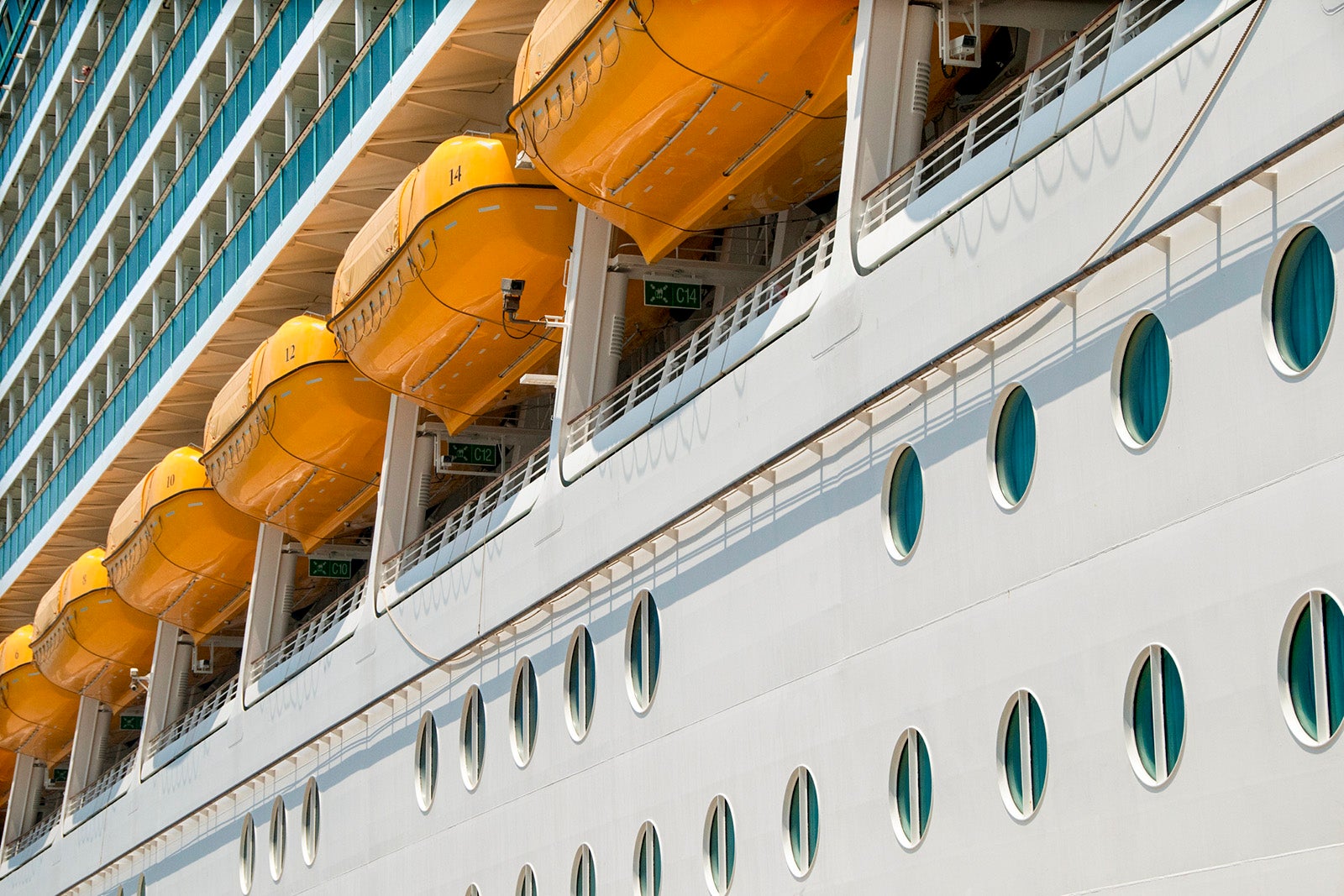 Lifeboats are located outside on both sides of the cruise ship, typically stored on or just above one of the middle decks with an outdoor promenade so passengers can easily board them. This spot is ideal because it's a central location for both the upper- and lower-deck cabins, as well as many public indoor and outdoor venues and amenities.
It also works because it keeps the lifeboats high enough out of the water that they won't be in the way when the ship docks and most likely won't be affected by rough waves. On the flip side, it keeps them low enough that they don't have to be lowered the entire height of the ship (plus, no one wants a lifeboat view from the lido pool or their upper-deck suite).
In an emergency, passengers should not head directly to the lifeboats. Instead, every cabin is assigned an assembly station, where they will meet with crew members and be escorted to a lifeboat if an evacuation is deemed necessary. Passengers must attend a muster drill to identify their assembly station and learn about their ship's emergency procedures. These drills must take place before a cruise ship can set sail.
Related: What is a cruise ship muster drill?
What can be found on a lifeboat?
While this list is not exhaustive, here's most of what you'll find on a cruise ship lifeboat, according to the LSA:
Enough fuel to travel at 6 knots for at least a full day (24 hours)
48 hours' worth of anti-seasickness medication per person
2 seasickness bags per person
3 liters of fresh water per person
2,390 calories' worth of food rations per person
Life jackets
Enough thermal protective aid suits for 10% of the lifeboat's capacity
Three can openers
First aid supplies
Buoyant oars
Anchor
Illuminated compass
Hand and parachute flares
Smoke signals
Survival manual
One whistle
One jackknife
One searchlight that can work continuously for at least three hours
Portable fire extinguishing equipment
Fishing gear
Tools to repair the engine
Do lifeboats have bathrooms?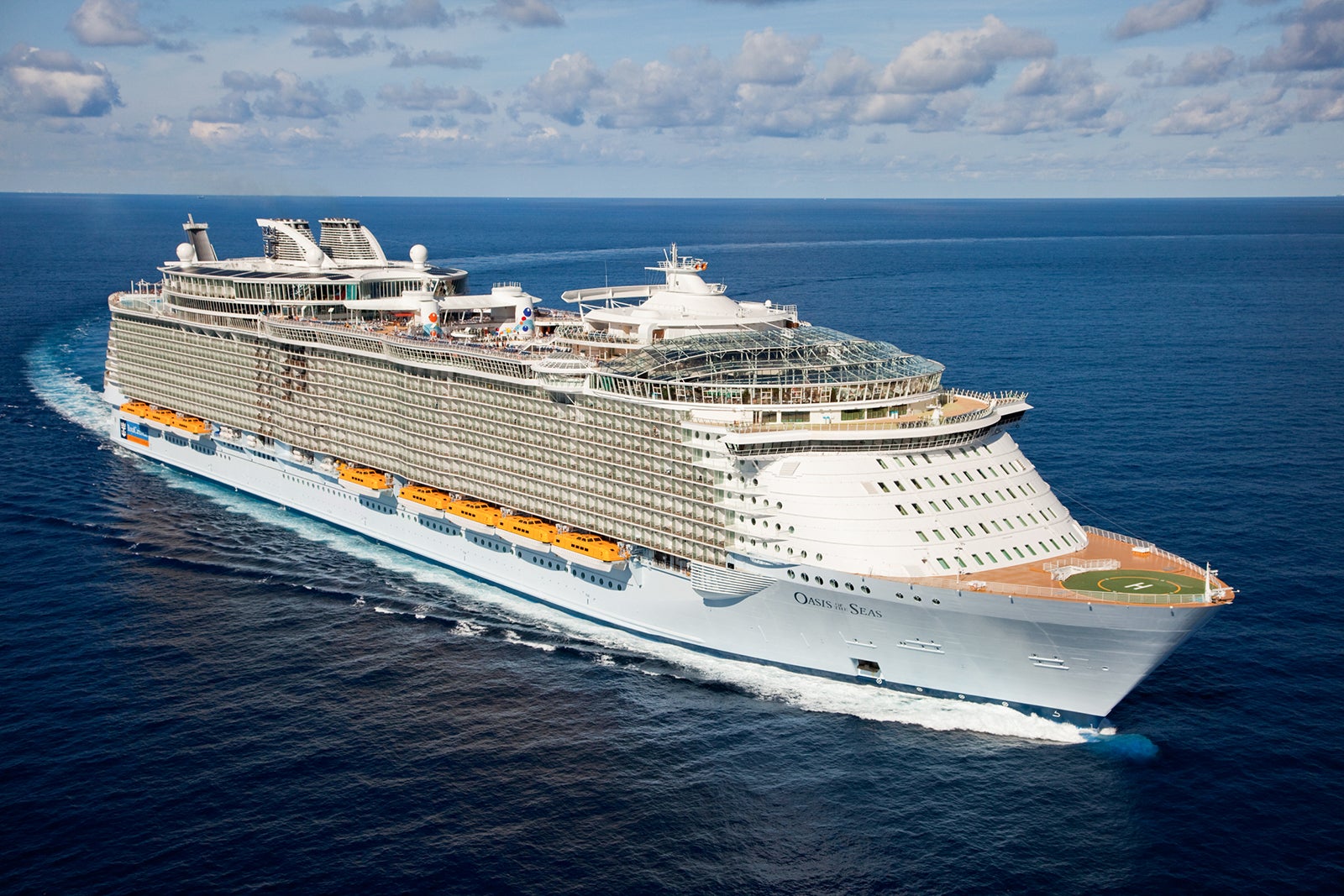 Traditional 150-person lifeboats don't have toilet facilities, but the 370-person catamaran lifeboats used on Royal Caribbean's Oasis-class ships do.
What are other requirements for lifeboats on cruise ships?
Cruise ship lifeboats must be made of noncombustible and flame-retardant materials, according to SOLAS. Modern lifeboats are usually made of fiberglass.
All seating on the lifeboat must support a person weighing a minimum of 220 pounds. In addition, the lifeboats and the wires that move them up and down must be strong enough to allow the lifeboat to be lowered at full capacity.
How are lifeboats tested?
During the manufacturing process, lifeboats are tested using water weights, which can mimic the weight of passengers in various spots around the vessel. These water weights are pumped to fill and drain with water remotely. They're placed in various spots in the lifeboat throughout the testing period to gather data on how the watercraft would handle passenger weight in various locations and scenarios.
Once a lifeboat is delivered to the shipyard for installation on a ship, the inspections and tests do not stop. Throughout the life of the cruise ship, time, weather and use all mean that — like with any type of equipment — things on the lifeboats will degrade and endure wear and tear over time. This is why SOLAS includes requirements for regular lifeboat drills and inspections.
Related: 15 cruise ship rules you shouldn't break
Cruise crew members conduct weekly and monthly lifeboat inspections and undergo periodic training so lifeboat operations stay fresh in their minds.
A more thorough inspection — by either a certified lifeboat technician from an independent company or an inspector from the lifeboat manufacturer itself — occurs annually. According to the International Maritime Organization, this process includes an inspection of these key components:
The hull is inspected for cracks, damage or other defects.
The propulsion system, including the engine, is inspected to ensure it's in good working condition. The cooling, exhaust and fuel systems are also examined.
The electrical system, including the battery, charging, lighting and communications systems, are checked for defects or malfunctions.
The maneuvering system is inspected, including the steering mechanism, the rudder and other steering gear.
Lifeboat equipment, such as life jackets and survival equipment, is examined to ensure it's in good condition.
The davit and winch system, including the winch and wire ropes, are checked for defects or damage.
The lifeboat undergoes a load test to ensure that it can withstand its maximum weight of crew and passengers.
Any equipment or systems found to have defects or deficiencies during the inspection are either repaired or replaced.
Bottom line
The chances of passengers ever experiencing an emergency on a cruise that requires abandoning ship via lifeboats is extremely slim. Still, it's good to know your ship is outfitted with safety equipment to give you peace of mind when taking your next cruise.
Planning a cruise? Start with these stories: