Delta Air Lines has partnered with America's favorite airport coffee brand since October 2022, allowing travelers to earn Delta SkyMiles with every Starbucks purchase by linking their Starbucks Rewards and Delta SkyMiles accounts.
Related: Quick Points: Earn more rewards with Uber, Lyft and Starbucks apps
In honor of International Coffee Day on Sept. 29, Delta is strengthening that partnership with a new promotion that can help you earn free Starbucks coffee for yourself and a caffeine-loving friend. All you have to do is purchase a $300 or more Delta gift card, and you will receive two $10 Starbucks gift cards as a reward.
Deal basics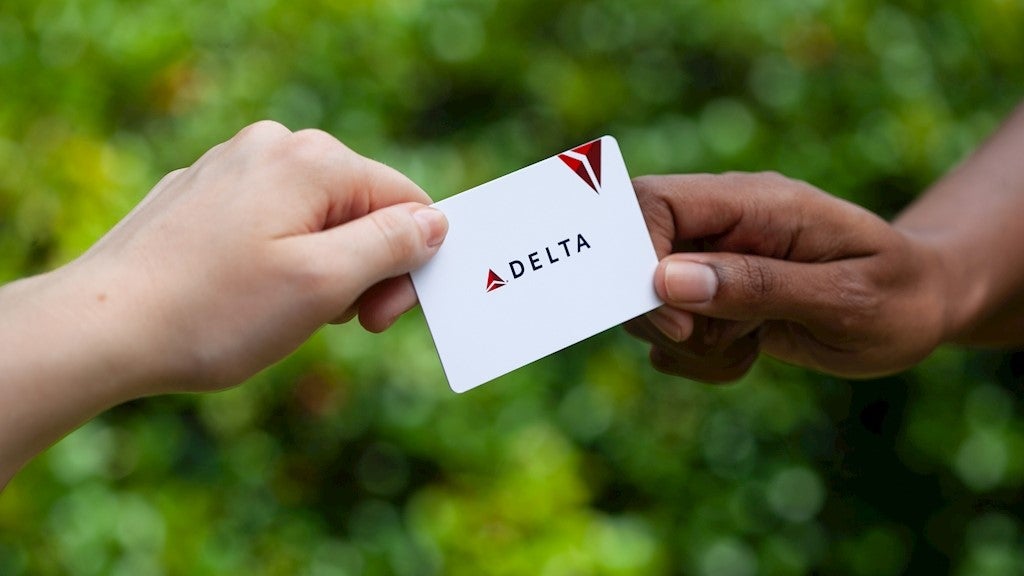 Airline: Delta Air Lines.
How to earn: Purchase a $300 or more Delta gift card using this link, and you will receive two $10 electronic Starbucks gift cards — one for you and one for a friend.
How to use: Delta gift cards can only be used for airfare, including taxes, fees and surcharges. They cannot be used for inflight purchases, premium seating or fare upgrades.
Purchase by: Sept. 29, 2023 at 11:59 p.m. EST.
Use by: Starbucks and Delta gift cards do not expire.
The fine print: Delta gift cards cannot be redeemed until 72 hours after purchase. This promotion is only available to U.S. residents age 18 or older and can only be purchased one time during the promotional period.
Offer details
When you purchase a Delta gift card of $300 or more using this link, you'll be prompted to enter the required information to purchase your Delta gift card. You can choose from a physical or digital card. If you choose a digital card, there are a variety of designs to choose from. You'll then choose the amount of your gift card, which must be more than $300 to qualify for the Starbucks promotion.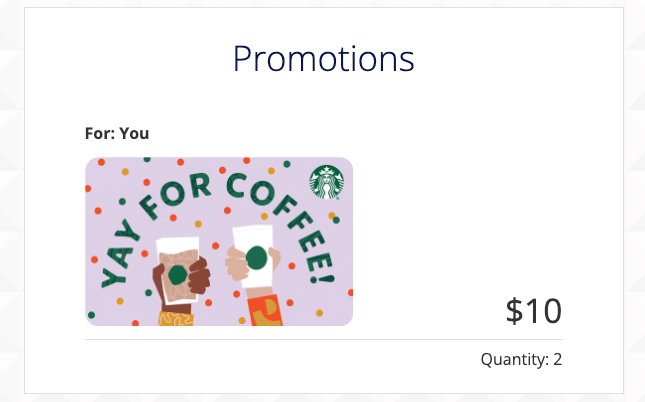 After adding the Delta gift card to your cart, you should see a "Promotions" section that displays two $10 digital Starbucks gift cards. When your purchase is complete, you will receive one email with your Delta gift card and a separate email with your Starbucks gift cards. From there, you can add the Starbucks cards to your account and treat a friend to coffee in person or send one of the gift cards their way via email.
Maximize your purchase
Don't forget to use a credit card that can help you earn points or miles in addition to your free Starbucks coffee. Gift card purchases don't typically code as travel, so you are out of luck if you are trying to earn additional points for travel purchases. However, there are certain cards that can maximize your points earnings for gift cards, including:
Bottom line
Travel and Starbucks go hand in hand — and not only because most travelers stop to get a Starbucks coffee after clearing security and before heading toward their departure gate. With this limited-time deal from Delta and Starbucks, you can earn free coffee for yourself and a friend because travel and coffee are both better with friends.
Related reading: