Staying connected when flying with Delta Air Lines and its regional partners is about to get easier, faster and more reliable than ever.
That's thanks to a new partnership unveiled on Wednesday between Delta and Hughes Network Systems, which will see the installation of high-speed satellite connectivity on more than 400 Delta Boeing 717s and regional jets operating in North America. (Note that the CRJ-200 won't receive these Wi-Fi upgrades because those jets are being phased out.)
This new satellite antenna and radome that will be installed on Delta's smallest jets will connect to Ka-band satellites and offer high-speed gate-to-gate connectivity, the airline says.
Want more airline-specific news? Sign up for TPG's free biweekly Aviation newsletter.
Delta is expected to begin the initial installations of the new Hughes internet service in mid-2024, with the full rollout complete by the end of next year.
Outfitting regional jets with speedy and reliable internet access has been a challenge for airlines over the years. That's partly due to the size and weight of the antennas needed to connect to satellites in the sky.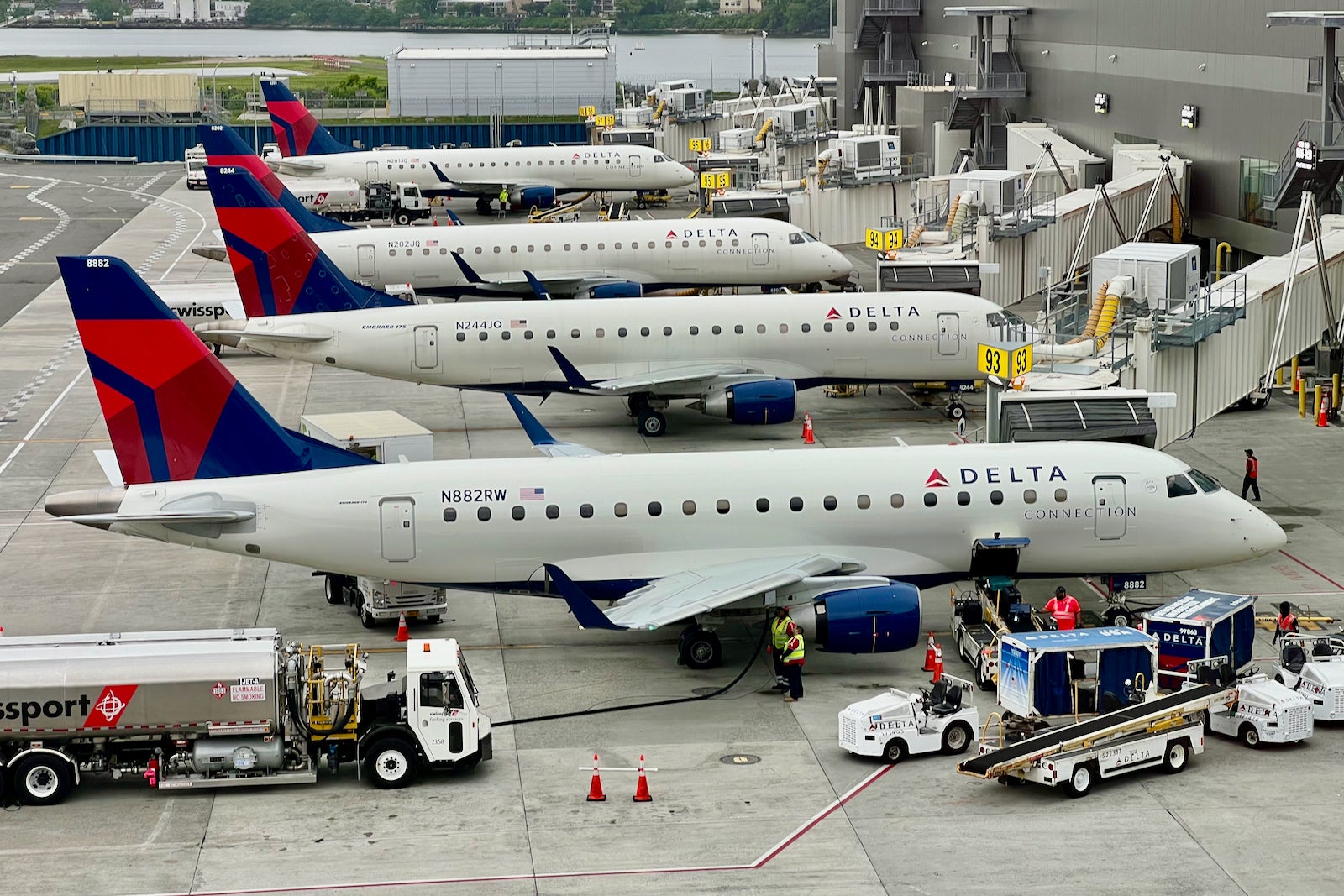 Larger airplanes with wider fuselages don't have this problem, but the smaller jets have typically been relegated to sub-par connectivity options, such as the air-to-ground network powered by Gogo Business Aviation.
Aside from the fact that this service is only active when above 10,000 feet, it also requires sending packets of data to towers on the ground, which is considerably slower than the far more reliable satellite connectivity options.
One option that's become increasingly popular in recent years has been SpaceX's Starlink internet service, which offers download speeds of up to 350 megabits per second — fast enough to support gaming, VPN access, streaming and much more.
Starlink has become increasingly popular as an inflight internet provider in recent years, with commitments or installations underway at airlines as large as Qatar and as small as airBaltic.
U.S. air carrier JSX became the first to offer Elon Musk's internet service, which offers a radome that's small enough to fit atop JSX's Embraer regional jets.
Go long: Delta adds 4 new — and longest — LaGuardia routes
Earlier this year, Delta formally unveiled fast and free Wi-Fi across its mainline fleet, which is also in the process of being upgraded to a more reliable Wi-Fi provider, Viasat.
All you need is a SkyMiles membership, and once you log in to your account, you'll be connected to the speedy Wi-Fi.
As part of the free Wi-Fi rollout, Delta also recently unveiled a new landing page for the internet service, dubbed Delta Sync, that delivers personalized recommendations for your trips based on your preferences and destination.
"Delta is committed to delivering a reliable Wi-Fi experience to all our passengers, including those flying on our regional carriers," Glenn Latta, Delta's managing director of inflight entertainment and connectivity, said in a statement.
Delta's free Wi-Fi rollout status
Delta reaffirmed that it will bring fast, free Wi-Fi to the entire fleet by the end of 2024. For now, here are the jets that already offer free Wi-Fi provided by Viasat:
Airbus A220-300 (some planes)
Airbus A319
Airbus A320
Airbus A321
Airbus A321neo
Airbus A350 (some planes)
Boeing 737-800
Boeing 737-900
Boeing 757-200
The following planes are still outfitted with Wi-Fi Onboard service, which was formerly known as Gogo, but they will receive the Viasat antennas by the end of next year:
Airbus A220-100
Airbus A220-300 (some planes)
Airbus A330-200
Airbus A330-300
Airbus A330-900
Airbus A350-900 (some planes)
Boeing 757-300
Boeing 767-300
Boeing 767-400
The following planes are currently outfitted with Wi-Fi Onboard service (formerly Gogo), but they will receive the Hughes Wi-Fi service by the end of next year:
Boeing 717-200
Bombardier CRJ-700
Bombardier CRJ-900
Embraer E170
Embraer E175
Related reading: