Editor's note: This is a recurring post, regularly updated with new information and offers.
In 2022, American Airlines revamped how you earn AAdvantage elite status. Now, the only criteria for American Airlines elite status is Loyalty Points.
Even if you don't care about elite status, you may be looking for a way to earn more AAdvantage miles for your next award flight. Luckily, U.S. residents with a Mastercard can earn American Airlines miles and Loyalty Points on many everyday purchases through the SimplyMiles program. Here's what you need to know.
What is SimplyMiles?
The SimplyMiles program is similar to Amex Offers, Chase Offers and Citi Merchant Offers in that you enroll in offers and get rewards. But while you enroll a specific card for credit card merchant offers, SimplyMiles offers let you pay with any linked Mastercard once you enroll in an offer.
To enroll in SimplyMiles, head to the SimplyMiles website and click the "Join" link in the upper right-hand corner.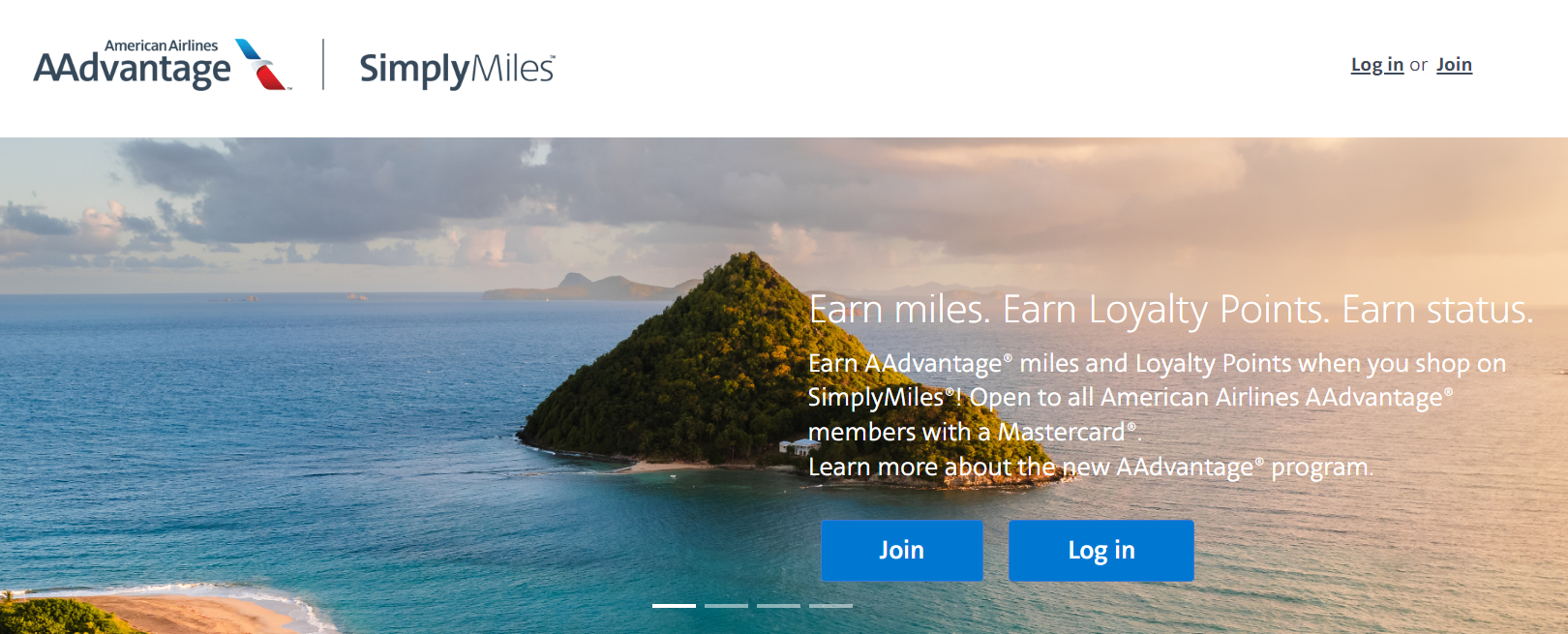 Log in to your American Airlines AAdvantage account and add at least one Mastercard to your account to get started. The SimplyMiles frequently asked questions page says you can link at most three Mastercard credit cards to your account. However, it's worth trying to add all your Mastercard credit cards if you have more than three; I was able to add all seven of mine.
Related: Best uses of American Airlines miles
Using American Airlines SimplyMiles
Once enrolled in SimplyMiles, head to the website occasionally to check your offers. Some offers provide miles based on how much you spend, while others award a set amount of miles when you spend a specific amount with a merchant.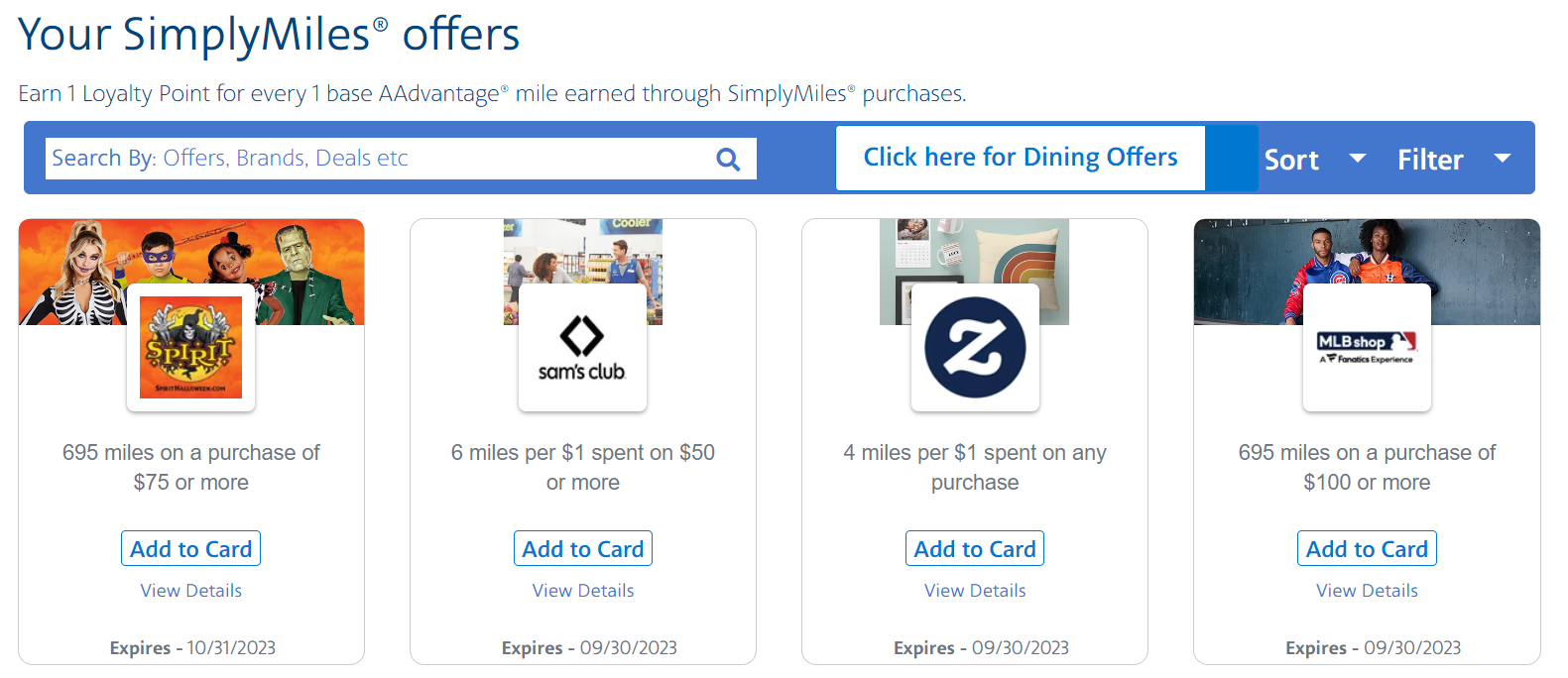 While looking through your offers, add any you want to use to your account by clicking "Add to card." There's no harm in adding an offer and then not using it. However, some offers can only be redeemed online or in-store, while other offers require you to click through a specific link or are only valid for specific purchases. So, be sure to read the terms of each offer before making a purchase.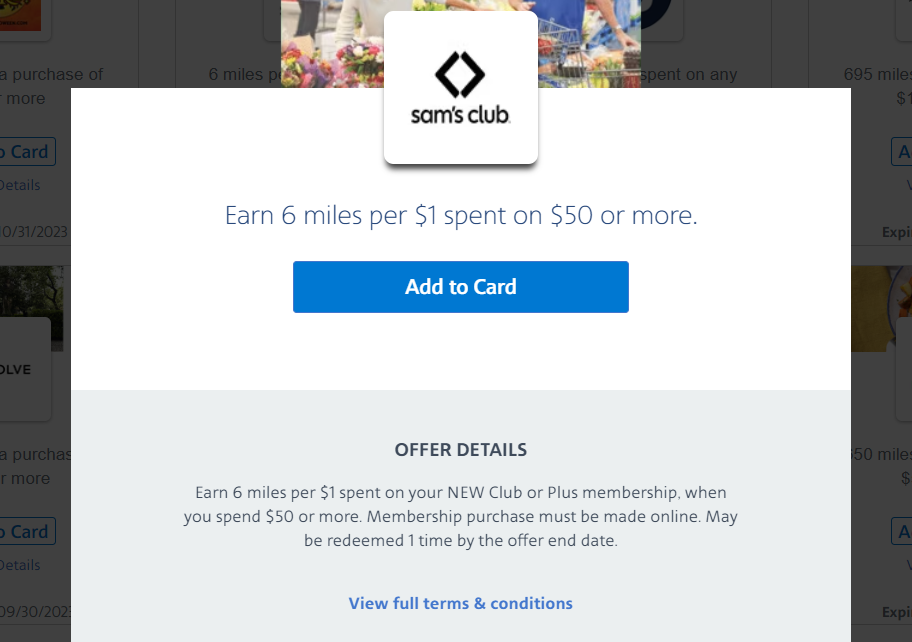 I usually have various offers, ranging from gas stations to meal delivery services to shoe companies. You'll see all the offers you've already added to your account at the bottom of the list.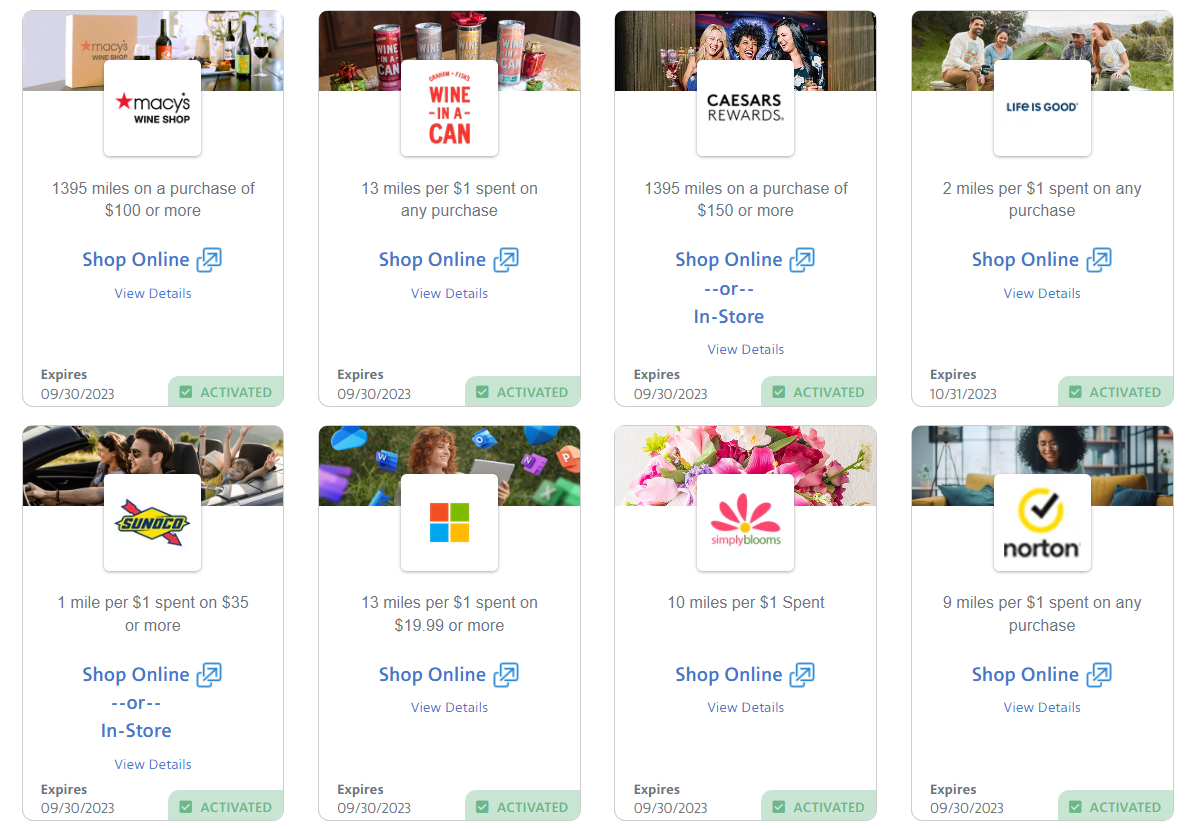 You'll earn AAdvantage miles when you make an eligible purchase with a card you've added to your SimplyMiles account. Unless clearly labeled as "bonus miles," the miles you earn through SimplyMiles will be Loyalty Point-eligible base miles. Then, you'll receive an email titled "Thank you for using your SimplyMiles offer" each time you make an eligible purchase.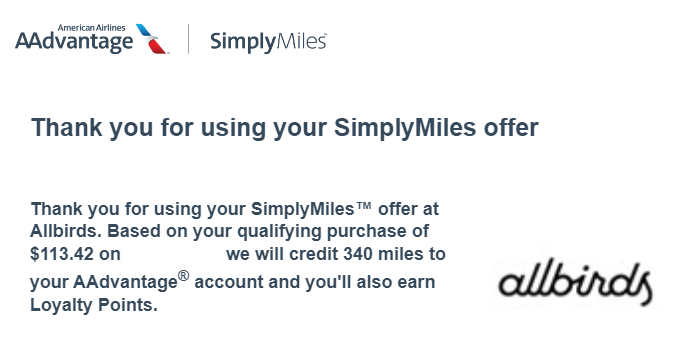 You can also check your earnings by clicking "Miles earned" near the top of the webpage.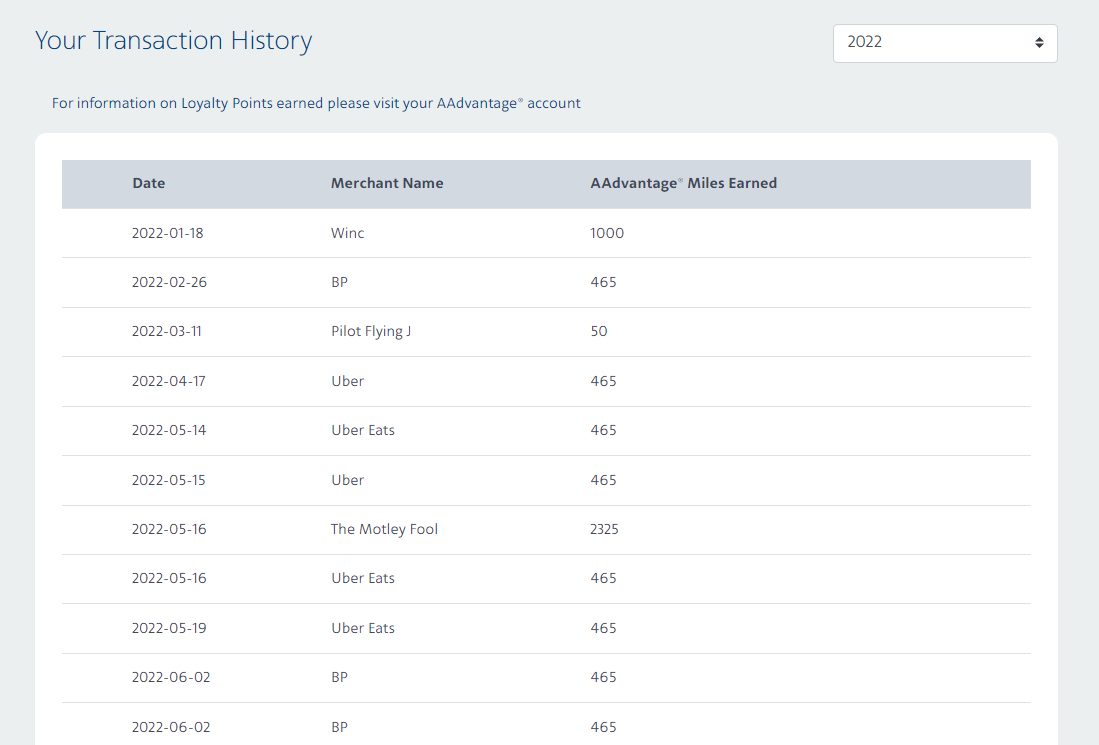 Miles will usually appear in your account within five to 15 business days of your purchase. Know, though, that it can sometimes take up to 30 calendar days for your earnings to post.
Related: Earn American miles (and Loyalty Points) while you eat with the AAdvantage Dining portal
Stack your earnings
Earning American Airlines miles and Loyalty Points through the SimplyMiles program is great. While the terms and conditions state, "Offers cannot be combined or stacked with other offers," the offers are often still stackable.
For example, you might be able to stack all the following earning methods on one purchase made with a Citi Mastercard:
SimplyMiles
Citi Merchant Offers
Shopping portal rewards
Credit card rewards
Of course, the merchant needs to participate in SimplyMiles (without a requirement to use a specific link), Citi Merchant Offers and a shopping portal for this quadruple stack to potentially work. For example, let's assume I wanted to buy some accessories from Dell Technologies.
Currently, the SimplyMiles portal would give me 2 miles per dollar (up to 3,485 miles) spent on any purchase with Dell Technologies using a linked Mastercard.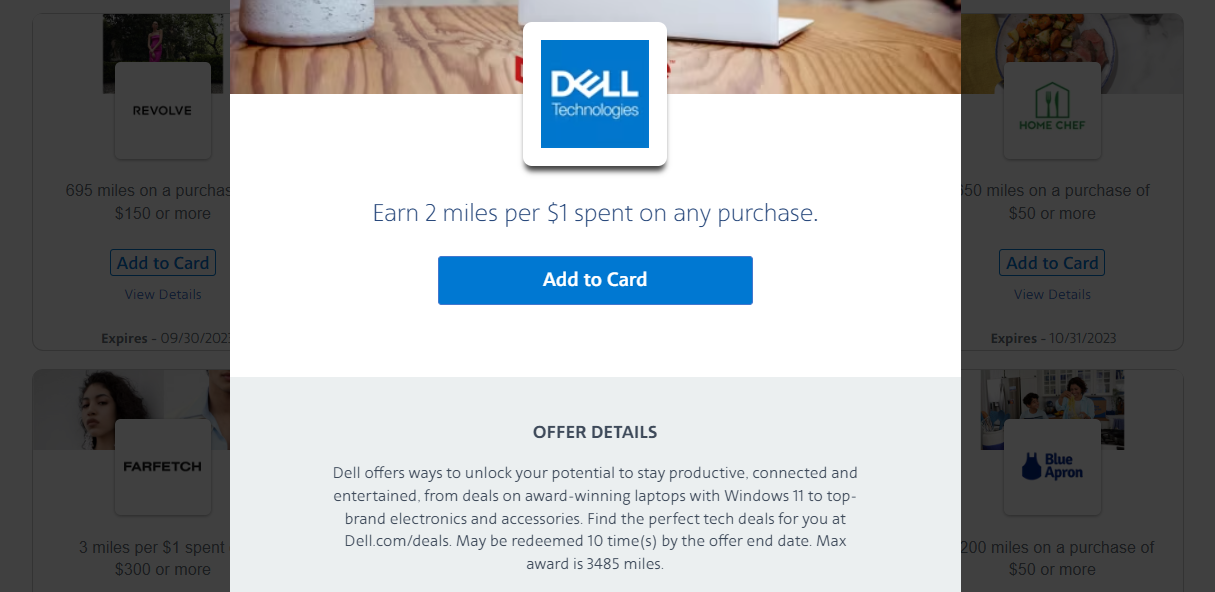 Citi Merchant Offers would give me 5% back if I used my enrolled Citi AAdvantage card on any Dell Technologies purchase. Using this card, I'd also earn 1 mile per dollar spent on my Dell Technologies purchase. If you want to add an American Airlines card to your wallet, Citi and Barclays offer cobranded Mastercard credit cards that you could link to SimplyMiles.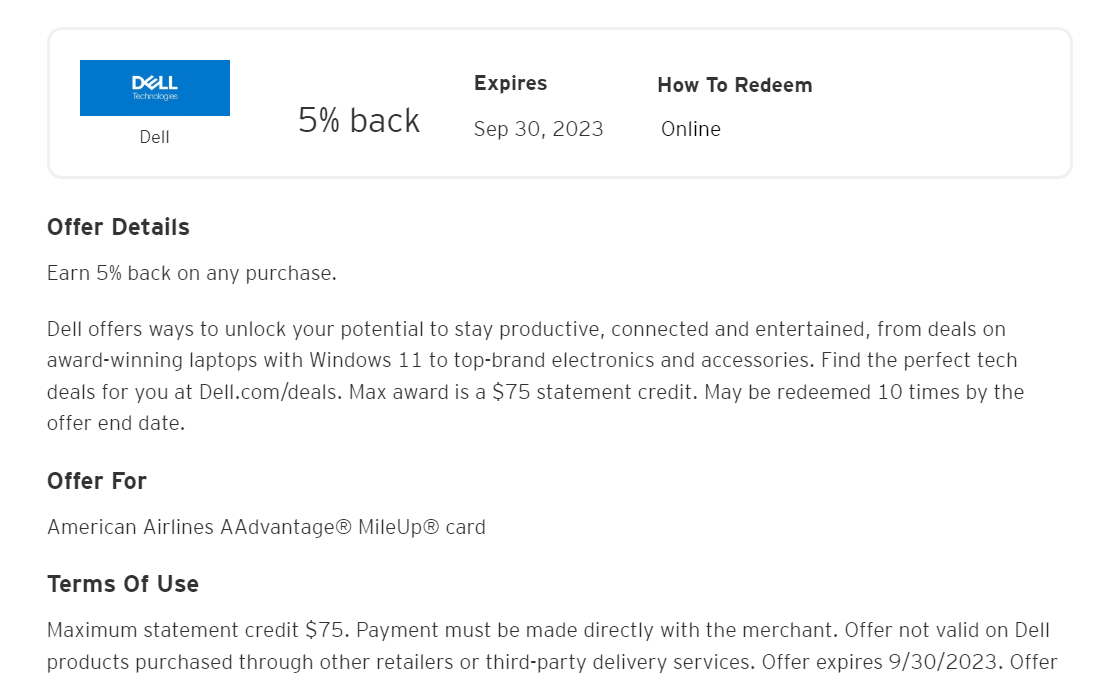 Finally, the AAdvantage eShopping portal would give me 5 miles per dollar spent on Dell Technologies accessories.

The moral of the story here is to stack SimplyMiles offers when you can. You might not always get credit for the entire stack, but successfully stacking offers can accelerate your progress toward earning American elite status and help you build up your AAdvantage mileage balance.
Related: After 7 years as an American Airlines Executive Platinum, requalifying is no longer a must for me: Here's why
Bottom line
There is no shortage of ways to earn AAdvantage miles and Loyalty Points. From the AAdvantage shopping portal to American Airlines credit cards, you don't have to fly frequently to earn American Airlines miles and status.
The SimplyMiles program is a great tool if you're looking to earn more rewards and Loyalty Points when shopping. From gas stations to clothing and luggage delivery services, you'll find various merchants on the SimplyMiles website. However, offers are frequently added, so you'll want to check for new offers every week to maximize your earnings.