It's been about a year since Bilt launched its travel portal, which allows Bilt members to earn and redeem points for flights, hotels and rental cars. You can also use the Bilt travel portal to redeem points for activities, including theme park tickets.
Even if you don't have the Bilt Mastercard® (see rates and fees) or don't pay rent, you can still use the Bilt travel portal to earn Bilt points, which can be transferred to various high-value value programs, including Air Canada Aeroplan, American Airlines AAdvantage and World of Hyatt.
Let's look closely at what you need to know about the Bilt travel portal.
What is the Bilt travel portal?
The Bilt travel portal is where Bilt Rewards members can book travel. You can redeem your Bilt Rewards points at a fixed 1.25 cents apiece for flights, hotels and rental cars, but as we value Bilt points at 1.8 cents apiece, you're often better off transferring your Bilt points to one of the program's 14 airline and hotel transfer partners.
However, booking through the portal can sometimes be more advantageous if award space isn't available for your preferred flight or hotel stay. Additionally, as the points price is tied to the cash cost of the flight or hotel stay, you could potentially save points if you're booking an inexpensive flight or hotel stay by redeeming directly through the portal.
As Expedia powers the portal, you can book most travel through the Bilt portal.
Related: Earn points on rent: Your complete guide to the Bilt Rewards program
How to use the Bilt travel portal
To access the Bilt travel portal, you have two choices: using the app or going to travel.biltrewards.com and signing in to your Bilt account.

On both the app and website, you can book flights, hotel stays, car rentals and things to do.
Remember that when you book hotels through the portal, you typically will not earn hotel points and elite credits and may not receive elite status perks because it's considered a third-party booking.
However, flights booked through the portal will typically earn frequent flyer miles and qualify for elite status.
Read more: 9 things to consider when choosing to book via a portal vs. booking directly
How to book flights through the Bilt travel portal
Booking flights through Bilt is easy. You can either search for flights through the app or website. However, we'd generally recommend using the app, since it lets you check one-way award availability across all of Bilt's transfer partners thanks to the point.me integration. This can help you decide if it's most advantageous to transfer your points to one of Bilt's airline transfer partners or redeem your points at a fixed 1.25 cents each in the app.
To initiate a search, enter your arrival and departure airports, travel dates, number of travelers and your desired cabin and hit "Search."
As an example, here are the search results for a one-way flight from Newark Liberty International Airport (EWR) to San Francisco International Airport (SFO) in business class using the transfer partner plug-in (which, again, is only available through the app).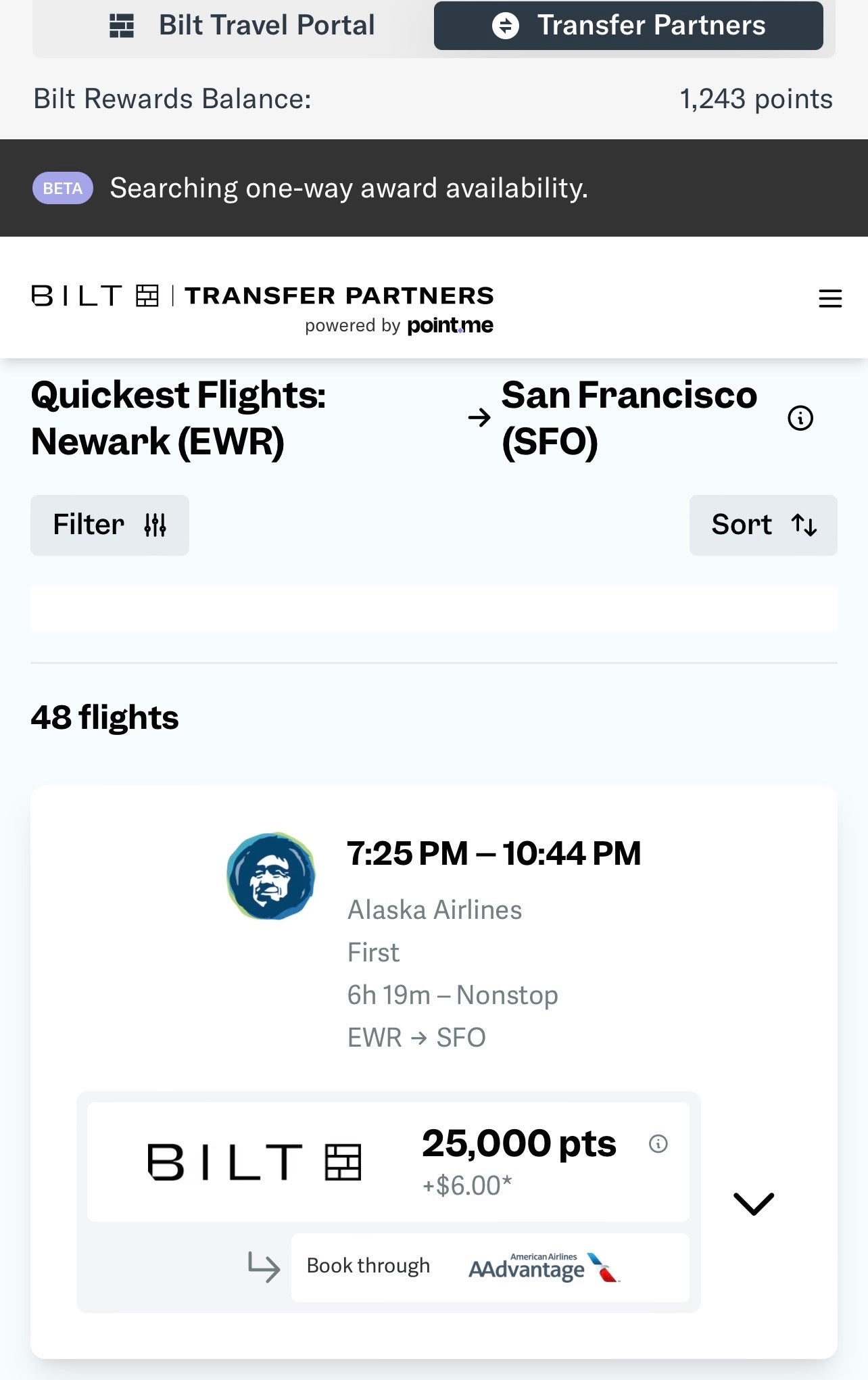 In this case, there's an option to transfer 25,000 Bilt points to American AAdvantage to book the one-way flight in first class on Alaska Airlines. We always recommend confirming availability with the partner program before transferring your points. Additionally, since Bilt points can take up to 24 hours to appear in your American Airlines account, you'd want to contact American to place the ticket on hold. That way, you won't lose your award ticket while waiting for your Bilt points to transfer to American Airlines.
Alaska Airlines also sells this ticket for $639, which would require 51,120 points to book. Even though you'd earn Alaska miles (or miles with your preferred Oneworld carrier) on this flight, it would likely make more sense to transfer 25,000 Bilt points to AAdvantage and then pay the $5.60 in taxes and fees.

Still, redeeming your Bilt points toward a cash ticket on the Bilt travel portal can be a nice option when there isn't award space available.
You can also book flights through the Bilt travel portal when you're not redeeming points.
Bilt Rewards members without a Bilt Mastercard earn 1 point per dollar on flights, hotels and rental cars booked through the portal, while members with a Bilt Mastercard earn 2 points per dollar spent. For reference, the Bilt Mastercard also earns 2 points per dollar on flights, hotels, rental cars and cruises booked directly with the travel provider.
Related: How long do Bilt Rewards points take to transfer?
How to book hotels through the Bilt travel portal
Booking hotels is similar to booking flights on the travel portal. You can do it through the app or website; the general booking process is similar.
This can be a useful way to book hotels that aren't affiliated with major chains like Hyatt and IHG, both of which are transfer partners of Bilt. Whether you book through the portal or elsewhere, compare the award rates of loyalty programs to find the best deal.
Here's a sample search for hotels in Victoria, British Columbia, which hosts mostly boutique hotels.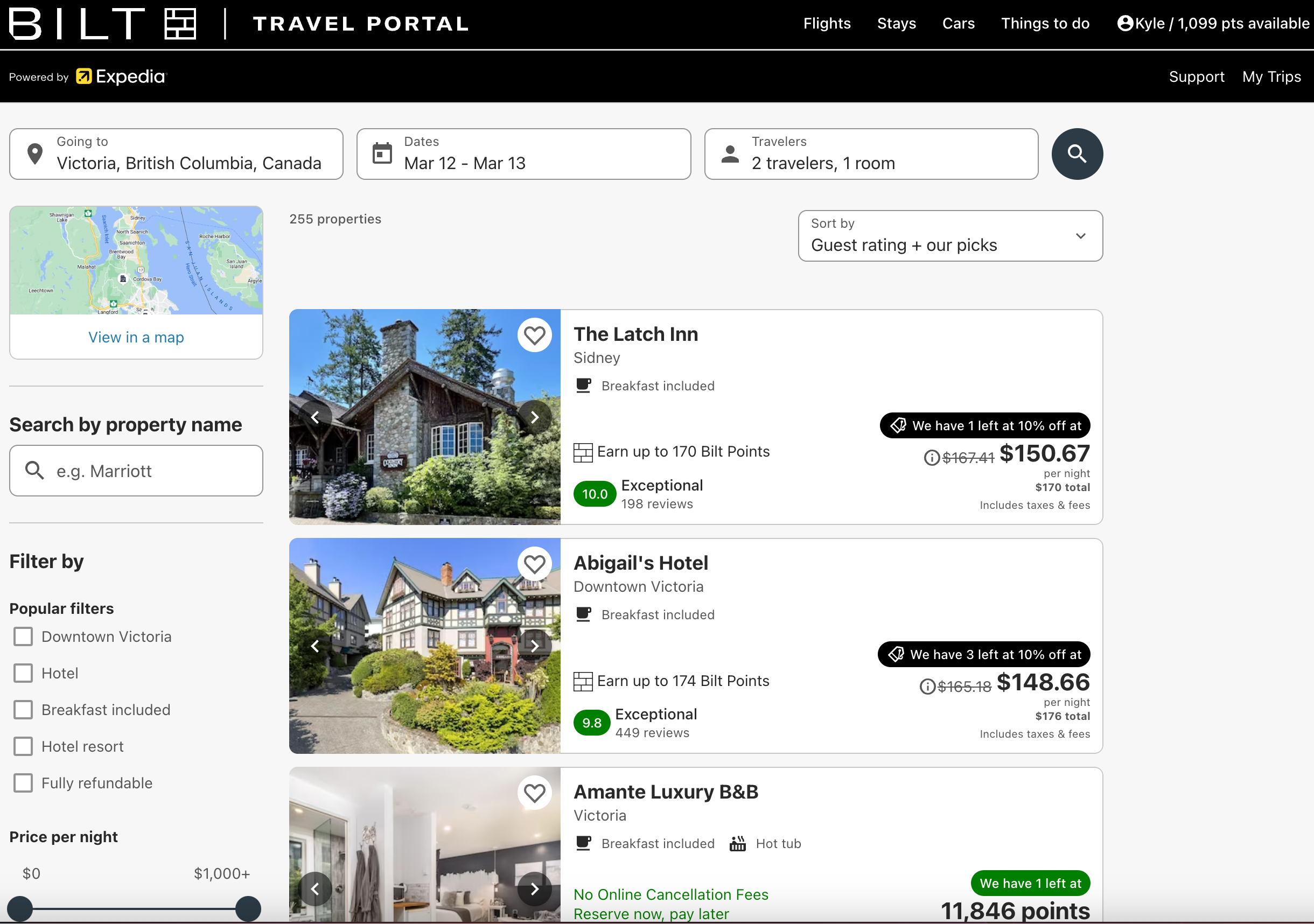 Once you've selected your desired property, room and rate, you can specify how many points you want to use on the checkout page.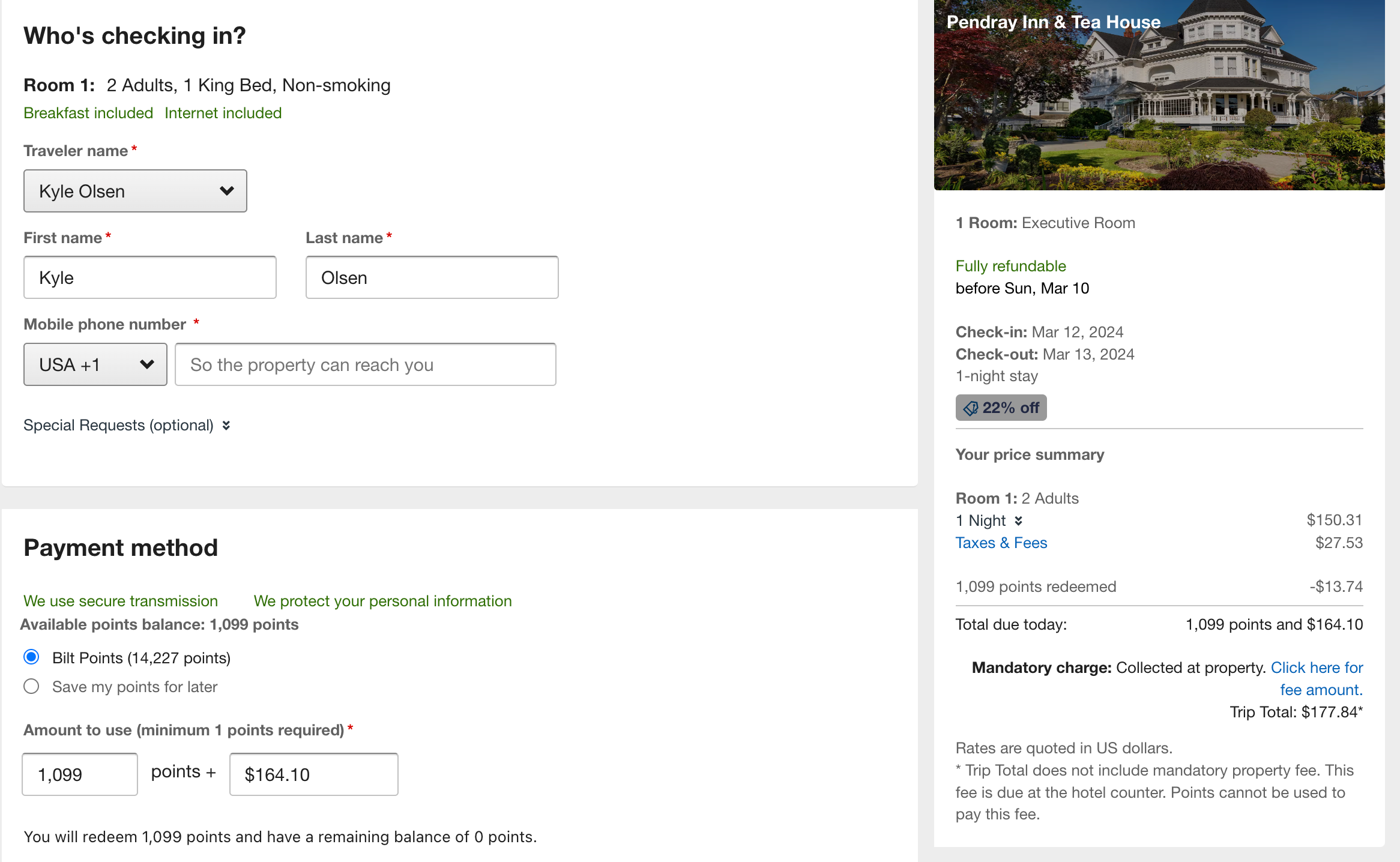 Then, run through the on-screen prompts to finalize your booking, and you'll get an email confirmation.
Related: The best hotel rewards programs in the world
How to book rental cars and activities through the Bilt travel portal
You can also book rental cars and activities through the Bilt travel portal by using the app or website. The process of doing so is similar to booking flights and hotels. But there's one key difference — you can't earn points on activities.
To book a rental car, navigate to the "Cars" header from the main landing page and type in your itinerary, even if it's a one-way rental. Then, select "Search" and the results page will pop up. Once you choose your car, you'll be prompted to select add-ons.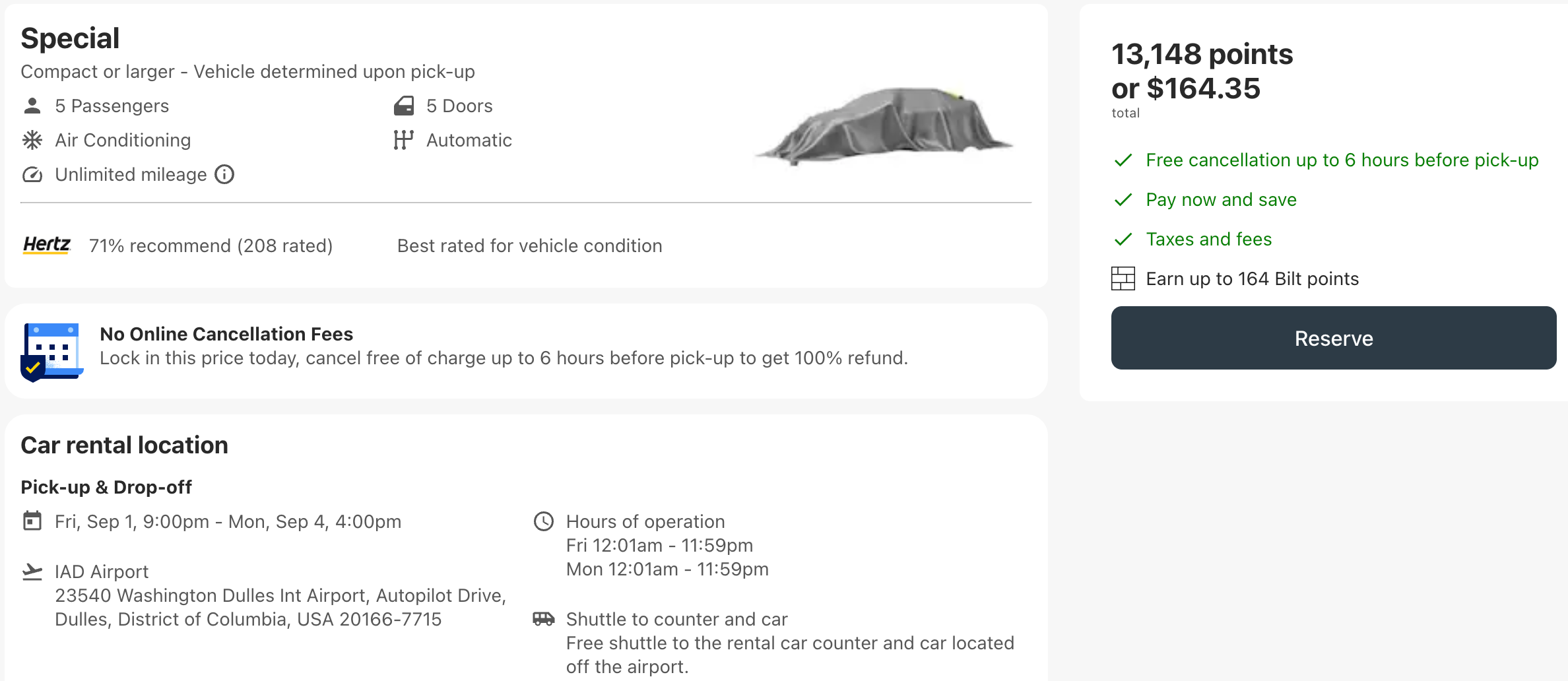 When you've finished selecting, you'll head to the booking page, where you'll input your personal information and choose how many points, if any, you'd like to redeem.
Finally, click "Things to do" from the main homepage to book activities. You can enter your destination and travel dates to see what's available. For Disneyland tickets, you can purchase a single- or multiple-day ticket with or without Genie+ (Disney's new version of Fast Pass for saving time in line) and the Park Hopper (allowing you to visit both Disneyland and California Adventure). Just know there's a 5% convenience fee included in these prices.
If you don't have enough points for the entire activity, you can apply the points you have at checkout and pay cash for the remaining balance.
Related: These are the best rides at Disneyland
Further things to consider about the Bilt travel portal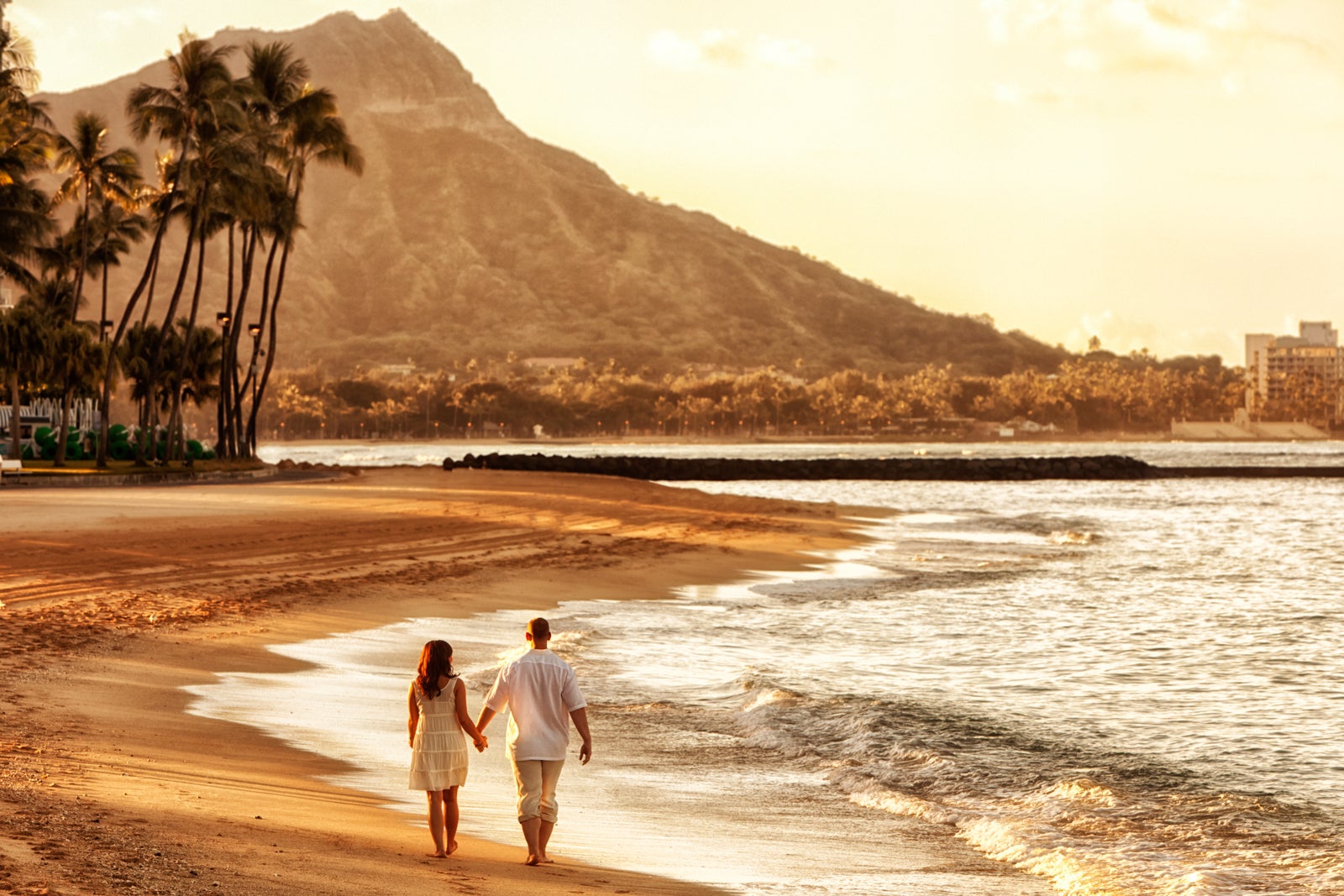 Here are some general pointers to make the most of your experience with the portal.
First, compare the points required through the portal with those needed for partner transfers, considering any additional taxes and fees. It's generally best to avoid booking chain hotels through the portal if you have elite status or wish to obtain it (or want to earn points in a given hotel loyalty program). Stays booked this way usually do not count toward status and may not qualify for elite benefits.
If you frequently book with cash through Bilt's travel portal, consider opening the Bilt Mastercard. That way, you'll earn 2 points per dollar instead of just 1 point per dollar. You should also consider using a card that earns high rewards on travel purchases, like the Chase Sapphire Reserve, which earns 3 points per dollar. That said, we haven't tested using this card in the Bilt portal, and it's up to your card issuer how they'll code purchases.
Although you may find better rates by booking directly with the travel provider, if your plans are firm and the rates are comparable, booking through the portal can be worthwhile for earning extra points.
However, remember that booking through third-party sites can lead to complications if you need to change your plans. Travel providers are generally more willing to assist you if you've booked with them directly.
Related: Why you don't earn hotel points when booking through an OTA
Bottom line
With the Bilt travel portal, you can redeem your points to book flights, hotels, rental cars and activities. By searching for flights in the Bilt app, you can get an idea of award space using the point.me plug-in. If award flights are unavailable or you come across a low-cost fare that requires fewer points, booking through the portal can be a smart choice.
Similarly, when it comes to hotels, it can be a great deal if you find a cheap rate or opt for a boutique property. However, you may not earn hotel points or receive elite benefits. It's always wise to compare options and determine whether using the portal or transferring points to partners for an award is the more advantageous route.
For rates and fees of the Bilt Mastercard, click here.
For rewards and benefits of the Bilt Mastercard, click here.