A Canadian airline is preparing to launch a slew of new flights to and from the U.S.
Starting this fall, regional carrier Porter Airlines will dramatically scale up its service to the U.S. with seven new routes to five destinations in Florida.
Aboard its fast-growing fleet of Embraer E195-E2 aircraft, Porter plans to offer an "elevated economy" experience as it expands its U.S. route map from its hubs in Toronto and Ottawa, Ontario.
Exciting news! Porter's Florida expansion: 5 destinations, 7 routes, starts in November with new jets. Enjoy free drinks, snacks, and meals onboard. Visit our website for details. #FlyPorterFlorida pic.twitter.com/A1h30HFDRB

— Porter Airlines (@porterairlines) August 24, 2023
Want more airline-specific news? Sign up for TPG's free biweekly Aviation newsletter.
The Toronto-based carrier's new routes include:
Toronto Pearson Airport (YYZ) to Fort Lauderdale-Hollywood International Airport (FLL)
YYZ to Miami International Airport (MIA)
YYZ to Orlando International Airport MCO)
YYZ to Tampa International Airport (TPA)
Ottawa International Airport (YOW) to FLL
YOW to MCO
The routes will launch between Nov. 1 and Dec. 13. From the outset, Porter will offer one daily round trip: a southbound flight during the afternoon hours and a return flight to Canada the following morning.
The first service to launch will be from Toronto to Tampa on Nov. 1. It departs Canada's largest city at 4:30 p.m. and arrives on Florida's Gulf Coast just after 7:30 p.m.
Next up will be the Toronto-to-Orlando service, starting Nov. 10. A few other routes begin just before Thanksgiving.
How to get in: Best credit cards for airport lounge access 
For Porter, this launch isn't the beginning of its U.S. service. The carrier currently serves a handful of East Coast and Midwest cities like Boston, Chicago, New York (Newark), Washington and Myrtle Beach, South Carolina.
However, this launch is a major step forward for the Canadian carrier with respect to its U.S. service. It's potentially just the start of what's to come.
In 2021, TPG reported the airline placed a multibillion-dollar aircraft order for dozens of Embraer E195-E2 jets.
The purchase of the Embraer jets will allow Porter to expand beyond its traditional home base of Billy Bishop Toronto City Airport (YTZ), which it serves with a fleet of 29 De Havilland Dash 8-400 turboprop aircraft. Those Dash 8-400s have a limited range, though; this means that Porter could not add longer flights from Toronto's secondary island airport, where jet flights are not allowed.
Where's the beef? We compared inflight hamburgers to see which was the tastiest 
Instead, Porter added flights from YYZ — Toronto's primary and busiest airport — and has begun flying its new Embraer jets on routes across Canada, including to the west coast. Now, the Florida flights are joining Porter's mix from YYZ, which Porter is developing as a hub to complement its existing operation at Billy Bishop.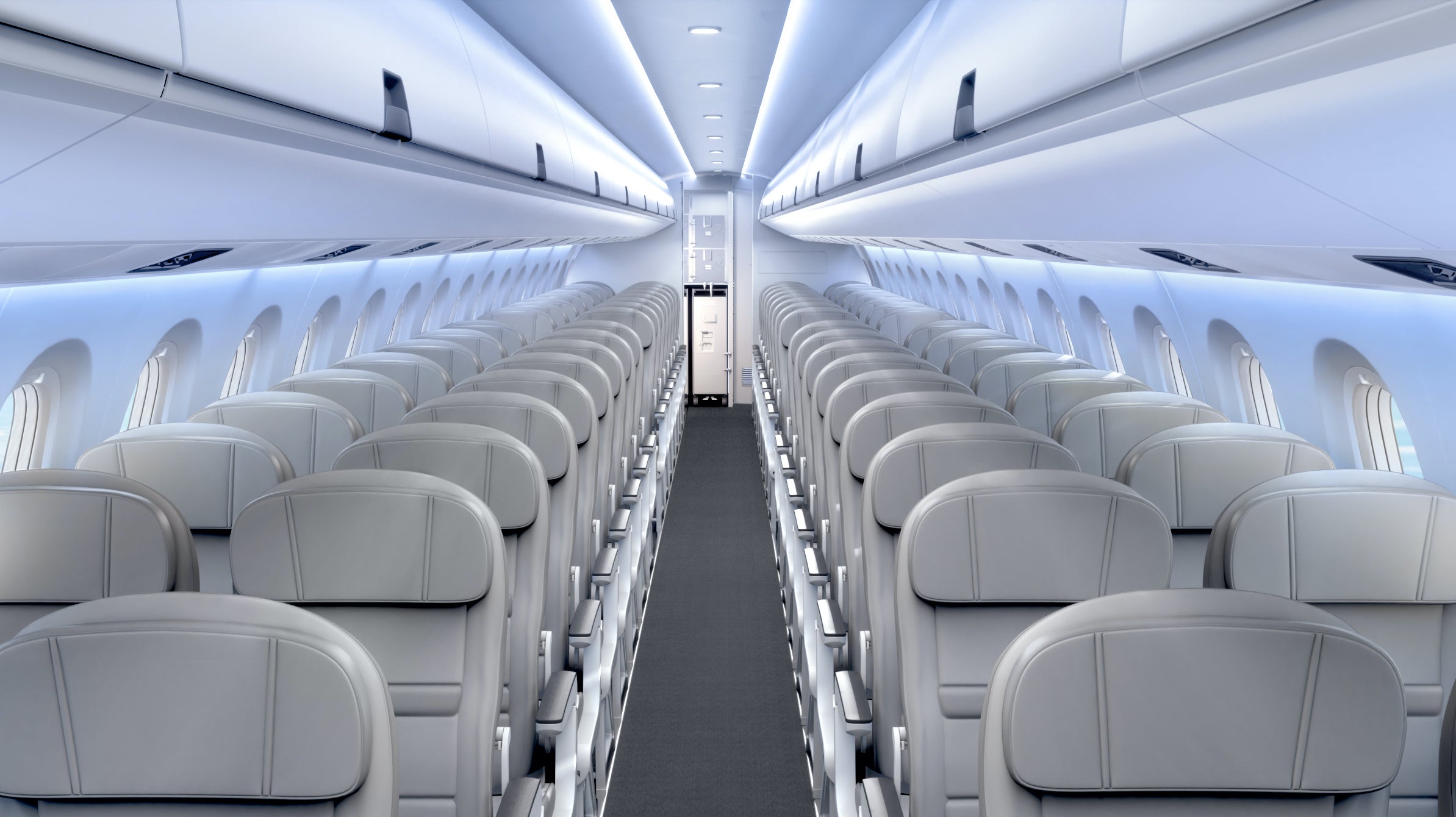 Porter promises comfort in coach on the Embraers, with two-by-two configurations throughout its 132-seat aircraft; the airline claims to be the "only airline with no middle seats on every flight." Porter's Dash 8-400s also are laid out in a two-by-two configuration.
All of Porter's Embraer-operated flights will offer free Wi-Fi, "premium" snacks, and free beer and wine for all travelers in glassware — no plastic cups.
Although the airline doesn't offer a domestic first class-caliber premium cabin, it does offer extra-legroom seats. Those passengers also get access to inflight meals (which other passengers can purchase a la carte in coach).
Porter reports its minimum seat pitch (the measurement from the back of one seat to the same point on the one in front of it) to be 30 inches. This would put it more in line with tight economy cabins on full-service carriers as opposed to even tighter configurations on budget airlines.
Booking Porter Airlines flights to the US
Here's a sample of what we found, pricewise, for Porter's new U.S. service.
A one-way ticket on the inaugural Toronto-to-Tampa flight — the first in the expansion — starts at 173 Canadian dollars (about $127). The first northbound flight on the Fort Myers-to-Toronto route has a 9 a.m. departure and arrives in Toronto at noon. It starts at around $95.

You initially have two fare classes to choose from: PorterClassic and PorterReserve.
However, once you click on a fare, it'll reveal a host of more specific choices.
The price displayed up top for PorterClassic is the lowest Basic ticket, which doesn't include seat selection, a full-size carry-on or a checked bag — a fairly typical basic economy situation.

A Standard ticket is $25 more and essentially gets you a full-size carry-on. You'll still have to pay for a seat (starting at around $9), and if you want a checked bag, that's another $20.
There are a couple of other significantly higher-priced ticket classes, including Flexible, which allows travelers easier ticket changes.
Meanwhile, a PorterReserve ticket, which starts at $255, gives you an extra-legroom seat upfront, a carry-on and two checked bags, a meal, and premium beverages. Change fees are also waived.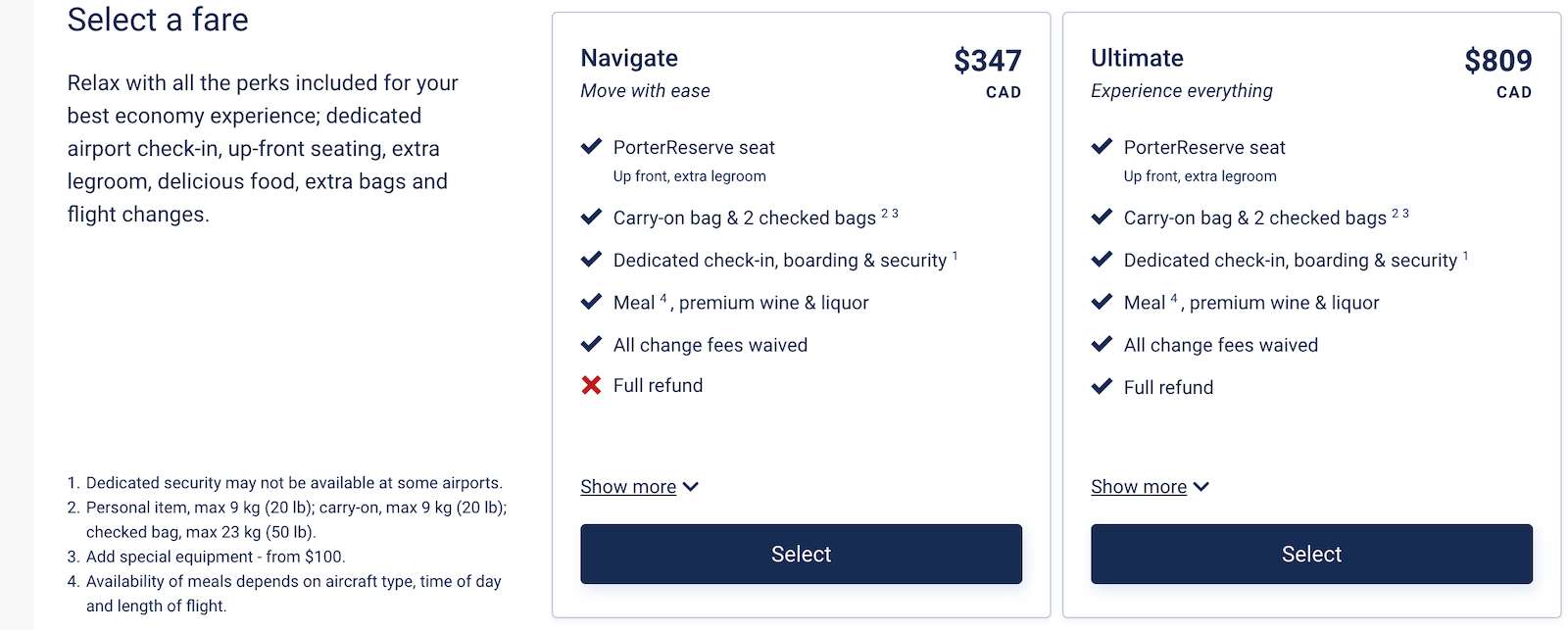 Future expansion
It appears Porter is not finished with its U.S. expansion.
According to the airline's route map, future "potential" cities for its service include Los Angeles, San Francisco, Phoenix, Denver, Dallas, Atlanta and Charlotte.
A big part of that route scale-up will come as the airline anticipates delivery of more of its new Embraer jets. With 29 Dash 8s and 16 Embraer jets in its fleet today, Porter hopes to fly 79 planes by 2025 as the 24 remaining Embraers the carrier has ordered are delivered.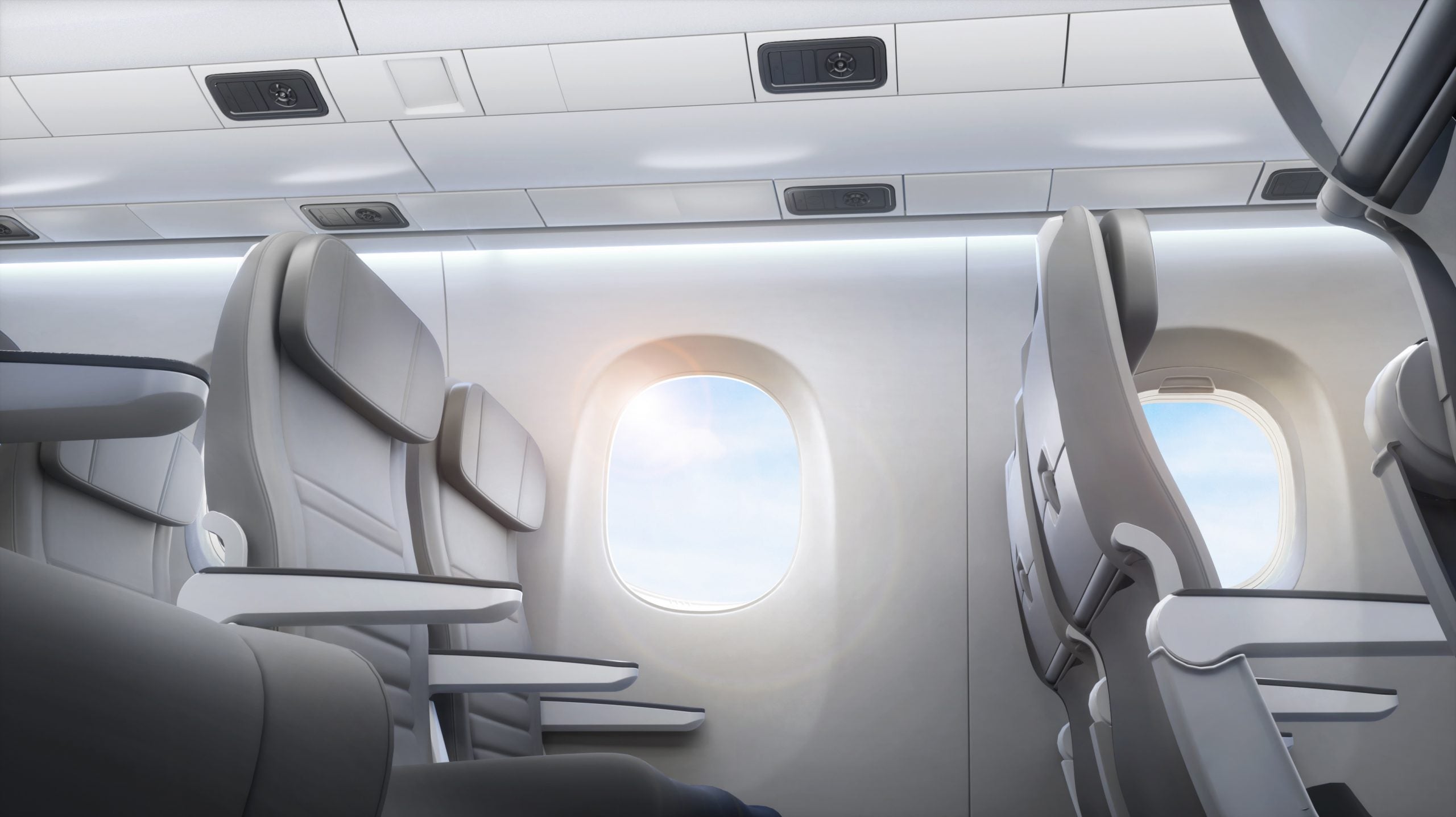 Bottom line
Travelers who frequently fly between the U.S. and Canada will increasingly find Porter as a solid travel option.
With a fast-growing fleet of regional jets and a simultaneously expanding route map, the airline could inject some more competition and choice into its new routes. However, it won't give you a true domestic first-class experience on board — and you'll want to watch out for some of the fees on its economy tickets like you would on an ultra-low-cost carrier.