Editor's note: This post has been updated with new information.
Few things get frequent flyers more excited than an all-you-can-fly pass. In theory, it's the holy grail of a travel buffet of flight options.
For the last year, Frontier Airlines has offered a variety of all-you-can-fly passes.
There were seasonal passes for $299 and then monthly passes that sometimes offered the first month free to passengers, excluding the enrollment fee. And now, Frontier has just announced its 2024-2025 annual all-you-can-fly pass with a Black Friday discount.
Want more airline-specific news? Sign up for TPG's free biweekly Aviation newsletter.
Frontier 2024 all-you-can-fly pass
As part of a Black Friday special, Frontier announced a year-long annual flight pass valid from May 1, 2024 to April 30, 2025. This pass is priced at $499 and, as part of the special for those purchased by Nov. 28, will come with Frontier Silver elite status, which will be awarded in early 2024. Silver is a newly announced status tier for Frontier, and it will confer standard seat selection at booking for the member with status.
Monthly Frontier GoWild! Pass
Frontier's monthly pass allows customers to commit to travel windows 30 days at a time.
There's an enrollment fee of $99 for the first month. After the first month, customers pay $149 monthly for unlimited travel for 30 days from the date of purchase. At the end of 30 days, the pass will automatically renew unless canceled. The booking rules match those for other passes (can be confirmed the day before a domestic flight or 10 days before an international one), and it will cost $0.01 in airfare plus taxes and fees. Fees for bags and seat assignments are extra, adding costs for anyone not traveling light.
Monthly: $49 enrollment fee for the first month, then $149 for 30 days
Valid for travel during a 30-day period from the date of purchase
As long as you trust yourself to cancel in time to not be charged for a month of flying you don't want (before midnight Mountain Time on the final valid date of travel on the pass), this may be the best way to try out Frontier's subscription model toward discounted flying.
Related: My experience using the Frontier all-you-can-fly pass
Frontier all-you-can-fly pass pricing
There are three other versions of Frontier's GoWild! Pass — an annual pass, a summer pass and a fall and winter pass. Historically, Frontier offered introductory pricing for a limited time after launching new versions of the all-you-can-fly pass. After the first year or season(s), the pass will automatically renew at the regular (much higher) price annually, unless you cancel.
Here are the current prices and dates of use for all passes:
Annual GoWild! Pass
$499 per year (renewal price of $599)
Valid for travel between May 1, 2024, and April 30, 2025
Fall & Winter GoWild! Pass
Limited-time offer: $299 per year ($999 after the first year)
Valid for travel between Sept. 2, 2023, and Feb. 29, 2024
Monthly GoWild! Pass
Limited-time offer: $149 per month, with the first month free (excluding the $99 enrollment fee)
Valid for travel for 30 days
TPG's Kristy Tolley had a Summer Pass in 2023. In her experience, once you pay for the pass itself, it'll still cost you some cash each time you use it for flights at a rate starting at $13 to $15 per domestic nonstop flight, with connecting itineraries costing upward of $30 and international trips going as high as $150 per round trip.
You are also charged if you need a full-size carry-on, checked bags or advance seat assignments — just as you are on typical Frontier flights. The trick here is to try to get Frontier elite status to avoid some of those fees. You can get it through spending on its credit card or a status match with other travel cards, and use those status benefits to get complimentary advance seat assignments or free bags when flying on this pass,
Where you can fly with the Frontier GoWild! pass
Frontier's all-you-can-fly pass is valid on flights to more than 85 of Frontier's domestic and international destinations. This opens the doors to the airline's routes that touch Mexico, the Caribbean and Latin America.
The booking window technically opens one day before travel for domestic flights using the GoWild! Pass and 10 days before departure for international travel. However, in our tests, there have been some flights available further in advance.
You can view Frontier's route map here.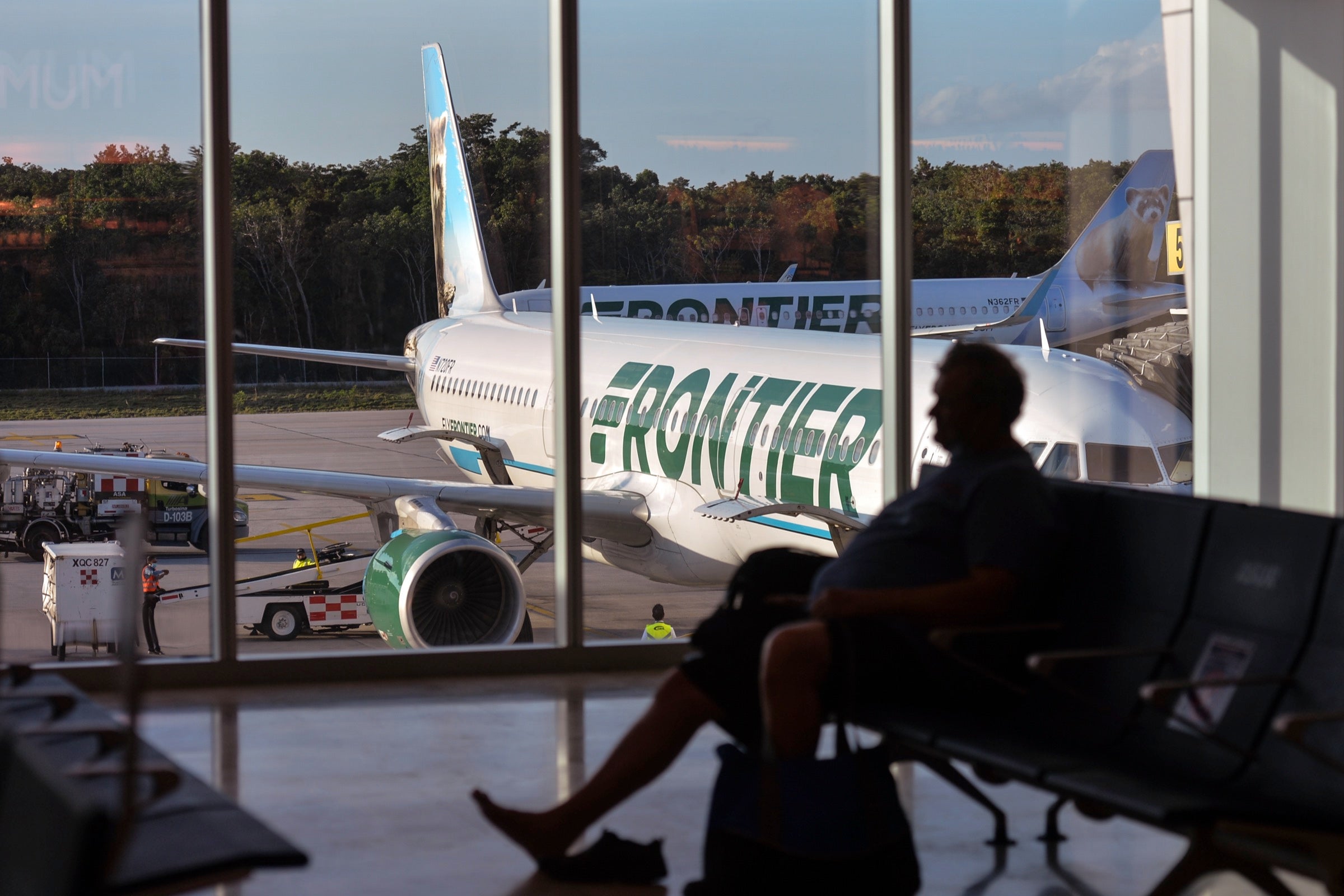 Frontier GoWild! blackout dates
There are blackout dates when you cannot use your all-you-can-fly pass. These are the 2023 and 2024 blackout dates:
Nov. 18, 22 and 24-27
Dec. 16, 17, 22-24 and 26-31
Jan. 1 and 15, 2024
Feb. 15, 16 and 19, 2024
March 3, 10, 15-17, 22-24 and 29-31, 2024
April 5-7 and 12-14, 2024
May 23-24 and 27, 2024
June 27-29, 2024
July 5, 7, 2024
Aug. 29-30, 2024
Sept. 2, 2024
Oct. 10-11 and 13-14, 2024

Nov. 23, 27, 30, 2024

Dec. 1-2, 21-24, 26-31, 2024
How to use the Frontier flight pass
After you purchase the pass, you'll search and book your flights on Frontier's website. Unfortunately, there's a pretty hefty catch: You won't be guaranteed to be able to use the Frontier GoWild! Pass for domestic travel until the day before travel.
However, for international travel, the terms state that you can book and confirm travel 10 days in advance. This is obviously much easier to plan for than just the one-day notice on domestic trips.
In either case, the terms say that flights are subject to availability and that "last seat availability is not guaranteed."
While flights on the pass will qualify as activity in your Frontier frequent flyer account to extend the life of your miles, the flights on the pass will not earn miles or count toward earning Frontier elite status.
Related: What is Frontier Airlines elite status worth?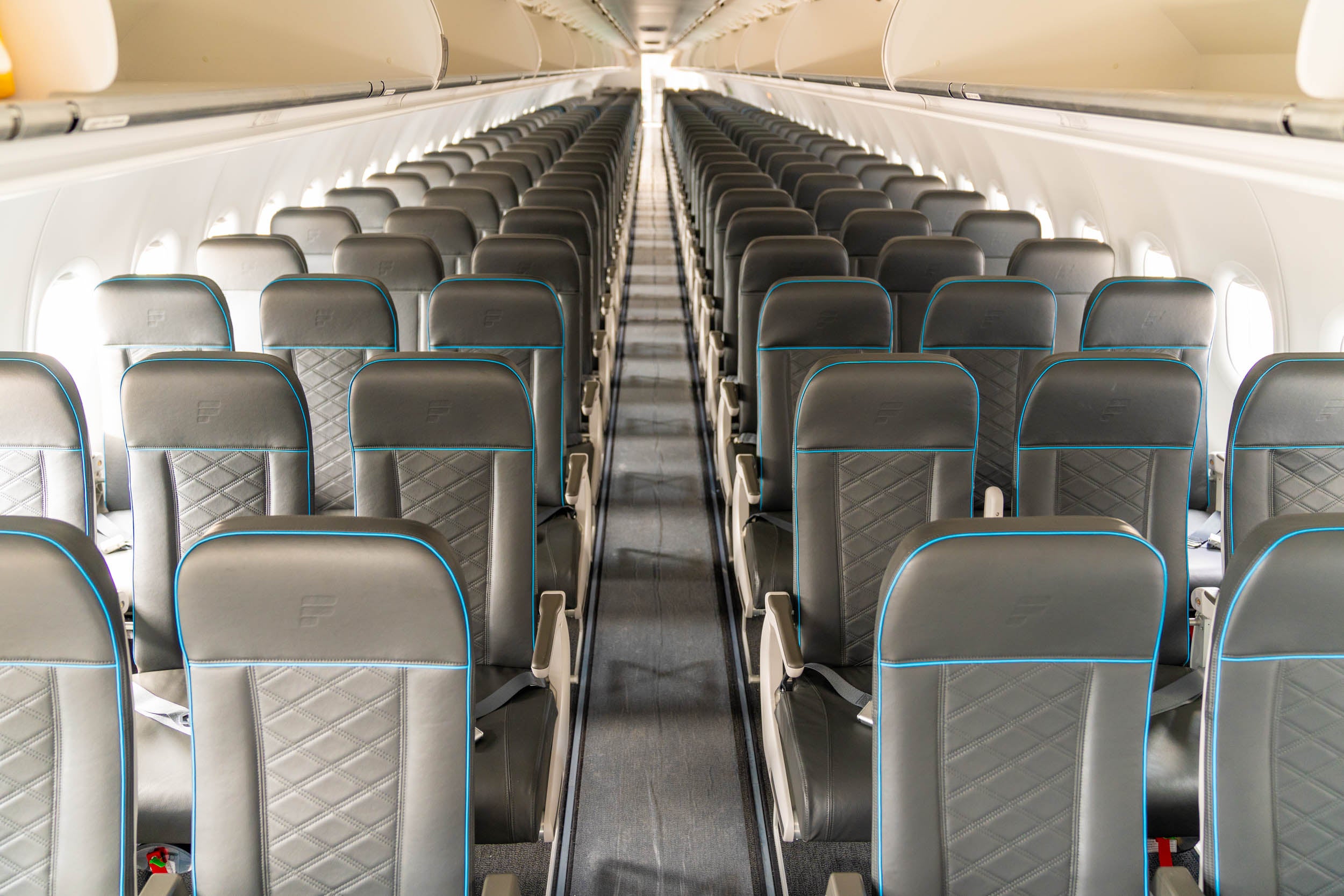 Is the pass available to kids?
The Frontier GoWild! Pass is available to travelers of all ages, though only travelers 18 years or older can purchase the pass and passholders under the age of 13 must be enrolled by their parent or legal guardian. When traveling, passholders under the age of 15 must be accompanied by a passenger who is at least 15 years of age.
Is the Frontier pass a good deal?
The idea of an all-you-can-fly pass is borderline intoxicating for travelers.
Unfortunately, it might only be a good deal if you don't regularly spend a lot on bags and seat assignments and are content not to have confirmed flight plans until just one day before travel (or 10 days when traveling internationally). Not to mention, you will still owe taxes and fees.
Related: I bought an all-you-can-fly pass — here's what it was like to use it
Frontier frequently has sales that tip to $19 or $29 each way. This could make more sense than paying $14-plus for taxes and fees for each use, in addition to the hundreds of dollars you spend to purchase the pass.
Related: Things to know before flying Frontier Airlines
Bottom line
There's an undeniable allure to knowing you can fly as much as you want for a fixed time at a fixed price, and we love the ingenuity put into this pass.
Frontier's GoWild! Pass could be a great match for someone who has the freedom to go where the wind — and seat availability — takes them and has elite status that mitigates many of the incidental fees or is OK avoiding them on their own.
There are catches — a lot of catches — and exactly how much this pass will cost you to use depends on your travel dates and flight routes.
Want to learn more about airlines and credit cards? TPG has answers: