As summer unofficially ends, airlines are rolling out tons of deals for cheap travel.
For its Labor Day sale, Allegiant is offering 25% off base fares to all the cities in its network.
With a 25% discount, flights can go for as little as $38 one-way. Plus, the travel dates are flexible, since the sale applies to any travel until May 14, 2024, as long as flights are booked by Wednesday.
However, only a limited number of these marked-down fares are available under this Allegiant deal, so make sure to book your flights as soon as you can.
Deal basics
Airline: Allegiant
Routes: All cities within Allegiant's network qualify for this 25% off deal
How to book: Directly on Allegiant's website
Travel dates: Any travel up until May 14
Book by: Wednesday
Sample flights
These deals are particularly great if you're looking to book a cheap flight and live near a smaller airport.
Here are some of the flights you can book (the fares shown below are for one-way trips):
Los Angeles International Airport (LAX) to Provo Airport (PVU), starting at $38
Harrisburg International Airport (MDT) to Orlando Sanford International Airport (SFB), starting at $39
Rhode Island T.F. Green International Airport (PVD) to Nashville International Airport (BNA), starting at $41
Minneapolis-St.Paul International Airport (MSP) to Sarasota Bradenton International Airport (SRQ), starting at $73
You can also fly from other cities such as Newark and Washington, D.C. Keep in mind that while Allegiant is offering discounted one-way fares, there is limited availability for these seats. So, it's best if you can book your trip as soon as possible.
For a trip from Los Angeles to Provo, Utah, in December — which is perfect timing for a ski trip — Allegiant only offers the $38 fare one-way. A returning flight from Provo to Los Angeles would cost $51, bringing a total round-trip fare to $89.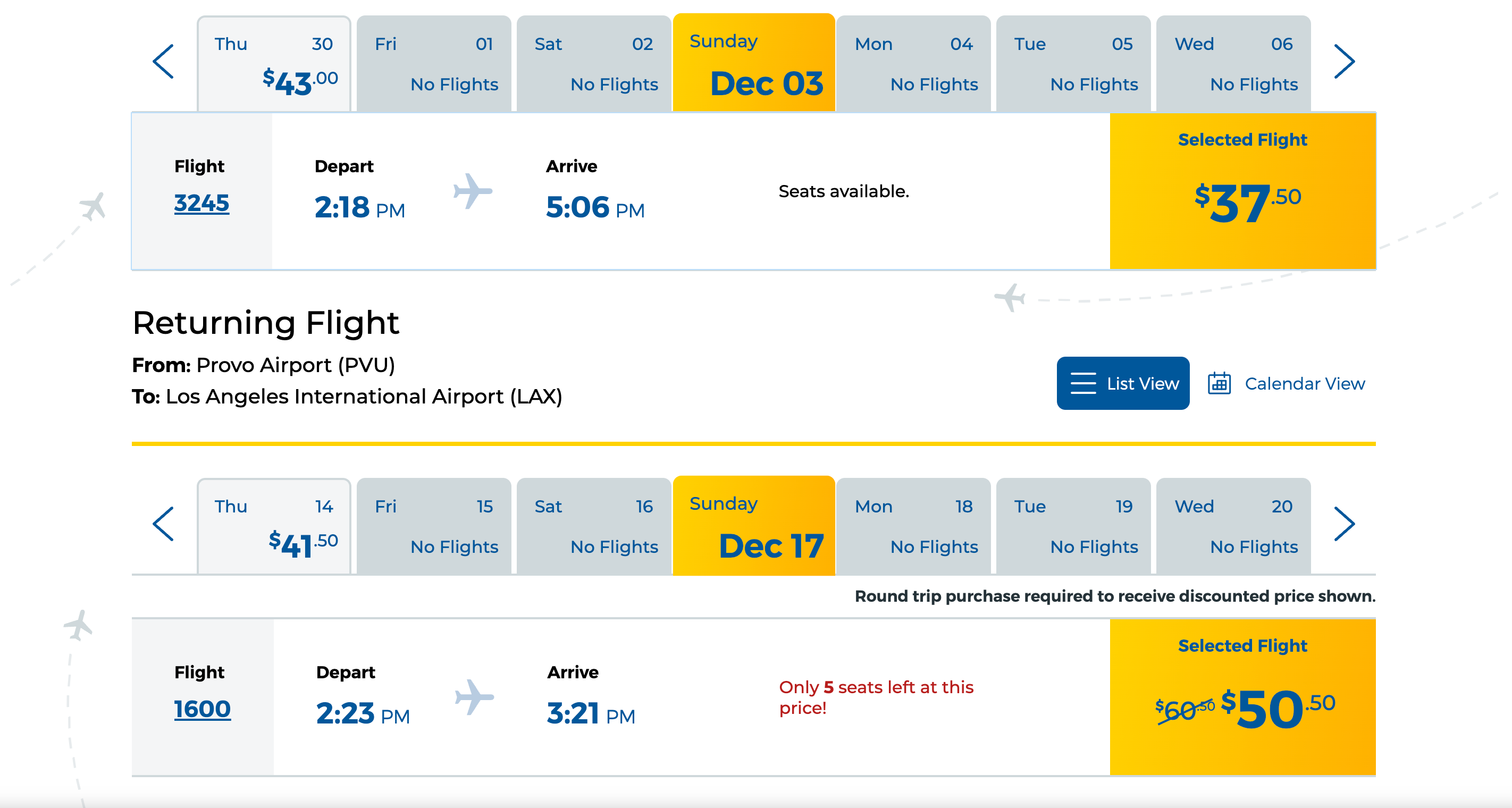 Allegiant also offers bundles that include a carry-on, checked baggage, seat selection and priority check-in at an additional fee. You also have the option to pay for these perks individually.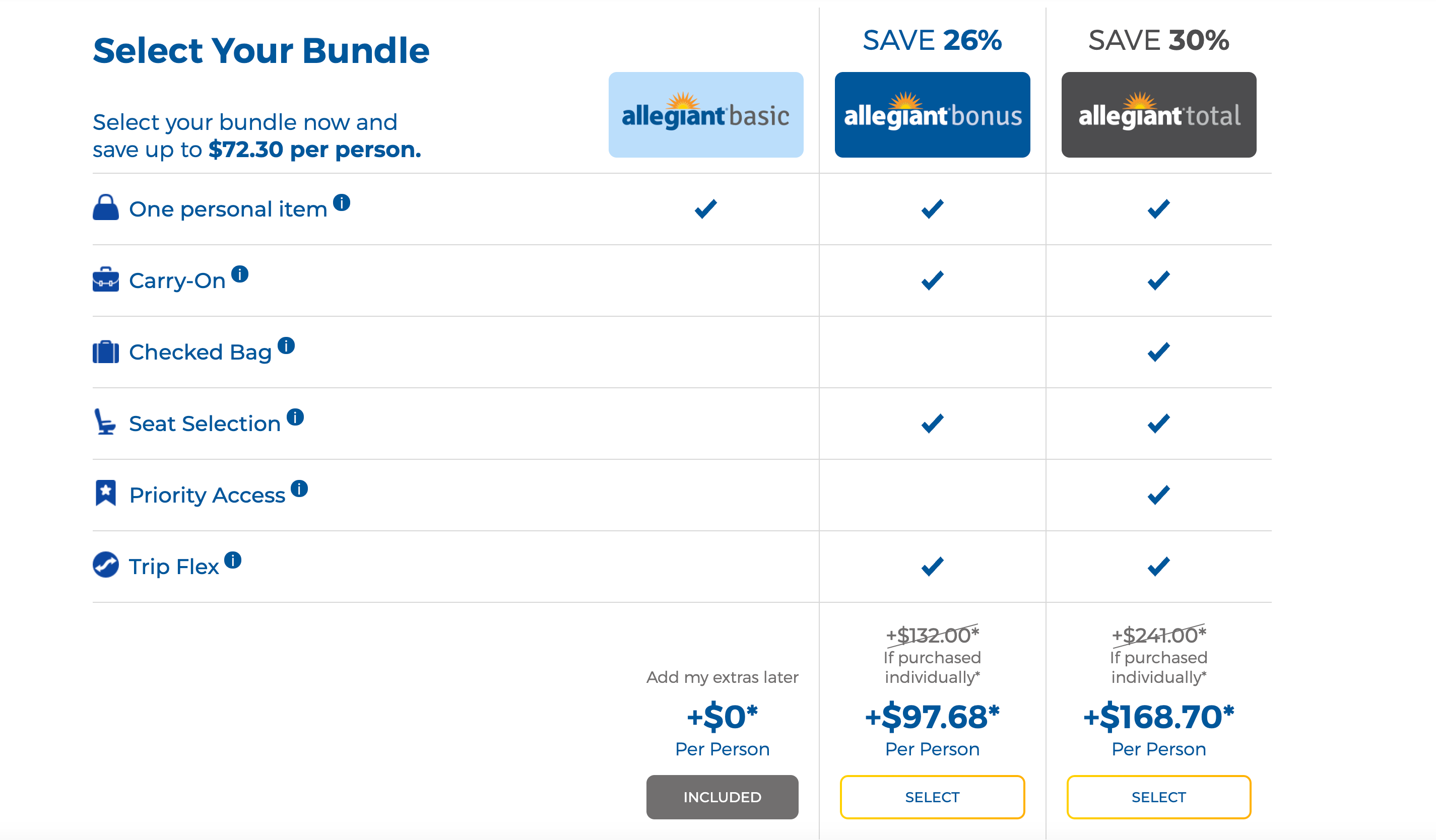 If you decide to pay separately for ancillary items, seat selection can cost anywhere from $1 to $24. The cheapest seats are middle ones in the back of the aircraft.
A carry-on bag costs $24 one-way, and a checked bag is $28 one-way. So, if you ended up needing both for your trip, you'd spend an additional $104.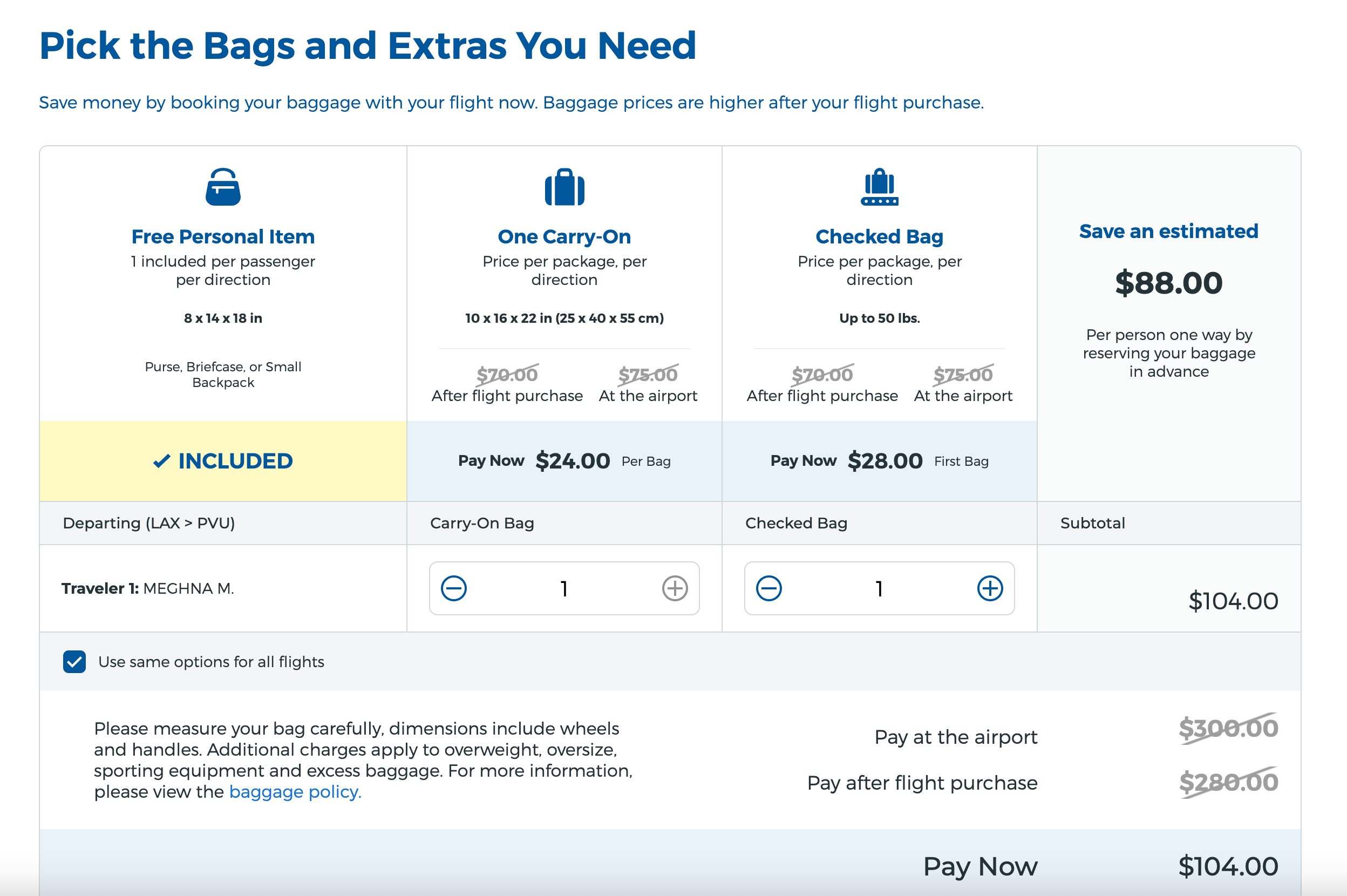 Maximize your purchase
Make sure to use cards that earn bonus points on airfare purchases like:
Bottom line
These Allegiant fares are convenient for a quick weekend trip, and the discounts apply to any travel up until May 14, which makes travel planning flexible.
As with ultra-low-cost carriers, you'll have to pay extra for seat selection, carry-ons and baggage; all of this tends to cost a lot more than the airfare itself. However, depending on how you book, these Allegiant flights can still be significantly cheaper than those from a bigger carrier.