If you're looking for a quick, end-of-summer getaway, then Avelo has the deal for you: Get up to 50% off one-way and round-trip fares to kick off the start of September.
Nearly all of Avelo's routes fall under the budget startup's discount, and you can save tons in airfare with the discount. Keep in mind that the discount does not apply to the total costs — only the base fares are marked down.
The travel dates for this Avelo deal are from Aug. 29 to Oct. 8, and you'll have until Aug. 28 to book flights with this offer, so make sure you plan your trip quickly.
Deal basics
Airline: Avelo
Routes: Almost all of Avelo's routes qualify for this discount
How to book: Directly on Avelo's website; enter the promo code SEP50 when determining your travel dates
Travel dates: Aug. 29 to Oct. 8
Book by: Aug. 28
Sample flights
This Avelo deal offers a great amount of flexibility, and the majority of Avelo's network falls under this discount.
The only routes that don't qualify are Hollywood Burbank Airport (BUR) to Glacier Park International Airport (FCA), Charleston International Airport (CHS) to Tweed New Haven Airport (HVN), Daytona Beach International Airport (DAB) to HVN, Greenville-Spartanburg International Airport (GSP) to HVN, GSP to Orlando International Airport (MCO), HVN to Myrtle Beach International Airport (MYR), and Memphis International Airport (MEM) to Raleigh-Durham International Airport (RDU).
So, you could fly to Orlando or Las Vegas if you're looking for a quick getaway, or if you're planning to visit family or friends, then these flights are a convenient option.
Avelo asks you to enter the promo code when looking up the fares for a particular route. Beneath the search bar, you'll find the space to enter the promo code.

For example, if you're looking for a trip from New Haven, Connecticut, to Orlando for the week of Aug. 29, Avelo has a few round-trip options. The departing and returning flights cost $50 each.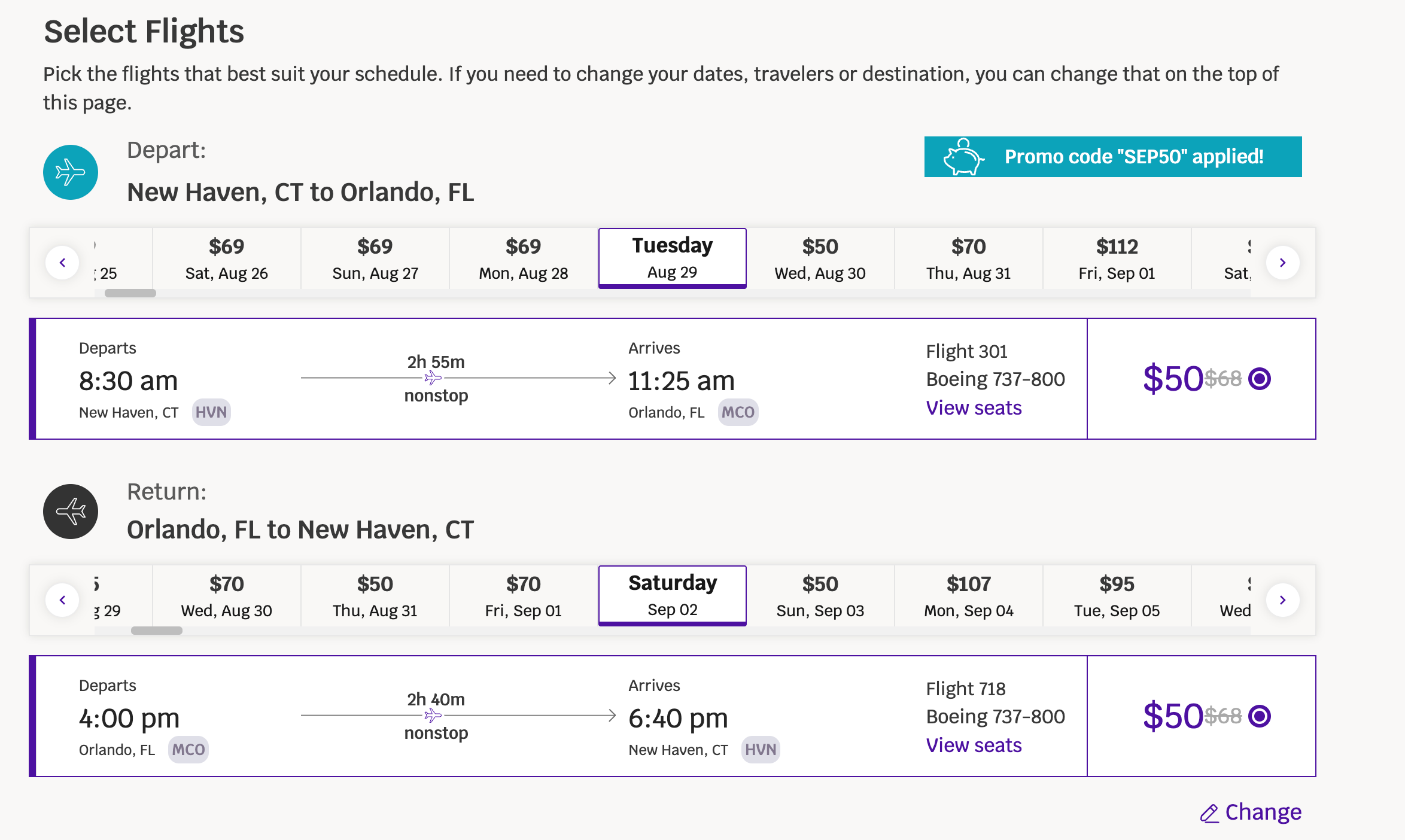 You have the option to choose a seat, but you'll have to pay extra. Seat costs range from $11 to $64, with the most expensive ones at the exit row of the aircraft. In this case, you'd definitely want to choose a seat and pay the extra fees to ensure you get a comfortable spot on the plane.
If you choose $15 seats by the window for a flight to and from Orlando, that tacks an additional $30 onto your airfare.
Since it's a budget carrier, Avelo also charges extra for carry-ons. A carry-on costs $50 each way, and checked baggage costs $40 each way. If you're fine with flying with just a backpack as a personal item, you can save a substantial amount in travel costs.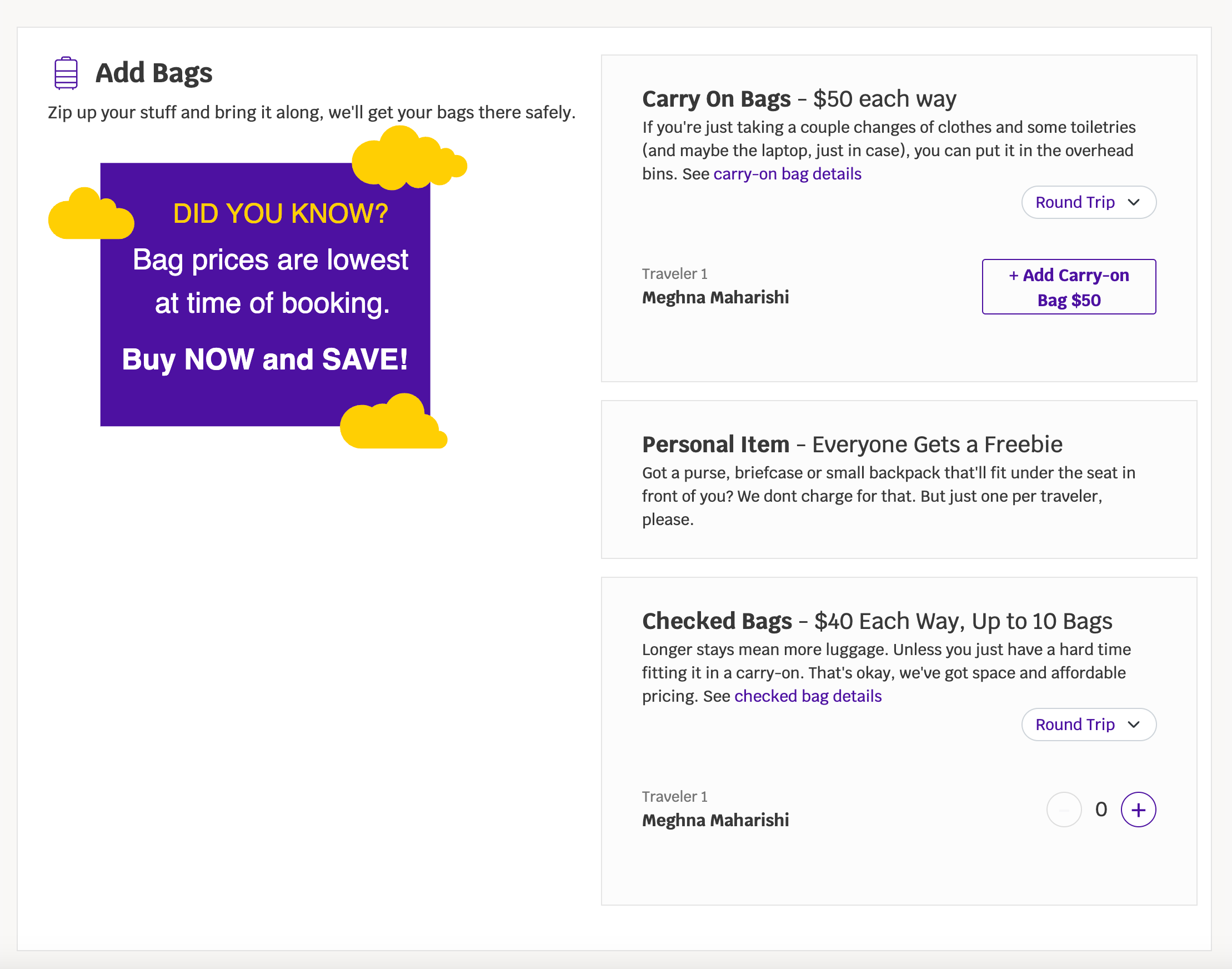 Without any carry-ons or checked-in luggage, you'll end up paying $128.88 for the whole round-trip (this price includes the seat selection), and if you also forgo the seat selection, then you'll only be spending a $100 for a round-trip to Orlando, which is a solid discount.
Maximize your purchase
Make sure to use cards that earn bonus points on airfare purchases, such as:
Bottom line
The Avelo deal is convenient if you're a budget traveler looking to save a significant amount in airfare. However, since Avelo is a budget carrier, it also tends to charge more for add-ons like seat selection and carry-ons. These extras can drive up your travel costs.
The additional fees might make it feel no different from booking with a bigger carrier. However, if you're able to limit yourself to only a personal item and don't want to select a seat, then the Avelo discount can really help you save on airfare.