Editor's note: TPG's Ashley Kosciolek accepted a free trip from MSC Cruises to sail from MSC Meraviglia's new homeport in Brooklyn. The opinions expressed below are entirely hers and weren't subject to review by the line.
Do you enjoy large cruise ships but still want to feel like you're in the lap of luxury? Passengers booked in MSC Cruises' Yacht Club cabins and suites have access to high-end amenities – both on the ship and off.
Butlers, exclusive dining and a private pool delight guests on board, but perks also await on MSC's private island, Ocean Cay Marine Reserve, in the Bahamas. You can expect dedicated trams, towel service and a chance to book the nicest cabanas on the island, among other extras.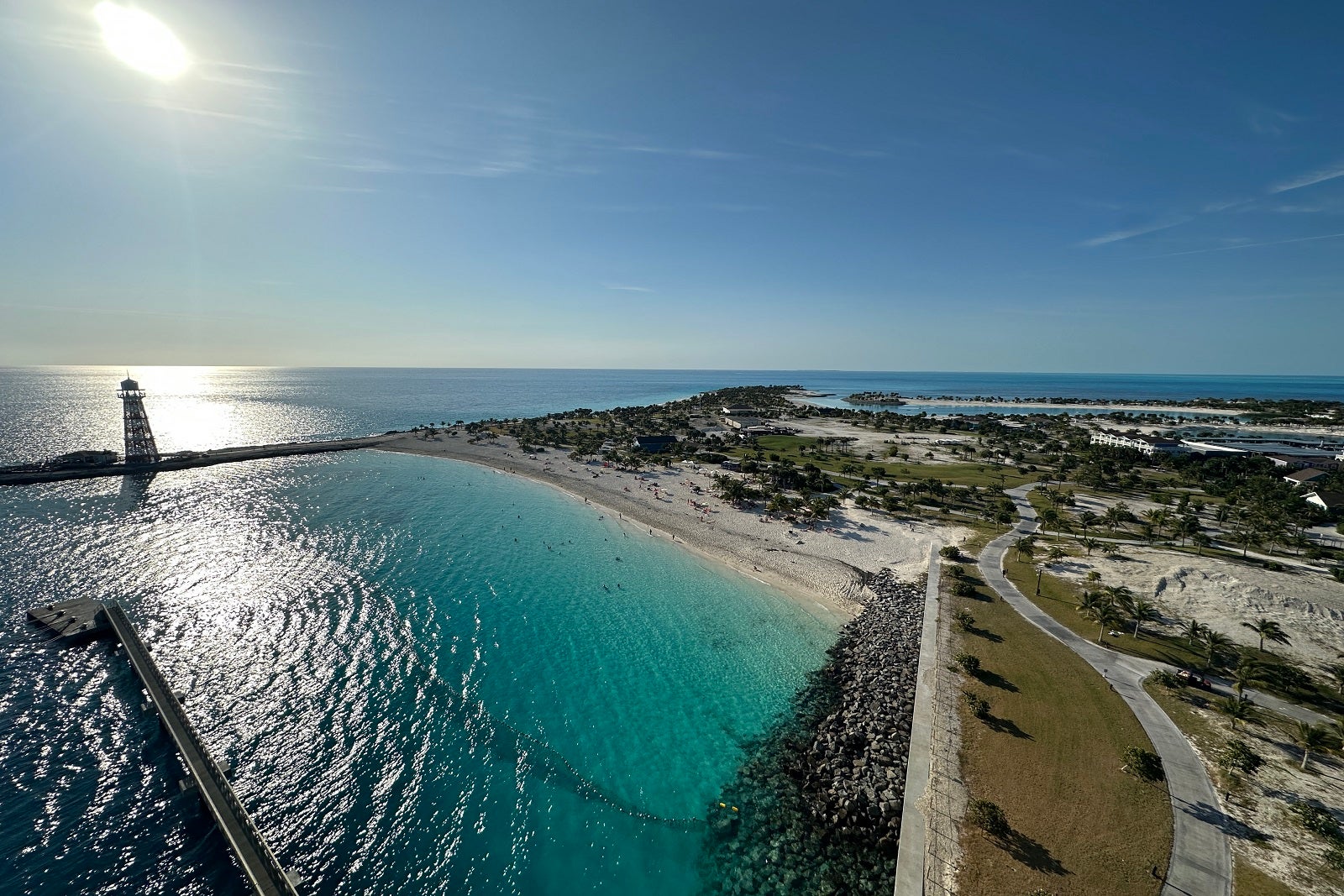 Read on to find out how the MSC Yacht Club Ocean Cay experience differs from that of the average cruiser.
For more cruise guides, news and tips, sign up for TPG's cruise newsletter.
MSC Ocean Cay Yacht Club beaches vs. regular beaches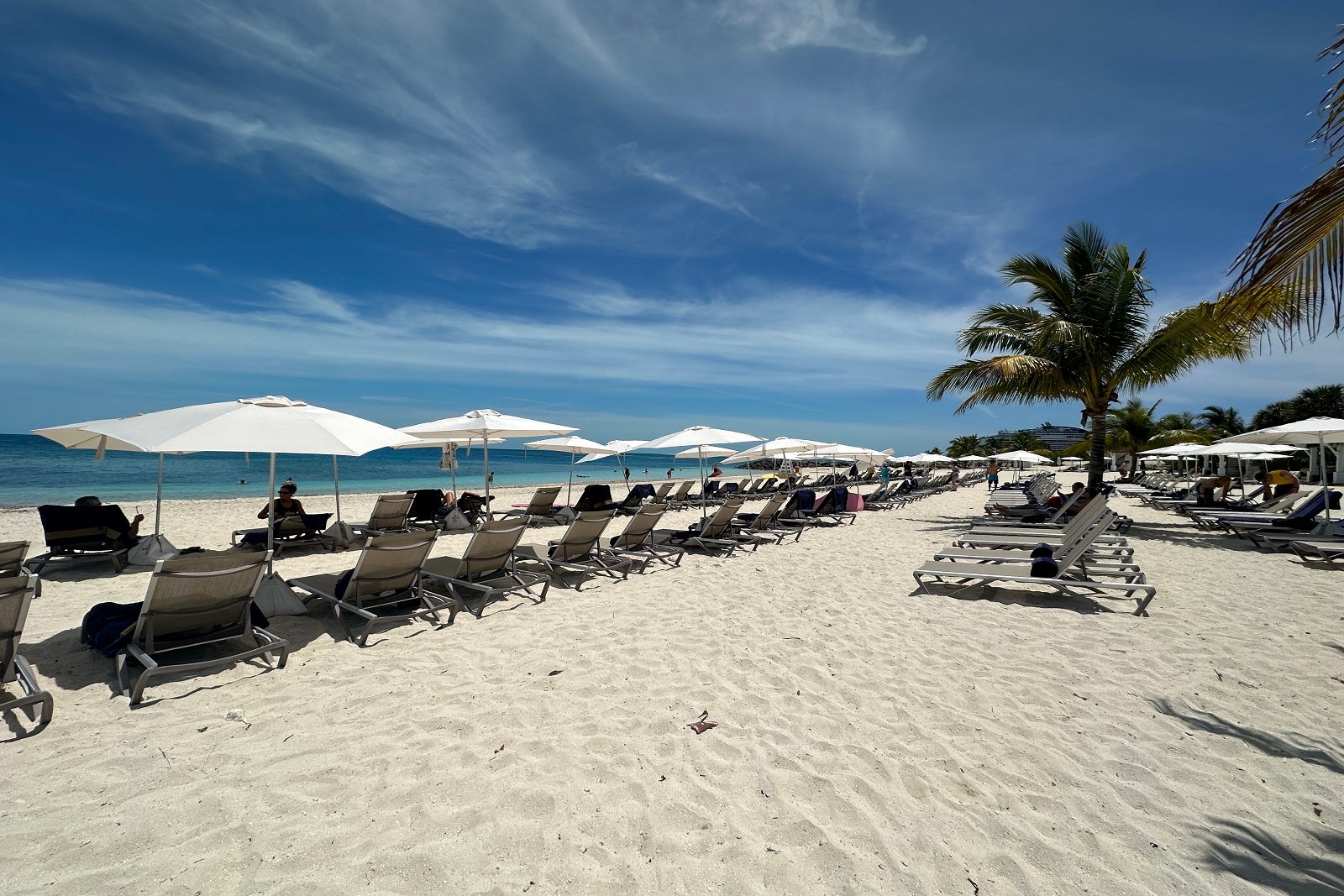 MSC's Ocean Cay Marine Reserve private island is home to seven (soon to be eight) beaches, and all are public, except one — Ocean House Beach, which is the Yacht Club's exclusive swath of sand. Beyond its exclusivity, the beach has a few other differences from the island's regular beaches.
There, use of lounge chairs and umbrellas is free. Chairs at the other beaches are also free and available on a first-come, first-served basis; however, umbrellas come with an extra cost.
Passengers must sign out towels on board the ship before heading ashore to Ocean Cay's main beaches. Yacht Club passengers can skip that hassle and ask for towels at the towel tent found on Ocean House Beach.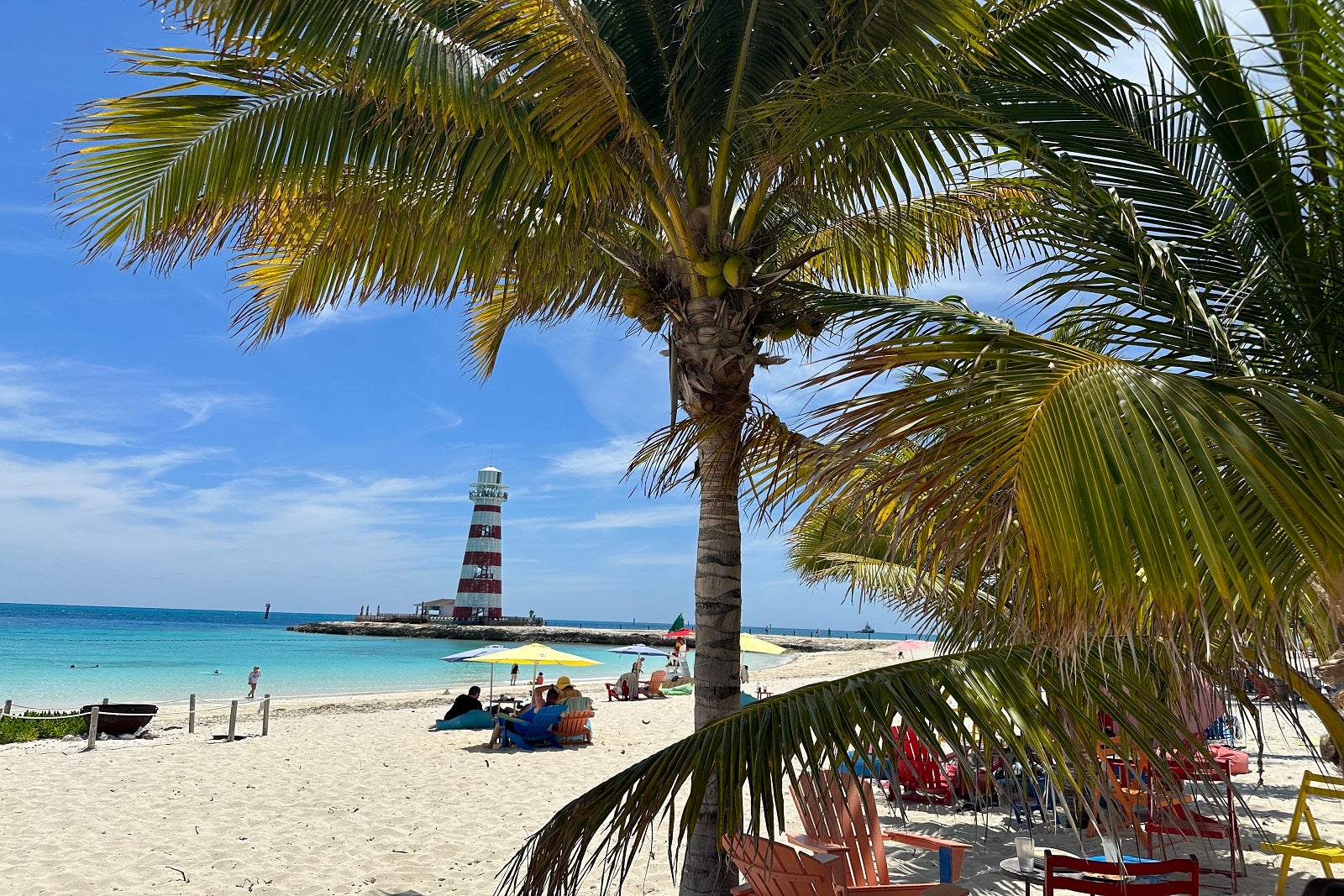 Interestingly, I found that several of the public beaches were less crowded than Ocean House Beach. At the latter, chairs were positioned much more closely to one another. If you're willing to walk or hitch a ride on one of the island's trams, you'll find fewer crowds on the farther beaches than if you stick close to the ship.
MSC Ocean Cay Yacht Club food vs. regular dining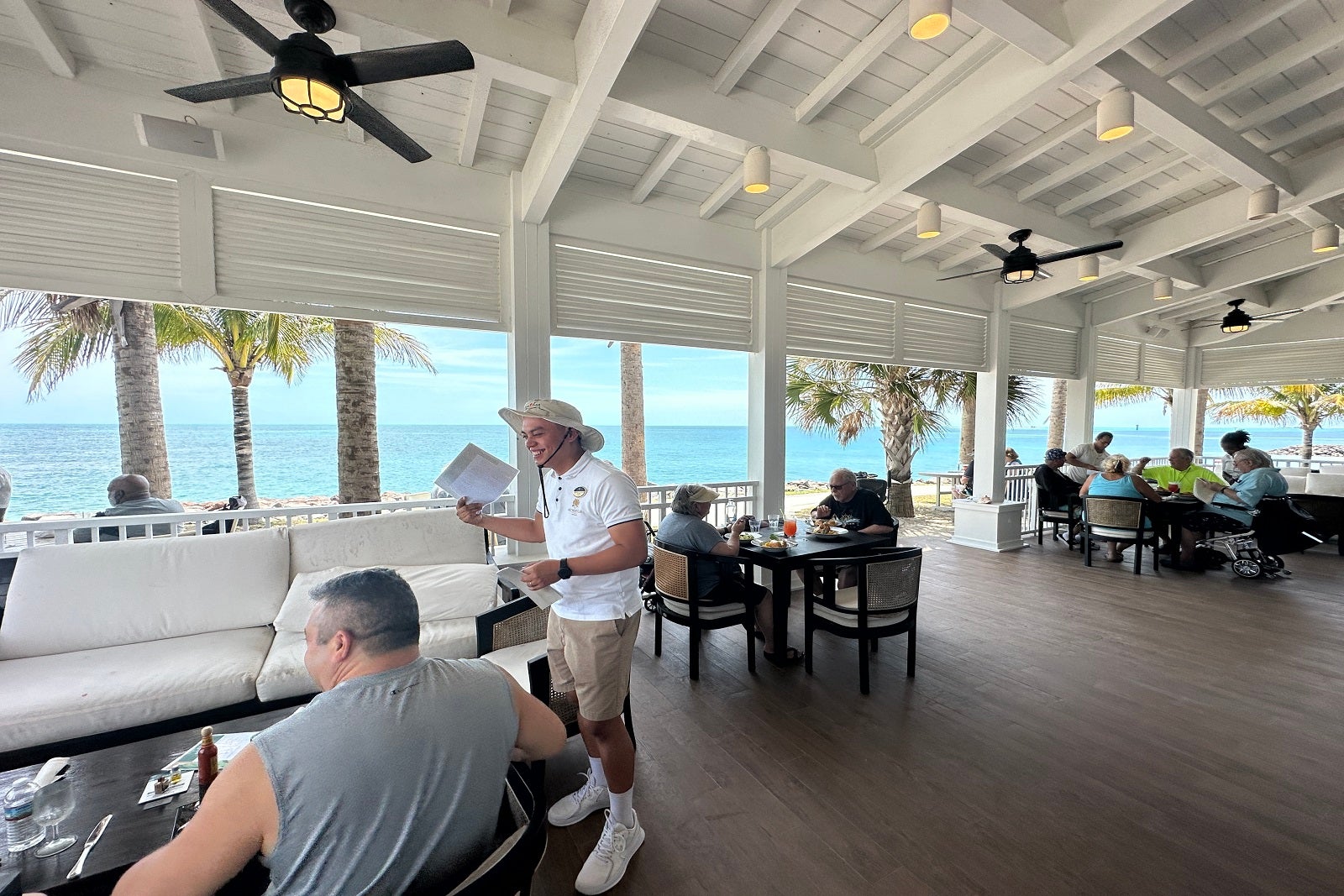 Free lunch is included for all cruisers who visit Ocean Cay. For Yacht Club travelers, the Ocean House Restaurant — an exclusive waiter-served dining venue where passengers enjoy their meals on a shaded porch — exudes upscale beach vibes.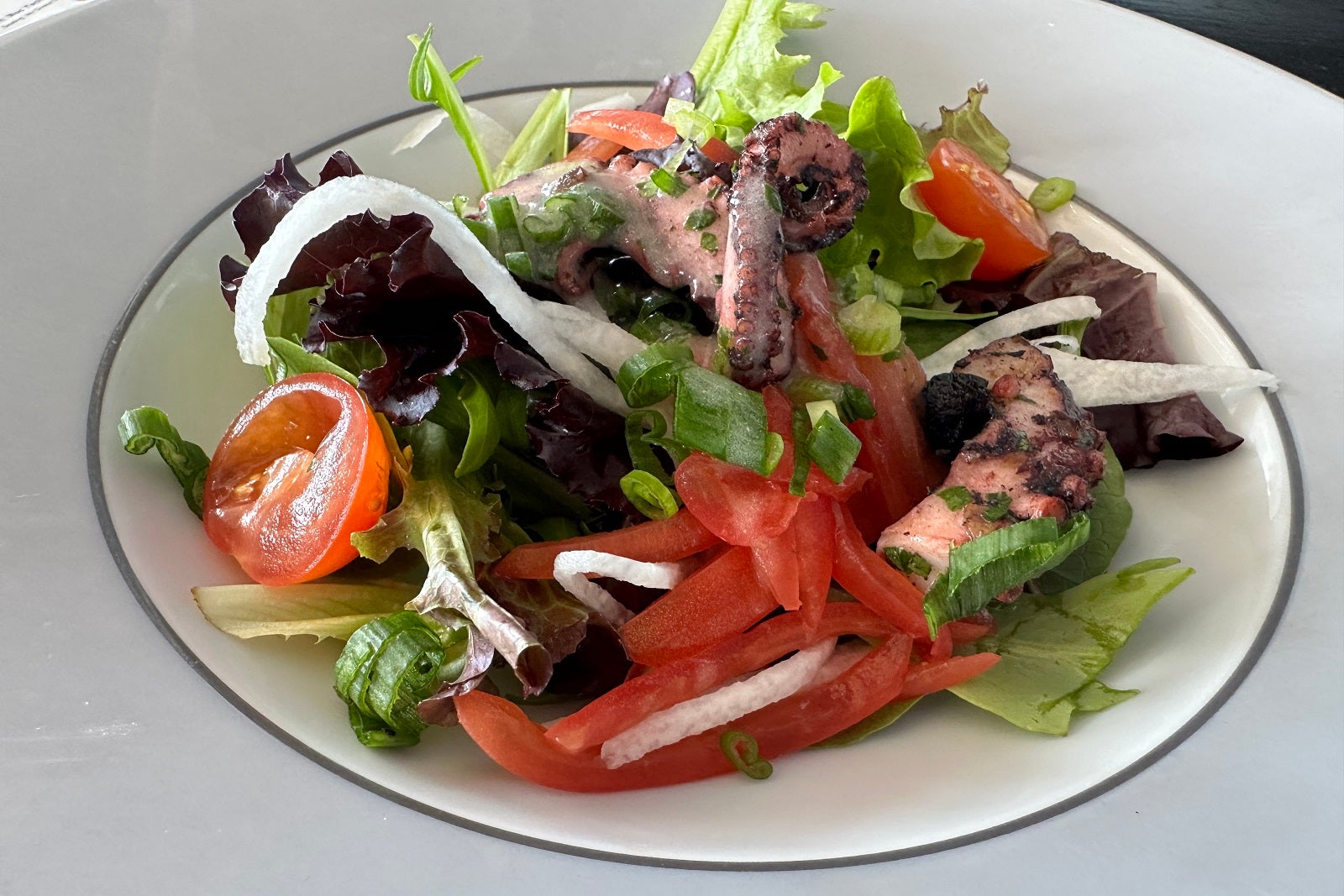 During my visit, the menu included starters like crab ceviche, charred octopus and a salad with romaine, tomatoes, jicama, a poached egg and candied bacon in a citrus dressing. Mains featured locally sourced blackened mahi-mahi, lobster roll, carne asada, a grilled portobello mushroom sandwich and one of the best burgers I've ever tasted during a cruise — a blend of Angus chuck, short ribs and grilled brisket with red onion jam and Monterey Jack cheese. Desserts consisted of creme caramel, mango cheesecake and chocolate cake with coffee sauce.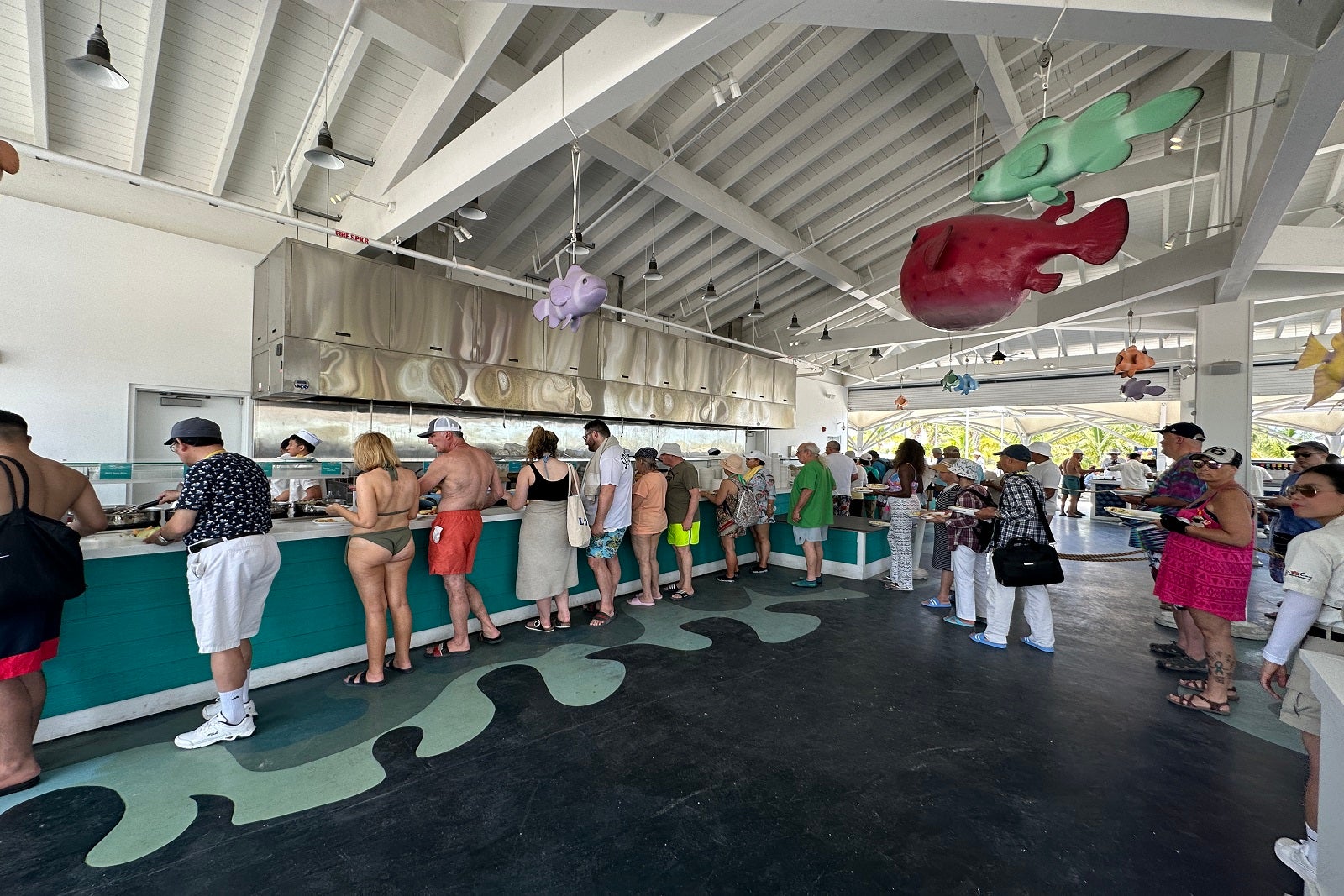 The meals at Ocean House are definitely superior to the fare found at the Seakers buffet, which is where cruisers not staying in the Yacht Club can go for a beach barbecue that serves hot dogs, hamburgers, chicken, macaroni and cheese, red beans, roasted potatoes and a slew of salads, drinks and desserts.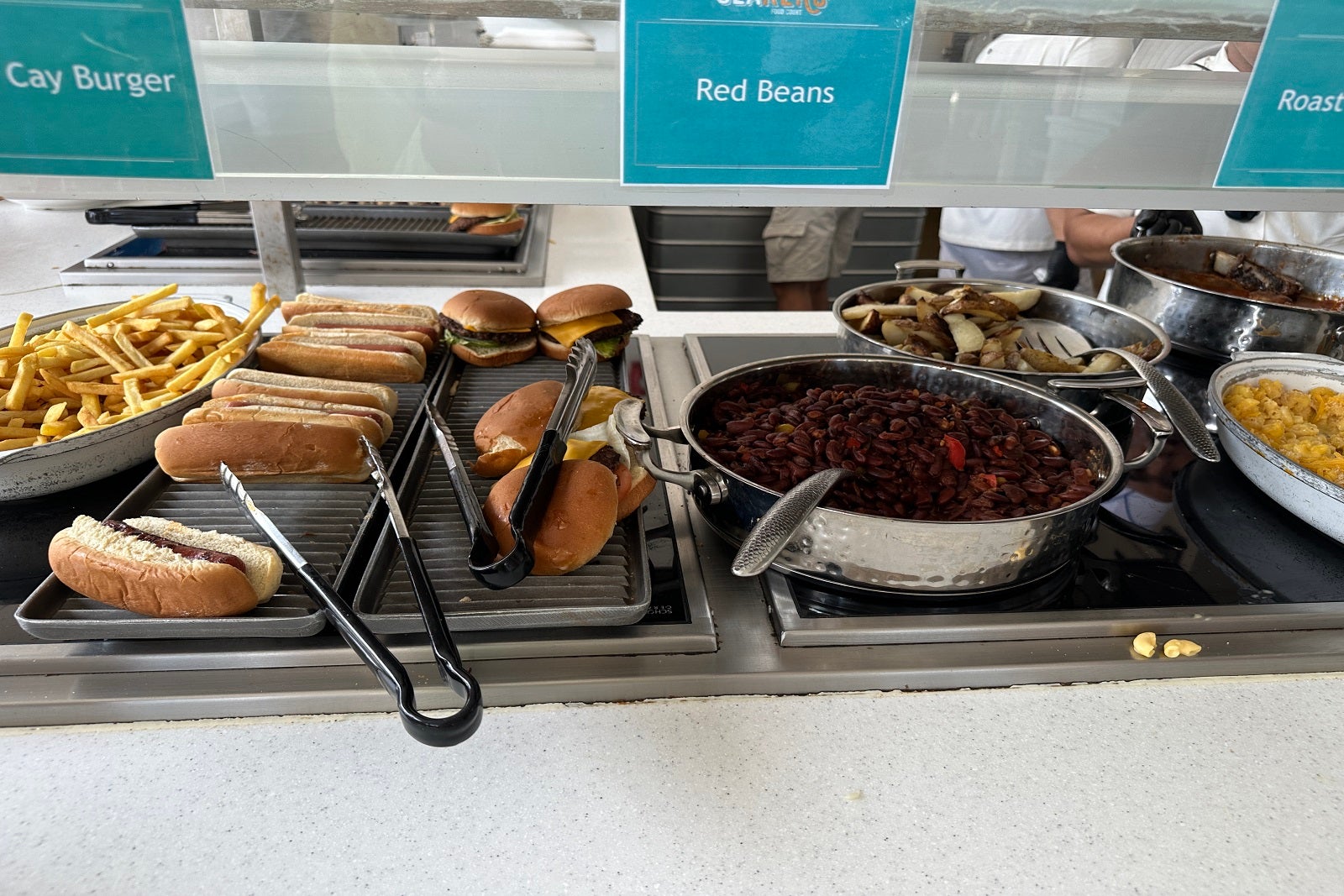 The food is tasty, but lines can be long. An alternative is to head to one of several food trucks throughout the island. Some are free and dole out the same items offered on the buffet but with shorter lines. Others sell entirely different menu items — lobster grilled cheese, fried calamari, shrimp with watermelon, Caribbean ceviche and octopus salad — with the cost charged to cruisers' onboard accounts.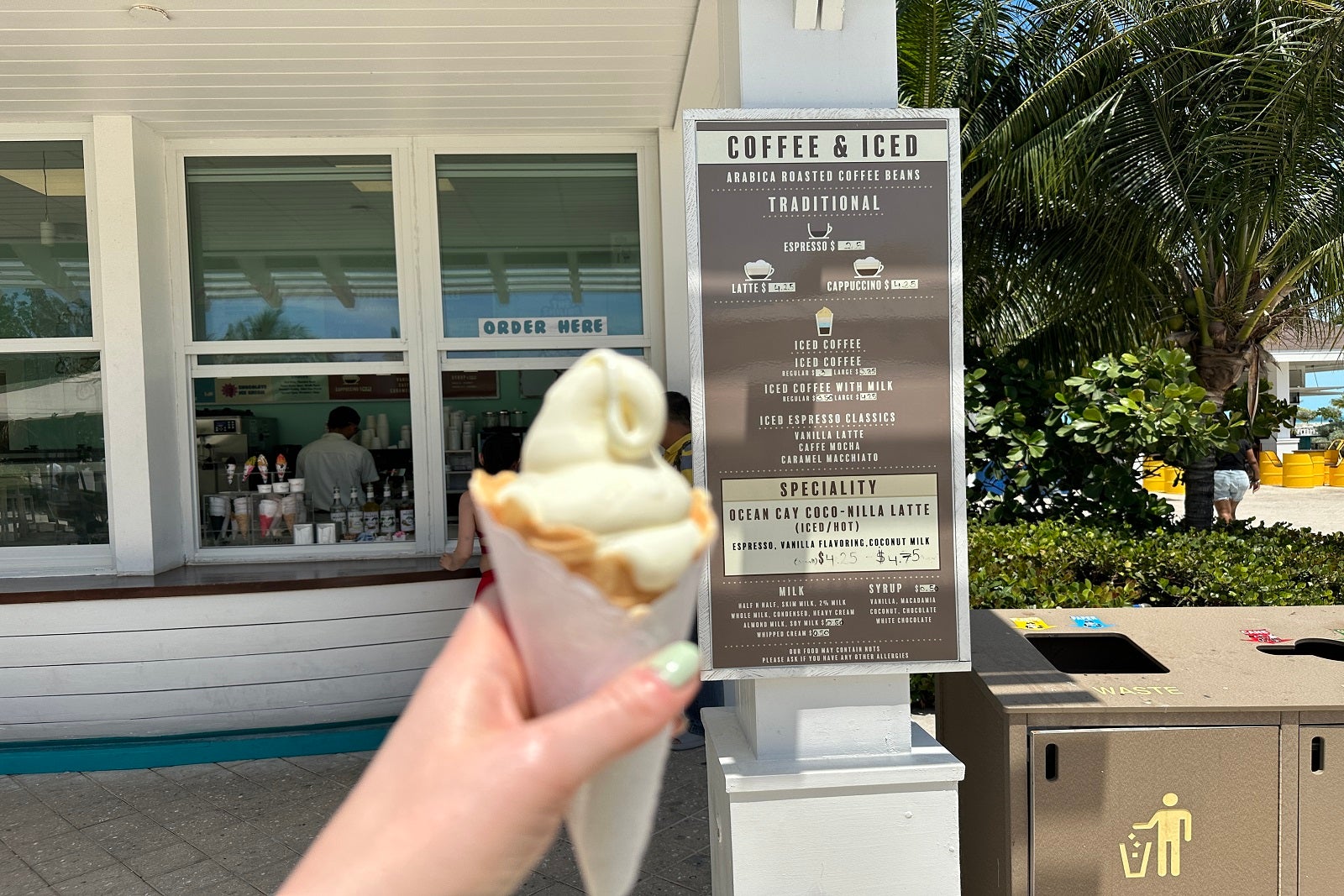 Additionally — and also for an extra fee — a stand near the ship offers specialty coffee and ice cream. (If you're a coffee lover, trust me when I say you won't want to miss the Coco-Nilla Latte.)
MSC Ocean Cay Yacht Club cabanas vs. regular cabanas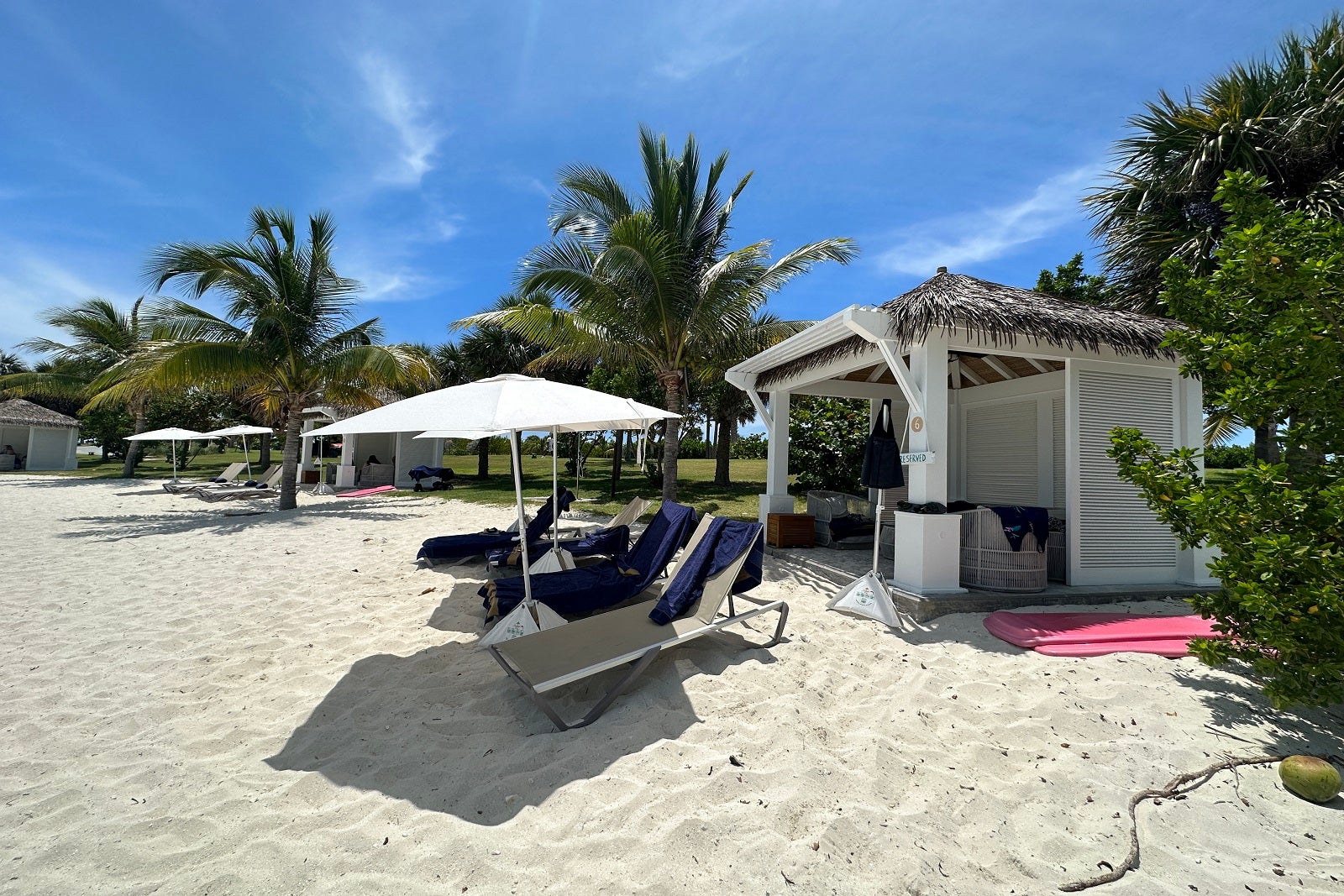 There are three types of cabanas on Ocean Cay: Ocean Cay Beach Cabanas, Ocean View Yacht Club Cabanas and Beachfront Yacht Club Cabanas. All three types are available on a first-come, first-served basis.
They can hold up to six people each and include cold water, beach towels and chairs, as well as floating mats for use in the water. As the prices increase, so does the number of inclusions. The last two types are only available for booking by Yacht Club passengers.
Ocean Cay Beach Cabanas, found on South Beach, North Beach and Bimini Beach, are the most affordable on the island at $250 for the day. They've got walls on three sides, and they're outfitted with cushioned couches. They include the basic amenities mentioned above, and anyone can rent them.
Next up are the Ocean View Yacht Club Cabanas, which cost $400 for the day and also entitle you to free lunch and drinks, as well as fresh fruit skewers, four sets of snorkel gear and four floating mats. They're found on the Yacht Club's private Ocean House Beach, so they're off-limits to non-Yacht Club guests.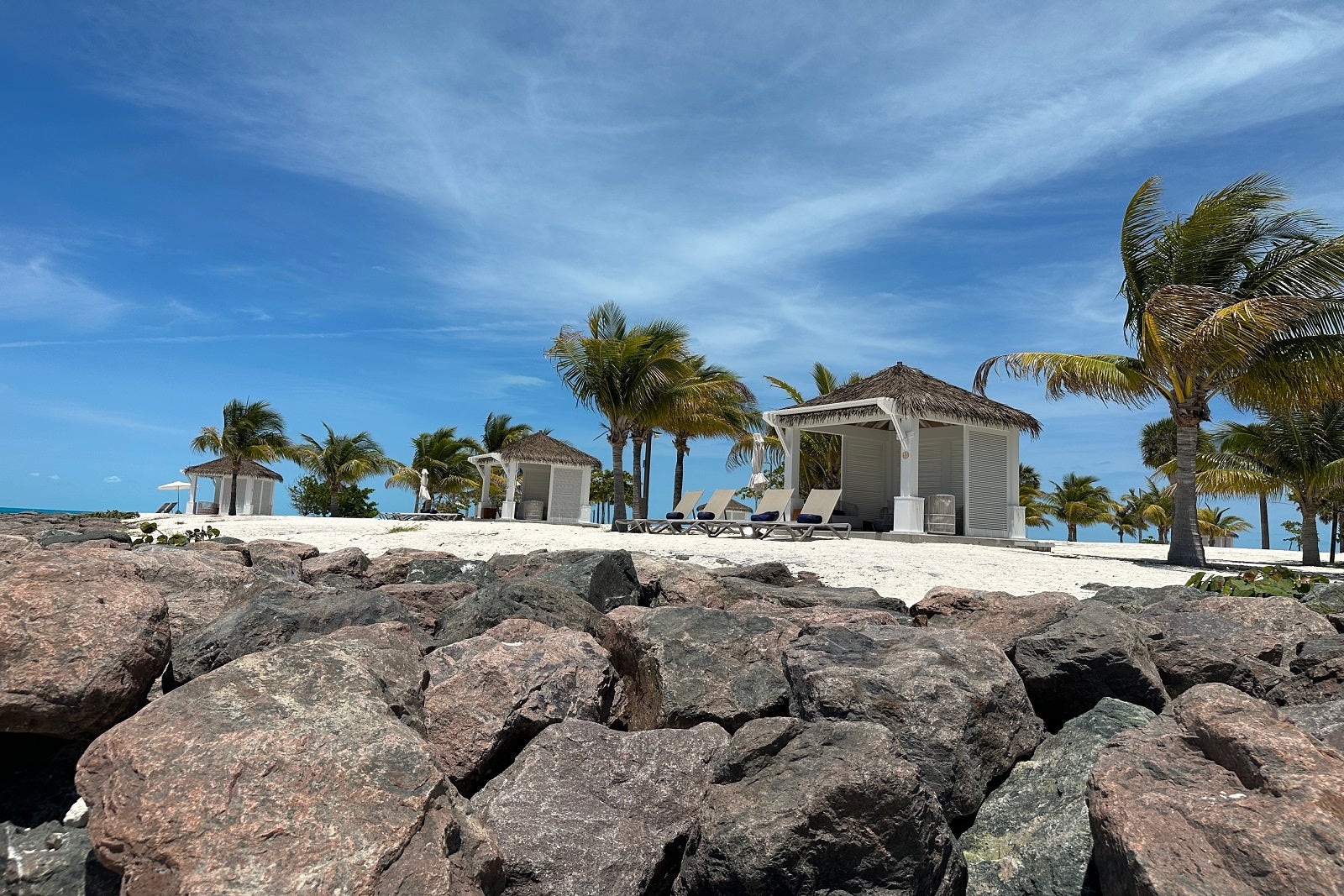 The most expensive, however, are the Beachfront Yacht Club Cabanas, located in a different section of the Ocean House area. They carry a $450 price tag but offer all the same extras as Ocean View Yacht Club Cabanas.
The draw? They're closer to the water and, therefore, have better views. Although they aren't on the main part of Ocean House Beach, they are still in the exclusive area, near the restaurant, so you don't have to go far to grab food.
Ultimately, the only thing being in the Yacht Club affords you in this case is the option to book more expensive cabanas.
MSC Ocean Cay Yacht Club trams vs. regular trams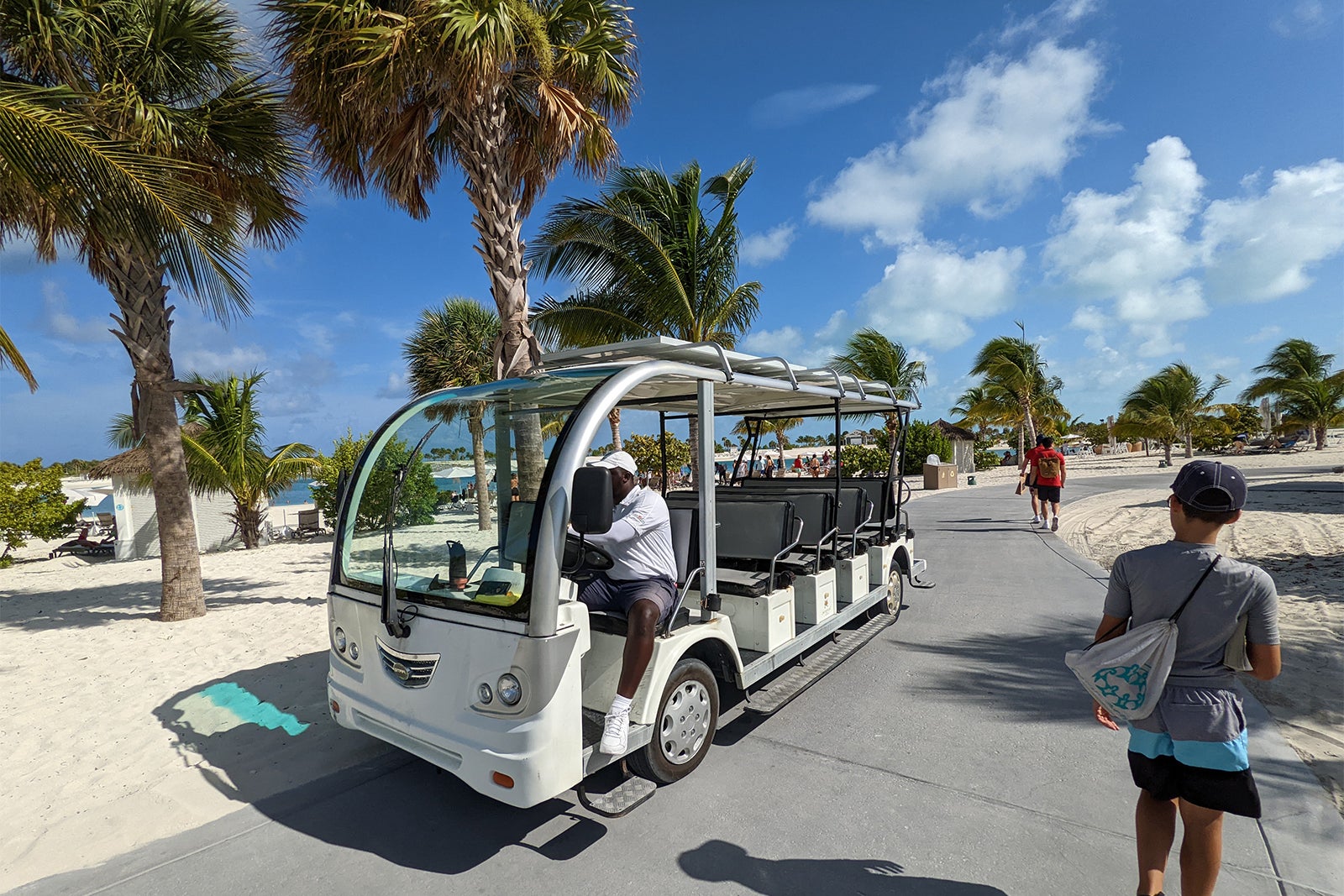 At 95 acres, Ocean Cay is sizable. If you're fit, you can walk from one end to the other in about 15 minutes, but if you don't have great mobility or if you're easily overheated, reaching some of the island's more remote beaches can be difficult on foot. That's why MSC offers tram shuttles.
Passengers in standard cabins will find tram stops with shaded waiting areas throughout the island. However, waits can be long, especially if many other people are also in need of a lift.
Yacht Club cruisers can take advantage of trams exclusively for the Yacht Club. They run between a special tent (with free cold water to sip while you wait) set up just inside the entrance to Ocean Cay and the Ocean House beach and restaurant area.
You can make special requests for stops, which the regular trams usually won't accommodate. For example, you might ask to go straight from the tent to South Beach for a volleyball game without stopping anywhere else first.
MSC Ocean Cay Yacht Club activities vs. regular activities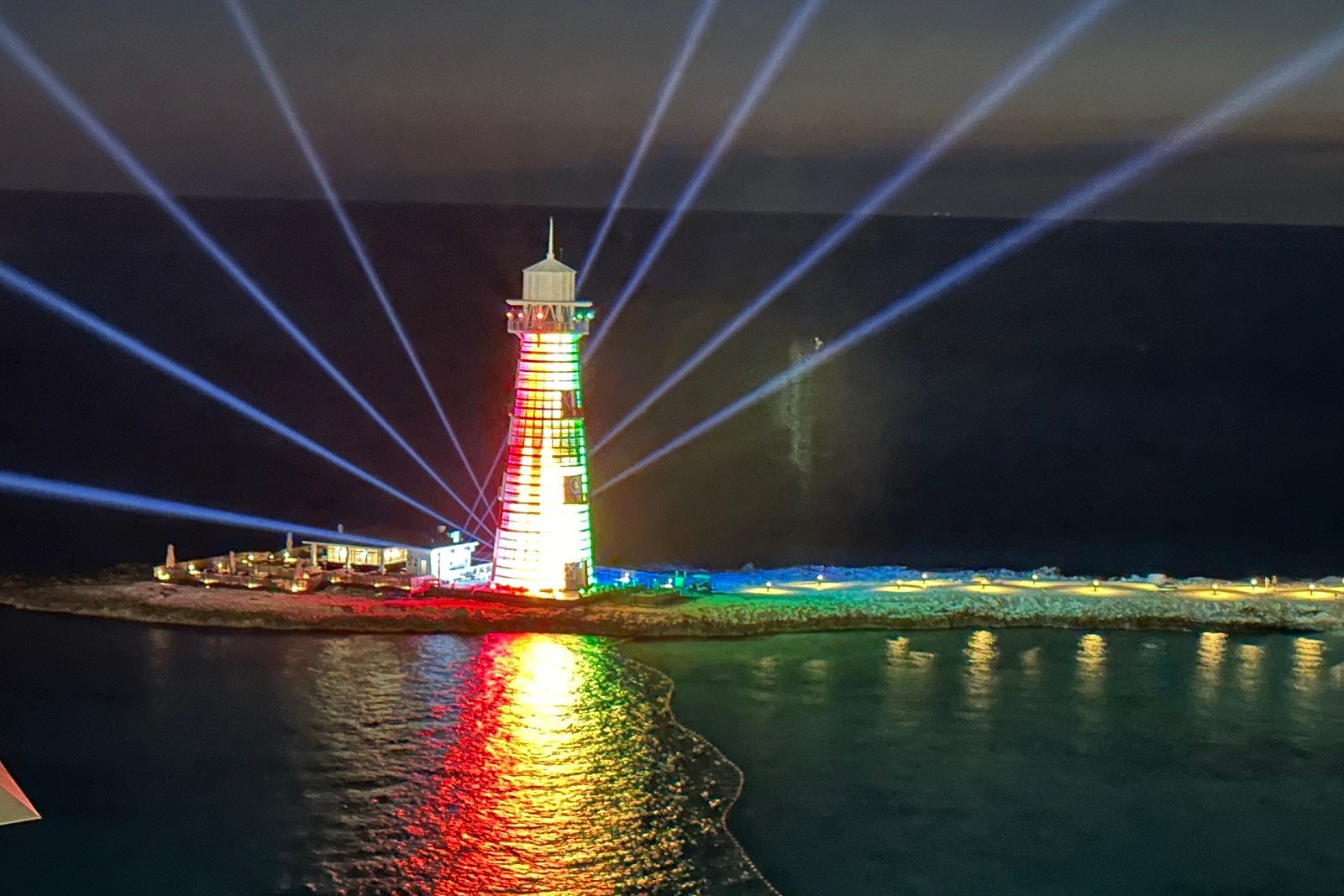 This is the one category where the island's public spaces beat the Ocean House area by a mile. If you're looking for something to do other than eating, drinking or lazing by the beach, you'll have to head back toward the ship because there's not much going on in the exclusive areas.
Everything from massages, lighthouse tours and water sports equipment rentals to beach parties, volleyball games and shore excursions takes place elsewhere. However, perhaps that's by design. The Yacht Club is generally quiet, even on board, and the line likely prefers to keep the raucousness to other locations.
Bottom line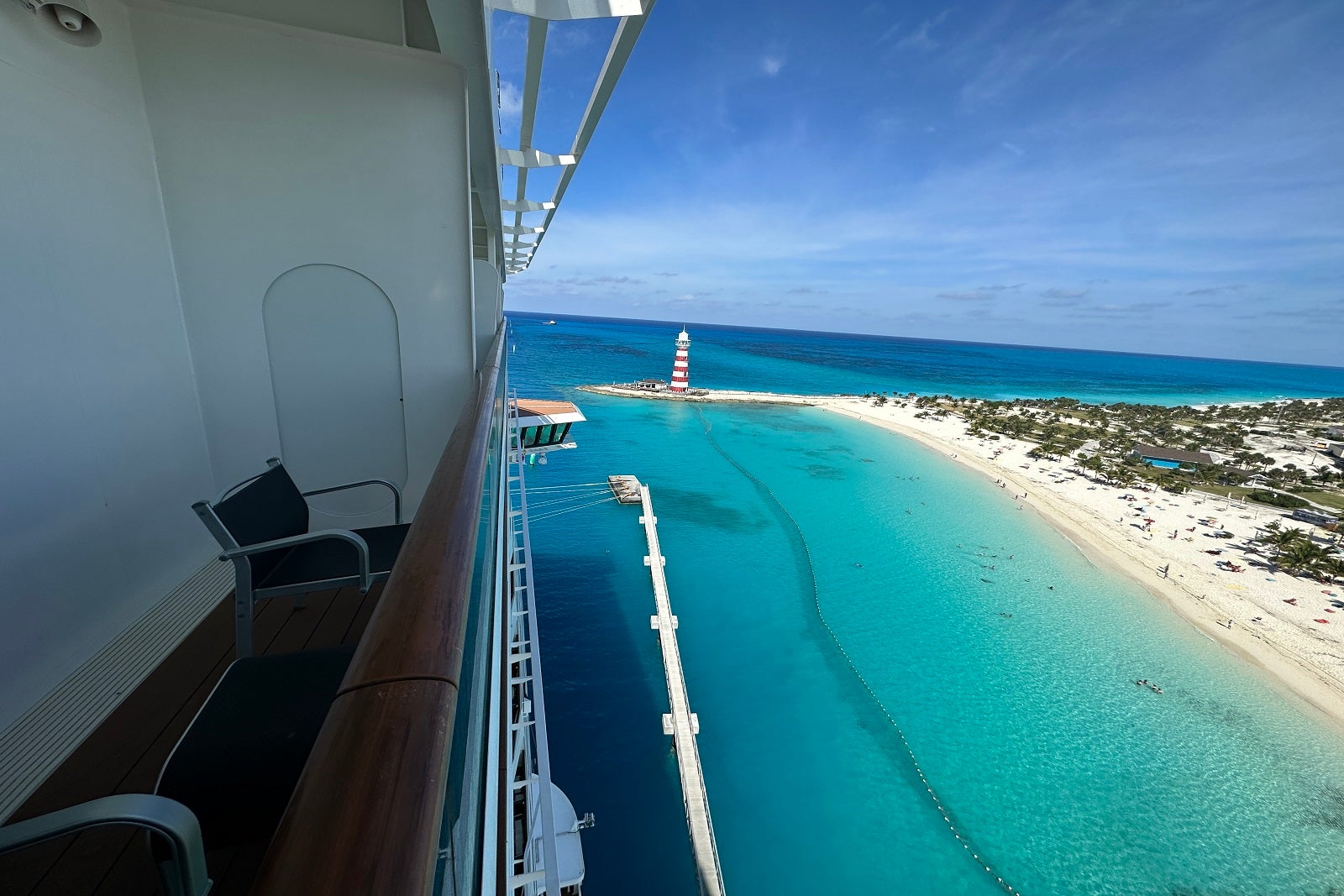 The MSC Yacht Club experience is more exclusive than the standard one at Ocean Cay, with extras like butler service, dedicated trams, towel service, access to pricier cabanas and a private beach and restaurant with better food and shorter waits.
However, all of the action — shore excursions, pickup volleyball games, beach parties, the lighthouse show — happens in the areas that are accessible to everyone, which significantly levels the playing field.
Additionally, items like specialty coffee, ice cream and for-fee food truck orders cost extra for everyone — even Yacht Club passengers.
Overall, Ocean Cay offers a great day for anyone who enjoys the beach, regardless of cabin type.
Planning a cruise? Start with these stories: