Editor's note: This is a recurring post, regularly updated with the latest information.
The American Express International Airline Program is a lesser-known benefit for cardholders of The Platinum Card® from American Express, The Business Platinum Card® from American Express or the Centurion Card from American Express.
The IAP has undergone positive changes in recent years, making it more accessible and useful. It offers discounts on first-class, business-class and premium economy tickets, which you can book directly through Amex Travel.
Here's how to make the most of the IAP and save money on your next premium cabin flight.
The information for the Centurion Card has been collected independently by The Points Guy. The card details on this page have not been reviewed or provided by the card issuer.
What is the International Airline Program?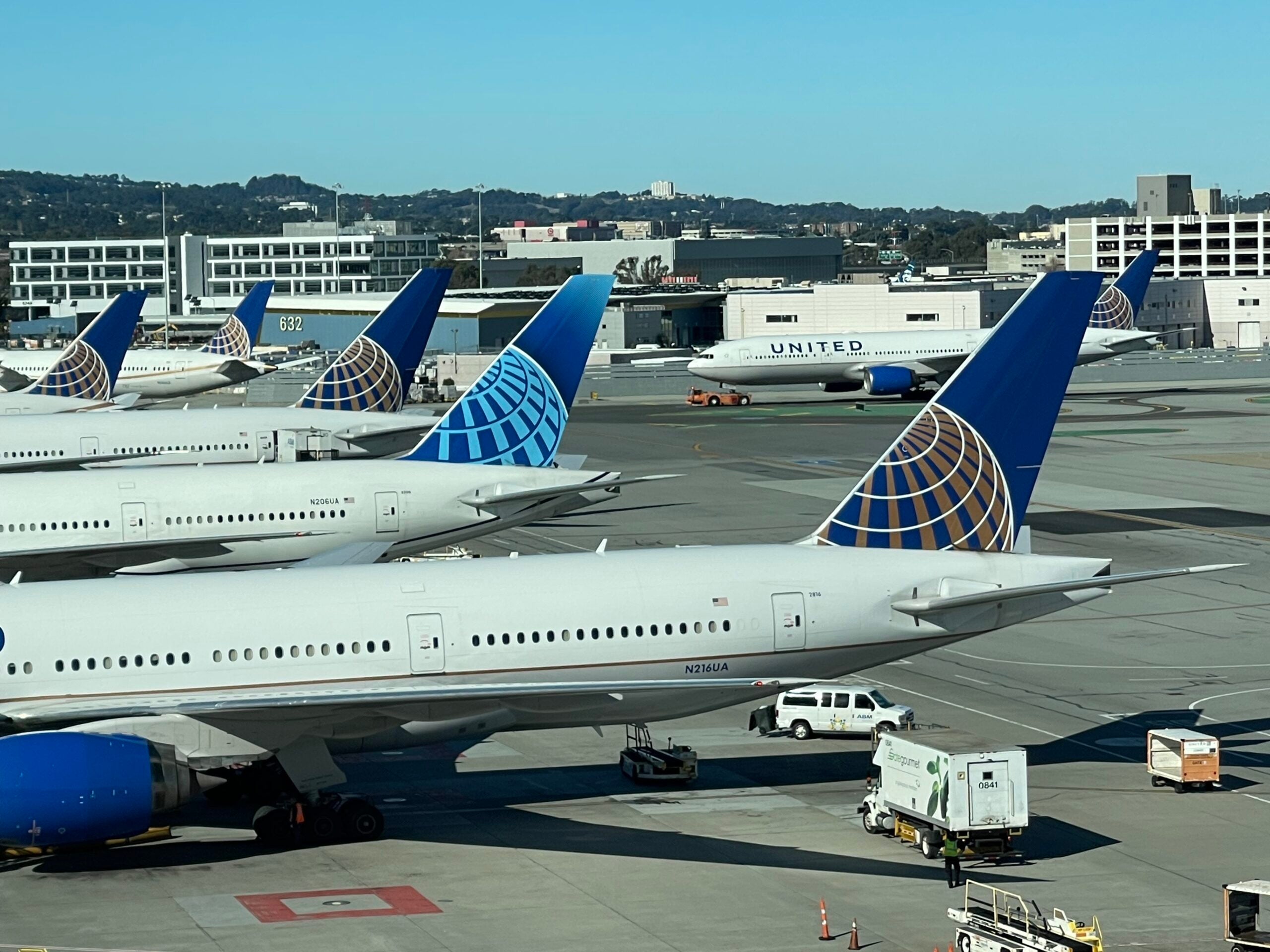 The IAP lets eligible cardholders book premium-cabin flights for up to eight people on the same reservation (the cardmember plus seven additional travelers). To receive the savings, the cardmember must be one of the passengers.
While there are two dozen participating airlines, not all offer discounts consistently. Delta Air Lines and other SkyTeam partners typically provide discounts, but the amount saved can vary depending on the fare and route. Here is a list of the participating IAP airlines:
Aeromexico
Aer Lingus
Air Europa
Air France
Air New Zealand
ANA
Asiana
Austrian
Brussels Airlines
Cathay Pacific
China Airlines
Delta
Emirates
Etihad
Finnair
Japan Airlines
KLM
LATAM
Lufthansa
Qantas
Qatar
Singapore Airlines
Swiss
Virgin Atlantic
Related: The ultimate guide to Amex Membership Rewards 
What tickets are eligible for the International Airline Program?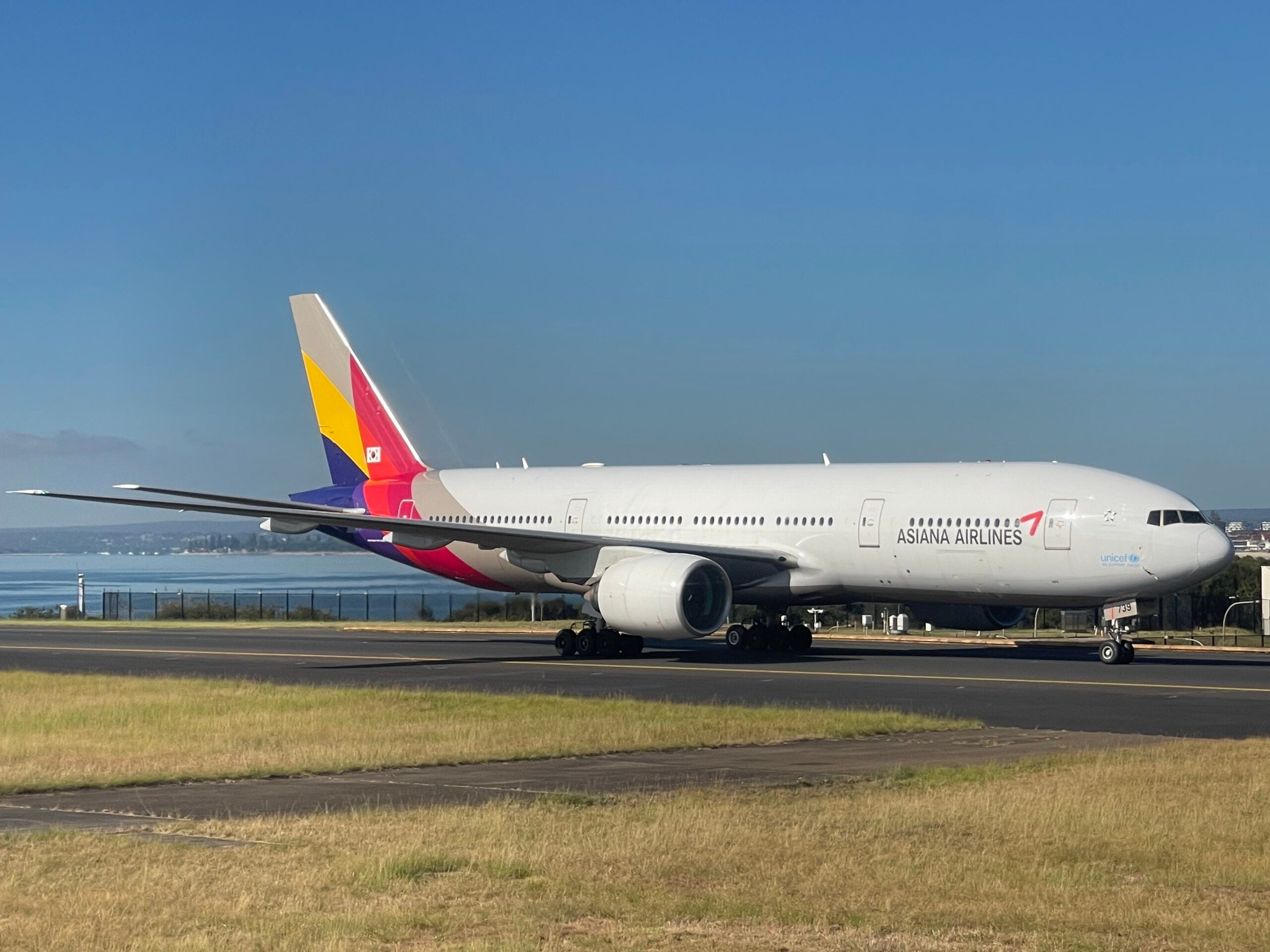 Eligible fares for the IAP include first-class, business-class and premium economy tickets with participating carriers. This benefit applies to both refundable and nonrefundable fares. The only major restriction is that the trip must originate and return in the U.S. or certain Canadian gateways, including Montreal-Trudeau International Airport (YUL), Toronto Pearson Airport (YYZ) and Vancouver International Airport (YVR).
Remember, Amex Platinum cardholders earn 5 Membership Rewards points per dollar spent when booking revenue fares through this program (on up to $500,000 on these purchases per calendar year, then 1 point per dollar). Meanwhile, Business Platinum cardholders also earn 5 points per dollar spent on IAP purchases — plus, they'll receive a 35% rebate in points for booking first and business-class flights using Amex points, up to 1 million points per calendar year.
Additionally, since these are paid tickets, you should be eligible to earn points or miles with your preferred airline loyalty program, and they should count toward elite status qualification.
Related: Your guide to Amex's travel insurance coverage
How to book flights with the International Airline Program
After finding an inexpensive business-class fare on Google Flights, check if it can be replicated using the IAP.
It's relatively easy to book flights through IAP. You must be logged in to your American Express Platinum or Business Platinum Card account and head to the Amex Travel portal. You can filter IAP fares on the left side of the page.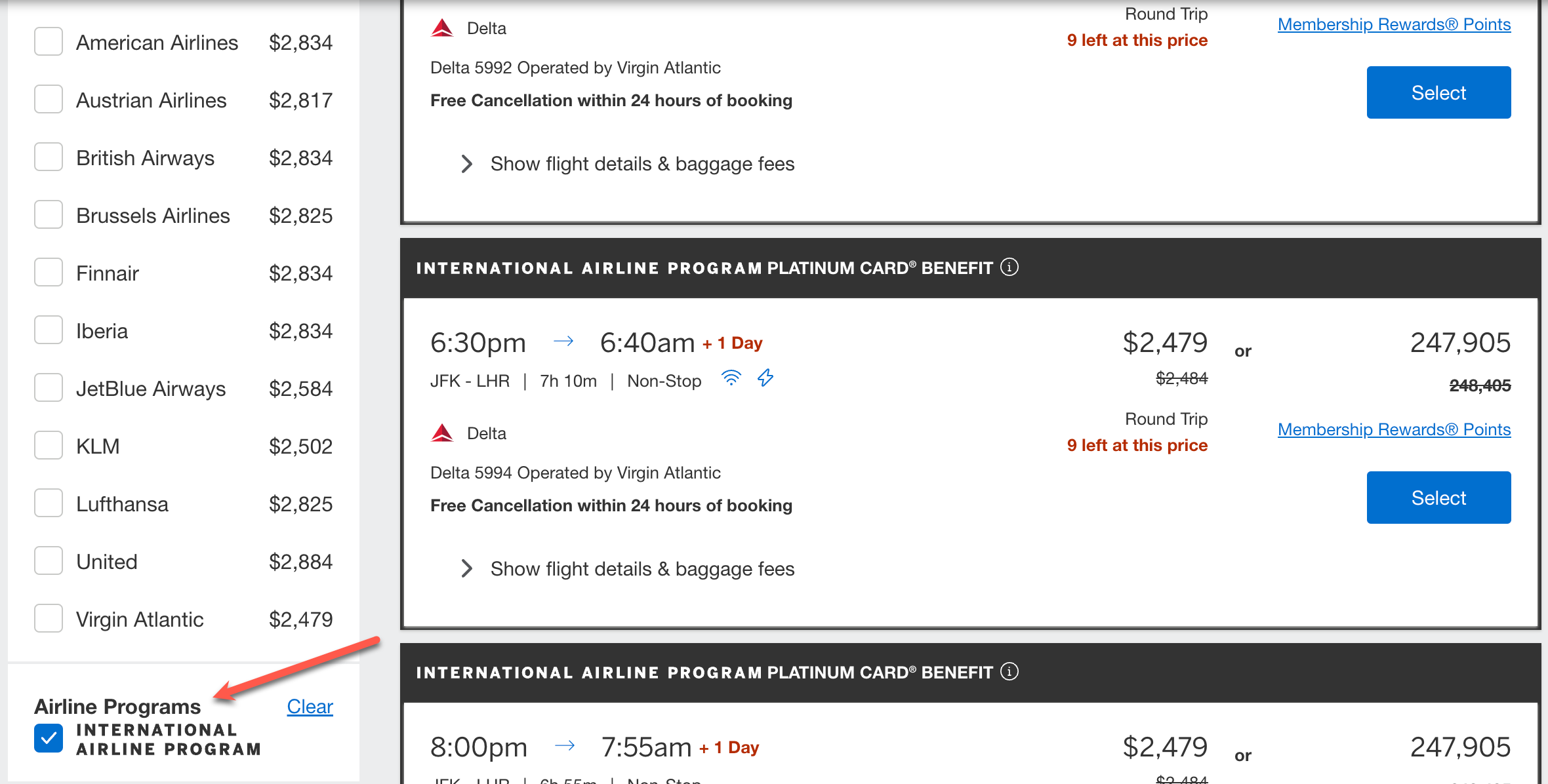 The IAP can be hit or miss, with some airlines offering cheaper fares than others. While the discount is available starting with premium economy, you'll generally find the savings jump as the fare increases.
Also, even if your airline doesn't participate in IAP, you can sometimes save money by booking a codeshare flight. For example, a round-trip United business-class flight from Newark Liberty International Airport (EWR) to London's Heathrow Airport (LHR) costs $2,884.05. However, you can book this same flight as a codeshare Austrian Airlines itinerary for $2,816.95, representing a savings of $67.10.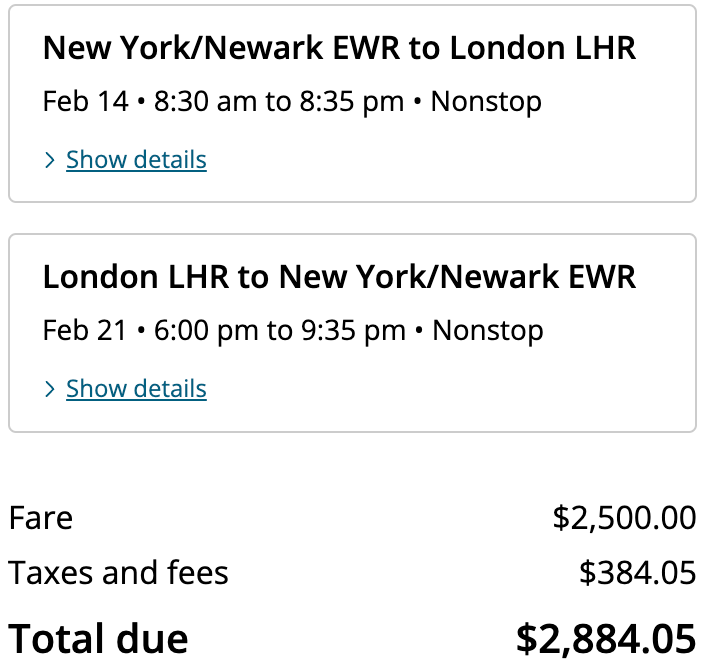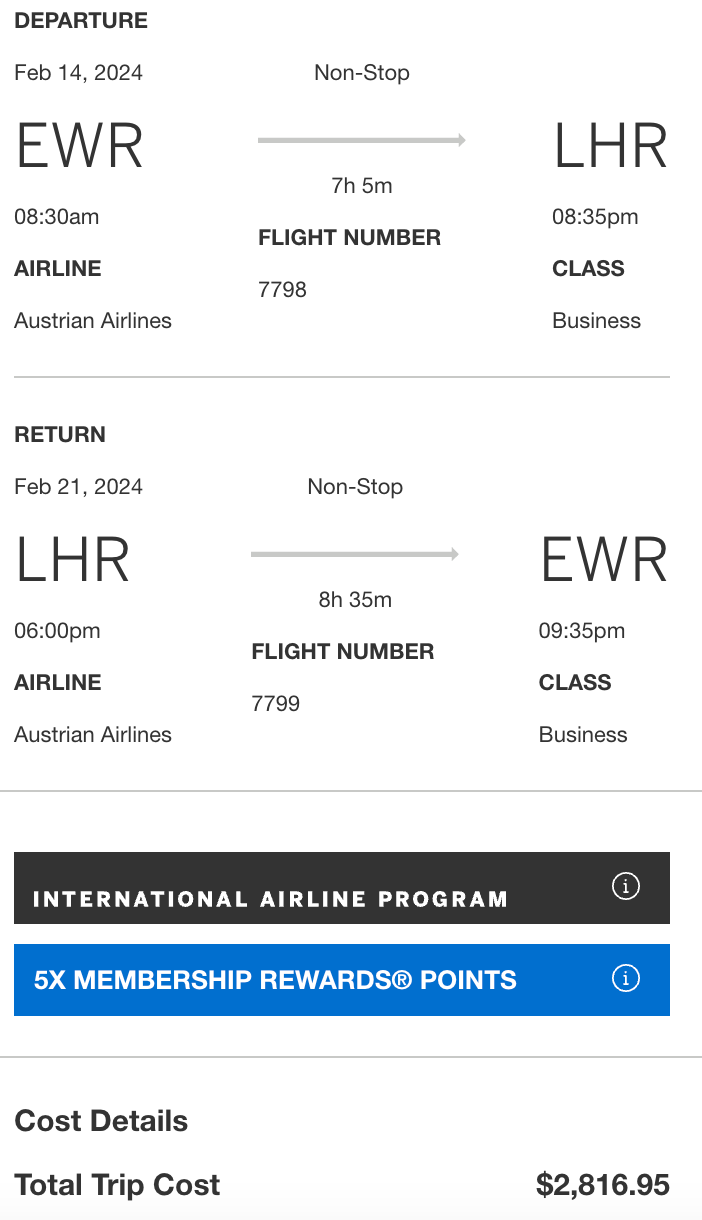 In general, you can expect to see the most significant savings on expensive flights, like this first-class ticket from Newark to Frankfurt Airport (FRA). On this itinerary, booking through the IAP saves $524.50.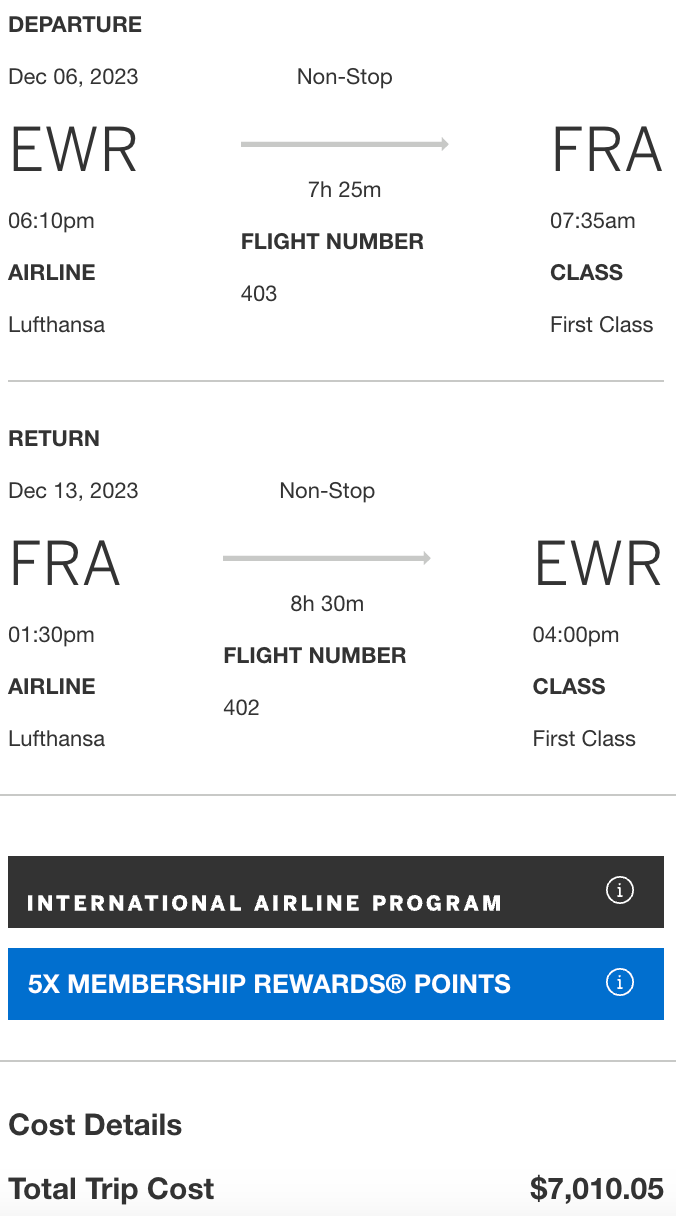 On a round-trip, business-class Japan Airlines itinerary between San Francisco International Airport (SFO) and Tokyo's Narita International Airport (NRT), booking through the IAP saves $2,025 (approximately 20%).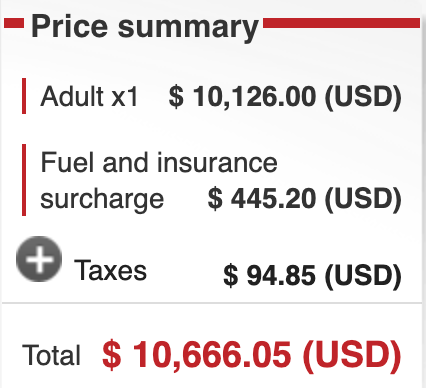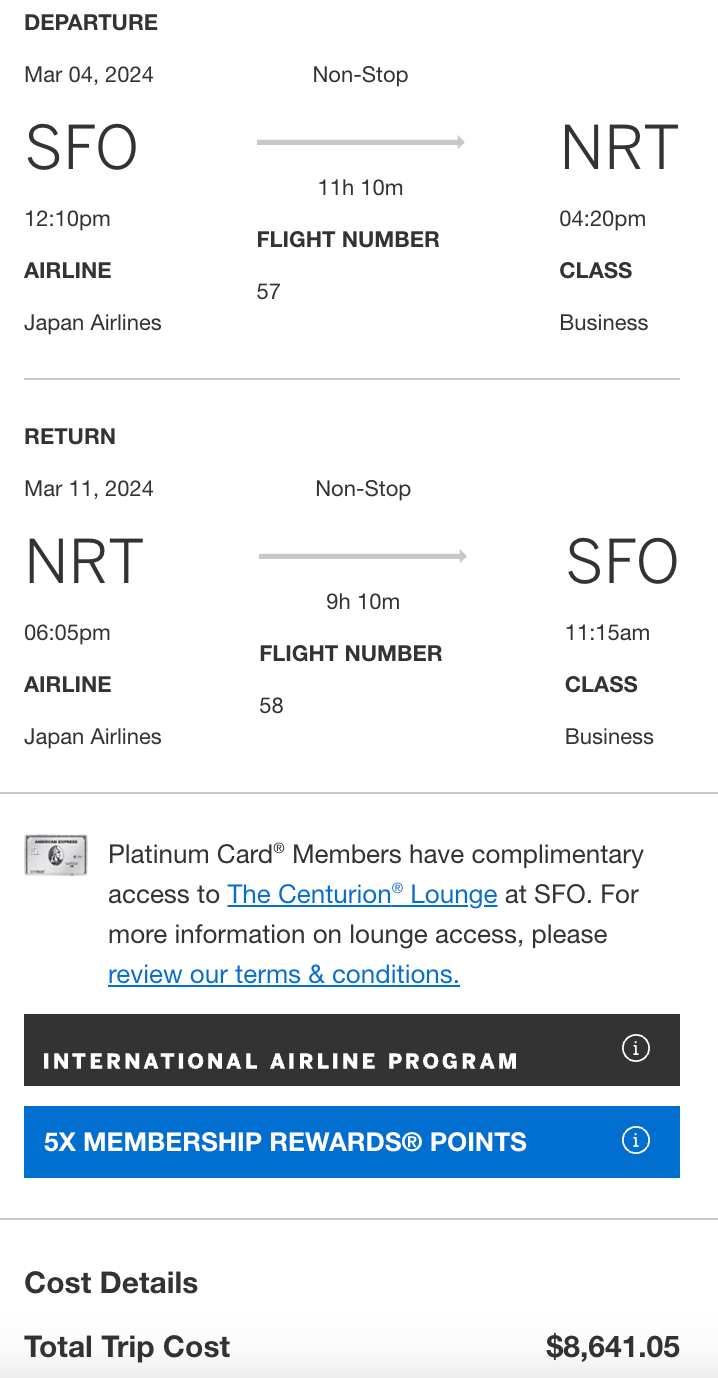 However, the price on IAP may be higher than on Google Flights and its suggested online travel agencies (OTAs). For example, this flight from Los Angeles International Airport (LAX) to Singapore Changi Airport (SIN) on ANA's business class is about $300 less expensive on Google Flights.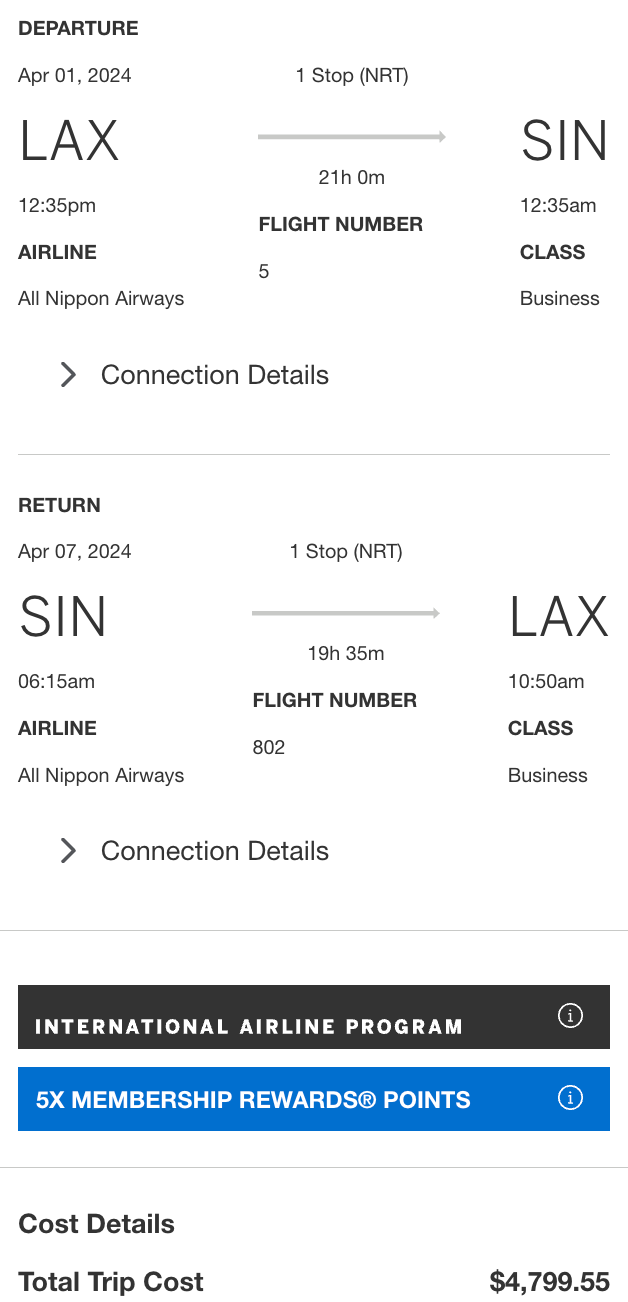 The fare you prefer may not appear as an IAP fare, even if it belongs to an IAP airline. The flight or seat may be unavailable if you cannot find IAP flights in your search results.
Related: Maximize your airfare: The best credit cards for booking flights
Paying with points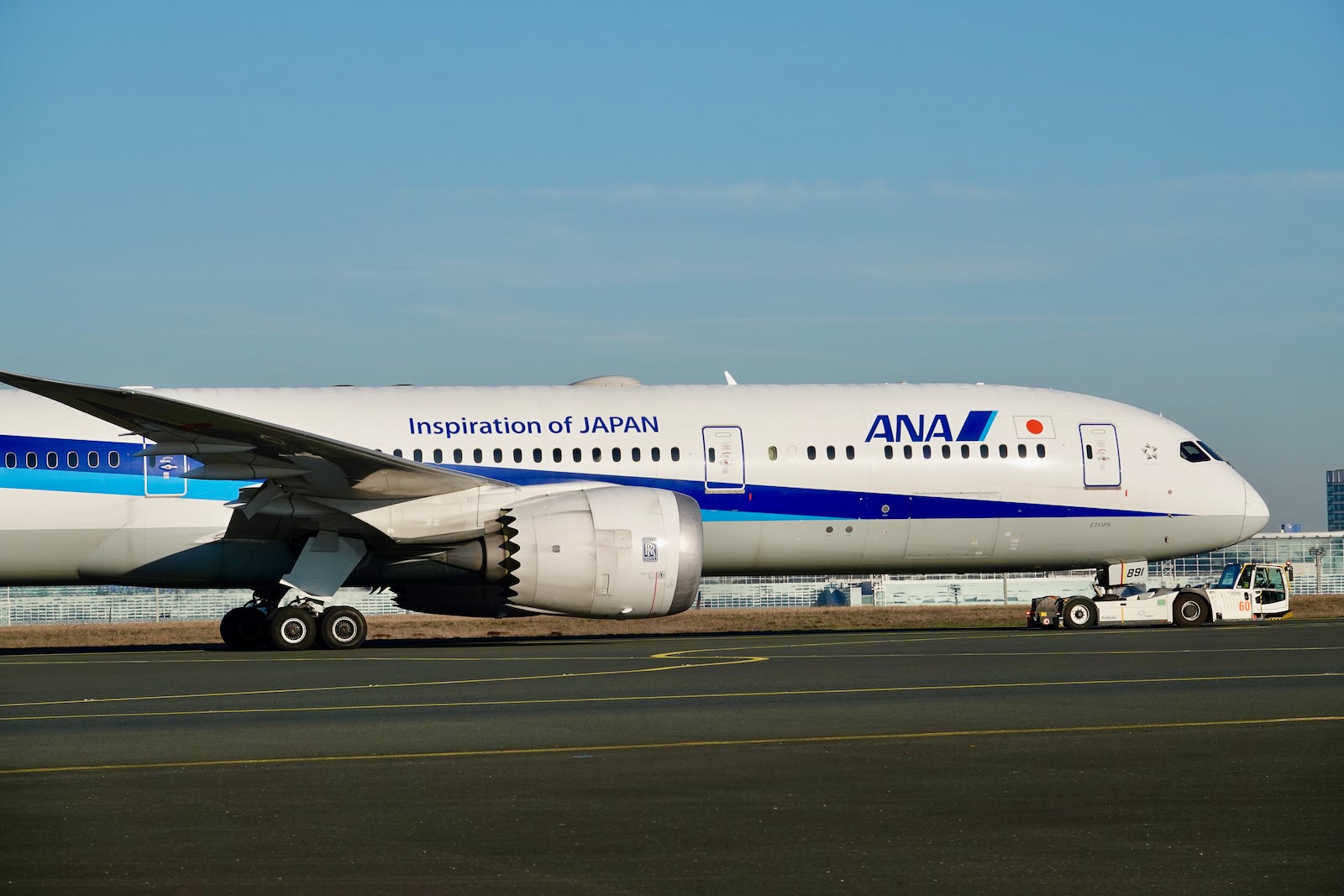 While you can pay for IAP tickets using your American Express card (or any other travel credit card), Amex members can also use Membership Rewards' Pay with Points feature to cover these tickets. During checkout, you can choose the Pay with Points option with a minimum redemption of 5,000 points. We normally don't recommend this option as you'll get a fixed 1 cent-per-point rate, and we value Amex points at 2 cents apiece when you can maximize Amex's transfer partners. If the points you redeem don't cover the entire amount, you can charge the remaining balance to your American Express card.
Business Platinum cardholders should remember that they earn 35% of their Membership Rewards points back after using points for all or part of an eligible flight, up to a maximum of 1 million points per calendar year. For example, the United-Austrian codeshare flight from Newark to London would require 281,695 Amex points for a round-trip journey. When using your Business Platinum card, you would receive over 98,000 Amex points back, which is a significant benefit.
Even if you use Pay With Points, the tickets you book should still count as revenue tickets and thus earn you miles.
Related: Amex Business Platinum for flights: When to transfer vs. when to pay with points
Bottom line
The IAP may appear complicated and difficult to understand initially. If it doesn't work, it can be overwhelming and more convenient to book your flight directly with the airline.
However, you can obtain fantastic discounts on premium cabin seats. Additionally, when you pay with your eligible card, you may receive various travel protections. Just keep in mind that the primary cardholder or an eligible authorized user must be traveling on the reservation to be eligible for these benefits.
Additional reporting by Benji Stawski and Victoria Walker.