Editor's note: This post was updated with new information.
For many travelers, flying in a first-class seat may seem like an unachievable dream, reserved for the ultra-wealthy or business traveler sparing no expense. But in reality, there are many other ways to score a seat at the front of the plane without paying an exorbitant amount.
In many cases, there are even ways to upgrade to first class (or business class) without being an elite-status member of an airline's frequent flyer program or paying the full cash or award retail price (and no, dressing up is not one of the ways).
Admittedly, in these days of high travel demand, it's hard to guarantee a first-class seat without directly paying for it. However, with some luck, tips and strategy, there are options out there.
How to upgrade to first class without elite status
Clearly, one of the easiest ways to score a first-class upgrade is to be an elite status member. Many airlines offer complimentary upgrades as a loyalty perk.
However, it's possible to snag an upgrade without paying full price even if you're not an elite status member.
Here are some strategies to consider.
Use miles to upgrade your economy ticket
One of the easiest ways for travelers without elite status to upgrade their seats to first or business class without paying the full cash price is by paying for the upgrade with miles.
This won't require elite status but does require you to have at least a decent stash of frequent flyer miles with an airline or credit card rewards points you've earned through your everyday spending.
Even casual flyers might be surprised at how many points and miles they can earn by charging their daily expenses to the right credit card; many of these points and miles can be transferred to airline frequent flyer programs and redeemed for travel, including upgrades.
For example, American Airlines will allow AAdvantage members to use miles to upgrade a ticket. You'll generally pay some combination of miles and a fee for the privilege of an upgrade.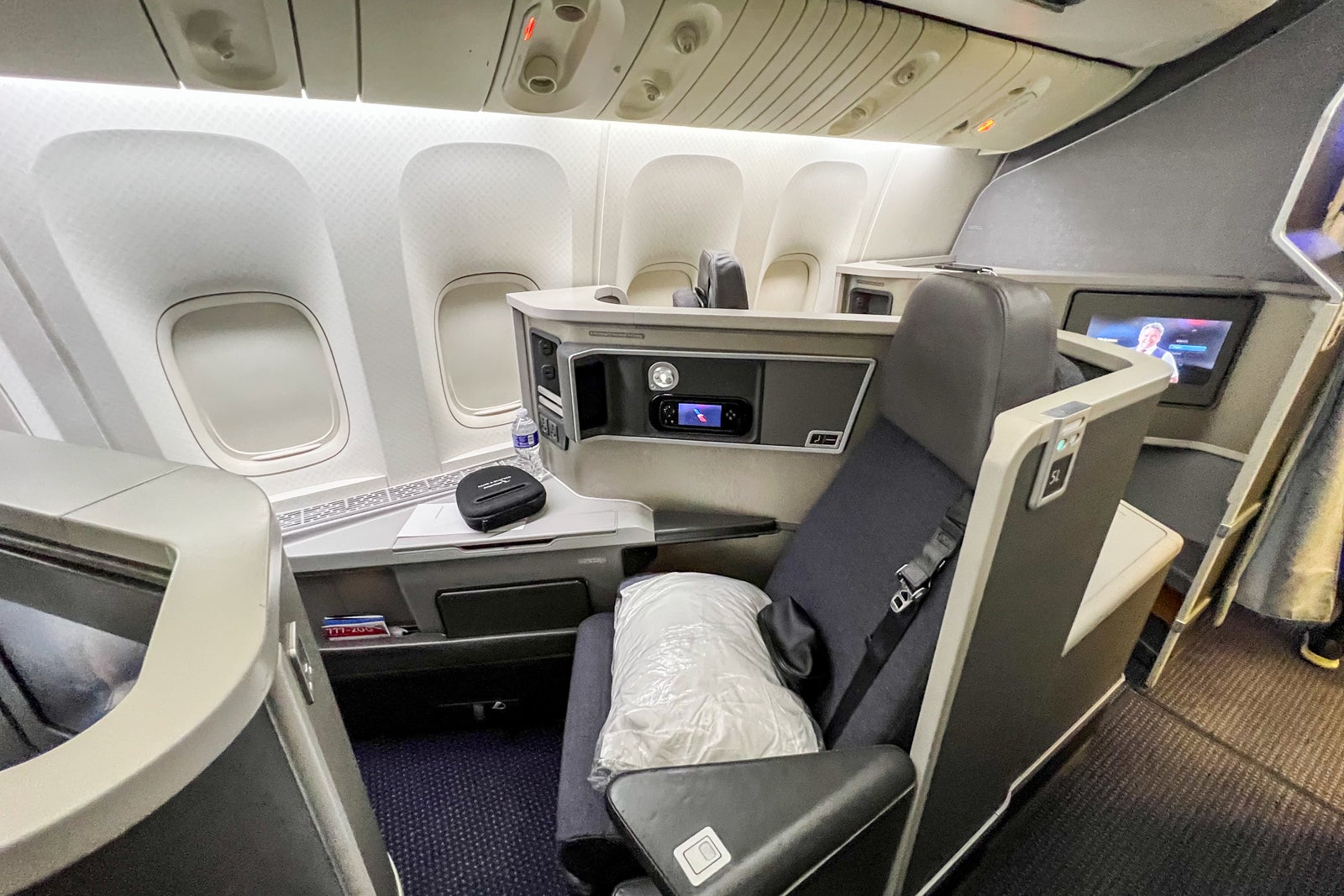 As you might expect, upgrading to first class on a short domestic flight is a lot less pricey than, say, moving to a lie-flat business-class seat on an overseas flight. The latter costs 25,000 miles plus $350 per traveler upgrading to business class from standard economy.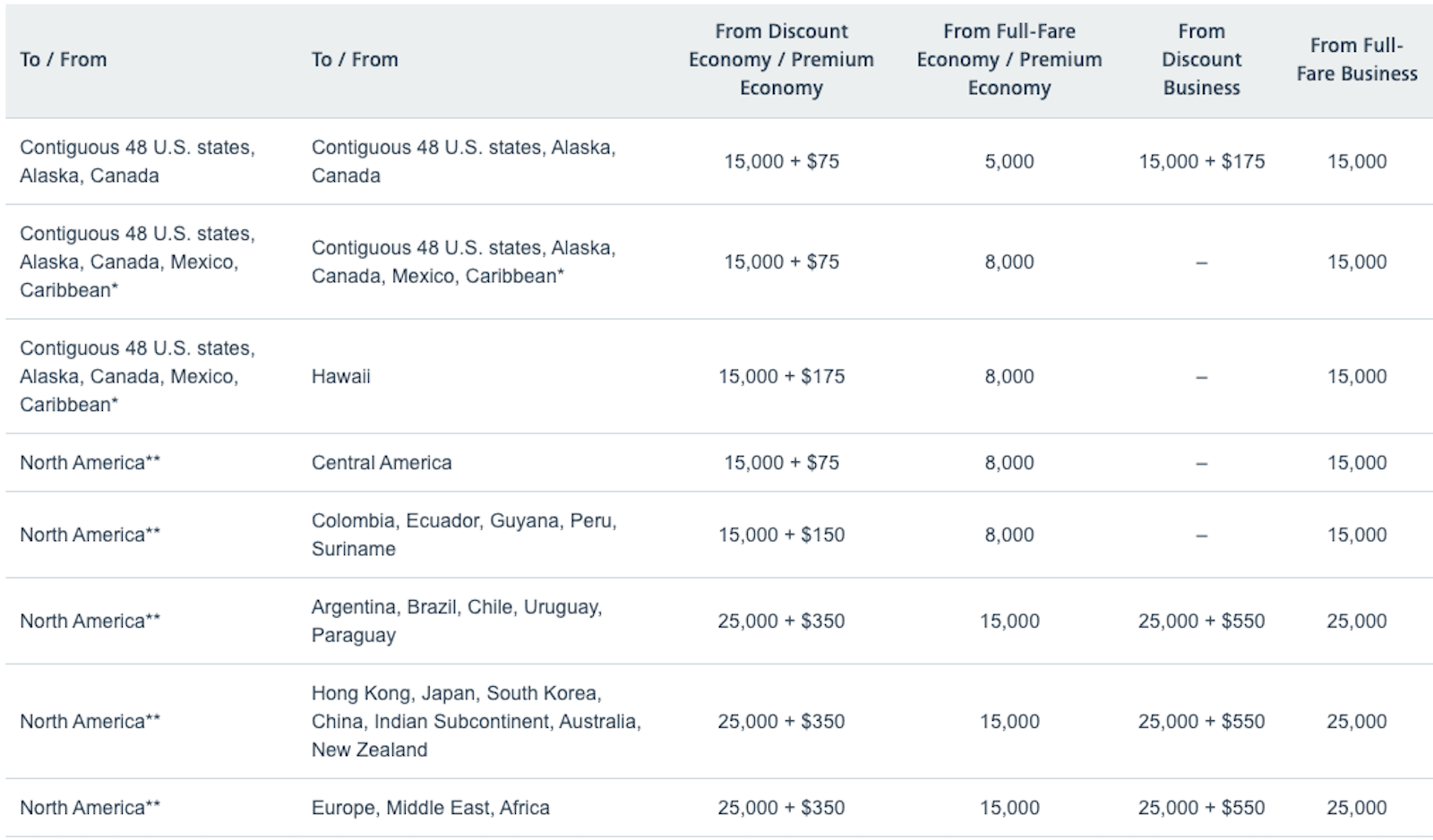 You'll want to consider the value of your miles before you jump for the splurge. TPG values the 25,000 AAdvantage miles you'd pay for a flight from North America to Europe at $442 — and that's on top of the $350 co-pay you'd have to fork over.
However, if having a comfortable seat for sleeping during your overnight flight to Europe is your priority, upgrading using your miles can be a far better option than paying for a business-class ticket to Europe outright.
For example, for a hypothetical October trip from New York to Rome, you'd pay $1,171 for a reound-trip economy ticket versus $6,564 for flagship business class. For an award ticket, it'd be a whopping 592,000 miles for a business-class round trip.
Not many of us have more than $6,500 to spend for one flight to Europe, and 592,000 miles is a hefty price to pay, too.


On the other hand, after purchasing an economy ticket, you may be able to upgrade it for 25,000 miles plus $350, one-way, if available.
Regardless of the airline, before you wade too deeply into upgrade pricing, make sure the ticket you purchased is eligible for upgrades. On many airlines, restrictive basic economy tickets are not eligible for changes — including upgrades.
Related: The best ways to get to Hawaii using points and miles
If you don't have 25,000 AAdvantage miles at the ready, a credit card welcome bonus could help get you there. Right now, the Citi®/AAdvantage® Executive World Elite Mastercard® is offering new members 100,000 bonus miles for cardholders who spend $10,000 in their first three months with the card, which carries a $595 annual fee (but includes sizable perks like an Admiral's Club membership, and a Global Entry or TSA PreCheck application fee credit).
Related: Premium perks without a premium fee: United Explorer Card review
Upgrade through your credit card travel portal
There are credit card rewards programs that will help members upgrade their flight. Some American Express cardholders can use their Membership Rewards points (or pay) to upgrade a flight on an airline with which Amex partners.
To look into an upgrade, you'll make the request through your Amex Travel account.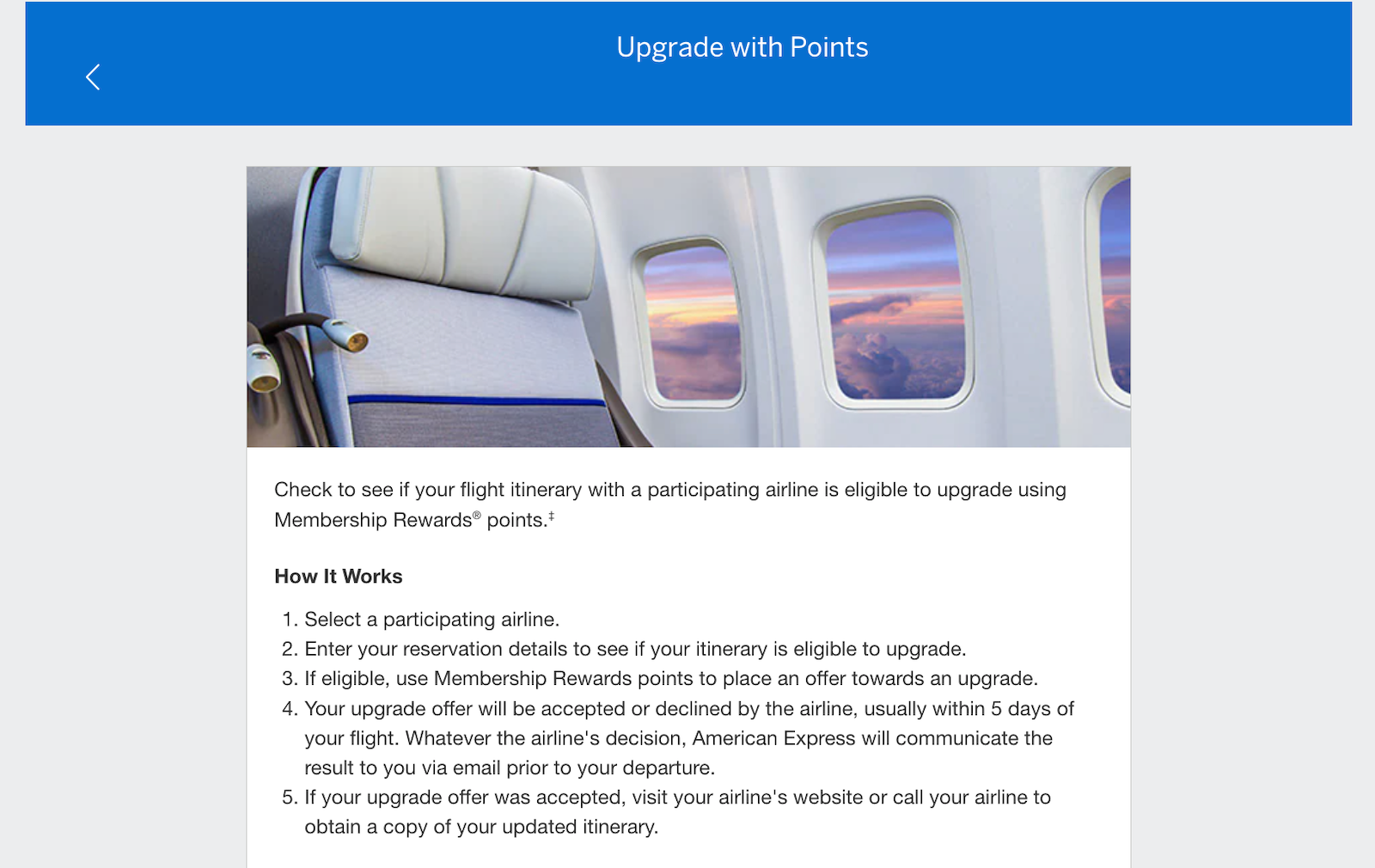 Airlines include Air Canada (Star Alliance), Qantas (Oneworld Alliance), Aeromexico (SkyTeam), Etihad and others.
Get help from a friend or family member with elite status
You can still receive some airline elite perks without personally having elite status. Some airline programs like Alaska Airlines' Mileage Plan will allow their members to spread the wealth of their elite status to family and friends.
Those with Alaska MVP Gold status or higher receive four one-way guest upgrades for every year they gain or maintain their status. They can spend the upgrades on their travel companions or when their guest is traveling without them.
There are some rules around space availability and other factors to consider. Still, if your friend has status with an airline such as Alaska or United, they may be able to help you get upgraded without spending any money.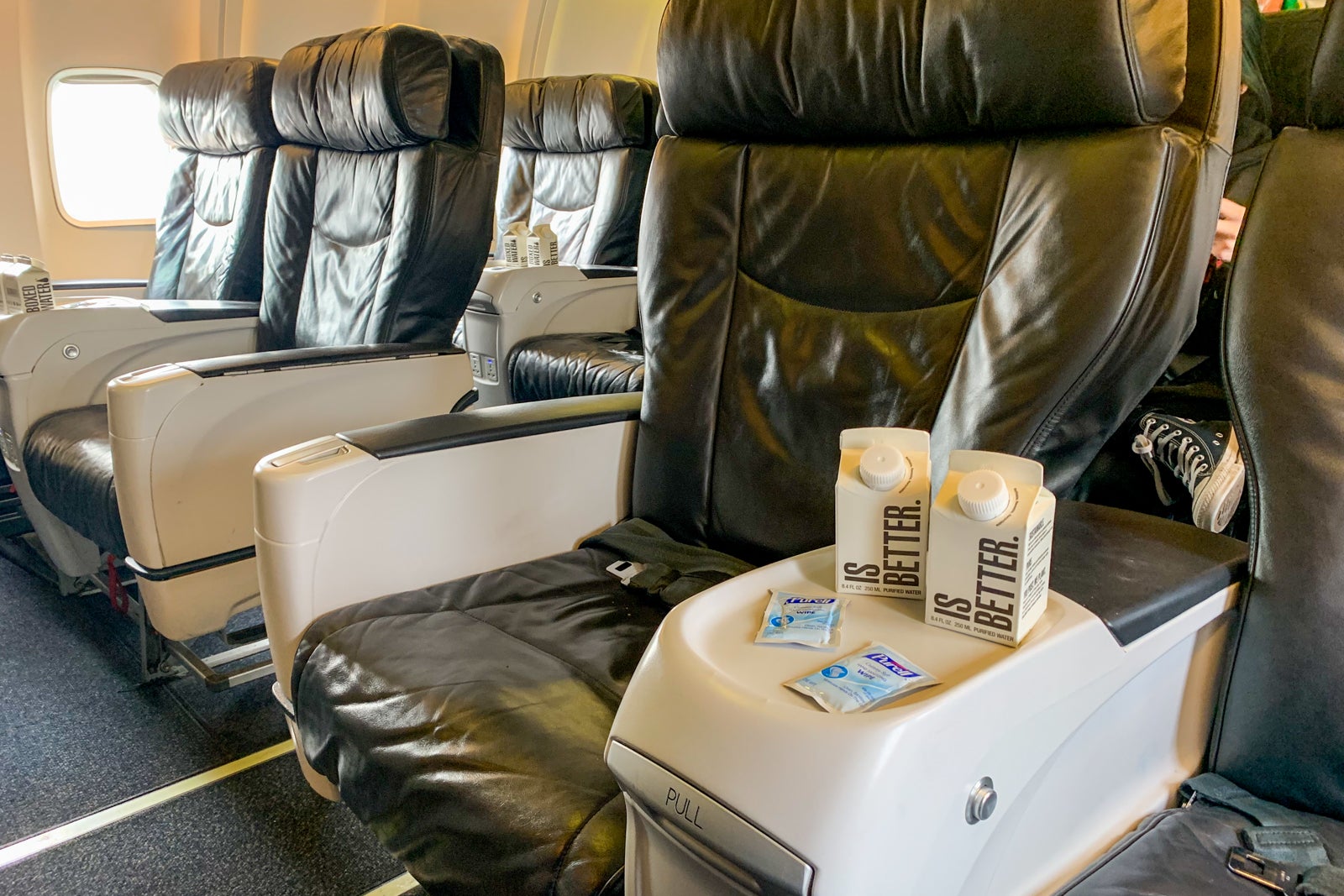 For what it's worth, a greater number of airlines will allow you to upgrade if you're traveling with a family member or friend who has elite status.
Bid for an upgrade
Even if you don't have any miles saved up or have never been a frequent flyer in your life, you may still be able to fly in first class without breaking the bank.
Some airlines will send out an invitation to bid for an upgrade if they expect some empty premium seats on a flight. These invitation texts or emails allow you to bid for a seat in the next available cabin. If you have some miles stashed, some airlines, like Australian carrier Qantas Airways, will also allow you to submit a bid composed of miles and cash.
In the TPG Facebook Lounge, we've seen plenty of reports of bidding success across a number of carriers, including Hawaiian Airlines, Air New Zealand, Lufthansa, Virgin Atlantic, Etihad Airways, Qatar Airways, Avianca, TAP Air Portugal, Aer Lingus and Iberia.
One TPG lounge member shared that they had a successful bid to first class when flying to Hawaii on Hawaiian Airlines. They bid around $350, about half of the suggested amount. While this person's success story was during the pandemic, meaning the amount may not be representative of what is required to win future bids, there are many reports of winning bids in the $400 to $800 range for long-haul international routes.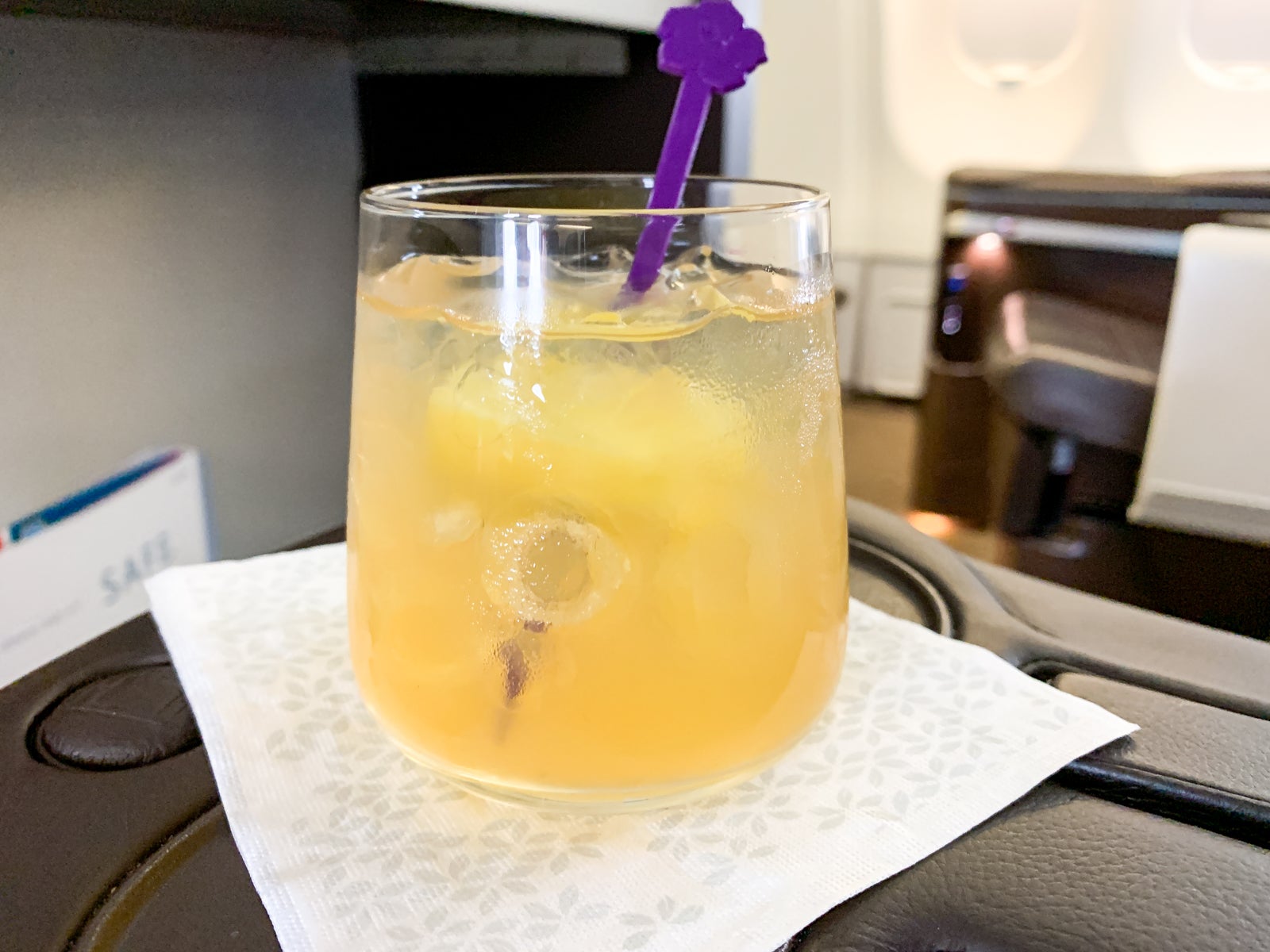 Not all routes are eligible for upgrades, and other restrictions may apply. Rules will vary by airline, but most will have a suggested bid and a minimum amount you'll need to offer. Keep in mind that many airlines restrict you to bidding for one class of an upgrade, so you may need to be booked in premium economy (if it's available on your flight) in order to score a business-class seat via a winning bid.
Related: Guide to bidding for flight upgrades for premium seats
Buy a discounted upgrade
The cash price to upgrade to first class can decrease if the airline doesn't expect to sell all seats at the full fare. That's because many airlines would rather get some revenue for the seat than none at all.
If you notice that demand for your desired seat is soft as the travel date approaches, see if you can scoop up an upgrade at a discounted cash rate.
While the price will vary, it never hurts to check. Check your upcoming flight reservations every now and then to see what the airline is listing as the cost to upgrade your seat with cash.
Ask about first-class upgrades at the check-in counter
Unfortunately, the price for a first-class seat often doesn't drop. However, it never hurts to ask about a last-minute upgrade.
Airlines make more money from filling their flights' first-class seats, so next time you're feeling a little spendy, you can ask at the ticket or boarding counter if there is any availability at the front of the plane.
TPG's senior SEO manager Hannah Streck recently had luck with this approach during a flight from New York City's LaGuardia Airport (LGA) to Minneapolis−Saint Paul International Airport (MSP) in Minnesota.
Knowing that she'd have to check two bags for her trip, Hannah searched for an upgrade on the airline's app but struck out in snagging one. So, she asked about an upgrade at the ticket counter and found out she could move to first class for only $90, with checked bags included. Checking both of her bags on an economy ticket would have cost $70 alone, so she happily paid just $20 more to sit in first class.
Related: Can you negotiate a cheaper upgrade?
How to upgrade to first class with elite airline status
Unsurprisingly, getting upgraded to first class with elite status is much easier. Many airlines offer complimentary upgrades as a perk of elite status. The exact process differs from one airline to the next, but often, the higher-tier status you have, the more luck you'll have.
That means, unless you're a higher-level elite member, you may be low on the waiting list for an upgrade.
However, you can try some additional tricks to position yourself well for a premium seat.
Purchase instant First Class Upgrade tickets with Alaska Airlines
While many airlines will upgrade elite status members one, two or a few days before departure, Alaska Mileage Plan's elite members can buy certain fares that qualify them for immediate upgrade.
When booking a trip, like the one pictured below, after checking your elite status in the fare type column to the left, you will see four fare options instead of the typical two "Main" and "First Class" fares: Premium Class Upgrade, and First Class Upgrade.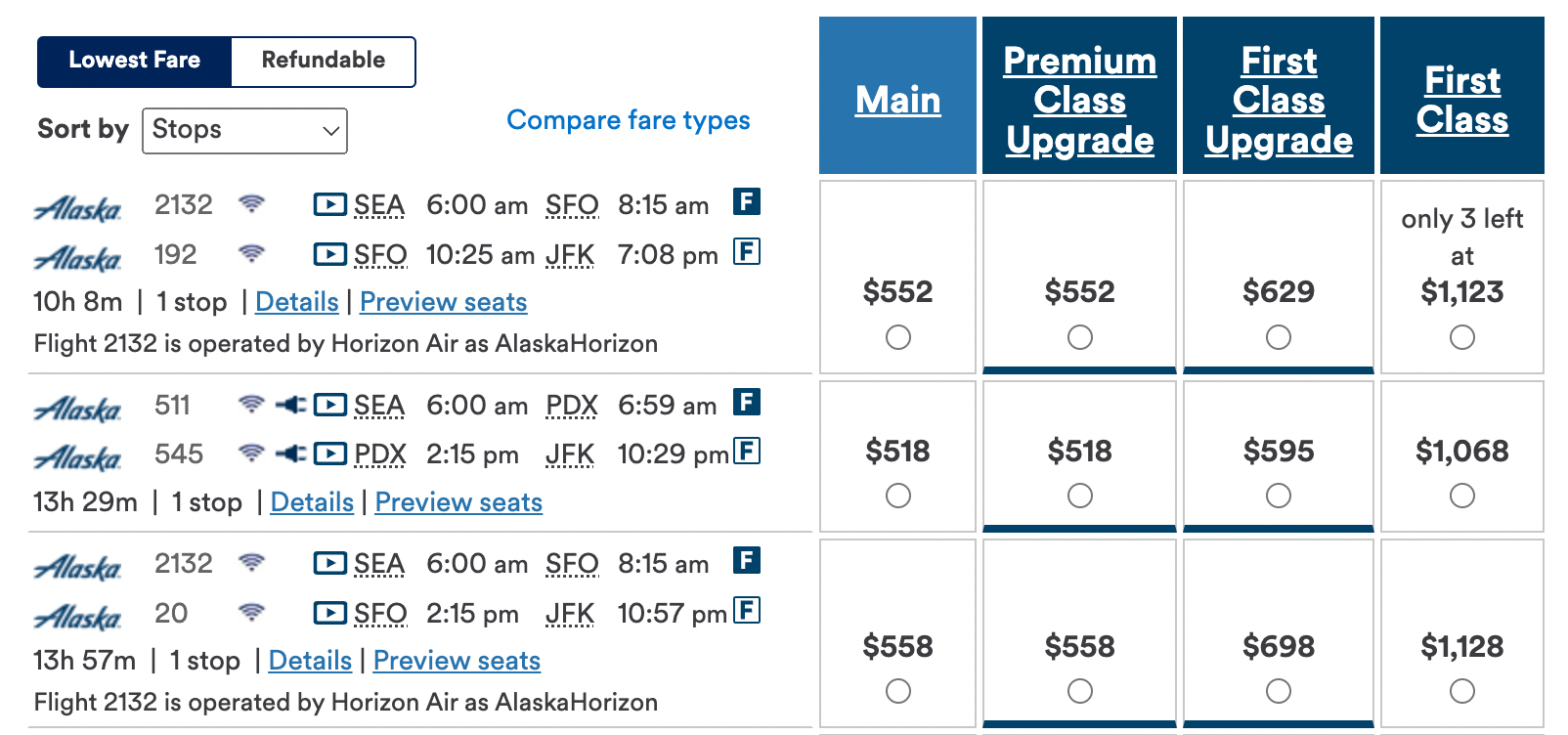 Premium Class has extra legroom seats, whereas First Class is the airline's premium cabin.
By purchasing an upgrade fare, you'll be eligible — pending availability — for an immediate upgrade instead of waiting until the days before your flight for your upgrade to clear.
How do you know if there's availability? Look for the "F" symbols you see above.  A navy blue "F" square means there is availability; a white square means there isn't on that particular flight.
If you don't buy an immediate upgrade-eligible fare, you'll be placed on the upgrade waitlist.
Related: Everything you need to know about American Airlines 500-mile upgrades
Use your upgrade certificates with Delta Air Lines
Delta SkyMiles, Delta's frequent flyer program, features four published Delta Medallion elite tiers: Silver, Gold, Platinum and Diamond. All come with perks, including the chance of receiving complimentary first-class seats.
Access to unlimited, free upgrades to first class comes standard with Delta Medallion elite status, but there is still a lot of complexity surrounding Delta's upgrade process.
You can increase your chances of being upgraded on Delta by being a higher-tier Platinum or Diamond Medallion member.
Members in these two elite status tiers receive upgrade certificates known as Global Upgrade Certificates and Regional Upgrade Certificates, which can clear as soon as you book your ticket if there is upgrade space available.
Keep in mind, though, that, like many airlines, Delta has certain fares that are not eligible for complimentary upgrades through Medallion status.
Related: How I used a Delta Global Upgrade Certificate
Use PlusPoints for priority upgrades with United Airlines
United has a complicated revenue, award and upgrade class system that can be confusing for even experienced flyers.
Luckily, TPG has made it easier to understand United's system with this comprehensive guide to United fare classes.
All United MileagePlus Premier members are eligible for complimentary Premier upgrades on eligible fares and routes, but only Premier Platinum and Premier 1K members receive PlusPoints.
Using Plus Points, high-tier Premier members can confirm their upgrades long before their flight. Platinum members receive 40 PlusPoints when reaching status, and 1K members receive 280 PlusPoints when they earn or retain their status.
The screenshot below shows United's Plus Points pricing breakdown for upgrades. For instance, it takes 40 Plus Points to move from economy to Polaris business class on a long-haul flight.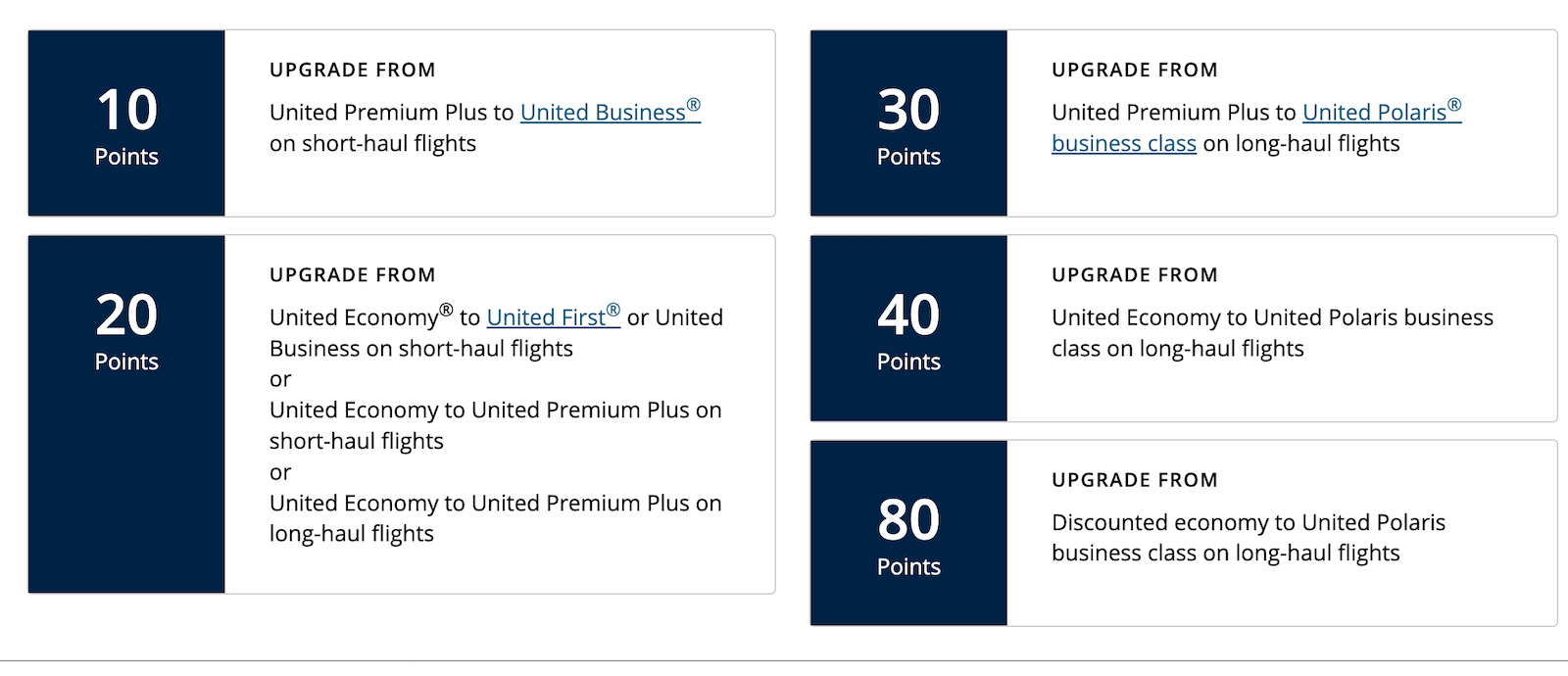 Kyle Olsen, one of TPG's resident United enthusiasts, is a Premier 1K member. His favorite way to use PlusPoints is to purchase an economy ticket in the W fare class and use 40 PlusPoints to get upgraded to a lie-flat United Polaris seat. United Polaris is technically a business-class option, but since United has retired its international first-class product, United Polaris is the most premium option offered by the airline.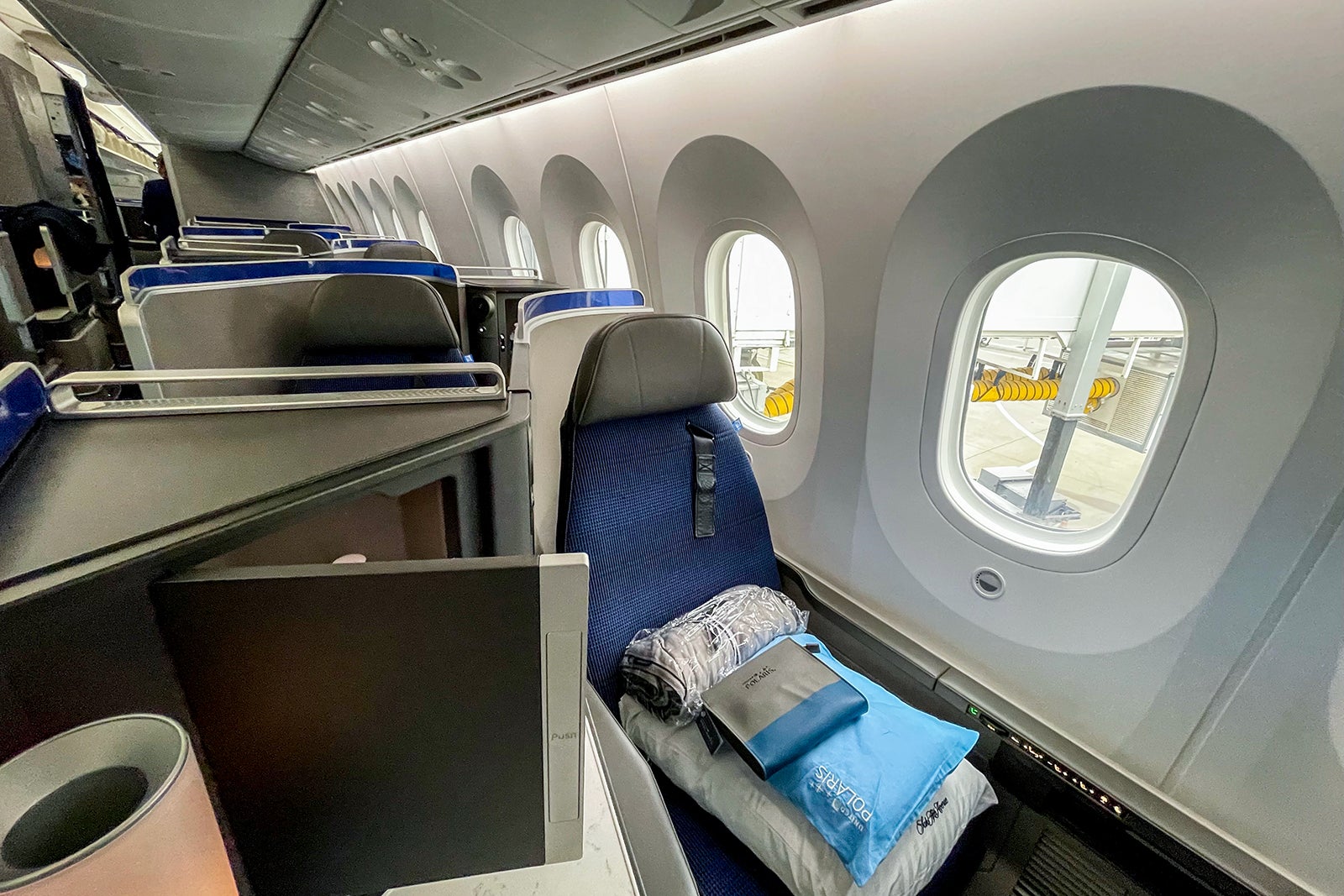 Generally, you should reserve PlusPoints for long-haul Polaris flights in order to get the best value for your points. However, sitting up front is always better than in the back, regardless of the route. This is especially true if you have points that are set to expire soon, as it's best to use them for any first-class option rather than let them go to waste.
Bottom line
Whether you want to treat yourself once or increase the number of times you sit up front, getting upgraded to first class is not only possible but feasible.
From cashing in miles for an upgrade to winning the upgrade lottery with a cash bid, there are several ways to snag an upgraded seat without spending a large sum of money. Even those without elite status can score a prime seat in the front of the plane with a bit of careful planning.