The battle over the budget traveler rages on in the hotel industry, but the latest option appears to have more amenities than some of its competitors also in development.
IHG Hotels & Resorts Wednesday officially unveiled their latest brand: Garner, a midscale hotel brand suited for "guests wanting value stays at high-quality properties," according to a company statement.
The brand, which will grow quickly by appealing to hotel owners who want to convert their existing properties into Garner affiliation, is IHG's 19th brand and will sit in the company's Essentials Collection. This cluster of brands also includes other midscale options like Holiday Inn, Holiday Inn Express and Avid.
If you're thinking the midscale space is getting a little crowded, IHG has a few differentiating points: Holiday Inn and Holiday Inn Express operate in the "upper midscale" segment while Avid and Garner sit more in the midscale lane. Avid hotels are always new-build properties while Garner will grow by converting existing hotels and could have more bespoke design depending on the location.
"Garner is another exciting step forward in the transformation of our brand portfolio, bringing to the midscale market a brand we know owners and guests want from IHG," said IHG CEO Elie Maalouf in a statement.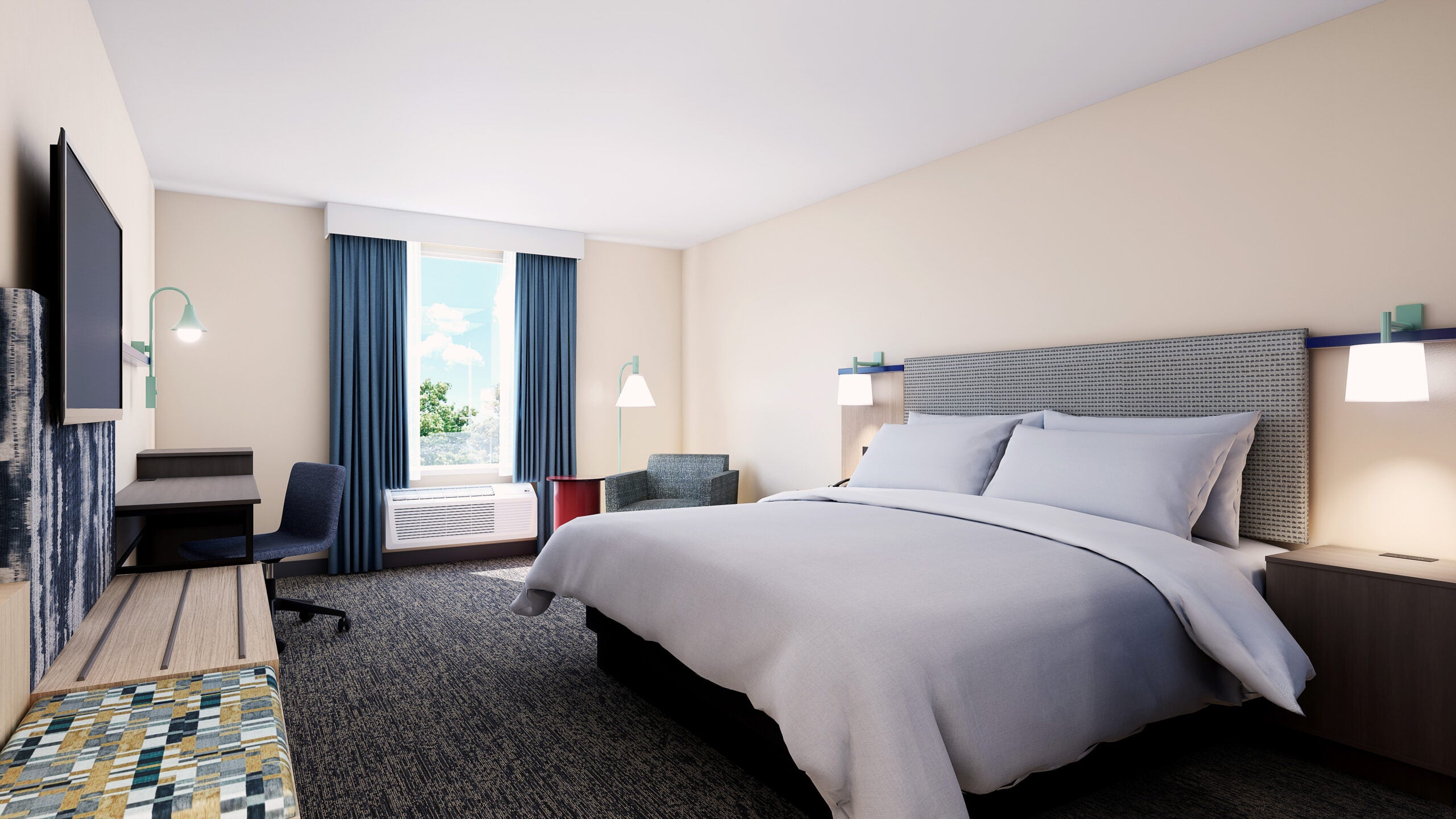 IHG anticipates there will be 500 Garner hotels in the next 10 years in the U.S. alone, and that figure is expected to double by the 20-year mark. While rates can fluctuate by location and day of the week, Garner hotels will fall in a market segment where roughly $100 per night is the norm.
"We've designed this brand to deliver on what's expected — a great night's sleep in a clean, comfortable space, with a breakfast worth getting up for," Jen Gribble, senior vice president of global marketing for IHG's mainstream brands, said in a statement. "But how we deliver it will be different — from the warm and welcoming team to the lobby décor, our style is refreshingly approachable, which appeals to all types of guests."
"Limited doesn't have to mean 'no' in service and that it doesn't have to be any less in personality or design," Karen Gilbride, vice president of global brand management at IHG, added in an interview with TPG Wednesday afternoon. "It can mean doing things and doing them in a cost-effective way. But they matter."
A midscale standout
There has been quite a bit of activity from Hilton, Hyatt, Marriott and IHG in the budget hotel space this year.
Hilton launched Spark, a premium economy brand also expected to grow rapidly due to conversions, at the start of the year. It also announced Project H3, an extended-stay brand, months later. Hyatt's Hyatt Studios brand — which announced this week its first locations will be in Mobile, Alabama, and Marysville, California — gives the Chicago-based hotel giant a much-needed presence in the midscale space. Marriott has also been active in the space with its acquisition of Mexico-based City Express and the launch of its StudioRes extended-stay brand.
Garner appears to be differentiating itself in the space by leaning more toward high-quality offerings and amenities. There will be complimentary flavor-infused water and coffee offered at arrival, and — while Gilbride noted it won't necessarily be the expansive spread seen at a Holiday Inn Express breakfast — Garner hotels will offer a free "Make It Yours" hot breakfast with options like breakfast sandwiches, egg bowls, fruit and a yogurt parfait.
There will also be guest-influenced playlists, snacks and drinks at each hotel as well as pet-friendly features like welcome treats and loaner items. Guests will also be able to enjoy a two-hour cookie "happy hour" in the lobby.
Among the recent additions to the midscale space, there has been a difference in whether brands would offer full loyalty benefits at their new, more affordable offerings. Garner will offer a "full IHG One Rewards experience," Gilbride said.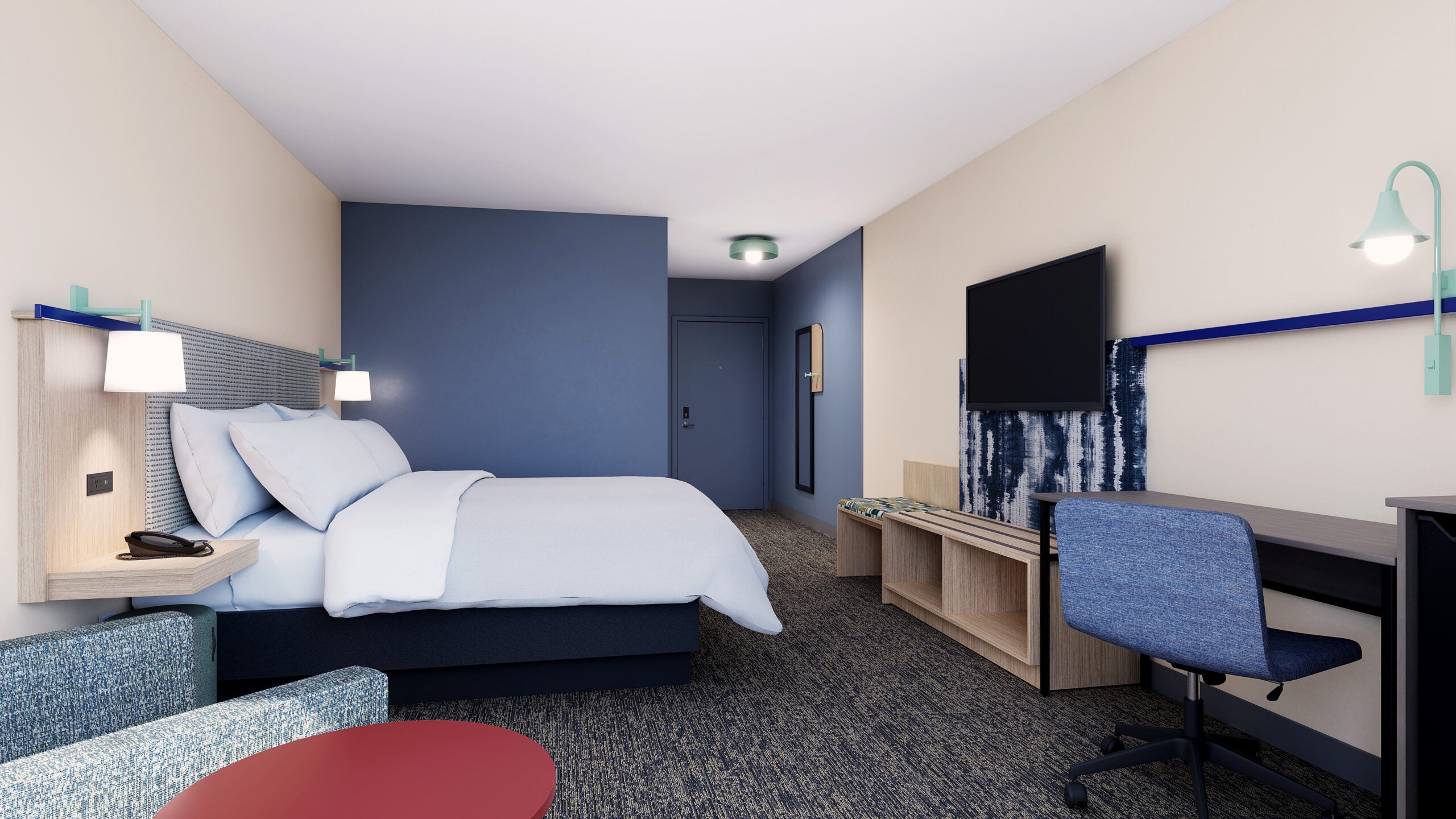 Why hotel companies want more budget offerings
Some might scratch their heads at the sudden seismic attention on budget brands. After all, it wasn't that long ago when leaders of many of the major hotel companies touted their limited exposure to economy travelers in light of rising gas prices. Now, it seems like budget and economy travelers are precisely the business the major hotel companies covet.
The midscale segment in the U.S. today is a $14 billion market, IHG noted in its Garner launch. That figure is expected to swell to $18 billion in hotel revenue by 2030.
Money talks, and it's telling the world's largest hotel companies to do more to cater to the middle of the travel market.
Related reading: