As Labor Day weekend slowly creeps up on us, you might want to book a trip before the year ends.
If high airfares have kept you from finalizing plans, you're in luck, as there's currently a fall deal from JetBlue available. For a limited time, you can book one-way flights for as low as $44.
Most destinations — excluding those in Europe — are eligible for this deal. It's perfect for a quick weekend trip to a new city or a vacation to the Caribbean to escape those late fall chilly temperatures.
Know, though, that you'll want to book these JetBlue flights soon, as the offer ends by 11:59 p.m. tomorrow.
Deal basics
Airlines: JetBlue
Routes: All destinations within JetBlue's network, excluding those in Europe
How to book: Directly on JetBlue's website
Travel dates: Sept. 6 to Nov. 15
Book by: 11:59 p.m. EST on Aug. 10
Sample flights
JetBlue is offering bargain one-way fares to most destinations within its U.S. network, along with some in Puerto Rico, Canada, Central America and the Caribbean. The Boston and New York City areas have the most available routes under this sale.
Below are some flights we've flagged. Keep in mind, the prices listed are for one-way fares:
John F. Kennedy International Airport (JFK) to Boston Logan International Airport (BOS), starting at $44
BOS to Charleston International Airport (CHS), starting at $59
O'Hare International Airport (ORD) to JFK, starting at $69
Los Angeles International Airport (LAX) to Cancun International Airport (CUN), starting at $114
JFK to Queen Beatrix International Airport (AUA), starting at $149
To ensure you're getting the lowest possible fare, we recommend booking these flights directly on JetBlue's website rather than a third-party booking site.
If you live in New York and are looking to visit Boston but don't want to shell out for those pricey Amtrak fares, JetBlue offers a one-way flight from JFK at $44. This is a complete steal considering train tickets to Boston can cost upward of $100 one-way.
To ensure you're getting the $44 price tag, plan your trip around JetBlue's fare calendar. For the majority of travel dates during the sale period, one-way fares to Boston are priced at $44.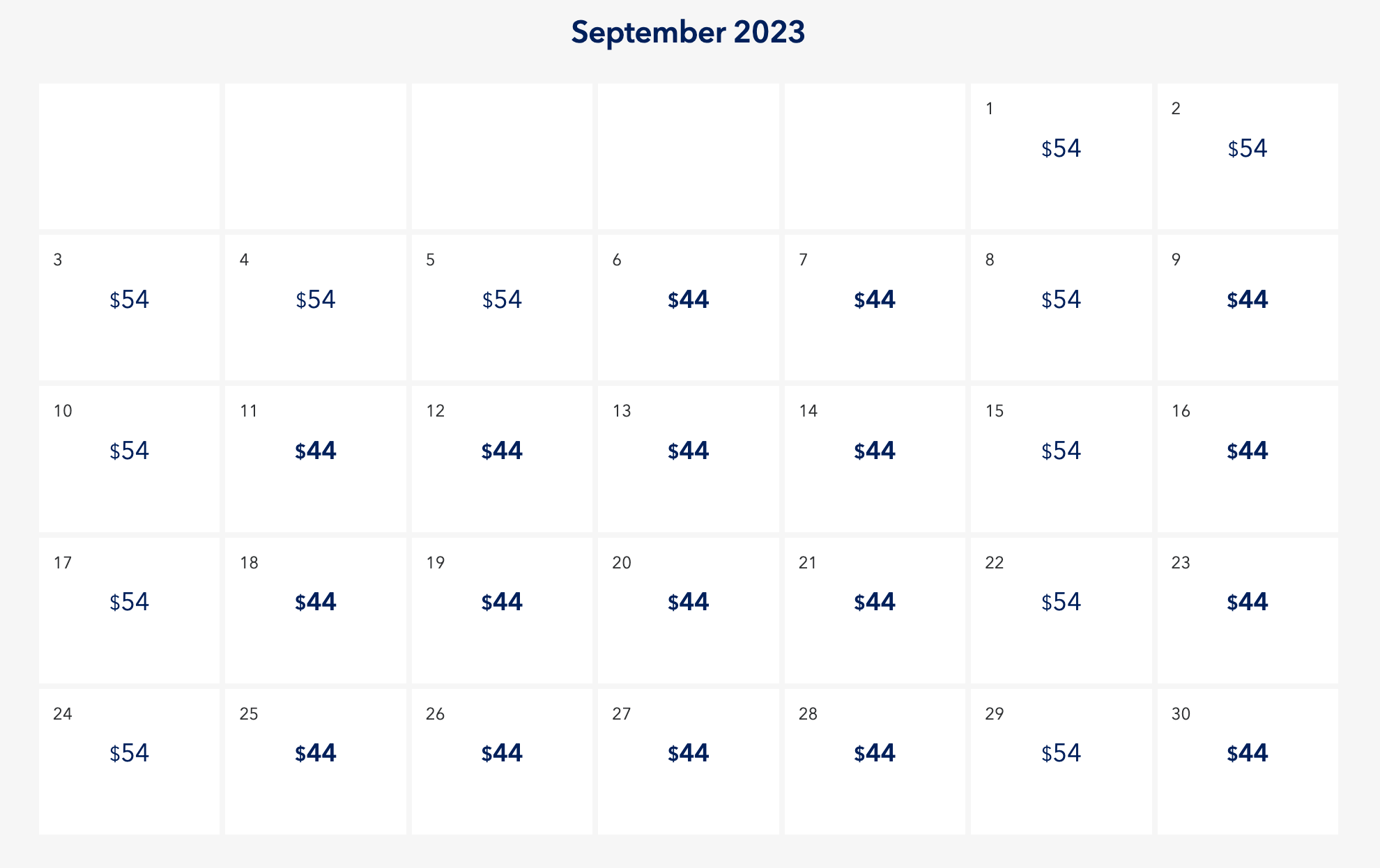 For a Sept. 7 flight to Boston, JetBlue has five flights taking off at different times during the day at a bargain price.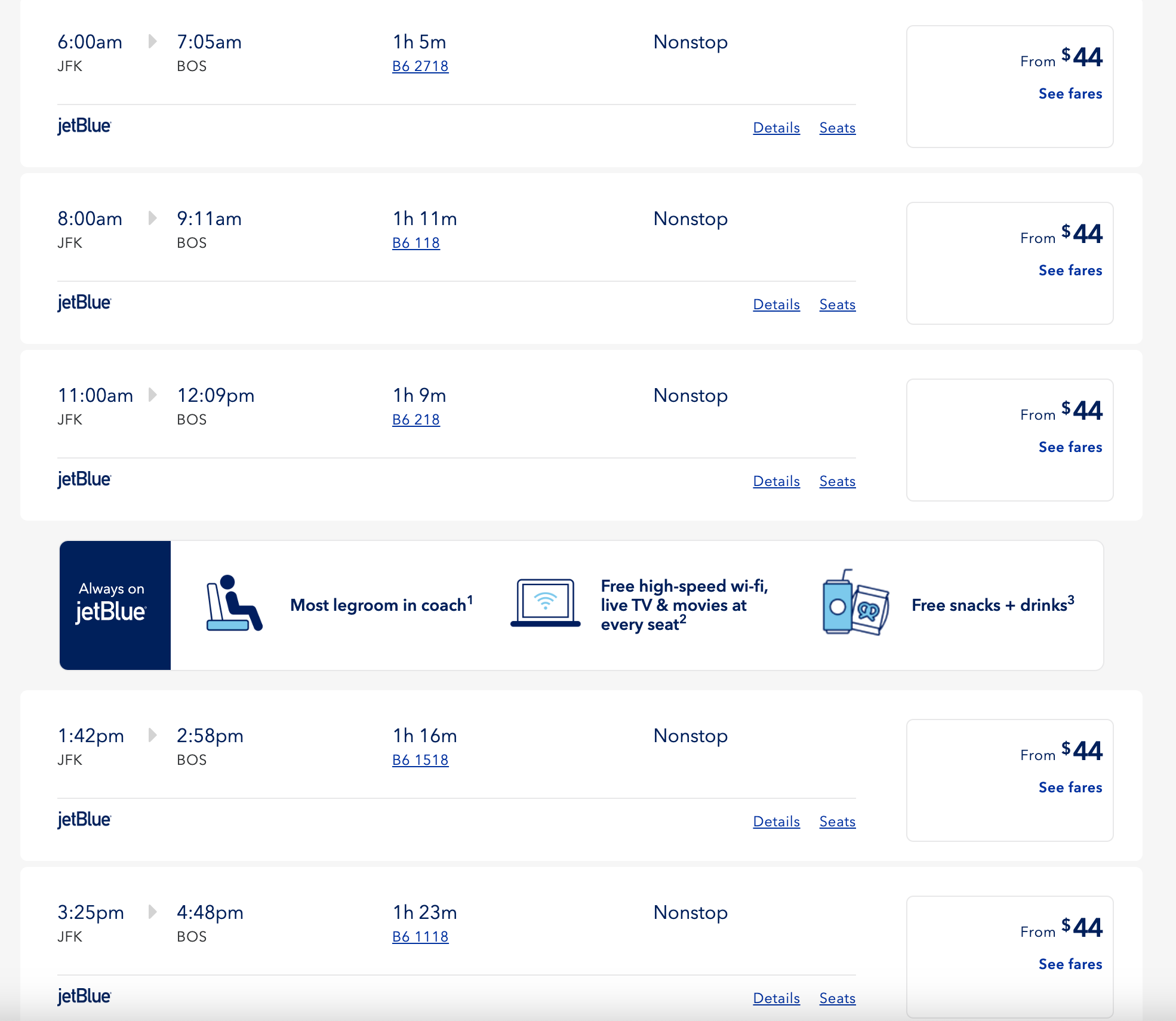 If you plan to return Saturday — another day when fares are at their cheapest — you can find an array of return flights, all at $44.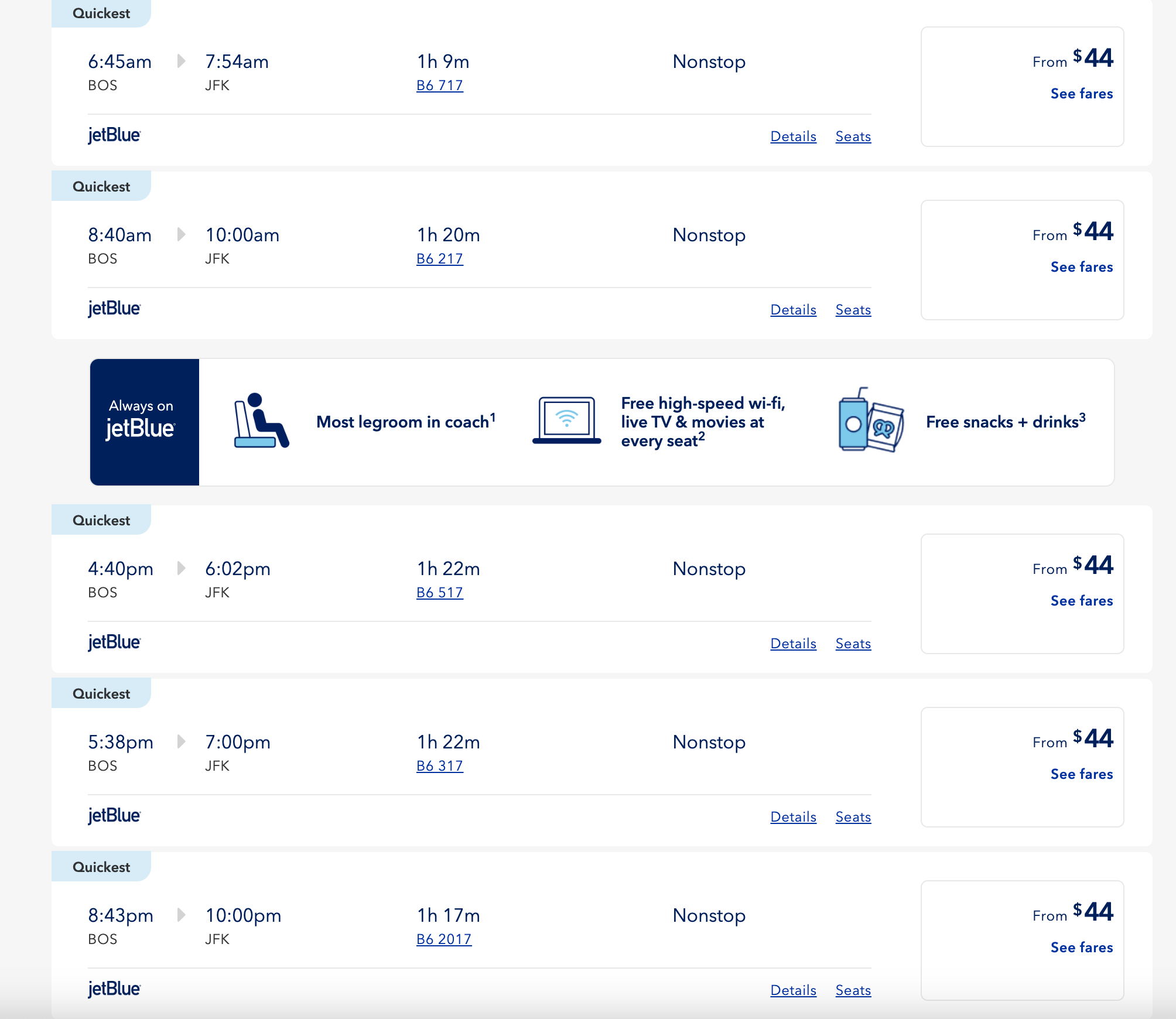 Keep in mind that these deals are for JetBlue's basic economy class, which is the carrier's most restrictive. With basic economy, known as Blue Basic for JetBlue, travelers can't bring a carry-on or select a seat without paying an additional fee, and more fees may apply to canceling or changing the trip.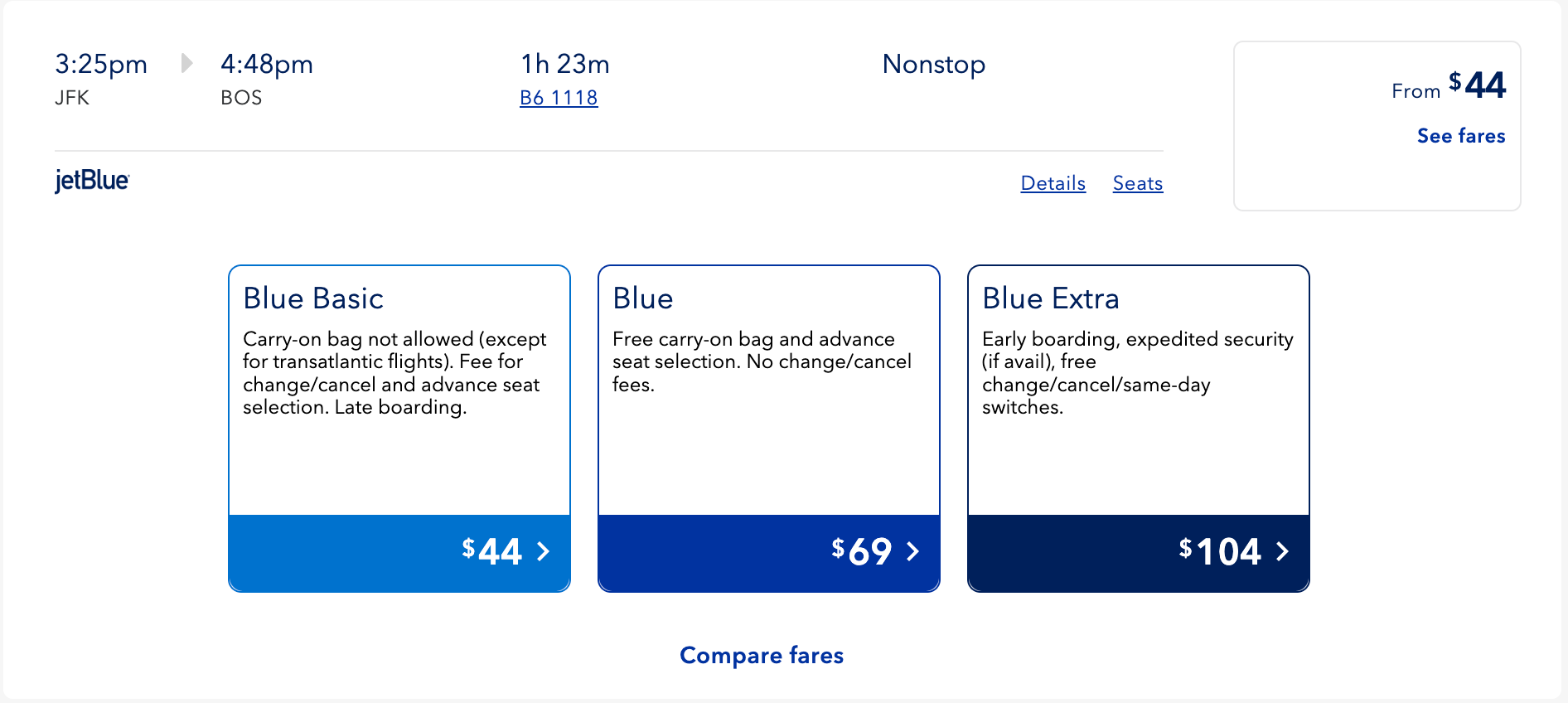 Even though basic economy limits you to just a personal item, you only end up paying a little under $88 for a round-trip flight from JFK to BOS. A round-trip Amtrak ticket could easily cost at least $200.
If you decide to bring additional baggage, know that it'll cost an extra $60 for a round-trip flight.

Seat selection will set you back anywhere from $10 to $55, depending on whether you opt to fly in one of JetBlue's roomier seats.

Maximize your purchase
Make sure you use a card that earns bonus points on airfare purchases. The best credit cards for booking flights include:
The information for the Citi Prestige Card has been collected independently by The Points Guy. The card details on this page have not been reviewed or provided by the card issuer.
Bottom line
These JetBlue fares are great for a quick weekend getaway or a tropical vacation as the weather starts to cool. Even though these discounted fares are only for basic economy, these prices are hard to beat.
Related reading: