Editors' note: JetBlue provided TPG with a free one-way business-class ticket for the inaugural Paris route. All opinions expressed here are the author's alone and were not subject to review by JetBlue.
As the saying goes, persistence pays off.
And that's a lesson that JetBlue Airways learned on Tuesday when its inaugural Flight 2288 to Amsterdam took off from John F. Kennedy International Airport (JFK) at 8:40 p.m. local time. It arrived on Wednesday at Amsterdam Airport Schiphol (AMS) at 9:15 a.m., completing the 3,643-mile transatlantic crossing in six hours and 35 minutes.
Want more airline-specific news? Sign up for TPG's free biweekly Aviation newsletter.
By now, JetBlue is no stranger to crossing the pond.
After years of anticipation, the airline added its first European route map pin two years ago when it started flying between New York and London. Since then, the airline has grown its U.K. portfolio to include new routes from Boston, service to London Gatwick Airport (LGW) and additional frequencies on existing routes.
In addition to the U.K. service, JetBlue started flying from New York to Paris earlier this summer, officially making the City of Lights its second European destination.
But even though JetBlue now operates on two of the busiest transatlantic routes in the world, the carrier isn't resting on its laurels. With seven Airbus A321LR, or "long-range" aircraft in the fleet (and more coming soon), it is planning a European expansion spree.
A business-class boost: Reviewing JetBlue's new Mint Suite 
As a tiny player over a very big pond, JetBlue's expansion plans have met a bunch of resistance, especially in Amsterdam. To land at Schiphol, the airline formally petitioned the U.S. Department of Transportation, as well as other regulatory bodies worldwide, to obtain the requisite slots, or takeoff and landing permissions.
It wasn't the most seamless process, but now that all the legalese is in the rear-view mirror, JetBlue is ready to celebrate its third European city. It's doing so with attractive round-trip fares starting at $499 in economy and $2,199 in Mint business class, a top-notch onboard experience in both cabins and a memorable inaugural celebration.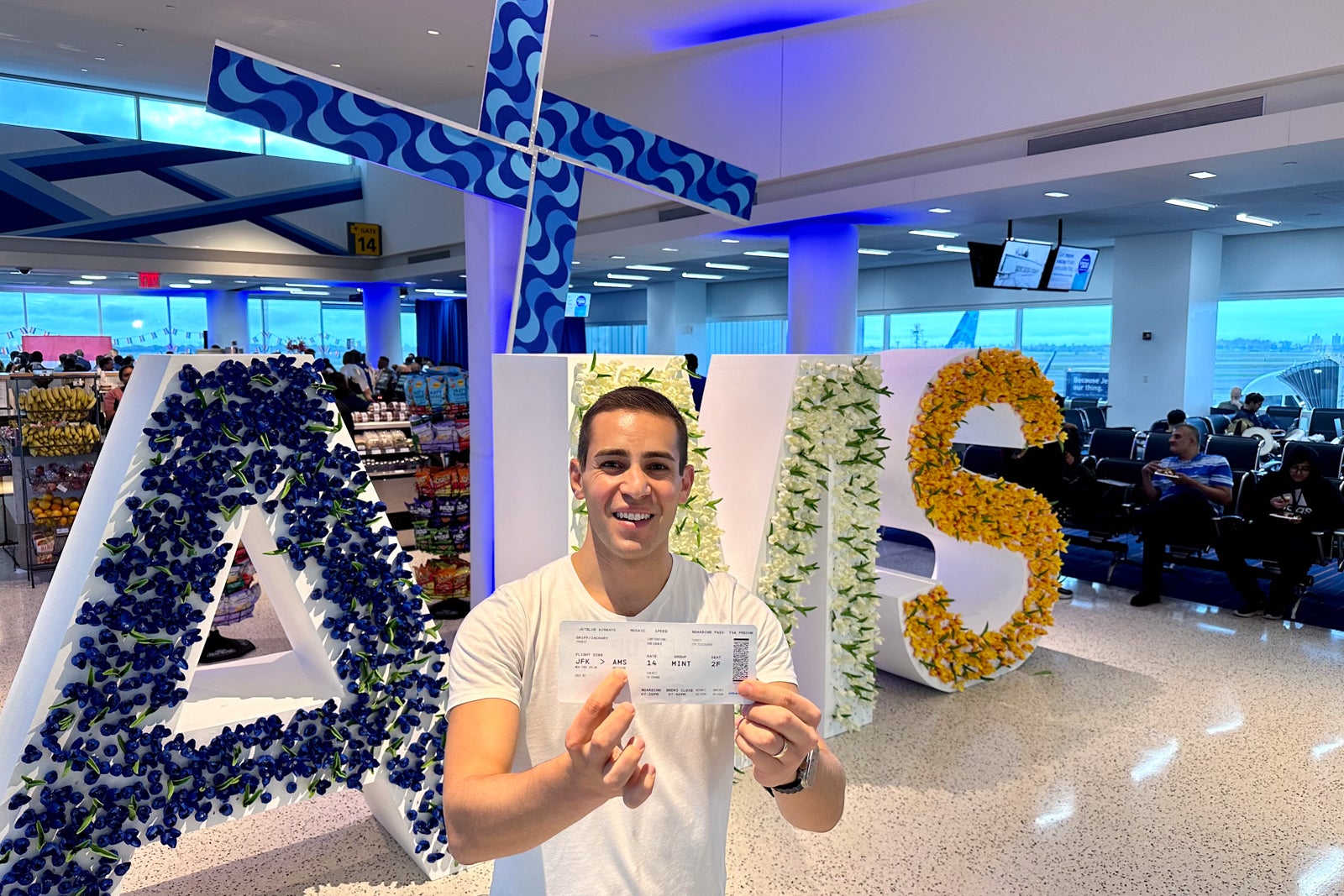 That celebration was evident from the moment I walked up to Gate 14 in JFK's Terminal 5, and it continued onboard once passengers started boarding.
Here's what it was like flying JetBlue to Amsterdam on day one.
Pre-departure party
Having just experienced JetBlue's Paris inaugural, I was expecting to be greeted at JFK by pomp and circumstance.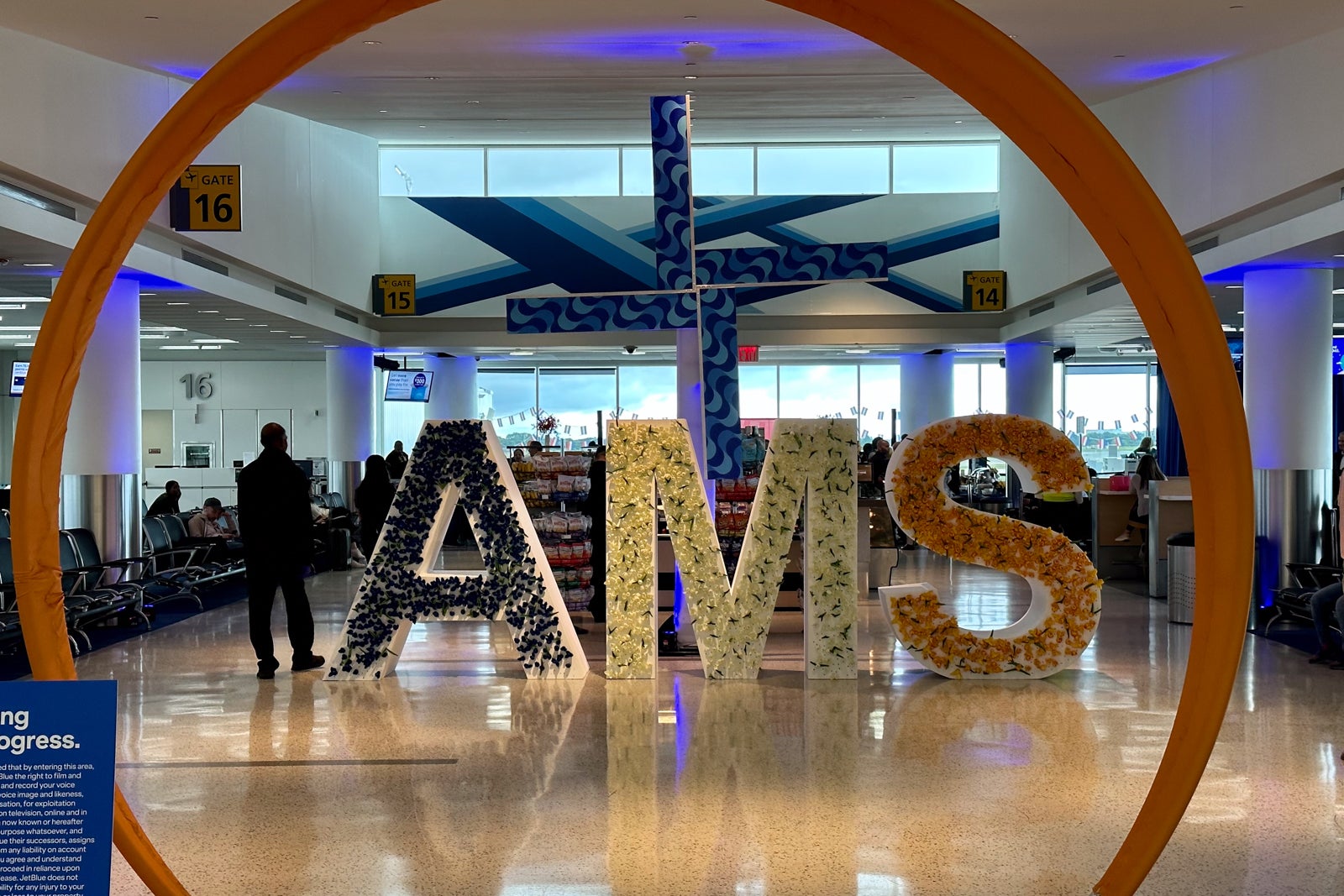 While there was definitely some, the pre-departure party for the Amsterdam flight felt a bit more muted than the Paris one. There were no Eiffel Towers or "CDG" letters in the check-in area or central post-security rotunda. (The only reference to the Amsterdam inaugural I saw before the gate was a small digital banner with the words "Let's Van Gogh" on it.)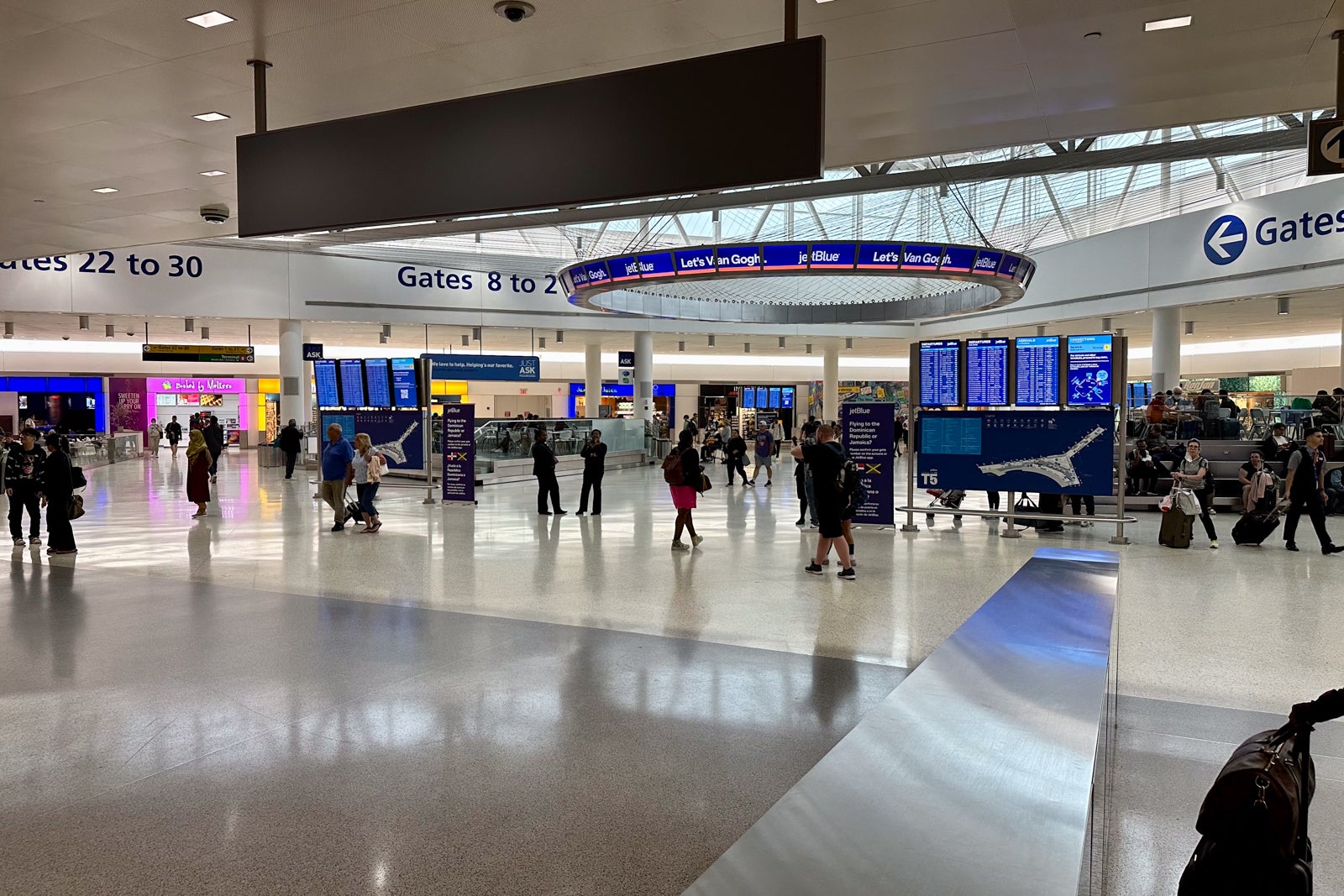 Instead, the party was mostly confined to the gate area. When I arrived at around 5:30 p.m., the festivities were just getting started.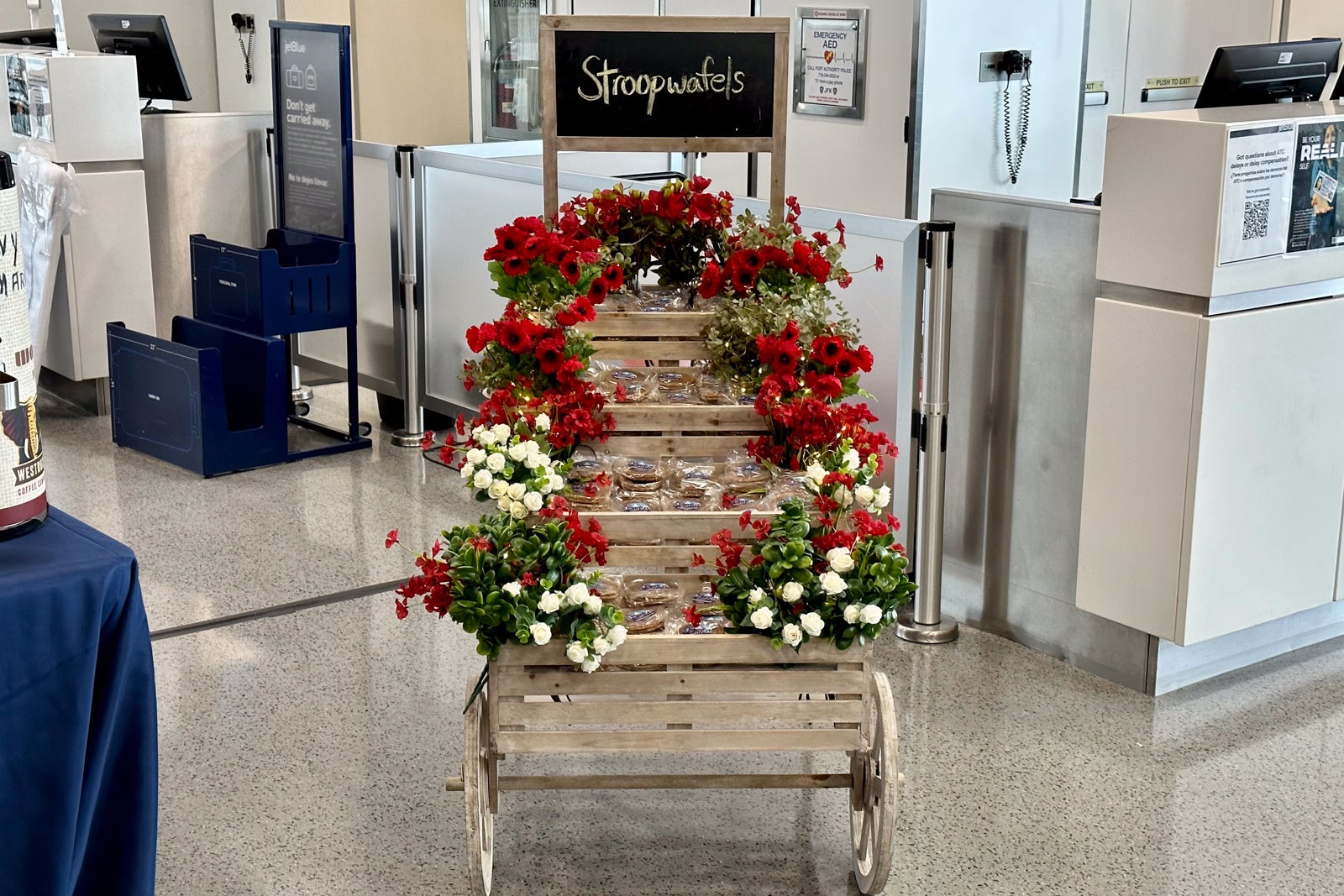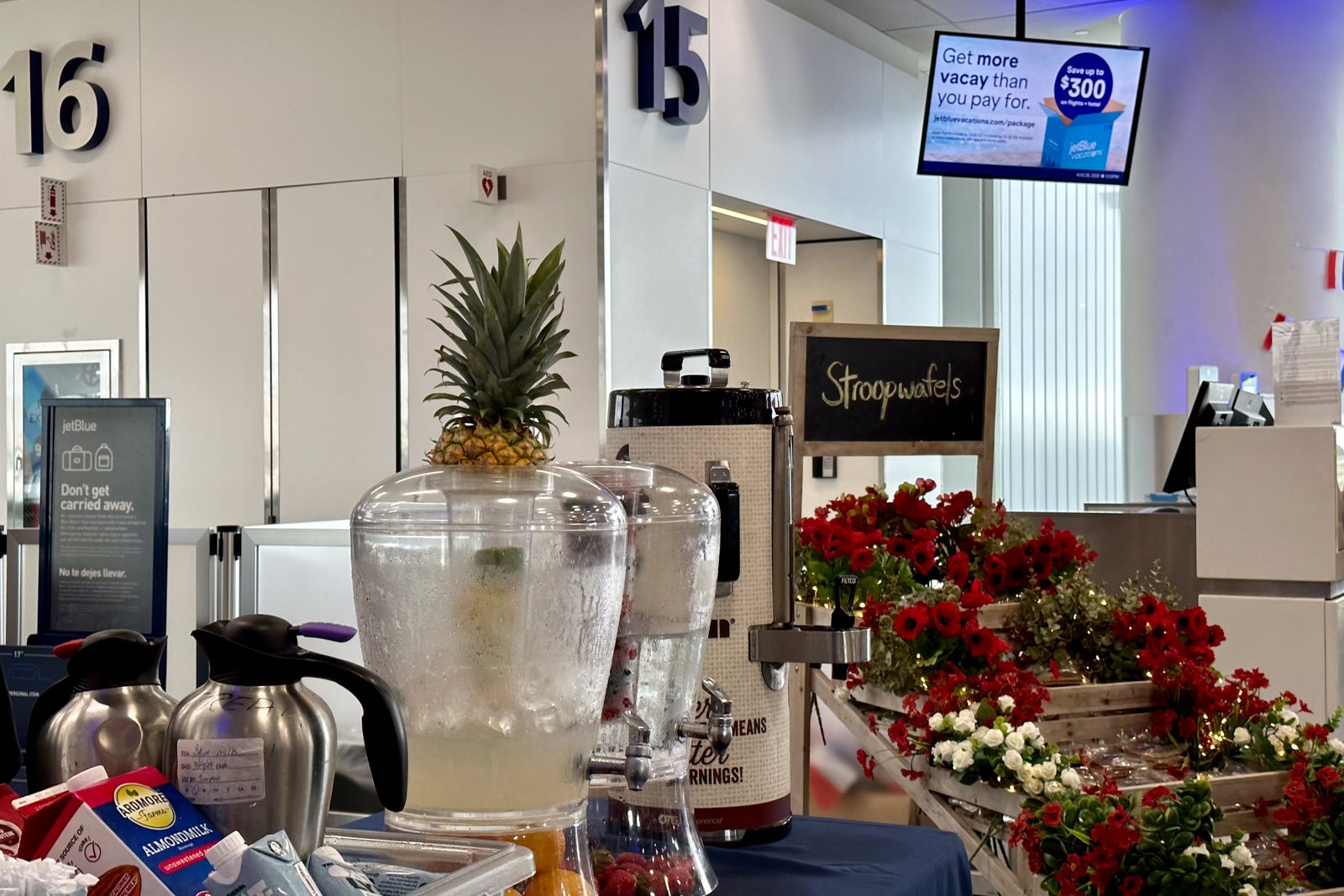 As I walked to the gate, I noticed the giant "AMS" letters made from flowers and a spinning windmill decked out in JetBlue's signature blue color scheme. This proved to be a popular photo spot, and I even captured four out of the five flight attendants posing for a picture here before boarding.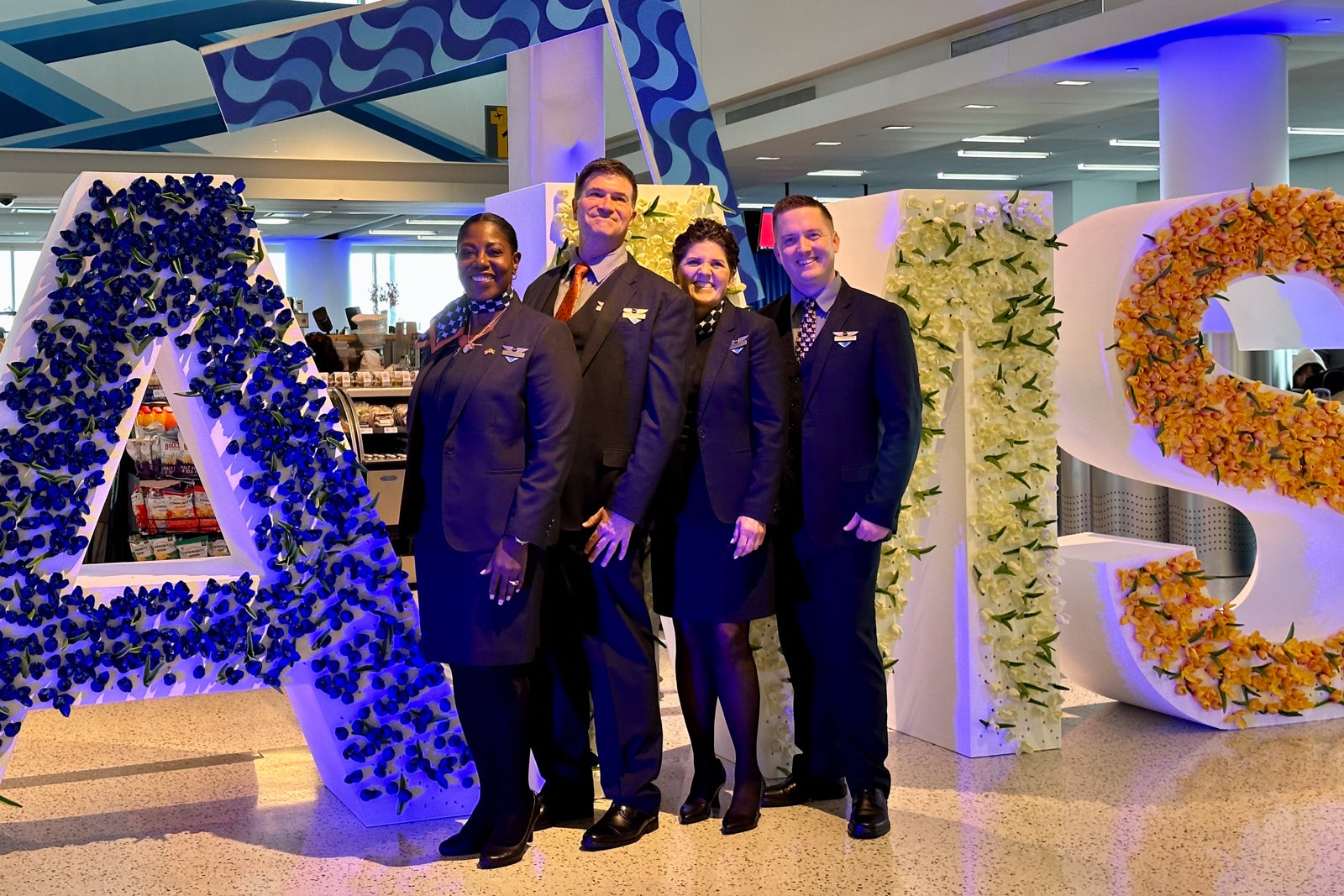 The rest of the party was confined to a rectangular staging area near the gate, which was turned into a Dutch-themed buffet and refreshment station.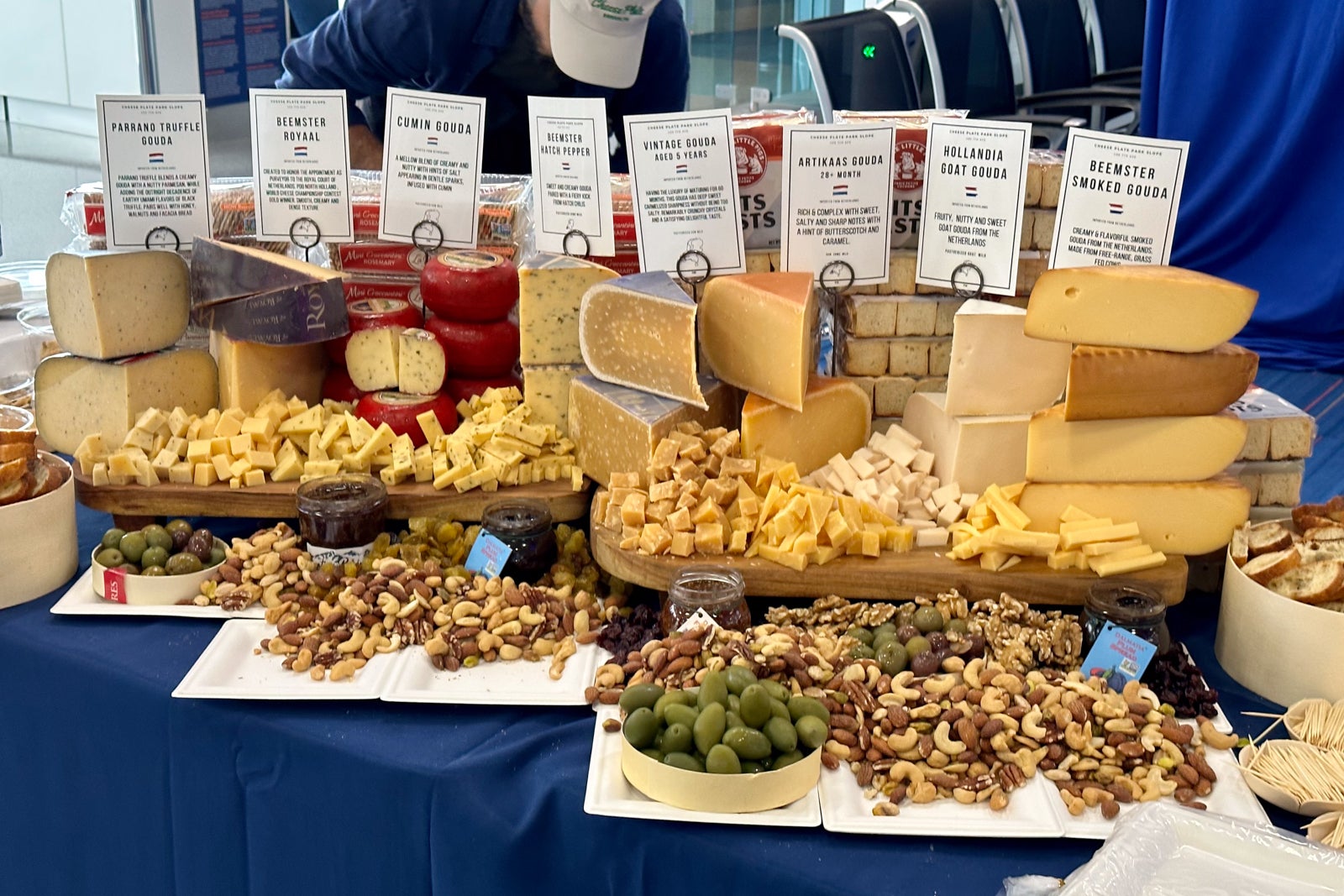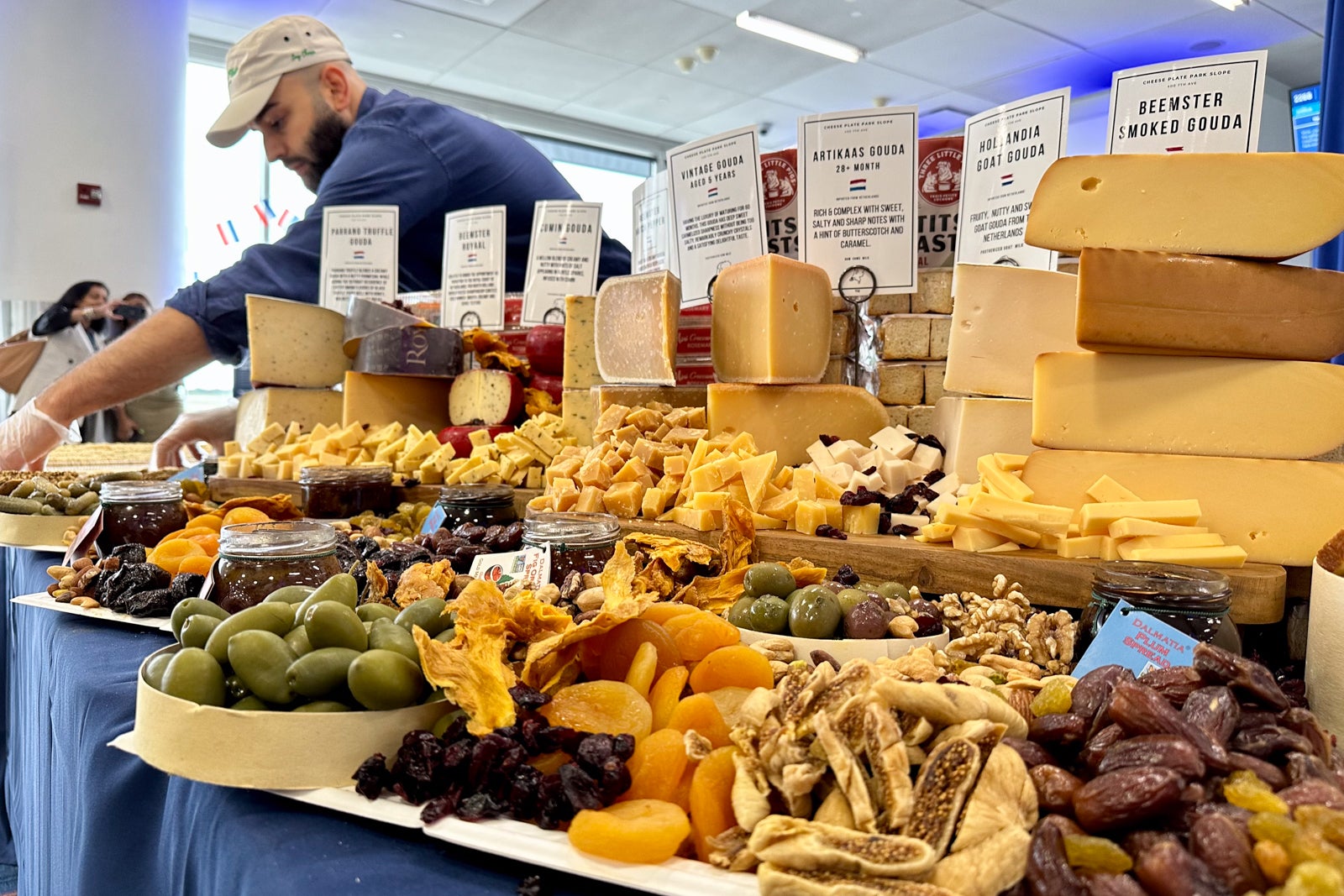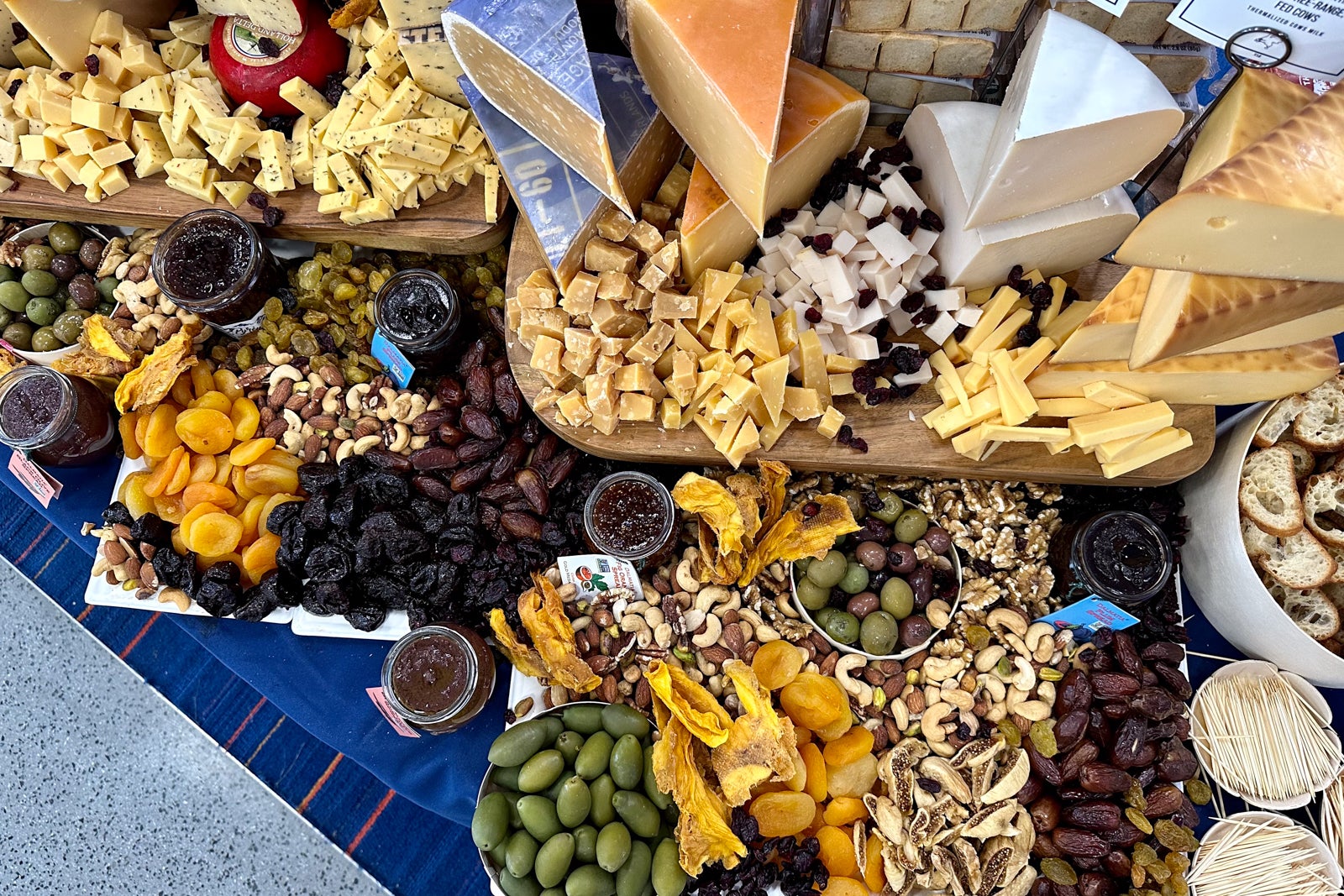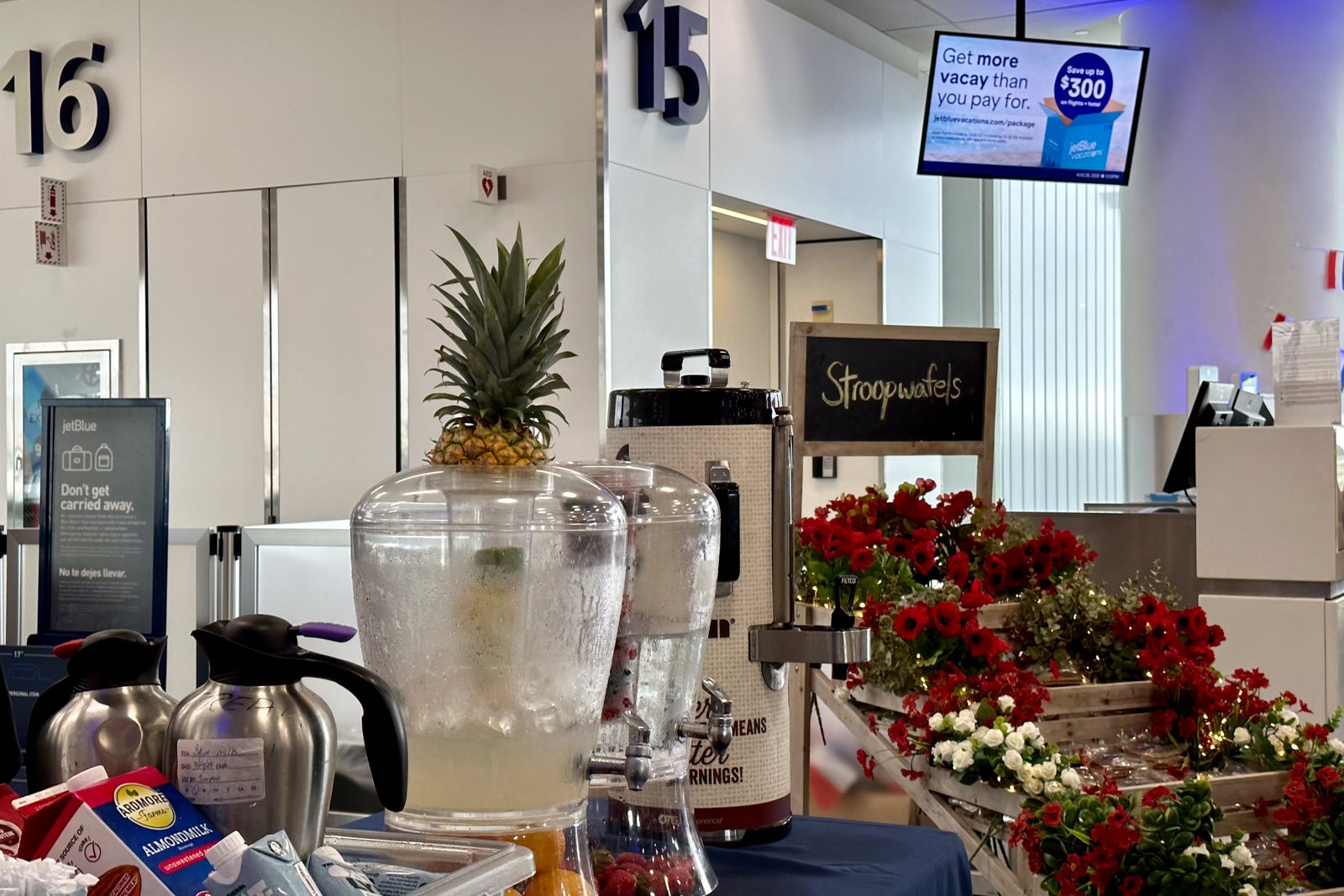 Here I found a plethora of appetizing cheeses and crackers, as well as some hot appetizers, packaged Stroopwafels and even a lemonade and water station next to a baby blue bike.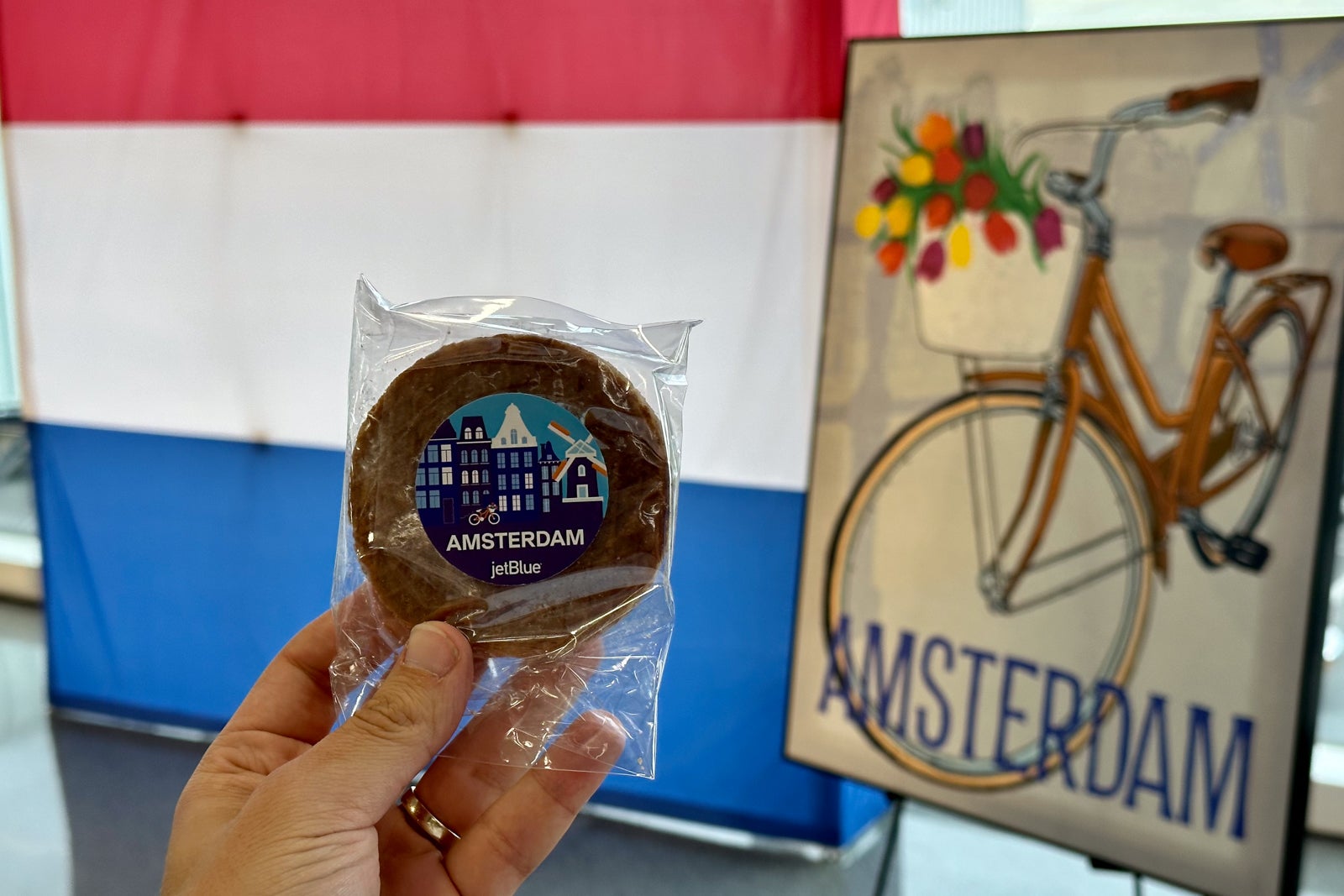 As I was milling around the gate area, I ran into many of the same passengers who flew the Paris inaugural. This included JetBlue crewmembers working on pricing, government affairs, public relations and more.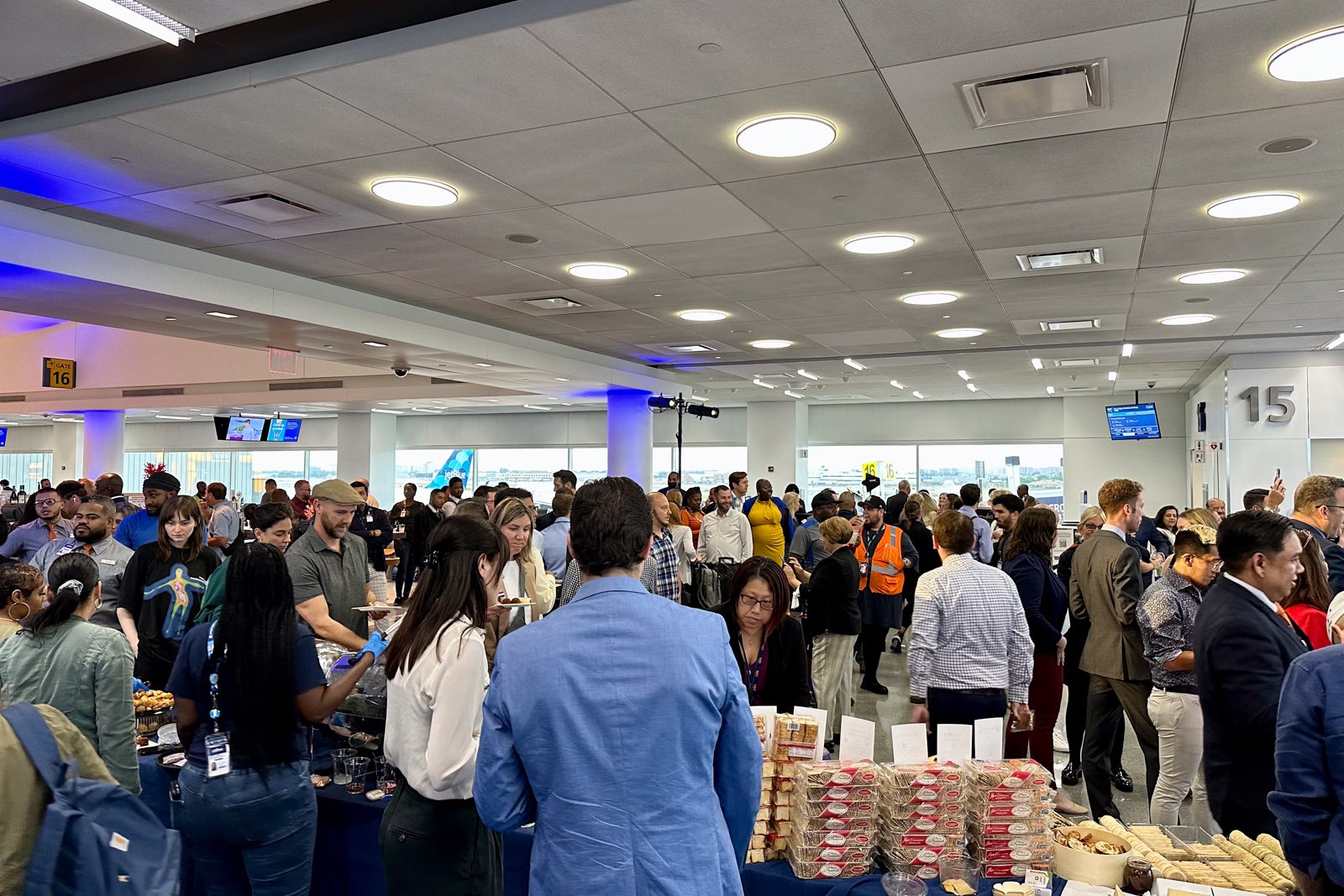 There seemed to only be a handful of passengers who didn't realize they booked a special inaugural flight. Based on the way people were embracing each other, the majority of flyers seemingly knew about the significance of the route.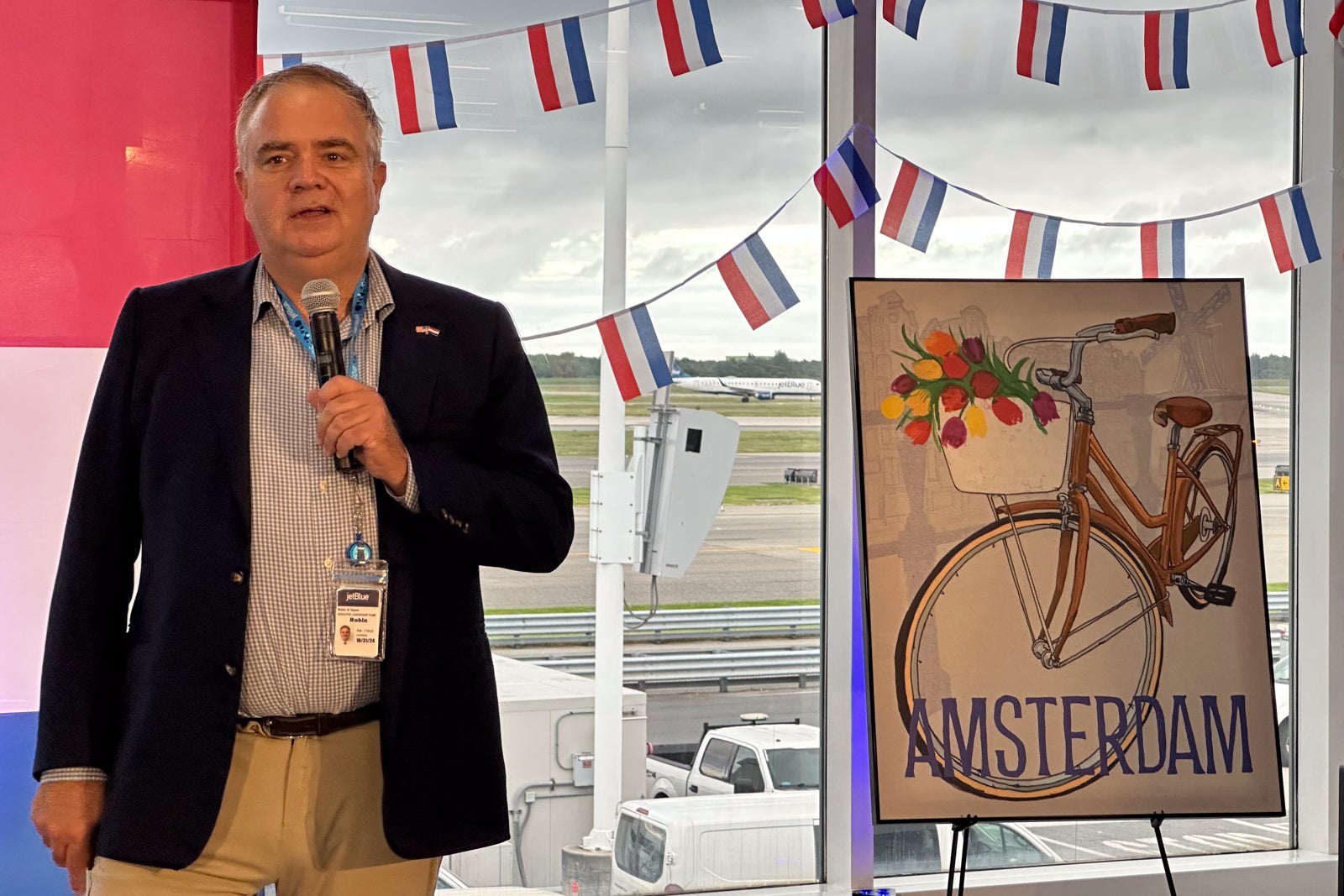 Either way, by 6:45 p.m., everyone had a good sense of what was happening. That's because Robin Hayes, JetBlue's CEO, and Jacqueline Weber, director of the Netherlands Foreign Investment Agency, delivered prepared remarks to celebrate the occasion.
While the speeches mostly stuck to the (somewhat uninspiring) script, Hayes made an interesting off-the-cuff comment before cutting the ribbon.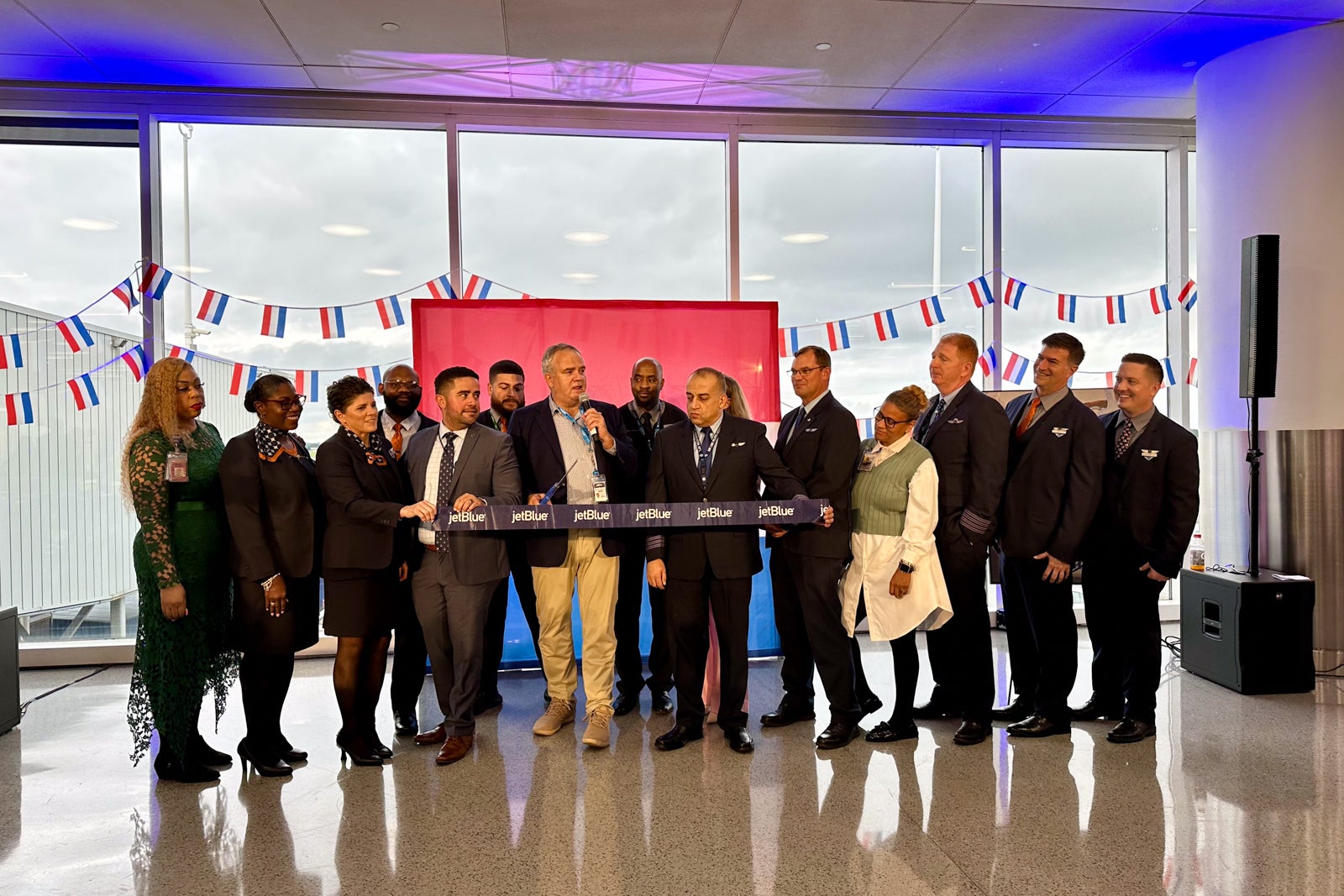 "There is a major joint venture [to Amsterdam] that controls the fares on the East Coast up to the Canadian border. Today, we are cutting the ribbon to end the high fares that people have to pay between JFK and Amsterdam," Hayes said, seemingly referring to the Delta and Air France-KLM joint venture that has historically dominated the market between the East Coast and Amsterdam.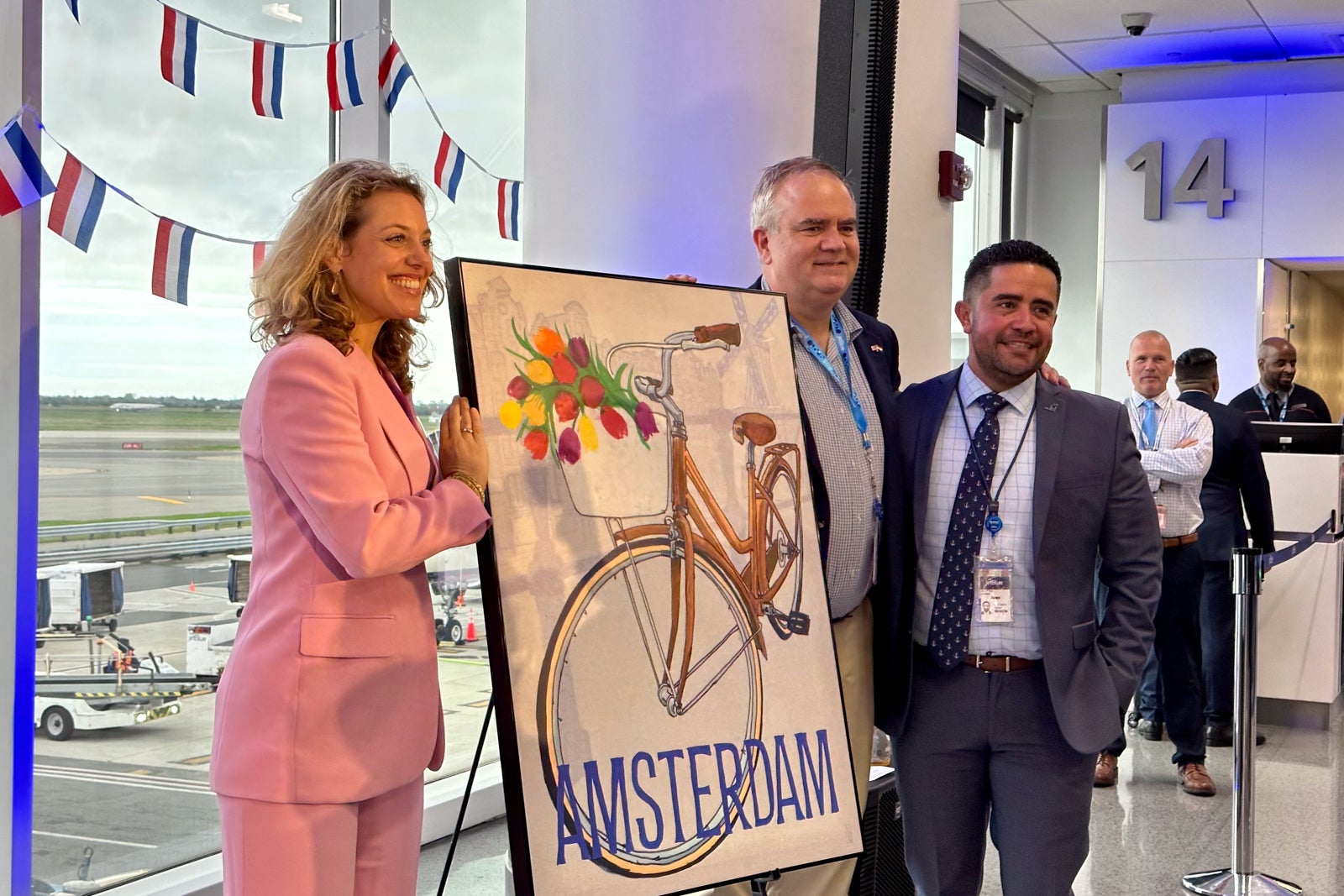 Following the ribbon cutting, the vibes in the gate area got significantly more palpable — a mix of pop hits was played over the loudspeaker, and flyers were started to get visibly excited.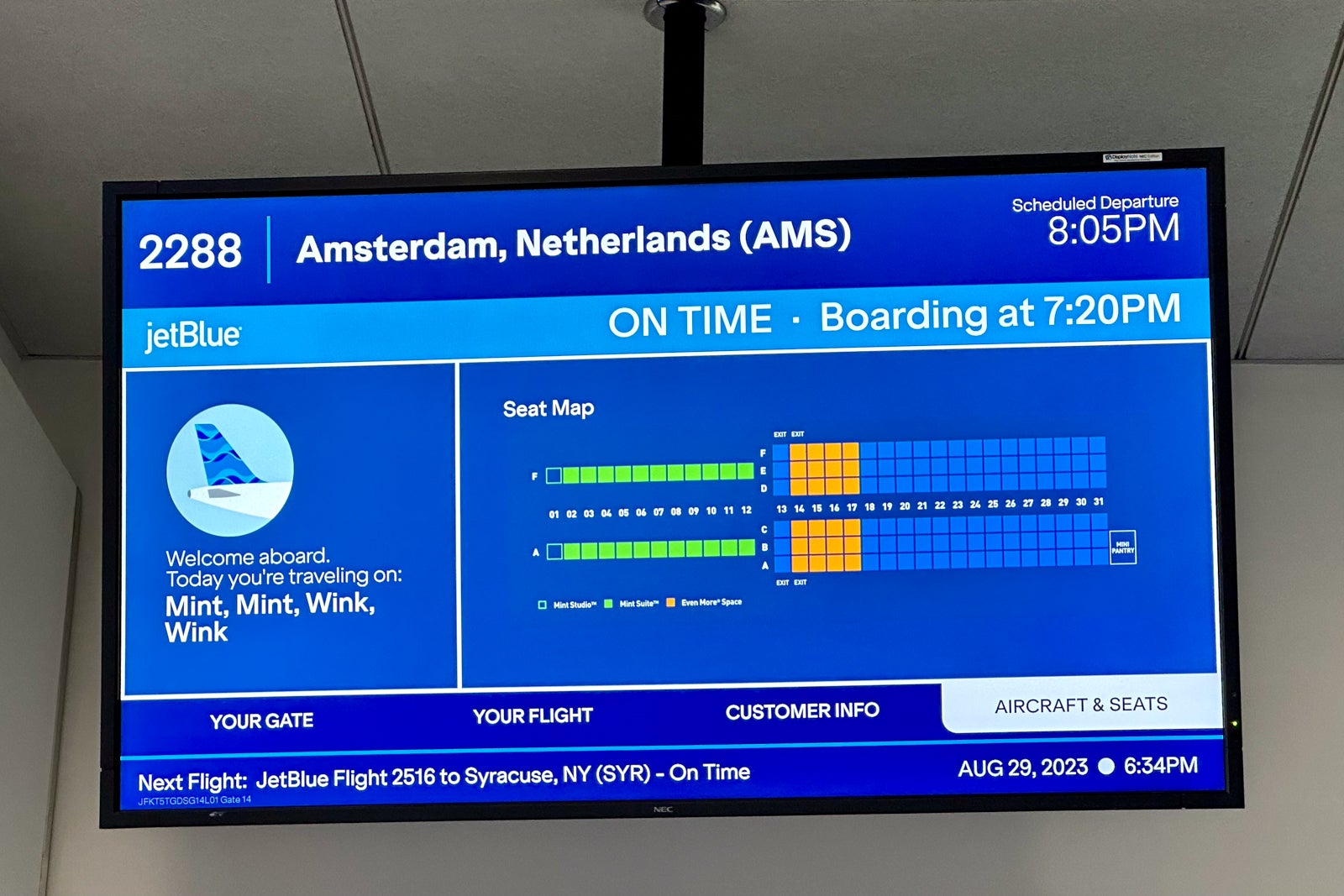 By 7:20 p.m., it was time to board the A321LR bound for Amsterdam. Boarding took just 25 minutes (the economy cabin was only about half full), and after a little onboard celebration with miniature U.S. and Dutch flags, we pushed back.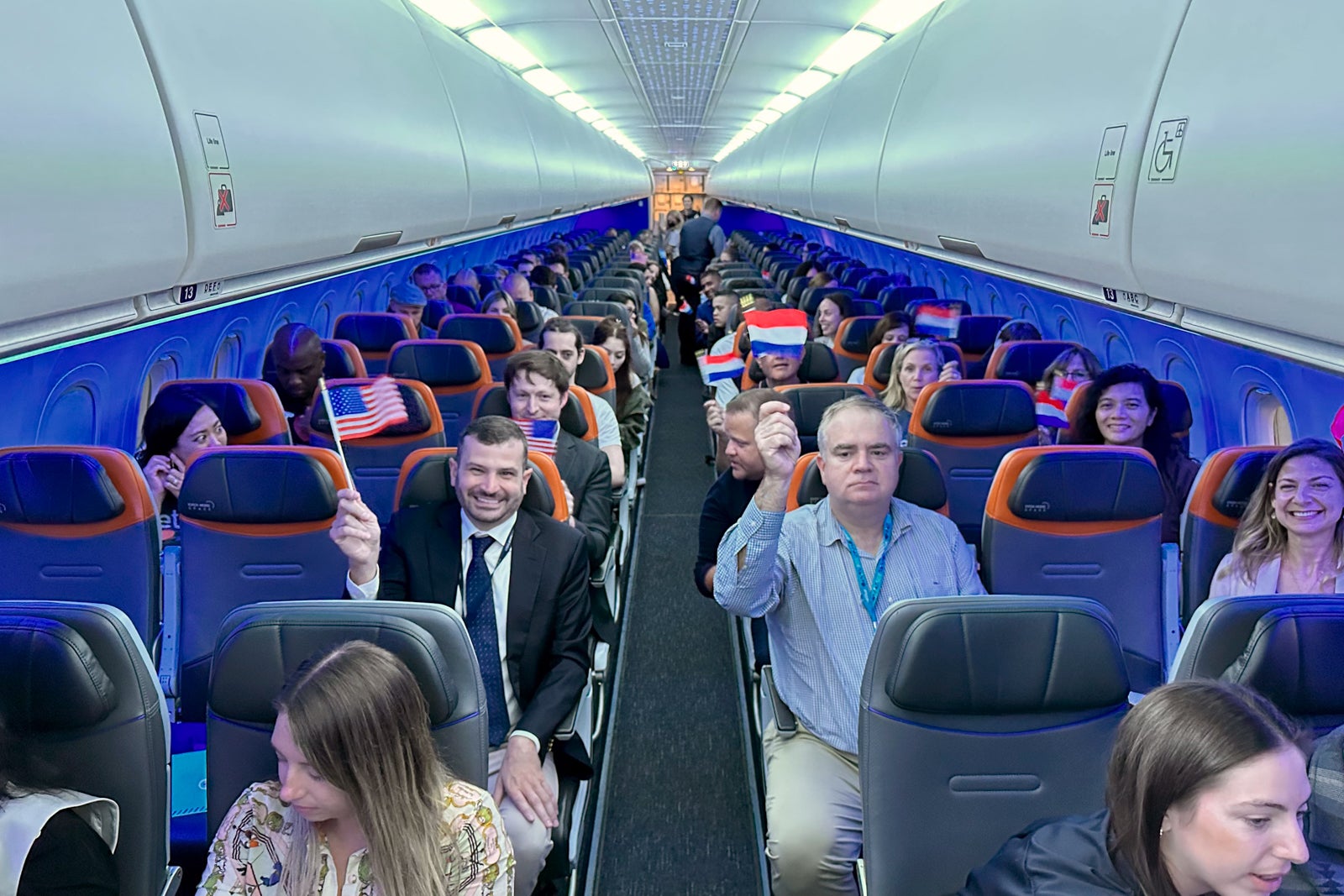 After vacating the gate, we sat on the tarmac for nearly half an hour because our scheduled six-and-a-half-hour flight would put us into Amsterdam well before our slotted arrival time.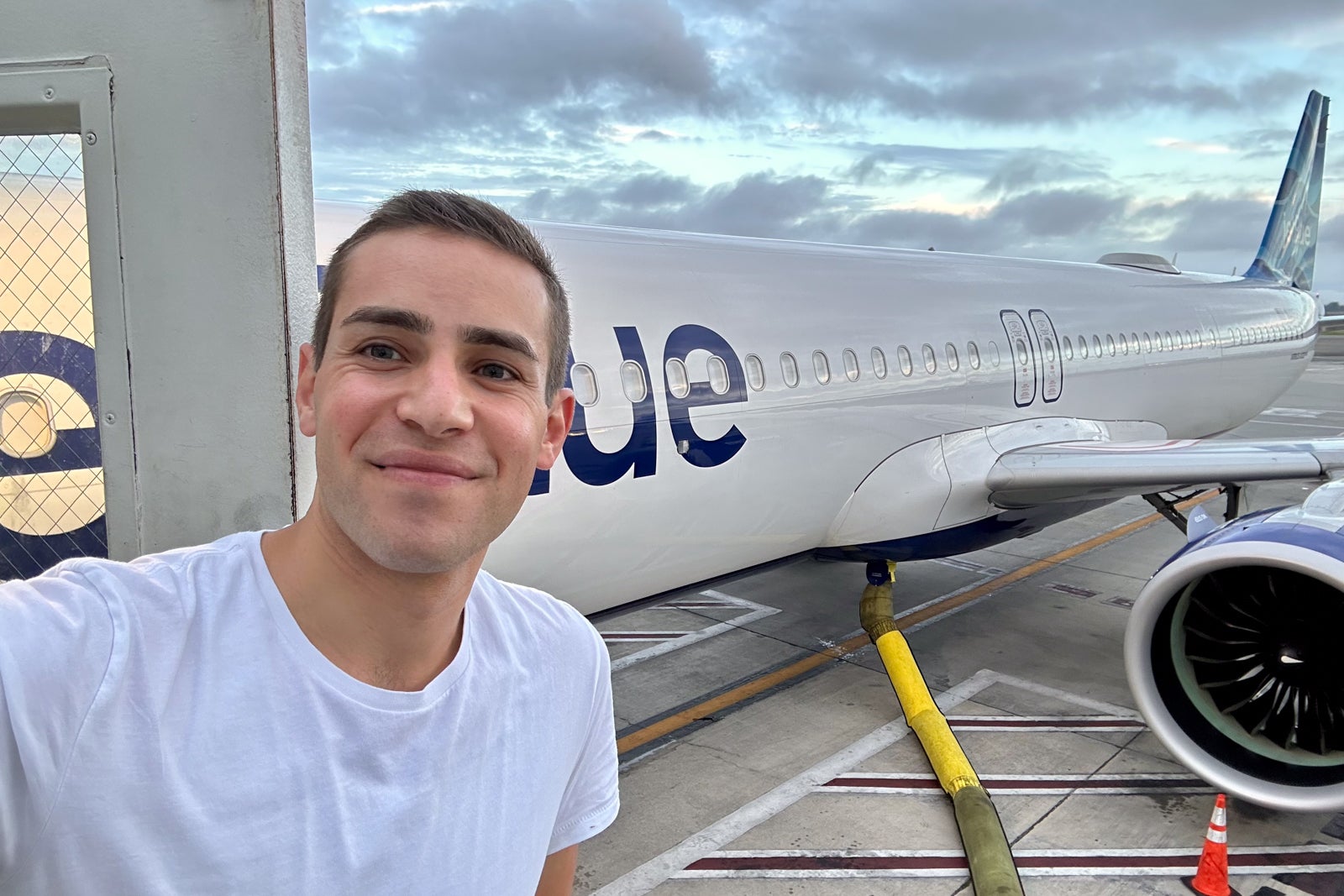 While we waited, passengers started to familiarize themselves with the seat functions. I heard a few oohs and ahs from first-time Mint flyers — and that's for good reason because this product is certainly top-notch.
Fancy onboard cabins and amenities
Save for a handful of London frequencies, JetBlue exclusively deploys its Airbus A321LR on transatlantic missions. (The two-year-old A321LR named "Mint Mint Wink Wink" and registered N4058J was the one that operated the inaugural mission.)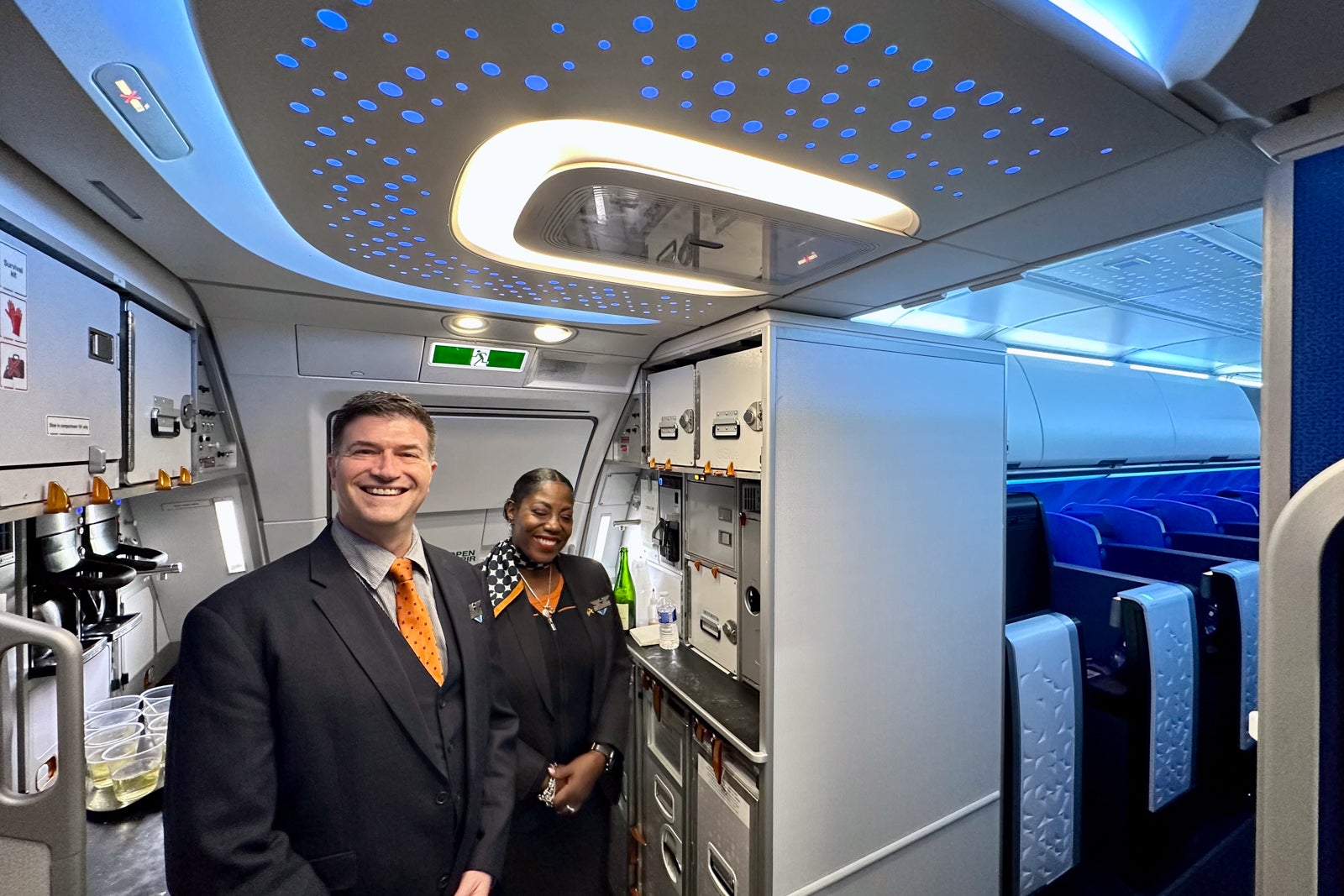 This cozy single-aisle jet features just 138 seats — two Mint Studio business-class pods, 22 Mint business-class suites, 24 extra-legroom Even More Space economy seats and 90 standard core economy seats.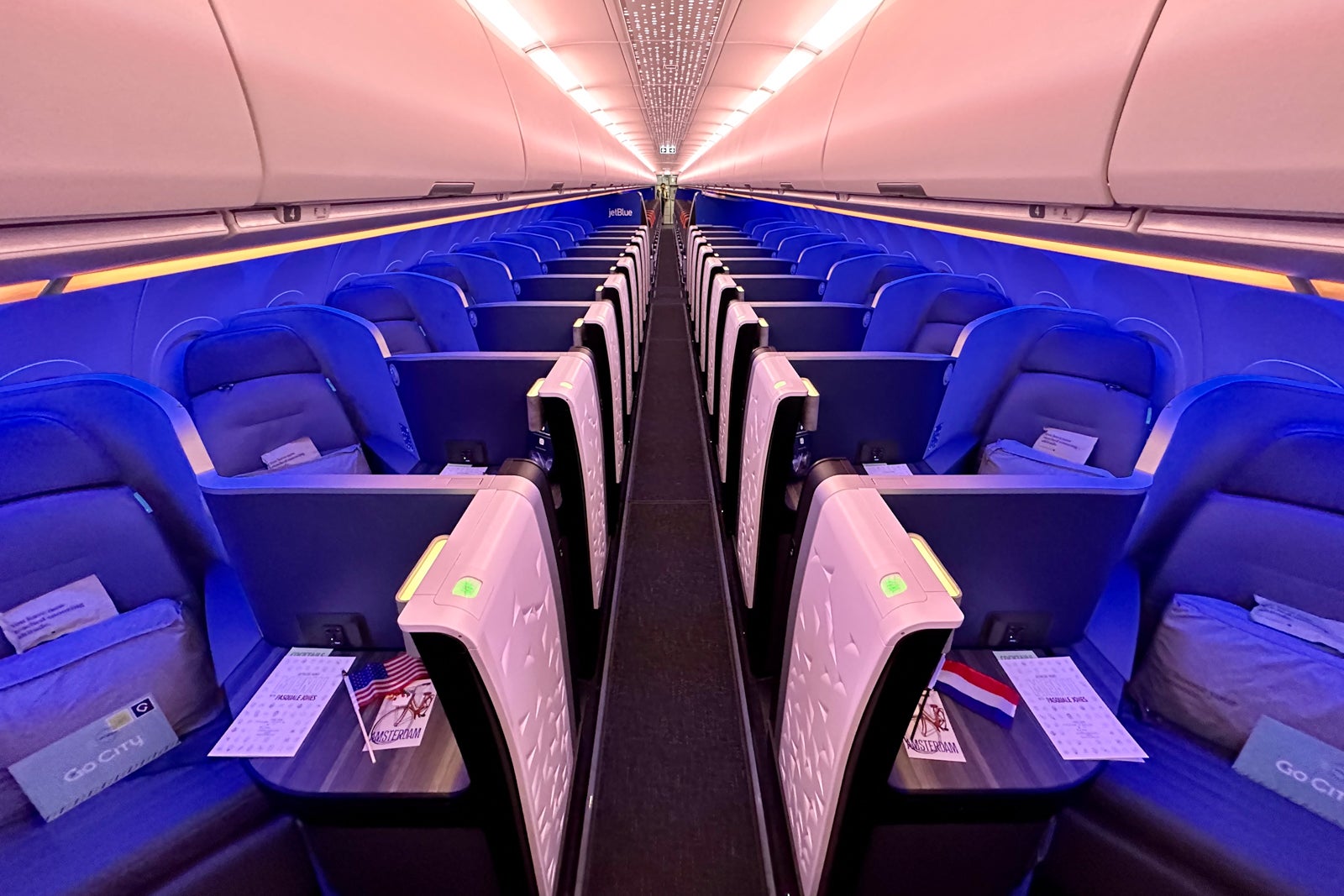 Flying on a narrowbody jet for a seven-hour journey to Europe may not sound so appealing, but JetBlue's onboard experience beats basically every other airline operating in the transatlantic market.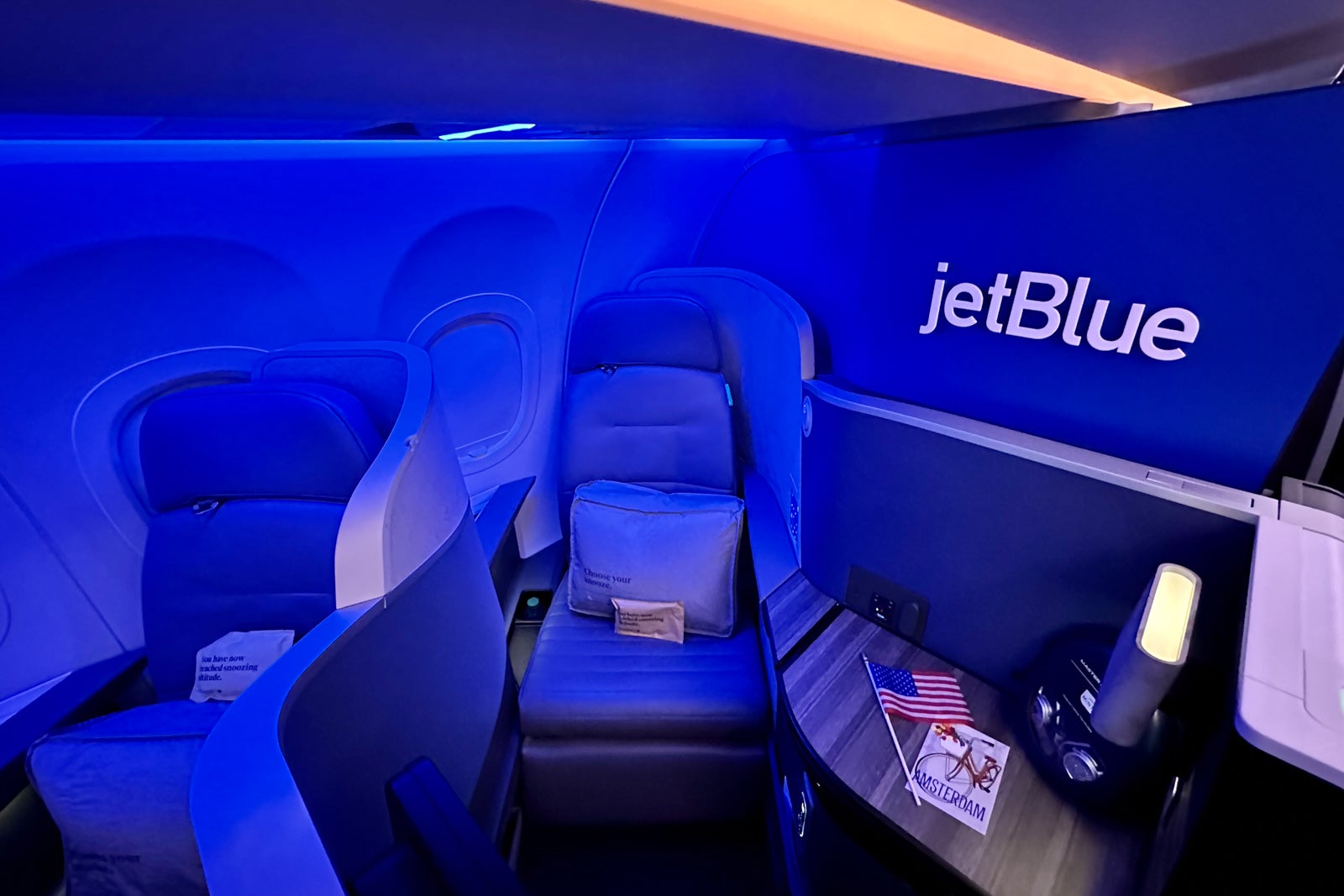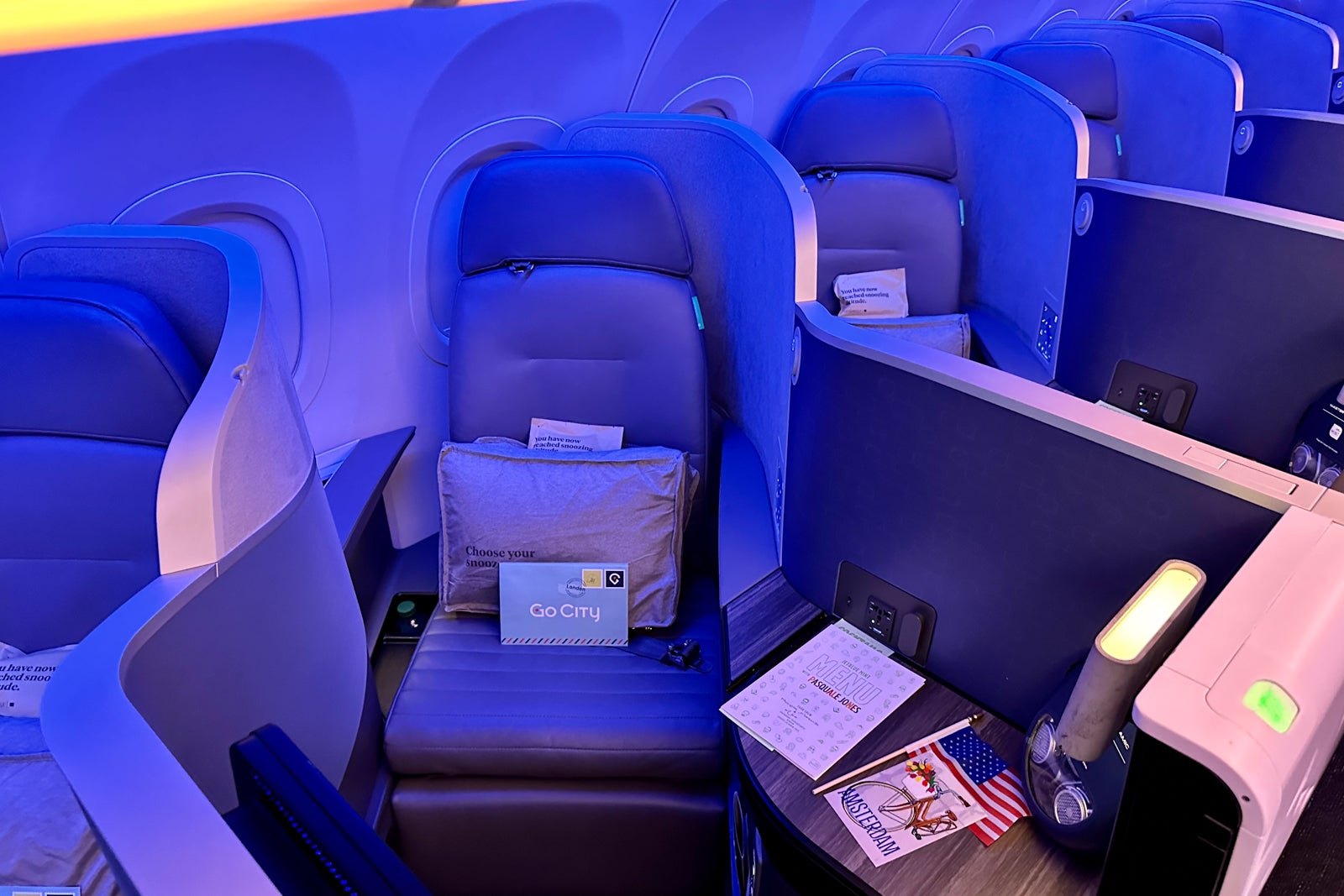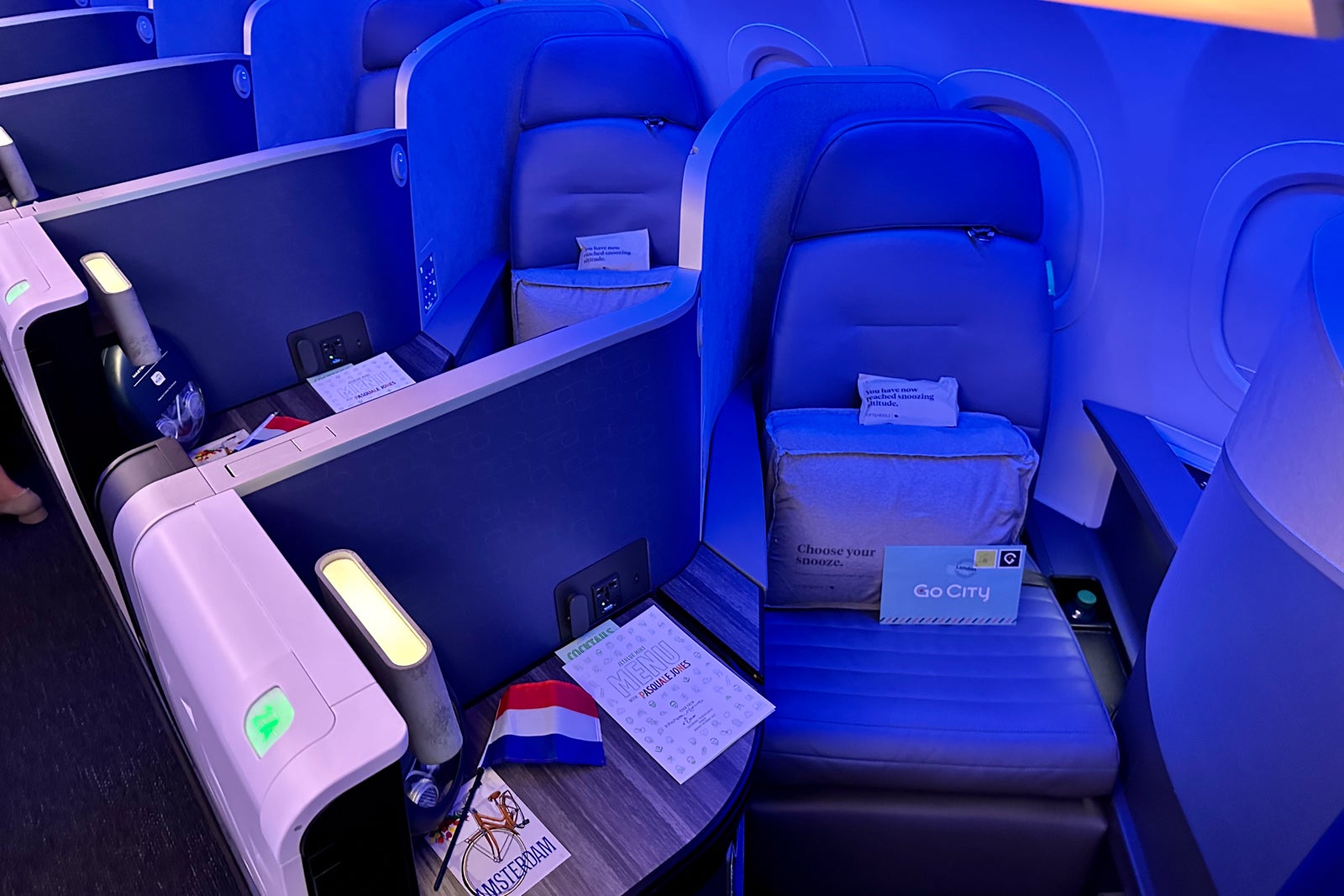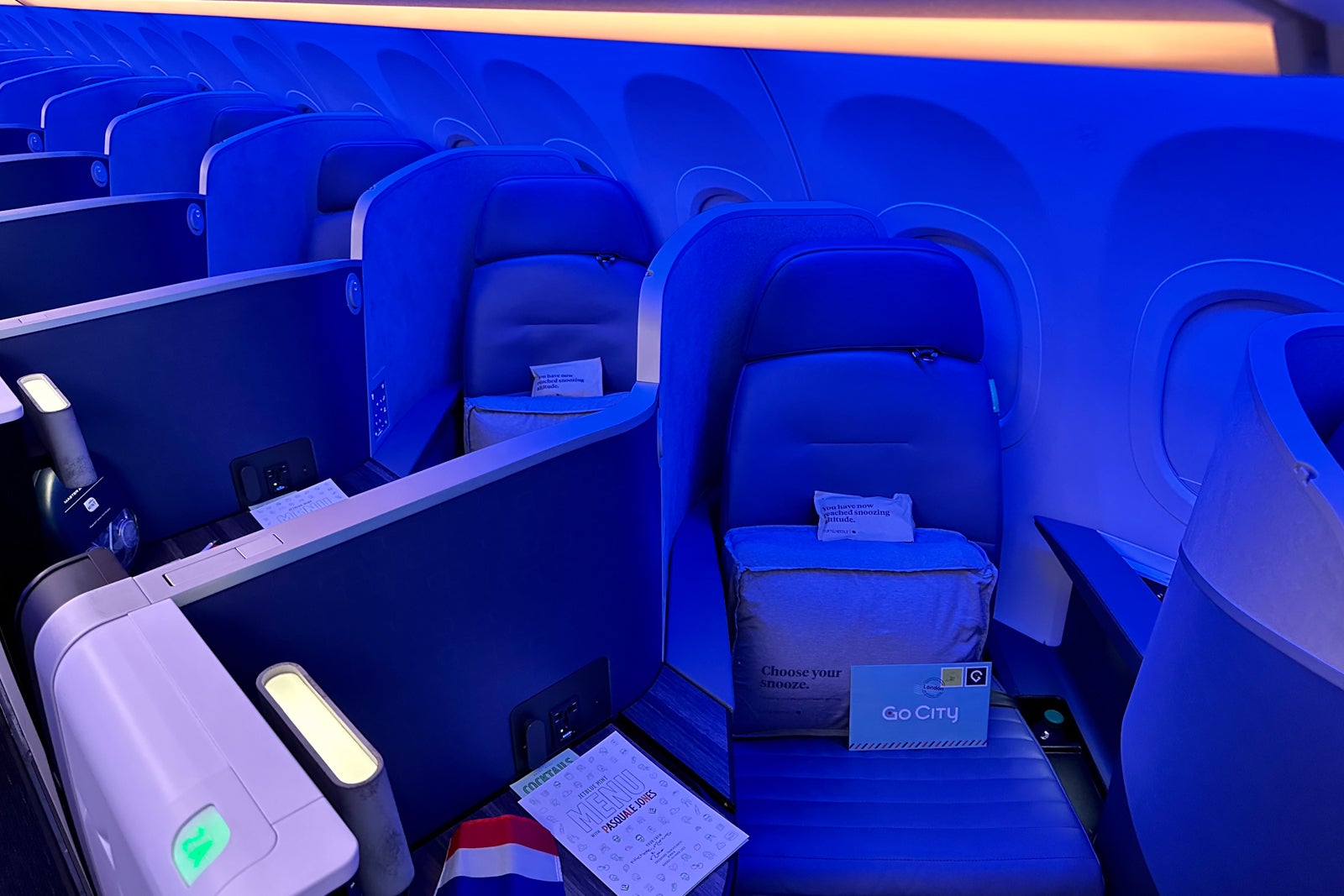 In business class, every flyer is treated to a spacious suite featuring a comfortable fully-flat bed, large tray table, oversized high-definition television screen and five different charging options, including two universal AC outlets, one USB-A port, one USB-C port and a somewhat finicky Qi wireless charging pad.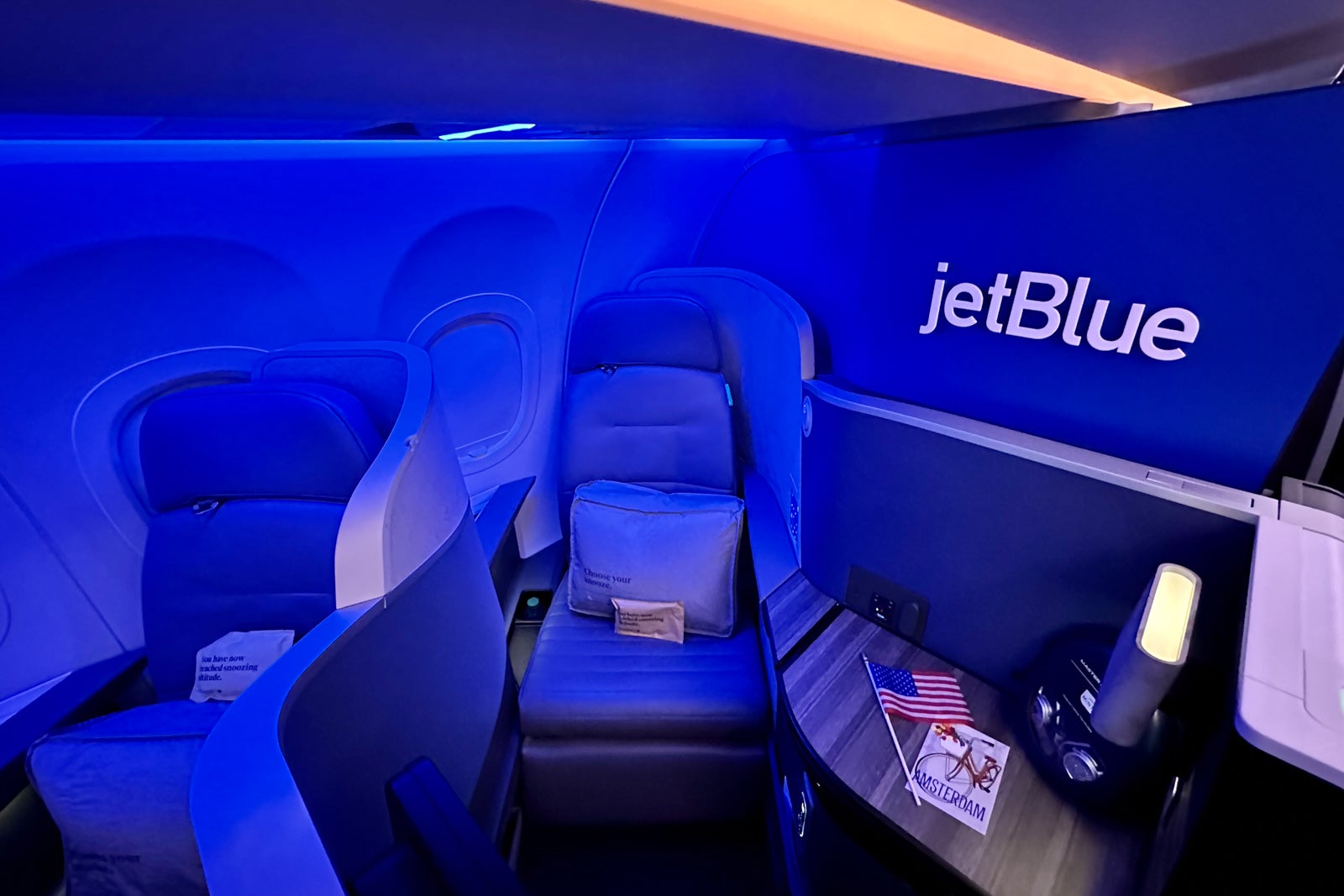 Perhaps the highlight of JetBlue's Mint experience is the sliding door that separates each suite from the aisle. Despite the aisle-facing herringbone configuration, closing the door makes you feel like you're in your own cocoon, even if you have a neighbor across the aisle.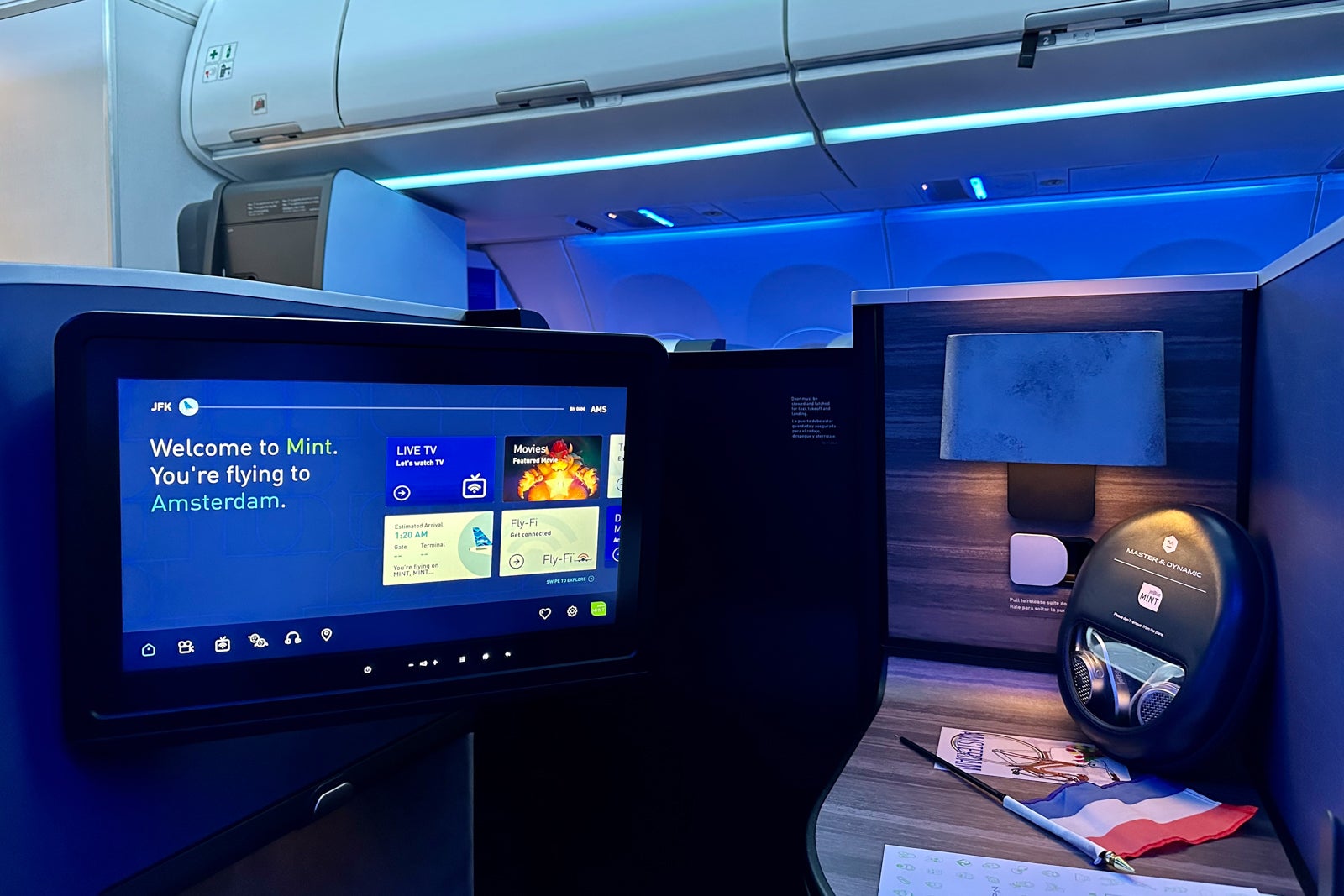 The two Mint Studios are a unique "business-class-plus" offering that JetBlue installed to take advantage of all the extra space in the first-row bulkhead. These Studios feature a large closet, a buddy seat, a second tray table and a few other bells and whistles, such as a second pillow, a pair of pajamas and an additional amenity pack.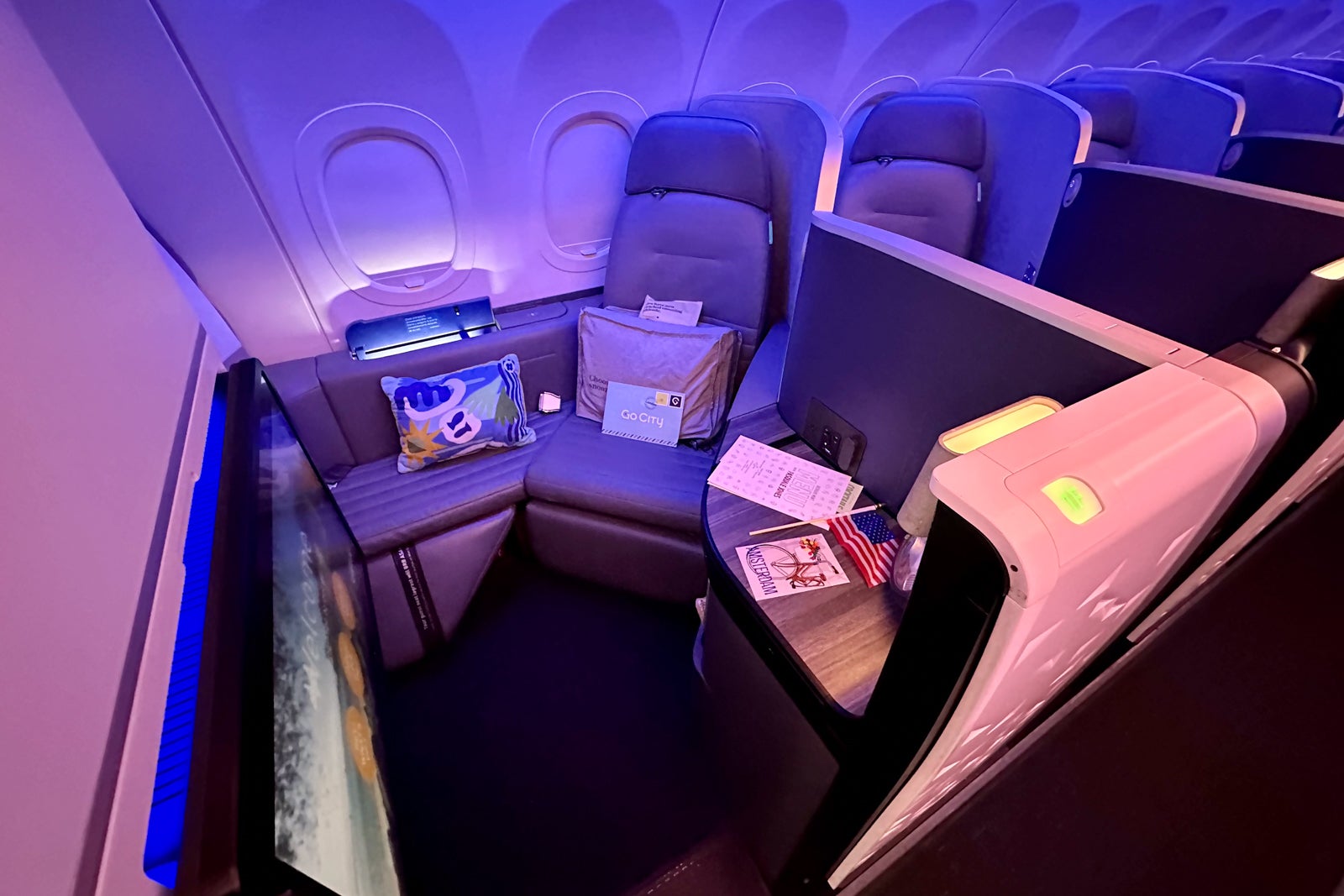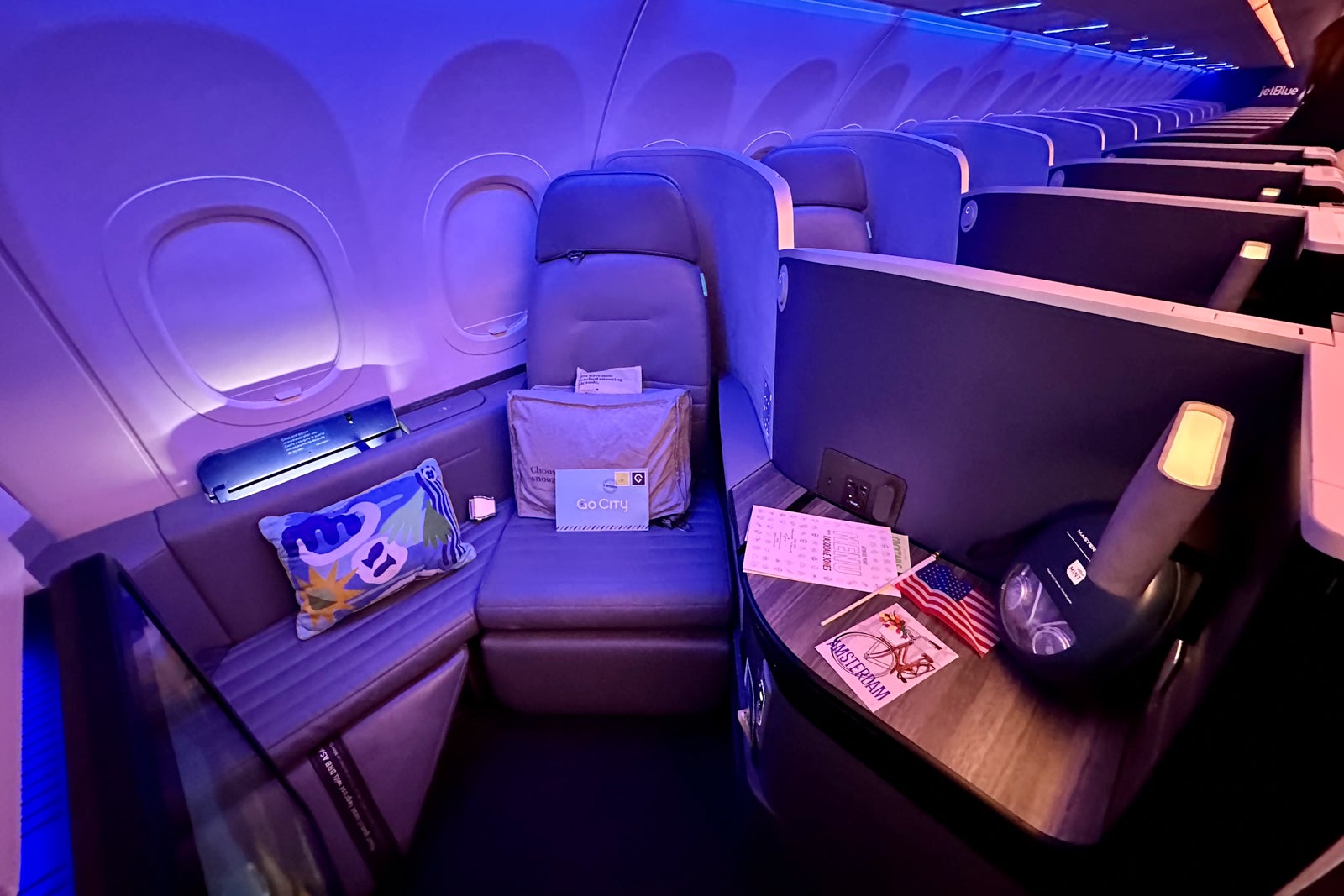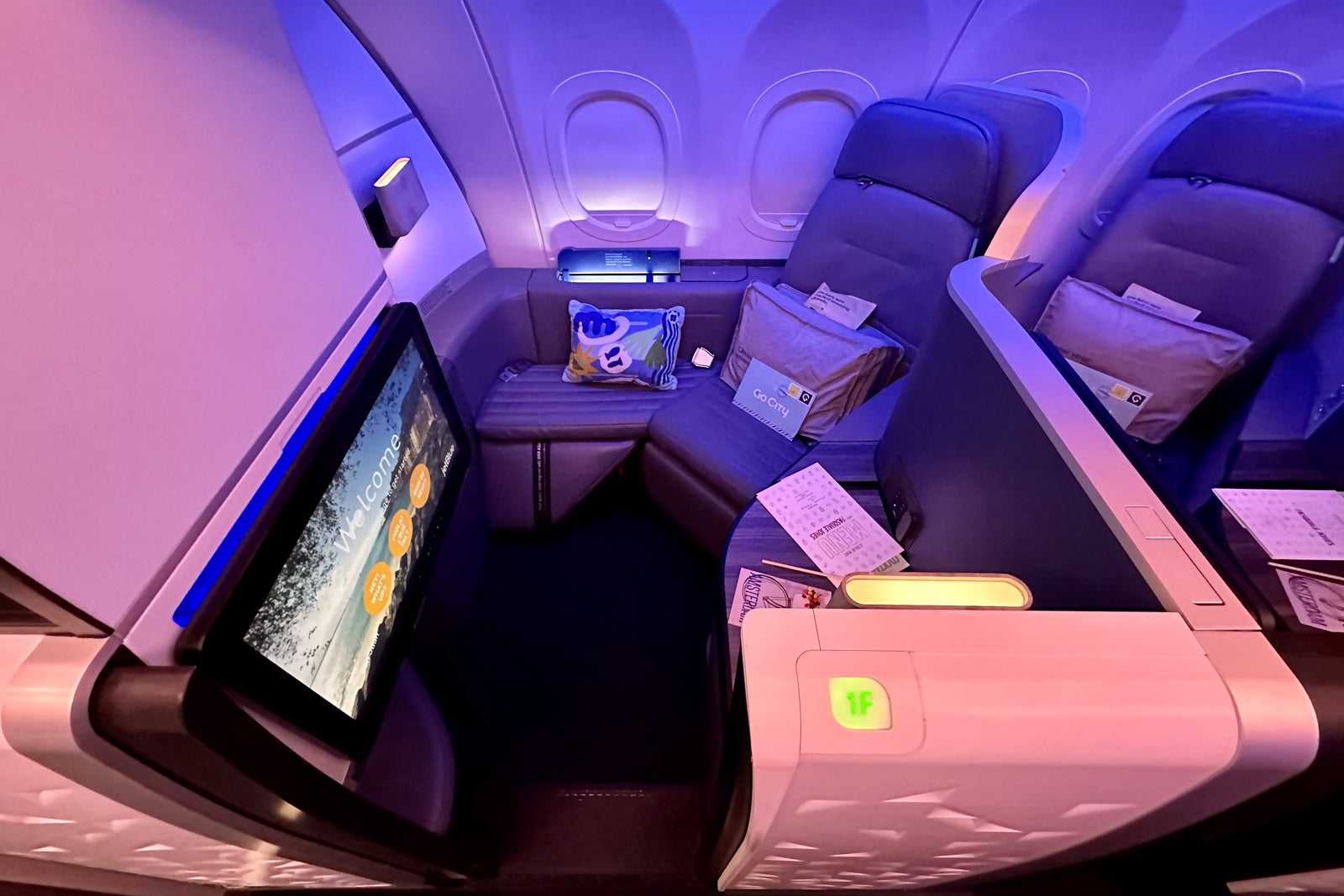 Meanwhile, JetBlue's economy cabins are arranged in a 3-3 configuration. Seats are about 18 inches wide and offer 32 and 35 inches of pitch in Core and Even More Space, respectively.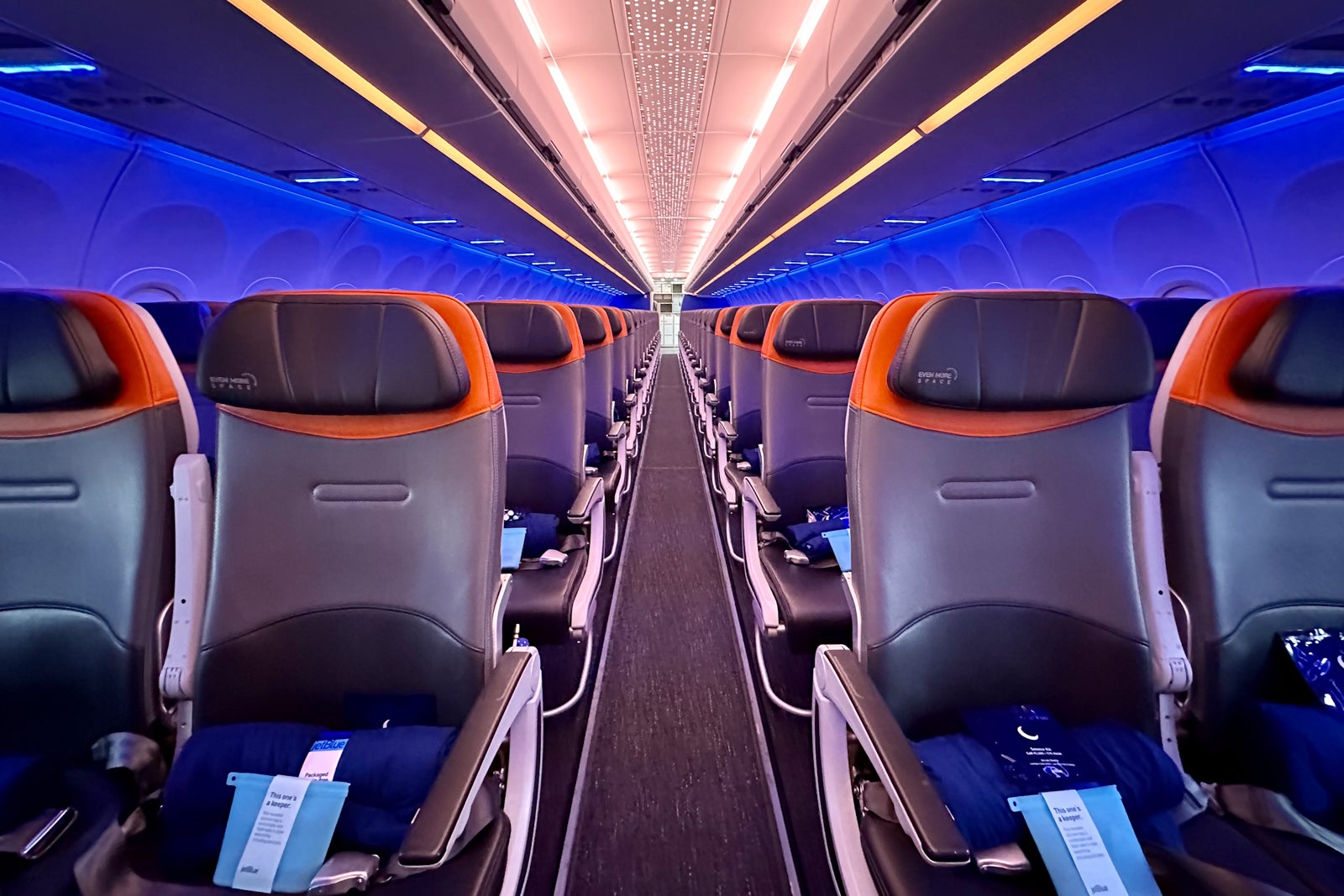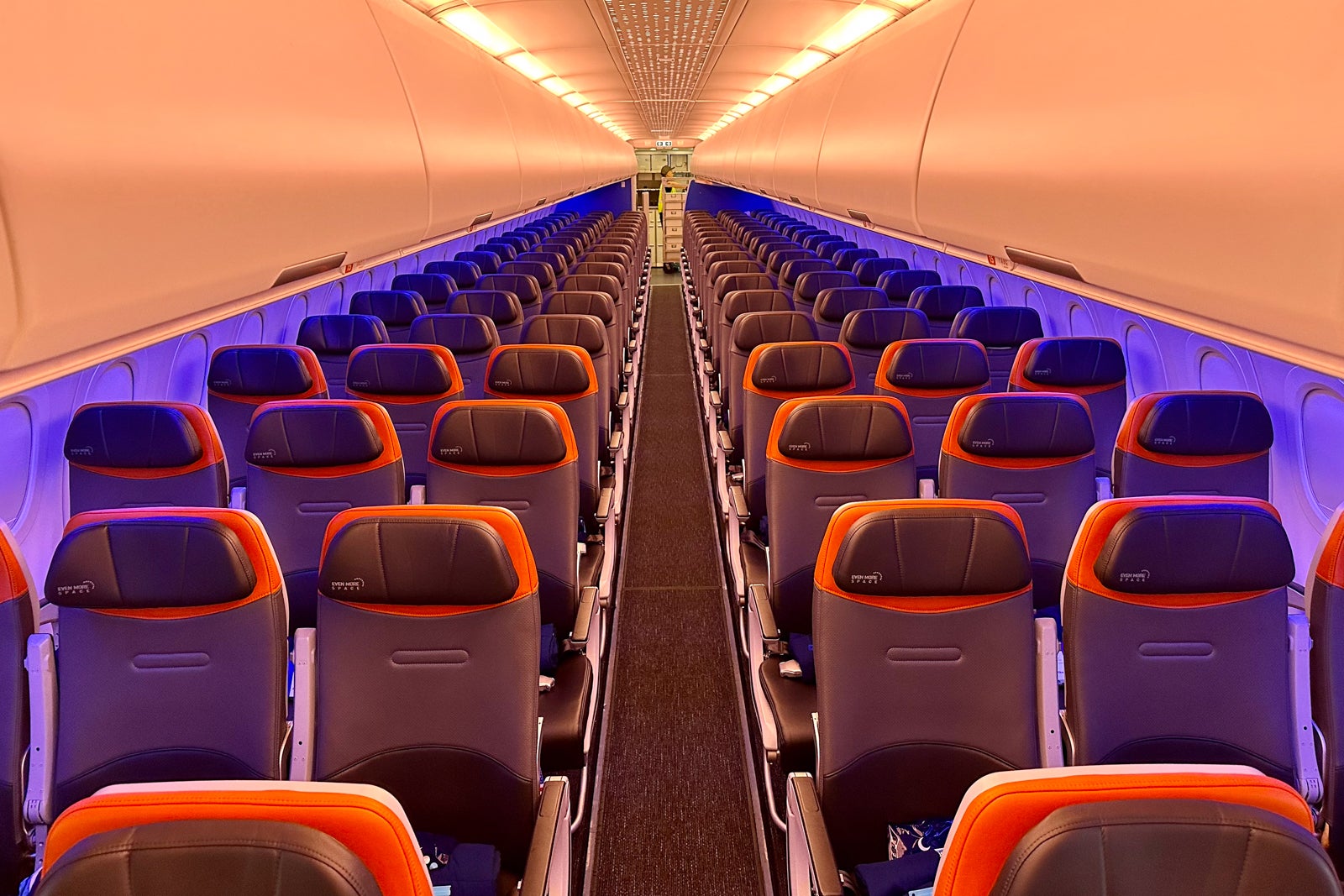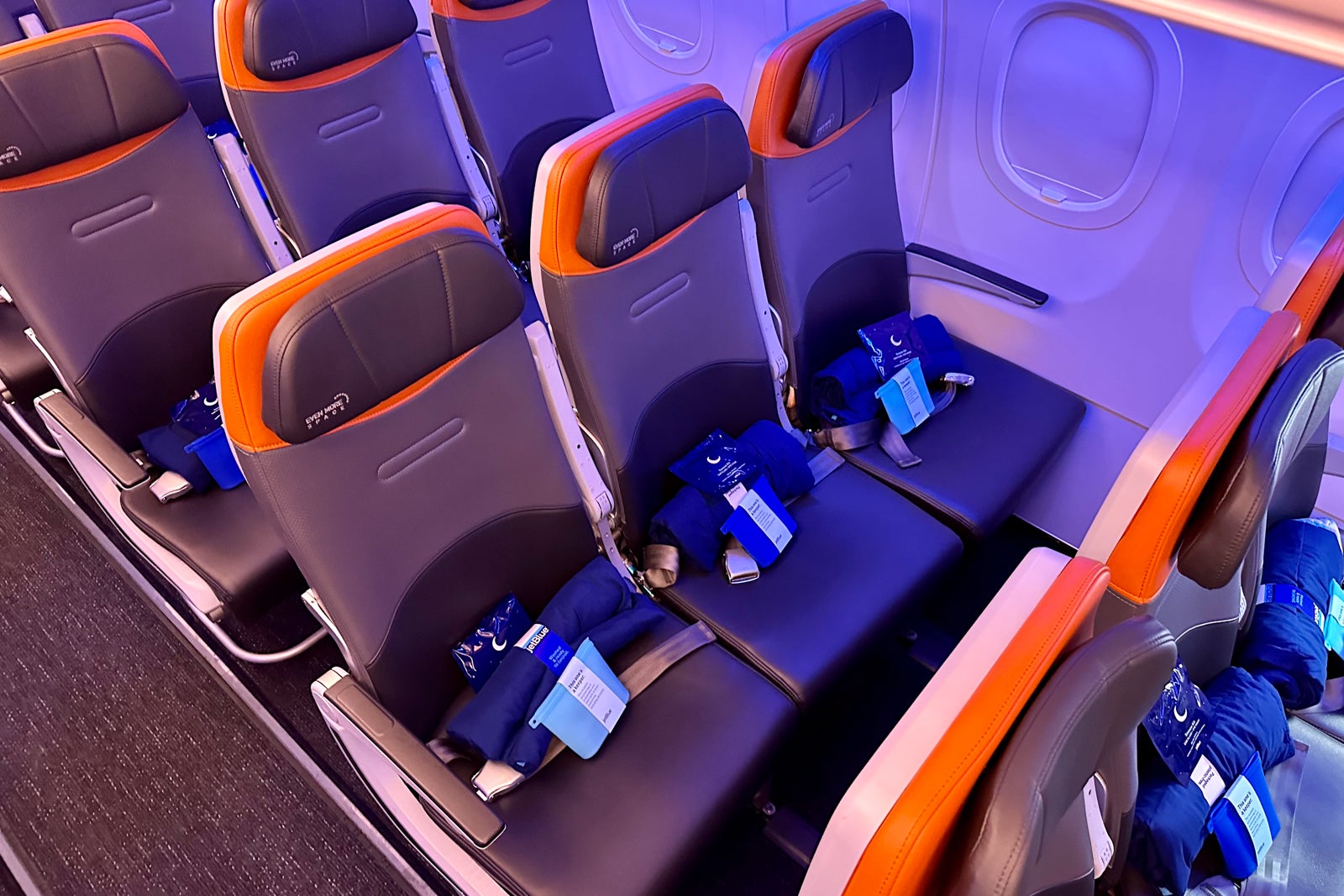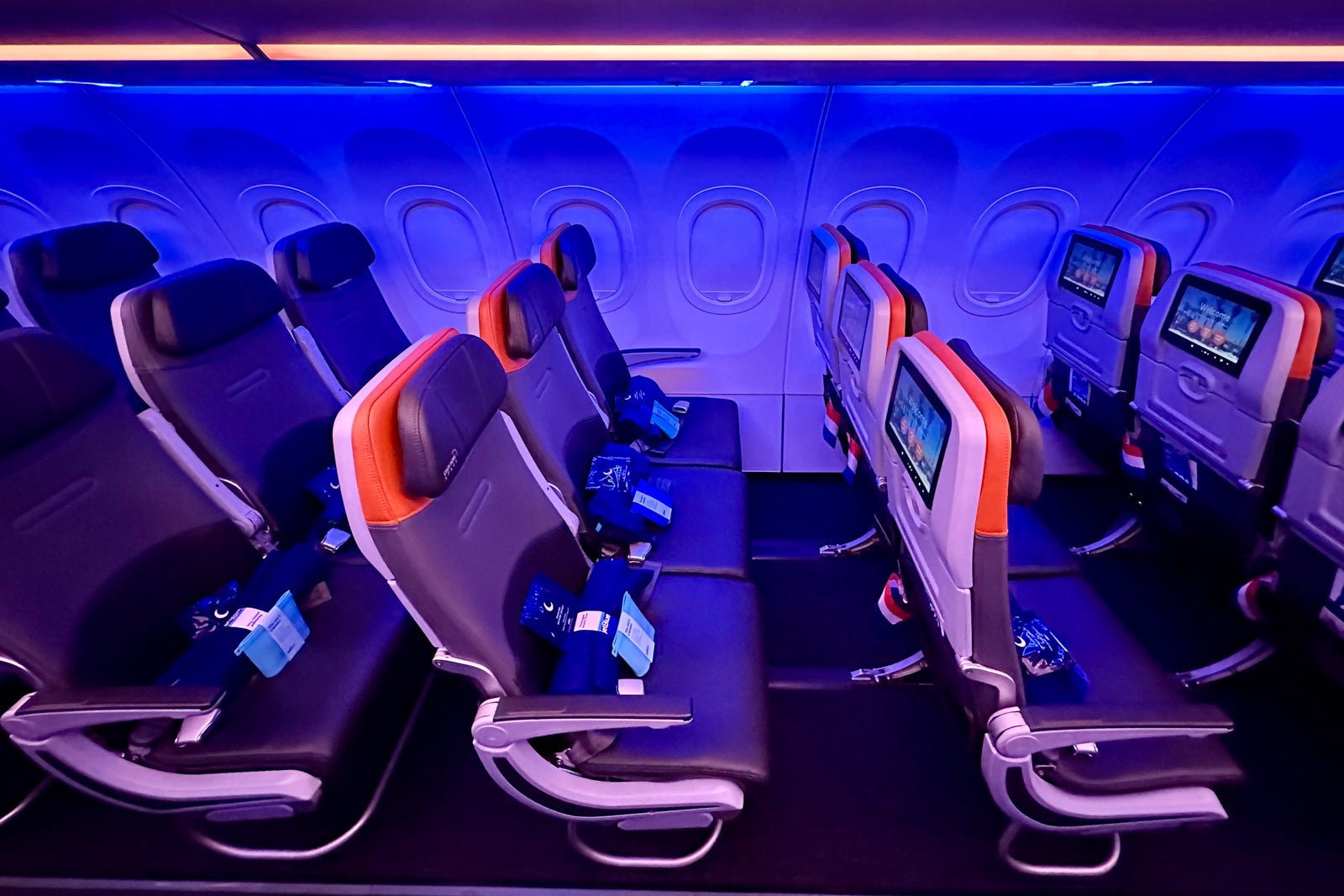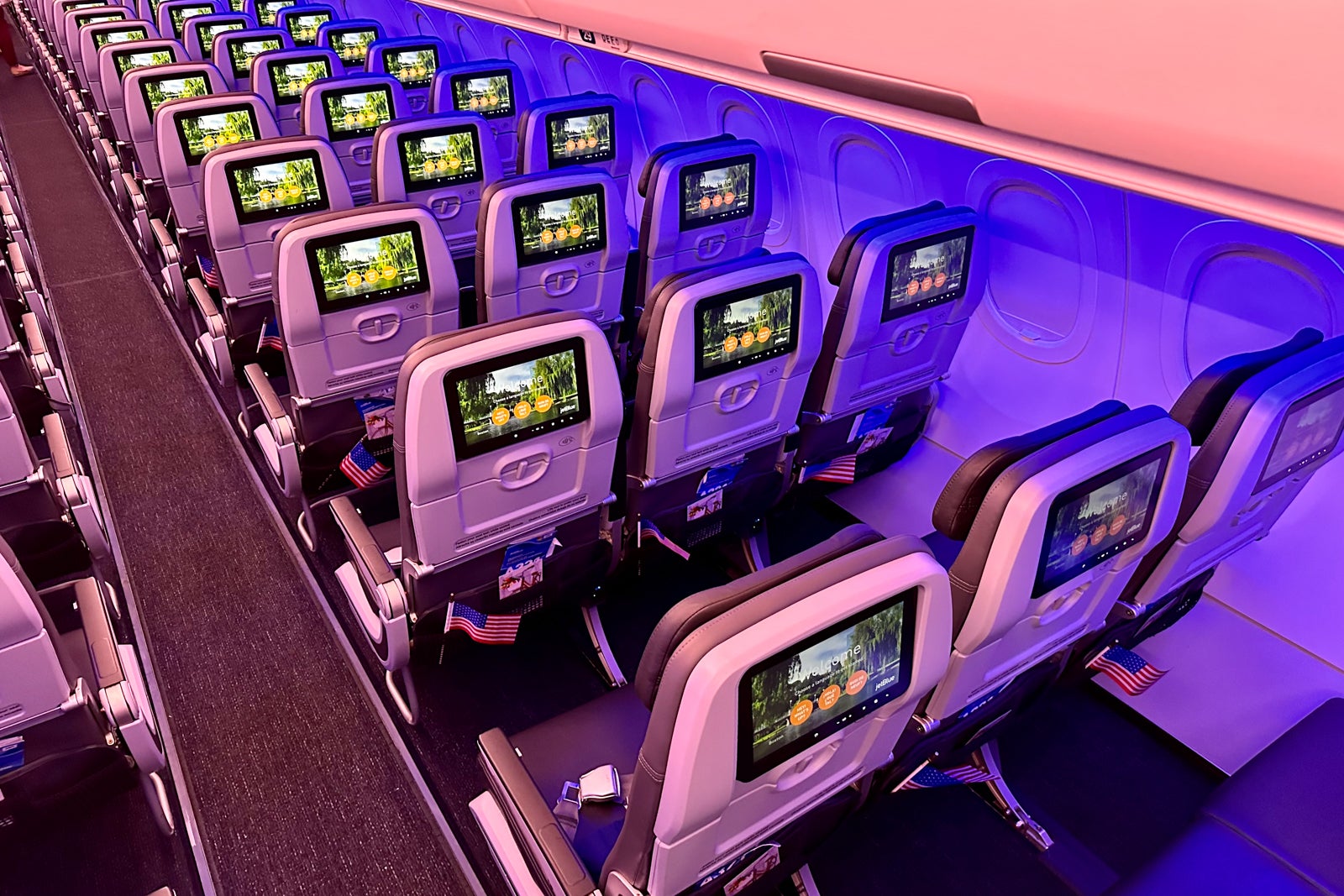 Here at TPG, we've reviewed JetBlue's Airbus A321LR in great detail, so be sure to check out those write-ups for an overview of the product you'll experience onboard.
If you're flying with JetBlue, it's worth mentioning that the suites close to the front of the plane can get quite noisy. There's just a single galley in front of the bulkhead, and unless it's the middle of the night, you can expect it to be quite busy in there with dishes clanking and glasses clinking.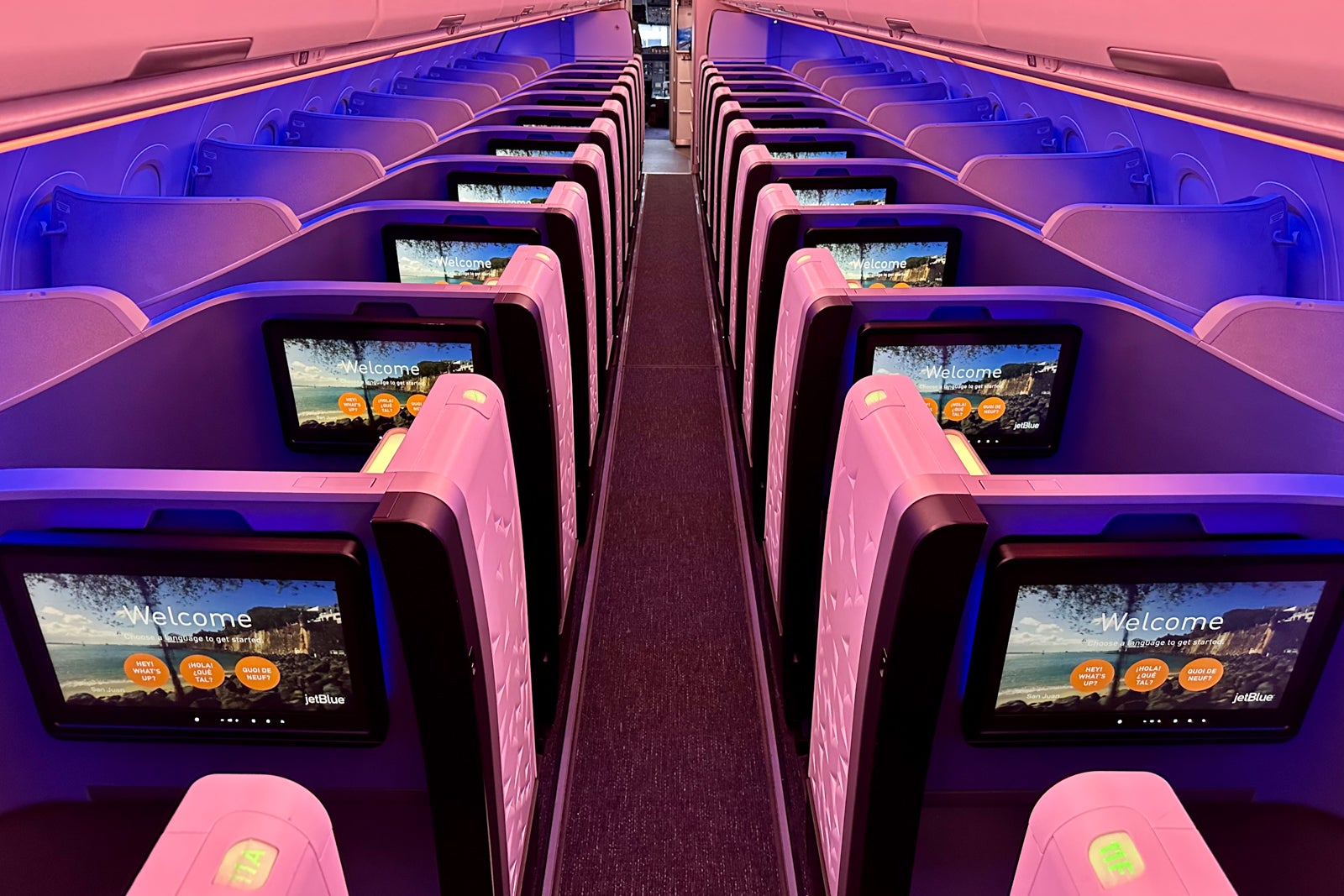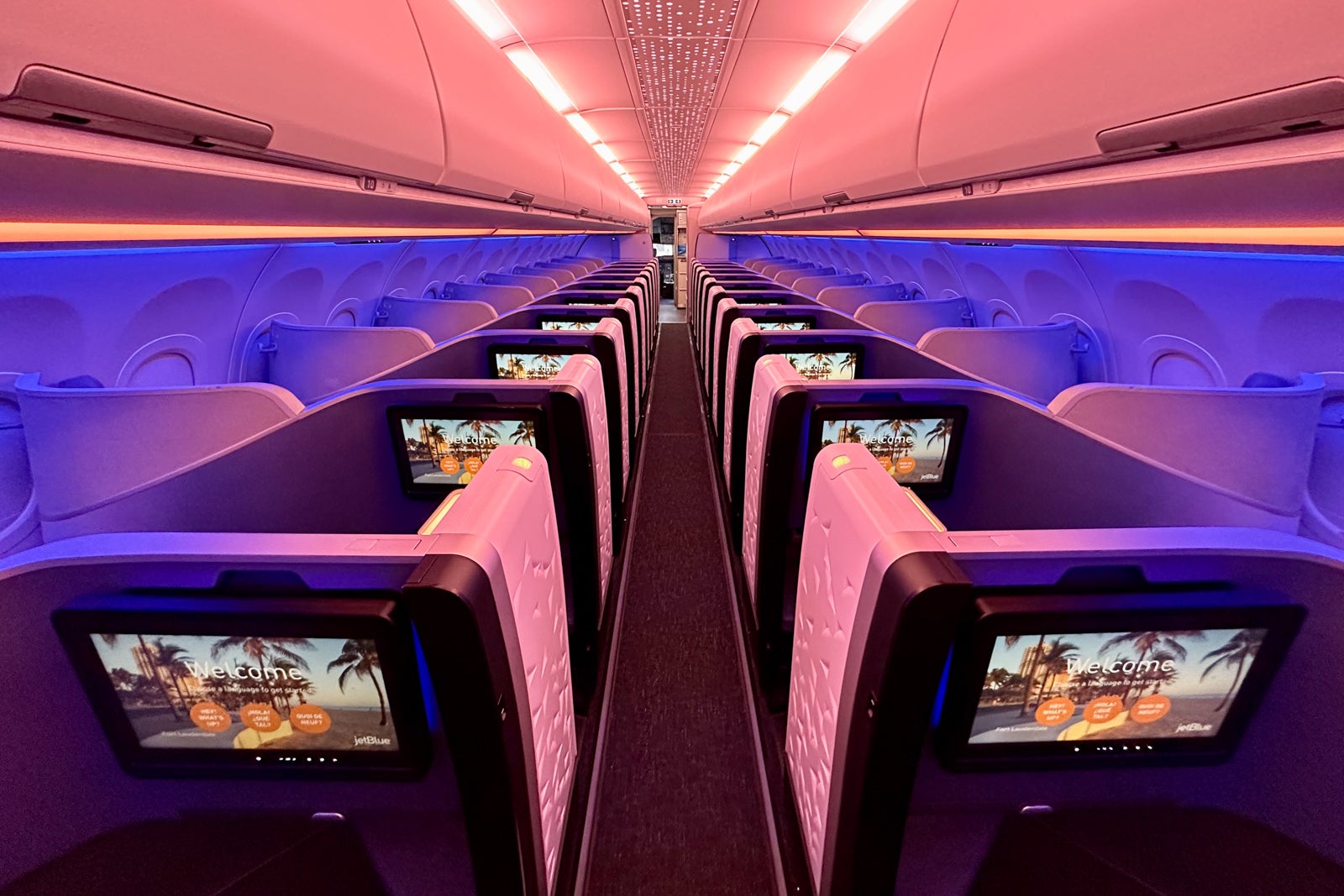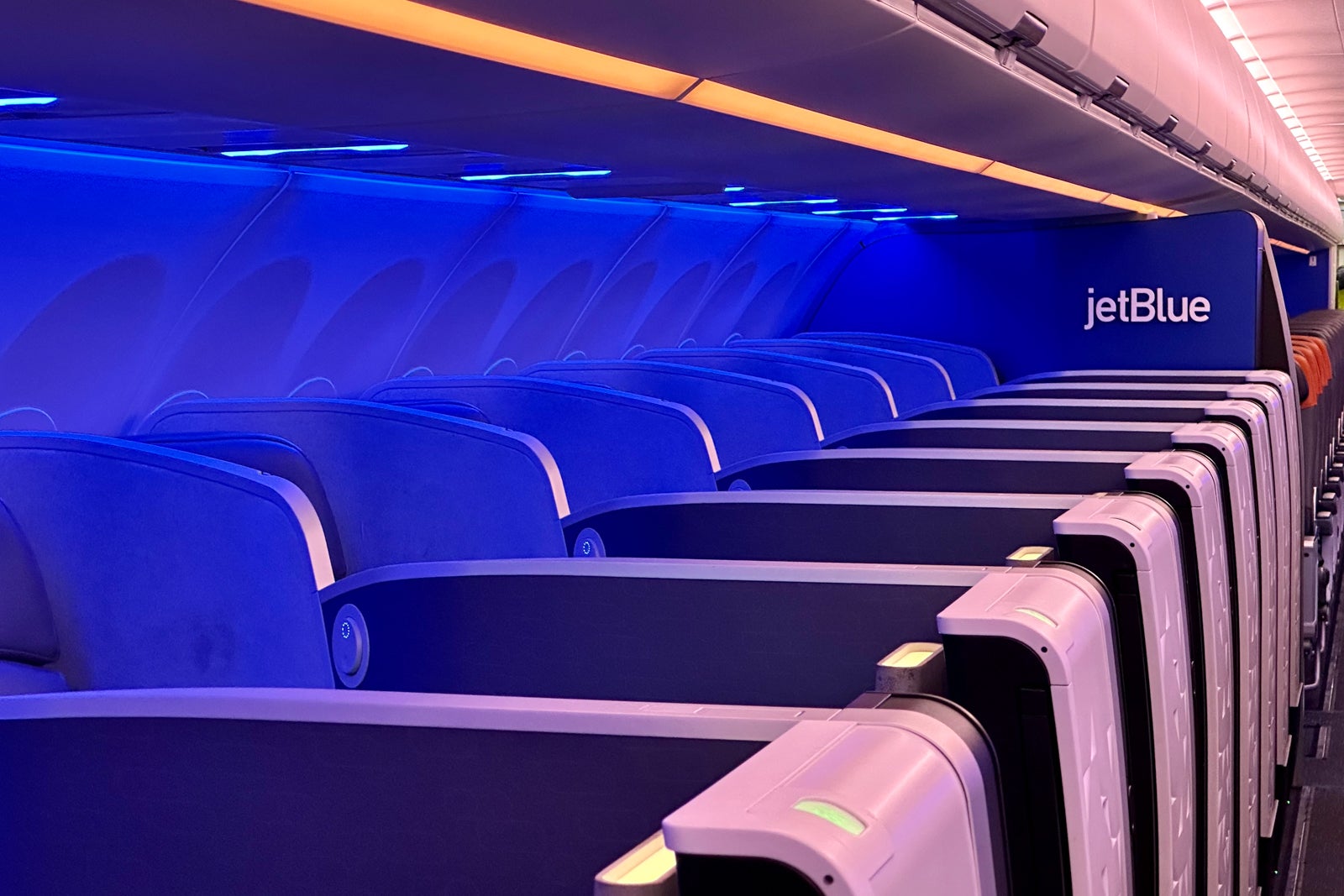 I was seated in suite 2K on the inaugural, but I'd recommend picking a suite in row 6 or 7 going forward to minimize disruptions. (The downside is that the meal service takes longer in the middle of the cabin.)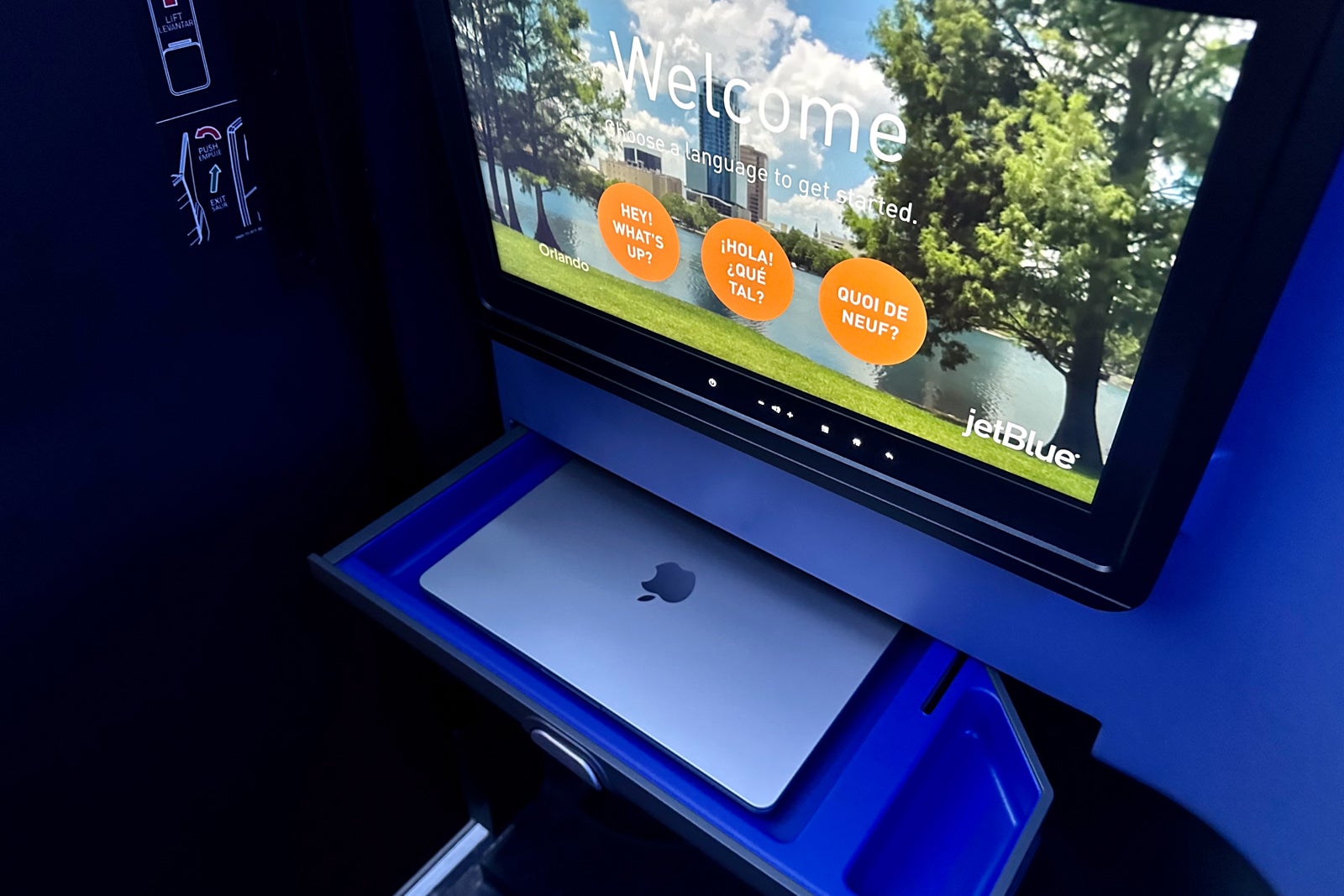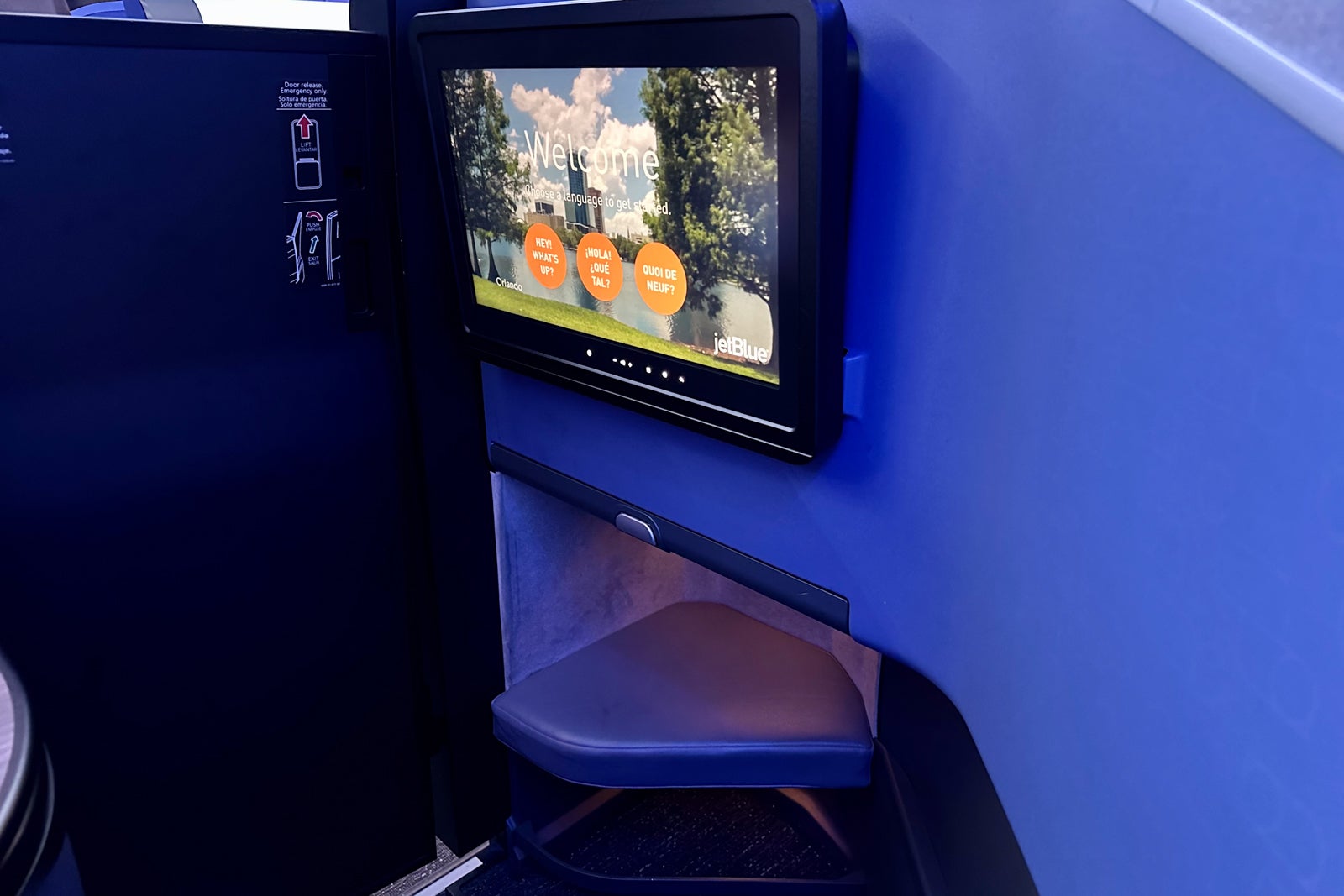 On a "standard" Mint business-class flight, travelers can expect Wanderfuel-branded amenity kits stocked with trendy products, as well as a pair of Master and Dynamic noise-canceling headphones for use during the flight and Tuft and Needle-branded duvets and pillows. (Note that amenity kits for transcontinental flights are currently available by request only — a move seemingly designed to cut down on costs and waste.)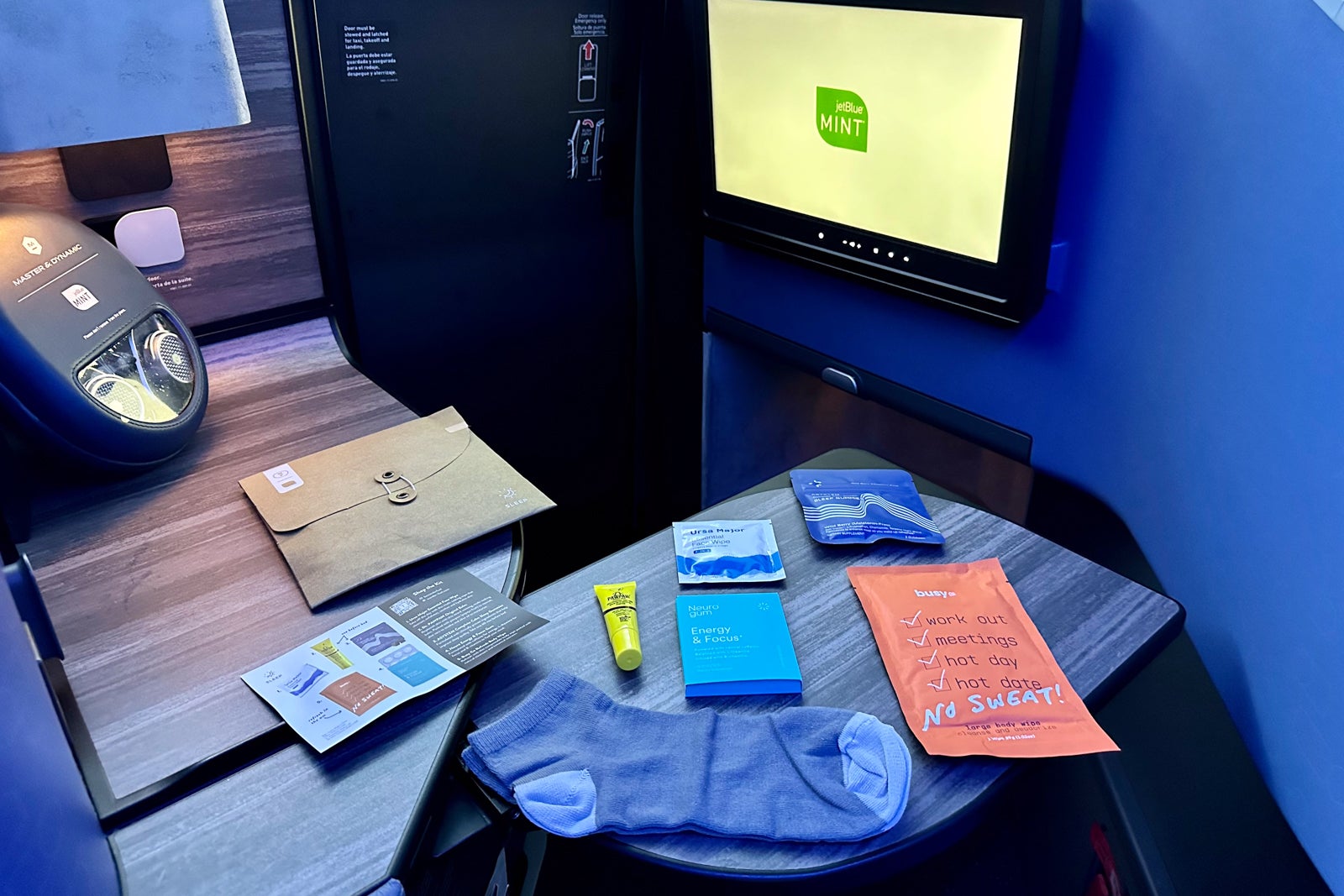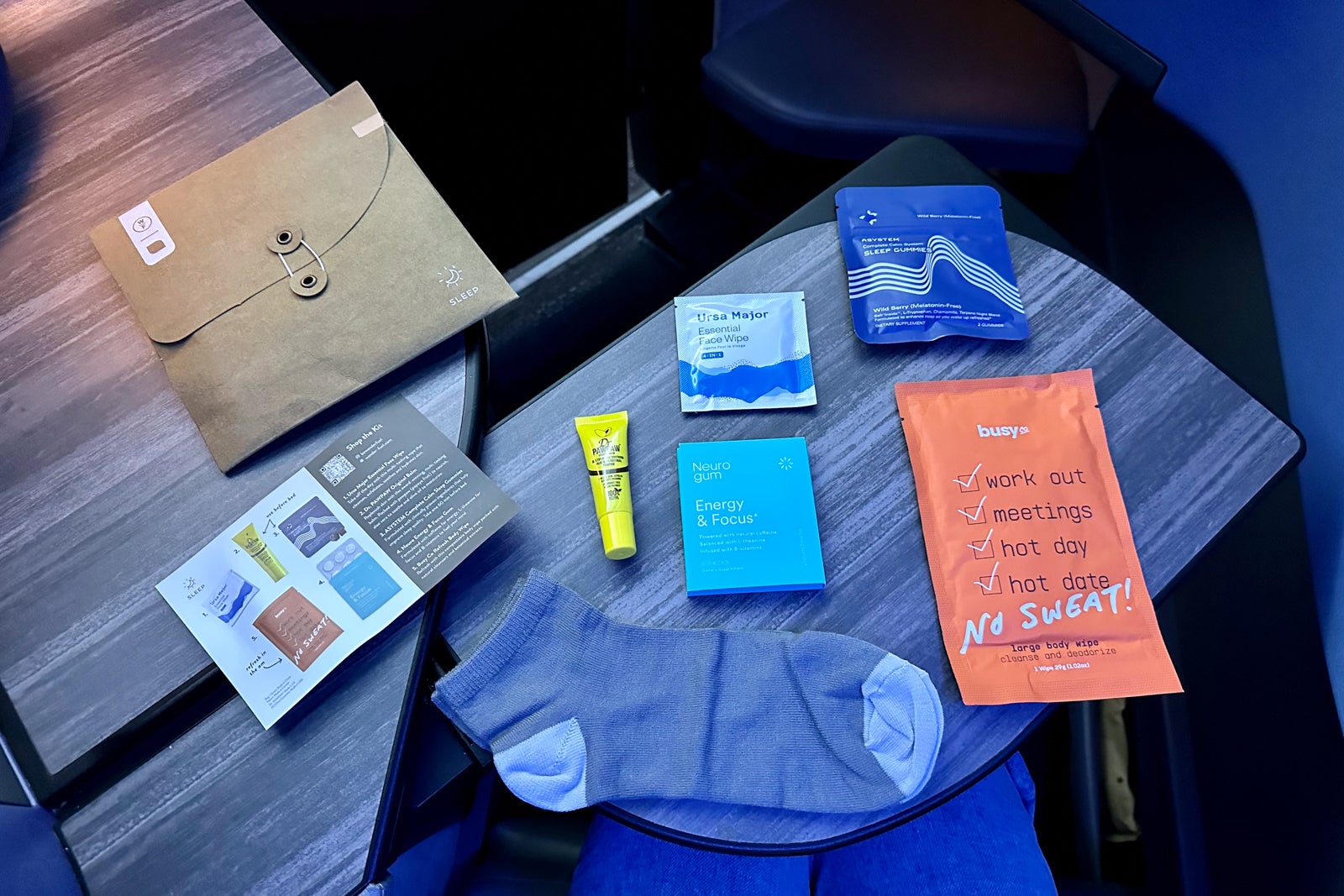 On the Amsterdam red-eye, I was given the appropriately-themed "sleep" amenity kit, which featured a Ursa Major face wipe, a BusyCo body wipe, socks and more.
A pair of comfortably plush slippers were also waiting at each suite, but you won't find any mattress pads on JetBlue. Instead, the Mint seat cushions are wrapped in memory foam padding that supposedly eliminates the need for separate mattress pads. (I still prefer United's Saks-branded mattress pads to the memory foam that JetBlue offers.)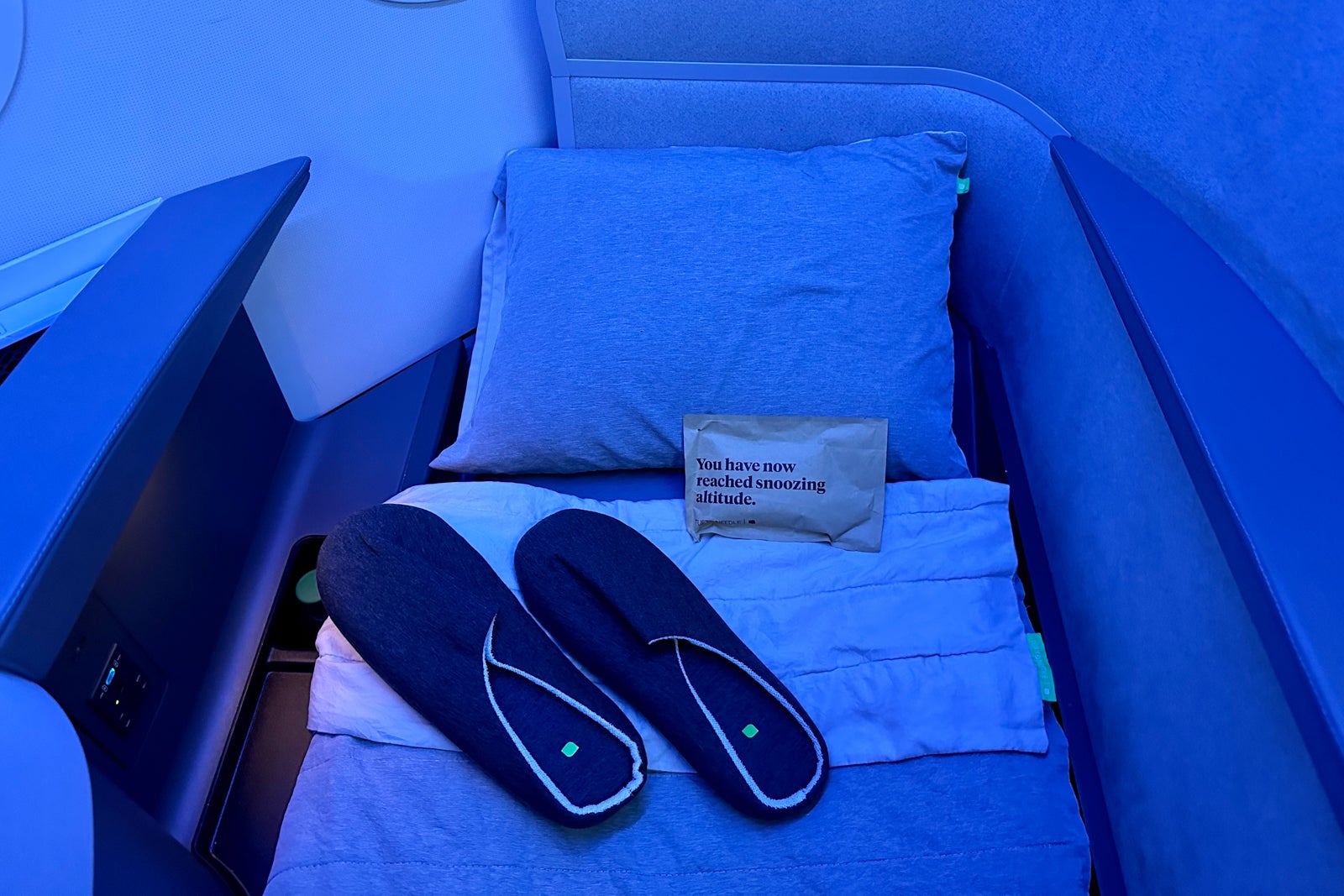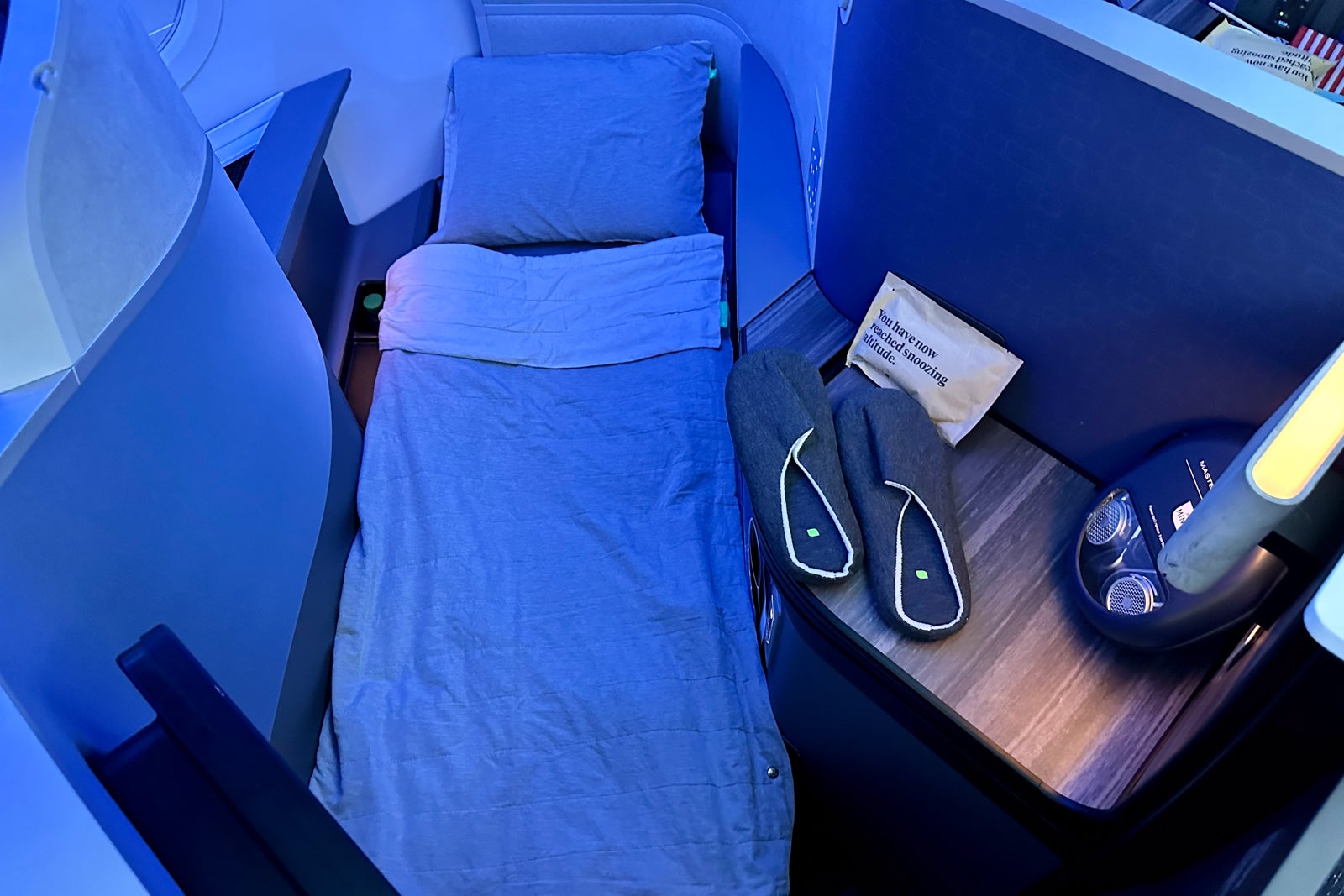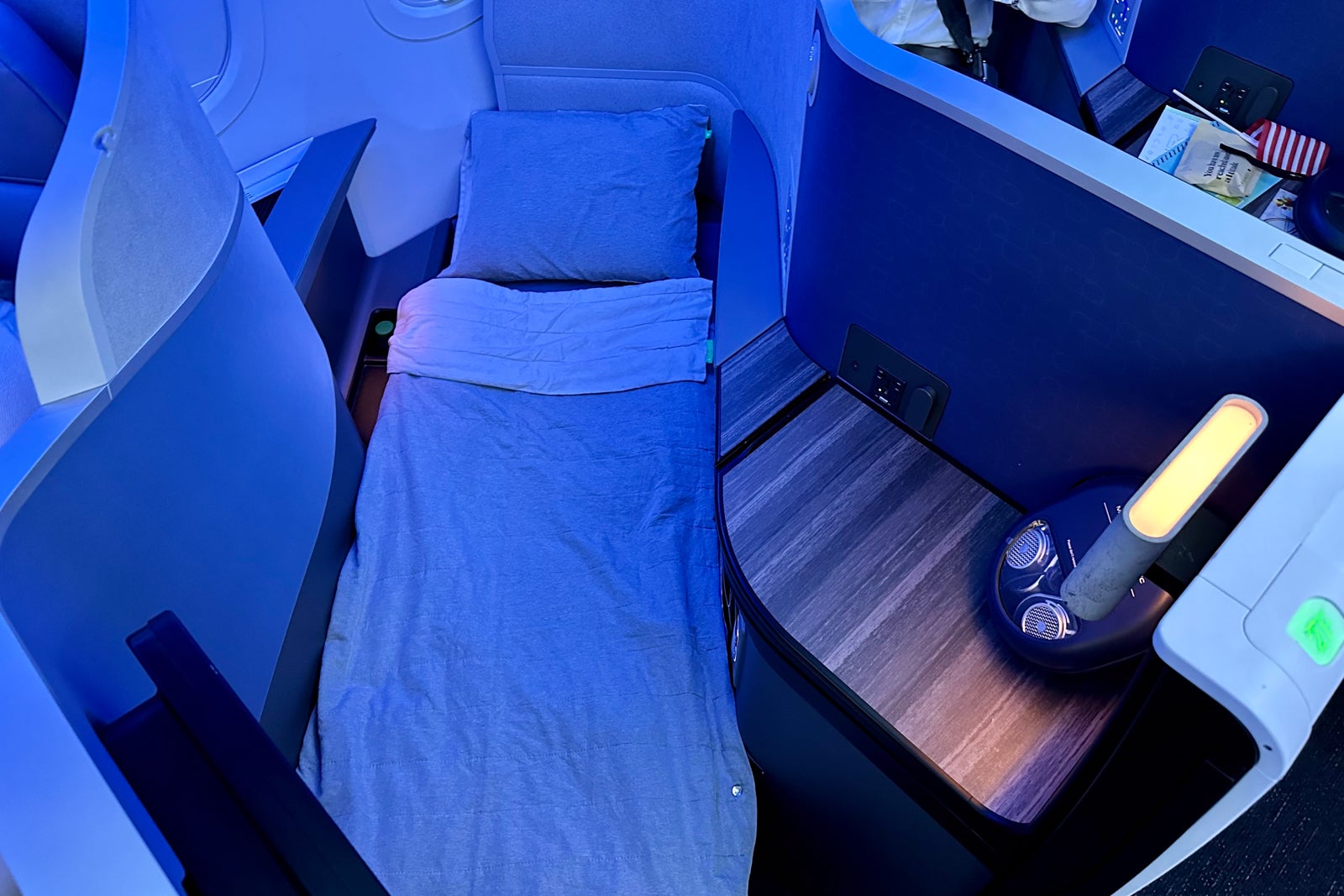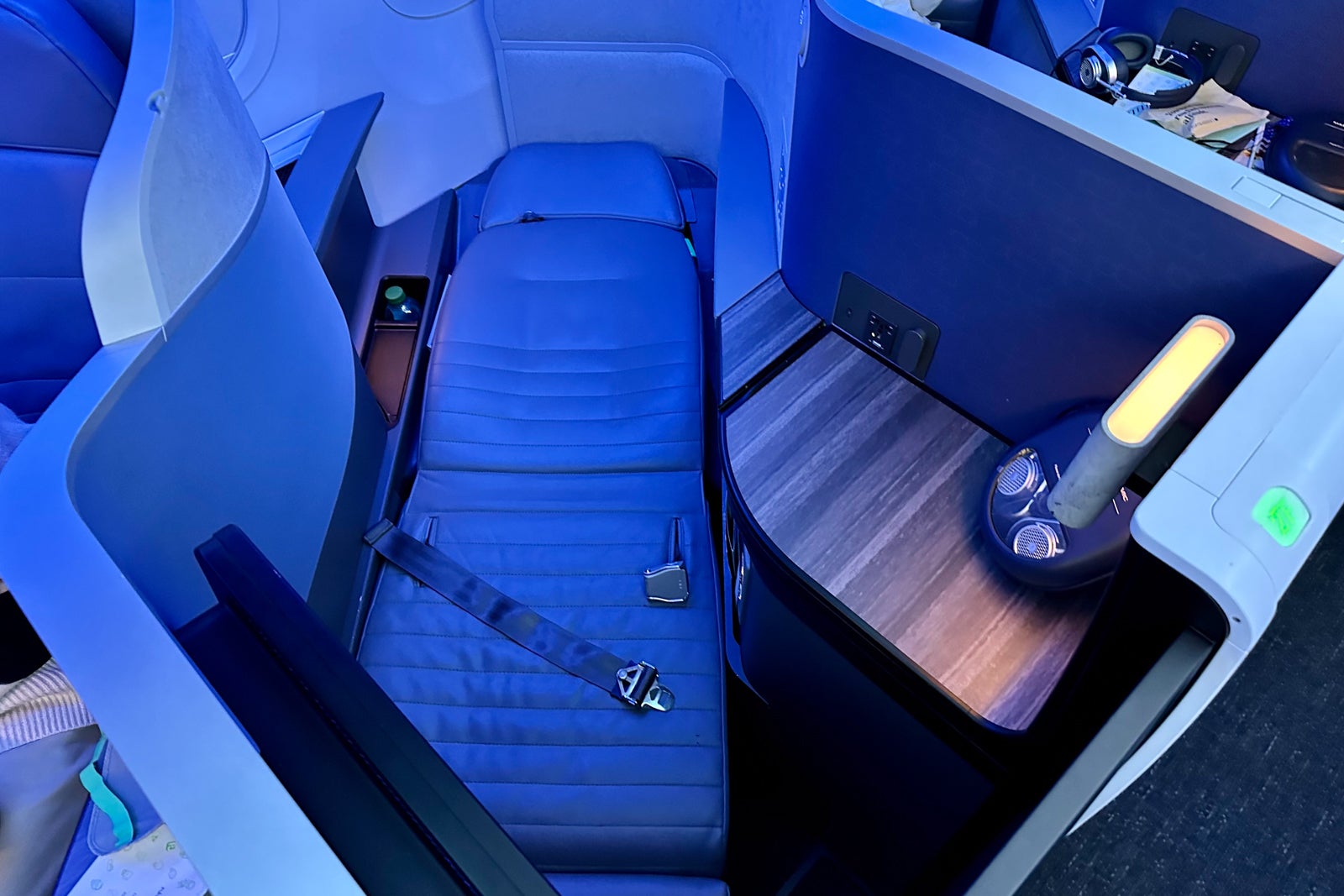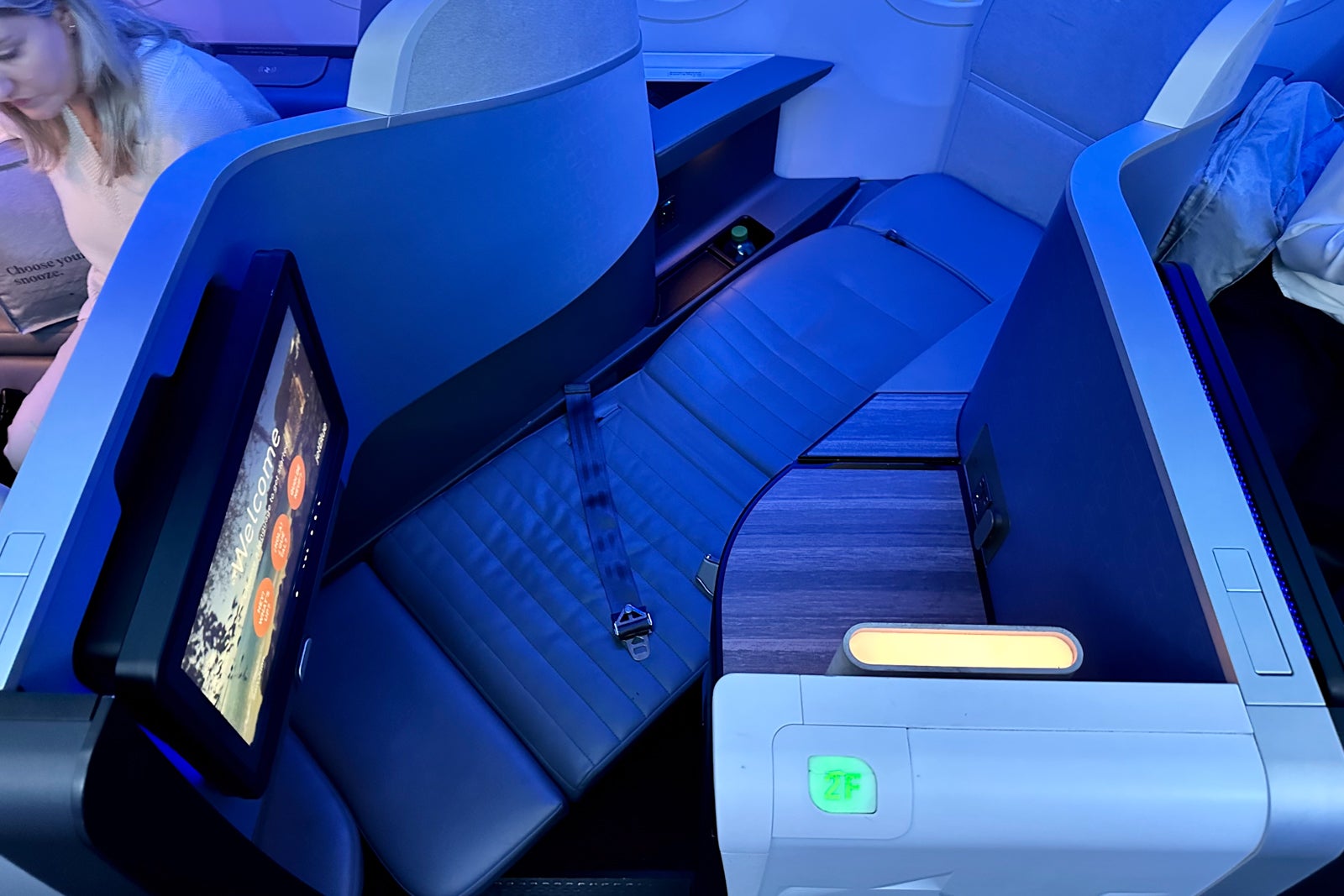 For the Amsterdam inaugural, JetBlue teamed up with GoCity to offer each flyer a free weekend city tour certificate.
What really sets JetBlue's transatlantic experience apart is the plethora of free amenities available to every traveler. Each seat, including those in economy, features a seat-back entertainment screen loaded with hundreds of movies, TV shows and even five channels of live TV (CNN, BBC, CNBC, Sport24 and SkyNews).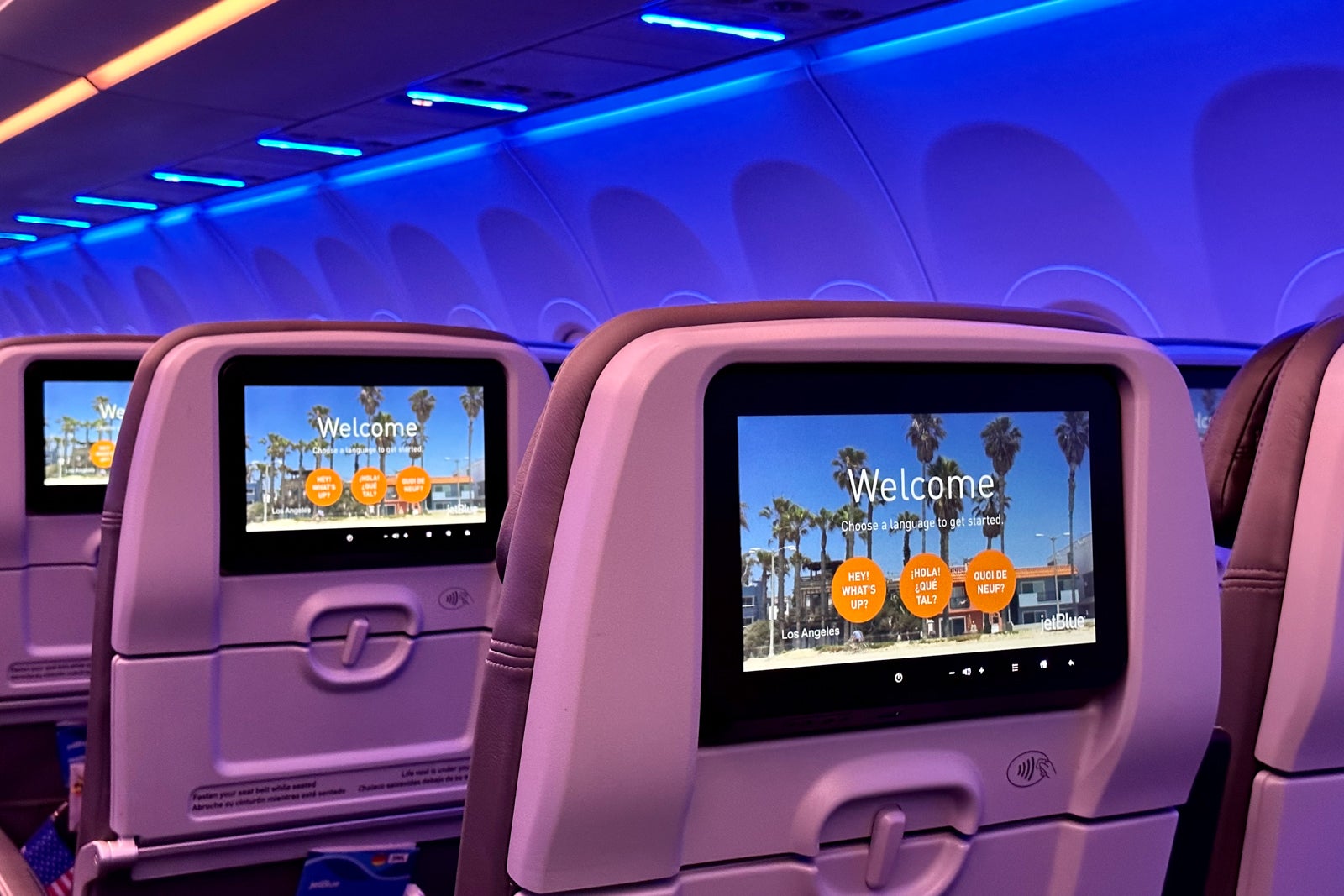 Furthermore, fast and free Viasat Wi-Fi is available to every passenger. Download and upload speeds measured a very respectable 40 and 1 Mbps, respectively.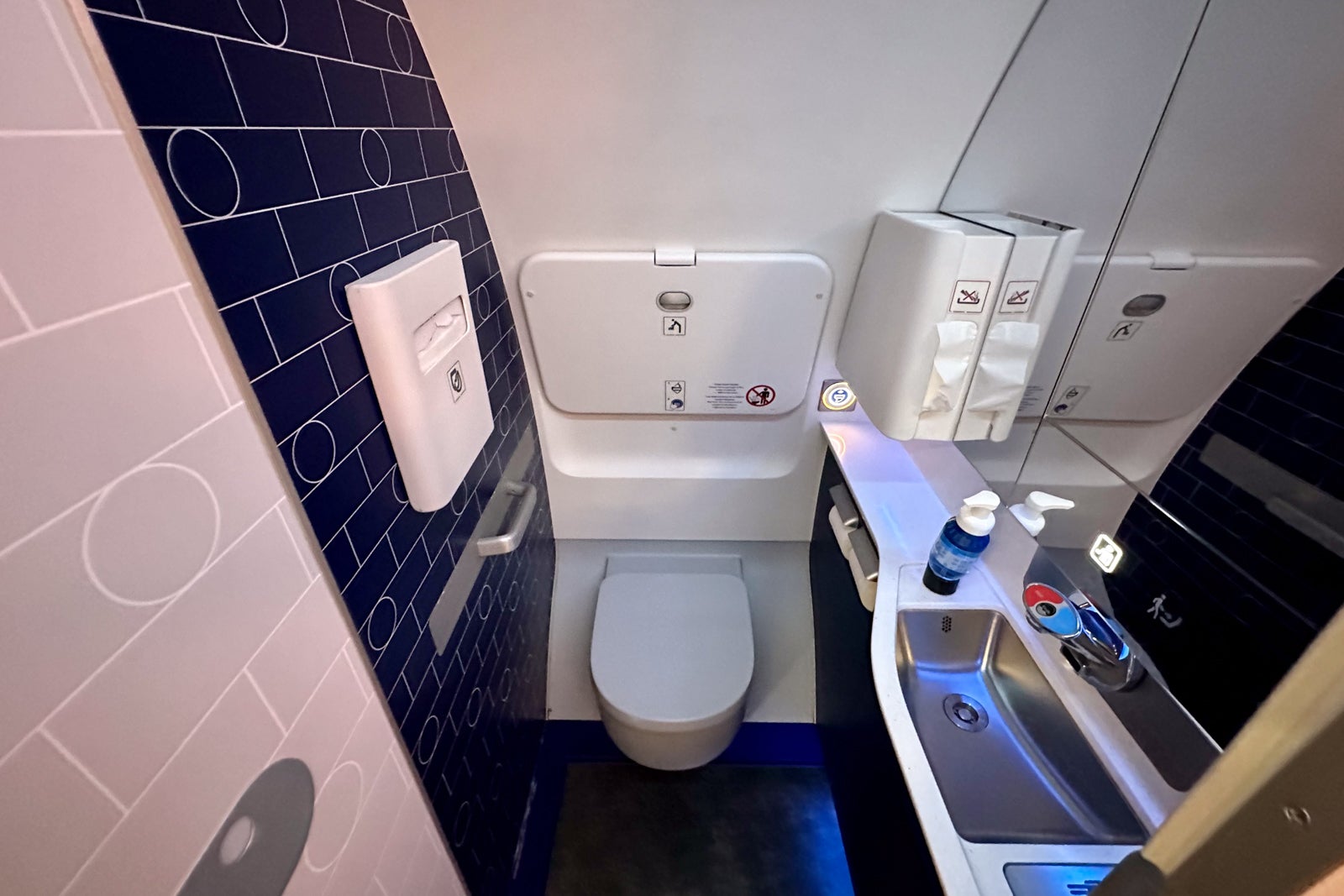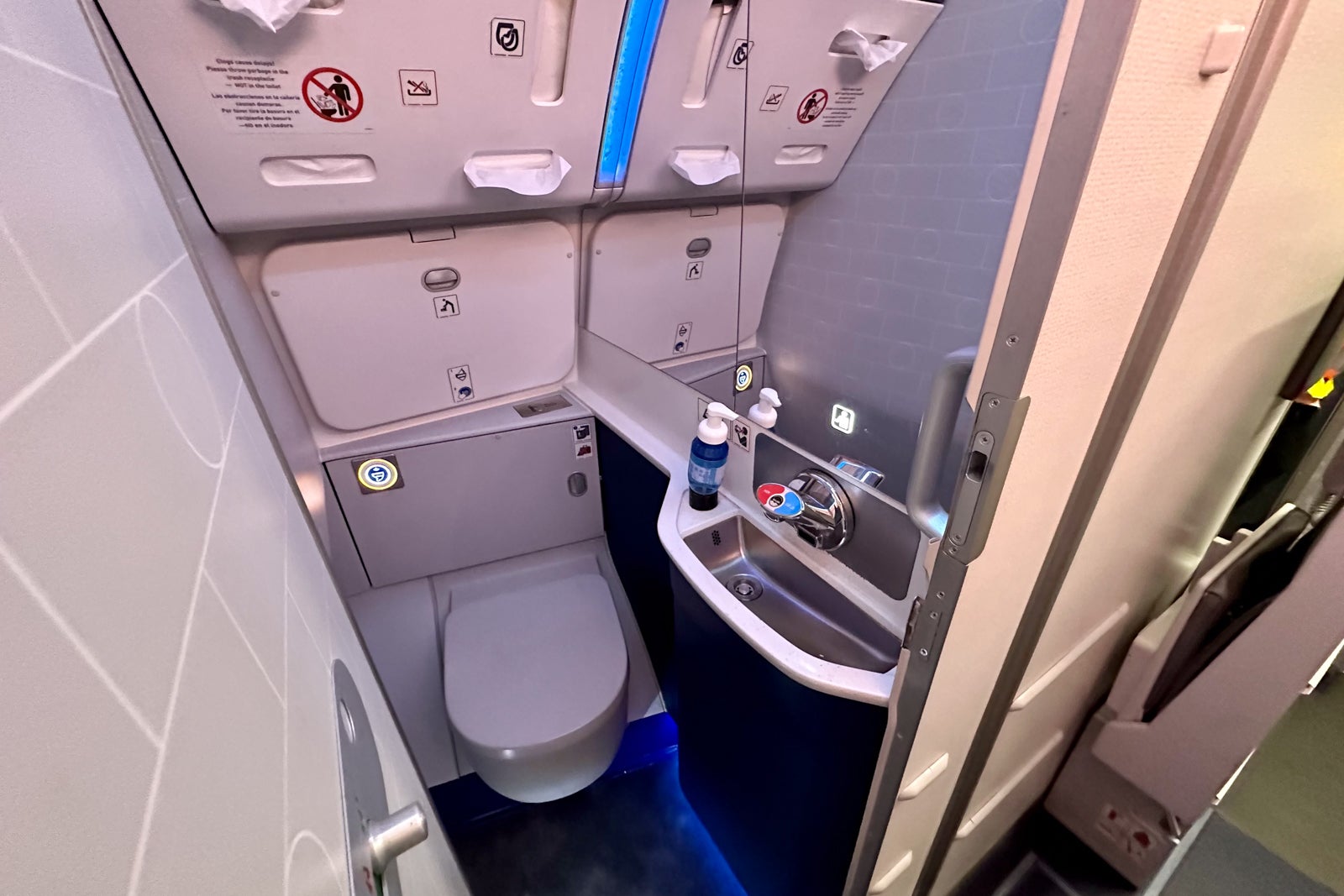 Plus, the A321LR features some modern nose-to-tail amenities that further elevate the flight experience. This includes larger windows and oversized overhead bins that all but eliminate the need to gate-check your carry-on bag, as well as touchless lavatories.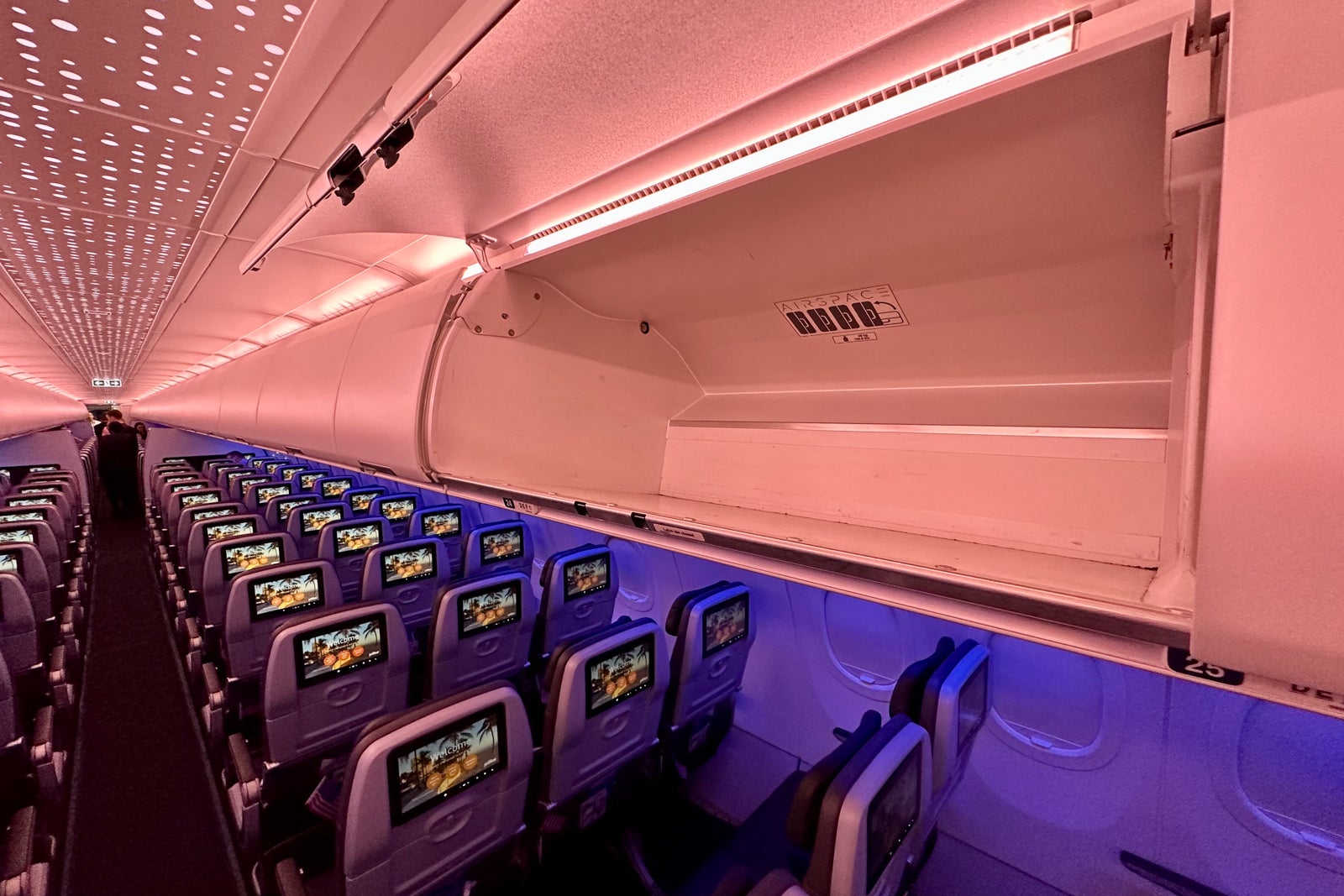 Even economy flyers are treated to plush blankets, a snooze kit and a small resealable silicone amenity kit, featuring socks, a refreshing wipe and lip balm.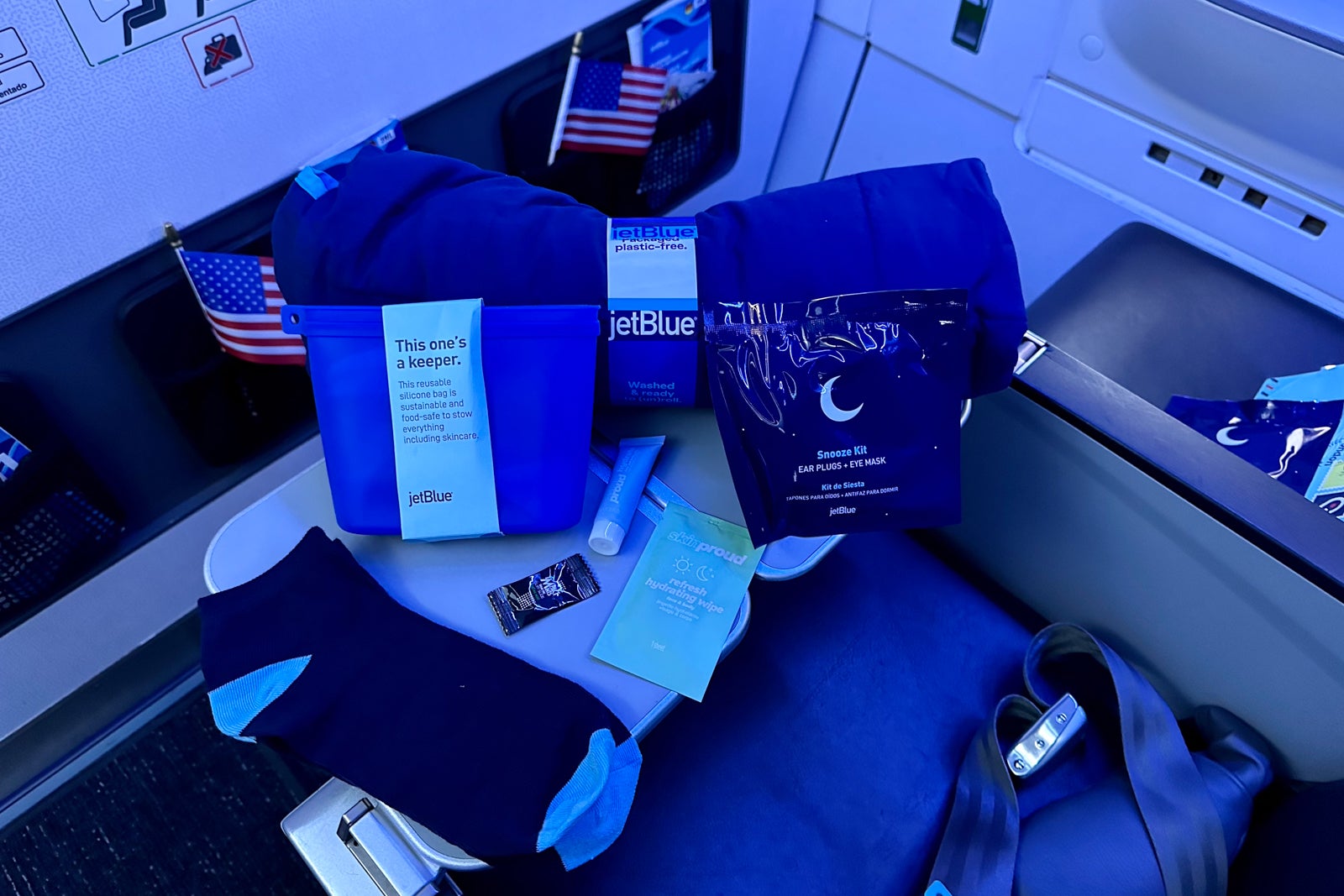 Relative to the legacy carriers operating in the transatlantic market, JetBlue no doubt offers one of, if not the best onboard experiences both in business class and in economy. If you can find an attractive fare, there's no doubt you'll enjoy pond-hopping with JetBlue, and that's before you even taste the food.
Restaurant-quality dining
While JetBlue's transatlantic offering shines on many levels, the thing that gets me most excited before each flight is the dining service. On most flights to Europe, I'll be sure to eat a full dinner in the airline lounge or before arriving at the airport.
But on JetBlue, I'd say it's worth sacrificing some sleep to enjoy the meal service (and that might also be true for economy, too).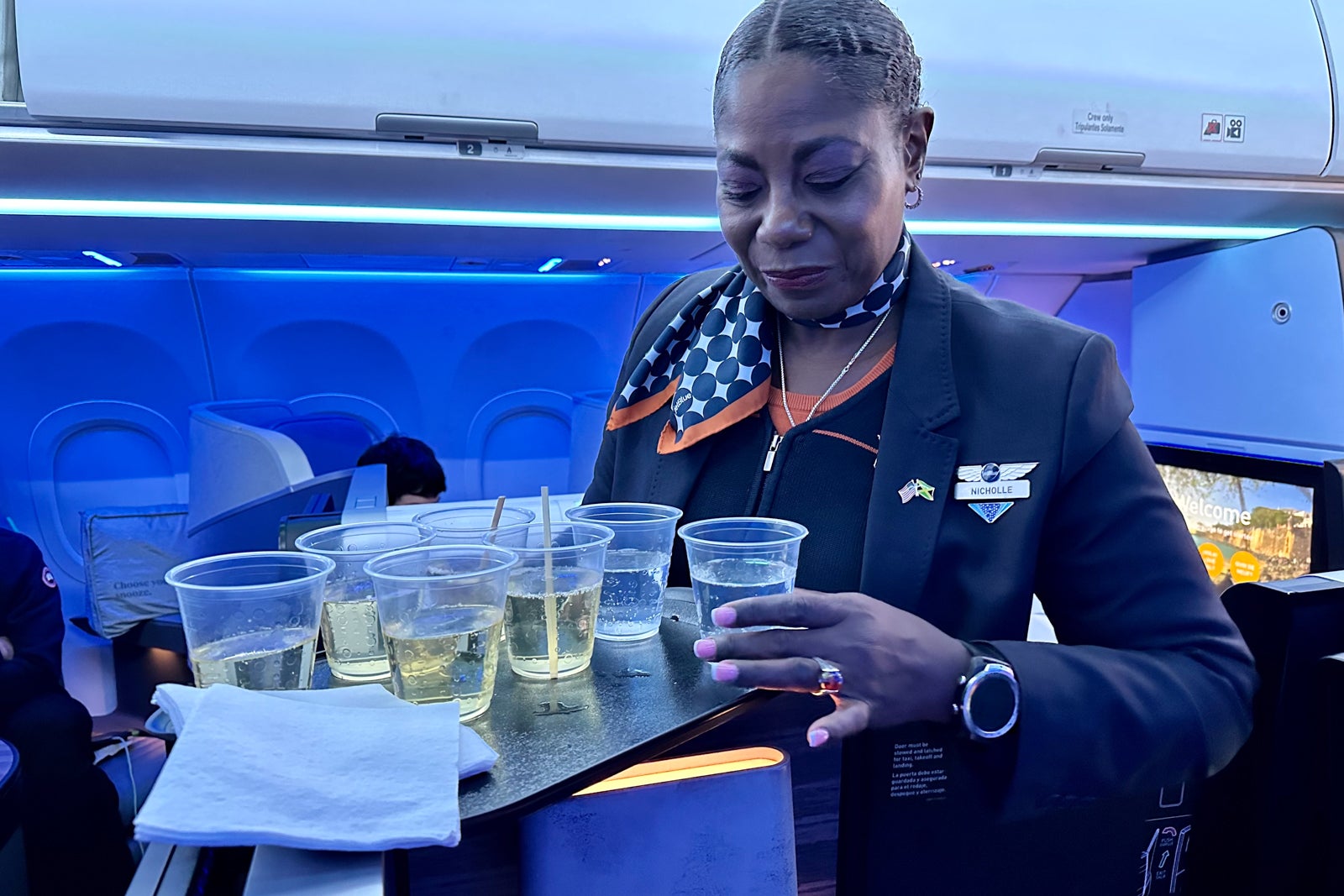 JetBlue does food service differently. You won't find any "chicken" or "beef" or "pasta" on the menu. Instead, the airline teams up with New York City-based Delicious Hospitality Group to bring some of the top hits from the city's best restaurants to the sky.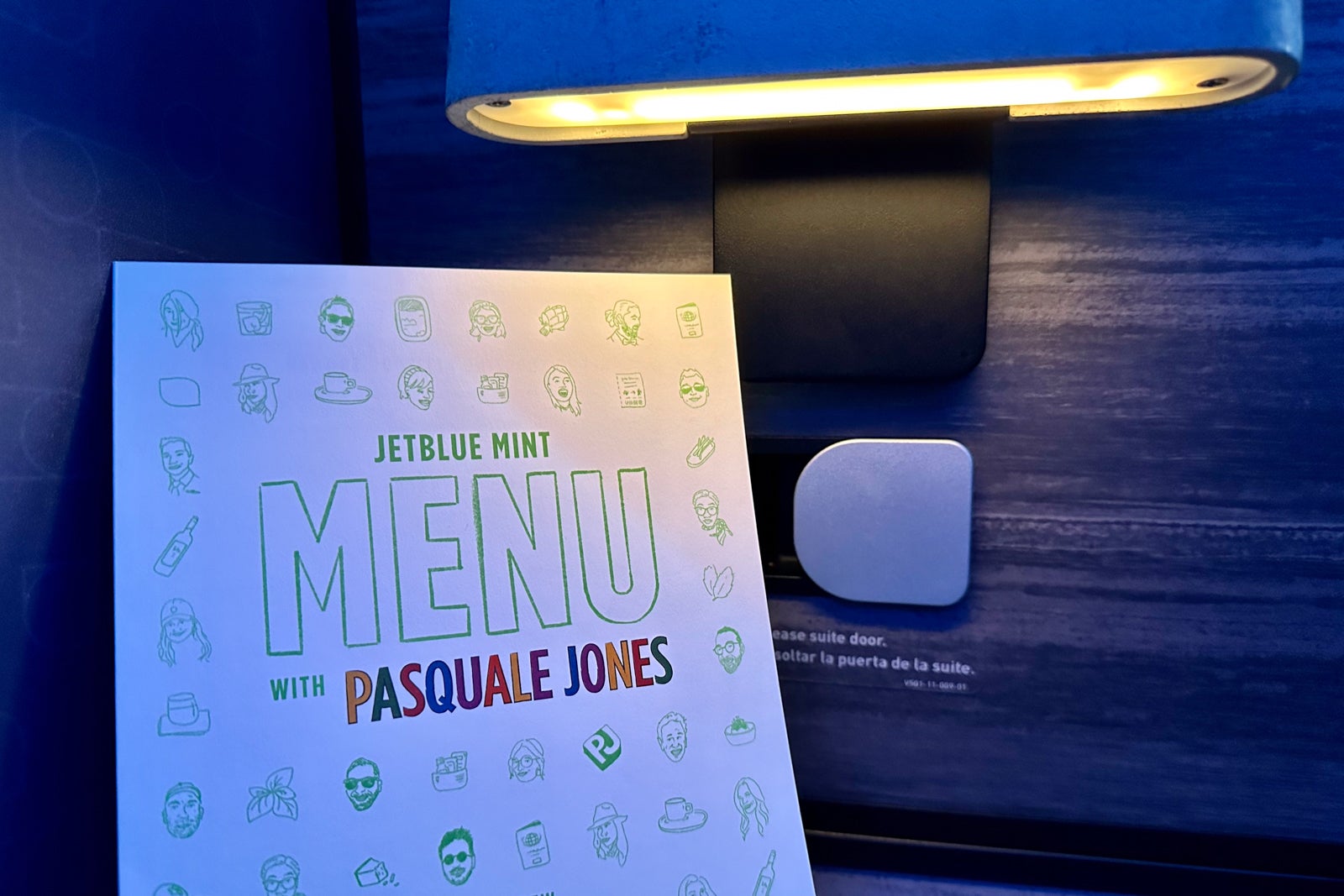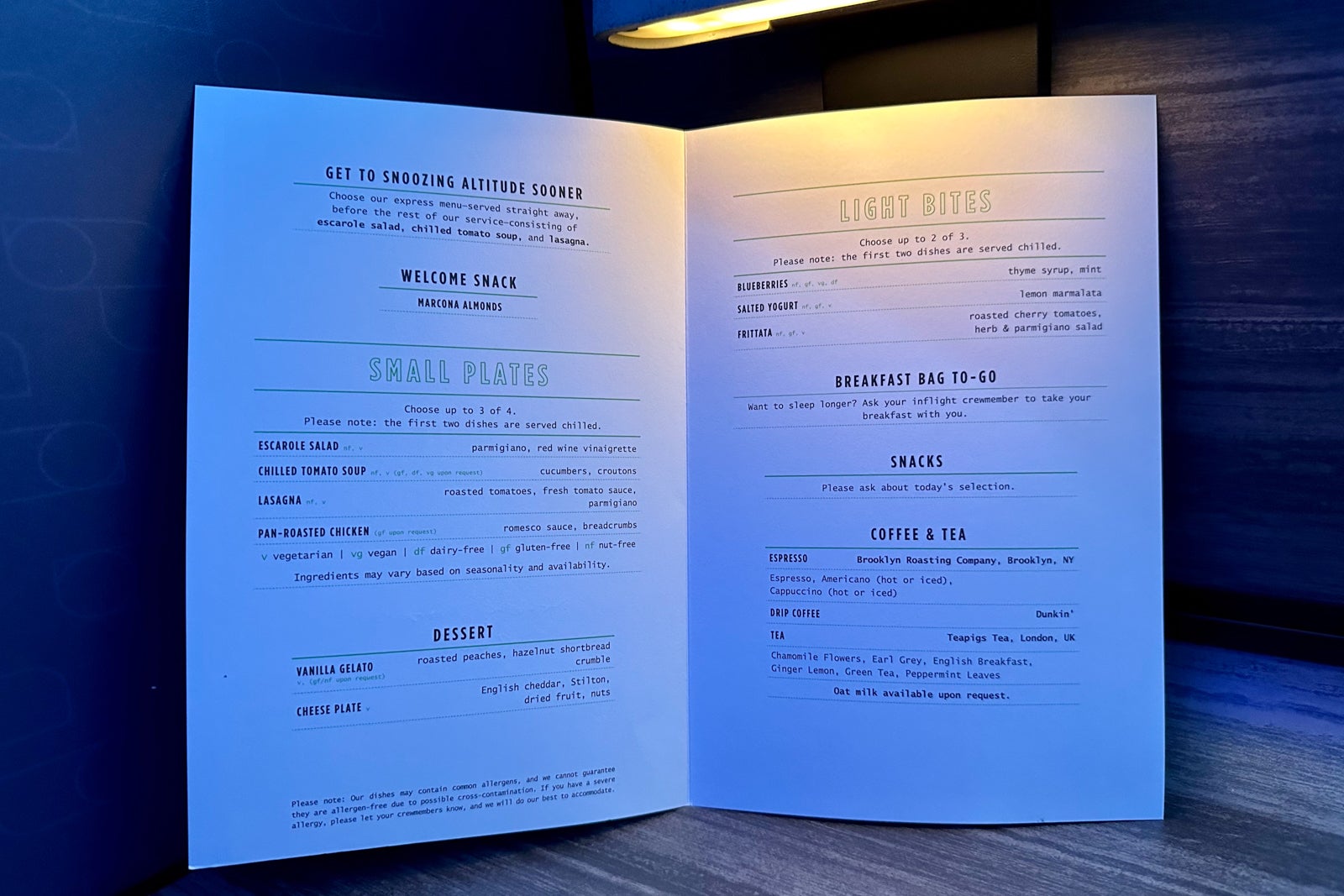 Lately, the airline has been serving fare from Pasquale Jones, and the Amsterdam inaugural featured the selections being offered from August through October.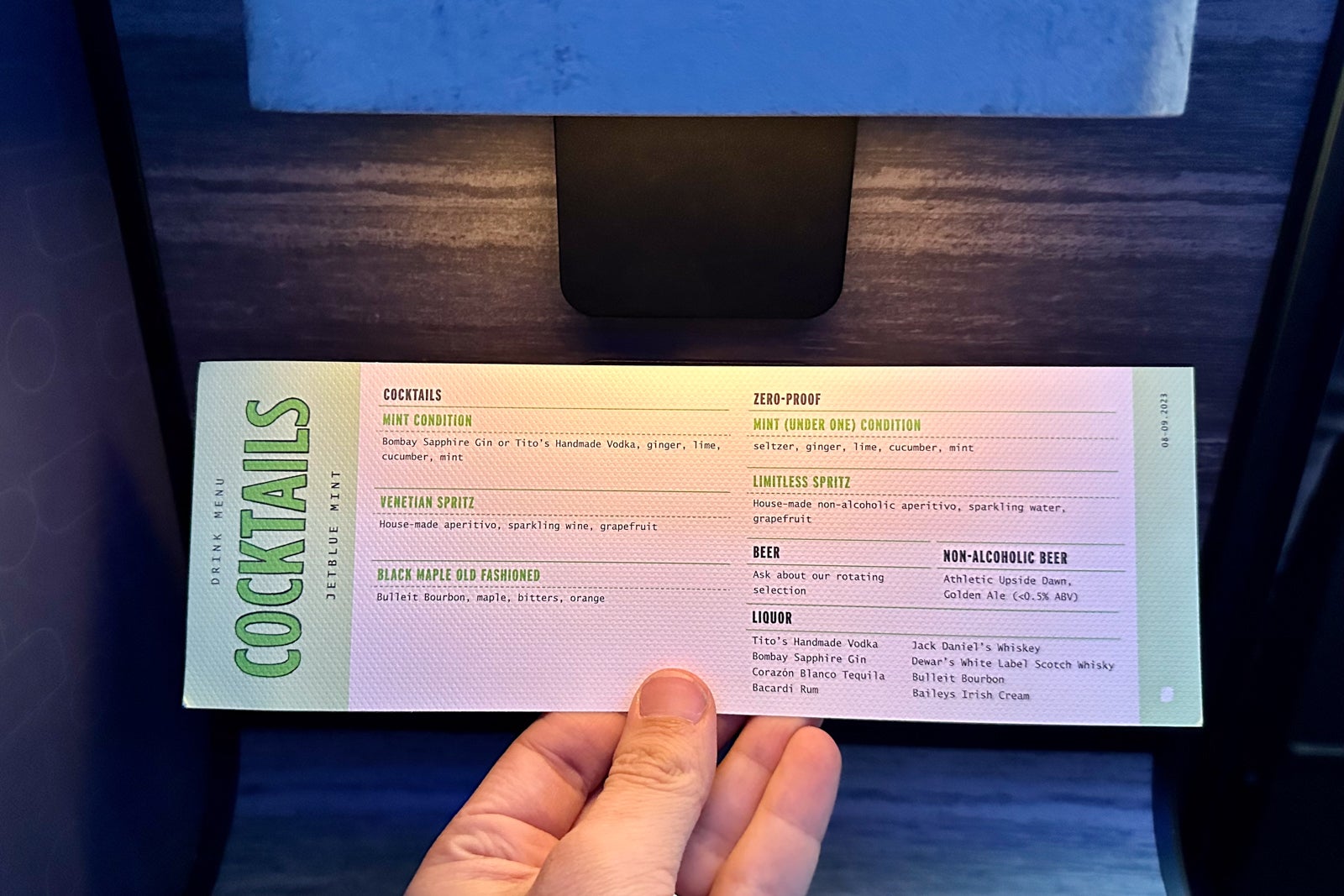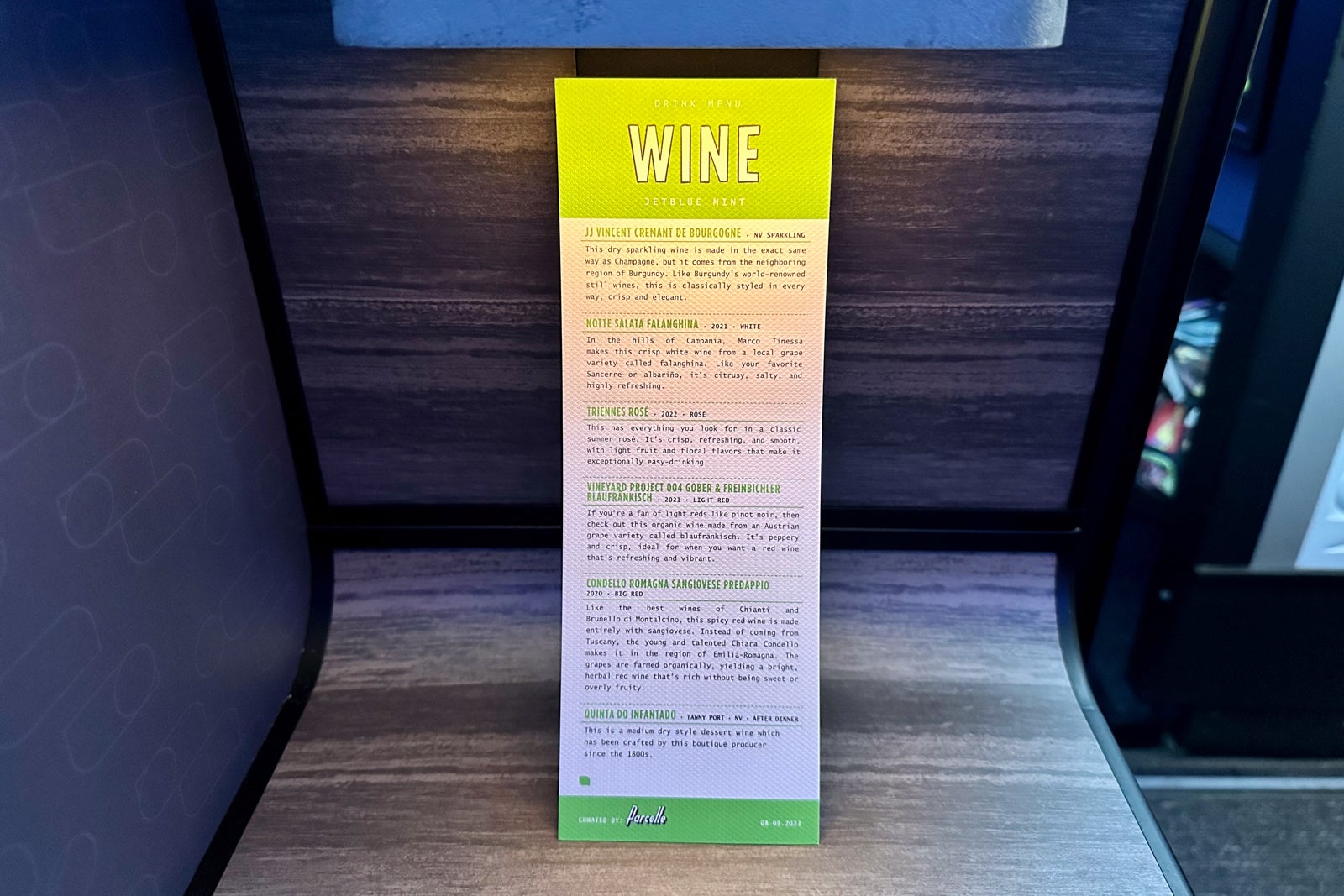 Waiting at each seat was a colorful menu, but meal orders are now taken digitally on the seat-back screens — a big innovation that certainly helps speed up the service.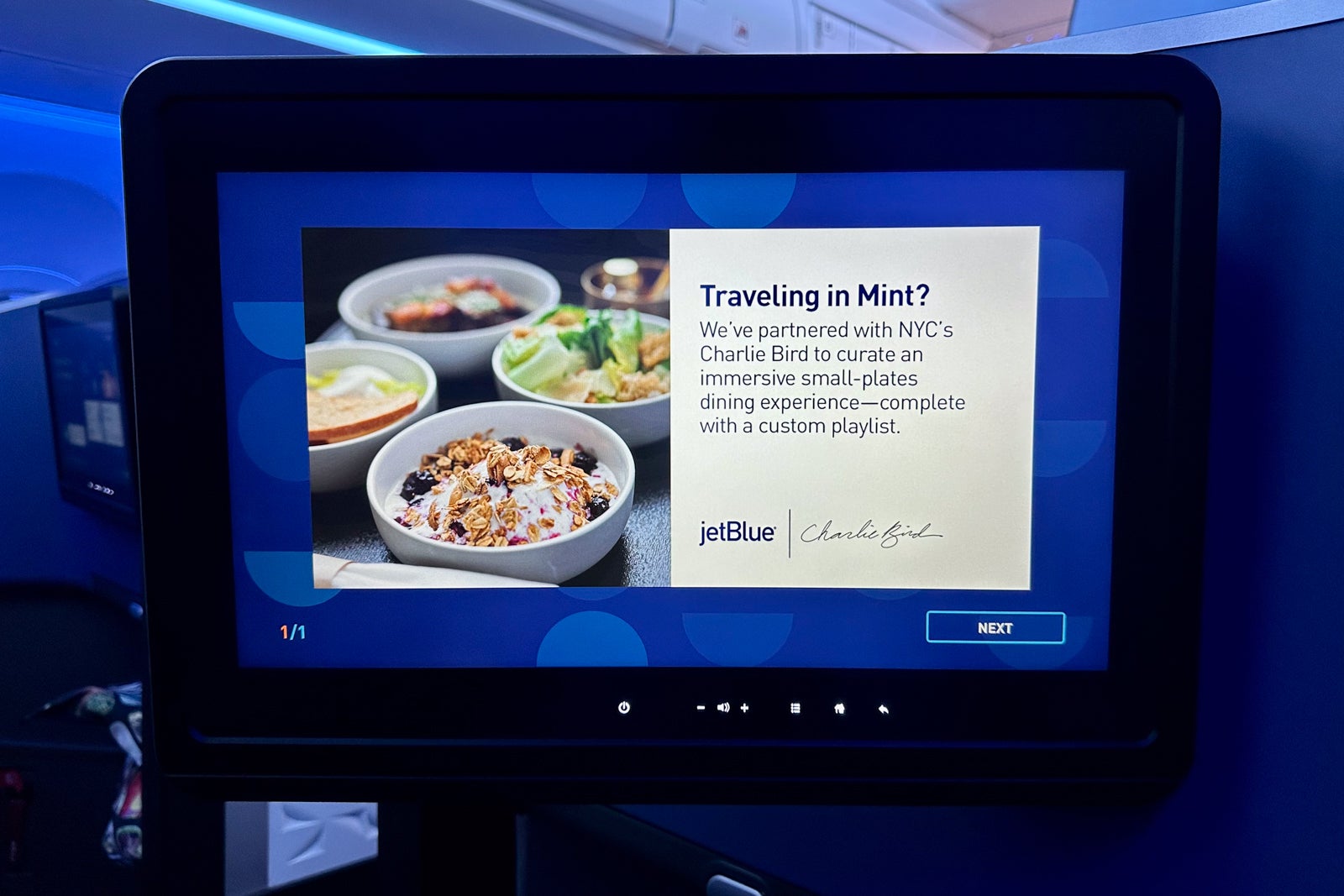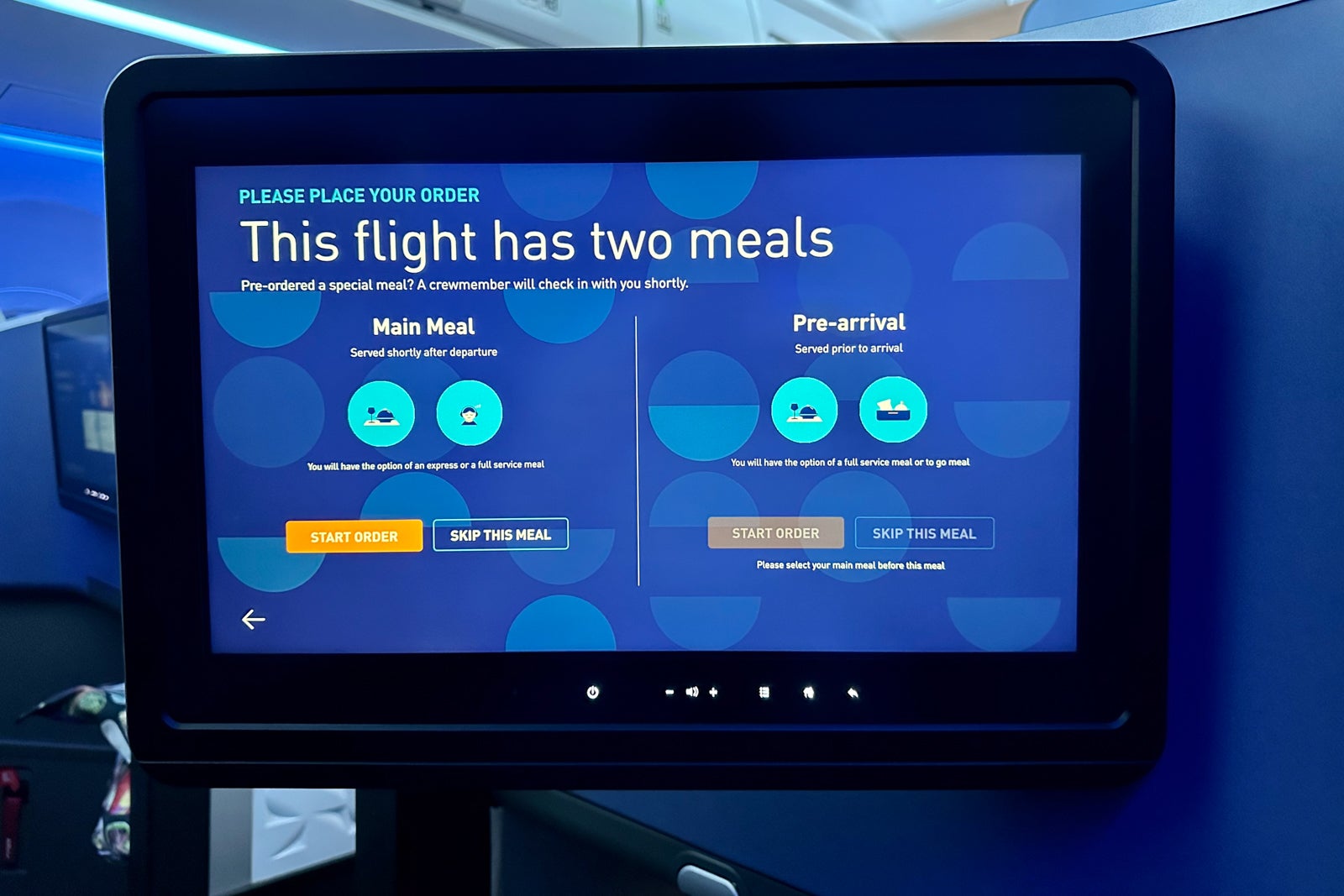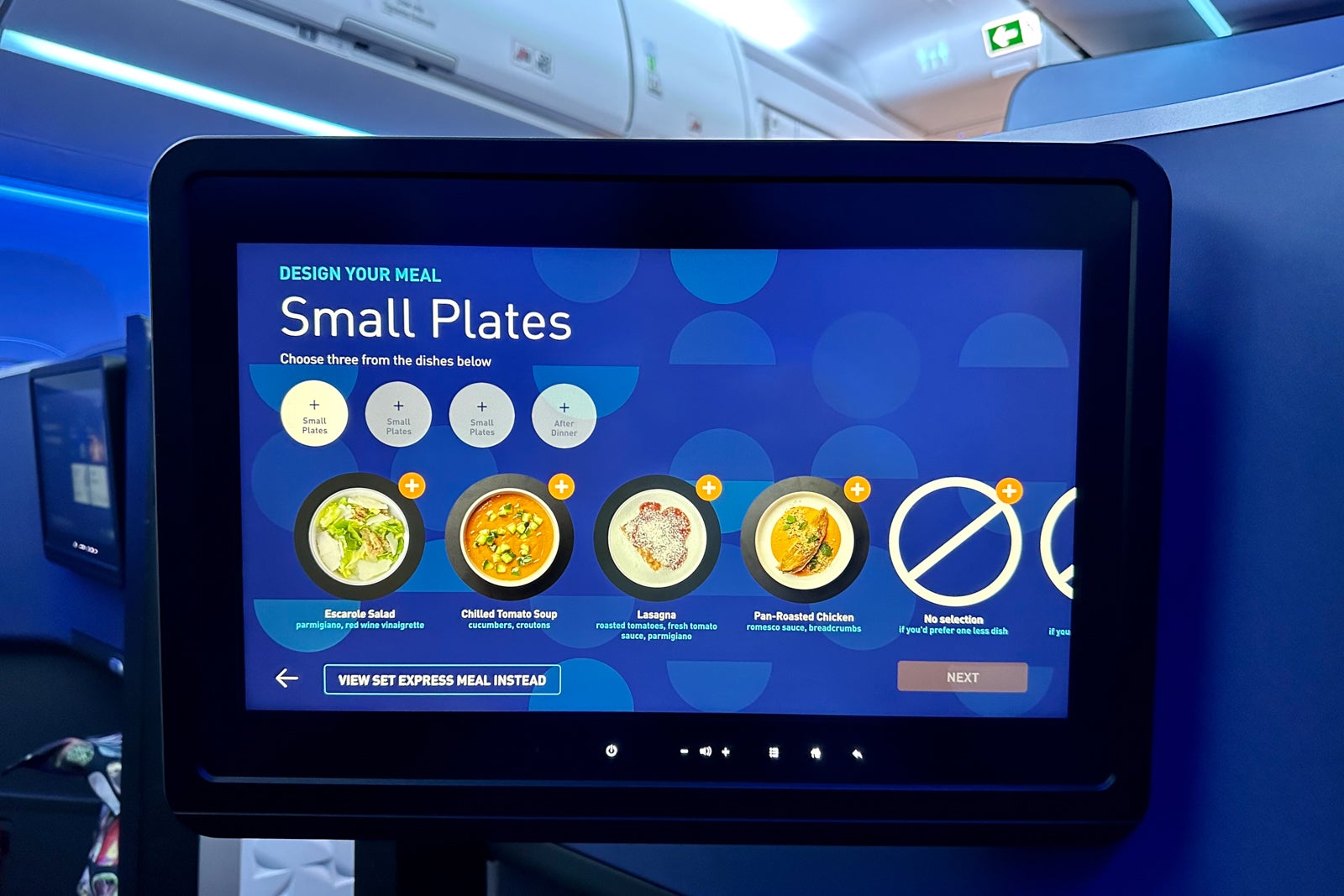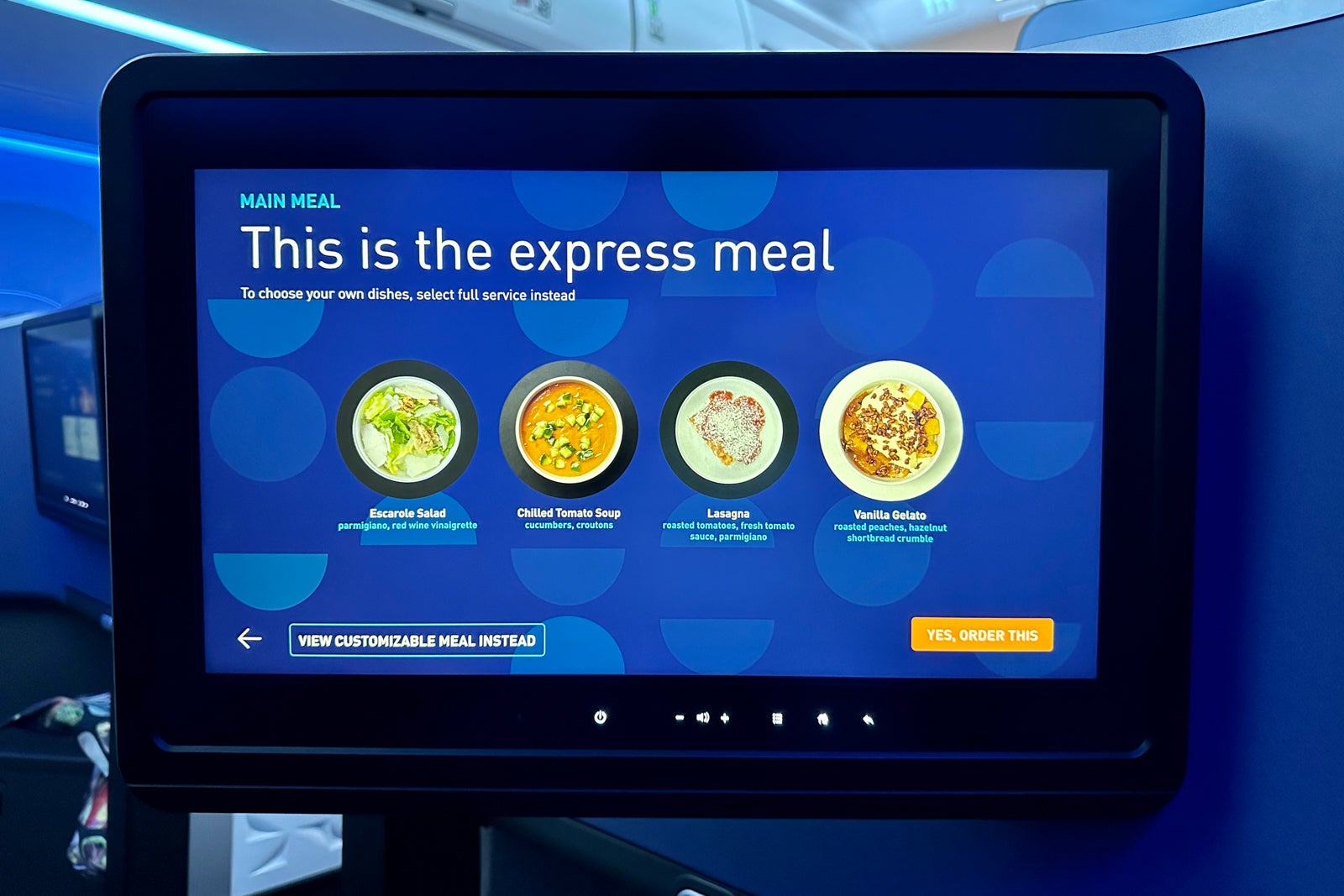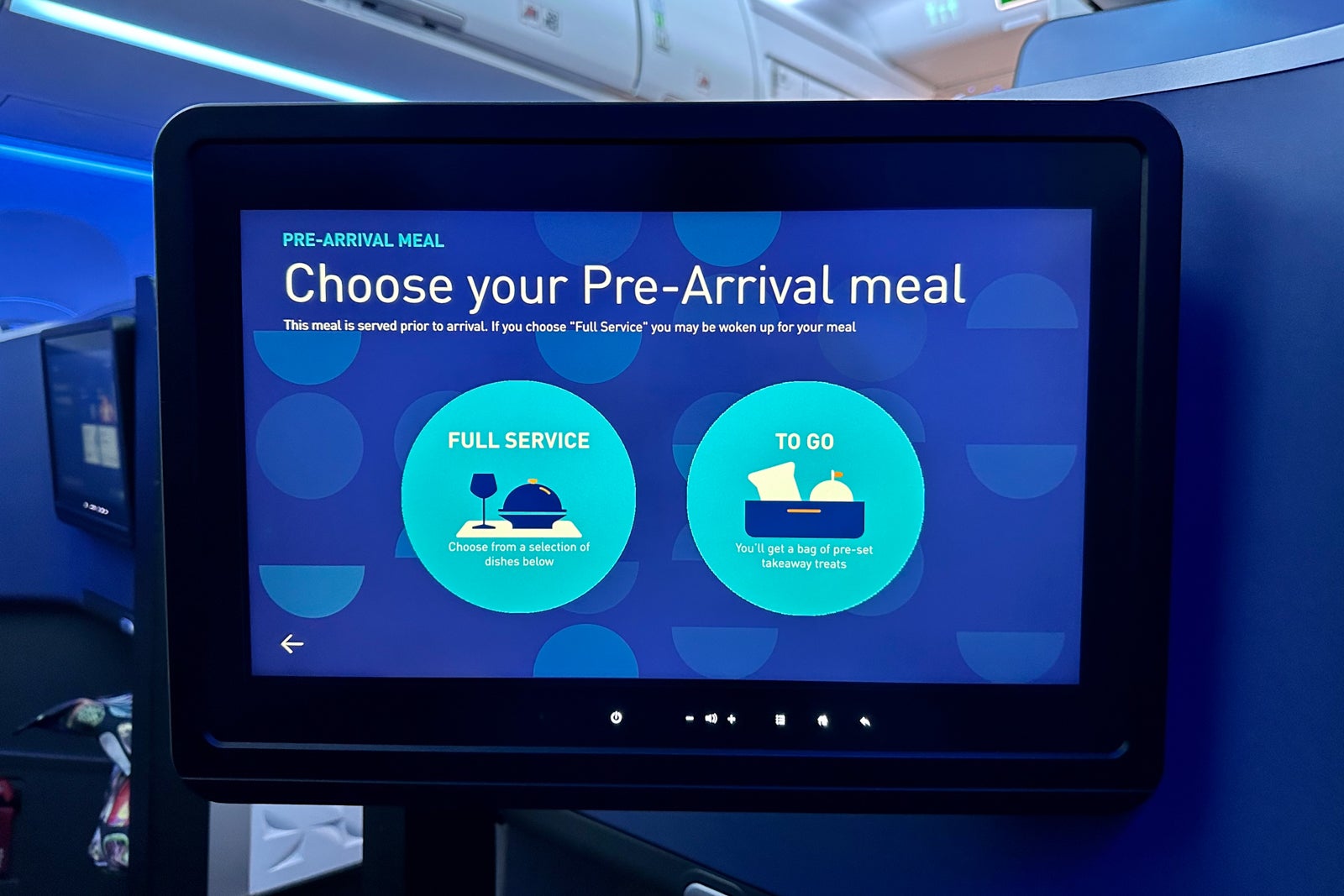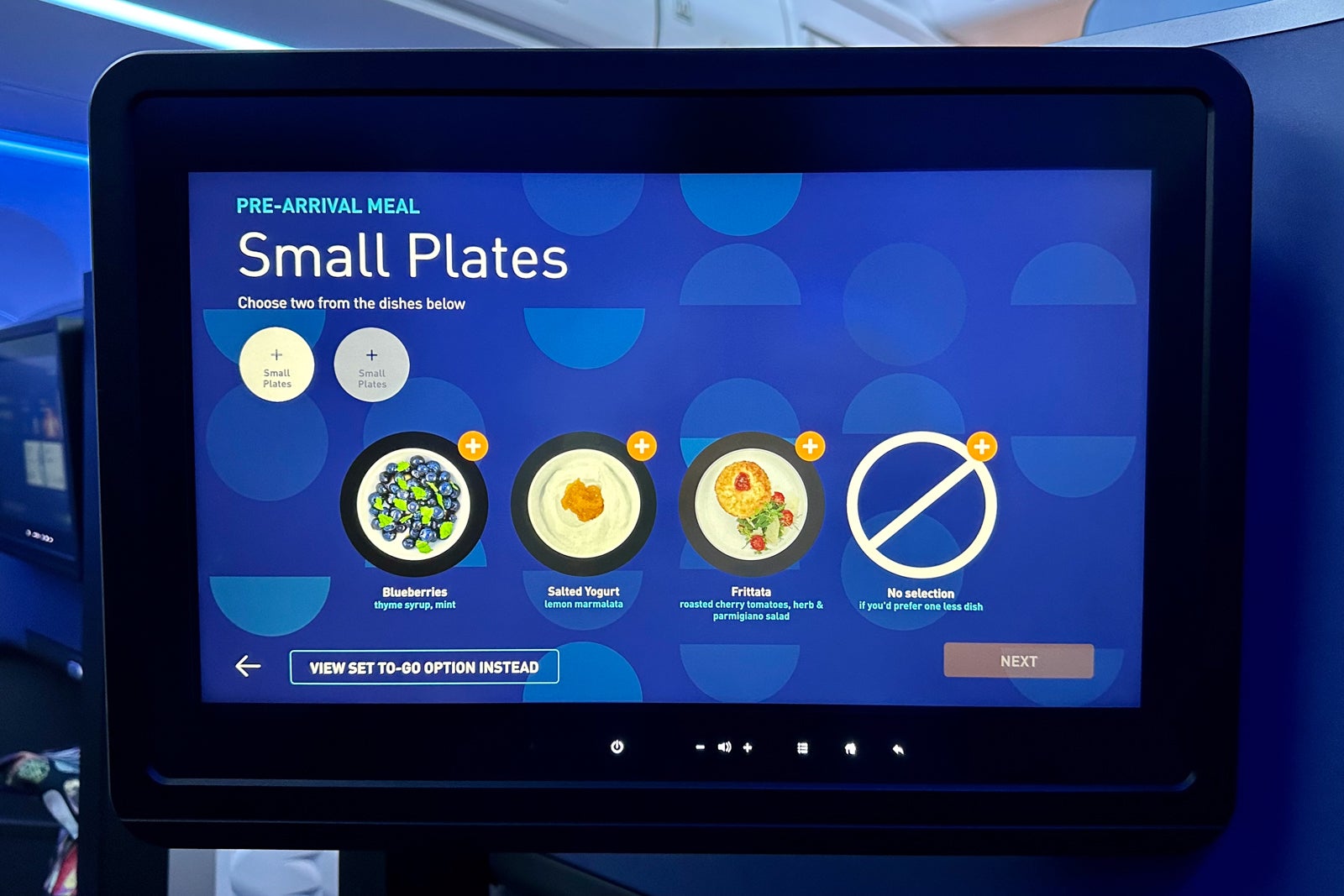 After placing my order — I love the detailed descriptions with allergen information and sample pictures — it was time to prepare for a feast. (Mint flyers get to choose three items from the small plates menu, as well as one dessert: either a cheese plate or vanilla gelato.)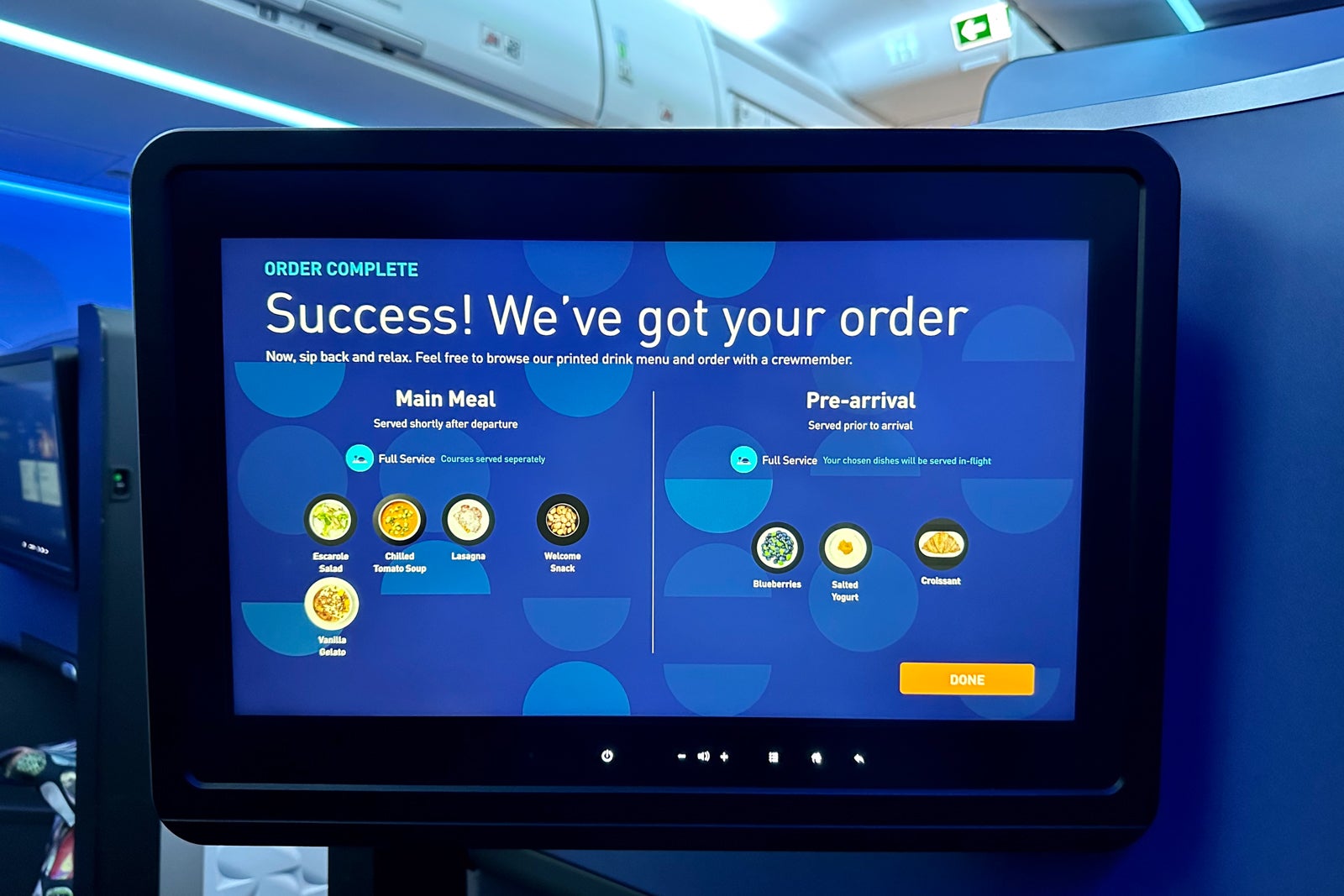 In addition to the delectable food, Mint travelers can choose from three cocktails — the signature Mint Condition is my favorite — as well as a selection of wines, beers, liquors and even non-alcoholic cocktails.
I love that the airline offers oat milk for coffee and tea service, too.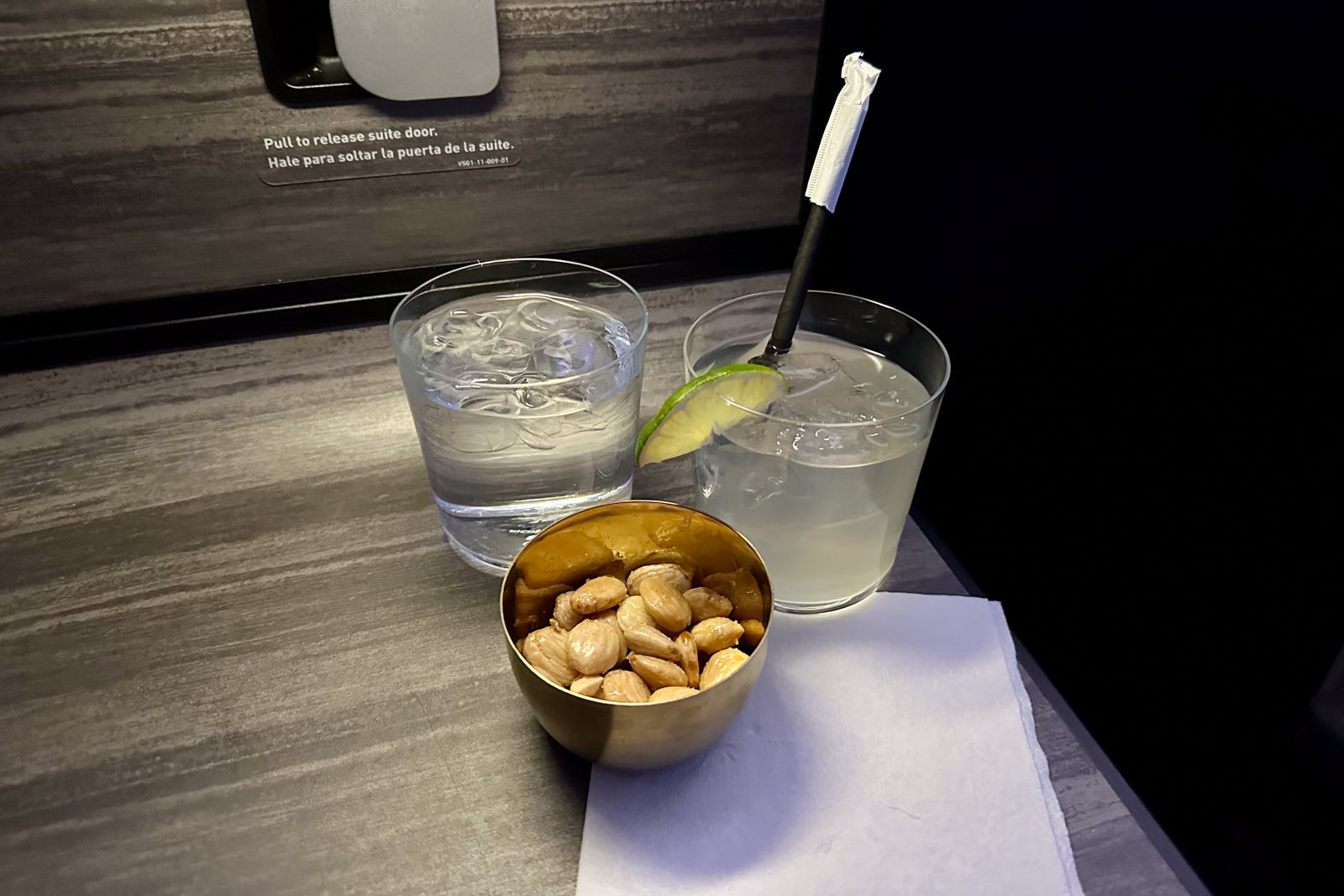 Once we crossed through 10,000 feet, the flight attendants quickly got to work. I heard them hand-shaking and stirring cocktails in the galley, and within 10 minutes, my Mint Condition, glass of ice water and a ramekin of Marcona almonds were delivered to my seat. (I love the design and attention to detail of the Mint serviceware, especially the gold-colored ramekin for nuts and meal condiments.)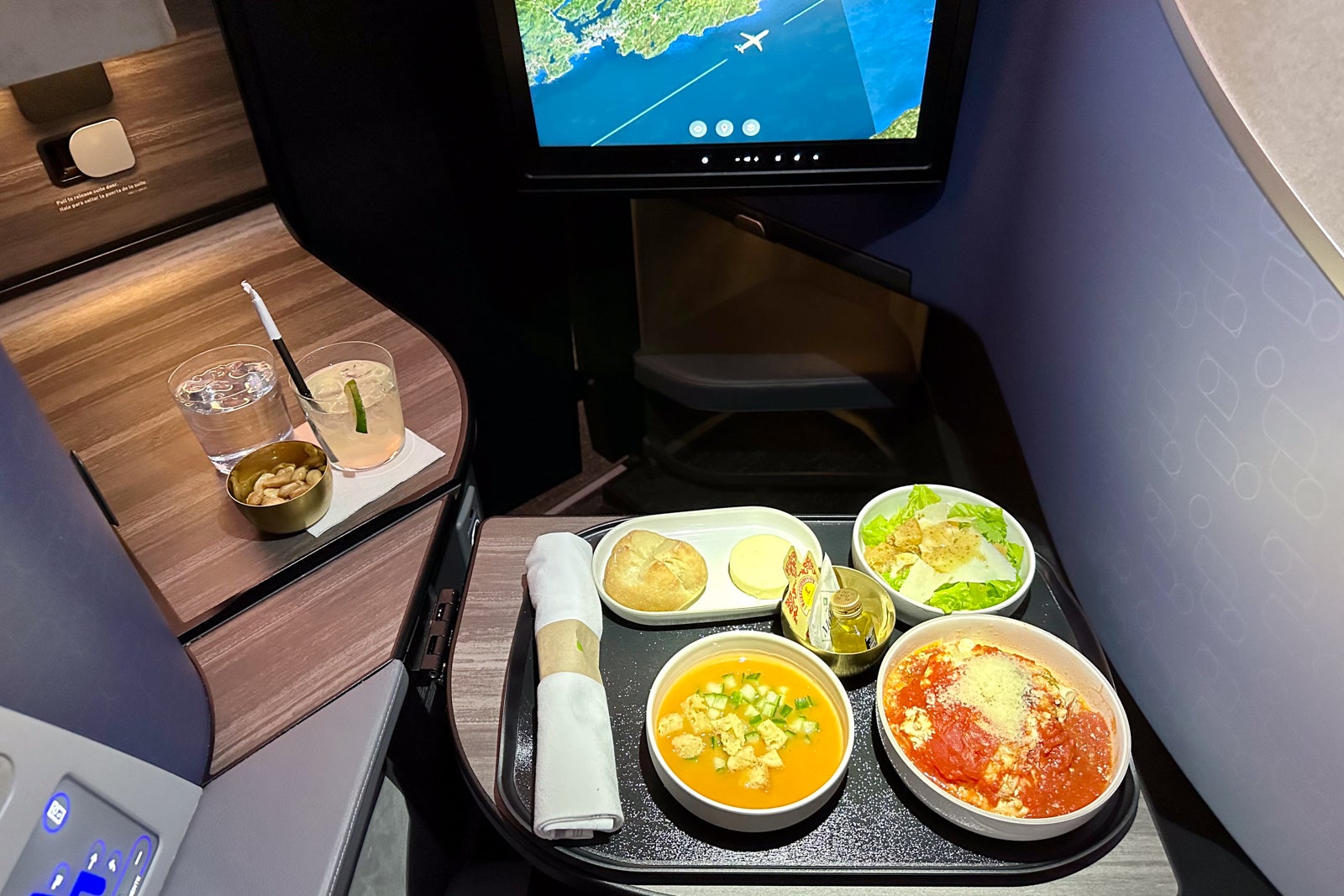 Fast forward about 20 minutes, and the main meal was served. I selected the escarole salad, chilled tomato soup and lasagna — all of which were beautifully presented and looked (and tasted) like they could've been served on the ground in an upscale restaurant.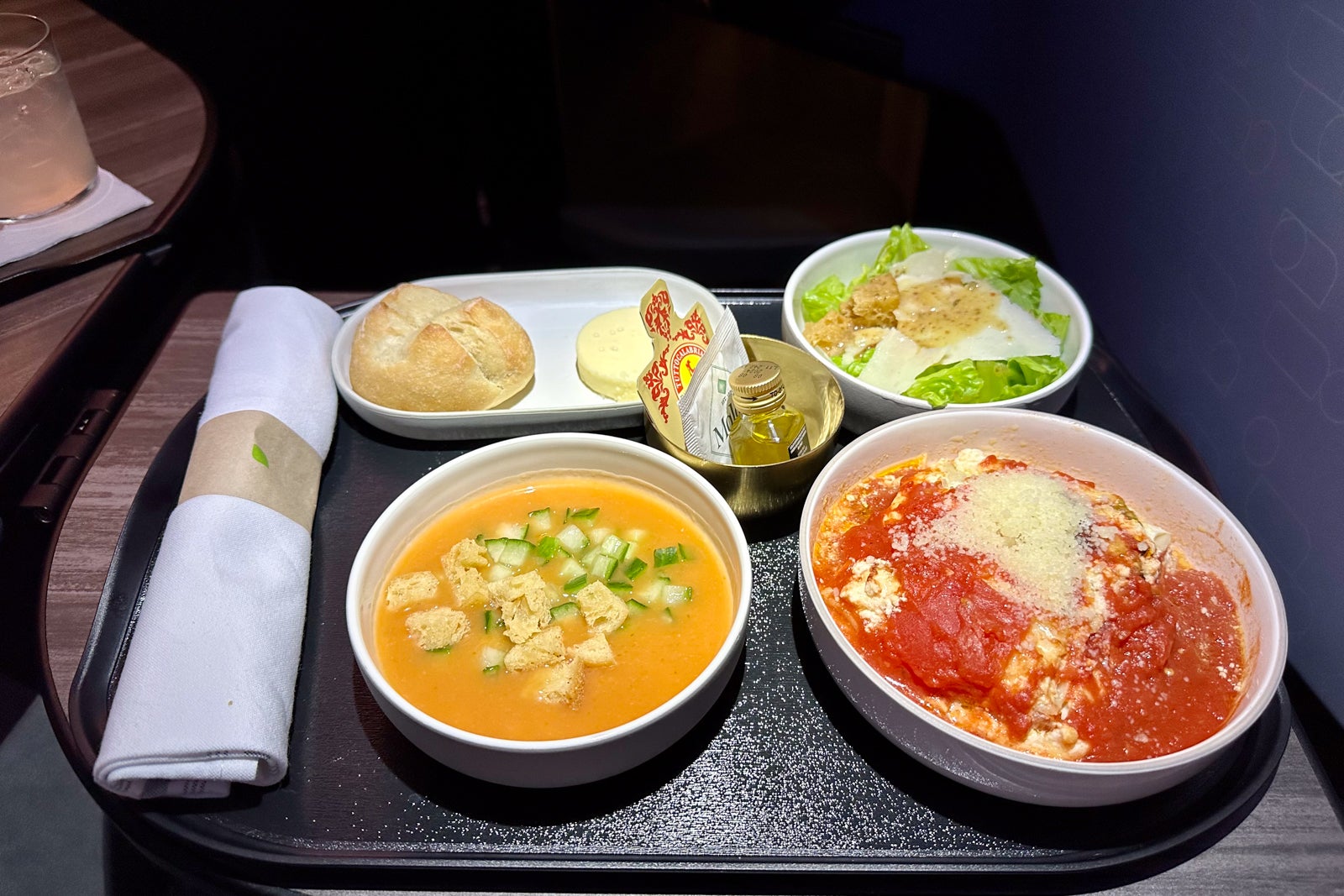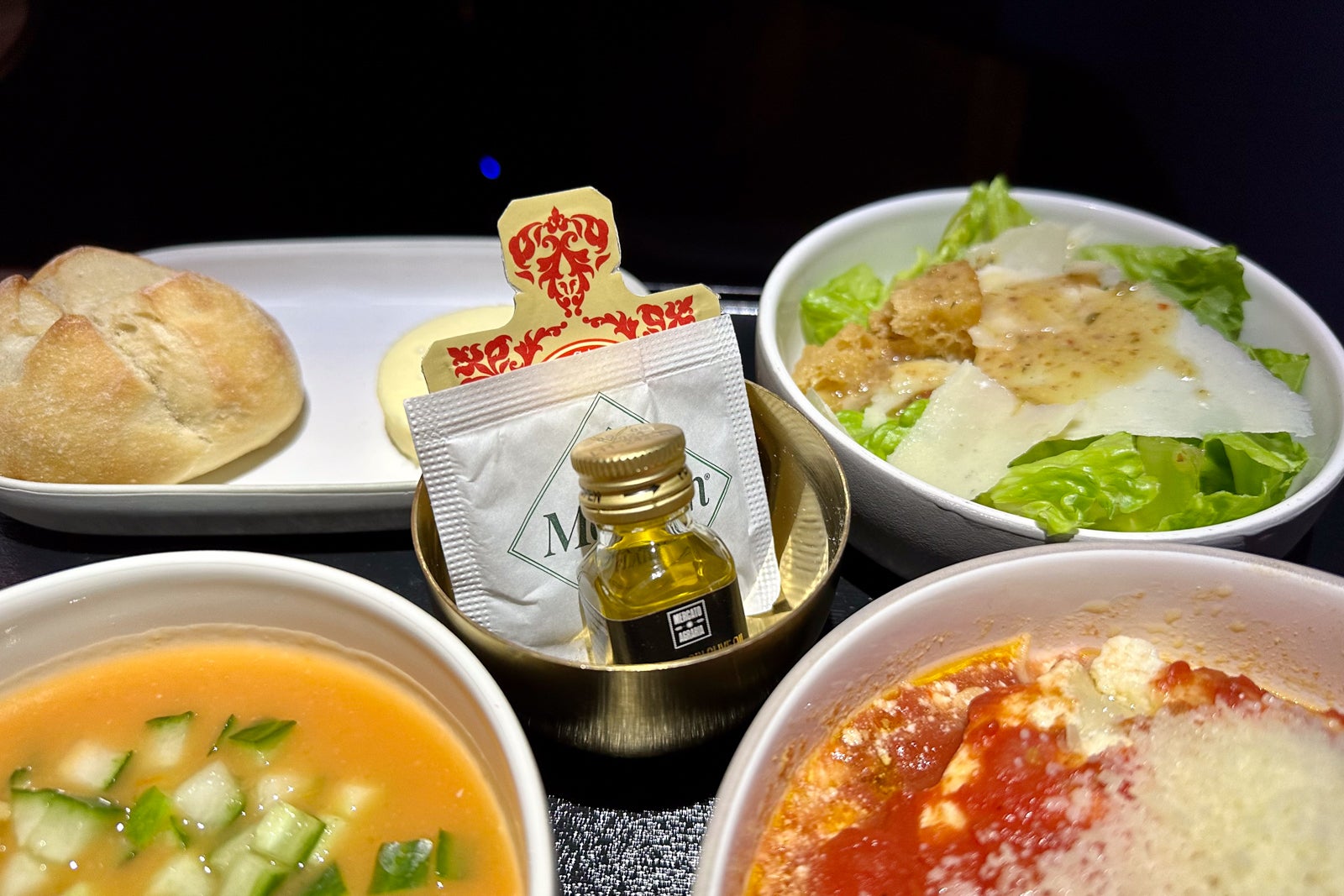 I also enjoyed the vanilla gelato for dessert. While the gelato was good, it wasn't nearly as delectable as the Chomp Cookie Monster sandwiches given out in economy.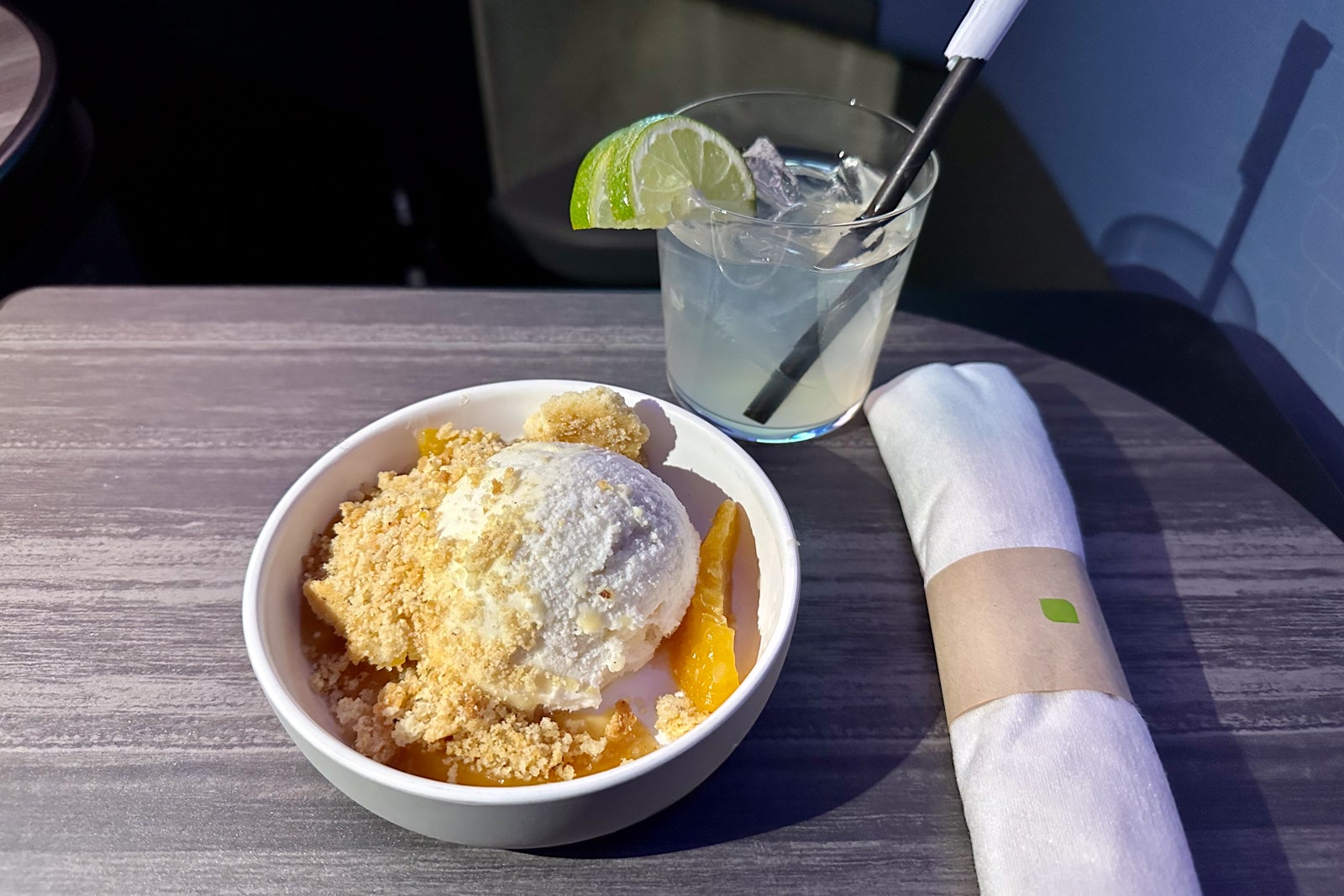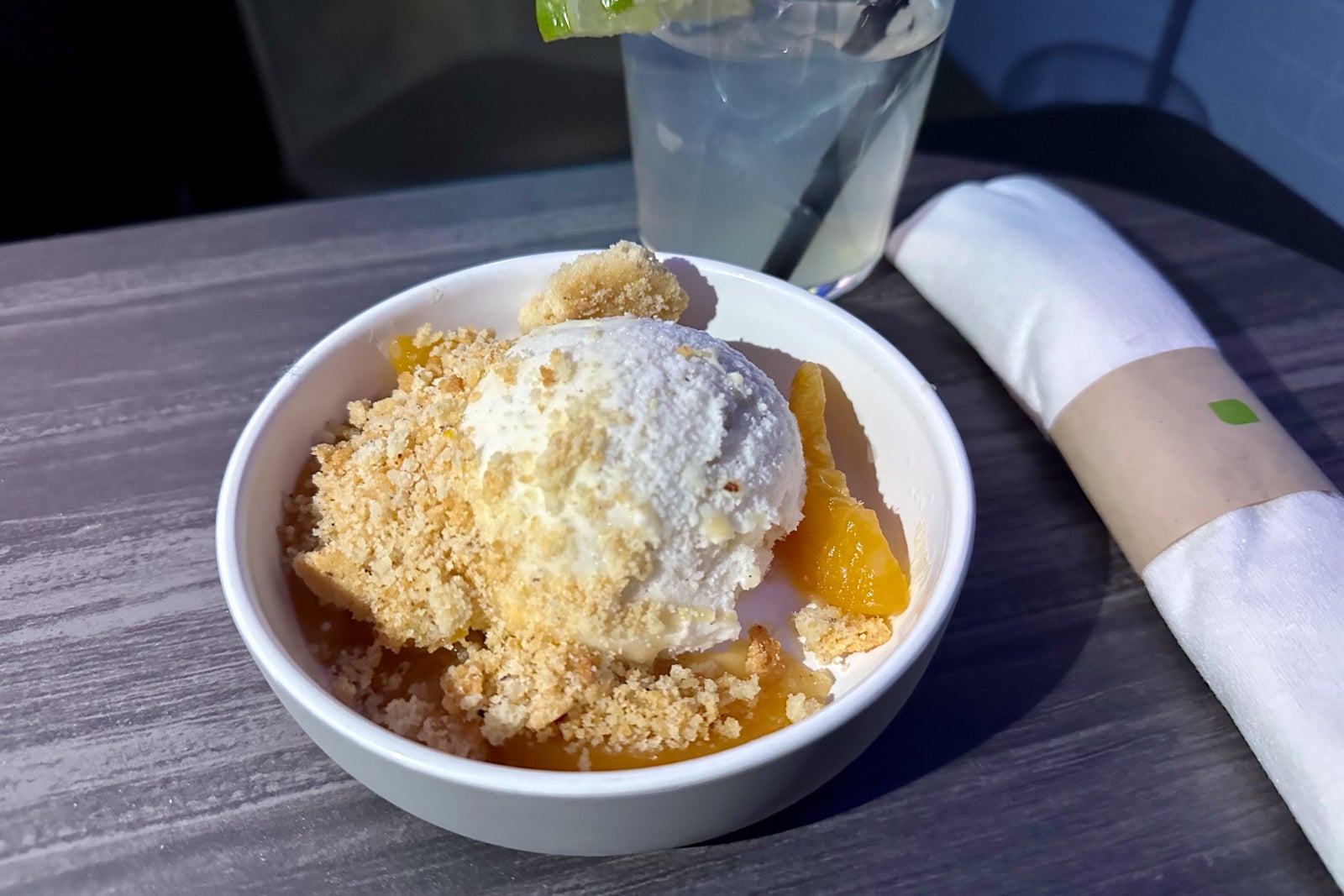 I first tried this treat on a JetBlue flight to London two years ago, and it was the first thing I asked about when the flight attendant brought my dessert. I'm happy to report that these sandwiches are just as good as I remembered them.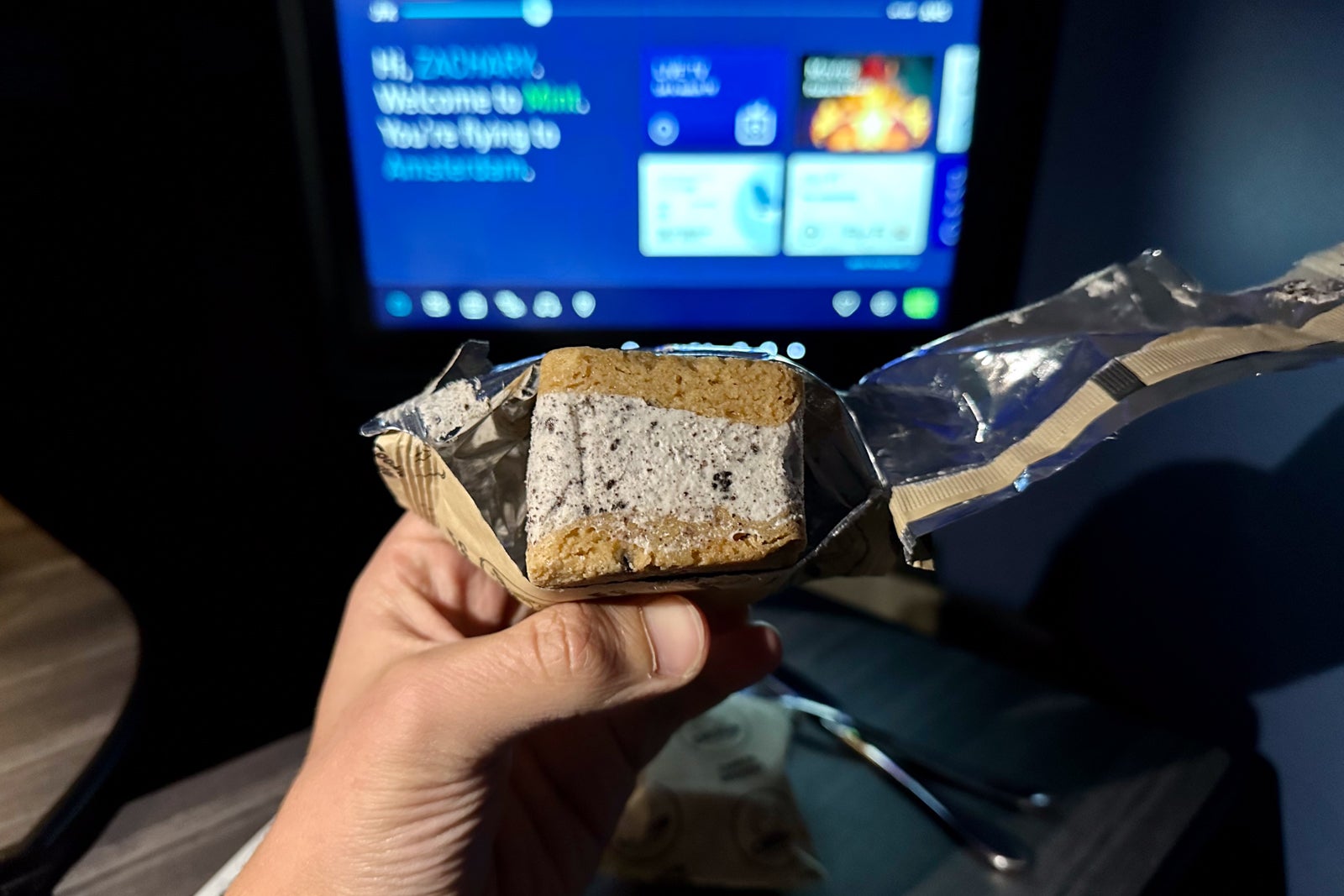 Speaking of food in economy, JetBlue partners with Dig to offer a build-your-own platter of a main dish (and two sides). Compared to what other airlines serve in coach, JetBlue's fare is downright luxurious.
If you're feeling peckish during the flight, there's even a self-serve walk-up pantry at the back of the plane with a handful of snacks (pretzels, plantain chips, Cheez-Its and granola bars) and small bottles of water.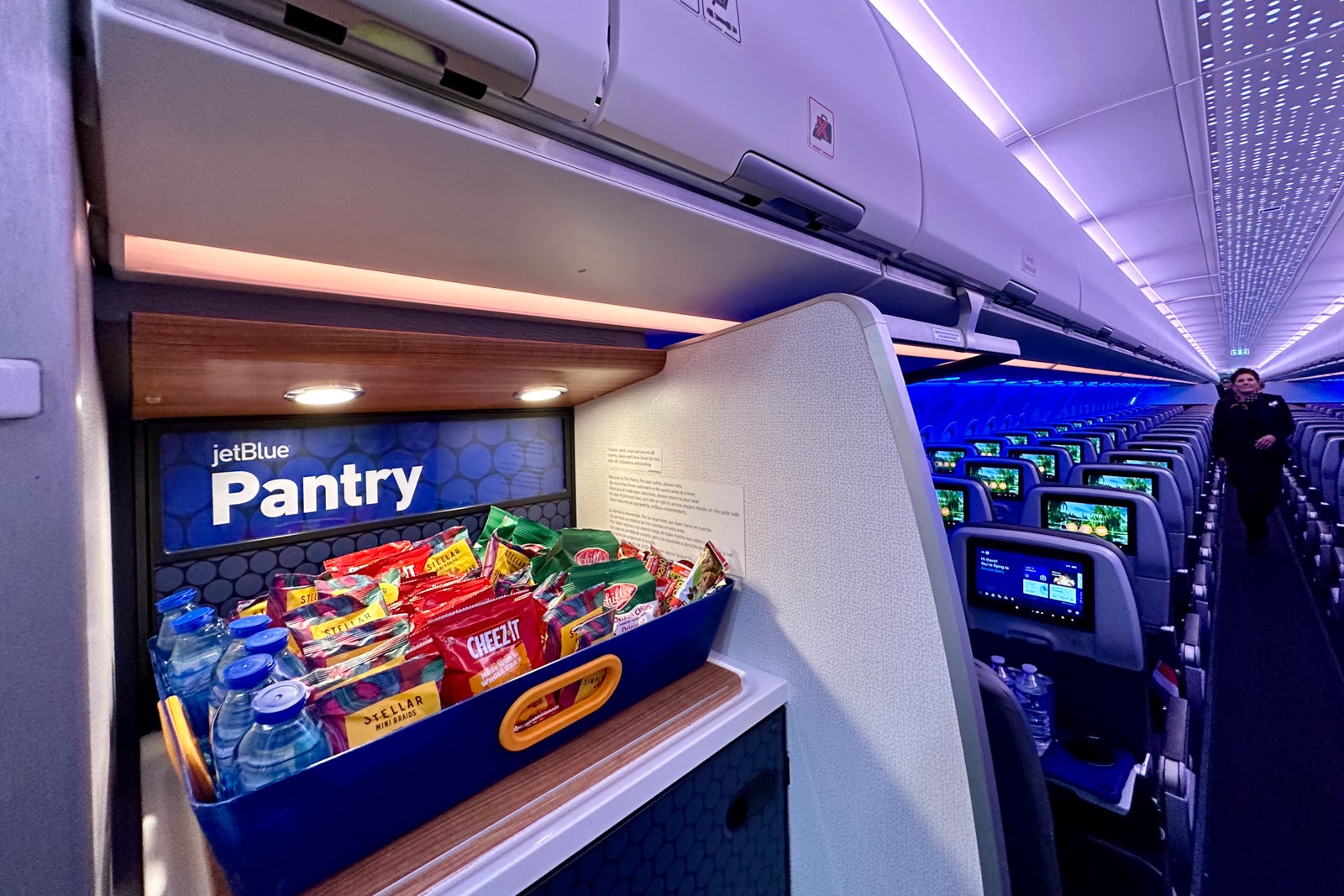 Back in Mint, the meal service was completed about two hours into the flight, and I successfully slept until about an hour before departure.
I wasn't hungry when I woke up, and despite it being the inaugural flight, I opted for the to-go breakfast option, which consisted of a can of La Colombe oat milk double latte, a bottle of orange juice and a warm croissant. (I wish more airlines would offer something similar to maximize sleep, especially because airplane breakfasts tend to be the least exciting meal of the day.)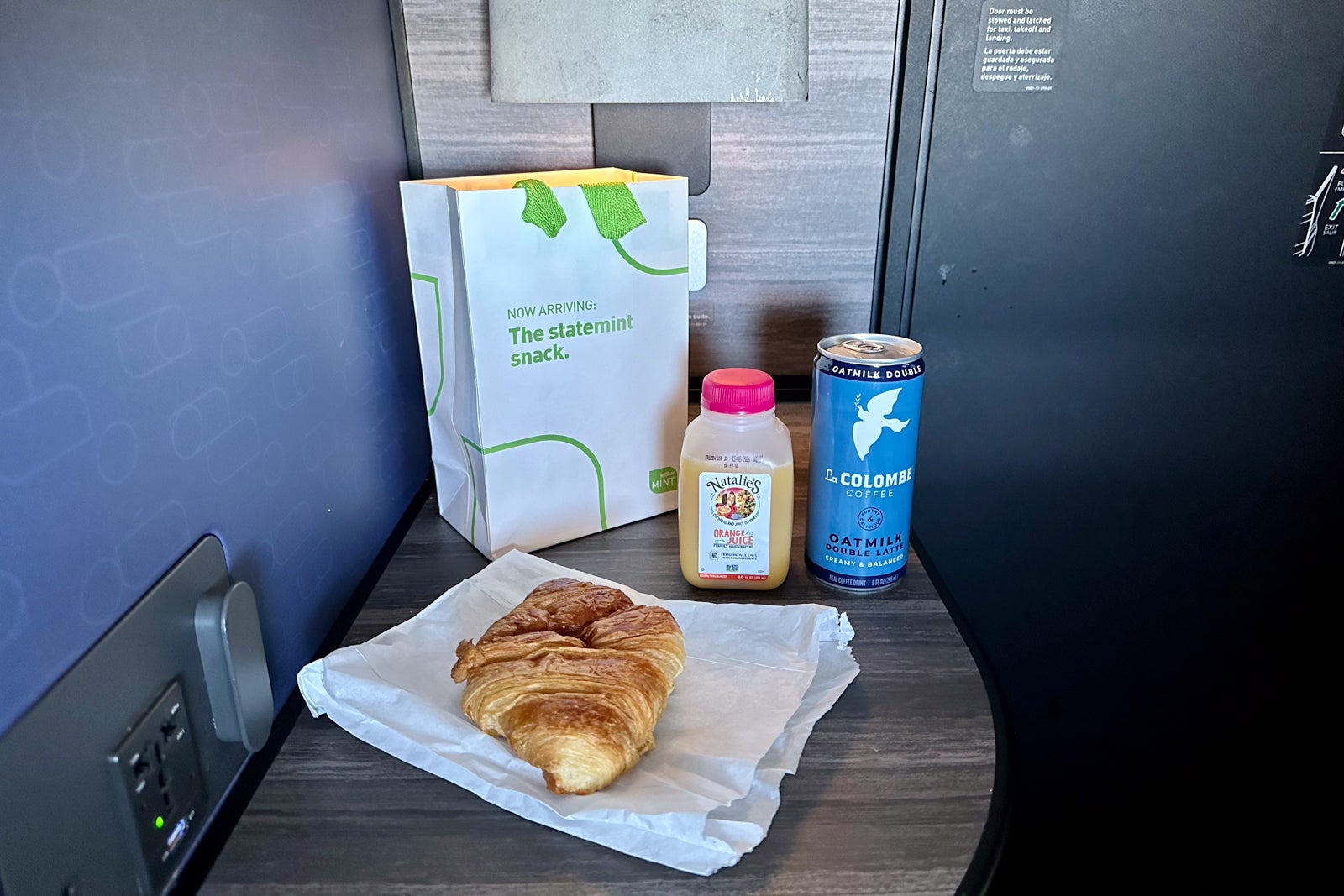 If I instead chose the traditional breakfast, I could've selected blueberries, salted yogurt or a frittata. Sure, these dishes likely would've been tasty (and nicely presented), but sleep is my number one priority on these short red-eyes.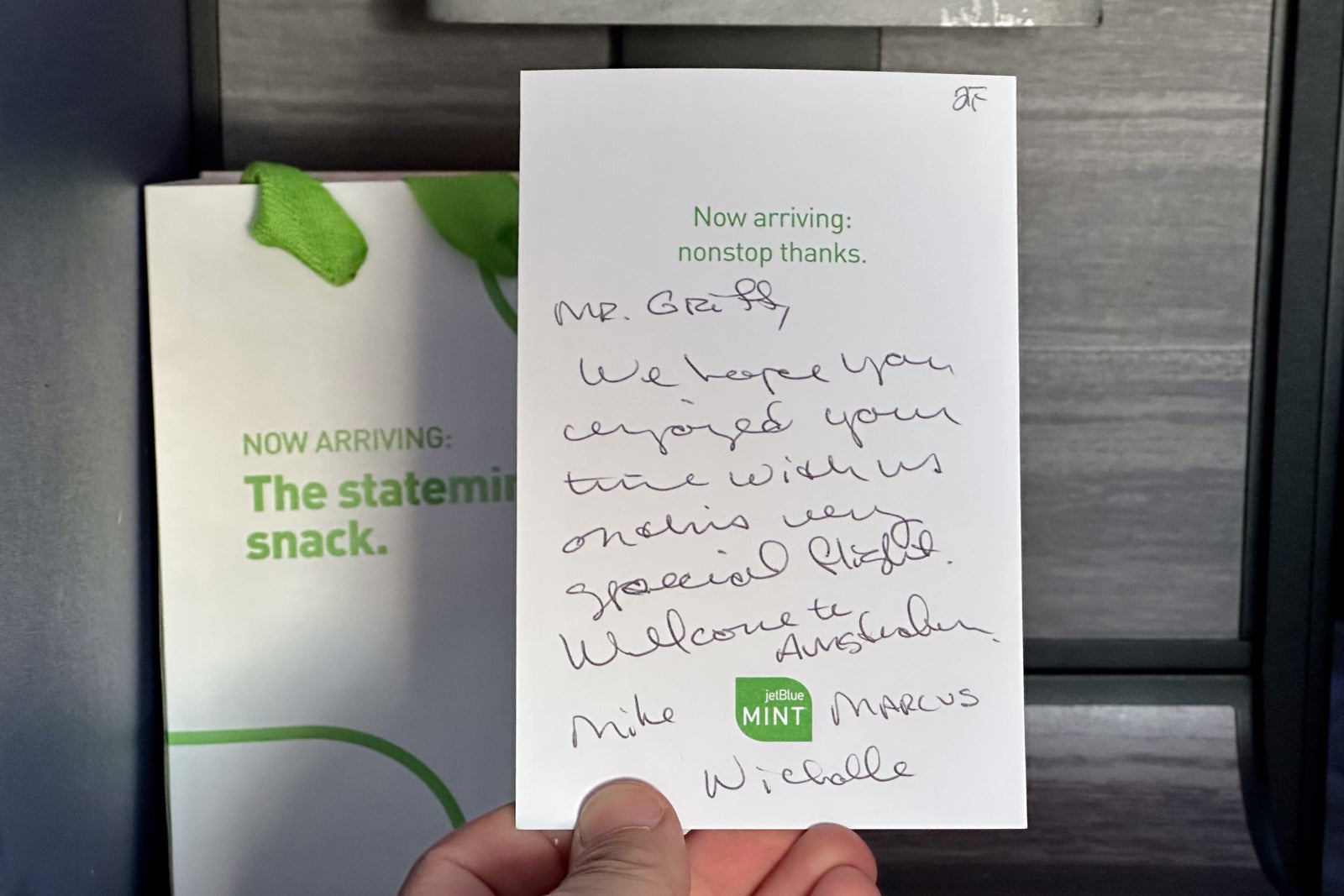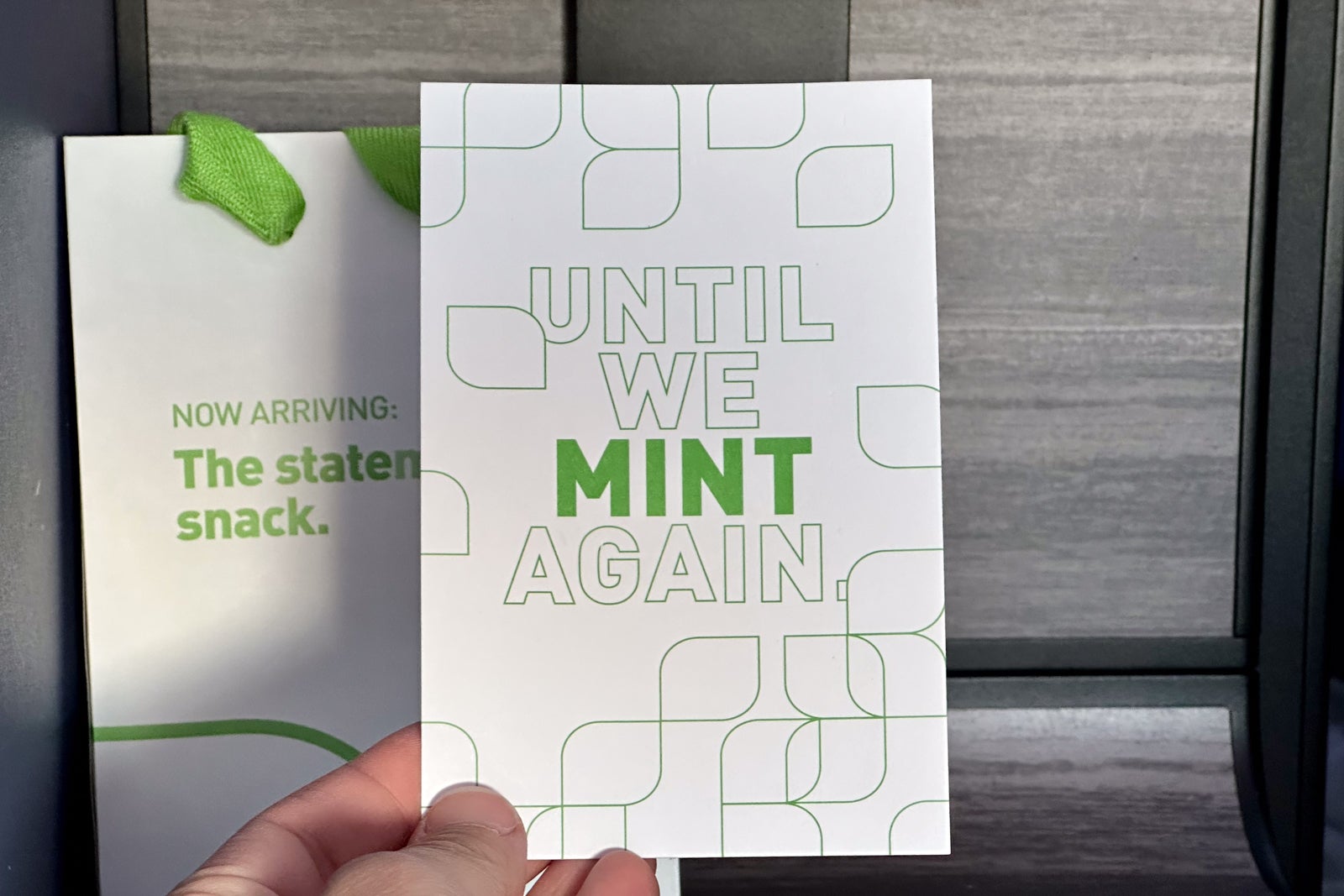 At the end of the day, no matter what meal service(s) you choose or what cabin you're flying in, JetBlue continues to knock the culinary experience out of the park.
Welkom to Amsterdam
I opened my window at around 8:45 a.m. local time as we approached Amsterdam. I wasn't ready for the strong rays of sunlight, but alas, all good things must come to an end.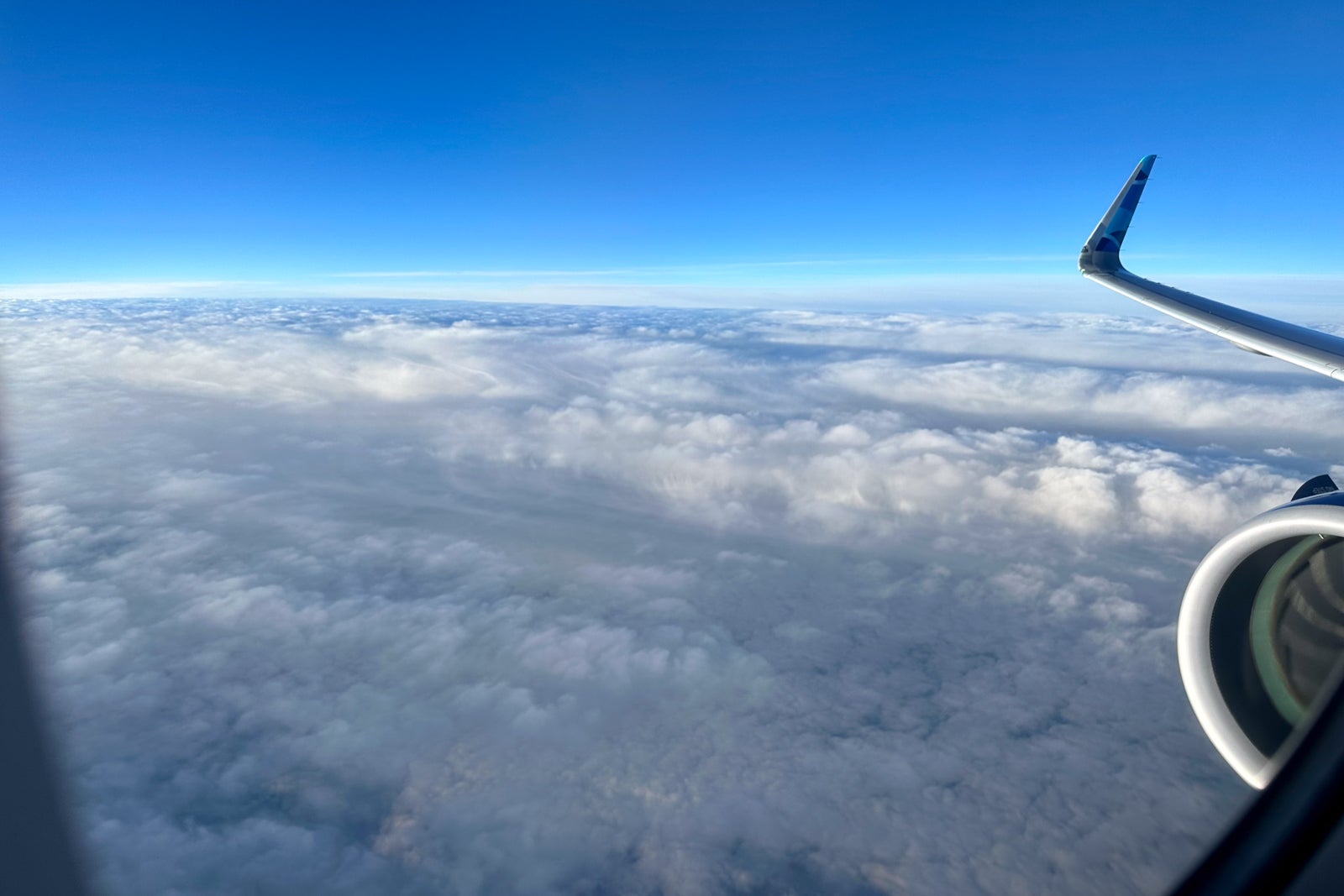 Our descent was pretty uneventful until we crossed through 5,000 feet, where we hit some light chop and found some rain showers.
Despite the light drizzle, we had a smooth landing on Schiphol's "Polderbaan" runway 18R, which was met with a round of applause from the excited travelers.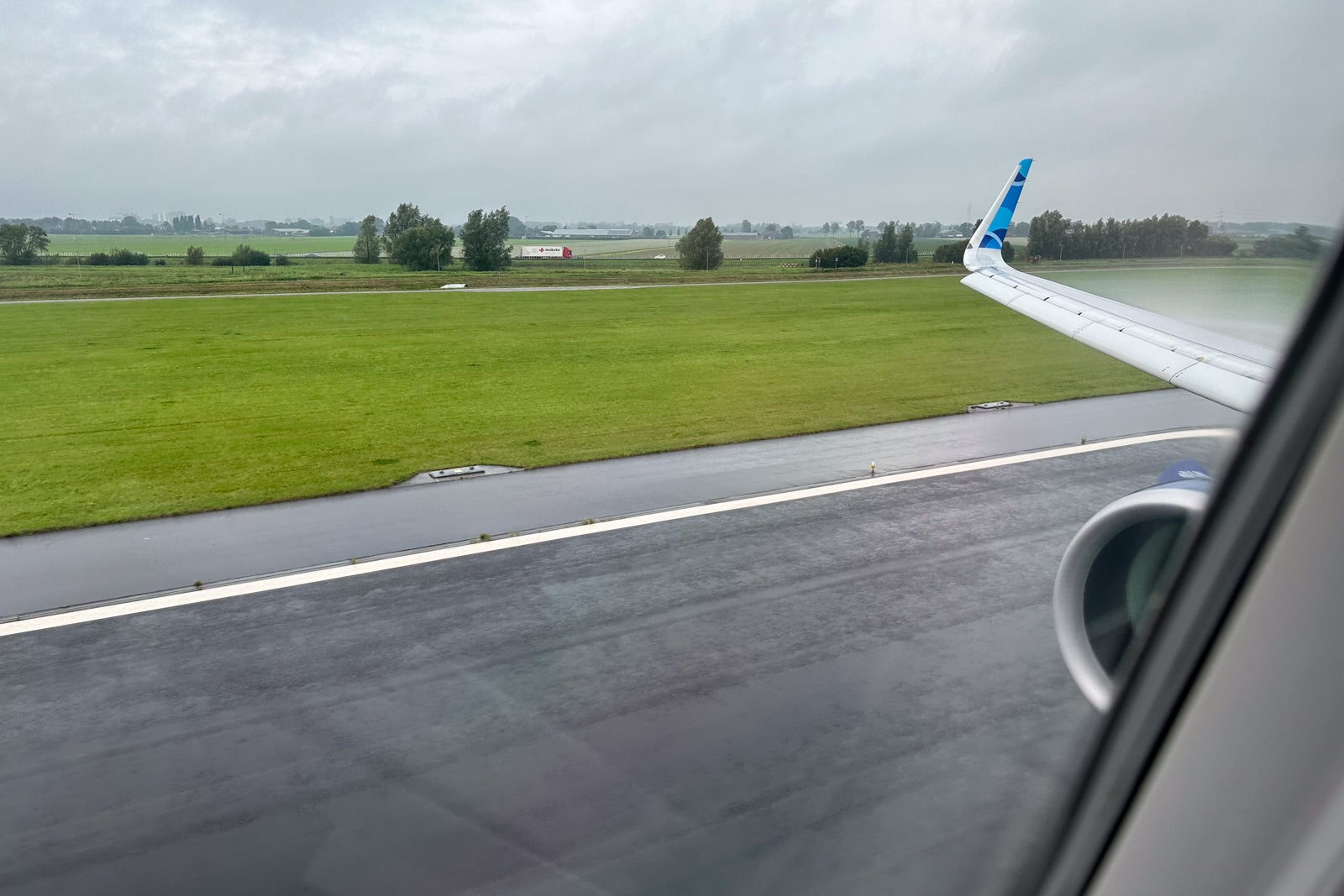 Taxiing to gate G2 took nearly 15 minutes (the "Polderbaan" runway feels like it's in Paris), and before long, it was time to bid farewell to the wonderfully attentive crew that was hand-picked to work the inaugural.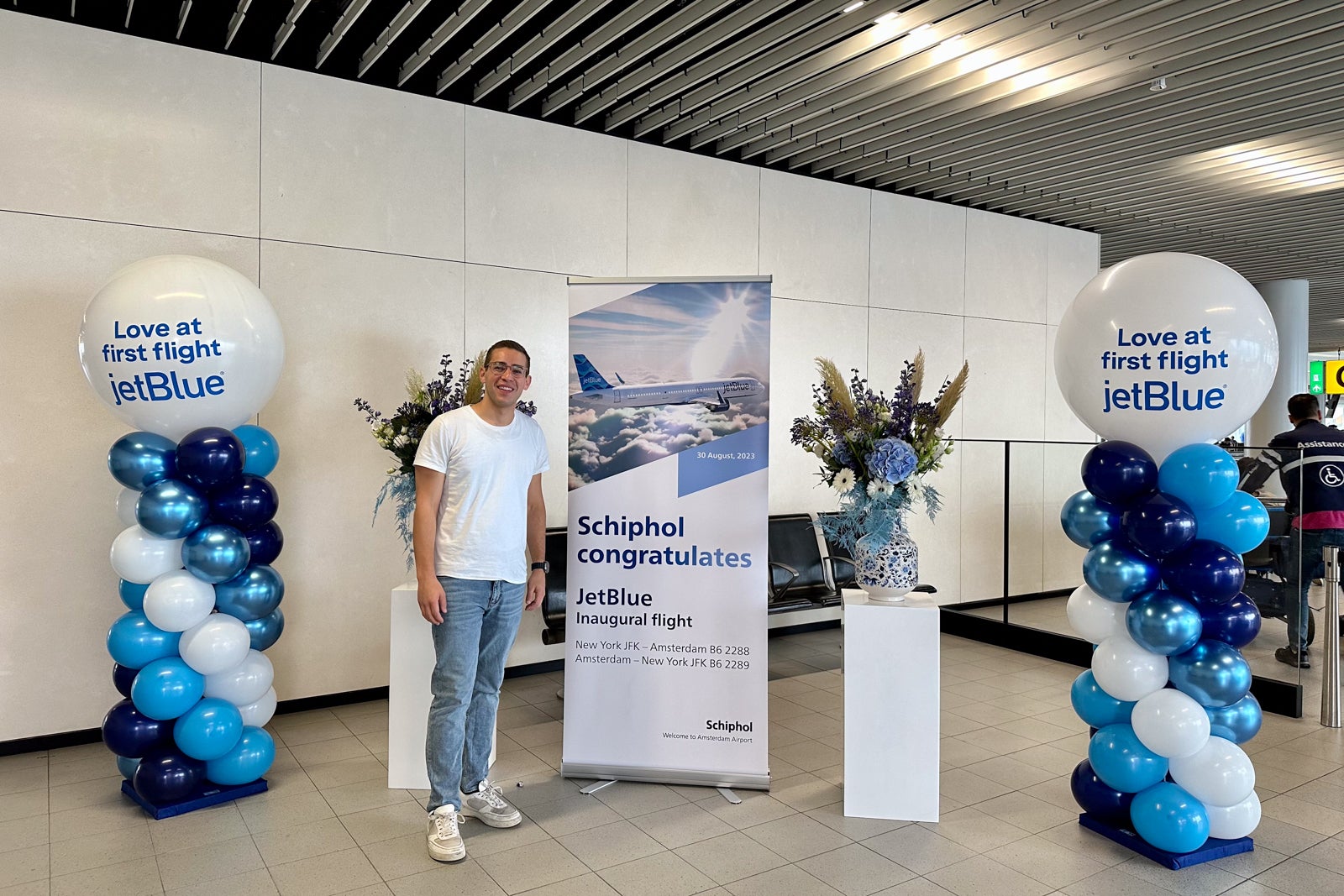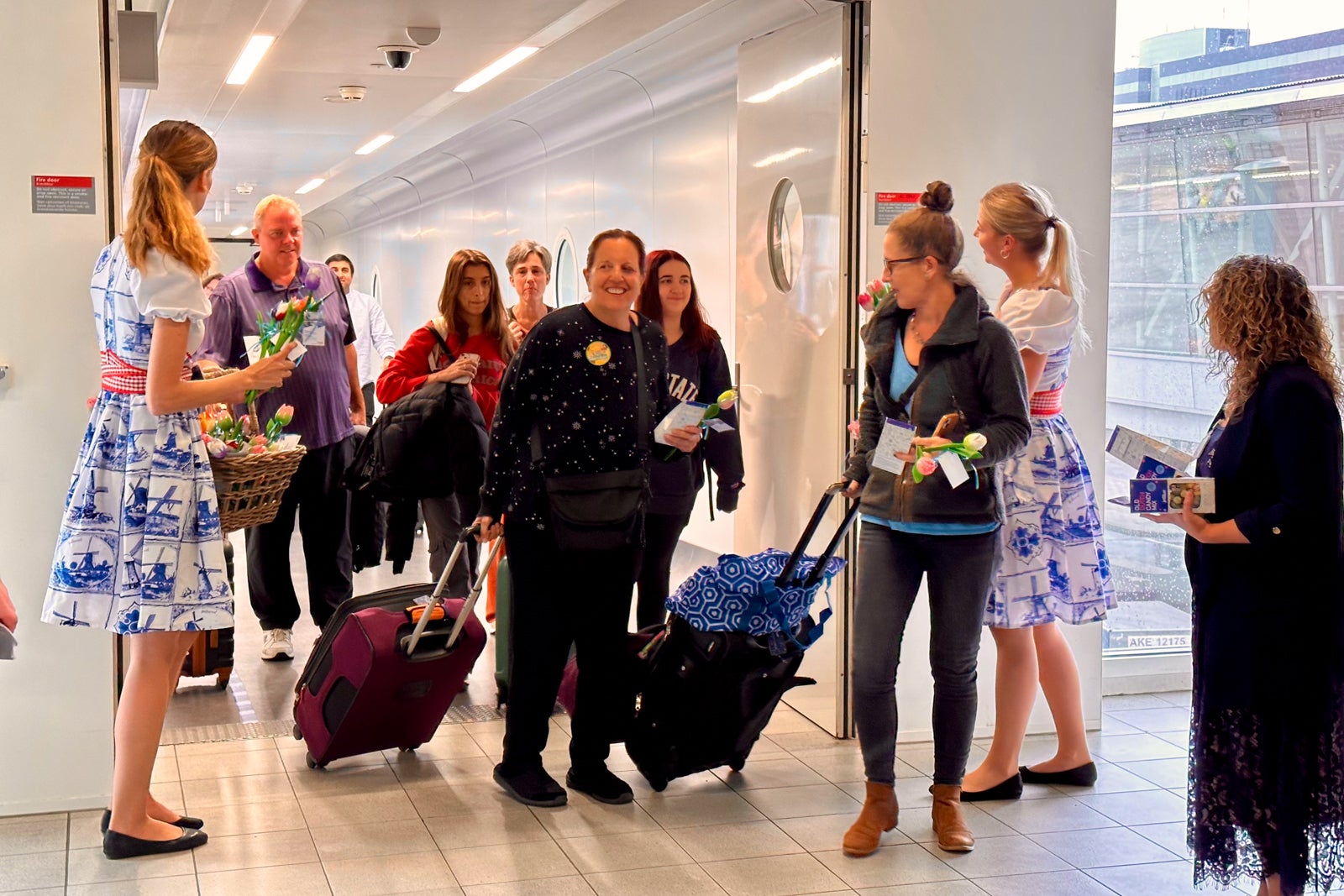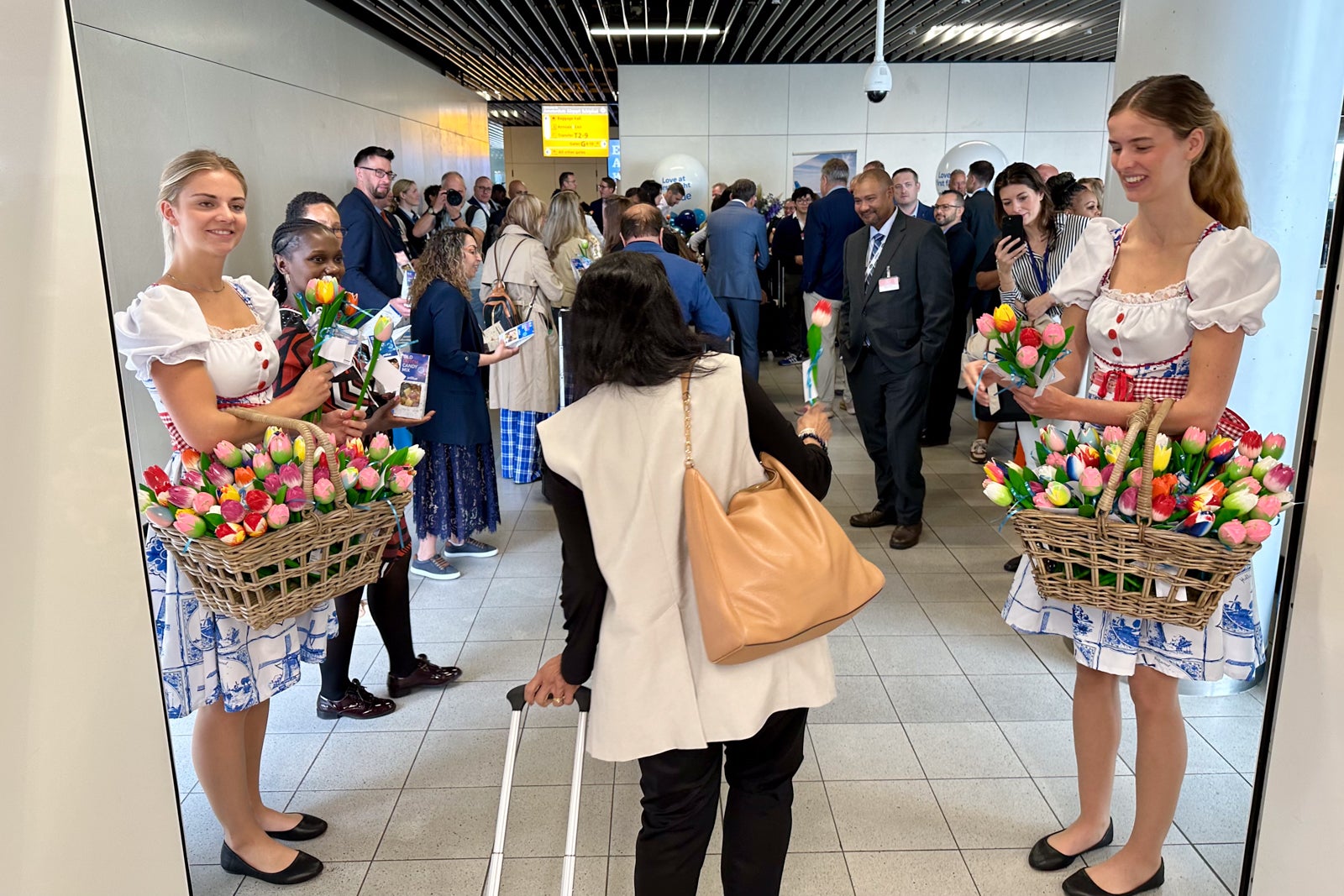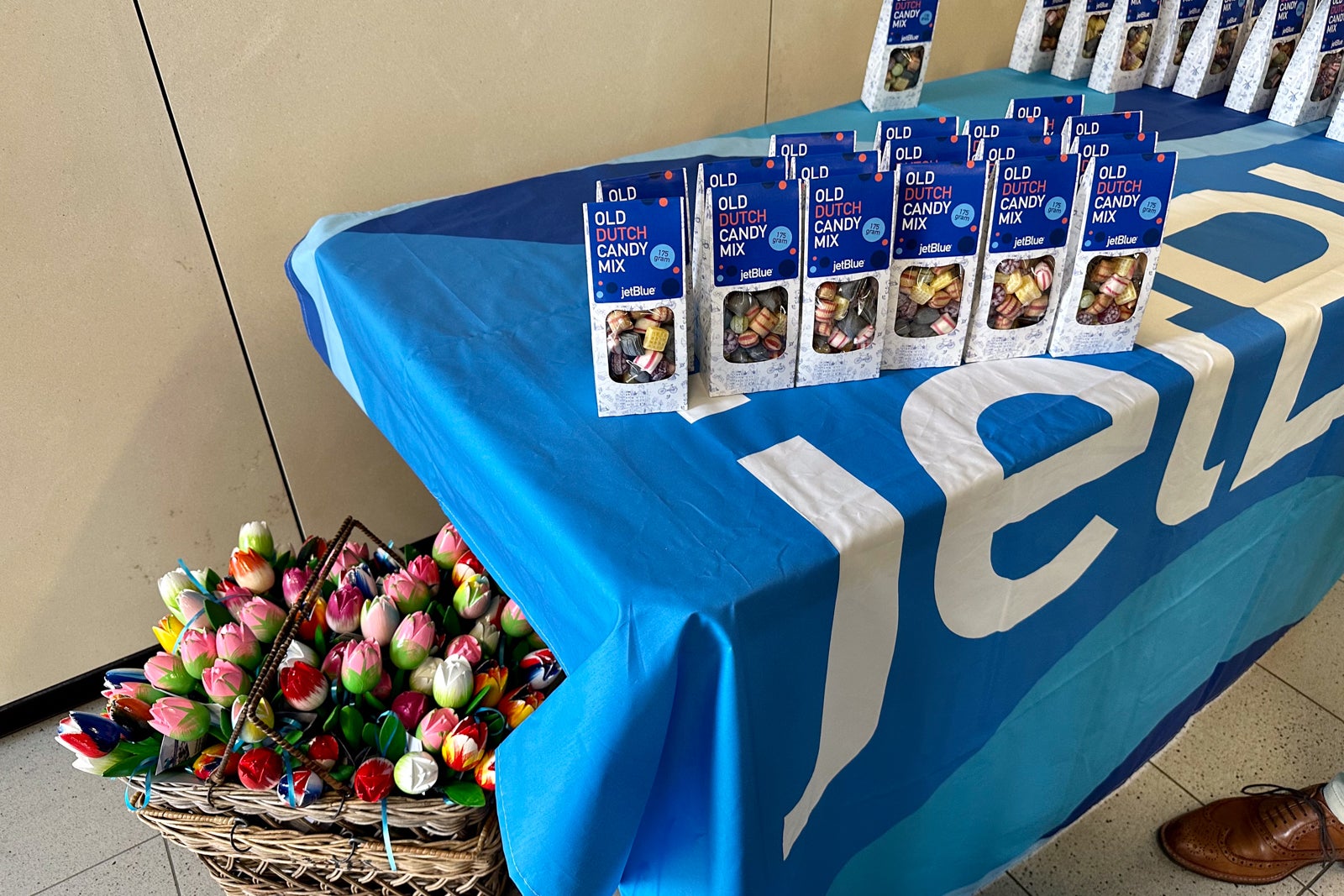 There was a gaggle of local media, along with airport representatives, waiting to greet our flight at the top of the jetbridge. Here travelers were handed commemorative tulips, as well as a mix of Dutch candies. After a few "hallos" and "welkoms," I made my way to my connecting flight, which happened to depart from the adjacent gate.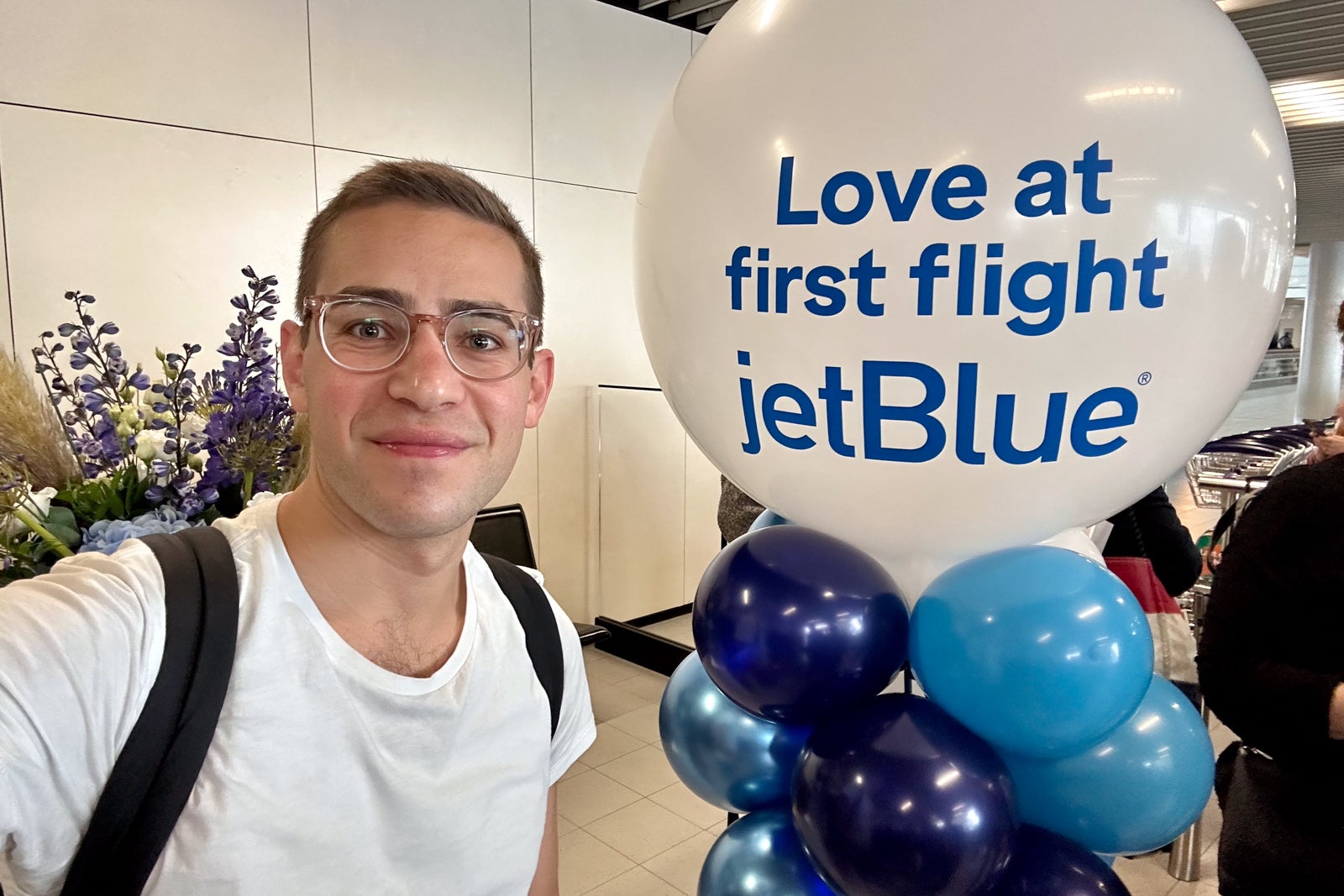 As I looked back on JetBlue's first revenue flight to ever land in Amsterdam, I couldn't help but notice a sea of U.S.-bound Delta and KLM jets surrounding it.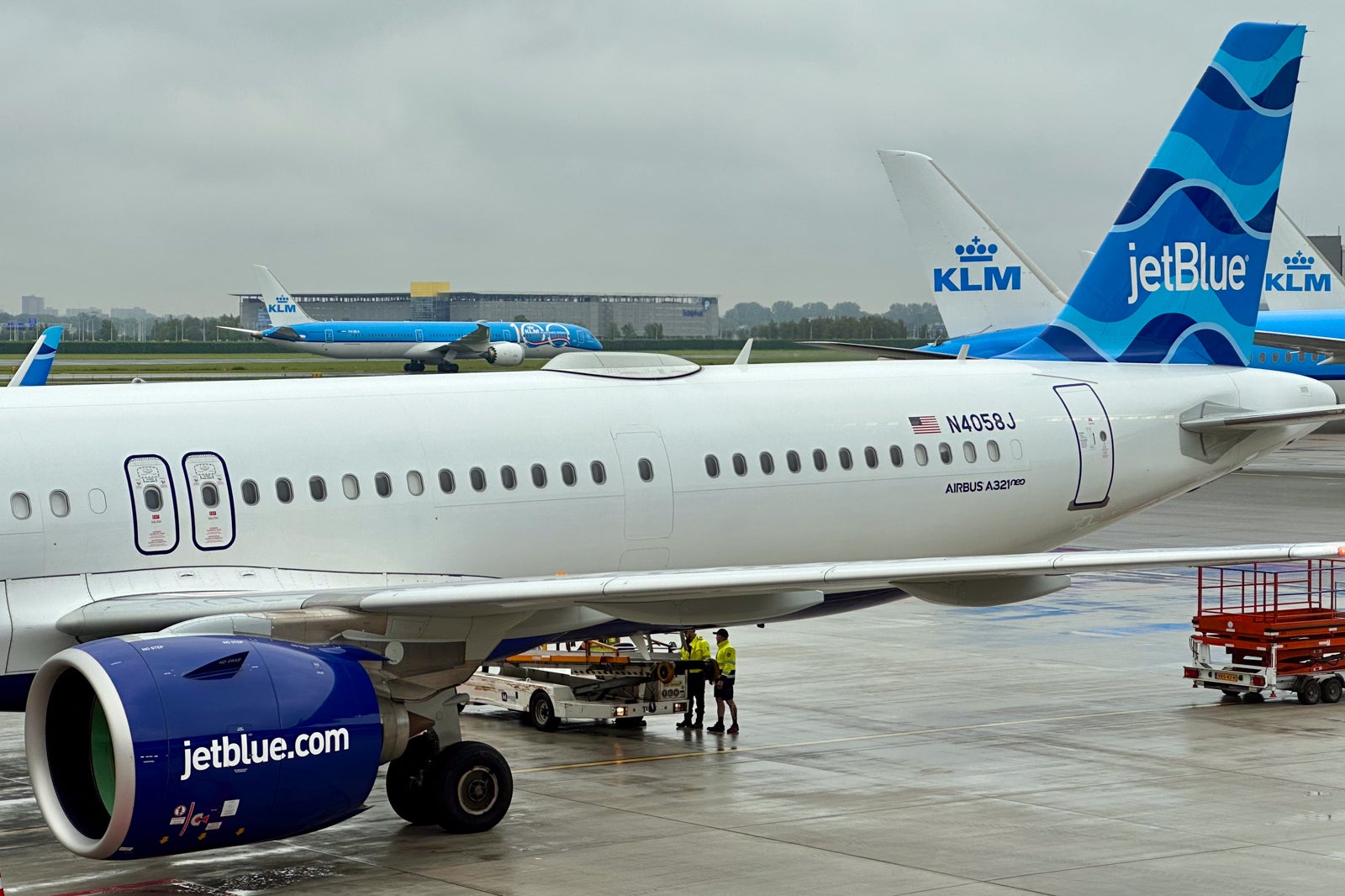 While JetBlue offers an incredibly competitive onboard experience, it now has its work cut out for it — disrupting this entrenched market with lower fares. If JetBlue can do that, this new service will be a win-win for everyone, even those who don't fly with JetBlue.