Editor's note: KLM provided TPG with round-trip travel to Amsterdam for a first look at the release of its latest Delft house collectible. The opinions expressed below are entirely those of the author and weren't subject to review by KLM or any external entity.
Lufthansa has its rubber duckies and Virgin Atlantic has its airplane salt and pepper shakers. But the most sought-after airline collectible just might be KLM's famous miniature Delft houses.
These blue-and-white beauties are modeled after historic buildings in the Netherlands (or abroad), and the airline releases a new one each year in October to commemorate the anniversary of its founding in 1919.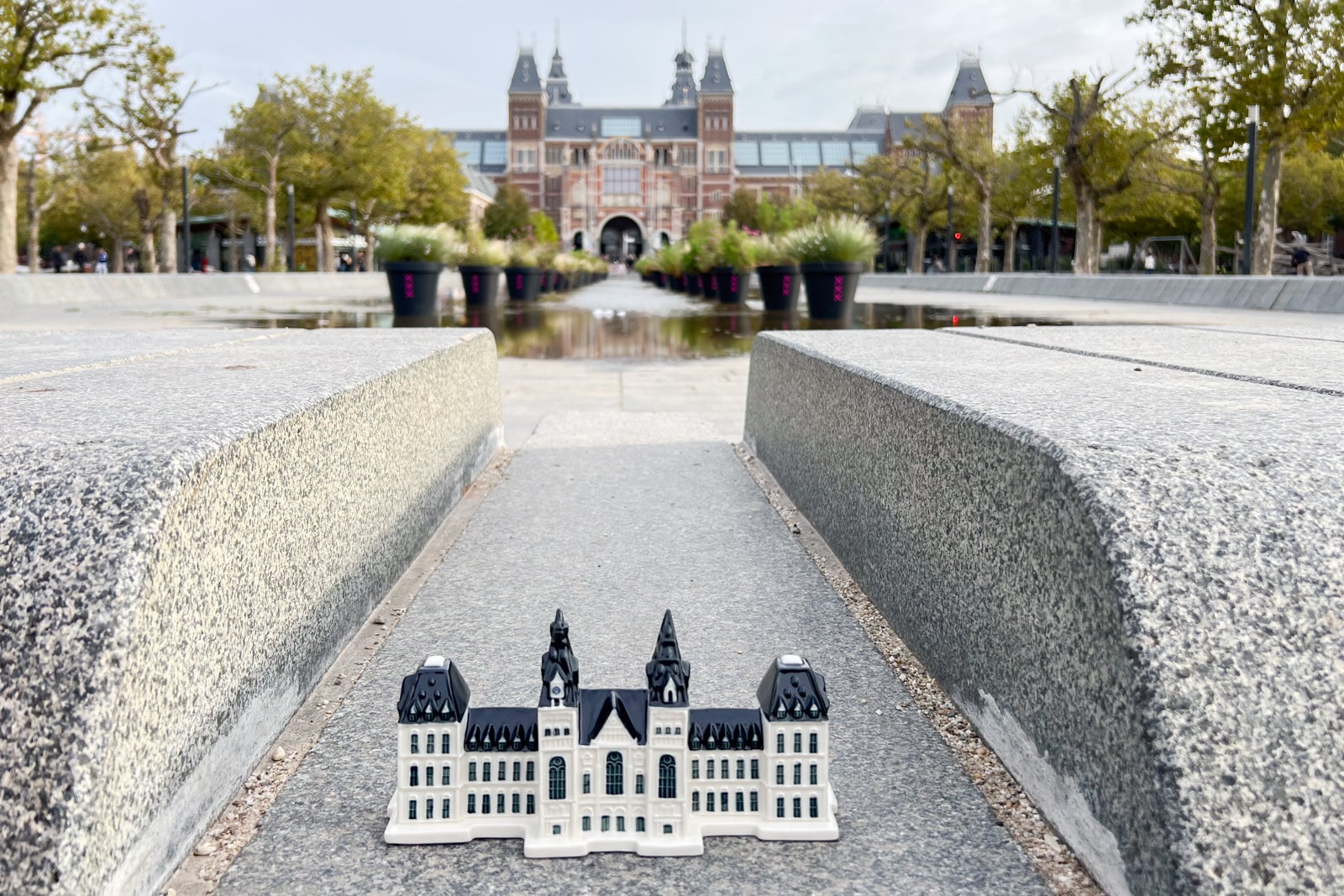 KLM started distributing the tile houses, which are filled with Bols Genever liquor, to first-class passengers in the 1950s. It was a clever way to get around rules limiting the value of gifts airlines could bestow upon passengers since the houses were considered cocktails rather than souvenirs. For its 75th anniversary in 1994, KLM issued a large batch of houses so that their number would match the airline's age with each new annual release after that.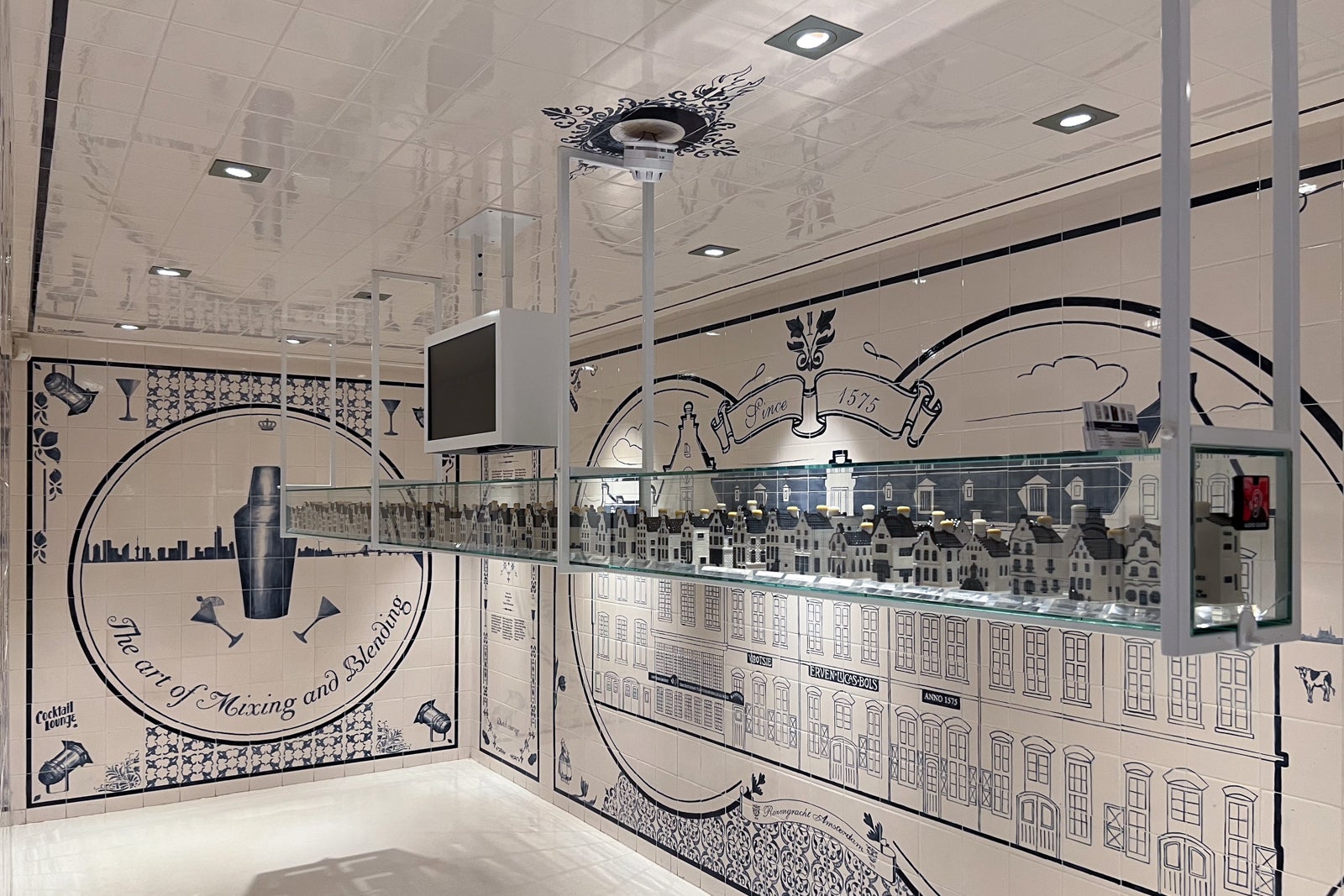 Want more airline-specific news? Sign up for TPG's free biweekly Aviation newsletter.
Past houses have included the gorgeously gabled 16th-century De Oudheidkamer in Den Burg on the island of Texel and the landmark Anne Frank House in Amsterdam. There are also grandiose structures like Amsterdam's palatial Scheepvaart Museum and the Hotel New York in Rotterdam, which was once the headquarters of Holland America. All of them are filled with a dram of Bols Genever spirit, though few folks actually end up drinking theirs since they are sealed.
Aside from picking one of the Delft houses up on eBay, to get your hands on one, you've got to be traveling internationally in KLM business class (there's no first class on the airline anymore). Flight attendants pass through the cabin before descent with a tray or cart of the keepsakes that usually includes the current year's release and a smattering of past ones.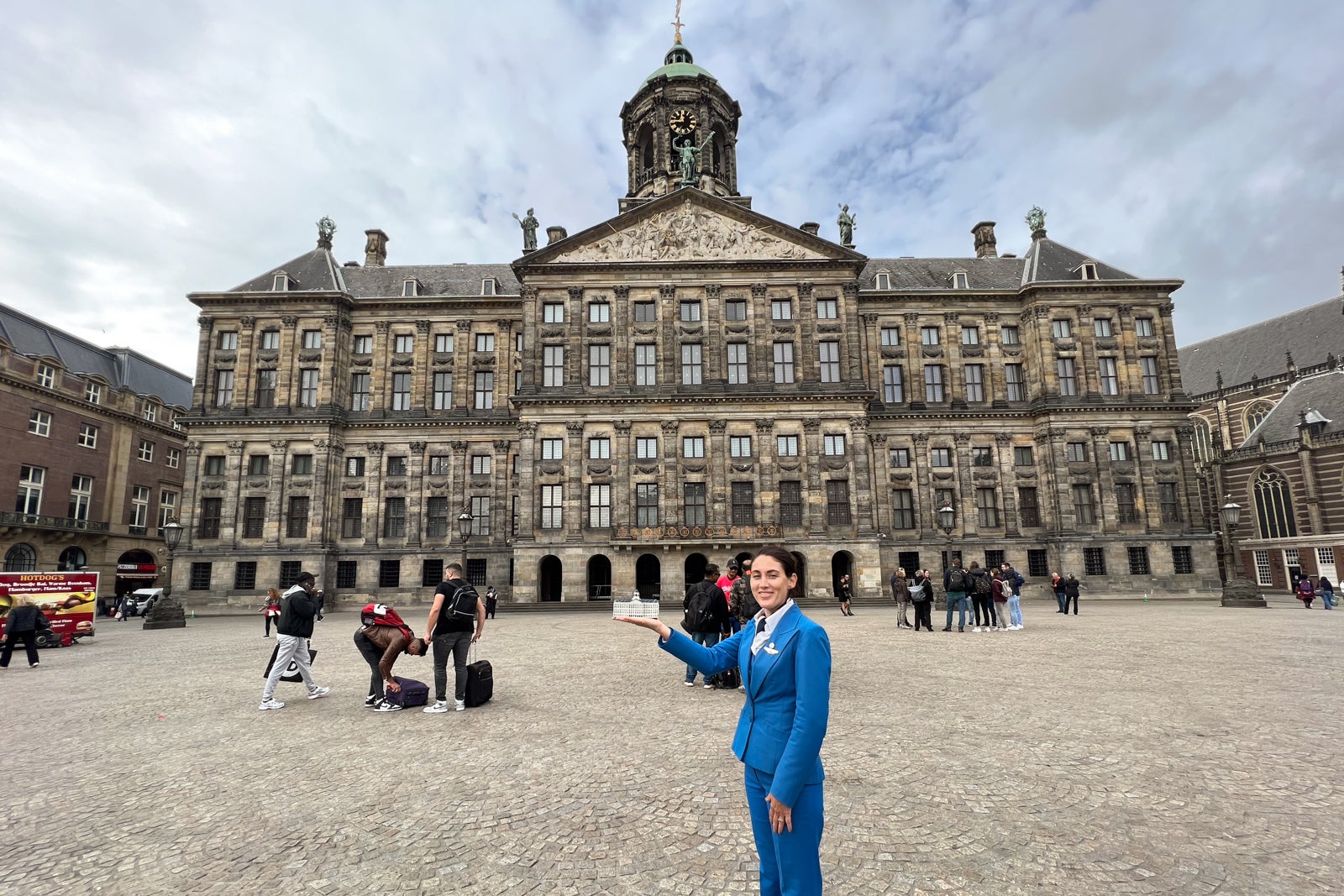 There's even an app to help you keep track of which houses you've collected so you don't accidentally snag a duplicate on your next flight. (Don't worry if you do, there's a counter at the KLM Crown Lounge at Amsterdam Airport Schiphol where you can swap them out).
Cabin comparison: Watch us fly KLM 2 different ways: Business class vs. economy 
And if you are curious about the provenance of the Delftware houses you gather on your travels, you can pick up historian Mark Zegeling's "Little Kingdom by the Sea." The two-book set is a compendium of the houses that he regularly updates with detailed descriptions he has spent years researching, along with a walking guide so that you can visit some of them yourself on your next trip to the Netherlands.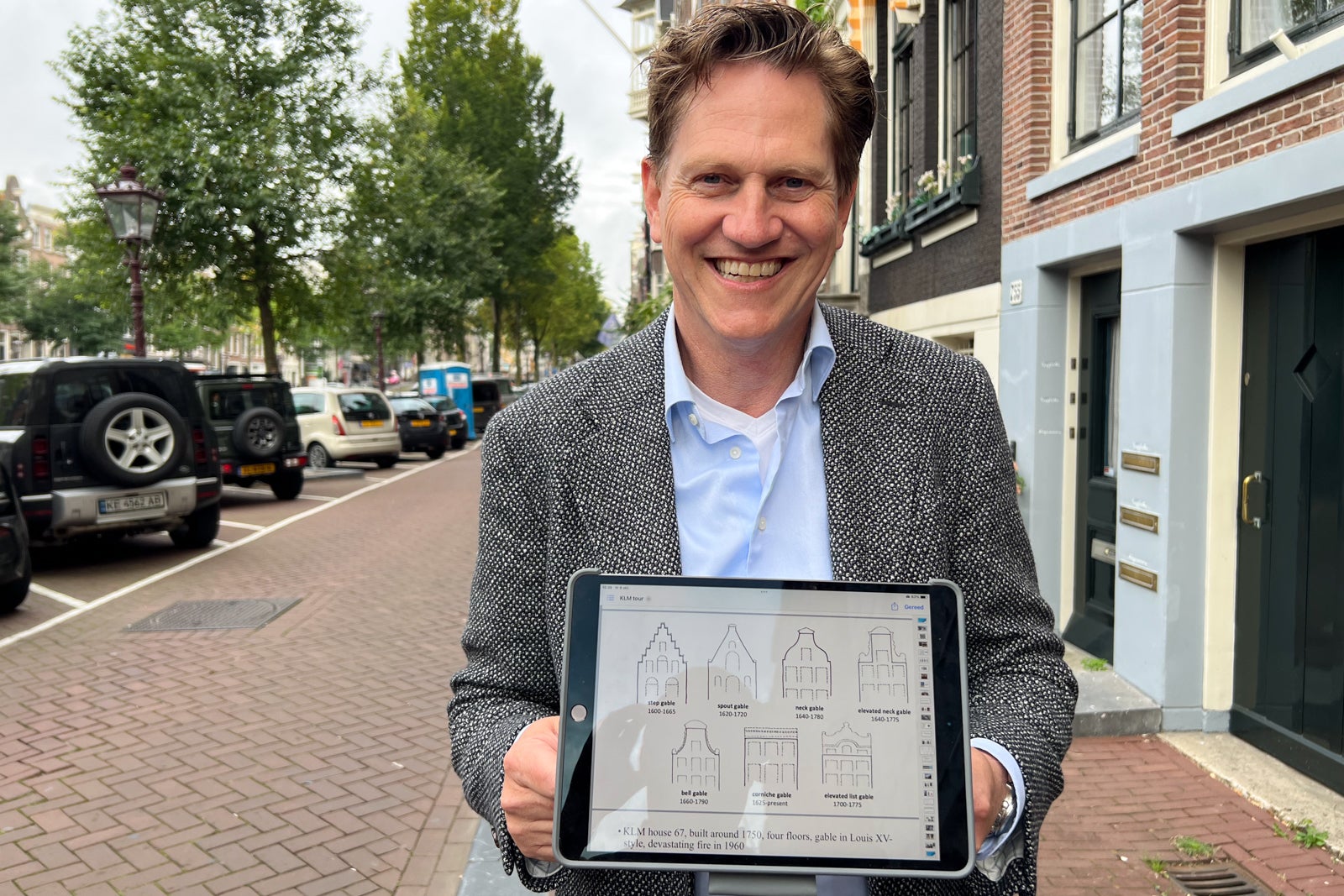 The 104th Delft house is … a train station
This year, KLM has released its 104th Delft blue house, which is a replica of the oldest existing railway station in the Netherlands: Valkenburg Station. The depot is in the town of Valkenburg aan de Geul, about a three-hour train ride or drive south of Amsterdam, in the province of Limburg.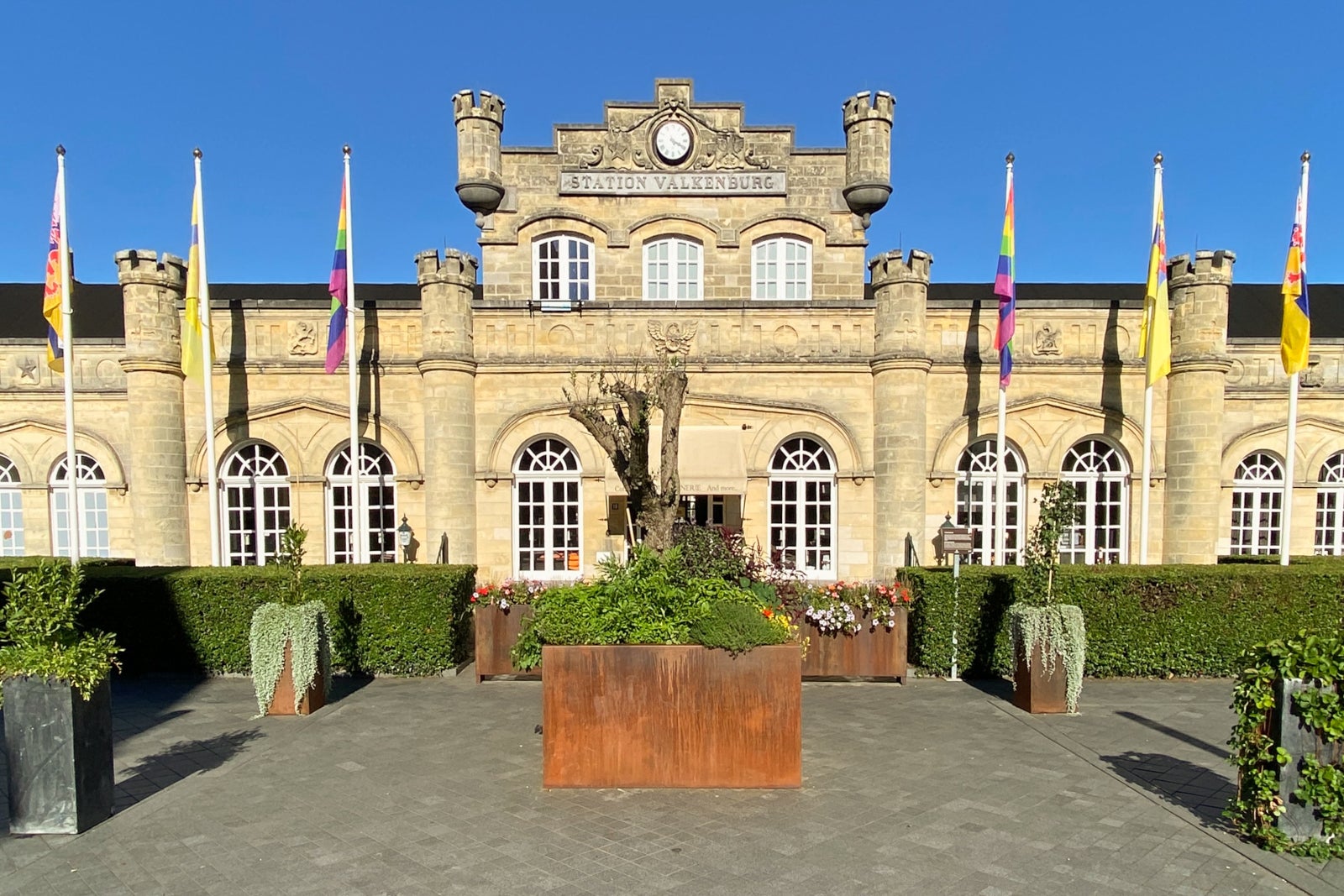 It originally opened in 1853, when the town was a popular spa destination for wealthy Europeans along the Aachen-Maastricht line between the Netherlands and Germany, making it 170 years old. The station is still operational as a stop on the Heuvelland line and was designated a national monument in 1966. The station even came in second place in a public poll of travelers conducted by NS Dutch Railways in 2019 to determine the country's most beautiful train stations (Groningen took the top spot).
Constructed of local yellow marlstone, or chalk, with 23 turrets, towers, battlements and pointed arches, as well as ornamental balustrades, the building is a neo-medieval marvel designed by architect Jacobus Enschedé. He was inspired by the palace of King William II in Tilburg, another prime 19th-century Dutch example of English Gothic Revival architecture.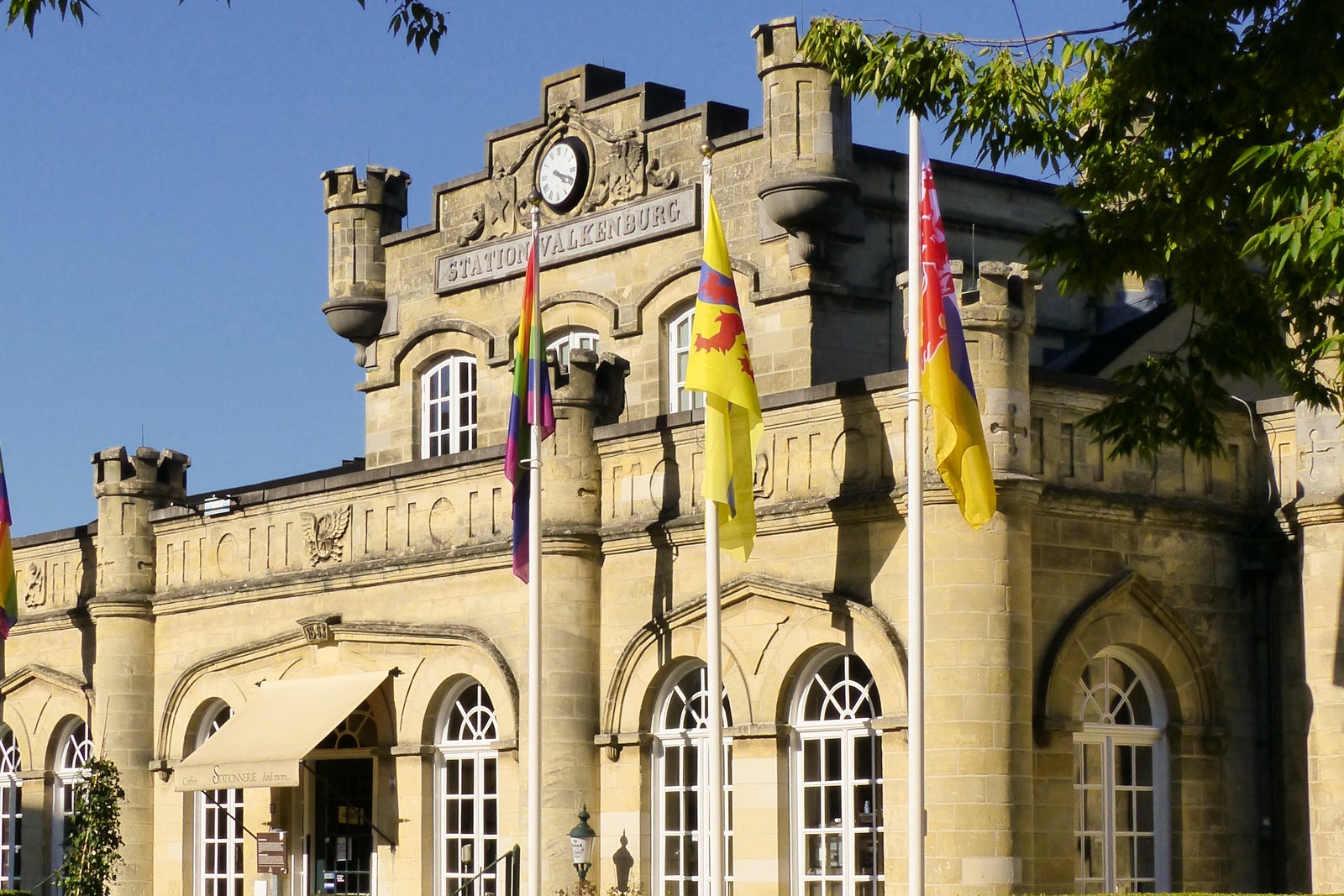 Restored to its original glory in 2005, the building's decorative accents include a five-pointed star from Maastricht's coat of arms and an eagle from Aachen's crest flanking the clock on its facade. Below those are friezes of a train wheel with six lightning bolts symbolizing the railway and the arrival of progress, a lion representing the Netherlands and an eagle for Germany since the line connected the two countries. 
On the platform side of the station, there is another crest with a falcon perched on a castle, which represents Valkenburg itself (the town's name means falcon castle or town). Even if you're not catching a train to or from here, you can stop by the station for a coffee or meal at its charming Brasserie de Stationnerie restaurant.
The choice of a railway station as this year's house is an interesting one, and perhaps a sign of current KLM president and CEO Marjan Rintel's contribution to the selection process. She was formerly the director of operations and then CEO of NS Dutch Railways before joining the airline (though she also worked for KLM for 15 years prior to her time in trains). Rintel is also an avid collector of Delft houses herself, having amassed over half the collection according to an interview she gave TPG last year.
"It's very important for the loyalty of our international business customers — they really enjoy and like this as a perk," Rintel told a group of media assembled for the unveiling event. "It's Dutch heritage. If you look at all the houses … we are really proud of them and how they are connected with the Netherlands. We are a Dutch airline. We are connected with Delft blue and Dutch brands like Bols Genever, so it's part of who we are."
The 104th Delft house unveiling
As is typical of KLM's annual Delft house unveiling, the event took place at the actual building being memorialized with a crowd of hundreds of the airline's employees, customers and partners. Rintel ceremonially presented the first model house to the mayor of Valkenburg, Daan Prevoo. 
"It gives me great pleasure to present this miniature to the mayor of the beautiful town of Valkenburg aan de Geul," Rintel said. "Having worked for NS Dutch Railways in the past, I know how committed people are to conserving the rich and interesting rail history of our country."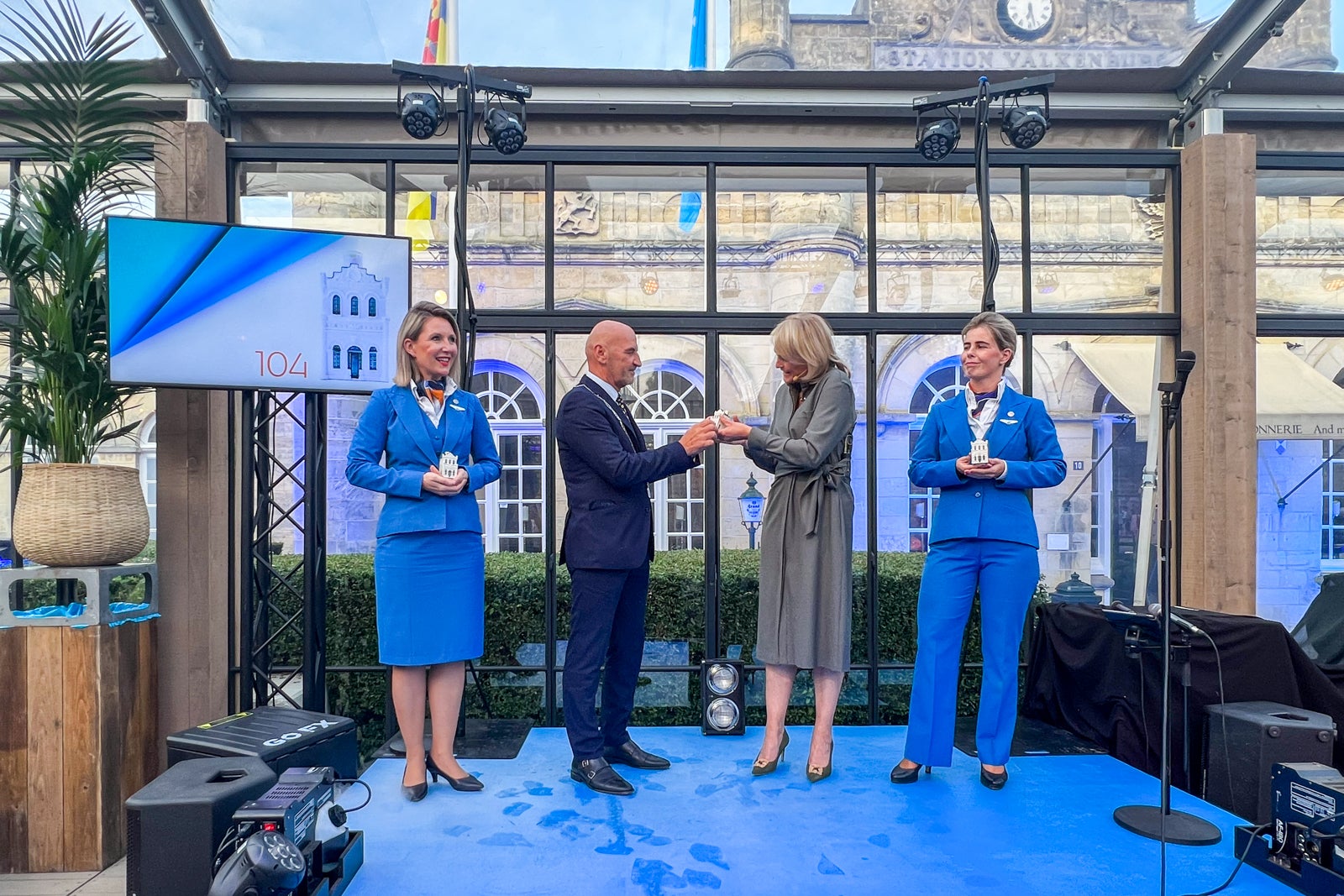 "Valkenburg aan de Geul lies at the heart of a region where three nations meet," she continued. "A touristic crossroads. This is something that really appeals to me … because one of KLM's chief purposes is to bring people and cultures together."
Recasting her perspective from the past to the future, Rintel continued, "We chose this building because it represents the shared future of KLM and NS Dutch Railways, in which we will further expand our range of air-rail services to replace short-distance flights." 
The comment was a nod to the airline's various commitments to sustainability, including encouraging travelers to select less-carbon-intensive rail itineraries over flights when possible, and cultivating more connectivity between the Netherlands' air and train networks. 
Upon receiving the house, Prevoo told the crowd, "I am thrilled that Valkenburg aan de Geul, with its unique marlstone station, is now part of KLM's superb Delftware collection. Valkenburg is all about hospitality, history, beauty and quality. I'm very proud of this acknowledgment, which reflects KLM's identity as a reliable and customer-friendly airline. I consider it an honor to celebrate the bond between Valkenburg aan de Geul and KLM."
Nearly 50 of KLM's Delft houses, including specialty releases like the Royal Palace and the Concertgebouw, are based on edifices in Amsterdam, but Valkenburg Station is actually the third building in Limburg to be made into a Delft House. The other two are the Huys op de Jeker in Maastricht and De Oude Munt Tavern in Weert, which were introduced in 2001 and 2003 as houses 82 and 84, respectively. Of the 104 houses, only two are modeled on buildings outside the Netherlands: No. 85, based on the Penha Building in Curacao, and last year's release (No. 103), the Ecury House in Aruba.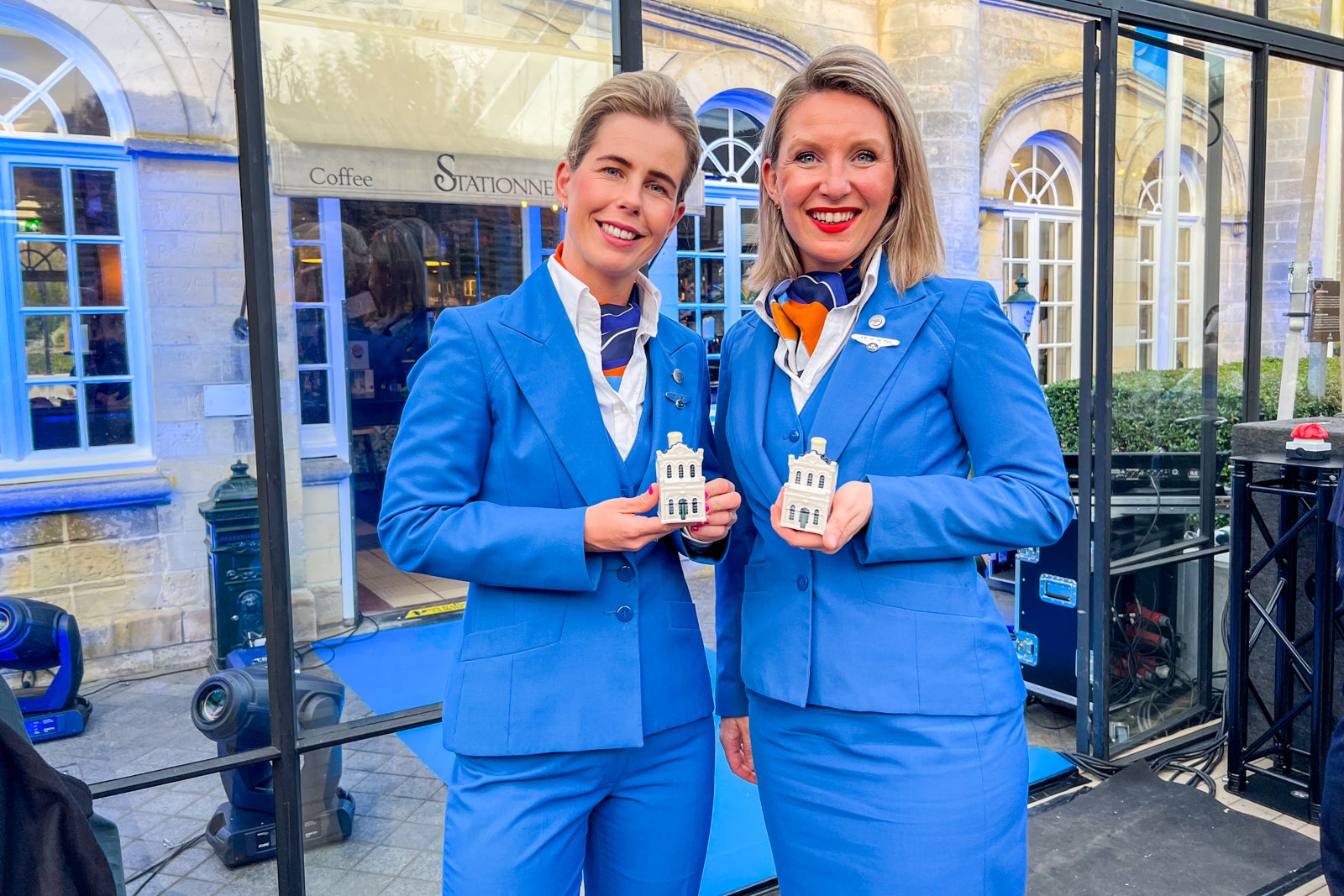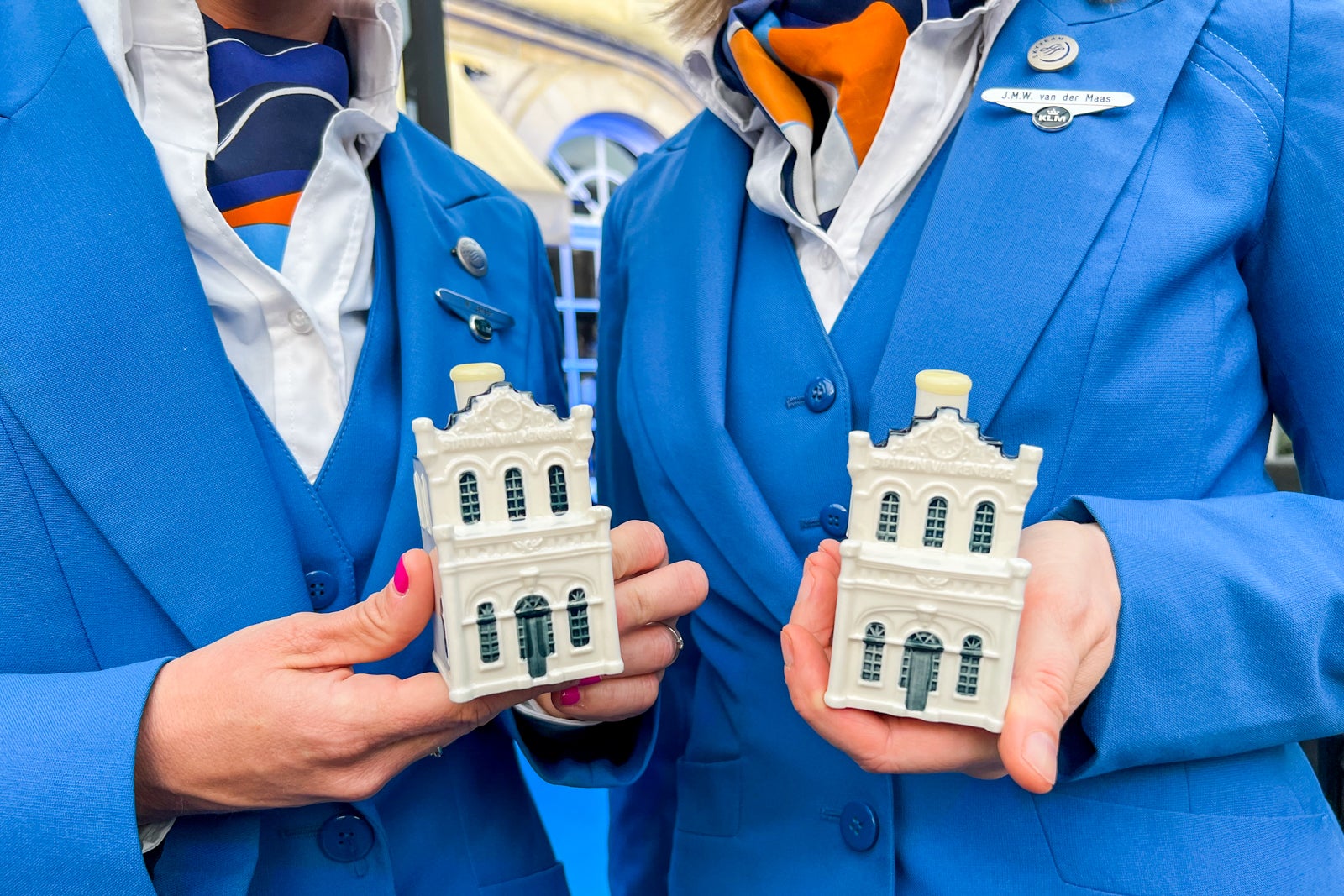 As for the Valkenburg Station Delft house, you can expect to see it offered to passengers on KLM flights throughout the next year, along with a rotating selection of other houses. So look out for it if you have a trip coming up on the airline. Otherwise, you might have to take your chances trying to snag it at random on flights in future years.
Related reading: