Editor's note: This post has been updated with new information.
While autumn technically began in September, for many parts of the U.S., we're only now starting to get our first glimpses of beautiful fall foliage. And if you haven't done so already, now is the time to plan leaf-peeping trips to various regions of the country.
Of course, where the foliage will be most colorful and when depends on each specific destination's location, altitude and weather, with leaves starting to change at high elevations and latitudes first before the tide of turning leaves rolls farther south.
Each fall, various forecast tools aim to predict the arrival of autumn foliage across the U.S. using data points such as historical precipitation and temperature data, leaf-peak trends, observations and model outputs from previous years.
Even so, foretelling fall foliage is tricky as no one can guarantee exactly where and when foliage will peak — especially with unusual weather patterns. Still, here are some of the best forecasts we have to help you plan the best fall foliage trip possible this year, and where you might want to head over the coming weeks.
When will fall foliage be best?
One of the best forecasting tools for fall foliage is SmokyMountains.com's Fall Foliage Prediction Map, which utilizes a variety of data points, including historical and forecasted temperature and precipitation alongside historical trends, user data and records of tree types in specific regions.
The map uses refined data modeling to offer an accurate forecast each year by analyzing all these key areas. Further bolstering its precision this year, the map now also draws upon user-submitted photos in real time.
SmokyMountains.com founder — and creator of the prediction map — David Angotti says, "With our unique blend of historical and forecast data, we are able to make a highly accurate prediction by the end of August. The drastic year-to-year changes dictate that we create a new map from scratch with new data each year."
Based on this year's map, the best time to glimpse stunning orange and red leaves nationwide is between the middle and the end of October. During this period, much of the United States will be in the full throes of fall — except the South, which will only be on the cusp of its own prime leaf-peeping season.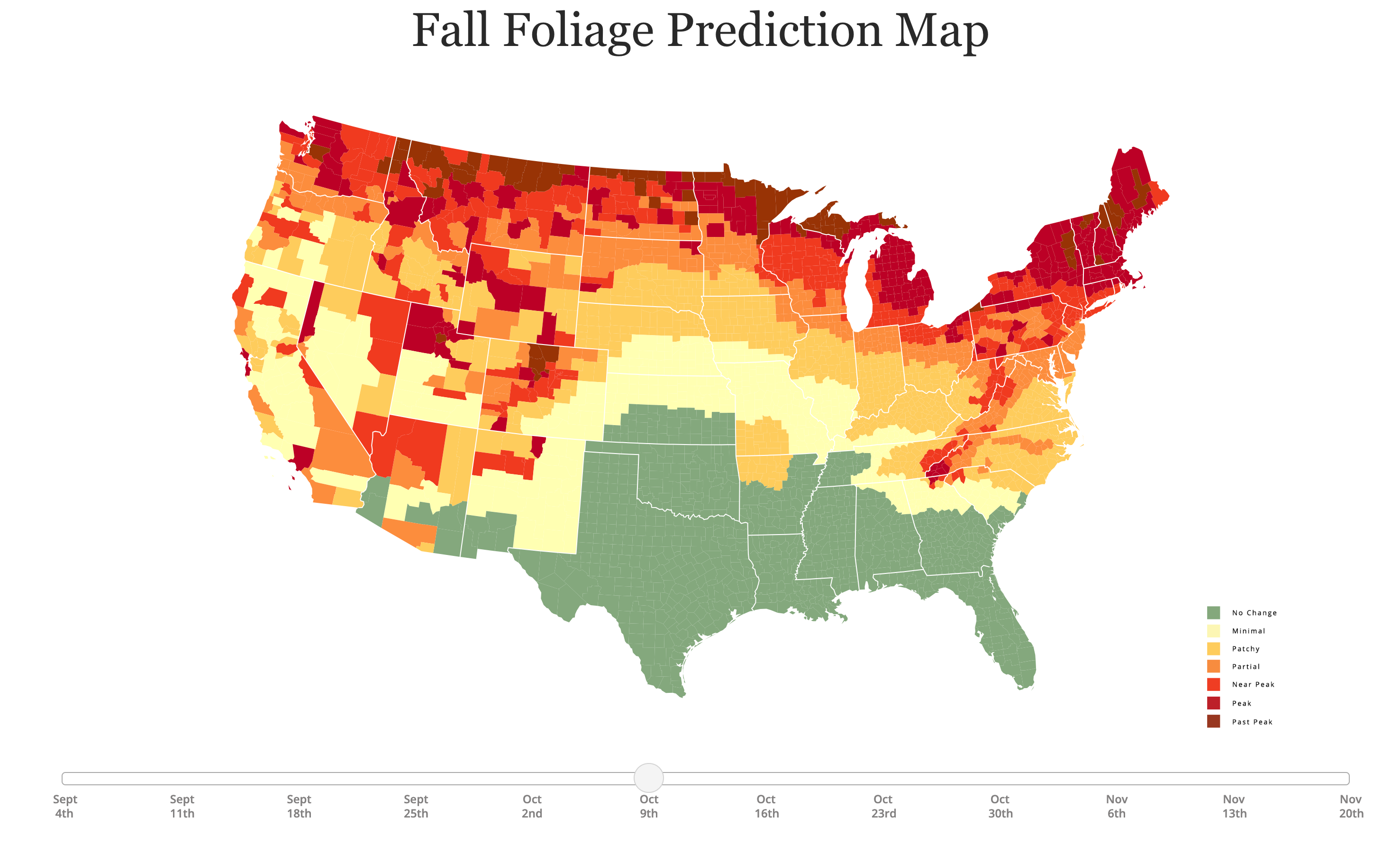 Above is the map for the week of Oct. 9. Over the next two weeks from the time we are updating this article — between Oct. 3 and 16 — we'll see much of the Northeast and higher-elevation U.S. areas beginning to enter or hit their peak season.
So, if you're thinking of heading north or to somewhere at elevation like the mountains in Colorado, the first few weeks of October are your sweet spot before the leaves start to die around the end of the month.
If you're looking to get the best fall foliage in the South, you'll be much better off waiting for the early weeks of November, as it is still pretty throughout the region right now.
For the West and East, particularly the Northwest and Northeast, the trees should be bathed in brilliant autumnal colors between Oct. 9 and 16. Beyond this, you'll still be able to spot some brightly hued leaves, but many might have turned brown.
Where to see fall foliage this year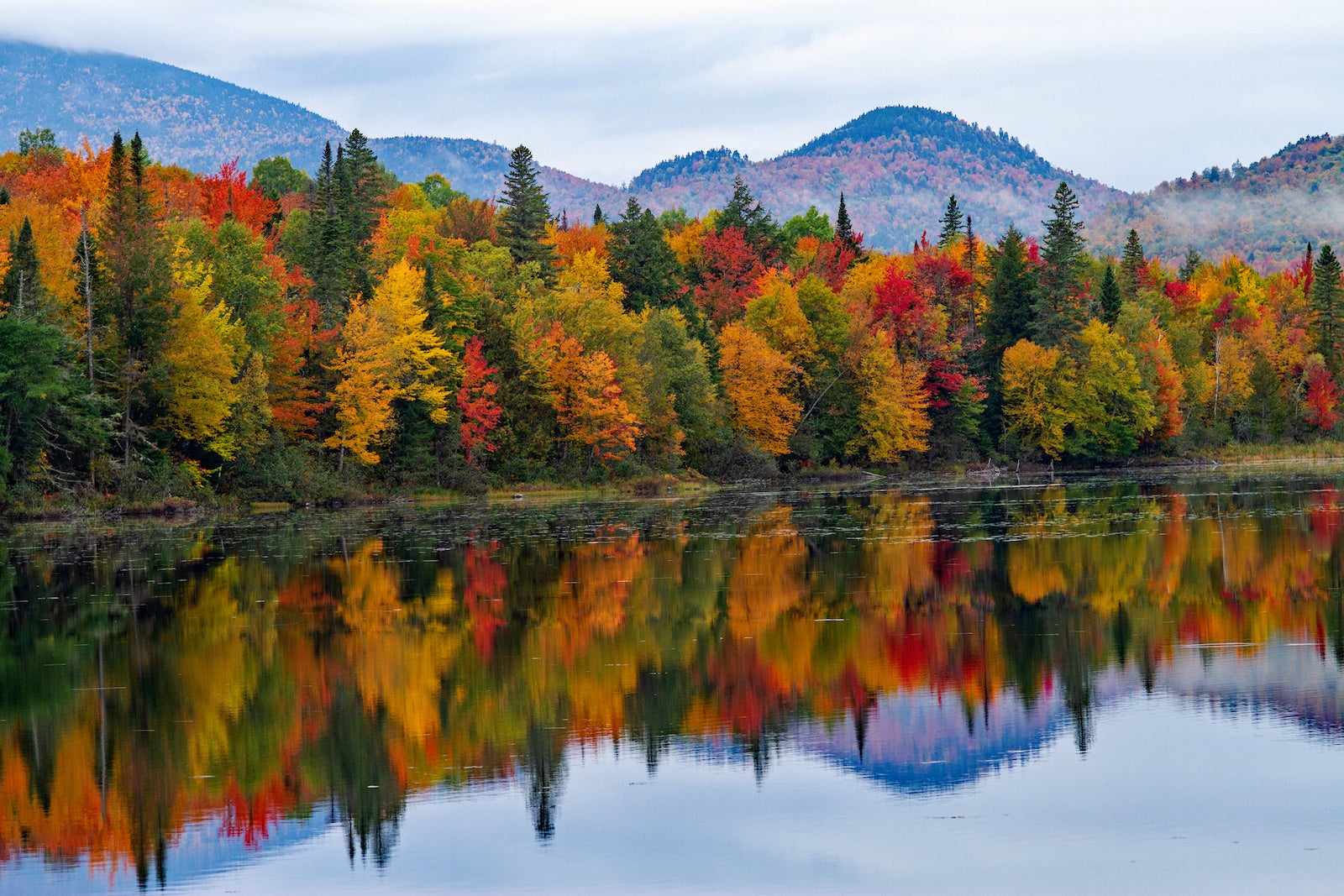 New England
For travelers on the East Coast, the foliage in many of New England's most popular leaf-peeping states is predicted to begin to turn this year in the first two weeks of October, including in Vermont, Maine, Rhode Island and New Hampshire.
For 2023, New England will be near or have its best fall foliage on Oct. 11, per The Old Farmer's Almanac.
In Maine's Acadia National Park, peak foliage is expected to start around Oct. 2, with the ultimate peak hitting between Oct. 9 and 13. In addition to stunning foliage, you could also see the sunrise as it first hits the U.S. from the 1,530-foot summit of Cadillac Mountain.
Vermont and New Hampshire are also great destinations for hiking and leaf-peeping, followed by apple picking and snacking on cider doughnuts. Don't forget about the fall foliage in the Berkshires, a mountainous region in western Massachusetts easily reachable from New York City and Boston. October is also one of the best times of year to see the fall foliage while hiking in the Adirondack Mountains of New York state, and visitors can benefit from one of the longest and more predictable leaf-peeping seasons.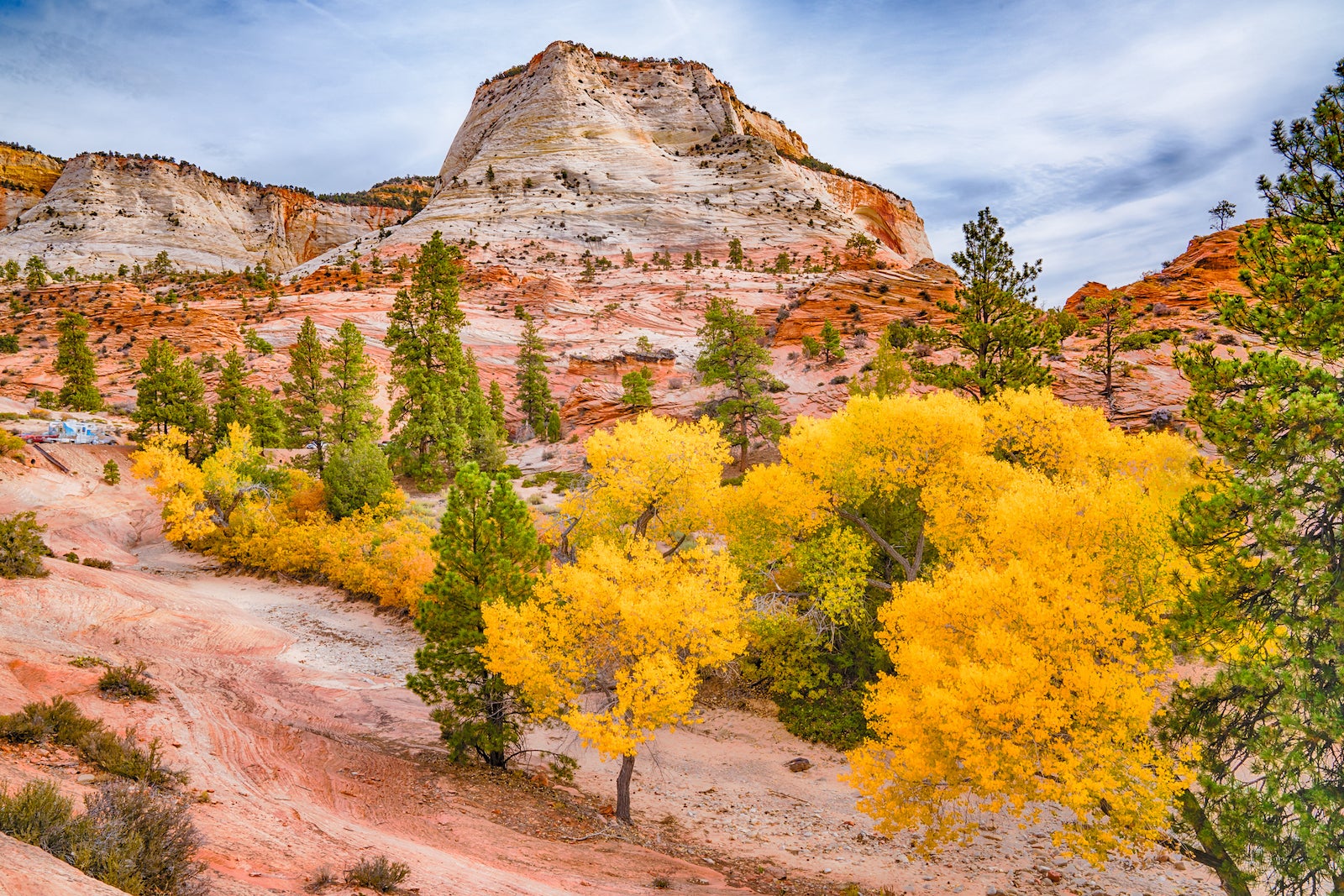 West
Typically, leaves begin to change color in northwest Colorado, Wyoming and Montana, during late September, with the cottonwood and aspen trees in Grand Teton National Park turning gold. While fall begins early in this region, it won't generally peak until mid-to-late October.
This year, Colorado's fall foliage season began in its northern mountains (Rocky Mountain National Park, Steamboat Springs, Flat Tops) around Sept. 19 and is now progressing to the southern ranges (Vail, Aspen and others); it's expected to arrive in Denver in October. You can expect to see its peak around Oct. 9.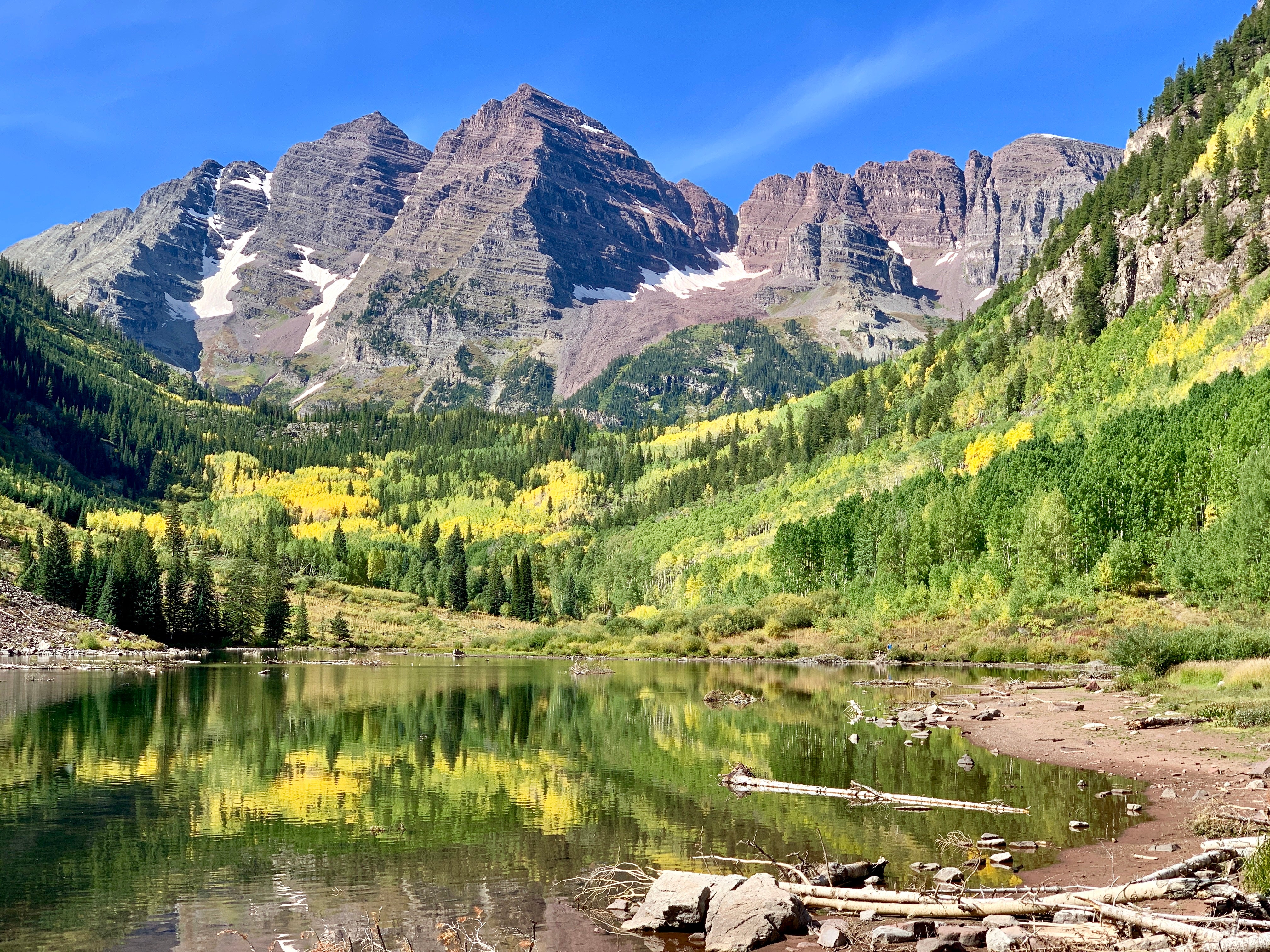 Utah's national parks — including Arches, Zion and Bryce Canyon — may be best known for their sandstone cliffs and gravity-defying arches. Still, they're also great places to enjoy the fall foliage around this same time through October. Plus, the autumnal light illuminates the red rocks spectacularly.
On the West Coast, the area surrounding Portland, Oregon, is renowned for its incredible scenery, and Oregon's wild landscapes explode with bursts of color at every turn. This year, Portland is expected to begin peaking at the middle to end of October.
Take a steamboat ride and admire the changing leaves from the river, or get in your car and drive the Columbia River Highway — a stretch of interstate designed specifically for its incredible vistas.
Mid-Atlantic and Southeast
By late October, travelers will want to turn their sights toward the mid-Atlantic states and the Southeast. The area where the Smoky Mountains are located is one of the country's most beautiful regions, and the eponymous national park is where you want to be this time of year.
Virginia's plentiful deciduous trees and varied landscape provide a long fall foliage season, with peak colors generally occurring from Oct.10-31. The Virginia Department of Forestry's fall foliage report provides insight on when and where to visit for optimum autumn leaf viewing.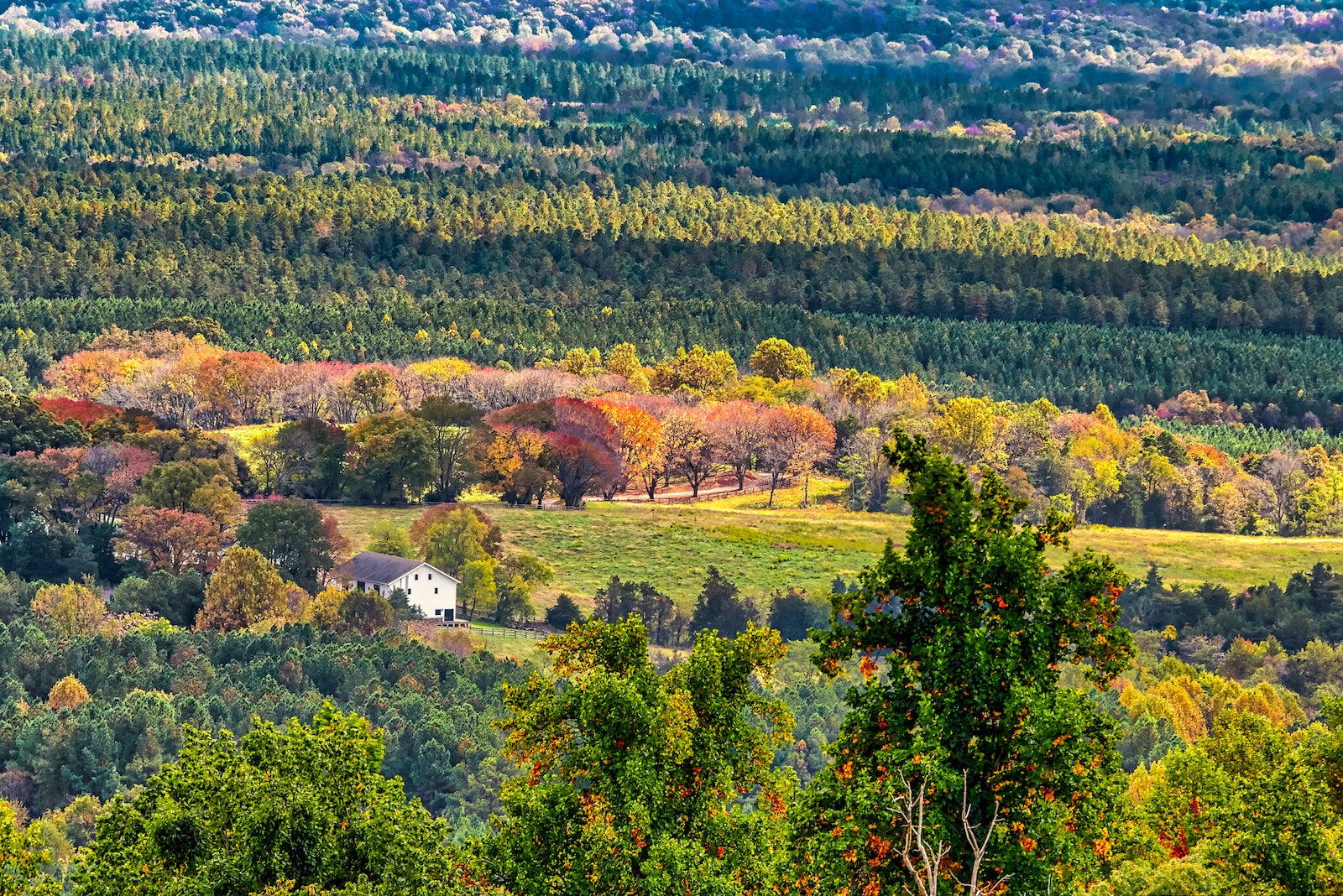 For the best views, head to the observation deck at the peak of Clingmans Dome, or consider one of the iconic scenic drives in the area instead, such as Cades Cove Loop Road, the Blue Ridge Parkway or the Foothills Parkway.
If you're headed to western North Carolina, check out the fall color map created by Appalachian State University's Department of Biology staff for a timing estimation of fall color peaks for various regions of the state, including Waynesville, Asheville, Grandfather Mountain and Boone.
Related: The ultimate Blue Ridge Parkway road trip guide
Midwest
Consider Kansas and parts of Missouri, such as Lake of the Ozarks, in your leaf-peeping plans this year, too. The maple, oak, hickory and ash trees along the 1,150 miles of the lake's shoreline will be a riot of painterly hues in November — though the American smoke tree, which can become an almost electric shade of pink, tends to peak much earlier.
Alternatively, take a scenic drive through the country roads that wind through the rugged forests of the Ozark Mountains for even more imposing views.
South
Travelers can also head to the southern edges of Arizona and New Mexico for late-season fall foliage, which should peak again in November this year. It is also possible to see fall foliage farther south, from Texas to Florida.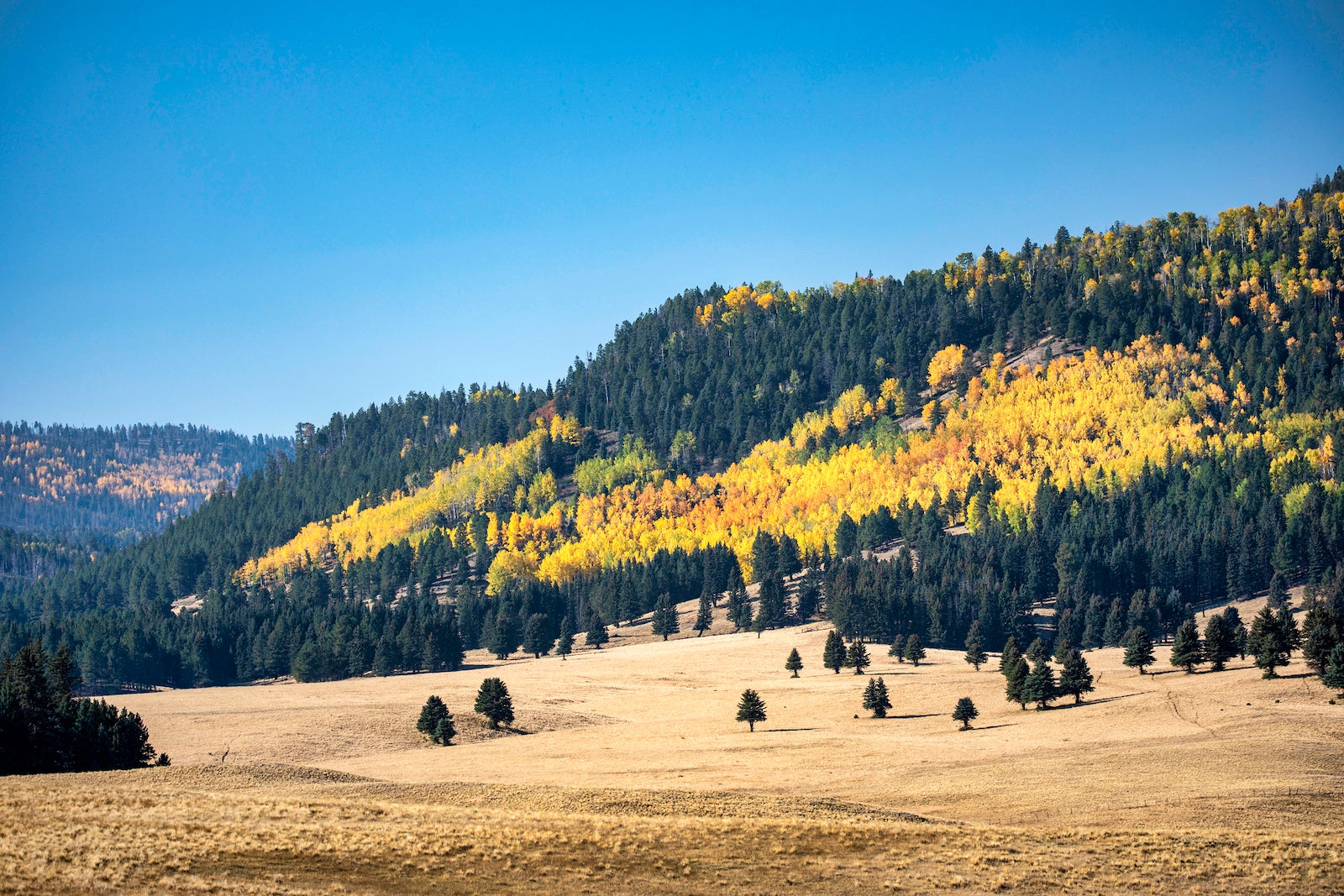 In the southwestern corner of Texas, Big Bend National Park is home to the nation's largest protected area of the Chihuahuan Desert. November is a great month to camp, hike and backpack. Check out the Chimneys Trail, which winds through a rock formation in the desert, and the Santa Elena Canyon Trail, which snakes along the Rio Grande.
Another great place to see fall foliage in Texas in November is the Guadalupe Mountains, where bigtooth maple trees erupt in a panoply of color across the McKittrick and Pine canyons.
Or, if you want to go a little farther south, consider a trip to Kisatchie National Forest in Louisiana. The area has more than 600,000 acres of woodland, and most of the state could be at its peak in November (along with Central Florida).
Bottom line
Though fall foliage maps and tools can't make any guarantees, they are useful guides to determine where and when you should plan your fall foliage trips this year. This is especially true for the maps that update based on real-world events as the season unfolds.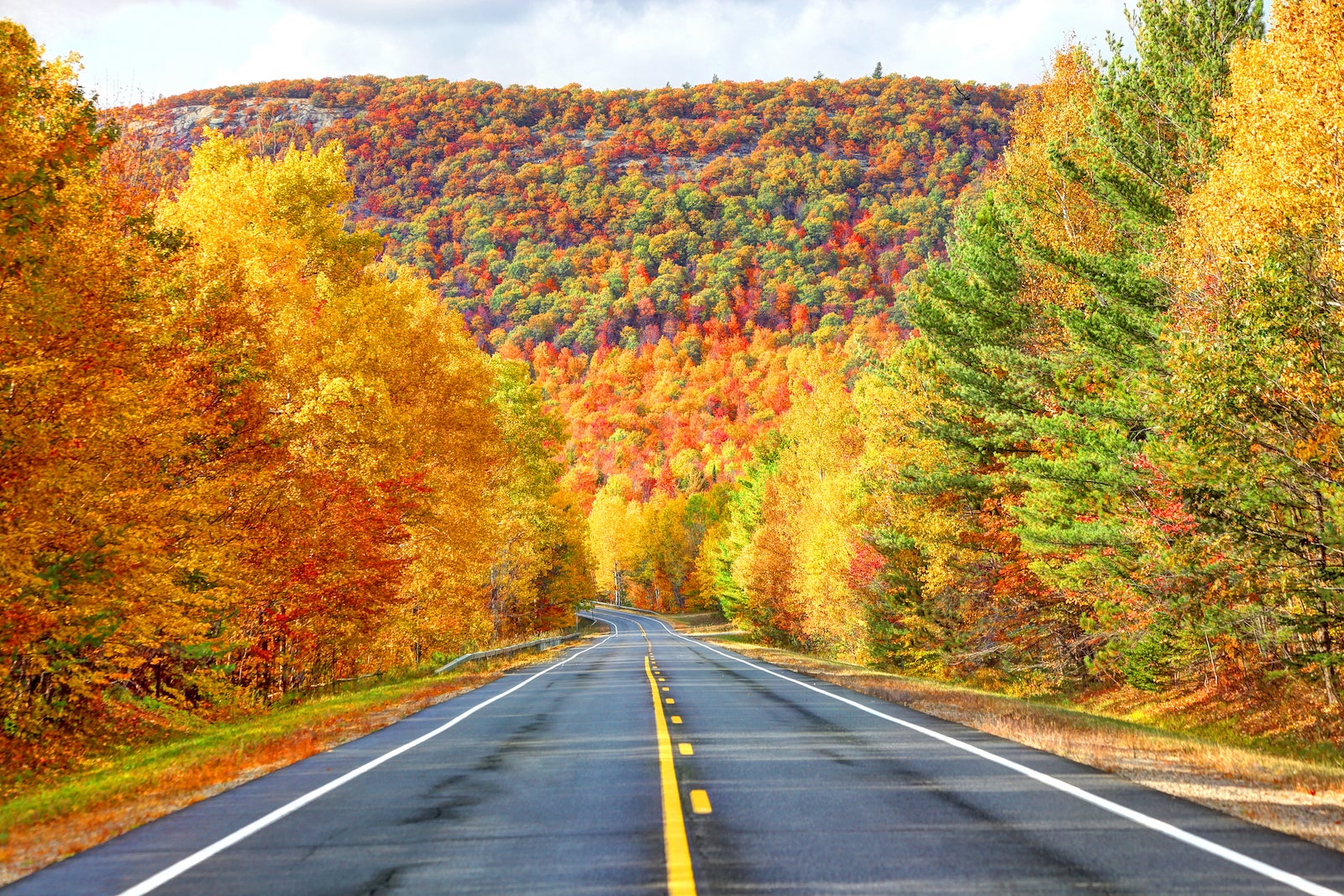 Here in early October, we are starting to enter some of the prime leaf-peeping weeks for areas in the North and at elevation. This will spread as we get deeper into the month. By November, much of the country is usually past its peak.
However, there are still pockets of the U.S. showcasing beautiful foliage throughout the month, and travelers can look forward to seeing splashes of color in some destinations later in the season than is typical. For predicted peak dates across the country this year, see SmokyMountains.com's Fall Foliage Prediction Map and the Farmers' Almanac.
Remember, any change in weather over the next few weeks could adjust the predicted peak timing for any of these places, so be sure to be flexible as possible with your plans.
Related reading: