Scandinavian Airlines, or SAS, has plenty of discounted flights to Europe operating from this fall through the first half of next year.
The airline put both economy and premium economy seats on sale, and flights leave from major hubs all across the United States.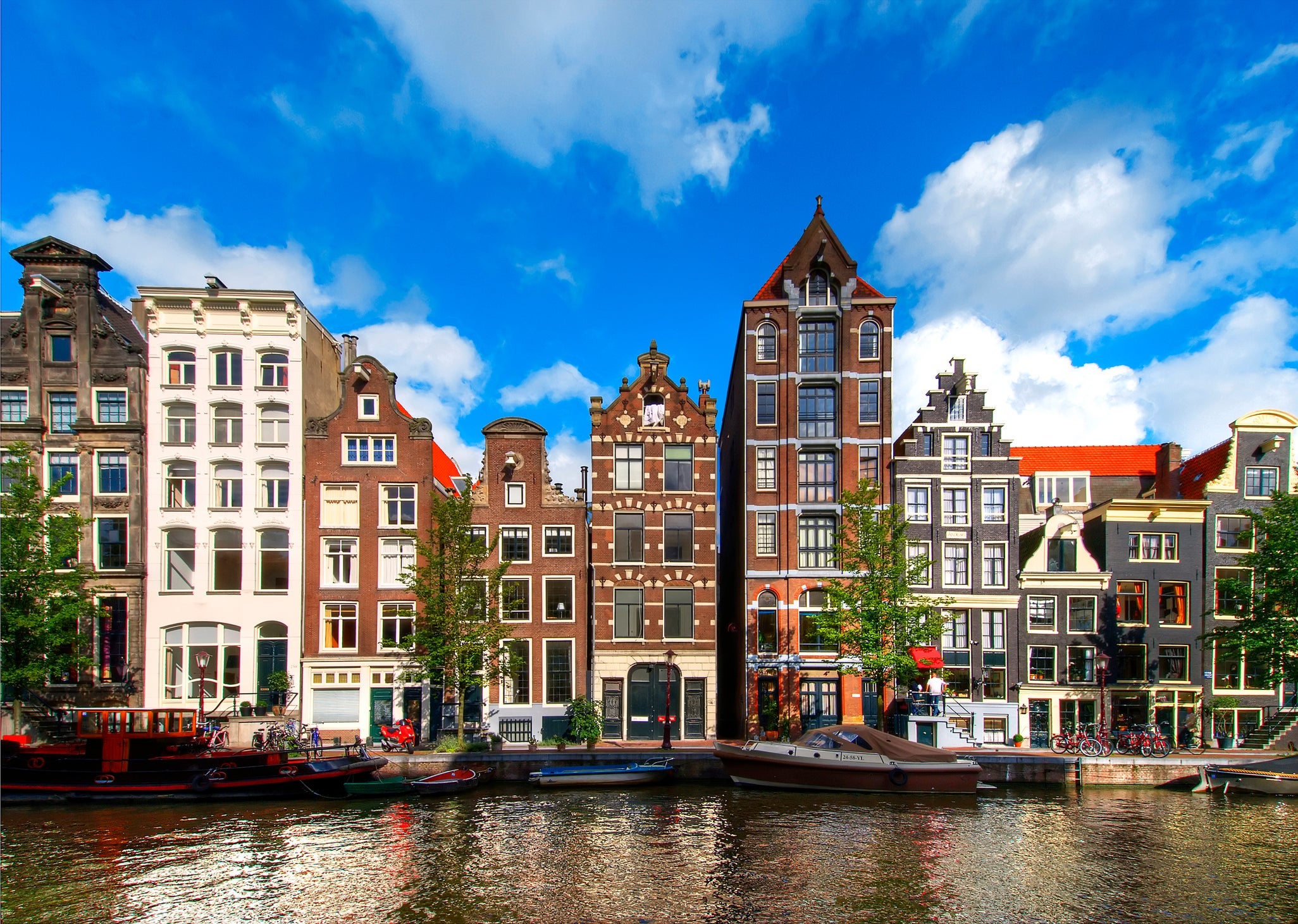 Deal basics
Airline: SAS
Routes: Boston, Chicago, Miami, New York City and Washington, D.C., to multiple European destinations
How to book: Directly with the airline
Travel dates: October 2023 through June 2024
Book by: Soon before options run out
Major kudos to Going for scouting these deals. For $49 a year, the site's Premium membership offers discounts of up to 90% and comes with a 14-day free trial. The Elite membership also finds premium economy, business-class and first-class deals.
Sample flights
The following flights were priced as listed at the time of publication. We cannot guarantee the below round-trip flights will be available when you book.
Boston Logan International Airport (BOS) to Amsterdam Airport Schiphol (AMS), starting at $398 for economy and $818 for premium economy
Chicago's O'Hare International Airport (ORD) to Copenhagen Airport (CPH), starting at $448 for economy and $818 for premium economy
Miami International Airport (MIA) to AMS, starting at $470 for economy and $911 for premium economy
New York's John F. Kennedy International Airport (JFK) to Zurich Airport (ZRH), starting at $483 for economy and $818 for premium economy
Washington, D.C.'s Dulles International Airport (IAD) to CPH, starting at $448 for economy and $818 for premium economy
Let's examine a round-trip journey from Boston to Amsterdam, leaving Nov. 6 and returning Nov. 13. If you filter to only SAS options on Google Flights, you can see the low fare calendar. These prices apply to economy tickets.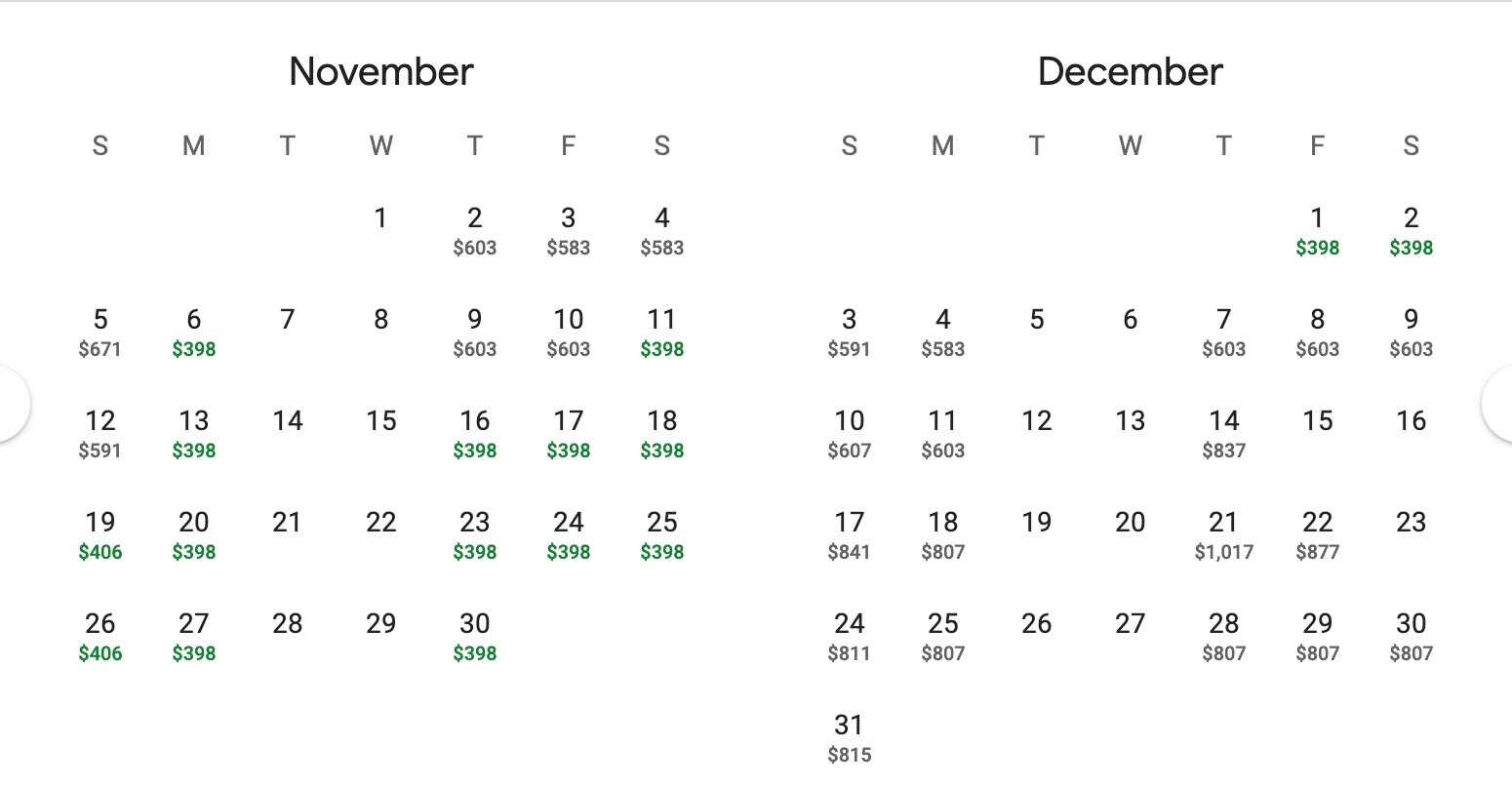 On the SAS website, you can see the prices for all the class levels on the same flights.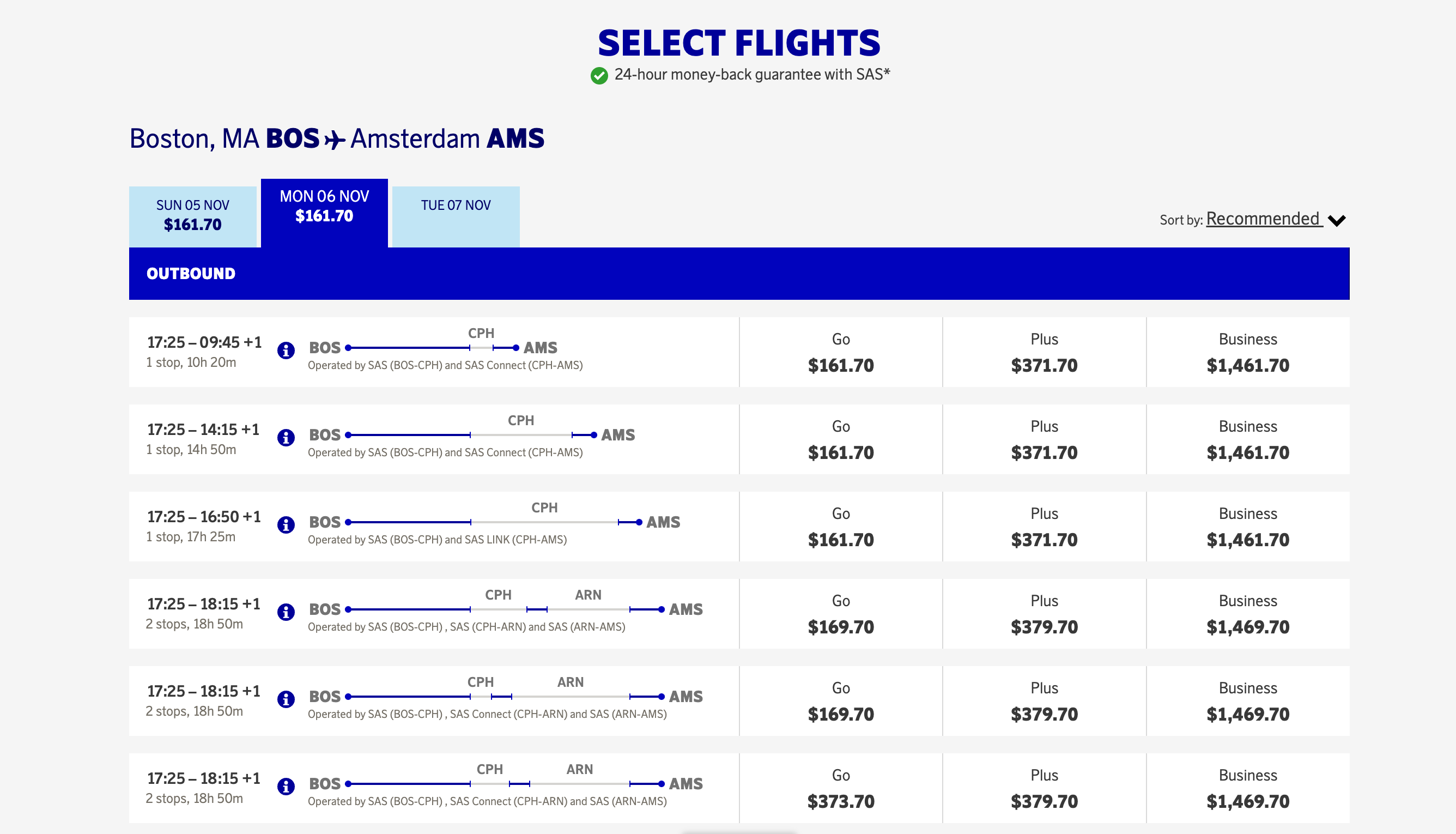 The economy fares apply to the SAS Go fares, while the premium economy ones apply to the SAS Plus fares.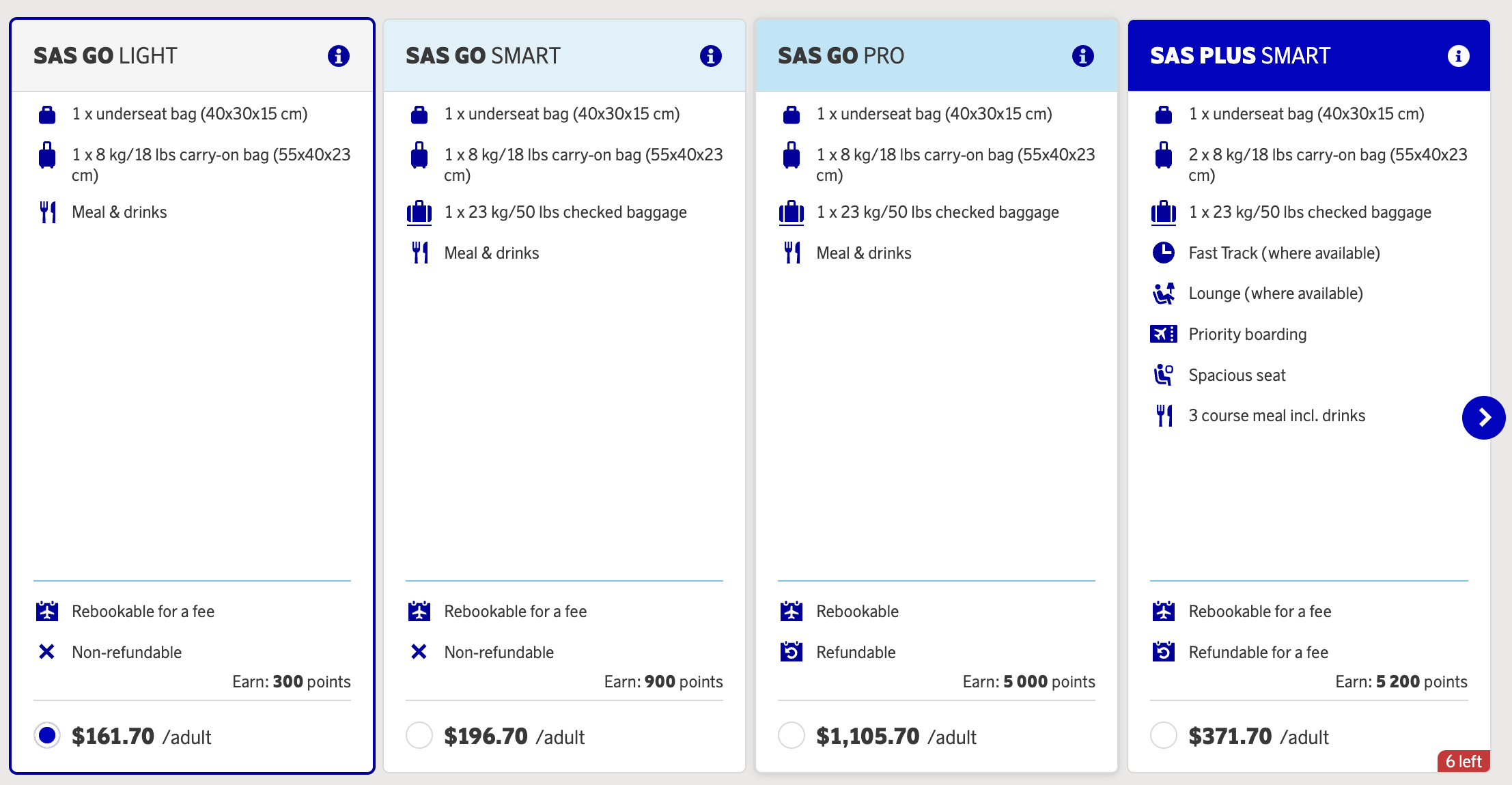 The returning flights bring the total economy price to about $398 and the total premium economy price to $1,332. As you can see, the best flights for economy tickets might not be the best flights for premium economy tickets and vice versa.

A better flight option for a premium ticket would be this $818 option in January.

The most basic fare class, SAS Go, includes one personal item, one carry-on bag and meals. In the SAS Plus class, you can enjoy a three-course menu, footrests, wider seats, more legroom, free seat selection, lounge access and a free checked bag, among other perks. There are multiple levels within each fare class, and you can learn more about them here.
Maximize your purchase
Use a credit card that earns bonus points on airfare purchases.
Bottom line
Escape to Europe sometime between this fall and next summer with these discounted flights from SAS. There are deals on both economy and premium economy seats (though the flights with the best economy options might not have the best premium options, and vice versa).
Related reading: